(UPDATE 11/1/19): Just days ago Disney had decided to start charging for FuelRod swaps in the Disney Parks, a service that was once free. Now they have reversed their decision, and FuelRod charge swaps will go back to being free again.
This change, or in this case, reversal has now been implemented.
If you aren't familiar with FuelRod, it's a service that for $30 allows you to take one of their small rechargeable devices from any of the in park locations and charge your mobile devices when they get low on battery. Customers pay a flat fee of $30 and are given a device they can even take home with them.
You use the small, portable charger to fill up your device, then drop the empty one back off at one of the stations in the park when you are done. Then once it's empty, you simply swap it out at one of the many stations for a new, fully charged one. Pretty easy.
This past week however Disney had announced that this service was changing and now they would be charging $3 per FuelRod swap, which is on top of the initial by-in fee for the service.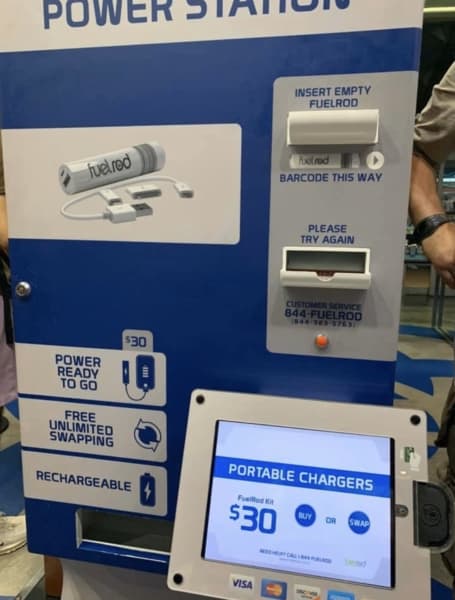 Of course guests were upset, after all, they paid $30 for a service which was presented in a certain way, and now they were saying you had to pay $3 every time you swap out the unit for a new one. A Class Action lawsuit was even filed against them because of this swap decision, and since then the decision has been reversed.
Instead of the $3 charge which was supposed to go into effect November 1, 2019, it turns out that's not happening anymore and FuelRod swaps will continue to be free. Updated looks at the FuelRod stations throughout the Disney Parks show that the previous signs indicating $3 per swap have been taken down.
On top of that, Disney has issued a statement regarding the FuelRod situation:
"A decision has been made to not implement the $3 portable charger swap fee until further notice. Guests can continue to swap their FuelRod portable chargers using FuelRod's owned and operated kiosks at Disneyland Resort for no additional cost at this time."
It seems like this time, the voices in the Disney community have been heard as this was one of the most ridiculous Disney World price increases I've seen recently.
If the original plan to charge $3 per charge had gone through, it would have forced many to stop using the service and buy a portable mobile charger online and bring it with them to the parks instead of using FuelRod. At $3 a pop it just didn't make sense to use the service. Heck, you could go through $30 worth of swaps in one week in to Walt Disney World.
Keeping the initial buy-in at $30, PLUS the $3 swap fees was just too much for everyone and the people won. If they wanted to just make them a $3 flat fee without the $30 I could see some people being interested, but the other way is insane. That, plus the fact that in most other FuelRod locations throughout the country the base fee is only $20.
So does this mean the FuelRod system has once again become a viable option for charging your mobile devices in the Disney Parks? We weren't huge fans of FuelRod before the whole $3 fiasco, and we certainly weren't recommending it after, but I think if you liked the service the way it was before, you can still continue to use it.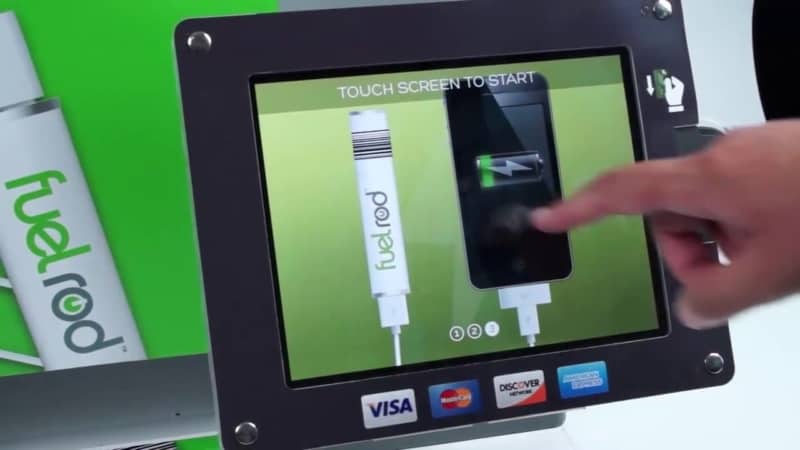 I don't think Disney is going to try putting a fee on FuelRod swaps again anytime soon after what happened the first time. So if you already have the service, definitely go on using it.
If you don't have FuelRod, but the idea of not having to worry about bringing a charger all the time, then I think it again becomes a decent option. It's probably not worth it if you are only going to be in the parks for a few days, but if you are a regular visitor to Disney World, or an Annual Passholder, then it is definitely worth a look.
They still have the same small charging capacity though, which is one of the things we don't like about FuelRod. If they updated the models to increase the charging power, we would be a lot more positive about them.
So should you use FuelRod? That's up to you, but my opinion is that at this point it would be might be more convenient to just jump on Amazon and buy a cheap charger there and bring it with you to the parks. The charging power would last longer which is really the big issue.
However if you want to not have to worry and always have a full charge every time in the parks, FuelRod is a decent option.
Below are our original thoughts on FuelRod when it first came to Disney World and Disneyland. It explains a little bit more about what FuelRod is, though the situation has changed since then…
(Original Post) What is FuelRod?
Have you ever been in the parks and your cell phone dies? With as much as we use our phones nowadays, taking pictures, uploading our photos on Facebook, checking ride times or our dinner reservations, batteries don't last very long. Now Disney is making it easier for you when go to the parks. Disney has partnered up with the company FuelRod, which offers portable chargers for cell phones, tablets and other mobile devices. There will be FuelRod kiosks in all four theme parks, ESPN Wide World of Sports, and Disney Springs.
How it works is you pay $30 and they give you:
A portable charging battery
6″ USB Type A to micro-USB cable (for most Android devices)
One Apple 30-pin to USB cable
One Apple Lightning to USB cable
The device is already charged ready to go, just connect your phone or tablet and you're set.
The device is yours to keep as well, it's not a rental. The best part about it is when your battery charge is empty, you can switch it out at the nearest kiosk for a new completely charged one. This makes it nice if you don't have time to go back to your hotel and charge it yourself. Love the idea, very convenient in our times!
Kiosks are located in these areas of Walt Disney World:
Magic Kingdom

Big Top Souvenirs
Pecos Bill's
Curtain Call Collectibles
Tomorrowland Light and Power Co.

Epcot
Hollywood Studios
Animal Kingdom
Disney Springs

Marketplace Disney Photo Imaging
DisneyQuest

ESPN Wide World of Sports
The only thing I'll say is that doing some research, I found that on the FuelRod website that you can buy the charger for $20 instead of the $30 that Disney charges. Now on the website it says you can swap them at any location, so my guess is that this would include Walt Disney World. If that's the case then I would recommend saving the $10 and buying it first online before you come to Disney World. Then when you are there you should be able to swap it in the park. That way you save some money.
This used to be a decent way of keeping your mobile device charged in the parks, however now it is no longer worth it in our opinion.
Your Thoughts:
I want to know what you think about the FuelRod price change…
Do you use FuelRod?
Will this affect your decision to use it in the future?
Let us know in the comments section below!
If you enjoyed this article, as always I appreciate it if you'd share it with others via social media. I work hard at making this website into a useful resource for you and your family to plan your visit to the Disney Parks and I hope it can help you! Thanks 🙂
Photo Credit: FuelRod.com