I'm sure you're anxiously awaiting the opening of the new Avengers Campus, which we know is getting a dedicated Spider-Man ride. Today Disney shared some more details about an actual Spider-Man swinging over Avengers Campus using a new technology they are calling "Stuntronics."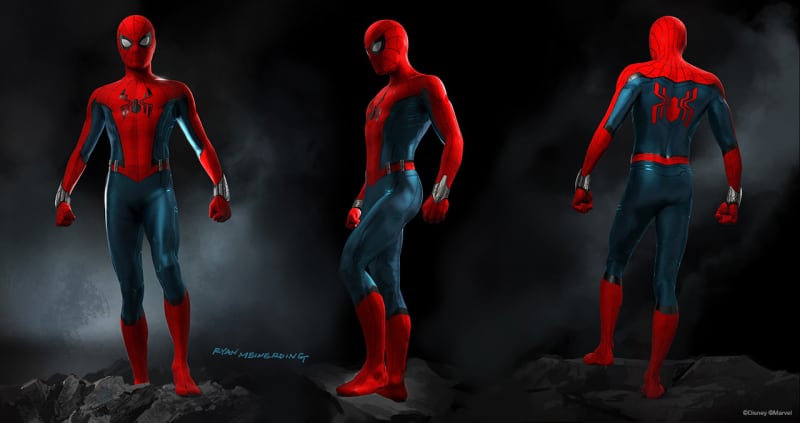 We're going to share with you everything we know so far about this flying Spider-Man, and what we think it means for the future of Avengers Campus, coming to Disney California Adventure this Summer.
The premise is that Spider-Man himself is going to be seen by guests daily, swinging above the rooftops of the Avengers Campus buildings. Of course, it's not a real stuntman, but a robot of sorts that Disney has created, this "Stuntronics."
If you aren't familiar with Stuntronics, a z-shaped robot is attached to a wire at the arms, and then shot 60 or more feet into the air. Doing this the robot will perform summersaults in mid-air, knee-tucks and other poses you would expect a super hero to make while flying through the air.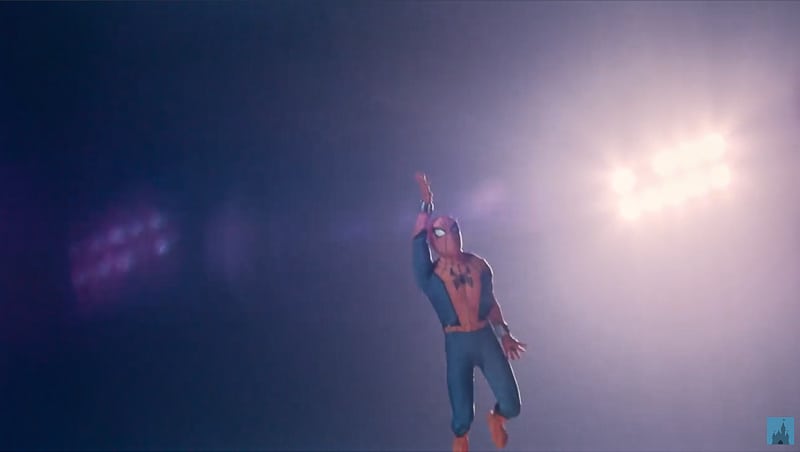 When the robots come down on the other side, they are caught into nets. The crazy thing about this technology is that it allows the robots to make adjustments on the fly, and correct itself so that it looks graceful while flying through the air and sticks that landing.
We presume Disney Imagineering hasn't gotten so advanced that they can land on the ground yet, but we wouldn't be surprised about anything.
It's all very incredible and insane to think about how they are able to pull this off.
Watch this video from Imagineering showing how this technology works:
By using this new technology, Disney is finding ways to bring your favorite characters to life in a real theme-park environment, in this case, you'll see Spider-Man appearing to be flying through the air right in front of you.
Disney is calling the stunts "amazing acrobatic feats at a top-secret location." And while we don't know exactly how Disney is going to hide it or where exactly Spider-Man will get launched from, it is certainly promising to say the least.
To give you a glimpse of how the Stuntronics Spider-Man will look, check out this video of him performing some amazing acrobatic feats at a top-secret location:
This is the type of entertainment guests were expecting when Star Wars: Galaxy's Edge opened last year. We were promised lots of characters, droids roaming around, and entertainment, maybe a lightsaber duel or two. Unfortunately, that never unfolded for one reason after another.
Yes now Disney is trying to correct that with the R2-D2 roaming droid, but it will take a while for them to introduce things there to the level we'd hoped before opening.
Avengers Campus, on the other hand, has the chance to correct that and give the fans what they want to see when they step into a Marvel-based land…Super Heroes!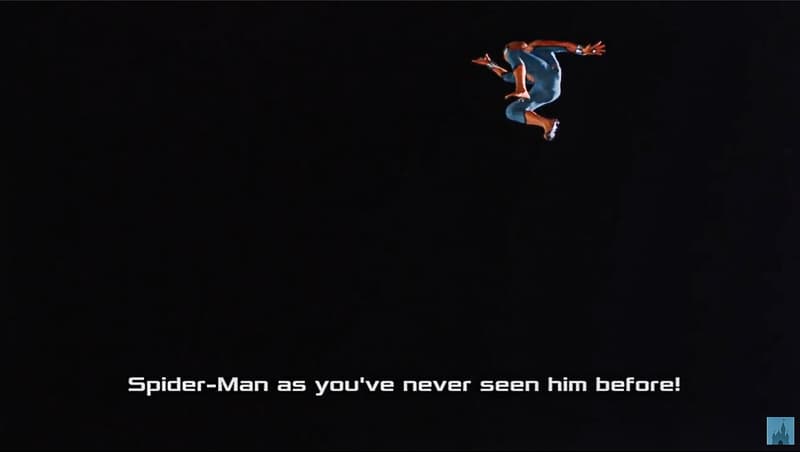 I don't know how convincing and life-like the stuntronics Spider-Man will be in person, but from the videos it looks pretty stinking amazing. I think it has the chance to make guests think they are in a living, breathing super hero world when they see things like this, and who knows what else Disney has up their sleeve.
That's not all you'll get to experience in Avengers Campus when it opens. Here are some of the other attractions and experiences during the Phase 1 opening:
Spider-Man Attraction (The Worldwide Engineering Brigade "WEB") – This is going to be the brand new Spider-Man attraction. Think of it as an advanced version of Toy Story Mania, where guests get to interact and sling webs with Spidey himself.
Pym Test Kitchen – This is the quick service restaurant in Avengers Campus. The gag here is that everything inside will be of huge proportions and make you feel like you have been shrunk down to Ant-Man size thanks to Pym Technologies Researchers.
Super Hero Meet Character Meets – It wouldn't be a Marvel Land without the super heroes. So far confirmed we have: Spider-Man, Black Widow, Doctor Strange, the Guardians of the Galaxy, Black Panther and the Dora Milaje, Thor and Loki, Iron Man and for the first time, Ant-Man and The Wasp.
Avengers Headquarters – This looks like it will be an entertainment venue. It's most likely going to be an outdoor stage where we'll see the MCU super heroes battle it out against the villains. Walt Disney Studios has done something similar and it works well and is engaging to watch.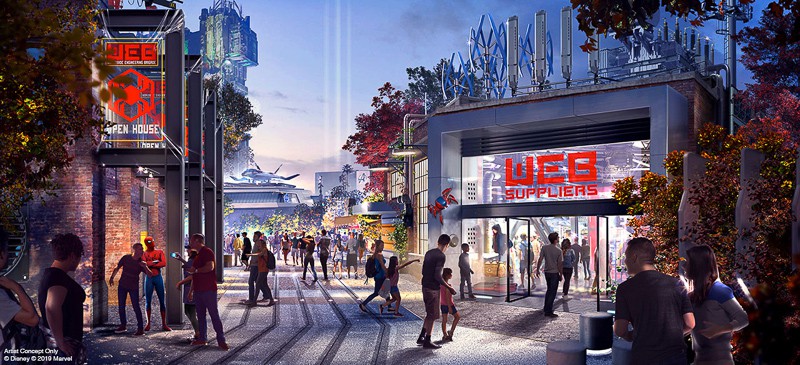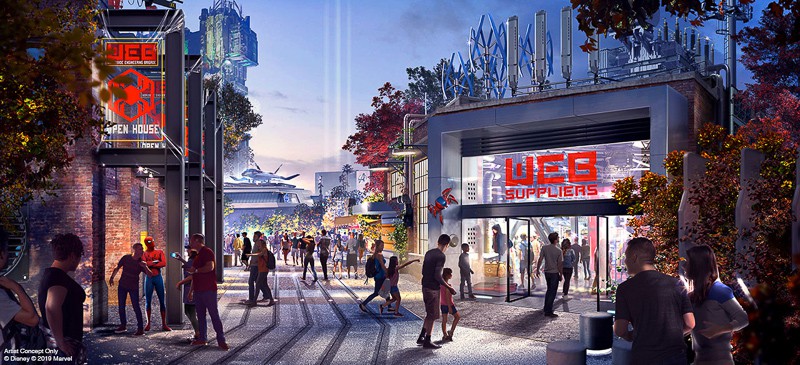 The real prize of Avengers Campus is going to be the new E-Ticket Avengers Quinjet ride, but we probably won't be seeing that until 2023. Disney has been pretty hush-hush about it so far, but we know it will be an epic adventure that takes you to Wakanda.
Overall I'm really excited for Avengers Campus and this new Stuntronics, swinging Spider-Man. I think Disney has learned their lesson and realizes that guests expect to see these characters when stepping into their world, and more entertainment like this is a step in the right direction!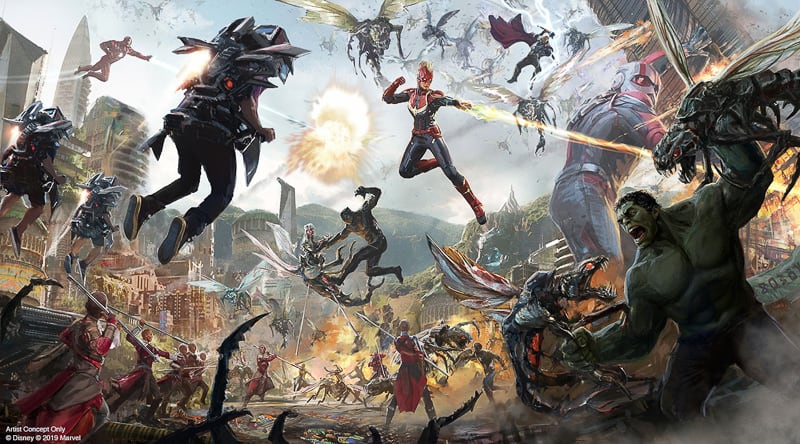 This Stuntronics Spider-Man will debut with Avengers Campus when it opens in Disney California Adventure in Summer 2020. We don't have an exact date yet, but we should know more in the next few months.
We'll be sure to keep you updated on this new technology, so stay tuned to Ziggy Knows Disney for more.
In the meantime, for more details about this new Marvel Land, check out our post about Avengers Campus, which explains more about what you can expect when it opens.
Your Thoughts
I want to know what you think about the new stuntronics Spider-Man coming to Avengers Campus…
Are you looking forward to seeing this new technology?
What other ways would you like to see Disney use it?
Let us know in the comments section below!
If you enjoyed this article, as always I appreciate it if you'd share it with others via social media. I work hard at making this website into a useful resource for you and your family to plan your visit to the Disney Parks and I hope it can help you! Thanks 🙂