If you are a superhero fan, then get ready for the 3 upcoming Marvel Lands called: "Avengers Campus," which are coming to Disney California Adventure, Disneyland Paris and Hong Kong Disneyland.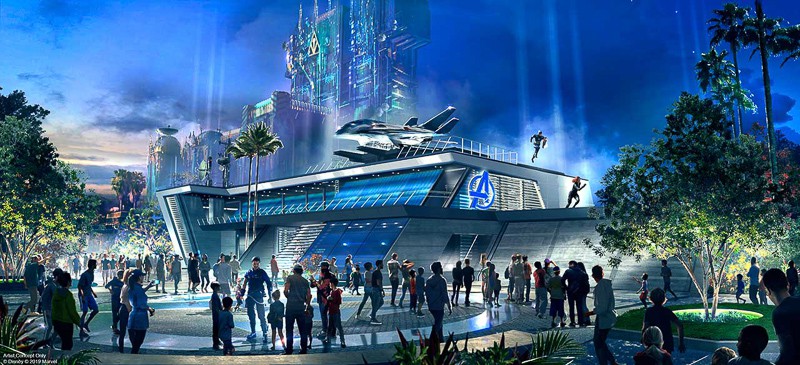 Get ready to become a superhero, because Avengers' Campus is going to further revolutionize the theme park experience like you've never seen before!
Since this is going to be such a big deal when it opens, we want to help you and your family get ready for planning your trip to Avengers' Campus so you know what to expect.
In this post, we're going to share everything you need to know about Marvel Land including the opening date, attractions, restaurants, entertainment, and all the latest news, info and updates on Avengers Campus.
We'll continually update this post so you have the most up-to-date tips on Disney's Marvel Land. Enjoy!
Also, don't forget to sign up for our FREE Weekly E-Mail Newsletter. There we bring you the latest updates on Marvel's Avengers' Campus and other Disney vacation planning tips. You can sign up here: Join our E-Mail Newsletter
That's a good way to stay in the loop and as soon as we know the Avengers' Campus opening date, we'll let all our subscribers know right away!
(NEWS: 8/25/20) – Is Disney's Avengers' Campus Getting Close to Opening?
As you already know, Avenger's Campus, the Marvel Land coming to Disney California Adventure has been delayed due to the Disneyland Closure to an unknown future date.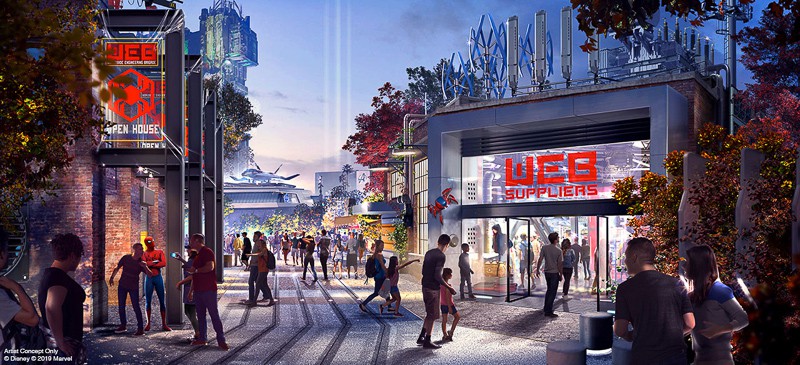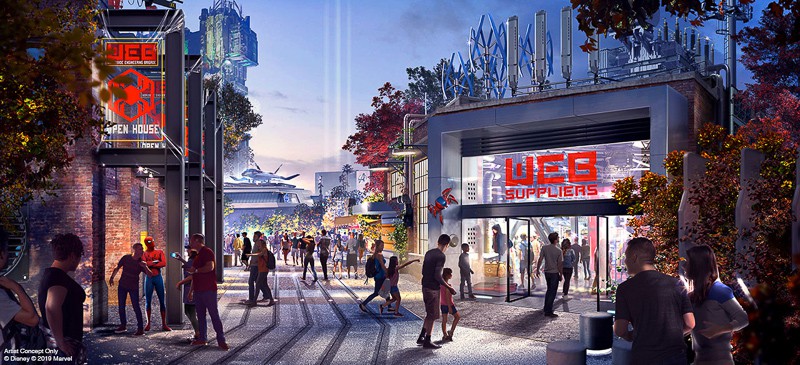 However, we might be getting closer to finding out the new opening date since Disney is now holding auditions for professional stunt performers to play the roles of some of the Marvel superheroes that will be found throughout Avengers' Campus.
Some of the auditions they have listed so far are for Captain America, Black Panther and General Okoye. Even before the Disneyland Closure we saw auditions taking place for Spider-Man and Black Widow among others.
Besides the construction that is progressing nicely, these auditions are also a good sign that we might be seeing a new opening date soon for Disney's Marvel Land.
At a Disney shareholders meeting on March 11, 2020, new Disney CEO Bob Chapek along with Bob Iger announced that the Avengers Campus would be opening on July 18, 2020, in Disney California Adventure.
However, shortly thereafter the opening date was changed on the Disneyland website and where it used to have the July 18 date it now instead reads: "Avengers Campus – Coming Soon."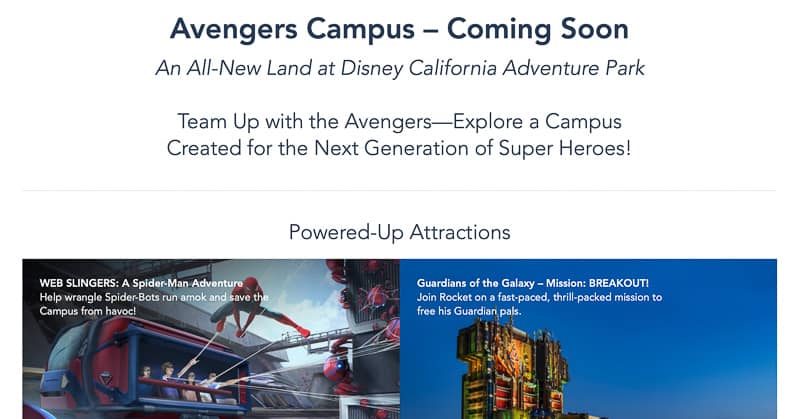 Of course, we still don't have a date yet, but if Disney is planning on opening Avengers' Campus in 2020, they will have to start letting people know soon. Scroll down further in this article for when we think Avengers Campus could possibly open.
Over this past year, Disney revealed brand new information about Avengers Campus, including details about its restaurants, attractions, new concept art and all the experiences you will get to be a part of in this brand new land.
In the rest of this article, you are going to see the layout of Avengers Campus, what it will look like when finished, and also more info about all the exciting attractions and restaurants that will be a part of Disney's Marvel Land.
(NEWS: 8/24/20) – Full-Sized Quinjet Lands in Marvel's Avengers Campus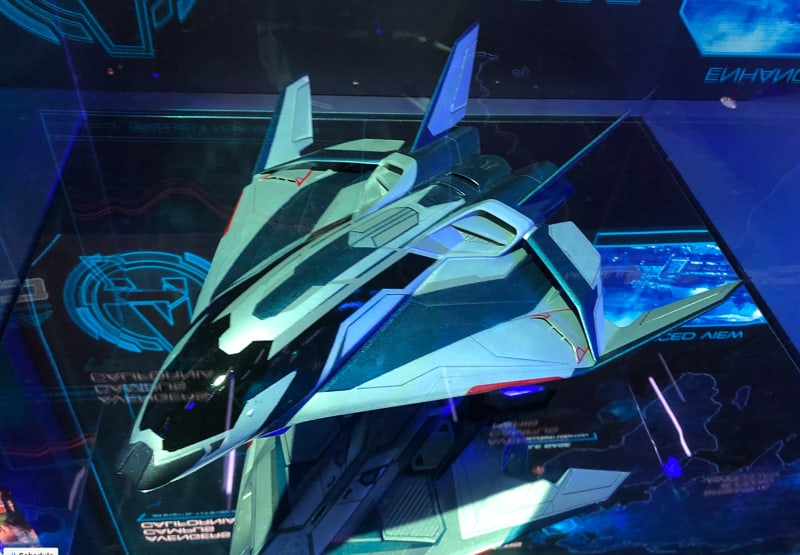 For many months during the Disneyland closure, there was no construction taking place on Avengers' Campus, but workers are now back on the project once again and have hit a milestone in Disney's Marvel Land.
Recently, Disney Parks President Josh D'Amaro posted on his Instagram account the full-sized Quinjet that will be one of the focal points of Avengers' Campus.
Marvel Studios President Kevin Feige and Disneyland Resort President Ket Potrock were also there for a photo op as "the Quinjet landed right in front of" them.
Walt Disney Imagineering also shared some photos of the Quinjet and gave a behind-the-scenes look at how the development team worked on it and a further sneak peek into Disneyland's Avengers' Campus.
From what we can see so far, the Quinjet looks absolutely stunning. It's placed on top of the entrance to what will be the Avengers E-Ticket attraction, that will not open right away in the first phase of Marvel Land.
Disney is using the Quinjet as a focal point for the land, much in the way the Millennium Falcon is in Star Wars: Galaxy's Edge.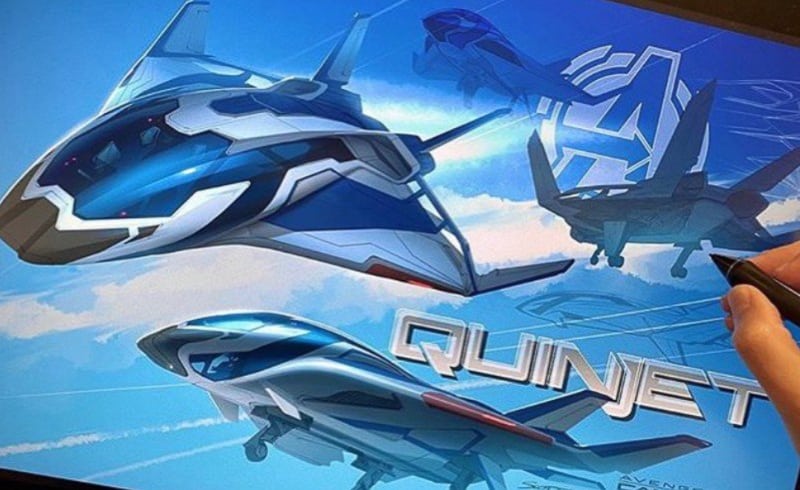 Let's hope the rest of the land lives up to the hype around it and that it's on par with Galaxy's Edge.
Read on for more general information about Marvel's Avengers' Campus.
Avengers Campus Info
The Avengers Campus is being set up to recruit the next generation of Super Heroes, and you get to play a part!
You'll be able to find the Avengers Campus in 3 Disney parks, Disney California Adventure, Disneyland Paris and Hong Kong Disneyland. It will have unique attractions and experiences that put you in the middle of the action with your favorite Avengers characters.
So far the images we've seen of it are awesome, and it really cool to see what it will look like when it's finished. Here is the latest concept art of the land and what it will look like as a whole: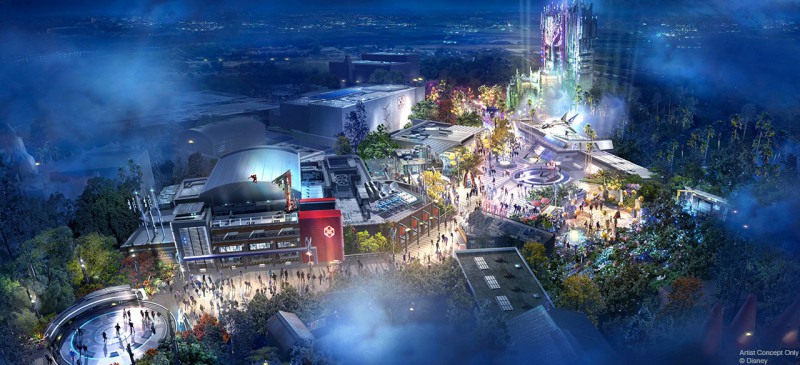 The Spider-Man ride is going in the building on the left and will be a similar experience to Toy Story Mania. There is going to be a Dr. Strange show and an Ant-Man Micro Brewery. Those are also located in the concept art.
It's hard to tell from the image, but it seems like in front of the Guardians of the Galaxy Mission: Breakout ride there is a ship parked on a roof to the right. That is where the new E-Ticket Avengers ride is going to be.
In the Disney Parks exhibit on the D23 Expo last summer, we got a better look at the concept art and also some models of what the land is going to be like. Let's take a look.
Attraction Info
At the core of any great theme park land, are its rides and attractions. From what we know so far, the Avengers Campus in Disney California Adventure will have 2 rides, 1 show, and a microbrewery quick service restaurant.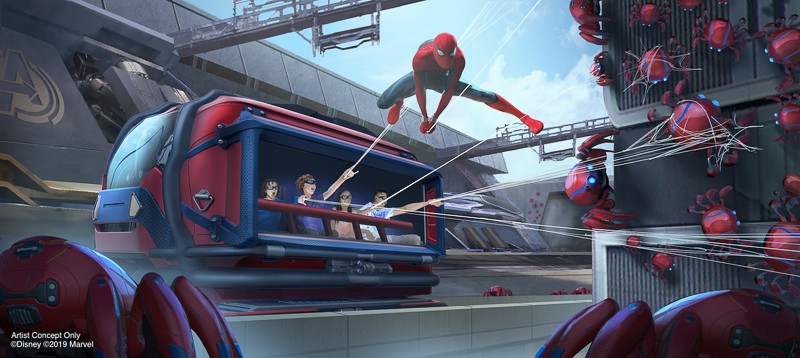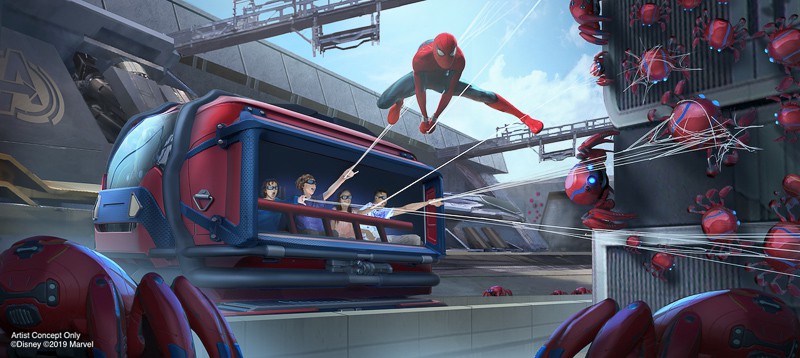 The first attraction which we already knew about is a Spider-Man web-slinging ride which is similar to Toy Story Mania from all accounts. You help Spider-Man destroy Spider-Bots after a project goes terribly wrong.
Thanks to the Disney Parks Blog, we now have some more information about the Spider-Man attraction including the name: "Web Slingers: A Spider-Man Adventure."
Guests on this attraction will wear 3D glasses and it will use an advanced gesture recognition system which will make it seem like webs are actually shooting out of your wrists! Somehow they have promised that even though the ride will not use extra equipment, it will feel like the real thing! We can't wait to see how this looks and feels.
In addition, we also learned that you will receive a total score for destroying the spider-bots, much like in Toy Story Mania. Bots will be color-coded with Red, Blue, Green and Gold colored bots all having different point values. The top scores will appear on a public scoreboard and keep track of the best daily/weekly/monthly scores.
The Web Suppliers across the street will sell spider-bots that you can build yourself and take home, much like the droids at Droid Depot in Galaxy's Edge.
The good news is that it will be a family-friendly ride, good for all ages and with no height restrictions!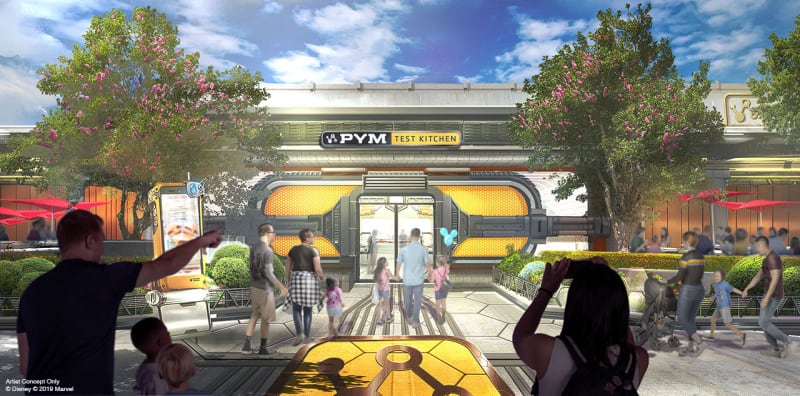 Next we found out there is a quick service micro-brewery called Pym Test Kitchen where Ant-Man and The Wasp use "Pym Particles" to grow and shrink just about anything, including the food at this eatery.
That means your food will come out several times larger than what it normally is. Expect to find super-sized pretzels, the "Not So Little Chicken Sandwich" with a normal-sized bun and a huge breaded chicken breast, the "Pym-ini" sandwich which is a whopping 2 feet long and 9 inches wide.
As has been the trend in the Disney parks recently, you will be able to get meatless dining options and at the Pym Test Kitchen, that means vegetarian meatballs served in an oversized spoon with a tiny fork.
There will also be a bar located next door serving lagers, beer and cocktails.
And speaking of food in Avengers Campus, we have confirmation that there will be shawarma! That's right if you remember the end of the original Avengers movie our heroes celebrated their victory in the post-credits scene by eating shawarma.
Now you'll be able to do the same at the Shawarma Palace Cart in Avengers Campus!
"No Avengers Campus would be complete without shawarma," Imagineer and writer Jillian Pagan said.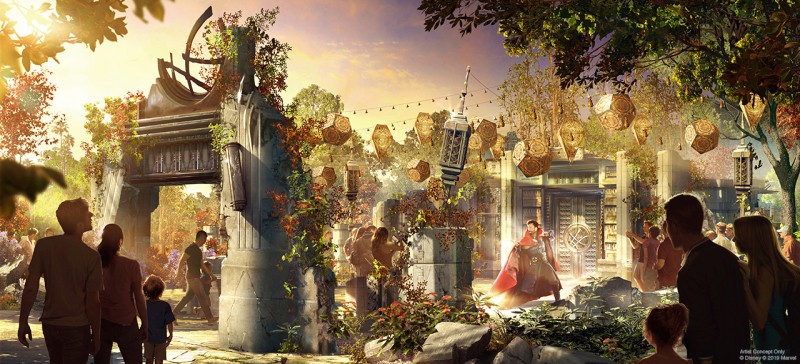 As for entertainment, Avengers Campus is packed with it!
Avengers Campus will be filled with super heroes and we now have confirmation of all that will be there when the Marvel Land opens. That list includes:
Iron Man
Captain America
Spider-Man
Black Panther
Thor
Loki
Guardians of the Galaxy
Black Widow
Doctor Strange
Ant-Man
The Wasp
Captain Marvel
the Dora Milaje
and more…
Some of these characters will have their own character meets and some will just be freely roaming around the land. Iron Man for example, will have his own character meet while debuting his never-before-seen new armor: the Mark 80.
One interesting addition is the Dora Milaje encounter. Here the famous Wakandan warriors led by General Okoye will be training new recruits to find out what it's like to be one of the royal bodyguards. We'll have to wait and see just how they are going to pull this one off.
There is going to be a superhero show staged in Avengers Campus, and the villain is none other than Taskmaster. He is the villain of the Black Widow movie and he specializes in having photographic reflexes, meaning he can imitate the Avengers' moves perfectly.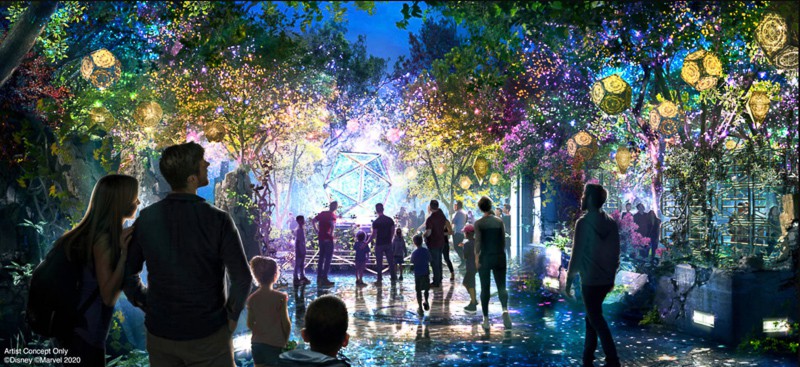 From what we can tell, Taskmaster will be going up against Captain America, Black Widow and Black Panther. This should be very realistic since Disney has hired the stunt choreography team from the Black Widow movie to train the stunt crew working in the show. We imagine that this is a show and story that can rotate whenever new villains come into the MCU.
Taskmaster is the choice at this time because Black Widow will be the newest film on peoples' minds when Avengers Campus opens. But they could potentially change out the super heroes and villains to reflect the latest MCU films which would be smart to keep people engaged.
Disney has confirmed that the Swinging "Stuntronics" Spider-Man is indeed coming to Avengers Campus when it opens in July. That will be amazing to see as Spider-Man will be launched overhead and behind buildings as you are walking down the street. We hope it's as cool in person as it looks in the videos.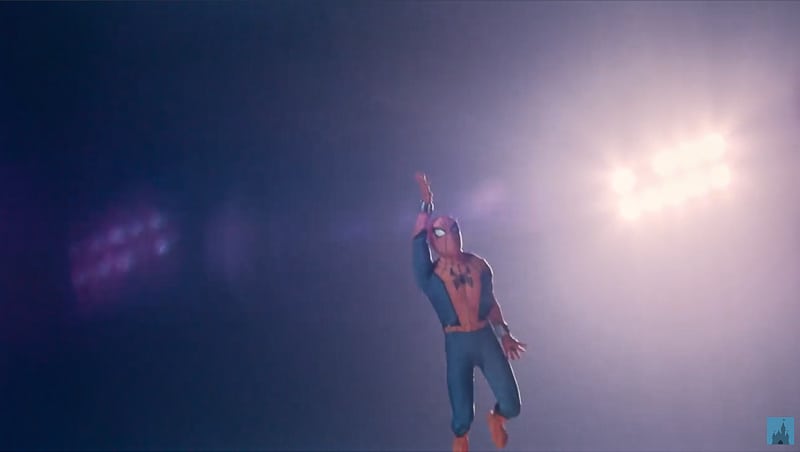 We got confirmed that a Dr. Strange Sanctum show is coming to Avengers Campus. In the sanctum, Doctor Strange will teach recruits the mystic arts and bring the ancient sanctum to life. This area will really be something to see at night when it comes alive and glows with lights and pulsating energy.
Lastly, we learned some info about a phase 2 project for Avengers Campus which includes an E-Ticket Avengers ride on a Quinjet. Read the detailed explanation of that Avengers ride here.
Avengers Campus Opening Date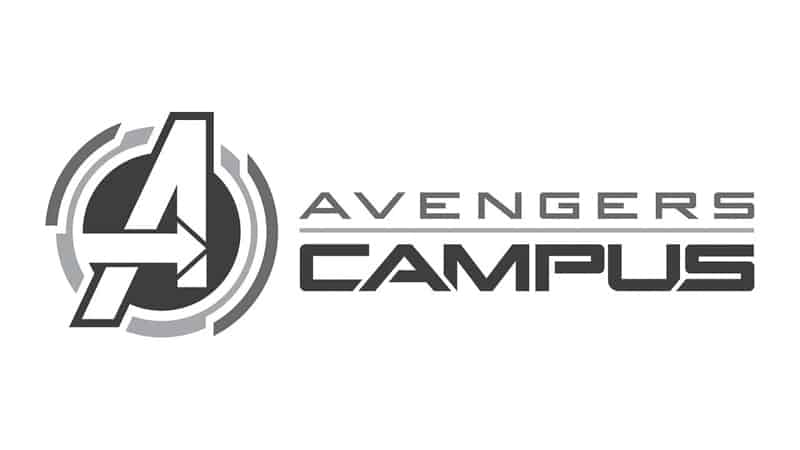 So far, everything we know about the Avengers Campus sounds awesome so far, but when is it going to be open? Unfortunately, not as early as was originally planned as the opening of Disneyland's Avengers Campus has been delayed indefinitely until further notice.
Originally, Disney had announced that Avengers Campus in Disney California Adventure was opening on July 18, 2020. That made sense and went along with what we had been hearing. Disney wanted their new Marvel Land open in time for the busy season in Disneyland and it would be the perfect Summer draw to the parks.
That was the plan until the current health crisis which then forced Disneyland (and Disney World) to close their doors. Construction was halted for some months with no work happening on the project.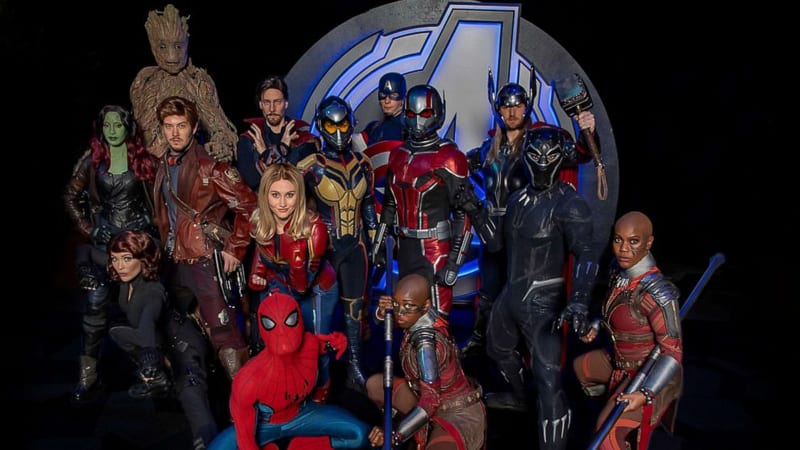 The good news is that construction is full-speed ahead once again, and some significant progress has been made over the last weeks, including the Quinjet landing in Avengers' Campus.
So when will Avengers Campus open in Disney California Adventure? At this point no one knows, not even Disney, hence the change on the website to "Coming Soon" instead of an actual date.
The truth is, we still don't know when Disneyland can reopen again, and Disney isn't going to debut their new, revolutionary Marvel Land right away. They will definitely wait some time until the crowds start coming back to Disneyland.
At this point, Disneyland will be closed at least until September, so let's look at when we think we might see Avengers' Campus open.
Disney announced in mid-March that Avengers Campus would be ready in mid-July, which means they were confident they only had about 4 months left of work until Marvel Land would be ready. That means Avengers Campus should be able to open roughly 4 months after Disneyland reopens, or from when construction work restarted.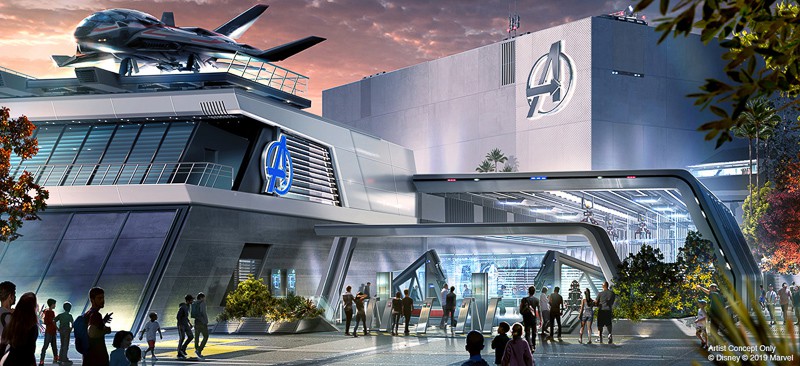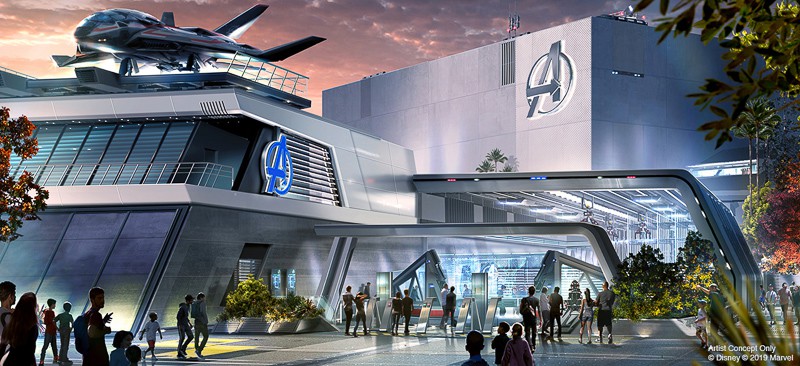 Since construction restarted in July and it needs 4 months, the earliest we could see Marvel Land open its doors is November. That assumes construction is able to progress at the same speed as before without any other delays. Since millions of businesses are closed around the world, it might be difficult to locate the materials and equipment needed to continue with the construction, which could cause delays.
Just because Avengers' Campus might be ready to open around November, doesn't mean however that Disney will choose to open it at that time. It makes sense that Disney would want to open such a groundbreaking theme park land when there are actually decent sized crowds there to experience it all. It would be pretty sad if Avengers' Campus opened to the same sized crowds currently found in Walt Disney World.
The difference is that the majority of visitors to WDW are tourists, whereas Disneyland is a much more regional park, with the majority of visitors being locals. We think Disney will wait until Disneyland actually opens before making a definitive decision on when to open Avengers' Campus to make sure it has the biggest impact possible.
Honestly, our guess is that at this point they will wait until 2021 to open Marvel Land. By then the crowds may have returned to the parks more and people will be more used to the new normal when visiting theme parks.
We should know more in the coming weeks and have a better feel for the whole situation once we are closer to a Disneyland reopening. Either way, it seems unlikely we will see Earth's mightiest heroes in Disneyland before early 2021.
What's Opening in Phase 1 of Avengers Campus?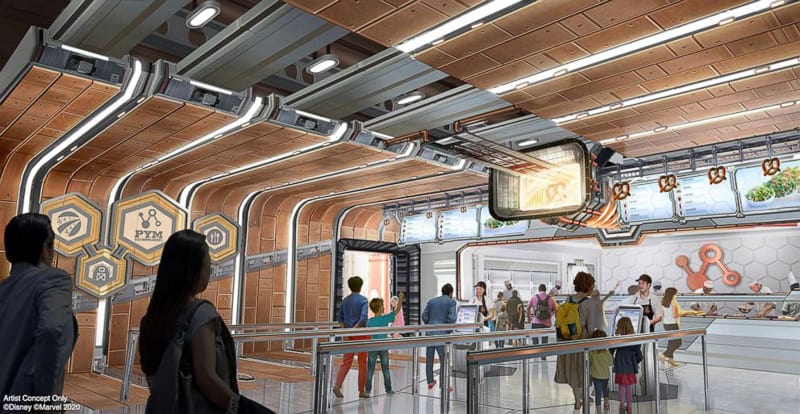 Another important thing to know about the Avengers Campus opening is that not everything will be ready immediately when the land makes its debut. The Avengers Campus land itself will be open sometime later in 2020, but not every part of the land will be ready and we are in for a multi-phase opening.
Since the Spider-Man ride, the Pym Test Kitchen and Dr. Strange Sanctum Show were all mentioned in detail, we can assume those will be a part of Phase 1 of the project.
We know that the E-Ticket Avengers ride hasn't begun construction yet and Imagineers are still hard at work on the design. That ride will not be ready in 2020, and we'll most likely have to wait until 2023 or later for it.
Whether or not there are other phases in between Phase 1 and the Avengers E-Ticket attraction which includes other experiences, for now, is a mystery. We'll have to hang tight and see how things develop.
Stay tuned to Ziggy Knows Disney for more news and info about the Avengers Campus as we'll keep you posted as new details come out!
Your Thoughts
I want to know what you think about the Avengers Campus so far…
Are you looking forward to this new land?
What other additions do you hope to see?
Let us know in the comments section below!
If you enjoyed this article, as always I appreciate it if you'd share it with others via social media. I work hard at making this website into a useful resource for you and your family to plan your visit to the Disney Parks and I hope it can help you! Thanks 🙂