If you are a superhero fan, then you'll be excited to know Disney is creating 3 Marvel Lands called: "Avengers Campus," which are coming to Disney California Adventure, Disneyland Paris and Hong Kong Disneyland.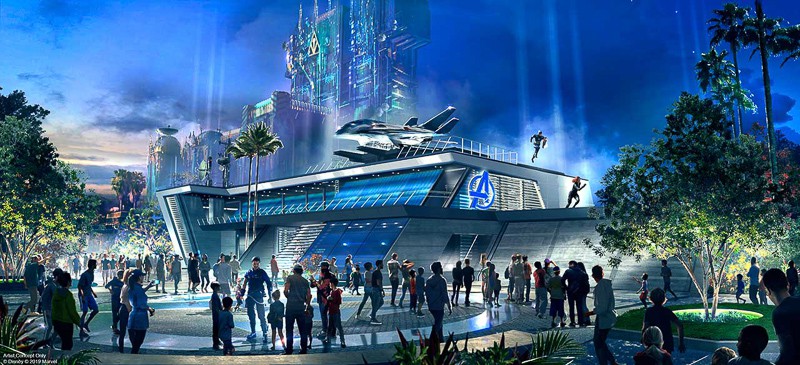 Have you ever wanted to become a superhero? Well, now you will have your chance because Avengers Campus is going to further revolutionize the theme park experience as you've never seen before!
Disney's Marvel Land is going to be such a big deal when it opens, and we want to help you and your family get ready for planning your trip to Avengers Campus so you know what to expect.
In this post, we're going to share everything you need to know about Marvel Land including the opening date, attractions, restaurants, entertainment, and all the latest news, info, and updates on Avengers Campus.
We're going to concentrate mostly on the Avengers Campus in Disney California Adventure, but we'll also touch on the other versions of Marvel Land in the other Disney Parks in Disneyland Paris and Hong Kong, and explain to you all the differences.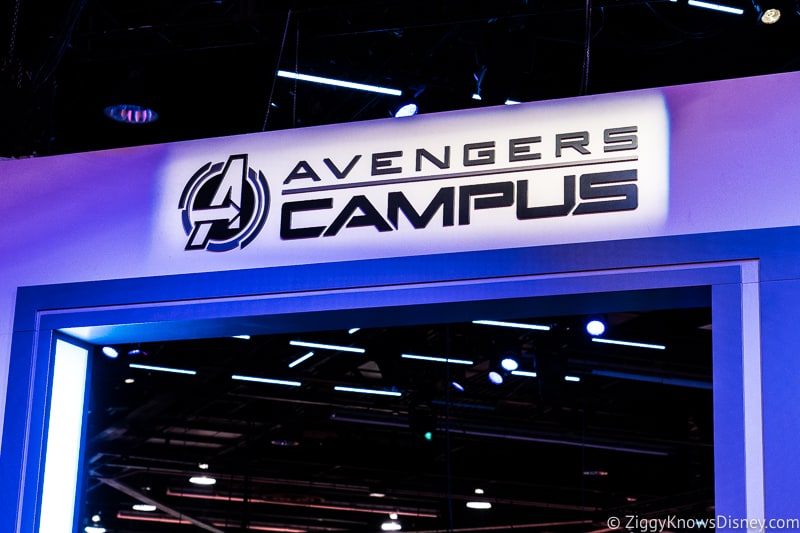 We'll continually update this post so you have the most up-to-date tips on Disney's Marvel Land as there is a lot of new info coming out Phase 1 and Phase 2 of this land. Enjoy!
Also, don't forget to sign up for our FREE Weekly E-Mail Newsletter. There we bring you the latest updates on Marvel's Avengers Campus and other Disney vacation planning tips. You can sign up here: Join our E-Mail Newsletter
That's a good way to stay in the loop and as soon as we know the Avengers Campus opening date, we'll let all our subscribers know right away!
(NEWS: 10/11/20) Is Avengers Campus Getting Close to Opening at Disneyland?
As you already know, Avenger's Campus, the Marvel Land coming to Disney California Adventure has been delayed due to the Disneyland Closure to an unknown future date.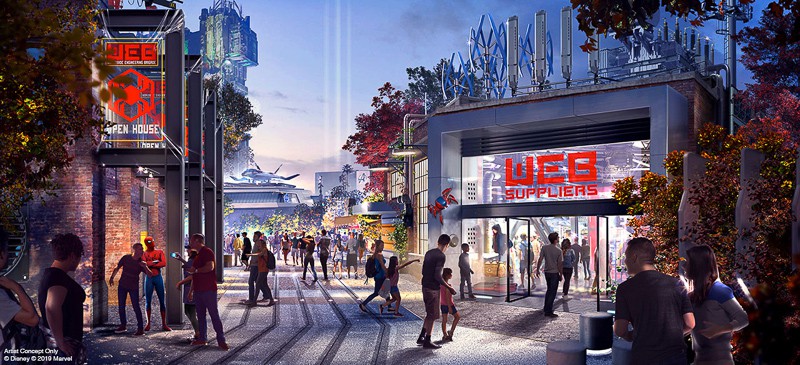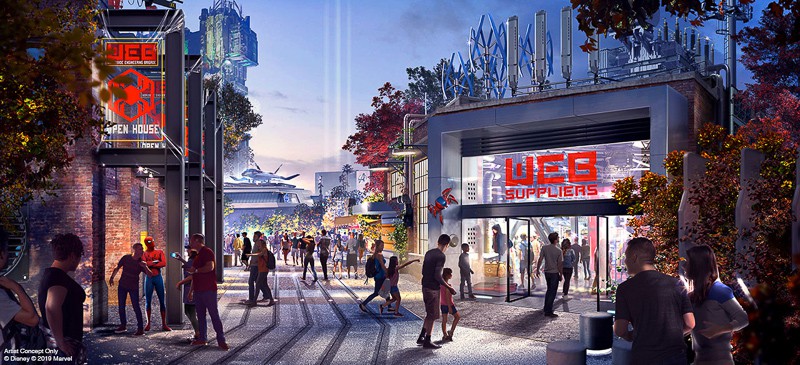 However, we might be getting closer to finding out the new opening date since Disney is now holding auditions for professional stunt performers to play the roles of some of the Marvel superheroes that will be found throughout Avengers Campus.
Some of the auditions they have listed so far are for Captain America, Black Panther and General Okoye. Even before the Disneyland Closure we saw auditions taking place for Spider-Man and Black Widow among others.
Besides the construction that is progressing nicely, these auditions are also a good sign that we might be seeing a new opening date soon for Disney's Marvel Land, even though it's doubtful that Disney's Marvel Land will actually open in 2020.
At a Disney shareholders meeting on March 11, 2020, new Disney CEO Bob Chapek along with Bob Iger announced that the Avengers Campus would be opening on July 18, 2020, in Disney California Adventure.
However, shortly thereafter the opening date was changed on the Disneyland website and where it used to have the July 18 date it now instead reads: "Avengers Campus – Coming Soon."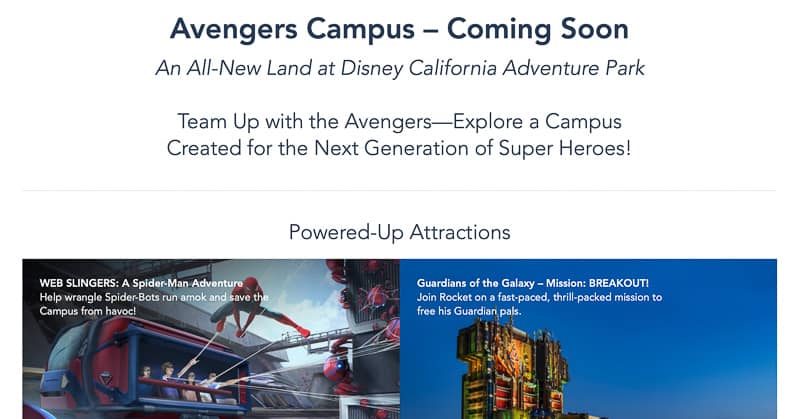 Of course, we still don't have a date yet, but if Disney is planning on opening the Avengers Campus in the next few months, they will have to start letting people know soon. Scroll down further in this article for when we think Avengers Campus could possibly open.
Over this past year, Disney revealed brand new information about Avengers Campus, including details about its restaurants, attractions, new concept art and all the experiences you will get to be a part of in this brand new land.
In the rest of this article, you are going to see the layout of Avengers Campus, what it will look like when finished, and also more info about all the exciting attractions and restaurants that will be a part of Disney's Marvel Land.
Avengers Campus Overview
Location: Disney California Adventure, Disneyland Paris, Hong Kong Disneyland
Status: Under Construction
ETA: 2021 (Phase 1); 2024 (Phase 2)
Type: Theme Park Land
Attractions: 3 (Guardians of the Galaxy- Mission: BREAKOUT!; Web Slingers: A Spider-Man Adventure, Avengers Quinjet Experience)
Entertainment: Character Meets and Stage Shows
Dining: 1 Restaurant, 1 Bar, 2 Food Stands
Shopping: Yes
The Avengers Campus is Disney's next all-immerse theme park land, based around the extremely popular Marvel franchise The Avengers. It takes inspiration from the stories and characters in the Marvel comics and films, and puts YOU in the middle of the action!
Avengers Campus has unique attractions, experiences, entertainment, and dining that makes you see what it feels like to be a superhero. It's also full of hidden secrets and easter eggs that will entertain you no matter if you are a fan of Iron Man, Black Panther, Spider-Man, Captain American, Black Widow, or any of the other Marvel superheroes.
Where Is Avengers Campus Located?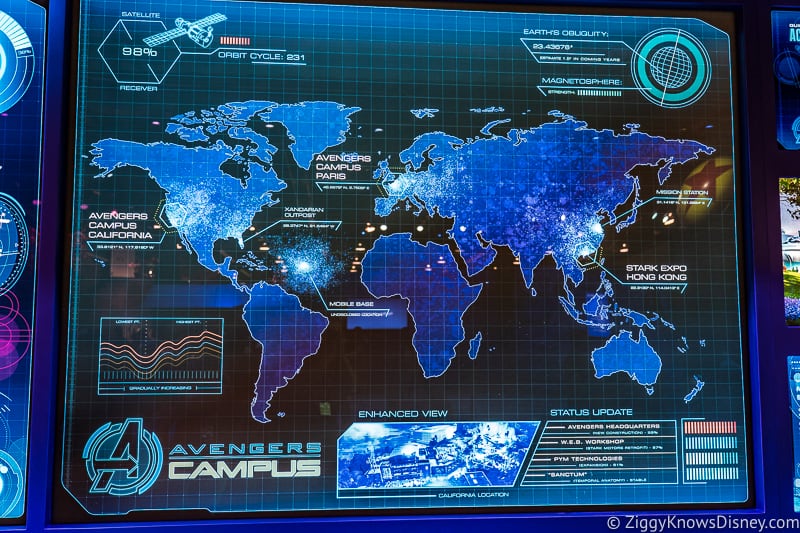 The Avengers Campus is coming to 3 Disney parks worldwide: Disney California Adventure, Disneyland Paris, and Hong Kong Disneyland.
In Disney California Adventure, the Avengers Campus is located on the former site of A Bug's Land, where Mission: BREAKOUT! currently sits and next to Cars Land. It's smaller than Galaxy's Edge, but still a massive land that will only grow with future expansions.
Story Behind Disney's Marvel Land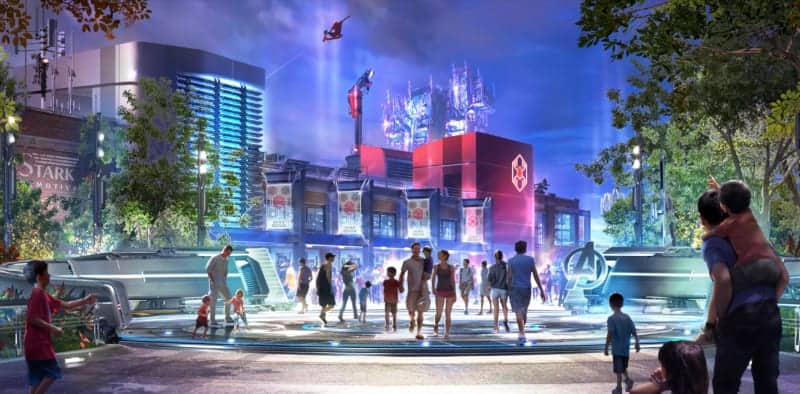 Avengers Campus in Disneyland is a brand new place that we haven't seen in the MCU films. Its backstory is that Tony Stark's father, Howard Stark, built a Stark Motors factory at this location back in the 1940s and then transformed it into a recruitment site for future superheroes.
Why build a brand new site and not go with someplace we've already seen in the Marvel films?
Jillian Pagan, staff writer for Walt Disney Imagineering explains:
"That's part of the reason why we wanted to create Avengers Campus as a brand-new place in the universe because then it doesn't matter your level of fandom, you're all coming in at the same level. You all can explore a brand-new place together."
You may be wondering how characters like Iron Man and Black Widow can be a part of the Avengers Campus since they are not alive in the current MCU timeline in the films. The way Disney gets away with including them is using The Multiverse. Just like in the films, in Marvel Land, there are multiple parallel universes existing at the same time. Avengers Campus in California exists in one of those other universes.
Why Is Disney Building Avengers Campus?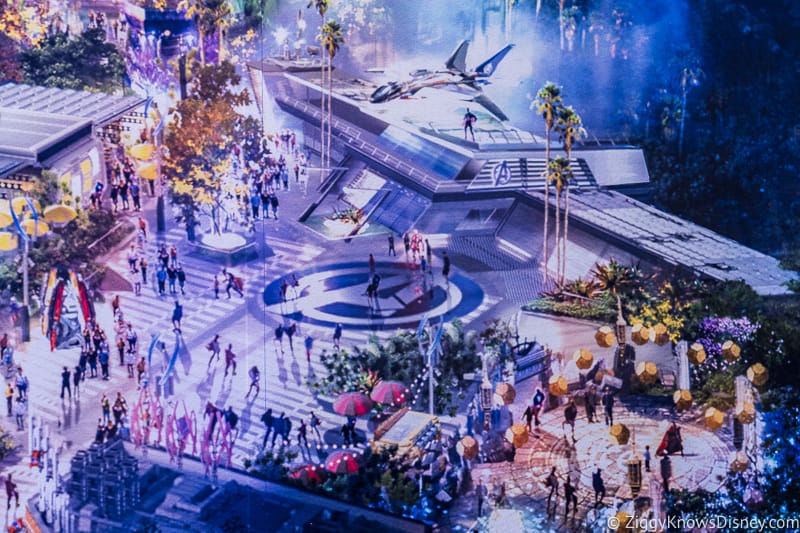 Honestly, why wouldn't Disney want to build a land based around arguably the company's most popular franchise? This allows Disney to bring the Marvel characters out of the big screen and the comics, and let fans interact and be a part of that world.
While guests can already meet some of the Marvel superheroes in California Adventure, Avengers Campus is a much more ambitious project. It lets you work alongside them and BE a superhero yourself. This is very similar to what Disney did with Star Wars: Galaxy's Edge, and we hope they can build on that idea.
California Adventure is also a perfect place to put Avengers Campus. It draws some of the crowds away from Disneyland, which was already the more popular of the two, and even more so since Galaxy's Edge opened in 2019.
Why isn't it called "Marvel Land"?
Though many people refer to Avengers Campus as Marvel Land (including us at times), its real name is Avengers Campus. The reason Disney can't officially call it "Marvel Land," is because of a legal issue.
Long before Disney bought Marvel, they had originally signed a licensing agreement with Universal Studios, forbidding them to use the word "Marvel" in any theme park west of the Mississippi River, including in attraction names or the promotion of them.
Disney can use the names of the individual superheroes like Thor, Spider-Man, Iron Man, etc in Disneyland and in the attraction names, they can't use the word "Marvel" in them. That's why it's called Avengers Campus instead.
Tickets and Reservations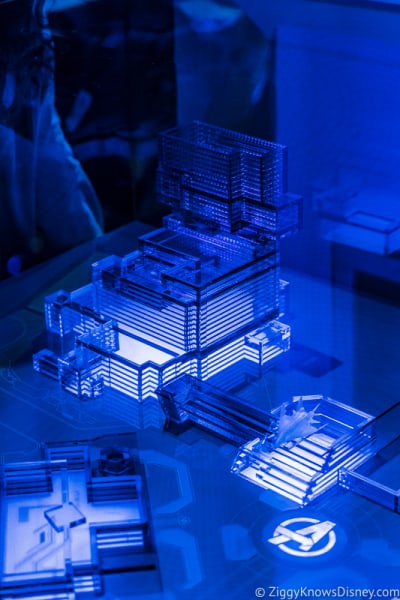 Since Avengers Campus is a land inside the Disney California Adventure theme park, there is no separate ticket required for entrance, just your normal theme park admission.
Will Reservations Be Required?
At this point, we don't know exactly how Disney is going to handle guest capacity for Avengers Campus and if reservations will be required. This depends on when Disney decides to open Marvel Land and if there are still the current safety restrictions in place, which could limit the number of people in that area at once.
If they think it's necessary, they could always use the Virtual Queue to let people in, giving entrance in boarding groups like they do with Rise of the Resistance already. The virtual queue may also be used for some of the attractions and experiences too, but we'll have to wait and see how it unfolds.
Avenger Campus Attractions
At the core of any great theme park land, are its rides and attractions. From what we know so far, the Avengers Campus in Disney California Adventure will have 3 rides when complete. The first of those attractions, Guardians of the Galaxy – Mission: BREAKOUT! is already open, and will weave seamlessly into the land.
The other two attractions are an interactive Spider-Man ride called: Web Slingers: A Spider-Man Adventure, and an unnamed E-Ticket attraction that is an Avengers Quinjet Experience.
Web Slingers: A Spider-Man Adventure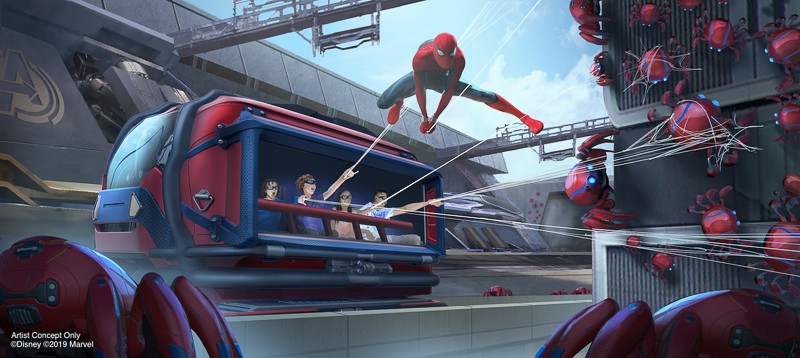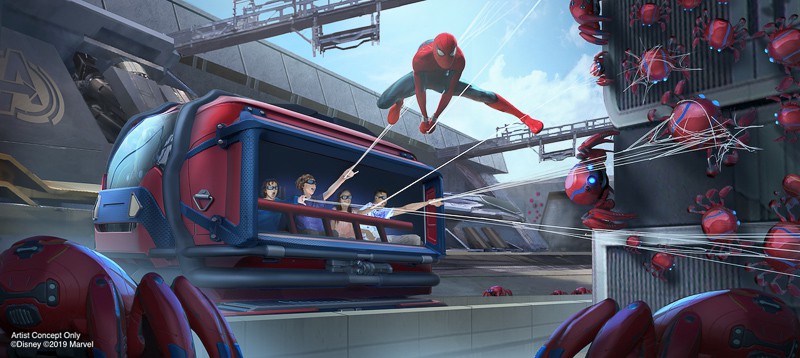 The first attraction which we already knew about is a Spider-Man web-slinging ride which is similar to Toy Story Mania from all accounts. You help Spider-Man destroy Spider-Bots after a project goes terribly wrong.
Thanks to the Disney Parks Blog, we now have some more information about the Spider-Man attraction including the name: "Web Slingers: A Spider-Man Adventure."
Guests on this attraction will wear 3D glasses and it will use an advanced gesture recognition system which will make it seem like webs are actually shooting out of your wrists! Somehow they have promised that even though the ride will not use extra equipment, it will feel like the real thing! We can't wait to see how this looks and feels.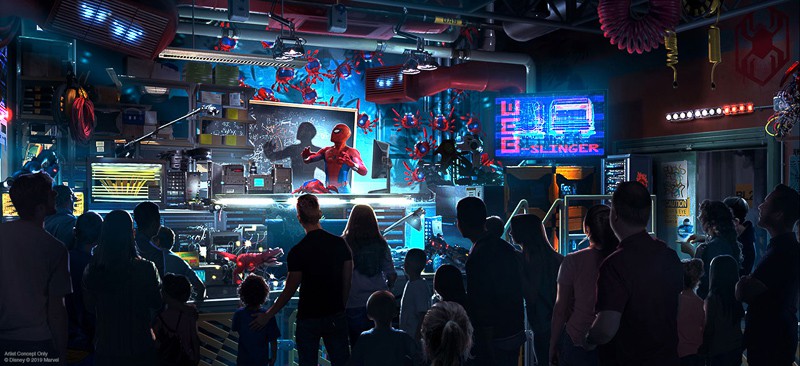 In addition, we also learned that you will receive a total score for destroying the spider-bots, much like in Toy Story Mania. Bots will be color-coded with Red, Blue, Green and Gold colored bots all having different point values. The top scores will appear on a public scoreboard and keep track of the best daily/weekly/monthly scores.
The good news is that it will be a family-friendly ride, good for all ages and with no height restrictions!
Web Slingers: A Spider-Man Adventure will be ready during the Phase 1 opening of Avengers Campus, whenever that may be. Some are saying Web Slingers won't be ready until Spring 2021, but we've yet to confirm that with Disney.
E-Ticket Avengers Quinjet Experience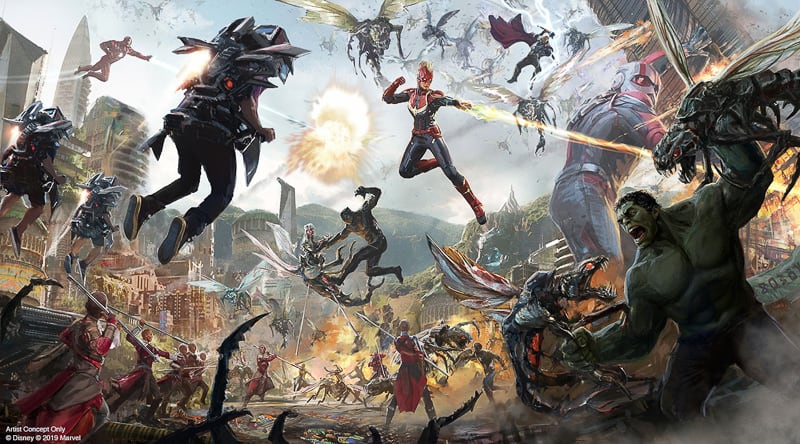 The big E-Ticket ride coming to Avengers Campus is a Quintet experience where you fly with the Avengers to Wakanda and participate in a huge battle there. The attraction is located through the Avengers HQ building, the one with the life-sized Quinjet on the roof and visible throughout Marvel Land.
This is supposed to be THE ride in Marvel Land, similar to what Rise of the Resistance is to Galaxy's Edge. The Battle in Wakanda attraction will feature a brand-new revolutionary ride system, where the seat may double as a jet pack and weapons system, but no more specific details have been given yet.
You'll team up with the Avengers and fight alongside them to save the world. The villains of the attraction are giant winged insects from the concept art, but we don't have any details about exactly who they are who what is behind them.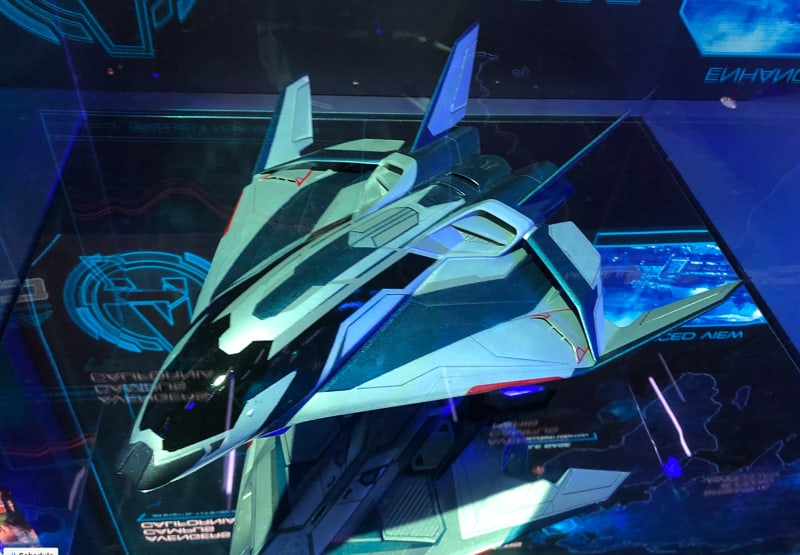 This ride is part of the planned "Phase 2" expansion of Avengers Campus, but no opening date has been given at this time. It was believed that this would open in 2023, but with the park closure and Disney cutting budgets for new attractions, it isn't likely that we'll be able to fly to Wakanda until 2024 or 2025.
For everything we know so far about the Quinjet E-Ticket Avengers ride read the detailed explanation of that Avengers ride here.
Guardians of the Galaxy: Mission-BREAKOUT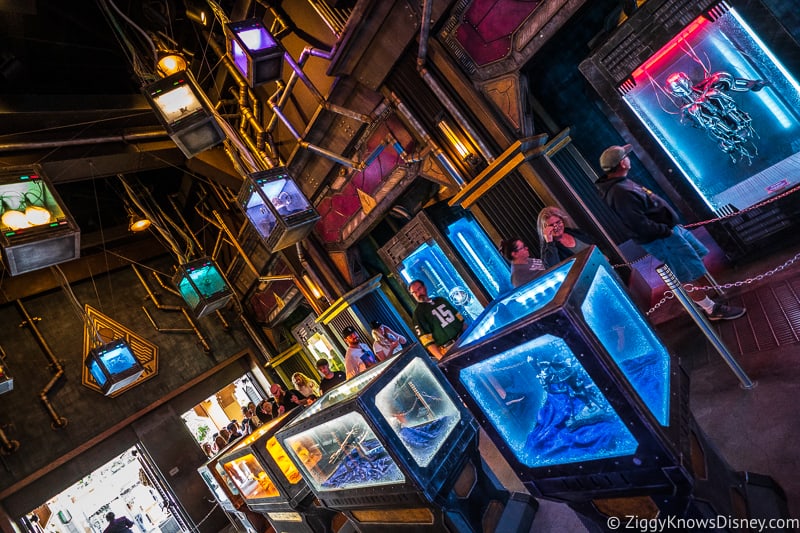 The third attraction is actually already in Marvel Land and that is Guardians of the Galaxy – Mission: BREAKOUT!
This ride replaced the popular The Twilight Zone: Tower of Terror attraction back in 2017, and uses the same ride infrastructure of the previous attraction. It's an accelerated drop tower dark ride based on the Guardians of the Galaxy franchise and includes Star-Lord, Rocket, Groot, Gamora, Drax, and The Collector.
We consider Mission: BREAKOUT! one of the best rides at the Disneyland Resort, and it is extremely fun and entertaining. We know some weren't happy with getting rid of the Tower of Terror, but we like the switch and love having a different ride on each coast.
Characters & Entertainment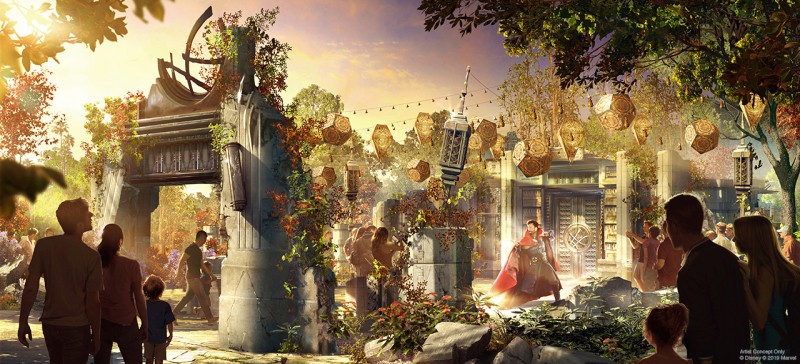 As for entertainment, Avengers Campus is packed with it including many of your favorite Marvel superheroes, character meets, and 2 stage shows.
Which Marvel Characters Will Be in Marvel Land?
Avengers Campus will be filled with super heroes and we now have confirmation of all that will be there when the Marvel Land opens. That list includes:
Iron Man
Captain America
Spider-Man
Black Panther
Thor
Loki
Guardians of the Galaxy
Black Widow
Doctor Strange
Ant-Man
The Wasp
Captain Marvel
the Dora Milaje
and more…
Character Meets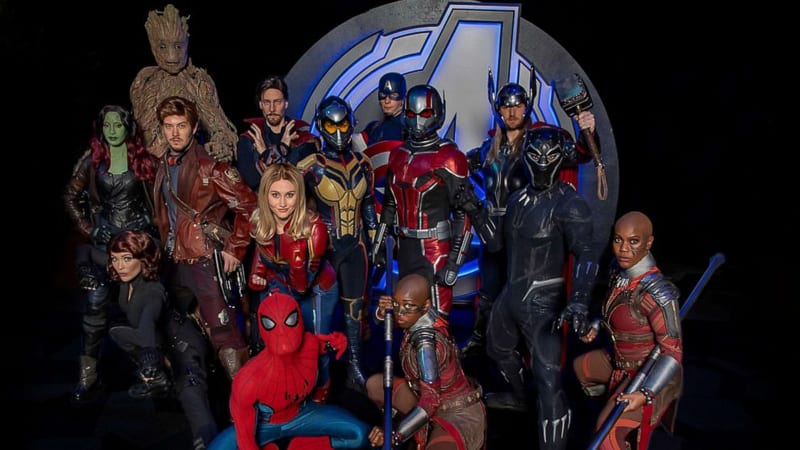 Some of these characters will have their own character meets and some will just be freely roaming around the land.
Iron Man – will have his own character meet on the first floor of Avengers Headquarters while debuting his never-before-seen new armor: the Mark 80!
Ant-Man and the Wasp – this is the first time Ant-Man and the Wasp have had a meet and greet, and they'll be located near the Pym Kitchen.
Thor and Loki – At this meet and greet near Doctor Strange's Sanctum Sanctorum, you can try to lift Thor's Hammer Mjölnir, and see if you are worthy!
One interesting addition is the Dora Milaje encounter. Here the famous Wakandan warriors led by General Okoye will be training new recruits to find out what it's like to be one of the royal bodyguards. We'll have to wait and see just how they are going to pull this off, but we hear it's similar to the Jedi Training Academy.
Other character meets already in Disney California Adventure like Spider-Man, Captain America, Captain Marvel, Black Widow and Black Panther will remain in Marvel Land.
Dr. Strange Sanctum Show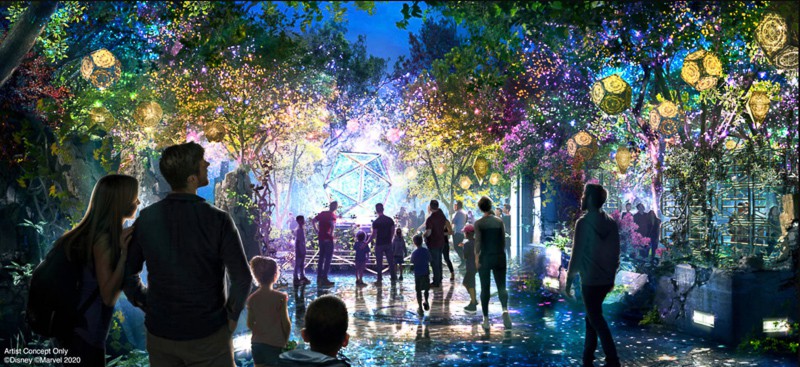 We got confirmed that a Dr. Strange Sanctum show is coming to Avengers Campus, and it will be the most beautiful spot in the whole land. It turns out that there have been unexplained energies and events happening here since the 1940s when the Stark Industries complex was built.
In the sanctum, Doctor Strange will teach recruits the mystic arts and bring the ancient sanctum to life. This area will really be something to see at night when it comes alive and glows with lights and pulsating energy, similar to Pandora: The World of Avatar and its bioluminescent lights.
The highlight of this area will be the glowing Orb of Cagliostro, which is especially active at night. These ancient ruins are the perfect location to encounter Dr. Strange, and you'll definitely want to come back after dark to explore the vibrant lights.
Superhero Show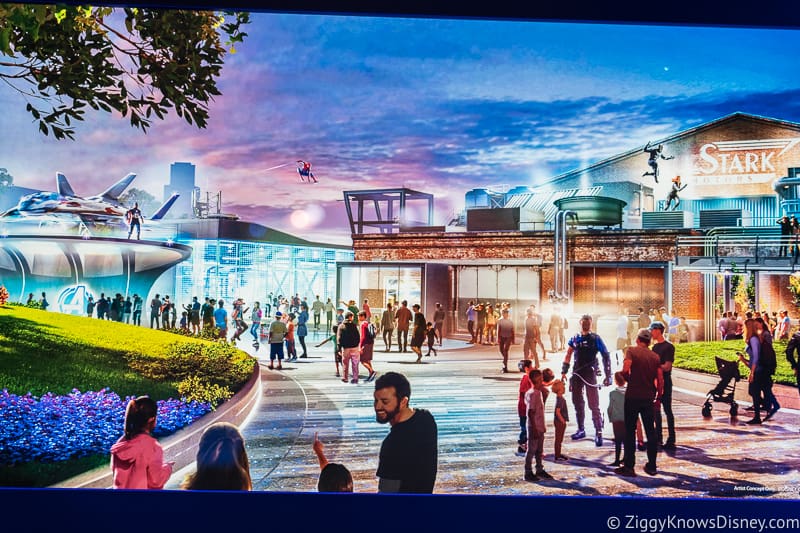 There is going to be a superhero show staged in Avengers Campus, and the villain is none other than Taskmaster. He is the villain of the Black Widow movie and he specializes in having photographic reflexes, meaning he can imitate the Avengers' moves perfectly.
The battle will take place on top of The Avengers HQ building where the Quinjet is located.
From what we can tell, Taskmaster will be going up against Captain America, Black Widow and Black Panther. This should be very realistic since Disney has hired the stunt choreography team from the Black Widow movie to train the stunt crew working in the show.
Taskmaster is the choice at this time because Black Widow will be the newest film on peoples' minds when Avengers Campus opens. However, they could potentially change out the superheroes, villains and story to reflect the latest films and villains in the MCU, which would be smart to keep people engaged.
Stuntronics Spider-Man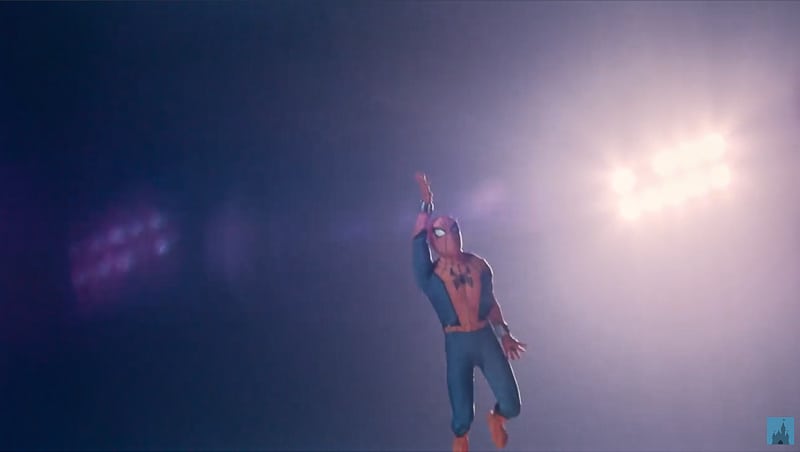 Disney has confirmed that the Swinging "Stuntronics" Spider-Man is indeed coming to Avengers Campus when it opens in July. That will be amazing to see as Spider-Man will be launched overhead and behind buildings as you are walking down the street. We hope it's as cool in person as it looks in the videos.
Dining and Restaurants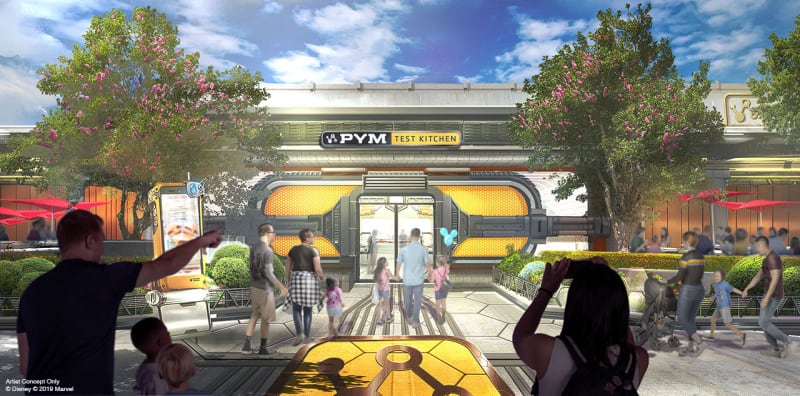 We can't cover details about a theme park land without mentioning the food! Avengers Campus is going on have 1 quick service restaurant (Pym Test Kitchen), 1 bar (Pym Tasting Lab), and 2 food carts.
We are really excited to see what the Disney chefs will work up and from what we've seen so far, they are going to have some really tasty and unique options to eat and drink when you visit. Let's take a look.
Pym Test Kitchen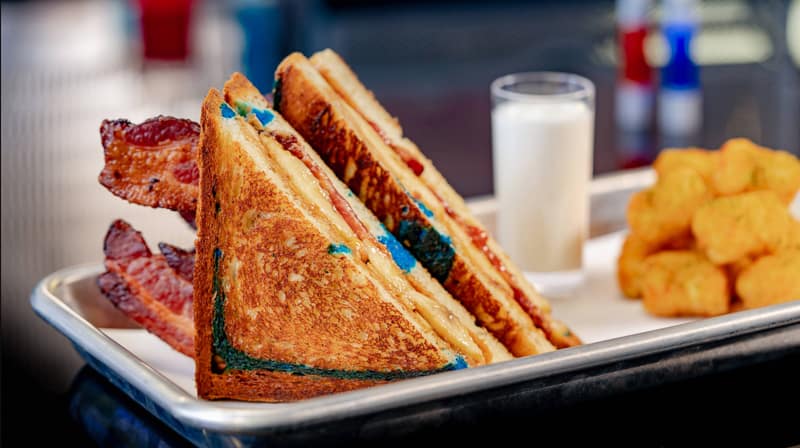 The main dining location in Marvel Land is a quick service micro-brewery called Pym Test Kitchen. Here Ant-Man and The Wasp use "Pym Particles" to grow and shrink just about anything, including the food at this eatery.
That means your food will come out several times larger than what it normally is, or even many times smaller than normal. I'm excited to see the creative ways Disney will use Pym particles to serve food you otherwise would not be able to eat!
The Pym Test Kitchen is located in an old lab facility, perfect for their experiments. The theming will show off their latest work with oversized condiment bottles, soda cans and a six-foot-tall mobile phone.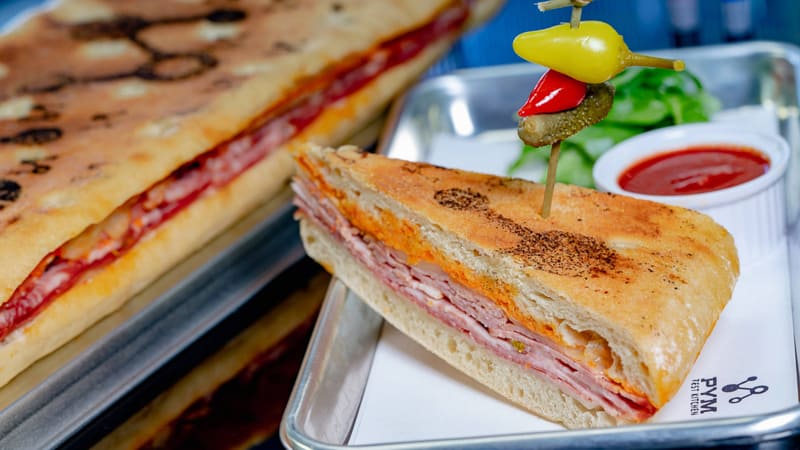 Here is a sneak peak at the Pym Test Kitchen Menu:
Snacks:
Super-sized Pretzels – As they pass through a quantum tunnel, they will either be tiny or super-sized and arrive on a conveyor belt.
Candybar – Dark chocolate with chocolate brownie, caramel, nougat, and peanuts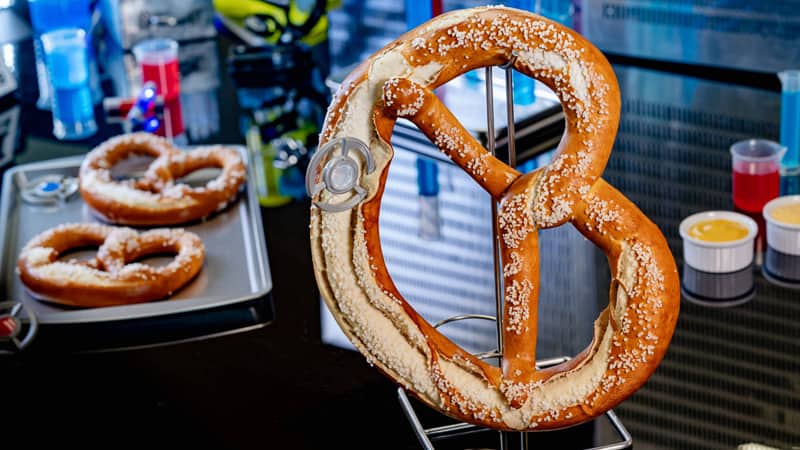 Entrees:
Caesar Salad & Colossal Crouton – Romaine lettuce, Caesar dressing, kalamata olives, pickled onions, a parmesan crisp, and a huge garlic crouton. We love Caesar salads and can imagine the huge crouton on top already!
"Not So Little Chicken Sandwich" – A normal-sized bun with a huge piece of breaded chicken and red chili sauce, pickled cabbage slaw, and potato tots.
"Pym-ini" Sandwich – A whopping 2 feet long and big enough for the whole family. Filled with salami, provolone, sundried tomato mayo, arugula and marinara dipping sauce. There is also a "Teeny Pym-ini" sandwich that is for one person.
PB3 Superb Sandwich – Peanut butter, banana, smoked bacon and strawberry jelly sandwich with a banana smoothie shot and potato tots.
Impossible Spoonful – Pasta with plant-based meatballs, cheese, tomato sauce and basil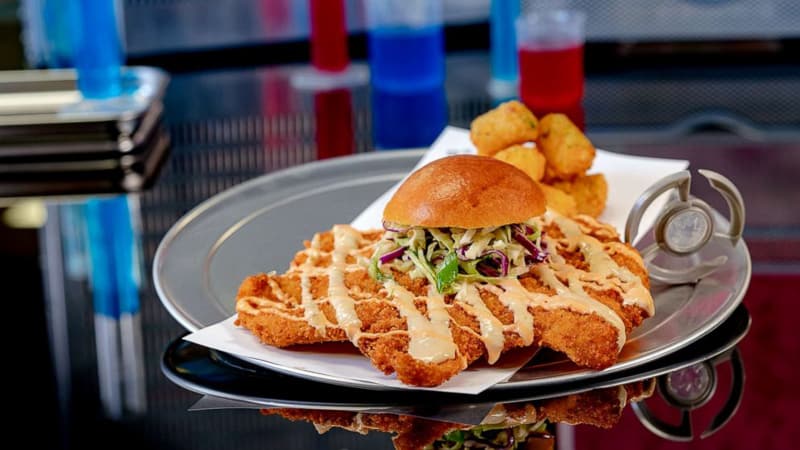 Kid's Menu:
Mini Pasta & Meatballs – Rigatoni and ditalini pasta with plant-based meatballs, cheese and tomato sauce.
Subatomic Chicken Sandwich – Crisp breaded chicken cutlet on a roll.
PB&J Flavor Lab – Peanut butter and strawberry jelly on "PYM Particle" bread.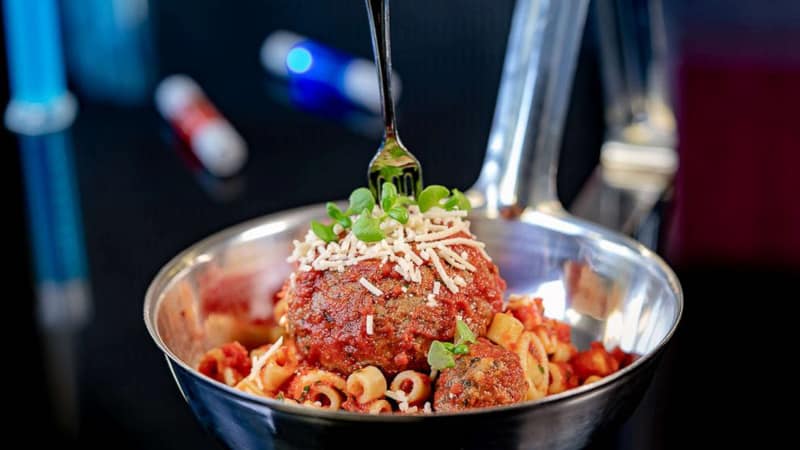 Drinks:
Assorted Soft Drinks from Coca-Cola Freestyle machines
Pingo Doce – The soda that Stan Lee famously drinks during The Incredible Hulk. It has a hint of lime, vanilla and "gamma radiation."
We don't know if this will be the final version of the menu or if it will change once the Pym Test Kitchen opens, but so far the options sound interesting and there is a good variety no matter your taste preference.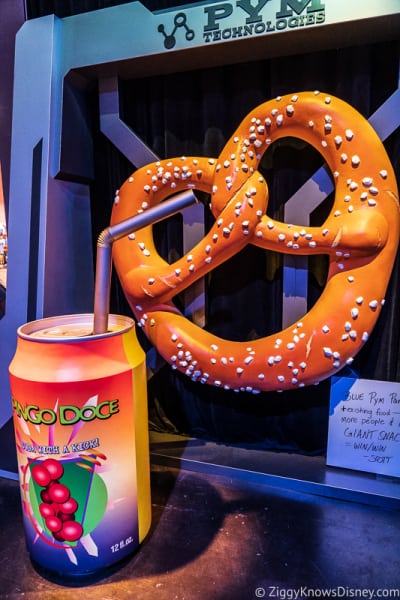 Pym Tasting Lab
Right next door to the Pym Test Kitchen, there is a bar called "Pym Tasting Lab" which serves lagers, beer and cocktails. It's an outdoor bar and will be attached to the same lab building as the Pym Test Kitchen.
The Pym Tasting Lab is Ant-Man's pet project and has a focus on experimental adult beverages, but it serves some interesting non-alcoholic drinks too that are good for the whole family.
If you like beer, you are in luck as the Pym Tasting Lab serves craft beers on tap. The coolest part of the experience however, is the unique reverse-pour system where the glasses fill from the bottom up.
Pym Tasting Lab Menu:
Drinks (Alcoholic):
X-Periment – Patron Silver tequila, lime juice, habanero, and mango syrup with mango popping pearls.
Molecular Meltdown – Garage Brewing Marshmallow Stout with vanilla ice cream and mini marshmallows.
Honey Buzz – Elysian Space Dust IPA, Plymouth gin, lemon juice, and honey syrup with an edible straw.
Particle Fizz – Endless Summer hard seltzer with cherry-flavored pearls.
The Regulator – Golden Road Mango Cart wheat ale, tequila, lime juice, habanero, and mango syrup with mango popping pearls.
Pint-Sized Pints (beer flights with four mini-steins).
X-Periment – Patron Silver tequila, lime juice, habanero, and mango syrup with mango popping pearls.
Molecular Meltdown – Garage Brewing Marshmallow Stout with vanilla ice cream and mini marshmallows.
Honey Buzz – Elysian Space Dust IPA, Plymouth gin, lemon juice, and honey syrup with an edible straw.
Particle Fizz – Endless Summer hard seltzer with cherry-flavored pearls.
The Regulator – Golden Road Mango Cart wheat ale, tequila, lime juice, habanero, and mango syrup with mango popping pearls.
Pint-Sized Pints (beer flights with four mini-steins).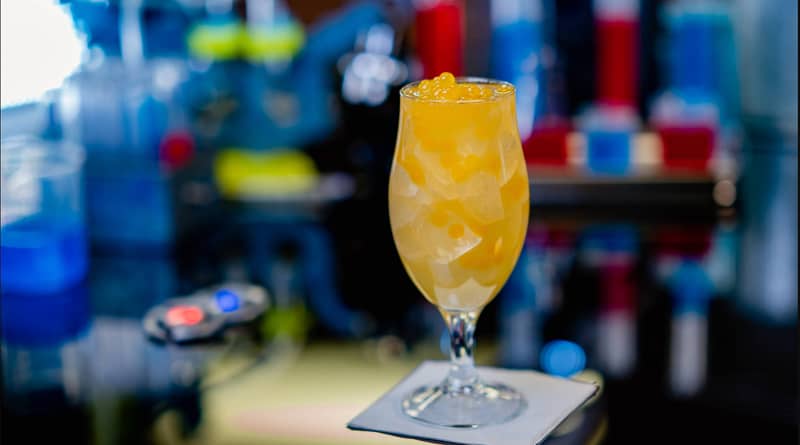 Drinks (Non-Alcoholic):
Proton PB&J Punch (nonalcoholic) – Strawberry and peanut butter lemonade topped with peanut butter-infused whipped cream and peanut butter–covered mini pretzels.
Snacks:
Snack Mix – popped sorghum (looks like mini popcorn), mini pretzels and honey-roasted peanuts.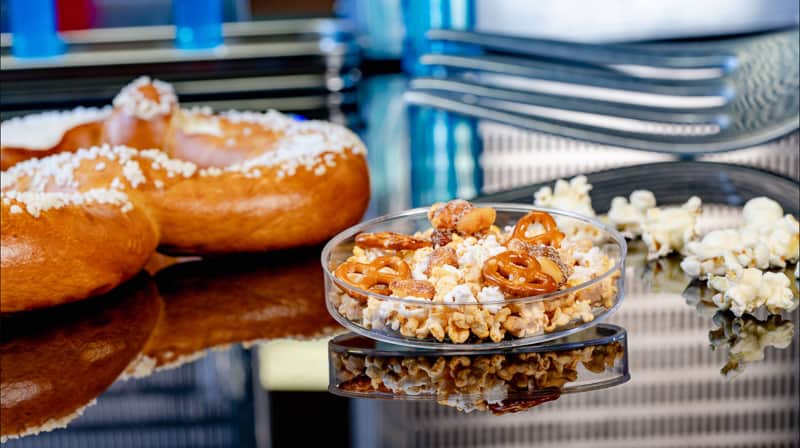 We can't wait to try the Pym Tasting Lab, and if it's half as cool as Oga's Cantina, then we're in for a real treat!
Shawarma Palace Cart
And speaking of food in Avengers Campus, we have confirmation that there will be shawarma! That's right if you remember the end of the original Avengers movie our heroes celebrated their victory in the post-credits scene by eating shawarma.
Now you'll be able to do the same at the Shawarma Palace Cart in Avengers Campus!
Menu:
Fragrant Chicken Shawarma and garlic sauce
Impossible plant-based Falafel Shawarma
"No Avengers Campus would be complete without shawarma," Imagineer and writer Jillian Pagan said, and we definitely agree!
Terran Treats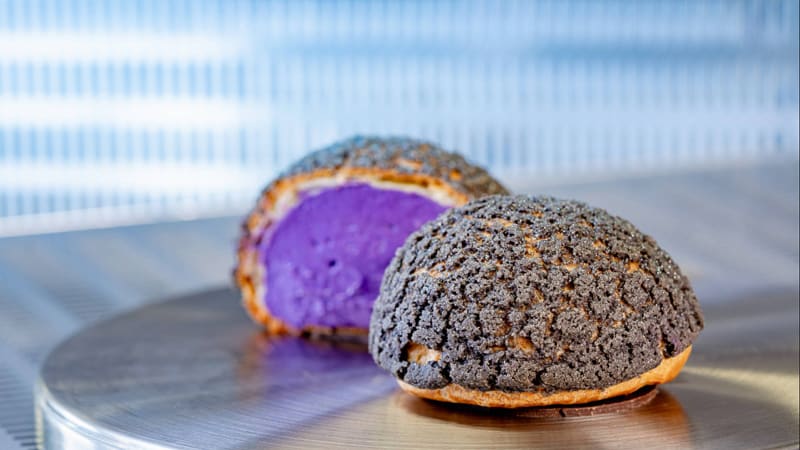 This is another food cart in Avengers Campus with an assortment of intergalactic eats and treats. Aptly called Terran Treats, this cart is named after Taneleer Tivan, or better known as The Collector from the nearby Guardians of the Galaxy – Mission: BREAKOUT! ride.
Menu:
Comic Cream Orb – This treat resembling an Infinity Stone is a delectable cream puff filled with raspberry cheesecake mousse.
Sweet Spiral Rations – Round and colorful churros that change varieties.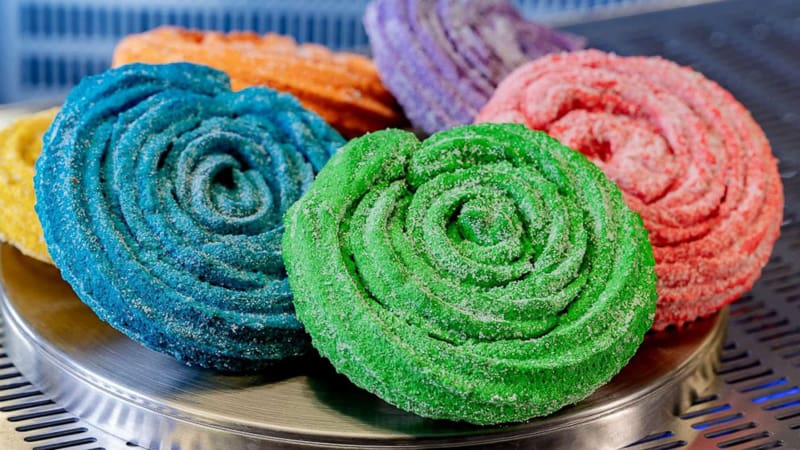 Shopping and Merchandise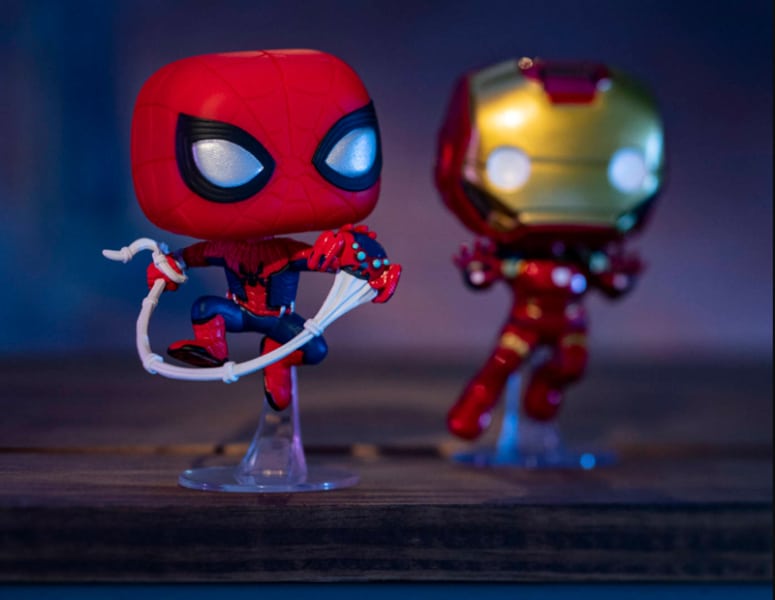 Just like in any Disney themed-land, there is sure to be lots of merchandise from Avengers Campus to take home with you. Themed Marvel merchandise like Spider-Bots, T-shirts, hoodies, headwear, backpacks, action figures and other gear will all be available.
More announcements will be made soon, but here is what we know so far.
Web Suppliers
The Web Suppliers across the street will sell spider-bots that you can build yourself and take home, much like the droids at Droid Depot in Galaxy's Edge. Each Spider-Bot has a remote control and eight moving legs.
There will also be at-home kits to build webs and tons of accessories for your Spider-Bot including a backpack for the Spider-Bot, Spider-Man light goggles and more.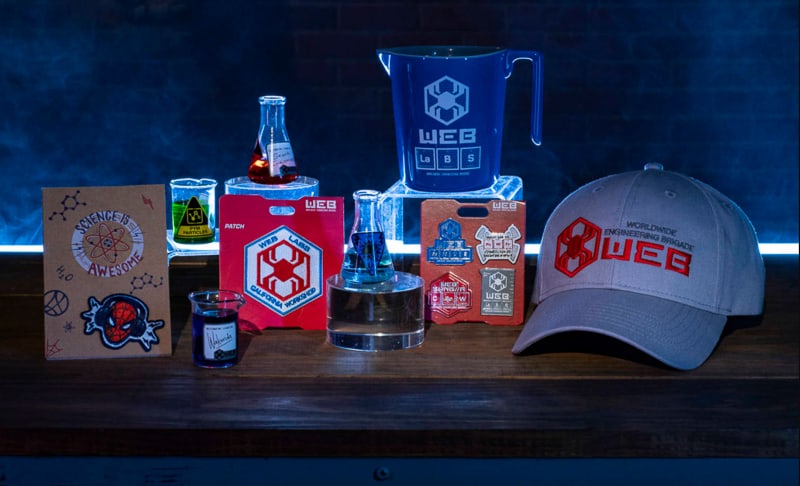 No price has been listed yet, but expect the Spider-Bots to cost $99 or more.
Campus Supply Pod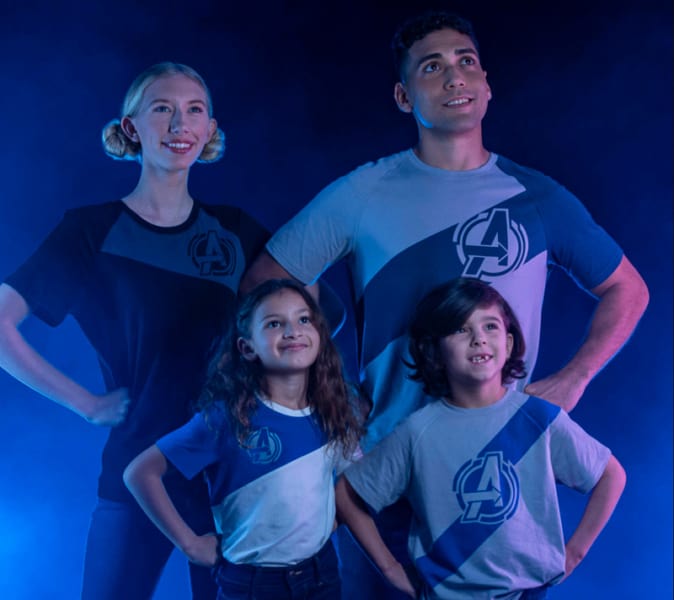 Campus Supply Pod is your more traditional merchandise store with Marvel-themed T-shirts, hoodies, headwear and more.
You can suit up in your Avengers Campus gear (such as hoodies, tees, headwear and other Super Hero supplies) at the nearby Campus Supply Pod.
Avengers Campus Layout
In the Disney Parks exhibit on the D23 Expo last summer, we got a better look at the concept art and also some models of what the land is going to be like. Let's take a look.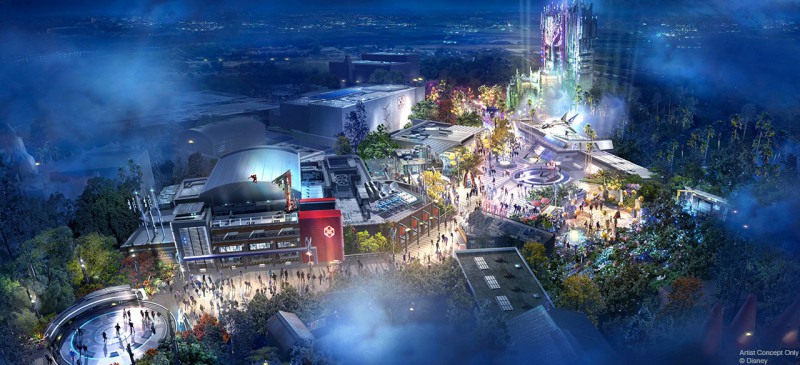 The Spider-Man ride is going in the building on the left and will be a similar experience to Toy Story Mania.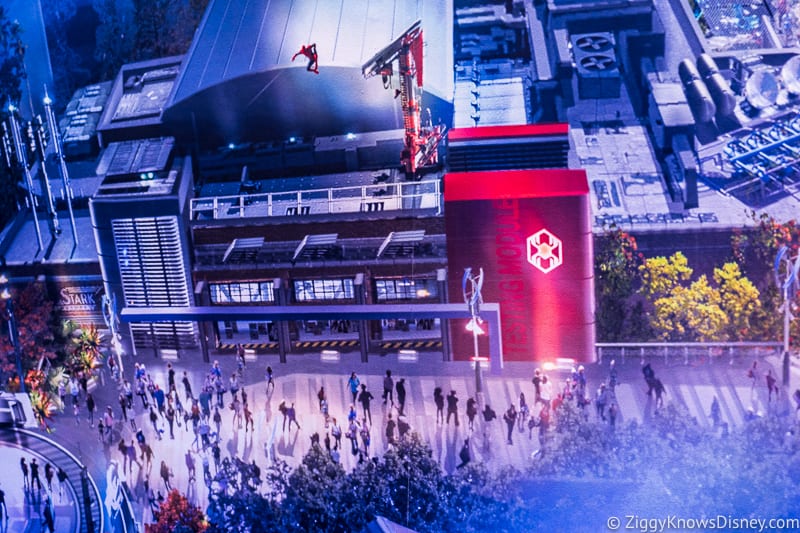 The Dr. Strange Sanctum show is tucked over in the bottom right side of the image, and you can see the glowing lights.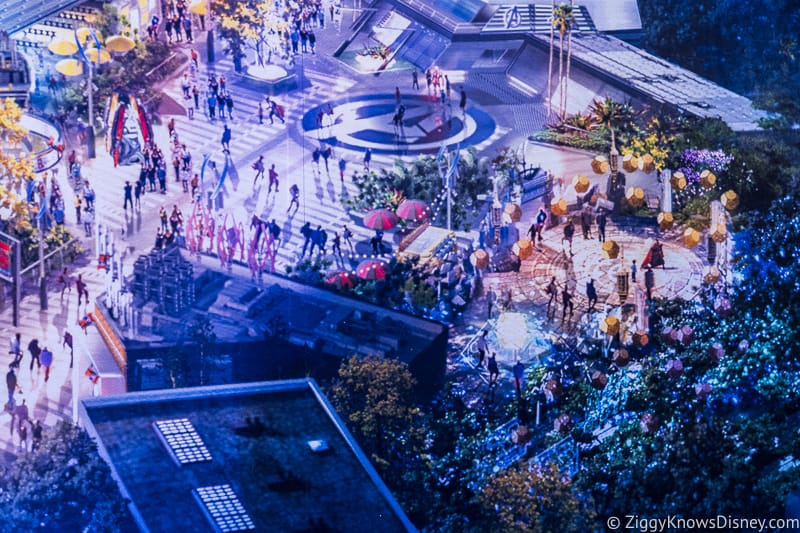 The tall building on the top right of the image is the Guardians of the Galaxy – Mission: BREAKOUT! attraction.
The building between Mission: BREAKOUT! and Web Slingers: A Spider-Man Adventure is where the Pym Test Kitchen and Pym Tasting Lab will be located.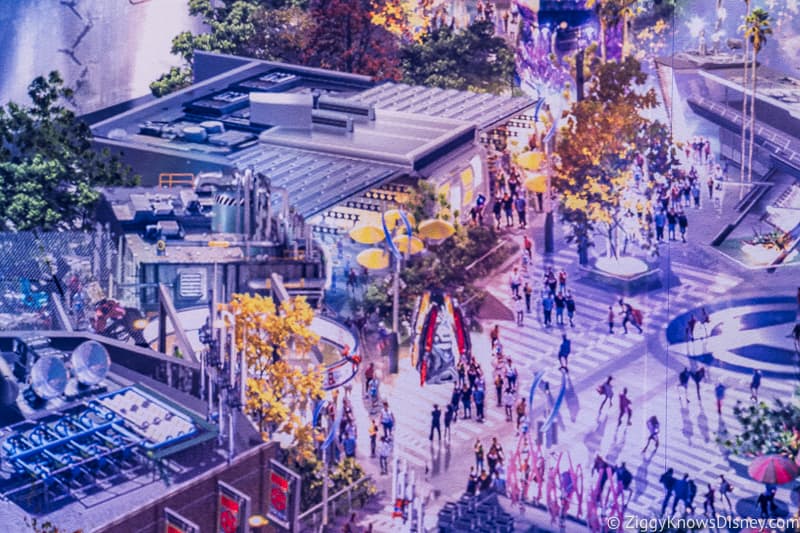 The building just to the right of Mission: BREAKOUT! with the Quinjet on it is the Avengers HQ, and on top of that is where the superheroes stunt show will take place. Through the door under the Quinjet is where the queue will begin for the Avengers E-Ticket attraction once that's built in a few years.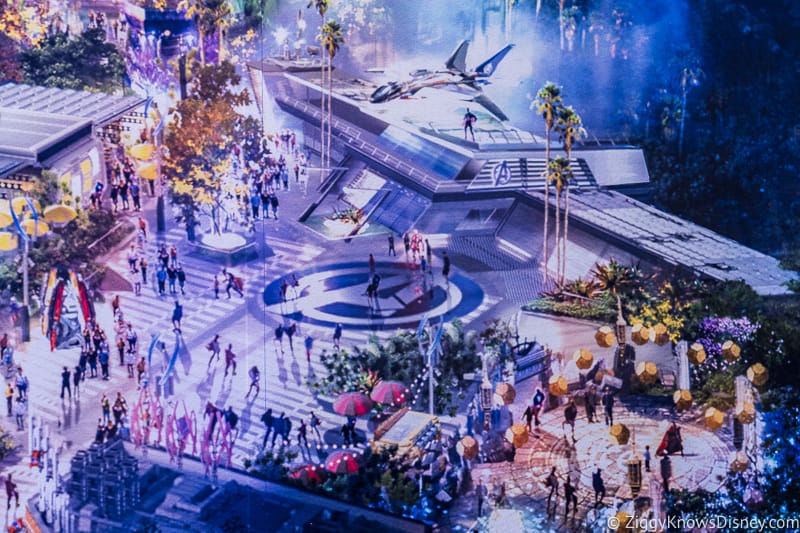 Construction Updates
For many months during the Disneyland closure, there was no construction taking place on Avengers Campus, but workers are now back on the project once again and have hit a milestone in Disney's Marvel Land.
Recently, Disney Parks President Josh D'Amaro posted on his Instagram account the full-sized Quinjet that will be one of the focal points of Avengers Campus.
Marvel Studios President Kevin Feige and Disneyland Resort President Ket Potrock were also there for a photo op as "the Quinjet landed right in front of" them.
Walt Disney Imagineering also shared some photos of the Quinjet and gave a behind-the-scenes look at how the development team worked on it and a further sneak peek into Disneyland's Avengers Campus.
From what we can see so far, the Quinjet looks absolutely stunning. It's placed on top of the entrance to what will be the Avengers E-Ticket attraction, that will not open right away in the first phase of Marvel Land.
Disney is using the Quinjet as a focal point for the land, much in the way the Millennium Falcon is in Star Wars: Galaxy's Edge.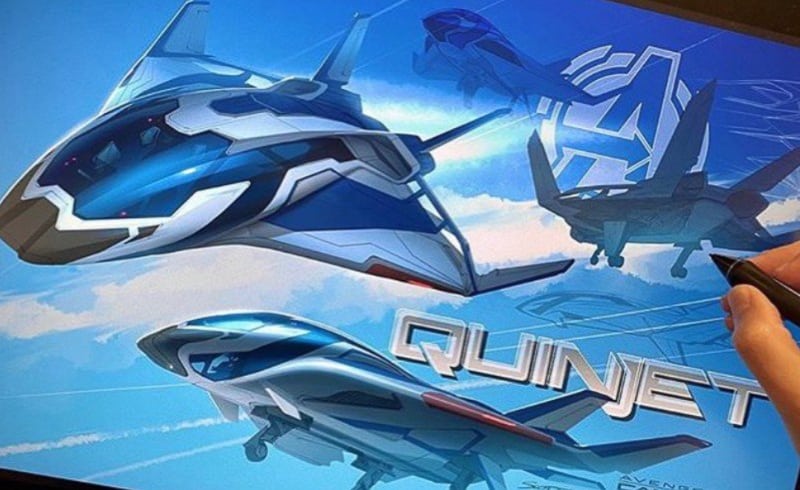 Let's hope the rest of the land lives up to the hype around it and that it's on par with Galaxy's Edge.
When Will Avengers Campus Open?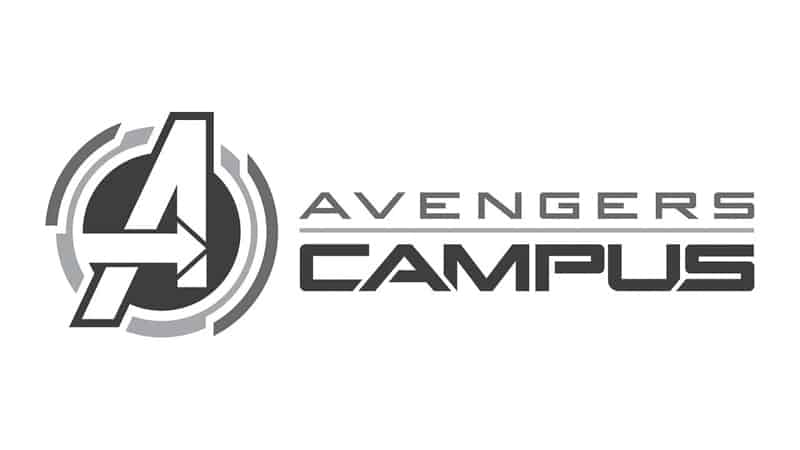 So far, everything we know about the Avengers Campus sounds awesome so far, but when is it going to be open? Unfortunately, not as early as was originally planned as the opening of Disneyland's Avengers Campus has been delayed indefinitely until further notice.
Originally, Disney had announced that Avengers Campus in Disney California Adventure was opening on July 18, 2020. That made sense and went along with what we had been hearing. Disney wanted their new Marvel Land open in time for the busy season in Disneyland and it would be the perfect Summer draw to the parks.
That was the plan until the current health crisis which then forced Disneyland (and Disney World) to close their doors. Construction was halted for some months with no work happening on the project.
The good news is that construction is full-speed ahead once again, and some significant progress has been made over the last months, including the Quinjet landing in Avengers Campus.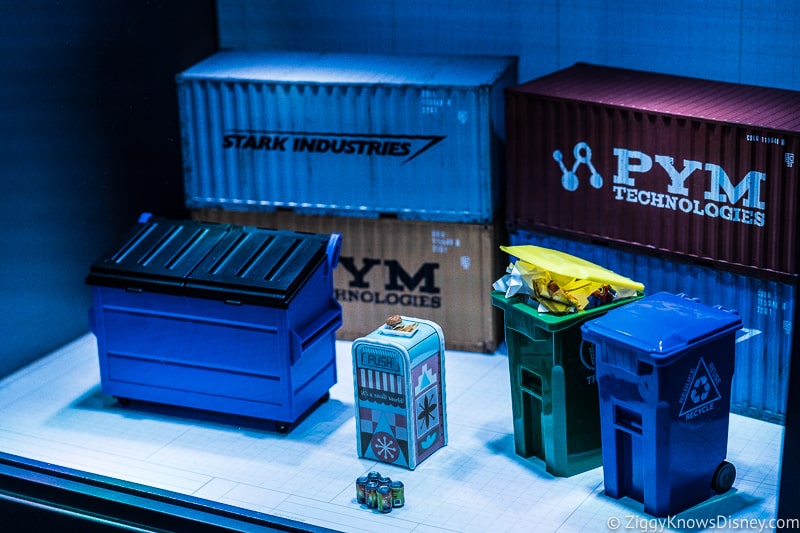 So when will Avengers Campus open in Disney California Adventure? At this point no one knows, not even Disney, hence the change on the website to "Coming Soon" instead of an actual date.
The truth is, we still don't know when Disneyland can reopen again, and Disney isn't going to debut their new, revolutionary Marvel Land right away. They will definitely wait some time until the crowds start coming back to Disneyland.
At this point, Disneyland will be closed at least until November, so let's look at when we think we might see Avengers Campus open.
Disney announced in mid-March that Avengers Campus would be ready in mid-July, which means they were confident they only had about 4 months left of work until Marvel Land would be ready. That means Avengers Campus should be able to open roughly 4 months after Disneyland reopens, or from when construction work restarted.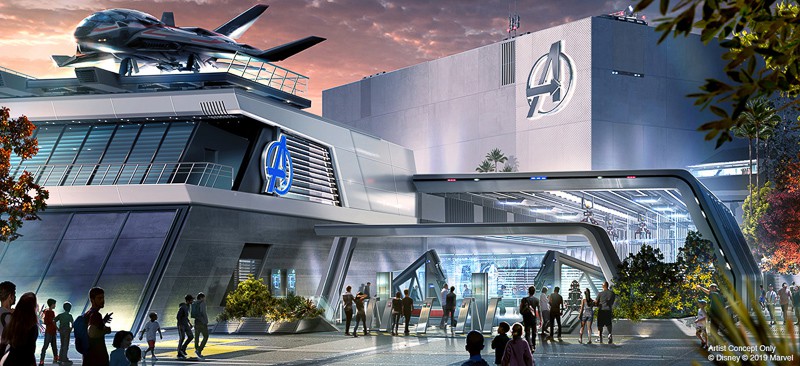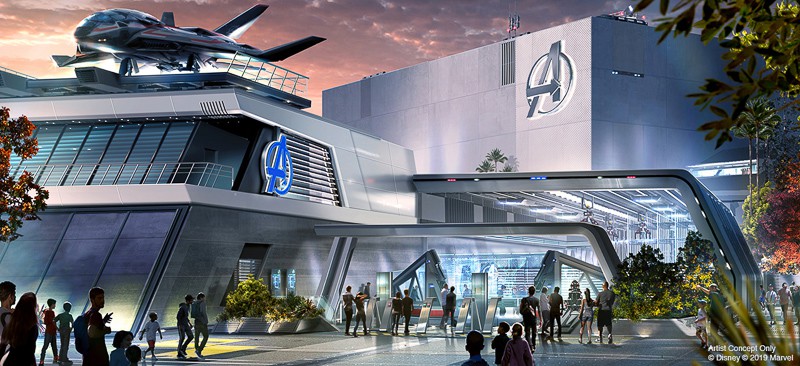 Since construction restarted in July and it needs 4 months, the earliest we could see Marvel Land open its doors is November. That assumes construction is able to progress at the same speed as before without any other delays. Since millions of businesses are closed around the world, it might be difficult to locate the materials and equipment needed to continue with the construction, which could cause delays.
Just because Avengers Campus might be ready to open around November, doesn't mean however that Disney will choose to open it at that time. It makes sense that Disney would want to open such a groundbreaking theme park land when there are actually decent-sized crowds there to experience it all. It would be pretty sad if Avengers Campus opened to low crowds.
The difference is that the majority of visitors to WDW are tourists, whereas Disneyland is a much more regional park, with the majority of visitors being locals. We think Disney will wait until Disneyland actually opens before making a definitive decision on when to open Avengers Campus to make sure it has the biggest impact possible.
Honestly, our guess is that at this point they will wait until 2021 to open Marvel Land. By then the crowds may have returned to the parks more and people will be more used to the new normal when visiting theme parks.
We should know more in the coming weeks and have a better feel for the whole situation once we are closer to a Disneyland reopening. Either way, it seems unlikely we will see Earth's mightiest heroes in Disneyland before early 2021.
What's Opening in Phase 1 of Avengers Campus?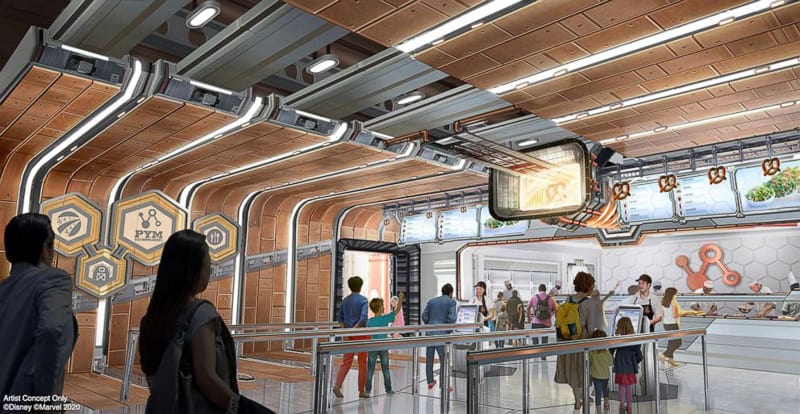 Another important thing to know about the Avengers Campus opening is that not everything will be ready immediately when the land makes its debut. The Avengers Campus land itself will most likely open sometime in 2021, but not every part of the land will be ready and it will be a multi-phase opening.
Since the Spider-Man ride, the Pym Test Kitchen and Dr. Strange Sanctum Show were all mentioned in detail, we can assume those will be a part of Phase 1 of the project.
What's Opening in Phase 2?
The only thing we know about so far coming to Avengers Campus is the new "E-Ticket" Avengers Quinjet experience that brings you to the middle of a battle in Wakanda.
We know that the E-Ticket Avengers ride hasn't begun construction yet and Imagineers are still hard at work on the design. That ride will not be ready in 2021, and we'll most likely have to wait until 2024 or later for it.
Whether or not there are other phases in between Phase 1 and the Avengers E-Ticket attraction which includes other experiences, for now, is a mystery. We'll have to hang tight and see how things develop.
Touring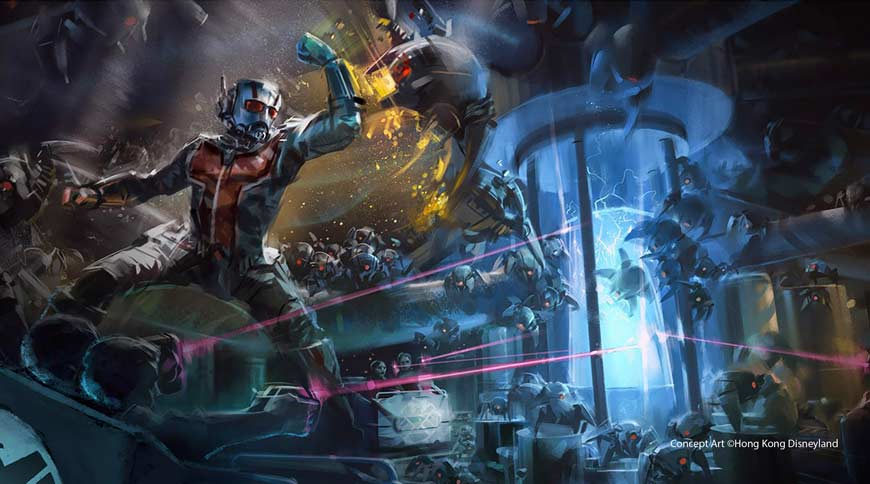 Thankfully, Disney California Adventure is an easy park to tour, and you can do everything worth doing in one day. While adding Avengers Campus will fill your touring plan more, it still won't be as full as going to Disneyland for example.
When Web Slingers: A Spider-Man Adventure opens, it will likely jump Radiator Springs Racers as the most popular ride in the park, at least for a while. We anticipate making that your number 1 priority for the day, followed by Radiator Springs Racers and Mission: BREAKOUT! after that.
If FastPass is running, it makes sense to run ahead at rope drop and get one for Web Slingers right away and then head to Radiator Springs Racers. Thankfully they are near each other, and in any case, these two will be your priorities.
We'll have more detailed touring tips for Avengers Campus as soon as it opens.
When Should I Visit Avengers Campus?
In our opinion, it would be best to visit Avengers Campus as soon as it opens. The first reason is that it's always better to visit new attractions when they are still new. Little details of the attractions tend to break with time (hello Yeti), and when they first open, that's the best condition you will ever experience them in.
So in the example of the Web Slingers attraction, it's better not to wait to experience it, get to it right away.
If you are thinking of waiting until the Quinjet ride is ready, you'll have to wait a LONG time and we don't think that it will be ready for a good 3-4 years after Marvel Land first opens. We say, go right away, and then go back when Phase 2 opens up.
Is Avengers Campus Coming to Disney World?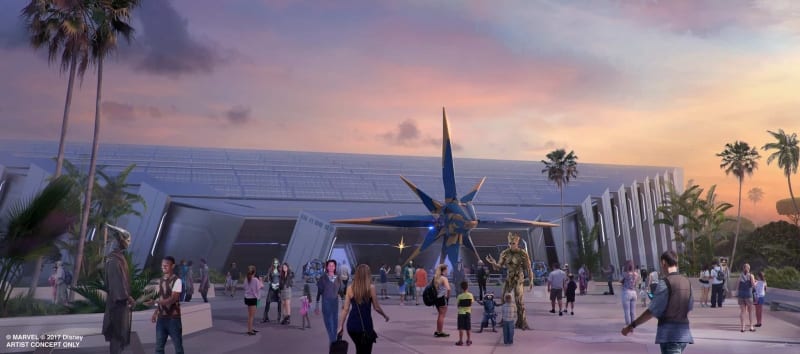 With Avengers Campus opening at the Disneyland Resort in Anaheim, one might wonder: "Will a Marvel Land ever come to Walt Disney World?" While we don't know that the answer will always be a definite "no," there are legal issues blocking it from the East Coast Disney parks.
Well before Disney bought them, Marvel had already signed over all theme park rights of the majority of the Marvel characters to Universal Studios to use in their theme park Islands of Adventure.
The contract states that only Universal has the rights to put those characters in a theme park East of the Mississippi River, and the last time I checked, Walt Disney World is definitely East of the Mississippi. The character theme park rights for Universal includes most of the A-List characters such as: Iron Man, Spider-Man, Captain America, The Hulk, The X-Men, The Fantastic Four, etc).
In fact, in 1999, Universal opened Islands of Adventure, which is home to Marvel Super Hero Island, and as long as that exists in Islands of Adventure, Disney cannot put those characters in a theme park East of the Mississippi, thus no Avengers Campus at Disney World.
Since the Mississippi is the dividing line however, Disney is free to use those characters in theme park West of the Mississippi River, and that's why a Marvel-themed land is permitted in Disneyland.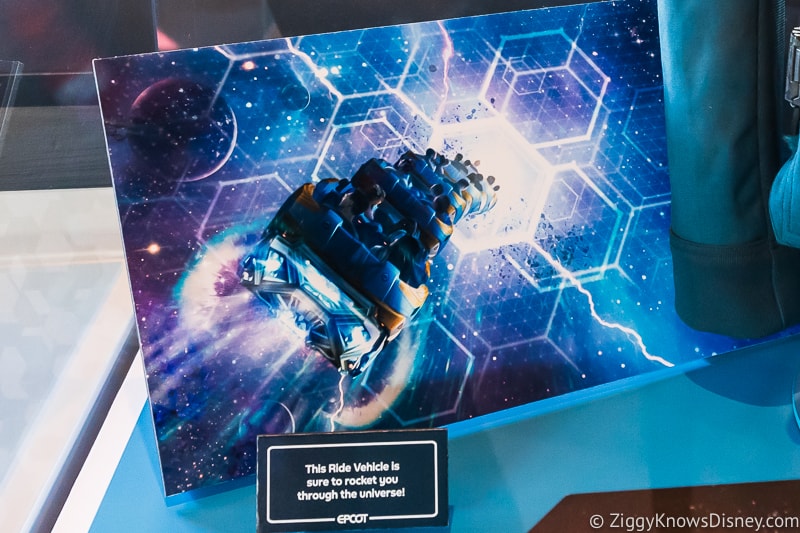 That contract doesn't however prohibit ALL of the Marvel characters from going to Disney World, and there are still some on the list that Disney can use in Florida. The Guardians of the Galaxy for example are one example of characters that can be put in Florida, which is why we are getting the Guardians of the Galaxy: Cosmic Rewind coaster coming to EPCOT.
At this point, it doesn't look like Universal will be giving up the rights to the other Marvel characters in Florida anytime soon, so a full-blown Marvel-themed land will not be coming to Walt Disney World as we currently stand.
This may however be a reason Disney is basing some of its new MCU films around other relatively unknown characters like The Eternals or Shang Chi, and if they aren't included in the Universal contract they could eventually make their way to Disney World too.
Avengers Campus – Disneyland Paris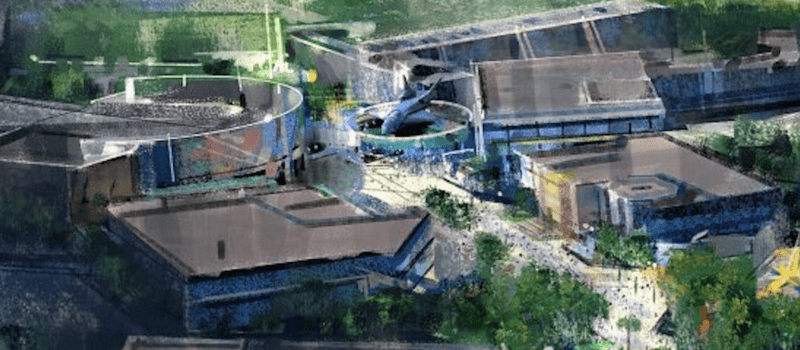 As we mentioned earlier, Avengers Campus is not only coming to the Disneyland resort in Anaheim, it's also coming to Disneyland Paris and Hong Kong Disneyland, albeit with some difference between the three locations.
In Disneyland Paris the Marvel-themed land is coming to Walt Disney Studios Park as part of a huge $2 billion expansion to that park. We're happy about this because this is easily the worst Disney park in the world, and it's in some serious need of new attractions to get people to visit.
The Avengers Campus in Disneyland Paris will also include the Web Slingers Spider-Man attraction like in Disneyland, and it is also getting an Iron Man-themed roller coaster once the Rock 'n' Roller Coaster receives the transformation.
The big E-Ticket Avengers attraction was originally planned for all 3 Marvel-themed lands around the world, but since the theme park closures in early 2020, Disney's new attraction budget has been cut significantly, and that ride may be now on hold for all three parks, and possibly canceled outright in the Disneyland Paris location.
The opening date for Avengers Campus in Disneyland Paris has also been delayed, and probably won't open until late 2021 or even 2022 now.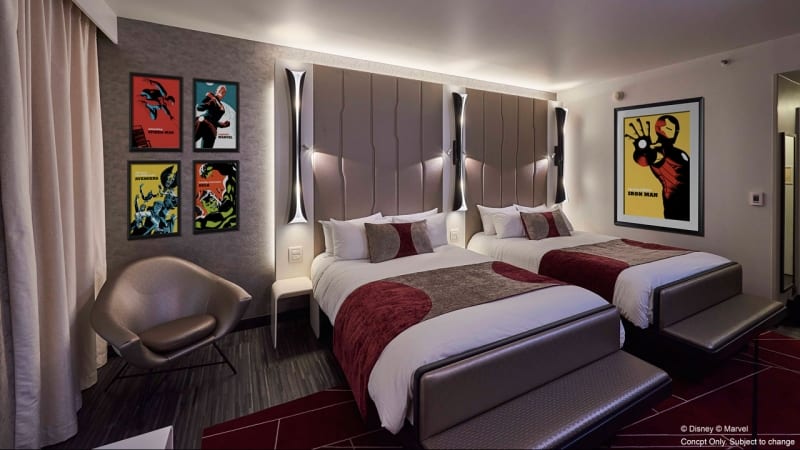 The good news is that Disney's Hotel New York – The Art of Marvel is still coming to Disneyland Paris. Guests can stay in this Marvel-themed hotel which is covered in memorabilia from your favorite Marvel heroes, including the Iron Man art exhibit in the lobby. Disney's Hotel New York – The Art of Marvel is scheduled to open in March 2021, pending any other delays.
Avengers Campus – Hong Kong Disneyland
Avengers Campus in Hong Hong Disneyland on the other hand is technically partially open already. Back in 2017, they got their first Marvel attraction when the "Iron Man Experience" opened. Think of Star Tours, but as Iron Man and that explains this ride.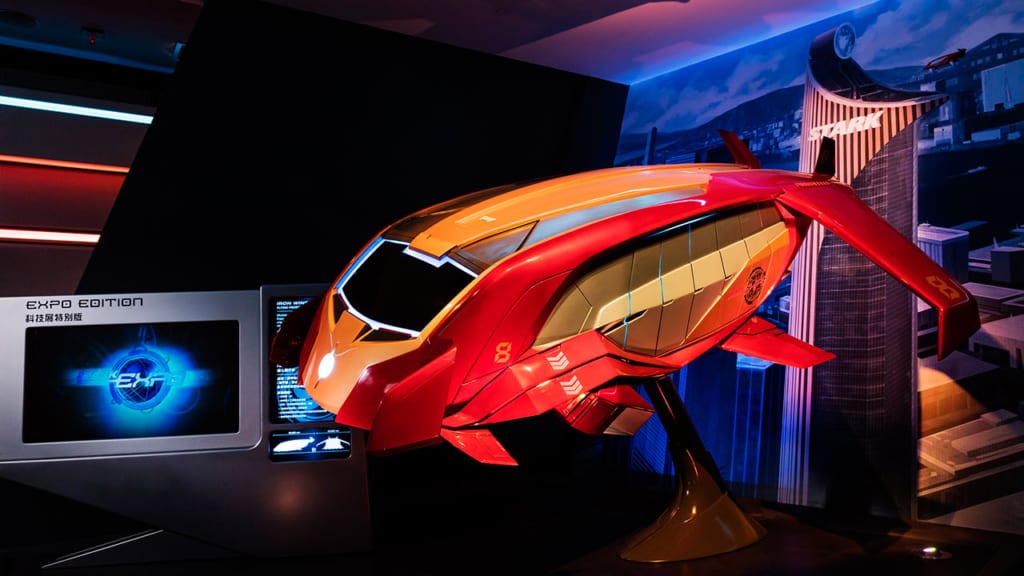 In 2019 the second attraction in Avengers Campus opened, "Ant-Man and The Wasp: Nano Battle!" It replaced Buzz lightyear's Astro Blasters, and is essentially the same ride with an Ant-Man and S.H.I.E.L.D. theme.
Originally the Avengers Quinjet ride was also supposed to come to Hong Kong, but now that looks to be on hold for the moment until budgets are reassessed. Like Disneyland Paris, Hong Kong Disneyland would greatly benefit from more attractions, so we hope that whatever the original plan called for can eventually materialize here.
FAQs
Where will Avengers Campus be?
A version of the Avengers Campus is coming to 3 Disney theme parks worldwide including: Disneyland Resort in Anaheim, Walt Disney Studios Park in Disneyland Paris, and Hong Kong Disneyland.
What will Avengers Campus have?
It will have brand-new Marvel-themed attractions like a Spider-Man-based ride and a big E-Ticket Avengers Quinjet ride. There will also be plenty of Marvel-themed food and drinks at the Ant-Man-themed restaurant and bar, not to mention the merchandise.
Is a Marvel Land Coming to Walt Disney World?
No. Disney does not have the licensing rights to put the majority of the Marvel characters in a park East of the Mississippi including Disney World. They can however have attractions based on other lesser-known Marvel heroes like the Guardians of the Galaxy, which is getting a roller coaster in EPCOT.
Sign Up For Our Newsletter Today!
That does it for our coverage of Avengers Campus in Disneyland. Stay tuned to Ziggy Knows Disney for more news and info about this new Marvel-themed land as we'll keep you posted as new details come out!
Your Thoughts
I want to know what you think about the Avengers Campus so far…
Are you looking forward to this new land?
What other additions do you hope to see?
Let us know in the comments section below!
If you enjoyed this article, as always I appreciate it if you'd share it with others via social media. I work hard at making this website into a useful resource for you and your family to plan your visit to the Disney Parks and I hope it can help you! Thanks 🙂