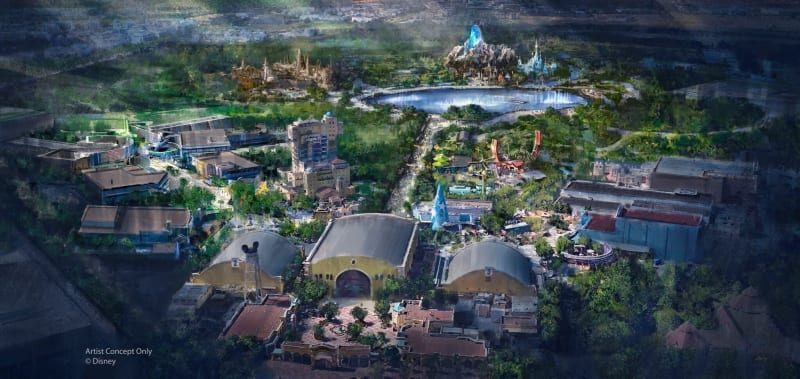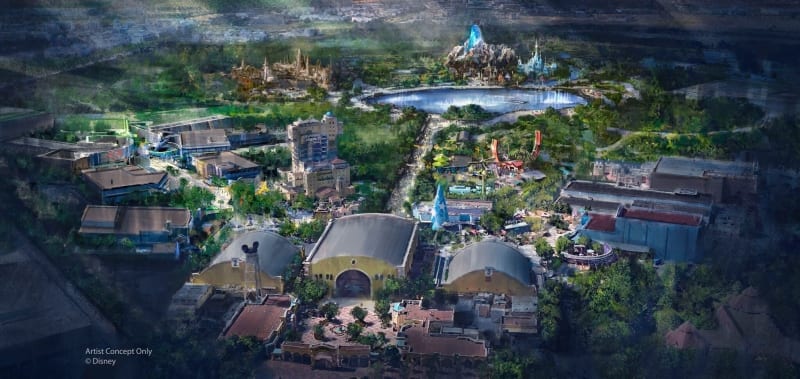 This morning, Disney Chairman and CEO Robert A. Iger announced new Star Wars, Marvel and Frozen Lands coming to Disneyland Paris as Part of 2 Billion Euro Expansion ($2.5 Billion Dollars). These new lands will be in the Walt Disney Studios Park and will be a huge boost to the par, which is in serious need of an upgrade in attractions. Iger stood with French President Emmanuel Macron at the Palais de l'Elysée in Paris as they happily told everyone about the expansion plans.
As was mentioned, this means the Walt Studios Park is getting completely new areas based on Marvel, Frozen and Star Wars, which of course will include new attractions and live entertainment. There's also a new lake coming to the park which will be the focal point of the entertainment and will connect these three areas. This is great because right now Walt Disney Studios Park is a concrete mess, and in desperate need of some water!
"We're very excited about the future of Disneyland Paris and continue to invest in its long-term success," said Iger. "The resort is already the leading tourist destination in Europe, and the transformative expansion we announced today will add even more of our beloved characters and unparalleled storytelling to create new lands, attractions and entertainment that further elevate the guest experience and drive new opportunities for tourism in this dynamic region."
This tremendous expansion however won't take place overnight. The new lands will be rolled out in multi-year development phases beginning in 2021, significantly expanding Walt Disney Studios Park. I'm guessing this will be done around 2024, with one new land opening each year or so. Each new area will bring to life some of Disney's most popular stories and characters, one example being the already announced renovation of the Rock 'n' Rollercoaster to an Iron Man themed rollercoaster.
The timing of this expansion for Disneyland Paris now makes a lot of sense seeing as Disney bought out the previous ownership group last year and is now the sole shareholder of the Disneyland Paris Resort. You can see that Disney had a big vision for the future of the parks here and felt they were being handicapped from proviso ownership. Already Disney has begun to transform the Disneyland Paris Resort by renovating the very dated Hotel New York to The Art of Marvel Hotel, and they've already commented on a huge multi-billion euro investment including a new Blockbuster attraction on the way for 2024. It's unclear if that attraction is included in this expansion or there's something else coming to the Disneyland Paris Park as well.
I don't think the Star Wars themed land will be exactly like Galaxy's Edge in Disneyland and Walt Disney World, from the image it looks a bit smaller than them. It looks like the Millennium Flacon attraction will probably be there, even though I don't see it sitting outside, instead there's an X-Wing. I don't think the First Order Battle Escape attraction is coming based on these images. Plus the location of the X-Wing Fleet is different. We'll have to see.
It also looks like there will be some updates to the Walt Disney Studios Toy Story Land, with a possible addition of Alien Swirling Saucers coming to the land. That's another positive addition because the current version pales in comparison to what's coming to the Toy Story Land in Hollywood Studios.
Again not to beat a dead horse, but this is by far the worst "Disney park" if you can even call it that, so an expansion is huge news and will make Disneyland Paris a must stop destination! What wasn't announced by Disney this morning is what's going away, and honestly we couldn't be happier:
The Backlot, including Armageddon – Les Effets Speciaux, Lights Moteurs Action, Restaurant des Stars and Blockbuster Café; The Studio Tram Tour, and pretty much all of Hollywood Boulevard, except of course for the Tower of Terror. Even though there were rumors about the Tower of Terror turning into a Guardians of the Galaxy, Mission BREAKOUT! attraction, it doesn't seem like that in the concept art, though its position is so close to the new Marvel themed land that a future conversion could eventually happen.
In any case, this new expansion will build on the success of the resort's 25th Anniversary celebration and make Disneyland Paris a real destination worth visiting!
The next thing I'm wondering is what's in store for Disneyland Paris Park or Parc Disneyland? It seems that Parc Disneyland will remain pretty much untouched with all of the attention going to the Walt Disney Studios expansion.
Imo those IP's fit much better in Walt Disney Studios anyways, as the theming of Star Wars, Marvel and Frozen doesn't really jive with Parc Disneyland (although I guess Frozen could have gotten worked into Fantasyland if they wanted).
Obviously an expansion of some type will be next on the list for Parc Disneyland, as it never really got to be built up to Disney's original vision for the park. Now they'll have time whenever they do an expansion, to choose some attractions that fit in properly with the Imagineer's original intention and original design for the park.
We're excited to learn about these updates and can't wait to find out more. As soon as we do we'll let you know!
Your Thoughts:
I want to know what you think about the Disneyland Paris Expansion of Walt Disney Studios Park. Which Land are you most excited about? Star Wars? Marvel? or Frozen? Let us know in the comments section below!
If you enjoyed this article, as always I appreciate it if you'd share it with others via social media. I work hard at making this website into a useful resource for you and your family to plan your visit to Walt Disney World, and I hope it can help you! Thanks 🙂
News Source: Disney Parks Blog