Over the Summer Disney announced details for the new Avengers Campuses which includes a new Spider-Man attraction coming to both Disneyland Paris and Disney California Adventure. That ride is going to be called: "Web Slingers: A Spider-Man Adventure."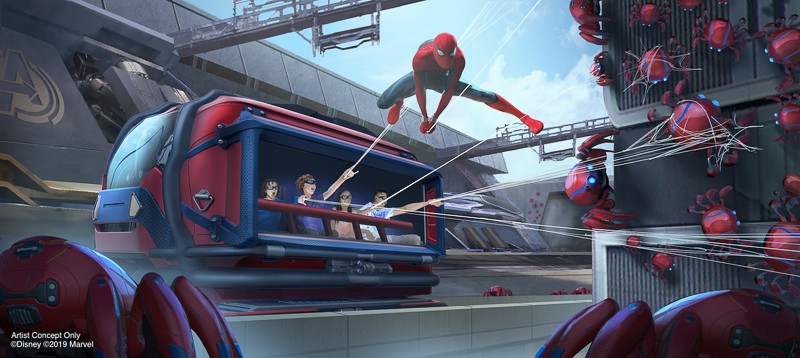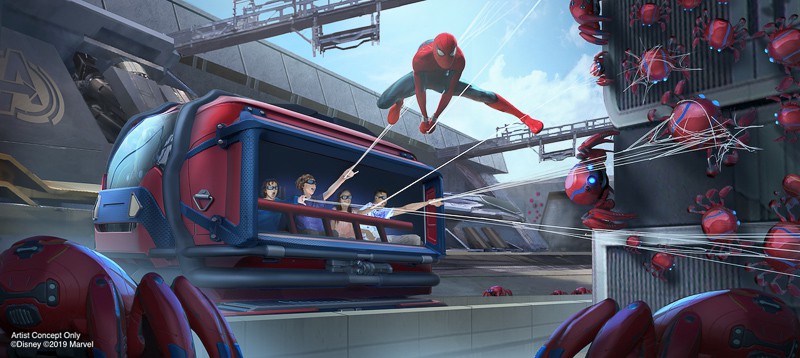 We have all the latest info for this unique Spider-Man ride and in this post, we are going to talk about the ride system, how the attraction works, the opening date and everything else that we know so far. We also are going to talk about our excitement level for this ride and why it's not just a souped-up version of Toy Story Mania!
(UPDATE 5/20/21) New Web-Slinging Accessories for "A Spider-Man Adventure"
Disney has just released a bunch of new details about the Spider-Man ride including new accessories that will enhance the experience while riding "WEB SLINGERS: A Spider-Man Adventure."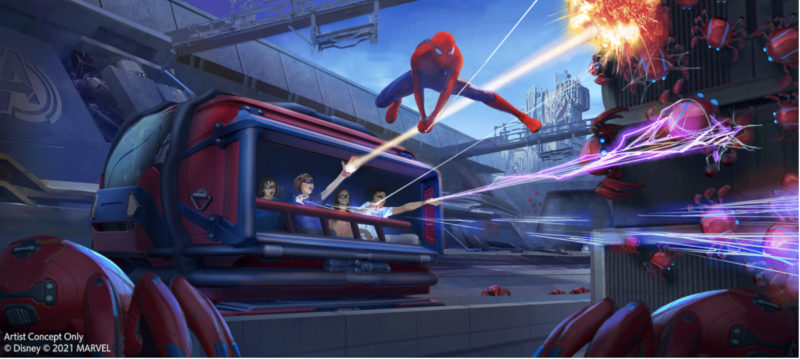 That's right, there will be new merchandise that guests can purchase to get different effects during the ride.
On WEB SLINGERS: A Spider-Man Adventure, guests will wear 3D glasses while driving the WEB Slinger vehicle. This attraction uses special technology that recognizes body movements and gestures, and allows you to sling webs from your wrists, just like Spider-Man!
Don't worry, this doesn't mean you HAVE to pay to go on the ride. Guests who do not want to pay for accessories can still sling webs around during the ride. However, these accessories add different effects.
The base accessory is a WEB Power Band. This band "features an attraction mode that unlocks multi-fire webs aboard WEB SLINGERS: A Spider-Man Adventure to personalize the game play for a cool, new experience on the attraction."
You can further customize the band by adding other powers and effects from some of your favorite Super Heroes including Spider-Man, Ghost Spider, Iron Man and Rescue. These effects look pretty cool in the demonstration video and we are anxious to see how it translates to the attraction itself.
The base WEB Tech Power Band will cost $34.99 and the add-ons will cost $29.99 each.
We'll keep you updated about these additions and more soon. In the meantime, keep reading below for everything we know about the WEB SLINGERS: A Spider-Man Adventure.
WEB SLINGERS: A Spider-Man Adventure Overview
"Web Slingers: A Spider-Man Adventure' is a 3D ride and going to let you experience the world of Spider-Man as you've never done before. You will even be slinging webs from your wrist…I kid you not!
The Spider-Man attraction is a key part of the Marvel's Avengers Campus, the Super Heroes Lands coming to Walt Disney Studios Park in Disneyland Paris and Disney California Adventure, and this will be just one of the many attractions in these new lands.
Guests will join their favorite heroes in action through a new organization created for this attraction: "WEB" or "Worldwide Engineering Brigade." This organization of course champions classic heroes like Spider-Man, but it also will give Disneyland guests the chance to become a hero themselves.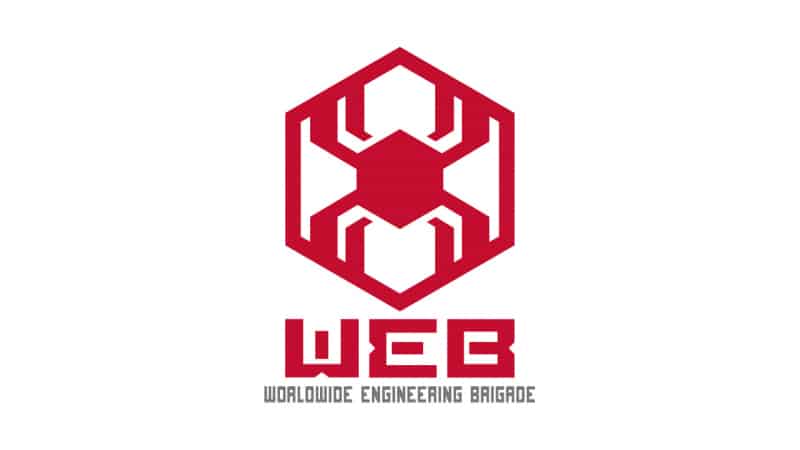 The Worldwide Engineering Brigade is going to be the first Disney ride-through attraction to feature the iconic super hero Spider-Man!
In this concept art from Disney you can see what the outside of the Spider-Man attraction building looks like, with the WEB emblem fixed on top and Spider-Man flying above on his web: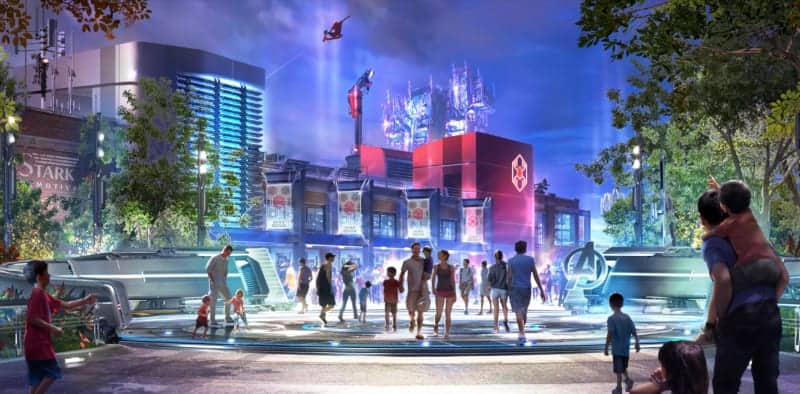 And as we get closer you can see the outside of the Spider-Man ride on the left with Spider-Man himself greeting guests by the door. Across the way you can see WEB Suppliers where there will be unique Spider-Man merchandise: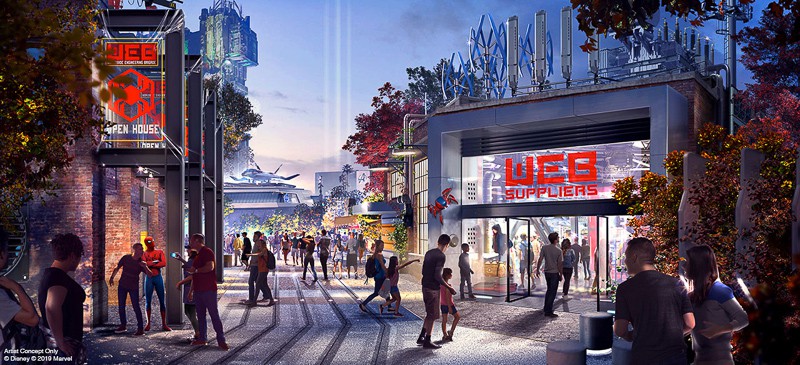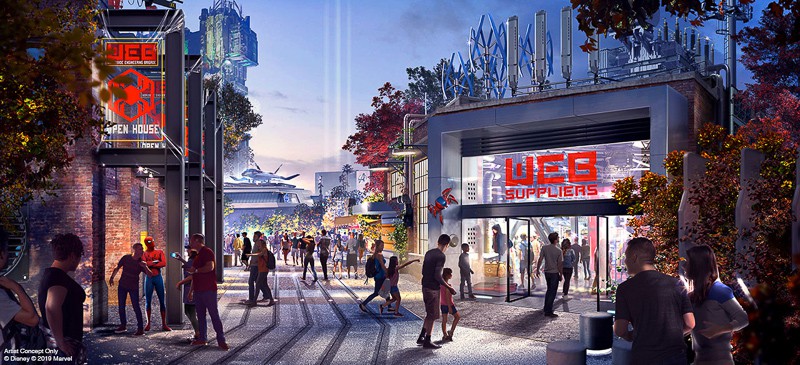 They didn't give too much detail on this new attraction, but it will use cutting-edge technology with lots of special effects to deliver a fun and interactive ride which will let guests mimic what it's like to have super powers. And they are promises surprises at every turn.
The story from Disney goes like this: "The Avengers are setting up new Headquarters and training facilities around the globe to inspire all potential recruits willing to step up and become something more. As part of this global initiative, Tony Stark has founded the Worldwide Engineering Brigade — or WEB for short— to develop advancements in super-powered technology, including new enhancements to Spider-Man's suit as their debut project. By bringing together the world's brightest young inventors, the WEB is creating new interfaces that will empower all of us to join the ranks of Earth's Mightiest."
During an open house at WEB, the aspiring inventors are excited to invite you for a test drive of their latest invention: the "Web Slinger" vehicle, which allows you to sling webs just like Spider-Man! The attraction gives you a taste of what it's like to have actual super powers as you help Spider-Man collect Spider-Bots that have run amok.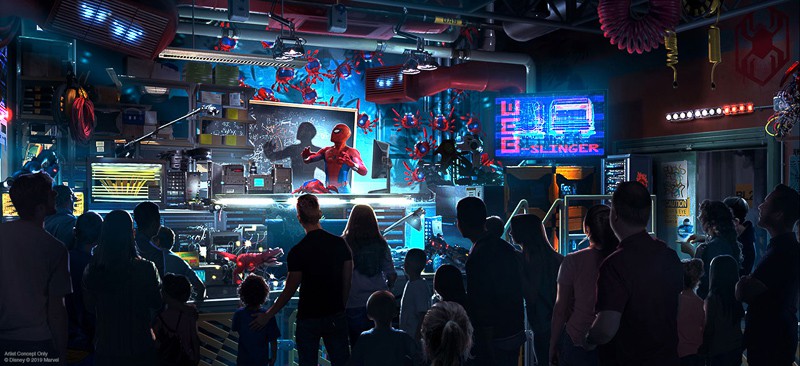 Here is a model of the Spider-Bots they had on display at the Expo: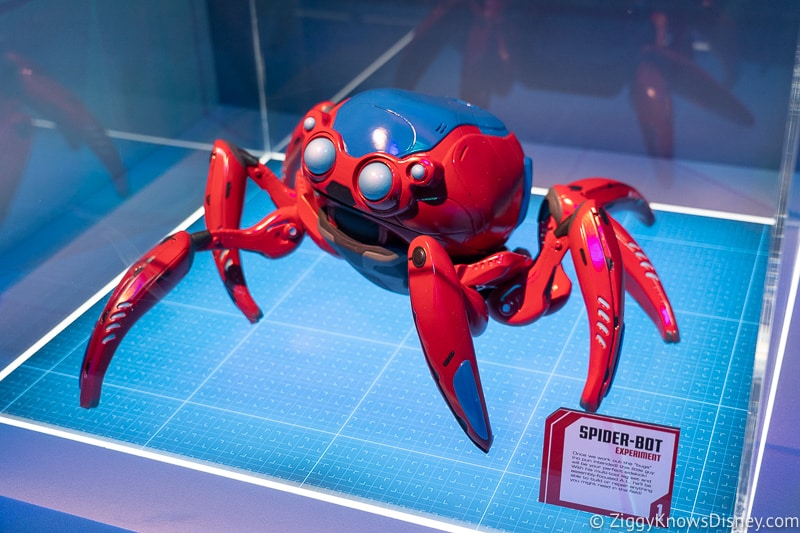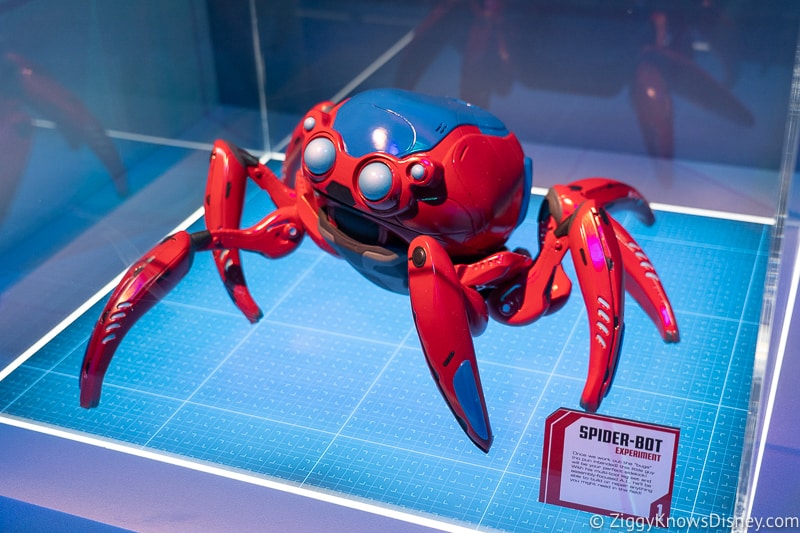 Here's a look at the concept art for Spider-Man in the attraction: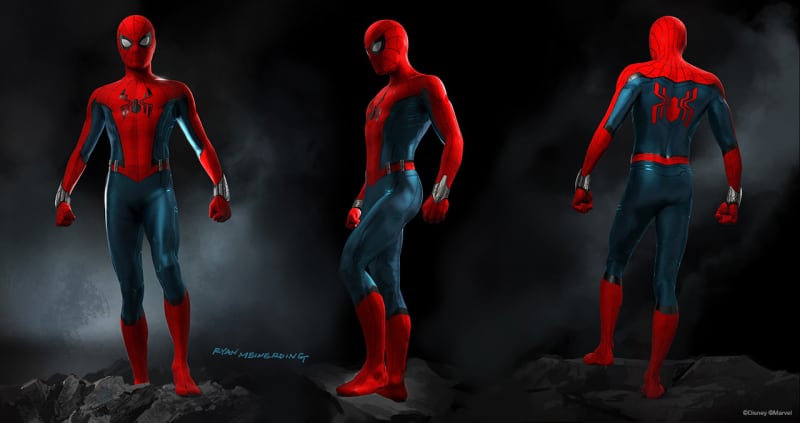 And a model of the suit on display: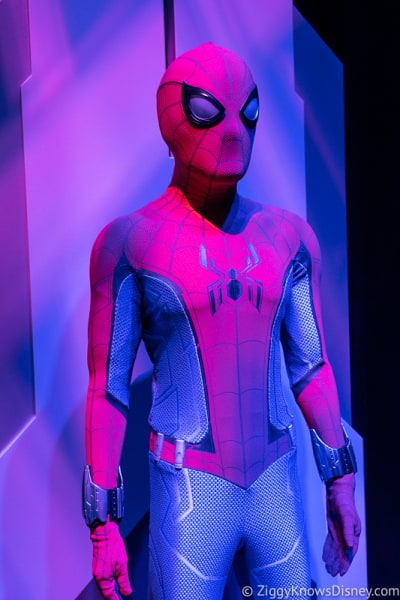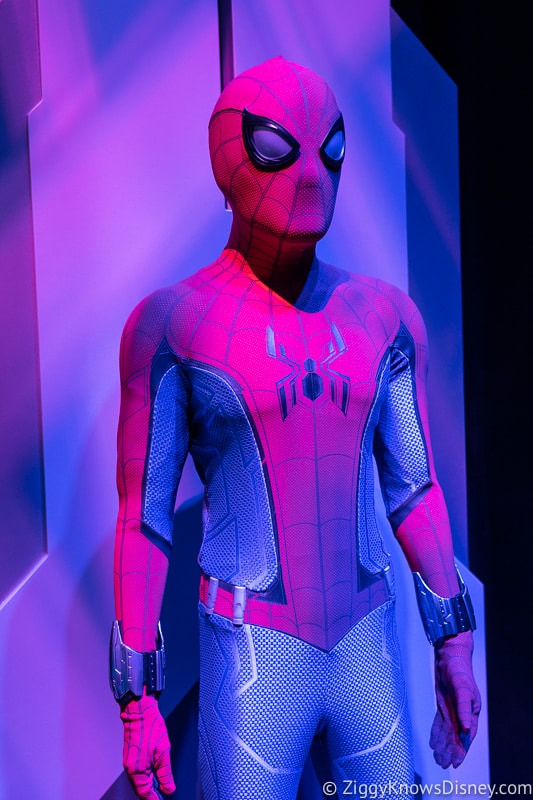 The designer of the suit said that Spider-Man will be swinging through these lands in this new suit which is already on display at Walt Disney Studios Park, and is. coming soon to Disney California Adventure park. Ryan Meinerding, Head of Visual Development at Marvel Studios worked with Disney Imagineering to create this new design which will be part of the attraction.
This version of the ride is quite different from the previous idea for a Spider-Man attraction, which included swinging through the streets on a new technology being developed by Imagineering. This version seems quite different and more like a supped-up version of Toy Story Mania.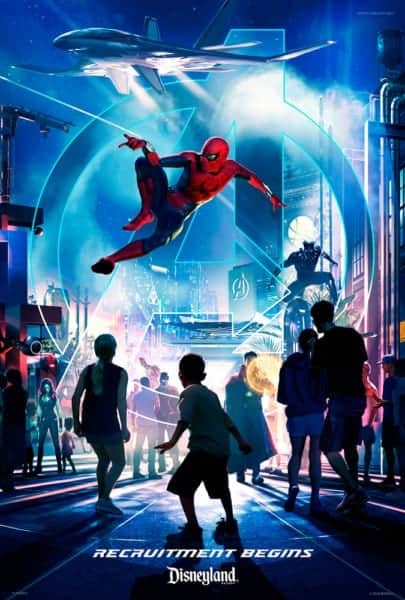 Other confirmed attractions so far for the various Marvel Super Heroes Lands are the Ant-Man and the Wasp Nano Blaster ride and an Avengers-themed roller coaster (California Adventure) and an Iron Man-themed roller coaster in Disneyland Paris which is taking the place of the Rock 'n' Roller Coaster.
WEB SLINGERS: A Spider-Man Adventure is opening at Disney California Adventure on June 4, 2021. We can't wait to ride it for ourselves!
Stay tuned at Ziggy Knows Disney for more information as it comes out, we'll be keeping you updated!
Your Thoughts:
I want to know what you think about the new Spider-Man ride coming to the Disney Parks…
How excited are you for this?
Which new Disney attraction are you most looking forward to?
Let us know in the comments section below!
If you enjoyed this article, as always I appreciate it if you'd share it with others via social media. I work hard at making this website into a useful resource for you and your family to plan your visit to the Disney Parks and I hope it can help you! Thanks 🙂
News Source: Disney Parks Blog