All through the 2019 D23 Expo we've been learning so much about the new Avengers Campus initiative that's being rolled out to Disney Parks worldwide including California, Hong Kong and Paris. We just got confirmation though of a brand-new big E-Ticket Avengers attraction coming to California as part of their Phase 2.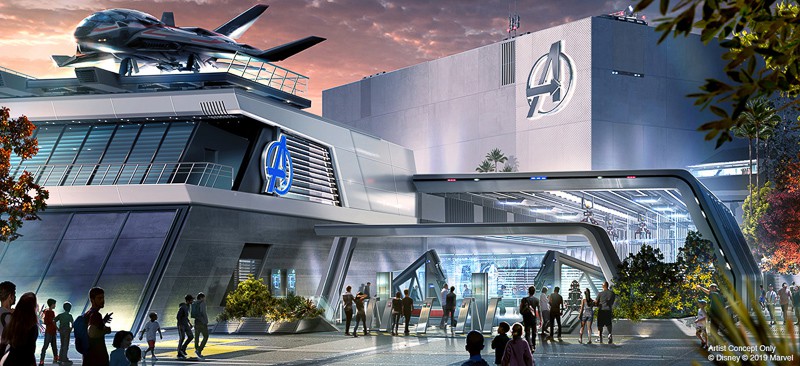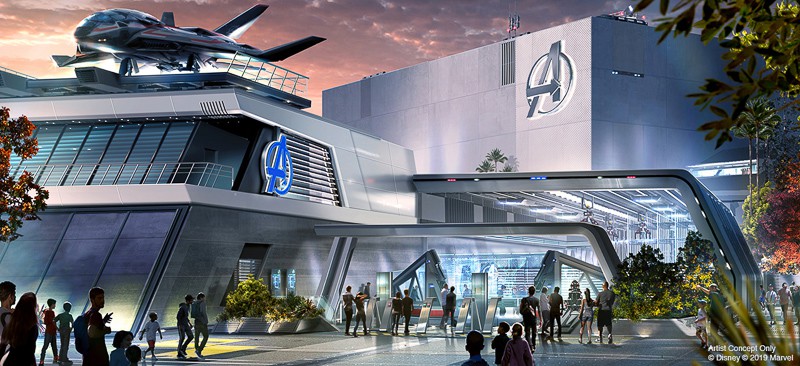 The Marvel Lands called Avengers Campus will be rolled out in two phases in Disney California Adventure. Phase 1 will include a Spider-Man attraction, a Doctor Strange experience, and a Pym Technology quick service restaurant. Phase one of Avengers Campus opens in 2020.
Phase 2 on the other hand includes the aforementioned Avengers E-Ticket ride that we just just got a whole bunch of new information about.
In the concept art you can see the attraction that will house this ride, and you might even spot some Avengers hanging out on the rooftops. You will definitely notice the Quinjet which is sitting there (look at the concept art above), and that will be instrumental in the ride later on.
In the Avengers ride you will go into a Quinjet and fly alongside the Avengers, using an all-new ride system that Disney Imagineering is currently working on. The small details that were given at D23 Expo sound amazing.
You and the other guests fly onboard the Quinjet to Wakanda and you have to team up with the Avengers in order to save the world from one of the most powerful villains they've ever come across. They didn't say who that villain is going to be, maybe because it's a new villain we haven't yet seen in the MCU and will be a part of Phase 4 or beyond.
Guests will have to use their super powers in order to defeat this enemy and save the day. They also mentioned working alongside your fellow Avengers, so it sounds like some teamworks is going to be involved in order to complete the mission.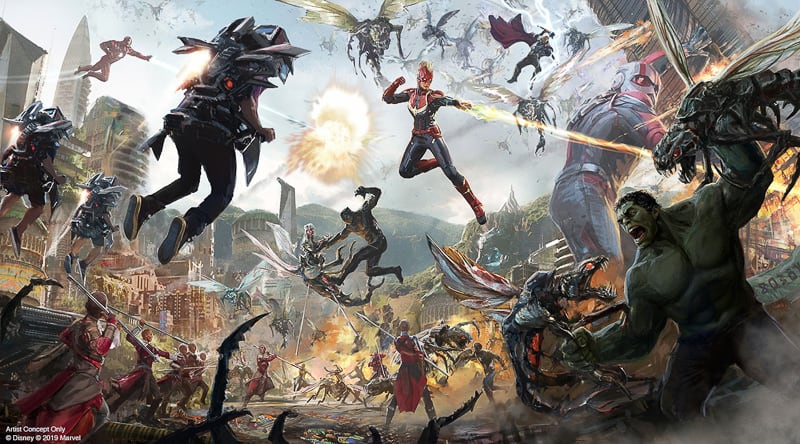 Judging by the concept art this looks like an Infinity War or Endgame-level battle with all sorts of super heroes involved!
At first this ride was rumored to be some kind of Avengers coaster, but I'm actually really glad we aren't getting that type of ride and we get something more innovative and different. After all we already have new TRON and Guardians of the Galaxy coasters coming our way so it's way better if Imagineers come up with something new.
From what I've heard behind the scenes, Disney has had a hard time developing this system, and hadn't been able to finalize what the ride system is. That's the reason why a phase 2 is needed and they weren't able to get it done earlier. I'm not exactly sure from the press release if they have figured out the problem and decided or if they are still working on it, I guess we'll see soon.
No date was given for this Avengers E-Ticket ride, but if Phase 1 opens in 2020, due to the size and scope of this new project I don't think we'll see Phase 2 before 2022, but that's just a guess on my part. More remains to be seen.
Also it didn't seem like this ride is going to either Hong Kong Disneyland or Disneyland Paris. Paris is getting their own Avengers roller coaster which is going in the old Rock 'n' Roller Coaster building.
As soon as we know any more info on this story we will update you so keep tuned for more…
This was only one of the exciting announcements made today at the D23 Expo. To hear what else was announced, please visit our D23 Expo News and Announcements page for all the other new things coming to the Disney Parks!
Your Thoughts:
I want to know what you think about an Avengers-based ride coming to Disney California Adventure…
Do you like the way it looks so far?
What type of ride should it be?
Let us know in the comments section below!
If you enjoyed this article, as always I appreciate it if you'd share it with others via social media. I work hard at making this website into a useful resource for you and your family to plan your visit to the Disney Parks and I hope it can help you! Thanks 🙂