UPDATE 10/18/19 12:14 pm: The Disney Skyliner didn't get off to the best start in its first week of operation, but as of Monday October 14, 2019 the Skyliner is now reopened after the incident on October 5 leading to its temporary closure.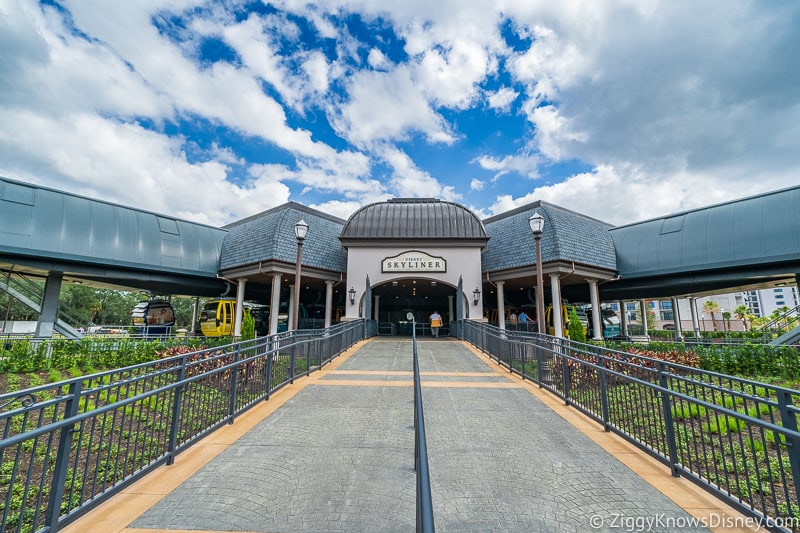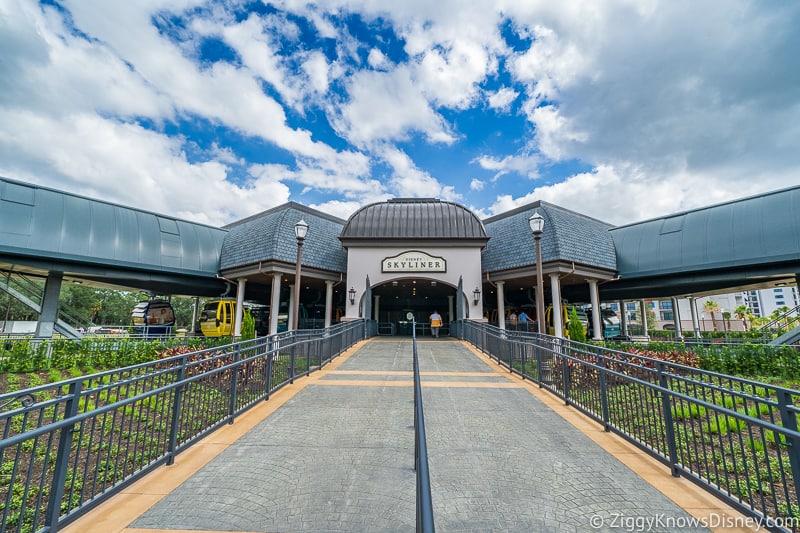 NEWS 10/18/19 – The 911 calls from the passengers onboard the Skyliner were released today.
The WESH 2 News released the 911 calls and you could hear the voices of the frustrated and scarred guests on board.
While being stranded in a gondola, one of the passengers said: "We're stuck on the Disney Skyliner. It's going on 2 hours now and they're not really, we're getting some automated message saying that we're moving shortly."
Some guests were stuck inside the Disney Skyliner gondolas for up to 3 hours before they could be removed by the authorities.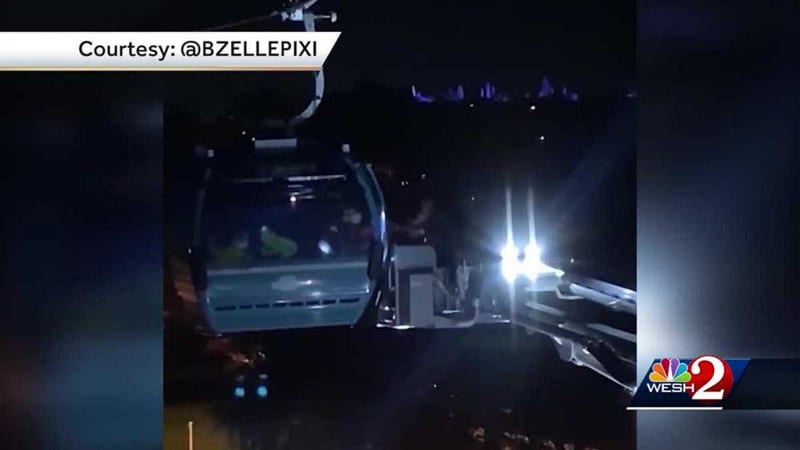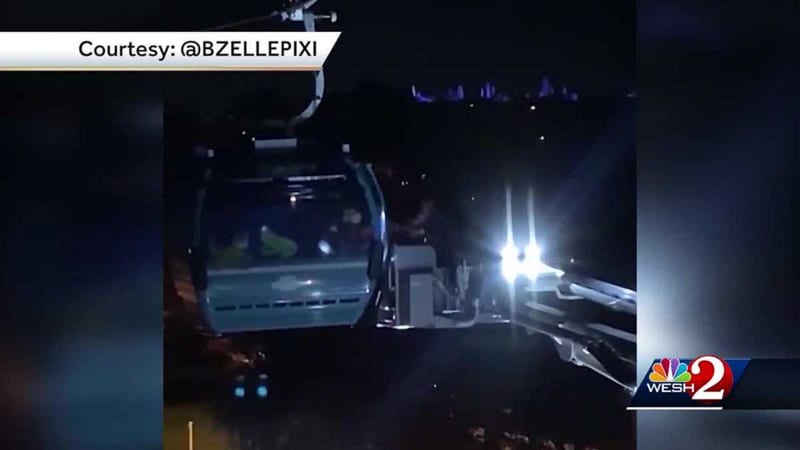 911 responders were alert to guests, asking them if they had any medical conditions. Most guests were just tired and frustrated by the situation. However there were a couple of medical conditions that were more serious. One of the callers reported that a woman had lost consciousness inside the gondola and passed out.
Authorities responded to the situation: "I understand. I know you've been in there for probably over two hours right now. We do have help on the way. They are trying to get it up and running and we have our units standing by."
In the end the guests were removed by the authorities using a cherry picker which was high enough to get to them.
The actual cause of the incident is still not know as Disney has been silent on what exactly happened. Some say it was a power failure, but Disney has refuted that claim and said it was not a power failure and that they were still investigating the cause.
Keep reading for the modified Disney Skyliner hours and the Full Story of events that happened during the night of the incident.
Disney Skyliner Modified Operating Hours
Along with this reopening are modified operating hours for the Disney Skyliner during the next few days.
October 16:
The Hollywood Studios Line will remain closed October 16.
The rest of the lines will be operational from 1:00 pm to 10:30 pm
October 17 and 18:
All the lines will be operational from 1:00 pm to 10:30 pm
These are reduced hours due to technical system maintenance and upgrades that need to be installed this week, most likely to make sure the same problem doesn't happen again.
Heading over to Hollywood Studios you can see that some of the cabins are running periodically for testing, with various stops to check everything. So far there are no visible changes to the gondolas, but we'll keep an eye on things.
The Hollywood Studios line should be back up and running tomorrow, as with all the Disney Skyliner lines, but we'll keep you posted if things change.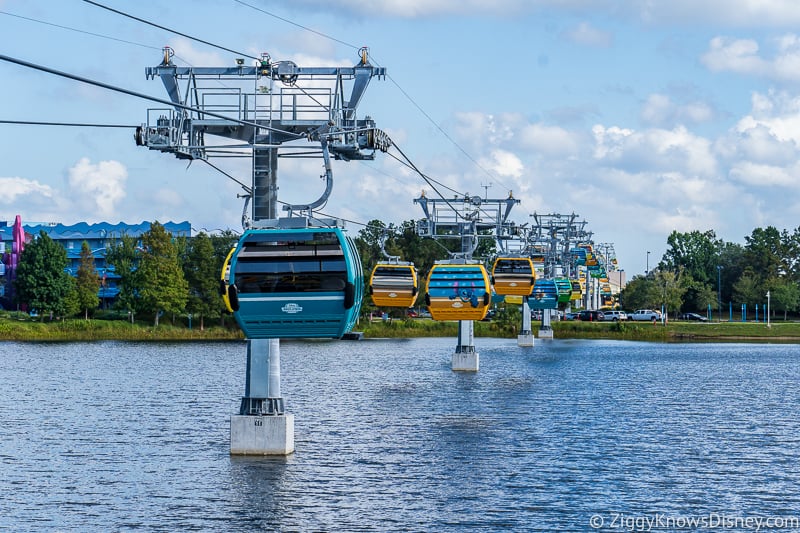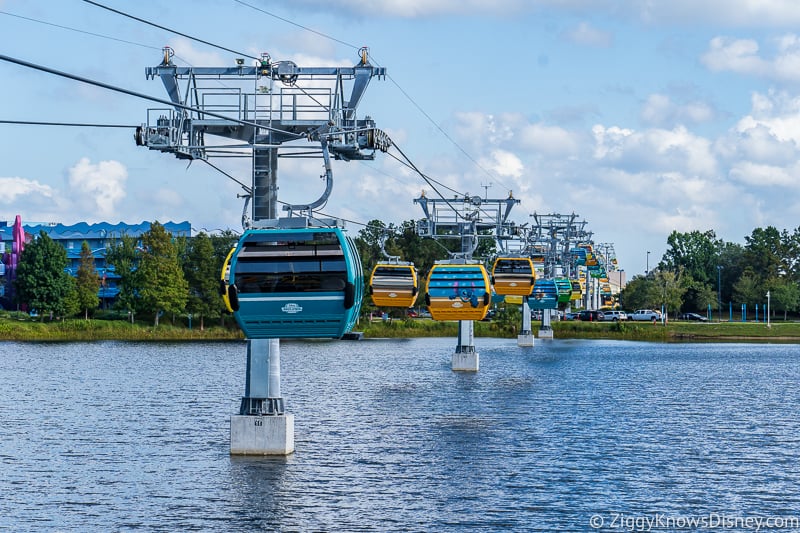 You may have noticed though that the earliest riding time listed so far is 8 am, which is a far cry from the 5:45 am time they were running to Hollywood Studios before the accident took place. This is important to note if you plan on visiting Star Wars Land during the opening hours, as the Skyliner won't be running. In that case you'll need to take a bus or another form of transportation.
There is no word what the schedule will be like after the 18th, but we can assume if everything goes well during the next few days of limited operation, the Skyliner will return to normal operational hours as early as the 19th.
Disney even made another statement on the incident and reopening in a Disney Parks Blog post. They said:
Following a complete review with the manufacturer, we've made adjustments to our processes and training, and we are improving how we communicate with guests during their flight with Disney Skyliner. We again offer our deepest apologies to the guests impacted by the malfunction that resulted in extended operating delays on Oct. 5.

Disney Parks Blog
They also added that like a ski lift the Disney Skyliner may come to a complete stop to accommodate guests who need more time to load/unload, but that that comfort of every guest is important. They also expressed thanks for the patience and understanding.
If you missed what happened, on October 5, guests were stuck on the Skyliner for up to 3 hours and had to be evacuated from the new transportation system. One of the gondola cars got stuck and slid back into the cars behind it at the Riviera Resort station.
3 people were taken to the hospital, but no one was seriously hurt as far as we know.
In this post we are going to talk about the incident that happened to the Skyliner, the ramifications and what we think about this newest transportation system moving forward.
Let's start out with the accident itself. You can read our log of events below to see all the details of what happened. Also find out what the emergency 911 calls were like from the passengers of the Skyliner the night of the incident.
Keep scrolling down to get our updated thoughts on the Disney Skyliner now that it's reopened.
Emergency 911 Calls from Passengers
Original Incident 10/5/19
Disney decided to keep the Skyliner system shut down indefinitely until they could determine it's safe to operate again. The Skyliner was closed Sunday October 6 through Sunday October 13, and as of Monday morning October 14, it's re-opening.
It all started at the Riviera Resort station when Disney Skyliner vehicle 108 malfunctioned and failed to leave the Riviera station properly toward Epcot. The gondola car rolled back, and was crashed into by the following cabin behind it, which smashed the rear glass window and stopped the system.
Smashed glass was seen underneath the gondolas at the Riviera Station. The guests in the cars involved in the incident were easily freed seeing as it all occurred right in the station
Here you can see some of the photos of the Skyliner accident:
After the initial crash, the Skyliner gondolas behind the stuck ones also crashed into the ones in front creating a pile up: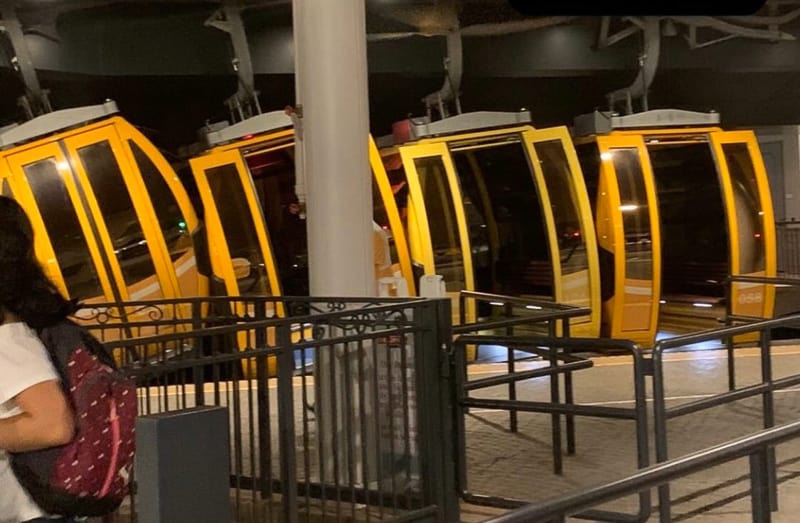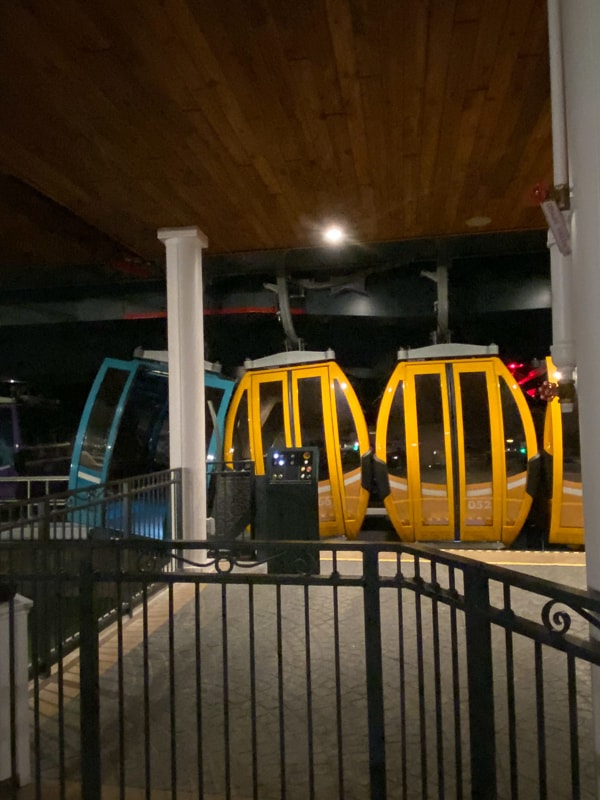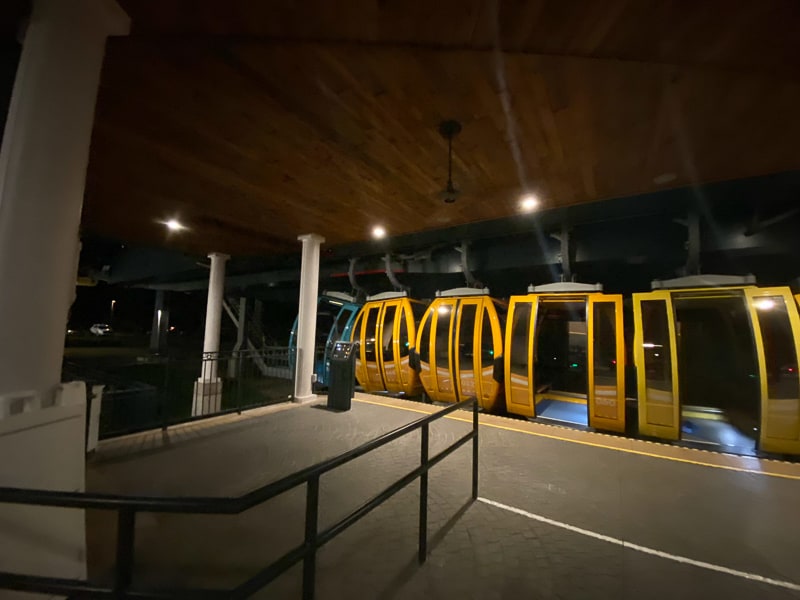 Here's a video showing some of the scene:
Disney has now made another official statement on the incident at the Disney Skyliner. Here is what they said:
"We have a team diligently looking into the cause of the malfunction on the Epcot line of the Disney Skyliner. We have been in contact with the guests, many of whom were on the Skyliner for more than three hours until we were able to restart the system. We express our sincere apologies for the inconvenience and continue to work with each guest individually."
At least they made a bit more of an acknowledgement than the original statement and said the Skyliner malfunctioned.
Here is Disney's original official statement on the incident:
"One of the three Disney Skyliner routes experienced an unexpected downtime Saturday evening. As a result, the Skyliner will be closed while we look into the details surrounding this downtime. We apologize for this situation, and we are working with each guest individually regarding impacts to their visit with us."
Here's a photo of the cars leaving the station earlier in the week when things were running normal.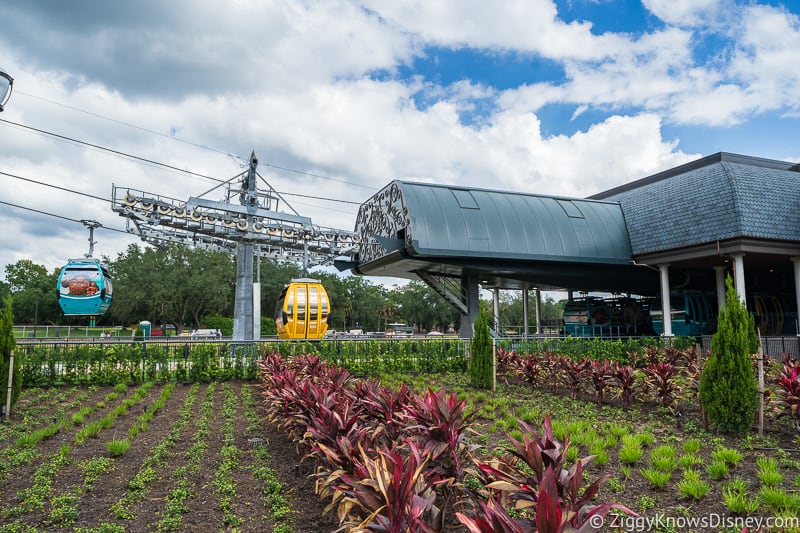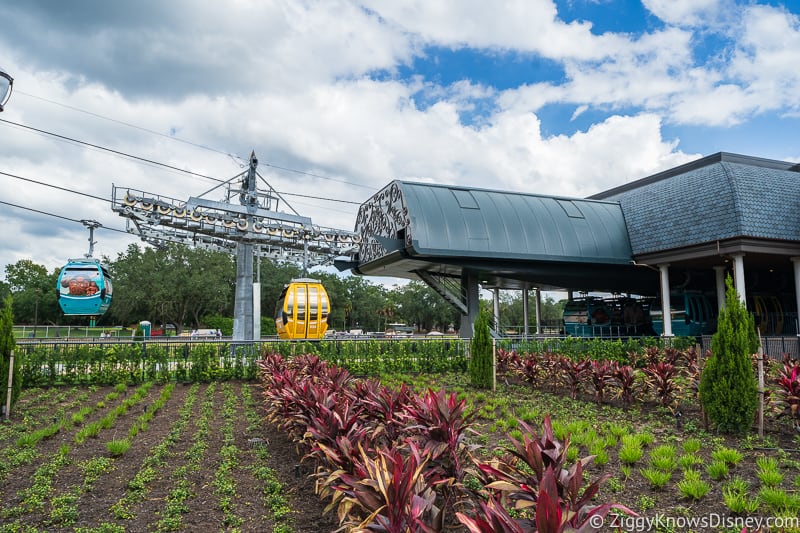 But a pile-up at the Riviera station wasn't the only problem. There were still guests riding the Skyliner when the accident occurred, which means that those suspended guests had to get rescued.
Here's a look from the scene of one of the rescues when the Reedy Creek Fire Department had to get involved and bring fire trucks and cherry pickers to rescue stranded guests.
Here's a closer look at how the rescue went down:
Some guests were rescued after 1 hour, 1 1/2 hours and even up to 3 hours. That would not be a fun place to get suspended.
Cast members at the scene were on the ball and very helpful to guests, providing them with water and other supplies they needed.
From all accounts, all the stranded guests on the Disney Skyliner were rescued and no one was seriously hurt. According to MyNews13 though, 3 people were taken to the hospital from the incident, though they have all been since released.
It also appears that Disney compensated the guests who were trapped in the Skyliner cars. Some guests claim to have received either 2 or 4-day park passes and gift cards worth either $100 or $200 dollars each. That's a pretty nice gesture on Disney's part and showing a desire to make the situation right.
Though guests were rescued from the Skyliner, the Orlando Sentinel has some info as to why it may have taken so long. In the article it explained that union secretary Ryan O'Reilly said the Reedy Creek Fire Department was being pushed to its limits for evacuation calls.
The Reedy Creek fire department got the call at 8:27pm and didn't finish evacuating the 6 cars until around midnight. O'Reilly said even with the 27 fire department personnel on staff: it took up "all of the available manpower or most of the available manpower" at the Reedy Creek fire department and back-up assistance from the sheriff departments at Orange and Osceola counties.
He then added: "If anything else would have been going on [at Disney] at that moment, it could have been catastrophic." Whatever Disney decides to do moving forward, it needs to address this issue and make sure the proper amount of staff is on-hand for similar incidents.
It also seems that at least part of the Disney Skyliner was up and running last night after the guests were rescued, though that has changed and the Disney Skyliner is remaining closed at least as of Monday October 7 (now reopened as of Oct 14). A trip to Hollywood Studios or Epcot confirms that the current status of the Skyliner is closed, though there are no signs indicating the change.
This closure is also indicated on the Walt Disney World Website: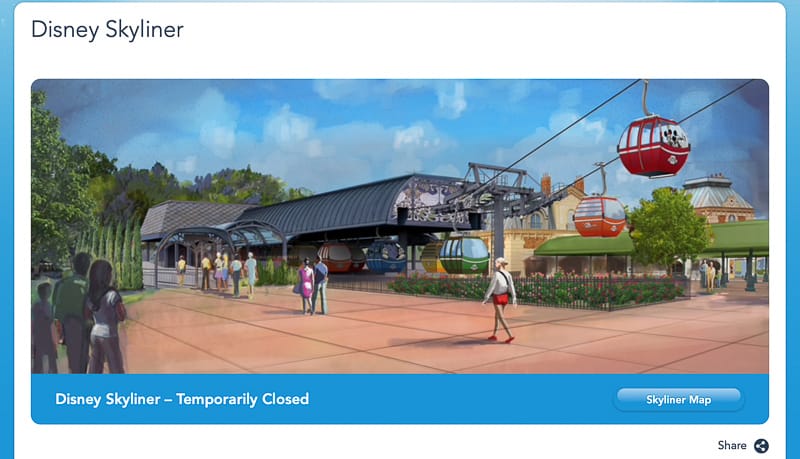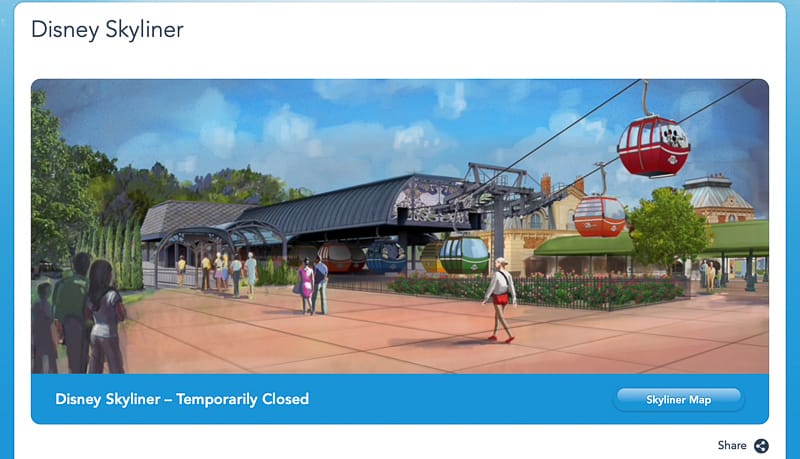 Disney hasn't commented on exactly when they expect the Skyliner to be back up and running, but this should be treated as an indefinite closure until an investigation can study the incident better and understand why it happened and how to prevent other similar incidents from happening in the future.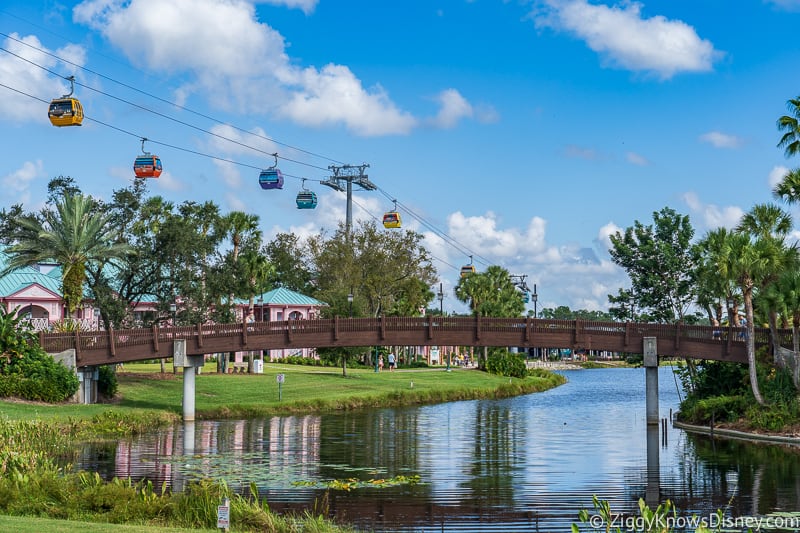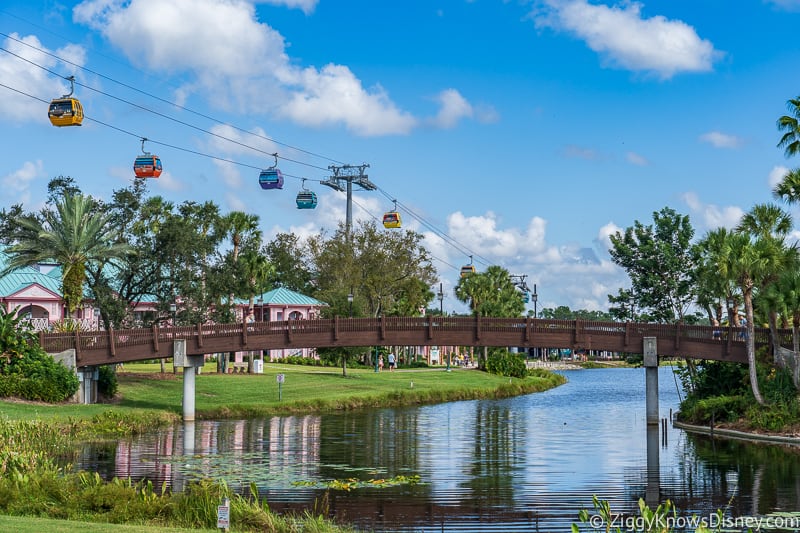 Thoughts After Reopening
So all in all it took just over a week to get the Skyliner back up and running after the incident. Obviously in this last week+ Disney has been running thorough tests on the Skyliner system to make sure they understand just what happened and why, and to make sure it's safe again for the general public to ride.
Whatever technical changes need to be made will have to be trained to the cast members running the system too.
When the original incident happened, we were pretty bummed as the we loved our initial rides on the Disney Skyliner and think it's an incredibly fun and potentially time-saving way to get around Walt Disney World.
Besides this latest incident, during its first week of operation there were some long delays due to technical difficulties and also for slow loading guests. The various stations have had to shut down even for hours at a time during the first week before coming back online. These though seem more like opening bugs that need to work out more than long-term problems.
The safety issue though that we ran into though of course is a bigger problem, and before guests to Disney World get back inside, they need to make sure 100% that everything is running how it should. Our best guess is that Disney and the Skyliner manufacturer Doppelmayr will be able to figure out the problem seeing as they have many other similar gondola systems running throughout the world. I would be surprised if this became a long-term issue.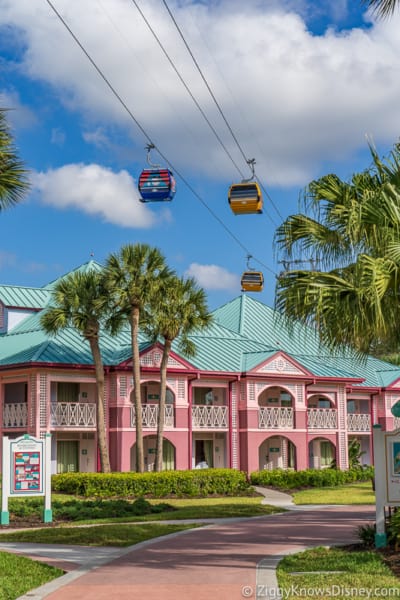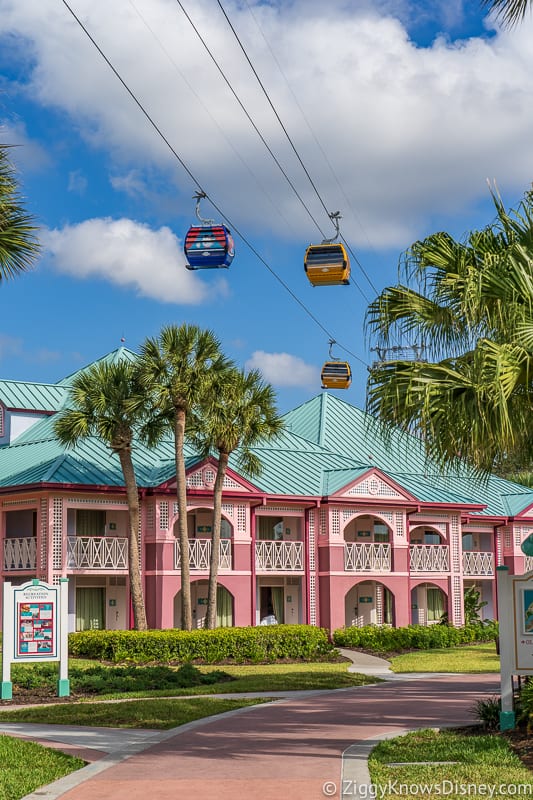 That weird part is that Disney has been testing the Skyliner for months and months and even having the experience of Doppelmayer behind them, we've still had all these issues pop up. This isn't the best look for Disney right now as many were already criticizing the Skyliner before it opened, and many guests opting not to ride them due to fears of exactly something similar to what happened on Saturday night.
This latest incident won't help resolve those fears, and Disney needs to make sure that everything is working properly and in order now that it's reopening. If there is another incident like this in the near future or Disney can't figure out how to fix the bugs properly in a relatively quick time frame, this will turn into a PR nightmare.
For right now if you were already very nervous before about riding the Disney Skyliner, I might wait a minute to see how things go after reopening. I don't think it will be dangerous if they are opening it, but there may be long longer delays and if you are a person who is afraid of heights, the possibility of getting stuck for some minute is there.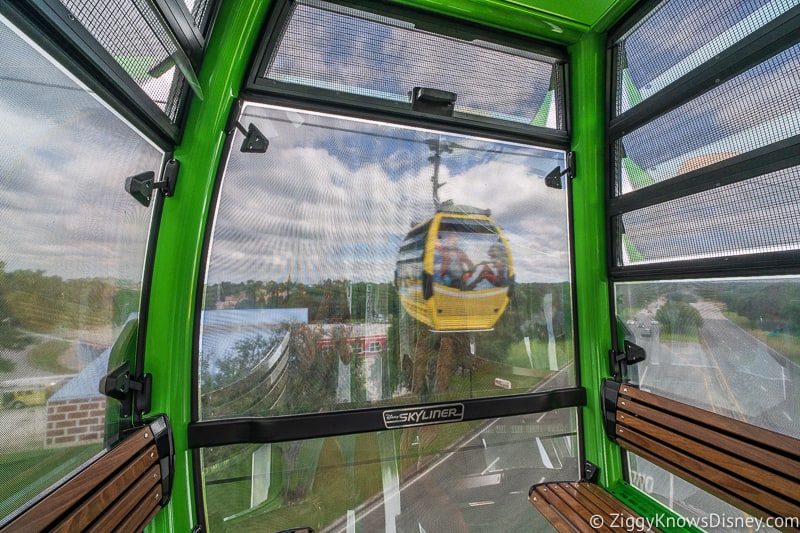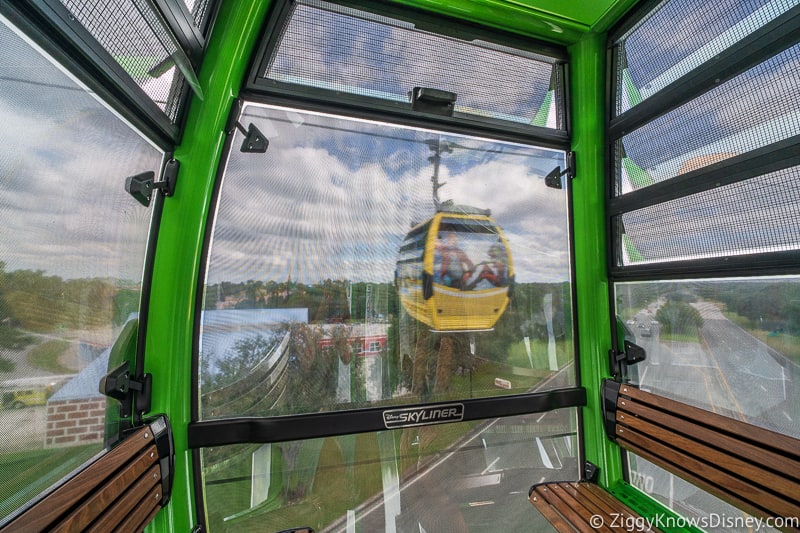 If you've rode the Skyliner before and liked it or are excited to try it, then I say, go for it! Again Disney and Doppelmayr are pretty smart and I have to think they've eliminated the chance of anything dangerous.
Long-term we're still high on the Skyliner, I think again it's a super fun way to ride around property and I am confident they will fix the issues. All Disney World transportation has had its share of incidents at one time or another, and this is now one for the Skyliner. We will still keep riding when it opens back up, but will be keeping a close watch on further delays and any other incidents that occur so best inform you if it's a good mode of transportation to take or not.
This is a developing situation so we'll continue to monitor it and let you know on the latest.
The Disney Skyliner is a brand new transportation in Walt Disney World and uses a high wire system with cable cars to transport guests to and from Epcot, Hollywood Studios and some of the resorts on property. It just opened September 29, to mixed reviews from the Disney community, but positives ones here from us.
We really love the Skyliner and hope they can work out whatever bugs they have in this first week of operation. For more information check out our Full Guide to the Disney Skyliner where we explain everything you need to know before riding.
Need help planning your Disney Vacation? Contact René from Show You the World Travel for all your trip planning needs. All of the agents there are certified Disney Travel Agents and are super helpful with all your planning needs. I highly recommend them and the best part about it is they are FREE to use!
Your Thoughts:
I want to know what you think about the accident on the Disney Skyliner…
Does this incident make you nervous to ride?
What do you think of the Disney Skyliner so far?
Let us know in the comments section below!
If you enjoyed this article, as always I appreciate it if you'd share it with others via social media. I work hard at making this website into a useful resource for you and your family to plan your visit to the Disney Parks and I hope it can help you! Thanks 🙂