As you probably are aware, Disney World's newest transportation system the Disney Skyliner Gondola system just opened recently and we were recently able to experience for ourselves what it's like to be up inside the gondolas. Our goal with this article in the coming days and weeks is to give you a photo and video tour of what it's like inside the Disney Skyliner Gondolas and we'll be bringing you a full tour of everything.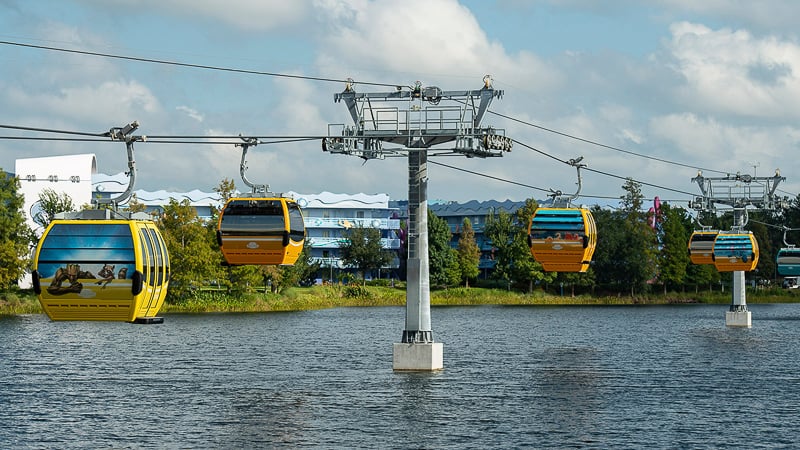 We are going to give you a full tour of the Disney Skyliner Gondolas, Inside them, All the Skyliner Stations and a Full Video tour going from station to station across the entire Skyliner route..
If you aren't familiar with the Disney Skyliner, it's a new transportation system which will connect Epcot, Hollywood Studios, Disney's Caribbean Beach Resort, Art of Animation, Pop Century and Riviera Resorts all together for an easy, fast and fun way to get around.
There will be almost 300 gondolas in the fleet and some of them feature some of your favorite Disney characters on them like Mickey Mouse and Minnie Mouse, Pluto and Goofy, Chip 'n Dale, the Pirates of the Caribbean and many others.
Each Disney Skyliner cabin holds 10 guests, and will accommodate guests in wheelchairs or assistive devices. While there is no air conditioning, the cabins are built to withstand the Florida heat. How much so remains to be seen when it opens.
For more information read our Disney World Disney Skyliner Guide, which breaks down all the information you need to know about it, including the route, travel times, maps, expansion and more…
Disney Skyliner Stations:
Before we actually get up into the sky, let's take a look at the 5 Disney Skyliner stations themselves. The central hub is the Caribbean Beach station where you must get off the gondola upon arrival. From there the Skyliner connects: Pop Century/Art of Animation, Riviera Resort, Hollywood Studios and Epcot.
Let's take a look at all 5:
Caribbean Beach Resort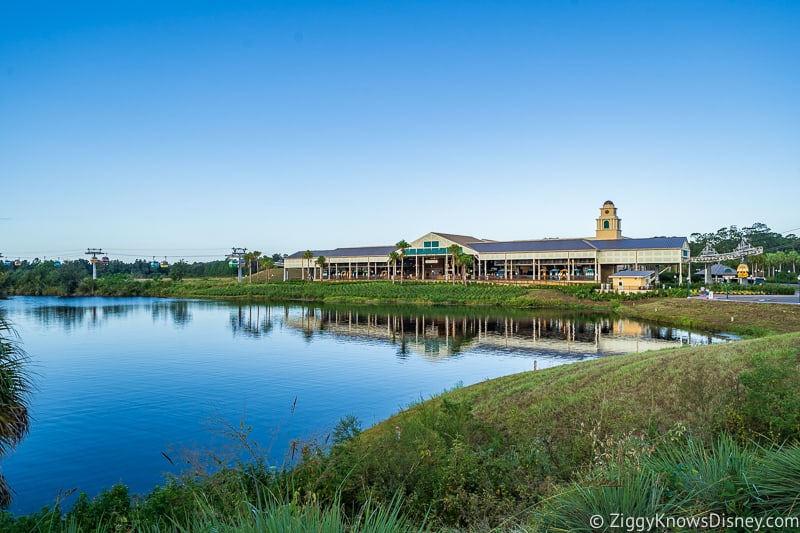 The largest Skyliner station by far is the Caribbean Beach one as it serves as a central hub for this new transportation system. Three Skyliner lines take off and come in here and you can see the activity immediately when you walk up to it: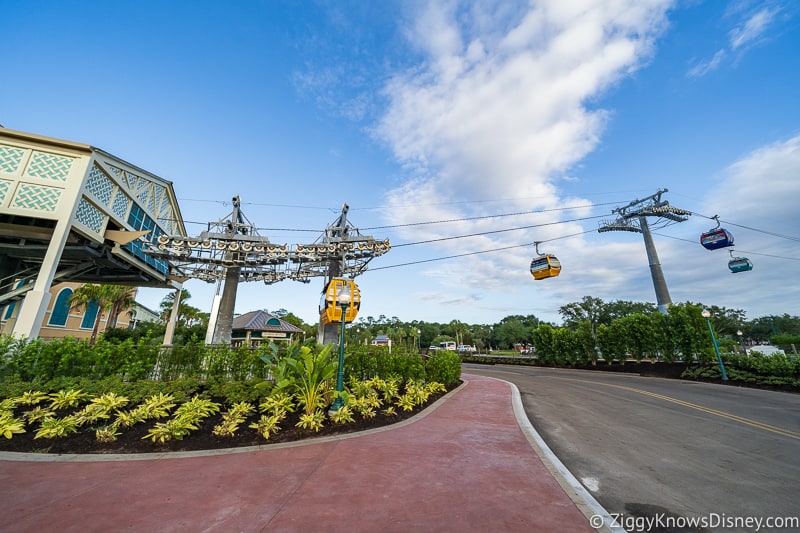 Standing below one of the Gondolas as it passes by is certainly an awe-inspiring moment and fun to imagine flying away in.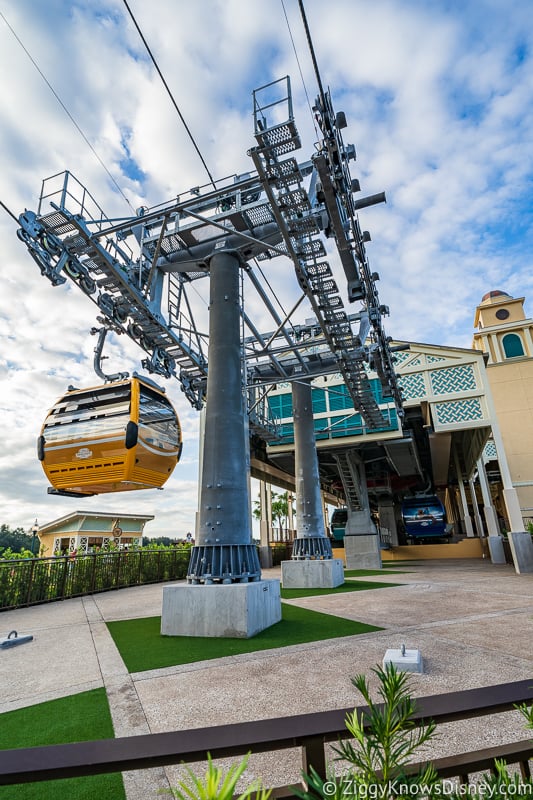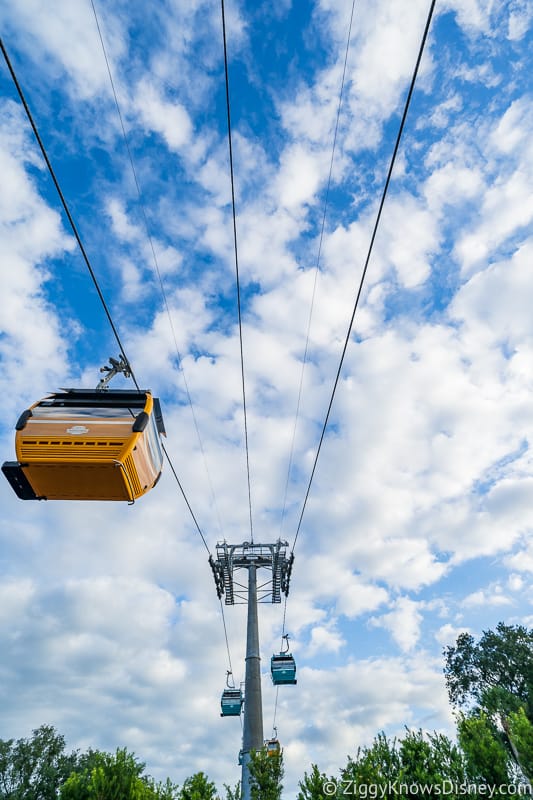 Around the corner form the front of the station is a bus stop. What is this for you ask? In case the Skyliner needs to be shut down temporarily (like for lightning), any guests stuck at the station can take a bus to their final destination: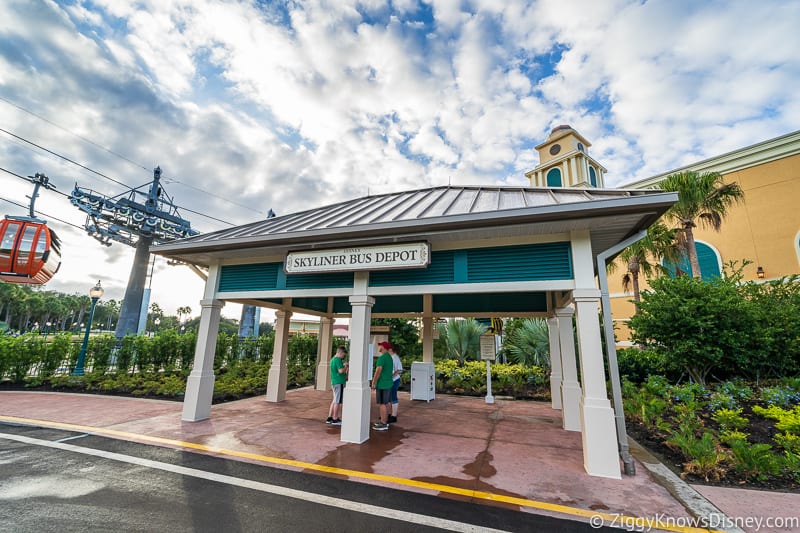 Let's start walking up to get a closer look: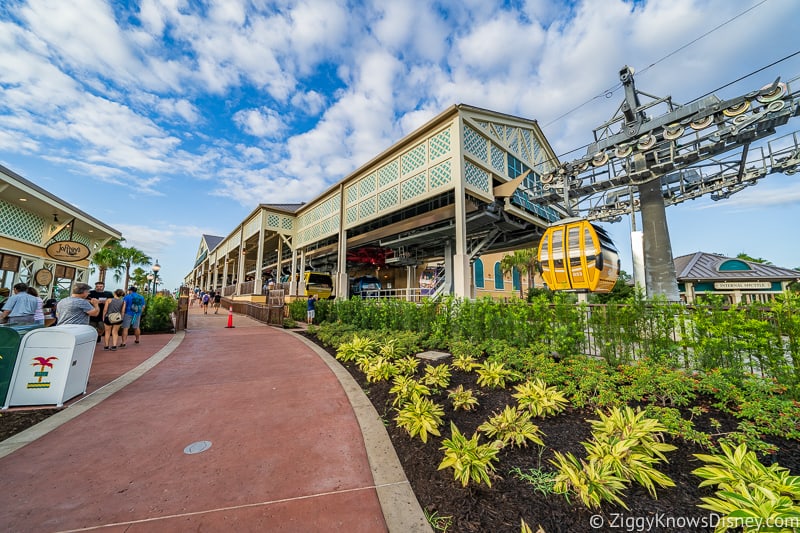 Hang on a sec, there's a Joffrey's Coffee stand right at the entrance? Well I guess I know what I'm getting before going up!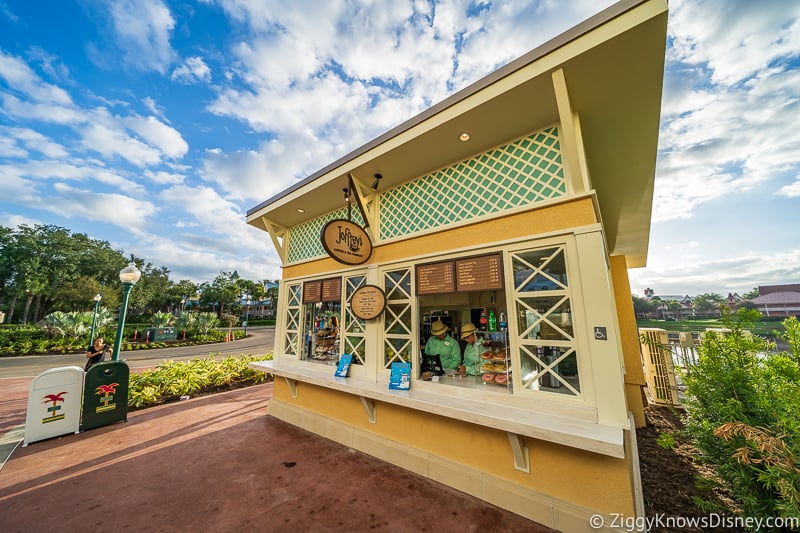 This is a great idea as it gives early morning park-goers a chance at a snack or coffee to take with them in the Skyliner. The display case is full of pastries, donuts and other sweet snacks that are sure to send my blood sugar levels sky-high (that wasn't a joke really).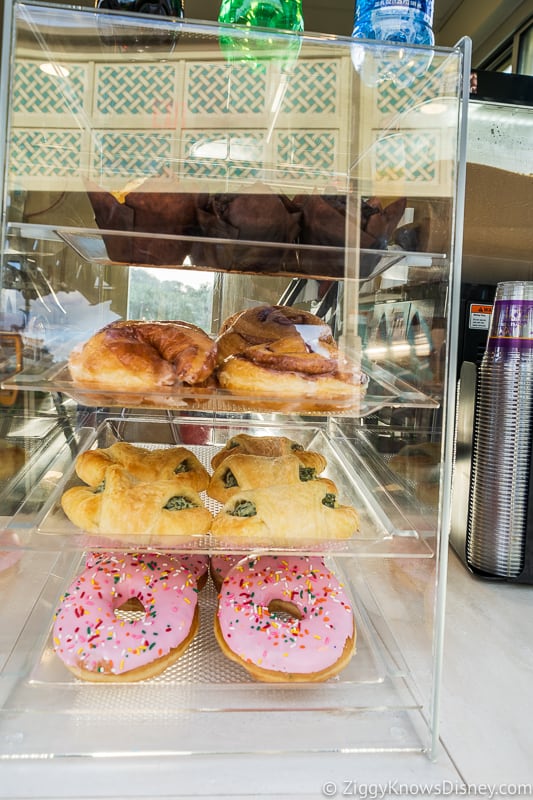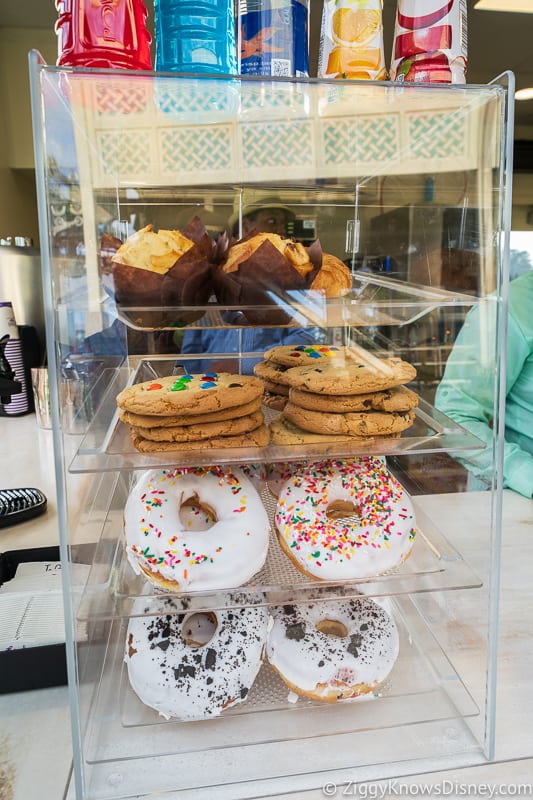 Oh dang, gotta try this for sure!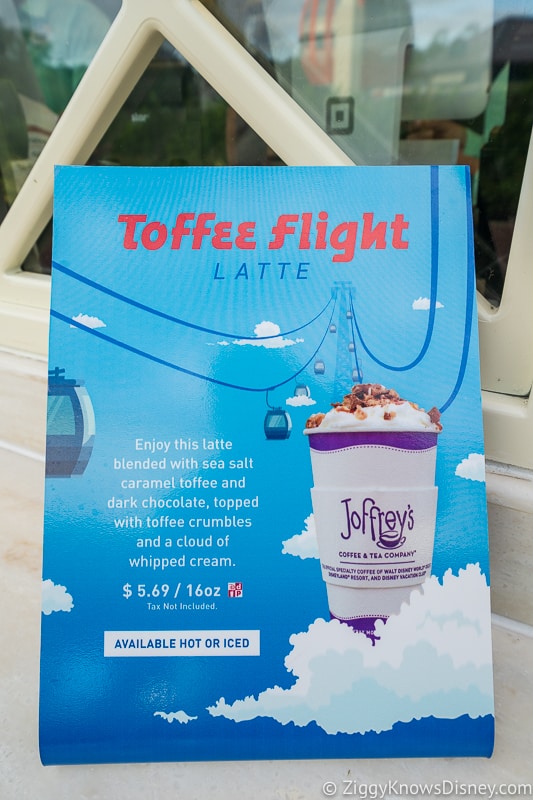 Ok, we're on a caffeine and sugar high, so I'd say we're ready to go!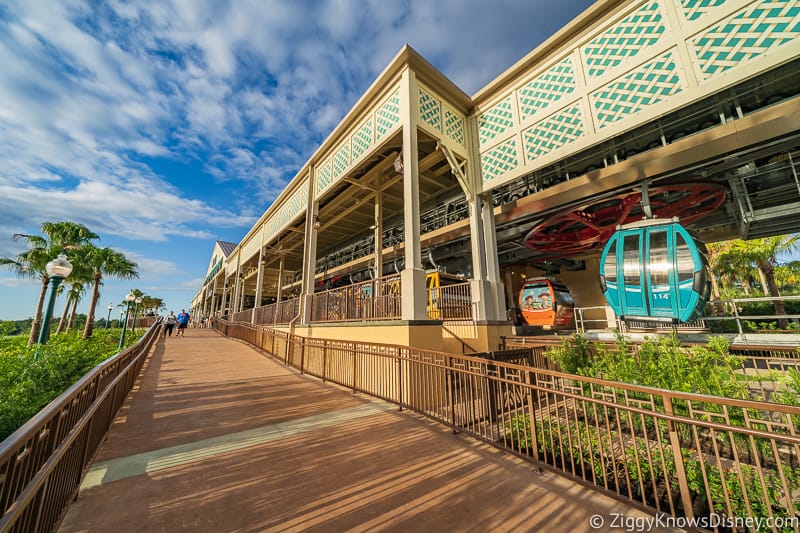 Walking up the ramp you can see the Skyliner gondola cars flying into the station and then coming to an almost complete stop in a split-second. Super cool!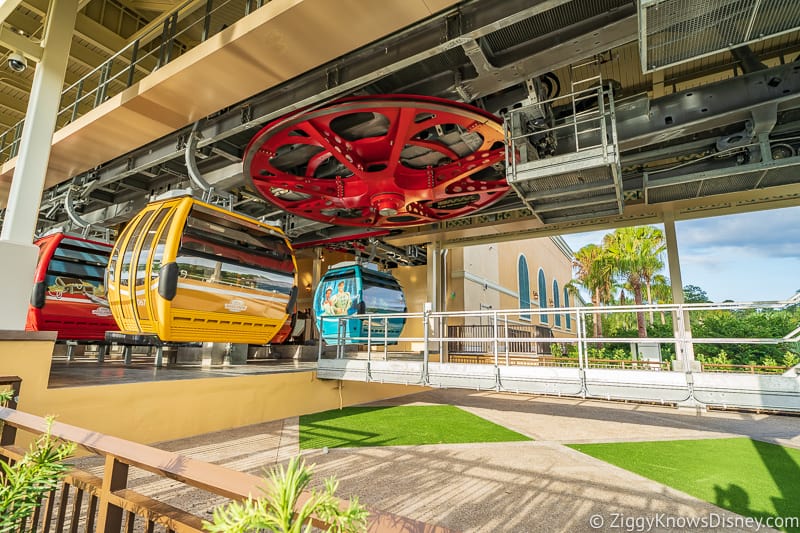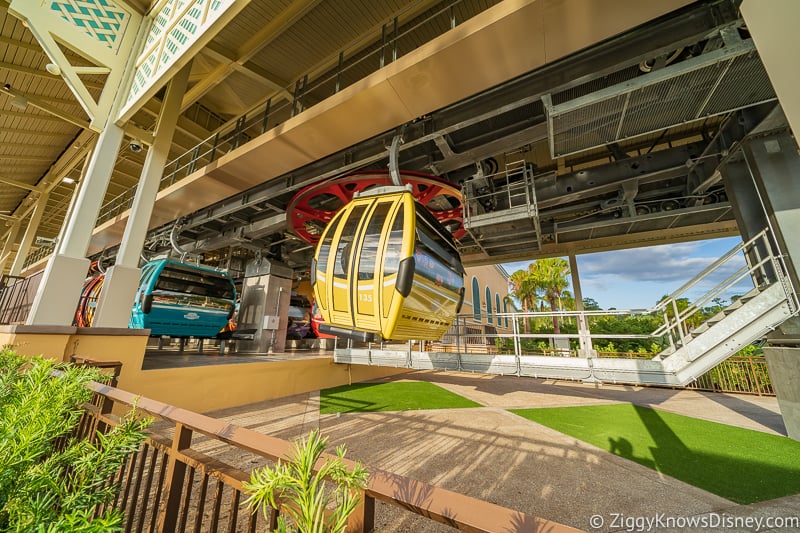 Just in case you want to sit this one out or are waiting for someone, there are benches along the way.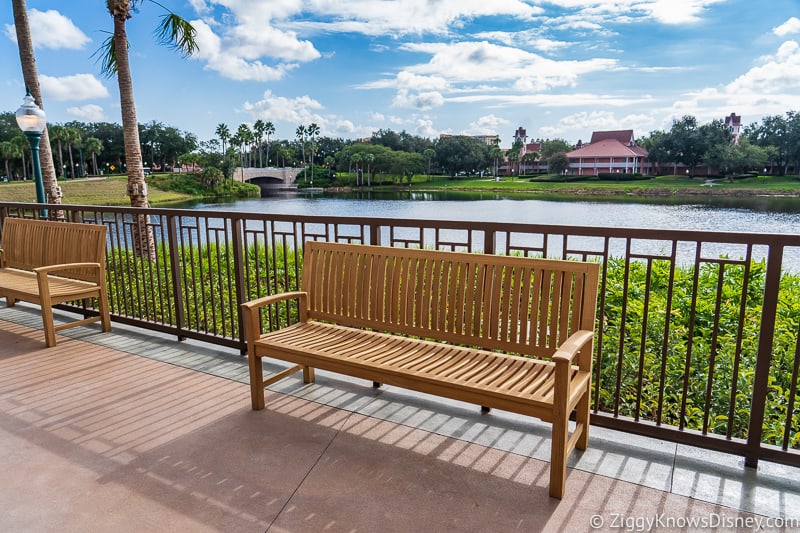 All 5 stations have a totally different look and feel, and are designed to fit into their surroundings and theming.
Here is the entrance to the Caribbean Beach station. It's pretty big standing in front of it and the colors and wood work remind you of the rest of the Caribbean Beach Resort. It looks almost like some kind of transportation hub you'd find in an island city!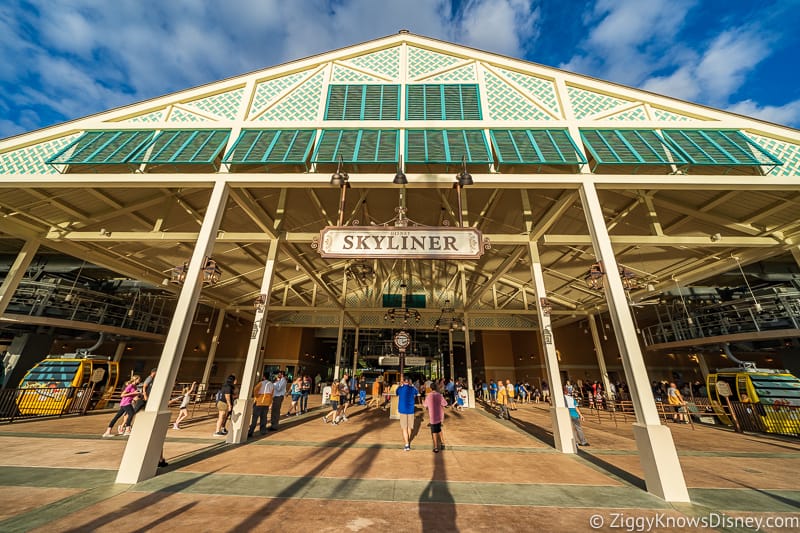 The nice thing is if you come early, you will likely run into really low crowd levels like this. If you see that it means it's walk-on all day!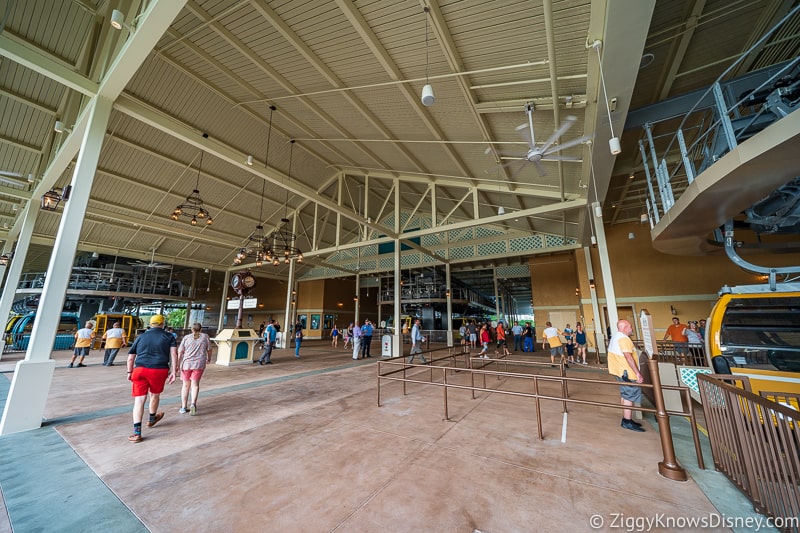 Is this Grand Central or what? I actually like the little touch the clock adds myself…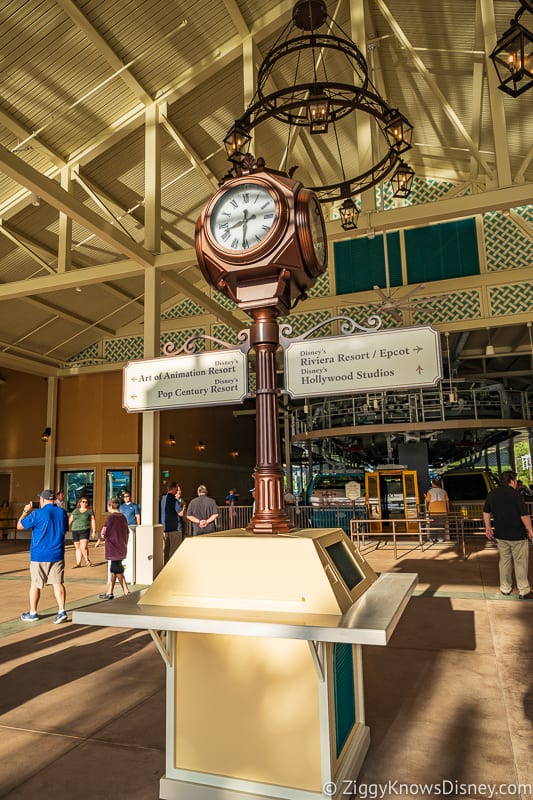 Ok so when you enter you will see three loading areas and you have to choose which direction you want to go to. Each area has its own queue and will bring you to a different Skyliner line, and ultimately your destination.
Here is the Hollywood Studios Line straight ahead:
Pop Century/Art of Animation Line: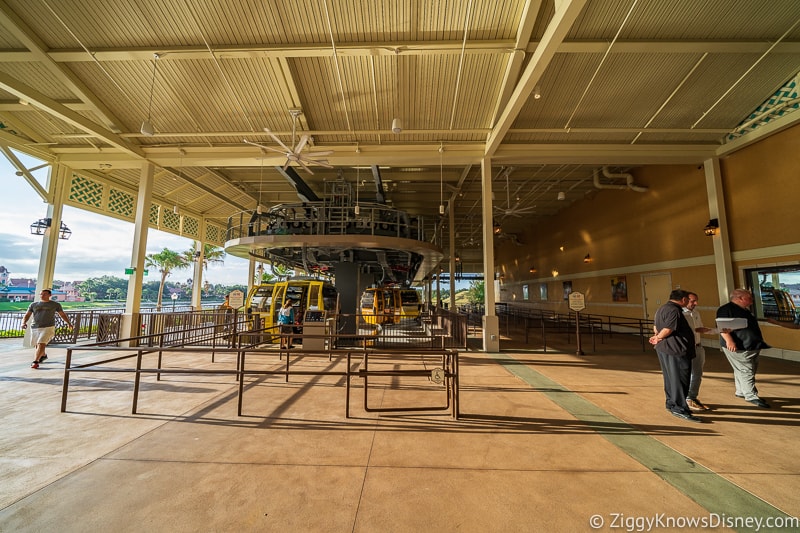 and Epcot line: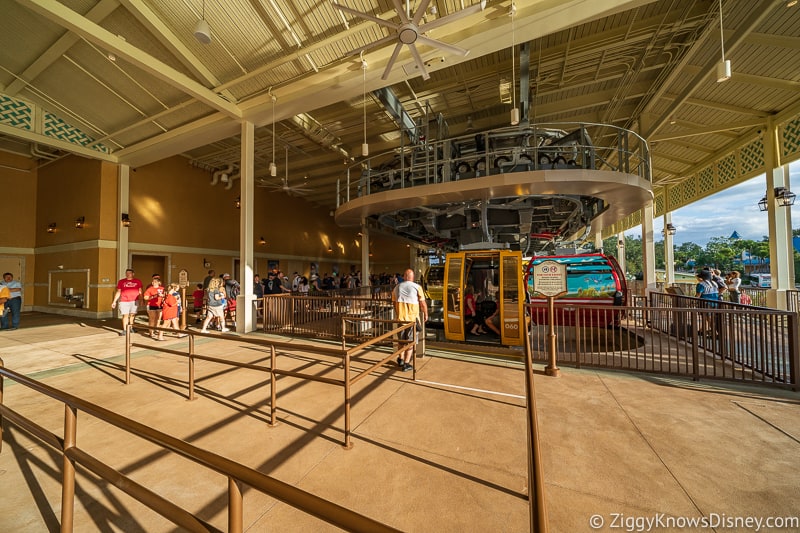 One of the most asked questions about the Skyliner is how the loading/unloading process works for guests with mobility issues or who are in a ECV, Wheelchair, Scooter, etc. Thankfully there are separate loading areas like this one going to Pop Century that you can get into.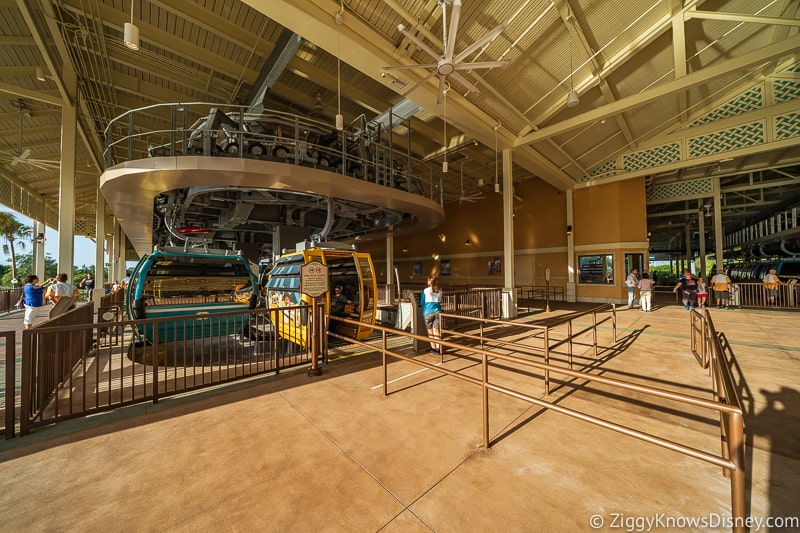 The gondolas come to a complete stop and you can take your time to get on or off.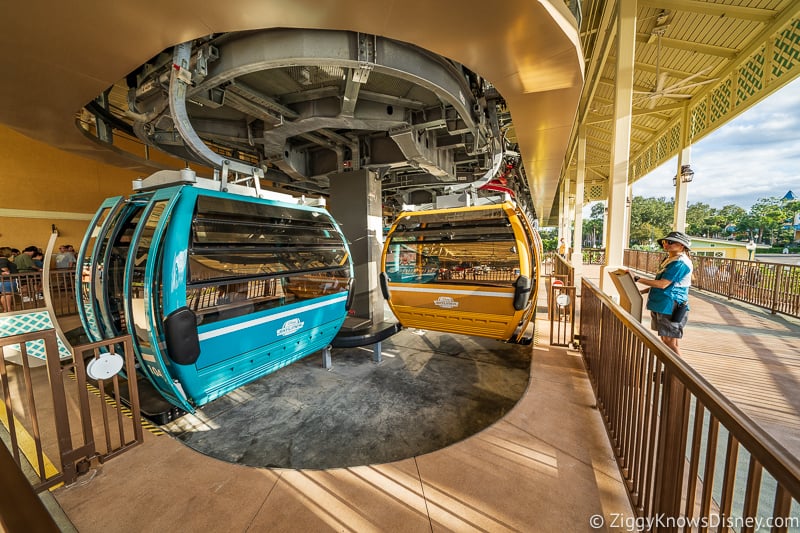 Here is a better look at one of the regular queues, this one going to Pop Century: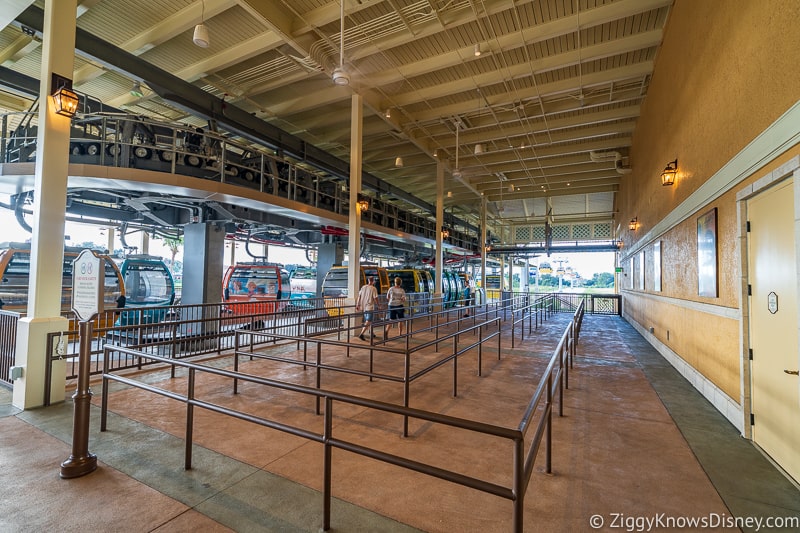 Signs are posted while getting in the queue letting you know there is a 10 person max per gondola and to remain seated and supervise children at all times: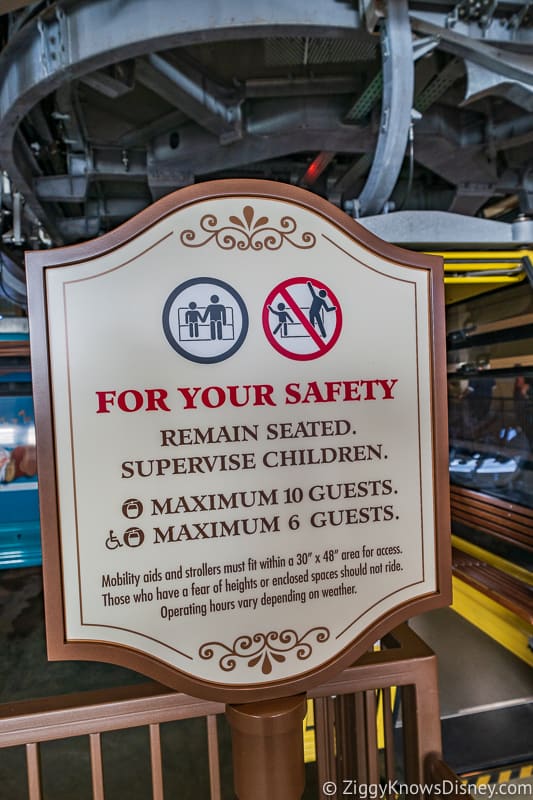 Need a bathroom stop? No problem, there are restrooms conveniently located in the station: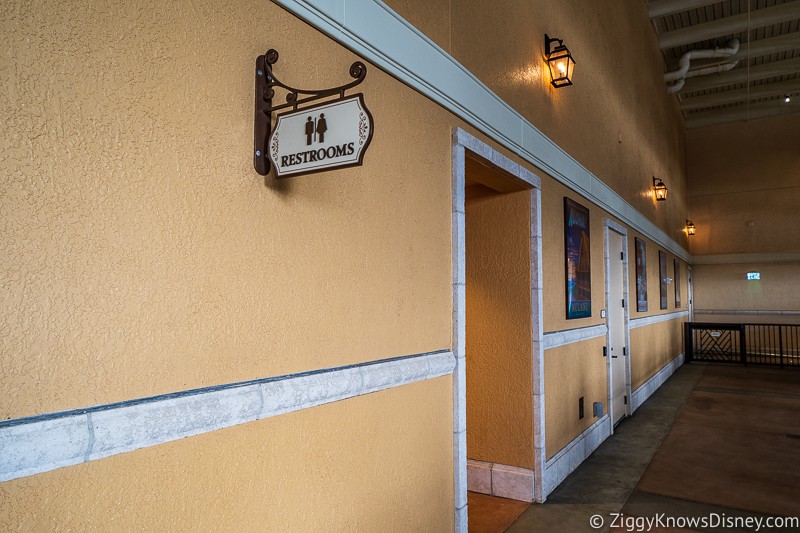 and drinking fountains if you are thirsty!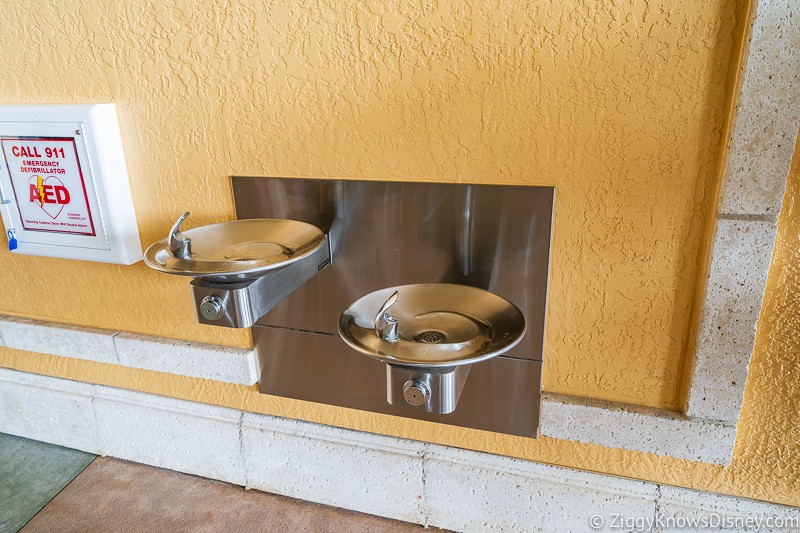 Think the Skyliner only goes to Walt Disney World locations? Ok, it does. But while you are waiting in line there are travel posters for some more exotic Disney locations throughout the world like Aulani: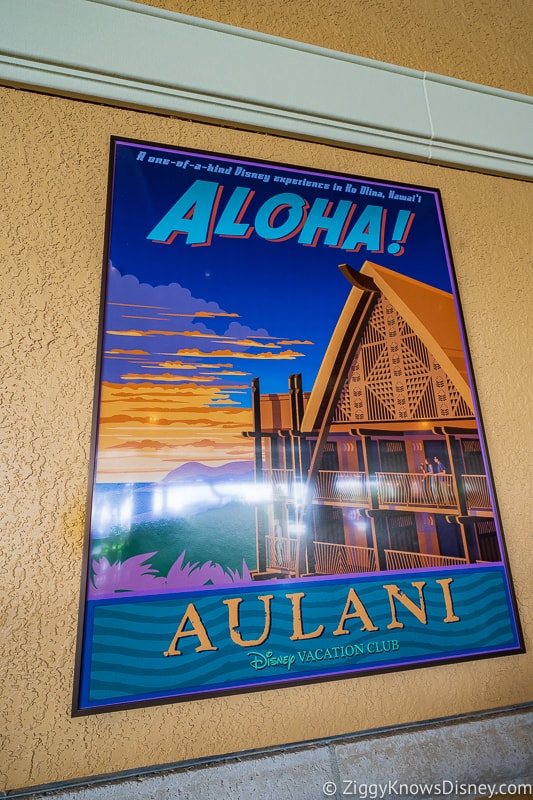 and Adventures by Disney: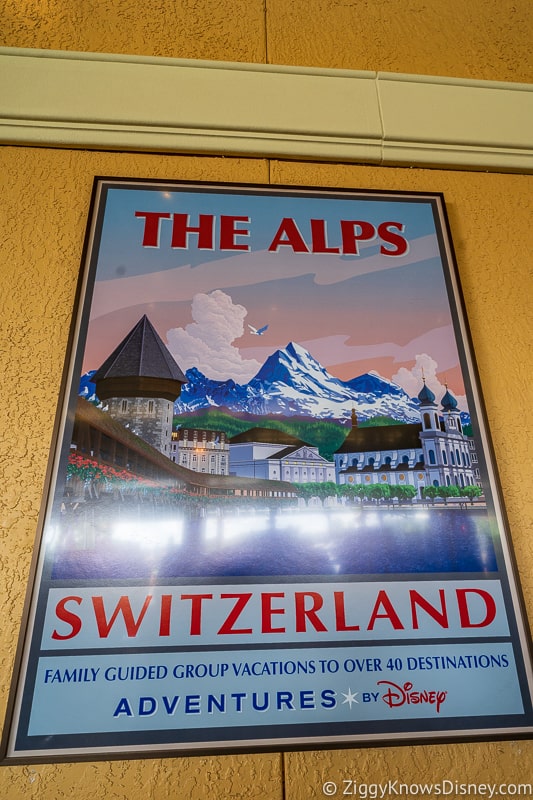 Once the gondola cars come into the station, they end up in a nice tidy row where guests can unload: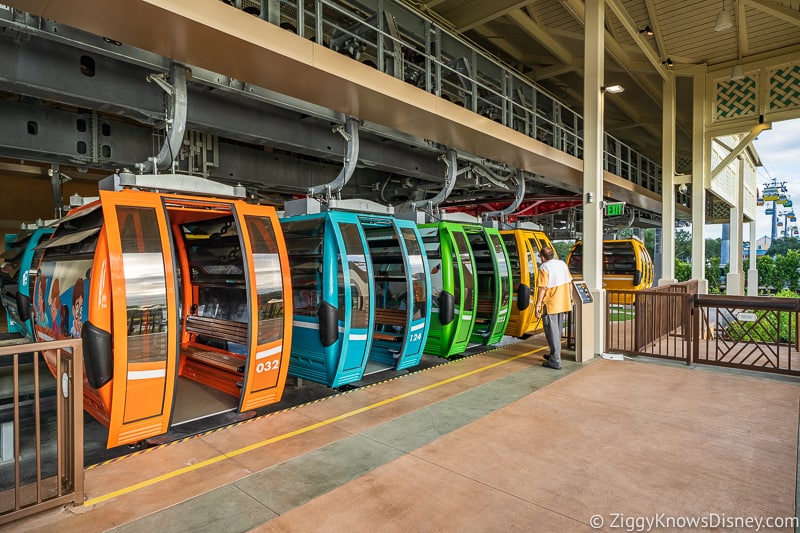 Just be careful to come during busy times or you might end up in a line like this. Thankfully it was only like 10 minutes, but it sure looked scary!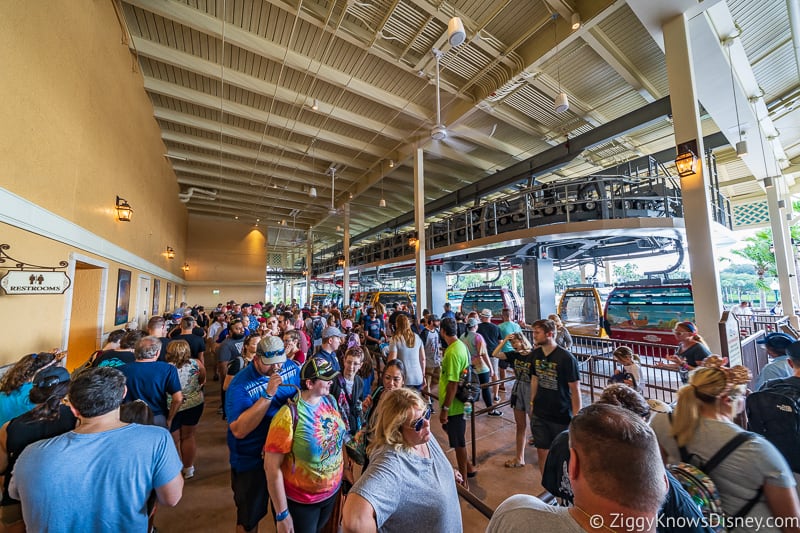 Now that we've explored the Caribbean Beach station, let's go over to some of the other ones!
Pop Century/Art of Animation Resorts
The Pop Century/Art of Animation station is, as you can imagine, shared by both resorts. It's located in an interesting location right int he middle of a bridge, in the middle of a lake between the two resorts. Let's walk across and go check it out!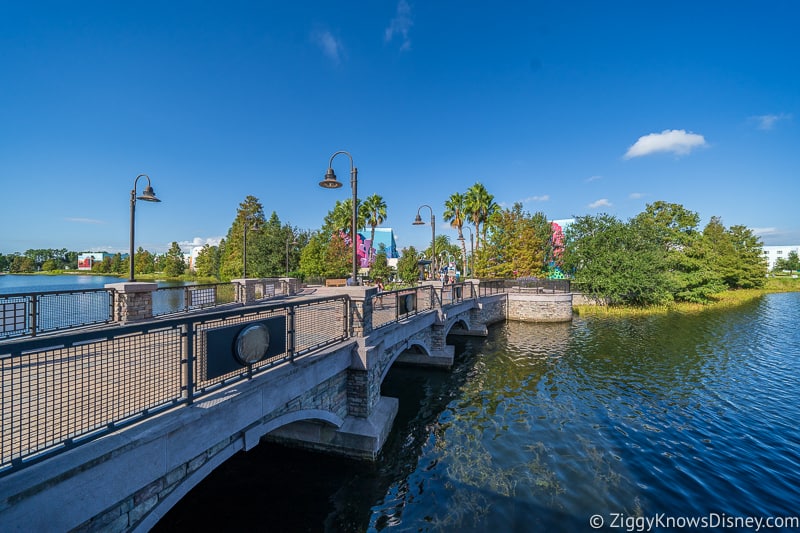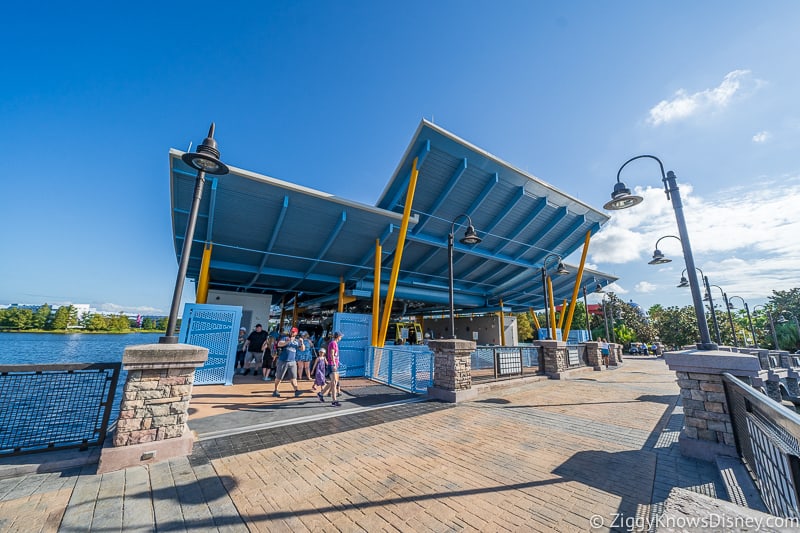 Here is the front entrance.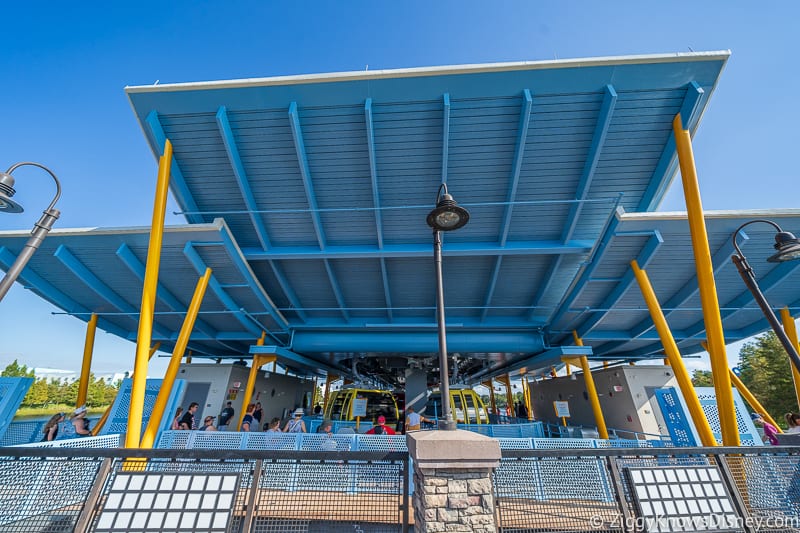 You can immediately see the drastic difference in styles with this having much sharper edges and covered in metal and stone. The roof line isn't flat either and has a natural wave to it: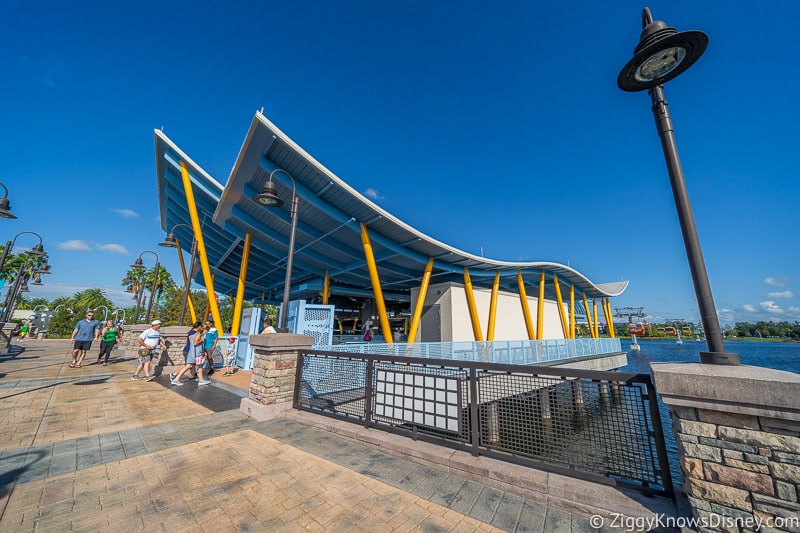 My favorite part about this station is that it's in the middle of a lake. That means that when gondolas are coming in or leaving, you go right above the water!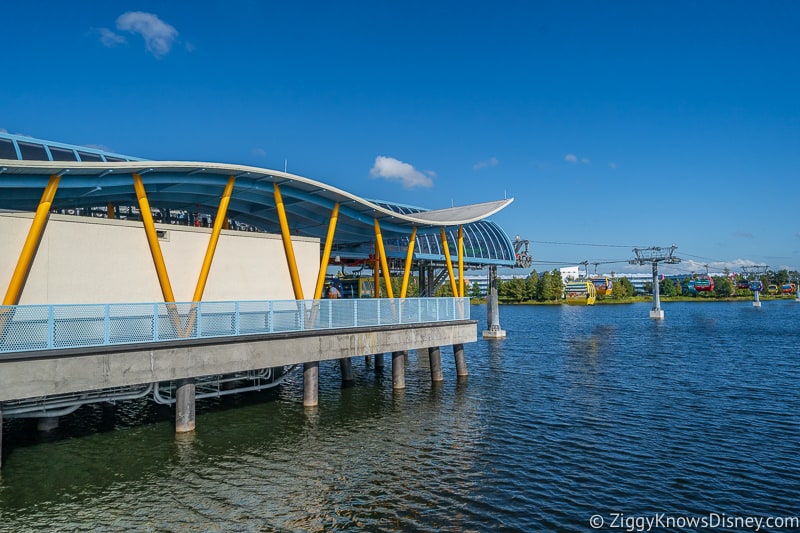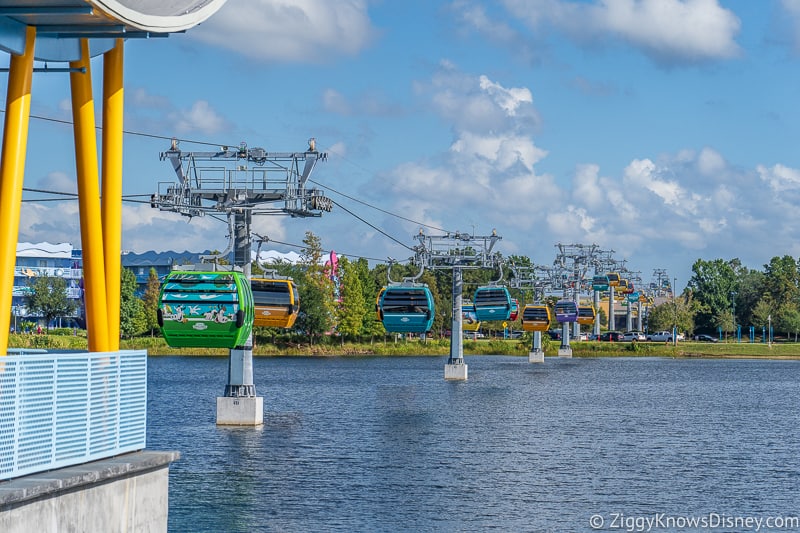 It's super fun just to sit back and watch all the cars coming in and naming the characters as they go by!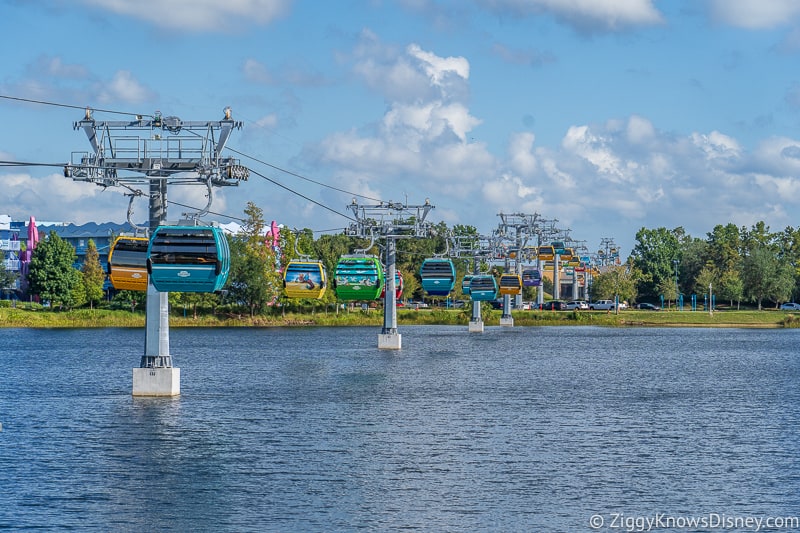 There's Stitch, probably up to no good as usual! 😉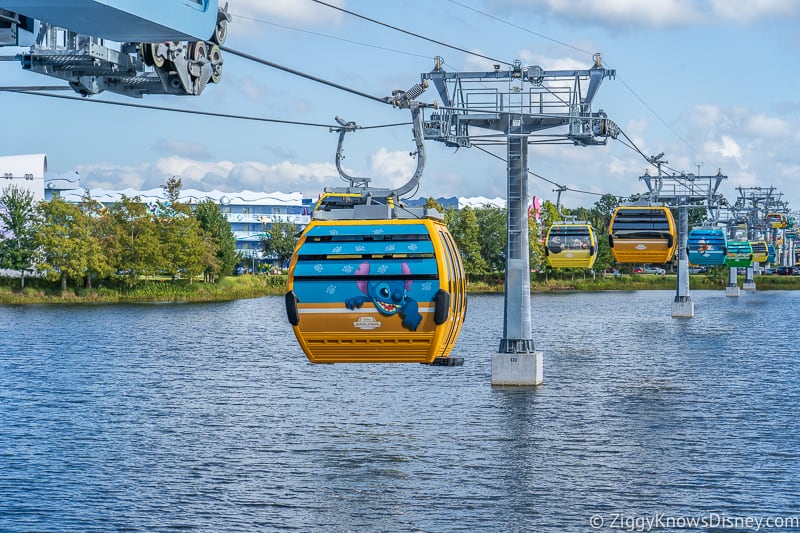 From the other side you get a really good view of the cars gliding into the station: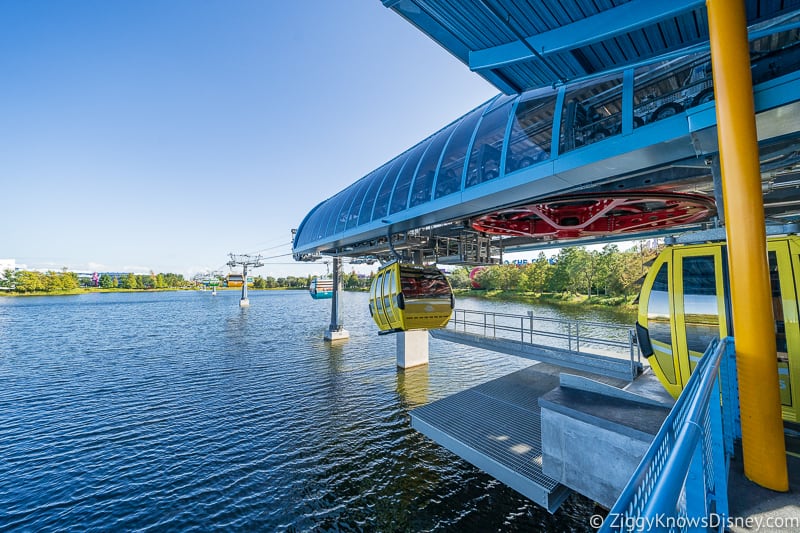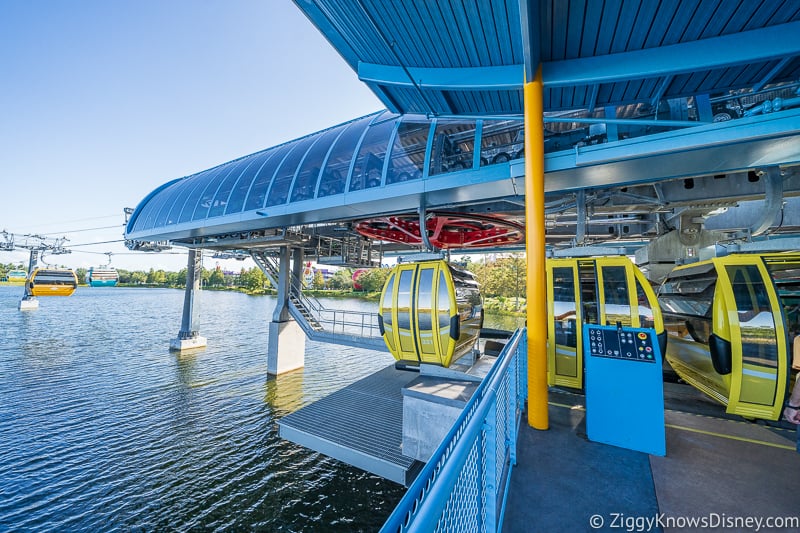 a look at where guests disembark: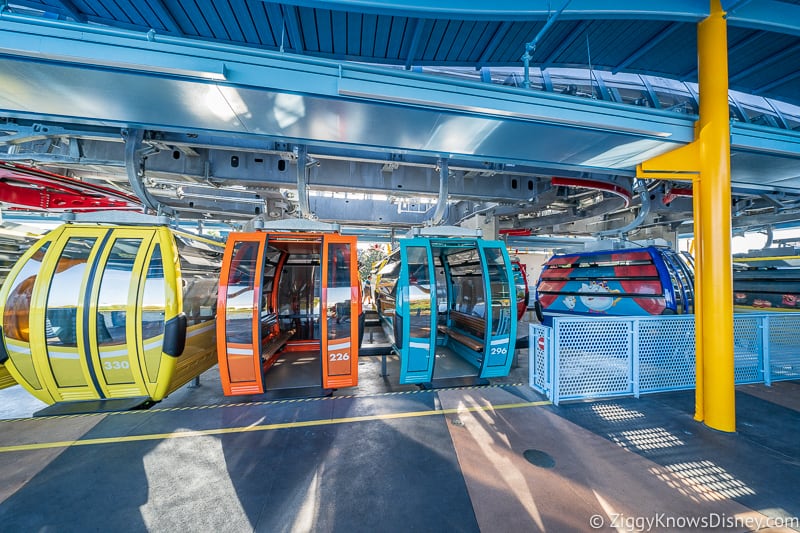 A different sign, with the same message as before: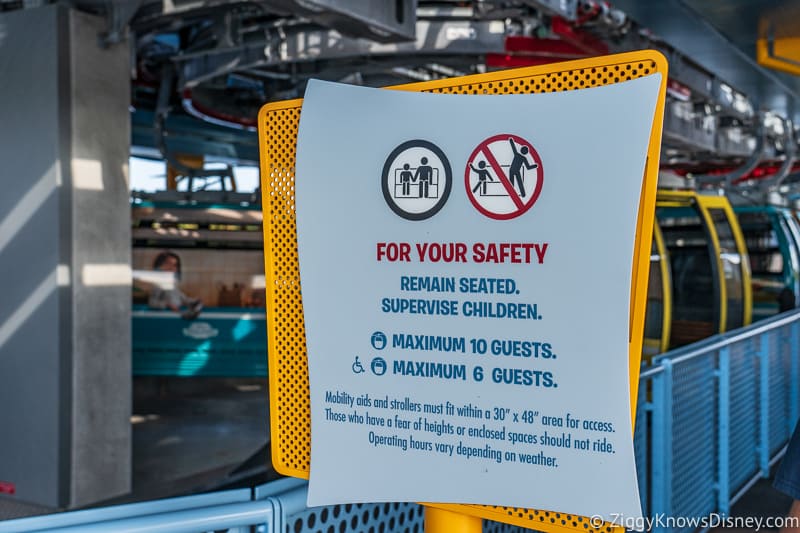 A look at the mobility assisted loading area at this station: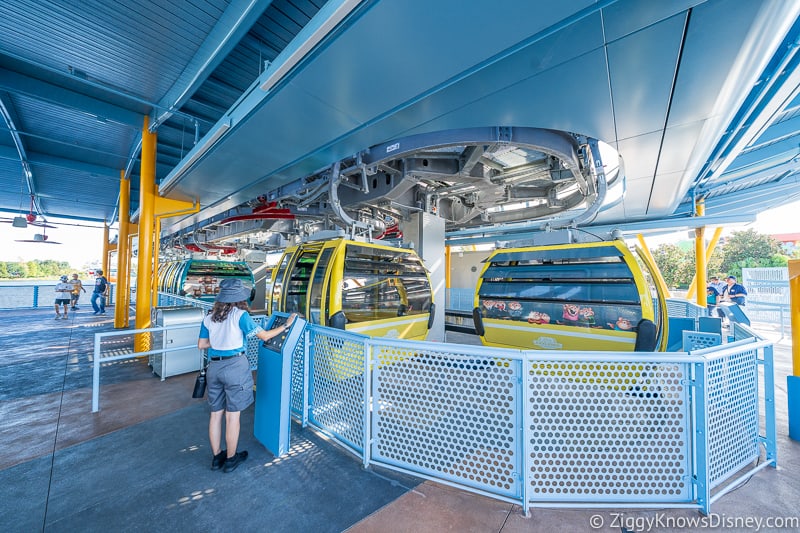 When we were there we saw a pretty long line. Due to the slow guest loading, things can back up.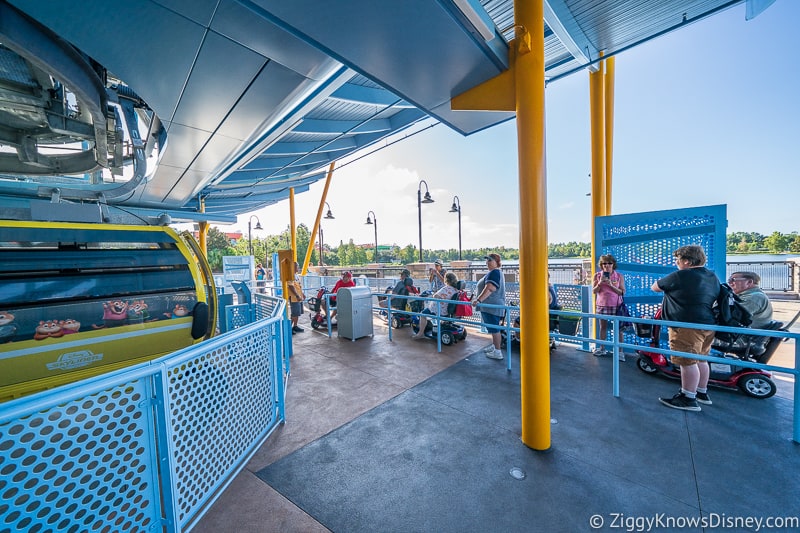 Hollywood Studios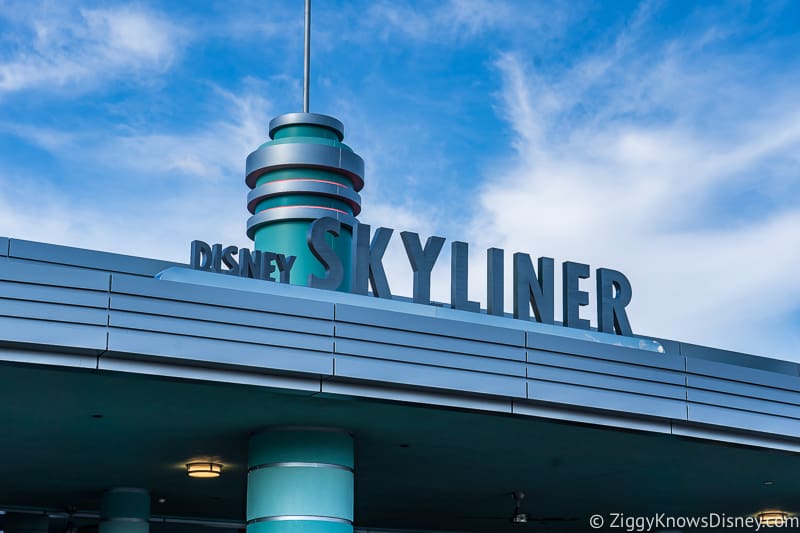 We're off now to Hollywood Studios and again a totally different style. This one is more Art Deco from the 30's or 40's with those teal tones and brushed metal look: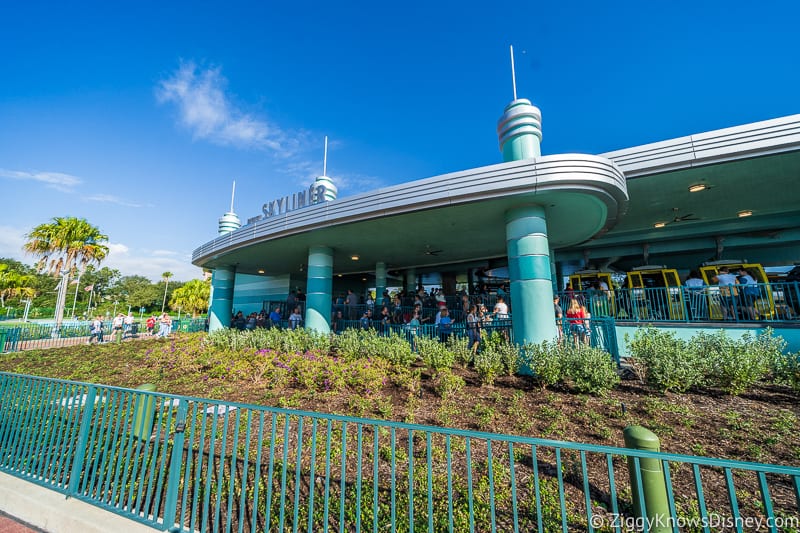 Here is the landing area for the Gondola cars: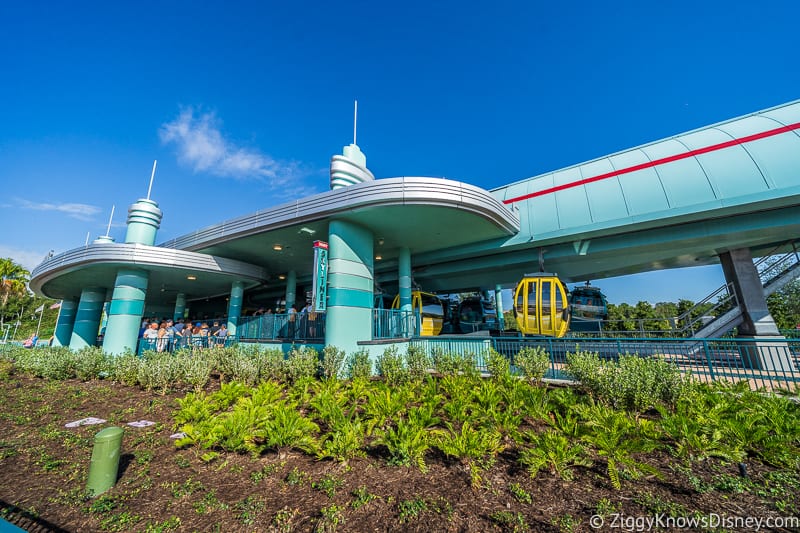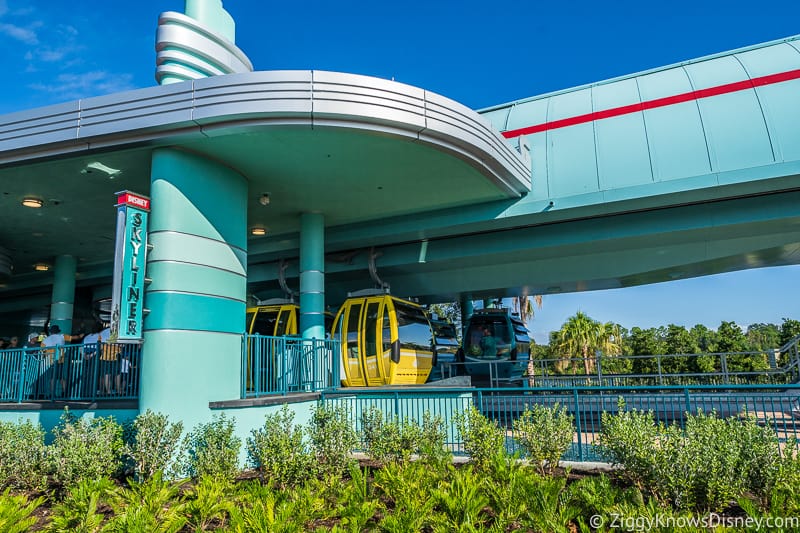 Now let's take a walk around the front and head inside: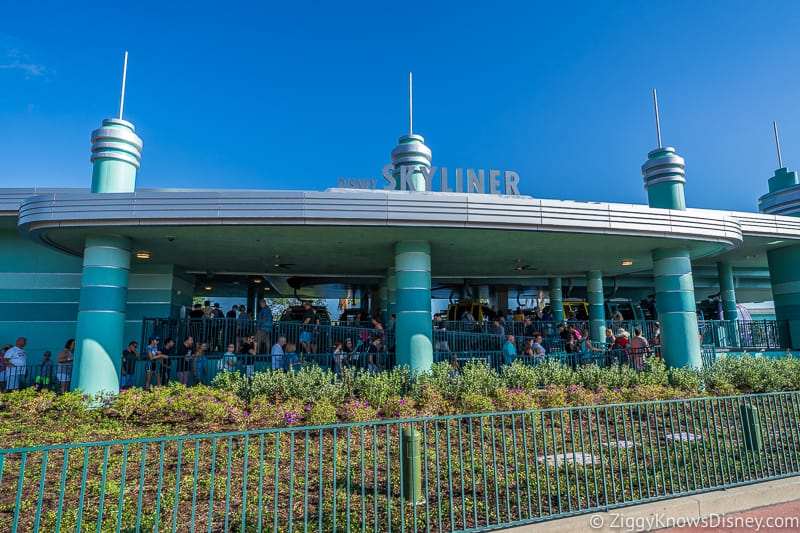 Of all the signs, I think this one is the coolest by far!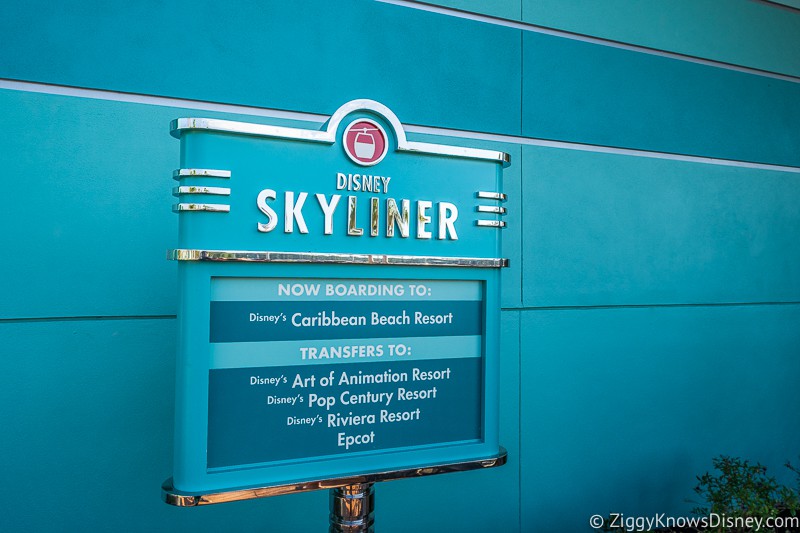 Again, mobility assisted loading area to the left: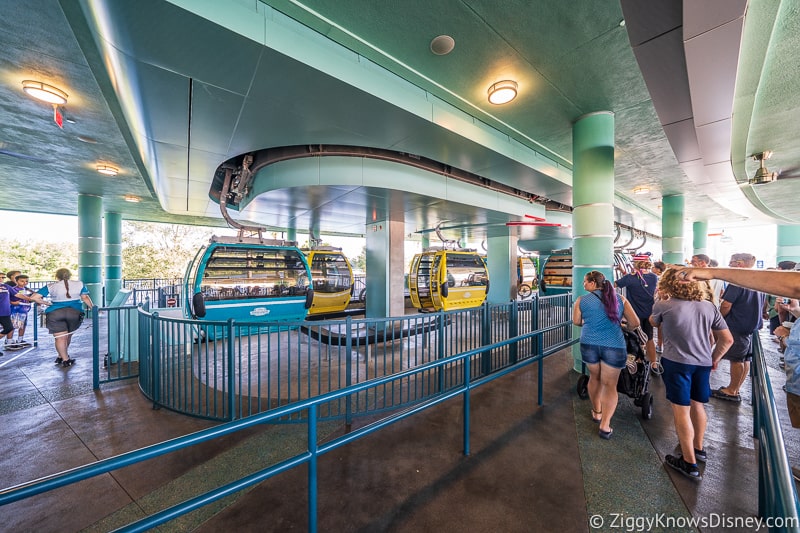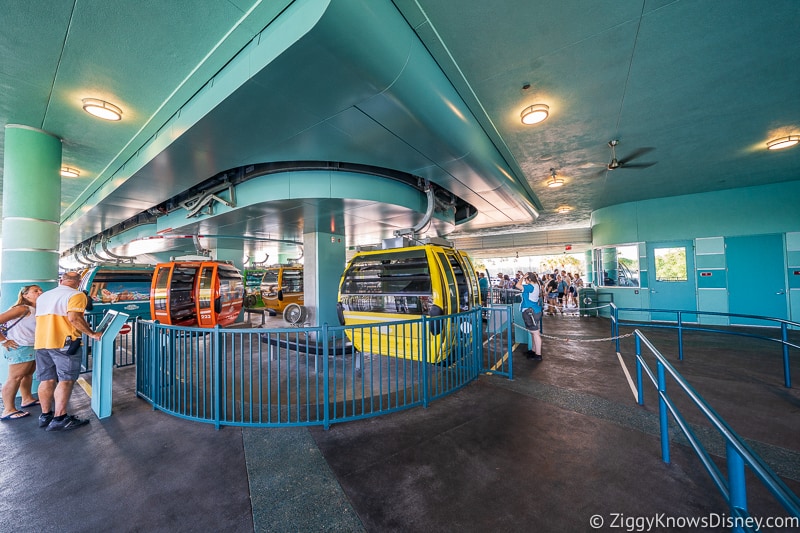 and the unloading area: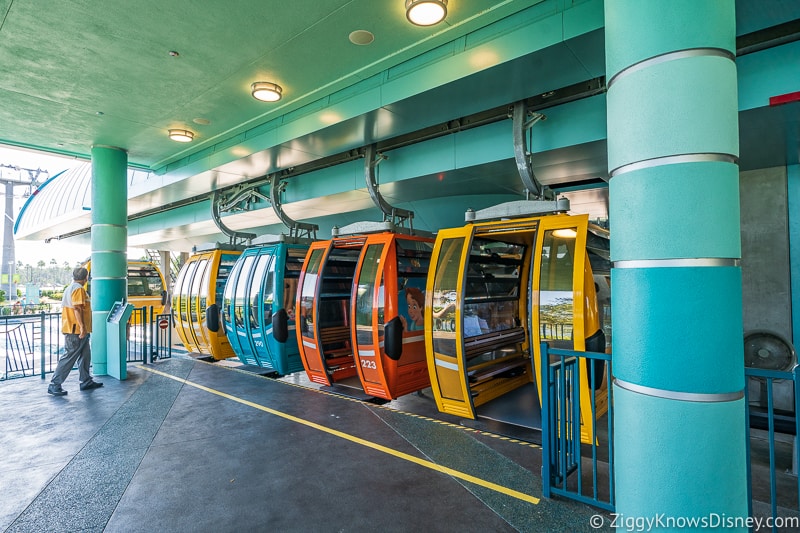 Riviera Resort
The Riviera Resort station is located right between the Caribbean Beach and Riviera Resorts, so really both hotels can use it.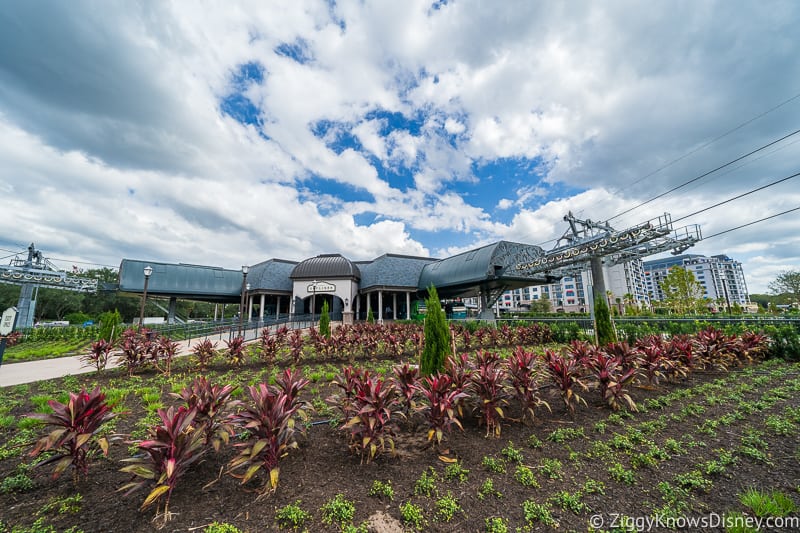 I feel like this one is a bit more plain and not a lot going on around it: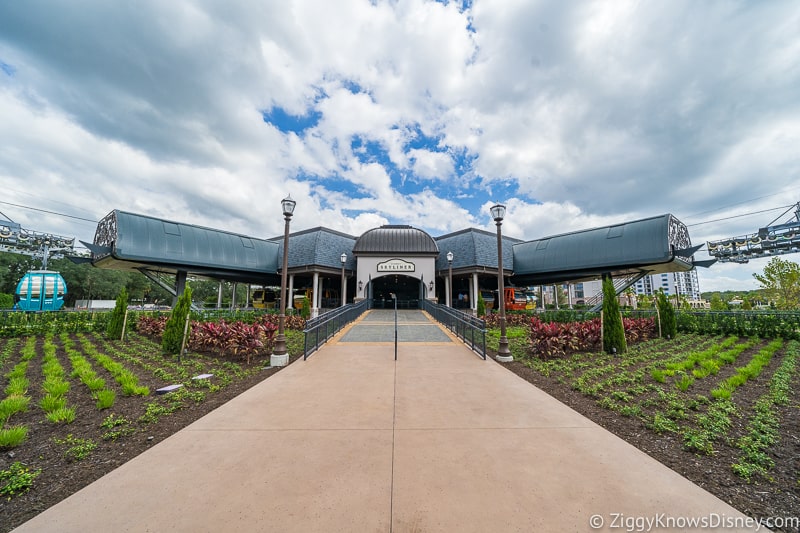 There are some bushes and plants outside, but that's about it: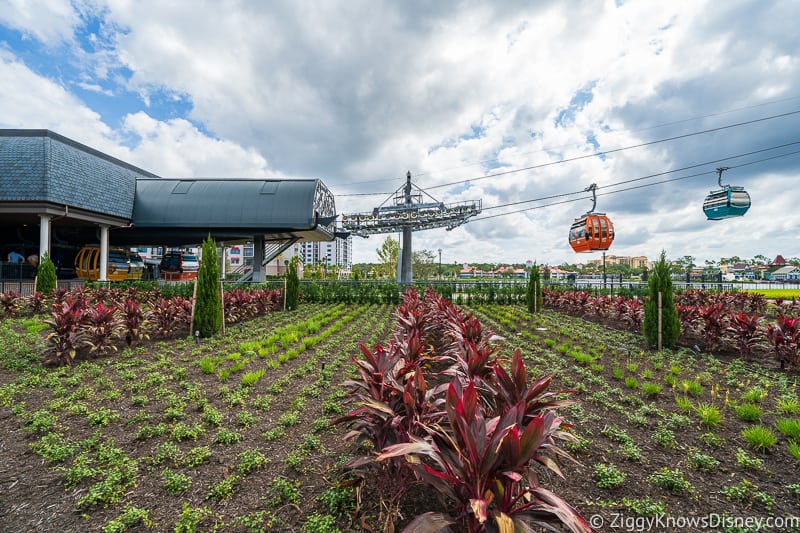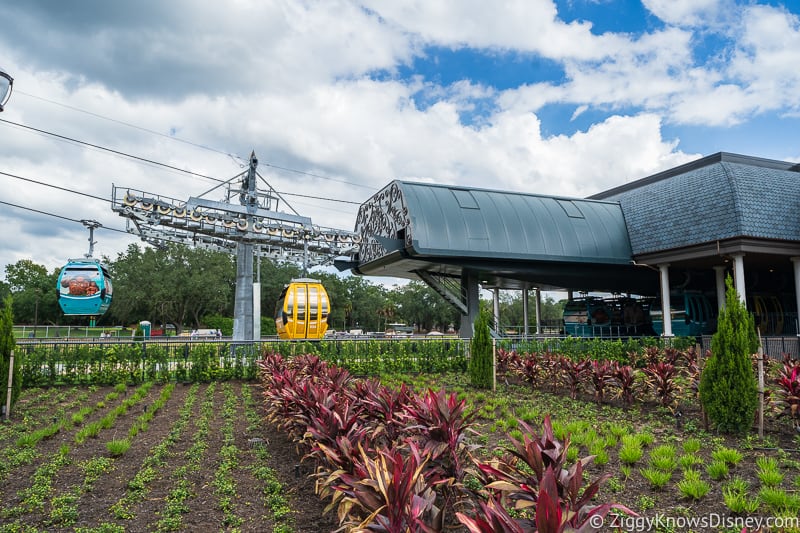 Let's go inside: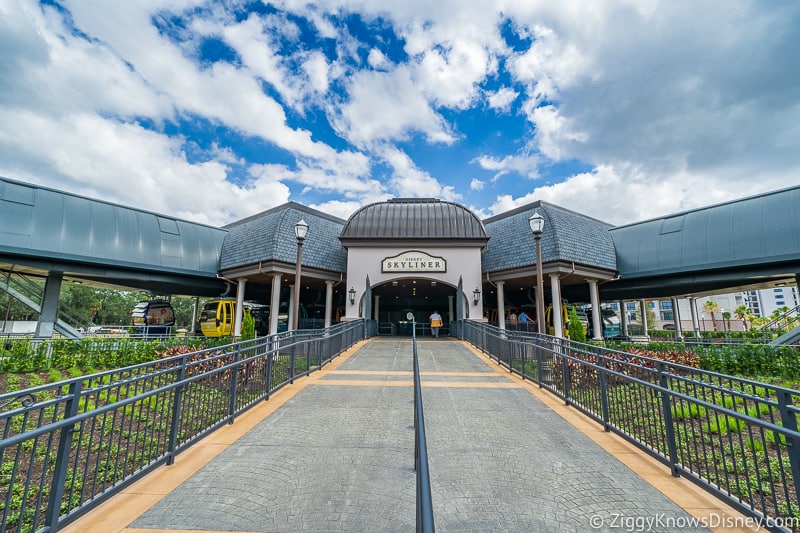 To your right you'll see the unloading area: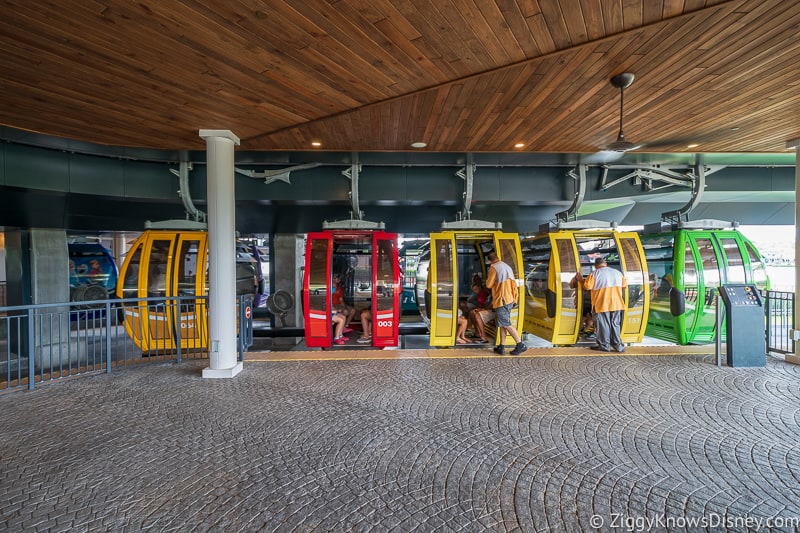 and to your right, the loading area: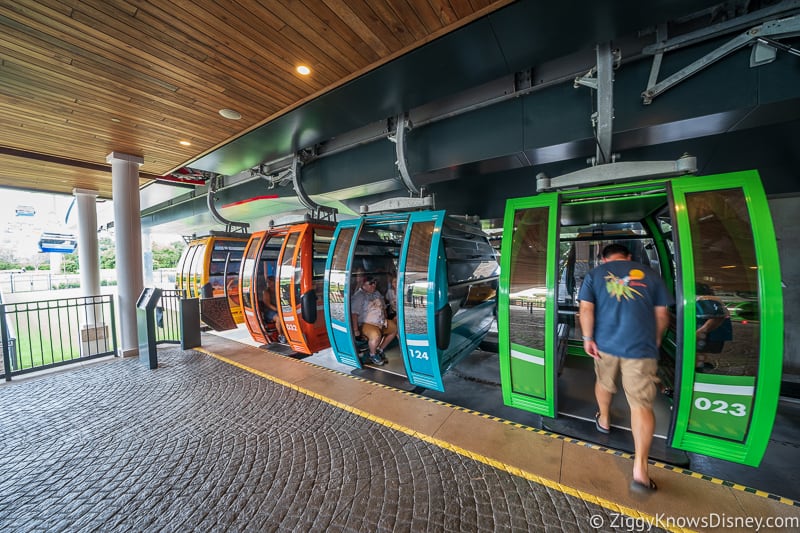 Some guests don't unload here as they pass through to Epcot or Caribbean Beach, but the doors will open either way and a cast member will ask you if you are staying on or getting off, then it's up to you. It's the only station where you have a choice.
Epcot
Now to our last stop on the Disney Skyliner station tour, Epcot!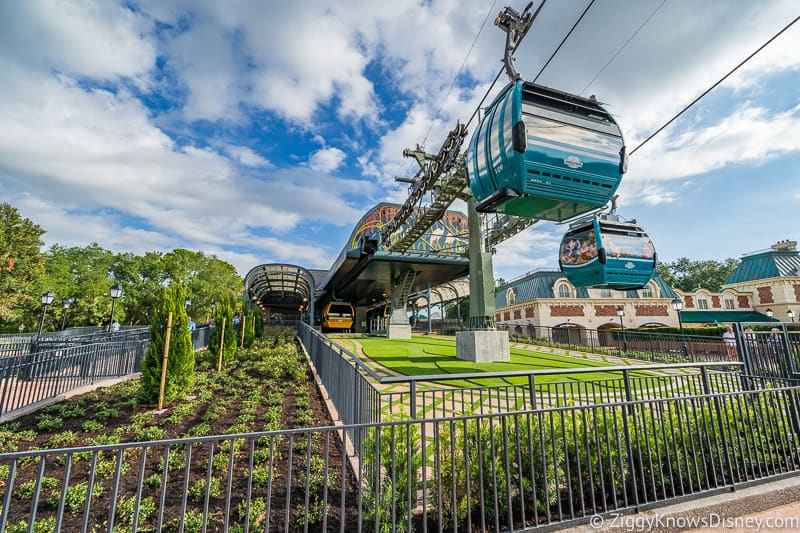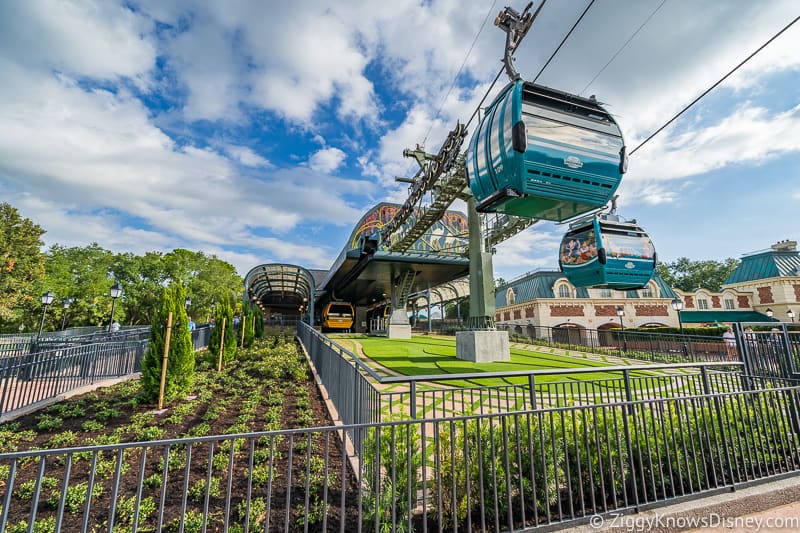 This to me is the overall most beautiful station of them all.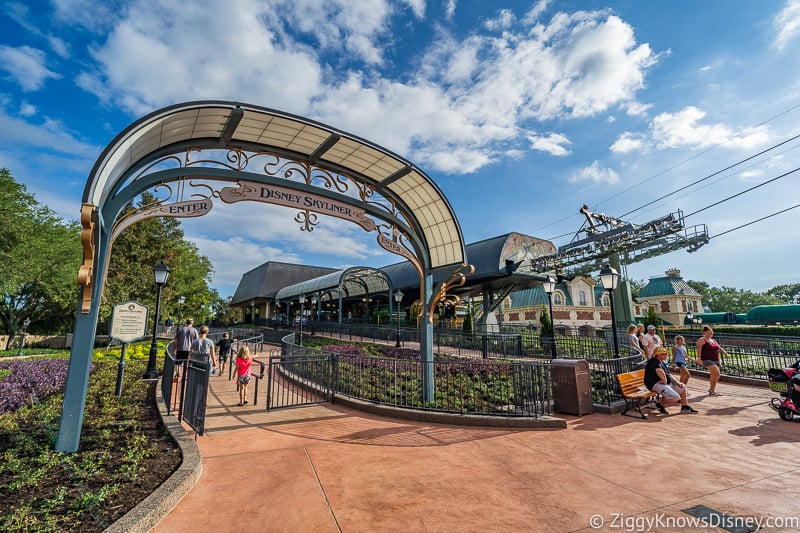 Being right outside, and flying over France, you'll notice that Parisian influence, making you feel like you're in the central train station in Paris: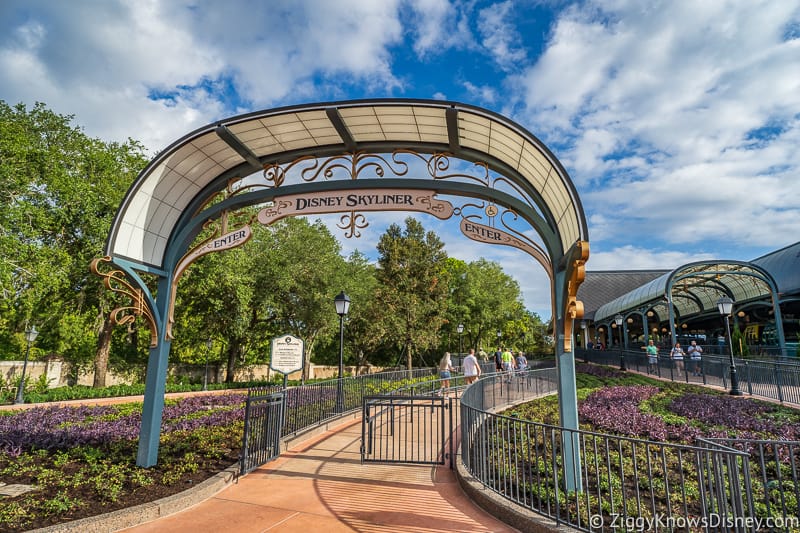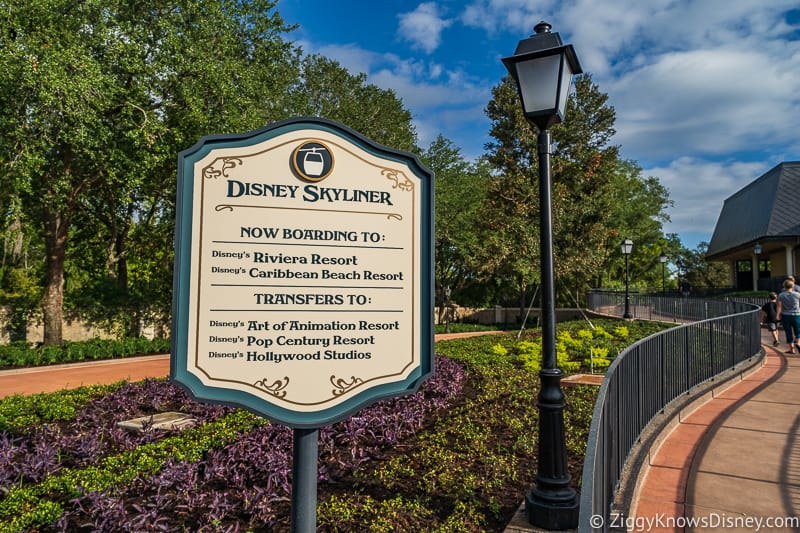 It's a long walk, and the queue wraps around all the way over to the left there, which totally fills up when Epcot gets let out in the evening: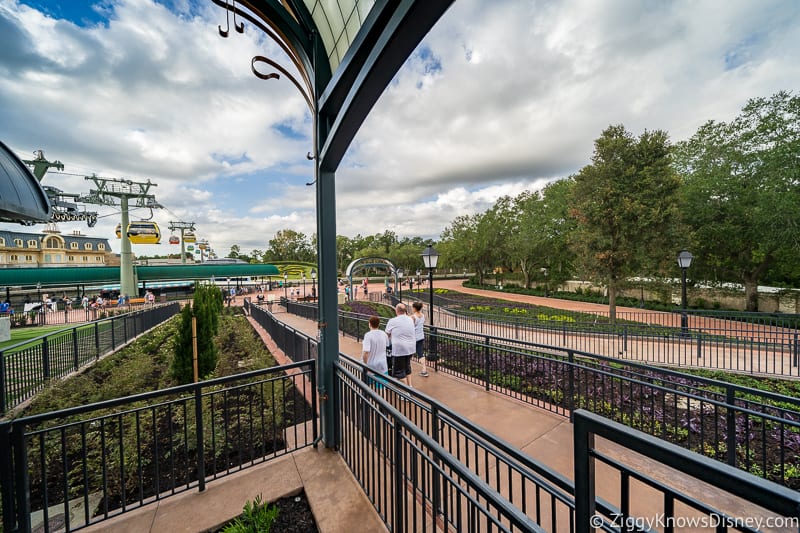 Loving these ceilings!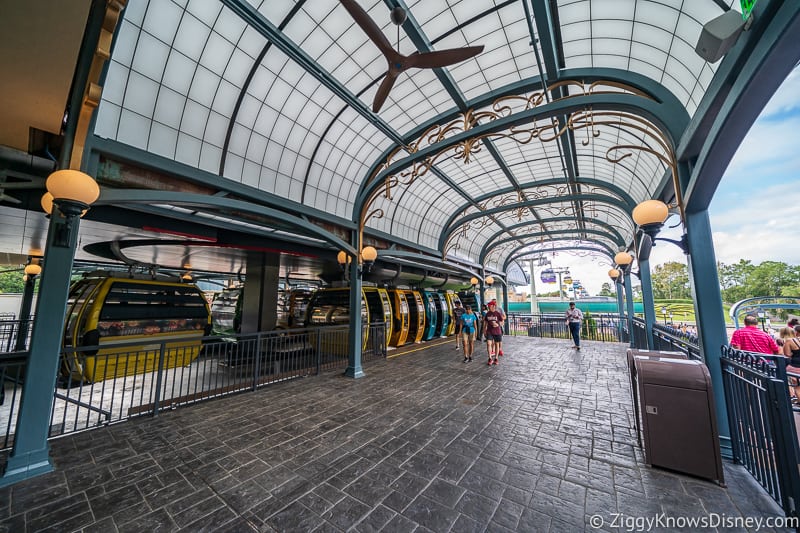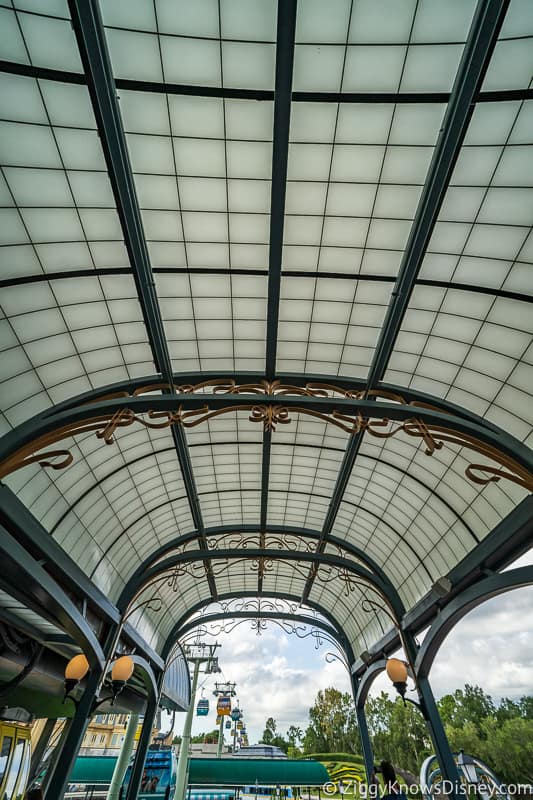 And the views are great of the cars coming in: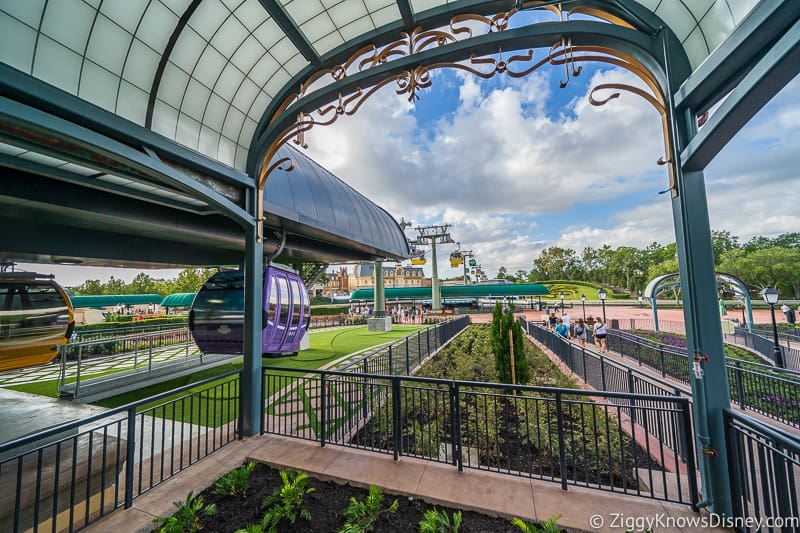 Once guests land here, they unload here: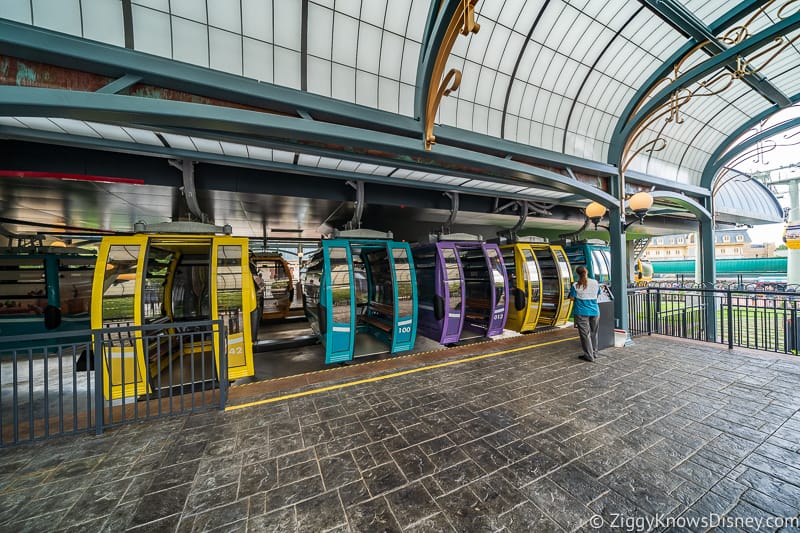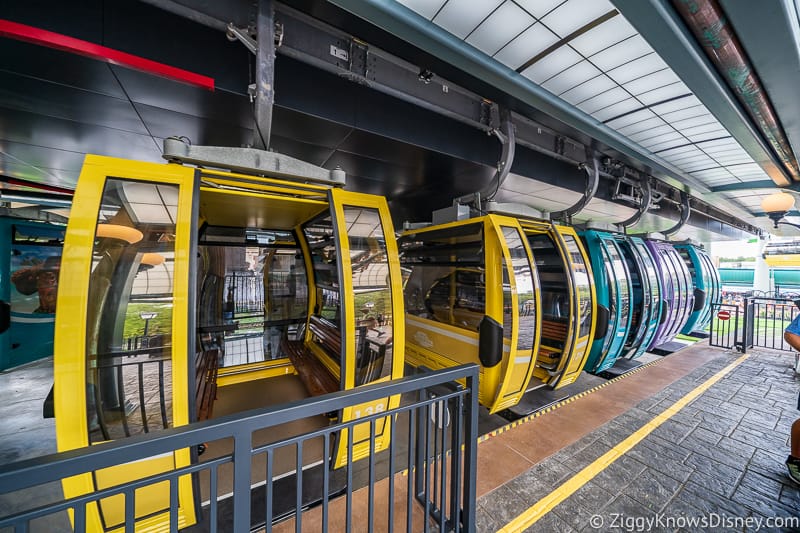 Once again, some of the gondolas go out of the normal loop, and into the mobility assisted loading area, which is a seamless transition: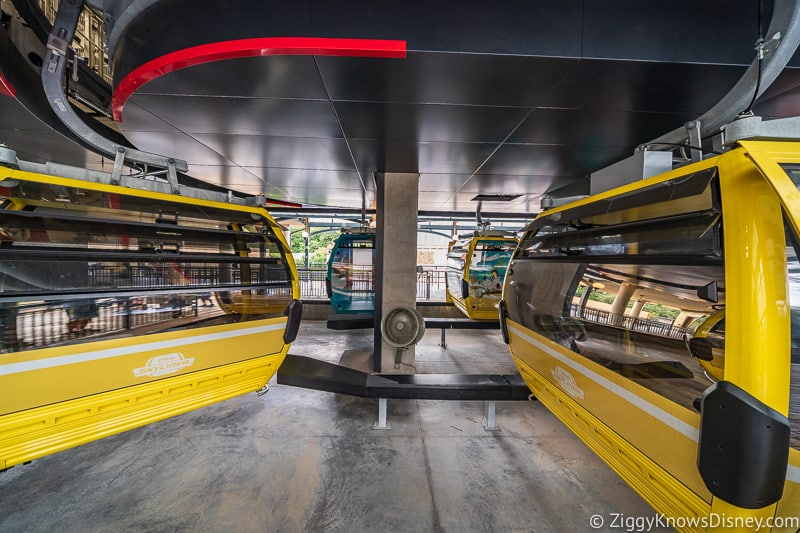 The queue wraps around the back of the station: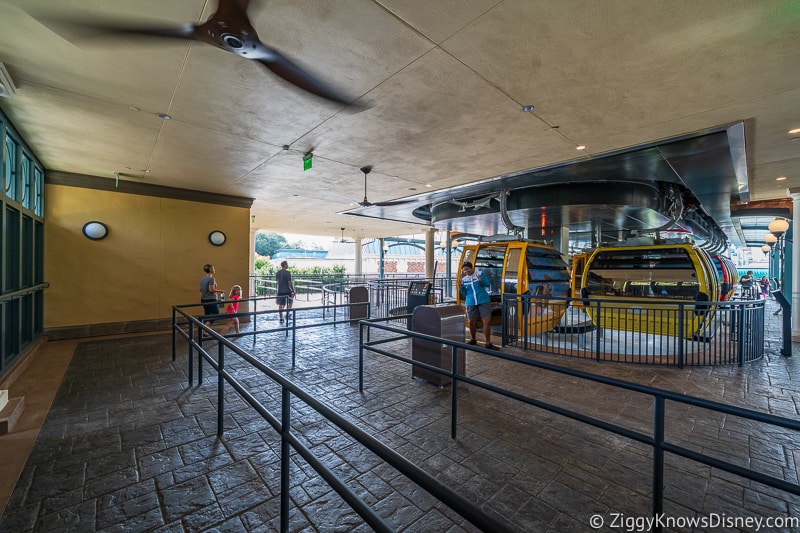 One of the things that really makes the Skyliner great are all the awesome and friendly cast members running it!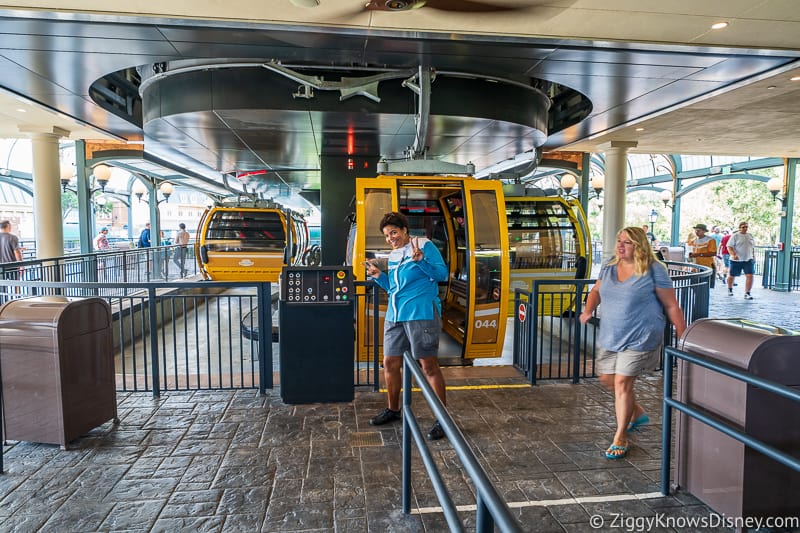 Finally if you are in the normal queue you will end up on the far side of the station, very similar to the entrance side: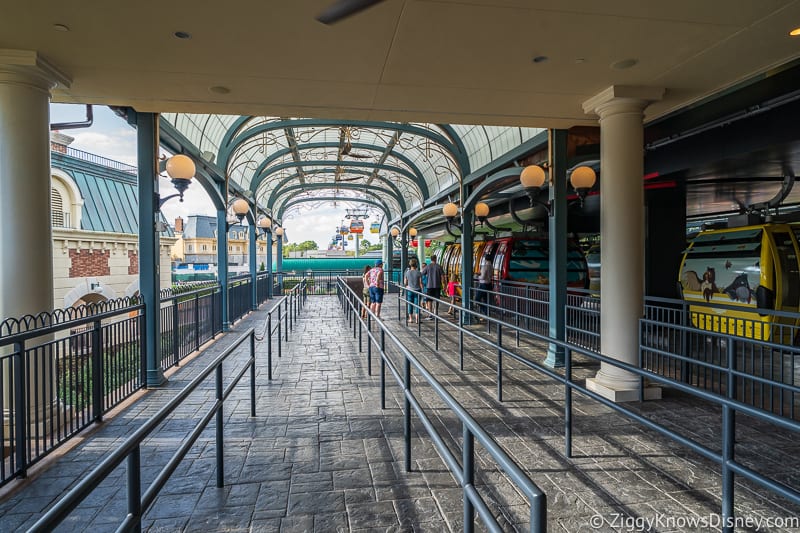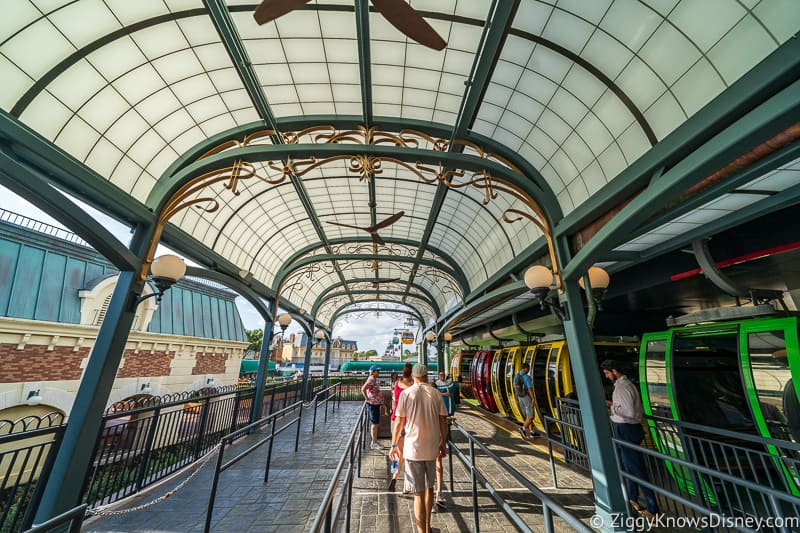 So that's it, that's our tour of all the Disney Skyliner stations. What do you say we take a look at inside the gondolas, and then up in the air??
Inside the Gondolas:
Ok enough looking at the outside of those gondolas, let's get inside them!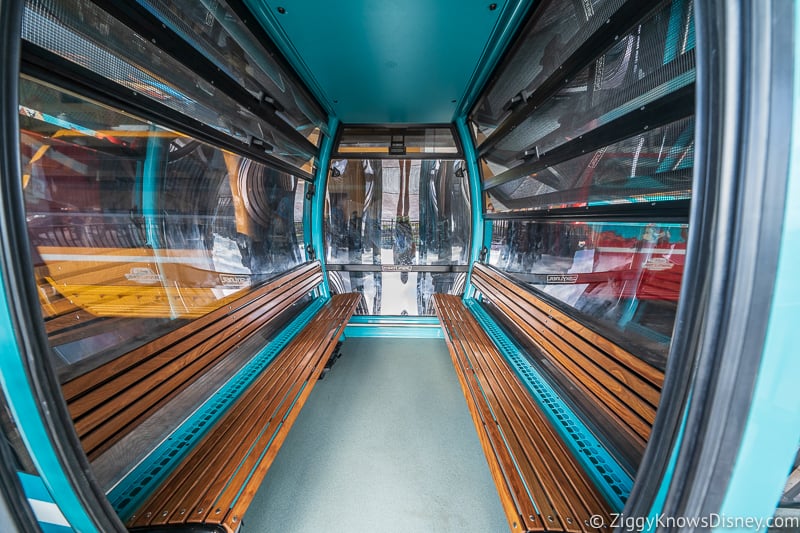 The gondola cabins are deceptively big, and are much more spacious than they appear to be when looking at them from down on the ground. There are two benches across form each each, each with a max capacity of 5 people, for a totally gondola cabin total of 10 people each.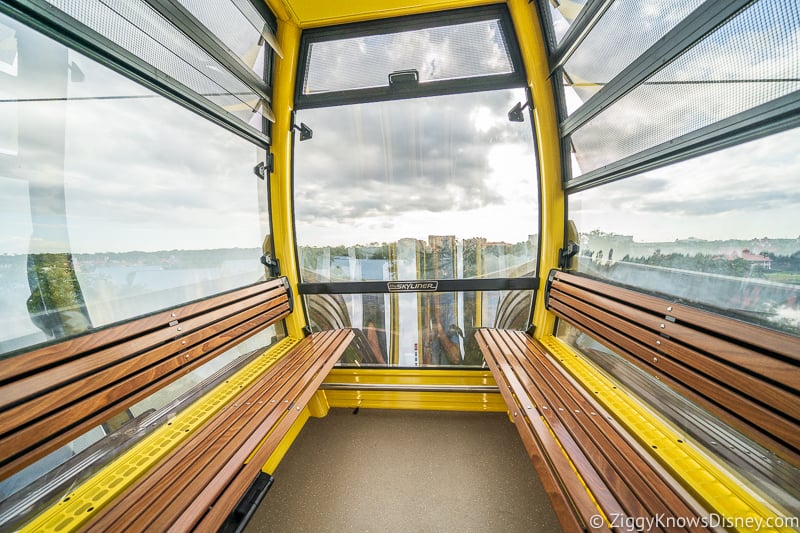 The windows are awesome to watch out of and are really big, they take up the whole walls basically. They gondolas let in a lot of light, but can also protect from the strong tinted coating on the outside of them.
Air conditioning? Not quite, but there is an air ventilation system, which I must say works pretty well! It's pretty rate we are hot inside these, even on a hot day, and especially when they are moving.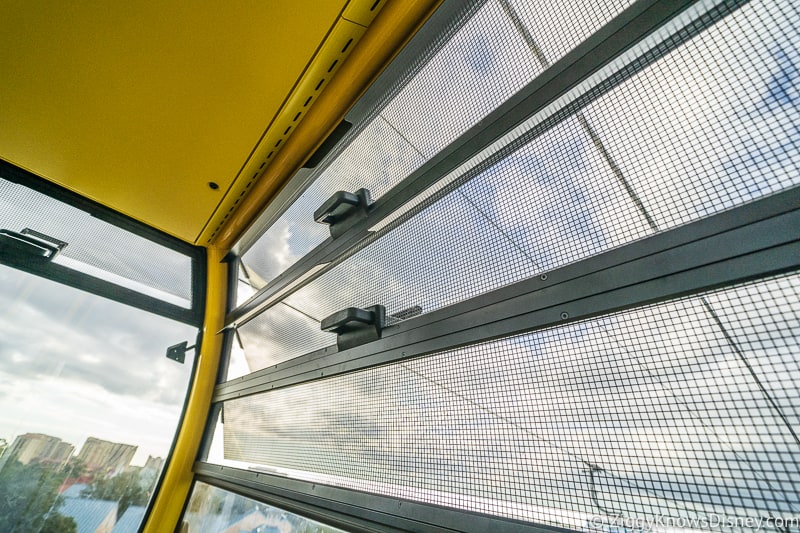 Get a load of the closable window panels which do the work of letting air in. they can be left open, or closed if cold or rainy.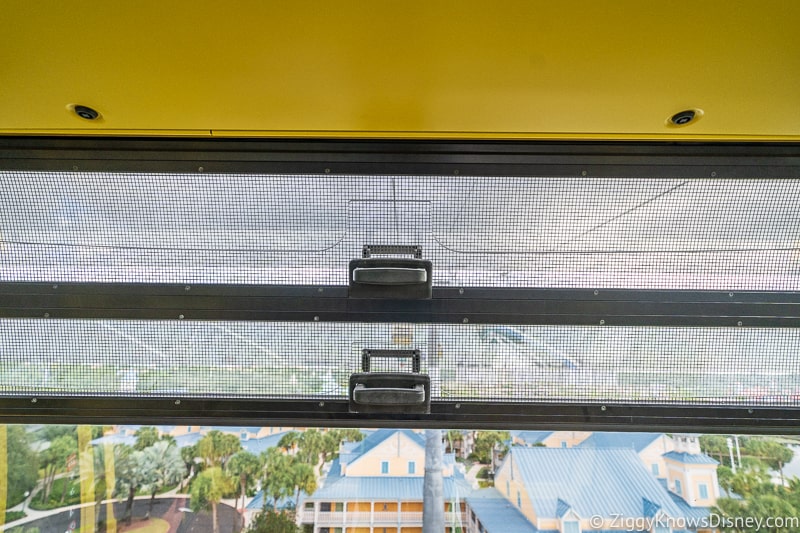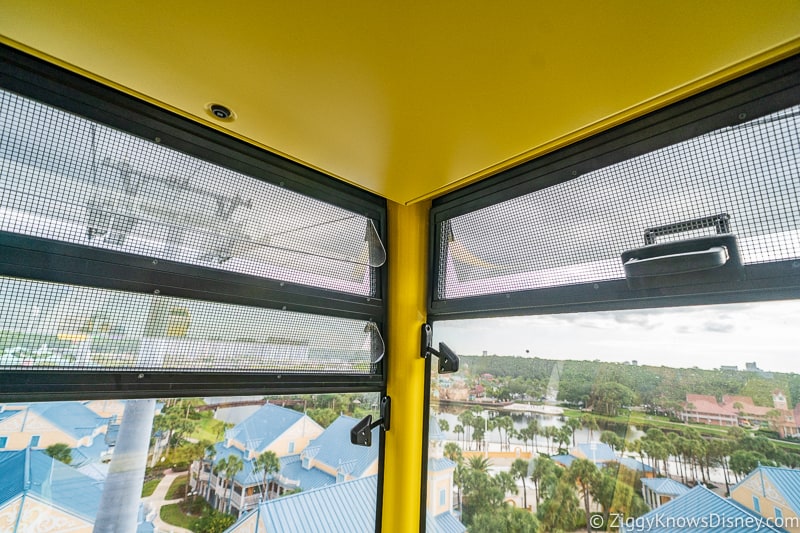 Strangely enough we don't like the character wrapped gondolas very much. Don't get me wrong, they're great from the outside, but from the inside, the character wrap really blocks your view, making everything hazy looking.
Look at the inside of this one and see: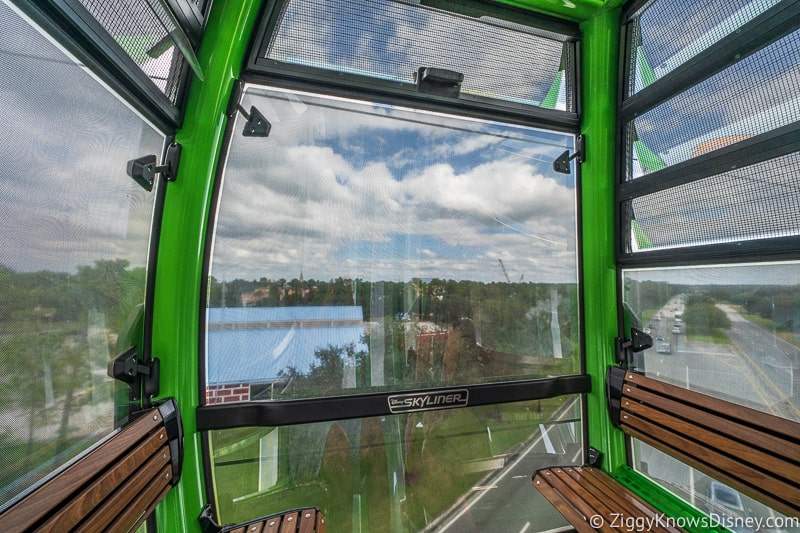 Impossible to take pictures with: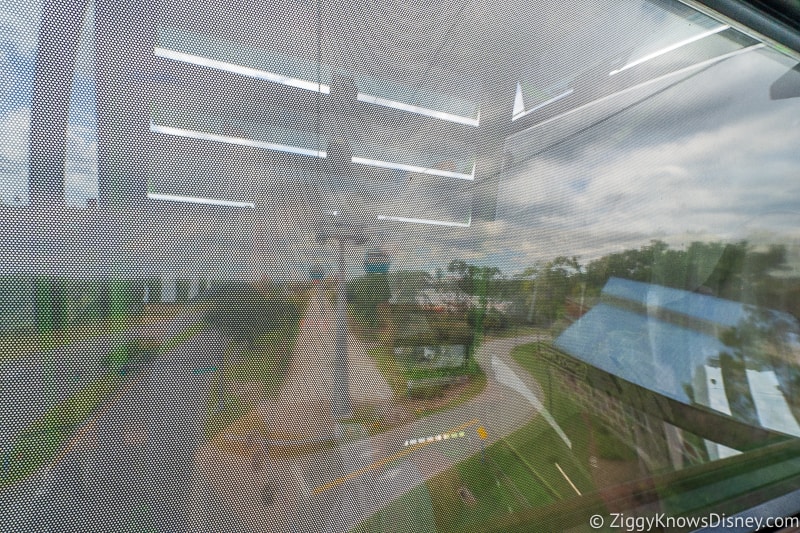 If you at all want to take pictures out the window while up in the Skyliner, then ask for a gondola without characters on it and thank me later.
Up in the Air:
But the best part about riding in the Disney Skyliner? Those views… This is flying over the Caribbean Beach Resort:
Can drop in for a swim?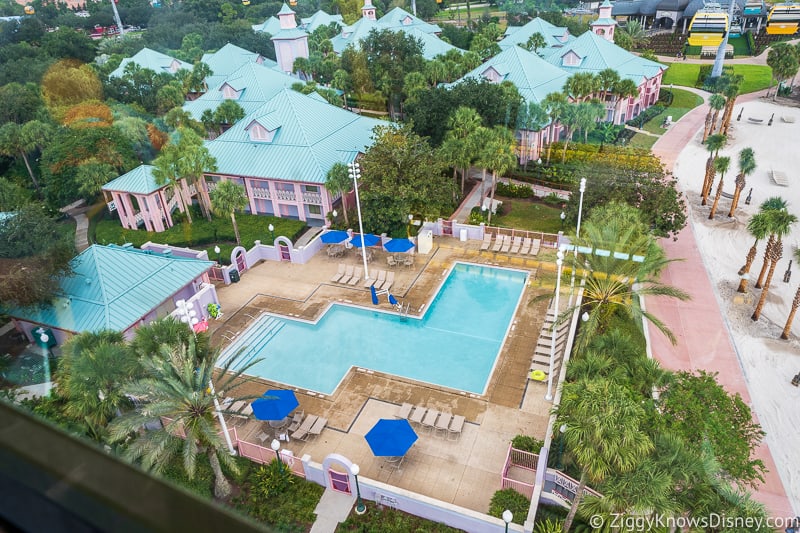 These gondolas go over land: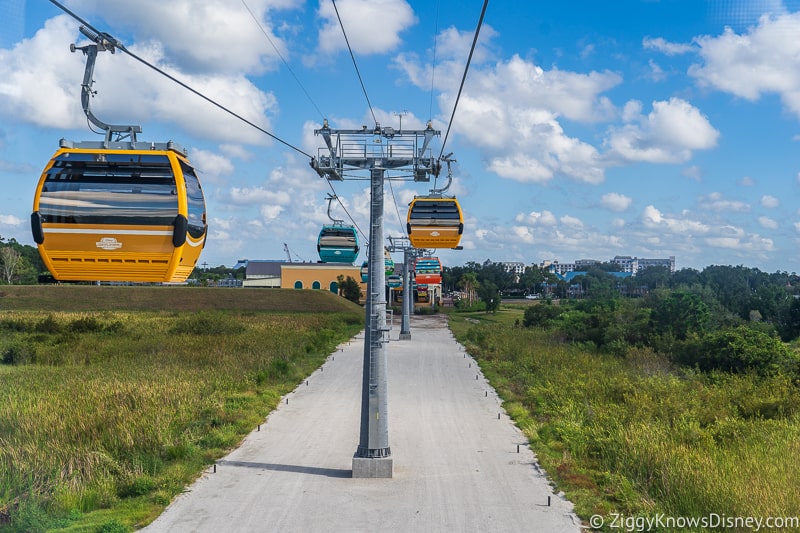 and sea!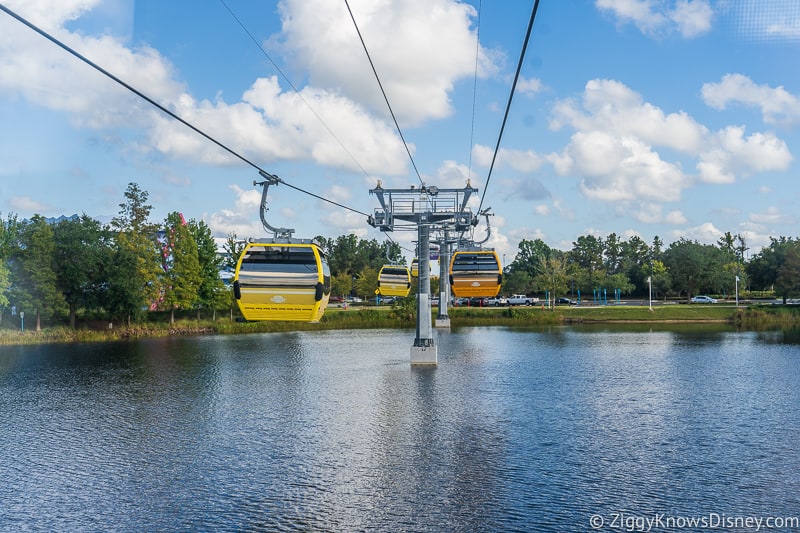 Coming into the Caribbean Beach station: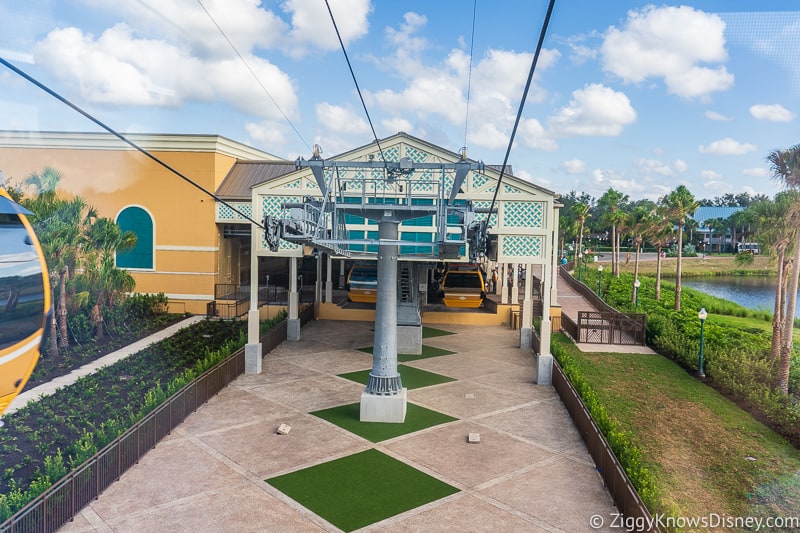 What's cool is when you can see some of your favorite landmarks in the distance. There are the Swan and Dolphin hotels and Boardwalk to the right.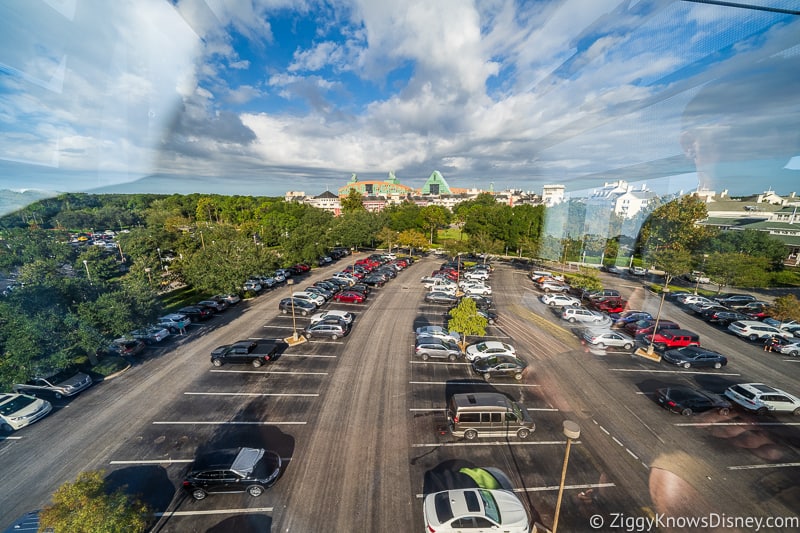 If you time it right at night, you'll have Epcot in view and be able to watch the Epcot Fireworks going off. A truly special moment!
This part going through the Turn Station isn't beautiful, but necessary all the same: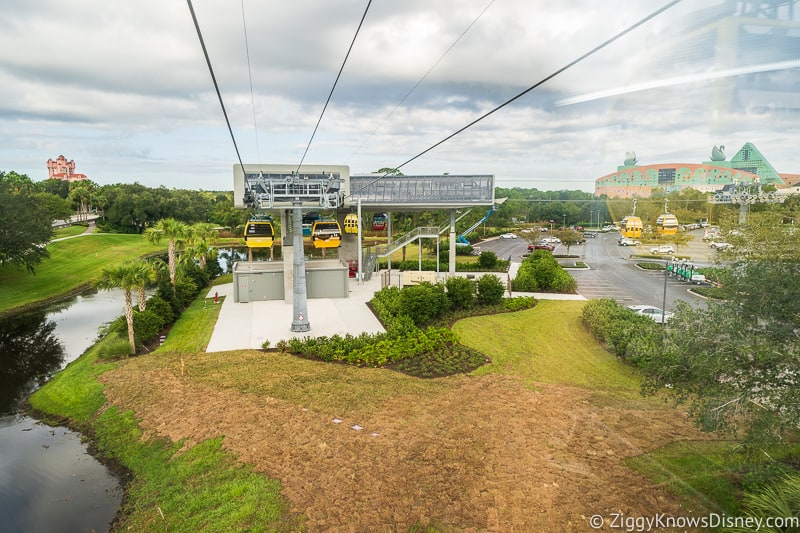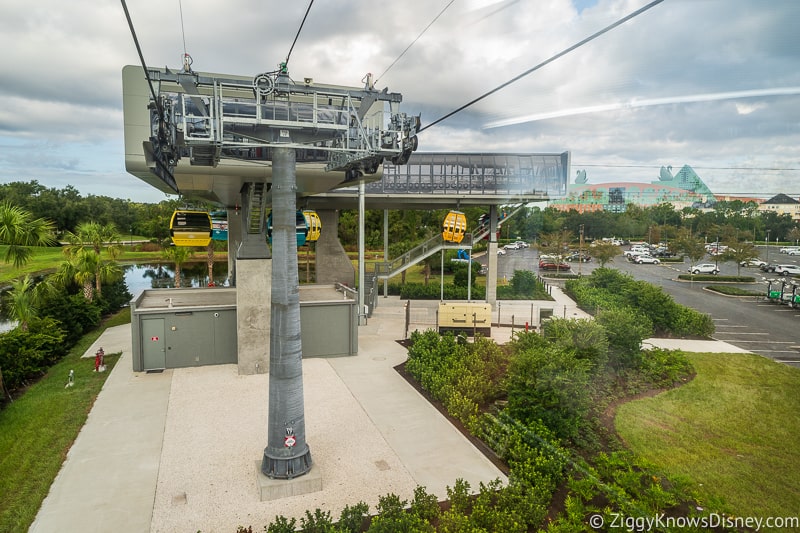 We make the turn and head up to Epcot: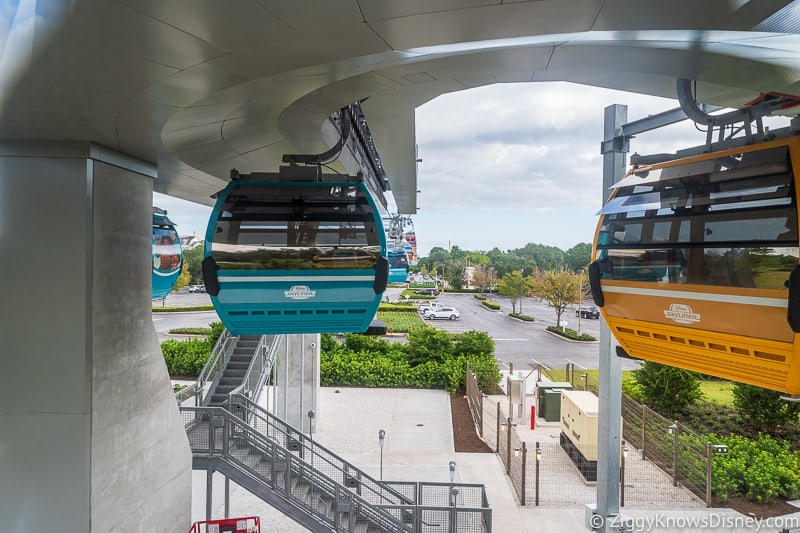 I guess the Boardwalk parking lot isn't much nicer: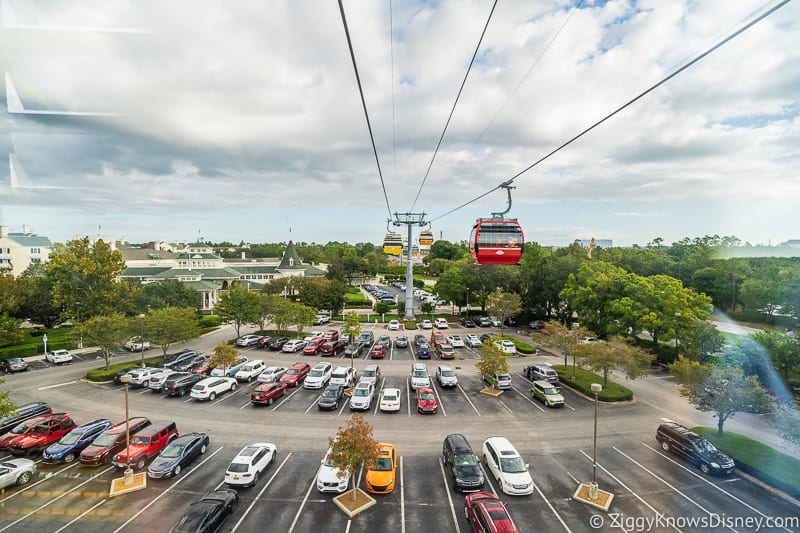 This might ruin the magic for some guests, but I find being able to look at the backside of Epcot fascinating!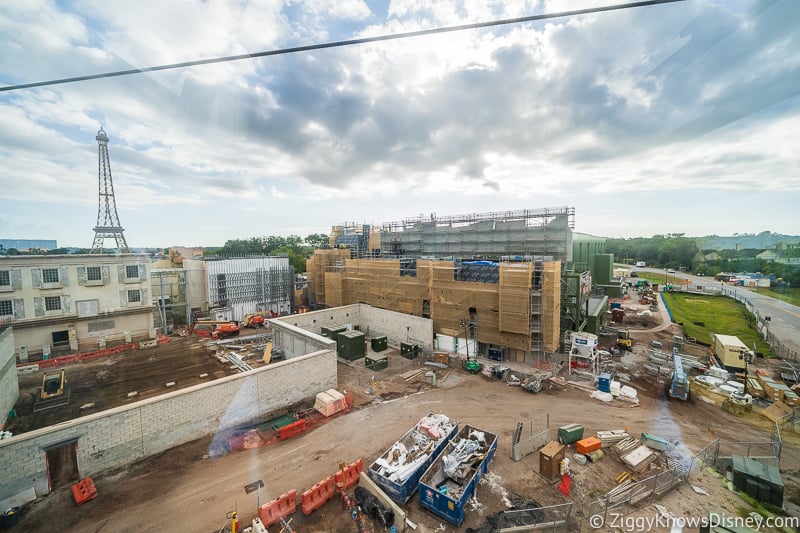 You can see the construction work currently going on in the France pavilion, including Remy's Ratatouille Adventure (the big building covered in brown tarps and scaffolding:
We can even see down into some of the buildings being built: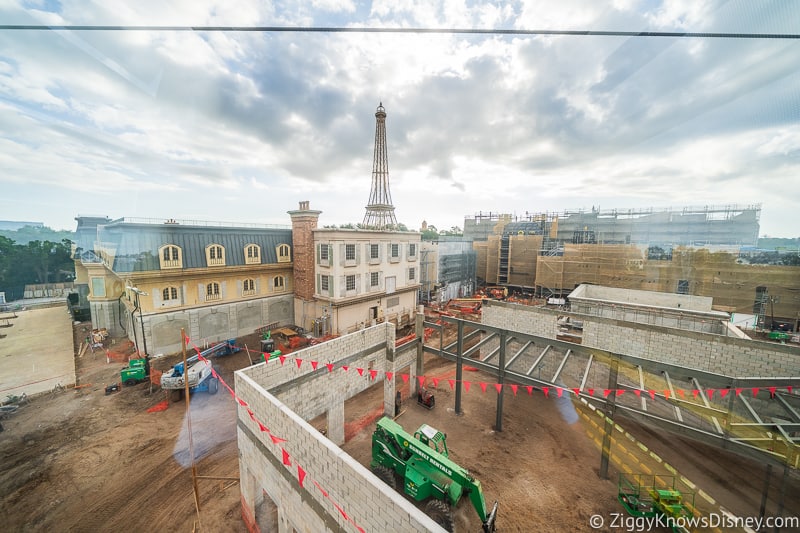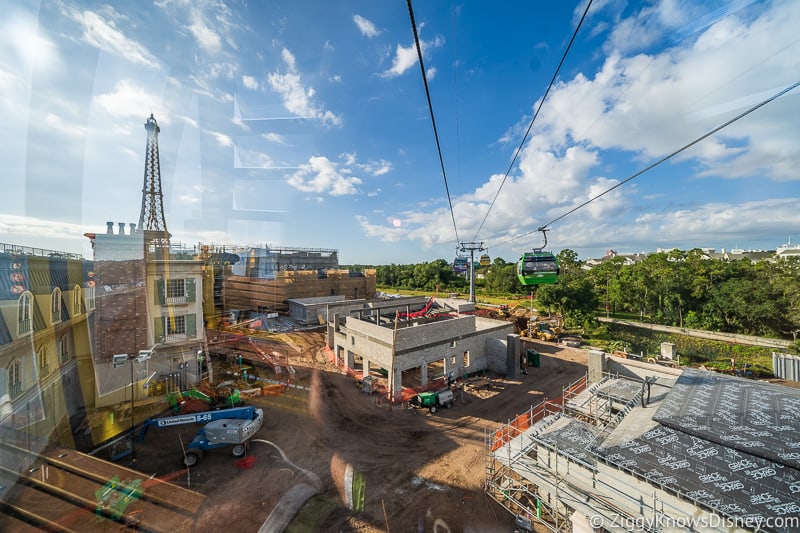 Video Tour:
Of course we couldn't show you all those photos up in the Skyliner, and not have you experience what it's like when moving. Here is a POV video of our ride on the Disney Skyliner between all the stations:
So that wraps up our tour of the Disney Skyliner Gondola system in Disney World. We absolutely loved our time up there and think it's the coolest way to get around property!
I hoped you enjoyed flying with us and I hope you'll get your own chance to get up there and see what it's like yourself. When you do, leave me a comment below on how you liked it!
Your Thoughts:
I want to know what you think about the view from up in the Disney Skyliner gondolas…
Are you looking forward to riding in a gondola?
What character do you want to get?
Let us know in the comments section below!
If you enjoyed this article, as always I appreciate it if you'd share it with others via social media. I work hard at making this website into a useful resource for you and your family to plan your visit to the Disney Parks and I hope it can help you! Thanks 🙂