Yes, it's actually true! Disney Springs is open once again after 2+ months of closure due to the current health crisis. Recently we were able to stop by and give you a first look with a photo tour of Disney Springs and what it looks like after reopening.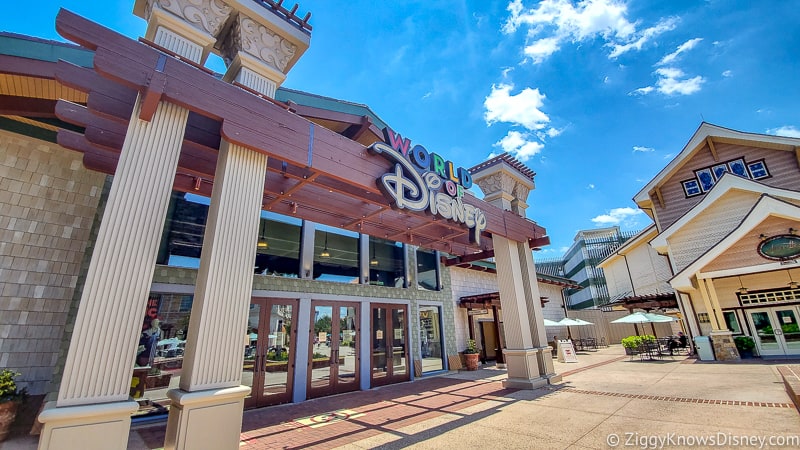 There are a lot of changes to policies and new safety guidelines to follow as well, such as face masks, temperature screening and guest distancing. We'll share all of that info with you so you know exactly what to do when you go.
Disney Springs is reopening in phases with groups of restaurants and shops at a time. We have a list of what's open in Disney Springs including restaurants and shops, and when we can expect the rest of them to reopen too.
Before we get started, we have some other articles around the reopening of Walt Disney World that will help you if you are planning on visiting anytime in the coming months.
Ok, now let's check out Disney Springs and see what's going on there now!
What is Open in Disney Springs?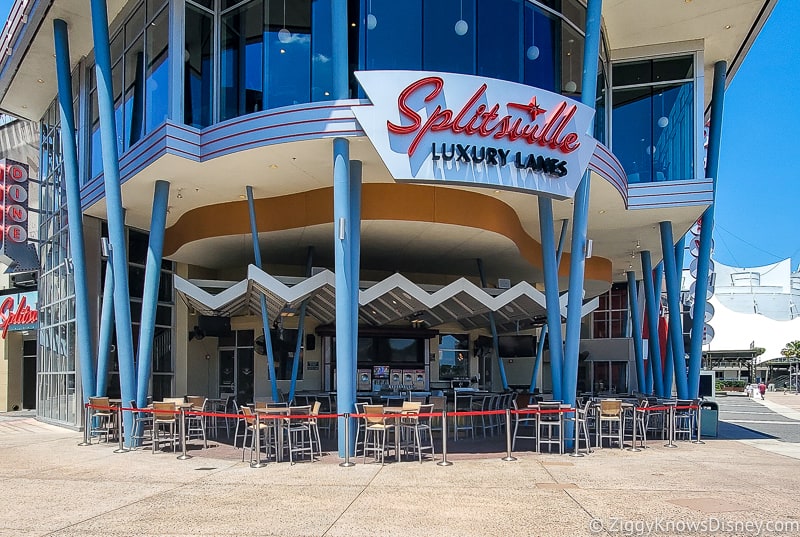 Disney Springs officially started its Phase 1 reopening on May 20. Even though not quite everything is currently open, at this point, almost everything has reopened, with only a few restaurants still waiting.
Here is a list of when everything currently open:
Restaurants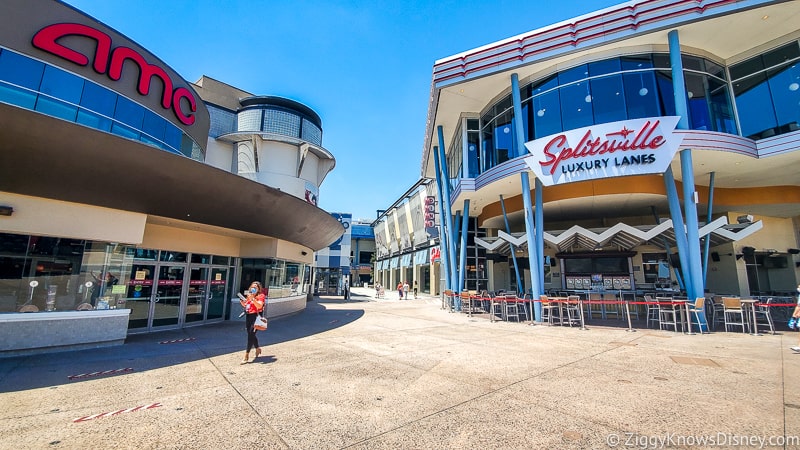 (Currently OPEN)
Amorette's Patisserie
AristoCrepes
The Basket at Wine Bar George
B.B. Wolf's Sausage Co.
Blaze Fast-Fired Pizza
Chef Art Smith's Homecomin'
Chicken Guy!
Coca-Cola Store Rooftop Beverage Bar
Cookes of Dublin
D-Luxe Burger (Mobile Order Only)
The Daily Poutine
Disney Food Trucks
Dockside Margaritas
Earl of Sandwich
The Edison
Erin McKenna's Bakery NYC
Enzo's Hideaway
The Front Porch
The Ganachery
Ghiradelli Soda Fountain and Soda Shop
Häagen-Dazs®
House of Blues
Jaleo by José Andrés
Jock Linsey's Hanger Bar
Joffrey's Coffee and Tea Company
Joffrey's Handcrafted Smoothies Kiosk
Lava Lounge at Rainforest Cafe
MacGUFFINS
Maria & Enzo's Ristorante
Marketplace
Marketplace Snacks
Morimoto Asia Street Food
Paddlefish
Paradiso 37, Taste of the Americas
Pizza Ponte
The Polite Pig
Raglan Road
Rainforest Cafe
Splitsville Luxury Lanes
Sprinkles Cupcakes
Starbucks (Marketplace)
Starbucks (West Side – Outdoor seating only)
Sunshine Churros (Both Marketplace and West Side locations)
T-REX
Terralina Crafted Italian
Vivoli il Gelato
Wetzel's Pretzels (Both Marketplace and West Side locations)
Wine Bar George
Wolfgang Puck Bar & Grill
Yesake
(CLOSED)
4 Rivers Cantina Barbacoa
Pepe by José Andrés
The Smokehouse at House of Blues
Stargazers Bar
Wolfgang Puck Express at Disney Springs Marketplace (Permanently Closed)
Shops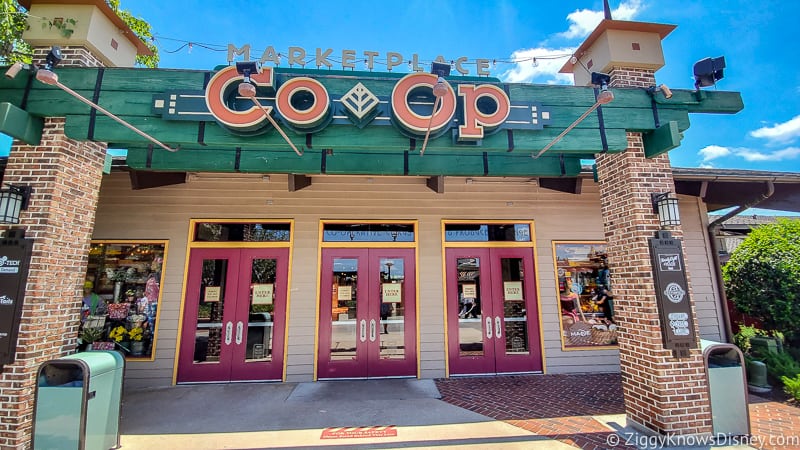 (Currently OPEN)
Anthropologie
Aerophile – The World Leader in Balloon Flight
American Threads
The Art Corner by Artistic Talent Group
Basin
Chapel Hats
Coach (store front pick up only)
Columbia Sportswear
Crystal Arts by Arribas Brothers
Duncan Yo-Yo
Edward Beiner Purveyor of Fine Eyewear
Everything But Water
eyCatchers Cart
francesca's®
Free People
Happy Hound
Havaiana's
JOHNNY WAS
Just for Fun Socks
kate spade NEW YORK
Kiehl's
Lacoste
The LEGO Store
Lefty's
Levi's
Lily Pulitzer
Lucky Brand
Luxury of Time by Diamonds International
Marketplace Co-op (with Virtual Queue)
Na Hoku – Hawaii's Finest Jewelers Since 1924
Once Upon A Toy
Pandora® Jewelry
Pelé Soccer
Pop Gallery
Ron Jon Surf Shop®
Royally Yours by Arribas Brothers
Rustic Cuff
Rubio Arts Balloons
Sanuk
Savannah Bee Company
Sephora
Shore
Sosa Family Cigars
The Spice and Tea Exchange
Sugarboo & Co.
Sunglass Icon®
Tommy Bahama
TUMI
UGG®
UNDER ARMOUR BRAND HOUSE
UNIQLO
UNOde50
Vera Bradley
Volcom
World of Disney (with Virtual Queue)
ZARA
Disney Springs Hours
Since reopening, Disney Springs was running on shorter hours. It has recently extended its hours and has resumed normal operating hours at this time.
(Sunday through Thursday) – 10:00 am to 10:00 pm
(Friday and Saturday) – 10:00 am to 11:00 pm
Parking Garage
So right now parking at Disney Springs is limited to the Lime Garage and Orange Garage. There is no ground-level parking available because Disney wants to limit the entrances to Disney Springs so that they can control who comes in and out.
When we pulled into the garage we noticed a few big differences. There are no parking attendants and parking is first-come, first-served. That means when the two parking garages fill up, that's it, no more space.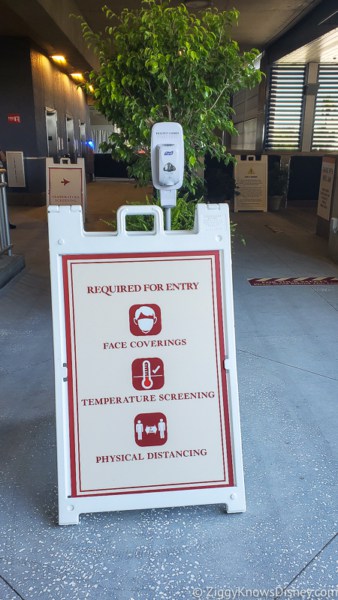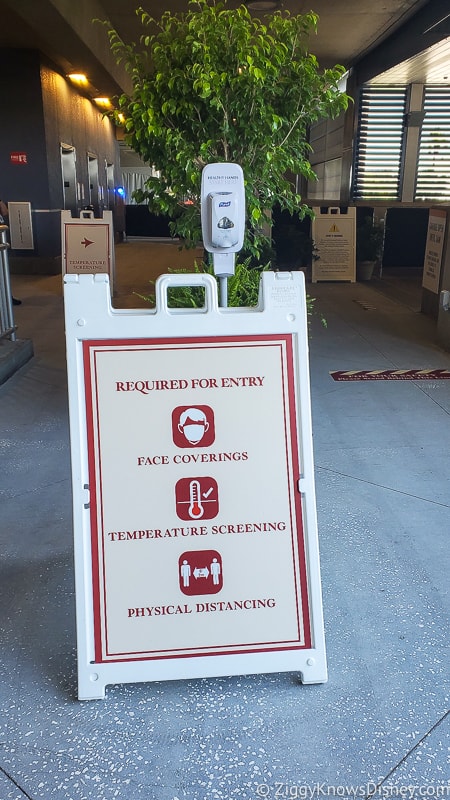 It doesn't matter if you have a dining reservation either. If you don't get there in time, you are out of luck. For that reason, we recommend you arriving well before your dining reservation to ensure you find a parking spot.
Signs are set up throughout the parking lot warning guests to stay at least 6 feet apart for their safety.
They have organized the entrances and exits nicely and guests can only come in and go out one way. This way guests going in and out will never run into each other.
Speaking of going out, as you walk toward the exit, you will be greeted by Cast Members who are ready to take your temperature…
Temperature Screening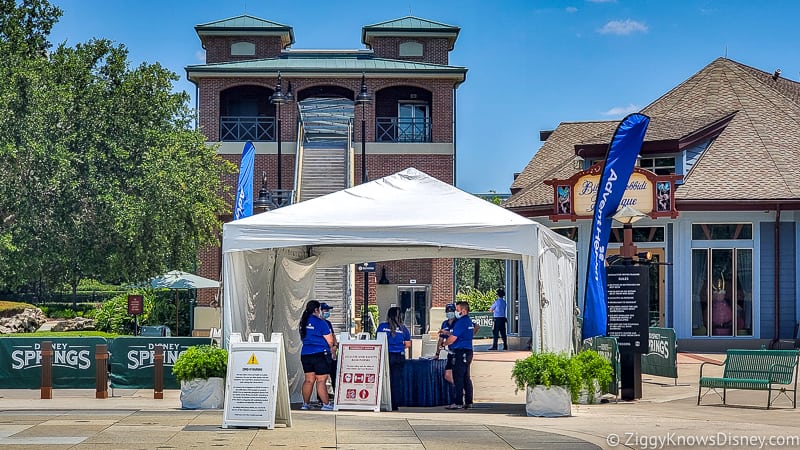 The first thing you'll notice are the markings on the ground separating guests who are waiting in the queue for the temperature screening area. Each marker is 6 feet from the others so you can maintain a healthy distance.
AdventHealth is running the temperature screenings so you know a medical professional who is trained will be handling your reading.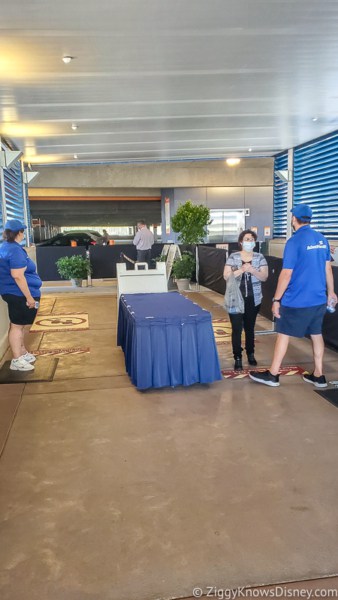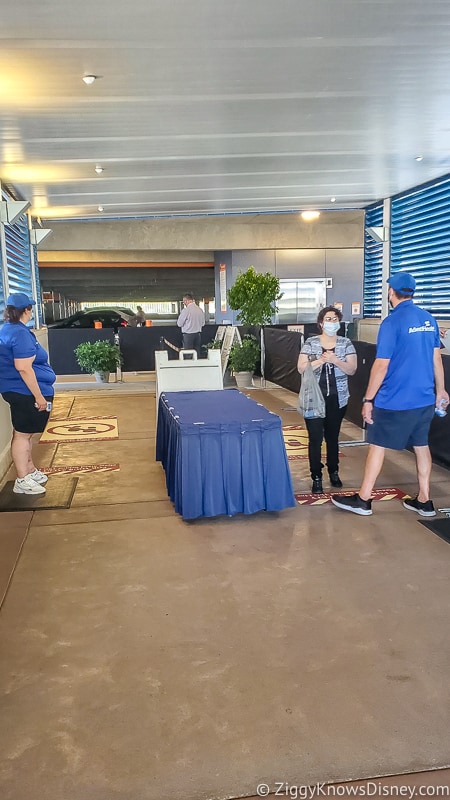 Make sure you put your masks on before getting in the queue. Face coverings will be required during your entire visit to Disney Springs for all guests 3 years and older. The only exception is when you are eating or drinking.
It's a very easy procedure and one that we've already experienced in the airport and other stores. Once you are called, just walk to the person checking temperatures and stand at the line on the ground. They will then take a touchless reading on your forehead to measure your temperature.
Anyone with a temperature of 100.4 degrees Fahrenheit or higher will not be allowed entrance to Disney Springs. We haven't seen this happen yet, and we don't expect it to happen very often.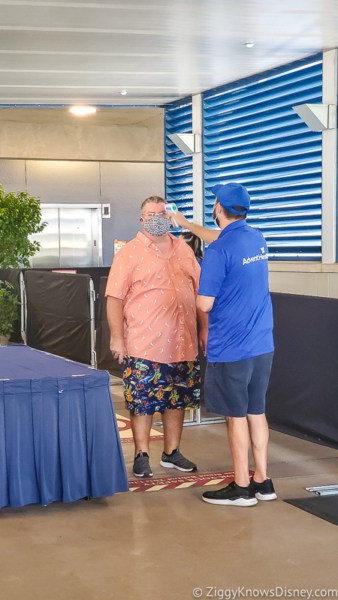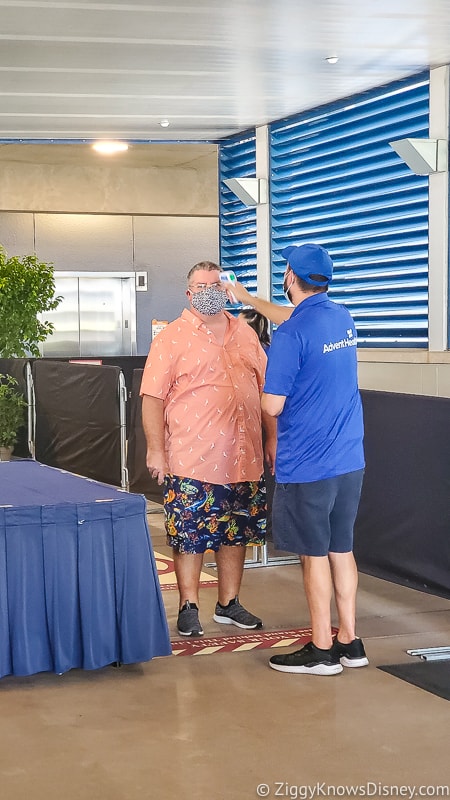 One interesting feature of the temperature screening is the "Cool-Off tents" that are located just beyond the temperature screening. The idea is that if for some reason you are reading a temperature of 100.4 or higher, they will let you go into the tent and cool down in case it was a false reading.
This could happen if someone is overheated from the sun. We'll keep an eye on this and see how things go.
We also appreciate the hand sanitizer located at the entrance, one of many more to come.
Signs
By this point, you've already noticed signs in the parking lot, and there are many more stationed throughout Disney Springs.
There are a few types of signs. Some are warning you of the health risk of being in public and that you are taking full responsibility for this risk if something were to happen.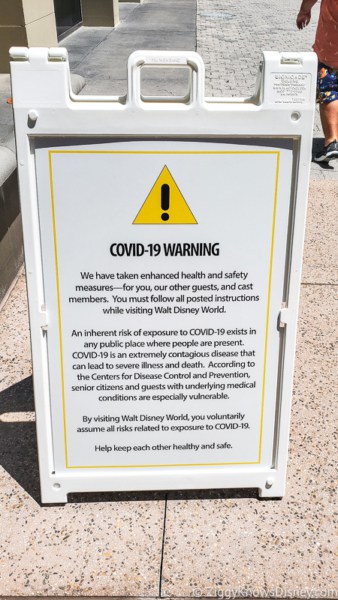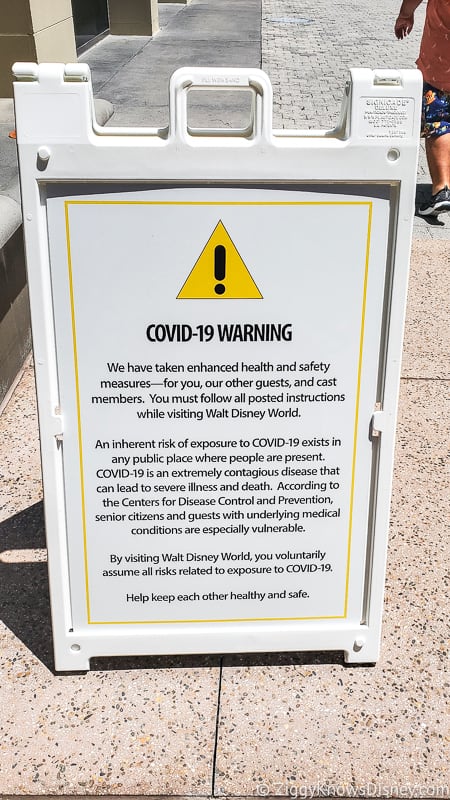 Other signs go over the various safety protocols that all guests need to follow including: hand washing, keeping proper distances, wearing a face mask, to cover your mouth if you cough or sneeze, to properly wash your hands and avoid touching your eyes, mouth or nose.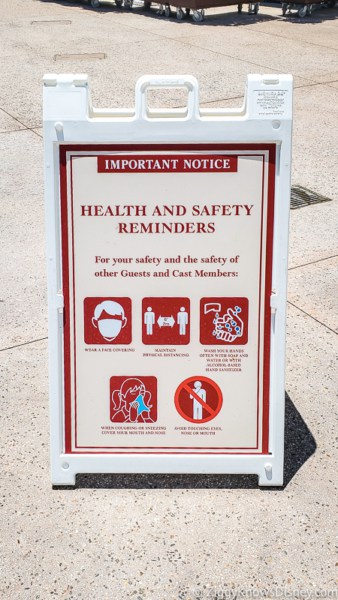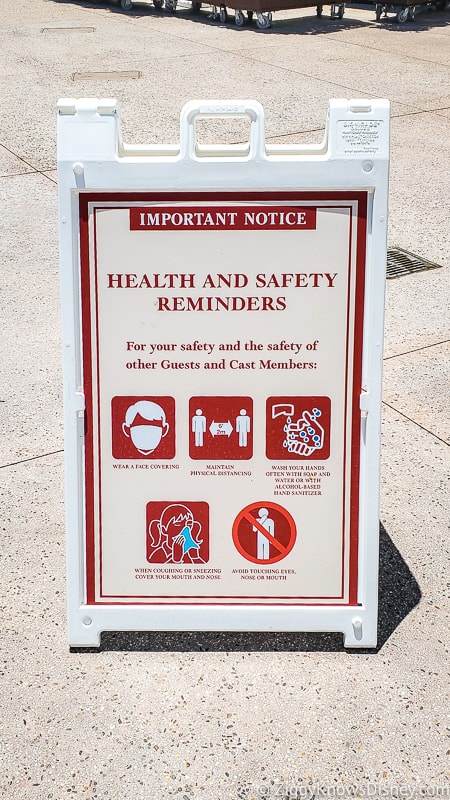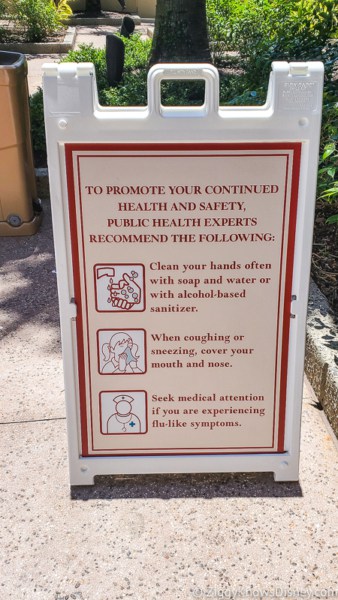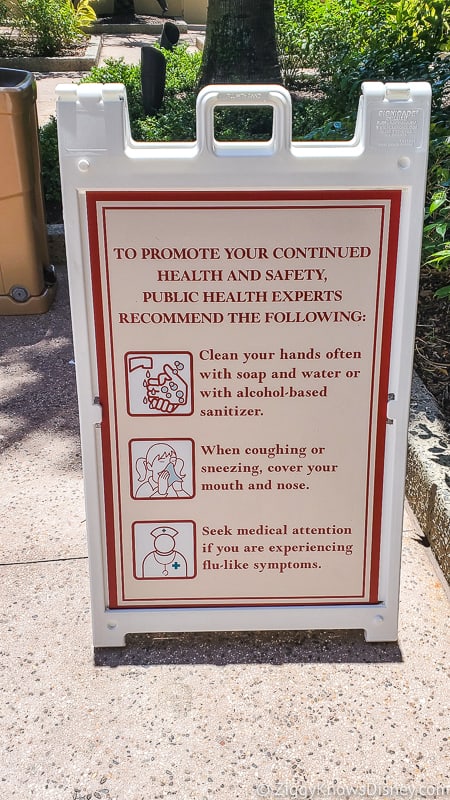 Instead of traditional pamphlets and maps, everything is located on the virtual directories throughout the park, again so nothing it touched.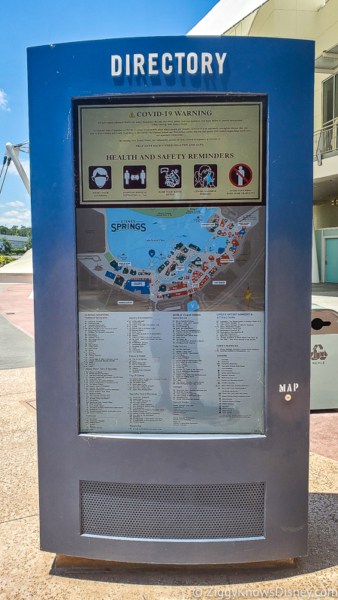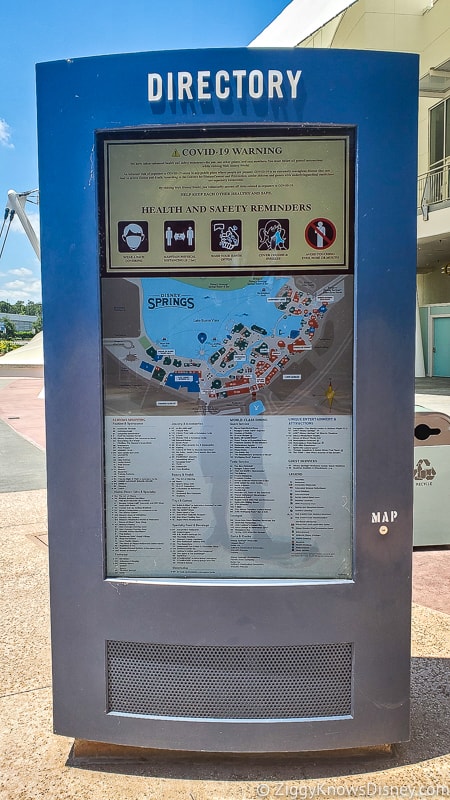 Greeting Team
We were delighted by the greeting team of Cast Members that were at the entrances and various locations in Disney Springs. We found all the staff to be extremely helpful throughout our visit and very friendly too. Not that they aren't usually friendly, but they went above and beyond.
Face Masks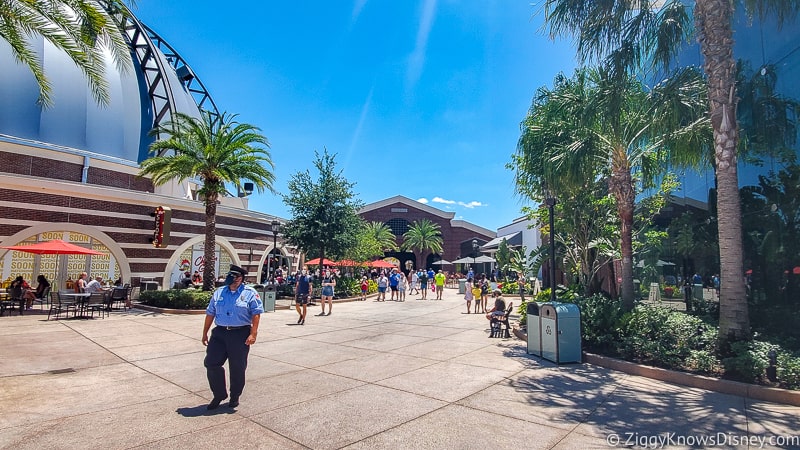 Face coverings are required to be worn by guests and Cast Members throughout Disney Springs at all times. The only time you don't have to wear one is when you are eating or drinking.
There are multiple signs posted throughout Disney Springs reminding guests to wear them. Overall we'd say everyone was really good so far in cooperating but we're interested to
See our guide to Face Masks at Disney World for a more detailed explanation and answers to all your FAQs.
Queue Ground Signs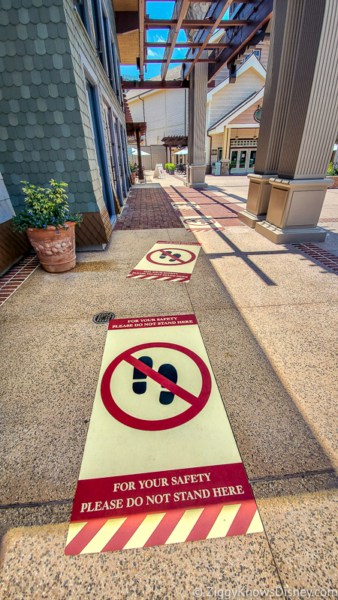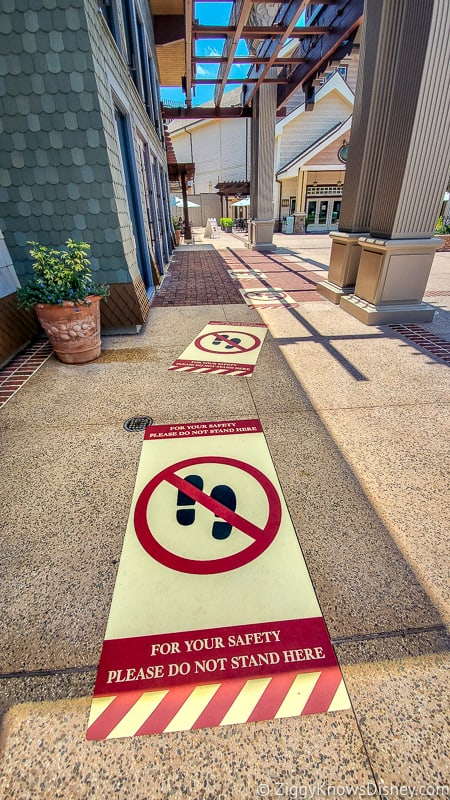 Ground markers are located outside of restaurants and shops and in any place a queue might form.
We love the design and they are easy to read and understand, even if you don't understand English.
The thin marker says "Please Stand Here"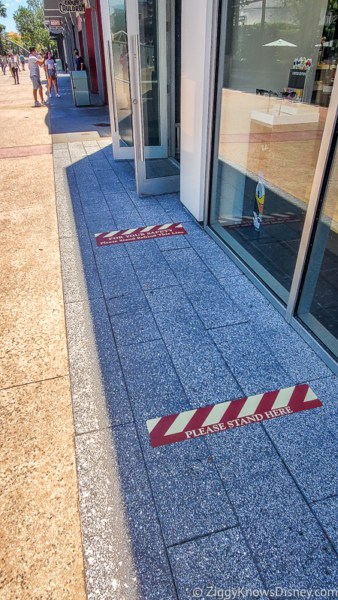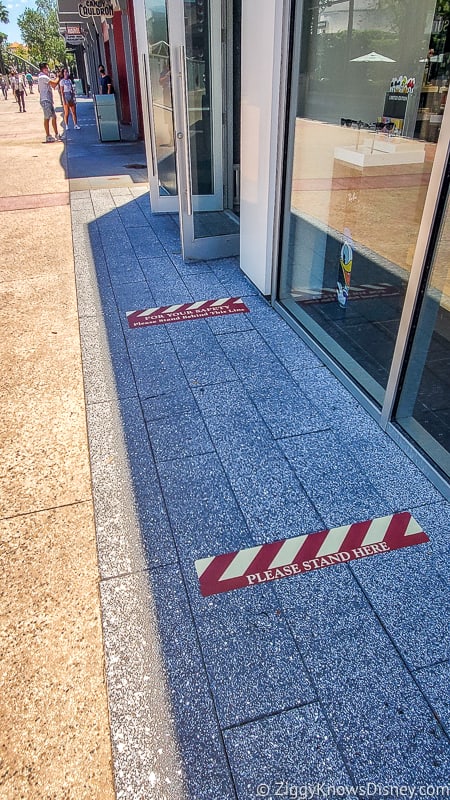 While the big ones are not to stand on and say "For Your Safety Please Do Not Stand Here."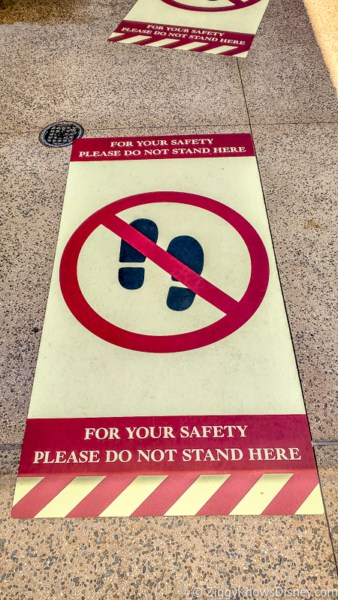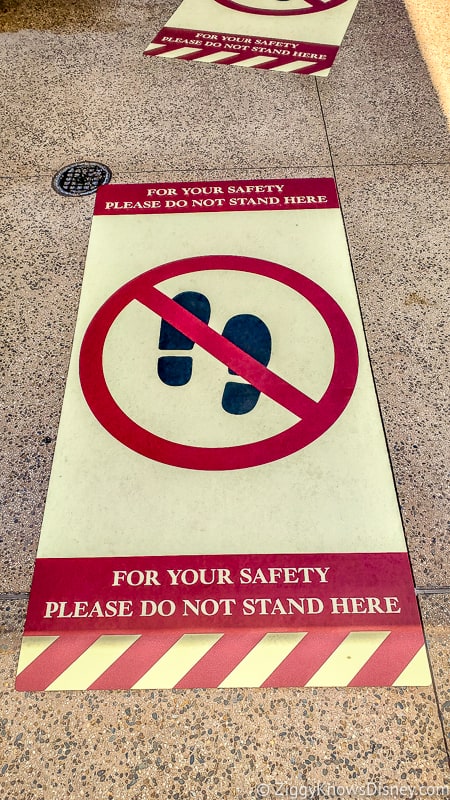 They are placed 6 feet apart, providing the proper distance between guests.
Some of the restaurants even have chain-link queues up in places where lines are expected to be especially long.
One interesting thing we saw was that when the line at Chicken Guy! got too long, Cast Members were outside measuring distances to extend the line more so guests could stand comfortably there.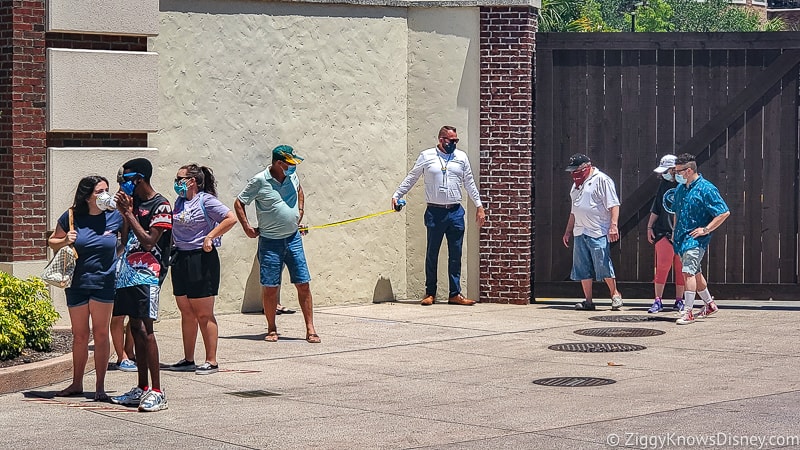 There will probably be a lot of that going on in the theme parks.
Directional Arrows on the Walkways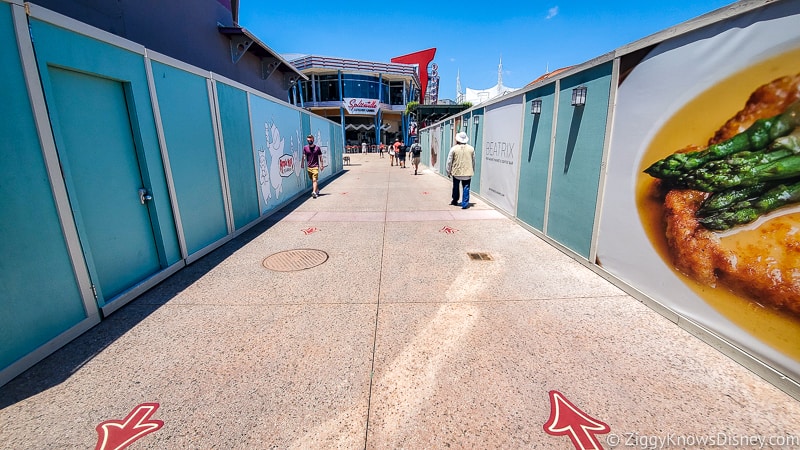 This was a great idea and the directional arrows helps separate the crowds, especially in the tighter areas.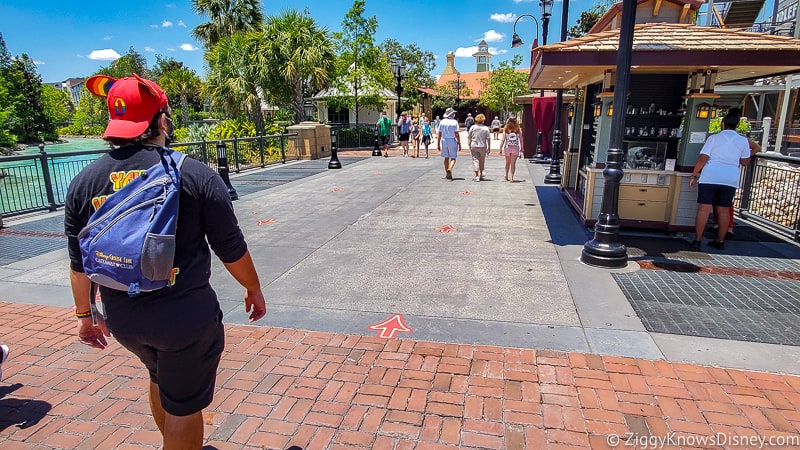 They keep guests going in opposite directions on the opposite side of the walkway so they never get too close.
Hand Washing Stations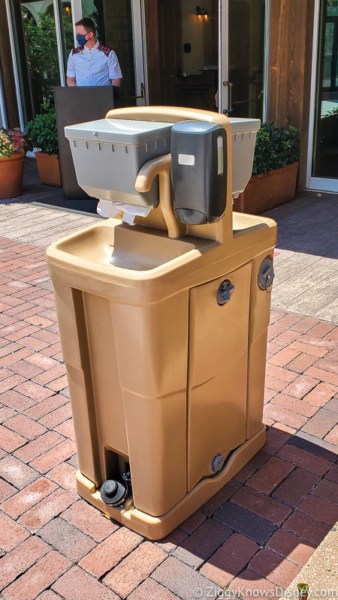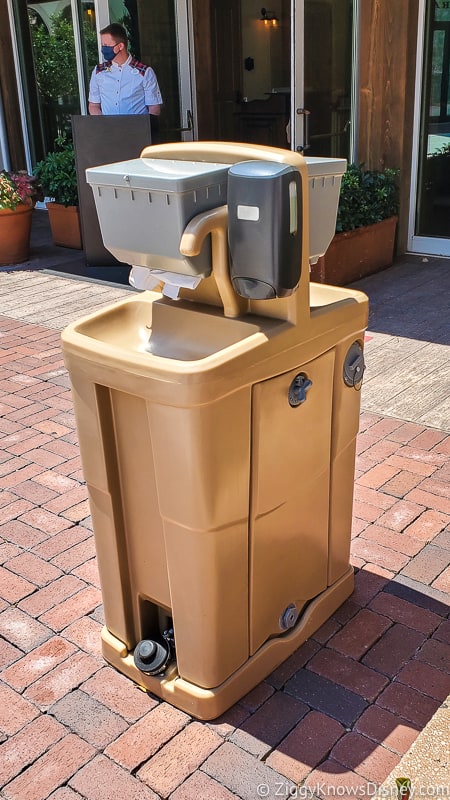 The hand washing stations are conveniently located throughout Disney Springs and are easy for guests to use. They have a pedal to start the running water instead of a knob so you don't have to touch anything with your hands.
Guests are invited to wash their hands often, using soap and water.
Hand Sanitizer
There are also dozens of hand sanitizer locations throughout Disney Springs making it easy for guests to use.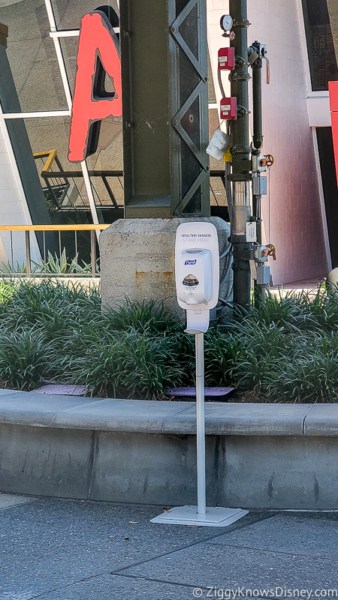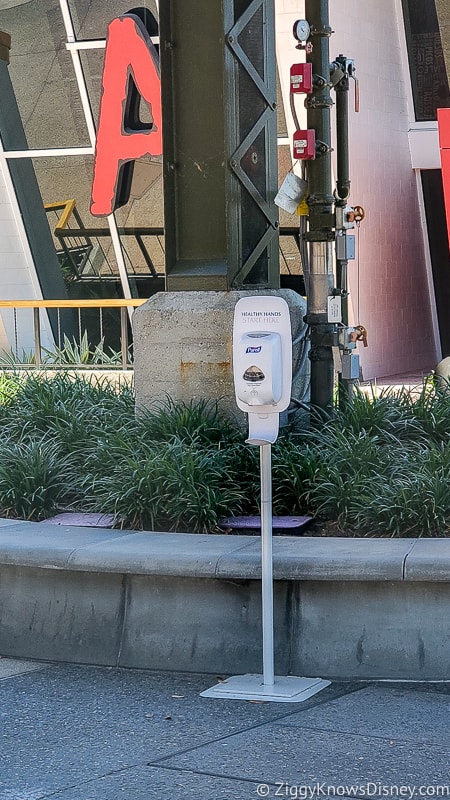 Tables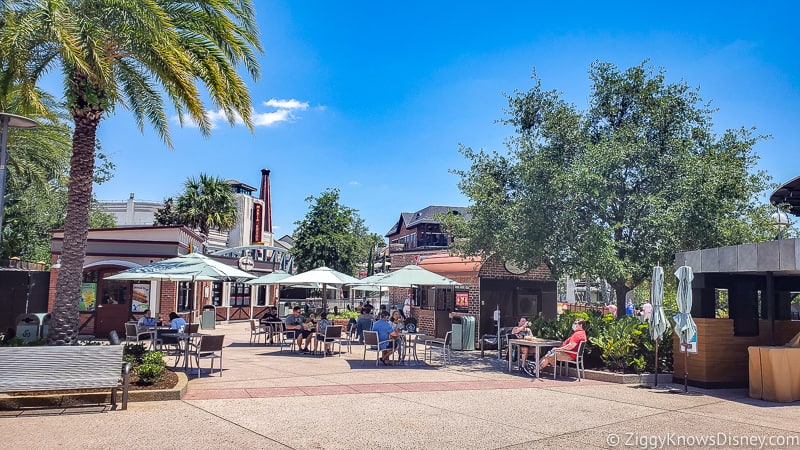 Eating outside is being encouraged in the Disney Springs restaurants, and you'll notice the tables have been spread out with a far enough distance between them.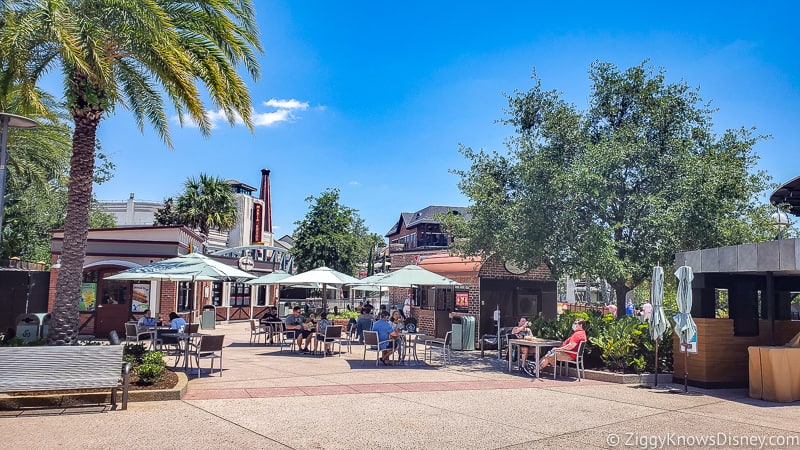 Plastic Shields
At any of the open bars or cash registers, you'll see plastic shields up to help keep distance between guests and the cashiers.
Cleaning
As has been advertised, there were extra Cast Members cleaning the high traffic areas often such as handrails, doors, tables, etc.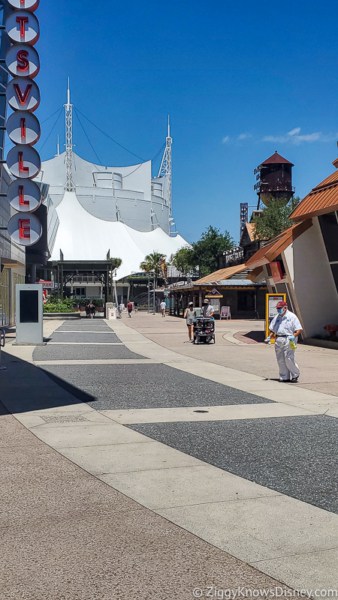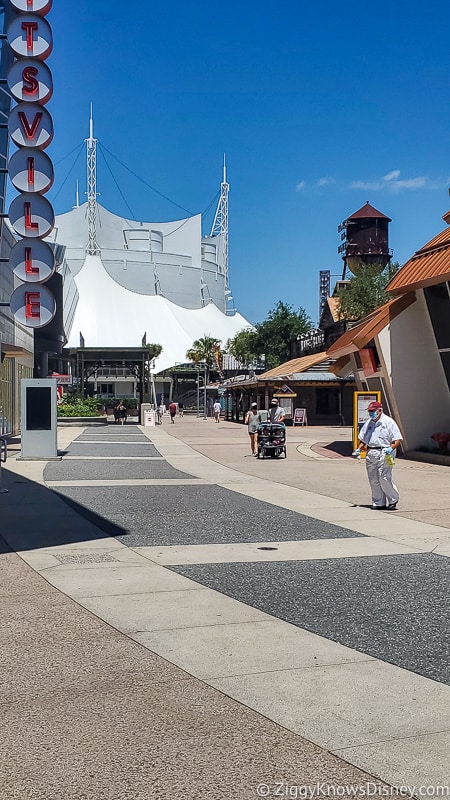 Garbage Cans
One interesting change we weren't thinking about was the garbage cans and we were surprised to find the doors removed so guests didn't have to touch them when they want to throw something out.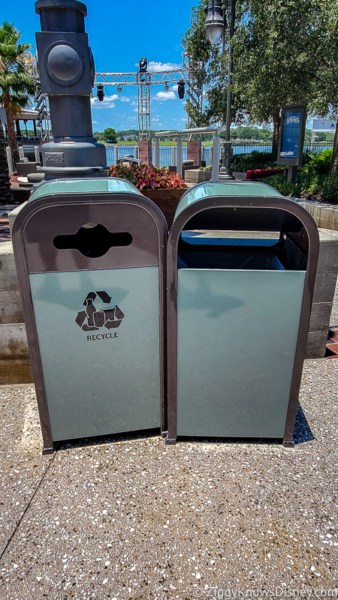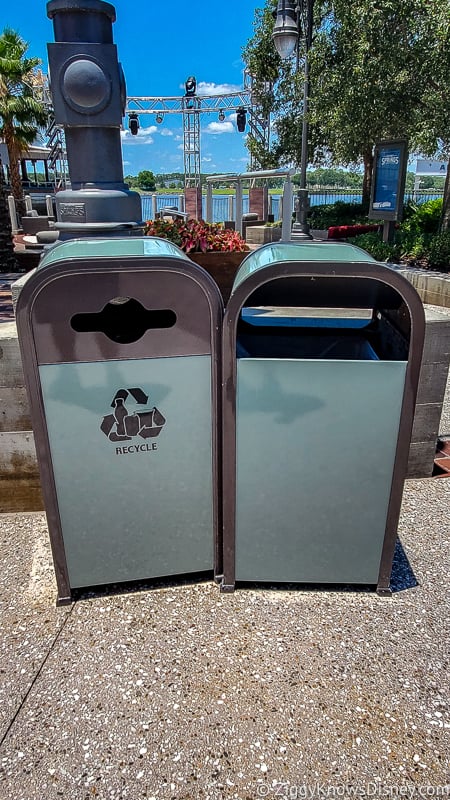 Overall we think that the Disney Springs reopening was a major success. All the staff were incredibly friendly and helpful and all the guests cooperated with the new guidelines. Some of them (wearing a mask) were hard to take, but ultimately if we want to go back to Disney World right now, some sacrifices are going to be made.
We look forward to the updates in the coming days as more restaurants and shops continue to reopen, and we are excited about the eventual reopening of the theme parks as well.
Stay tuned for more soon!
Sign Up For Our Newsletter Today!
Make sure to check with the official Disney Springs website for the latest info on the reopening and all the guidelines.
Your Thoughts
I want to know what you think about the Disney Springs reopening so far…
Are you going to visit Disney Springs soon?
How do you feel about the safety measures put in place?
Let us know in the comments section below!
If you enjoyed this article, as always I appreciate it if you'd share it with others via social media. I work hard at making this website into a useful resource for you and your family to plan your visit to the Disney Parks and I hope it can help you! Thanks 🙂