Just like the version on the East Coast, Disneyland's version of Star Wars: Rise of the Resistance is using boarding groups and the virtual queue, at least in the early stages of this new attraction. Now starting January 17, 2020, the long-anticipated attraction is finally open and Disneyland goers can hardly wait to ride it!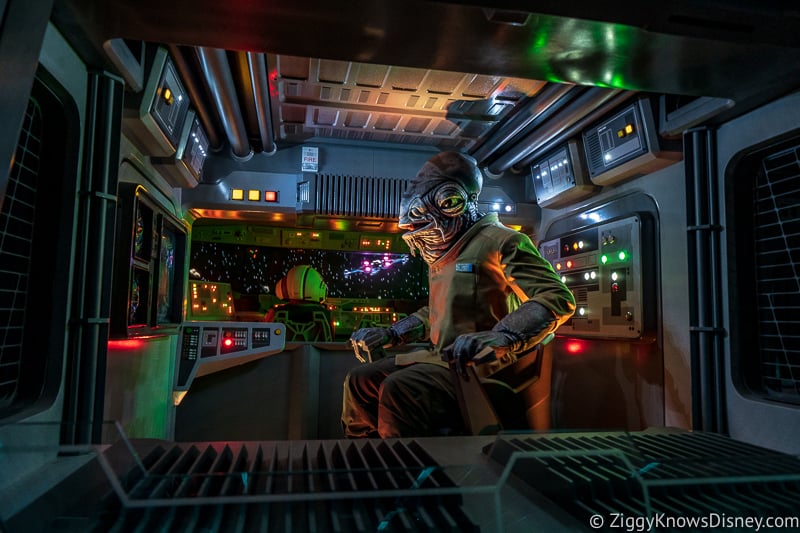 This is different than most attractions in Disneyland in that at the beginning there will be no walk-on queue and no FastPass/MaxPass queue either. That means if you don't get a boarding pass, you won't get to ride Rise of the Resistance that day.
In this post, we'll give you the latest info for Rise of the Resistance in Disneyland and any tips that will help you on your visit. We'll explain how the boarding groups work, how to ride Rise of the Resistance in Disneyland, what the crowds have been like in Disneyland so far, our predictions for future crowds and how early you need to get to the park.
We've been able to ride the Hollywood Studios version many times and have been closely following the situation there every day, and we think many of the same strategies will be in place in Disneyland too.
(Update 1/22/20): We've updated this post with the latest reports, crowds and how the ride has been working so far.
For a complete, in-depth look at the Star Wars: Rise of the Resistance ride, including any questions about the attraction (ride system, walkthrough, accessibility, the story, if it's scary, a full review, and more) please read our guide above where we explain more about anything you need to know.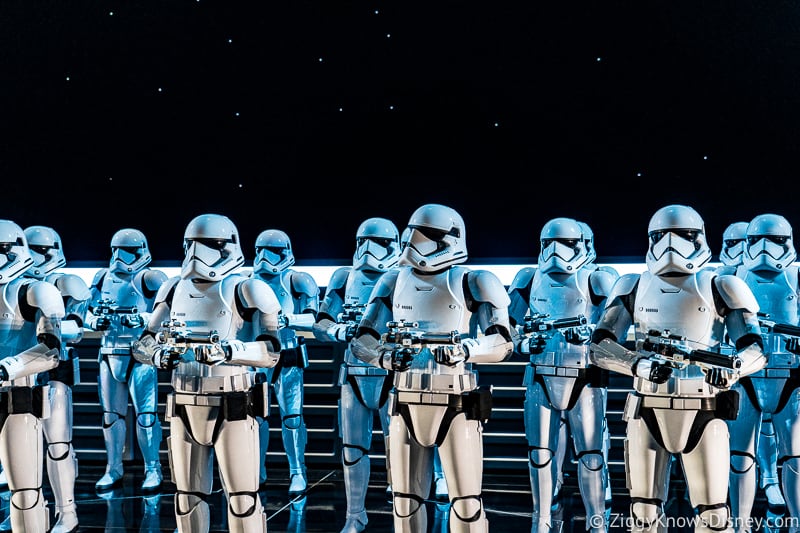 While we are going to give you the general information in this post about the boarding groups, our guide on How to Use Boarding Groups for Star Wars: Rise of the Resistance that we wrote for Hollywood Studios still applies to most scenarios in Disneyland. I would definitely recommend reading that, where we answer any questions you might have about how the virtual queue works.
By reading those guides it will get you up to speed on Rise of the Resistance in case you haven't been following recently. It also helps us avoid repeating the same information over and over again and boring you if you've already read those in the past.
Don't forget to sign up for our FREE E-Mail Newsletter. There we bring you the latest updates on Rise of the Resistance, including strategies for the Boarding Groups and how to ride it. You can sign up here: Join our E-Mail Newsletter
Lastly, before we start, we are super excited that Star Wars: Rise of the Resistance has finally made it to Galaxy's Edge in Disneyland. When we were there for the opening in May 2019, even though we thoroughly enjoyed ourselves and were blown away by this amazing new land, there was still something missing.
We felt the same in August at the opening of Galaxy's Edge in Disney World. However, after riding Rise of the Resistance for ourselves, our jaws hit the floor! While Galaxy's Edge still isn't a perfect land, it's a huge upgrade and gives Disneyland a solid 1-2 punch of attractions in that end of the park.
Prepare to be amazed!
How to use Boarding Groups in Disneyland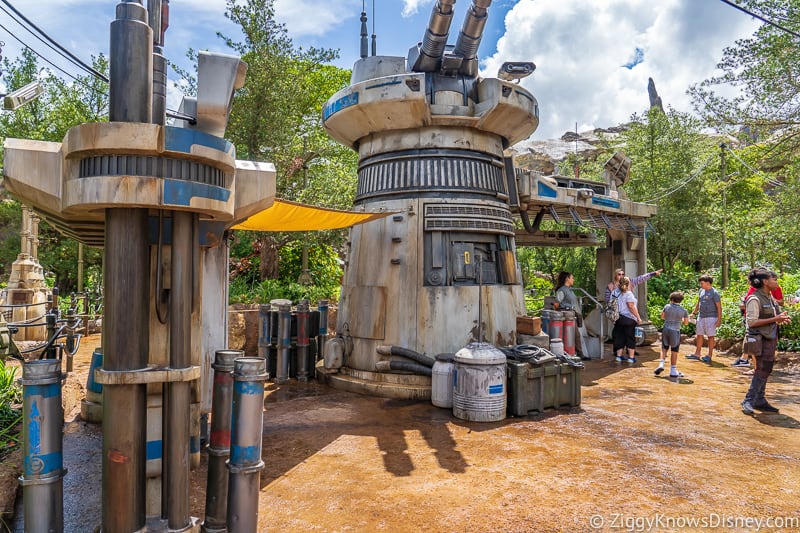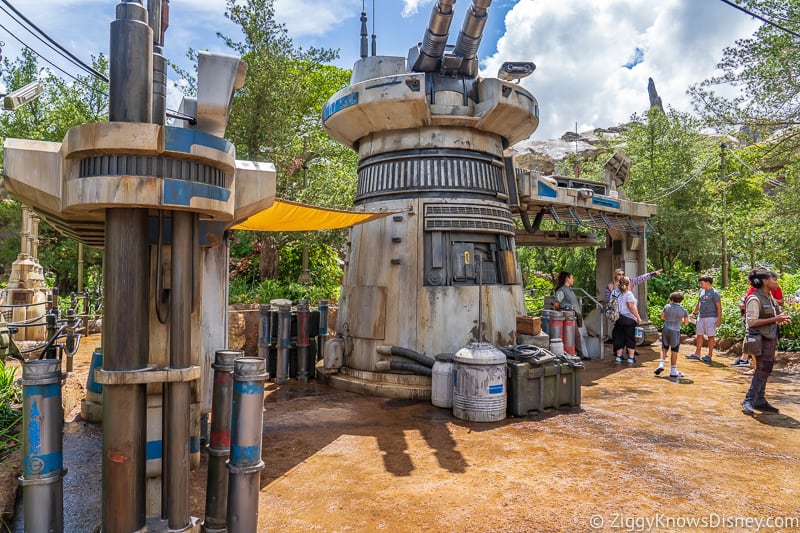 As we mentioned above, using the boarding groups for Star Wars: Rise of the Resistance in Disneyland is an almost identical process to how it works in Hollywood Studios.
It can be intimidating if you haven't used it before, but if you follow these steps, you will be able to ride this new attraction in Disneyland and make the best use of your time while you are there.
1. Download the Disneyland App
Most likely if you are a regular Disneyland-goer, you already have this downloaded on your smartphone. If this is your first visit, or haven't downloaded it yet make sure to do so BEFORE arriving in Disneyland.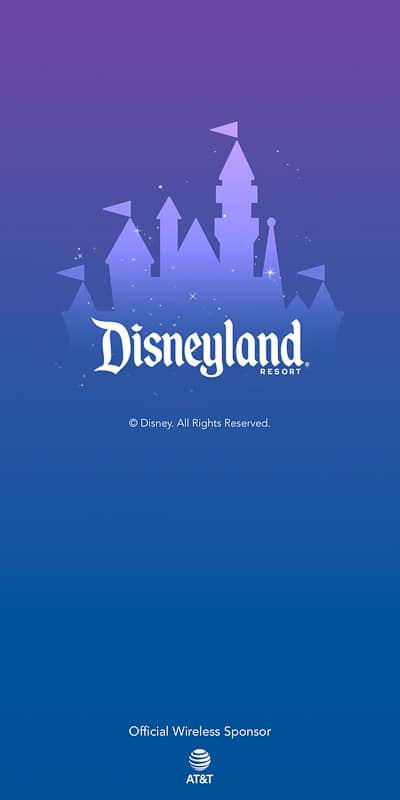 As you will see, time is crucial to booking your boarding passes for Rise of the Resistance, and you don't want to lose precious moments fumbling with downloading an app or a technical issue. Download it and make sure it works.
Also, the boarding group is tied to park admission and it will be scanned upon entry of the attraction, so make sure your tickets are linked to your Disneyland app.
2. Getting Your Boarding Pass
You will use the Disneyland app to reserve your boarding pass.
If you don't have a smartphone you can also get a boarding pass from select locations inside Disneyland park. This way will be much slower and we don't recommend it if you can download the app.
With either method, you can't reserve a boarding pass until you are inside the Disneyland entrance and passed through the turnstiles.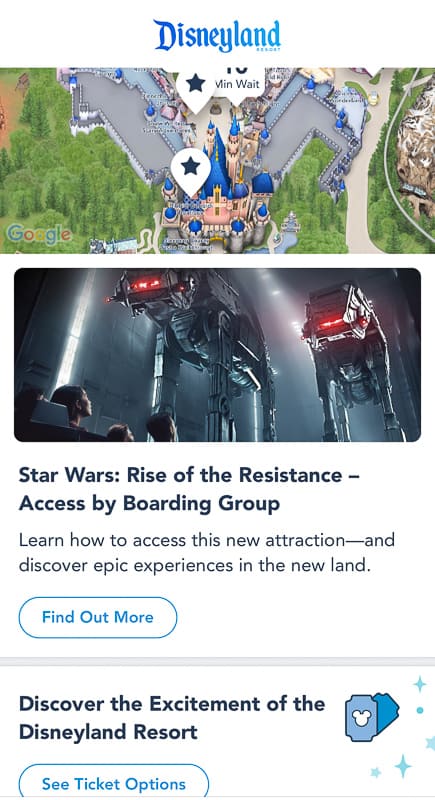 Once you enter Disneyland, open the Disneyland app and on the main page there will be a separate module: "Star Wars: Rise of the Resistance – Access by Boarding Group."
Once you are there you can request to join a boarding group.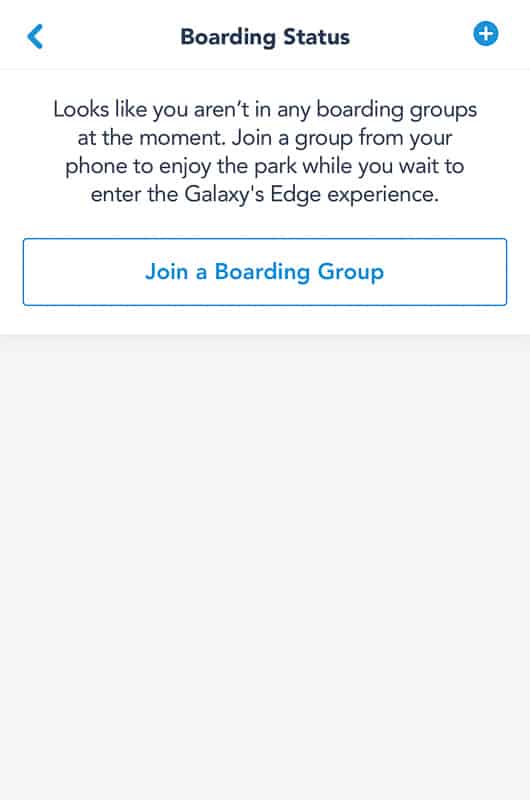 An important thing to remember is that boarding passes will not be available to reserve until the park's official opening time. That means if Disneyland is scheduled to open at 8:00 am, you won't be able to book a spot in the virtual queue until 8:00 am.
As has been the experience in Hollywood Studios, guests will be allowed to enter Disneyland before the opening time, but you will have to wait until the official opening time to book a boarding pass.
3. Redeeming Your Boarding Pass
When you get your boarding pass you will be assigned to a boarding group with a number. That will determine when you have to come back to ride Rise of the Resistance. You will have a 2-hour window to ride, so if your group is called at 12:00 pm, you will have until between 12:00 pm and 2:00 pm to get in the queue.
You can check to see which groups are currently being boarding by looking at the "Star Wars: Rise of the Resistance – Status and Access" Screen in the Disneyland app.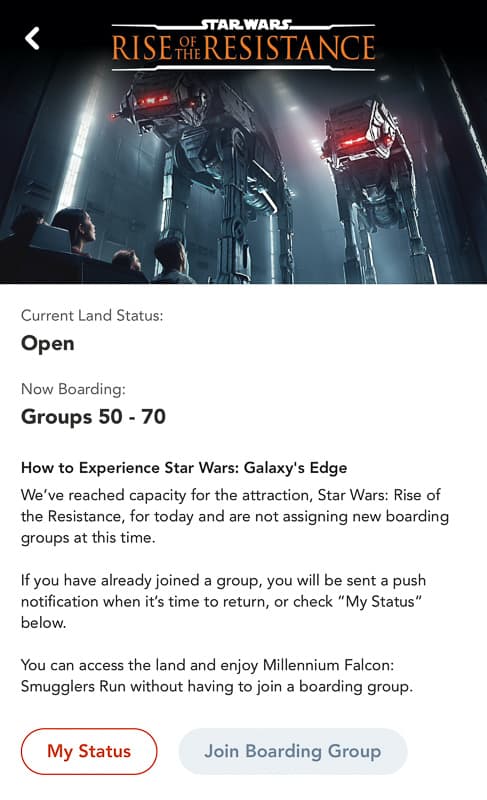 Make sure push notifications are turned on in the Disneyland app, this way you will be notified immediately when it is your group's turn to ride.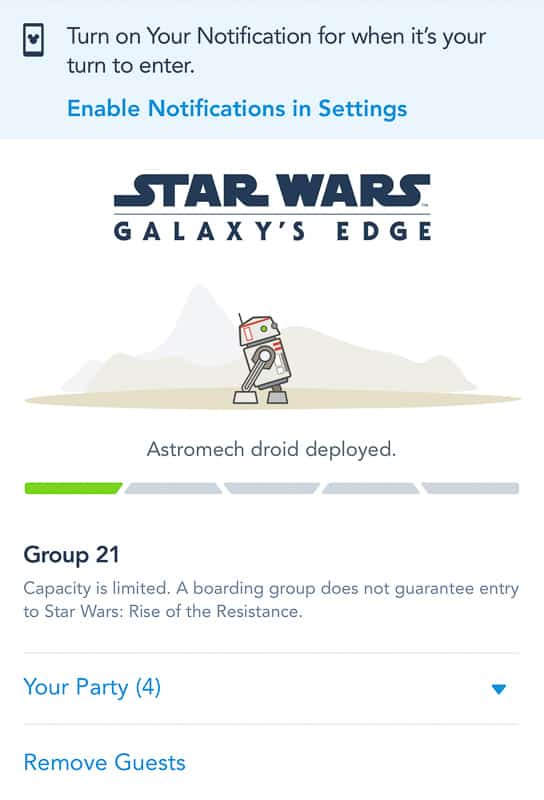 There are also various signs throughout Disneyland which will inform guests on the most recent boarding groups. Keep an eye on these to make sure you don't miss your turn.
When it's your turn, head over to the Galaxy's Edge entrance by the Hungry Bear Restaurant. Your park ticket will be scanned, enabling you to enter the ride queue.
Again, for a much more detailed explanation, read our Guide to Rise of the Resistance Boarding Groups where you will get any more questions answered you might have.
Sign Up For Our Newsletter Today!
How Is It Working So Far?
Using boarding groups in Disneyland has been a mixed bag so far early on. In some ways, we really like the boarding groups. You don't have to wait in line for 6 hours, and it lets you take advantage of the rest of your day, going and visiting other attractions while you are waiting for your turn.
The problem has been, well, getting a turn to begin with.
So far boarding passes have been distributed EXTREMELY fast every morning. I mean, there are no more boarding passes for Rise of the Resistance within the first 1-2 minutes from when the virtual queue is open.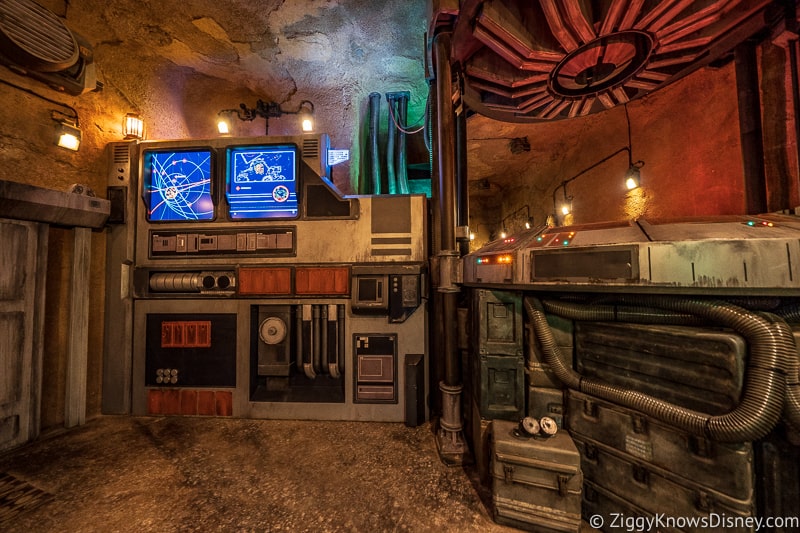 The queue opens up for everyone at the same time, and literally thousands of guests are all fighting for a spot at the same time. This has lead to major stress on the part of guests, and every morning at 8 am becomes a free-for-all to who will get to ride that day, and who will not.
So far by our estimates, it looks like the majority of guests who are already inside the park when the virtual queue opens are able to get a pass. We'd put it at somewhere between 90-95% success rate which isn't bad. it just stinks for the other small percentage of guests who woke up early in the morning to ride this attraction, and then find it sold out almost instantaneously.
The problem is that Rise of the Resistance is still a brand new attraction, and it hasn't shown a high ride capacity per hour at this point. It's running even slower than in Hollywood Studios, which is understandable considering the later has been open for longer.
The Disneyland version of Rise of the Resistance has suffered from late openings and early closings on a regular basis, which is hurting the guest flow. If Disney could get some things tightened up on the maintenance end, and make Rise of the Resistance a bit more reliable, all 100% of guests there for the park's opening would get a boarding pass.
We also think that releasing boarding groups at multiple times during the day would be a better solution. This is especially true in Disneyland where a good majority of the guests are locals and can't get to the parks early in the morning. If there were distribution times at for example: 8:00 am, 12:00 pm and 4:00 pm, that would make it fairer for all groups of guests.
What are the Crowds Like for Rise of the Resistance in Disneyland?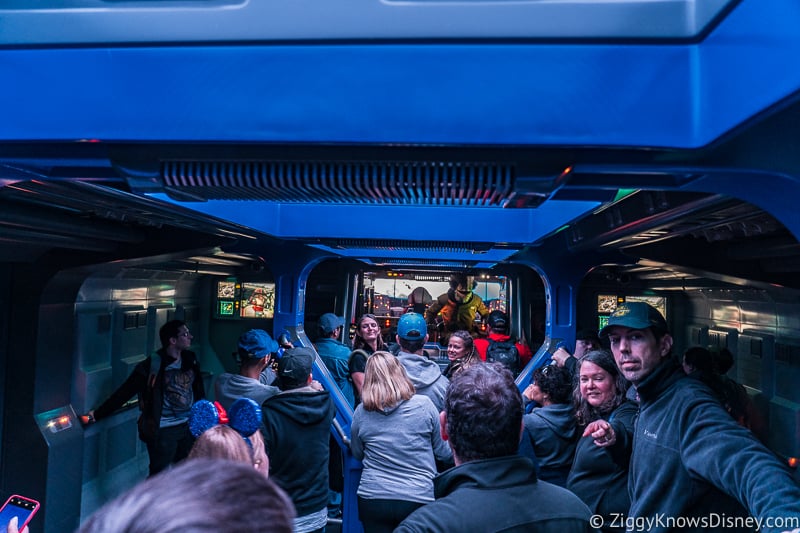 Disney started using the Virtual Queue system in Disneyland for a short period of time after Star Wars: Galaxy's Edge opened, but the crowds were low all Summer and there wasn't any more need. Since Rise of the Resistance has opened, they are expecting that to change big-time!
Since Rise of the Resistance has opened in Hollywood Studios, thousands of guests have flooded the park's entrance every morning (some as early as 4:00 am) in order to get a chance to ride. In a land that was written off as a failure by many after a slow start, Rise of the Resistance has become a phenomenon and the most sought-after attraction in recent history.
What kind of crowds though can you expect now that it's open in Disneyland?
Opening weekend in Disneyland was busy, but maybe not quite as much as they had expected. Guests showed up in droves to ride Rise of the Resistance, but the locals that weren't fortunate enough to get a boarding pass ended up going home, deciding to try their luck at a future time (more on that later).
Also, it seemed like the park was pretty light on tourists from what we could see, with many probably deciding to avoid coming on opening weekend due to big crowds.
Typically, however, January and February are the slowest months for Disneyland and we actually might see manageable crowds during the rest of that time. There is even the possibility the virtual queue goes away pretty quickly because of this.
After that is anyone's guess though, and in the Spring and Summer when Disneyland always picks up in attendance, it might necessitate bringing the queue back at some point, maybe for the holidays and busiest days at least.
Getting rid of the virtual queue, however, depends heavily on how quickly Cast Members can get the attraction working at as close to optimal conditions as possible. Using traditional FastPass actually lowers ride capacity, so until it's running smoother their hands are tied.
Stay tuned as we will continue to update you on the crowd levels as soon as we have more info.
Riding Strategy
Now that we know how the virtual queue works and have some idea about the crowds you can expect in Disneyland, we can start to form a touring strategy which will help you to be the most efficient during your visit.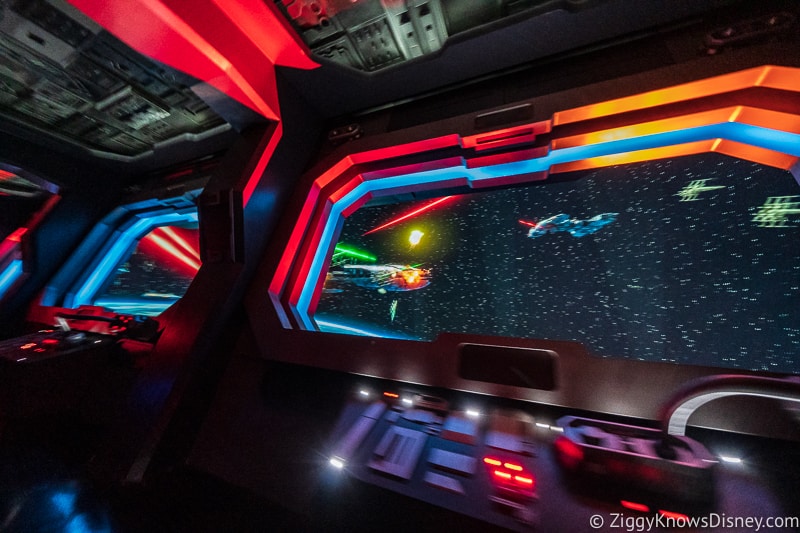 For now, we are sticking by our advice for the other Rise of the Resistance attraction, and for best results, you should plan on arriving at Disneyland 1 Hour before the listed park opening, at the latest, 30 minutes.
On opening day in Disneyland, they started letting guests into the park around 6:00 am. This is most likely an exception, but expect the normal to be about 1 hour early. That means if the park is scheduled to have an 8:00 am opening, they should start letting guests in around 7:00 am.
Again, you can't get a boarding pass that early as the virtual queue for Rise of the Resistance opens exactly at the park opening time. You will be waiting on Main Street USA (not a bad place to be) and you can at least get your Starbucks fix while you wait.
However, it's crucial that you are inside Disneyland and have your app ready to go when the virtual queue opens up. This will give you the best results as boarding passes will sell out very quickly. You need to account for traffic or parking delays, delays going through security, etc, so to be safe plan on 1 hour early.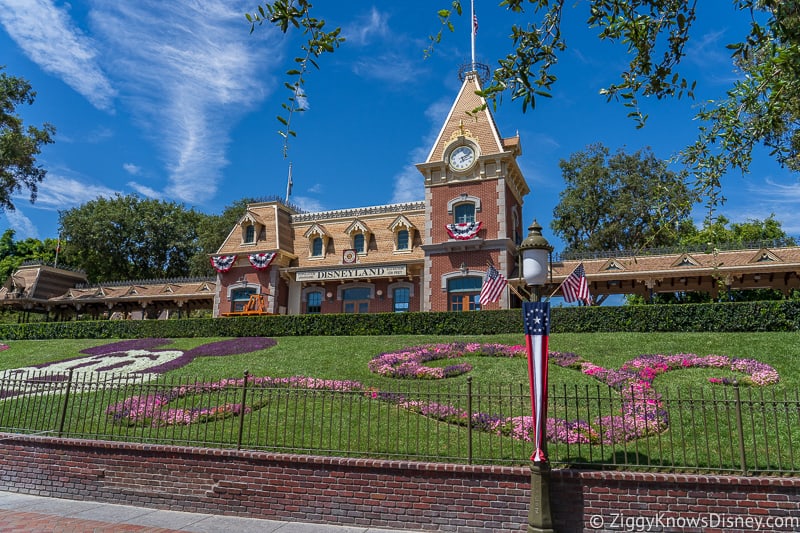 Don't worry about getting there at some crazy hour like 4:00 am. It won't give you any advantage as the boarding passes are assigned to guests randomly. It won't matter if you are the first person in the park or the 1,000th, just as long as you are inside before park opening.
Here are some other Tips for getting a boarding pass for Disneyland's version of Rise of the Resistance:
Make sure all members of your party are connected to the person making the reservation in your group. We've seen this slow down many guests and it will either mean you aren't in the same group together, or worse, you won't get a boarding pass.
Use the internet connection on your mobile device, not the Disneyland Wi-Fi. With hundreds or thousands of guests trying to connect at the same time, the Wi-Fi can slow way down and you'll usually get faster load times with your network's cellure connection. This could mean the difference between getting a boarding pass or not.
Now once you have your boarding pass, you can go do some of the other wonderful attractions in Disneyland while you wait to get on.
Since wait times are always lower anyway in the first couple hours of park operations, we suggest you take advantage of this time and get as many other attractions out of the way while you wait for Rise of the Resistance.
If you are coming from far away, I would hold off making a special trip out to Disneyland specifically for Rise of the Resistance. Unless you have multiple days to try and get a boarding pass, I think it's too risky to spend all that money just to come here with that attraction in mind.
I think the safer alternative would be to go ride it in Hollywood Studios if you need to ride ASAP, as they are running it more efficiently at this point.
The Strategy for Disneyland Locals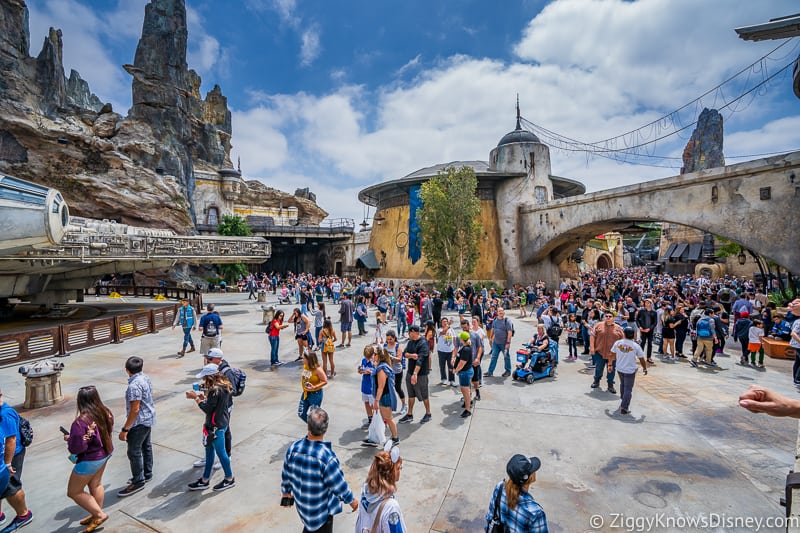 There is a vast difference between Disney World and Disneyland visitors and the way they tour the parks because a much higher percentage of guests visiting Disneyland are locals. That means Disneyland is an awesome place to hang out after work gets out, and there would be nothing cooler than heading over to Galaxy's Edge to ride Rise of the Resistance after a stressful day.
The problem though is that if Rise of the Resistance is nearly as popular on the West Coast as it is on the East one, there won't be any boarding passes left for locals who like to come later in the day. The Disneyland version often sells completely out of passes within the first 1-2 minutes of park opening, which means late-comers are not riding.
Now it is important to note that Disney says the virtual queue will be in place "as needed." That is pretty open to interpretation, but seeing as this is a different crowd than the one in Disney World, it may be that this will only be a very temporary solution and the boarding passes are discontinued after a couple of weeks.
Our suggestion of multiple distributions of boarding passes each day would greatly help ease this problem.
Our guess is that Rise of the Resistance is going to be a big hit, and it will at least be in place for 1 month. We've been wrong before, but it's just too strong of an attraction to not see massive crowds as it gets in Florida, at least for a while.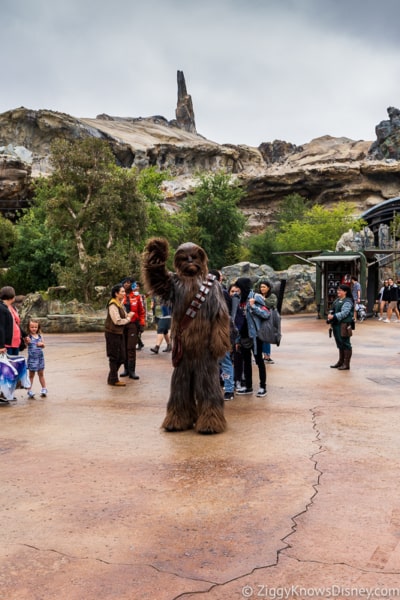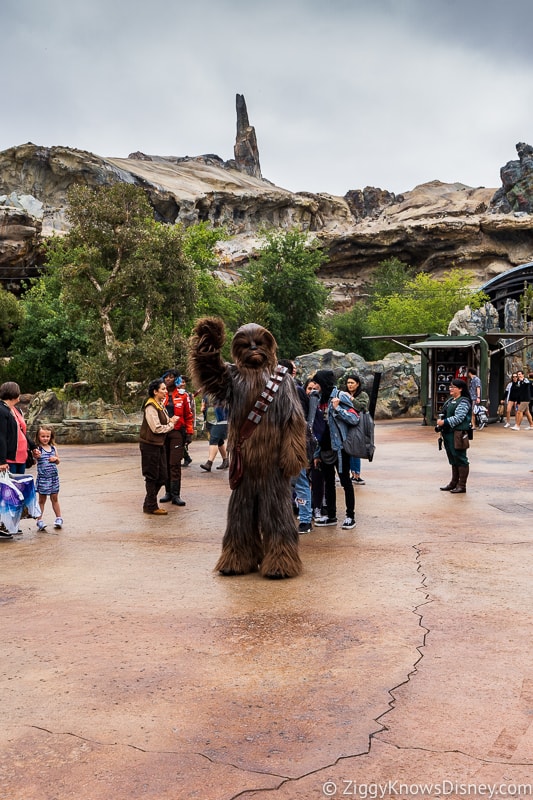 Once they get rid of the virtual queue, things would then go back to normal, with a stand-by queue and the regular FastPass/MaxPass system.
That might be a little easier for Anaheim locals to swallow. If the virtual queue is in place for only about a month or so, they could then get back to their regular park visiting schedule and get to ride the new attraction, even if their schedules don't allow them to go early in the opening weeks.
If it continues longer than that, we could start to see some angry guests that wander in at 7:00 pm hoping to ride. My guess is that most locals will stay away for a while, especially if they here there is no point in trying to get on the new ride because it sells out every day.
Of course, a lot of this is going to depend on how reliable Disney can keep Rise of the Resistance. The attraction has been plagued from the start with technical issues and it has been hard to keep running for long periods of time in Disney World.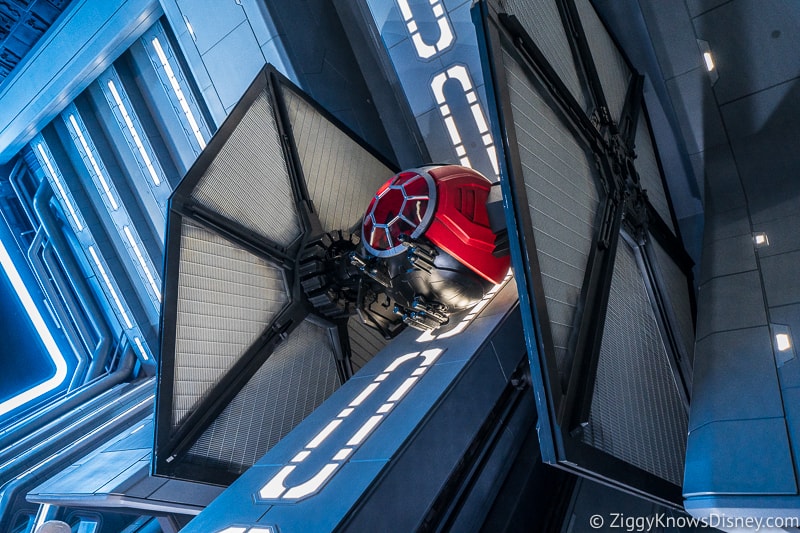 It's natural to experience some down-time for a new attraction, but hopefully, with an extra month+ of time, the engineers in Disneyland have been able to learn from some of the mistakes and will be able to keep it running relatively efficiently.
Once this happens and Disney gets a better grip on the guest flow, we hopefully will not have as big of a need for the virtual queue.
What Time Does Rise of the Resistance Open in Disneyland?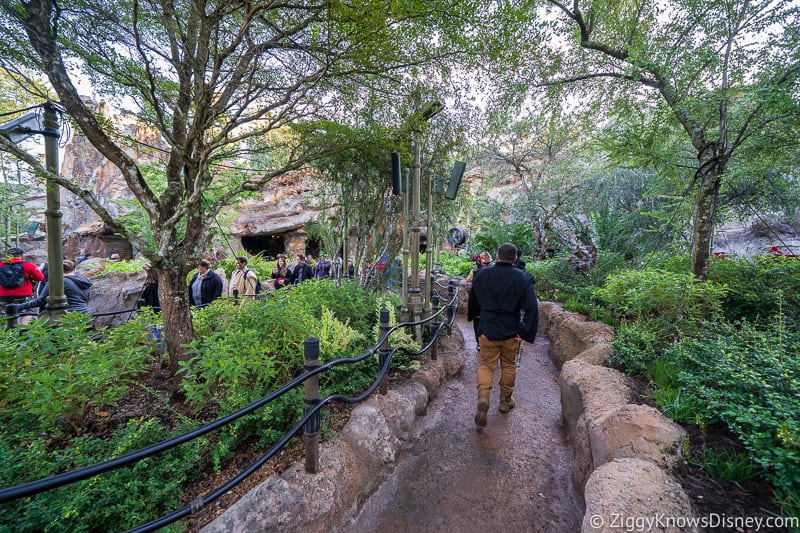 This is an important question because since the boarding groups start at park opening, you need to know when that is so you can plan what time to arrive.
Looking ahead at the upcoming weeks, it looks like on most days Disneyland opens between 8:00 am and 9:00 am. Just because the Disneyland schedule says this right now, I wouldn't say that's written in stone. Just like Hollywood Studios has continued to change its opening hours, Disneyland can easily start to push up the openings in Disneyland by an hour or more if they want to.
The best thing to do is to look at the official Disneyland Park Hours Schedule on their website and keep monitoring it before your trip. Things could change at the last moment, so plan your time accordingly.
Keep checking back as we will continue to update our strategy when riding Star Wars: Rise of the Resistance in Disneyland as the days and weeks go on.
If you are planning a trip soon, make sure to read our complete guide to Star Wars: Galaxy's Edge. There we cover all the attractions, restaurants and any other planning info you might want to know.
Your Thoughts
I want to know what you think about the Disneyland version of Star Wars: Rise of the Resistance…
Are you looking forward to this new attraction?
When are you planning to visit?
Let us know in the comments section below!
If you enjoyed this article, as always I appreciate it if you'd share it with others via social media. I work hard at making this website into a useful resource for you and your family to plan your visit to the Disney Parks and I hope it can help you! Thanks 🙂