Have you ever wanted to train with a lightsaber? Now it is actually possible onboard the Star Wars: Galactic Starcruiser during the lightsaber training experience.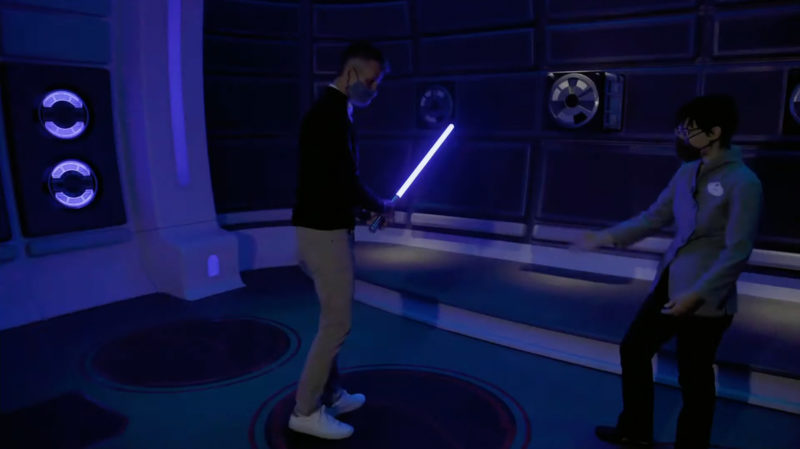 Ever since we saw "A New Hope" when we were children, how many people have dreamed of being like Luke Skywalker in the scene on the Millennium Falcon when he is learning how to use a lightsaber with the training orb.
Disney is about to make that dream a reality and they have developed a real lightsaber training experience for guests staying at the Star Wars Hotel.
Sure you can build a custom lightsaber at Savi's Workshop or buy a Legacy Lightsaber from Dok Ondar's, but when you bring them home, do you actually use them? Most likely you have them on a shelf in your house on display.
Disney is now offering you the chance to train with a lightsaber like a real Jedi would!
In this post, we are going to share everything we know so far about the lightsaber training including how it works and every FAQ you might have about doing it. This is instantly going to be one of the most popular experiences on the Galactic Starcruiser and we plan on spending as much time as possible in the training room.
At this time we only have limited info about the experience, but as Disney releases more we will update this article with the latest so you know what to expect before your voyage.
Before we get started, here are some useful links that will help you find out everything you need to know about the Star Wars: Galactic Starcruiser hotel:
Also, don't forget to sign up for our FREE Weekly E-Mail Newsletter. We will update you as soon as we know more about the lightsaber training, and share the latest Disney vacation planning tips. You can sign up here: Join our E-Mail Newsletter
Lightsaber Training in Action
During the latest Destination D23 event, Disney Parks, Experiences, and Products President Josh D'Amaro went onboard the Galactic Starcruiser and shared his experience in the lightsaber training room.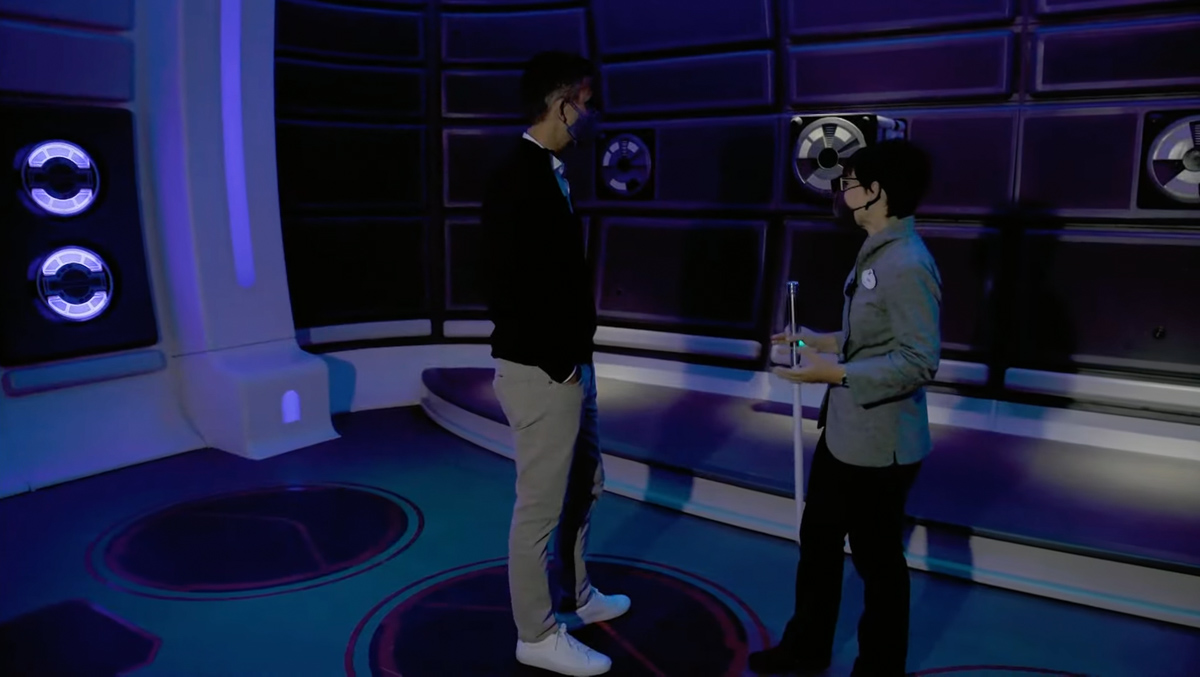 From what we can tell in the video, guests step into a room and in front of one of the training stations on the wall that shoot lasers for practice. There are 3 stations in the room which means the experience should allow for up to 3 guests at a time.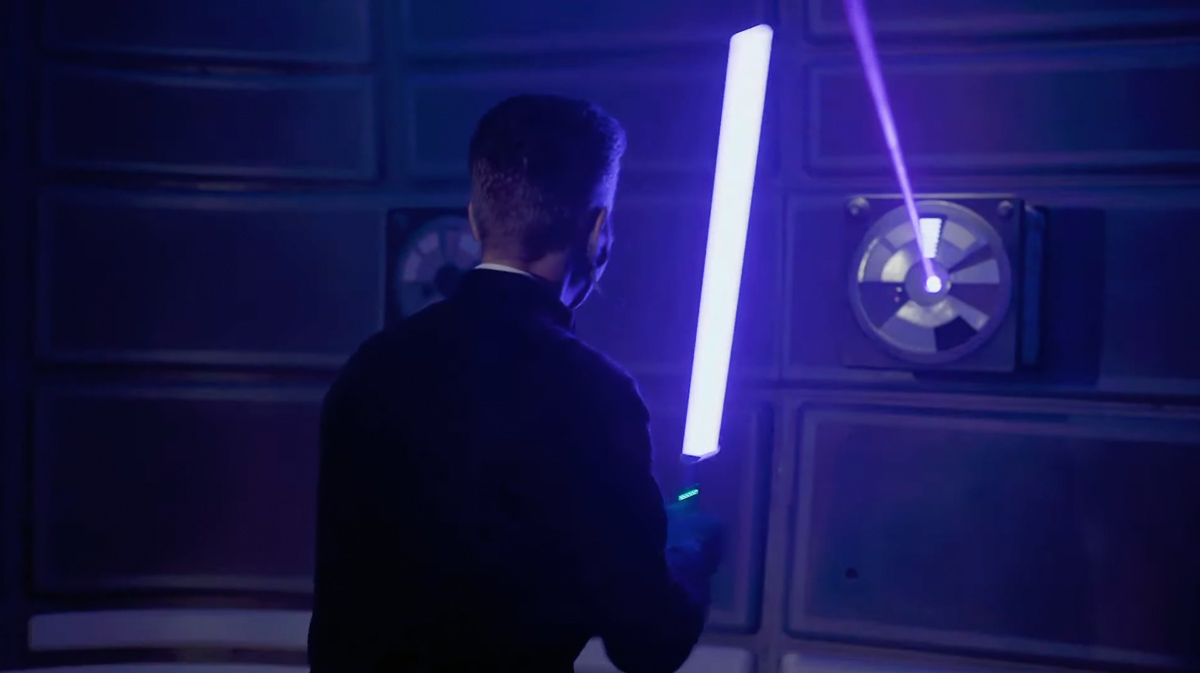 Guests must stay within the designated space on the ground as they try to block the incoming lasers with the lightsaber.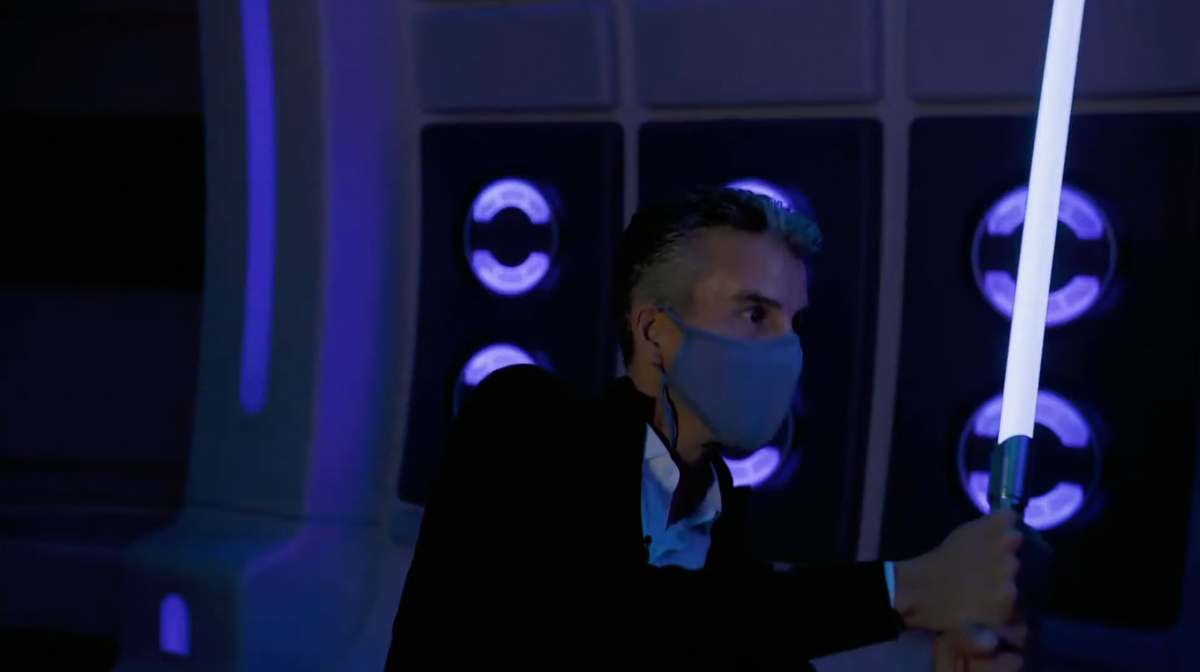 The device shoots a beam of light that appears to be a laser. From what we can see, it changes direction with each blast and guests will have to react quickly to whichever direction it blasts.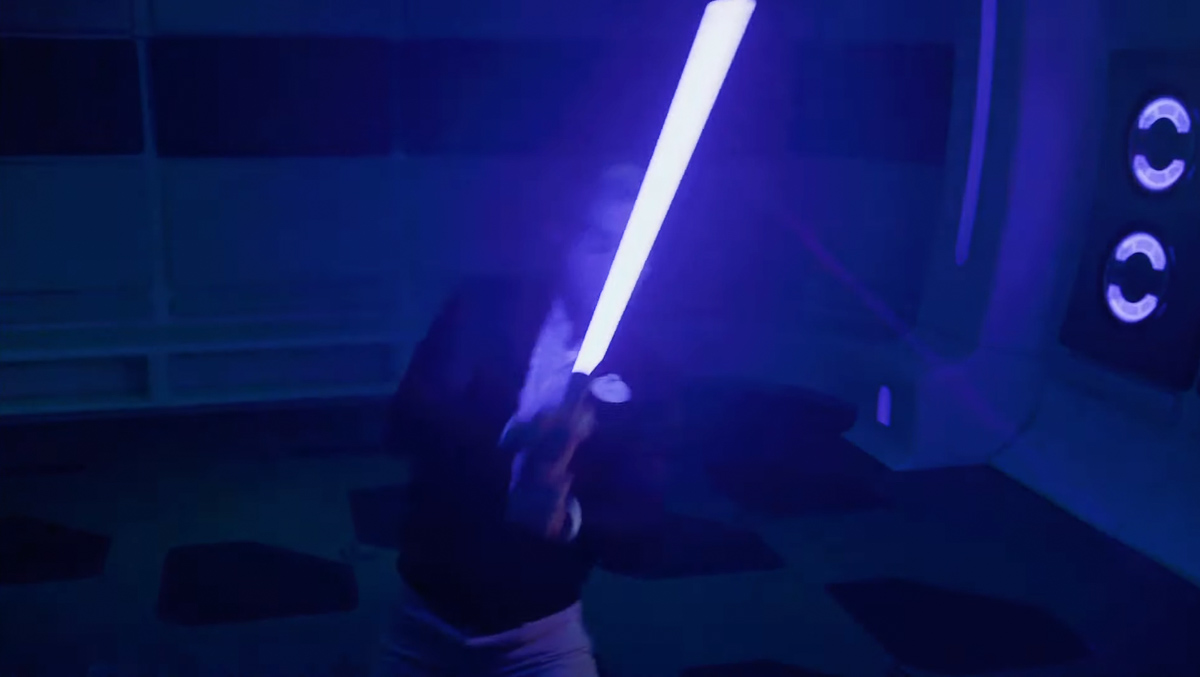 It seemed like it will be pretty challenging as there is no way to predict which direction the blasts will come from and you have to react as quickly as possible.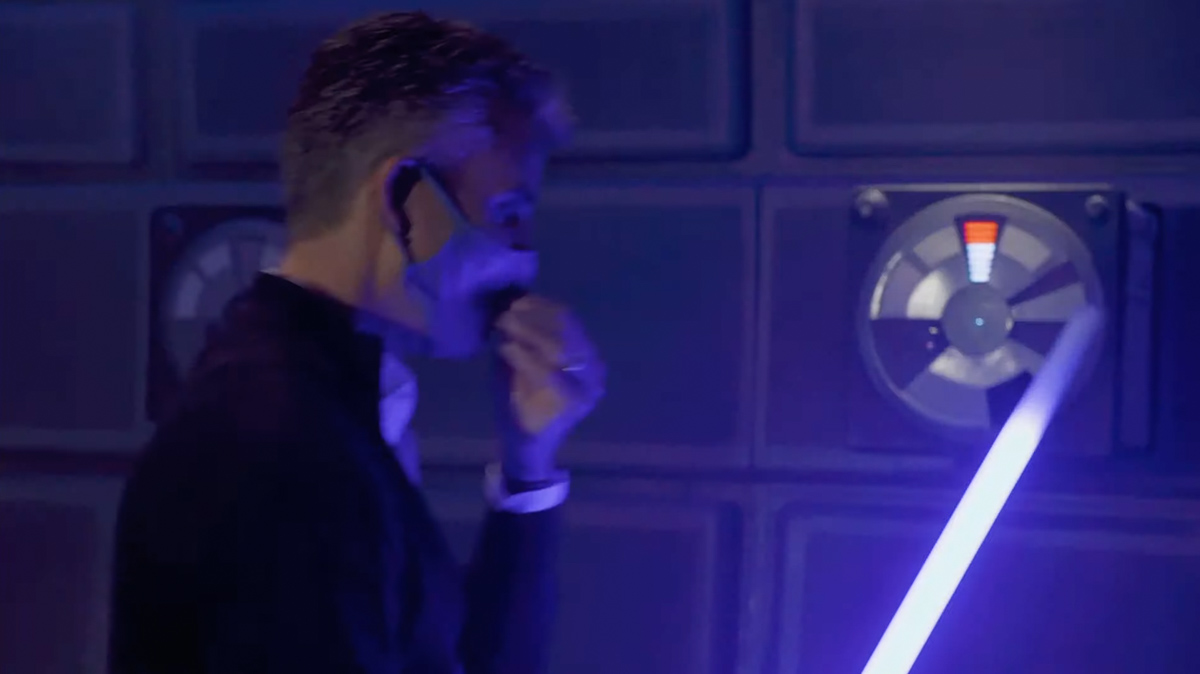 Here is the full video of Josh D'Amaro training with a lightsaber on the Galactic Starcruiser:
It looks a like a blast (no pun intended) although we have some concerns after watching the video. We were hoping the later blasts would look a bit more realistic instead of just light beams coming out of the wall. It also would have been way cooler if they could have found a way to make the blasting devices float like in A New Hope.
We'll reserve our final judgement until we can actually try the experience ourselves, and we are still hoping that it will be one of the most fun things to do on the Galactic Starcruiser.
Can Guests Use a Real Lightsaber?
For some months now, Disney has been showing off its new working lightsaber as a build-up to the Star Wars Hotel project. But will guests actually get to use a real, working lightsaber?
On May 4th, Disney gave us a first look at the working lightsabers with a video of Rey impressively handling one of them :
You can see when the lightsaber is turned off, only the hilt is visible and the blade is retracted. Once the lightsaber is turned on, the blade exits the hilt and goes straight up, exactly like it does in the films. It even makes the same lightsaber sound when it turns on.
Even more recently, Josh D'Amaro, Chairman of Disney Parks, Experiences and Products, gave a live preview of the lightsaber onstage at the latest Destination D23 event.
D'Amaro was onstage with the lightsaber in hand and when the room lights dimmed, the blade come out of the hilt glowing blue and again, making the lightsaber sound.
It was a very impressive moment and a testament to the efforts of Disney Imagineers.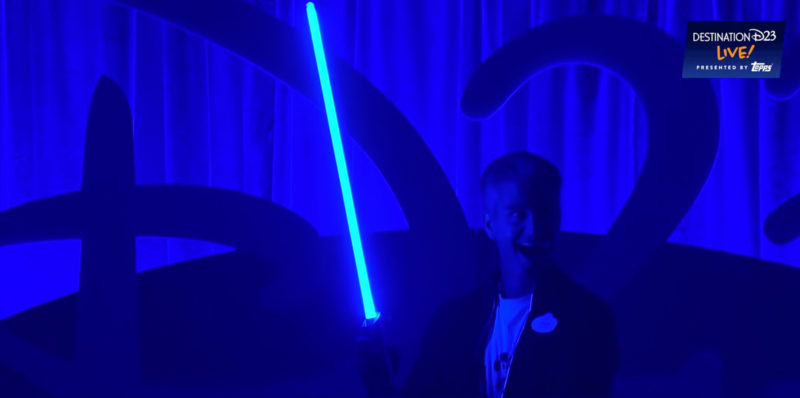 So is this the lightsaber guests will use on the Galactic Starcruiser? The answer is no.
While the real working lightsabers might be onboard the Star Wars: Galactic Starcruiser in some fashion, guests will not handle them during the lightsaber training experience.
It's unclear at this time if they will have another opportunity to see or even hold them.
Instead, the lightsaber that guests will use has a blade that is not retractable, like in the video with Josh D'Amaro. It turns on and lights up when a button is pushed but does not retract. This looks similar to the lightsabers at Savi's Workshop or at Dok Ondar's.
If the lightsaber actually "works", it would be a major safety hazard to allow guests to handle something as dangerous as a lightsaber. However, we have not seen the lightsaber actually cut anything so when Disney says it's a working lightsaber, they probably mean it just goes up and down from the hilt, not that it is actually hot and capable of cutting objects like a real lightsaber.
Ultimately, we'll have to wait and see which lightsabers guess can use on the Galactic Starcruiser. Either way, we are pumped and can't wait to spend some serious time training to become a Jedi!
Your Thoughts:
I want to know what you think about the lightsaber training experience coming to the Star Wars: Galactic Starcruiser…
Are you looking forward to this new experience?
What ideas do you have for it?
Let us know in the comments section below!
If you enjoyed this article, as always I appreciate it if you'd share it with others via social media. I work hard at making this website into a useful resource for you and your family to plan your visit to the Disney Parks and I hope it can help you! Thanks 🙂