(UPDATED 5/14/19) – Disney announced that Coca Cola is coming to Star Wars Galaxy's Edge. You just knew that somehow Coca Cola wasn't going to be left out of Galaxy's Edge and they are doing it in a very unique way!
They aren't your normal cans of Coca Cola but they will be shaped like Thermal Detonators. The writing is not normal either but will be written in Arabesh.
Here is a look at the special Coca Cola cans: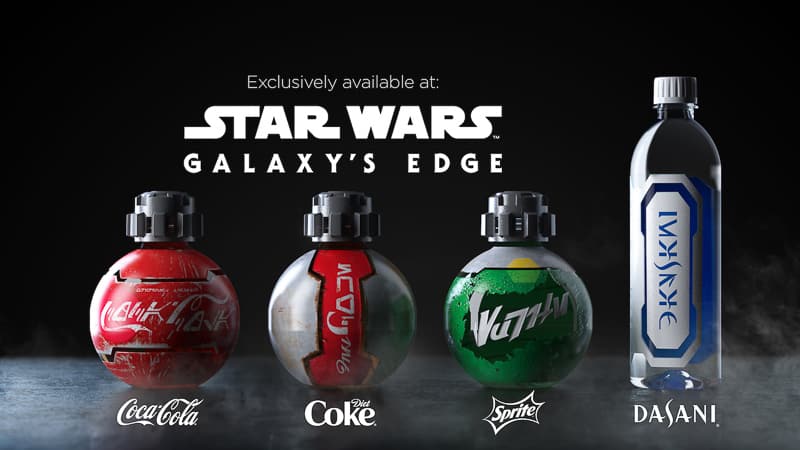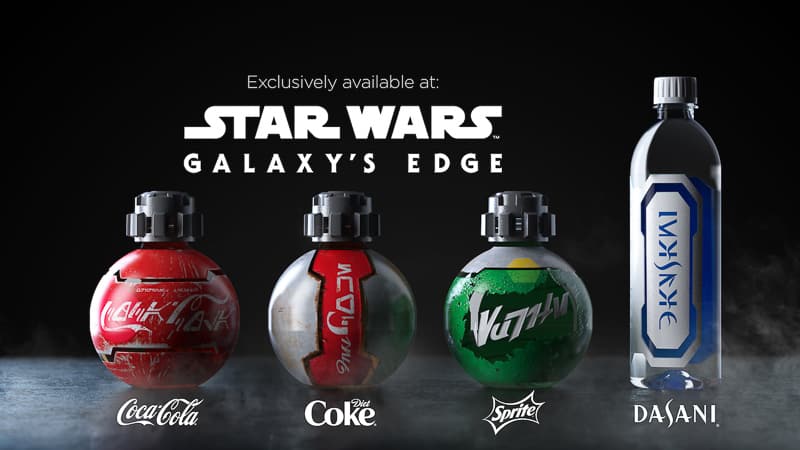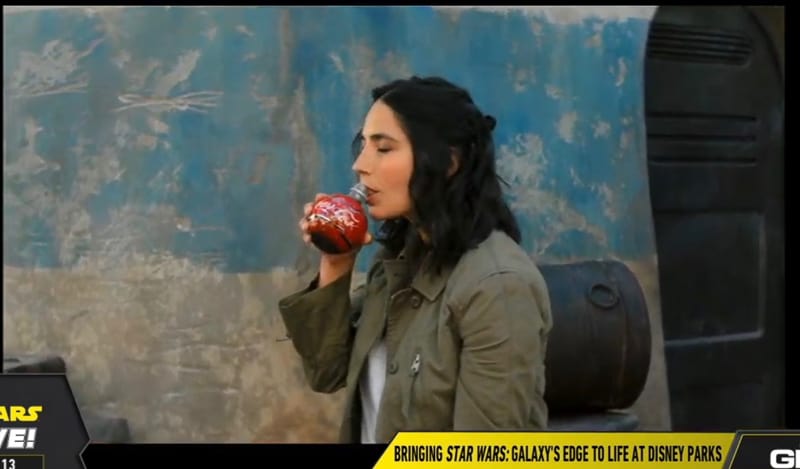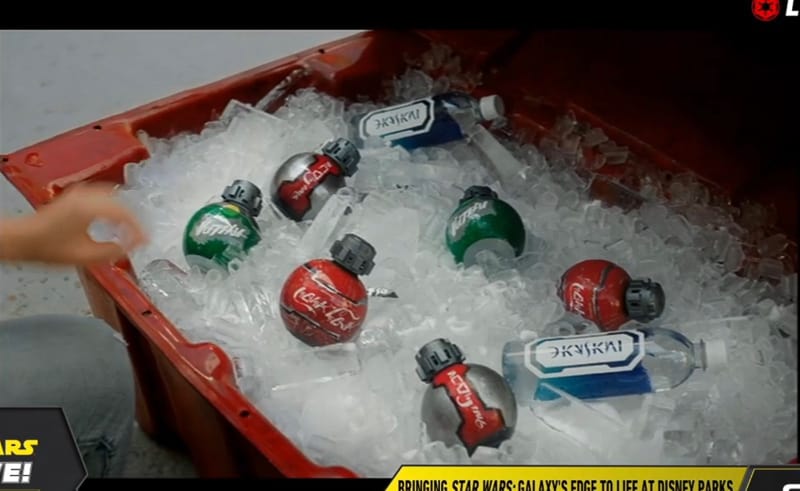 Here is the full description from Disney:
"As we were developing the incredible experiences that guests will explore when Star Wars: Galaxy's Edge opens at Disneyland Resort and Walt Disney World Resort, we knew that we wanted to create something truly special – something that will bring your own Star Wars adventure to life in a whole new way. We reached out to our friends at Coca-Cola, and along with Lucasfilm Ltd. came up with specially designed Coca-Cola bottles that are designed to fit authentically within the Star Wars universe."
We have a long history with Coca-Cola, dating back to the opening of Disneyland Park and the "Refreshment Corner" on Main Street, U.S.A. in 1955 and it's a pleasure to continue to work with this amazing team on such a groundbreaking experience. These unique Coca-Cola products were created with storytelling in mind and are unlike anything we've done before – take a look:
Here is a video Disney has put together about these new Coca Cola cans for Star Wars Land:
Today as Disneyland has updated some of their Galaxy's Edge menus, an interesting thing to note is that there is a 3 Can Limit for these special Coca Cola containers per guest per transaction: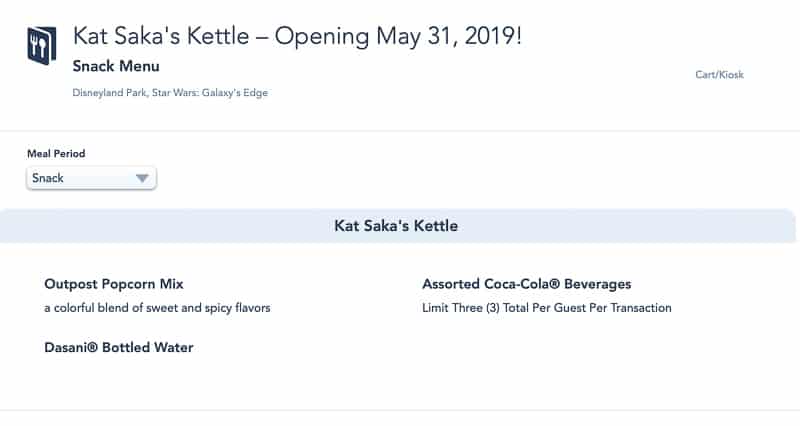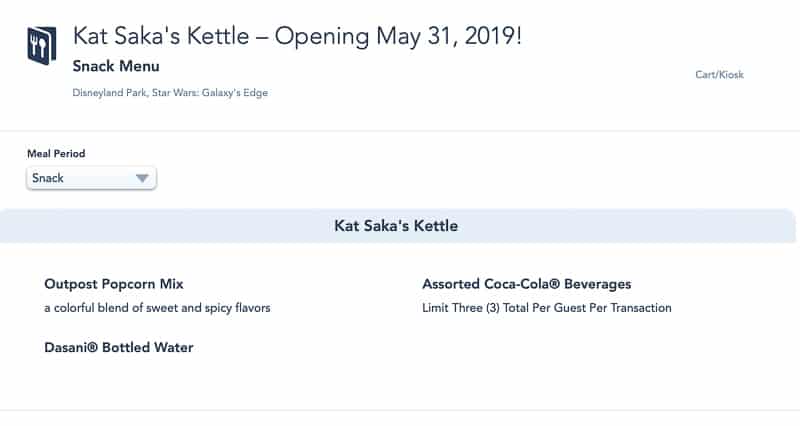 I guess that means to get all 4 collectibles, you will have to go twice or with a friend. No telling how strict they will be with guests if they see you buy three and then get right back in line, but it's obvious Disney is anticipating a big interest in these unique Coca Cola cans so they want to give everyone a chance to get them.
I personally think they are a really cool and unique idea that will be a really big success. Already online everyone is saying how much they love the designs. I would have preferred to have Galaxy's Edge without Coca Cola and have more unique drinks, but if I have to have it there, this is a good way to do it!
At Star Wars Celebration Disney also announced lots of other new details for Galaxy's Edge including how the Play Disney Parks App will work when inside, and they also showed off the brand new Lightsabers which will be available for purchase! They are pretty awesome if I do say so myself!
We also have info on the restaurants and all the menus in our Star Wars Land Dining Guide. There are so many good sounding things on those menus I have no idea where to even start!
Then if you are planning your trip to Galaxy's Edge you need to read our Ultimate Guide to Star Wars Land which will let you know everything about the rides, tips and touring strategies.
Star Wars Galaxy's Edge is opening in Disneyland May 31, 2019 and in Disney's Hollywood Studios on August 29, 2019.
Stay tuned to Ziggy Knows Disney for more details about Galaxy's Edge coming soon…
Your Thoughts:
I want to know what you think about the new Coca Cola cans for Galaxy's Edge…
Do you like the designs?
Doo you mind big brands like Coca Cola being there?
Let us know in the comments section below!
If you enjoyed this article, as always I appreciate it if you'd share it with others via social media. I work hard at making this website into a useful resource for you and your family to plan your visit to the Disney Parks and I hope it can help you! Thanks 🙂
News and Photo Credit: Disney Parks Blog