As we've known for some time now, a huge expansion is coming to the best Disney theme park in the world, Tokyo Disney Sea. Now we have some new details and new concept art for the new themed area which is to be called: "Fantasy Springs"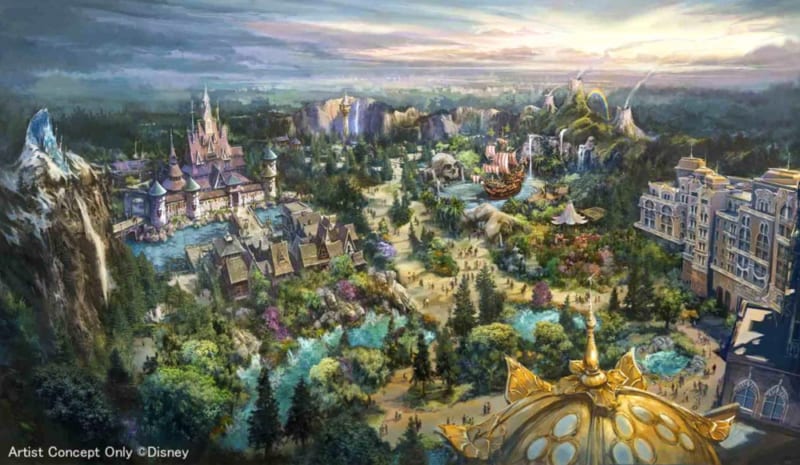 Fantasy Springs is opening in Tokyo Disney Sea in 2022, and the name was just announced by the Oriental Land Co. This is clearly a step into the unreal, fantasy direction for Tokyo Disneyland, and feels like their answer to Pandora and Star Wars Galaxy's Edge who have these amazing, alien-feeling landscapes.
Work has just started on the project which will feature 3 sub-lands inside Fantasy Springs, which are based on Frozen, Tangled and Peter Pan. There are going to be 4 new attractions (1 for Frozen, 1 Tangled and 2 Peter Pan) as well as restaurants and shops.
Not only is Fantasy Springs going to be focused on what's inside the theme park in Tokyo DisneySea, but also just outside its border as a new 475-room hotel is being built to go along with this land which will look out over the theme park, further immersing guests.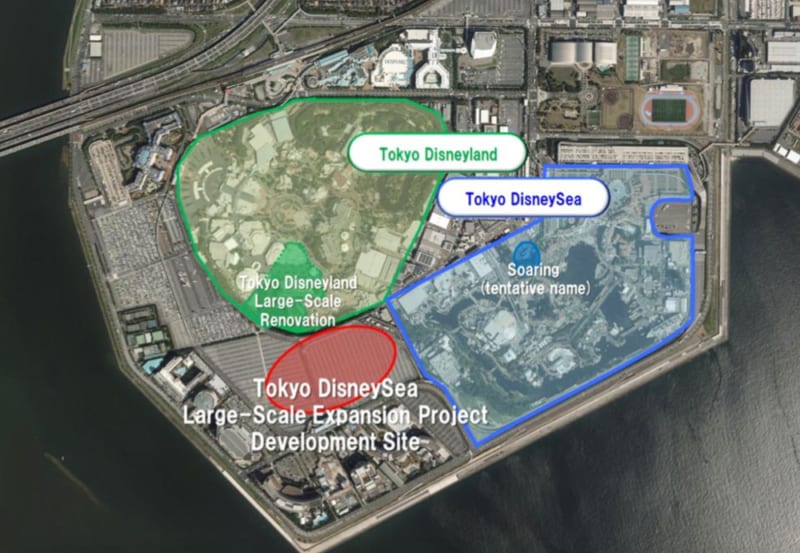 When all is said and done, the expansion will take up 140,000 square meters and cost 250 Billion Yen, or $2.2 Billion to build.
Along with the announcement of the new name, was the release of new concept artwork for Fantasy Springs, and it really is impressive:
Fantasy Springs Entrance:
Here is a look at the Fantasy Springs Entrance which takes on a completely different look from day to night, much like Pandora: The World of Avatar. This is the main entrance: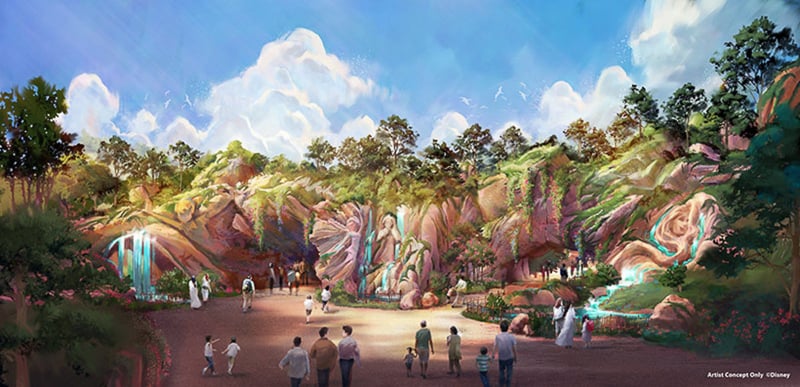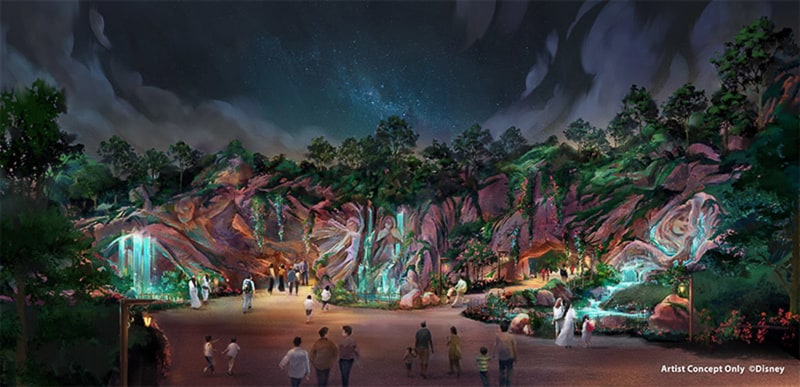 Here is the entrance on the right side during the day: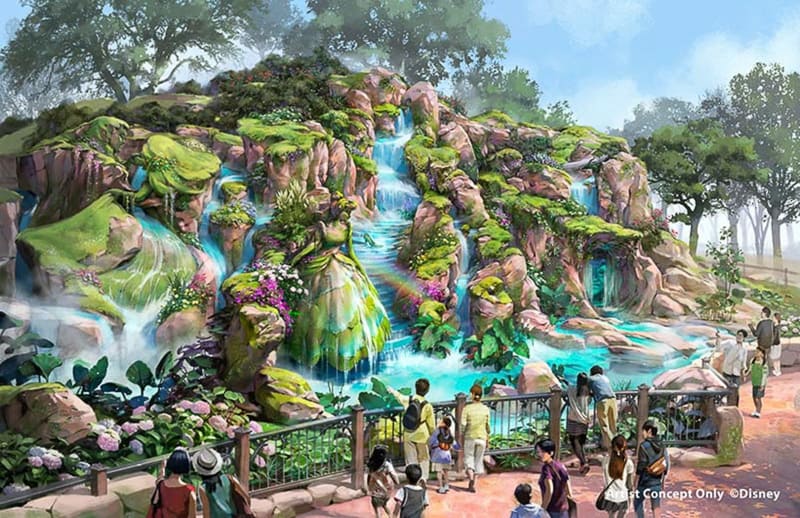 Then at night: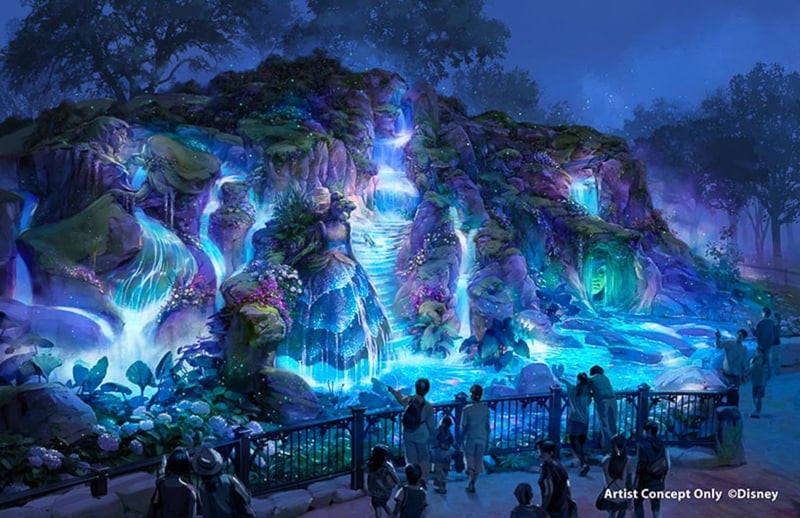 Now the left side entrance of Fantasy Springs in the day: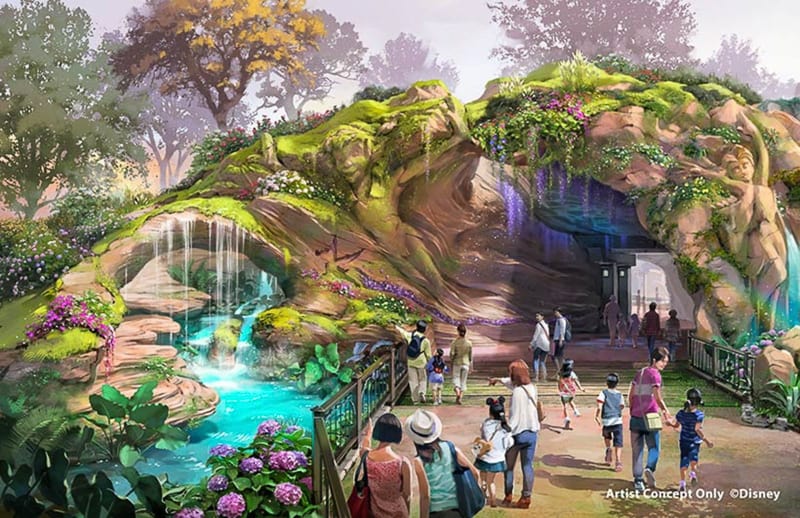 And again at night: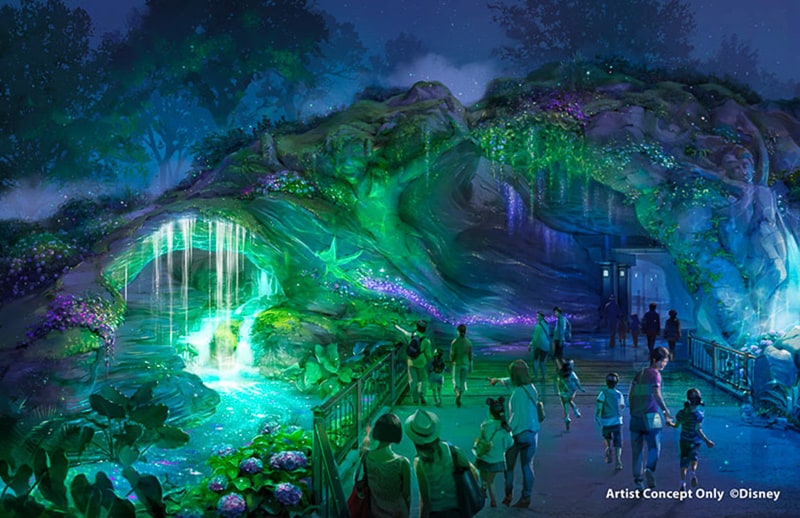 Some might not like the direction it's going, but I for one am speechless at how good this looks, and if the Imagineers hit on this like Pandora, it's going to be the most popular part of the park!
Frozen Area: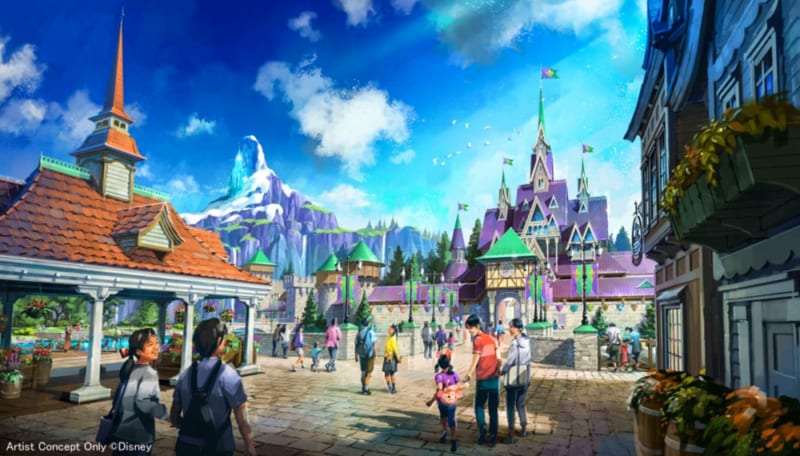 1 New Attraction
1 New Restaurant
This area is set in Arendelle after the events in Frozen when Queen Elsa has embraced her magical power to control snow and ice. She has opened her gates so guests can now come in and enjoy the kingdom.
The attraction here is described as "a heartwarming attraction that tells the story of Elsa and her beloved sister, Anna. Guests will board boats and experience the sisters' heartfelt journey while enjoying iconic songs from the film and encountering surprising thrills."
Sounds like a slow boat ride, and hopefully it will be what Frozen Ever After in Epcot could have been with more time, space and money. With the way Tokyo Disneyland makes dark rides we're betting it's going to be pretty good.
The new restaurant will be inside Arendelle Castle at the foot of beautiful, snow-capped mountains. So something heavily themed probably similar to Be Our Guest.
Tangled Area: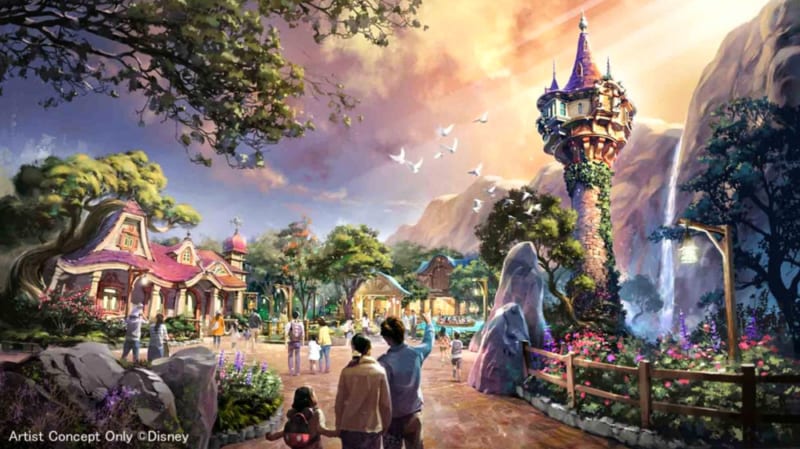 1 New Attraction
1 New Restaurant
The first thing of note here is Rapunzel's tower rising above the land. The attraction will be a gondola ride where guests follow a romantic boat tour of Rapunzel's "best day ever" as she goes with Flynn to the lantern festival.
This will be another dark ride and with the lanterns it's probably going to be amazingly beautiful. It also has what's described as an unforgettable finale!
Peter Pan Area: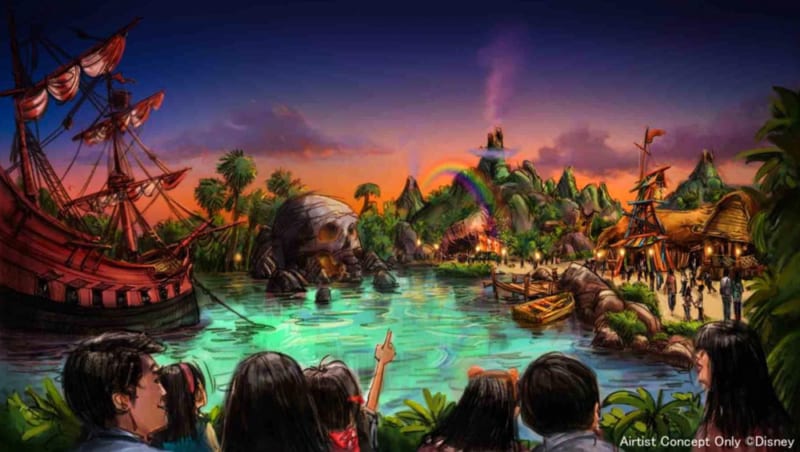 2 New Attractions
1 New Restaurant
As amazing as those first two sound, I'm most excited for the Peter Pan themed area. Let's be honest, who hasn't always wanted to fly off into Never Land. Now guests will have the chance.
The first attraction has guests flying over the jungles of Never Land into a battle with Captain Hook and his crew of pirates. On the attraction you join Peter Pan in a rescue mission to retrieve Wendy's younger brother John who has been kidnapped by Captain Hook of course.
It's not exactly clear if it's more like the original Peter Pan attractions where you are suspended above everything because the description also says you board a boat and go down the river. Maybe a combo of some sort? In either case it's going to use cutting edge 3D technology so expect screens and some killer special effects perhaps like Pirates in Shanghai Disneyland.
Not much is described about the second attraction just that it immerses guest in the oversized world of Pixie Hollow where Tinker Bell and her fairy friends live and work. What's cool is that it will be connected to the restaurant and guests will have great views of Never Land while they dine.
Fantasy Springs Hotel: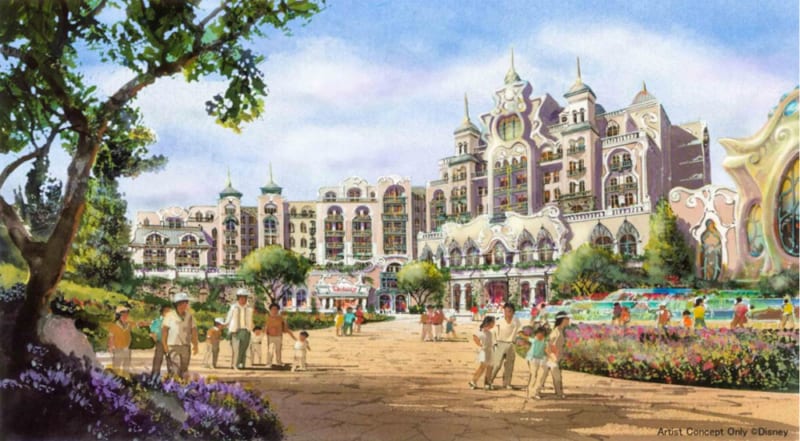 Themed to the Fantasy Springs, the new Tokyo DisneySea hotel will be located inside the Park on the edge of land. The hotel will rise above and around the magical springs that serve as the core of the new themed port's story.
You can see how gorgeous it looks from the outside and on the inside the Park-facing rooms will provide beautiful views of the port's majestic landscape, affording Guests a magical experience that can only be had at this hotel.
The Disney hotel will offer 475 deluxe-type and luxury-type guest rooms, these are being billed as "the finest accommodations in the Tokyo Disney Resort," which is really saying something. Look for the merchandise shop on the first floor which will share the story of the magical springs.

Here's a video showing the amazing artwork for Fantasy Springs:
Representatives from the Walt Disney Co, and Oriental Land Co, met at the groundbreaking ceremony and had some comments about the Fantasy Springs project:
"We'd like this to become the only one of its kind in the world," Oriental Land CEO Toshio Kagami said at a groundbreaking ceremony held in a tent at the site amid heavy rain and strong winds.
Visiting Walt Disney Co. Chairman and CEO Robert Iger said, "We are extremely excited to be adding magic to this world of fantasy and wonder. … I can't wait to see these new magical worlds come to life."
The Fantasy Springs project is also going to extend Disney's contract with the Oriental Land Co. from 2046 to 2076. That ensures the best theme parks in the world continue to be that way for a long, long time.
Together with the other expansion coming to Tokyo Disneyland which has already started and will be finished in 2020, this is yet another case of the rich getting richer and Tokyo DisneySea is well positioned to continue its theme park dominance and title of best theme park in the world and the Tokyo Disneyland Resort is going to continue to be THE must-visit theme park destination in the world!
When will the "Fantasy Springs" Tokyo DisneySea expansion open?
The construction for the Fantasy Springs expansion in Tokyo DisneySea started May 21, 2019 and will be open in 2022.
How many lands are coming to the Tokyo DisneySea expansion project?
"Fantasy Springs" will be one new land, but with 3 separate areas themed to Peter Pan, Tangled and Frozen.
How many rides and attractions will "Fantasy Springs" have?
There will be 4 new attractions, 1 based on Frozen, 1 for Tangled and 2 for Peter Pan.
Your Thoughts:
I want to know what you think about the Fantasy Springs expansion coming to Tokyo DisneySea…
Are you looking forward to this new land?
Do you like the name?
Let us know in the comments section below!
If you enjoyed this article, as always I appreciate it if you'd share it with others via social media. I work hard at making this website into a useful resource for you and your family to plan your visit to the Disney Parks and I hope it can help you! Thanks 🙂