Ever dream about stepping onto an NBA hardwood and seeing what it's like to be an NBA star? Now you can show off all your basketball skills at the new NBA Experience in Disney Springs. Enjoy a variety of interactive basketball games and activities and put your skills to the test. We're going to break down everything you need to know about it including the prices, opening, NBA store and all the basketball games!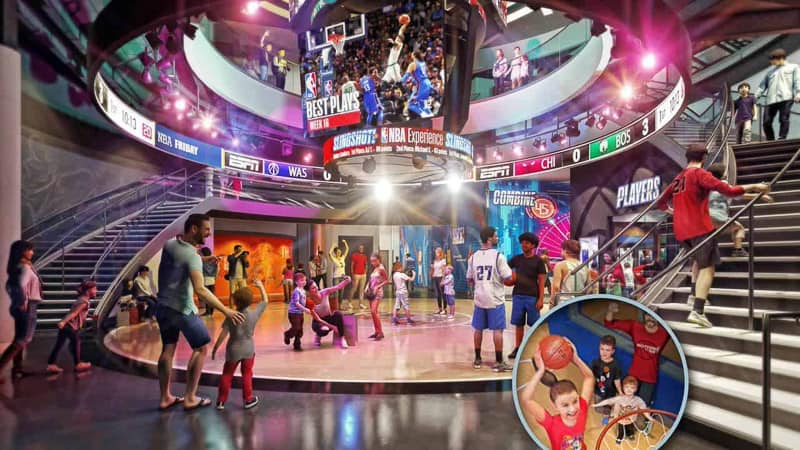 NBA Experience Overview:
Some of the details for the NBA Experience included:
Location: Disney Springs – Walt Disney World
Status: Opened August 12, 2019
Genre: Basketball
What is the NBA Experience?
The NBA Experience is an all-immersive center for basketball fans young and old. Here guests can participate in a variety of basketball skill activities and test their own skills like shooting, dunking, being a referee, the draft experience and what it's like to step out on the court as an NBA star.
Here are some basic facts about what this new entertainment center encompasses:
2 Floors and 44,000 square feet
13 interactive elements and hands-on activities.
One-Ticket-Access to every activity
Cool entry which will simulate walking through a player's tunnel at a NBA or WNBA arena
Walt Disney Imagineering worked hard to be able to simulate and put you right in the shoes of an NBA player and bring to life all those cool experiences that fans watch and dream about.
"When we were young, we played basketball in our driveways or in the park, creating those imaginary moments of making the game-winning soft for a championship. We want to take that energy and help you feel what it's like to be an actual NBA or WNBA player."

Stan Dodd from Walt Disney Imagineering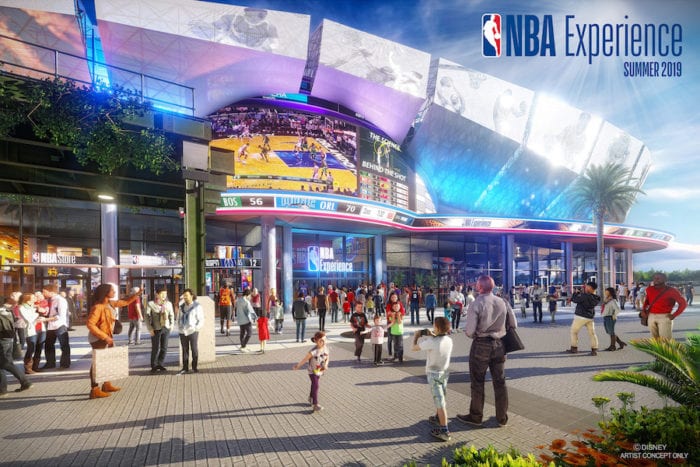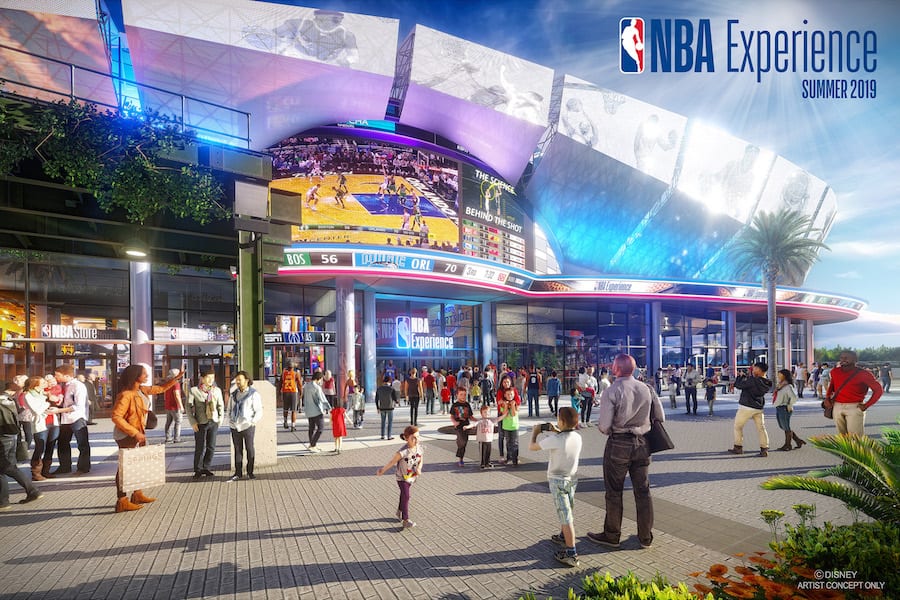 Activities:
Once you step inside the NBA Experience you won't want to leave. There are 13 unique experiences that merge the magic of Disney with the thrills of the NBA. Here is what you can expect to do there:
Slam Dunk Challenge: Guests can change the height of a standard 10-feet hoop to as low as seven feet to perform superstar moves and have it captured by burst photography
Shooting Skills: Spots on a court light up as guests move from one location to another attempting to sink as many buckets as possible in 15 seconds.
Re-Created NBA Draft Moment: This experience re-creates the biggest moment in an NBA player's life as they walk onto the stage to begin their NBA career.
Stack Up: Guests can compare themselves against some of the world's best basketball players by measuring their vertical leap, wingspan, shooting, and dribbling
Timed Challenge: Use an oversized slingshot to launch basketballs at hoops of varying heights, making as many shots as possible before the clock runs out in this thrilling timed challenge.
Personalization: Activities can be personalized with guests' names and their favorite NBA or WNBA teams
Combine – Stand Out from the Crowd: Measure your own physical skills vs those of an NBA or WNBA player as you test yourself in a series of Combine drills. You'll get real-time feedback on your performance to see how you measure up to an NBA or WNBA player.
Access to NBA Locker Room: Activities updated in real-time with NBA and WNBA statistics, and guest leaderboards will be updated throughout the day.
Champions – That Winning Feeling: Relive the NBA and WNBA's rich history in the Hall of Champions, from buzzer-beaters to championship victories. Follow the journey of your favorite players and teams and their rise to fame.
Replay – Be the Ref!: Think it's easy to make the right call? This activity will show you exactly what it's like to be the ref and have to make a split-second decision in the middle of an action-packed game. You can be the difference between who goes home a champion or empty-handed.
Trivia – Get your Brain in the Game: Think you know everything about the NBA? Test your knowledge of the NBA and all of its leagues—past and present—in a competitive game of trivia. The heat is on as you compete against up to 24 other players, as well as the clock.
The NBA Experience also includes 2 new custom-made theaters featuring new, short films that will show you what it's like to be in the world of a fan and player. Expect immersive storytelling through unique visual and audio methods.
Here's a new piece of concept art showing one of the shooting activities: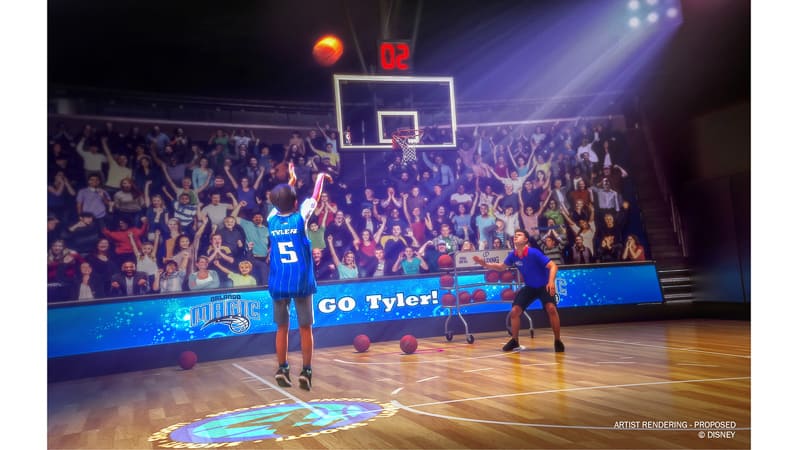 How Much Does it Cost?
Disney Springs is free to enter and roam about but there is a separate charge to enter the NBA Experience. You can purchase a 1-Day NBA Experience ticket for $34 plus tax for guests 10+ and $29 plus tax for guests 3-9.
You can purchase your tickets online or when you arrive to the NBA Experience building in Disney Springs. Guests under age 14 must be accompanied by a Guest age 14 or older to enter the NBA Experience
Tickets and other entitlements are non-transferable, non-exchangeable, non-refundable, revocable and void if altered. Tickets are valid for one-time access to the NBA Experience, once you leave you can not re-enter with the same ticket.
I'm happy that everything will be included on one ticket similar to how DisneyQuest was. There's nothing worse than having to pay for the individual experiences inside and I'm glad we won't have to.
When Does NBA Experience Open in Disney Springs?
The NBA Experience just opened in Disney Springs on August 12, 2019.
Photo Tour Inside the NBA Experience:
Disney just released some new photos showing what it's like inside the NBA Experience. Here is the entrance at the bottom of the building: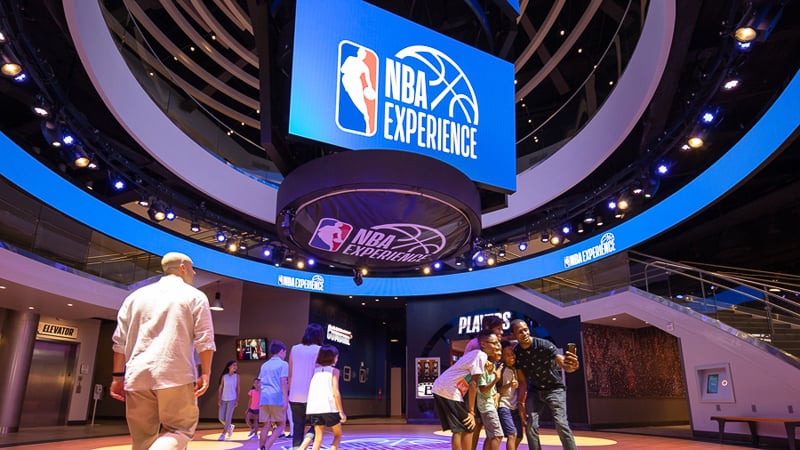 A family playing the arcade-style basketball games: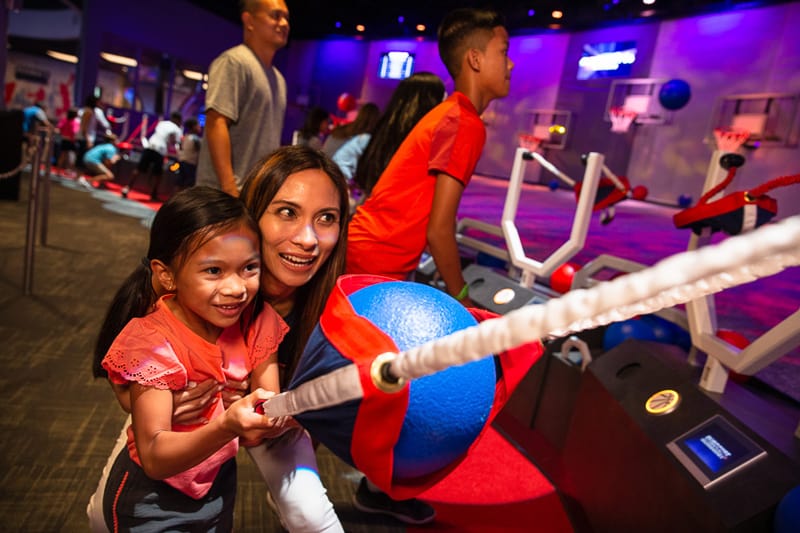 You can even take to the court and test your own basketball skills in one of the many challenges: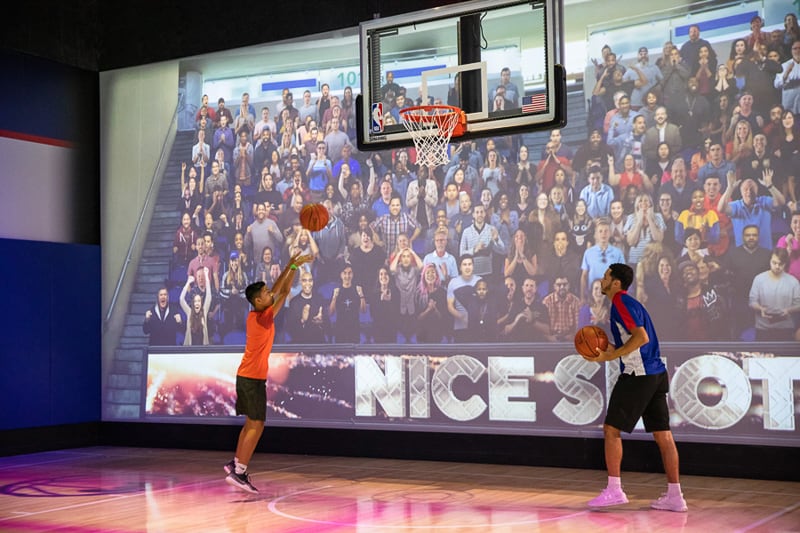 Here's a video from Disney showing what the NBA Experience will be like:
It sounds to me like the NBA Experience is going to be an NBA fan's dream come true and it will for sure be a big draw for kids and teenagers.
NBA Experience Review:
We haven't had a chance to visit the NBA Experience yet, but we will have a full review of everything inside for you soon!
NBA Store:
Even if you don't want to participate in the NBA action, you can still take home a souvenir of your favorite NBA squad or player. The NBA Store is currently open and we got a chance to check it out first-hand:
Here is a view from outside the NBA Experience Store: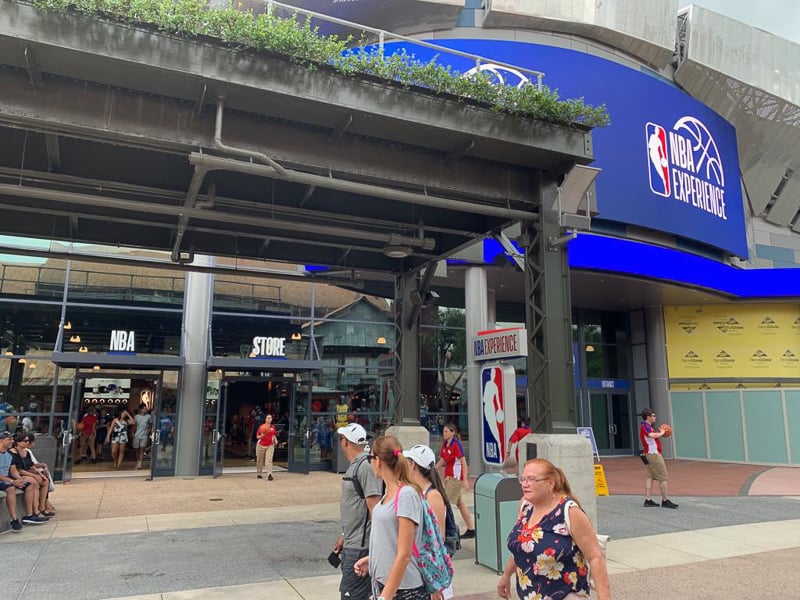 Walking in the theming rings true, though it feels a bit cold an uninviting imo: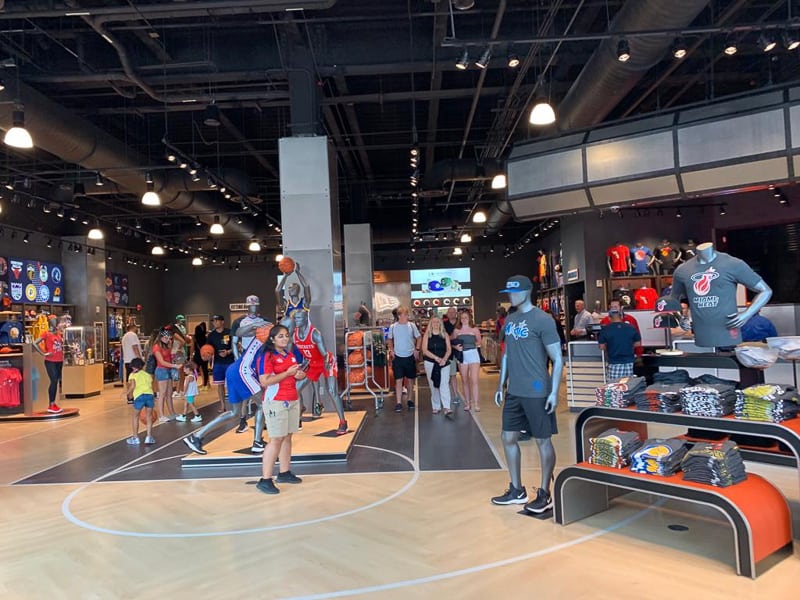 There are merchandise stands set up throughout the store with stuff from your favorite team: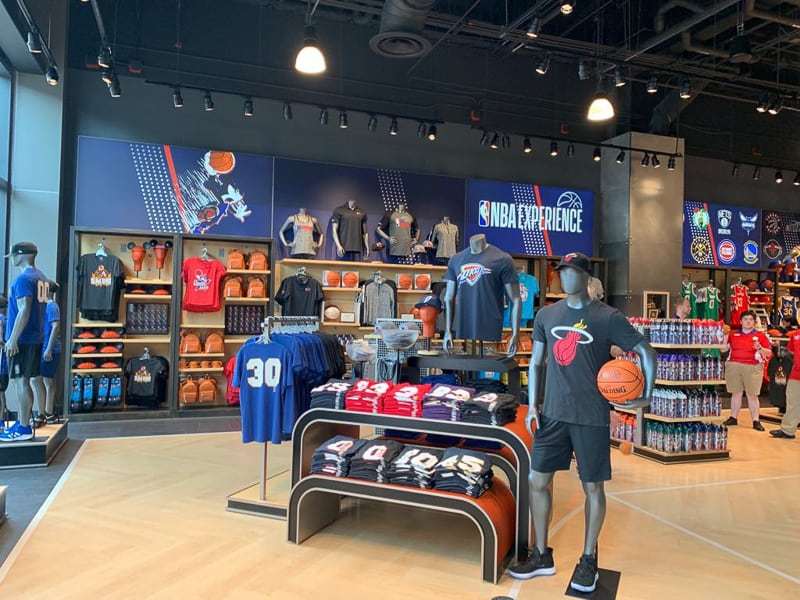 The mannequins in action in the middle are pretty sweet: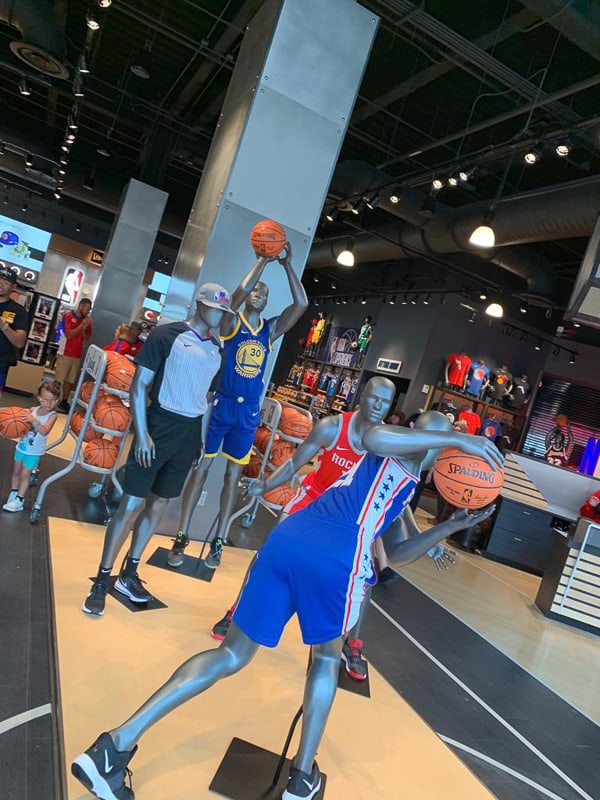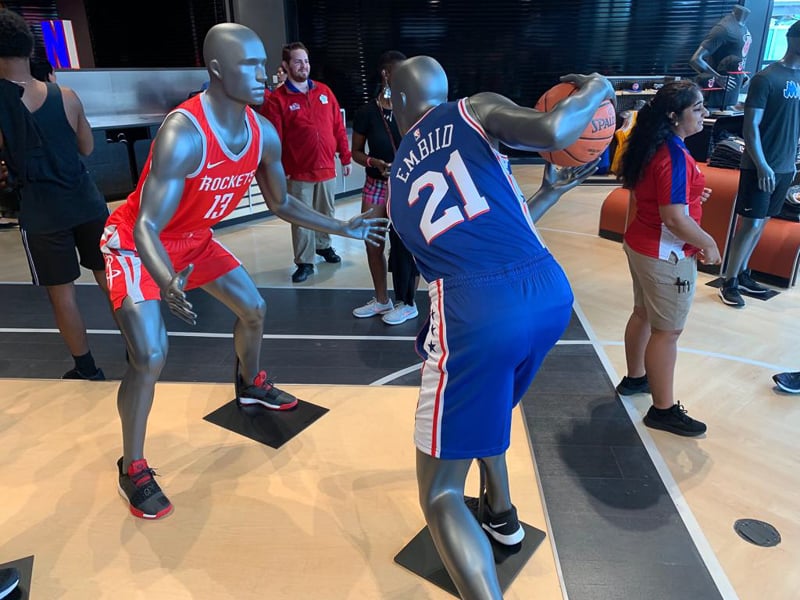 There is plenty of merchandise for men and women alike: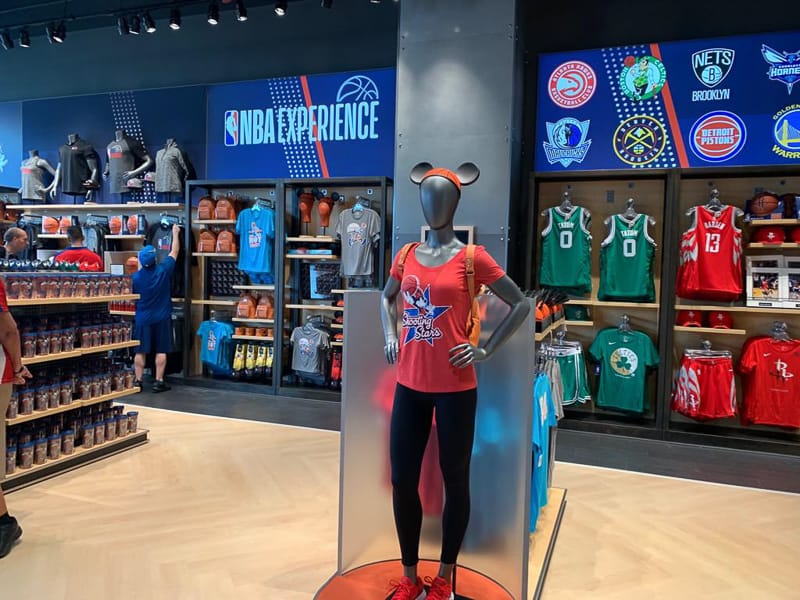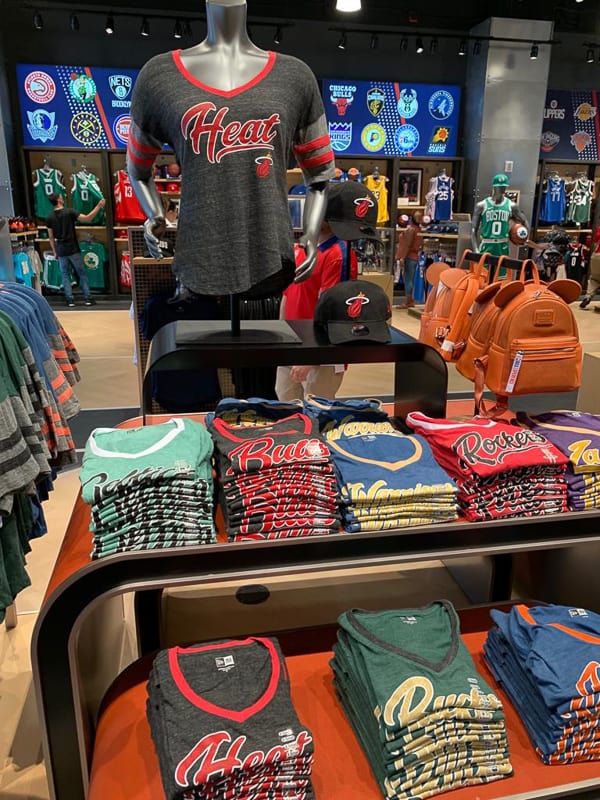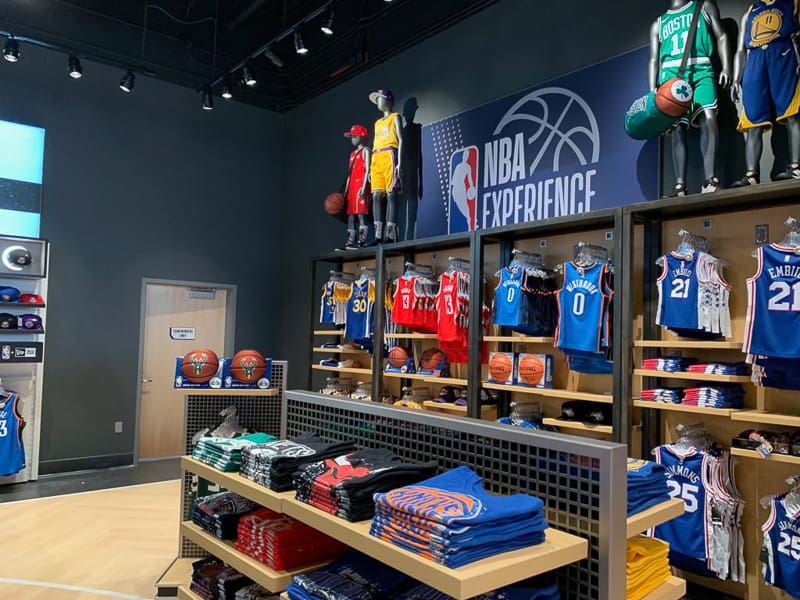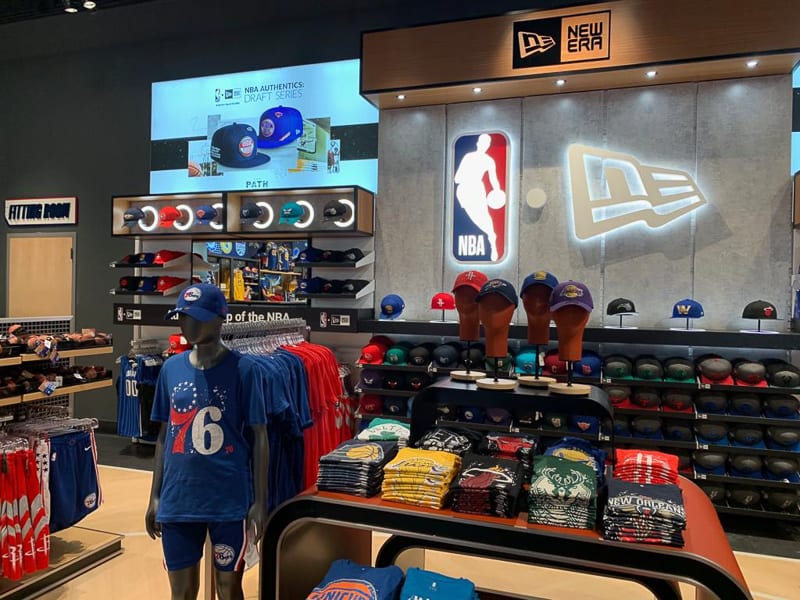 There is even some Disney-themed NBA merch like the Mickey ears on the wall with a basketball as the base: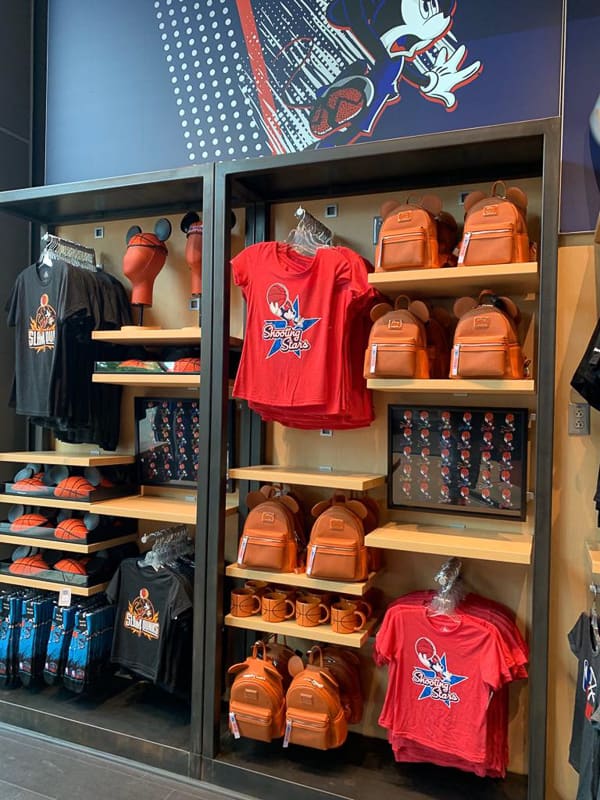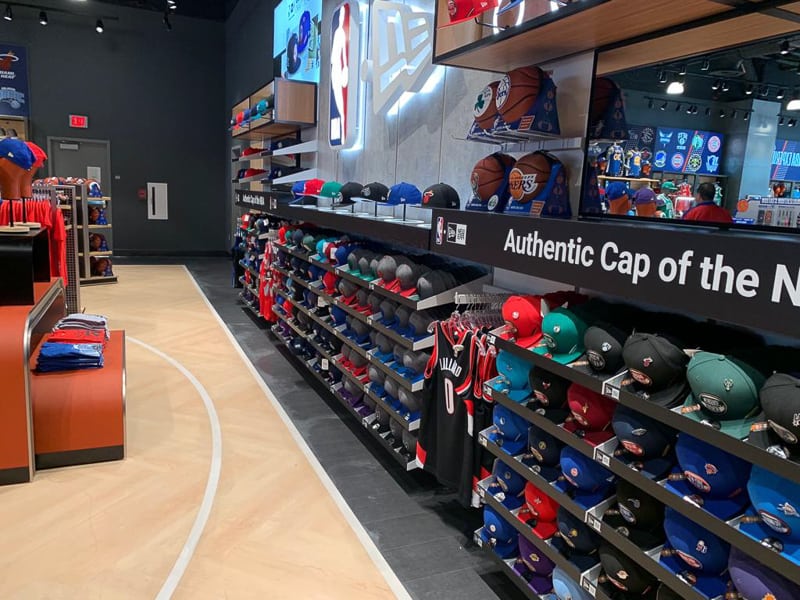 If you have a team they are sure to be represented in the store: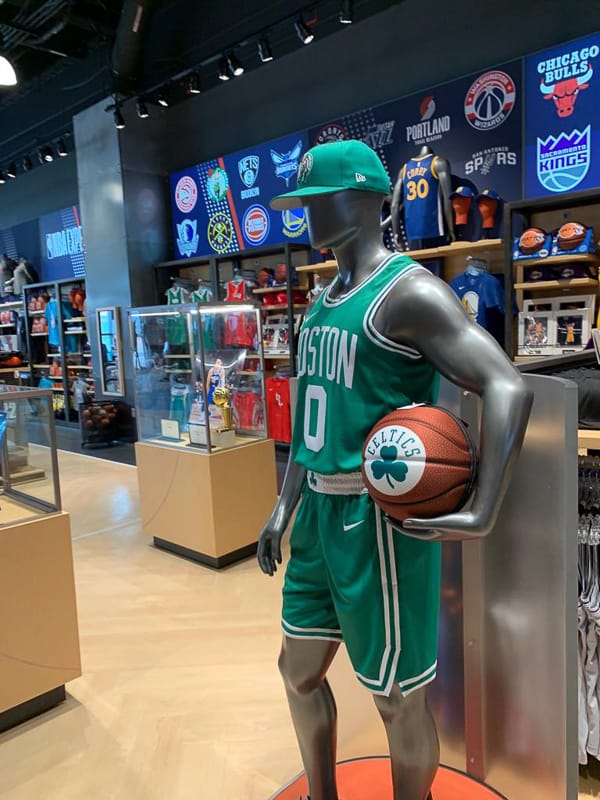 Besides the general shirts and hats, there is a personalization station where you can get specific team-themed MagicBands, phone cases, bottles, magnets and ornaments, all with a Disney twist: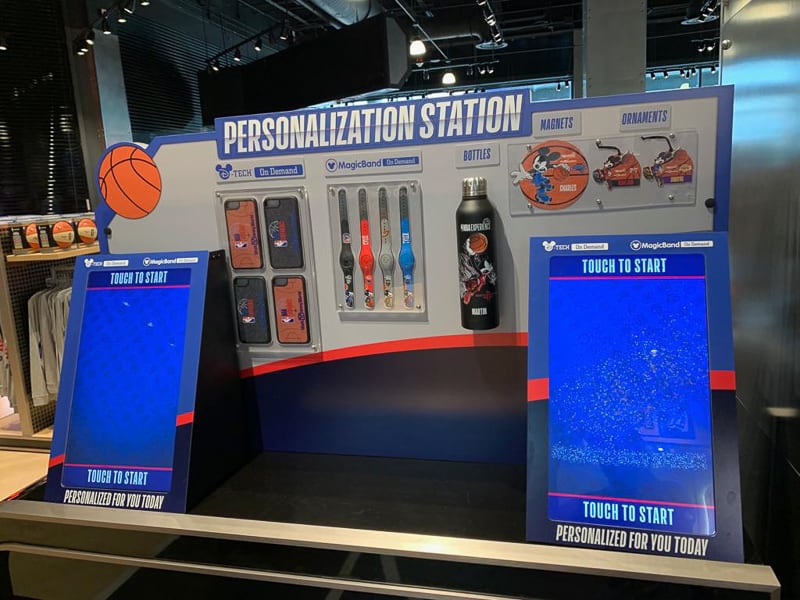 Wanna see how big Shaq's sneakers are? Just imagine trying on these size 22's…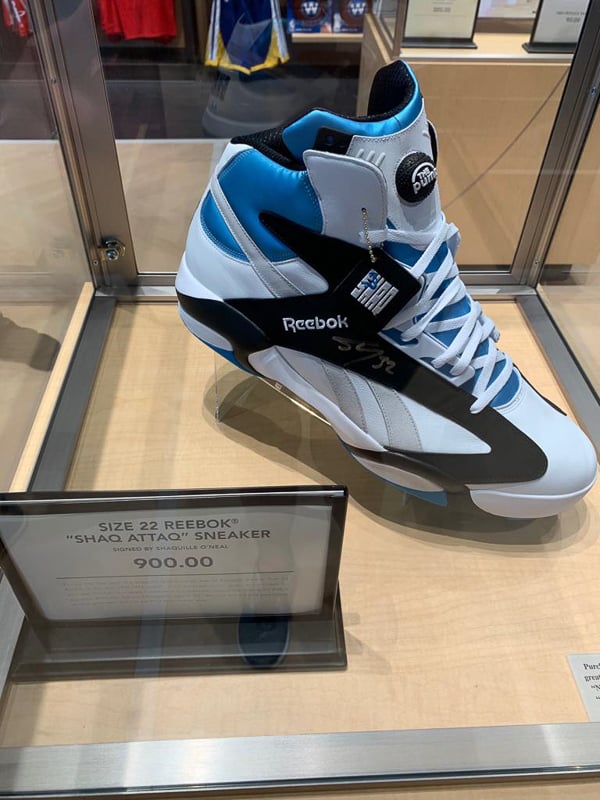 There is also some cool memorabilia from NBA legends like Jordan and Magic Johnson: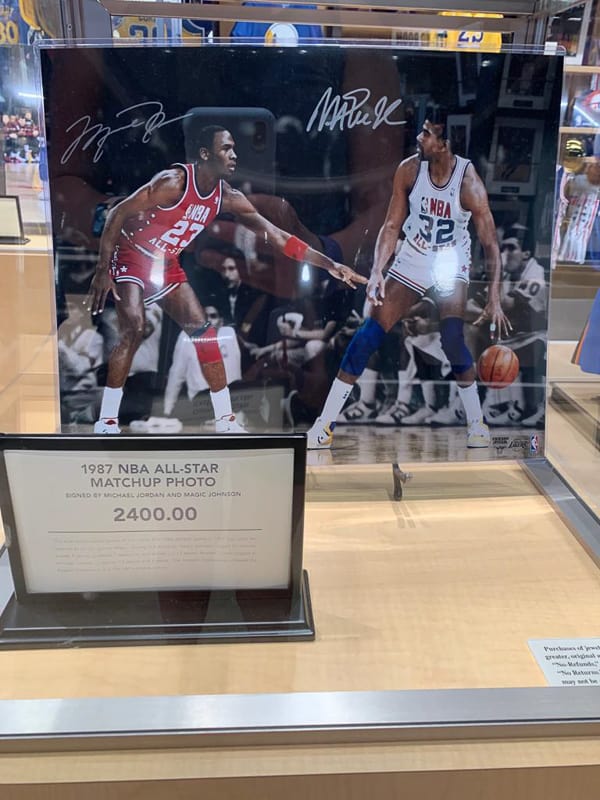 and newer players like Ben Simmons: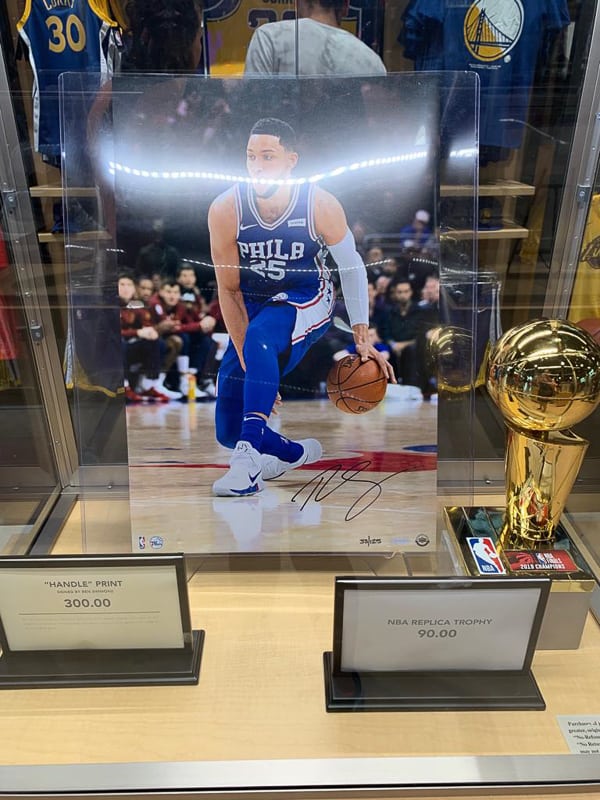 and Stef Curry: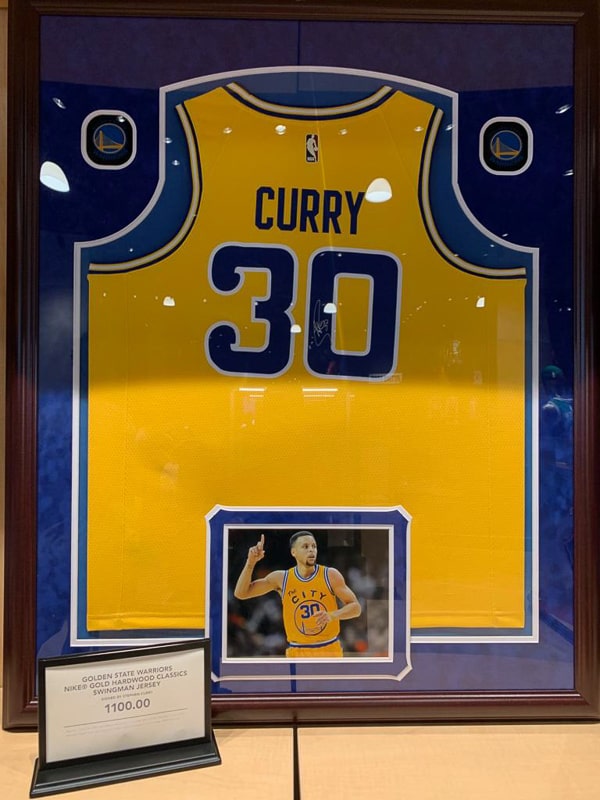 Overall I wasn't that impressed with the NBA store here in Disney Springs. The space is big enough but feels a bit empty inside and there is nothing special about the displays. Like your standard athletic shoe store imo.
I think they could have made this a much cooler and unique shopping space. We'll have to see how it develops with time. Let's hope the NBA Experience itself is more engaging.
FAQ's:
Is the NBA Experience Free?
No, unfortunately you have to pay to enter the NBA Experience. The cost is $34 plus tax for a one-day ticket. If you want to get your NBA fix for free, you can enter and look around the new NBA store in Disney Springs.
What did the NBA experience replace?
From 1998 to 2017 this space in Disney Springs was occupied by the arcade and gaming center DisneyQuest. Not many people visited and it closed its doors in 2017. The building was demolished and a new built it its place
The NBA Experience opens August 12, 2019.
Your Thoughts:
I want to know what you think about the latest NBA Experience details…
Are you excited for it?
Which activity sounds the coolest to you?
Let us know in the comments section below!
If you enjoyed this article, as always I appreciate it if you'd share it with others via social media. I work hard at making this website into a useful resource for you and your family to plan your visit to the Disney Parks and I hope it can help you! Thanks 🙂
News Source: Disney Parks Blog