If this seems like a familiar story, that's because it is! Just last month Disney bought over 900+ acres of land near Celebration (BK Ranch). Now today we found out that Disney has bought another 1,500+ acres of land in Osceola County right next to that for $11 Million. What does all this mean? It means to get ready for expansion in Walt Disney World…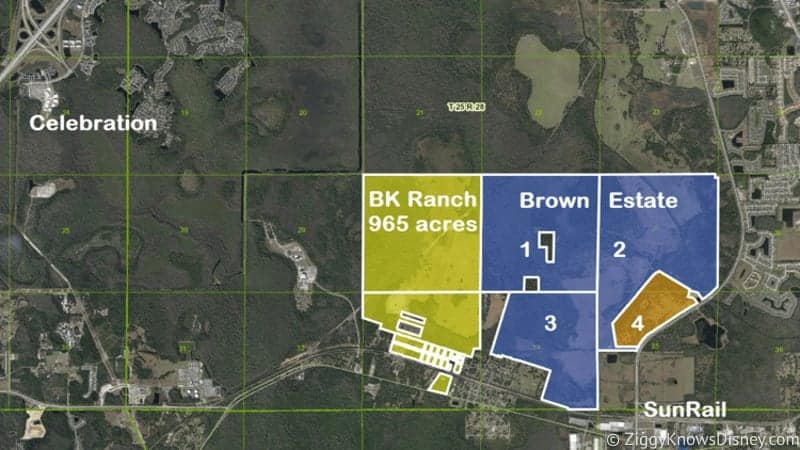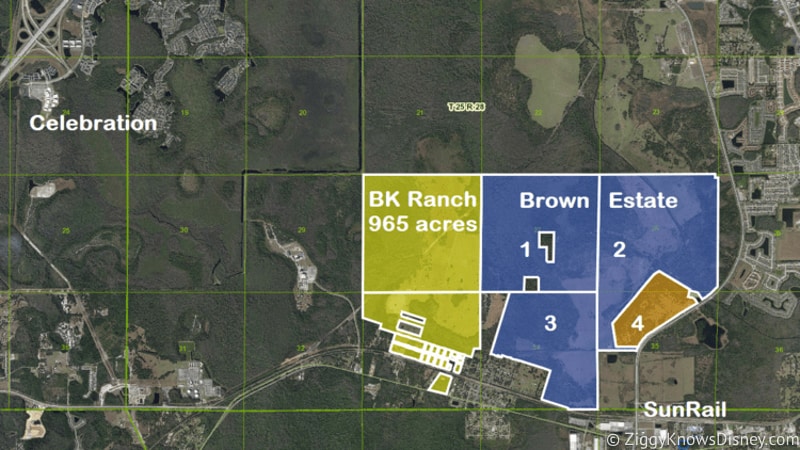 According to GrowthSpotter Disney bought the land from the relatives of deceased cattle rancher Oren Brown who refused to sell his land to Disney back during the company's original land search and construction of Walt Disney World. Brown has long since moved on and his family sold that former property to the Walt Disney Company for $11 Million
That's much less than the $23 Million that they just paid for the BK Ranch. The difference between the two properties is that the BK Ranch had already been zoned for 3,000 homes and 378,000 square feet of commercial and office space. That made that property much more valuable.
But just like we asked ourselves a month ago with the prior land purchase, What does Disney want with all this property. Especially since it's not even technically connected to the Walt Disney World property.
Well it goes back to when the state of Florida agreed to let Disney develop the property where Walt Disney World now is. As part of the agreement about 25% of that land was supposed to be set aside for conservation use in exchange for the rights to build the theme parks and resorts.
What happened over time is that Disney bought more property in Central Florida, not connected to Walt Disney World in order to then use it as leverage to get permission to develop more of its own property in Walt Disney World.
They did this buy purchasing the 3,000-acre Mira Lago property in 2015, which Disney was then used to develop 575 acres of wetlands on the Walt Disney World property over the next 30 years.
Both purchased of the BK Ranch and this new 1,500 acre property in Osceola County can be used for the same purpose: to keep as conservation land in exchange to develop more property in Walt Disney World. Such big purchases make this a high probability. In fact, with the size of these two lands, Disney has essentially bought 2,400 acres, which it can use to bargain with.
What does Disney want to build? I don't think anyone really knows at this point. My guess is that it sees Universal looming on the horizon with a 3rd gate, and it realizes it needs to step up its game. Heck, Disney is years behind Universal in developing their own "revolutionary" new theme park land (Star Wars Galaxy's Edge), and they can't afford to miss the boat here either.
I don't think this means that we'll be getting a 5th gate in Walt Disney World in the next few years as more $ is being put into revamping the current Disney World parks right now. But they are positioning themselves so that in 5-7 years, a 5th gate in Walt Disney World actually could become a reality if they so desire.
Things are getting more and more exciting and we'll be sure to keep you informed if more info comes out about this story…
Your Thoughts:
I want to know what you think about Disney buying another 1,500 acres of land…
What do you want Disney to do with the land?
Do you want to see a 5th Gate in Walt Disney World?
Let us know in the comments section below!
If you enjoyed this article, as always I appreciate it if you'd share it with others via social media. I work hard at making this website into a useful resource for you and your family to plan your visit to the Disney Parks and I hope it can help you! Thanks 🙂