It goes without saying that Oga's Cantina has been one of our very favorite places in Star Wars: Galaxy's Edge since it opened. But did you know it has a secret menu item? Well, not anymore! The Happabore Sampler has been officially added to the regular Oga's Cantina menu.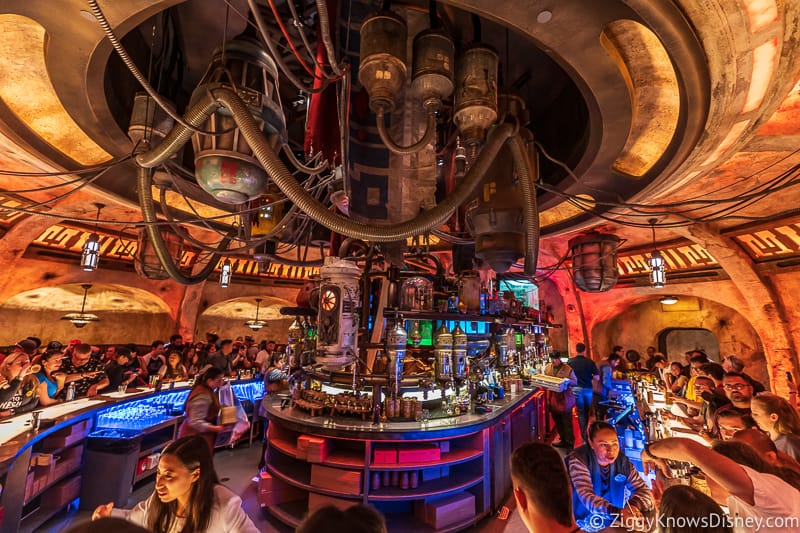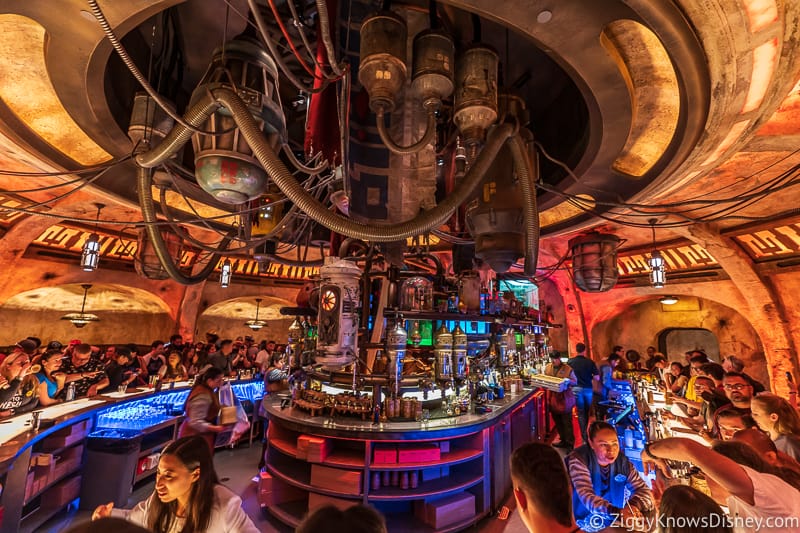 That's right, this charcuterie board snack is now plainly available for all guests to see and it's no longer listed as a secret menu item.
We recently got to try the Happabore Sampler and we're going to review it for you to let you know if it lives up to the very high standards that Oga's Cantina has set. Let's go…
First up, as you already have figured out, we absolutely love Oga's Cantina! We love everything about it from the buzzing atmosphere, the drinks, and our favorite animatronic droid D-J3X! The one thing Oga's is missing though are real food options to go along with the drinks.
We often find ourselves hanging out in Galaxy's Edge late into the evening, and while Oga's is usually on the list to stop at to hang out with friends, it's not the best place to go if you are hungry. In that case, we usually end up making a quick stop by Ronto Roasters for a Ronto Wrap!
That's why we were happy to see the secret charcuterie board make it onto the menu back in August. The only difference now is it is actually listed on the menu and it has an official name: Happabore Sampler.
What's included on this charcuterie board? Dried and sliced meats, cheeses, crunchy snacks and roasted veggies. Here's what you will find:
Bresaola Dried Beef
Roasted SPAM (yes, you read that right!)
Roasted Mortadella
Roasted Chorizo Sausage
Burrata Cheese
Pulled String Cheese
Pork Rinds
Chips
Roasted Scallions
Hummus Spread
Roasted Radish
Roasted Shishito Peppers
Pickled Cauliflower
At first glance, it's similar to the Disneyland version, has the same $21 price as well as similar dried meats and cheeses, but presented in a much different fashion.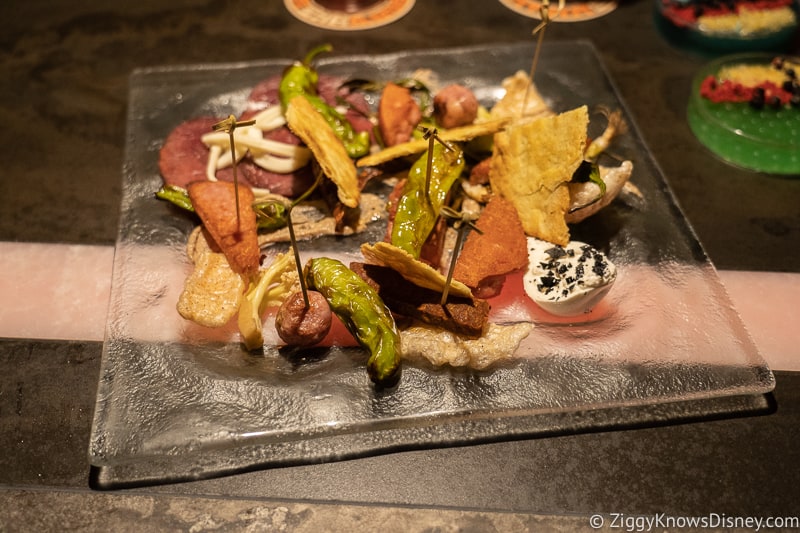 Still, the Happabore Sampler comes in a beautiful presentation itself. All the meats, cheeses and veggies are arranged haphazardly, yet in an intriguingly beautiful way.
We start with the cheese which was both great and disappointing. Burrata cheese (similar to fresh mozzarella but with a creamy center) is one of my absolute favorite cheeses in the world. It's originally from Puglia, Italy, and when we are over there, I stock up on it by the kilo.
Even though this isn't anywhere as good, it's still quite enjoyable, and we especially like the black salt on top. The only complaint is that it is really small and can be tasted by two people basically. There really should be two pieces on the board.
There is also pulled string cheese thrown on there, but it is so small and not a great addition imo.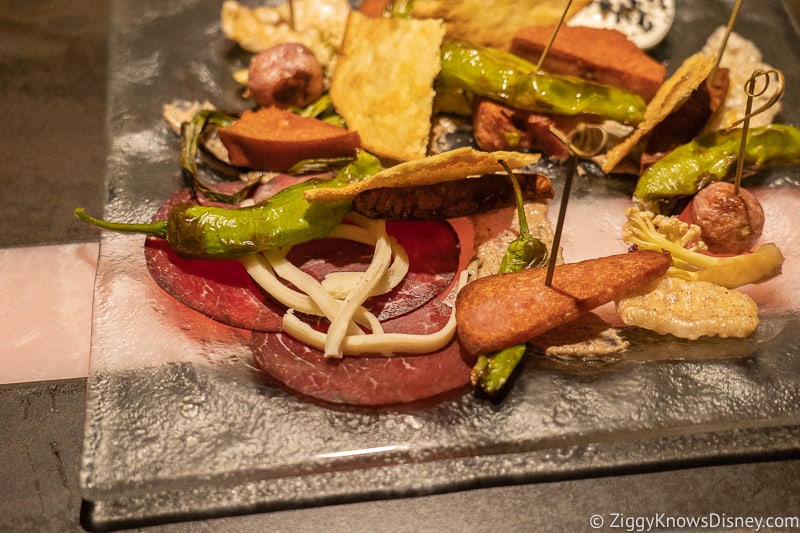 The meats were much more enjoyable and the Bresaola, SPAM, Mortadella and Chorizo were all wonderful.
The SPAM was surprisingly tasty and takes on a whole other flavor when roasted. It's not what it sounds like and should be tried.
We also thought the mortadella and chorizo were phenomenal. Very succulent and juicy. The only complaint here again is the small quantities of each.
There were three normal slices of Bresaola, which was ok, but again, if you've tried the real thing from Valtellina, you'd have a hard time comparing this kind.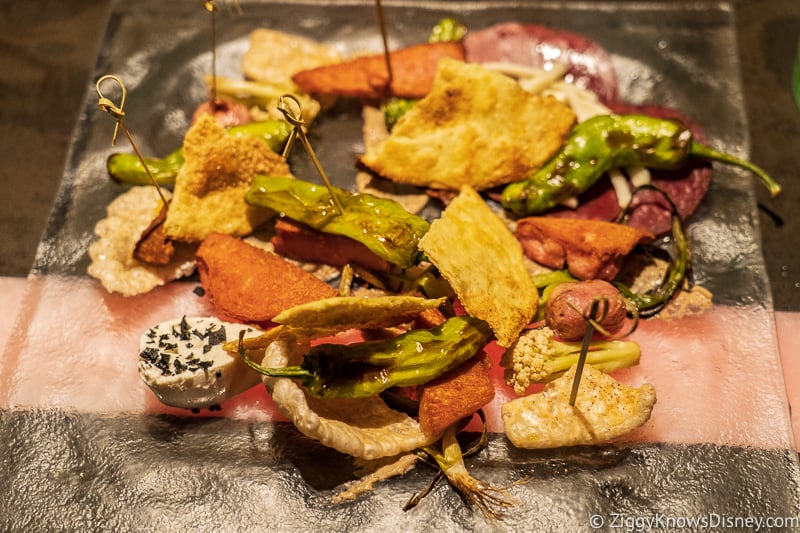 There were a lot of roasted peppers on the plate. In fact, probably more than any other item. They were just ok to us and they should have been reduced by half in favor of other items.
The cauliflower and radishes didn't really do anything for us, but there isn't much so you can skip over them or pass them on to someone else.
The pork rinds were not good and reminded us of the sampler box at Ronto Roasters which are flavorless. The chips though were very crisp and had a nice texture to them.
Lastly the hummus spread underneath was ok, and useful to dip some of the veggies into.
Conclusion
We are 50/50 about the Happabore Sampler. While we weren't blown away by it, there are some parts of it we really liked too.
The bresaola, chorizo and SPAM were all great, and the burrata was also wonderful. We could have used more of them, and way fewer peppers.
I think it was a decent size for the $21 price and can be easily split by two people, though again, I would like to see more cheese and meat instead of some of the veggies.
It's not going on our list of the Best Food in Galaxy's Edge, but it's a decent addition to Oga's Cantina and we're hoping that it develops a bit more adding more of our favorite parts of the sampler and getting rid of a few others.
For more info read our Complete Guide to Star Wars: Galaxy's Edge for a detailed look at the attractions, dining, planning and touring strategies.
Your Thoughts
I want to know what you think about the Happabore Sampler being taken off the secret menu and added to the regular one…
What did you think of this charcuterie board?
What other items would you like to see added to the Oga's Cantina menu?
Let us know in the comments section below!
If you enjoyed this article, as always I appreciate it if you'd share it with others via social media. I work hard at making this website into a useful resource for you and your family to plan your visit to the Disney Parks and I hope it can help you! Thanks 🙂