EPCOT Food and Wine is back in 2023, and it's going to be one of the best festivals you've experienced yet! My absolute favorite time of year is now here and even with all the changes, I can't wait for you to experience the 2023 EPCOT Food and Wine Festival!
We're excited to taste our way around World Showcase at all the Food and Wine Marketplaces, so come with us!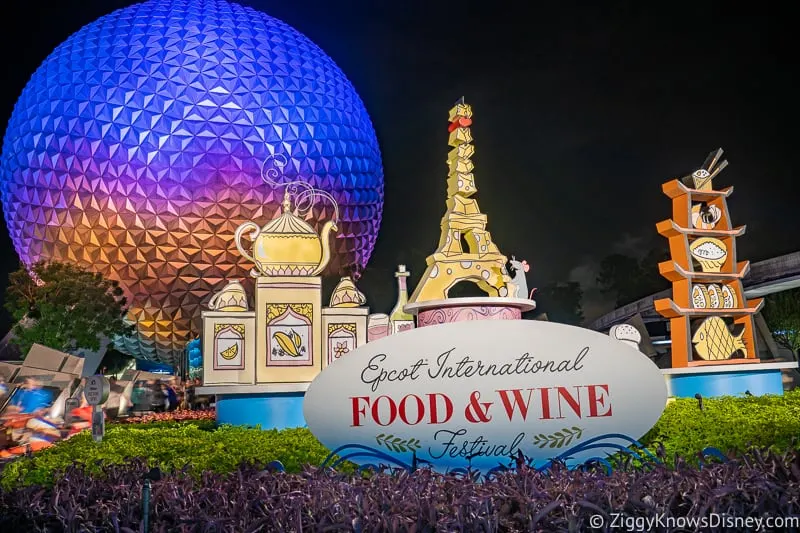 In this post, we've put together this information guide to the 2023 EPCOT International Food and Wine Festival for you so you and your family can be prepared and have the best time possible!
Below I'm posting all the info you will need for your visit to the Food and Wine Festival at EPCOT this year including Dates, Prices, Menus, Reviews of the Food, Tips, and just General Food and Wine Festival Info.
This will update you on all the food, drinks, and events happening this year, so make sure to read everything about the Food and Wine Festival in our guide below. Have fun and see you around Epcot! 😉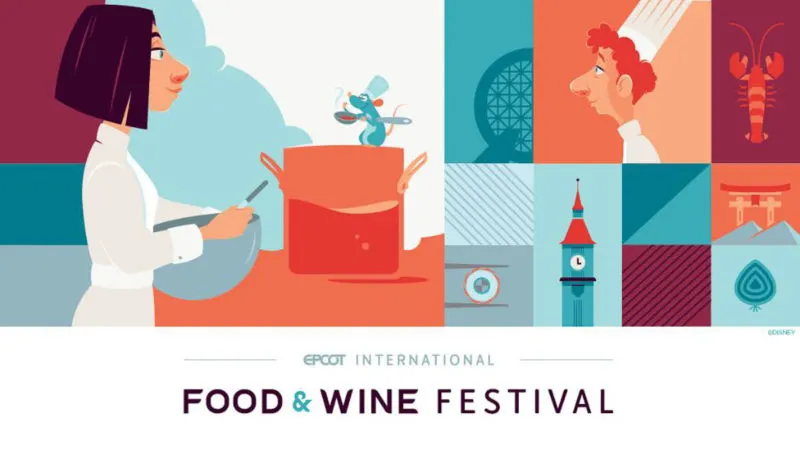 (UPDATE 7/27/23): The 2023 EPCOT Food & Wine Festival is now underway! We now have the full list of menus for the festival, as well as the food marketplaces, and some of the entertainment and activities to expect when you visit. Read more below.
The 2023 Food and Wine Festival will be held in Walt Disney World starting on July 27, 2023, and ending on November 18, 2023. While not as long as in recent years, it's still a full 115 days!
We also now know some of the marketplaces and menus at the festival! This year some of the returning ones include The Fry Basket, Flavors from Fire, Canada, India, and Spain.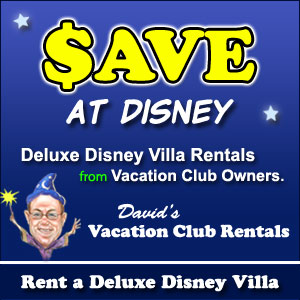 We're sure that more classic favorites will also be back such as Mexico, Germany, Italy, and Brazil will be back too. The official Food Marketplace list for the festival will be announced soon.
This year there are 29 Global Marketplaces plus some additional marketplaces yet to be announced. That is exactly the number as last year's festival which also had 29. 4 of those will be NEW marketplaces, so there will be plenty of new food and drink offerings to try.
This year, some of the food marketplaces will not open in July, and instead, we have to wait until August 15th or in some cases later this fall to try them. This has pretty much been the norm as Disney likes to space out the openings and not have them all debut at the same time.
One of our favorite details is that the popular musical show "Eat to the Beat Concert Series" IS BACK again in 2023! It was missing from the Food and Wine Festival for a couple of years (2020 and 2021), but it's a staple of the festival and we're happy it's here to stay.
Joining the main musical groups performing, are also local bands playing fun tunes on the America Gardens Theatre stage. It will be great to have all those nightly concerts back in EPCOT again.
If you can't make Eat to the Beat, there are other musical options throughout the park such as Voices of Liberty, Mariachi Cobre, and Jammin' Chefs who are also incredible.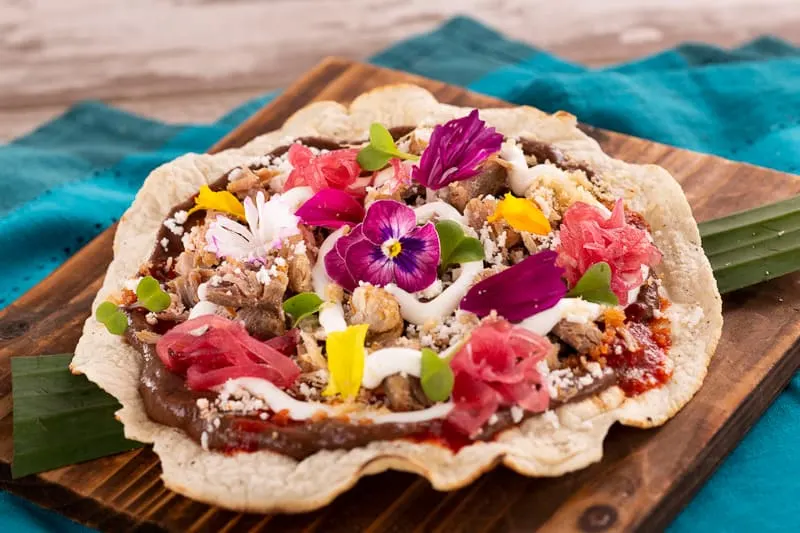 Besides the concerts, we are excited to see the Remy topiary once again in the France pavilion leftover from Flower and Garden.
Some of the other additions include:
Emile's Fromage Montage – A fun way to taste cheese dishes from around the world. Collect stamps for eating each of the 5 cheese dishes to put on your Festival Passport. If you collect 5 stamps from the Global Marketplaces you'll earn a prize.
Remy's Ratatouille Hide and Squeak – This children's favorite scavenger hunt returns. Search for Remy throughout World Showcase and the Global Marketplaces.
Pulto's Pumpkin Pursuit – Special Halloween season scavenger hunt from September 29 through October 31.
New Food and Wine Merchandise including a festival collection.
Of course, down below we will have Reviews for all the Food Marketplaces with photos and prices!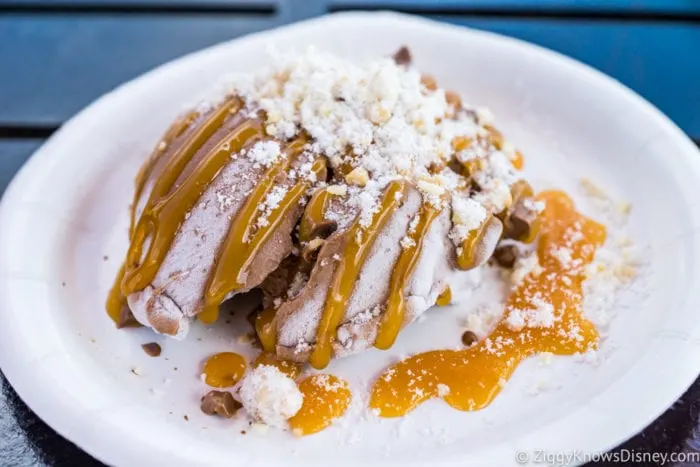 Things continue to change with the Food and Wine Festival this year and Disney will keep adding new marketplaces or new menu items. We'll continue updating the rest of the post as soon as possible.
In the meantime, check out the links below to see what the most recent Food and Wine Festival was like, as well as any questions you might have about it later in this article. Enjoy!
To prepare for your trip, read more about what's changed in our EPCOT Reopening Guide.
Before we start, don't forget to sign up for our FREE Weekly E-Mail Newsletter. We will share with you the latest Food and Wine updates as well as our best Disney vacation planning tips. You can sign up here: Join our E-Mail Newsletter!
EPCOT Food and Wine Festival Information Links:
What is the EPCOT Food and Wine Festival?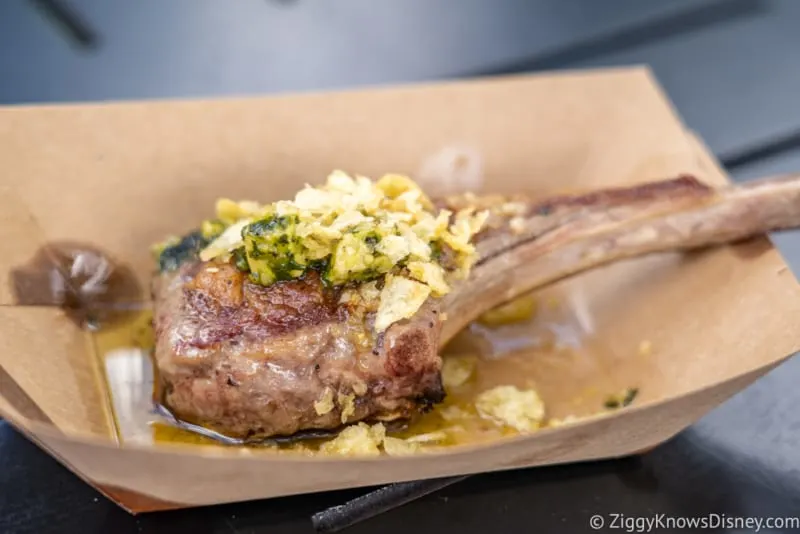 If you've never been to the EPCOT Food and Wine Festival in Disney World, then you are in for a big treat, or should I say, lots of treats! You may have noticed there is some kind of Food and Wine Festival going on in Epcot almost all year round, and this is the one where it all started.
This year is the 29th annual EPCOT Food and Wine Festival which is a celebration of food and drink that happens every year. It allows guests to taste all sorts of different flavors from many countries in the world.
There are food marketplaces set up all throughout World Showcase and Future World, each with a different theme and representing a different region's cuisine.
How the EPCOT Food and Wine Festival Works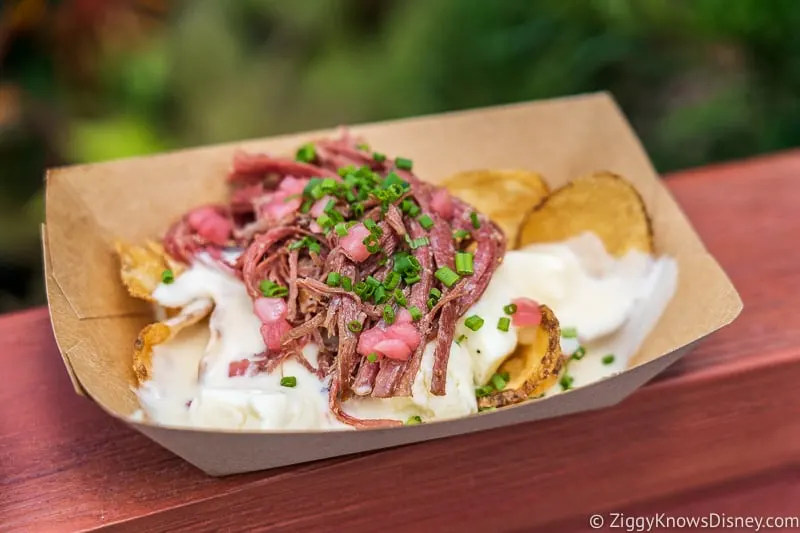 Each marketplace at Food and Wine has a different menu and is focused on small plates, not big meals. That way you can go from one booth to the next and try many different things without filling up. It's best enjoyed as a casual experience when you can take your time and stroll from one booth to the next.
Most have the theme of a country such as France, Italy, Canada, etc, and some have the theme of the specific type of food offered: Appleseed Orchard, Coastal Eats, etc. In each kiosk there is food unique to that theme or area, so for example, if you go to the Italy booth there's a good chance you'll find some kind of pasta, and so on.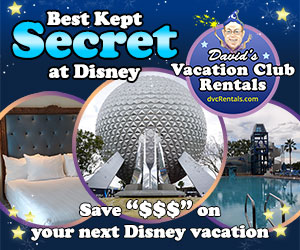 When is the 2023 Epcot International Food and Wine Festival?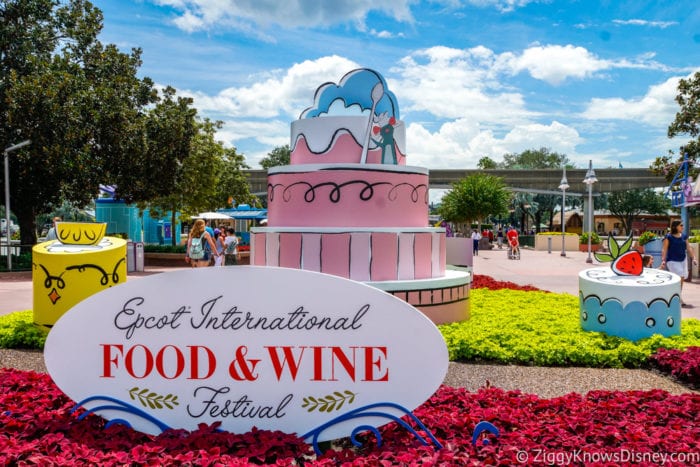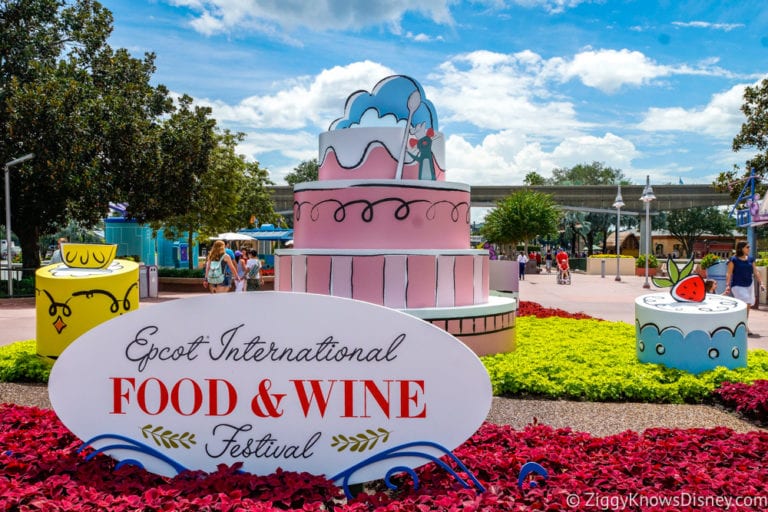 Disney's Food and Wine Festival in EPCOT happens once a year and takes place over a few months. The 2023 EPCOT Food and Wine Festival starts on July 27, 2023, and ends on November 18, 2023. That's a full 115 days!!
For many years, the EPCOT Food and Wine Festival started during the last week in August often opening on a Thursday. That has changed in the last few years with the festival now starting in July. Last year it was from July 14, 2020, to November 19, 2020, lasting a full 129 days and only 2 days from the record of 131 days.
The 2023 festival is significantly shorter at only 115 days. Who knows why Disney reduced the number of days, but my guess is that the Festival of the Holidays will just be a few days longer now to make up for the difference.
Every year they add more and more days but I think we are pretty much at the limit because you can't really go much further back since Food and Wine starts right after the Flower and Garden Festival, and it ends days before the Festival of the Holidays.
Either way, we are pumped for 115 days of EPCOT Food and Wine! You heard that right, it's possible to stroll World Showcase in Epcot and taste your way around the world that whole time.
2023 EPCOT Food and Wine Marketplaces
The best part about the Disney Food and Wine Festival is obviously, just that….the FOOD! Every year we write reviews on every Food booth, marketplace, and kiosk in EPCOT so that you know exactly which food and drink items you have to try, and what you can skip.
How Many Marketplaces are there at the Epcot Food and Wine Festival?
This year the EPCOT Food & Wine Festival will have a total of 29 food marketplaces, all with different menus and many offering an international flare. The list will also include additional locations that have yet to be announced.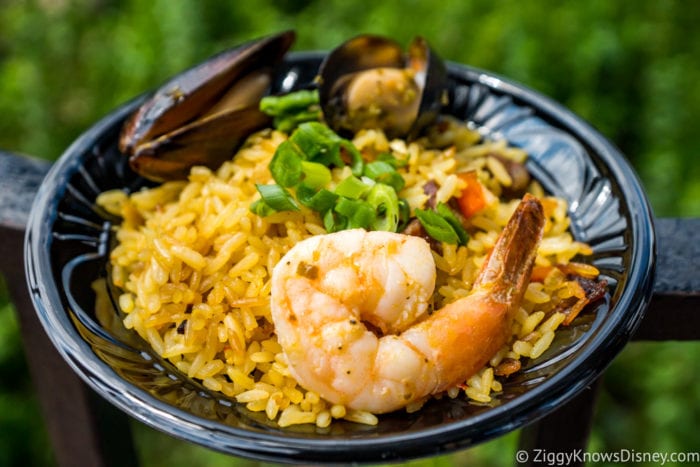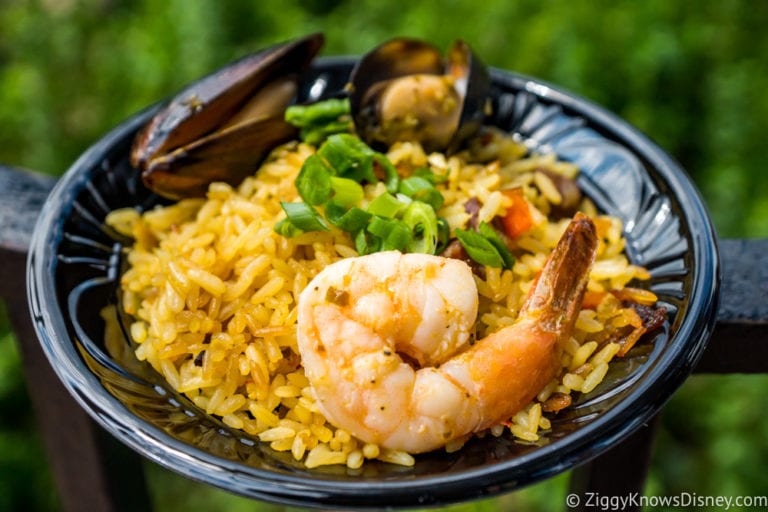 The number of Food and Wine marketplaces has decreased this year from last year's festival when there were a total of 33 different locations. In past years, there have even been as many as 39 different food marketplaces.
While some dishes can be described as "exotic" Disney tries to make most dishes as broadly appealing as possible, so you will have no problem finding things to try.
Disney has not released the full list of Food Marketplaces for 2023. While we are waiting, here is the list of last year's EPCOT Food and Wine Festival Marketplaces. (Menus and Reviews coming soon!)
Brew-Wing at the Odyssey
Bubbles & Brine (NEW!) – (Opening Later This Fall)
Char & Chop (NEW!) – (Opening Later This Fall)
Flavors of America
The Fry Basket
Hawai'i – (Opening August 15th)
Kenya
The Noodle Exchange – (Opening August 15th)
Swirled Showcase (NEW!) – (Opening Later This Fall)
Tangierine Café: Flavors of the Medina
Wine & Wedge (NEW!) – (Opening Later This Fall)
Additional Locations
Funnel Cake
Joffrey's Coffee & Tea Company (4 in-park locations)
Festival Marketplaces from Previous Years:
Citrus Blossom
Desserts & Champagne
Lobster Landing
Rotonda Bistro
Waffles
READ MORE: Full 2023 Food and Wine Festival Menus
New for 2023 Epcot Food and Wine Festival
We love our Food and Wine favorites. There are some dishes or drinks that we can't wait to come back to, and we find ourselves getting year after year (hello pork belly in Brazil!) But part of the fun is also discovering all the new food items and 2023 is no exception, there are all sorts of new items you need to try!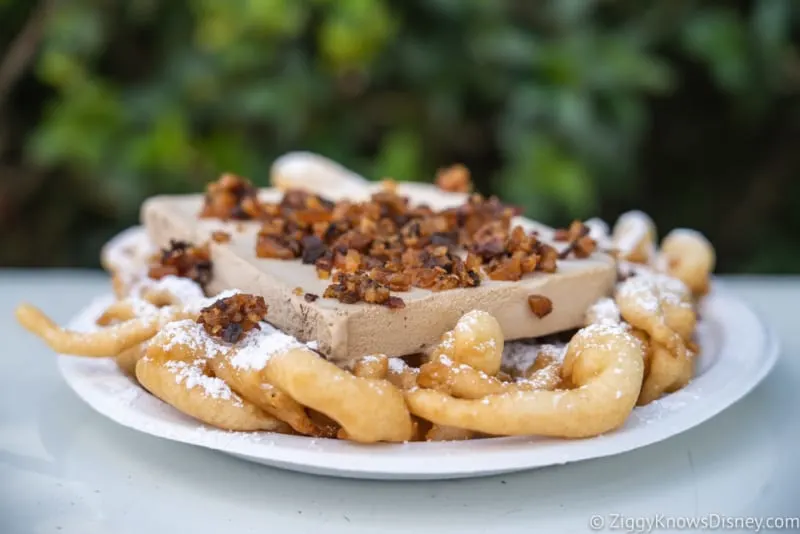 This year, Africa, Desserts & Champagne, and Islands of the Caribbean are all suspiciously missing from the list of marketplaces, but thankfully, there are 4 new marketplaces this year, though you'll have to wait until Fall to experience them.
We're happy to see 4 new marketplaces this year since last year there was only 1. Here are the new marketplaces debuting later this year:
Bubbles & Brine – This marketplace is seafood-based and has shrimp, crab and caviar dishes.
Char & Chop – The roasted porchetta has now moved here, along with an IMPOSSIBLE spicy sausage and an assortment of charcuterie meats.
Swirled Showcase – This has some classic Food & wine favs like the frozen apple pie and the liquid nitro cake, only this time it's shaped like Mickey Mouse.
Wine & Wedge – Lots of cheese going on here, all of which pairs incredibly with wine.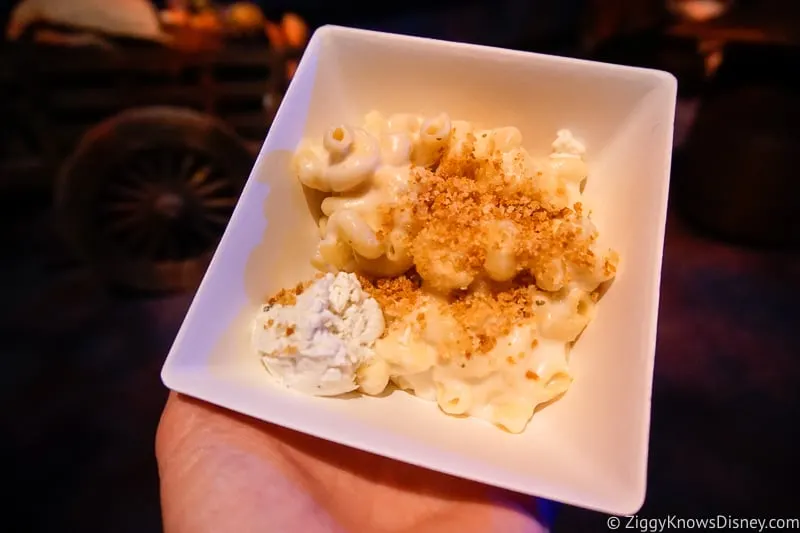 We'll update you soon with which are our favorites and all the new must-try snacks at each of them so stay tuned!
Epcot Food and Wine Festival Tickets
Of course, the first step to getting to the Food and Wine Festival is figuring out how the tickets work for this event. Here is all the information about the tickets for Food and Wine:
Do You Need a Separate Ticket for Epcot Food and Wine?
If you're a first-timer the number one question is whether or not you need tickets for the Epcot Food and Wine Festival. No, you do not need a separate ticket to go to Epcot Food and Wine. Admission to the Food and Wine Festival is included with your regular Epcot park ticket.
Simply put, if you have a ticket to get into Epcot, then you can get into the Disney Food and Wine Festival with no problem, so you don't need a separate ticket for the event.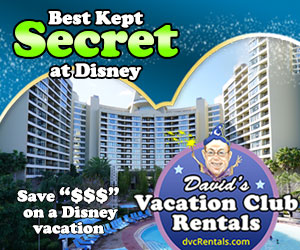 Epcot Food and Wine Pricing and Payment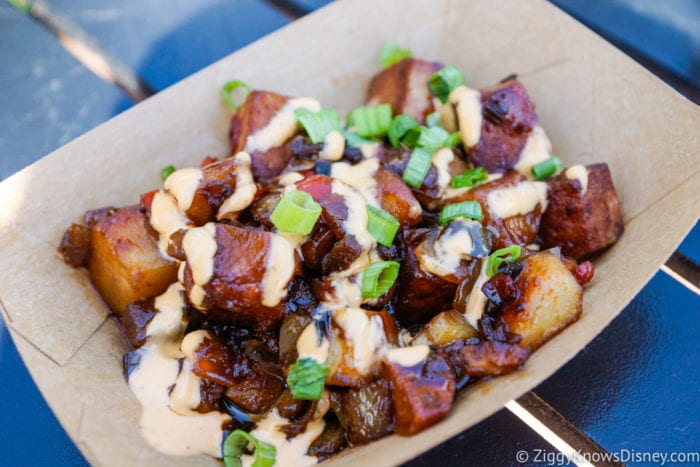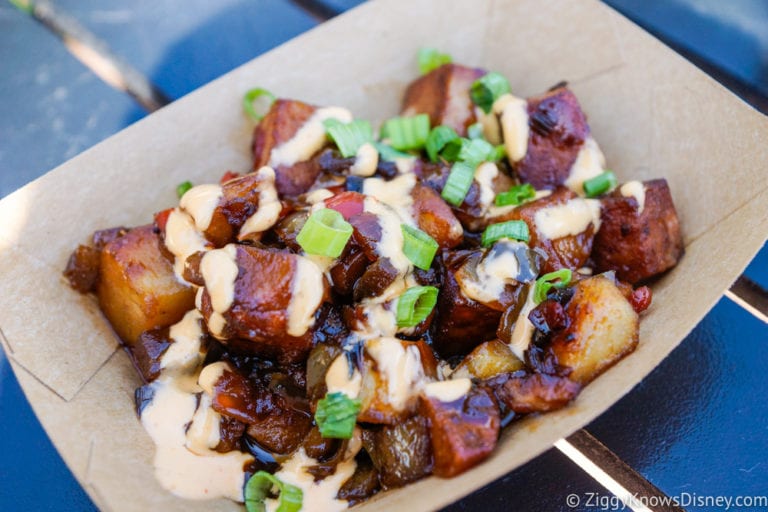 The pricing and cost of the food is one of the most important things to know at the Epcot Food and Wine Festival. How much does it cost to go to the Epcot Food and Wine Festival? How much are the food and drinks? Are they free? We're going to answer all those questions you have below…
How Much Do Food and Drinks Cost at the EPCOT Food and Wine Festival?
The reason you are at the Food and Wine festival is to try all the food and wine, so knowing how much they cost is important. Sorry to say, the food is not free at the Epcot Food and Wine Festival, and there is a small cost for every item.
Pricing on this year's food items ranges from about $4.00 to about $9.00 with most falling in the range of $5.00-$6.00. Beer options range from about $4.00-6.00, while most wines will run about $6.00-$8.00.
Portion Sizes
The first thing people notice is the portion size, for the most part, it's smaller. While there are some items on the menu that can fill you up, the idea of the festival isn't to go to one place, order one item, and that's your lunch or dinner.
Instead, they offer little samples of many different foods from around the world so that you can sample perhaps something totally different than what you've ever tasted before and perhaps turn yourself on to something you otherwise might not have ever tried.
The portion sizes depend on the item, but often times it's just right so that you can be adventurous and try something new, yet at the same time if you don't like it you've only spent $5.00 so it's not that huge a deal.
Is Anything Free at Food and Wine?
While the food and drinks do cost money, as well as talks, demonstrations, and premium events, there are still quite a few free things to do at Epcot Food and Wine. Some of the free stuff includes:
Celebrity Meet and Greets
Book and Bottle Signings
Kid's Play Center
Can You Use Snack Credits at EPCOT Food and Wine Festival?
Yes, you can use snack credits at the Food and Wine Festival if you are on the Disney Dining Plan. Most food and drink items are eligible to use snack credits on, and it's a very popular way to use up those extra credits.
Snack credits can't be used on every single food and drink item, but the vast majority are eligible.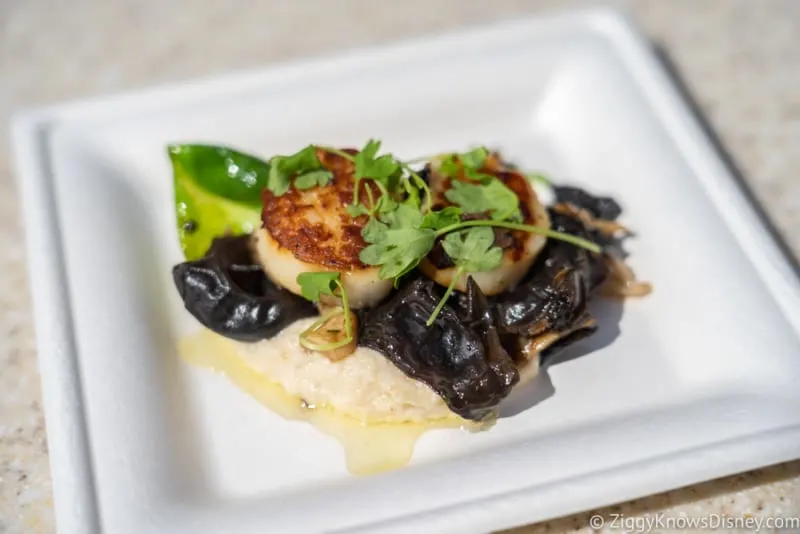 Can You Use Disney Gift Cards at Food and Wine Festival?
Another way to pay for your snacks at Epcot Food and Wine is by using Disney gift cards. You can even buy a Food and Wine Gift Card.
In addition to the many features of a classic Disney Gift Card, this limited-release card also comes with a wristband to facilitate quick and easy access to all the festival kiosks. Activate your Disney Gift Card with as little as $15 and simply scan to pay. The convenience alone makes this Disney Gift Card the best festival accessory next to a fork!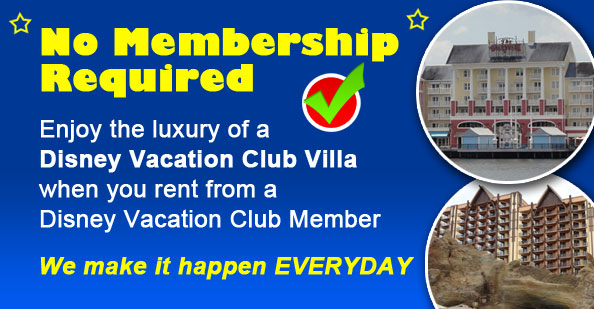 Payment Options
Payment forms at the Food and Wine Festival include:
Cash
Credit Card
Magic Bands
Disney Dining Plan Snack Credits (on specifically marked items)
Official Festival Gift Cards
Disney Gift Cards
Disney Visa reward dollars
Any of these forms of payment are accepted while visiting Epcot Food and Wine so feel free to choose whichever one is more convenient for you.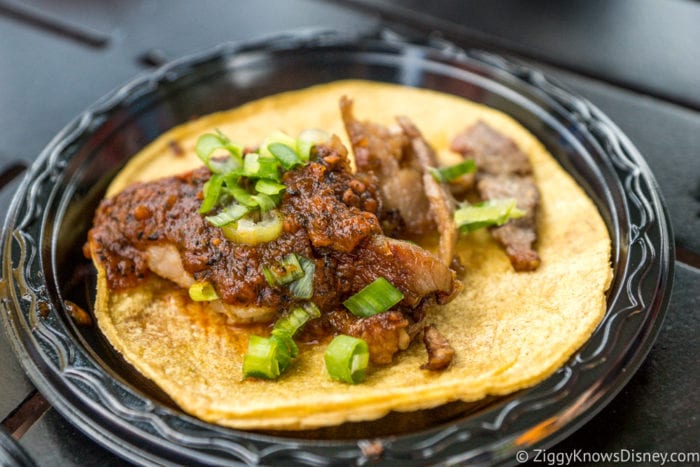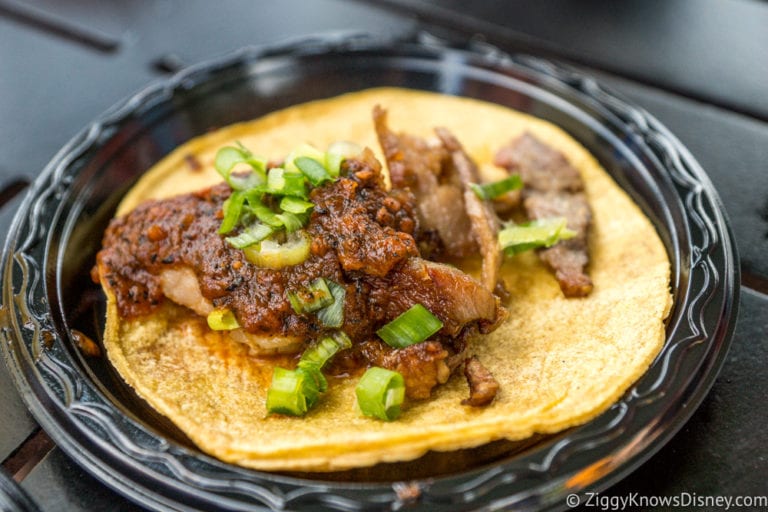 Official Festival Gift Cards
TIP: MagicBands are the most convenient way to buy food and the festival, but you can easily spend more than you want to. Instead, the best way to set a budget at the Disney Food and Wine Festival and stick to it is by buying one of the Official Festival Gift Cards.
These small-sized, festival-themed gift cards come on a wearable plastic band making it easy to swipe and pay. You can also set a limit by only buying charging the card with a certain set amount of money, keeping you on a budget. If you only want to spend $100, charge it with $100, and be sure to not go over your set limit.
Activate with as little as $15
Scan to pay for food and more
Reload as often as you'd like
Unique design features the Festival logo
They are also a great souvenir at the end of the festival that you can take home with you when you leave.
To buy a Mini Festival Gift Card go to one of the select merchandise locations in Epcot. If you don't use up all the money on the gift card at the Food and Wine Festival, you can use it at select Disney locations nationwide. Check out DisneyGiftCard.com for a complete list of participating locations.
Food and Wine FAQs
When is the EPCOT Food and Wine Festival in 2023?
EPCOT Food and Wine starts July 27, 2023, and it will last until November 18, 2023.
What time do the booths open at Food and Wine?
This year the majority of the Food and Wine marketplaces open at 11 am. However, you might find that they start serving 15 minutes earlier so get there early.
Is the Food and Wine Festival open every day?
The great thing about the Epcot Food and Wine Festival is that it's open 7 days a week. This is the case now with every festival in Epcot so you don't have to worry about missing a day.
Which is the best day to visit?
Without question, the middle of the week are the best days to visit the Epcot Food and Wine Festival. You want to avoid Saturday and Sunday at all costs, and sometimes Friday too. Monday – Thursday are your best bet to skip the crowds.
How long does the Food and Wine Festival last at Epcot?
Every year is different but in 2023 the Epcot Food and Wine Festival will be a full 115 days.
Is the Food and Wine Festival every day? What time do the booths open? What's the best day to visit? We have all your basic Epcot Food and Wine questions answered here:
Epcot Food and Wine Tips and Tricks
There are so many things to keep in mind when visiting the Epcot Food and Wine Festival, prices, menu, best times, etc. We've compiled some of our favorite tips for the Epcot Food and Wine Festival here so make sure you give it a read to know how to make the best use of your time when there.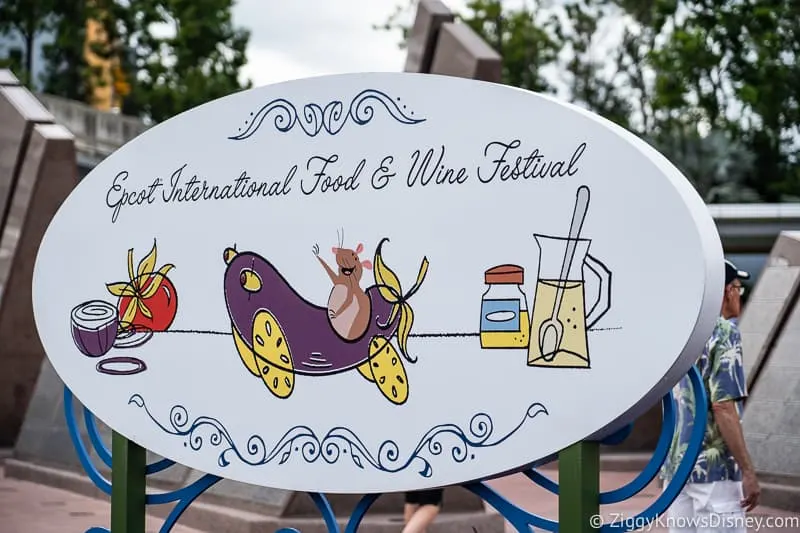 1. Best Time to Go to Epcot Food and Wine Festival
The Disney Food and Wine Festival in Epcot is definitely an amazing event, but there are times when it's more enjoyable to go. If you go at the wrong time it can be devastating, please trust me on this one! So what is the best time to visit Food and Wine?
As a general rule, the best times to visit are early in the day (right at 11:00 am or 12:00 pm ), early in the week (between Monday and Thursday and a bit later into the season.
I like to go right when the marketplaces open each day because this is the time of day when the lines are the shortest. Between 11 am and 12 pm, you can hit 4-5 booths easily and hardly have to wait in line. Any later and the lines get big which means melting under the Florida sun which is not fun!
Even when locals are there during the week they tend to come late in the day after work, so anything after 5 pm is terrible. It also gets a bit of a frat party vibe and sometimes people get out of hand drinking, not my idea of a family vacation. Avoid it like the plague.
Obviously, the earlier you go in the week the better because there are fewer people at Epcot Food and Wine from Monday to Thursday. Again that means less time in line for you!
Saturdays are by far the busiest days of the week for Food and Wine, it's when all the locals come out which means it will be packed out with people. It's not worth it waiting in the sweltering heat for 20 minutes just for a bowl of noodles or a cheese plate. Last year I remember going on the weekend, and it's a mistake I never want to make again!
Go mid-week when the crowds will be much more manageable.
Best times to go:
During the week (especially Monday through Thursday)
At 11 am right when the marketplaces open.
Later in the season (Late October – November)
Avoid at all costs:
Going on the weekend (especially Saturdays)
Going late in the day
The first and last weekends of the festival
2. How Many Days Should I Go to the Food & Wine Festival?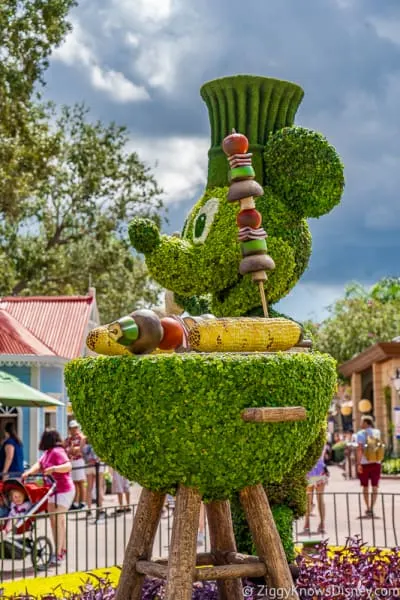 This really depends on you. Are you a local? Are you visiting Disney World on vacation only for one week? If you are an Orlando-area resident you are going to have plenty of opportunities to visit the Food and Wine Festival in Disney World, and you could easily come 10 times and still have a ball.
If you are just visiting Walt Disney World though for 1 week, I would say 1 time at Food and Wine is absolutely a must, and possibly 2 or more depending on the way you like to vacation. I like to come around 11 am, grab 4 or 5 things and then leave and go back to the hotel. I usually stay at an Epcot-area hotel though which makes this possible (more on that in a minute).
If you are only coming to Epcot once during your trip then make sure to visit Food and Wine periodically throughout that day. There are so many different things to try though I'd really try to visit EPCOT twice on your visit to give you more opportunities to try different things.
3. Have a Plan
This is Food & Wine 101 right here. If you think you should just wake up in the morning and head on over to EPCOT Food and Wine without a plan, that's a recipe for disaster. EPCOT during this festival period is crowded, hot and there is so much to do you will for sure miss out on some amazing experiences if you don't plan first.
Spend a lot of time in this post studying the best times to go to EPCOT Food and Wine and even more time looking at the menus before going. There is just too much food to eat and you need to know what the "Can't-miss" and "Skip-over" food and drink items are so you don't waste time.
I can't overstate this enough, be organized and Food and Wine will be a million times more fun for you and your family.
4. Stick to a Budget
Most items at the Food and Wine Festival only cost $5 or $6, but that can add up really fast, especially if you have a family or you add alcoholic drinks into the mix. The portions are not really big and a person with a normal appetite can easily eat 2-4 items within an hour.
And if you have an extra-large appetite like me or plan on staying all day, then that number can grow and so can the bill.
I'm not cheap, and I think everyone should have fun on vacation, but I like to set the amount of money I want to spend that day at the festival before I go, and then stick to that amount. We are always trying to do Disney World on a budget, and if you get one of the festival gift cards I explained earlier, that will help you stick to your budget.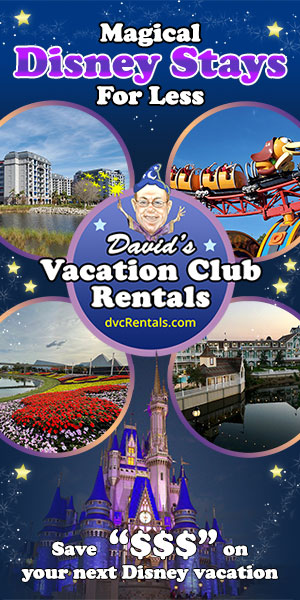 5. Scout Out the Best Looking Marketplaces First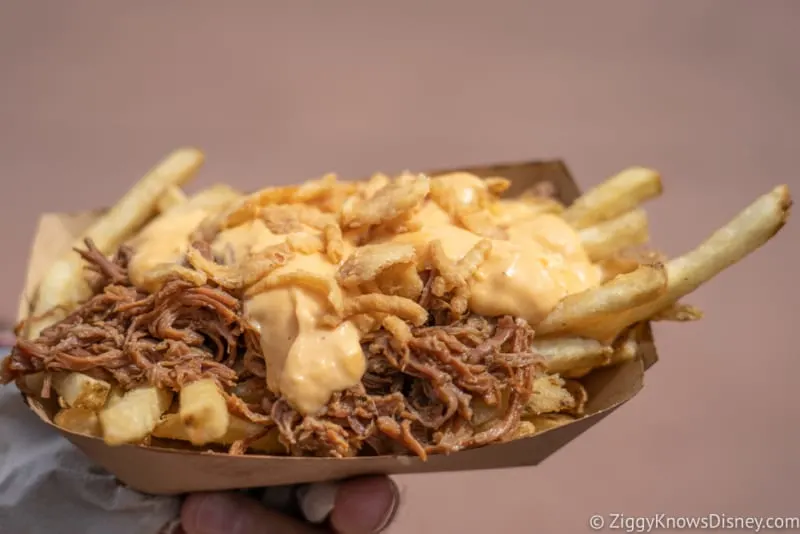 Once you have an idea of where you want to eat, go there and actually look at the food first before ordering. With open kitchens, it's really easy to see all the food being prepared to see if it's something you would like or not.
If you can resist the temptation of diving right into the first food booth that looks good to you, I like to make one loop around World Showcase FIRST to scout it out and then on my way back through getting the things that really looked best. That way you don't fill yourself up after the first 3 booths and regret not having room for that pork belly later.
6. Come Hungry
This seems obvious when you're going to a festival in Disney World called: "Food and Wine" but you'd be surprised at how many people eat a big breakfast before going or have a sit-down dinner planned in Epcot that night.
I like to have a very light breakfast on the morning of the festival, then by 11 am, I'm ready to start chowing down! You are going to need all the space in your stomach you can muster when at EPCOT Food and Wine so don't make the rookie mistake in eating somewhere else first.
7. Pace Yourself
Remember, this is a marathon and not a sprint. Yes, your plan could be just to pop into Food and Wine for an hour, grab a few things and move on to the next attraction, but a much better experience is the make it at least a 3-4 hour event.
That means you don't want to stuff yourself right away that you then won't be able to try more items later on. Also, be responsible and pace yourself with your alcohol consumption. There are already too many drunk guests stumbling their way around World Showcase, you don't need to join the club. If you spread everything out it will be much better.
What helps you to do that?…..
8. Go with a Group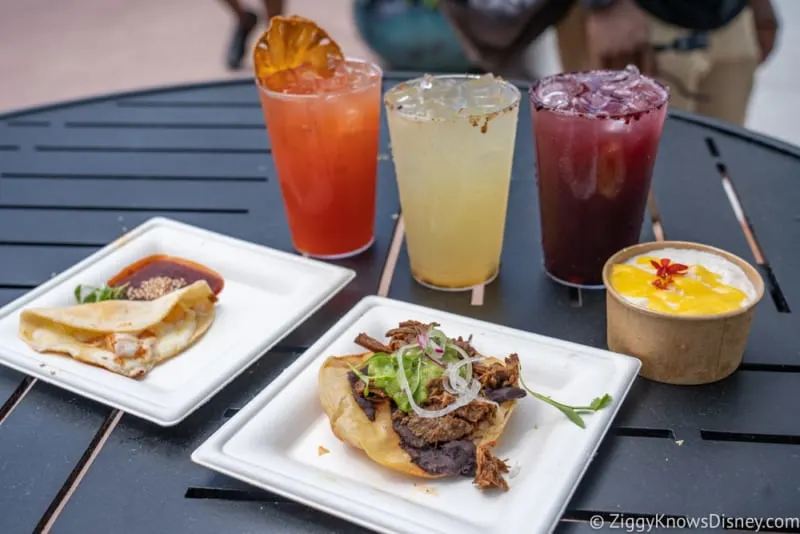 This has multiple advantages as we're going to break down, but no trip to Disney's Food and Wine Festival would be as fun if you didn't have friends with you to enjoy it!
This may sound crazy, but if you go with a group to Food and Wine, you can share your food. Yes usually I would never, ever suggest this, but the beauty of the Food and Wine Festival is that the food is made in small portions so you can try lots of stuff.
There are literally dozens of amazing snacks to try and if you are only going for one or two days you won't be able to finish it all alone. If you go in a pack though you can try small bites of more items, and then make another pass through to get your favorites another time.
There are so many great things to try, it would be a shame if you went all-out in Australia because it's the first kiosk you see, and then when you get to Canada you just don't have enough space for that buttery filet mignon!
Another big reason to go with a group is you can have one or two people find a table while the rest of the people go and get the food and bring it back. Especially if you go during crowded times, there are not nearly enough tables around World Showcase, and finding one can be hard.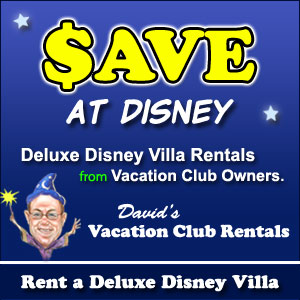 Having people grab one before getting your food is going to be a much more pleasant dining experience rather than wandering in the heat looking for one.
9. Be Adventurous
The beauty of the Food and Wine Festival is all the unique varieties of tastes and flavors that you'll encounter. That means it's great to try different things. Time after time I order something on the menu that I never would have normally ordered in a restaurant, but in the end, I loved it.
That's the nice thing, the sizes are so small that even if you don't like something, it probably only costs around $5.00, so it's not a lot of money lost. More often than not though you're going to be really surprised that you actually do like that new snack you normally wouldn't have tried and maybe even return for seconds!
10. Take an Air Conditioning Break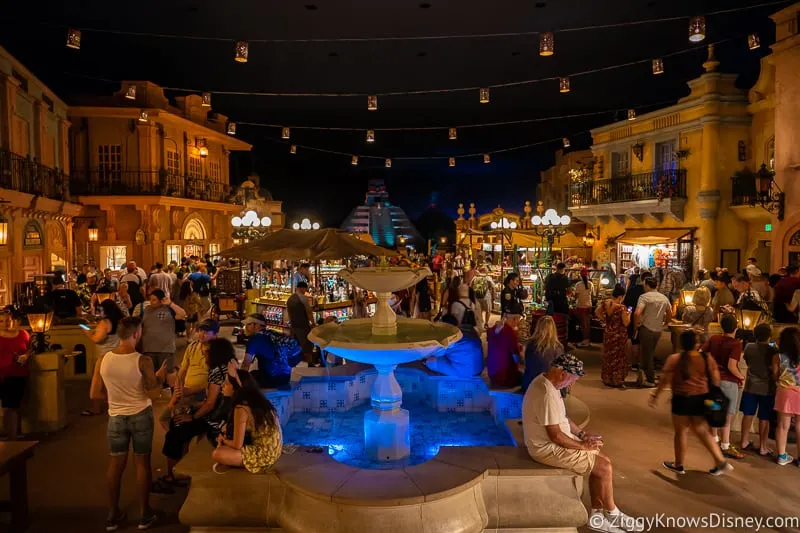 The Food and Wine Festival in EPCOT opens at 11 am every day and goes through the hottest part of the day. Since Disney World is located in sunny (and humid) Florida, and the majority of the festival is outside you are going to need some breaks in between the snacks. This doesn't apply to just the Food and Wine Festival, but to any visit to Walt Disney World.
Most of the World Showcase is exposed to the sun and the Food and Wine Festival booths are not usually in a shaded area. That means finding an air-conditioned shop or attraction is crucial to cooling down and getting through the day.
Our favorite "Food & Wine Air-Conditioning Break Locations" are:
Mexico – Gran Fiesta Tour: Usually a short line and the whole pavilion here is air-conditioned with beautiful scenery.
The American Adventure – The American Adventure: This is a glorious 30-minute seated break, and you'll even learn something about American history!
Japan – Mitsukoshi store: there are lots of things to do inside this huge store in World Showcase including pearl hunting and trying unique Japanese sweets.
France – Impressions de France: a 20-minute ride through the French countryside.
That leads us to our next Food and Wine tip:
11. Drink A lot!
Well, not that way. Do that in moderation! There is always time for Drinking Around the World in EPCOT, but I'm talking about drinking a lot of water so that you stay hydrated.
If you listen to my previous advice and go in September or even through most of October, it's going to be hot. The first day of the festival this year had a heat index of 107 degrees! That's not ideal for walking around and stuffing your face.
You should really make sure you are drinking enough water and pacing yourself so you don't tire out. A good rule of thumb is one water for every non-water drink. Also to avoid paying $4.00+ for a bottle of water, you can go to any normal Quick Service Restaurant in Epcot and just ask them for a cup of ice water and they'll give it to you for free.
Also on really hot days make sure to order a lot of stuff that's cold. The La Passion Martini Slush in France is a perfect example of this as it's cool and refreshing and will definitely keep you going!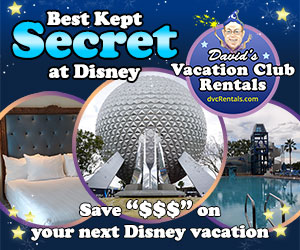 12. Best Hotel for Epcot Food and Wine Festival
Any of the EPCOT area resorts are the best places to stay for the Disney Food and Wine Festival. They are the closest to World Showcase and in most cases, you can walk right in or take the Friendship Boats if you like.
Here are our picks of the best Epcot Food and Wine Hotels:
Yacht and Beach Club Resorts
Boardwalk Inn Resort
Swan and Dolphin Resorts
Now that the Disney Skyliner is open, you can also stay at one of the resorts on the Skyliner Route which will drop you off at the International Gateway which is perfect too.
Pop Century Resort
Art of Animation Resort
Riviera Resort
Caribbean Beach Resort
Check out our ranking of the best Resorts in Walt Disney World for more details on all your options.
13. Is the Epcot Food and Wine Festival Worth It?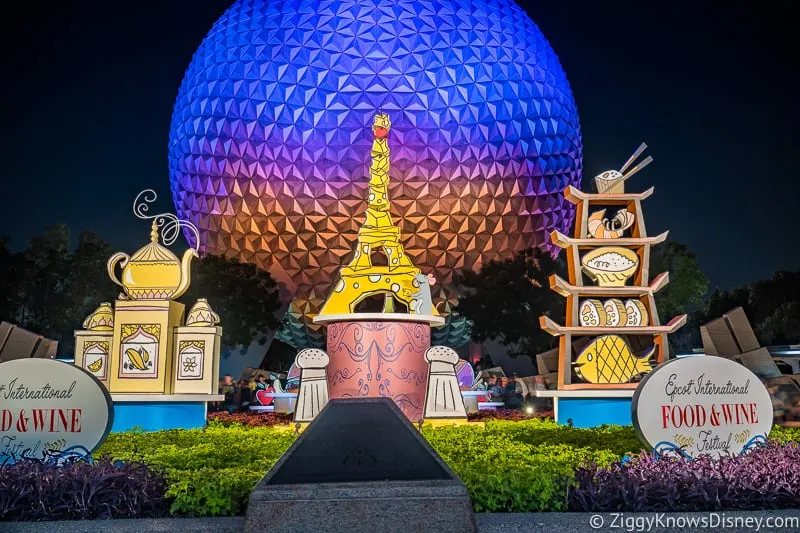 The Food and Wine Festival in EPCOT can be very expensive which leads many to wonder if it is worth the price. I think it absolutely is!
Yes, the food is not the best value if you are paying cash, but you can actually get some really good value if you are on the Disney Dining Plan (currently not being offered). The food quality I find is higher than your average quick service restaurant in Walt Disney World making it a better value a lot of times. Plus there are just so many unique and interesting flavors that you can't get anywhere else.
For those reasons, yes the Epcot Food and Wine Festival is worth it at least for one day.
That said there are some items that are over-priced and not worth it, so study up ahead of time on the best snacks to try so you get your money's worth when you go. Our post on the Top Snacks at EPCOT Food and Wine will help you to do that, and make sure to read through the full menus to see what jumps out at you.
Ready to Start Planning Your Disney Vacation?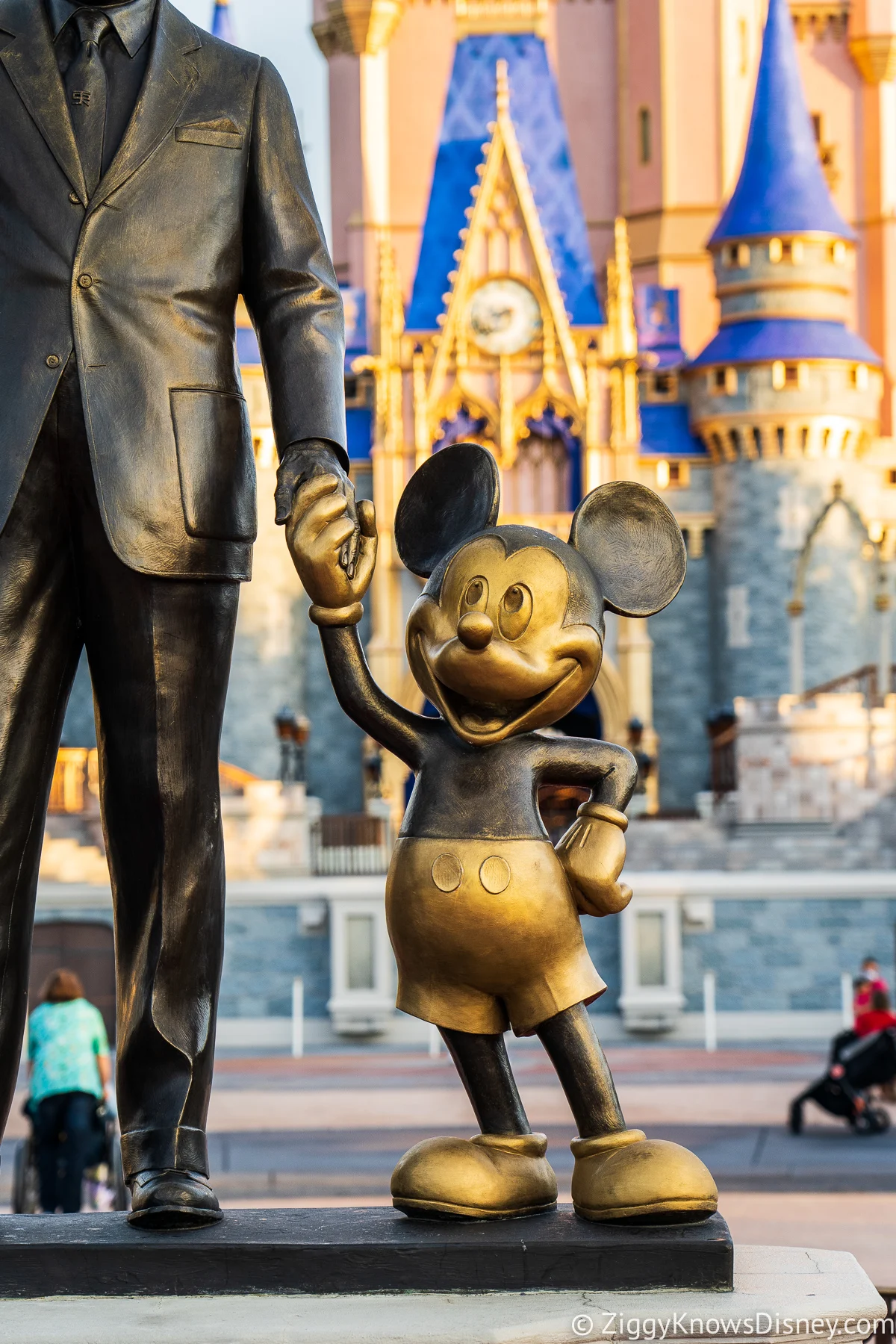 EPCOT Food and Wine Festival Welcome Center
The Festival welcome center is where you go for all the Food and Wine Festival info once you get to Epcot. We are still waiting for more info about where it will be located in 2023.
More info coming soon…
EPCOT Food and Wine Festival Special Events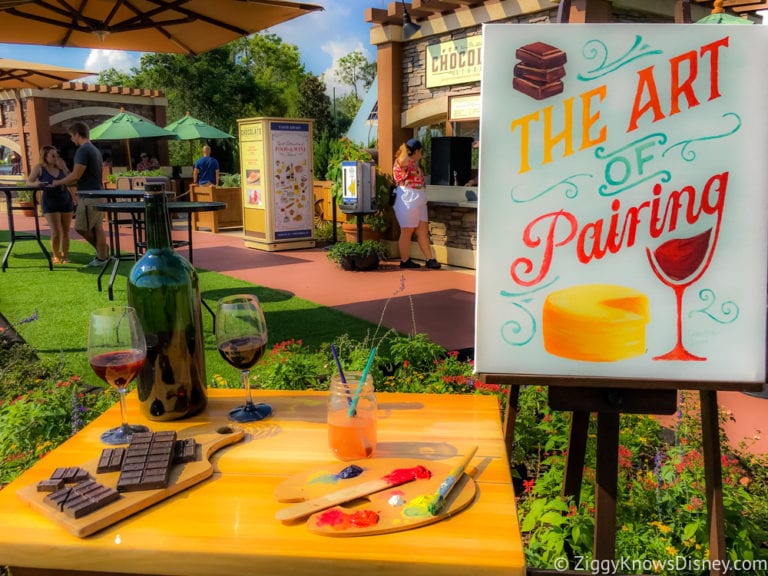 One of the best things about Food and Wine is all the Special and Premium Events that they have each year. Some of the common events are:
East to the Beat Concert Series
Culinary Demonstrations and Seminars
Food and Beverage Pairings
Mix It Make It Celebrate It
Hands-on Workshops
Party for the Senses
Sunday Brunch with the Chef
*Not all of these events have returned yet to the Food and Wine Festival. We'll let you know soon for 2023
Recently, we did a Vodka Tasting & Cocktail Making course learning all about and using the Zubrowka Bison Grass Vodka. They teach you everything about vodka and how to properly mix it and make cocktails with it. It was awesome, my dad absolutely loved it!!
Keep in mind that some of the premium events and special dining events can be quite expensive. I usually stick to the stuff that's cheaper and more affordable as the Food and Wine Festival is already pretty expensive, but some of the special events are pretty cool too, and worth it. Just realize that they aren't cheap. Browse through all the different events below for more info on each event…
For reservations to these events, please call (407) 939-3378. For Disney Vacation Club Members, book by calling Member Services at (800) 800-9800. Or go online to www.tasteepcot.com
Live Music & Entertainment
This year the Eat to the Beat Concert Series is back as usual. This live music concert series will be performed 3 times every evening at the America Gardens Theatre stage.
Eat to the Beat Concert Series Lineup
An awesome part of the Food and Wine Festival is not only eating and drinking but also taking your food and listening to some amazing music too! You can do that with the yearly Eat to the Beat Concert series which hosts live music every night of the Festival!
You won't find A-List singers or groups here, but the lineup for Eat to the Beat is pretty solid for entertainment which is included in the price of admission and it features both internationally-known bands as well as some local groups from the Orlando area. Can't ask any more than that right?
Below is the concert lineup and this year's dates:
July 27 – Funkafied
July 28-29 – Orianthi (NEW)
July 30-31 – For King & Country (NEW)

Aug. 1-3 – Funkafied
Aug. 4-5 – Southern Avenue
Aug. 6-7 – Tiffany
Aug. 8-10 – Champagne
Aug. 11-12 – Ruben Studdard with Haley Reinhart
Aug. 13-14 – (TBA)
Aug. 15-17 – M-80's
Aug. 18-21 – Joey Fatone & Friends
Aug. 22-24 – The Female Collective
Aug. 25-26 – Ayron Jones (NEW)
Aug. 27-28 – Phillip Phillips (NEW)
Aug. 29-31 – Element

Sept. 1-2 – Baha Men
Sept. 3-4 – MercyMe
Sept. 5-7 – Foreigners Journey
Sept. 8-9 – Ray Parker Jr.
Sept. 10-11 – Tobymac
Sept. 12-14 – Hooligans
Sept. 15 – Monsieur Periné
Sept. 16-17 – Raul Acosta and Oro Solido (NEW)
Sept. 18 – Latin Celebrity Talent (TBA)
Sept. 19-21 – Audio Exchange
Sept. 22-24 – Los Amigos Invisibles
Sept. 25-26 – 98 °
Sept. 27-28 – Latin Ambition
Sept. 29-30 – Boyz II Men

Oct. 1-2 – Boyz II Men
Oct. 3-5 – Wish Radio
Oct. 6-7 – Mark Wills
Oct. 8-9 – Sugar Ray
Oct. 10-12 – Icon Party Band
Oct. 13-14 – Hoobastank
Oct. 15-16 – Air Supply
Oct. 17-19 – Evolution Motown
Oct. 20-21 – Taylor Dayne
Oct. 22-23 – Billy Ocean
Oct. 24-26 – Sound Up
Oct. 27-30 – Hanson
Oct. 31 – Rexine

Nov. 1-2 – Rexine
Nov. 3-4 – We The Kings (NEW)
Nov. 5-6 – Sheila E.
Nov. 7-9 – Epic Live
Nov. 10-11 – Big Bad Voodoo Daddy
Nov. 12-13 – 38 Special
Eat to the Beat Dining Packages
Eat to the Beat Dining Packages were very popular last year, and they are returning again in 2023. Even though we don't have all the details yet, below is general info on what to expect.
Getting to see one of the Eat to the Beat concerts is a highlight of any trip to the Food and Wine Festival, however, getting a good seat can be a challenge. If you don't want to have to wait with the crowds you can sign up for an Eat to the Beat Dining Package which will give you reserved seats for the concerts.
The Eat to the Beat Dining Package is available Friday-Monday.
Reserve a dining package from one of the 4 participating Epcot restaurants for Lunch or Dinner and get reserved seats for the show the same night as your dining package.
Prices vary widely depending on which restaurant you choose and which meal (dinners are more expensive of course). Prices start at $57 per person and go all the way to $69 per person. An Appetizer, Entree, Dessert, and Drink are all included in the packages. You must choose a dining reservation that starts at least 2.5 hours BEFORE the concert start time.
Biergarten Restaurant – Germany Pavilion
Lunch: $57 for adults; $32 for kids
Dinner: $57 for adults; $32 for kids
Coral Reef Restaurant – The Seas Pavilion
Lunch: $69 for adults; $22 for kids
Dinner: $69 for adults; $22 for kids
The Garden Grill Restaurant – The Land Pavilion
Lunch: $66 for adults; $43 for kids
Dinner: $66 for adults; $43 for kids
Rose & Crown Pub & Dining Room – UK Pavilion
Lunch: $58 for adults; $22 for kids
Dinner: $58 for adults; $22 for kids
Food and Beverage Pairings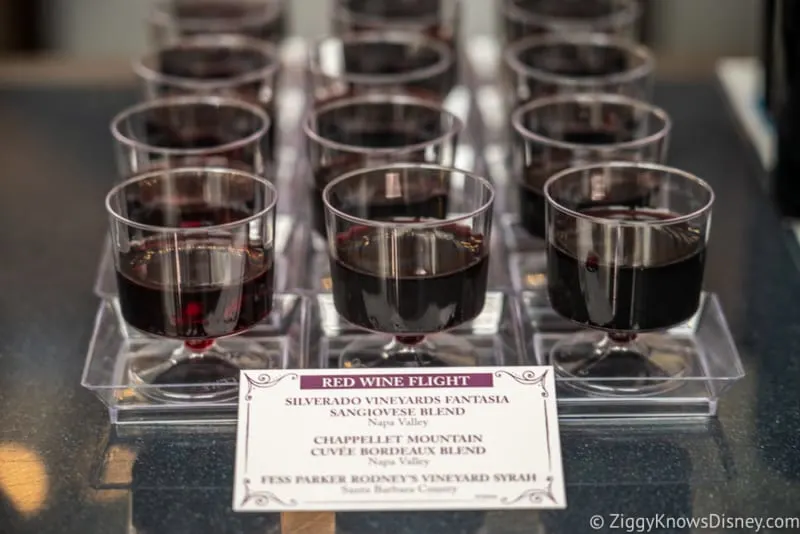 Learn how to correctly pair flavorful food and beverages with an expert chef. Follow along as you master all the subtleties of food pairing from someone with years of industry knowledge and taste the different pairings.
Culinary Demonstrations and Seminars
Have you ever wanted to learn how to like a professional chef? Join one of the culinary demonstrations or seminars and learn from the best chefs in the world!
Each seminar lasts 45 minutes and is taught by renowned gourmet chefs who will show you all the tricks as they whip up amazing dishes right before your eyes. Great for honing your kitchen skills and taking your cooking to the next level.
Mix It Make It Celebrate It
Challenge your senses as you expand your culinary skills and beverage know-how!
Working side-by-side with chefs, beverage experts, and other kitchen wizards, attendees can roll up their sleeves for a hands-on lesson that teaches one of many different culinary or beverage skills. Each 75-minute guided, interactive experience offers a multi-sensory smorgasbord—from whipping up sweet treats and savory sensations to exploring cocktails, spirits, and wines.
Specialty Dining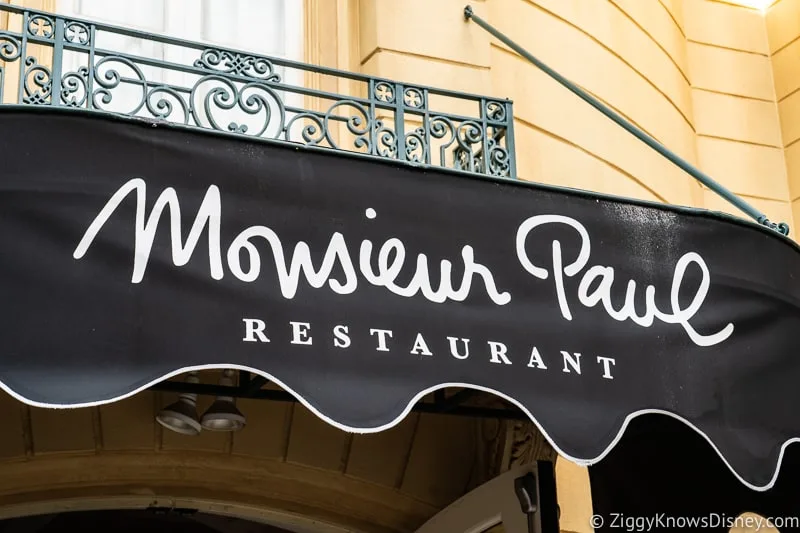 If all the demonstrations and seminars weren't enough, there are tons of specialty dining events to enjoy at Food and Wine for an extra cost. Here is the list of dining events that took place last time:
Culinary Tour of Japan – Enjoy 3 traditional Japanese courses perfectly paired with sake and other beverages.
French Family Meal Traditions – Enjoy traditional French hors d'oeuvres and entrées with the chefs at Monsieur Paul. Taste perfectly paired wines with your meal that will have you transported to France.
Italian Food, Wine vs. Beer Pairing – Enjoy a 5-course traditional Italian meal and taste Italian Wines and Beers.
Italian Regional Food & Wine Pairing Luncheon – Enjoy a 6-course Italian meal complete with wine pairings.
Mediterranean Food & Wine Pairing – Enjoy 4 traditional Moroccan and Mediterranean courses of seafood and meat perfectly paired with regional wines.
Mexican Tequila Lunch – Enjoy a 4-course traditional Mexican meal complete with tequila pairings.
Parisian Breakfast – Enjoy a marvelous traditional French buffet breakfast complete with baguettes, buttery croissants, pastries, and more. You'll never want another breakfast again!
Parisian Afternoon, Sandwiches, Macarons and Bubbles! – Enjoy French desserts, finger sandwiches, macarons, and unlimited mimosas in this unique afternoon meal.
Party for the Senses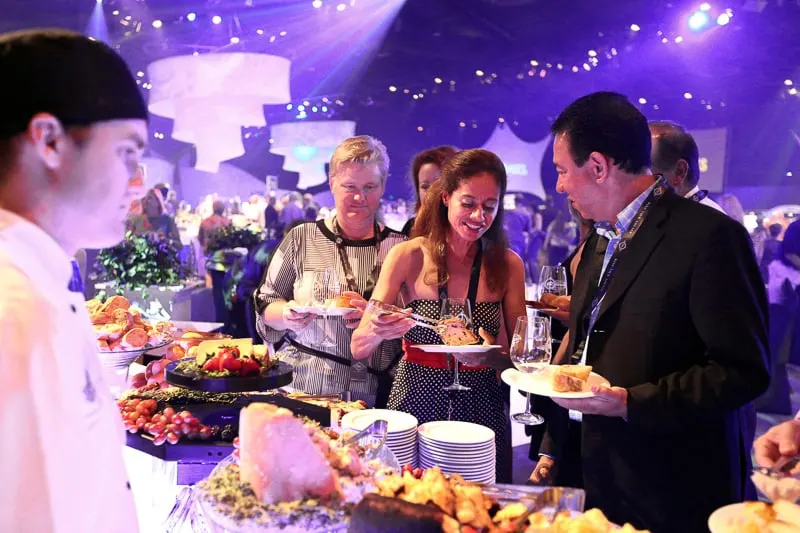 This is the most exclusive event every year at Epcot Food and Wine. Join famous chefs, entertainers, and personalities in this one-of-a-kind sensory overload filled with food, drinks, music, and all sorts of fun!
Over 20 tasting stations are set up for your delight by talented chefs throughout the Walt Disney World Resort. Go from station to station and taste your way through the night to your heart's content all the while enjoying the live music and entertainment. Part of the entertainment includes the FEMMES OF ROCK who were amazing in the past.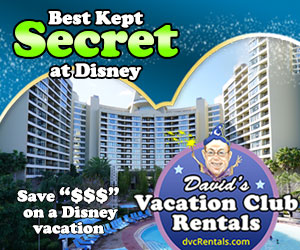 Kids' Activities at Epcot Food and Wine Festival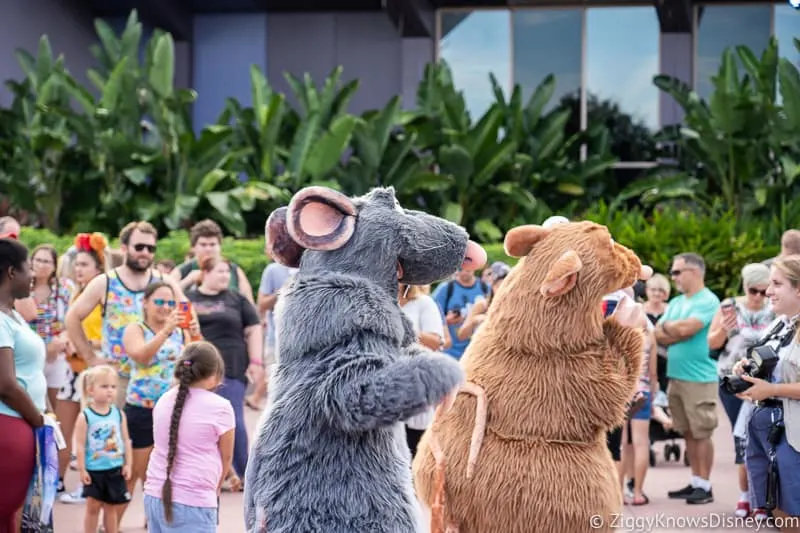 Just because the majority of people focus on the food and wine in the name title, there are still lots of fun things for kids to do at the festival too! Here are some of the best kid's activities to do at the Epcot Food and Wine Festival in 2023:
Remy's Ratatouille Hide & Squeak Scavenger Hunt
Take off on a Ratatouille-inspired scavenger hunt around the park. Kids can search for the hidden statuettes of Remy scattered throughout World Showcase. Follow along by purchasing the map and stickers from these select merchandise locations:
Pin Central
Port of Entry
World Traveler at International Gateway
Emile's Fromage Montage
Guests use their Festival Passport to find Emile's Fromage Montage menu items from select global marketplaces and then receive a stamp with each purchase on the list. This year, Emile's Fromage Montage is going back to including five cheese dishes instead of ten last year.
Once you track down and purchase five featured dishes, bring your stamped Festival Passport to the Shimmering Sips marketplace for a special prize.
We are waiting on the updated list of participating marketplaces in 2023. Last year's participating marketplaces included:
The Alps – Raclette (any)
Brazil – Pão de Queijo: Brazilian Cheese Bread
Canada – Canadian Cheddar and Bacon Soup served with a Pretzel Roll
The Swanky Saucy Swine – Crispy Barbecued Pork Rinds with Pimento Cheese
Flavors from Fire – Smoked Corned Beef with Crispy Potatoes, Cheese Curds, Pickled Onions, and Beer-Cheese Fondue
Germany – Schinkennudeln: Pasta Gratin with Ham, Onions, and Cheese
Greece – Griddled Cheese with Pistachios and Honey
Hawaiʻi – Passion Fruit Cheesecake with Toasted Macadamia Nuts
India – Crispy Paneer with Mango-Curry Ketchup
Mac and Eats – Mac & Cheese (any)
The Swanky Saucy Swine – Crispy Barbecued Pork Rinds with Pimento Cheese
Food and Wine Festival Merchandise
Eating and drinking at Food and Wine is great and all, but it's also a prime place for shopping too. In 2023 there is a lot of great new merchandise to choose from and offers a nice opportunity to take a souvenir home with you from the festival.
Here is a look at some of the merchandise from previous Food and Wine festivals: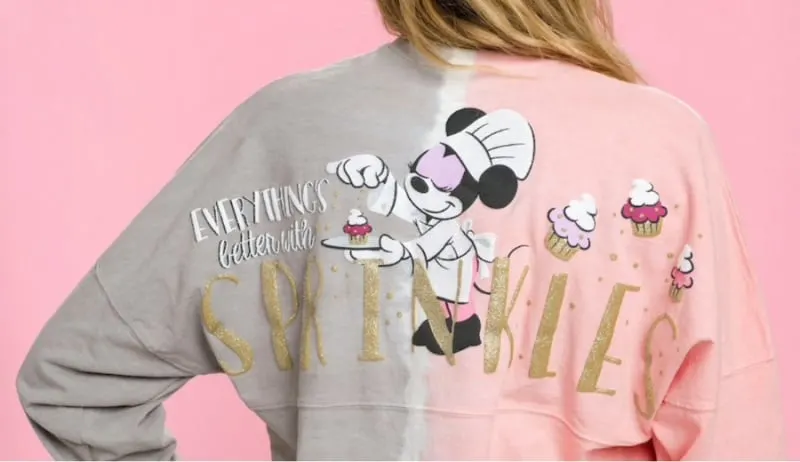 Rose Gold is the theme this year and you can see it in the various merchandise items. Check out the Chef Minnie Spirit Jersey above.
Some other items include a festival-exclusive MagicBand, cupcake mug, rose gold mug, and the Chef Minnie Ornament.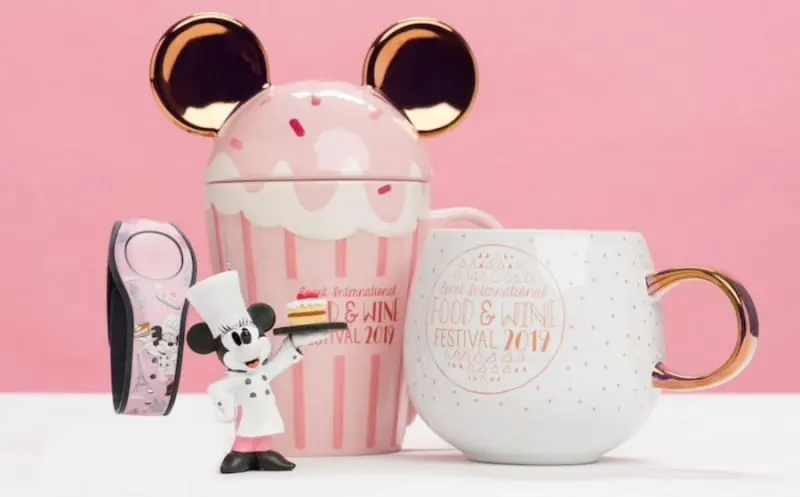 When the festival opens we'll give you a better look at all of the merchandise so stay tuned.
Directions
What's the best way to get to EPCOT Food and Wine? There are many ways to get there but it depends on where you are staying.
EPCOT Resort Area Hotels – If you are staying at one of the nearby EPCOT area hotels like Disney's Yacht and Beach Club, Disney's Boardwalk Inn, or the Swan and Dolphin Hotels one of the best ways to get to EPCOT is on foot. You can easily walk through the International Gateway in the back of EPCOT and head directly to the fun! From the Swan and Dolphin figure about 15 minutes depending on how fast you walk.
If you are saving your energy for laps around World Showcase Lagoon, then you can take the Friendship Boats from any of those hotels too. It'll be about a 10-minute boat ride but you might have to wait 20 minutes for a boat
Caribbean Beach Resort, Pop Century, Art of Animation, and Disney Riviera Resort – If you are staying at any of these resorts, you'll be able to arrive at EPCOT in style in the new Disney Skyliner. It's also great because it drops you off at the International Gateway, right near all the food!
If you are afraid of heights then you can always take the Disney World Buses, Drive, or Ride Sharing like the Minnie Vans, but you'll have to go through the front entrance to Epcot and it's a long walk from there.
Magic Kingdom Resorts – If you are staying at the Contemporary Resort, Bay Lake Tower, Polynesian Resort, or Grand Floridian Resort then the best way to get to EPCOT is by Monorail. This can be done from the park itself or any of the Disney Monorail Resorts. Otherwise, you can take a bus, drive, or ride-sharing too.
Any other Walt Disney World Resort – Buses, driving, and ride-sharing are your best options.
Off-site – If there is a shuttle from your hotel you can take it to Epcot, otherwise you'll have to drive or use ride-sharing.
Conclusion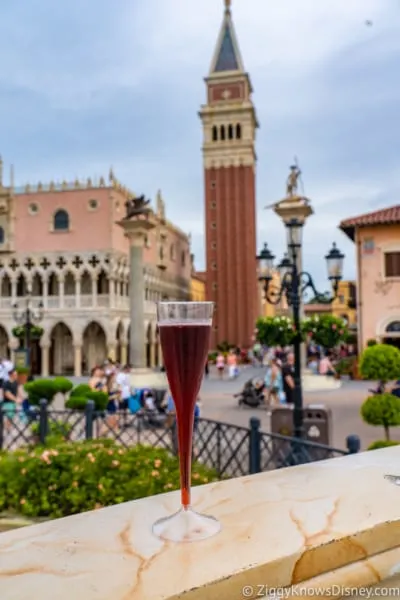 If you're a foodie like us then you will really enjoy the EPCOT International Food & Wine Festival. It can be a whole lot of fun, especially if you plan ahead and do it right, and something that every visitor to Walt Disney World needs to do at least once.
That said we are slightly concerned about the trend of rising prices and shrinking portion sizes over the last few years, but the increasing quality of the food offsets that somewhat. Just make sure you read the Food and Wine Menus ahead of time so you can get the best bang for your buck and not waste time with some of the weaker menu items.
Also, make sure you go at one of our recommended times that way you can avoid the frat party crowd and avoid the heat as much as possible.
There is so much to explore at the Food & Wine Festival in EPCOT and you could literally go for a week straight and not get to experience everything this Disney festival has to offer you (of course you'd blow through your entire budget for your vacation in the process should you do that!)
Overall we still love the EPCOT International Food & Wine Festival and think it's a MUST-DO event every year in Walt Disney World. Some of the other EPCOT festivals like Flower and Garden and Festival of the Arts are right there, but Food and Wine is still our favorite!
And if you need help booking your visit to Disney World during the Food & Wine Festival, we highly recommend using an Authorized Disney Travel Agent such as the amazing team at Show You the World Travel. They will treat you like Rock Stars, you will save money, and best of all they are 100% FREE to use!
If you are looking for more info on the other EPCOT Festivals, check these links below:
EPCOT Festival of the Holidays
More Epcot Food and Wine Festival Info
For more information or to book one of these special events visit: www.epcotfoodfestival.com or call: 407-WDW-FEST. Annual Pass holders are eligible for a $2.00 discount per person on many events. Call immediately as many of these events fill up. All bookings are non-transferable and non-refundable.
I hope you enjoyed this article about the Epcot Food and Wine Festival Info. Right now you can check out some Food and Wine Festival Tips, as well as a Menu Guide. I'll continue to post some more recommendations and reviews for you so that you have the best time possible there. Enjoy!!
Best Way to Save Big $$$ on Disney Resorts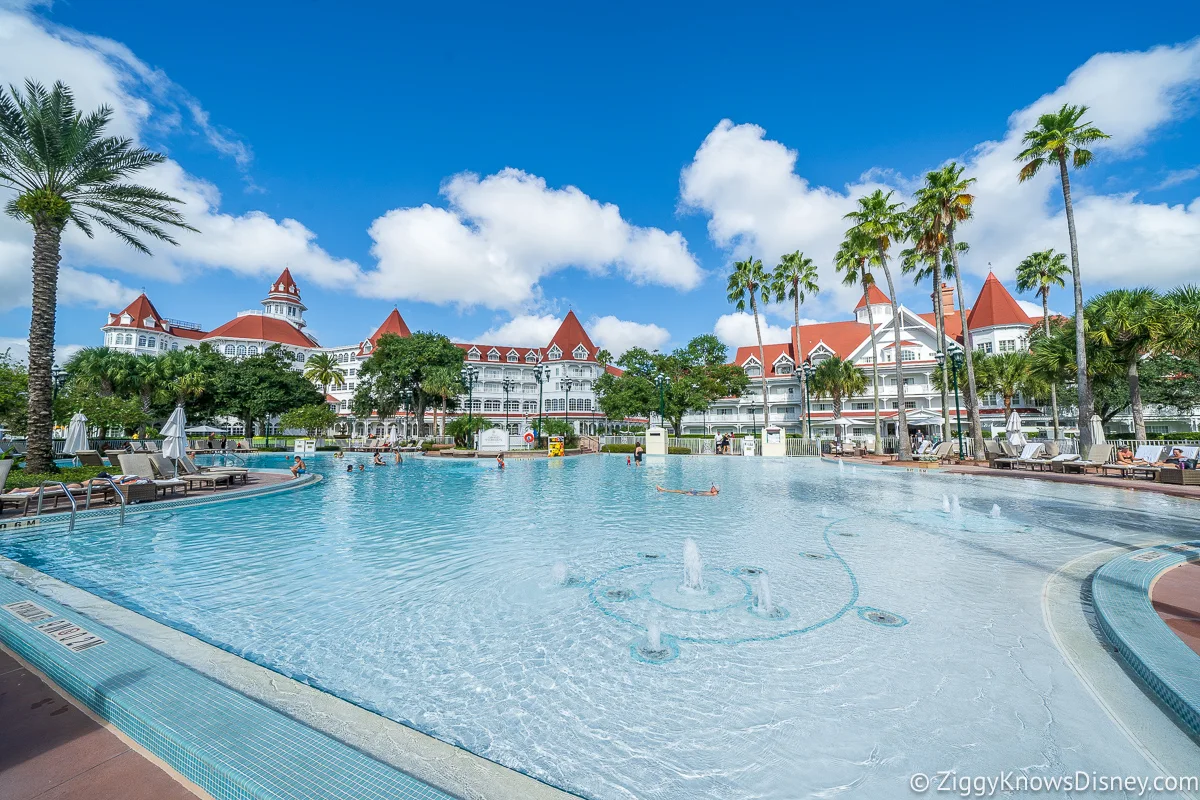 If you want to potentially save thousands of dollars on your next trip to Disney World, I personally recommend David's DVC Rentals. They consistently have the best prices and biggest selection of Disney Villas that will make you ask yourself: "How do they do it?"
VIDEO: Top 10 Dishes Epcot Food and Wine Festival:
Here's a video showing off some of our absolute favorite dishes at the Epcot Food and Wine Festival that you won't want to miss!!
Your Thoughts:
I want to know what you think about the Epcot Food and Wine Festival 2023…
When are you going to Food and Wine in 2023?
What is your favorite item?
Let us know in the comments section below!
If you enjoyed this article, as always I appreciate it if you'd share it with others via social media. I work hard at making this website into a useful resource for you and your family to plan your visit to the Disney Parks and I hope it can help you! Thanks 🙂