Japan is back once again for the Food and Wine Festival and it has some changes! The incredible Chicken Teriyaki Bun is back as well as the Spicy Roll, and a new Frothy Ramen has also been introduced this year.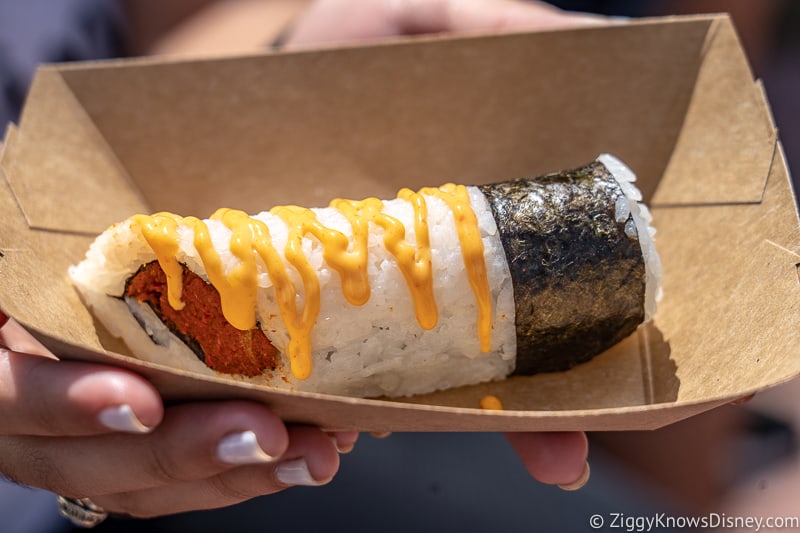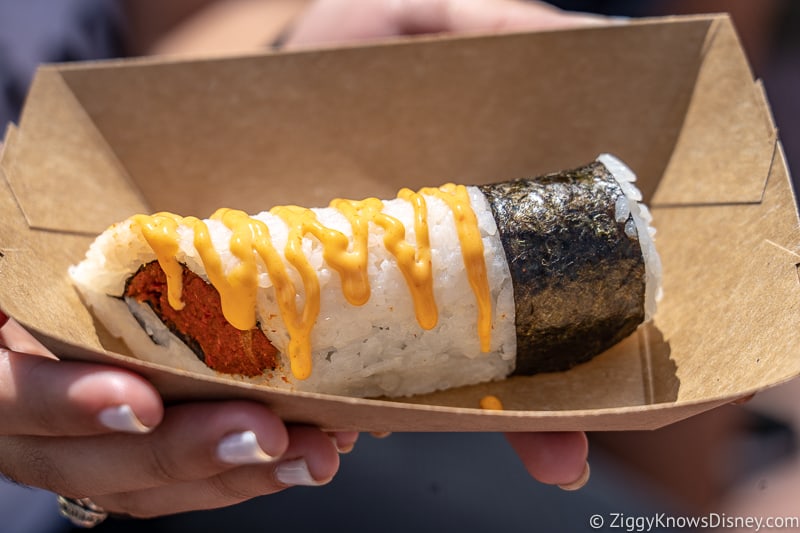 We're excited to see how they taste so let's dive into our Japan Review for the 2019 Epcot Food and Wine Festival!
Japan Marketplace:
I love Japanese architecture so looking at a structure like the Japan marketplace is incredible: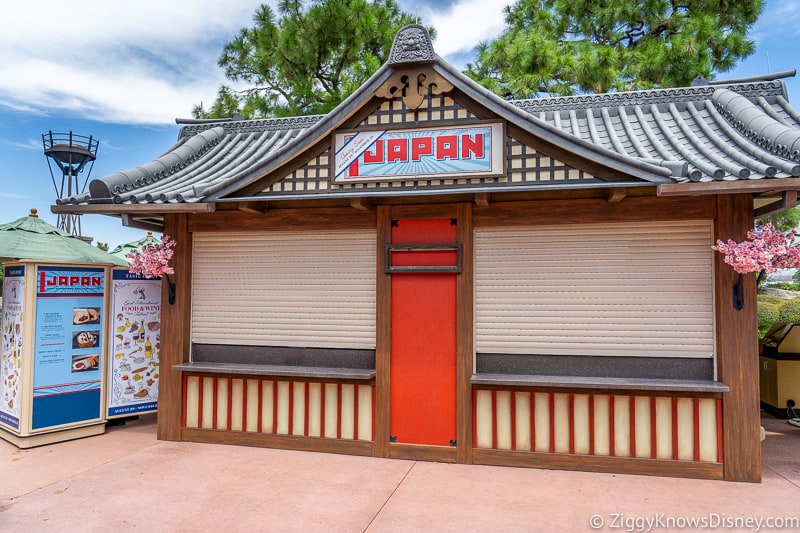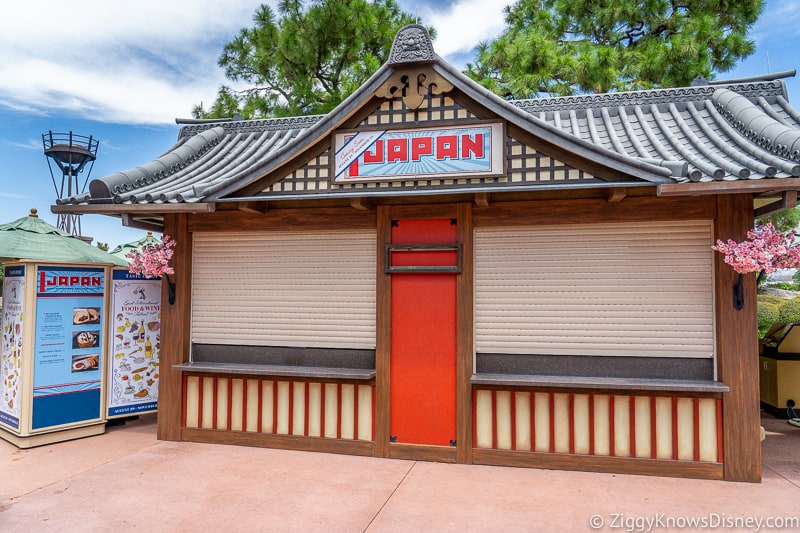 Look at the gorgeous surroundings nearby of the Japan Pavilion: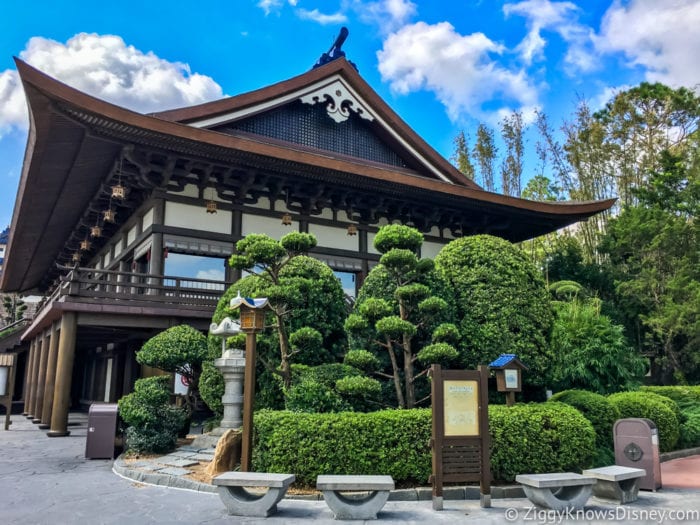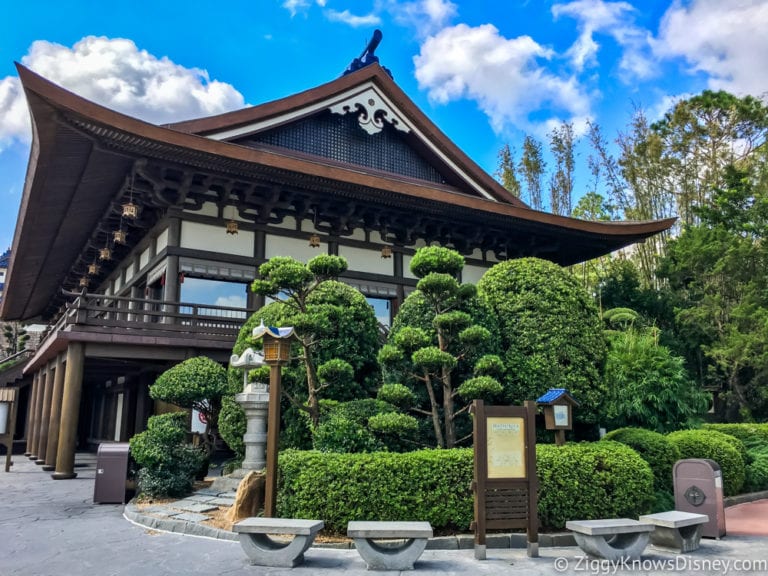 This is just one of the reasons Japan is one of my favorite Epcot World Showcase pavilions!
Japan Menu:
So the menu in Japan is a bit different this year, which is standard that they change something. Last year they brought us the Chicken Teriyaki Bun, which I am ever so grateful for, as well as the Spicy Roll and a new Frothy Ramen: Chilled Noodles and Dashi Broth with a Light Foam Topping.
I love to see changes made to the different menus and I'm glad to see what the Frothy Ramen is really like.
We also have a new cocktail: Nami Sake Cocktail: Sake, Peach Schnapps, Vodka, and Lime Juice
Food:
Teriyaki Chicken Bun: Steamed Bun filled with Chicken, Vegetables and a Sweet Teriyaki Sauce (KA) ($5.75)
Frothy Ramen: Chilled Noodles and Dashi Broth with a Light Foam Topping ($6.00)
Spicy Roll: Tuna and Salmon Sushi topped with Volcano Sauce ($5.75)
Beverages:
Kirin Draft Beer ($4.50)
Draft Sake ($8.00)
Nami Sake Cocktail: Sake, Peach Schnapps, Vodka, and Lime Juice ($8.50)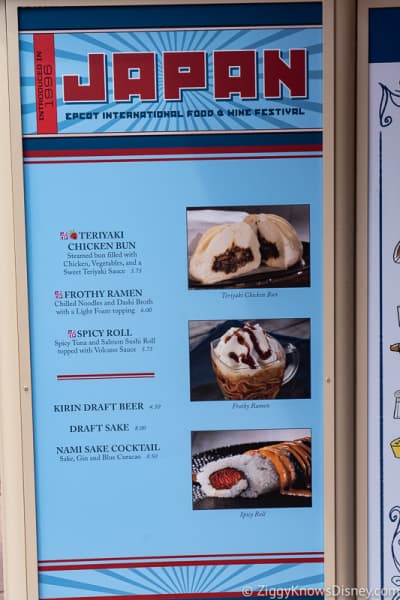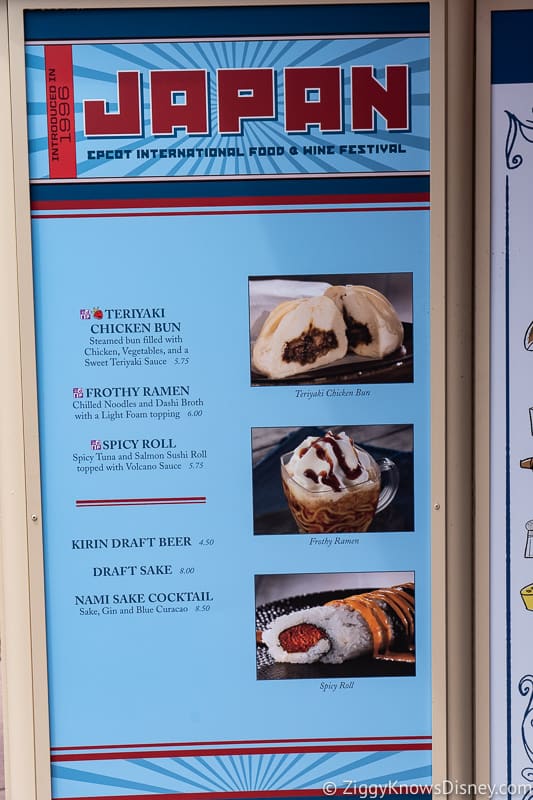 Menu Review:
Teriyaki Chicken Bun ($5.75):
The Teriyaki Chicken Bun is one of the newer additions to the Japan menu in the last couple years, and has been one of the most pleasant surprises all festival long. It reminds me a lot of the Cheeseburger Buns from Satu'li Canteen, and those are ridiculously good! I liked this just as much, if not better!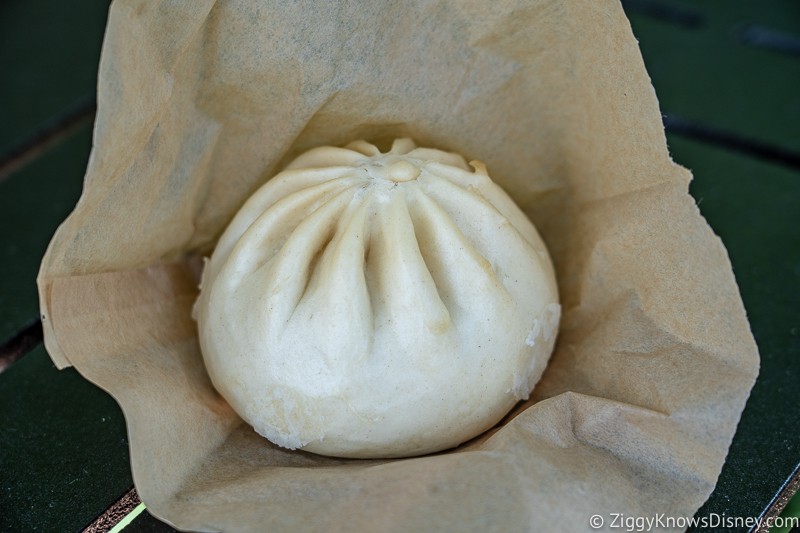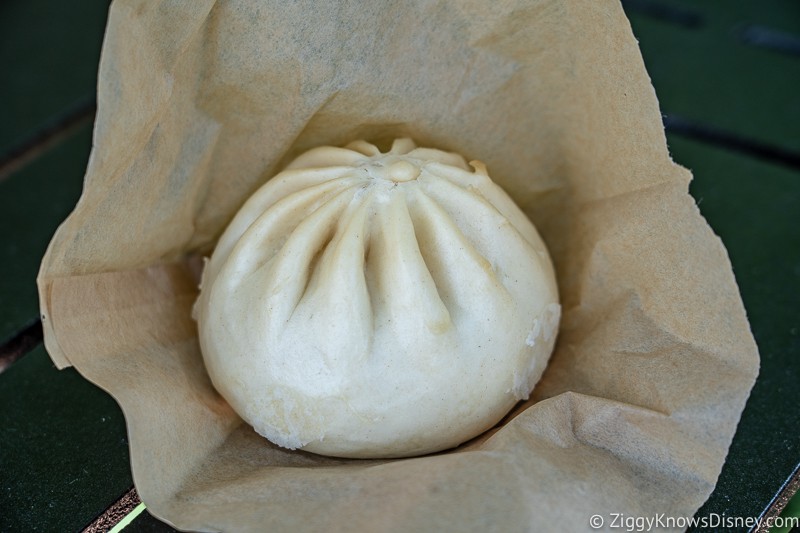 First of all it was a really good size! Secondly that bun is so dang soft and squishy, but in a good way! If you haven't had anything similar then it's hard to explain but it's a wonderful consistency that breaks apart real easily:
I like teriyaki flavor a lot so the chicken mixture inside was fantastic to me! The chicken was cut up real small and there are also little chunks of veggies in there.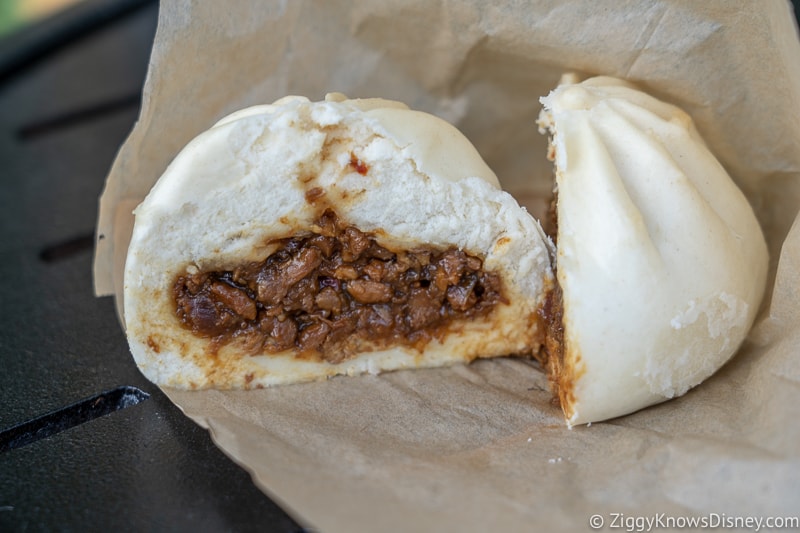 The Teriyaki Chicken buns were a success and something I'd like to see more of moving forward!
Frothy Ramen: Chilled Noodles and Dashi Broth ($6.00)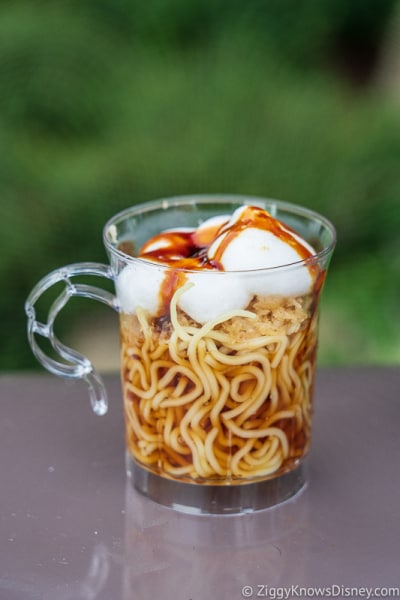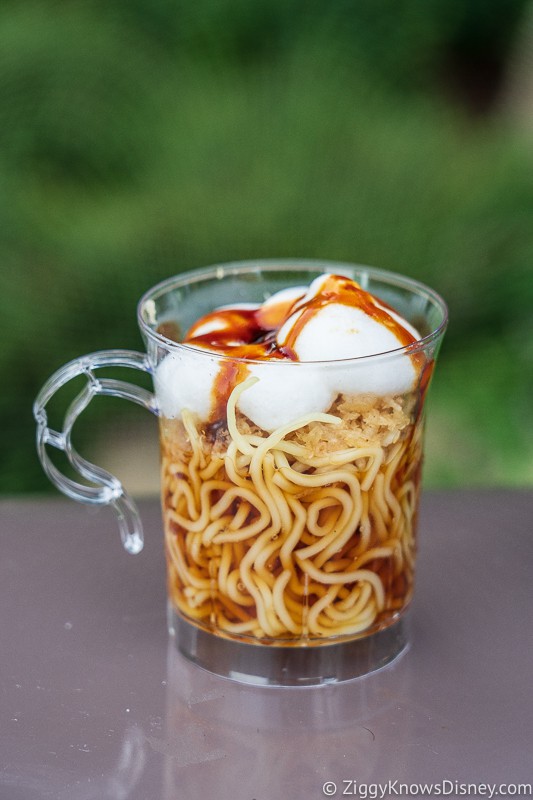 I applaud the Japan menu for trying something out of the ordinary like these Frothy Ramen, but this is a big miss for me. The noodles are cold, the foamy texture on top is just strange and the overall taste is bad.
They will keep you cool when it's really hot outside, but that's all they have going for them. Skip these and get almost anything else at the festival instead.
Spicy Roll ($5.75):
Lastly was the Spicy Roll. While this is new this year, it's not exactly new to the Japan marketplace at Food and Wine as it's appeared before. At $5.75 it's a pretty decent size portion which I noticed right away, but again that rice is a little to pressed for my tastes.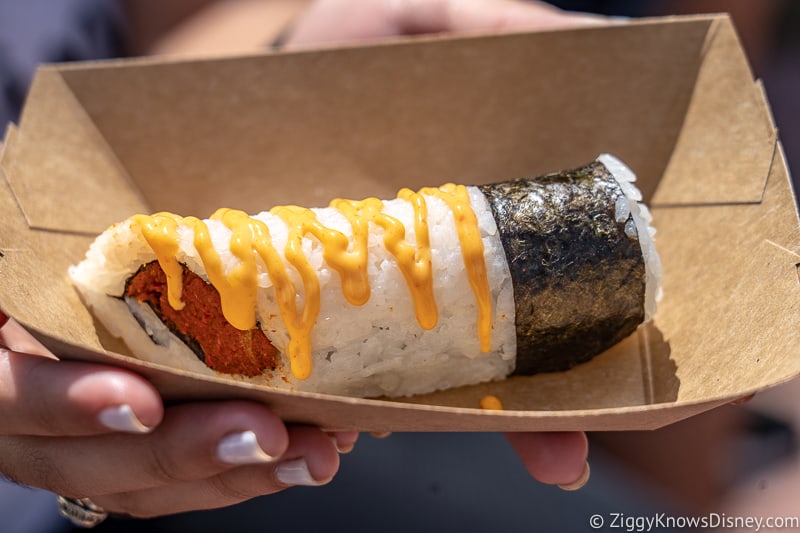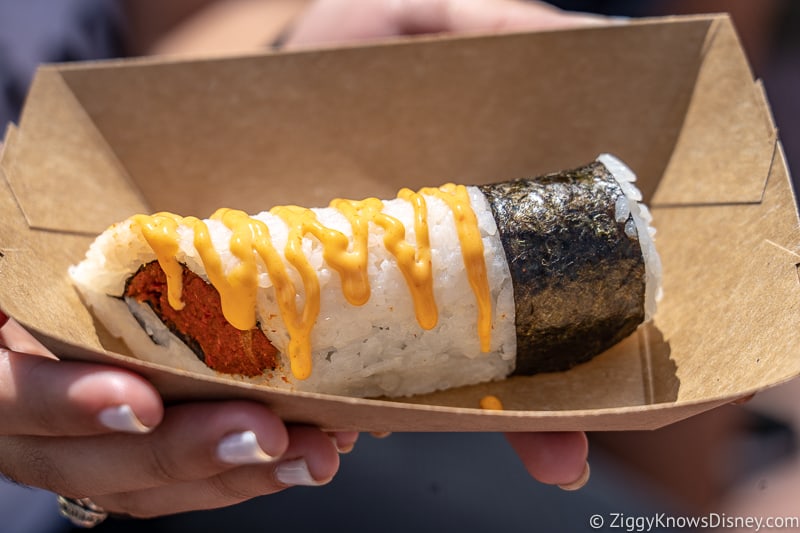 The tuna a salmon mixture inside was really flavorful, and it was very smooth, like a paste consistency. I didn't think the volcano sauce on top was super spicy, but it definitely packed a kick so if you don't like spicy at all I'd stay away. Overall it was good and might be something you like if you're into those flavors.
Nami Sake Cocktail ($8.50)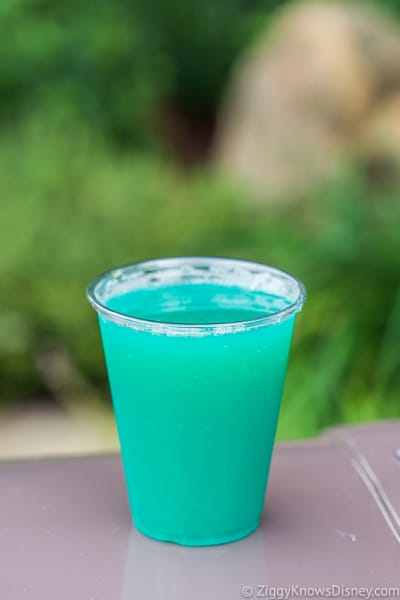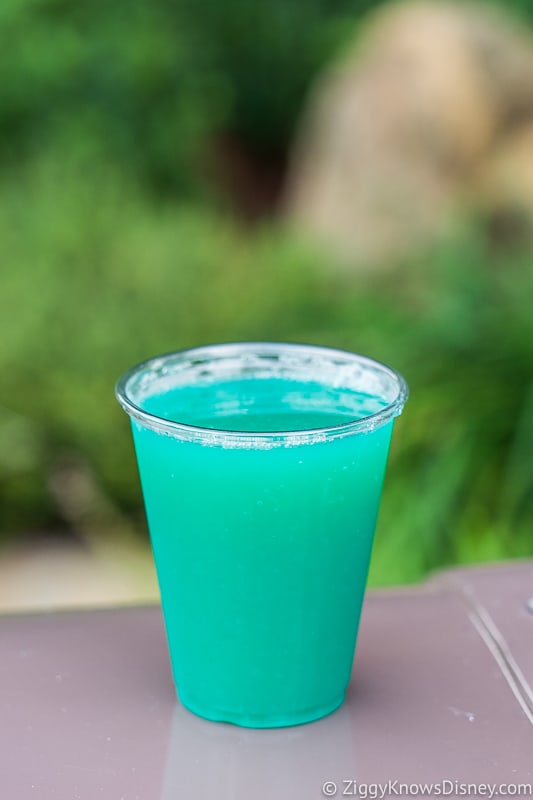 The Name Sake Cocktail is really awesome or maybe it was just that we needed anything to get that frothy ramen taste out of our mouths. No seriously it's good.
It's a strong drink, one of the strongest at Food and Wine and I wouldn't recommend drinking it on an empty stomach or you might start doing some strange things. It has a yummy syrupy taste of blue curaçao and really fruity. This drink seems to be here every year, and we know why, it's a must-try for sure!
Booth Summary and Grade:
The Japan marketplace was good this year, but I'm not sure it progressed any further along than last year's menu, it might have been a downgrade. The Spicy Roll and Teriyaki Chicken Bun were both good and the Nami Sake Cocktail definitely worth getting, but the the Frothy Ramen isn't good at all and needs to be avoided like the plague. We hope Japan switches things up next year and should also add a dessert.
If you have to get just one thing:
Chicken Teriyaki Bun
Japan Review

Overall Grade -

7.5/10
I want you to be able to have the best info on the Festival so you have a great time and don't waste your time! Take a look at all of my 2019 Epcot Food and Wine articles including:
Top Food and Wine Booths (Coming Soon)
Your Thoughts:
I want to know what you think about the Japan Review at the 2019 Epcot Food and Wine Festival…
Which is your favorite item?
Which do you still want to try?
Let us know in the comments section below!
If you enjoyed this article, as always I appreciate it if you'd share it with others via social media. I work hard at making this website into a useful resource for you and your family to plan your visit to the Disney Parks and I hope it can help you! Thanks 🙂