Italy holds a special place in my heart, especially since I've lived there for 6 years. And the thing I love most about Italy? You guessed it…The Food! That said, it's also jaded me towards Italian food in the United States, because no matter how hard they try, it's just not the same.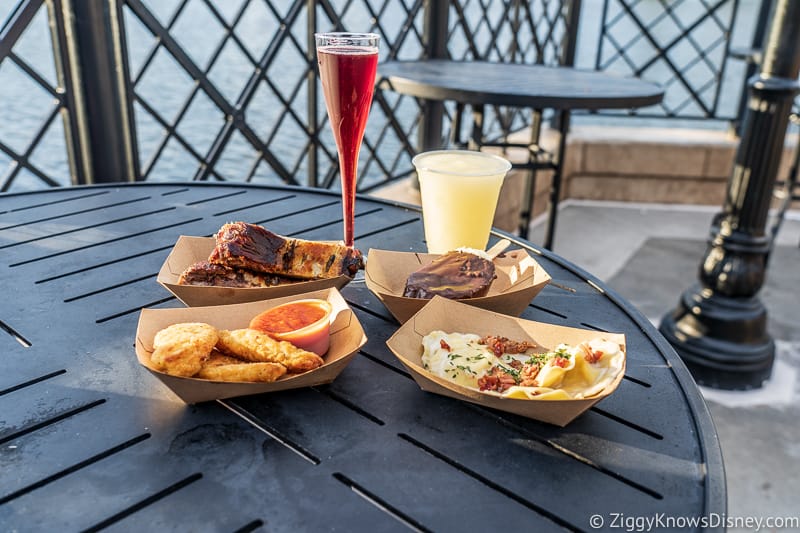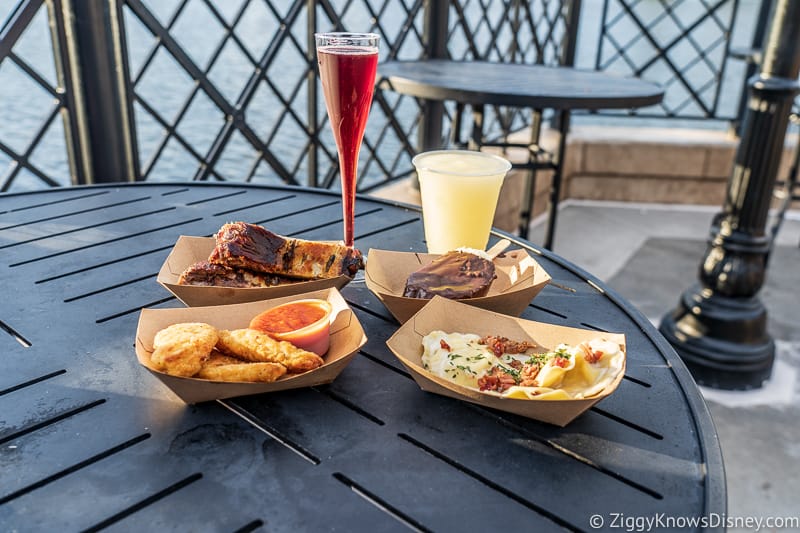 That's why I'm excited to try out the Italy marketplace this year because over the last couple of years the menu here has been up and down with some things we really enjoyed and others not at all. What will happen this time? Let's find out in my Italy Review for the 2019 Epcot Food and Wine Festival.
Italy Marketplace:
Italy has one of the most beautiful locations of any Food and Wine marketplace being right on World Showcase Lagoon and right near the Venetian bridges and gondolas!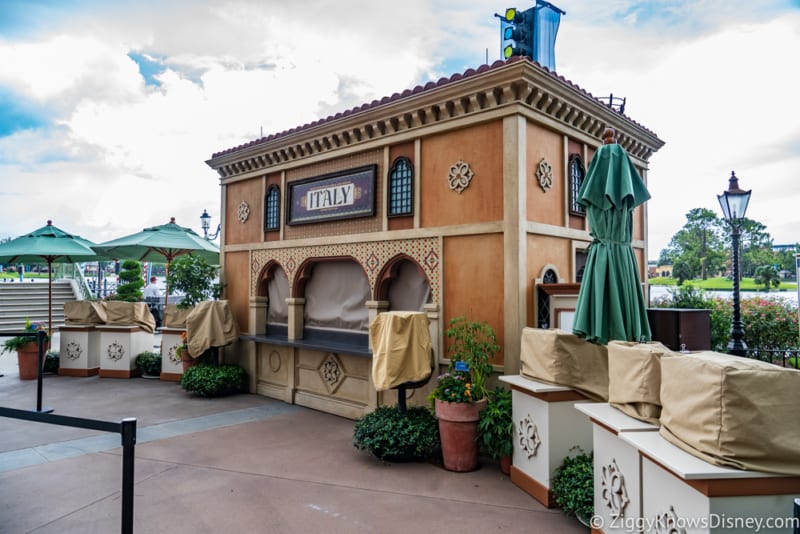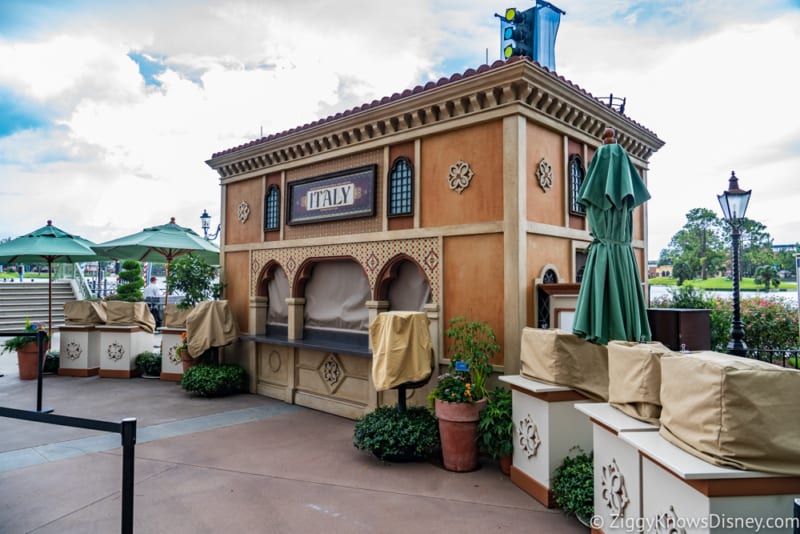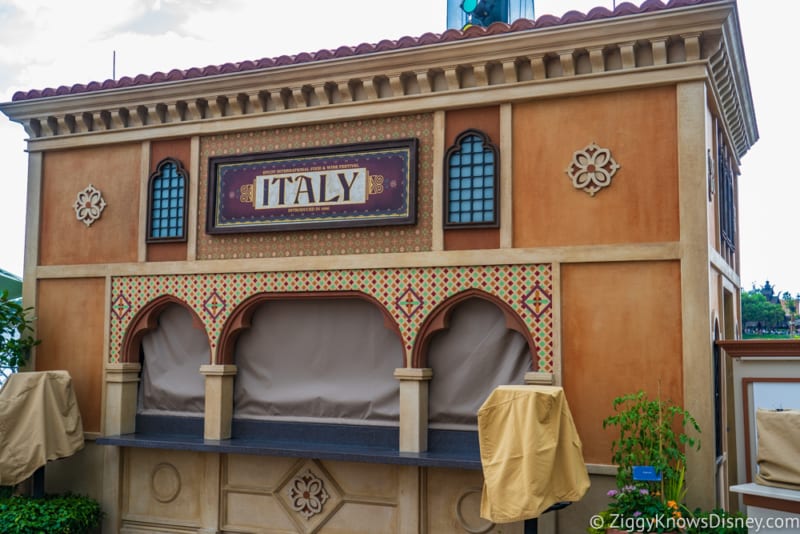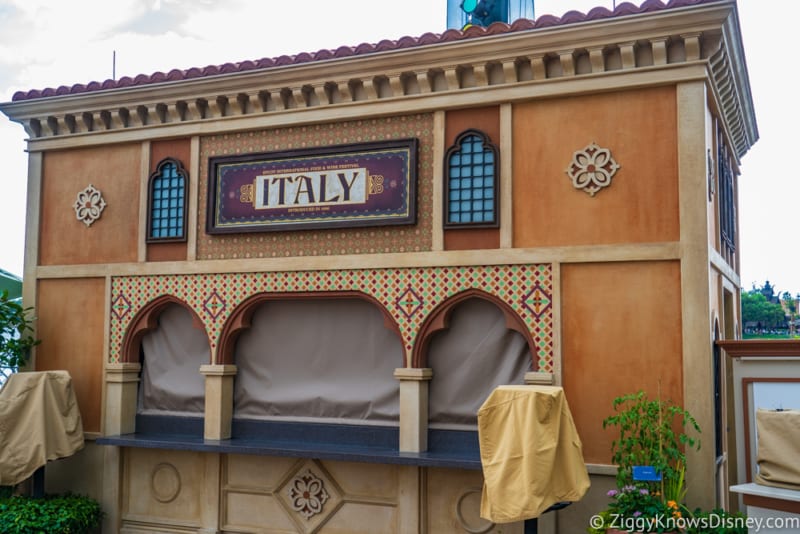 Italy Menu:
Italy is a marketplace the often takes risks and tries new things, and that stays true this year. NOT ONE of their 3 savory items from last year is back, everything is new. I want you to think about that because it's the only marketplace even close to that. That's also helped by the fact that Italy has one of the most diverse and extensive culinary cultures, so there's always more things to try!
There is always a pasta dish of course and this year it's one of my favorite recipes, Ravioli Carbona. If you are looking for meat there are pork ribs, (Costine di Maiale) and Crispy Chicken with Marinara Sauce.
The Cannoli is back again of course, but there's even a second dessert item which sounds incredible: Chocolate-Hazelnut Cake. Yeah I'm definitely trying that one!
Even most of the drinks this year are different and beg to be tried.
Food:
Ravioli Carbonara: Parmesan and Pecorino Ravioli, Egg Yolk, Cream, and Bacon ($7.25)
Costine di Maiale: Balsamic-glazed and Oven-roasted Pork Ribs ($8.00)
Pollo: Crispy Chicken with Marinara Sauce (KA) ($6.00)
Traditional Sicilian Cannoli: Crisp Pastry filled with Sweet Ricotta, Chocolate, and Candied Orange ($4.25)
Chocolate-Hazelnut Cake: Vanilla Cake and Chocolate-Hazelnut Mascarpone Cream dipped in Chocolate (KA) ($4.25)
Beverages:
Peroni Nastro Azzurro Pilsner ($5.50)
Pinot Grigio, Santa Marina ($9.00)
Chianti, Gabbiano ($9.00)
Prosecco, Villa Sandi ($10.00)
Corbinello, Montegrande ($10.00)
Moscato Fior d'Arancio, Montegrande ($10.00)
Italian Margarita with Limoncello and Tequila ($10.00)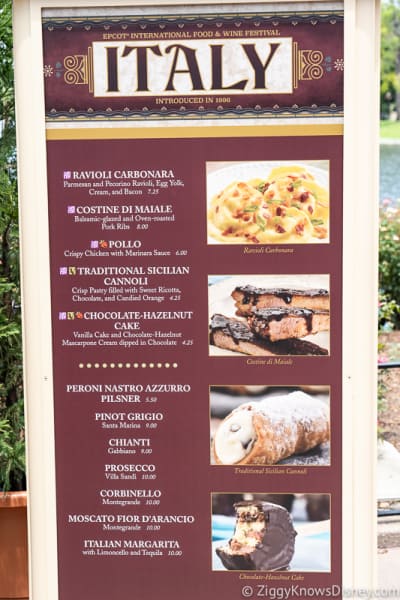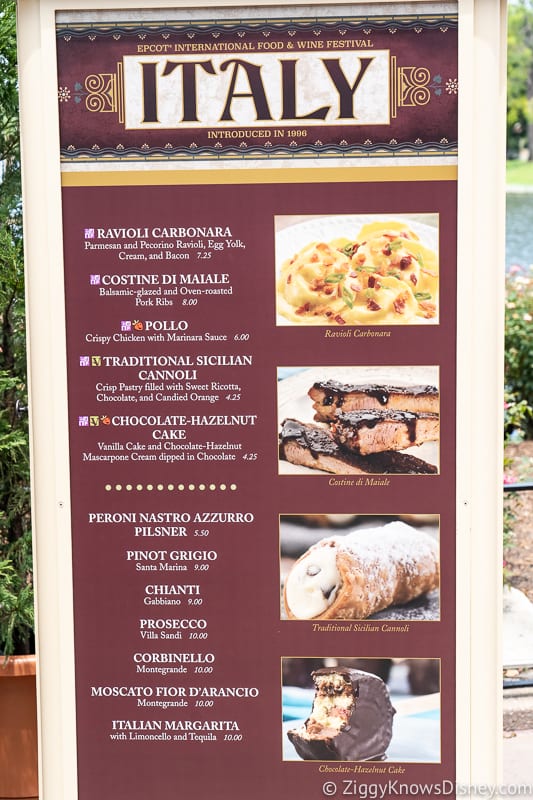 Menu Review:
Ravioli Carbonara ($7.25)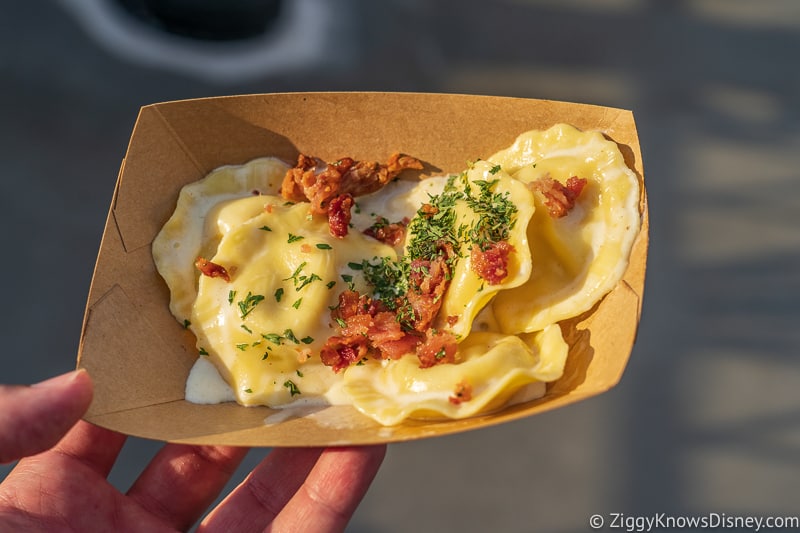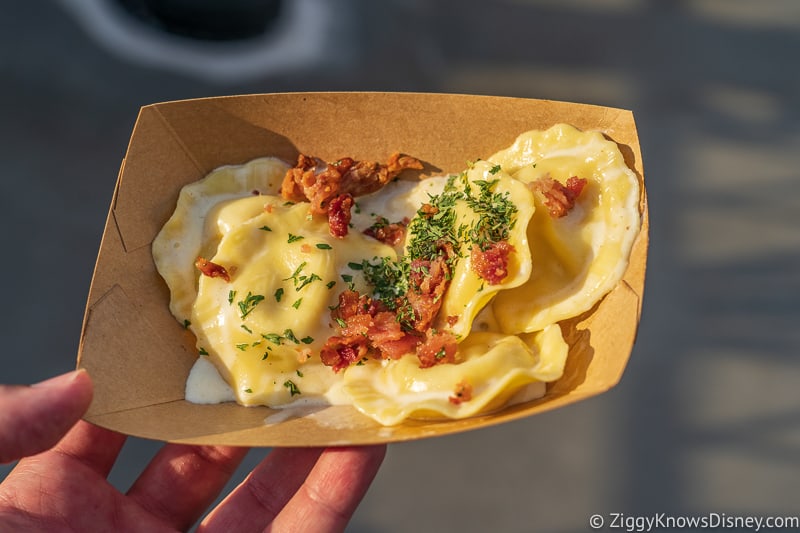 So real pasta all carbonara is one of my favorite types of pasta in Italy, this is not to that level. A real carbonara sauce doesn't have cream and is based on eggs. This was much thinner than normal carbonara. Them come covered in bacon which is a nice touch.
The ravioli themselves were decent, obviously industrially made, but not bad. I do appreciate the fact you get 5 ravioli because in other times when ravioli has been on the menu here, I've been give 2 ravioli.
While not my favorite dish, I do like these ravioli better than the ones at Wine and Dine Studio, who give you just 2!
Costine di Maiale: Balsamic-glazed and Oven-roasted Pork Ribs ($8.00)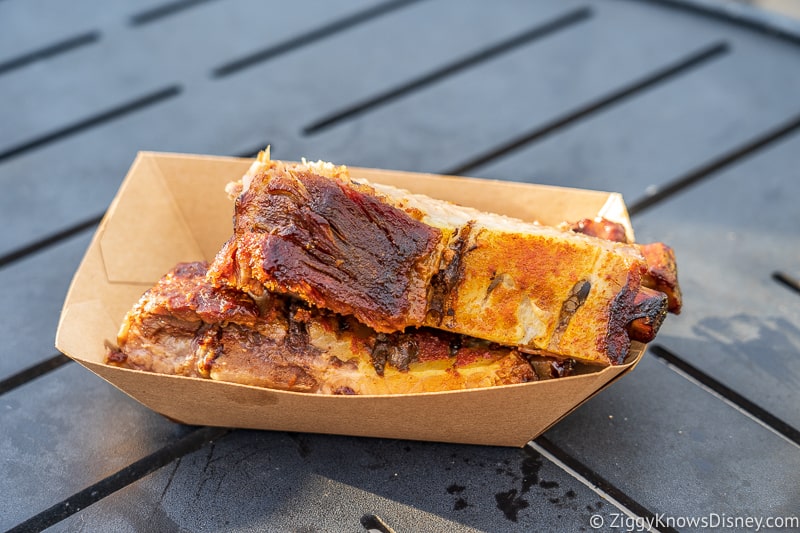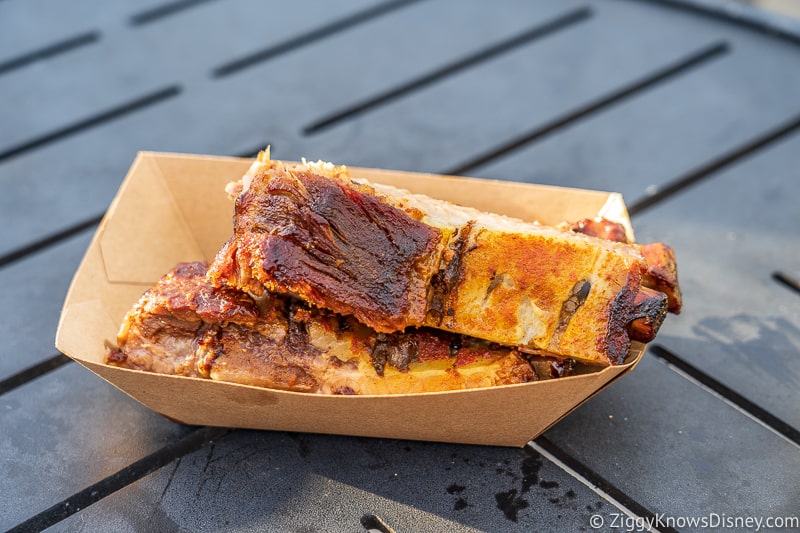 Ok, so even if we were underwhelmed by the ravioli, the Ribs were outright amazing! There were 3 BIG ribs in the portion, which even for $8.00 makes it one of the better values at Food and Wine. These things will fill you up!
The meat itself though was also really good, it was a little crispy on the outside, but inside very tender and the meat fell of the bone.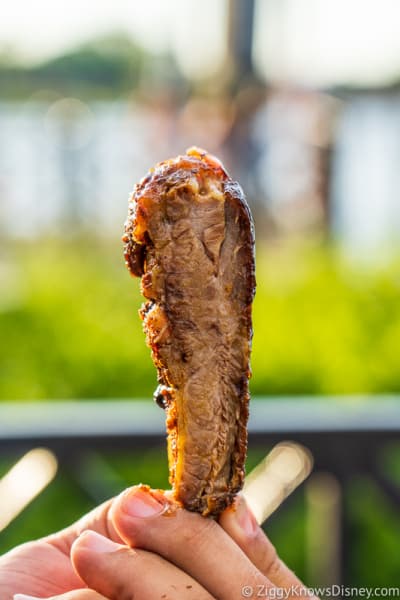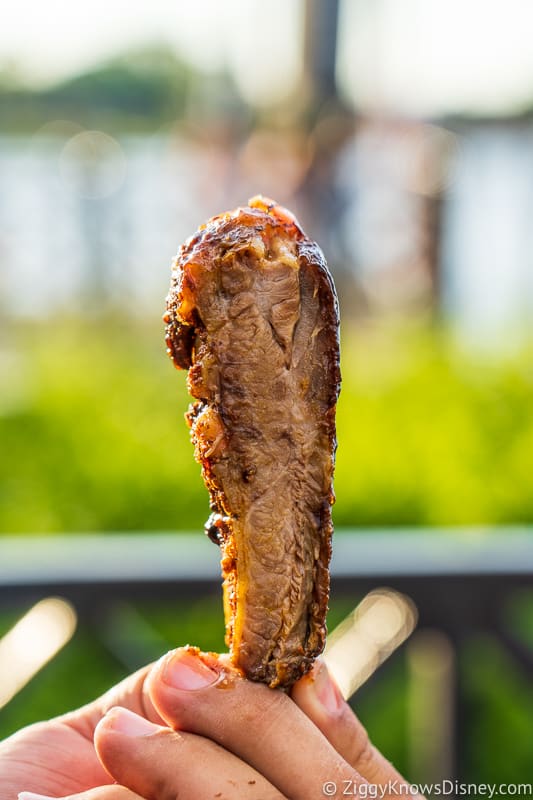 It gets even better when you compare these to the ribs in China which are smaller and they only give you 2, for only $1 less than in Italy. This was absolutely one of the best snacks at Food and Wine this year and one you CAN'T Skip!
Pollo: Crispy Chicken with Marinara Sauce ($6.00)
I've seen a lot of other Disney bloggers bashing the crispy chicken in Italy this year, but honestly, I really liked them. Yes what are essentially chicken tenders is not the best choice in my opinion for a country with such a wide varieties of amazing recipes.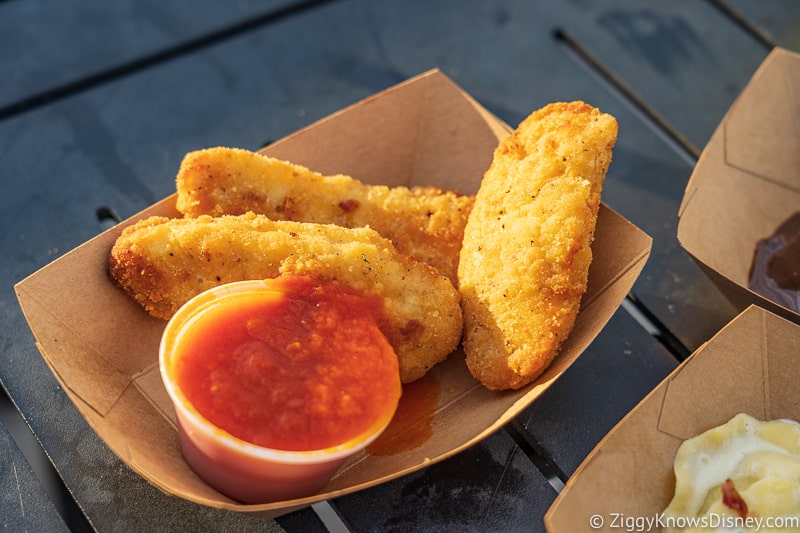 However these chicken tenders are better than any other ones in Walt Disney World, and for the price and amount of chicken they give you, the value is actually better here.
They are lightly battered and not that heavy batter you normally see in Disney World. The chicken itself was great…moist inside and not dried out like chicken tenders can be.
It would have been nice to get some chicken parm with a chicken base like this, and it's not a must-try, but if you are in Epcot and want chicken tenders, you won't find a better option anywhere.
Traditional Sicilian Cannoli ($4.25):
This is a very simple recipe, but one that lets its ingredients shine. Just like you'd find in Sicily, this cannoli is different from the old ones with a chocolate covered shell. This one has moved back to the more classic Sicilian Cannoli with sweet ricotta cheese filling and chocolate chips and candied fruit inside.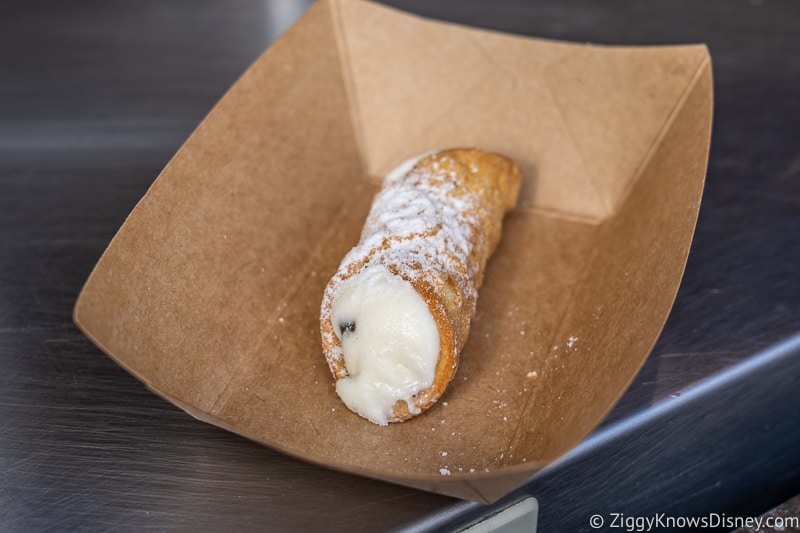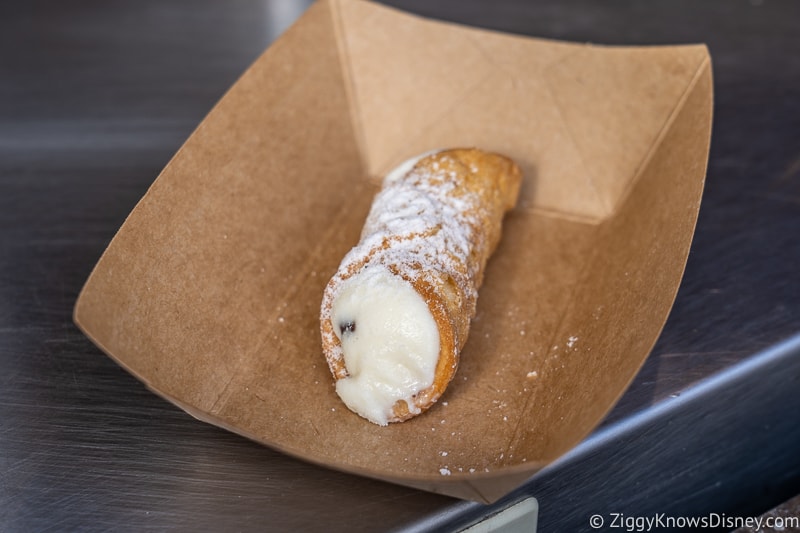 So I'm a tough critic on cannoli and when you've had real authentic Sicilian Cannoli, it's hard to have anything else. This was good, but not great. They just can't replicate that real ricotta cheese filling, plus it's like the size of your finger. Get the Maple Bourbon or Passion Fruit Cheesecakes for the same price and you'll leave happier!
Chocolate-Hazelnut Cake ($4.25)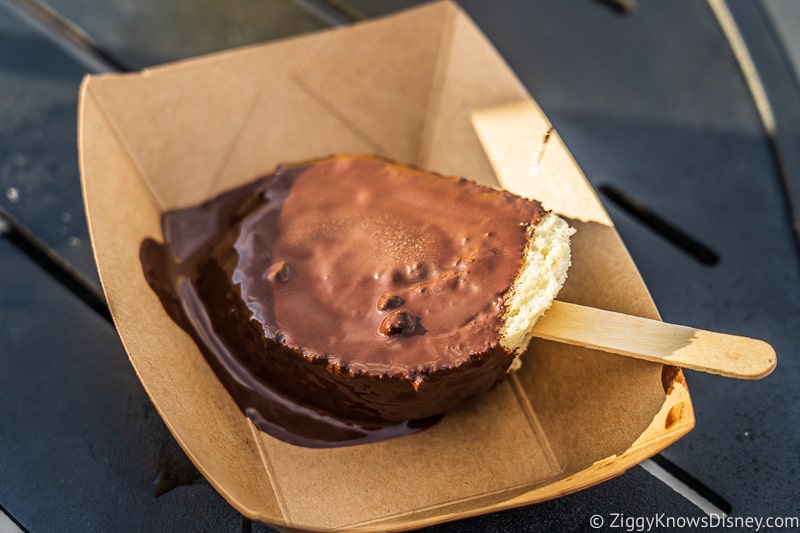 I love the fact that Italy introduced a 2nd dessert to it's menu, giving them a total of 5 food items!! Just that deserves some props.
I'm sorry to say though the Chocolate-Hazelnut Cake is nothing special imo. I love Nutella as much as the next guy, and that part was certainly great, but the spongy yellow cake base underneath was just blah. I would eat Nutella every day with a spoon if I could, but I just feel like this one missed out on a great opportunity.
Pinot Grigio ($9.00):
Solid Pinot Grigio. Goes good with almost any type of food. It was fresh and fruity and I tasted pear and citrus on the finish. A full and lively wine. I'd get again.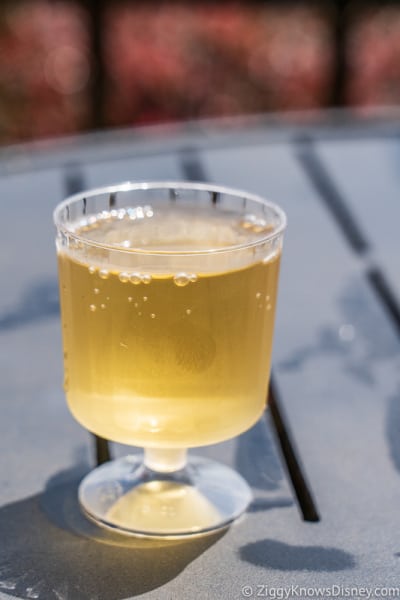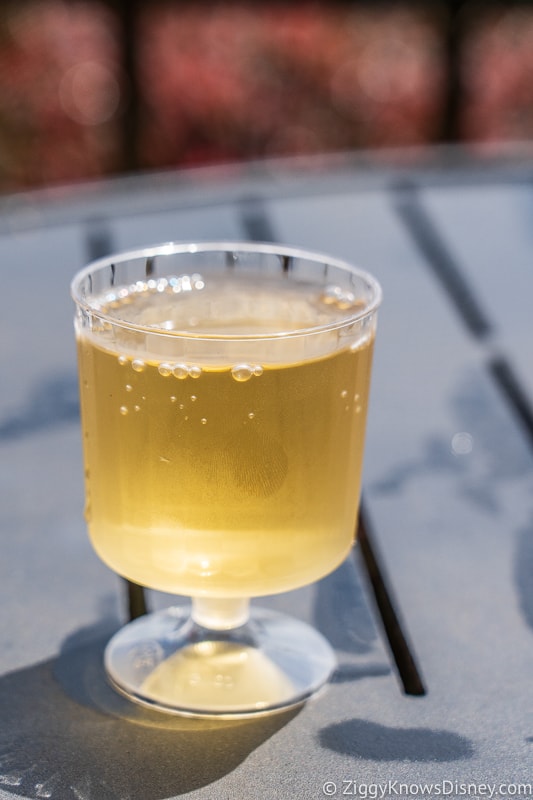 Italian Margarita with Limoncello and Tequila ($10.00)
Wow, the Italian Margarita css AWESOME! This shot up the list of our favorite drinks at Food and Wine and is almost ass good as the La Passion Martini Slushy in France.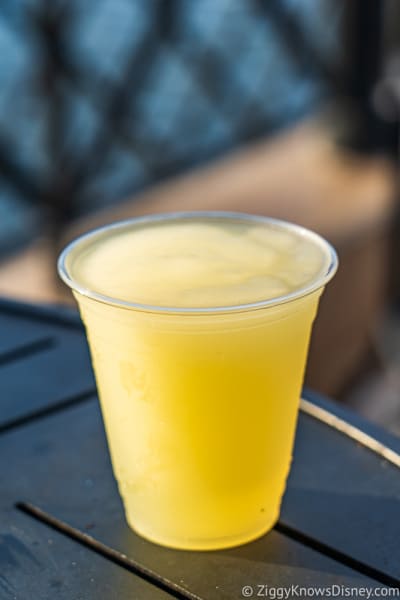 At its most basic level, it's like a lemon drop martini in frozen form, but as a margarita. That to me is a great thing because I love anything lemon. This was really refreshing on a hot day and it had the right balance of sweet vs tart, and the right alcohol level too. I'll be getting many of these for sure!
Corbinello, Montegrande ($9.00)
We love sparkling wines and the Corbinello is definitely a dessert wine. Some in our group thought it was too sweet so keep that in mind, I thought it was just right though. Definitely sweeter than the Pineapple Wine in Hawaii.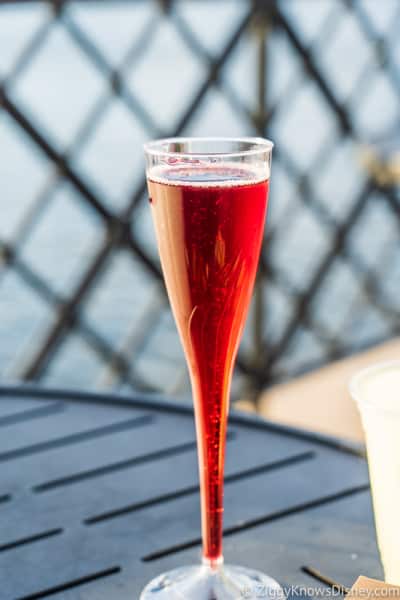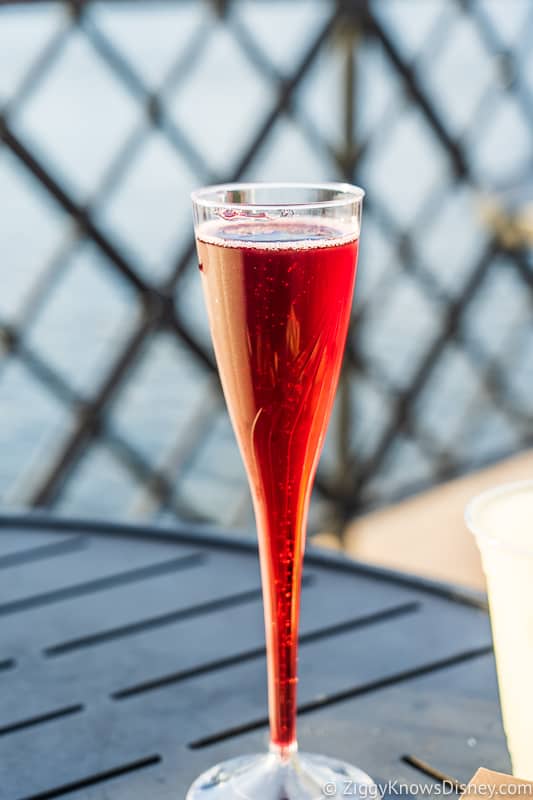 I don't think you'd want to drink more than one, but if you like sweet wines, you'll enjoy this.
Booth Summary and Grade:
ItalycContinuously takes chances on their menu and that's something that unfortunately more marketplaces don't do, and I'm giving them some points just for the fact they have 5 food items, and 2 desserts.
The Italian Margarita was incredible, and so were the ribs. Both we'd come back again and again for. The chicken tenders are the best in Epcot, and if in the mood we'd also get these again. The other menu items are ok, nothing crazy good, but nothing we hated either. And though it's expensive, I actually thought the portions were right on this year compared to the rest of the festival.
I hope Italy keeps the really awesome items next year and I really enjoy seeing an almost completely different menu every year. Stop by, there are some things you'll like for sure!
If you have to get just one thing:
Costine di Maiale

Italy Review

Overall Grade -

8.5/10
I want you to be able to have the best info on the Festival so you have a great time and don't waste your time! Take a look at all of my 2019 Epcot Food and Wine articles including:
MUST-TRY NEW Items at 2020 Food and Wine Festival (Coming Soon)
Top Food and Wine Booths (Coming Soon)
Your Thoughts:
I want to know what you think about the Italy Review at the 2019 Epcot Food and Wine Festival…
Which is your favorite item?
Which do you still want to try?
Let us know in the comments section below!
If you enjoyed this article, as always I appreciate it if you'd share it with others via social media. I work hard at making this website into a useful resource for you and your family to plan your visit to the Disney Parks and I hope it can help you! Thanks 🙂