Mexico is a Food and Wine staple, and this year is no different as it assumes its normal position along the World Showcase promenade. It's always our stop when we want a good margarita and they usually have some kind of delicious tacos or tostadas to try.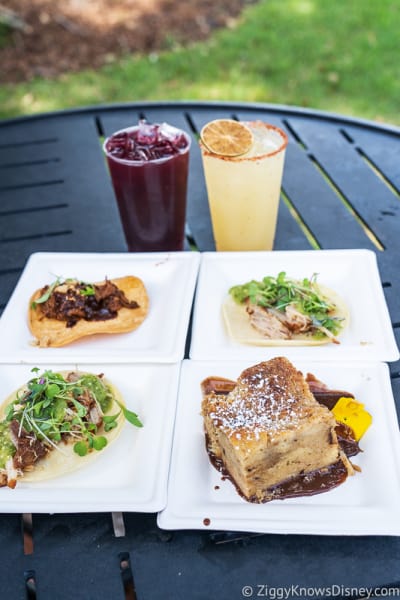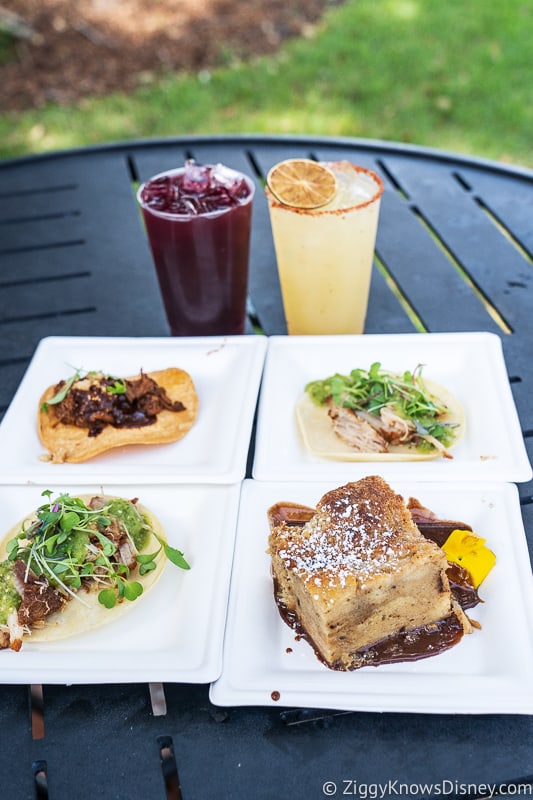 Let's see what's being served this time in our Mexico Review from the 2019 Epcot Food and Wine Festival!
Mexico Marketplace:
The Mexico marketplace is logically located right in the Mexico Pavilion, right on the promenade in World Showcase. You can't miss it: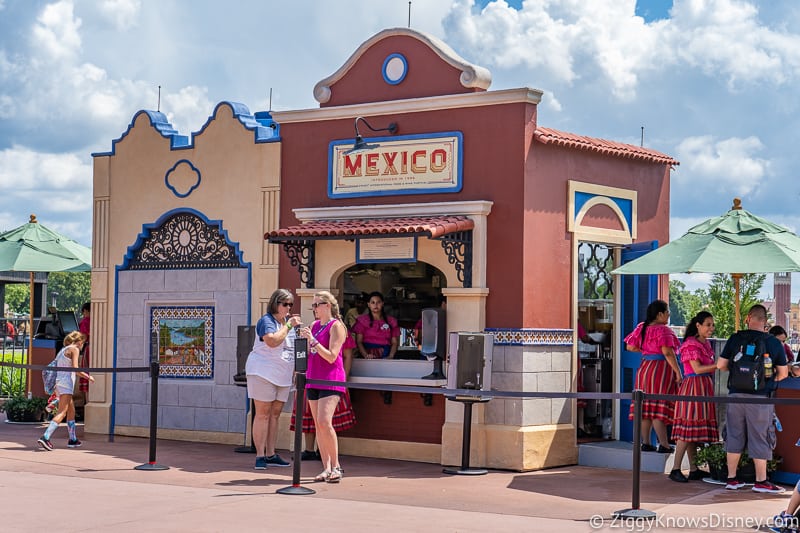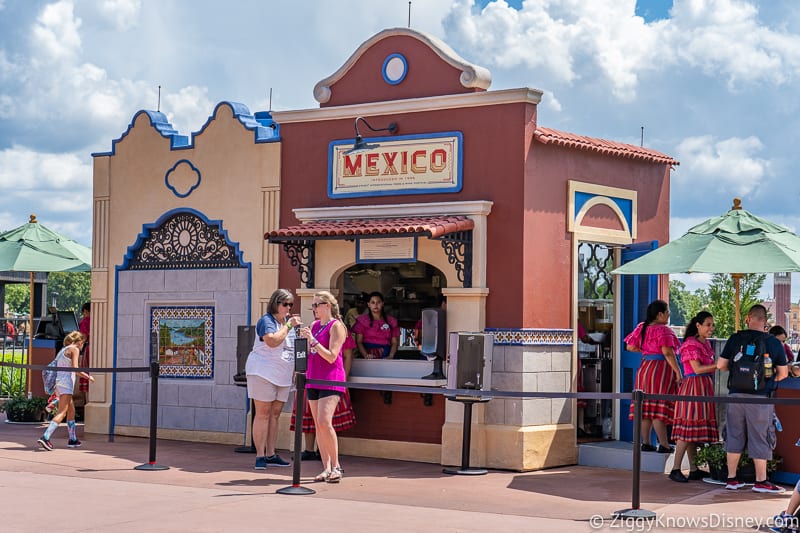 Mexico Menu:
This is another menu for Food and Wine that's completely changed this year. I love when that happens and the different marketplaces take risks, trying new recipes instead of just al the same old stuff.
This year we have: Taco de Puerco: Shredded Pork Belly on a Corn Tortilla with Salsa Verde, Tostada de Carne: Braised Beef on a Corn Tostada and and Chocolate Bread Pudding. There are always good margaritas here and other drinks, and that's no different this year with the Clasica Reyes Margarita and Smokey Margaritas both catching my eye.
One thing to note though is Mexico is notorious for having high prices as it's one of the "safe" international foods, and for that they can charge more.
Food:
Taco de Puerco: Shredded Pork Belly on a Corn Tortilla with Salsa Verde ($6.50)
Tostada de Carne: Braised Beef on a Corn Tostada with Mole Oaxaqueño and Chicharrón Dust ($6.95)
Capirotada de Chocolate: Chocolate Bread Pudding served with Chocolate Abuelita Crème Anglaise ($4.75)
Beverages:
Cerveza Por Favor: Mexican Craft Beer served with a Liqueur Floater ($5.00)
Mexican Sangria: Red Wine, Blackcurrant Liqueur, Citrus Juices, Strawberry Purée, and a hint of Rum ($9.50)
Clasica Reyes Margarita: 100% Agave Tequila, Ancho Reyes Liqueur, Lime Juice, and Agave Nectar served on the rocks with a Tajín Chile-Lime Powder Rim ($10.75)
Smokey Margarita: Mezcal Ilegal, Pineapple-Ginger Juice, Agave Nectar, 100% Agave Tequila and Ancho Reyes Liqueur served on the rocks with a spicy Salt Rim ($11.25)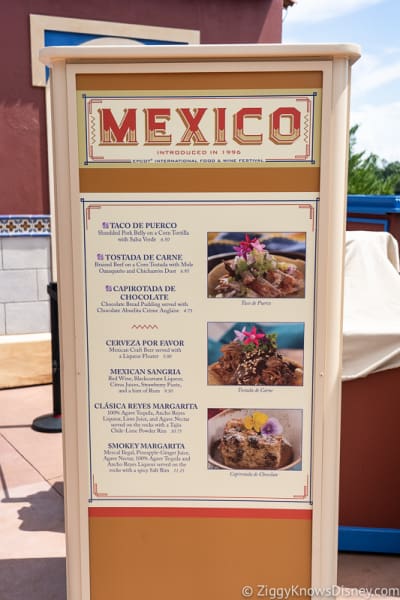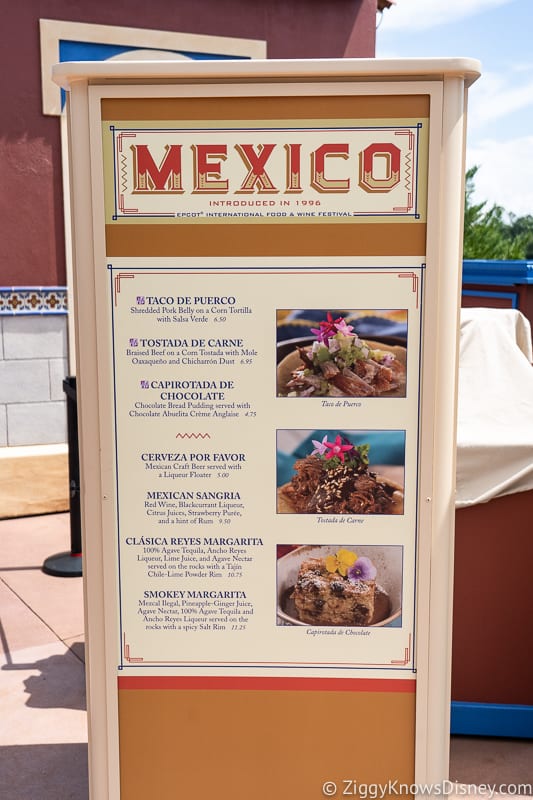 Menu Review:
Tostada de Carne ($6.95)
Last year the beef tostada was great, this year not so much. First of all the Tostada de Carne portion is small, you only get a little piece of meat for almost $7. The meat is tender, like shredded beef, but the flavor just isn't there imo. They made the sauce way to bitter and its the dominating taste in your mouth.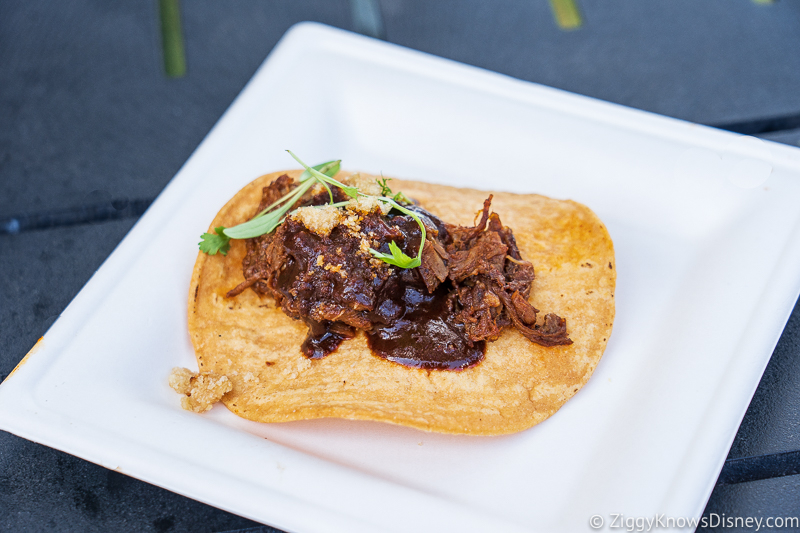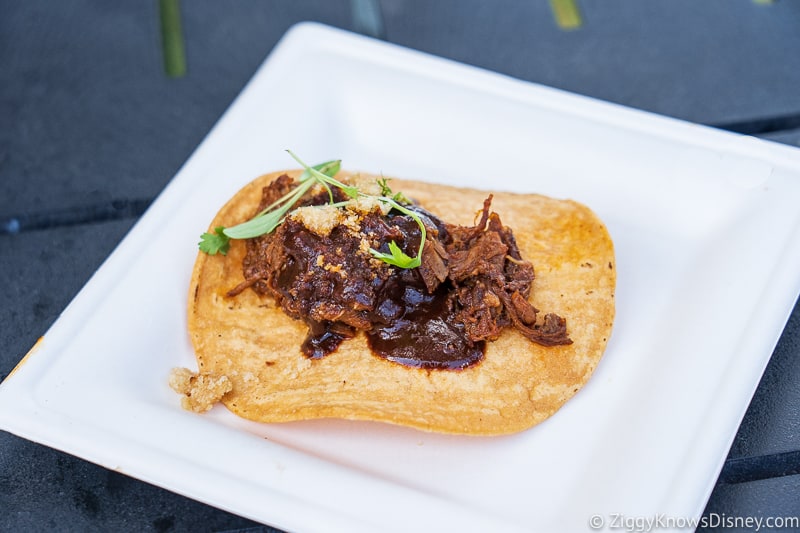 Last year the meat was sitting on a bed of refried beans, while this year nothing, just the mole sauce. The shell was ok tasting, but hard to eat and everything was falling out when you tried.
Again, too expensive for what you get and not very tasty imo.
Taco de Puerco ($6.50)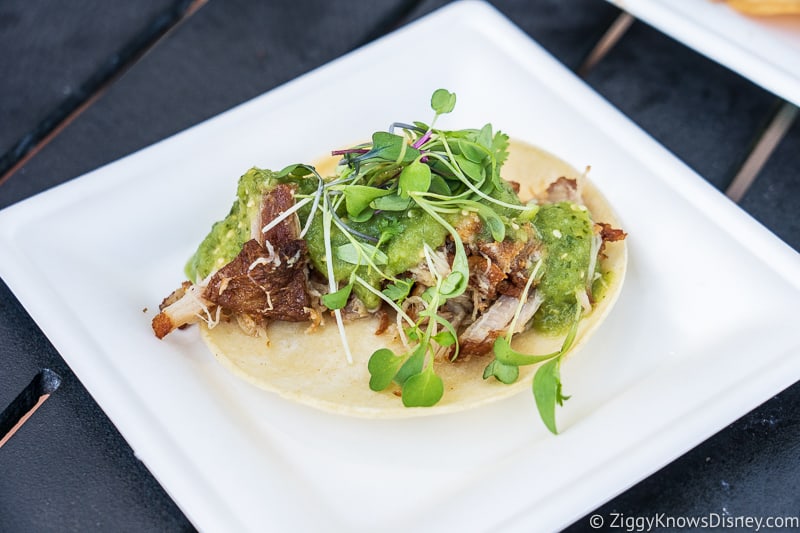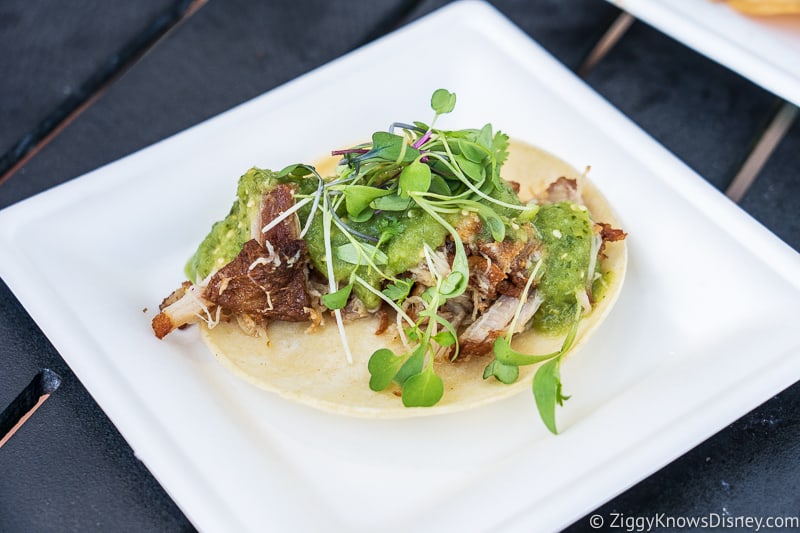 We liked the Taco de Puerco much more than the tostada. This taco had great flavor jam-packed into a small package. It's right around the same price as the tostada, but there was a lot more meat in here.
I never say no to pork belly, and this was shredded much like the beef, but it actually tastes good. crispy outside but still juicy inside. The sauce had a little kick to it which we liked but not overpowering for most.
Unlike past items in Mexico, I have to say this one is a hit and worth getting!
Capirotada de Chocolate: Chocolate Bread Pudding ($4.75):
So I've had very few bread puddings in my life, but I have to say, after eating the Chocolate Bread Pudding here, I might have to start getting it more! I didn't have high expectations going in but it really was good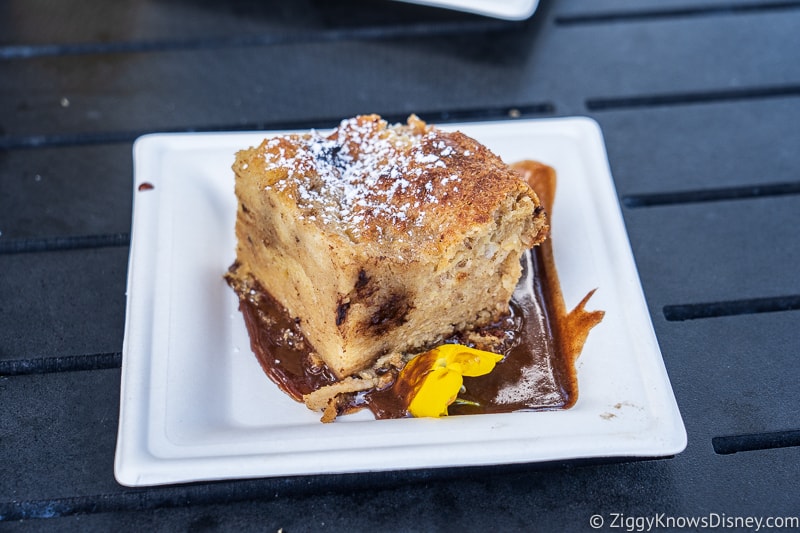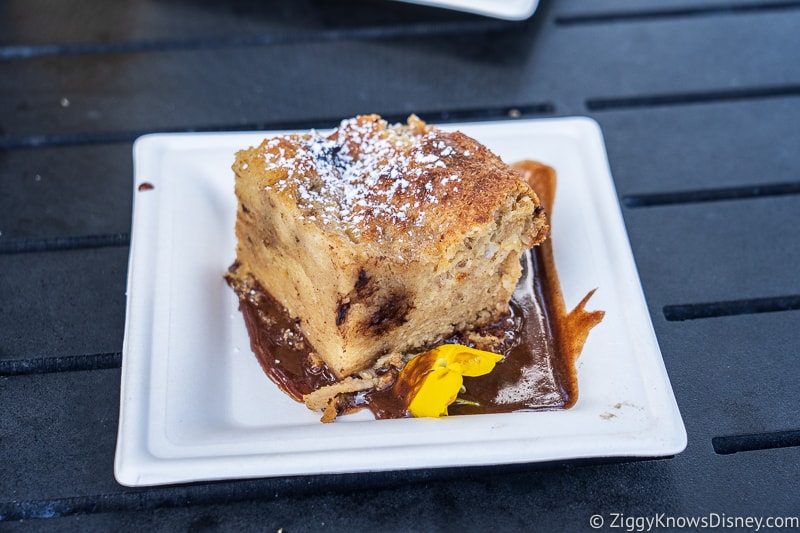 First of all the portion size was HUGE, I couldn't even eat it all so it's a great value and a great option to split with friends. The bread was moist, not soggy, but not dry either. It had a very chocolatey taste to it and was very rich. The center was awesome because it was all gooey and hot!
It also came with more chocolate sauce to dip it in which was a good touch.
This is a much improved dessert over the rice pudding from last year and it will help improve Mexico's grade a bit in the final score.
Smokey Margarita
($11.25):
I've never had a Smokey Margarita before either, and this was definitely one of the more unique drinks I've tried here. It's really smokey, and I get like a bit of a tamarind flavor in there. There's a strong lime taste on the backend, but still smokey. No need for BBQ with this margarita you're all set!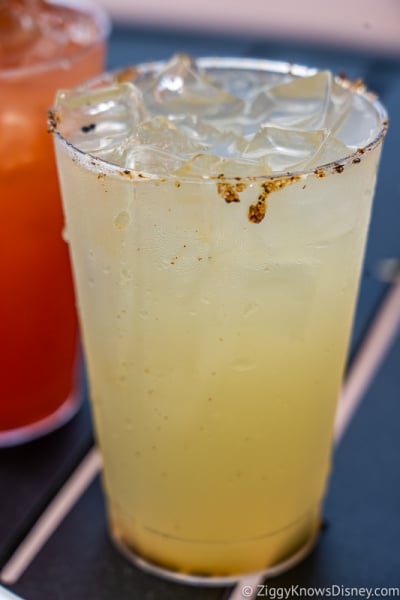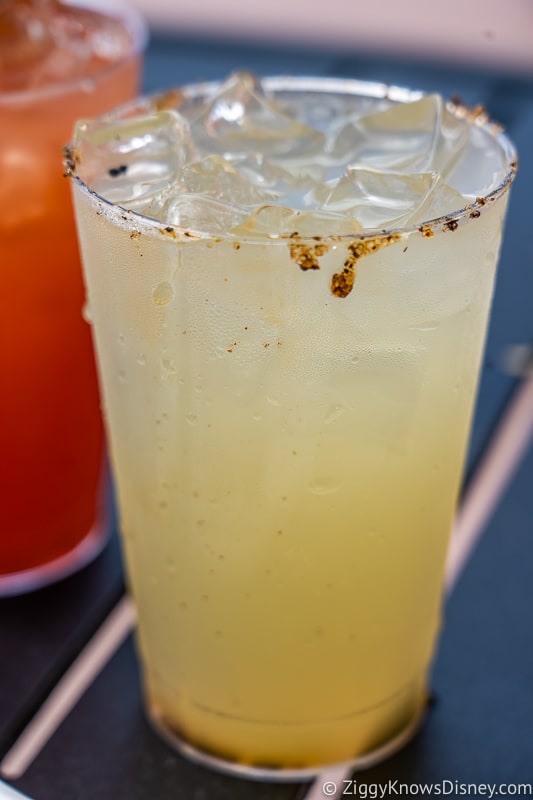 All kidding aside it was very creative and I applaud whoever came up with this. For sure worth trying.
Mexican Sangria ($9.50)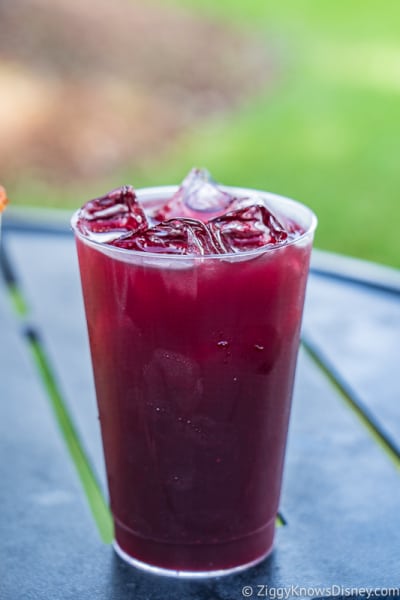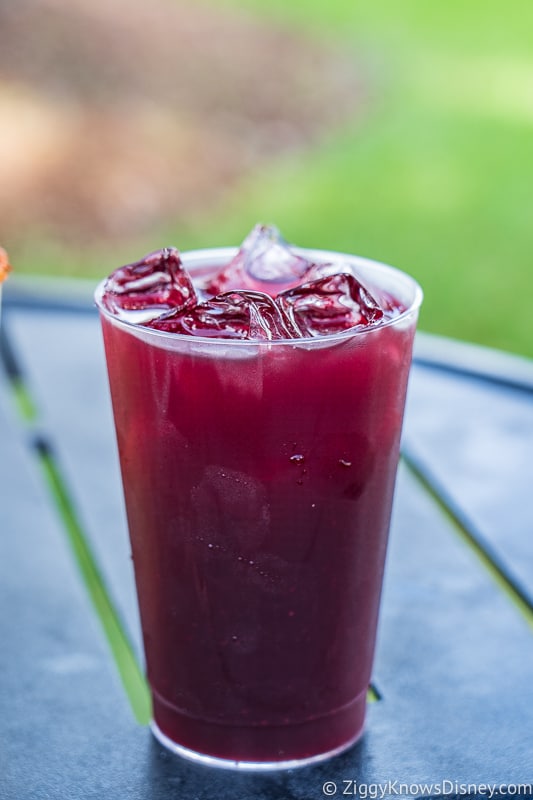 The Mexican Sangria was amazing last year, and nothing has changed since then. It's fruity, you can taste the dark fruits like blackberry and strawberry, but also hints of citrus throughout.
Again, not a drink that's totally loaded with alcohol, but it's not watered-down either and a pretty decent balance.
Clasica Reyes Margarita ($10.75)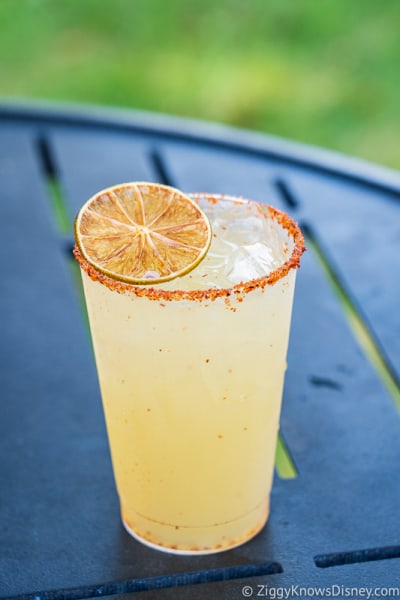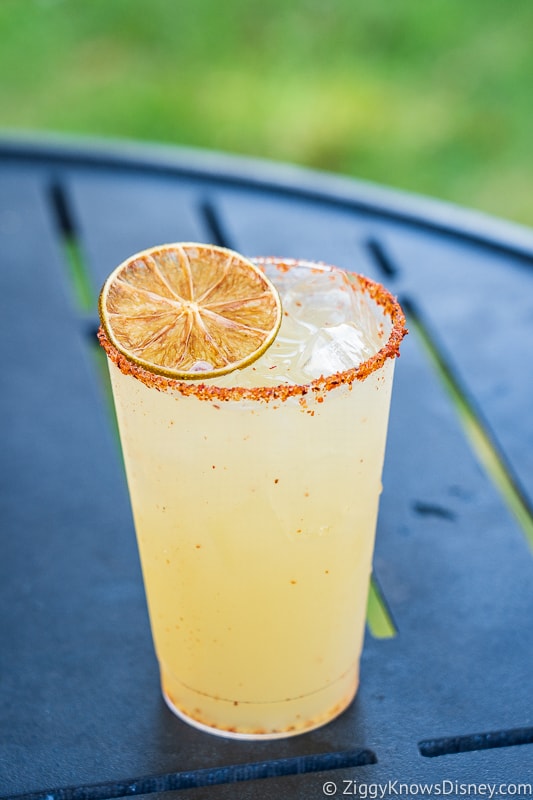 The other drinks we had were good, but the Classic Reyes Margarita was our favorite in Mexico. We've very rarely had a margarita we didn't like in Mexico and that's not about to change now.
This is more your classic margarita as the name implies, and there is a strong lime flavor throughout. We were also a fan of the chili-lime salt on the rim and liked how it gave this drink a little kick, making it different from your normal margarita.
Definitely give this one a try!
Booth Summary and Grade:
Like some others I've mentioned before, I can't say anything about the quality of the food and drink here, it was all top notch. The Taco de Puerco is mouthwateringly good, and we really enjoyed the Chocolate Bread Pudding too. The drinks are all amazing as usual and you can't really go wrong with any of them
The Tostada is a pass for us as we don't like the flavor of the sauce on it, and as usual since Mexico is one of the "safe" international foods for most people, the prices are inflated in comparison to other marketplaces you might find at Food and Wine.
Even the margaritas are high priced, which is the premium you pay for having the unique flavors they offer. You can get a better deal right next door at Choza de Margarita though where they are just as good. All that said we still think Mexico is a must-stop and one of the top marketplaces this year.
If you have to get just one thing:
Classic Reyes Margarita
I want you to be able to have the best info on the Festival so you have a great time and don't waste your time! Take a look at all of my 2019 Epcot Food and Wine articles including:
MUST-TRY NEW Items at 2020 Food and Wine Festival (Coming Soon)
Top Food and Wine Booths (Coming Soon)
Your Thoughts:
I want to know what you think about the Mexico Review at the 2019 Epcot Food and Wine Festival…
Which is your favorite item?
Which do you still want to try?
Let us know in the comments section below!
If you enjoyed this article, as always I appreciate it if you'd share it with others via social media. I work hard at making this website into a useful resource for you and your family to plan your visit to the Disney Parks and I hope it can help you! Thanks 🙂