Morocco I feel is a place in World Showcase that unfortunately many just walk straight past without stopping by in favor of some of the more popular Food and Wine choices nearby. That's too bad because they usually always offer up a solid list of snack items like Hummus Fries and Chocolate Baklava.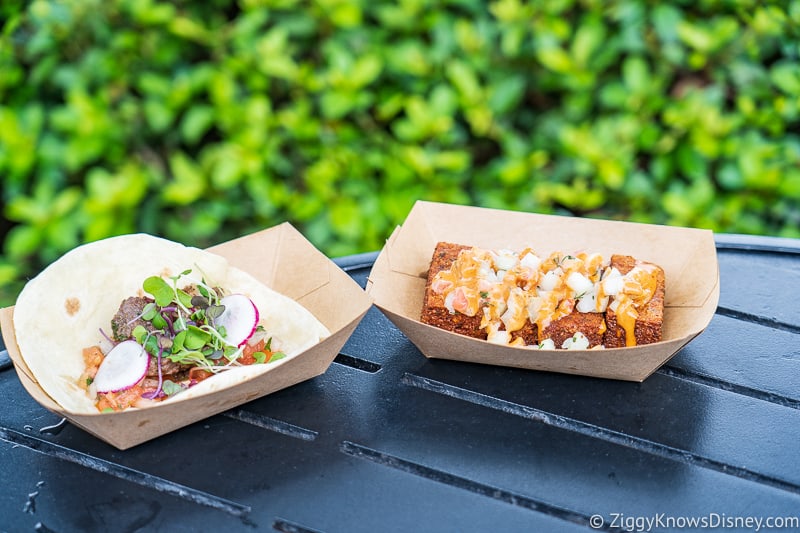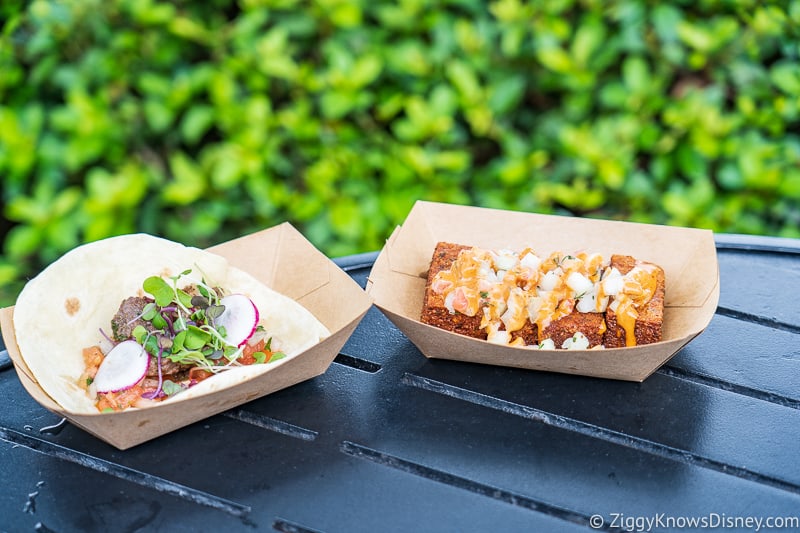 This year there's also a new item we can't wait to try so let's check it all out in my Morocco Review for the 2019 Epcot Food and Wine Festival….
Morocco Marketplace:
Morocco has an absolutely beautiful marketplace in the Morocco pavilion, between Japan and Belgium: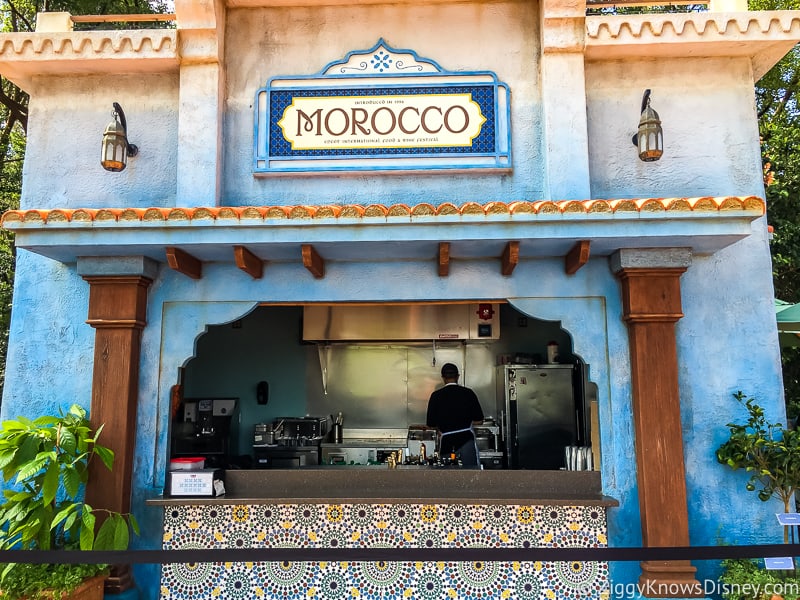 I just love those colors, the blue is especially awesome!
Morocco Menu:
After a few years of the Kefta Pocket, they changed up the Morocco menu this year and introduced a NY Strip Steak Green Shermoula Flatbread with fresh Radish and Tomato Salsa. It sounds like it's gonna be equally as yummy and we can't wait to try it.
Besides that the Spicy Hummus Fries and Chocolate Baklava are back again and we are happy about that as they are always some of our favorites.
Food:
NY Strip Steak Green Shermoula Flatbread with fresh Radish and Tomato Salsa ($9.00)
Spicy Hummus Fries with Cucumber, Tomatoes, Onions, Tzatziki, and Chipotle Sauce ($8.00)
Chocolate Baklava: Rolled Phyllo Dough with Toasted Almonds and Dark Chocolate Sauce ($4.50)
Beverages:
Casa Beer ($4.50)
Laroque Chardonnay, Carcassonne, Languedoc-Roussillon ($6.00)
Red Organic Sangria ($7.00)
Mimosa Royale: Sparkling Wine and Orange Juice topped with Orange Liqueur ($9.00)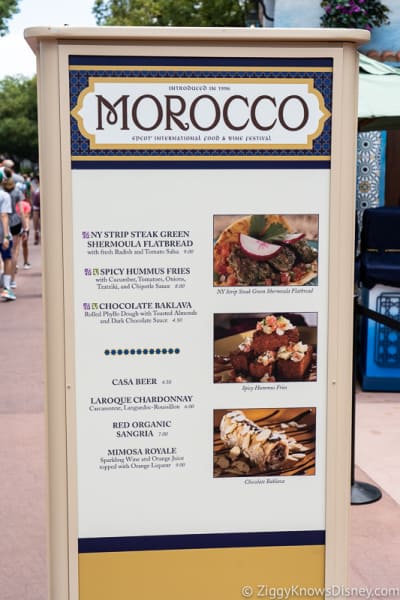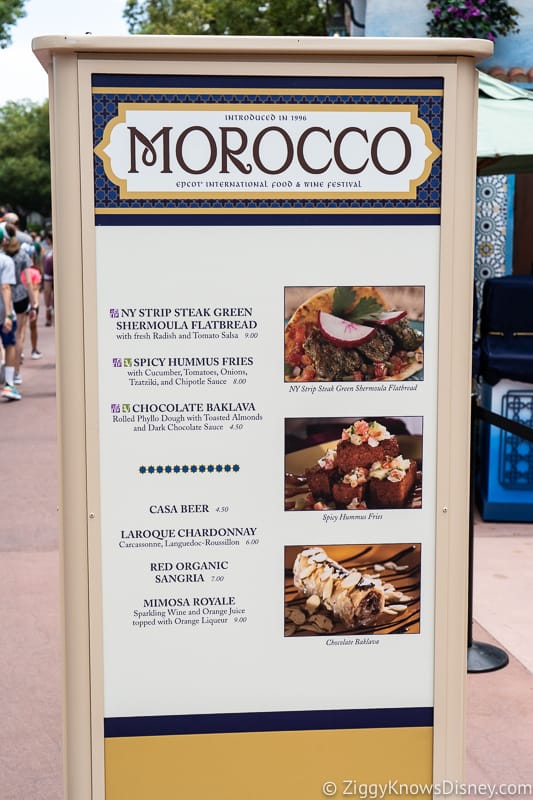 Menu Review:
NY Strip Steak Green Shermoula Flatbread ($9.00):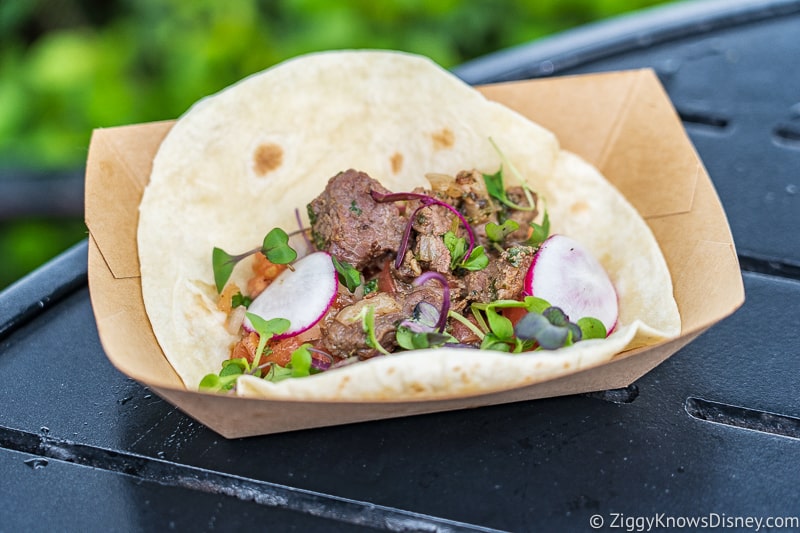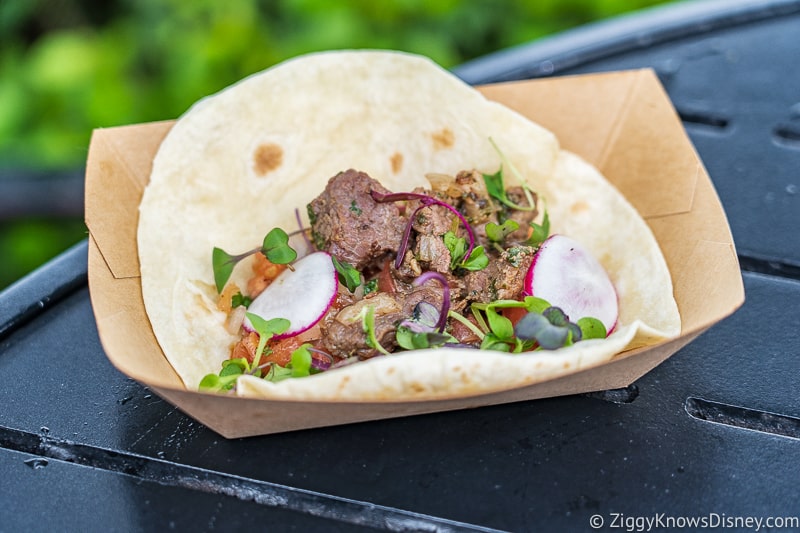 The NY Strip Steak Green Shermoula Flatbread is the replacement for the Kefta Pocket that was a staple of the Morocco menu and though we hate to see our favorites go…here it is.
The overall flavor of the dish is actually pretty good. The steak was cooked right and was nice and tender, and the juice was dripping down from it when you ate it. The accompaniments were good, nothing great, but the real flavor was in the meat.
The problem though is that it is one of the most expensive items at Food and Wine at $9.00, and it's not very big. If they knocked off $2-3 off the price I'd probably have this on my Best Snacks at Food and Wine list, but at this price point I just can't do it.
I have to tell you to pass because it's not that special of a dish to warrant the price.
Hummus Fries with Cucumber, Tomato, Onions, Tzatziki Sauce and Chipotle Sauce ($8.00):
I used to love the Hummus Fries in Morocco, they were one of my most underrated dishes at the festival. That is until Disney decided to jack up the price by a whole $3 from $5 to $8 in ONE YEAR! That's the biggest price increase at the festival this year.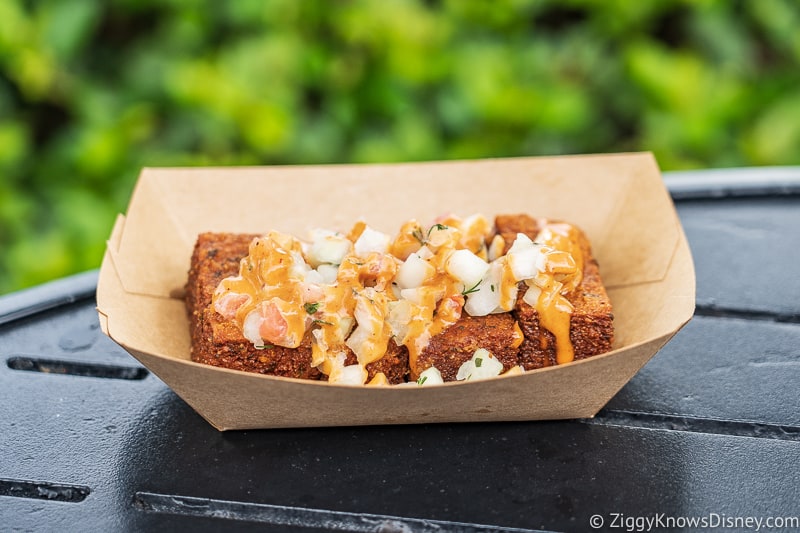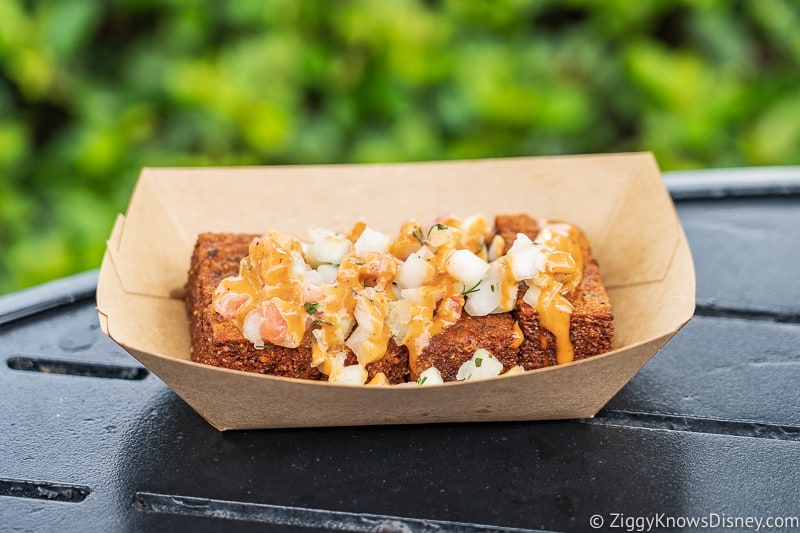 The price though was not the only problem we had with the hummus fries this year. They brought back the spicy version this time, which actually gave it more flavor than last year, but they were just too dry for me.
The cucumber and tomato relish on top helps a little and feels really healthy and fresh, but the inside were so overcooked that I just couldn't choke them down. I could only eat half of them and that's it.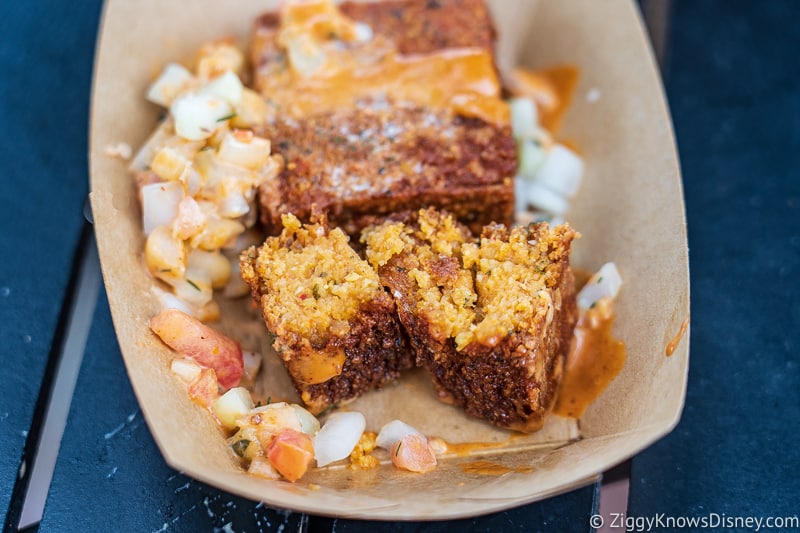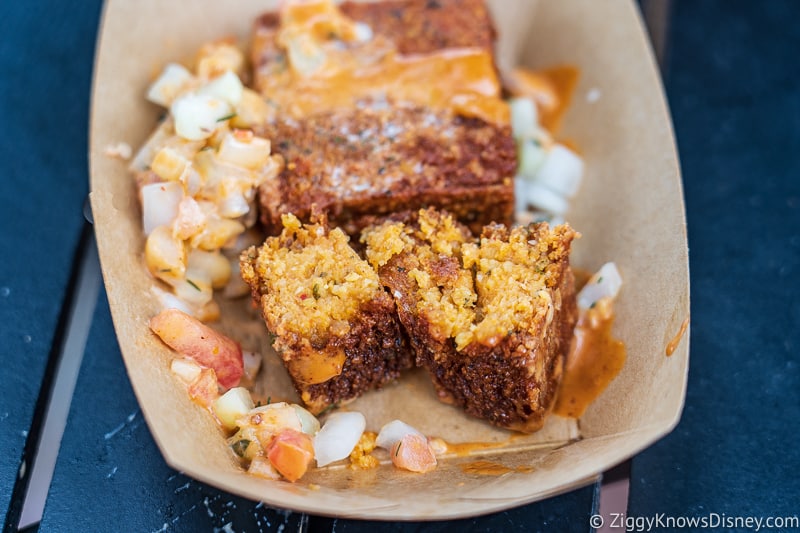 They did increase the size slightly from last year, but between them being dry as a bone and way overpriced, we put them on our Worst of the Festival list and can't recommend them at all.
Chocolate Baklava ($4.50):
On to the Baklava, a very underrated dessert imo. It's phyllo dough wrapped around fig, nuts and honey and drizzled with more honey and dark chocolate. We love it because it's just sweet enough to satisfy your sweet tooth, but not so much that you don't want to eat it all.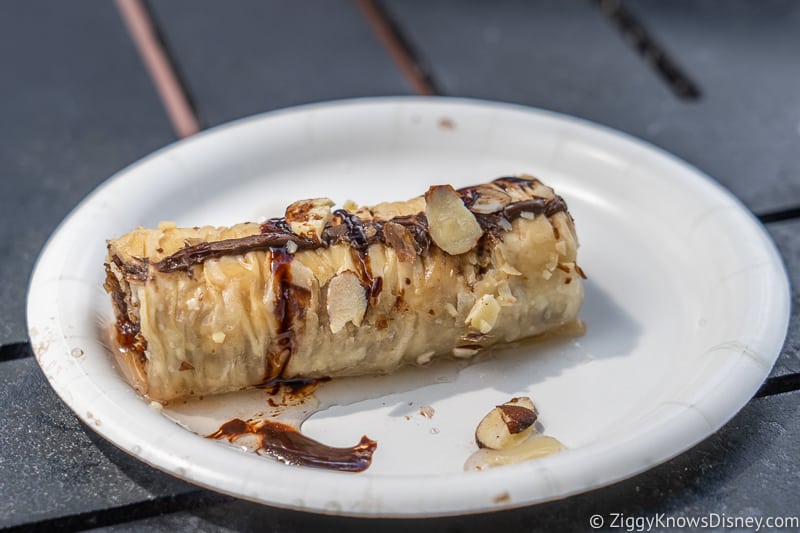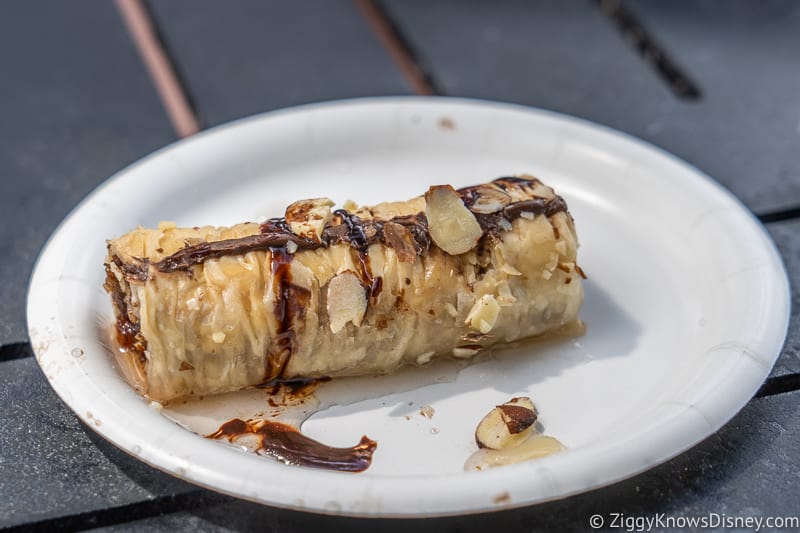 All the baklava that the Morocco pavilion makes are exceptional, and this is no different. Very good dessert option and something a little different than what you might usually get.
Mimosa Royale ($9.00):
Grabbing a drink here is also necessary given the great view of Spaceship Earth across the lake. A nice one to try is the Mimosa Royale. It's sparkling wine topped off with orange juice and orange liqueur. It was a little light on the alcohol, but very refreshing and hit the spot just right.
I liked the orange flavor a lot but it doesn't quite reach the level of some of the mimosas over in the Shimmering Sips Mimosa Bar, but still a good option for something of the kind on this side of World Showcase.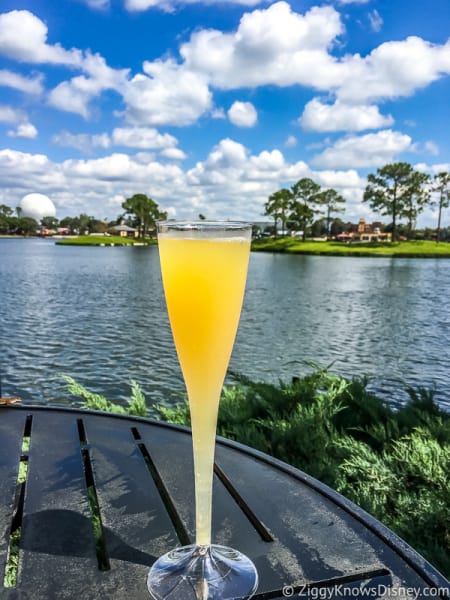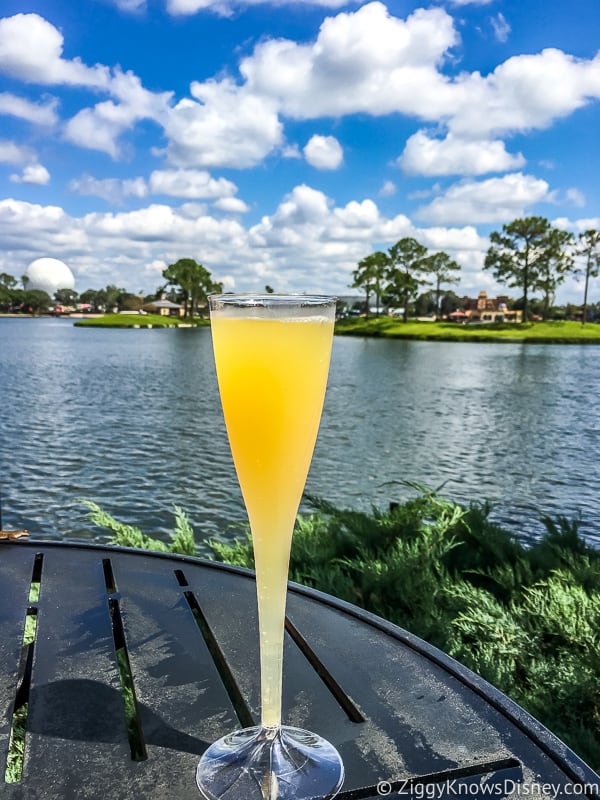 Booth Summary and Grade:
Morocco takes a hit a bit this year for the NY Strip Steak Flatbread being so expensive and the Hummus Fries turning into a complete and total train wreck. It used to be one of the most underrated booths at Food and Wine, but we're upset with the big price hikes and lower quality.
Thank goodness the Chocolate Baklava is still incredible and a good value. Stop if you want something different just beware of the cost.
If you have to get just one thing:
Chocolate Baklava
Morocco Review

Overall Grade -

7.5/10
I want you to be able to have the best info on the Festival so you have a great time and don't waste your time! Take a look at all of my 2019 Epcot Food and Wine articles including:
MUST-TRY NEW Items at 2020 Food and Wine Festival (Coming Soon)
Top Food and Wine Booths (Coming Soon)
Your Thoughts:
I want to know what you think about the Morocco Review at the 2019 Epcot Food and Wine Festival…
Which is your favorite item?
Which do you still want to try?
Let us know in the comments section below!
If you enjoyed this article, as always I appreciate it if you'd share it with others via social media. I work hard at making this website into a useful resource for you and your family to plan your visit to the Disney Parks and I hope it can help you! Thanks 🙂