The Refreshment Outpost is one of the strange Food and Wine marketplaces that is actually around all year round. Thing is, the menu gets totally changed up once Food and Wine rolls around and this year is adding: Nigerian Meat Pies and Panna Cotta! That's a strange combination but we're intrigued nonetheless.
Let's check it out in my Refreshment Outpost Review at the 2019 Epcot Food and Wine Festival!
Refreshment Outpost Marketplace: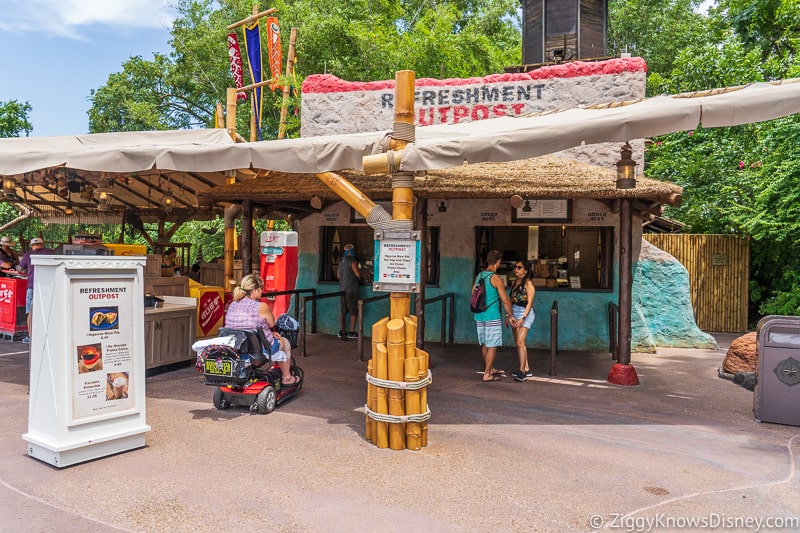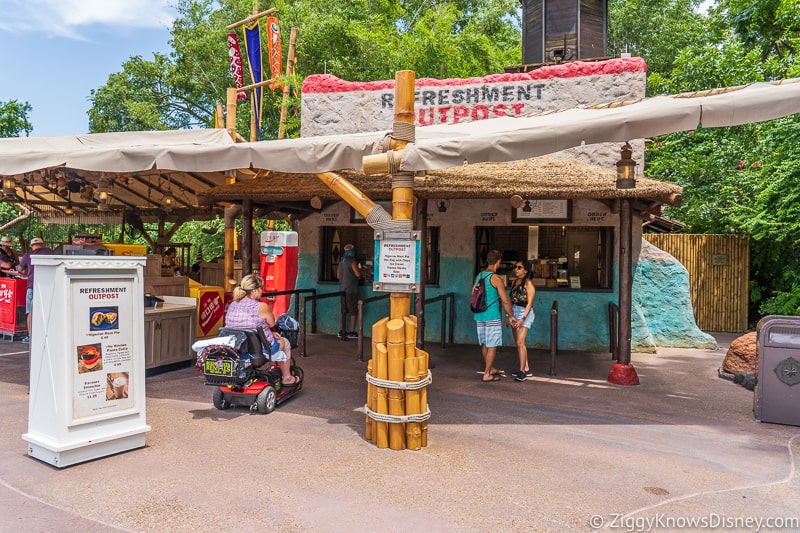 The Refreshment Outpost is always located in the same place on the left heading from the China pavilion towards Africa. It doesn't look like much, but sometimes you can find some real gems to eat here.
Refreshment Outpost Menu:
So Refreshment Outpost has totally changed from last year to this year. Before it only really offered some drinks but this year is different though and they've added some interesting food items.
For savory there is a Nigerian Meat Pie and if your in the mood for sweet then you can try the No Worries Panna Cotta.
Food:
Nigerian Meat Pie ($5.49)
No Worries Panna Cotta: Raspberry, Papaya, and Mango Panna Cotta with a Cookie Crumble Base topped with a Lion King White Chocolate (KA) ($4.49)
Beverages:
Savanna Smoothie: Coconut Milk, Agave, and Amarula Cream Liqueur (V) ($11.25)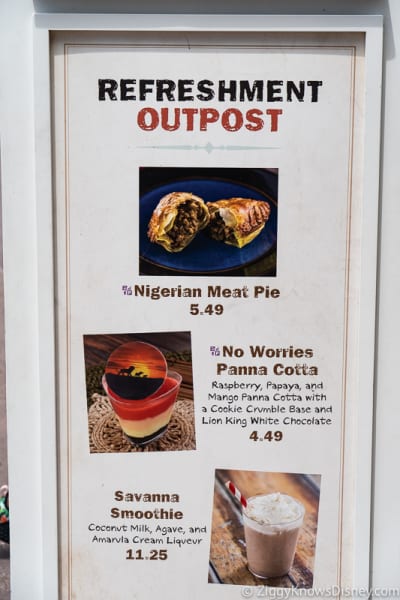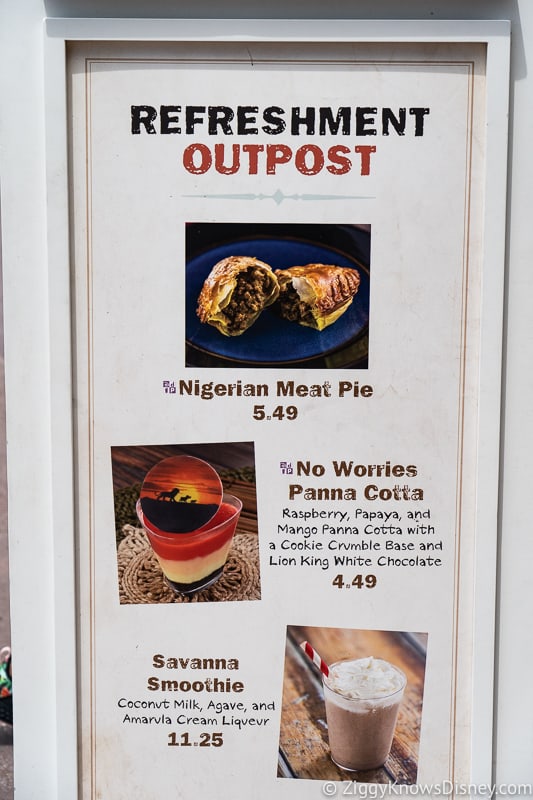 Menu Review:
Nigerian Meat Pie ($5.49):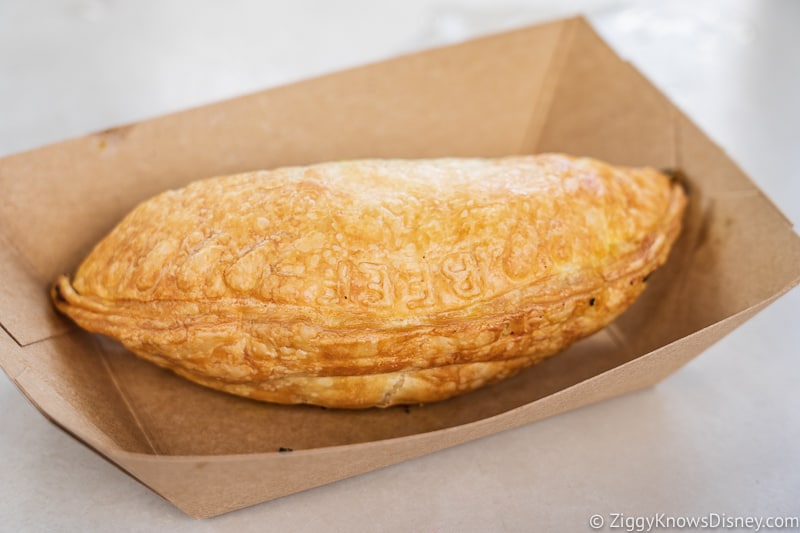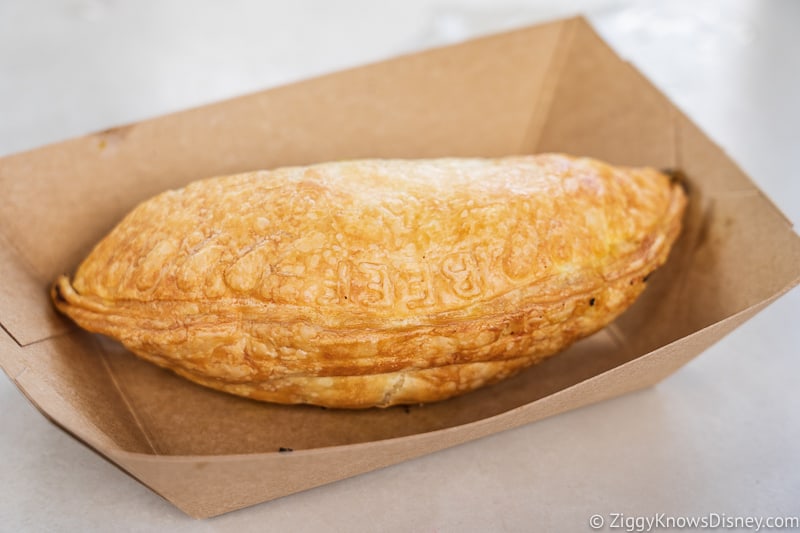 We were intrigued by the Nigerian Meat Pie when we heard about it, and we were pleasantly surprised when we actually go to try it. Think of this as like a mix between the Empanada from Islands of the Caribbean and the Escargot in France.
The outside was like the escargot because the casing was very buttery and flakey. The meaty inside like the empanada. The difference is that it also had a sweetness to the meat somehow.
We also liked the fact that it was STUFFED with meat, something the empanada wasn't.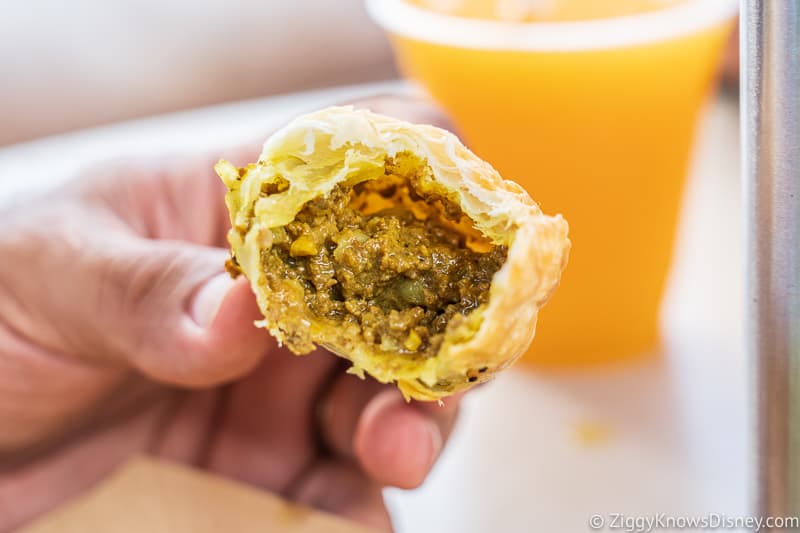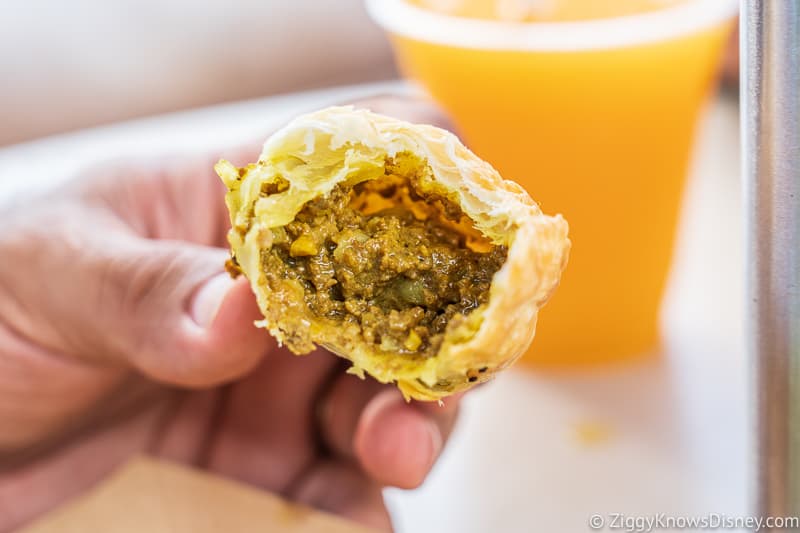 The Nigerian Meat Pie was actually a great snack and highly recommended.
No Worries Panna Cotta ($6.00):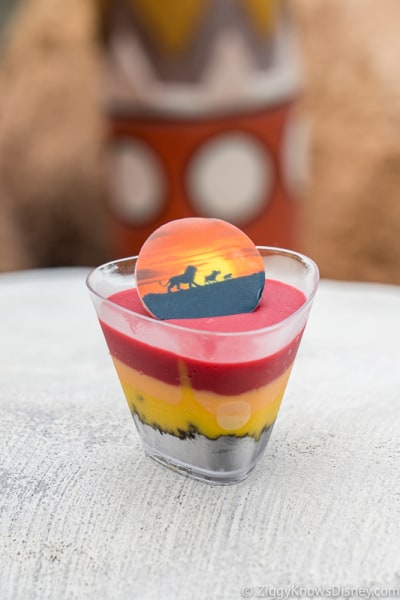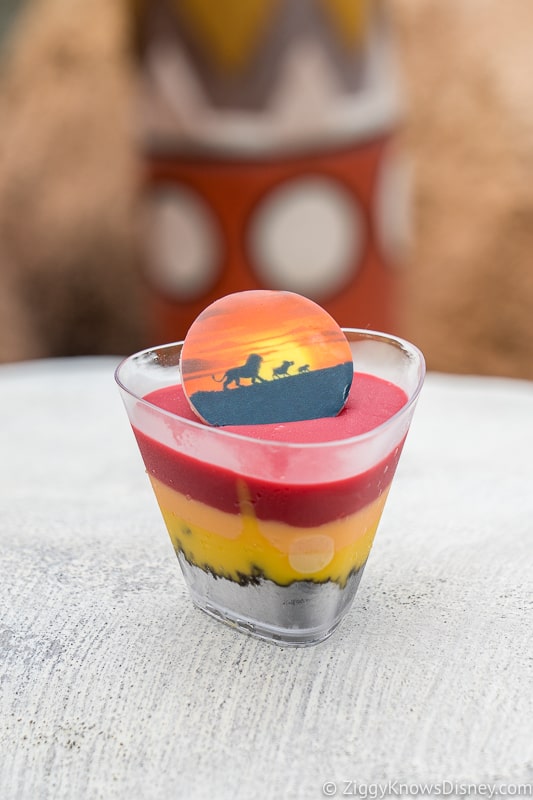 We're always on the lookout for new desserts at Food and Wine, so we jumped at the chance to try the No Worries Panna Cotta. It's called "No Worries" because it features Simba, Timon and Pumba on a little white chocolate medallion on top of the Panna Cotta.
This was another solid option at the Refreshment Outpost. It was a 4-layered dessert with a chocolate crumble base, then 3 separate layers of Mango, Papaya and Raspberry Panna Cotta. It was a light and fruity dessert, and the fruit layers blended well together and with the chocolate below.
Another winner for us!
Savanna Smoothie ($6.00):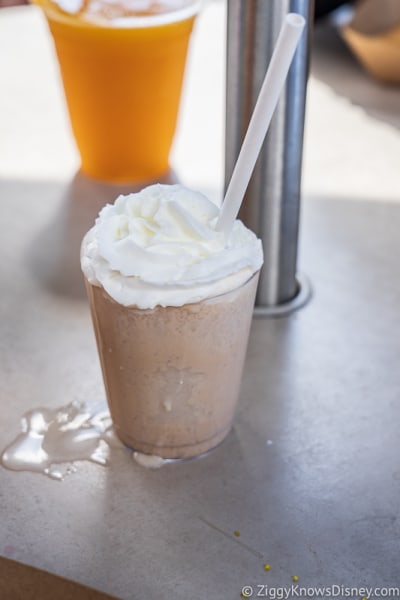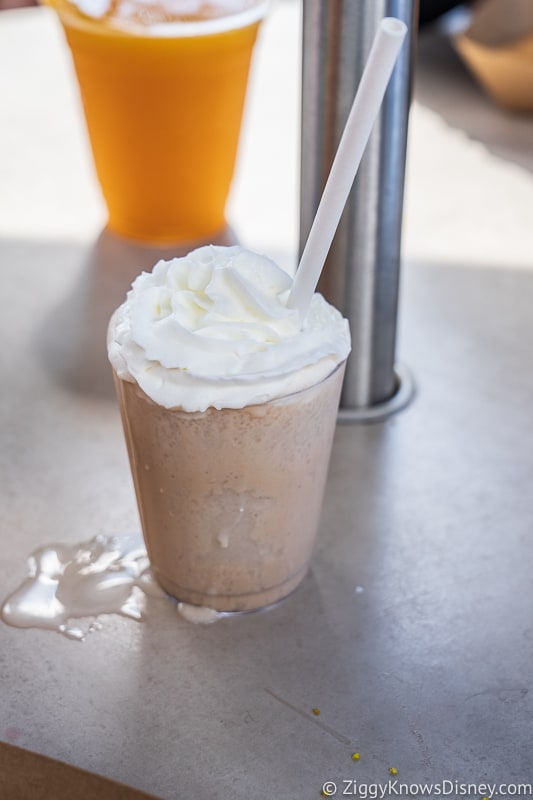 Ok, so far we have two winners, can we make it a third? Yes we can! The Savanna Smoothie was even better than the other two options, and really similar to the Pumpkin Chai Tea Shake from Chocolate Studio.
Think of this as a coconut cream pie in a glass…enough said! Best Drink at Food and Wine!
Booth Summary and Grade:
I have to say Refreshment Outpost is much improved over last year when it was essentially just a passing thought and often skipped over for almost everything else at Food and Wine. This year though with the addition of the Nigerian Meat Pie, Panna Cotta and Savanna Smoothie, it might be the most underrated and overlooked marketplace at the festival
The only thing holding the Refreshment Outpost back is a third food item. Don't just pass by like the rest, make sure to stop here and give it a go, you won't be disappointed!
If you have to get just one thing:
Savanna Smoothie
Refreshment Port Review

Overall Grade -

8.5/10
I want you to be able to have the best info on the Festival so you have a great time and don't waste your time! Take a look at all of my 2019 Epcot Food and Wine articles including:
MUST-TRY NEW Items at 2020 Food and Wine Festival (Coming Soon)
Top Food and Wine Booths (Coming Soon)
Your Thoughts:
I want to know what you think about the Refreshment Outpost Review at the 2019 Epcot Food and Wine Festival…
Which is your favorite item?
Which do you still want to try?
Let us know in the comments section below!
If you enjoyed this article, as always I appreciate it if you'd share it with others via social media. I work hard at making this website into a useful resource for you and your family to plan your visit to the Disney Parks and I hope it can help you! Thanks 🙂