The Refreshment Port is one of the strange Food and Wine marketplaces that is actually there all year round. Thing is, the menu gets changed up once Food and Wine rolls around and this year is adding a totally new poutine, along with some of our favorite refreshing drinks at the festival.
Let's check it out in my Refreshment Port Review at the 2019 Epcot Food and Wine Festival!
Refreshment Port Marketplace:
The Refreshment Port is always located in the same place on the right heading from Future World towards Canada. It doesn't look like much, but trust me, it packs a punch!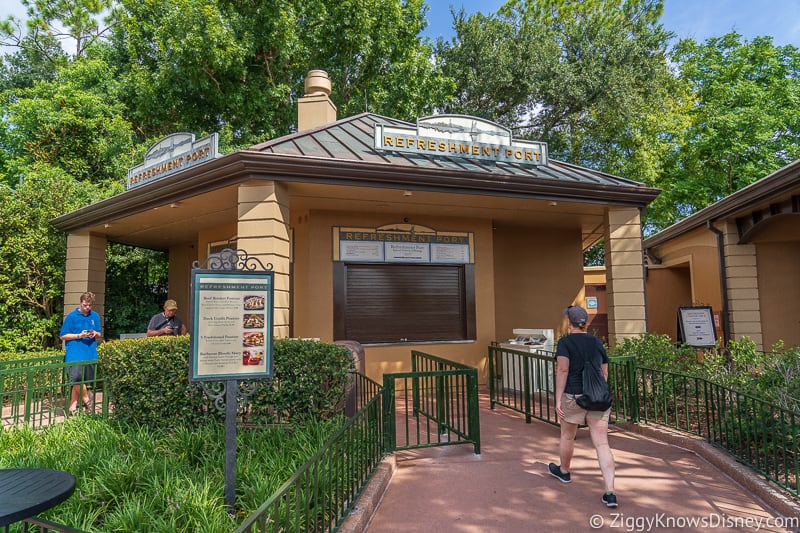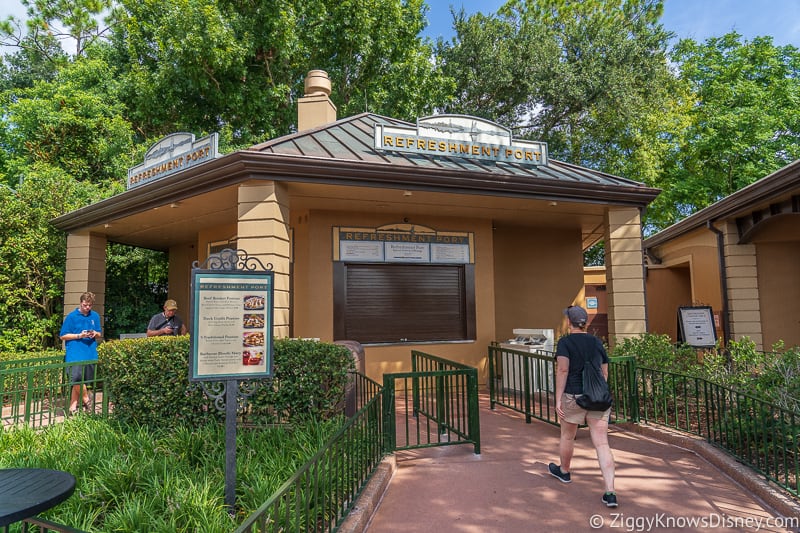 Refreshment Port Menu:
So Refreshment Port has totally changed once again from last year to this year though it of takes a step backwards. Before it only really offered some drinks and the Dole Whip, but last year it started offering 3 different types of poutine: Traditional Poutine, Beef Brisket Poutine and Sweet Potato Poutine.
This year is different though and they've gotten rid of the Sweet Potato and inserted the Duck Confit Poutine with Fig Demi Sauce and Brie Cheese Fondue in its place. While that sounds awesome, don't forget the others!
To drink we have our usual Dole Whip with Bacardi Coconut Rum or the Dragon Berry Refresher with Bacardi Dragon Berry Rum which are staples here at Food and Wine, and the Barbecue Bloody Mary which was a hit last year.
Food:
Beef Brisket Poutine ($8.99)
Duck Confit Poutine with Fig Demi Sauce and Brie Cheese Fondue ($8.49)
Traditional Poutine ($6.99)
DOLE WHIP® Pineapple Soft-serve (V) (KA) ($4.99)
Beverages:
DOLE WHIP® Pineapple Soft-serve with Bacardi Coconut Rum ($10.25)
Dragon Berry Refresher featuring Bacardi Dragon Berry Rum
Barbecue Bloody Mary with Smoked Garlic Sausage and House-made Pickle Skewer served with a Mustard and Barbecue Rub Rim ($16.00)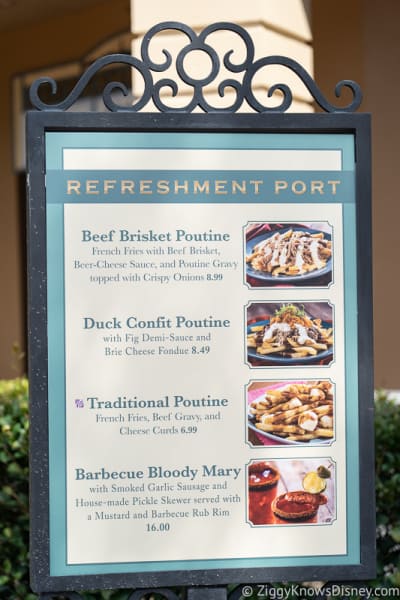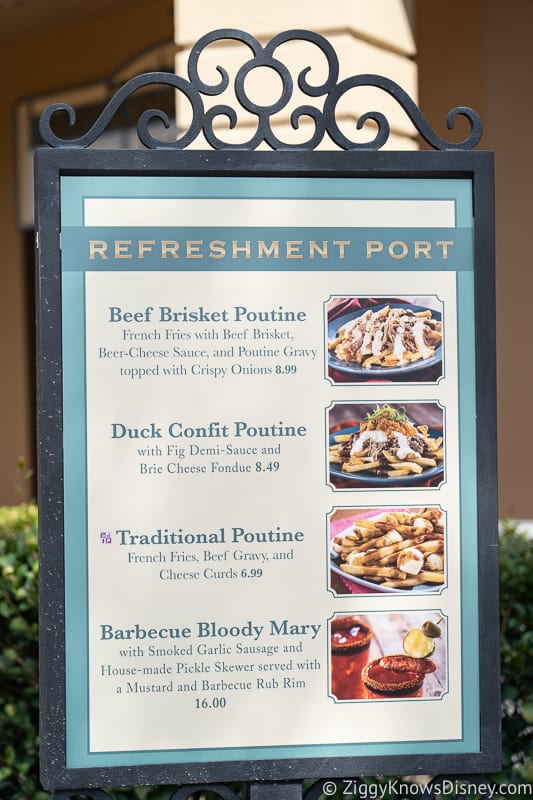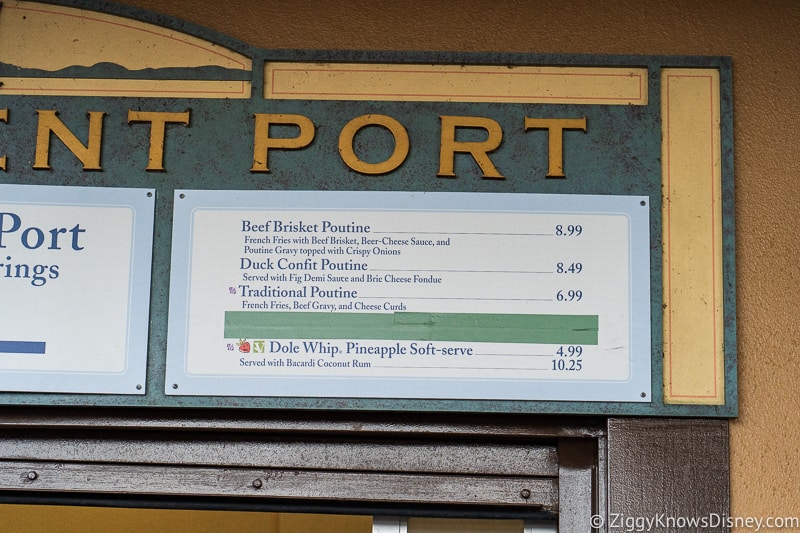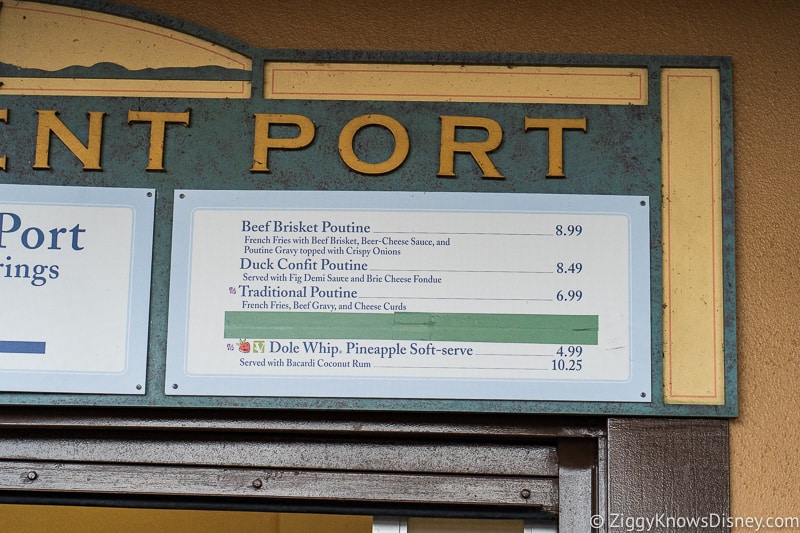 Menu Review:
Beef Brisket Poutine ($8.99):
If you don't believe in "love at first sight," then start believing because this is the real deal!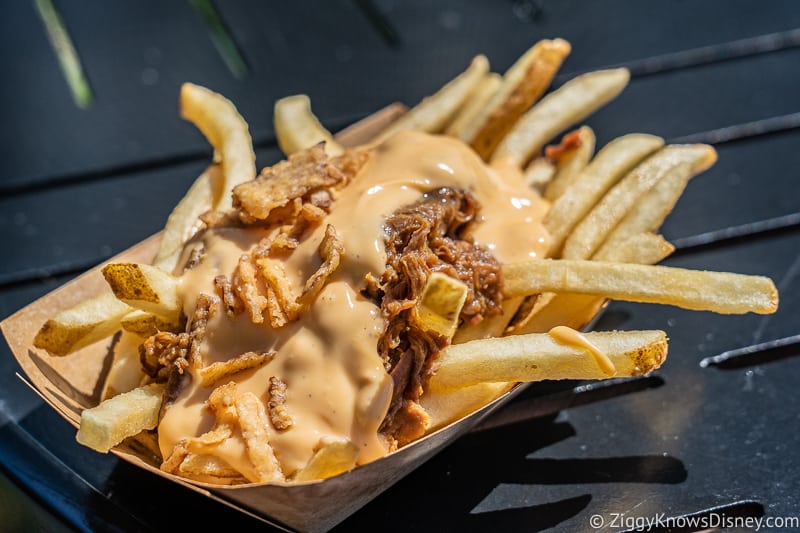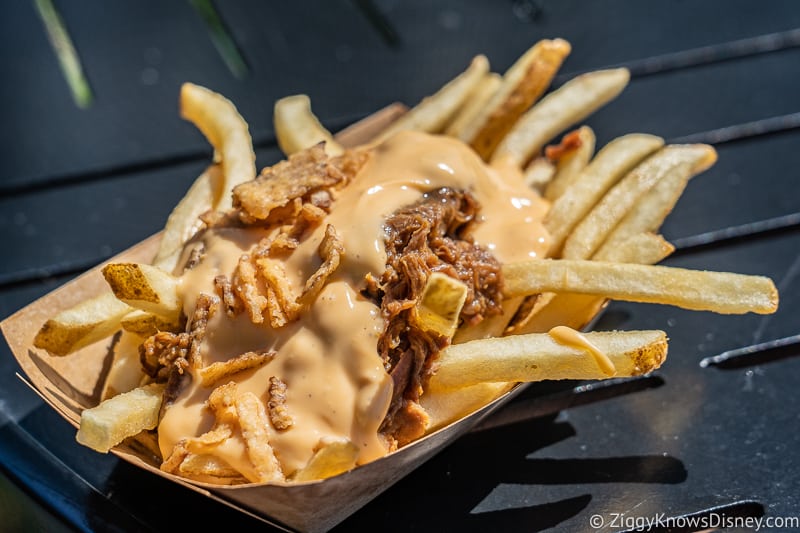 These aren't standard poutine for anyone who's familiar with the poutine in Canada, but equally delicious. The portion is absolutely HUGE and easily split by 2 or 3 people. Really one of the biggest portions of anything we bought at Food and Wine this year.
The fries are standard, which isn't a bad thing, and nice and crispy on the outside. They pile up tons, of the shredded beef brisket on top of the fries, which is super moist and flavorful. So as if that couldn't get any better, drown it in warm cheese sauce! I actually prefer this over "real" poutine as the fries stay crisp and don't get soggy.
This even rivals the Smoked Corned Beef on Crispy Potatoes at Flavors from Fire. DON'T SKIP the Beef Brisket Poutine whatever you do!
Duck Confit Poutine with Fig Demi Sauce and Brie Cheese Fondue ($8.49):
I was wondering if the Duck Confit Poutine would be able to live up to the standard of the Beef Brisket Poutine, and low and behold they do…they might even be better!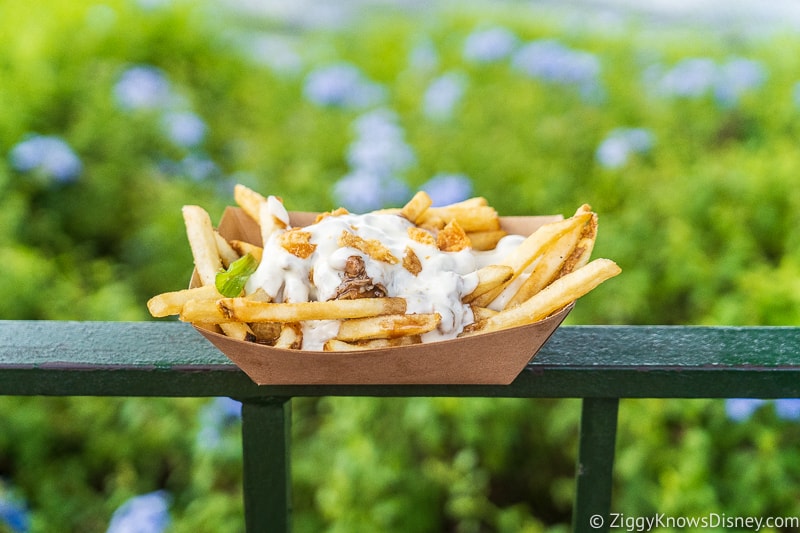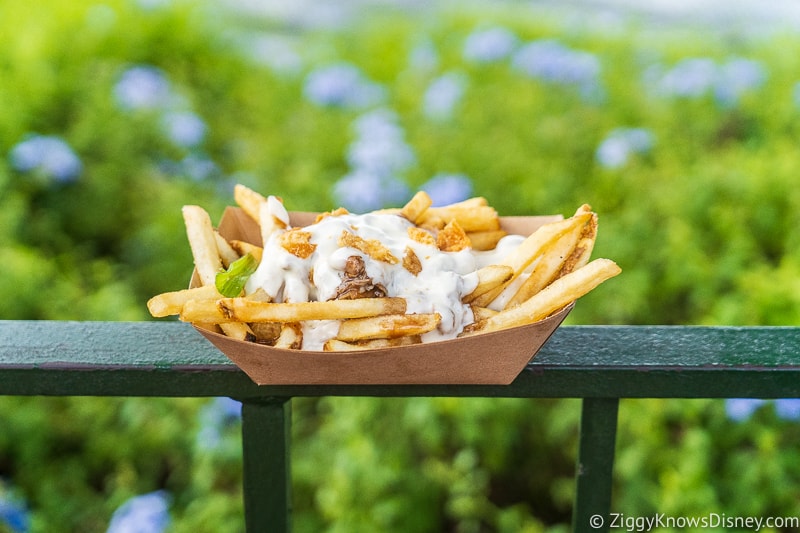 Along the same lines as the brisket poutine, these are crispy fries on the outside and tender inside that are piled high with duck confit and a brie cheese sauce. The duck is really moist and falls apart. It's also soaked in a gravy, making it even more succulent and tender.
Here's a look underneath at all the meat. It's not just all on the top but layered down throughout.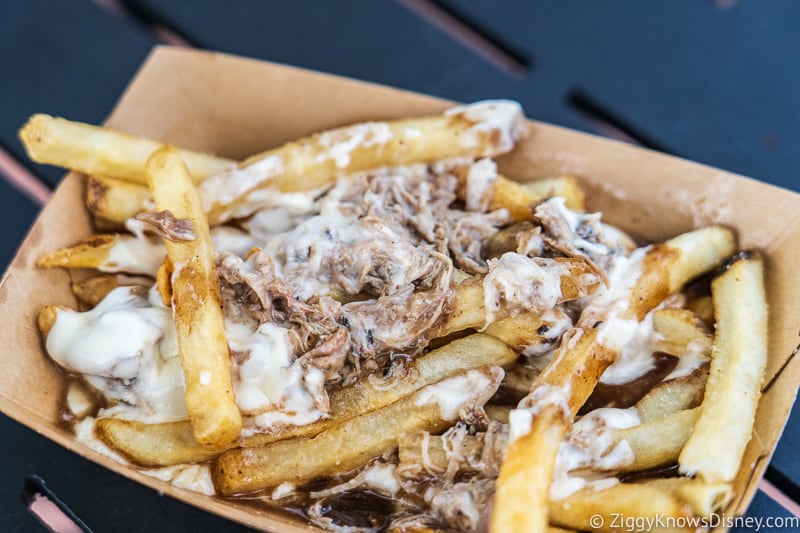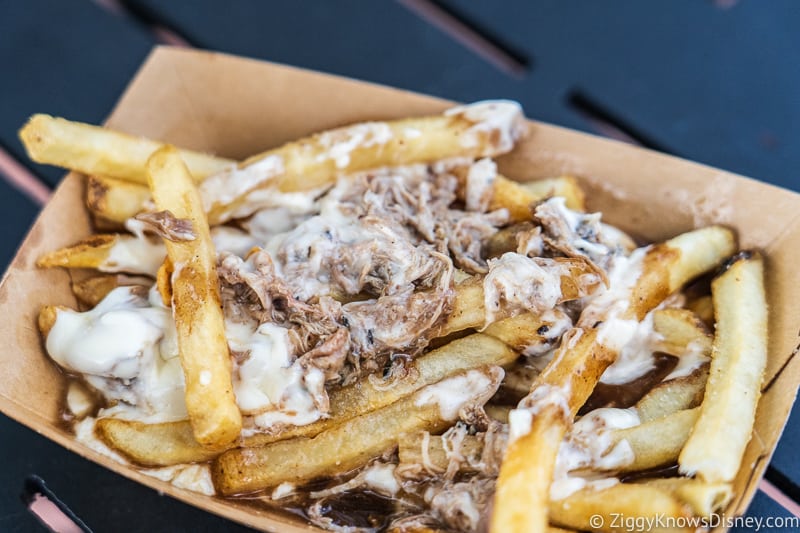 The gravy was salty which I really loved, but keep it in mind. Overall we were blown away by the Duck Poutine and think it's absolutely something you have to try at Food and Wine!
DOLE WHIP Pineapple Soft-serve ($4.99)
I can't say anything and about Dole Whip, it's arguably my favorite Disney Snack of all-time! If you are one of the 3 people in the world that hasn't tried Dole Whip yet, it's a pineapple soft-serve with an absolutely amazing rich pineapple flavor and very refreshing. Perfect for taking around World Showcase.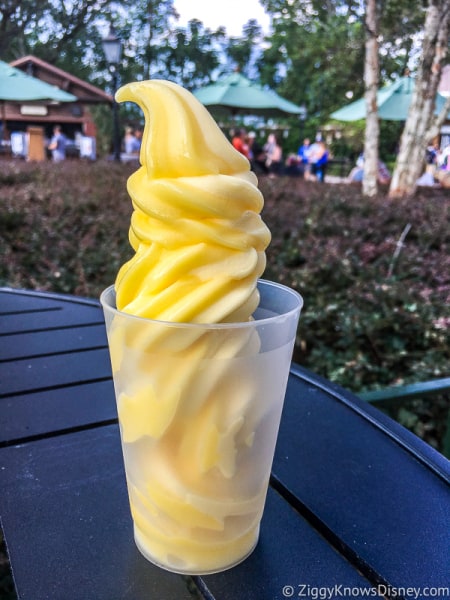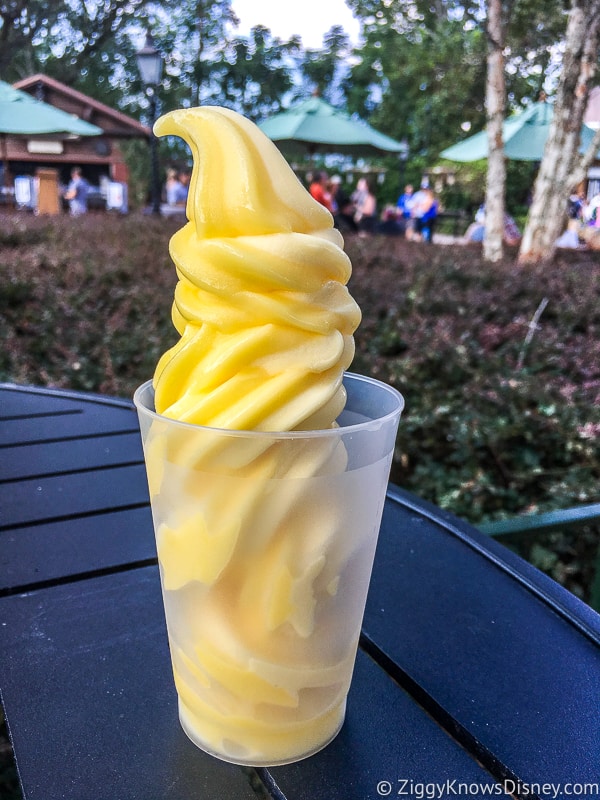 The only thing I'll say though is that it's pretty expensive here at Food and Wine, and they don't give you nearly as much as they do at Aloha isle for example in the Magic Kingdom. Not only that but it tastes just a bit different, a little less pineapple.
It's not quite as good as its cousin in the Magic Kingdom, but nothing beats a dole whip on a hot day!
Dole Whip Soft-Serve with Bacardi Coconut Rum
($10.25):
Dole Whip and Rum?? Where do I sign up?? Pineapple and coconut is a practically unbeatable combo imo and gives your Dole Whip a kick to boot.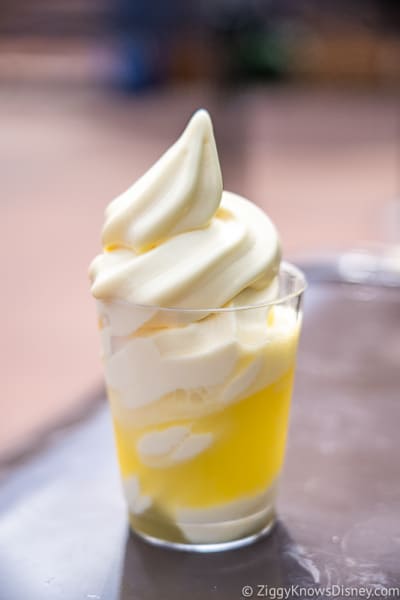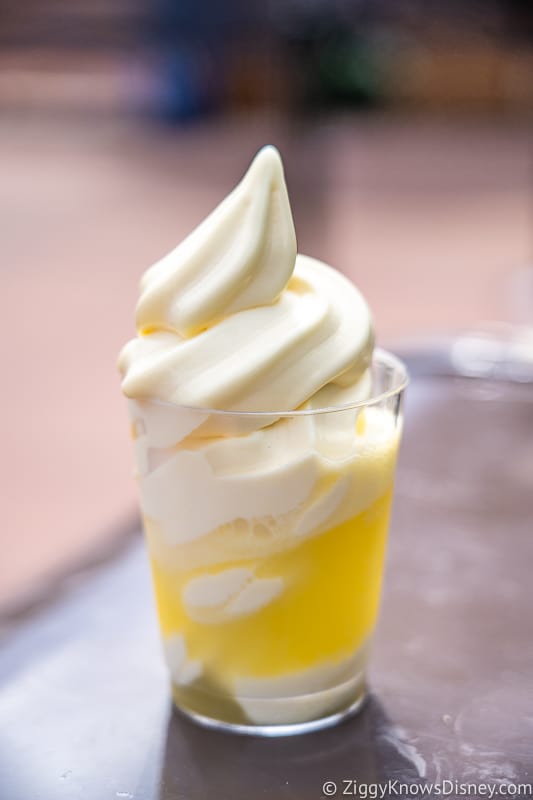 While we thought this was incredibly delicious, $10.25 for the tiny portion they give you is pushing it. I really love the dole whip with rum, but just remember it's not cheap.
Booth Summary and Grade:
I have to say Refreshment Port has gone up slightly from last year, because the duck confit poutine is a major upgrade over the sweet one it's replaced. The Duck Confit Poutine was incredible, but we also love the Beef Brisket Poutine just as much and we don't really know which one to pick.
If you want to try something totally unique and delicious then the poutine is for you and a Dole Whip is always a good idea too!
If you have to get just one thing:
Duck Confit Poutine and Beef Brisket Poutine (why choose??)
Refreshment Port Review

Overall Grade -

8.5/10
I want you to be able to have the best info on the Festival so you have a great time and don't waste your time! Take a look at all of my 2019 Epcot Food and Wine articles including:
MUST-TRY NEW Items at 2021 Food and Wine Festival (Coming Soon)
Top Food and Wine Booths (Coming Soon)
Your Thoughts:
I want to know what you think about the Refreshment Port Review at the 2019 Epcot Food and Wine Festival…
Which is your favorite item?
Which do you still want to try?
Let us know in the comments section below!
If you enjoyed this article, as always I appreciate it if you'd share it with others via social media. I work hard at making this website into a useful resource for you and your family to plan your visit to the Disney Parks and I hope it can help you! Thanks 🙂