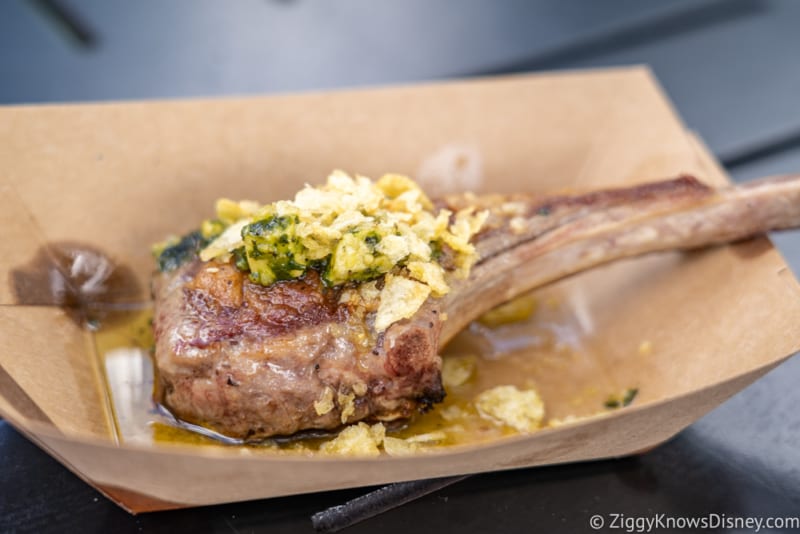 The 2018 Epcot Food and Wine Festival is in full swing right now and with 35 different Food Marketplaces and do many different snack options it's hard to know what to get.  Good thing we recently tried every item at the festival, and we've put together a list of the Top 10 Snacks from the 2018 Epcot Food and Wine Festival so that you know all the best food and drink to try when you head over to Epcot!  Trust me, it was quite an effort, but we did it for you! 😉
This list of the Top 10 Best Snacks at the 2018 Epcot Food and Wine Festival lists the items in no particular order.  Some of the best snacks from last year's list made it again, but most of them were new.  Some fell off a bit from last year, but still coincidentally, only one of the items from my 11  MUST-TRY New Items from the 2018 Food and Wine Festival made this list, showing how strong the existing menus were and how hard this was to crack!  For more info on the Food and Wine Festival check out:
Without further ado, here is my Top 10 Snack from the 2018 Epcot Food and Wine Festival (If you read on an empty stomach, don't blame me!) ?
1.) Bejing Roasted Duck Bao Bun- China
Let's start out the list with a Food and Wine classic: the Bejing Roasted Duck Bao Bun in China.  If you've been going to Food and Wine for a few years, then you know how amazing this thing is.  It all starts with that soft Bao Bun which holds the whole thing together.  Inside you find a super moist and tender duck, which is covered in a sweet hoisin sauce.  Super addicting.  You absolutely can't walk by without grabbing one…or two!
2.) Carrot Cake w/ Cream Cheese Icing – Hops and Barley
It's funny how I've never liked Carrot Cake my whole life and now I can't get enough of this stuff!  I loved that it's served warm to you and the cream cheese icing just melts right over the top of everything!  The carrot cake inside is so moist, you almost don't need all that yummy icing (ok, I'm exaggerating there).  Stop by Hops and Barley and you'll be licking the plate clean when you're done!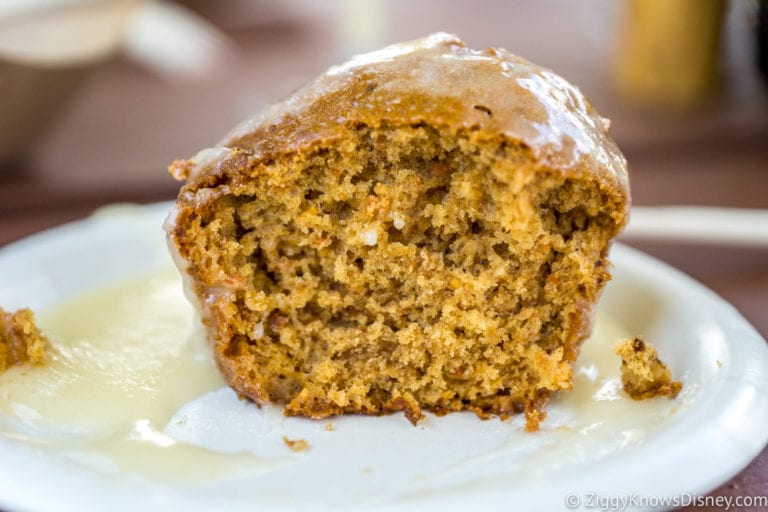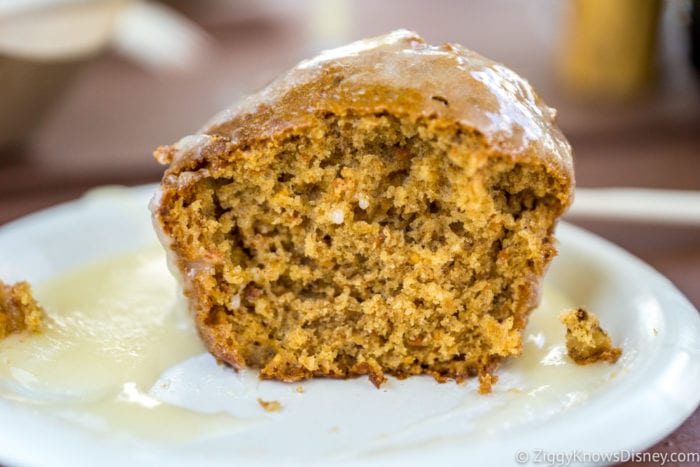 3.) Teriyaki-glazed Spam Hash – Hawaii
We loved the SPAM Has last year, and not much has changed!  I really didn't think I could ever love SPAM so much, but they say love is blind right?  Great portion size of perfectly cooked potatoes and grilled SPAM.  So much flavor in here as the SPAM is juicy and just packed with taste.  the teriyaki and mayo sauces on top take this dish to a whole other level and everything just blends perfectly.  Did I mention it's only $4.25??  Pass right over the Pork Slider and get the SPAM Hash instead and thank me later!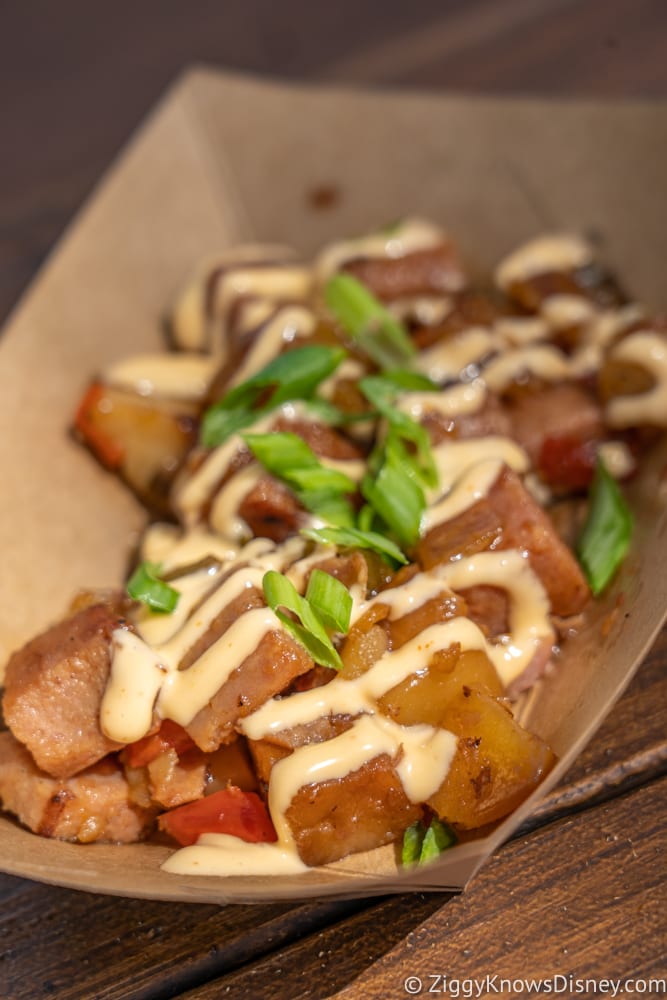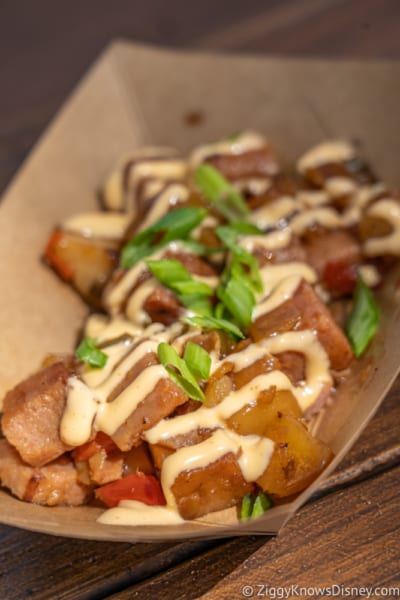 4.) Liquid Nitro Chocolate-Almond Truffle with Warm Whiskey-Caramel – The Chocolate Studio
How can you beat smooth chocolate mousse dipped into liquid nitrogen, then covered in a gooey caramel-whiskey sauce and sprinkled with white chocolate?  You can't!  This is a great option for chocolate lovers, and fans of just amazing desserts.  And the show to create this masterpiece is almost as entertaining as eating it…almost!  Oh yeah, it's gluten free too so dig in!  A perennial MUST-GET!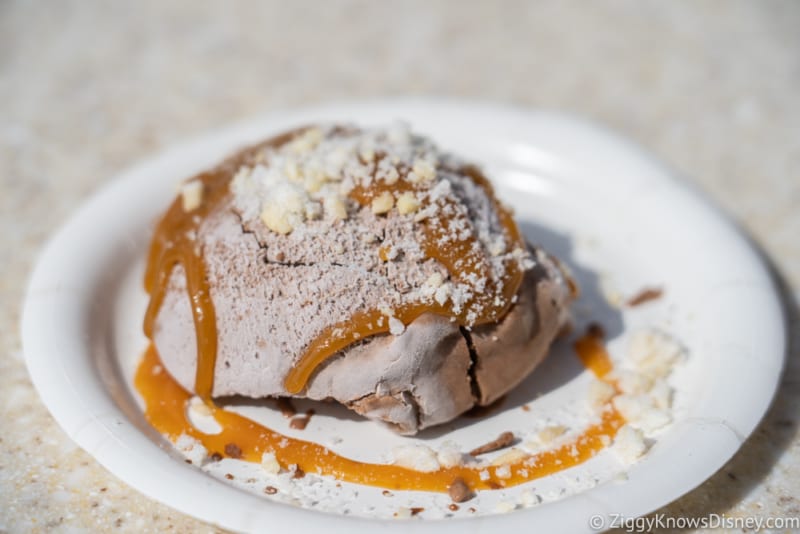 5.) La Passion Martini Slush – France
Let's just say, walking around World Showcase Lagoon with one of these babies in your hand makes life a whole lot better.  This drink is amazing and we always get it because it's super refreshing being a slushy, and it's really delicious.  The combo of Vodka, Grey Goose Le Citron, Cranberry and Passion Fruit Juice is enough to send me running to France in a heartbeat.  Hands down my favorite drink every year at Food and Wine!  Vive la France!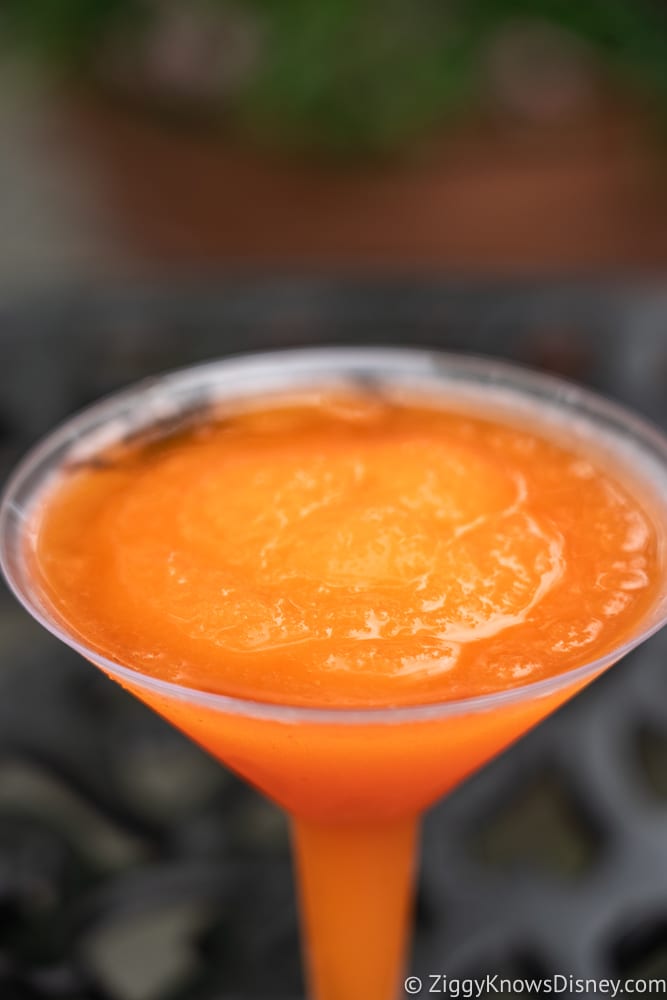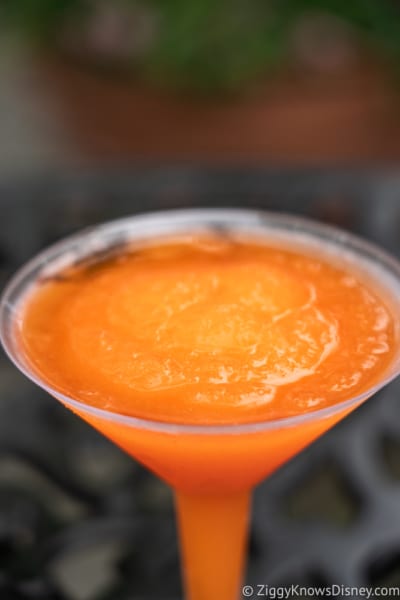 6.) Warm Irish Cheddar Cheese and Stout Dip -Ireland
The safe bet is to go over to Canada and get the Cheddar Cheese Soup there, and while that still is one of our favorites, it's been passed up recently by this bowl of goodness in Ireland instead!  Even though it was 90+ degrees out, we couldn't help but continue to drink this up.  Super rich and creamy cheese flavor which is paired perfectly by the stout.  And it leaves just a little kick in your mouth that leaves you wanting for more.  Bread is great too that they give you to soak it up.  Where can I order a gallon of this stuff?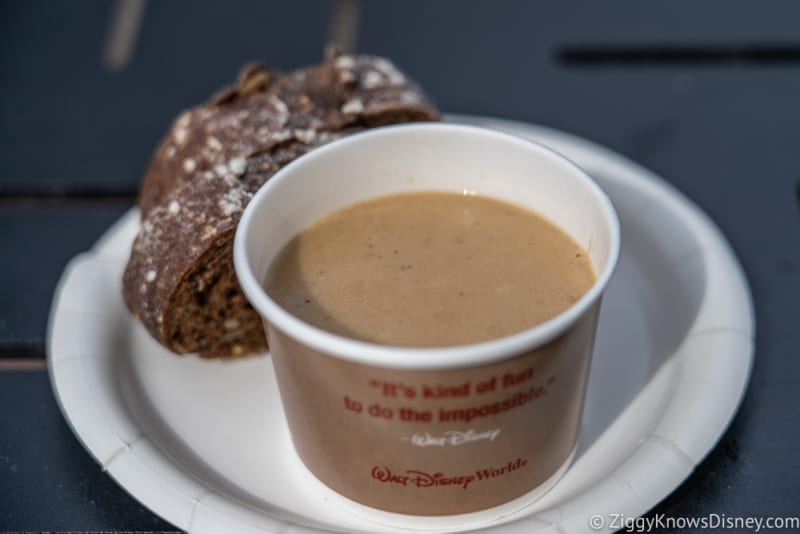 7.) Smoked Corned Beef with Warm Crispy Potatoes – Flavors From Fire
So I know I said at the beginning of the article that they aren't in order, but who am I kidding, I love the Smoked Corned Beef the BEST!  Just think of the best handmade potato chips, warmed up in the oven and topped with an incredibly juicy and flavorful corned beef.  And if that's not enough it's absolutely drowned in a killer parmesan cream sauce and chopped red onion!  If for some weird reason you end up going to Food and Wine and only decide to get one thing….make it THIS, trust me!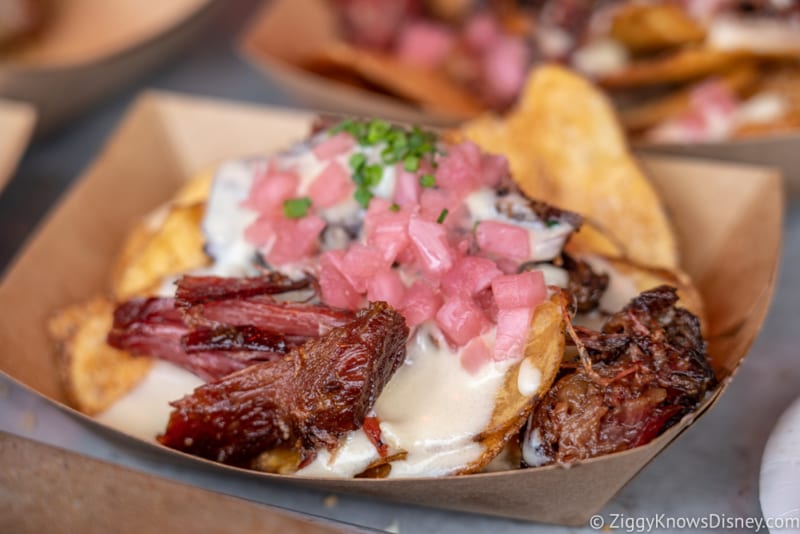 8.) Wild Mushroom Beef Filet Mignon with Truffle-Butter Sauce – Canada
The Canada Marketplace only has two food items but both of them are stellar and things you absolutely have to get.  While the Cheddar Cheese Soup is one of my favorite things ever at Walt Disney World, it really depends what mood I'm in when deciding between that and this Filet Mignon.  This filet you might recognize from Le Cellier and it is in fact a smaller portion of the delicious meat you'll find there.  Succulent and perfectly cooked, then covered in a rich truffle butter sauce is enough to make angels sing!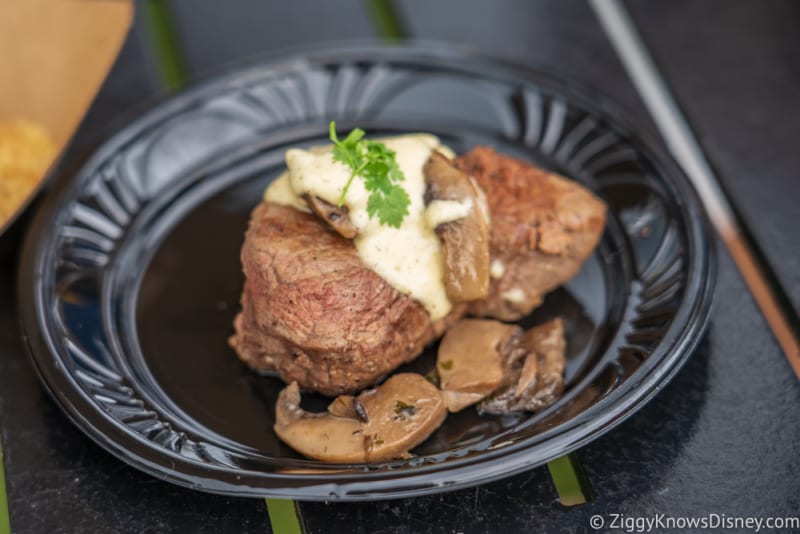 9.) Maple Bourbon Boursin Cheesecake  – The Cheese Studio
The only snack on my list that is new this year, this Maple Bourbon Cheesecake is out-of-control good!  This was the biggest surprise for me this year and I was completely blown away at how smooth the Boursin cheese is and how well the sweet maple/bourbon worked with it.  It's the first thing that I had to go back a second time for on my second visit to Food and Wine.  Pair this with the Blueberry Sparking Wine at Cheese Studio and prepare for a life-changing moment!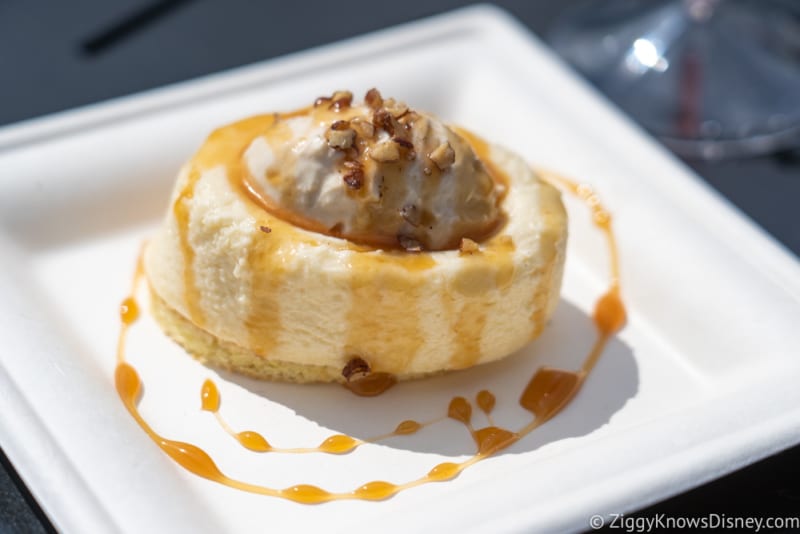 10.) Baked Shrimp Scampi Dip – Coastal Eats
Garlic-lovers unite and come together at Coastal Eats for this awesome Baked Shrimp Scampi Dip.  Lots of shrimp chunks mixed in to a cheesy, garlicky sauce and you dip it all on the sourdough bread that comes with it.  I've never not cared so much if I was offending other people with my breath because it's THAT-good!  Best seafood and best dip at Food and Wine all combined into one!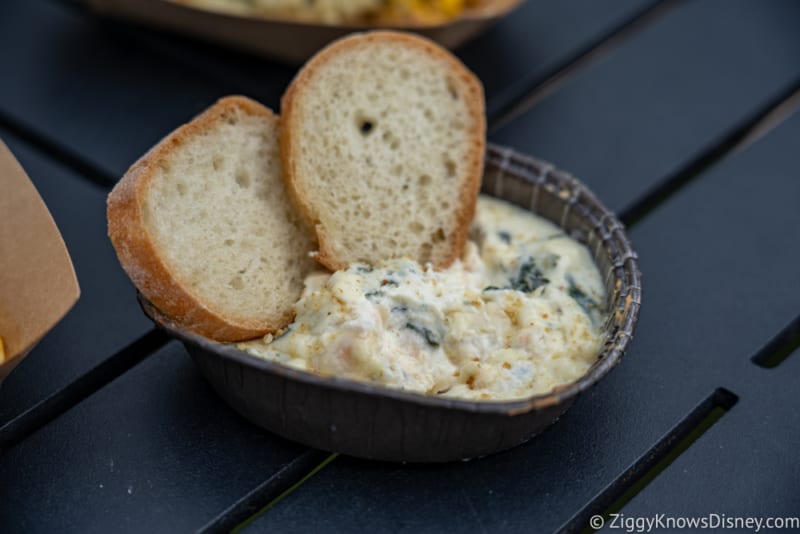 That concludes my list of the Top 10 Best Snacks at the 2018 Epcot Food and Wine Festival.  I hope you enjoyed it and hope I gave you some good ideas of what to get when you get there yourself.  Write me and let me know what you thought of the food! 🙂
I want you to be able to have the best info on the Epcot Food and Wine Festival so you have a great time and don't waste your time!  Take a look at all of my 2018 Epcot Food and Wine articles including:
Top Food and Wine Booths (Coming Soon)
Your Thoughts:
I want to know what you think about my Top 10 Best Snacks from the 2018 Epcot Food and Wine Festival…
Which is your favorite item?
Which do you still want to try?
Let us know in the comments section below!
If you enjoyed this article, as always I appreciate it if you'd share it with others via social media.  I work hard at making this website into a useful resource for you and your family to plan your visit to the Disney Parks and I hope it can help you! Thanks 🙂
Need Help Planning Your Disney Vacation?  Show You the World Travel is Here to Help!
Just fill out the form below and someone will contact you for all your Disney Vacation Planning Needs….
[rainmaker_form id="19792″]
---
---