Germany is one of those classic Food and Wine Festival marketplaces that you know will always be around, bringing you all your favorites year after year like the Pasta Gratin, Roasted Bratwursts and Apple Strudel, plus a variety of delicious German beer and wines.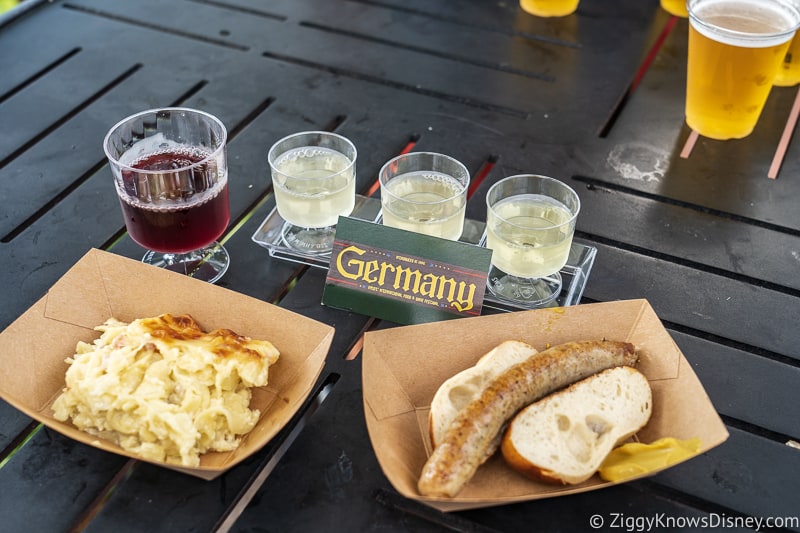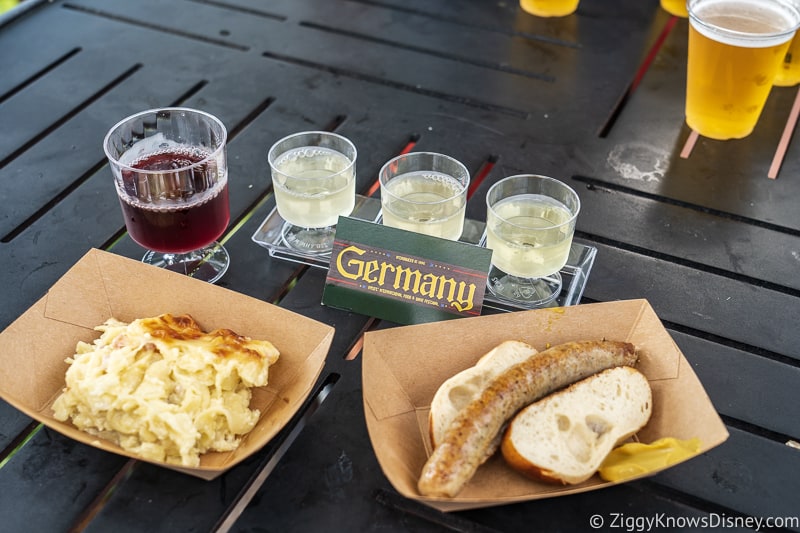 But can it remain a standout again in 2019? Let's find out in my Germany Review: 2019 Epcot Food and Wine Festival….
Germany Marketplace:
You'll find the Germany pavilion on the left side of World Showcase nestled between the Italy and Brewer's Collection marketplaces…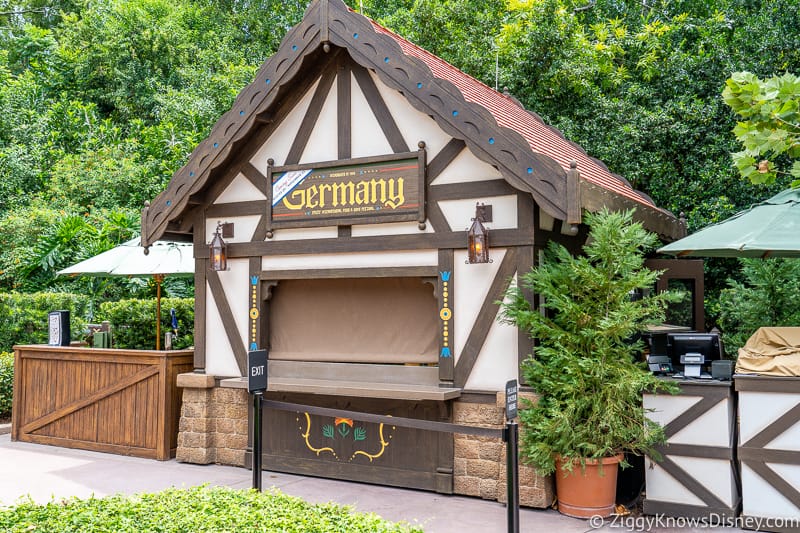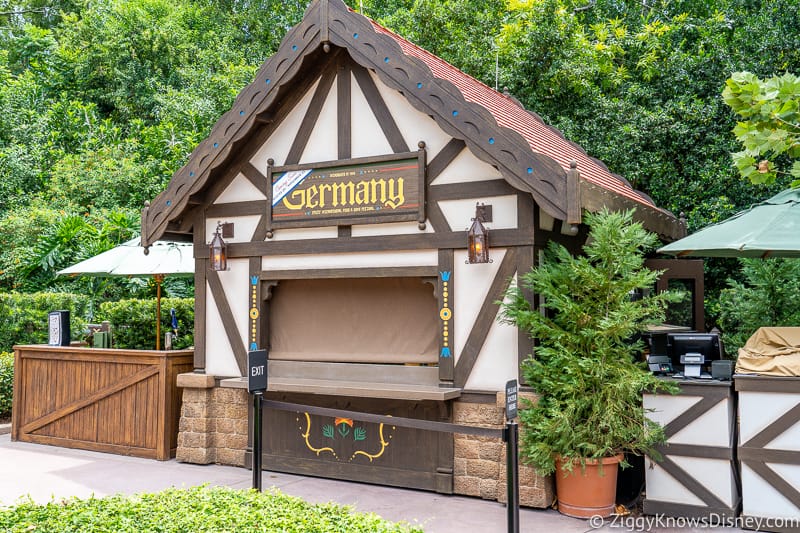 The booth itself is like something you imagine seeing while hiking up in the Alps!
Germany Menu:
UPDATE COMMENTS
Not much has changed in Germany for 2019 and it's pretty much the same menu as last year. Of course you've got the roasted brat, which this year sees the return of the pretzel roll instead of a plain roll. The pasta gratin is always one of our favs and we're happy to see that back too. And who doesn't love the Apple Strudel??
The only difference is a new wine (August Kesseler R Riesling Kabinett) on the Wine Flight.
Food:
Schinkennudeln: Pasta Gratin with Ham, Onions and Cheese (KA) ($4.25)
Roast Bratwurst in a Prop and Peller® Pretzel Roll (KA) ($5.75)
Apple Strudel with Vanilla Sauce (V) (KA) ($4.00)
Beverages:
Weihenstephaner Festbier Lager, Freising ($4.50)
August Kesseler R Riesling Kabinett, Rheingau ($5.00)
J&H Selbach Bernkasteler Kurfürstlay Riesling Kabinett, Mosel ($5.00)
Selbach-Oster 2016 Zeltinger Schlossberg Riesling Spätlese, Mosel ($8.00)
Villa Wolf Pinot Noir, Pfalz ($5.00)
Riesling Flight also available ($6.50)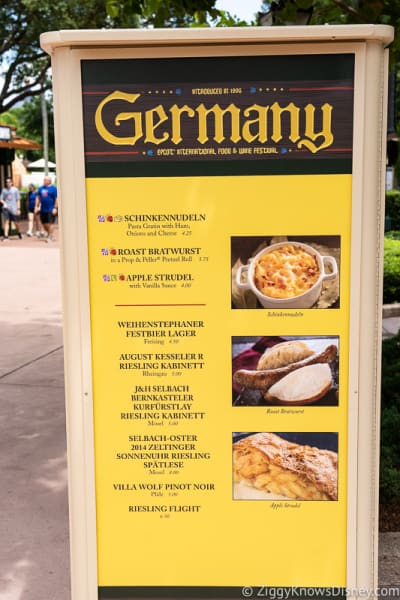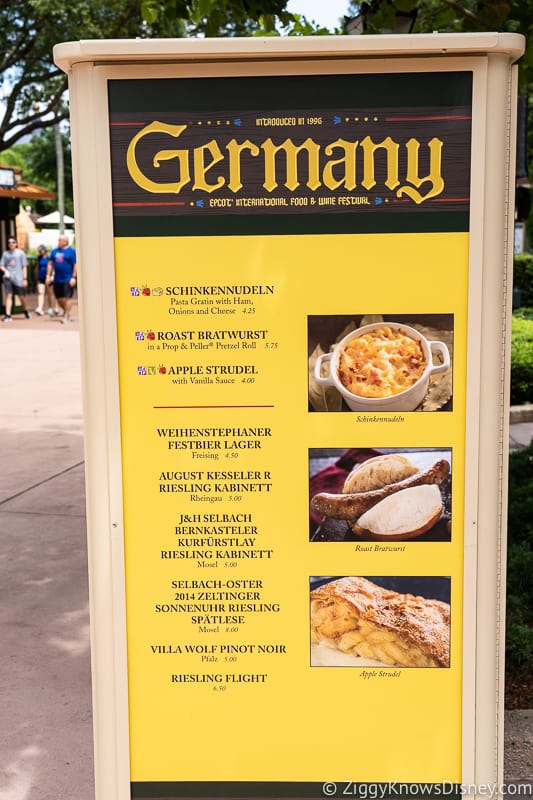 Menu Review:
Schinkennudeln: Pasta Gratin with Ham, Onions and Cheese ($4.25):
I've said for years THIS, is the best Mac and Cheese here at Food and Wine and I'm right again this year. I love the Pasta Gratin here in Germany, everything from the crusty top to the gooey inside.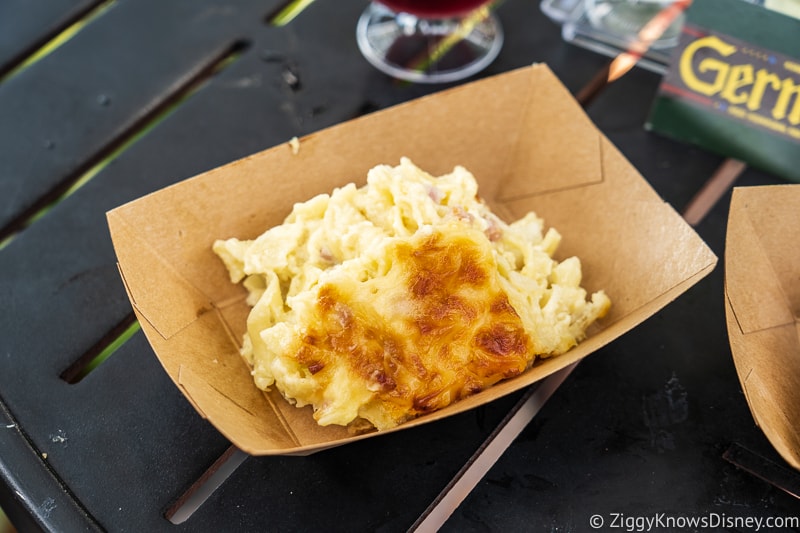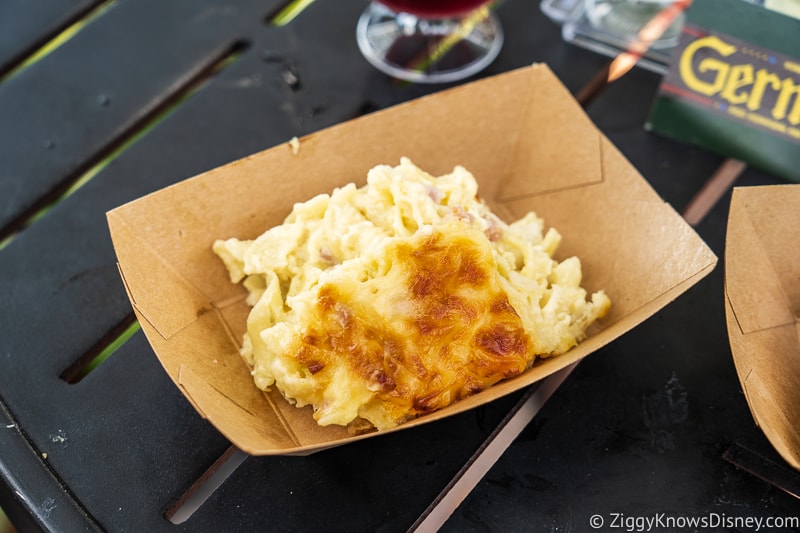 What makes it special is the complex flavor inside though. The ham chunks, chopped onions and the different cheeses all blend together for one big party in your mouth! The portion size is great too, you can't beat this for $4.25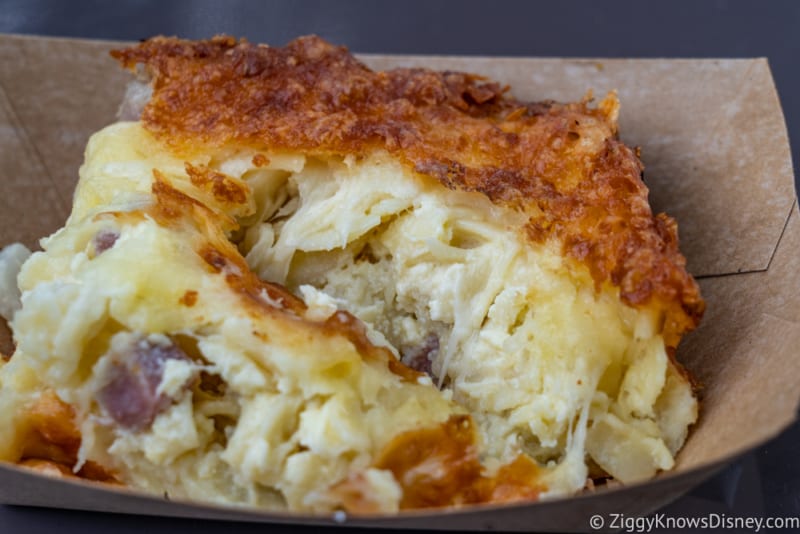 Make sure you don't mis this!!
Roast Bratwurst in a Prop and Peller® Pretzel Roll ($5.75):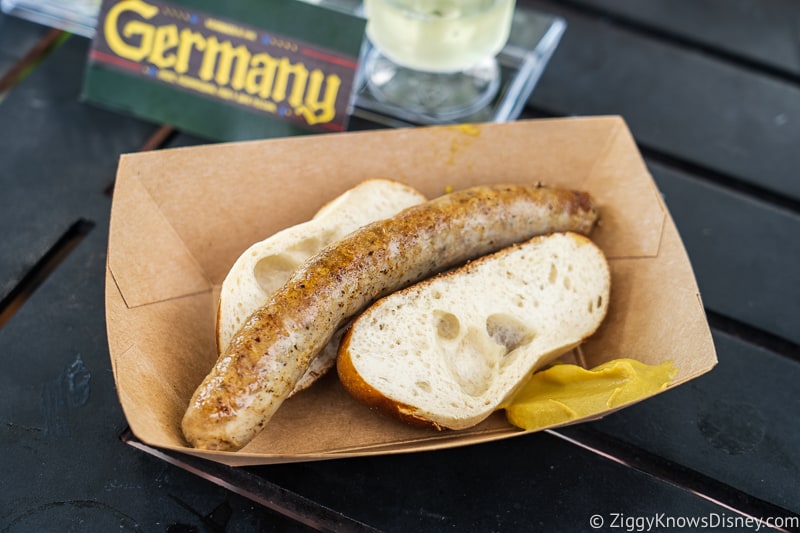 Tell me someone who doesn't love a Roast Brat on a pretzel bun, I defy you! The brat itself was really tasty. Grilled right and snapped when you bite into it. Has a little bit of a sweet taste to it, not spicy.
The pretzel roll is back after a one-year hiatus, and we're very happy about that change! I find it comical they put a super long brat on a roll 1/3 of its size though and don't see the necessity in that, but I do appreciate the generosity.
One of the things I appreciate about Germany is that they haven't shrunk the size of their brat or raised the prices dramatically like other marketplaces around the festival.
I think the brat is a really solid option as always if you are in the mood, but not something you absolutely have to get every time.
Apple Strudel ($4.00):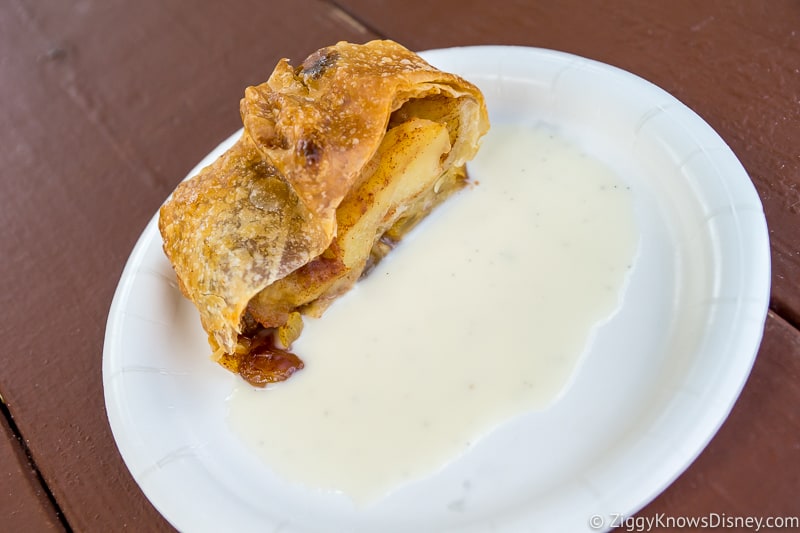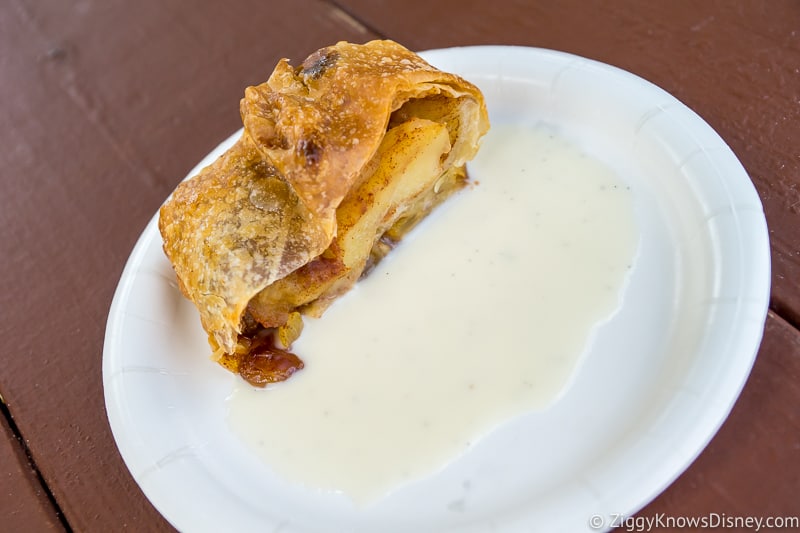 The apple strudel was one of our favorite desserts last year and we had to come back for more. The crust is really flakey, and very light, not heavy at all. The apples inside also have a great flavor and the perfect combo of sweet/sour.
The vanilla sauce is excellent too and goes amazingly with the apples! My only complaint is that sometimes they give you a small piece and the others can be twice as big. The wasn't the case this time, but it's quite common. That's just luck of the draw, so hope you get a big one as this is a really amazing dessert!
Riesling Flight ($6.50):
This is a really nice wine flight. Riesling grapes come from the Rhine region in Germany, and they usually have a high acidity level and are very aromatic. The nice thing is they can be used to make a variety of dry, semi-sweet, and sweet wines.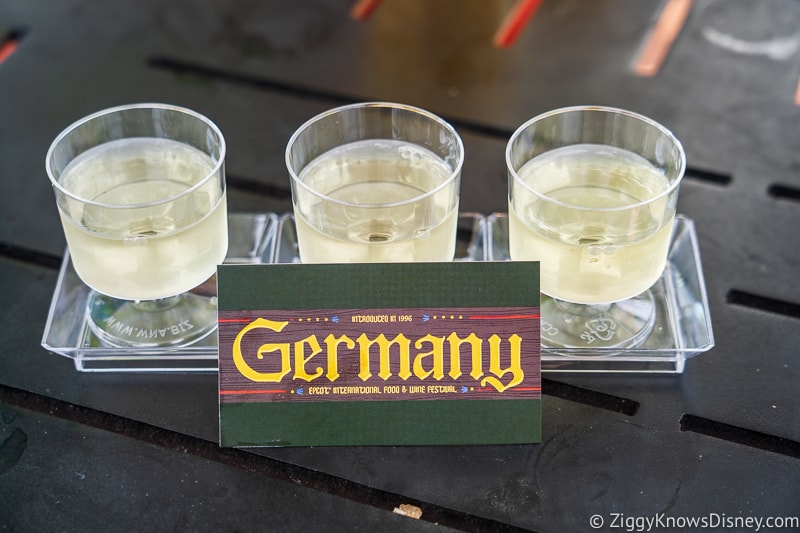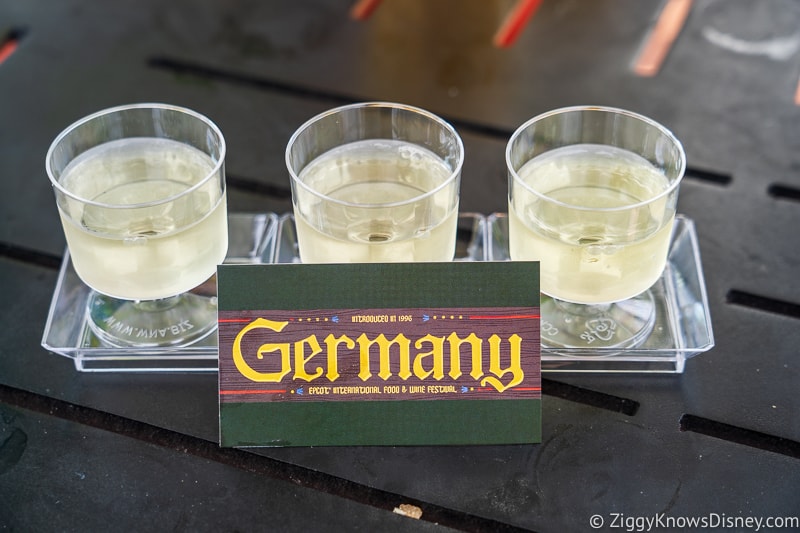 The August Kesseler R Riesling Kabinett for example was sweet and citrusy. The J&H Selbach Bernkasteler Kurfürstlay Riesling Kabinett a little less and more full body. The Selbach-Oster Zeltinger Himmelreich Riesling Kabinett Halbtrocken was structured and had a peachy or apple aroma. It was very smooth and we like this one the best but you can't go wrong with any of them.
Booth Summary and Grade:
Germany doesn't disappoint, we still love everything we get here. The Pasta Gratin Mac and Cheese especially isn't to be skipped, The Brat on a Pretzel Roll is incredible and the Apple Strudel is simple but divine. Don't skip the Wine Flight either as it is really yummy too and almost on level with the one in Africa or The Alps.
I hope they introduce something new to Germany next year just because we always get the same stuff, but even so Germany will always be a must-try due to the high quality and reasonable prices.
If you have to get just one thing:
Schinkennudeln: Pasta Gratin
Germany Review

Overall Grade -

8.5/10
I want you to be able to have the best info on the Festival so you have a great time and don't waste your time! Take a look at all of my 2019 Epcot Food and Wine articles including:
MUST-TRY NEW Items at 2020 Food and Wine Festival (Coming Soon)
Top Food and Wine Booths (Coming Soon)
Your Thoughts:
I want to know what you think about the Germany Review at the 2019 Epcot Food and Wine Festival…
Which is your favorite item?
Which do you still want to try?
Let us know in the comments section below!
If you enjoyed this article, as always I appreciate it if you'd share it with others via social media. I work hard at making this website into a useful resource for you and your family to plan your visit to the Disney Parks and I hope it can help you! Thanks 🙂