India is back again for the 2019 Epcot Food and Wine Festival and since Indian is one of our favorite types of food, we're really excited to try out this marketplace this year. Some of the items include: Korma Chicken, Warm Indian Bread and Madras Red Curry.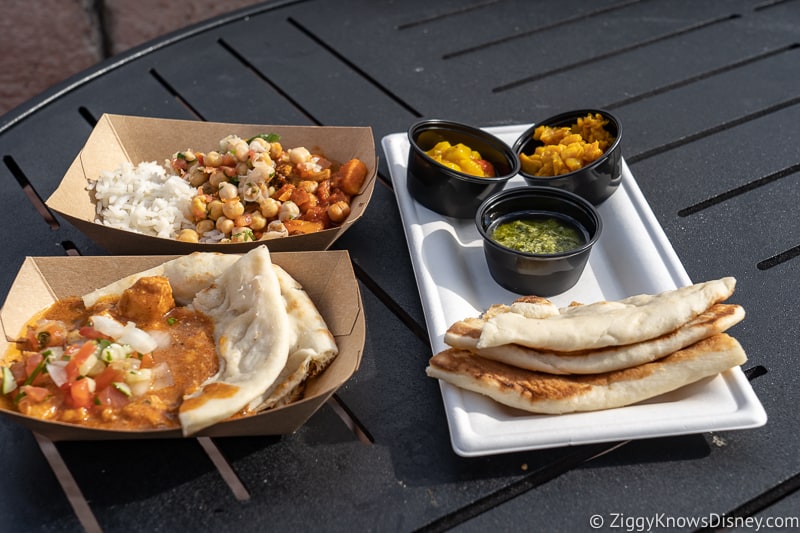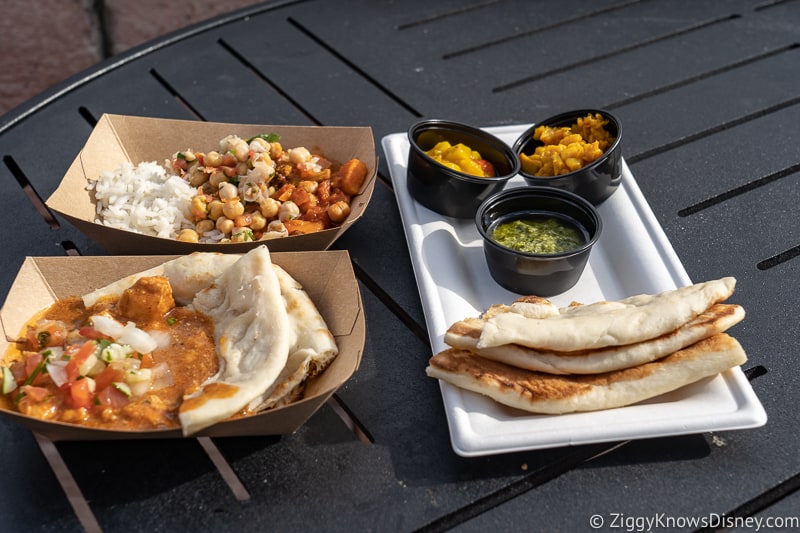 Will it be as good as last year though? Let's see how it tastes in my India Review of the 2019 Epcot Food and Wine Festival….
India Marketplace:
The India marketplace is certainly majestic looking. Love the white marble top and colorful tiles lining the sides: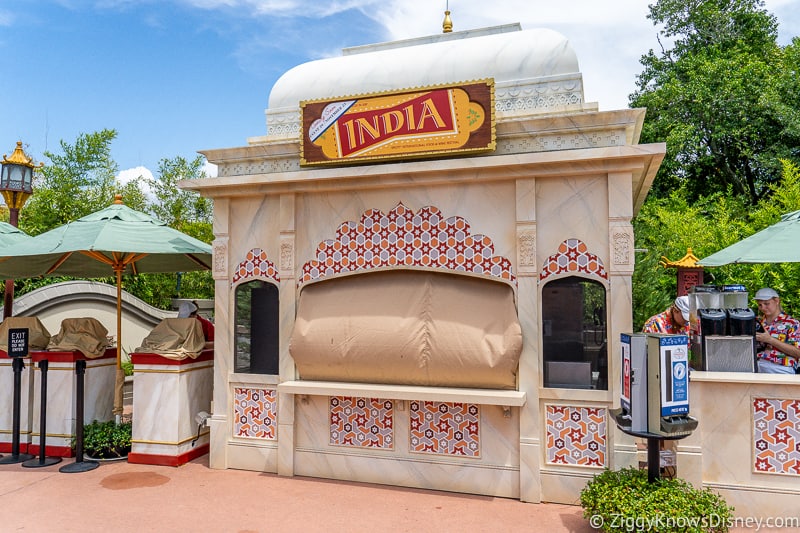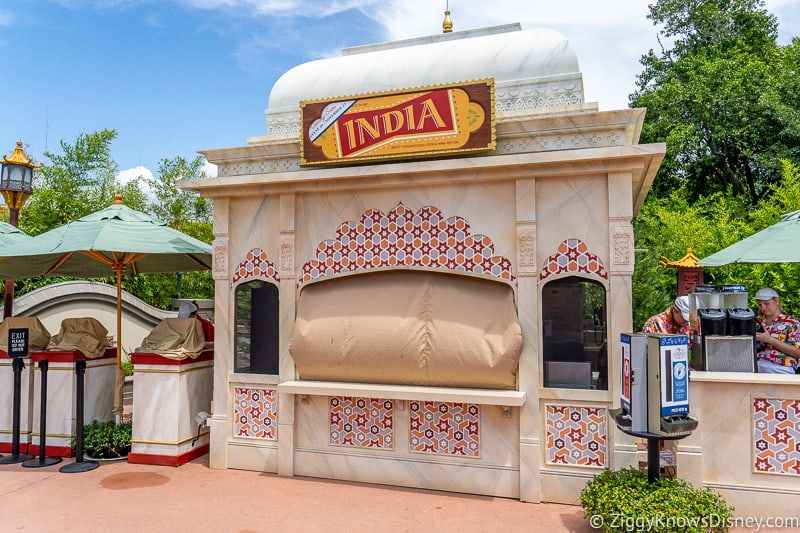 This is a much more muted color-scheme than last year for India where the roof was green and it stood out more.
India Menu:
The India menu is almost identical from last year. The savory snacks are all the same, with the exact prices from last year. There still isn't any dessert after getting rid of the Pistachio Cardamom Bundt Cake a couple of years ago. I'm not too upset about that since it wasn't very good, but it would have been nice to see a new dessert to replace it.
All the drinks are identical to the ones from last year and I feel like they could have shown a little more creativity.
Food:
Warm Indian Bread with Pickled Garlic, Mango Salsa and Coriander Pesto Dips (V) (KA) ($4.75)
Madras Red Curry with Roasted Cauliflower, Baby Carrots, Chickpeas and Uncle Ben's® Basmati Rice (V) (GF) ($5.00)
Korma Chicken with Cucumber Tomato Salad, Almonds, Cashews and Warm Naan Bread ($5.25)
Beverages:
Mango Lassi (Non-alcoholic) (KA) ($5.00)
Godfather Lager ($4.50)
Sula Chenin Blanc, Nashik ($5.00)
Sula Shiraz, Nashik ($5.00)
Mango Lassi with Sōmrus Chai Cream Liqueur ($11.00)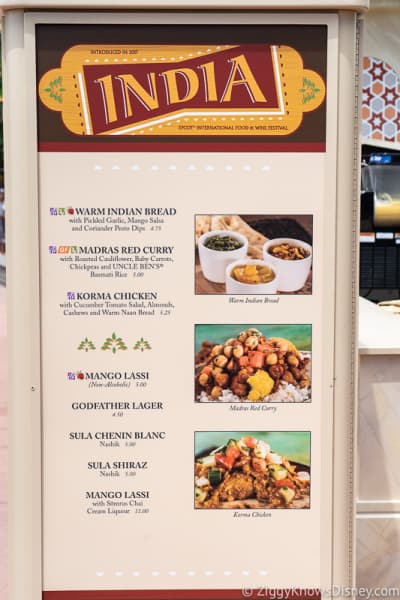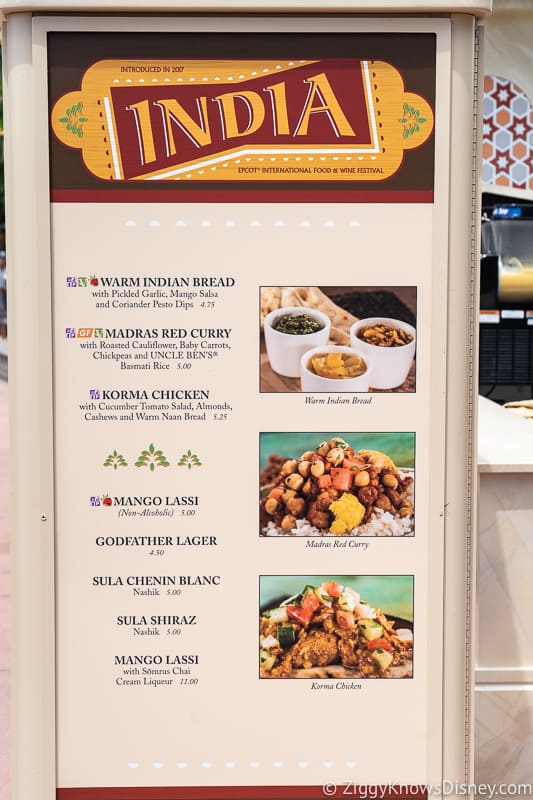 Menu Review:
Warm Indian Bread ($4.75):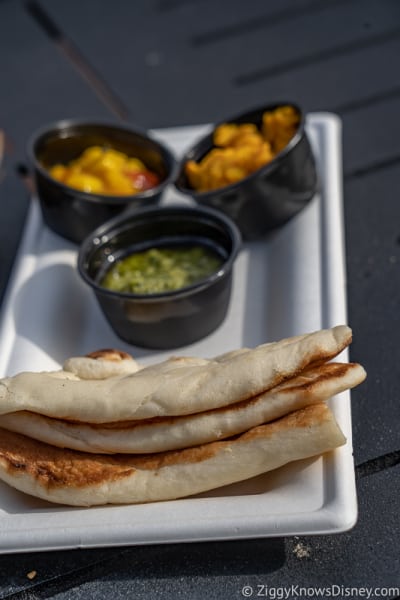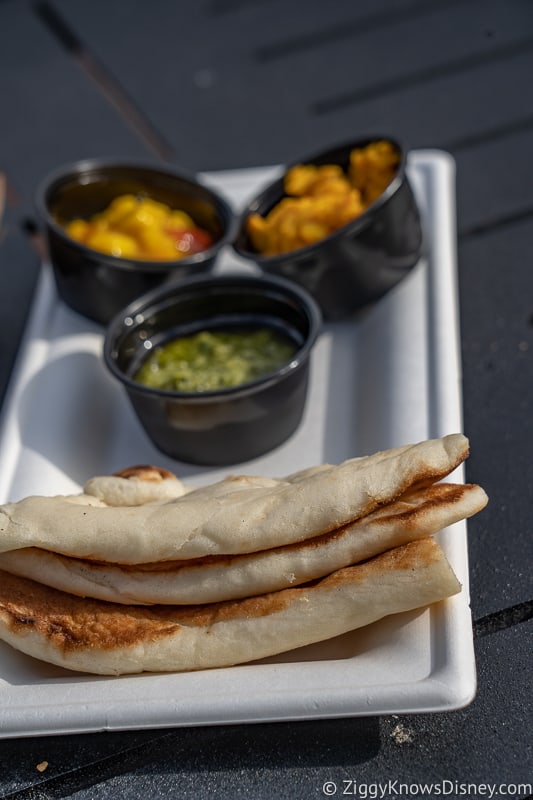 Naan Bread is amazing!! In fact, Sanaa over in Disney's Animal Kingdom Lodge has a ridiculously delicious appetizer with different types of Naaan Bread and 9 different dips, it's incredible!
This snack in India is supposed to be a mini version of that. It comes with 3 small pieces of Naan Bread and 3 different dips: Pickled Garlic, Mango Salsa and Coriander Pesto. We were all split on our favorites.
The mango was delicious, it was sweet and very refreshing. The Pickled Garlic one was ok, a little sour. The Pesto was excellent, and the coriander really shines through and it was the easiest to dip too.
The bread itself was amazing, and pretty much like the one at Sanaa. It pulls apart very nicely and has a wonderful chewy texture to it. My only complaint like last year is that one more piece of bread would have been great because we still had dip remaining at the end, just like the fondue in France. Other than that, we love this plate and highly recommend it!
Madras Red Curry ($5.00):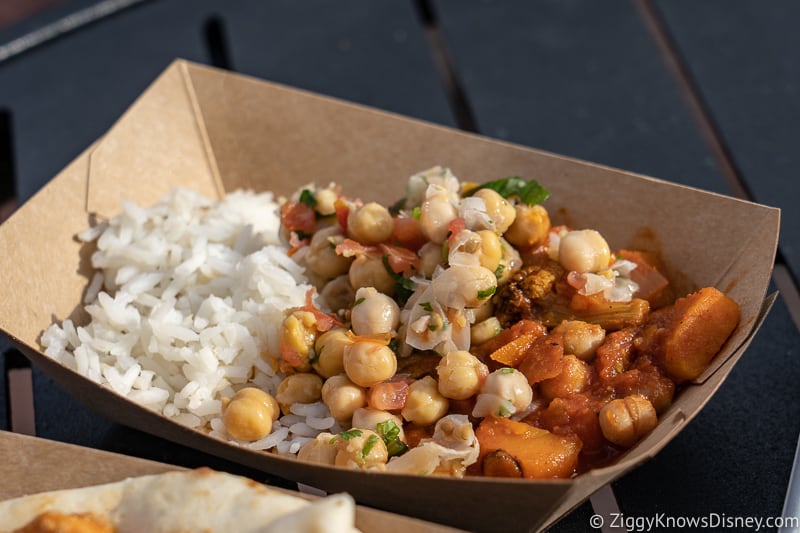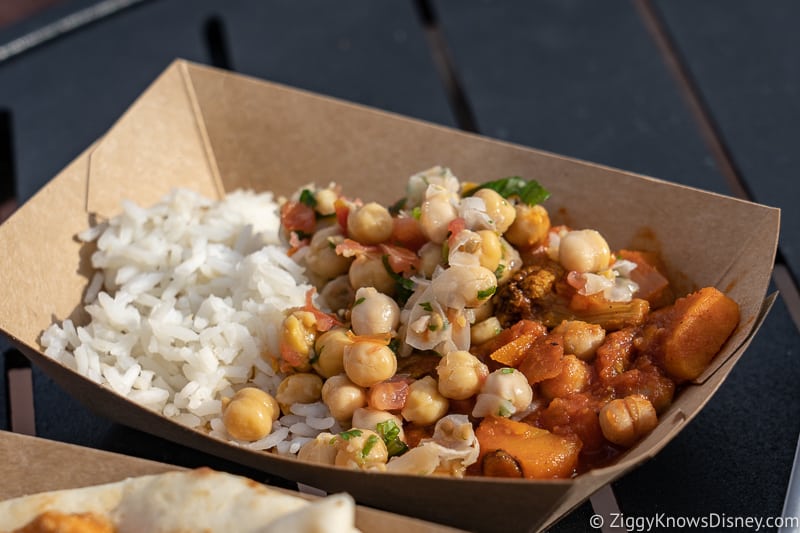 Next we tried the Madras Red Curry with Roasted Cauliflower, Baby Carrots, Chickpeas and Basmati Rice. So right off the bat this is a vegetarian dish, AND Gluten Free which is gonna make a lot of Food and Wine goers happy! That's the good part.
The bad part is I didn't really think it was very special and the overall flavor for me just wasn't there. The white rice is, well white rice, and the chickpeas were kind of bland. I'd recommend the Impossible Burger over at Earth Eats over these if you are looking for a vegetarian dish.
Korma Chicken and Warm Naan Bread
($5.25):
It's not the Butter Chicken, but it's close. This is a really good dish and full of chicken, cucumber tomato salad and cashews. There was actually a lot of chicken in there and the sauce was, mmmmmmmm good!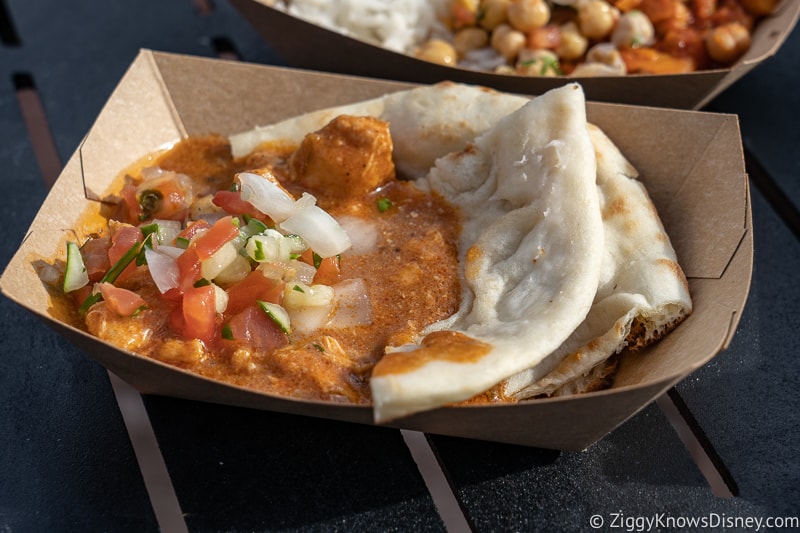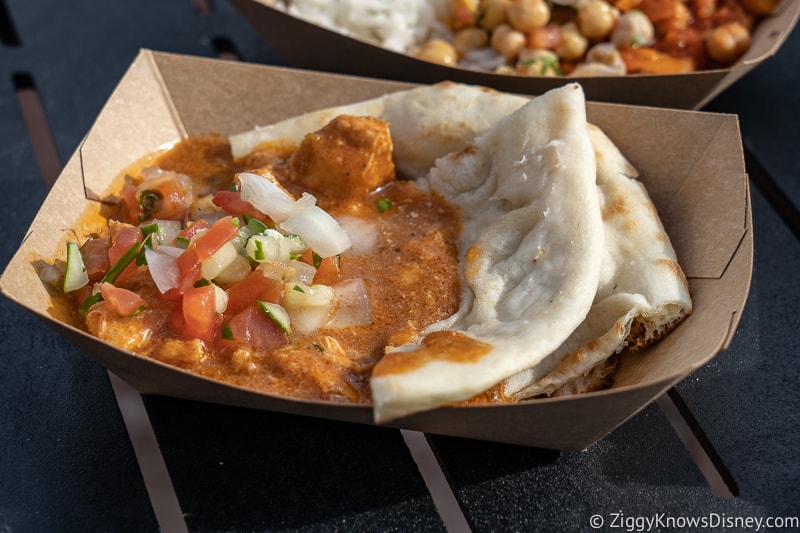 What's nice is that they include the same Naan Bread as in the other dish, putting this dish on another level! It was also a good size portion and shareable (I don't know why you'd do that, but you can if you want! 😉 The addition of the cucumber and tomatoes on top was an interesting choice and not one I'd normally expect, but it added to the dish's fresh taste and worked well.
This was our favorite and one we'd happily come back for again!
Booth Summary and Grade:
Overall the India booth was good, not great. I really liked the Korma Chicken again this year and really happy they brought it back. The Curry I could do without next year and hope it gets replaced by something else. The Naan Bread we really like, but it is a little redundant with it already being included in the Korma Chicken.
Maybe next year they can put different types of Naan Bread in there to mix it up. Also I would like to see a dessert come next time too because, well, there should always be dessert! 😉
If you have to get just one thing:
Korma Chicken
India Review

Overall Grade -

7.5/10
I want you to be able to have the best info on the Festival so you have a great time and don't waste your time! Take a look at all of my 2019 Epcot Food and Wine articles including:
MUST-TRY NEW Items at 2020 Food and Wine Festival (Coming Soon)
Top Food and Wine Booths (Coming Soon)
Your Thoughts:
I want to know what you think about the India Review at the 2019 Epcot Food and Wine Festival…
Which is your favorite item?
Which do you still want to try?
Let us know in the comments section below!
If you enjoyed this article, as always I appreciate it if you'd share it with others via social media. I work hard at making this website into a useful resource for you and your family to plan your visit to the Disney Parks and I hope it can help you! Thanks 🙂