Spain made its return a couple years ago to the Food and Wine Festival, and it's back again in 2019. I'm always excited to try the Spanish Cuisine including: a Charcuterie Cone, Seafood Salad and of course Spanish Paella!!
Those sound like some amazing options so let's see how they taste and the whole menu in my Spain Review for the 2019 Epcot Food and Wine Festival.
Spain Marketplace:
How cool is the Spain marketplace?? Don't you love the clay tiles on the roof and the whole facade of the building covered in green vines??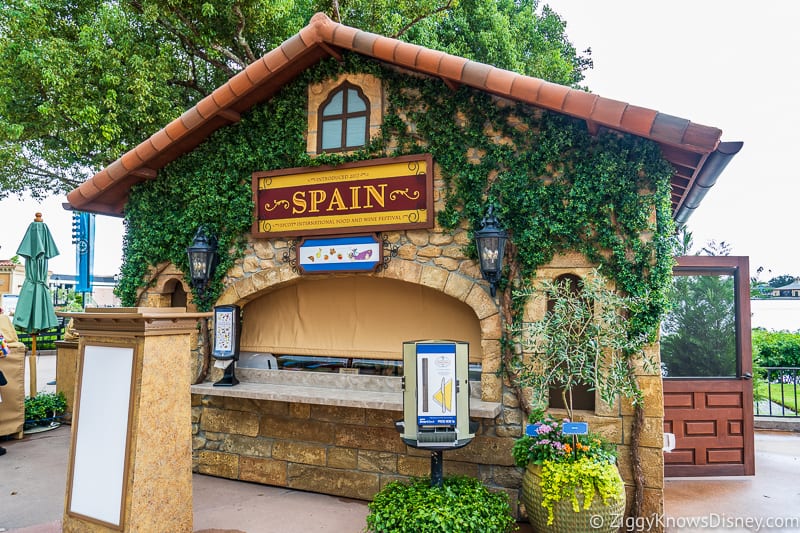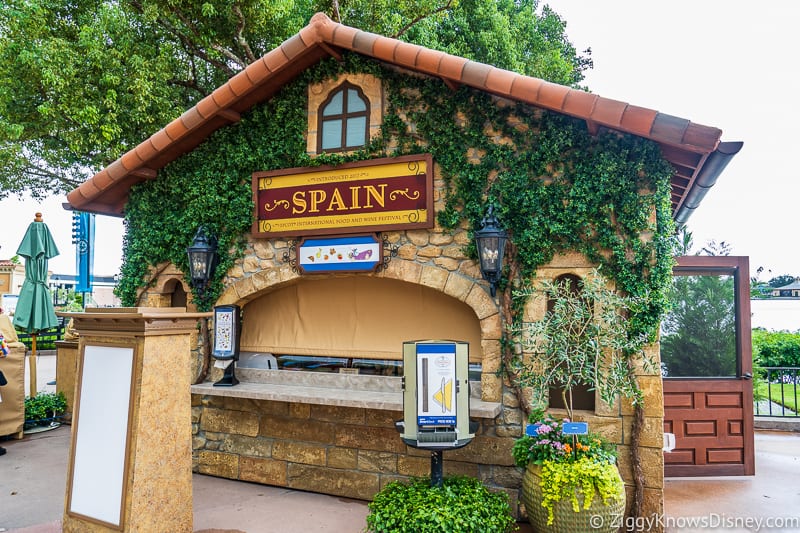 Spain Menu:
The Spain menu is basically the same from last year. The Charcuterie Cone, the Spanish-style Paella and the Seafood Salad all make a return to the menu in 2019. Also the wine flight is the same as it was last year.
The only change on the menu is that this year's Paella has Botifarra instead of Chorizo.
Food:
Charcuterie in a Cone with imported Spanish Meats, Cheeses and Olives with an Herb Vinaigrette ($6.50)
Spanish-style Paella with Botifarra and Roasted Chicken ($5.50)
Seafood Salad with Shrimp, Bay Scallops, Mussels, Extra Virgin Olive Oil, White Balsamic Vinegar and Smoked Paprika (GF) ($6.00)
Beverages:
Lagar de Bouza Albariño, Rías Baixas ($5.00)
Casa Castillo Monastrell, Jumilla ($5.00)
Espelt Garnacha Old Vines, Catalonia ($5.00)
Wine Flight also available ($5.50)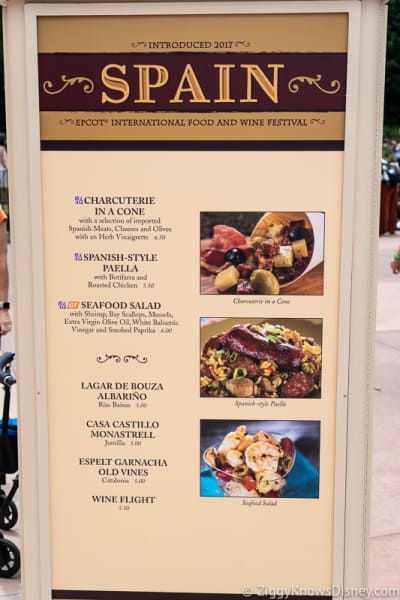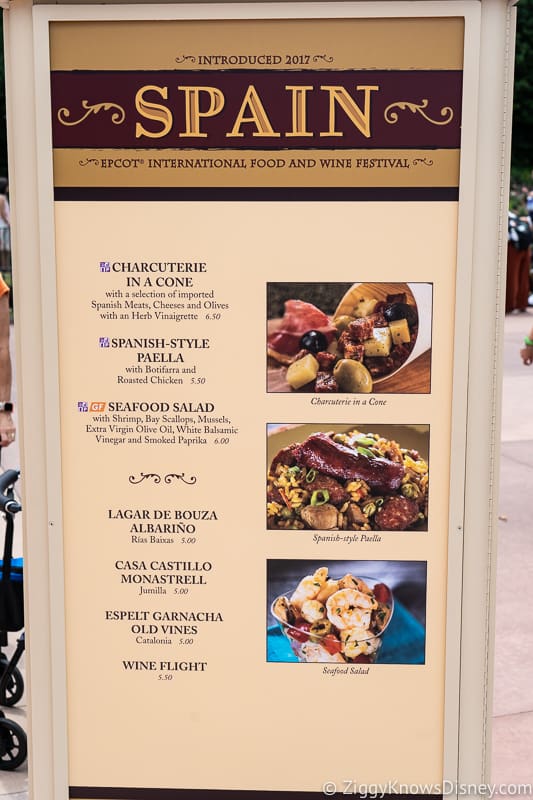 Menu Review:
Charcuterie in a Cone ($6.50):
Guys, it's meat and cheese in a cone. Is there anything else needed than that?? Ok, I'll give it to you anyway. I loved both types of meat inside here, the spicy salami and the imported Spanish Ham. It was very similar to Italian Prosciutto, very sweet and a delicate texture.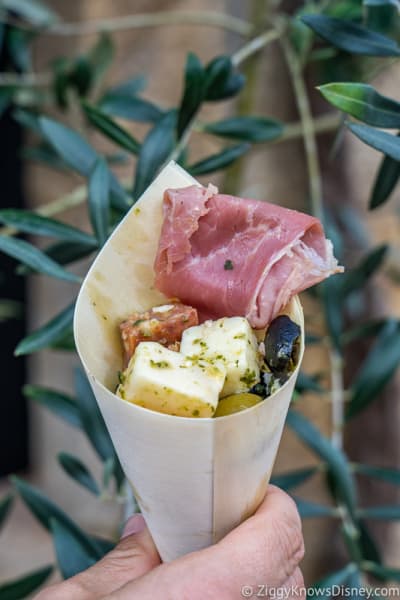 The cheese was a harder cheese, similar in texture to a cheddar but very mild. There were some nice, plump olives inside to that were delicious!
The cool part was that everything was covered in olive oil and spices. This is a great walk-around Food and Wine snack since it's in the cone, plus it's very light and not heavy which helps when the heat is blazing in World Showcase.
Spanish-style Paella with Botifarra and Roasted Chicken ($5.50):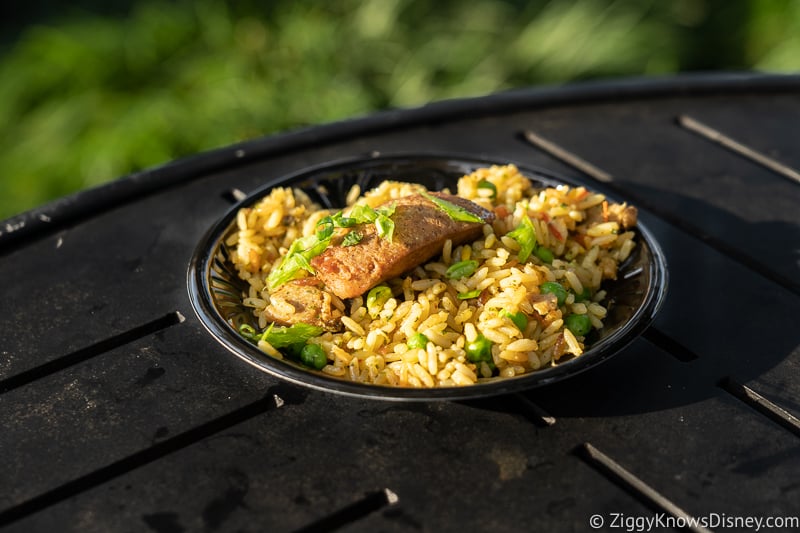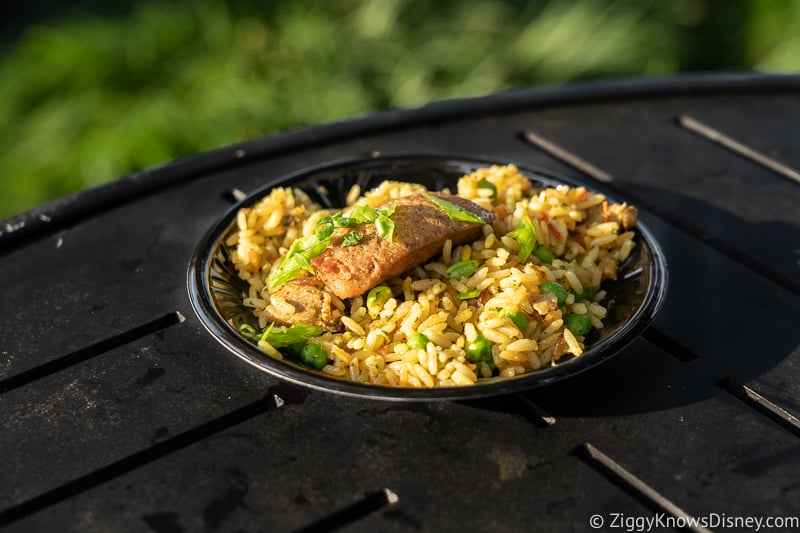 The Spanish-style Paella was a little different from last year which had chorizo and roasted chicken. This version of the Spanish Paella instead has botifarra (a sausage and one of the most important dishes of the Catalan cuisine) and roasted chicken. I like both versions and I'm torn between which one is better. I think I even enjoyed this year's more.
The sausage has a great flavor, but my only complaint is that the portion of meat they give to you is a bit small, they could have put a bit more chicken for example as my plate hardly had any.
The rice was cooked great this time, which varies from cook to cook. Definitely one of the most popular dishes at Food and Wine and I'd say an overall solid choice. Not stupendous, but solid.
Seafood Salad with Shrimp, Bay Scallops, Mussels ($6.00):
So the Seafood Salad is a great choice for someone looking for a snack, but wants to keep cool at the same time. The seafood is very fresh inside, shrimp, scallops and mussels all fill the dish. Fill is a loose term, as lettuce is actually filling half of the bowl.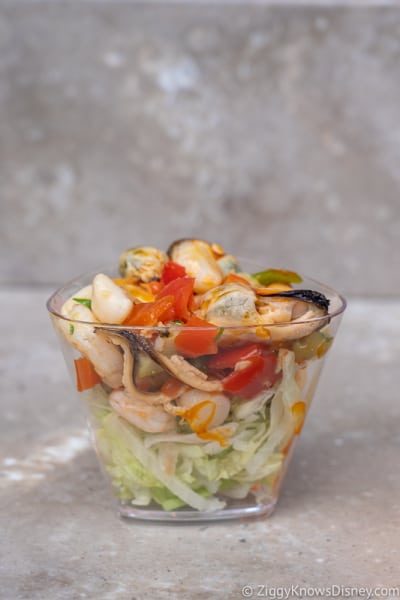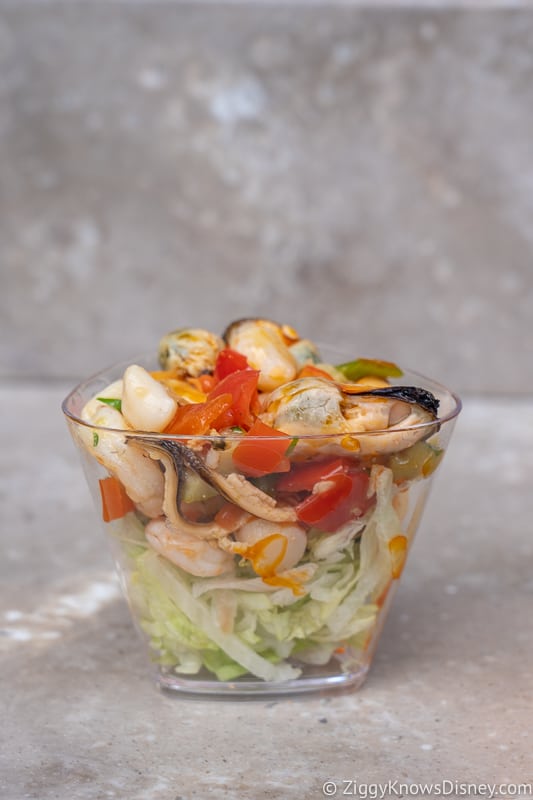 This was from a couple of years ago, big difference: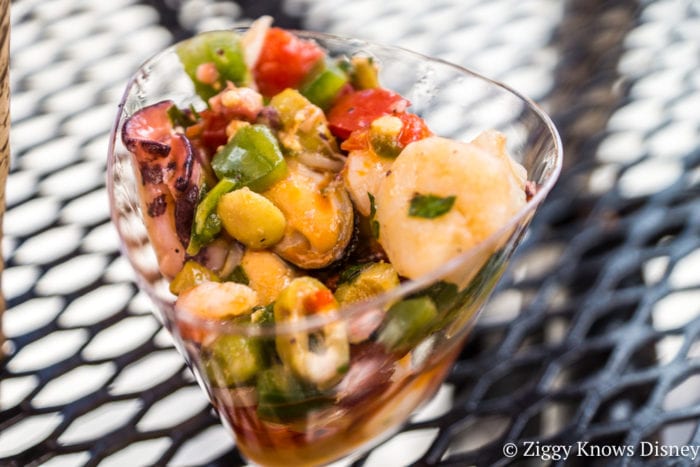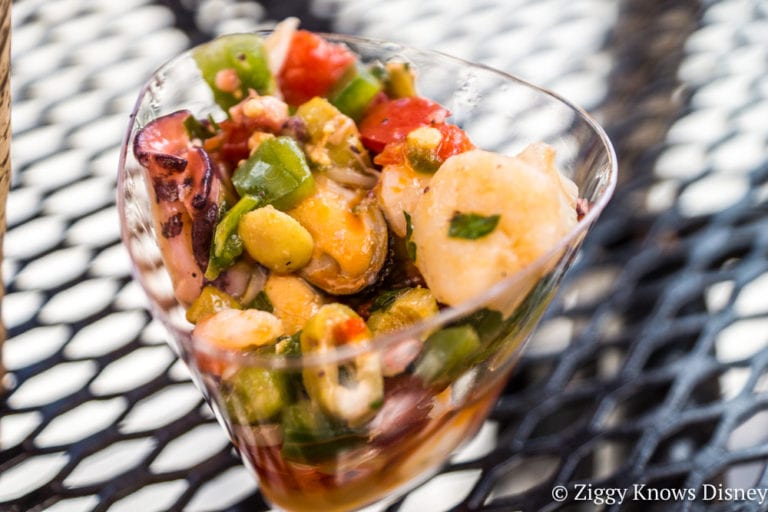 Another portion cut around Food and Wine and part of a disturbing trend.
This snack used to be better than now, not only for the fact that there was more in the bowl, it also tasted better being covered in a wonderful oil with seasonings. If you absolutely have to get it this year you'll probably still like it, but it's a major downgrade in quality from year's past with an upgrade in price.
Wine Flight ($5.50)
The Wine Flight we really loved and it's delicious and one of the best bargains at Food and Wine being only $5.50.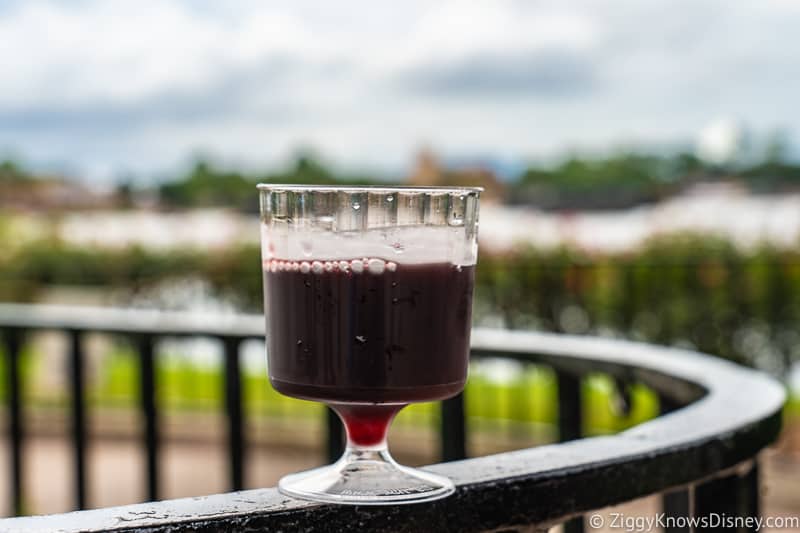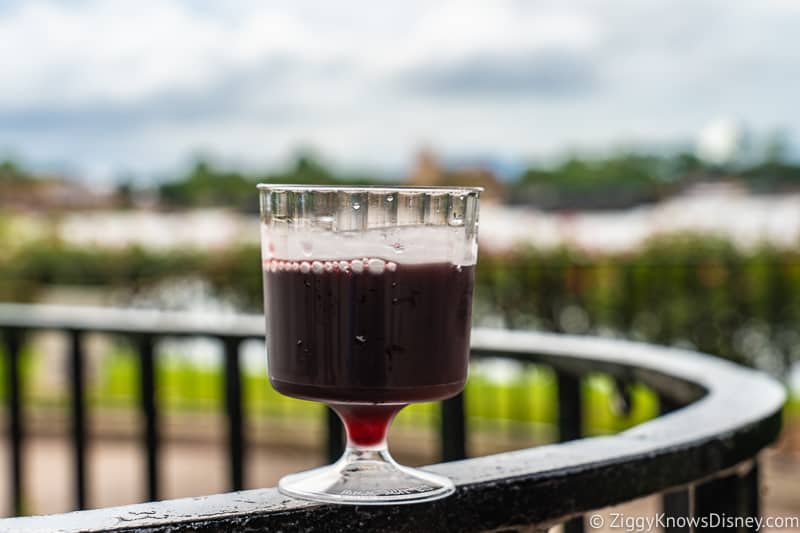 Lagar de Bouza Albariño ($5.00):
This has a wonderful smell. Very fragrant and fruity to the nose. Drinking it was just as nice and it has a round texture and goes down smooth. It has a long finish due to its high acidity level. Not sweet and went nicely with the Paella.
Casa Castillo Monastrell ($5.00):
We were't crazy about this one honestly. It smells like berries so when we tasted it we thought that's what we were getting, but it's a mix between that and coffee, which ruined it a bit for me. But hey I'm a coffee hater so what do I know! It's also a bit spicy and has a very dark flavor. Maybe paired with something else it could be good, but I just wasn't a fan.
Espelt Garnacha Old Vines ($5.00):
This was very smooth. It had mild tannins, and definitely really fruity. I tasted lots of red berries and ripe cherry on the front and a tart finish. We loved this and it was our favorite of the 3 wines by far!
Booth Summary and Grade:
So Spain was good, but it shouldn't be in your top ten stops at the festival, only if you are making multiple visits. We like the Charcuterie Cone a lot and I guess would come back for that, and the Paella was pretty good too. The Seafood Salad change this year is off-putting, and I expect more.
Go for the cone and wine and skip the rest.
If you have to get just one thing:
Charcuterie in a Cone
Spain Review

Overall Grade -

8/10
I want you to be able to have the best info on the Festival so you have a great time and don't waste your time! Take a look at all of my 2019 Epcot Food and Wine articles including:
Top Food and Wine Booths (Coming Soon)
Your Thoughts:
I want to know what you think about the Spain Review at the 2019 Epcot Food and Wine Festival…
Which is your favorite item?
Which do you still want to try?
Let us know in the comments section below!
If you enjoyed this article, as always I appreciate it if you'd share it with others via social media. I work hard at making this website into a useful resource for you and your family to plan your visit to the Disney Parks and I hope it can help you! Thanks 🙂