China is a MUST-DO on the Epcot Food and Wine list every year. They are consistently in the Top 10 marketplaces at Food and Wine, and I don't think we've ever had a bad meal here! But it's hard to continue to be at the top, so is China still there or have they slipped a bit this year?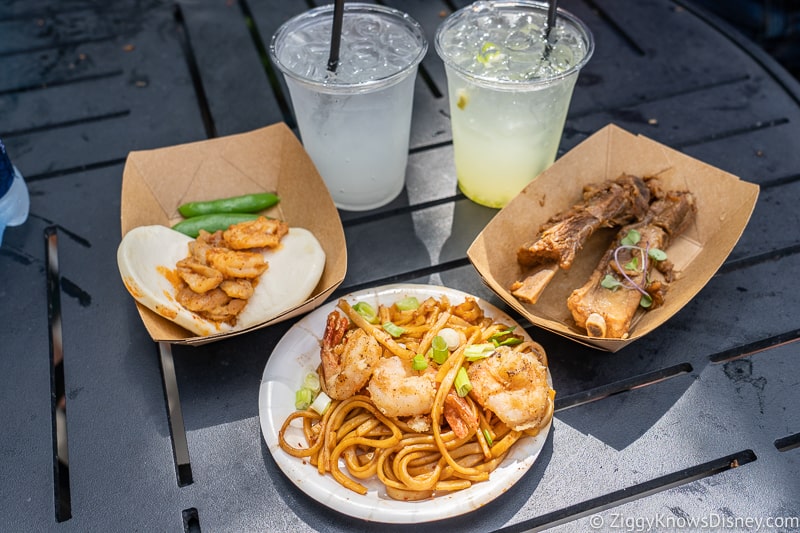 We're going to try all the food which includes two new menu items this year. Let's see how they hold up in my China Review: 2019 Epcot Food and Wine Festival….
China Marketplace:
China is in a wonderful spot in World Showcase, right across from the China pavilion where there is a beautiful garden great for strolling after a big day of tasting! Also in the afternoon the entertainment is amazing here with acrobats performing some amazing feats. Entertainment and a great meal!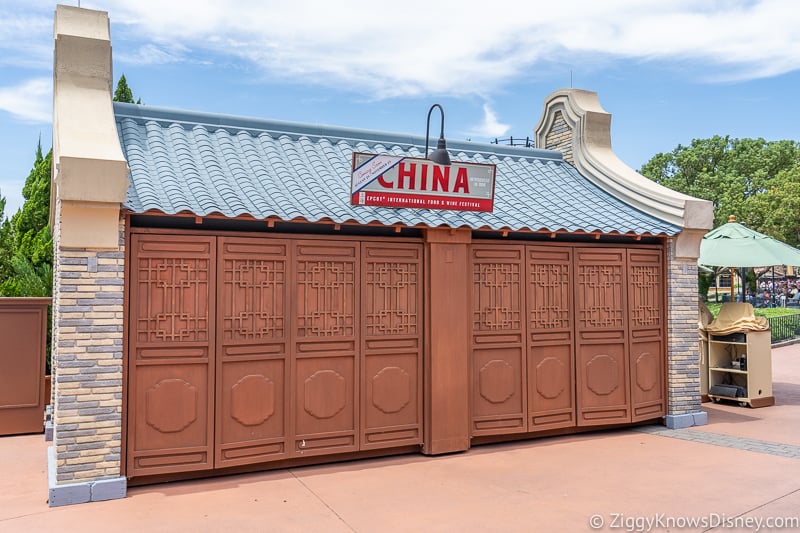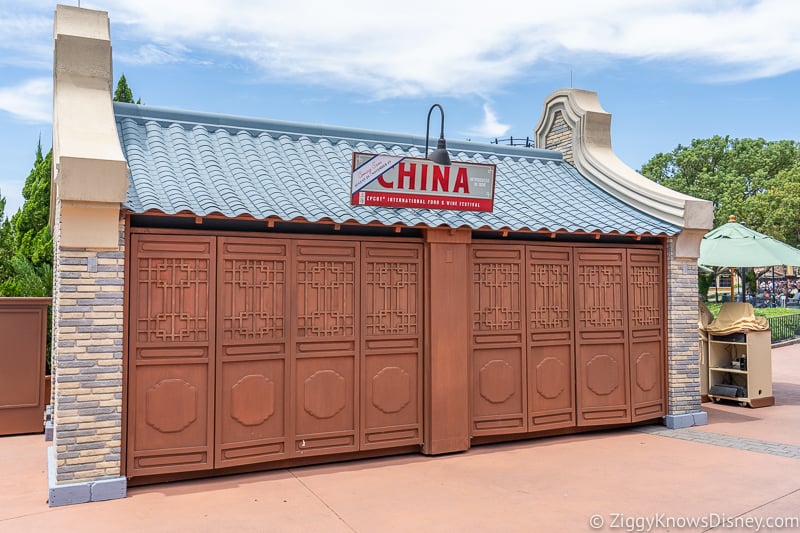 China Menu:
China definitely took some risks this year changing out half of their menu and adding two new food items in the Wuxi Spareribs and the Mala Chicken and Shrimp Bao Bun. I honestly couldn't believe they got rid of perennial Top Food and Wine Snack: Beijing Roasted Duck Bao Buns, and it's gonna take a lot to make the change worth it.
Another thing was to replace the Beef Pancake from last year with the Wuxi Spareribs. I also really love the pancake so this is another tough change. The Black Pepper Shrimp with Garlic Noodles and Chicken Dumplings stayed mostly the same.
There is also a new drink, Year of the Piggy that we are excited to try. Let's see if all the moves pay off.
Food:
Wuxi Spareribs ($6.95)
Chicken Dumplings with Chinese Slaw (KA) ($4.95)
Mala Chicken and Shrimp Bao Bun ($6.75)
Black Pepper Shrimp with Garlic Noodles ($6.75)
Beverages:
Mango Bubble Tea with Assam Black Tea and Milk (Non-alcoholic) ($6.95)
Jasmine Draft Beer ($5.00)
Happy Peach: Peach Liqueur and Dark Rum ($9.25)
Kung Fu Punch: Vodka, Triple Sec, Mango Syrup and Orange Juice ($10.00)
Byejoe Punch: Chinese Bai Jiu Spirit, Lychee, Coconut and Pineapple Juice ($10.50)
Year of the Piggy: Light Rum, Triple Sec, Lychee Syrup, Lime Juice and Sprite ($11.00)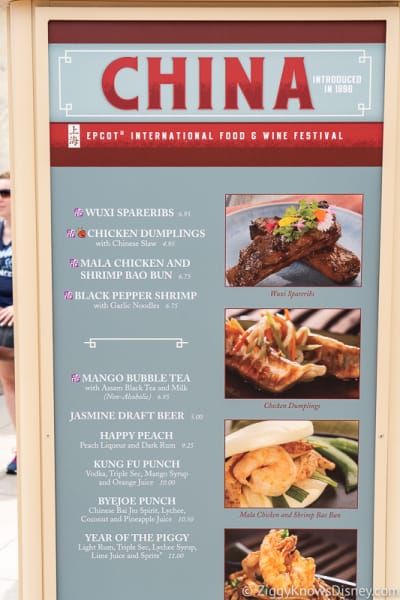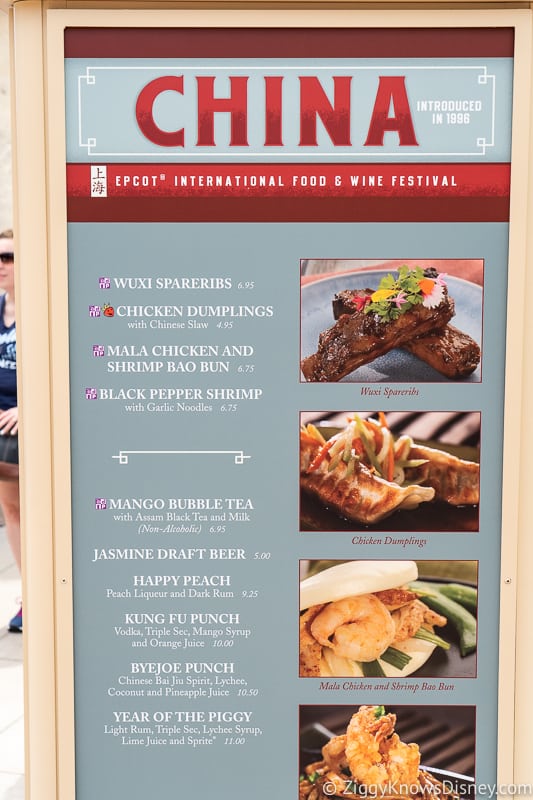 Menu Review:
Wuxi Spareribs ($6.95):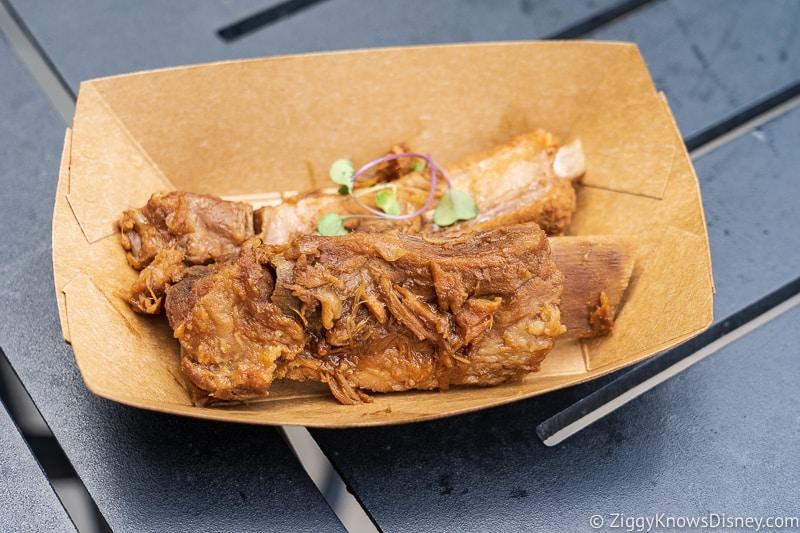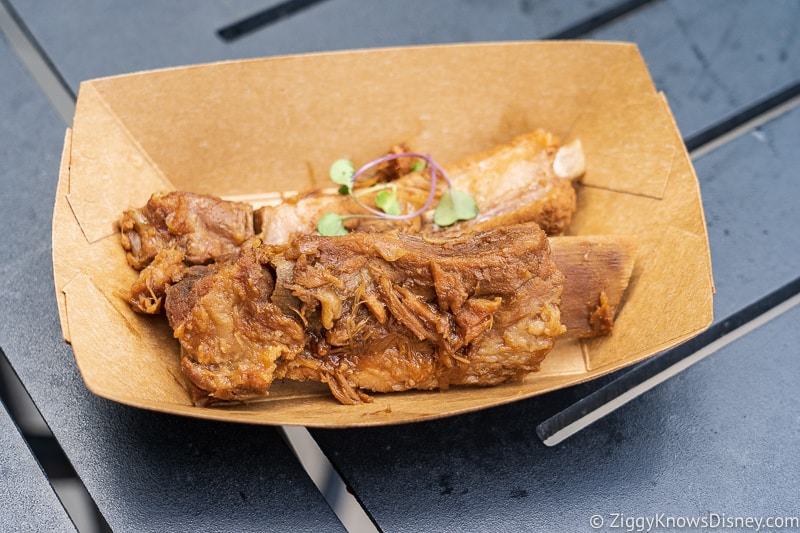 The ribs weren't bad in themselves, and my opinion of them changed slightly to the negative once I stopped at the Italy pavilion just down the way. There were 2 ribs that had a decent amount of meat on them. The sauce was on the sweeter side, a little too much, but we didn't think the meat had a ton of flavor and it was masked by the suace.
In comparison with Italy, the ribs are small though, and they give you 3 ribs instead of 2 in China. We also preferred the preparation in Italy as they were cooked in the oven and left the meat tender but a little crispy on the outside, but these seemed boiled.
Again they aren't bad, but if you are in the mood for ribs we suggest to keep walking until you get to Italy!
Chicken Dumplings ($4.95):
These are you average Chinese dumplings. There was a nice sesame aftertaste, but I couldn't necessarily tell that they were made from chicken. Not that that's a bad thing, the flavor was good, just not sure they are chicken. While pretty tasty, the price is steep at $5, and I can't really recommend them for that reason alone.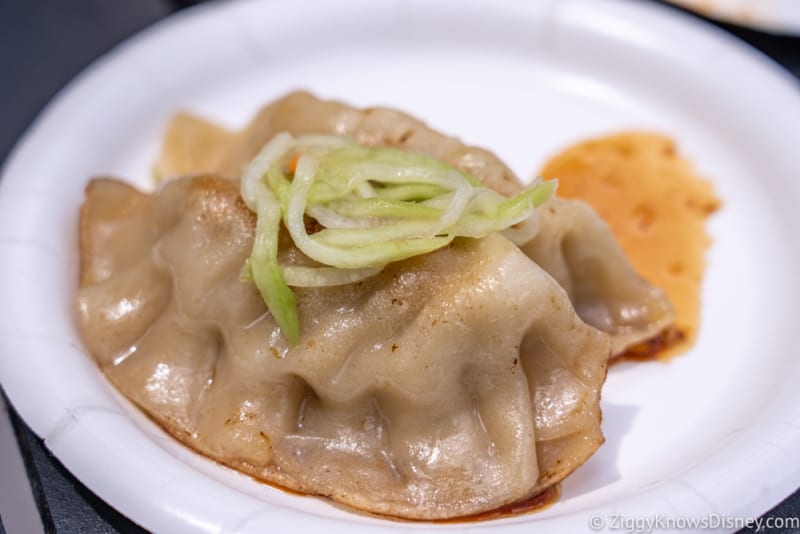 Mala Chicken and Shrimp Bao Bun ($6.75):
The Beijing Roasted Duck Bao Bun has been one of my favorite items at Food and Wine for years running and I was horrified to hear that it was switched out by the Mala Chicken and Shrimp Bao Bun.
That's it on the left side of the picture below (I forgot to take a single image of it, so for now this will have to do).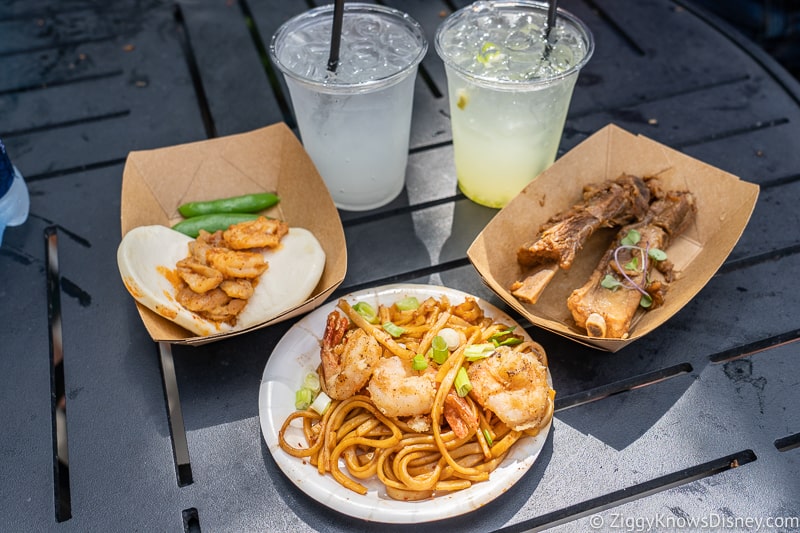 I was pleasantly surprised by this and found it really enjoyable. The Bao Bun was the same one we have love for years, soft and wonderfully soaking up the flavors from the meat it holds.
I thought there was a good amount of chicken and shrimp inside the bun, and they were both cooked well and juicy. The sauce wasn't spicy, but a well seasoned and they put just the right amount on.
We aren't going to say this is better than the duck was, but it's still a really good option that we will order again the next time we stop by!
Black Pepper Shrimp with Garlic Noodles ($6.75):
Ok so I'm about to go off on a rant here. The Black Pepper Shrimp are always one of my favorite items at Food and Wine, always. Everything about the flavor was on again this year as usual. They were deliciously spicy and the garlic flavor makes your mouth water. I could slurp up those noodles all day long.
But….where are all the shrimp. Do you know how many shrimp they used to give you? 4. Do you know how many you get now? Look at the picture: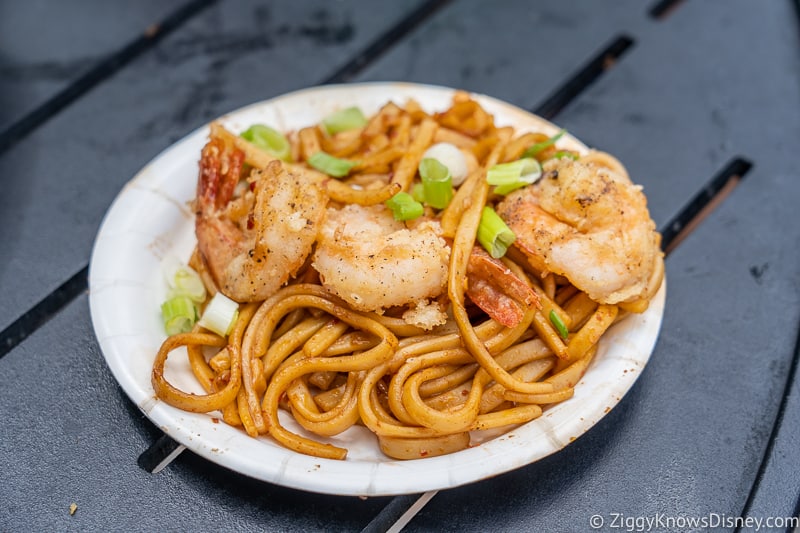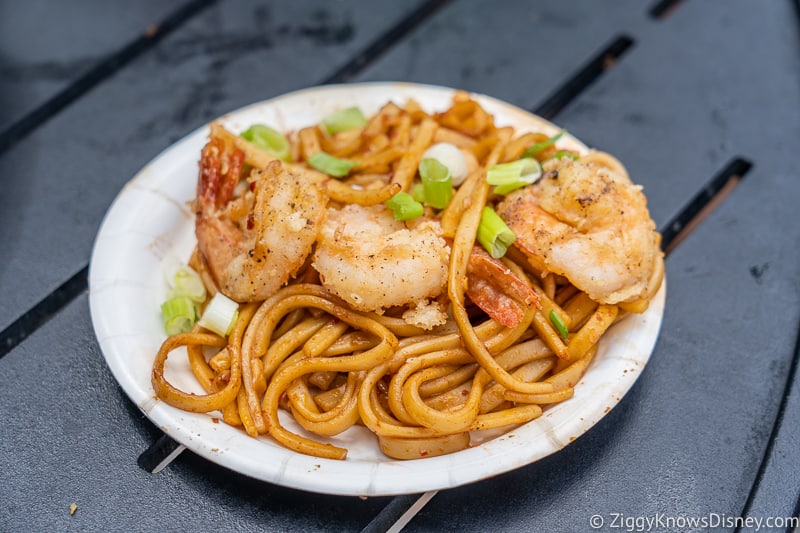 That's right, only 3. And they're not any bigger than last year, they are the same size. I've made this rant before, but I'm gonna do it again. I don't mind paying more, but not for less food than you've always given me, I just can't do that.
And no matter how delicious the Black Pepper Shrimp is, I probably won't get it again for the price factor. If you want shrimp go to Africa where they give you 5 of them for about the same price.
Mango Bubble Tea ($6.95):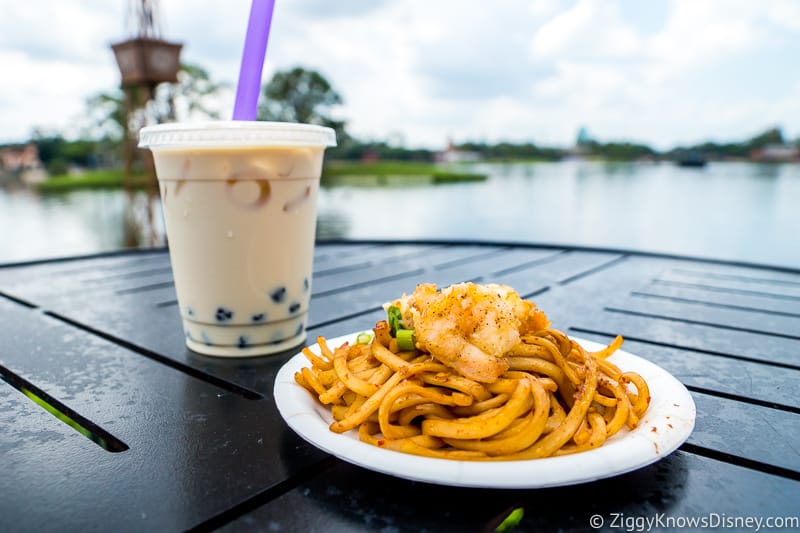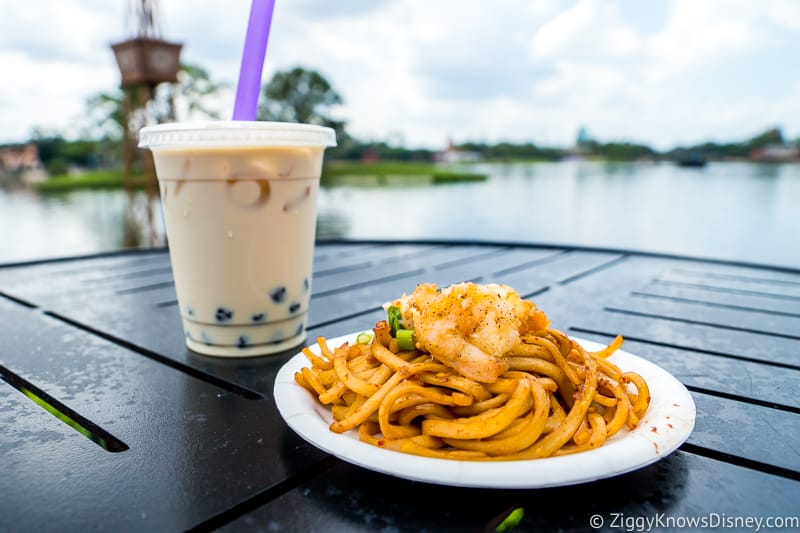 I had this last year and it was the worst thing I've ever drank, nothing has changed so let's just leave it at that and move on.
Kung Fu Punch ($10.00):
This was awesome! I mean first of all with a name like: Kung Fu Punch, you know you can't resist it. But I liked everything about it: the sweetnesss level was right on, the mango, and the alcohol content were all right. It even gives off a little bubbly texture which we dug. Also the drink size was good for the price.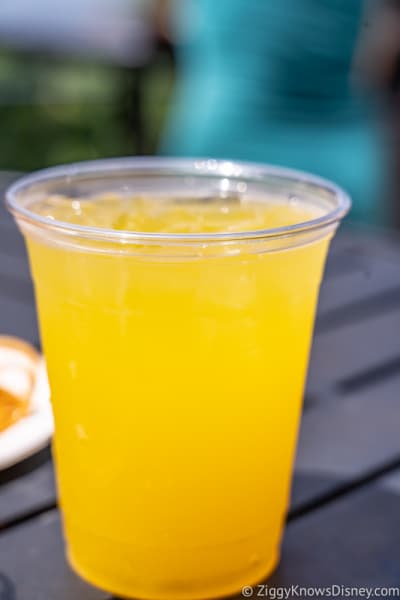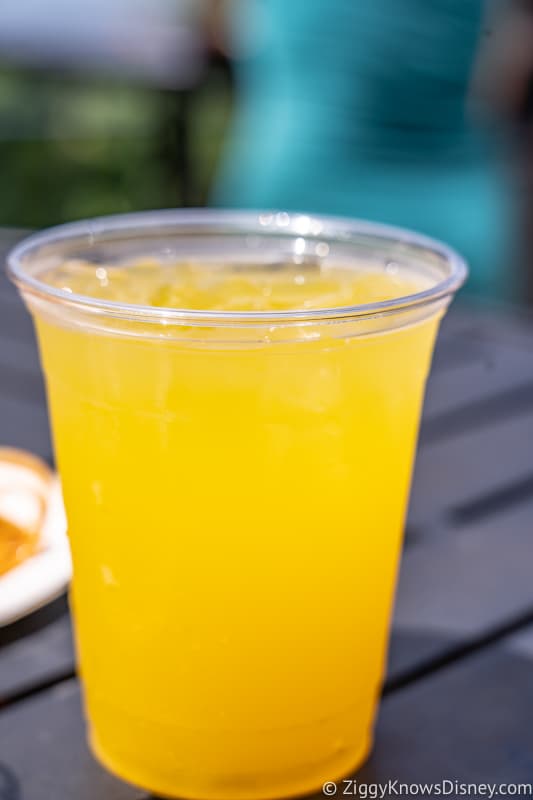 This is the best drink I've had in China and one you want to try if thirsty.
Byejoe Punch ($10.50)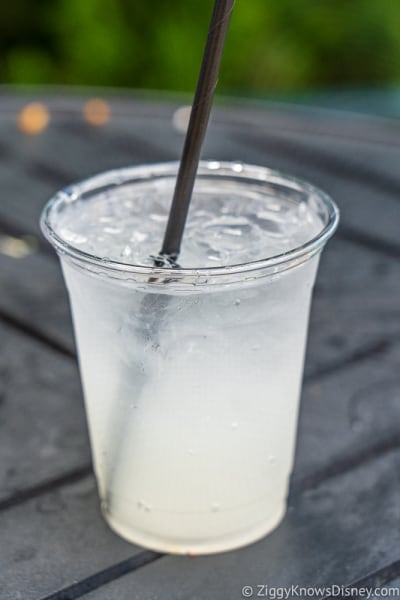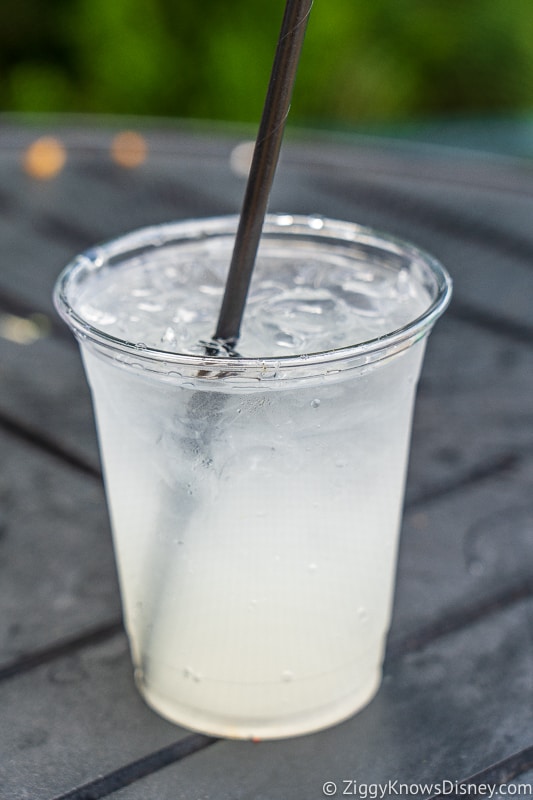 In the Byejoe you can taste a strong coconut flavor and Lychee which were a great combo, light and refreshing. We could definitely taste the alcohol, and it didn't feel watered down despite the clear texture. It was a little fizzy which we liked and again a good choice.
Year of the Piggy ($11.00)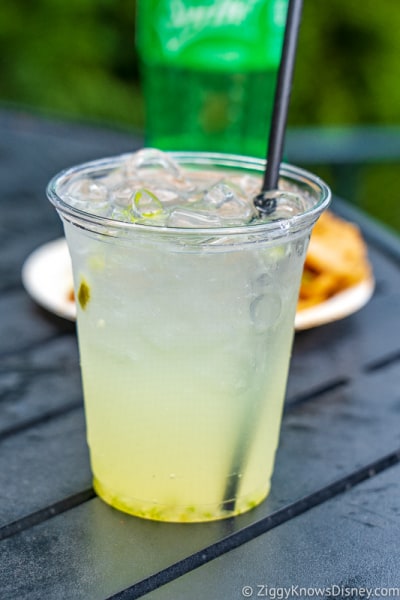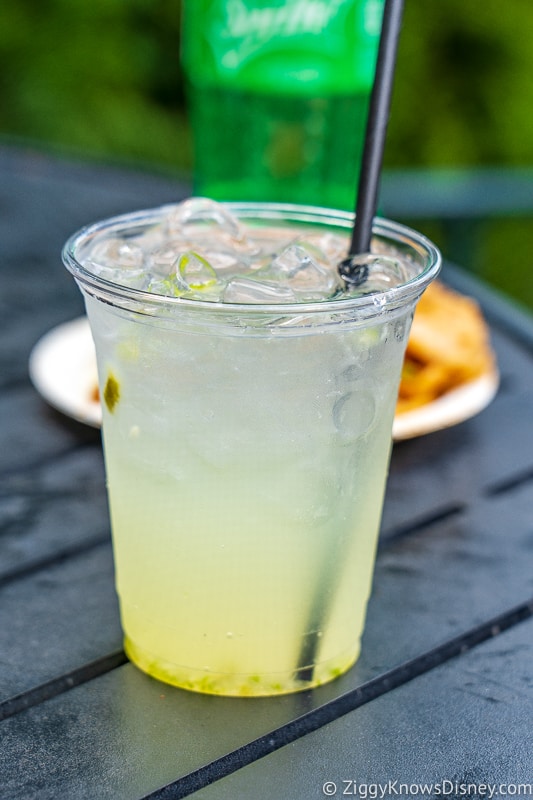 The Year of the Piggy tastes like spiked lemonade, and in a good way. It wasn't too overpowering, but also not too weak where we didn't taste the alcohol either. It was like a good refreshing lemonade and we really enjoyed it on the hot day we tried it!
Booth Summary and Grade:
Last year I ranked China a notch lower than normal because of the blatant price raising going on here and cutting of food size. This year I feel like it's more of the same, but the two new food options are not as good as their predecessors last year.
The Drinks were all good including the Kung Fu Punch, Byejoe Punch and Year of the Piggy, but the Wuxi Spareribs weren't great and the Male Chicken and Shrimp Bao Bun was a slight downgrade from the Duck Bao Bun of the last few years.
The strength of the menu still holds up well against other marketplaces, but China had the potential to be #1 this year, which I for sure won't make it now.
If you have to get just one thing:
Mala Chicken and Shrimp Bao Bun
China Review

Overall Grade -

8.5/10
I want you to be able to have the best info on the Festival so you have a great time and don't waste your time! Take a look at all of my 2019 Epcot Food and Wine articles including:
MUST-TRY NEW Items at 2020 Food and Wine Festival (Coming Soon)
Top Food and Wine Booths (Coming Soon)
Your Thoughts:
I want to know what you think about the China Review at the 2019 Epcot Food and Wine Festival…
Which is your favorite item?
Which do you still want to try?
Let us know in the comments section below!
If you enjoyed this article, as always I appreciate it if you'd share it with others via social media. I work hard at making this website into a useful resource for you and your family to plan your visit to the Disney Parks and I hope it can help you! Thanks 🙂