The Greece booth is back once again this year at the 2018 Epcot Food and Wine Festival! Some of the offerings are: Taste of Greece sampler, Spanakopita, Bougatsa and a Food and Wine Fav… "Loaded" Greek Nachos!! We always seem to find delicious food here in Greece so let's see if that holds true again this year in my Greece Review: 2018 Epcot Food and Wine Festival….
Greece Marketplace:
The Greece booth is super white and always stands out from the rest of the ones nearby. It's authentically Greek for sure, just don't stare too long at it or you'll burn your eyes!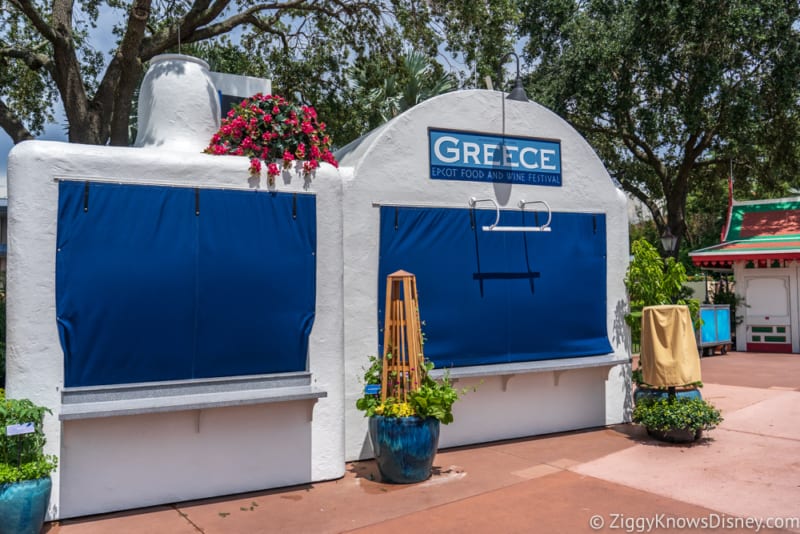 Greece Menu:
2017 Menu:
2018 Menu:
All of the menu items are the same from last year with the only difference being a standard price hike of 0.25 cents for the Loaded Greek Nachos and Spanakopita: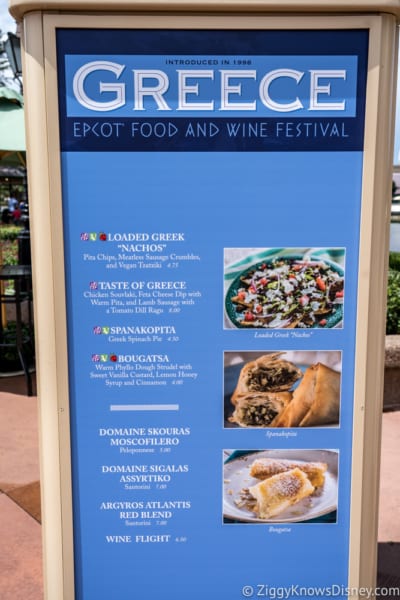 Food:
Loaded Greek "Nachos": Pita Chips, Meatless Sausage Crumbles and Vegan Tzatziki (V) (KA) ($4.75)
Taste of Greece: Chicken Souvlaki, Feta Cheese Dip with Warm Pita and Lamb Sausage with a Dill Tomato Ragu ($8.00)
Spanakopita: Greek Spinach Pie (V) ($4.50)
Bougatsa: Warm Phyllo Dough Strudel with Sweet Vanilla Custard, Lemon Honey Syrup and Cinnamon (V) (KA) ($4.00)
Beverages:
Domaine Skouras Moscofilero, Peloponnese ($5.00)
Domaine Sigalas Assyrtiko, Santorini ($7.00)
Argyros Atlantis Red Blend, Santorini ($7.00)
Wine Flight ($6.50)
Menu Review:
Loaded Greek "Nachos" ($4.75):
This is an amazing dish and one you can't skip. Dive into these Loaded Greek Nachos filled with pita chips, tzatziki sauce, and all sorts of veggies! As you're licking your fingers after you might notice on the menu that the meat isn't even meat at all but meatless sausage! Honestly I never go for vegetarian stuff, but when I get my hands on these I can never seem to put them down they're so addicting! For vegetarians and meat eaters alike, this is a must!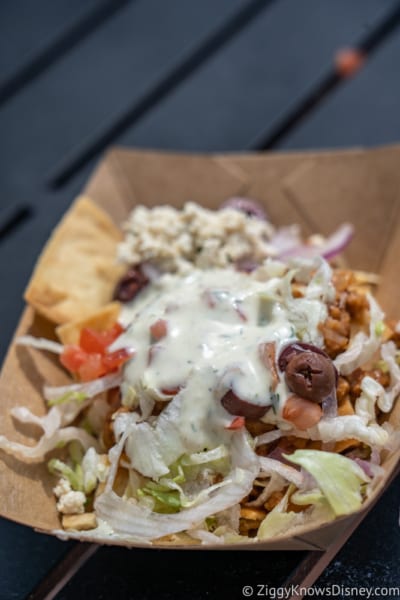 Look at all that goodness!!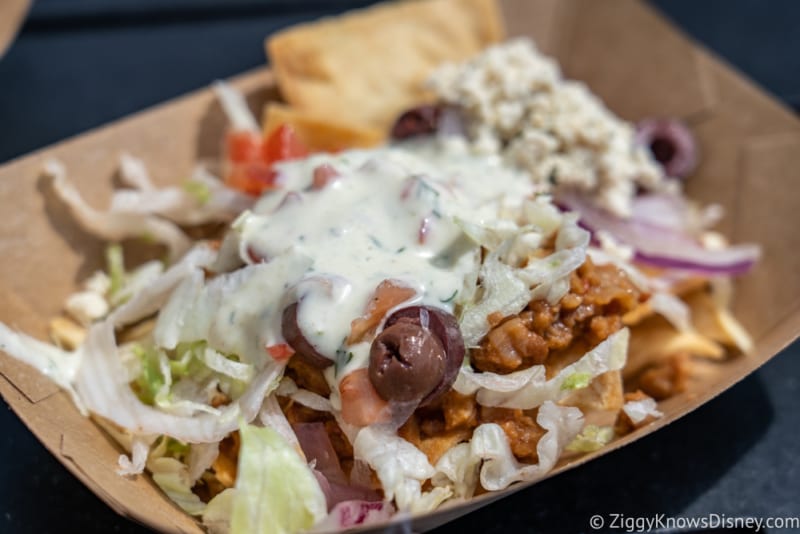 I feel like the portion last year was basically overflowing from my dish while this one was a bit less. Either way these Loaded Greek Nachos are incredible and you need to get them!
Taste of Greece ($8.00):
The Taste of Greece is a little different from last year. That version had octopus and stuffed grape leaves, while this one has Lamb Sausage and Chicken Souvlaki. I think this version is miles ahead of last year and a big upgrade! The chicken was very good, it was actually juicy and had a wonderful Tzatziki sauce on top. The Feta Cheese Dip with Warm Pita was good, not great. But the star of the show was the Lamb Meatball. How is it that Disney always seems to get lamb right? This was so succulent and moist that it just fell apart. Plus the tomato ragu on top was the perfect compliment. By far our favorite of the three and worth getting just for that alone!

Spanakopita ($4.50):
I like spanakopita, but this version is not my favorite. The crust is paper-thin and flakey which is right. But the inside is disappointing. It's not cheesy enough inside and not authentic feeling. We have friends that make real spanakopita which blows this out of the water so it's hard to have anything else after. Just ok, but lots of better stuff available.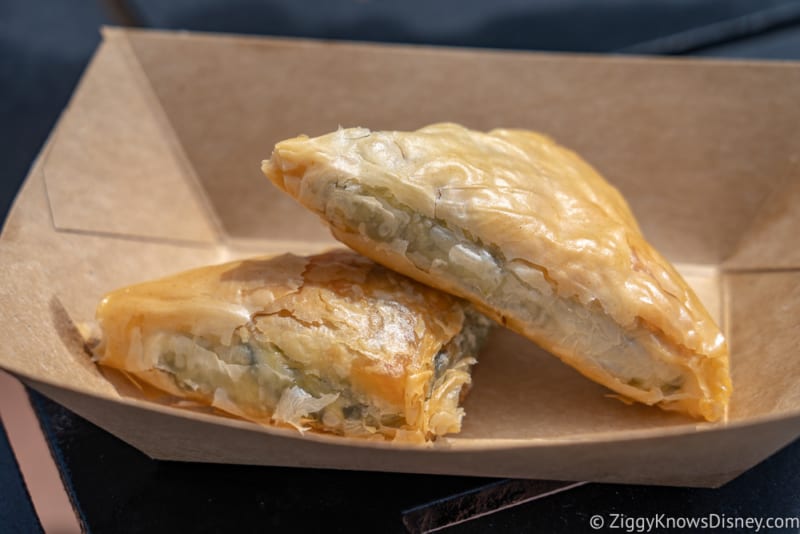 Bougatsa ($4.00):
Another apple dessert, the Bougasta is a very thin crust, topped with cinnamon, sugar and filled with sweet vanilla custard and Lemon Honey Syrup. It' s a very light dessert, especially if it's really hot and you are almost full. Honestly it's very similar to the Apple Strudel in Germany just with no apples. I have to lean towards that one though because the vanilla sauce is exquisite, but this is a very tasty treat too and I'd never say no…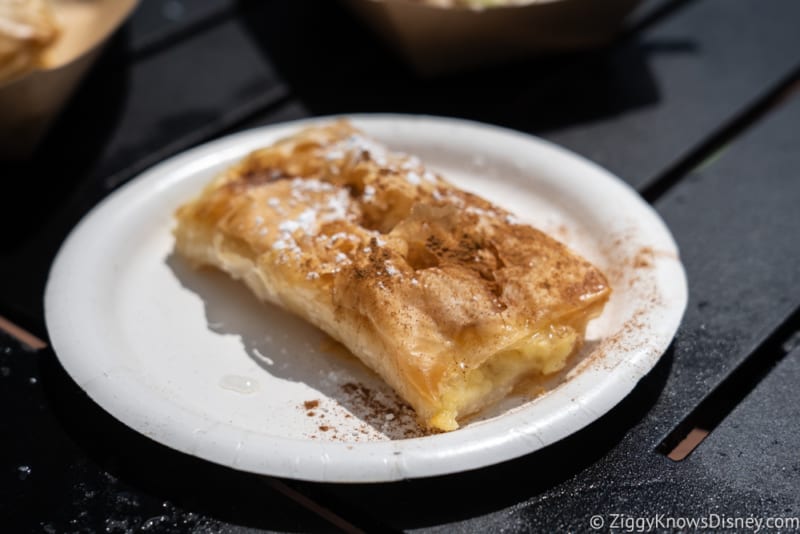 Booth Summary and Grade:
Overall the Greece marketplace gets high marks and improved over last year for sure due to the Taste of Greece being better. The other items are all the same as last year so if you tried it last year you might feel like skipping it and trying something new. However the Loaded Greek Nachos are for sure a must-get item for vegetarians and they do offer a good variety of different items!
If you have to get just one thing:

Loaded Greek Nachos



Greece Review

Overall Grade -

8.5/10
I want you to be able to have the best info on the Festival so you have a great time and don't waste your time! Take a look at all of my 2018 Epcot Food and Wine articles including:
Your Thoughts:
I want to know what you think about the Greece Review at the 2018 Epcot Food and Wine Festival…
Which is your favorite item?
Which do you still want to try?
Let us know in the comments section below!
If you enjoyed this article, as always I appreciate it if you'd share it with others via social media. I work hard at making this website into a useful resource for you and your family to plan your visit to the Disney Parks and I hope it can help you! Thanks 🙂
Need Help Planning Your Disney Vacation? Show You the World Travel is Here to Help!
Just fill out the form below and someone will contact you for all your Disney Vacation Planning Needs….
[rainmaker_form id="19792″]