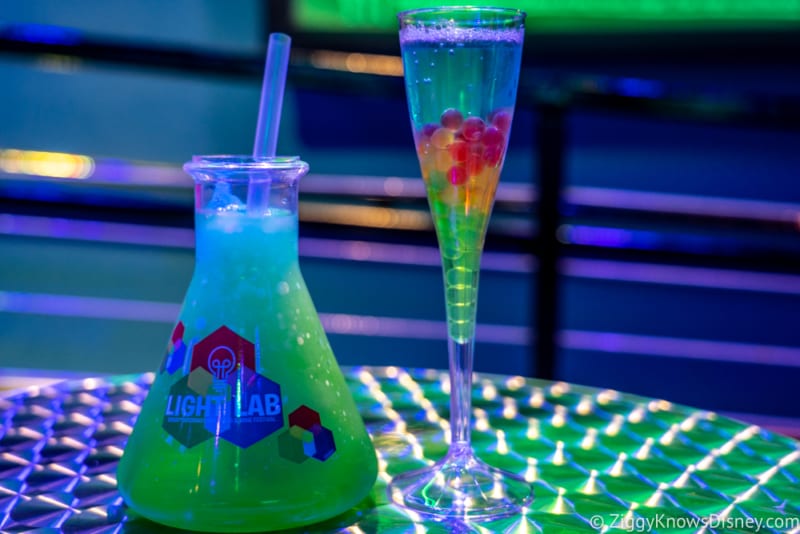 Light Lab debuted last year offering beers, specialty cocktails both alcoholic and non-alcoholic! Some are holdovers from 2017 like the Bleu Spectrum and the RGB Beer Flight, but most are new like the UltraVIOLET, InfraRED and the amazing Phosphorescent Phreeze! Let's see how things shape up in our Light Lab Review from the 2018 Epcot Food and Wine Festival!
Light Lab Marketplace:
There technically are two areas to the Light Lab. The front area before entering the "Lab" is where you'll find your Beer Flights, and mostly everything inside the lab is non-alcoholic besides the Bleu Spectrum. Here's the front entrance:
Your beer flights are found here:
Now let's step inside the Light Lab: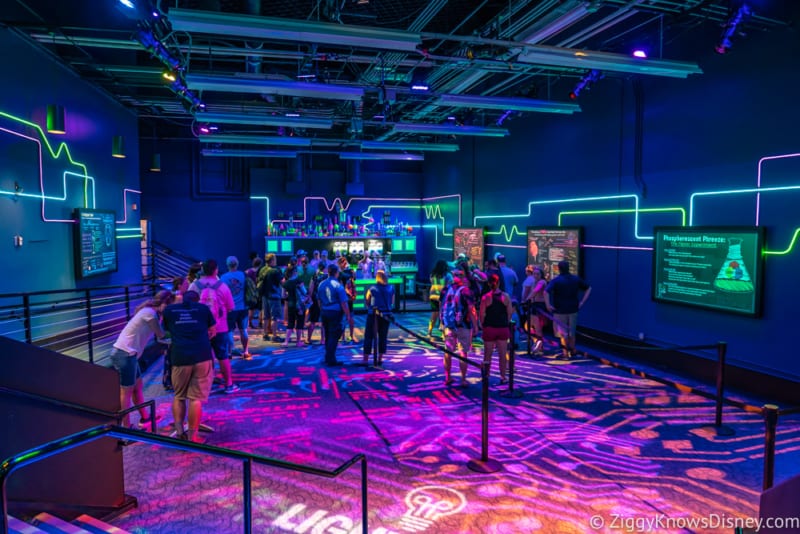 The Light Lab is definitely the most psychedelic marketplace at Food and Wine! And it's nice that it's located inside so it's the place to go for a break from the heat!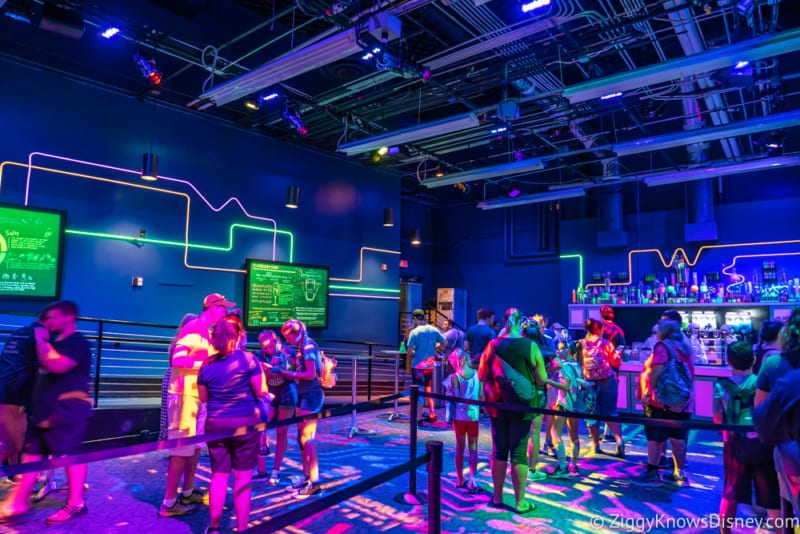 Loving the neon decorations of beakers and test tubes!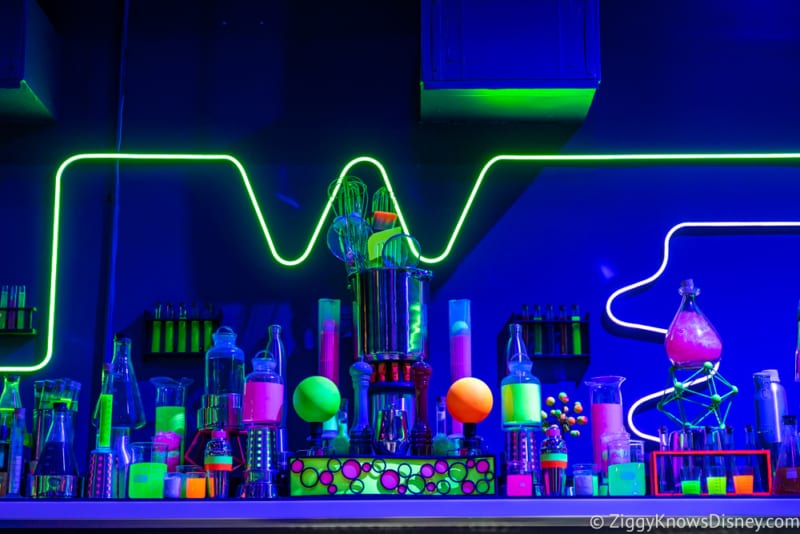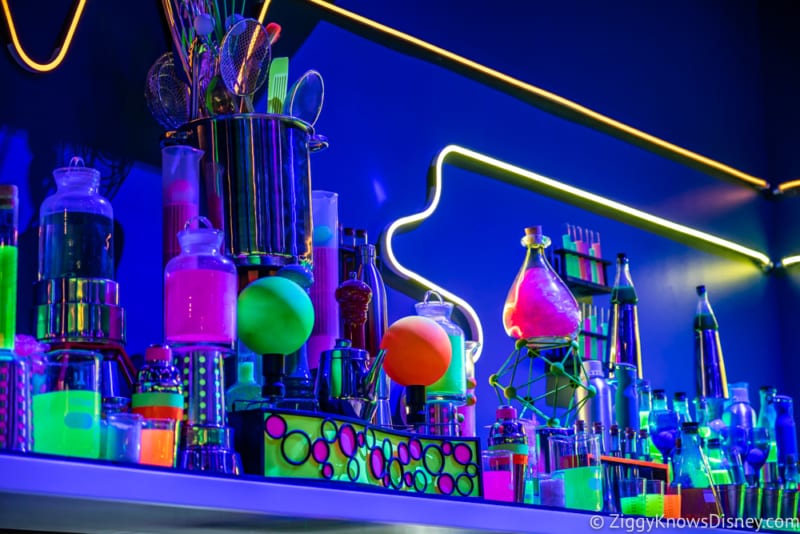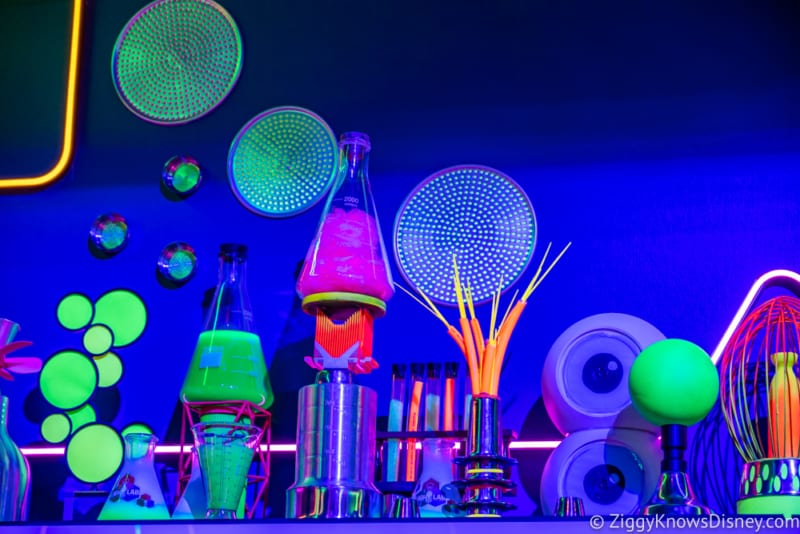 Interesting breakdowns on how colors influence the flavor of something: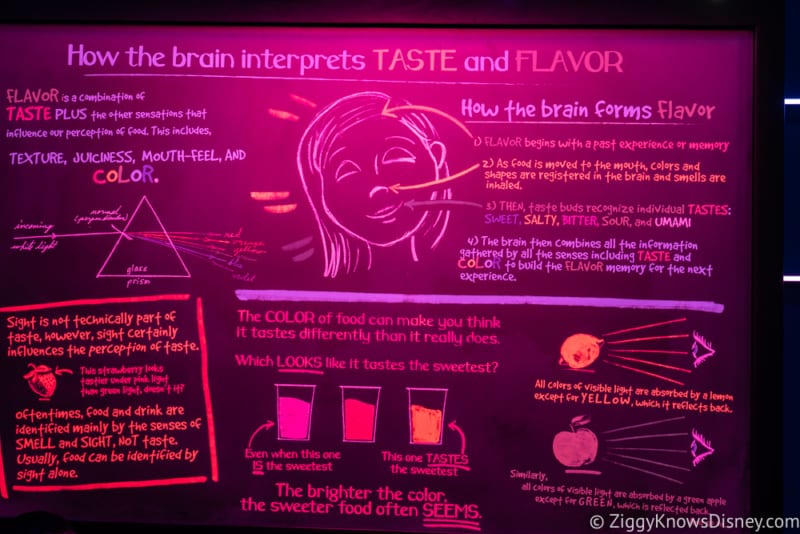 Plus others about the different drinks: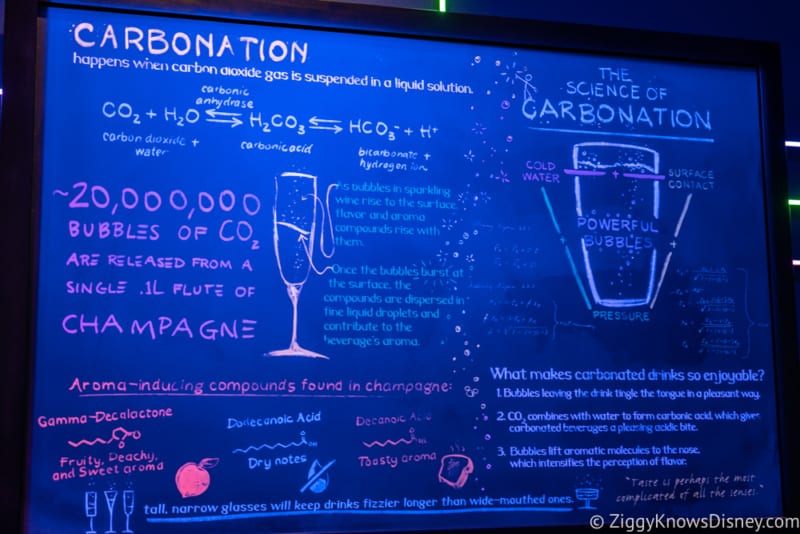 The new headliner drink is the Phosphorescent Phreeze: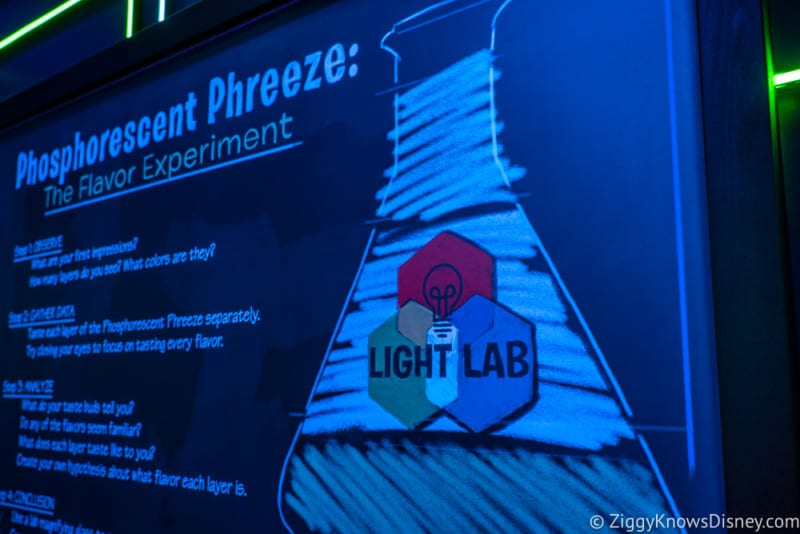 and here are the boba balls for the Bleu Spectrum: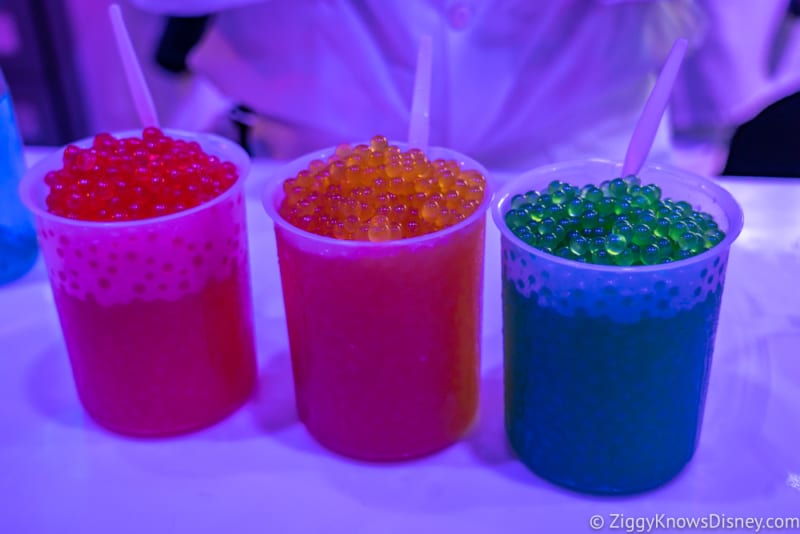 Light Lab Menu:
The menu from last year to this year is totally different with only the Bleu Spectrum left over from the specialty drinks, and the beer flights too.
2017 Menu:
2018 Menu: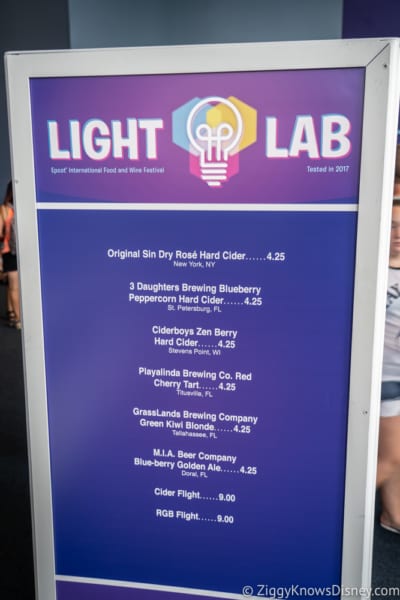 Beverages:

Phosphorescent Phreeze (KA) ($7.00)
InfraRED (KA) ($3.75)
UltraVIOLET (KA) ($3.75)
Bleu Spectrum: Blanc de Bleu Cuvée Mousseux with Boba Pearls ($9.00)
Original Sin Dry Rosé Hard Cider, New York, NY (Cider Flight) ($4.25)
3 Daughters Brewing Blueberry Peppercorn Hard Cider, St. Petersburg, FL (Cider Flight) ($4.25)
Ciderboys Zen Berry Hard Cider, Stevens Point, WI (Cider Flight) ($4.25)
Playalinda Brewing Co. Red Cherry Tart, Titusville, FL (RGB Flight) ($4.25)
GrassLands Brewing Company Green Kiwi Blonde, Tallahassee, FL (RGB Flight) ($4.25)
M.I.A. Beer Company Blue-berry Golden Ale, Doral, FL (RGB Flight) ($4.25)
Cider Flight ($9.00)
RGB Flight ($9.00)
Menu Review:
Phosphorescent Phreeze ($7.00):
So the Phosphorescent Phreeze is the headline drink for Light Lab this year and it's a doozy! It's non-alcoholic and is sure to be a hit with the kids! It's blend of 3 different fruit juices broken up into 3 separate layers. We really loved it and it's for sure a good value for the money even at $7.00, I mean this thing is absolutely HUGE!! I tried to finish it myself, but I just wasn't able to, so you can easily spilt it with 2 or 3 people even. It's also awesome because you get to take home the souvenir beaker/glass. Get it while you can! (UPDATE: Disney is out of the Souvenir Glasses because of not ordering enough so the drink is served in 3 parts in 3 different cups now).

InfraRED ($3.75):
The InfraRED and UltraVIOLET are both really unique drinks because they offer a show to you as the people are making them. The process is a complex one, something only chemists are capable of…
This is the complex system of tubes and machinery that will be creating the InfraRED: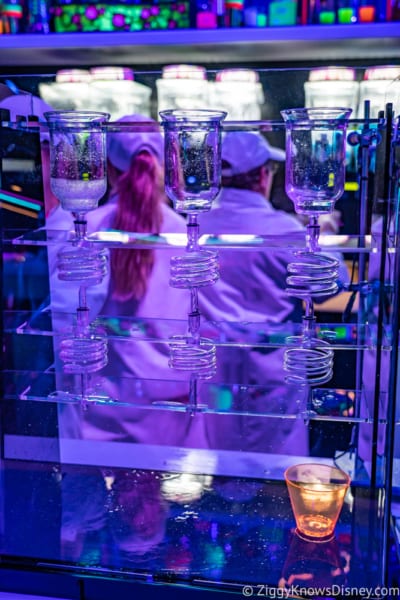 Your cotton candy is chosen depending on which drink you choose: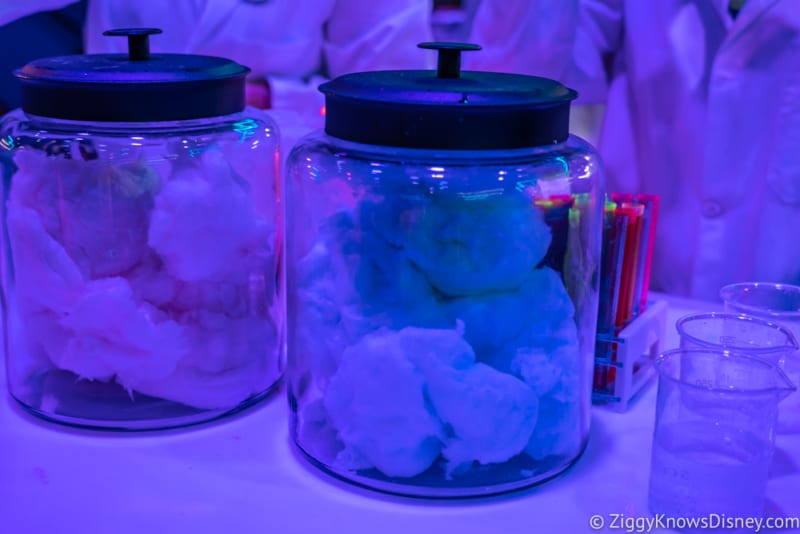 It's then inserted into the bottom of the drink apparatus where a carefully chosen drink concoction is then poured into the tubes above: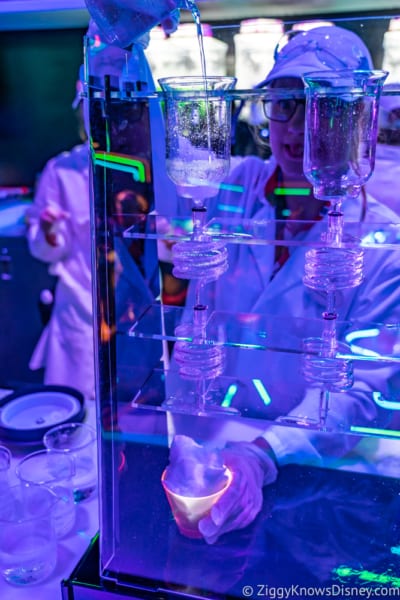 What comes out is then your drink!
For the InfraRED the flavor of the drink changes to strawberry because of the cotton candy. It's pretty sweet, so watch out, but really fun to get!

UltraVIOLET ($3.75):
The UltraVIOLET is made in the same way, only it has a blue raspberry flavor due to the blue cotton candy. Of the two I think I liked the UltraVIOLET a little better, but they are basically the same drink. Again another one the kids will really enjoy because of the show that's involved!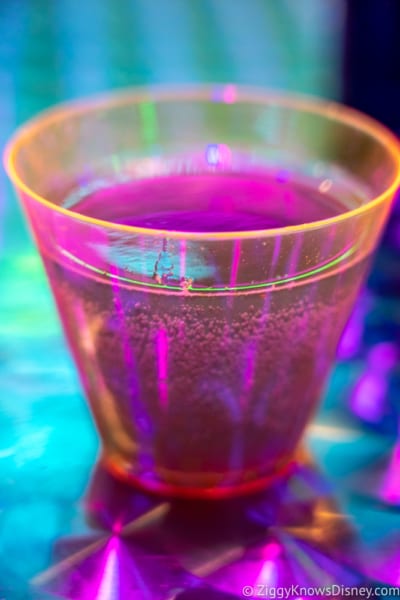 Bleu Spectrum with Boba Pearls ($9.00):
The Bleu Spectrum is the only alcoholic drink in the lab, but it's worth the trip. First of all the Bleu Spectrum is a sparkling Californian Chardonnay and is usually something reserved for a special occasion. In this case, we're celebrating the Food and Wine Festival! It has a distinct flavor of blueberries right down to the aroma as well! Not only does it look sexy (making it super Instagramable), but it also comes with those amazing boba balls you saw earlier in the photos. Each color is a different flavor. From what I could tell there is mango, strawberry and green apple. I love bursting them in my mouth though, they are like little splashes of flavor! We loved the Bleu Spectrum, it's probably our favorite wine at Food and Wine and definitely something worth getting!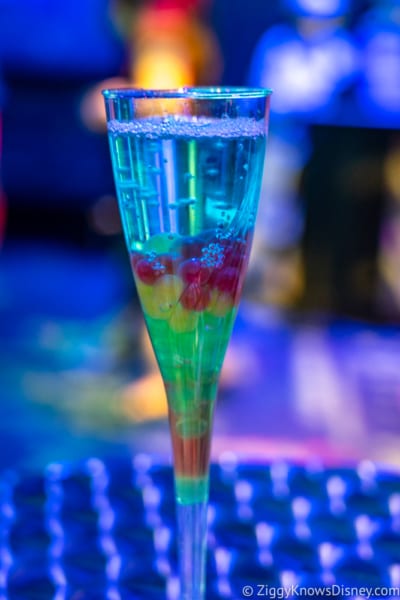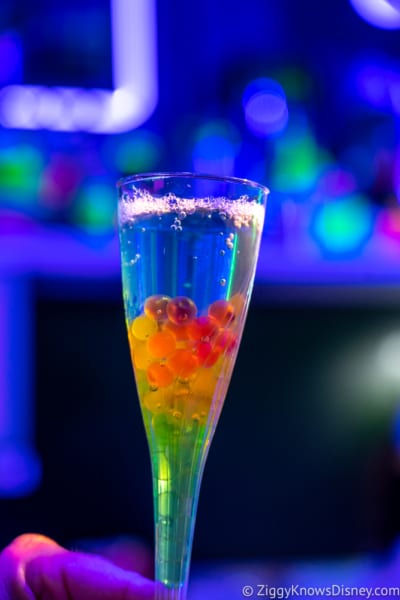 RGB Flight ($9.00):
Here you're going to find one of the most unique beer flights at the festival. Let's start out with our favorite; the Red Cherry Tart. It was amazing! Great combo of tart and sweet and very, fruity, lots of cherry in there. Next was the Kiwi one. I don't know why they put the word "kiwi" in the title, cause it taste absolutely nothing like kiwi at all. Instead it had a strong wheat taste. Not my favorite. Lastly was the Blueberry one. This was better, but not quite as good as the cherry. It was very natural tasting and lots of blueberry flavor, but also lots of barley. A good balance. The Red Cherry and Blueberry were by far the better two beers, but I have to give it to the Cherry which really stood out, especially for fruity beer drinkers like me!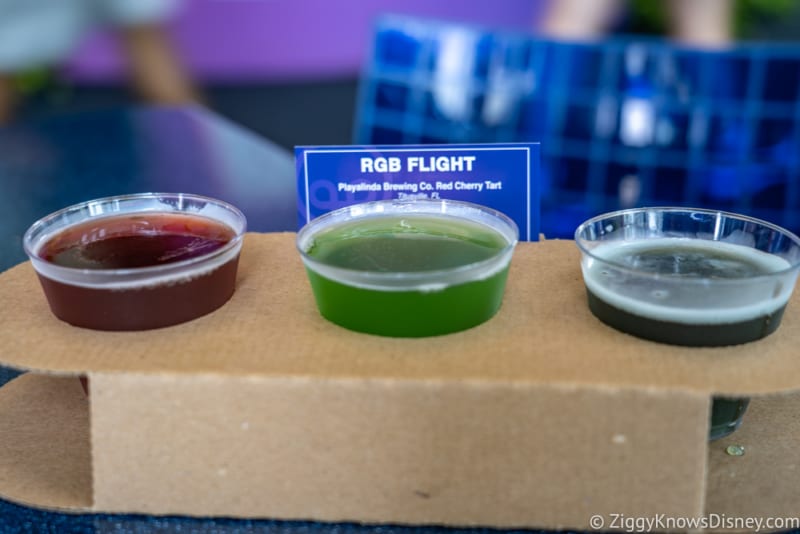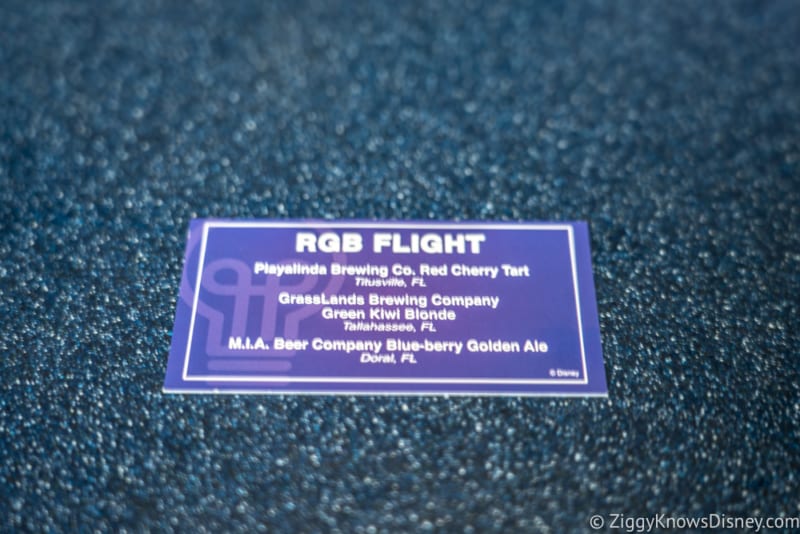 Booth Summary and Grade:
Overall I think the Light Lab was an improvement over last year. You won't find any food here which is a shame, but you will find drink after drink, all of which are very particular and have their own interesting flare to them. When you're hot and thirsty, Light Lab is the place to take a break and grab a cold one!
If you have to get just one thing:
Phosphorescent Phreeze
Light Lab Review

Overall Grade -

8/10
I want you to be able to have the best info on the Festival so you have a great time and don't waste your time! Take a look at all of my 2018 Epcot Food and Wine articles including:
Your Thoughts:
I want to know what you think about the Light Lab Review at the 2018 Epcot Food and Wine Festival…
Which is your favorite item?
Which do you still want to try?
Let us know in the comments section below!
If you enjoyed this article, as always I appreciate it if you'd share it with others via social media. I work hard at making this website into a useful resource for you and your family to plan your visit to the Disney Parks and I hope it can help you! Thanks 🙂
Need Help Planning Your Disney Vacation? Show You the World Travel is Here to Help!
Just fill out the form below and someone will contact you for all your Disney Vacation Planning Needs….
[rainmaker_form id="19792″]