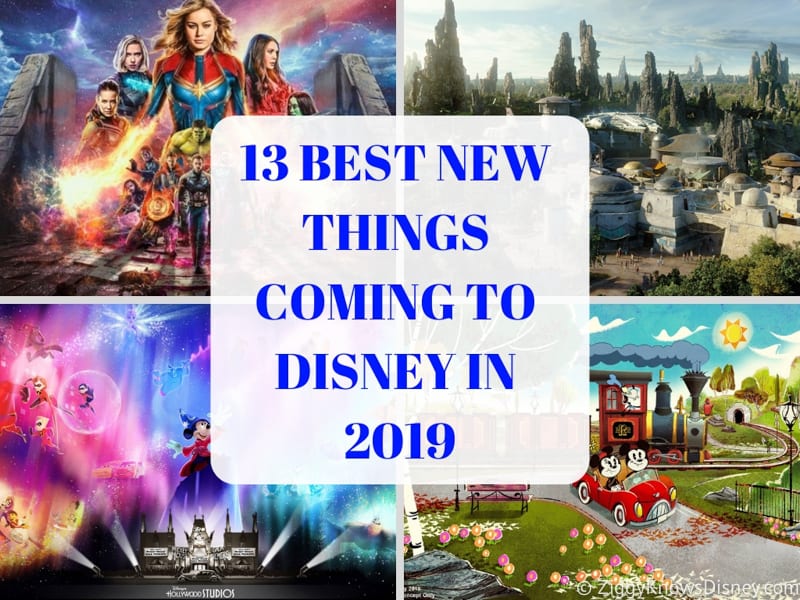 2018 has already come and gone, and there were so many huge stories that will continue to have an effect on Disney fans in the years to come. Wondering what to expect from Disney though in 2019 and what you should be most looking forward to? We're going to give you the scoop on it all so you won't miss a thing next year!
Because as much as we love the past, we're excited about the future and what's coming to the Walt Disney Company in 2019. This is shaping up to be a banner year for parks, films, and the company as a whole with new media services, attractions, and just the most anticipated land in theme park history! The Box Office will set records to as we saw on complete list of Every Disney Movie coming in 2019.
We just visited the Biggest Disney Stories from 2018 and now we are going to look at the 13 Best New Things coming to Disney in 2019! My list is in order of a mix between the ones people are most looking forward to experiencing and what kind of impact I think these stories are going to have in 2019, both personally and for the industry as a whole.
Let's stop wasting time and get into my 13 Best New Things Coming to Disney in 2019: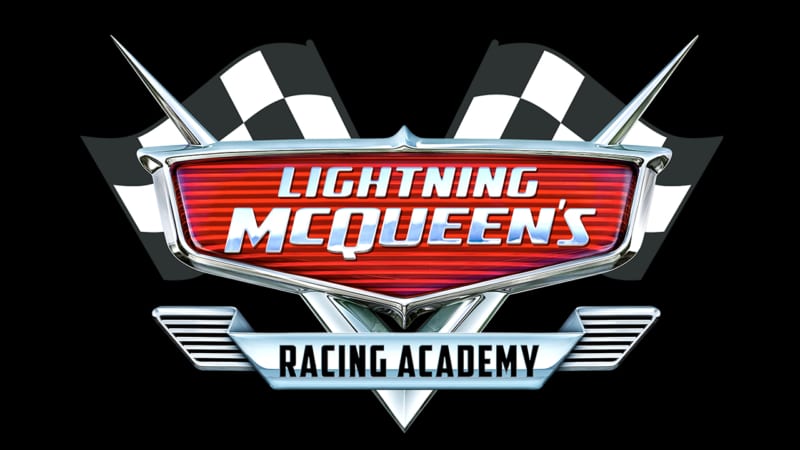 Just the first part of the expansion and the first of many new things coming to Hollywood Studios in 2019. Cars fans are going to love this addition to the park when this new "show" debuts which Disney is saying will be unlike anything else we've seen in any theme park.
Lightning McQueen, Cruz Ramirez, and Tow Mater are all going to demonstrate racing techniques on a new simulator with plenty of surprises along the way inside the Sunset Showcase venue on Sunset Boulevard.
We'll have to see what is so different about this experience to make it so special, but it's going to be a good addition, especially for families as Hollywood Studios is lacking in that area a bit. No opening date for Lightning McQueen's Racing Academy yet but expect it to be ready in Summer 2019.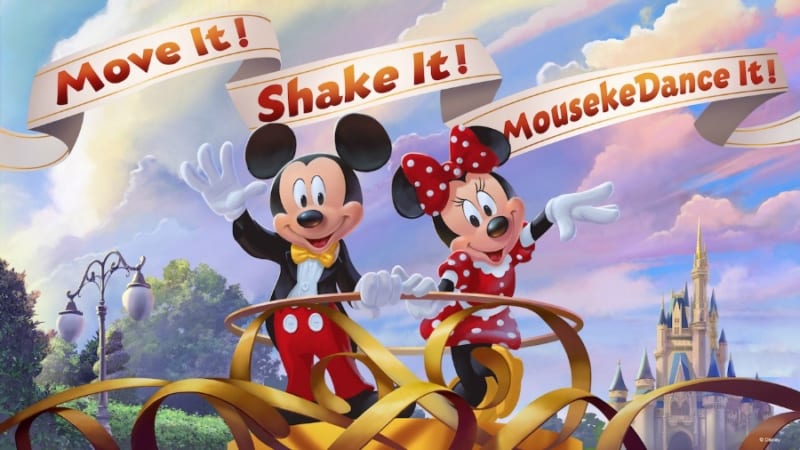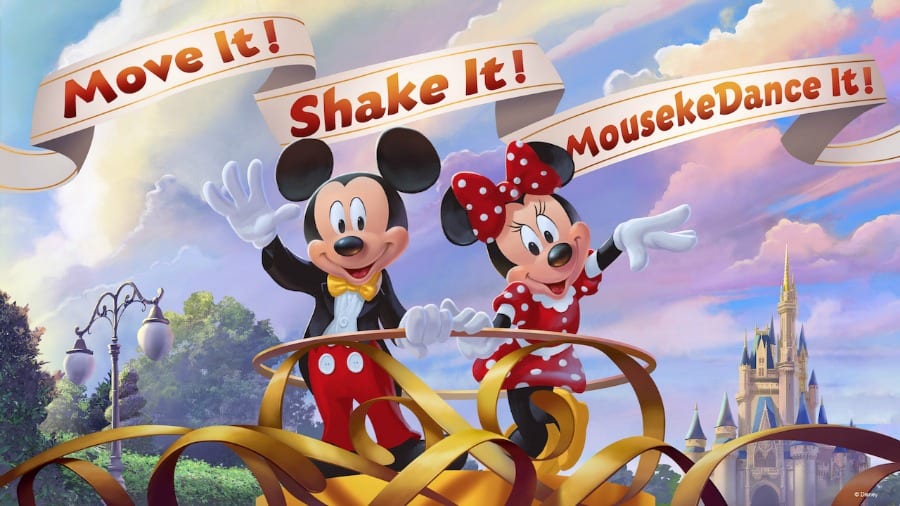 I hope you like dance parties, because in 2019 Disney World has them in spades! Earlier in December we saw the end of "Move It! Shake It! Dance and Play It!" in Disney's Magic Kingdom, and on January 18 we are going to get its replacement: "Move It! Shake It! MousekeDance It! Street Party"
It's going to be very similar to its predecessor, Mickey and Minnie Mouse and their friends in a fantastic party in front of Cinderella Castle. Chip 'n Dale, Donald and Daisy Duck, Goofy Pluto, Max and more are all going to be there dancing up a storm with Mickey and Minnie and singing new versions of classic "Mickey Mouse Club" songs. Even the Dapper Dans and the Casey's Corner piano player are going to get in on the act with special musical tributes.
While it doesn't move the meter nearly as much as some of the others on the list, the dance parties are always fun and great for families with kids. "Move It! Shake It! MousekeDance It! Street Party" is going to be a limited-time event debuting on January 18, 2019 and going until September 30, 2019.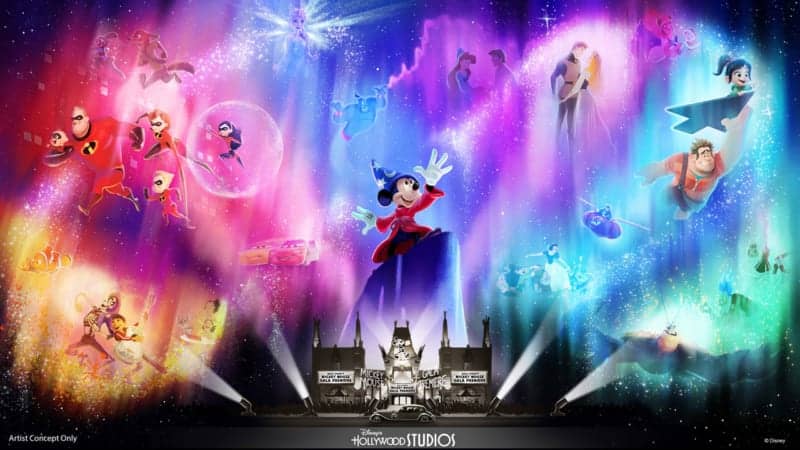 Disney was pretty vague when the announcement for "Wonderful World of Animation" was made at the D23 Destination D event back in November, but we do know that this is a whole new nighttime spectacular coming to Disney's Hollywood Studios, and you can never get enough of those imo.
Disney is saying it will be a "cinematic nighttime experience," and is part of the 30th Anniversary celebration of Hollywood Studios. Obviously the show will focus on the 90 years of Disney animation, with your favorite characters, especially Mickey Mouse. Expect to see state-of-the-art projection technology much like in the Magic Kingdom's "Happily Ever After."
No exact opening date yet but expect "Wonderful World of Animation" to make its debut in May 1 2019, with the anniversary celebration.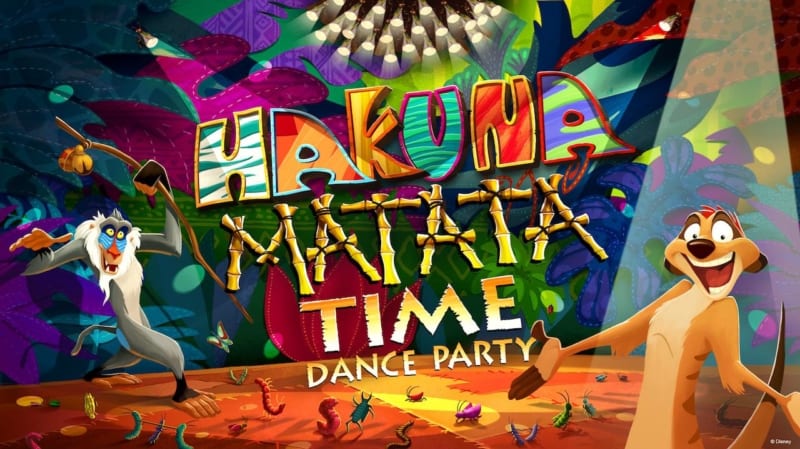 If your feet weren't tired after the first one, they will be now as yet another dance party is coming to Disney World in 2019, this time in Disney's Animal Kingdom, and it sounds like Lion King fans are going to love it.
2019 is going to be a special year for The Lion King as we will celebrate the 25th anniversary of the animated classic, and we'll be getting a new "Live-Action" version from Jon Favreau in July 2019.
The Hakuna Matata Time Dance Party will join in on the festivities through the Animal Kingdom as Timon, Rafiki and friends dance their way across Discovery Island. There are also going to be three-dimensional photos recreating scenes from the classic film.
From all accounts this will be a limited-time attraction as it debuts January 18, 2019 and is set to run until September 30, 2019.
9.) Disney Springs Restaurants
My favorite pastime in Walt Disney World is eating of course, and though a wave of new eateries opened in Disney Springs in 2018, another wave is coming in 2019 and we're up to the challenge!
Jaleo: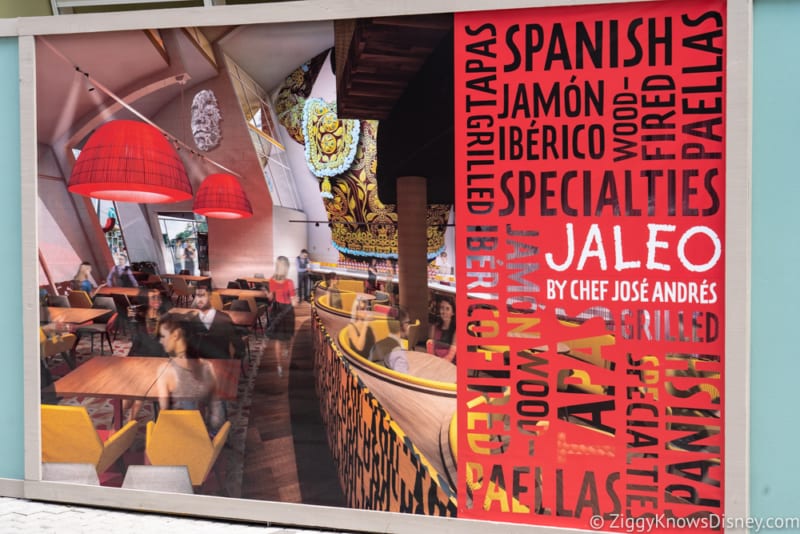 This is my favorite on the list as Chef Jose Andres opens his first restaurant in Florida which will focus on Spanish cuisine. We just got the full menu and it looks absolutely amazing! It's going to take me months to try everything I want on the menu as each item looks better than the last. Expect yummy dishes like: Tapas, Iberian Ham, Burgers, Sandwiches, and of course…Paella!
No opening date has been given yet for Jaleo, but we should see it open during the first quarter of 2019.
City Works Eatery & Pour House: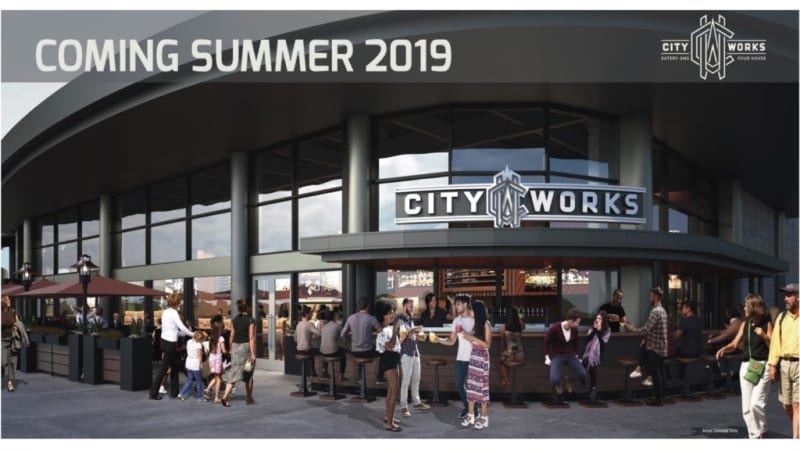 The City Works Eatery & Pour House is a much-needed addition to Disney Springs' West Side and going to be the perfect location to watch live-sporting events with a ton of HD TVs, even a 165-inch screen which should be awesome for seeing "the big game!"
It will offer Beer and Classic American food like: Burgers, Sandwiches, and lots of great Appetizers. Beer lovers will rejoice with over 80 Beers on tap, with some being rare and limited supply and will also offer a great selection of wines, all parable with your food.
The location for City Works Eatery & Pour House is an interesting one as it's located right underneath the NBA Experience…
NBA Experience Restaurant: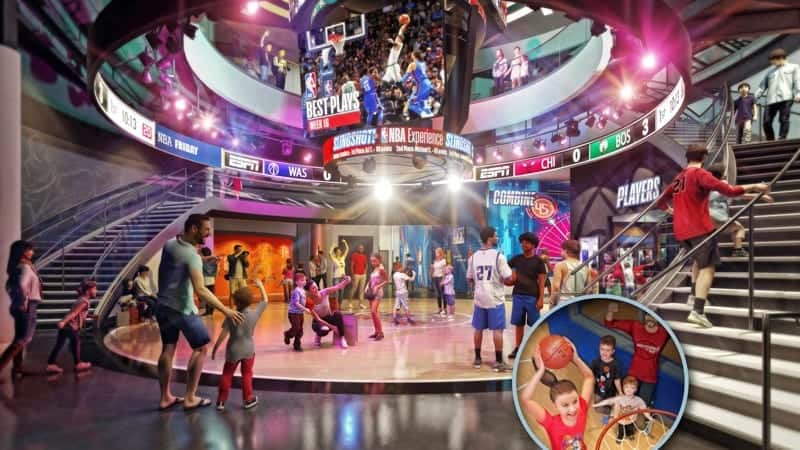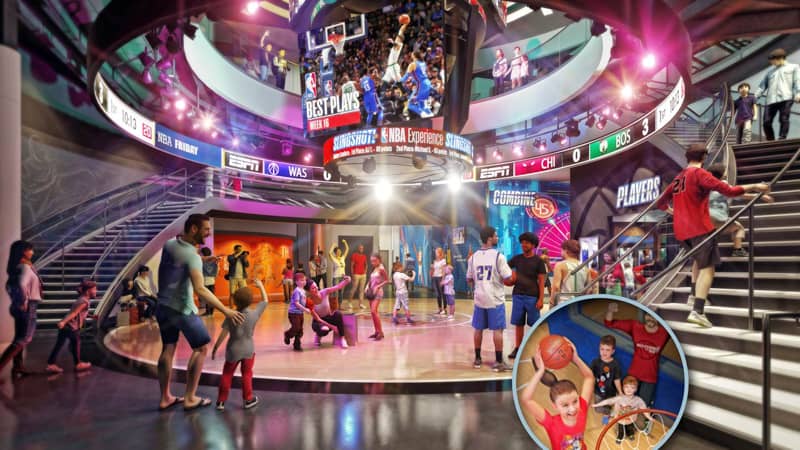 Yes we just got some more details about the NBA Experience, but we're a little confused with whether or not there is a restaurant coming here or not. When the City Works Eatery & Pour House was announced it seemed like that was the restaurant Disney was referring to originally as the NBA restaurant coming. Instead Disney says there are two different restaurants coming to this space.
Now call me crazy but it just seems a bit weird to have two restaurants serving the same style food, both focused on sports and watching the games, right under the exact same roof. Seems a bit redundant imo. Until we see some concept art and menu ideas we're going to remain skeptical, but even if they turn out to be the same restaurant, we're still excited!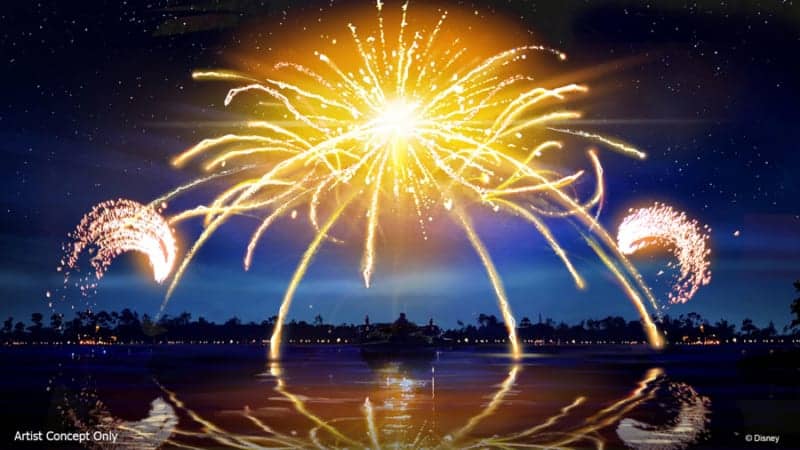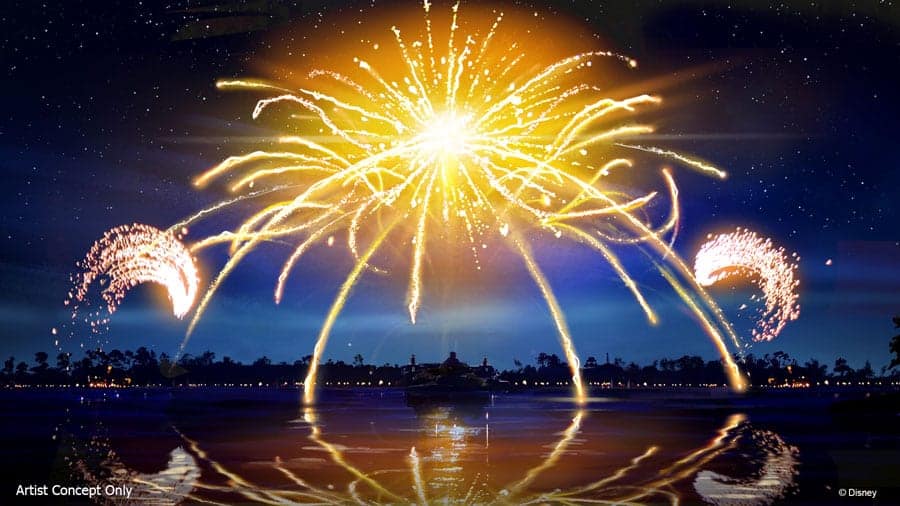 In 2019 we're getting the first (yes there's another one coming) of the two Illuminations: Reflections of Earth fireworks show replacements. Why are there two new fireworks shows coming to Epcot? That's a good question, but we know that the first one is called: "Epcot Forever" and will feature classic music from Epcot like Tomorrow's Child, Magic Journeys, and more!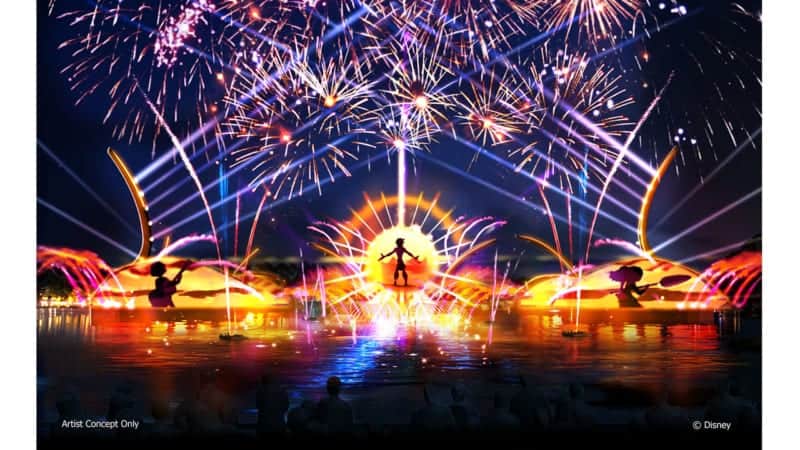 This is going to be just a temporary show however, holding the place for the real long-term replacement which is coming in 2020. That one is is going to be really incredible and be a staple of the Epcot expansion project. While there is no name yet for the real full-time replacement, it will feature a massive new floating set piece, custom-built LED panels, choreographed moving fountains, lights, pyrotechnics and lasers.
But while the real show is coming in 2020, we hope that Epcot Forever will be a valuable addition to the park and something worth seeing over and over. Expect it to open in Fall 2019, possibly late September or October.
7.) Hew Hotels: Coronado Springs, Riviera Resort
2019 is bringing the first wave of new hotels to Walt Disney World, both with their individual appeals and strengths: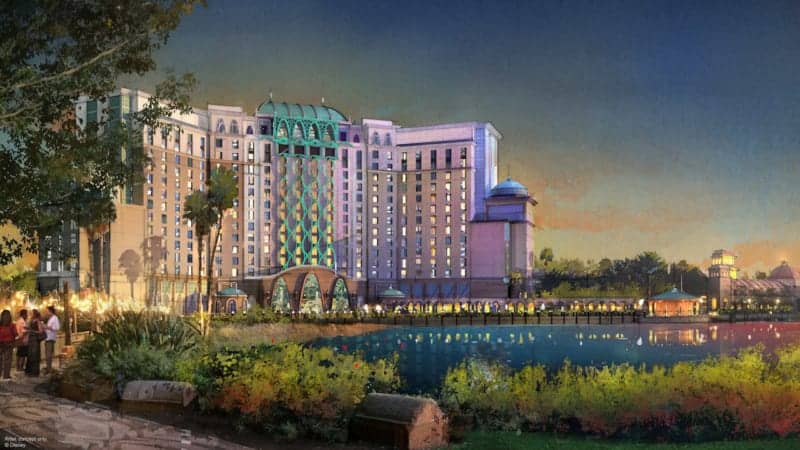 The Gran Destino Tower is a 15-Story, 564-room addition to the Coronado Springs Resort which will focus on the high-end guests brought to Orlando in the business sector. This will be one of the only hotels on property that can attract that clientele.
Now that's not to say families and non-business guests won't enjoy Gran Destino. On the contrary. In fact all existing 1,800 rooms are being reimagined, so there won't be a bad room in the resort. Plus there are 2 new restaurants coming to Coronado Springs: the first on the top floor of the Gran Destino Tower with incredible views of the Epcot and Hollywood Studios fireworks shows, and a second down on Lago Dorado with incredible waterfront seating.
The Gran Destino Tower opens in July 2019 and you can even start making reservations now!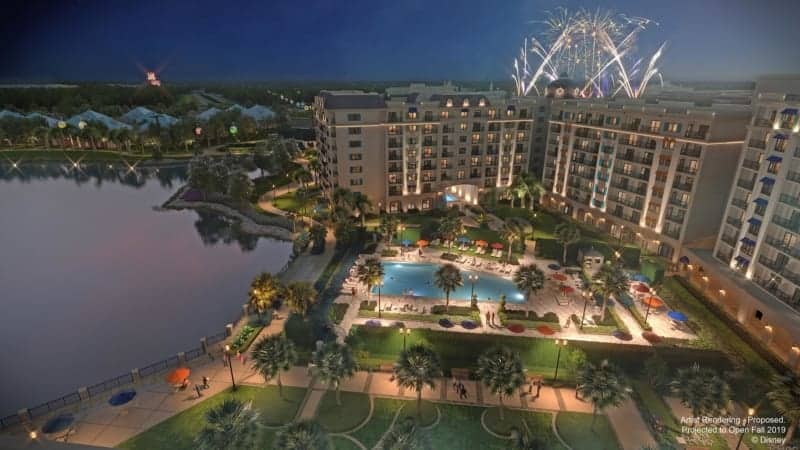 The second new resort coming to Walt Disney World in 2019 is a DVC property on a much smaller scale. Like the Gran Destino Tower it's going to be a high-end resort, but it's going to be on a much smaller scale with only about 300 rooms.
The Riviera Resort is going to have another restaurant on the top floor with amazing views of the fireworks shows, as it's built practically on the edge of World Showcase. One great advantage the Riviera Resort has is that it will be located on Disney World's newest transportation system, which we'll be going over a bit later on the list.
Whether or not this turns out to be a hit for me is going to depend a lot on the theming element and wether or not they can make me feel like I'm really on the Riviera or not. This will open in Summer 2019.
These two resorts are just the start of a massive expansion of rooms in Walt Disney World as we know of at least 3 more hotels that have been confirmed by Disney (Star Wars Hotel, Reflections, and the The Cove hotel next to the Swan and Dolphin). We're going to have to wait till after 2019 for those, but we'll be seeing them in time for the 50th Anniversary.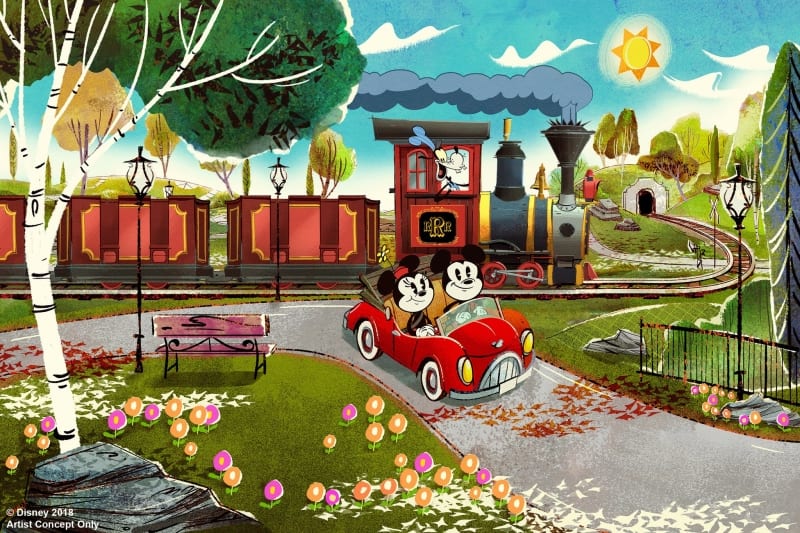 Next on the list of the Hollywood Studios transformation is Mickey and Minnie's Runaway Railway. I'm with the majority of people that were sad to see The Great Movie Ride close down in 2017, it was in fact one of my favorite attraction in the park and the only one left over from opening day. If anything could replace it it would be the first real attraction based around the company's leading man…Mickey Mouse.
The basis for the ride is that Mickey and Minnie set out on a lovely picnic when they run into a runaway train being conducted by none other than Goofy. You can imagine the chaos that ensues!
I'm really optimistic about Mickey and Minnie's Runaway Railway and it think this dark ride is going to be a game-changer. It's described as using an all new "breakthrough technology to transform a two-dimensional cartoon into an amazing real-word experience," and will be based on the new-style Mickey cartoons. They previewed some of this technology to us and it looks really stunning.
Mickey and Minnie's Runaway Railway is opening in 2020, so we'll have to wait the majority of the year for it, but from all accounts it sounds like it's going to be worth the wait!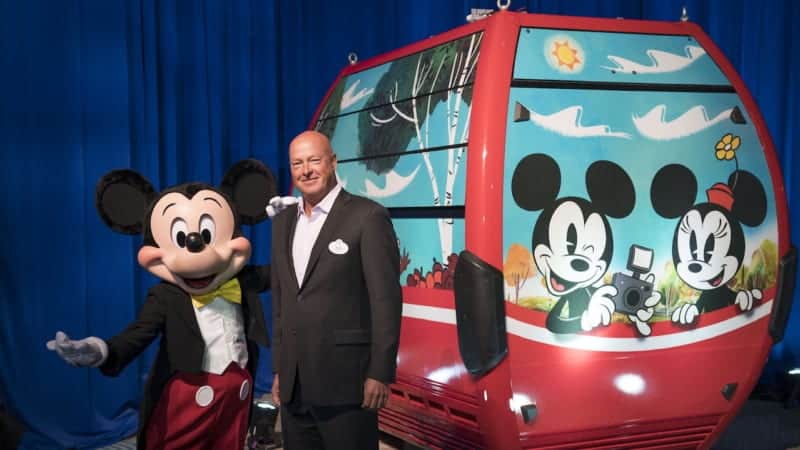 Walt Disney World is expanding so rapidly and has so much traffic that getting guests and cars off the road is a priority, and that's exactly what the Disney Skyliner promises to do! Think back to the old Skyway days in Disney's Magic Kingdom for a glimpse of what the Skyliner is going to be like.
This new transportation system will take guests in the Skyliner gondolas between Epcot, Hollywood Studios, Caribbean Beach, Art of Animation, Pop Century and the Disney Riviera Resort in a fast an efficient way. Expect no more than 5-6 minutes between stations which will be a heck-of-a-lot faster than waiting for the buses! No it doesn't have air conditioning, but Disney promises it will have sufficient air-flow and guests will be comfortable.
This is the first stage of the Disney Skyliner and will be crucial in traffic coming to Hollywood Studios and Epcot due to their future expansions. If successful you will see the Skyliner expanded across Walt Disney World property and could offer a long-term solution to the transportation crisis currently happening.
We love the idea and hope that it's executed properly and we can't wait to ride on the Disney Skyliner in Fall 2019!
4.) All the movies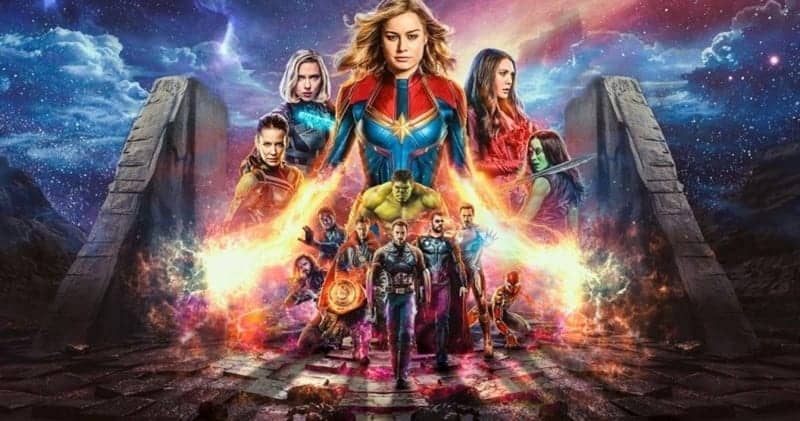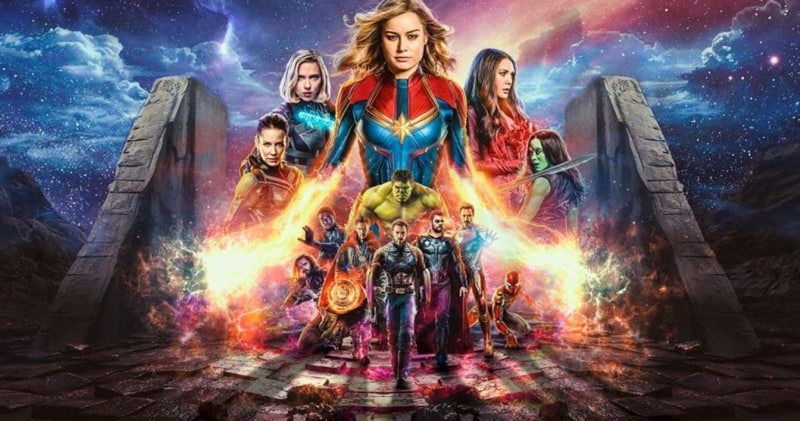 2019 is going to be a banner year for Walt Disney Studios and the film industry in general as Disney is poised to break the all-time box office record with blockbuster after blockbuster hitting theaters. Just look at this list:
The ones I'm most looking forward to are the Marvel movies, but I mean seriously, I'm gonna be spending a quarter of my salary at the cinema this year as every single film on this list is a must-see event that I'll probably be seeing multiple times in the theater.
The all-time record for box office in a single year is Disney in 2016 with $7.6 Billion earned, I think 2019 is going to shatter that and even hit the $10 Billion mark. That's going to mean a great start for the next item on our list….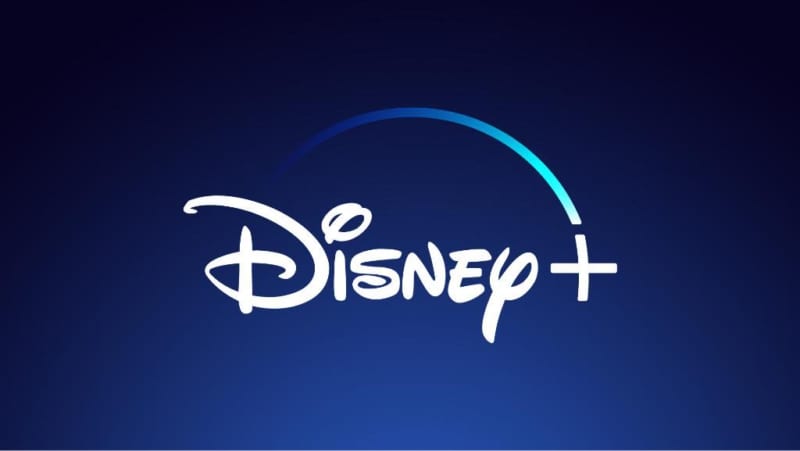 If I'm rating the things on this list just for importance for the Disney company moving forward and not my personal excitement, then the Disney+ streaming service would be number 1 easily. This is what's going to bring the most new money into the company in the next few years and it's why they were willing to spend more than $70 Billion dollars to acquire 21st Century Fox and its TV and Movie properties.
Disney is betting big on streaming being the biggest way consumers watch content from home or on the go and are positioning themselves to break into Netflix's market share and get a piece of the streaming pie.
Where do you think all those record-breaking Disney films coming out in 2019 are going to land for consumers to watch at home? You'll find them all on Disney+. Disney will also dig into its vast library of content its built up over the last 80 or so years and be able to offer consumers an almost unlimited quantity of titles. All the Fox properties (X-Men, Avatar, Simpsons, etc) will round out the options available to viewers.
Also Dinsey+ is going to have its own original content you won't find anywhere else like the 3 new Marvel series (Loki series, Scarlett Witch, series and a Falcon and Winter Soldier series), 2 Star Wars series (The Mandalorian and the Rogue One prequel), plus many others like Monsters Inc, Sword in the Stone remake, Lady and the Tramp remake, original programming about Walt Disney Imagineering, and the list goes on and on.
Still no price yet on Disney+ just that it will be less than Netflix due to having less content in the beginning. Look for Disney+ in Fall 2019.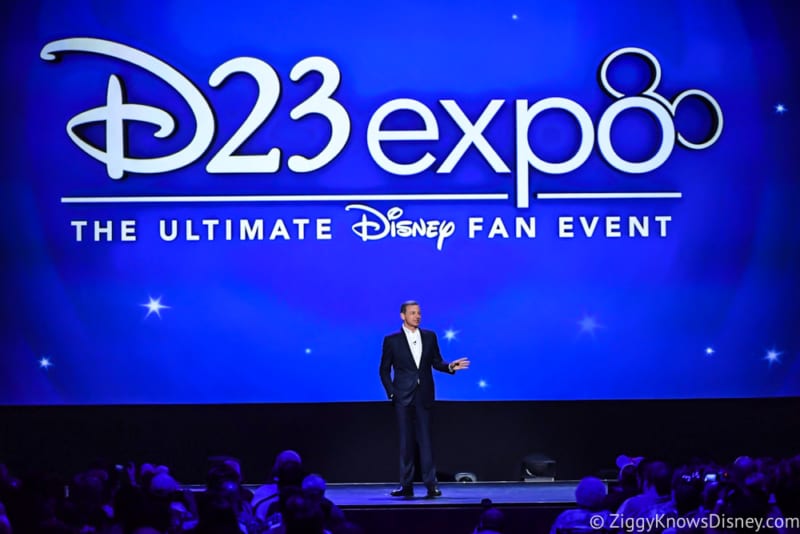 This is the event I've been waiting for since July 2017 and the last D23 Expo. If you haven't been to the D23 Expo before then you need to make 2019 the year you do that. It's like a Disney fan's rite of passage. There's nothing like waking up at 4am to get in line for the next 5 hours so you can be one of the first in line to see all the incredible things Disney has in-store for us over the next few years.
The nice thing about D23 Expo is no matter what part of the Walt Disney Company you like, you can experience it here. Are you interested in movies and TV? You can meet some of your favorite Disney stars. Comics and books? They've got that too. Do you want to do some pin trading? Better bring a few hundred pins cause your head will be spinning with all the people to trade with.
Do you want to learn more about the parks? This is the place to be! Last year was incredible and we learned about pretty much all of the things on this list, plus more. This year is going to be even better with who knows how many new attractions, hotels, and movies that are going to be announced…
There are panels and presentations on just about anything and everything and you won't be able to see it all. Bring your walking shoes cause it's going to be a long and exciting 3 days!! Make the best decision ever and go to the 2019 D23 Expo!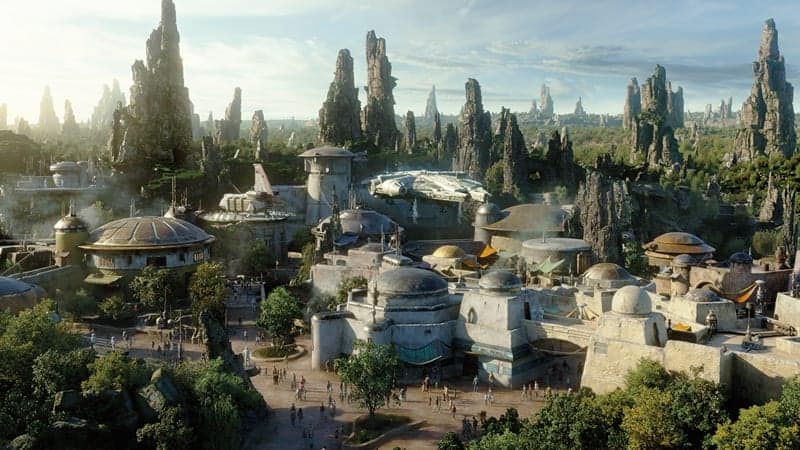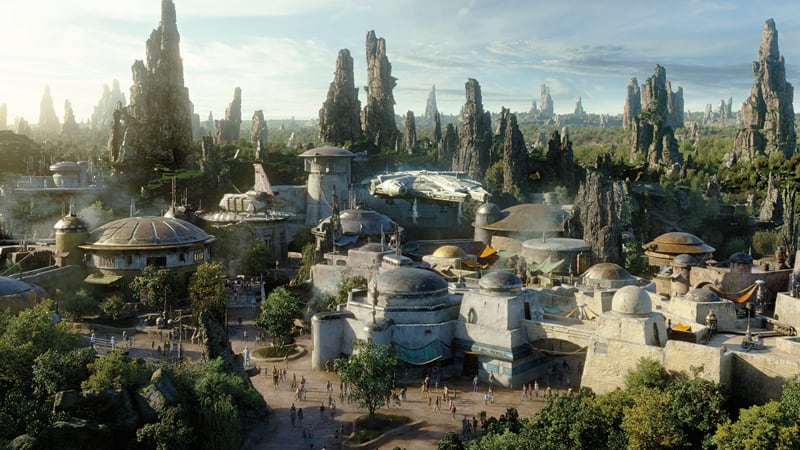 If this wasn't number 1, then I don't know what it could have possibly been otherwise. Star Wars Galaxy's Edge is not only a theme park land, put it's set to re-shape the entire theme park industry as we know it.
First, we know about the 2 major attractions that are coming to Galaxy's Edge: Millennium Falcon: Smuggler's Run and Star Wars: Rise of the Resistance. Both of these are going to be epic, and on a scale unlike anything we've ever seen.
In Millennium Falcon: Smuggler's Run, guests are going to sit right in the cockpit of the most iconic spaceship in the history of the cinema, each with a specific task they have to complete in order to succeed in the overall mission. How Disney is going to handle this is going to be incredible to see, as there are going to be people of all different ages, languages, etc trying to work together. Either way the graphics in the attraction look incredible and this is going to blow any simulator we've seen before out of the water, even Flight of Passage imo.
Star Wars: Rise of the Resistance is what I'm looking forward to even more though as Disney is describing as the most ambitious and immersive attraction that has ever been built anywhere. The size and scope of this attraction are unfathomable and it includes multiple parts with guests joining the fight against the First Order aboard a star destroyer and eventually coming face to face with Kylo Ren. Some awesome tech is being put to use here like the full-sized AT-AT's and potentially guests being given lightsabers they will have to wield to get out alive. It's going to be insane!
In fact we just got a sneak peek yesterday during the Christmas Day Special showing more footage from the attractions!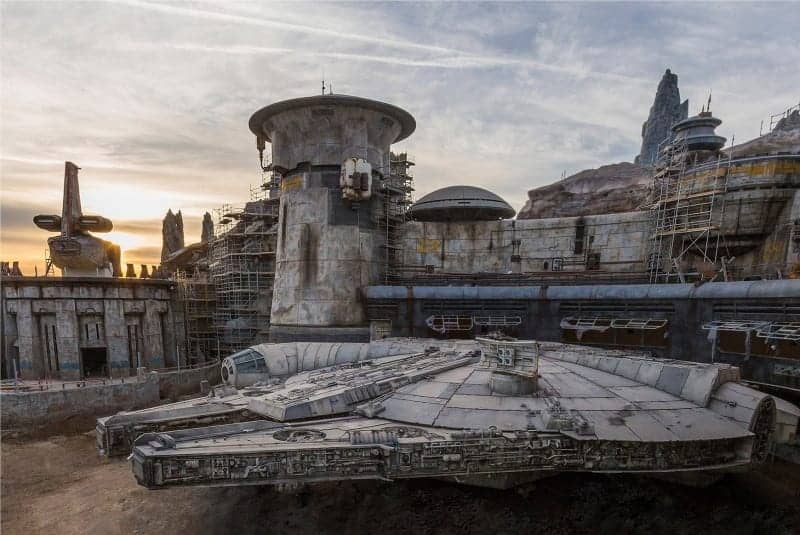 Besides the attractions though there are going to be two totally captivating restaurants, one is a bar/lounge that seems like something out of "A New Hope" called Oga's Cantina. The other is a quick service restaurant called Docking Bay 7.
Plus there will be incredible and unique merchandise opportunities which will make any Star Wars fan drool like build your own droid at the Droid Depot or build your own custom lightsaber at Savi's Workshop.
The thing I'm looking forward to the most is how Disney plans to make everything immersive, linking guests experiences on the attractions to their experience when they're just walking around Galaxy's Edge. Then in a couple years it will all be linked to their adventures happening at the Star Wars Hotel, so really the sky is the limit.
I don't know anyone connected with the project who doesn't think that this won't be a success, and just like what the Wizarding World of Harry Potter did for the industry when it debuted, Galaxy's Edge is going to the same, and set the pace for what guests will now expect every time they set foot into a theme park.
Star Wars Galaxy's Edge opens first in Disneyland in Summer 2019 and then in Hollywood Studios in Late Fall 2019.
That's our list of the best new things coming to Disney in 2019. What do you think is the most important or your favorite thing coming in 2019? Let us know in the comments section…
Your Thoughts:
I want to know what you think about my list of the top 13 things coming to Disney in 2019…
What order would you put them in?
Which are you most looking forward to?
Let us know in the comments section below!
If you enjoyed this article, as always I appreciate it if you'd share it with others via social media. I work hard at making this website into a useful resource for you and your family to plan your visit to the Disney Parks and I hope it can help you! Thanks 🙂