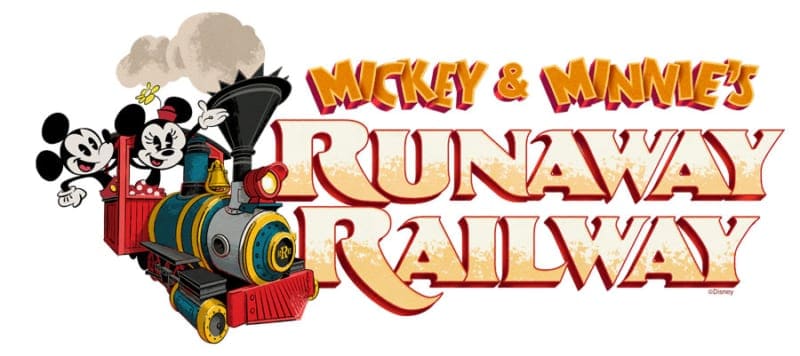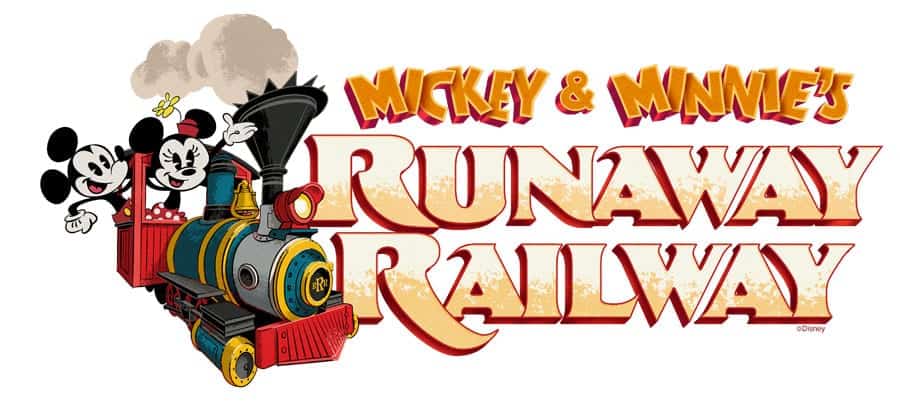 (UPDATE – 11/18/18): Today at the D23 Destination D event, Disney announced that the highly anticipated Mickey and Minnie's Runaway Railway is opening in Fall 2019 in Disney's Hollywood Studios, as well as some interesting new details about the attraction!
Mickey and Minnie's Runaway Railway is going to use an all new "breakthrough technology to transform a two-dimensional cartoon into an amazing real-word experience." Bob Chapek said during his presentation today that Mickey and Minnie's Runaway Railway is opening "in about a year." Doing the math since we're now in November, that means around this time in 2019 is when it will open.
This is mildly surprising as originally Mickey and Minnie's Runaway Railway was supposed to open in Late Spring/Early Summer 2019, but apparently there have been delays in the construction. That means it's going to be opening near the same time as Star Wars Galaxy's Edge which is scheduled for "Late Fall 2019." They could end up being only 1 month apart or even less.
They explained a little about what the pre-ride experience will be like for Mickey and Minnie's Runaway Railway. Essentially guests will watch a short animated film called: Mickey Mouse in a Perfect Picnic, which will tell the story readying guests for the attraction. This is a callback to The Great Movie Ride which also had films (previews really) running before boarding the ride vehicles too. Speaking of ride vehicles, Disney Imagineering had to develop a special paint to allow them to adapt in well with the surrounding scenes, whether in black and white or color.
They also talked about the location of Mickey and Minnie's Runaway Railway being located in the Chinese Theaters and why that is a fitting location. The reason is that when Mickey Mouse starred in Mickey Steps Out, it premiered at, you guessed it, the real Chinese Theater in Hollywood. So Mickey and the Chinese Theater have a long history together.
Classic Disney fans will be happy to know that Goofy is driving the runaway railway in the attraction, but we already figured that from the concept art.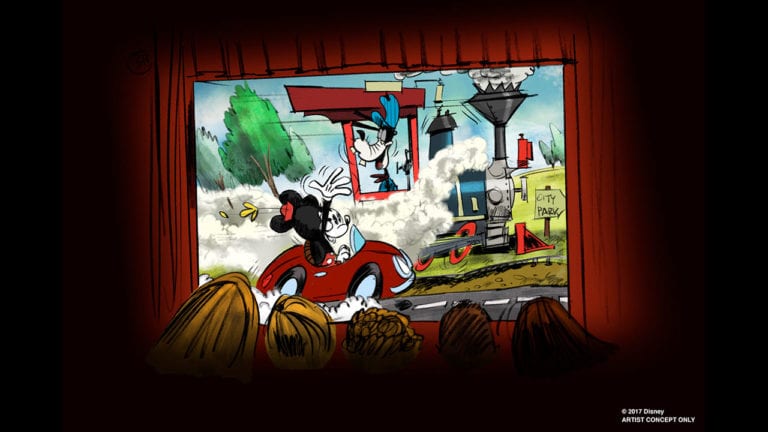 Sound effects will also be a big part of the experience for Mickey and Minnie's Runaway Railway and Disney Imagineers Charita Carter and Kevin Rafferty said they are working especially hard on making the sound effects and noises. Instead of being produced digitally, they are taking to the studio and recording real-life sounds from props, giving it a bit of a more old-school, realistic sound. And one of the sounds you'll hear while riding might sound familiar to Mickey Mouse fans. That's because the whistle
Chris Willis from the Mickey shorts is composing the music for Mickey and Minnie's Runaway Railway, and that includes a 65-piece orchestra as part of the attraction's score. Disney Legend Richard Sherman even helped out a bit and was able to put in his two cents for the music.
The same Mickey and Minnie's Runaway Railway attraction is also rumored for Disneyland's Toontown, but that hasn't yet been confirmed by Disney yet. Stay tuned for more details…
Check out all the other Walt Disney World Announcements from D23 Destination D:
Your Thoughts:
I want to know what you think about Mickey and Minnie's Runaway Railway opening in Fall 2019…
Are you looking forward to the attraction?
Which new Walt Disney World attraction are you looking forward to most?
Let us know in the comments section below!
If you enjoyed this article, as always I appreciate it if you'd share it with others via social media. I work hard at making this website into a useful resource for you and your family to plan your visit to the Disney Parks and I hope it can help you! Thanks 🙂
Photo Source: Disney Parks Blog
Need Help Planning Your Disney Vacation? Show You the World Travel is Here to Help!
Just fill out the form below and someone will contact you for all your Disney Vacation Planning Needs….