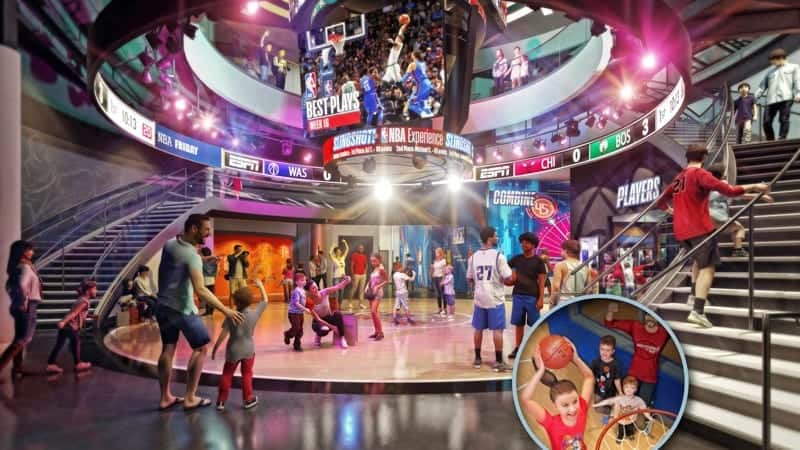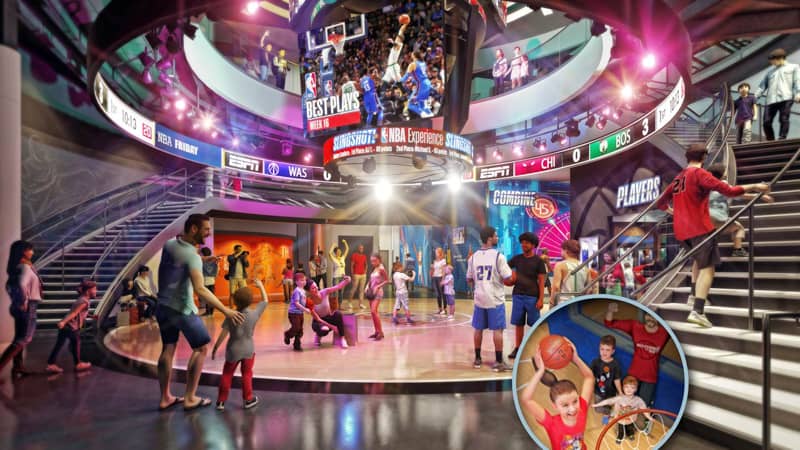 Today Disney revealed some new details about the upcoming NBA Experience in Disney Springs, and it sounds like it's going to be a basketball fan's dream! Who hasn't dreamt of slashing down the lane and dunking over fellow NBA players? Now kids, and big kids alike will be able to live those dreams out and see what it feels like to be a real NBA Superstar!
Here are some of the things that the immersive NBA Experience will have:
NBA Draft Moment – experience what it feels like to get called on the stage and drafted by an NBA team in this recreation moment complete with a photo on the draft stage!
Want to improve your shooting a passing skills? Take the NBA Combine Challenge which gives you a scouting report at the end of your tryout.
Feel what it's like to have the crowd roaring when you take the court and then get scored on a series of crucial shots.
Wanna dunk a basketball?? These adjustable hoops will let you do just that and learn the perfect slam dunk!
Test their ball-handling skills with an interactive trainer who helps you improve with dribbling drills.
Timed challenge uses slingshots to launch basketballs at hoops of varying heights, making as many shots as possible before the clock runs out.
Learn more about the rich history of past NBA and WNBA championship teams.
Find out what it's like to enter an NBA locker room.
Trivia game testing your NBA and WNBA knowledge against other contestants.
Two 180-degree cinematic presentations that showcase the in-arena experience moments before the start of the game, as well as special stories from the players' perspectives.
Take a seat at an interactive multi-screen module to watch replay clips from NBA games, using the tools at their stations to make the right calls.
Play interactive basketball games, from the fan-favorite Pop-A-Shot to modern video games
Of course if all those unique NBA experiences wasn't enough, take something home with you in the exclusive NBA merchandise store uniquely designed by Disney.
Overall I know many are not excited about the NBA Experience since it really has nothing to do with Disney, but the choice of immersive NBA games really sounds like it's going to be awesome, and imo there are a lot of young boys/teenagers, and adults who are going love it! I would have jumped at this when I was a kid!
Due to the NBA's extreme popularity Disney is obviously trying to hit a market of people not excited by princesses or Star Wars, or at least would like something more. If executed right I really like the idea and don't see the harm putting it in Disney Springs right near two sports-themed restaurants/bars.
Now word yet on the opening date yet for the NBA Experience in Disney Springs, just Summer 2019. We'll keep you updated over the next few months on any more developments!
Your Thoughts:
I want to know what you think about the NBA Experience so far…
Are you ok with it coming to Disney Springs?
What is the coolest sounding game/experience so far?
Let us know in the comments section below!
If you enjoyed this article, as always I appreciate it if you'd share it with others via social media. I work hard at making this website into a useful resource for you and your family to plan your visit to the Disney Parks and I hope it can help you! Thanks 🙂
News Source: Disney Parks Blog