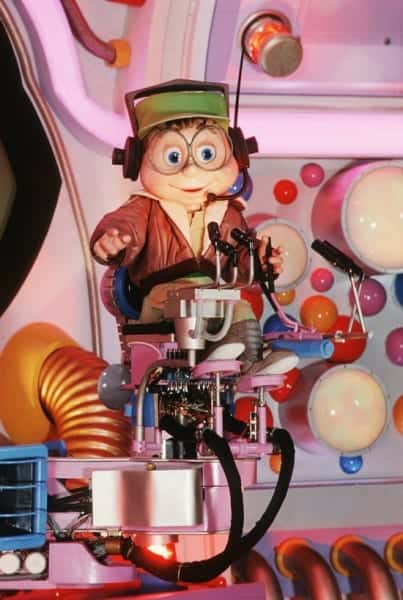 (UPDATE 12/28/18): There are mixed reports about the stolen Buzzy Audio Animatronic from Epcot's now closed Cranium Command. The original report was that it was Buzzy himself who was stolen, but now according to the Miami Herald it wasn't Buzzy but his clothes which were stolen.
According to the report Buzzy's red jacket, green cap and rubber molded hands were taken by someone who sneaked into a backstage area. The items are thought to be worth $600, but it's unknown what the thief's intent was with them as they could be worth more on the Disney "Black Market."
This would make much more sense if this was what really happened as stealing a whole audio animatronic weighing hundreds of pounds seemed really ridiculous unless you had a lot of help and a truck. It would be much easier to just take his clothes.
No charges have been filed in this theft, but a suspect has been interviewed and charged with resisting arrest when he refused to hand over his phone to authorities.
We'll continue to update you as we hear more…
(ORIGINAL STORY): A heist has been committed in Walt Disney World as Buzzy the Audio Animatronic from Epcot's Cranium Command has been stolen!
When Cranium Command closed in Epcot back in 2007, Buzzy was supposed to be saved to preserve a part of Disney history. He was so cute with his green hat, glasses and brown bomber jacket. Now he's missing and social media is "abuzz" with the hashtag #FindBuzzy.
This is Buzzy. He used to be a part of Cranium Command at EPCOT before the attraction closed. He was to be saved as a part of Disney parks history.

He has been stolen. If you recognize him or know of his whereabouts or see listings on merchant sites contact OCPD! pic.twitter.com/0VLKarhbtH

— NRG/Shock Marissa (@missmothNRG) December 22, 2018
Two questions come to mind: Who would steal an audio animatronic and Why? A crazy Cranium Command fan from back in the day perhaps? I guess it would make a nice conversation starter on your coffee table over afternoon tea..
Maybe the bigger question is how did they ever manage to get Buzzy out of Epcot without anyone noticing it? It's not like you can stick him in your pocket or anything. It must be someone with access to Epcot after hours who could easily get out without anyone noticing. I guess you could load it into a vehicle too if some work was being done on the Wonders of Life Pavilion and then drive off.
According to Back Door Disney "When he was removed, the hydraulic lines were cut while pressurized. A large amount of hydraulic oil spewed everywhere. The police showed me photos of this. It didn't look like it was carefully removed."
That sounds like some real effort was required to get Buzzy out of there…
Just seems like a real crazy story.
Just saw this in EPCOT. pic.twitter.com/kAY1V0Ez1D

— Derek Burgan (@derekburgan) December 22, 2018
If you aren't familiar with Cranium Command or Buzzy, it was a show/attraction based around a young boy dealing with the struggles of life. Buzzy was one of the characters who helped him navigate through this funny and realistic story.
As soon as we hear more about Buzzy we'll let you know…
Your Thoughts:
I want to know what you think about Buzzy being stolen….
Why would someone steal an audio animatronic?
How did they do it?
Let us know in the comments section below!
If you enjoyed this article, as always I appreciate it if you'd share it with others via social media. I work hard at making this website into a useful resource for you and your family to plan your visit to the Disney Parks and I hope it can help you! Thanks 🙂