(UPDATED 7/10/19): Everyone was excited for the opening of Star Wars Galaxy's Edge on May 31, but it hasn't been all good news for fans who have been planning make the trip out to Disneyland in the next few months. The highly anticipated Star Wars: Rise of the Resistance ride did not open with the rest of Galaxy's Edge in either Disneyland or Disney World, but we now know the opening dates!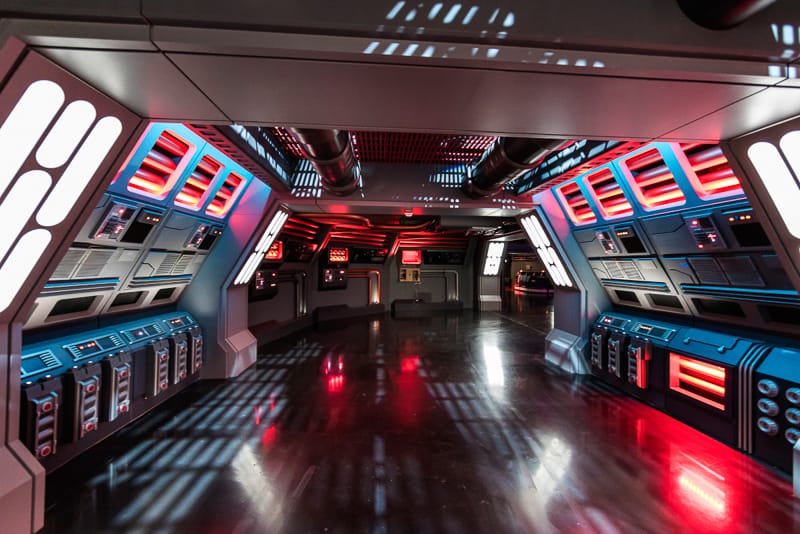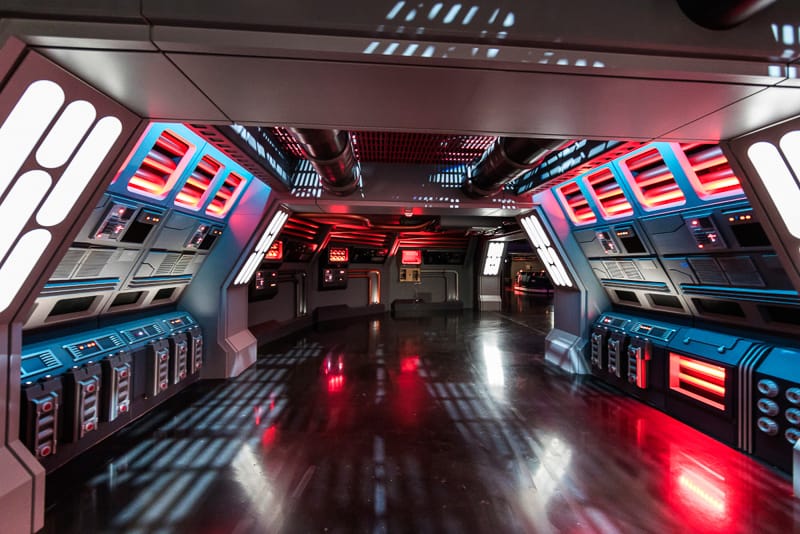 However, Disney has just announced the opening dates for both Rise of the Resistance rides in Disney World and Disneyland, and with surprising results:
Disney World: December 5, 2019
Disneyland: January 17, 2020
The fact that Star Wars: Rise of the resistance is opening first in Walt Disney World comes as a big surprise to many seeing as Galaxy's Edge in Disneyland has been open since May 31, and the Disney World version won't be open until August 29. They've had a whole three months more than the Hollywood Studios version of the ride to get it ready and yet it's opening 1 month later.
Disney hasn't said the reason for the bigger delay at Disneyland, but the extra time apparently doesn't matter. I'm not sure what the exact problem with the Rise of the Resistance ride in Disneyland is and why there's a difference between the two but we have a couple things that we'll get into later.
In the meantime Disney did have this comment to make:
"When it opens, Star Wars: Rise of the Resistance will blur the lines between fantasy and reality and will put guests in the middle of a climactic battle between the First Order and the Resistance. Guests will be recruited to join Rey and General Organa at a secret base. Along the way, they will be captured by a First Order Star Destroyer. With the help of some heroes of the Resistance, they break out and must escape the Star Destroyer, protect the secret base, and stay one step ahead of Kylo Ren."
Ironically December 5 is Walt Disney's birthday so no doubt Disney chose this date with a specific purpose in mind.
Disney also released a new poster for the Star Wars: Rise of the Resistance attraction showing off some of the adventures guests will be caught in the middle of: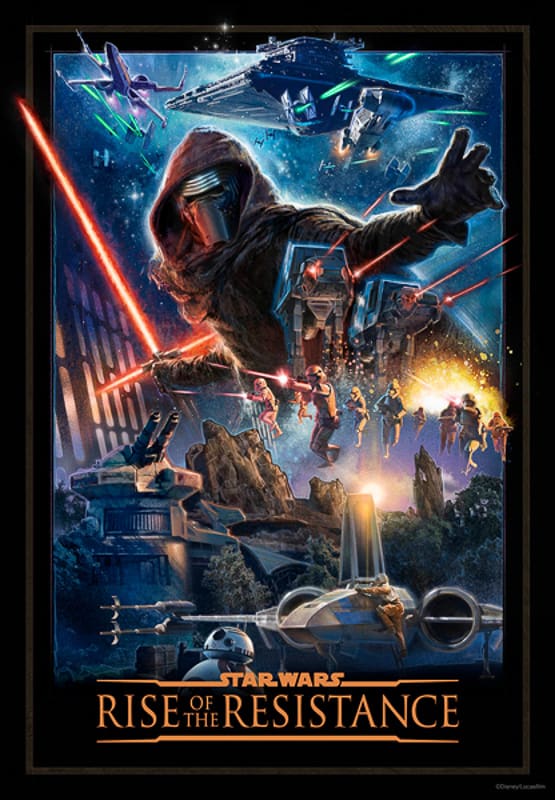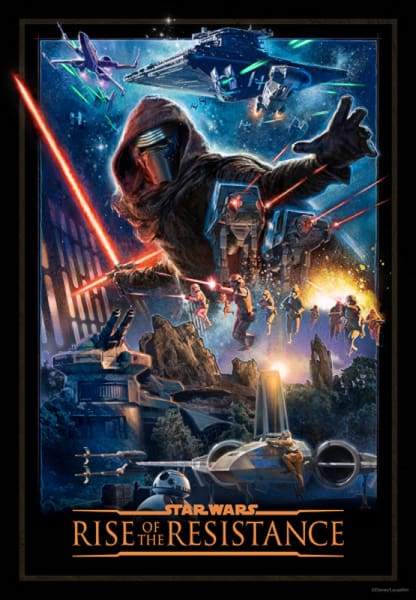 It looks pretty epic to me and shows the different phases of the ride going from the rebel base all the way up to the Star Destroyer and a showdown with some AT-ATs and Kylo Ren himself!
So now that you know the opening dates for Rise of the Resistance you can start making your plans accordingly to visit Galaxy's Edge.
The Delayed Opening:
A couple months back Disney CEO Bob Iger made the shocking announcement during a conference call where the Galaxy's Edge opening dates were announced. The phone call was already filled with bombs once we found out Galaxy's Edge was opening earlier than previously thought, but finding out the epic Star Wars: Rise of the Resistance attraction is delayed was certainly a huge pill to swallow.
This delay is applicable for both the Disneyland and Walt Disney World versions of Star Wars Galaxy's Edge.
In fact, Galaxy's Edge is opening in two phases, and Rise of the Resistance is not included in that initial openings in either park. The first phase will includes Oga's Cantina, Docking Bay 7, the other food kiosks, shops and the other attraction in Galaxy's Edge, Millennium Falcon: Smuggler's Run.
However there is going to be a separate opening for Star Wars: Rise of the Resistance at a later time.
Why Is Rise of the Resistance Opening Later?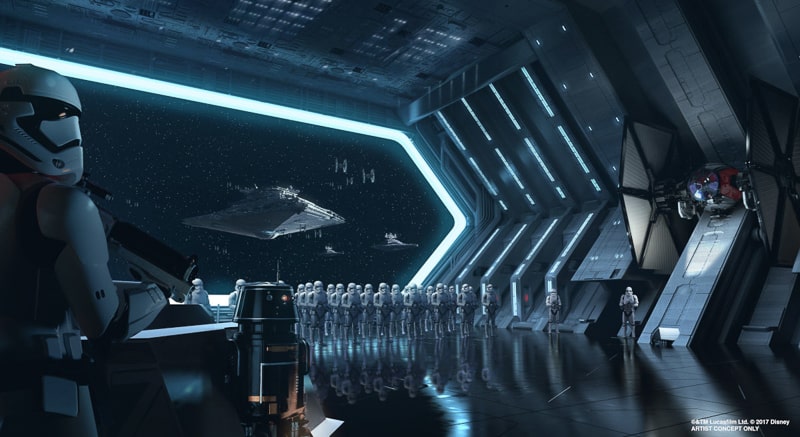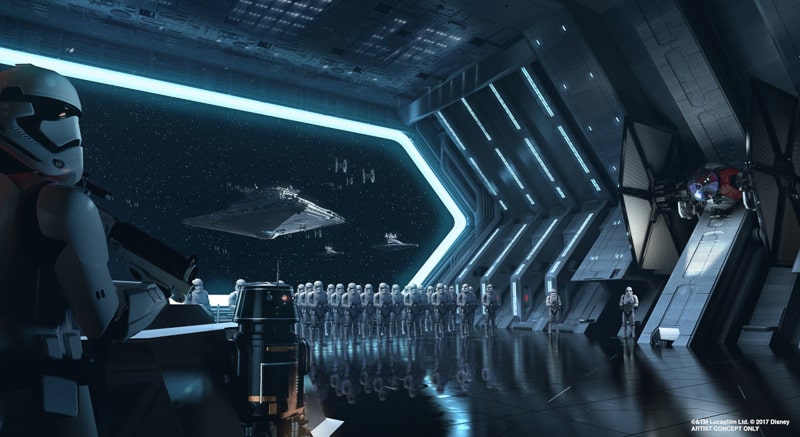 There are multiple reasons for the delay, but the main reason is that Disney is having trouble with the trackless ride system for Rise of the Resistance, and will not have it ready in time.
Another reason is that there just isn't enough man power to go around and all hands are on deck to get the rest of Galaxy's Edge ready in time for the opening in Disneyland and Disney World.
Also according to @sw_edge on Twitter, the ride vehicles themselves area big reason for the delay. Apparently the ride vehicles were not fitted for ADA originally which has led to a complicated process of cutting the doors in half and adding hinges so they can open properly. Since there are 38 ride vehicles to do this with, we're talking about months of work.
If this is accurate I'm not sure why this wasn't thought of to begin with, and it's been a big waste of time and money to fix it…
When then is Star Wars: Rise of the Resistance Opening?
That's the million dollar question that's been on everyone's minds. When Disney first made the announcement that it was being delayed, they didn't say anything about the actual opening date and there was only speculation. We only knew that it would be a few months from the actual openings of Galaxy's Edge.
The Phase 1 opening dates for Galaxy's Edge are as follows:
Disneyland – May 31, 2019
Disney's Hollywood Studios – August 29, 2019
Since the opening of Galaxy's Edge in Disneyland, the company was really hoping for an August opening date to coincide with the D23 Expo when the whole world will be watching Disneyland.
Obviously now that isn't going to happen and we know the Phase 2 openings for Galaxy's Edge are:
The Phase 2 opening dates for Galaxy's Edge are:
Disney World – December 5, 2019
Disneyland – January 17, 2020
They are both a bit later than I was expecting honestly, and I was hoping to see phase 2 happen in September/October in Disneyland, and maybe a late 2019 opening in Hollywood Studios towards December. Now we have to wait a bit longer than that.
In fact it's a little different that what the Disney Parks Blog said a couple of weeks ago when they announced that the Rise of the Resistance ride is opening in both Disneyland and Walt Disney World THIS year in 2019. Only half of that came true and the Disneyland version landed just outside 2019 into January 2020. Again there must have been more problems since that statement.
It's also interesting to note that in the specific press release by Disney they mentioned when the work is done on Rise of the Resistance in Disney World, Imagineers will head back to California to complete their mission at Disneyland Resort. This tells me that they made Disney World a priority over Disneyland and their best people are going to focus on that version first, and then get back to Disneyland after.
I'm not sure the exact reason for it, but hopefully more comes out in the next few months.
The good thing is that when it opens, it should actually work. Even if we are waiting longer than we had originally thought, I'd rather get a working and 100% Rise of the Resistance than one that has to wait until noon to open (Hi Universal). So if the imagineers have to make us wait a little longer to make that happen I'm cool with it.
After all Star Wars: Rise of the Resistance is being billed as the most ambitious and potentially most amazing attraction you or I have even been on, and I prefer if I actually feel that way the first time I ride.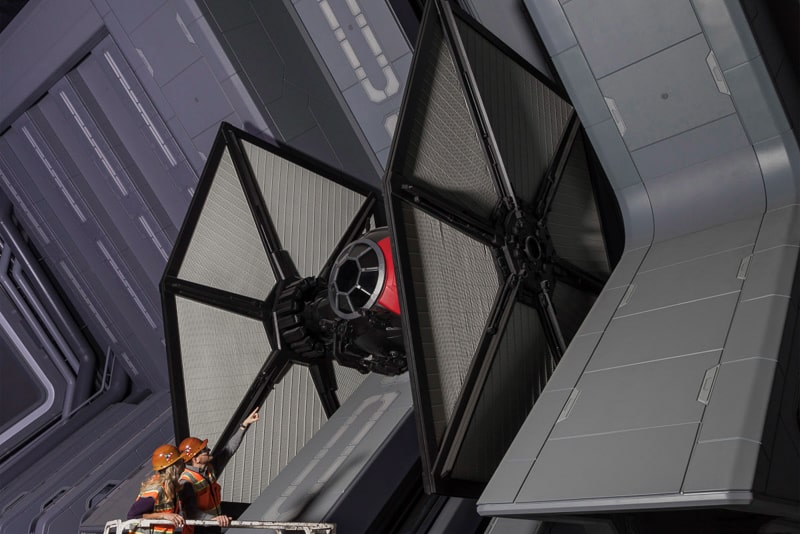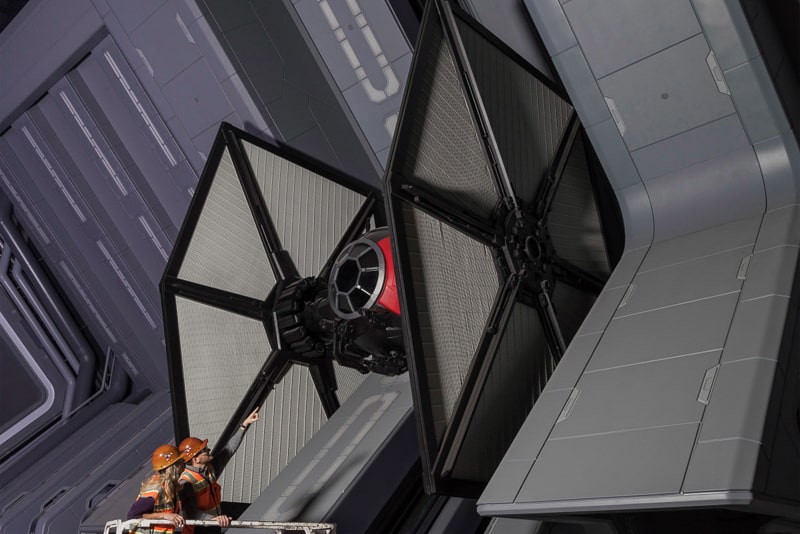 If you've been waiting and waiting to book your trip to Disneyland or Disney World because you wanted to know first when the Rise of the Resistance attraction is opening, you are a very happy camper today. Now you can make your reservations with confidence knowing this attraction will be open when you go.
I don't think you have to worry much about whether or not Disney will meet the dates. Lately Disney has been very cautious about announcing dates until they are 100% sure. Yes there are always things you can't predict, but if they say the ride will be open in December and January then I feel really good about that and so should you.
I'm just hoping that when Rise of the Resistance does open up they've worked out all the kinks in it and things go as smoothly as possible. There are so many moving parts in this attraction, I think a big part of the reason for the delay has been trying to get everything perfect for guests.
Will there be Soft Openings for Rise of the Resistance?
Disney hasn't mentioned this at all, but I think there is a possibility that there will be some soft openings for Rise of the Resistance. With the attraction being so complex, Disney will be doing cast member previews of the ride before opening for sure to test things out, especially the wait times.
It's not out of the question for them to also do some Annual Passholder previews either. Again Disney hasn't said this yet and it's just me speculating, but it wouldn't shock me at all. If Disney does say something we'll be sure to let you know!
To learn more about how amazing the Rise of the Resistance Ride is going to be you can read our full breakdown here.
To learn more about The Rise of the Resistance ride and Star Wars Land in general, read our Star Wars: Galaxy's Edge Guide for a detailed look at the rides, food, tips and planning.
Your Thoughts:
I want to know what you think about the Star Wars: Rise of the Resistance opening at a later date in Galaxy's Edge…
Are you disappointed with the delayed opening?
When are you planning to go to Star Wars Land?
Let us know in the comments section below!
If you enjoyed this article, as always I appreciate it if you'd share it with others via social media. I work hard at making this website into a useful resource for you and your family to plan your visit to the Disney Parks and I hope it can help you! Thanks 🙂
Photo Credit: Disney
News Credit: Disney Parks Blog