If you thought Star Wars Galaxy's Edge was awesome, just wait until you see all the details about the Star Wars Hotel at Disney World! Ever since it was announced that Disney was building a Star Wars: Galactic Starcruiser resort, we've been excited out of our minds knowing guests can board a starship for a multi-night adventure in what is the most immersive hotel experience in the world!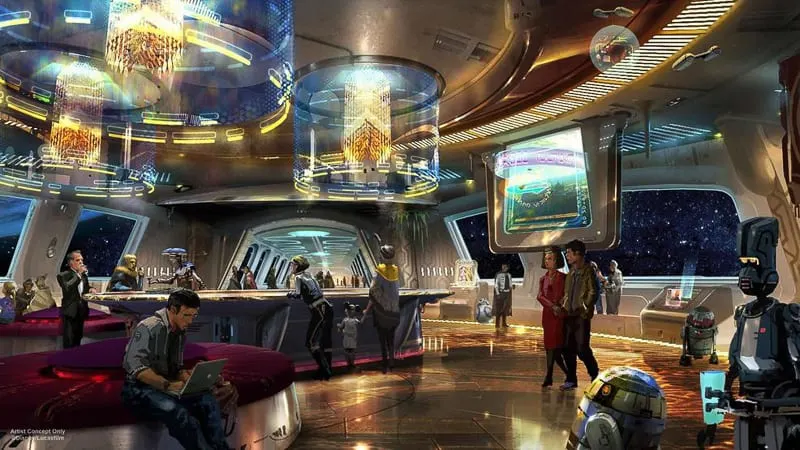 In this post, we are going to break down everything you need to know about Disney's Star Wars Hotel including its name (Star Wars: Galactic Starcruiser), Location, Pricing, Entertainment, Rooms, Reservations, the Opening, and a Full Tour and Review of this incredible experience.
(UPDATE) – The Star Wars: Galactic Starcrusier Hotel is closing permanently on September 30, 2023, with its last voyage on September 28, 2023. Below is our full review of the experience before it closes.)
Now that it's open and we've had a chance to visit ourselves, (we got to experience the first-ever voyage on March 1, 2022), we will cover every aspect of the Galactic Starcruiser and give you our full review with all the details. (Spoiler Alert…It's awesome!)
And just to clear the air, yes we actually paid for the experience ourselves in full and were not comped anything by Disney. That way when you are reading our review a bit later, you can rest easy that it is 100% our own opinion based on using our hard-earned money to pay for it.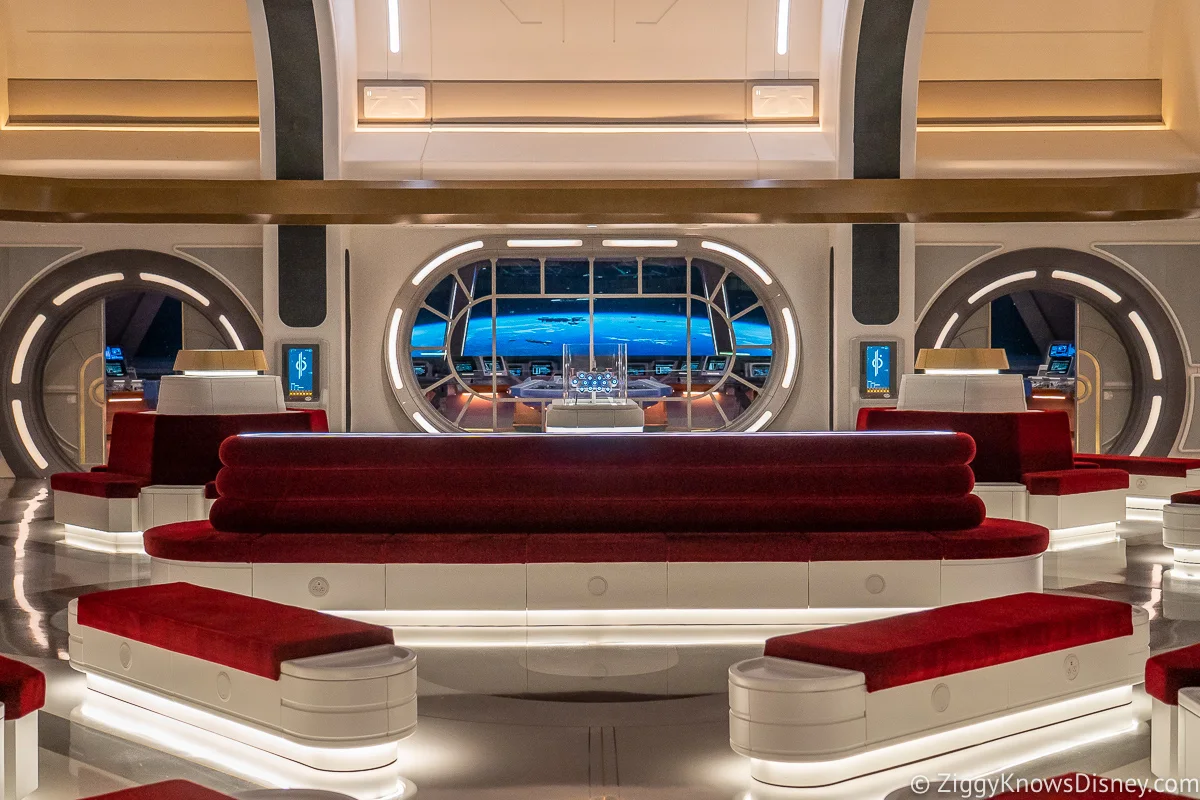 The Star Wars: Galactic Starcruiser resort isn't without drama. It's been the most highly controversial addition at Disney World in a long time, with two groups of people split right down the middle on whether they like it or not. However, in our opinion, it's absolutely one of the Best Disney World Resort Hotels, even if it's much different than the others.
We're continuously updating this post to bring you the latest news and updates on the Star Wars Hotel in Disney World. Sit back, relax and imagine what it will be like stepping on board the Star Wars: Galactic Starcruiser!
(If you want to skip over some of the basic info, you can jump down to our Full Walkthrough Tour of the Galactic Starcruiser and see what it was like on our visit.)
Before we get started, here are our other most important posts on the Star Wars Hotel that will help you plan your trip:
Also, don't forget to sign up for our FREE Weekly E-Mail Newsletter. There we bring you the latest updates at Disney World as well as vacation planning tips. You can sign up here: Join our E-Mail Newsletter!
When is Star Wars: Galactic Starcruiser Opening?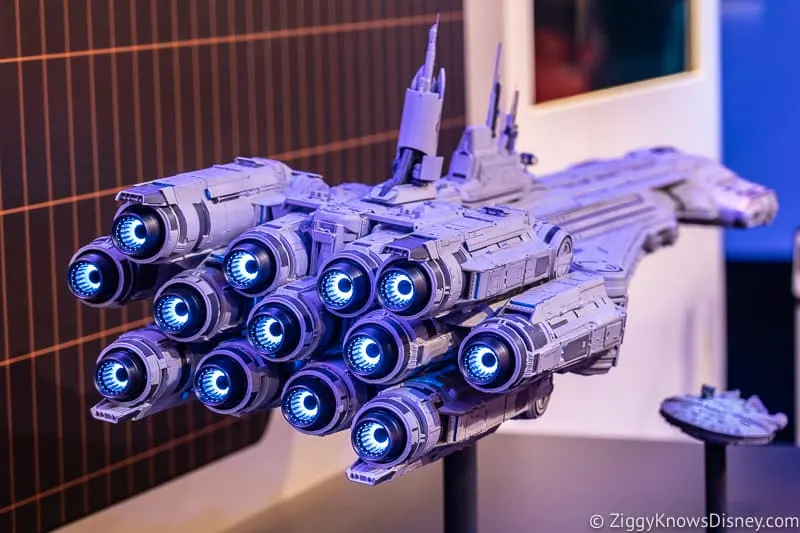 Ever since the Star Wars Hotel was announced we've been waiting to find out when it is opening. Now, finally, the wait is over!
The Star Wars: Galactic Starcruiser Hotel opened on March 1, 2022!
Up until Fall 2021, we knew it was opening sometime in Spring 2022 but didn't know the exact date. Disney's original plan was to open it sometime in 2021. That made sense since Disney wanted to make a big splash for the 50th anniversary of Walt Disney World, which was on October 1, 2021.
Obviously, Disney's original plans got changed and it was delayed until March 1, 2022. We've seen this with many projects across Walt Disney World. Since construction was temporarily shut down for 4 months, the Star Wars Hotel was delayed, then issues relating to the current health crisis made everything even more difficult.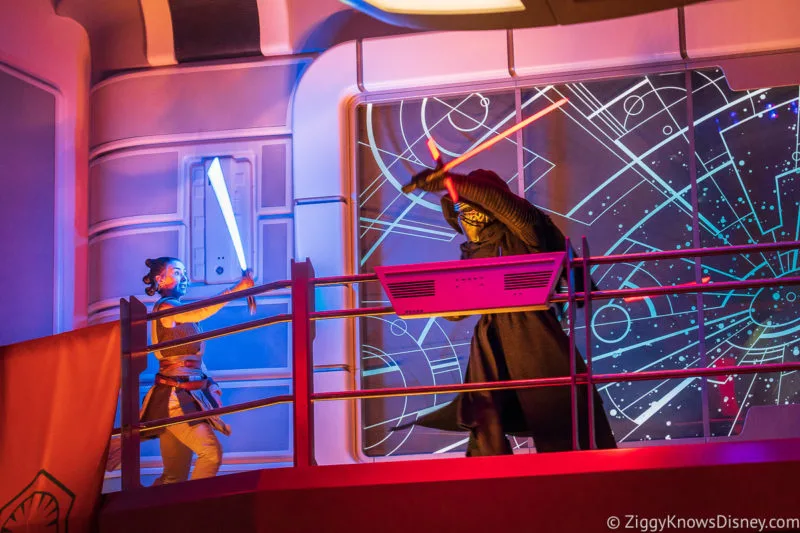 Even though some were worried about it being canceled, it was never on the list of the potential Disney attractions that are in danger of being cut. They've invested too heavily in the Galactic Starcruiser that there was no way the project was getting shelved.
We do wonder what the economic and health situation will be like in the coming years and if there will be a great demand for an ultra-expensive experience like this. So far, the Galactic Starcruiser has received rave reviews from most of the guests who have had the chance to visit (we'll get to ours in a minute), but it will be interesting to see how much demand there will be long term and if they are willing to spend the money.
The Star Wars Hotel is also a big factor for many when answering the question: "Should I Go to Disney World in 2023 or Wait Until 2024?" We break that down more in our post, but if the Galactic Starcruiser is high on your list of To-Do's, then it might be worth the visit.
Keep reading for all the details and the latest updates about the Galactic Starcruiser.
Star Wars Hotel Overview
Location: Disney's Hollywood Studios Area
Opening Date: NOW OPEN (Opened March 1, 2022)
Cost: $4,809-$7,000+ per stay
Theme: Star Wars
Resort Category: Immersive Adventure
Number of Rooms: 100
Stay Length: 2 Nights, 2 Days (Cruise-style)
Phone Number: 407-939-1800
Address:
Star Wars Galactic Starcruiser Terminal
201 South Studio Drive
Bay Lake, Florida 32830
So just what is this Star Wars Hotel anyway? Star Wars: Galactic Starcruiser is Disney's new fully immersive and interactive Star Wars-themed resort.
What makes this different from any other hotel Disney has done in the past, and any other hotel anyone has done is that guests are fully involved in their own Star Wars universe story that they will get to play out during the stay.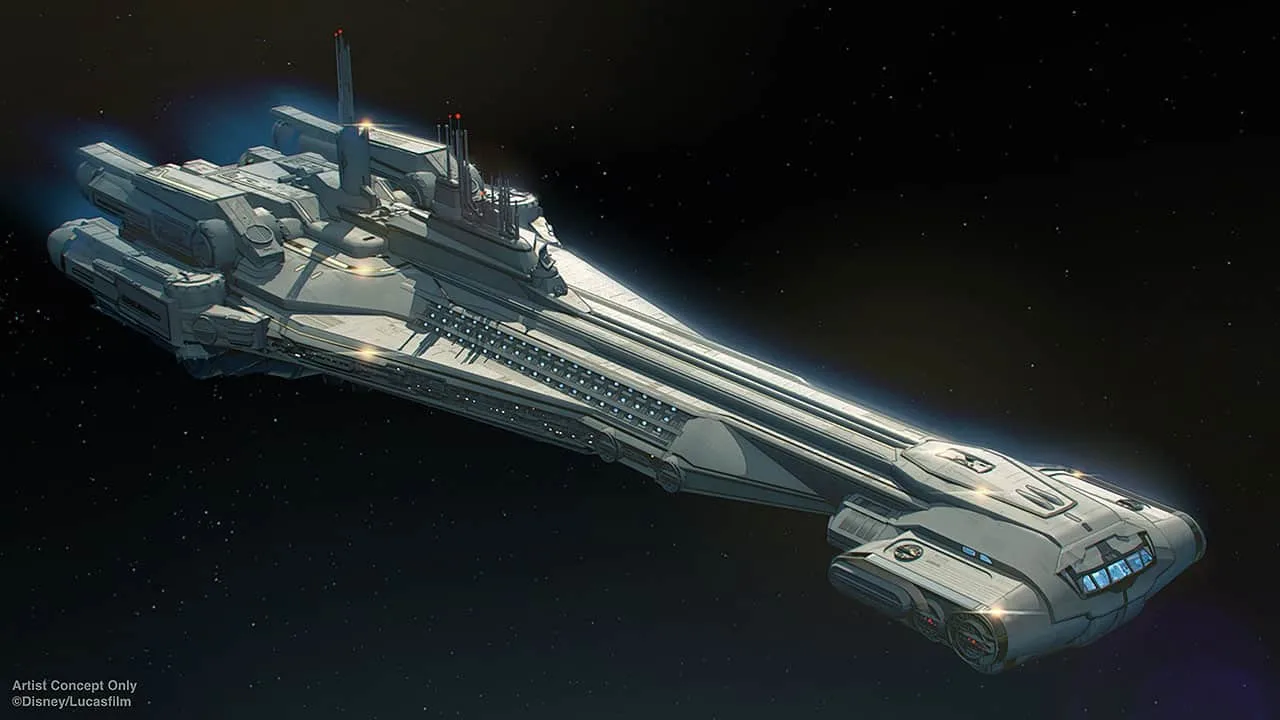 What also makes it unique is that it acts more like a cruise than a normal hotel, with guests coming aboard for a 2-night, 2-day, all-inclusive excursion. There are no 1-Night stays or longer than 2 Nights, everyone starts and finishes their stay at the same time, just like on a cruise.
You arrive and depart at the same time as other guests and have an itinerary to follow full of activities.
That is the first time that Disney has ventured into something like this, and it is unlike any other vacation experience on the planet! Think of it as a live-action video game.
"Star Wars: Galactic Starcruiser is a completely new type of experience," says Ann Morrow Johnson, executive producer for Walt Disney Imagineering. "You're going to live onboard a star cruiser…and you can get wrapped up in the larger Star Wars story."
Onboard the luxury hotel, guests interact with characters and become active participants in stories that unfold around them onboard the ship and even some off-ship in Star Wars Galaxy's Edge.
There is Lightsaber Training, a Bridge Ops Experience where the Galactic Starcruiser ("Halcyon") gets attacked by First Order troops, Interactive Dining, Star Wars Character Interaction, and numerous other Themed Activities and Experiences.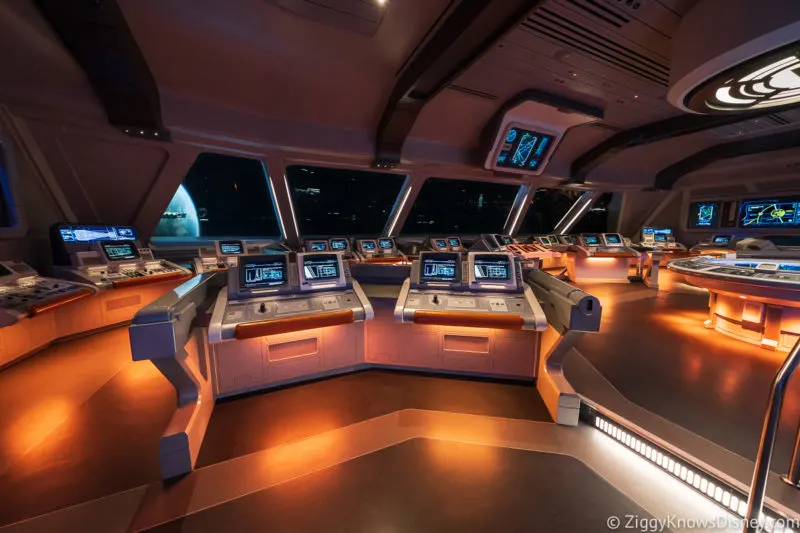 Disney Imagineer and Portfolio Creative Executive, Scott Trowbridge said: "Our guests who are part of the Galactic Starcruiser experience can think of the Starcruiser as a Star Wars space version for a cruise ship with ports of call including to the planet Batuu, but it is also a story-driven experience where you are invited to go as deep as you want…"
"So your stories from the Galactic Starcruiser will influence what happens to you on your planetary visit and your stories of what you do on the planet will follow you back to the ship."
Guests must make critical decisions throughout their stay which will have an effect on the way your individual story turns out. Will you train to become a Jedi and learn how to wield a lightsaber? Will you help the "bad guys?" You can even help smuggle characters onto the ship who will come up later in the story.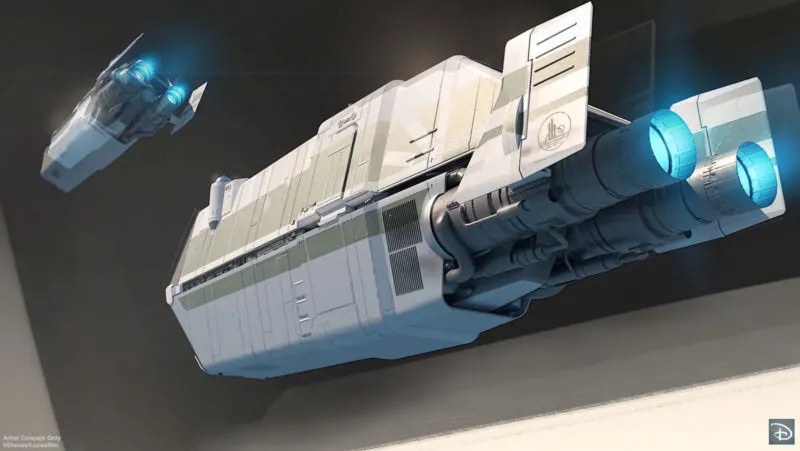 Stories between the Galactic Starcruiser hotel and Galaxy's Edge are also shared, and it's awesome to see these two worlds connected!
While the story and guest interaction is a huge part of the experience, guests are not forced to participate and can enjoy the story as much or as little as they desire. This is nice for casual fans or friends and family just coming along for the ride.
What is Included in the Star Wars Hotel Experience?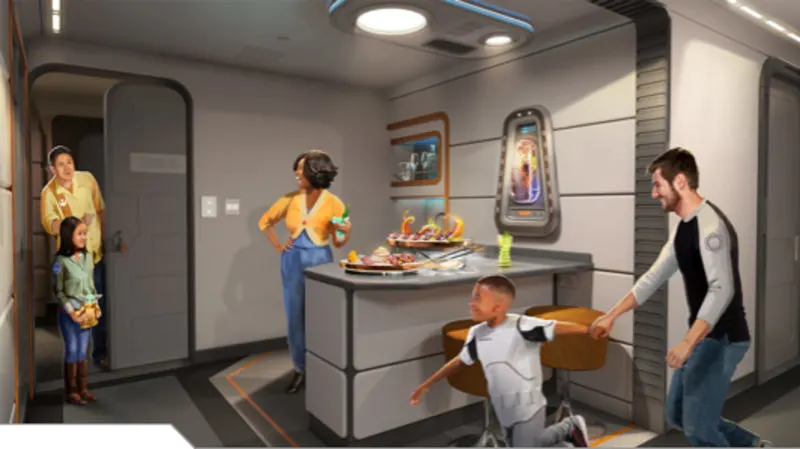 The Galactic Starcruiser is not like a traditional hotel and is set up similar to a cruise ship in that guests pay a flat fee per night and more is included besides just the hotel room, such as dining, entertainment, and other experiences.
Here is what is included in the cost of a Galactic Starcruiser voyage:
2-night stay in a cabin or suite
Ongoing, immersive and interactive entertainment, where choices determine your experience
Food and beverages on the starcruiser (excluding alcoholic and specialty beverages) and a quick-service meal at Docking Bay 7 Food and Cargo or other select locations at Disney's Hollywood Studios
Admission to Disney's Hollywood Studios for your planetary excursion to Star Wars: Galaxy's Edge for one day, on day two
Valet parking
Exclusive Star Wars: Galactic Starcruiser databand (known on your home planet as a MagicBand)
Extras like alcoholic drinks, merchandise, and other experiences are an additional cost. There is also a 30-minute private PhotoPass session on the Starcruiser called the CSL Portrait experience which costs $399.
Highlights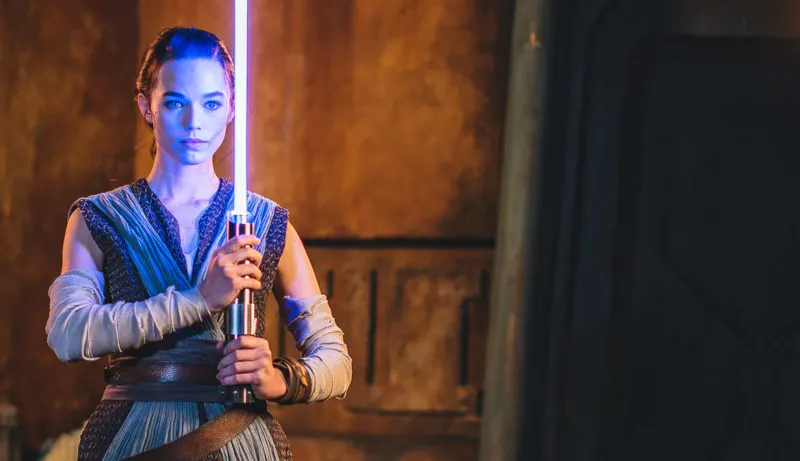 Here are a few main reasons to think about visiting the Galactic Starcruiser hotel:
Be Part of the Story – Fans who have always wanted to step into the Star Wars universe now how that chance with this unique and immersive part role-playing, part live theater environment. You can choose your path and follow the First Order or the Resistance and participate as everything unfolds around you.
Interact with Characters – As part of this role-playing aspect, you will see and meet many characters from the Star Wars universe and interact with them.
Lightsaber Training – Learn how to use a lightsaber with a remote training device like Luke Skywalker in "A New Hope"
Bridge Training – Step onto the main bridge of the starcruiser and learn from the captain how to navigate, power, and defend the ship from the First Order threat.
Excursion to Galaxy's Edge – Guests board a transport down to Galaxy's Edge on Batuu and continue their story on the remote planet. Continue your missions there and ride Millennium Falcon: Smugglers Run and Star Wars: Rise of the Resistance without waiting in line.
Unique Dining – Both the Sublight Lounge cantina and Crown of Corellia Dining Room offer some of the most theme-heavy and unique dining experiences in Disney World with food and drink options you won't find anywhere else.
"Real Lightsabers" – Disney has created brand new working lightsabers that are one of the main attractions for the hotel! When you see these things they will blow your mind!
Here is a video Disney created showing the impressive lightsaber in action:
From our time on the Halcyon, it was even cooler watching this happen in person!!
Where is the Star Wars Hotel Located?
In creating an immersive experience that works together with Star Wars: Galaxy's Edge, Disney has built the Star Wars Hotel right next to Disney's Hollywood Studios theme park.
Originally when the project was announced, it seemed like it might be attached to Hollywood Studios itself, but as construction got underway, it was revealed that the location of the Star Wars Hotel is close to Disney's Hollywood Studios park, but not attached to it.
Here's a look at the location of Star Wars: Galactic Starcruiser in relation to Hollywood Studios: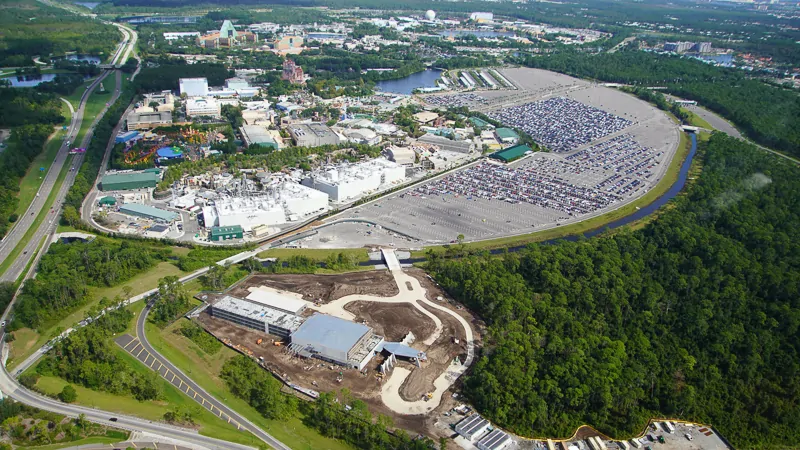 That's Hollywood Studios in the middle-left and the Hollywood Studios parking lot on the right. As you can see, the Galactic Starcruiser is located right below them with a road in-between.
The reason Disney built the Star Wars-themed resort right near Hollywood Studios is to give its guests access to Galaxy's Edge nearby. Guests will seamlessly move between the hotel and Star Wars Land for "special visits" where they will carry out secret missions and have various adventures.
How Big is the Star Wars Hotel?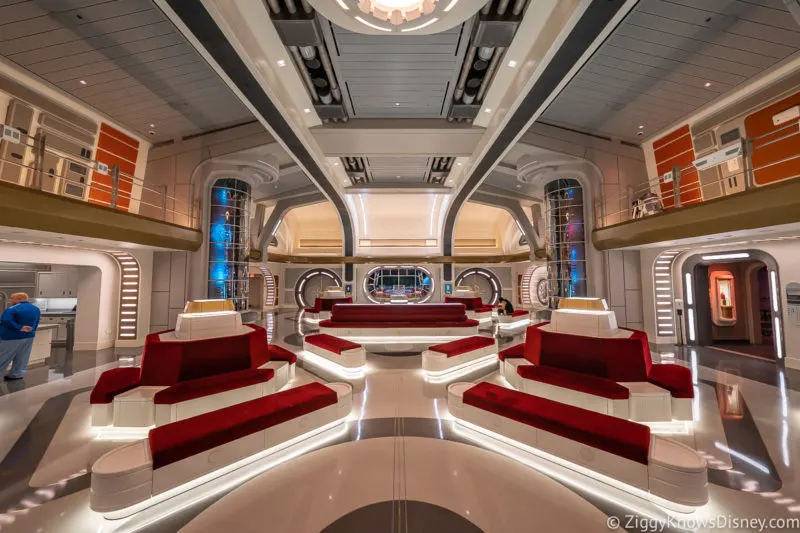 The Star Wars: Galactic Starcruiser hotel is not big at all. In fact, it's really quite small compared to other Walt Disney World Resorts. In fact, it's a luxury boutique hotel with a focus on interaction and immersion, rather than sheer size.
How Many Rooms are there in the Star Wars Hotel?
There are 100 cabins aboard the Star Wars: Galactic Starcruiser. The hotel has 3 floors of guest rooms and they are located on Decks 4, 5, and 7 of the building.
On Deck 4, we have 32 standard-size cabins like in the concept art. Besides the standard cabins, there are also be 2 1st Class cabins which are bigger, and with more amenities. That gives us a total of 34 rooms on that floor.
Deck 5 also has 32 standard-size cabins plus 2 suites which makes another 34 rooms.
Lastly, Deck 7 has 30 standard-size cabins and 2 suites. That makes a grand total of 100 rooms in the Galactic Starcruiser hotel.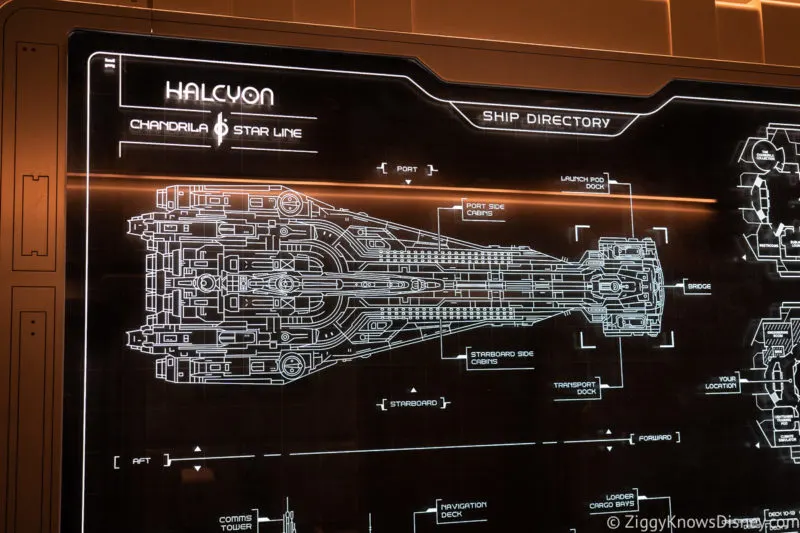 On any given voyage, there are approximately 250-500 guests onboard depending on how many people there are in each room. To us, the minimum is probably about 250-300, because you have to figure on average there are more than 2 guests per room.
This is quite a difference from normal Walt Disney World Resort Hotels and really emphasizes how the storytelling part will be so important and how this will be a much more intimate experience than you'll find elsewhere. The emphasis here isn't on size and numbers, but on high-quality entertainment and that can only be controlled if there is a limited amount of guests onboard.
Star Wars: Galactic Starcruiser Name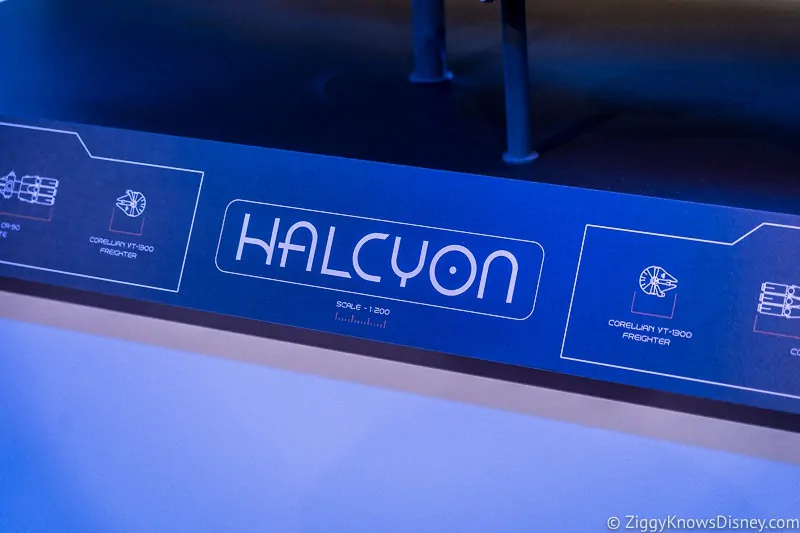 At the latest D23 Expo, a bunch of news and updates were announced including the official name of the Star Wars Hotel: "Star Wars: Galactic Starcruiser." Of course, this name is pretty fitting seeing that it's more like a Star Wars Cruise than a Star Wars Hotel, as guests are "cruising" through the galaxy while onboard.
The name of the actual ship from the Star Wars Hotel is "Halcyon," and you can see these models of what the ship looks like from the outside (at least in the story).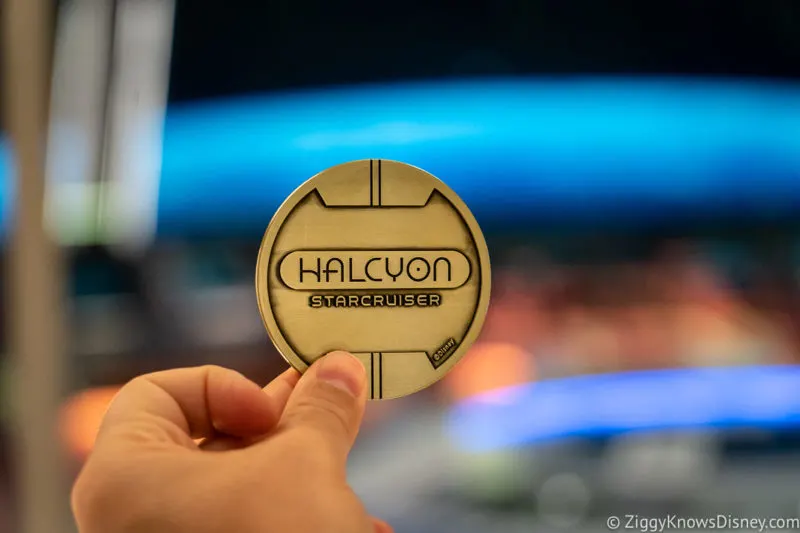 The Halcyon is part of the Chandrila Star Line fleet, the company that operates it. It is Corellian MPO-1400 model starcruiser that you might recognize from the Star Wars universe. During your stay, the Halcyon is celebrating its 275th-anniversary voyage that you get to be a part of.
Room Types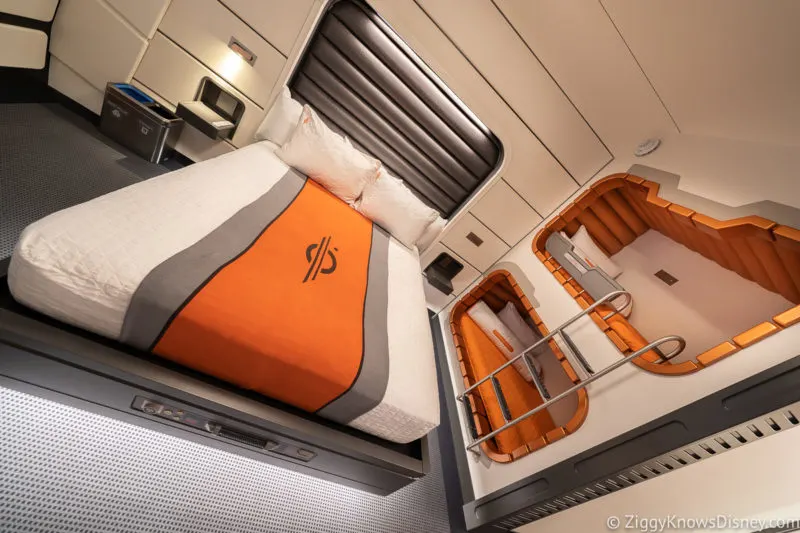 Since this is a 2-Night stay in the Star Wars Hotel, guests need a place to sleep, and that's where the 100 guest cabins come into play. Guest cabins come in 3 sizes:
Standard Cabins
Galaxy Class Suites
Grand Captain Suites
Standard Cabins
Each Standard Cabin is fitted with furnishings and fixtures designed to ensure comfort while traveling throughout the galaxy—including a pullout table and a TV with entertainment from your home planet—and a window with a view out into space.
Specifications:
Sleeps: 4 to 5 passengers
Room Configuration: queen bed, 2 berths (bunk beds) for one adult each and a wall pull-down bed for one adult (if sleeping 5)
Amenities:
Mini refrigerator
Hairdryer
In-cabin safe
Phone with voicemail messaging
Interactive TV
H2O Plus® spa, bath, and shower products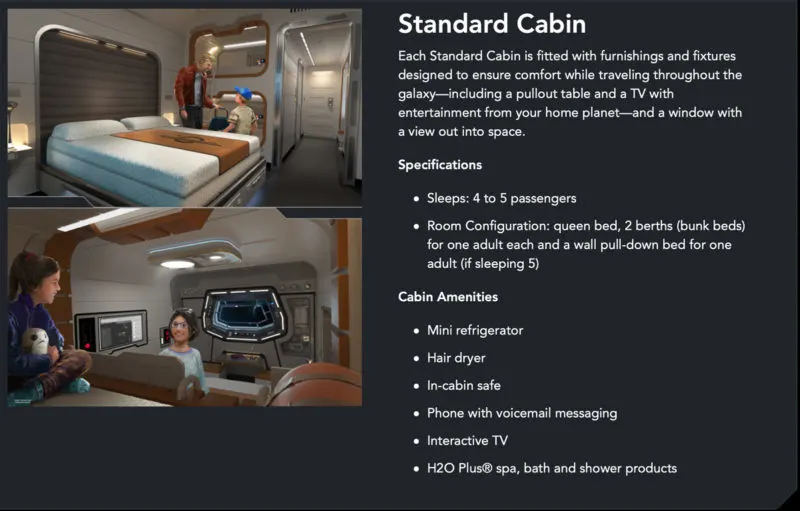 Galaxy Class Suite
One-bedroom Galaxy Class Suites feature a living space complete with an integrated seating area and have all the comforts of Standard Cabins plus a double vanity bathroom, bar area, 2 windows with views out into space, and a few extra Star Wars surprises.
Specifications:
Sleeps: 4 passengers
Room Configuration: queen bed and 2 wall pull-down beds for one adult each
Amenities:
Mini refrigerator
Hairdryer
In-cabin safe
Phone with voicemail messaging
Interactive TV
H2O Plus® spa, bath, and shower products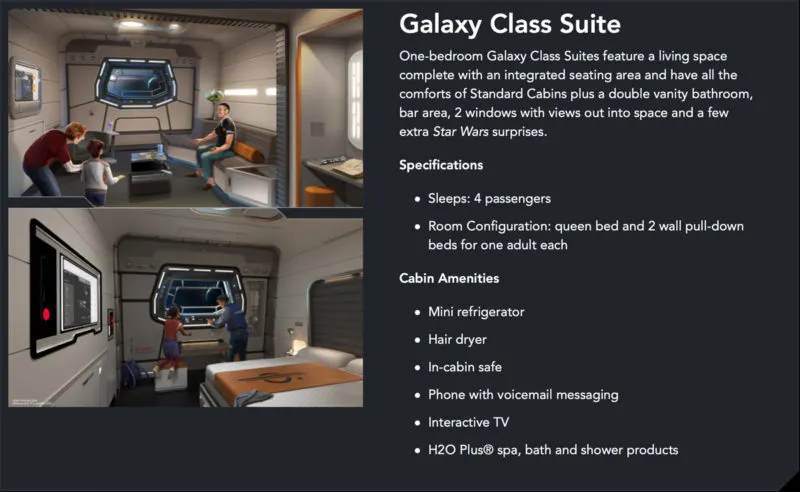 Grand Captain Suite
Two-bedroom Grand Captain's Suites offer ample room for the whole family and feature a posh living space complete with an integrated seating area. They have all the comforts of Standard Cabins plus the main suite with a double vanity bathroom, a second bathroom with a single vanity, a bar area, 3 windows with views out into space, and a few extra Star Wars surprises.
Specifications:
Sleeps: 8 passengers
Room Configuration: 2 queen beds, 2 berths (bunk beds) for one adult each, and 2 wall pull-down beds for one adult each
Amenities:
Mini refrigerator
Hairdryer
In-cabin safe
Phone with voicemail messaging
Interactive TV
H2O Plus® spa, bath, and shower products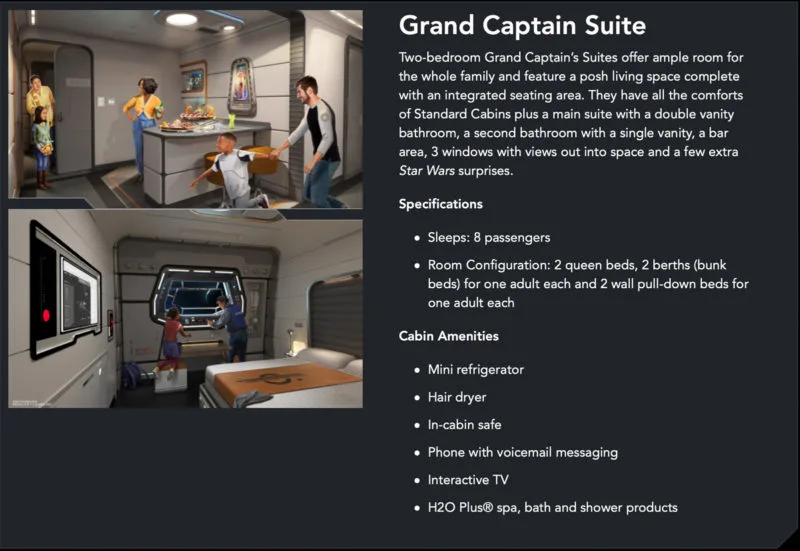 Obviously, the standard cabin size is the most popular room on the Galactic Starcruiser because of the size and it is the cheapest room of the three.
Just keep in mind that the size of all three rooms is not comparable to the other Walt Disney World Resort hotels but they are smaller and feel more like true cruise ship rooms than regular hotel rooms. This fits the narrative of getting people out of their rooms and into the overall experience, so come with those expectations.
READ our Guide to Star Wars: Galactic Starcruiser Rooms to get a full tour and see all the details.
Star Wars Hotel Prices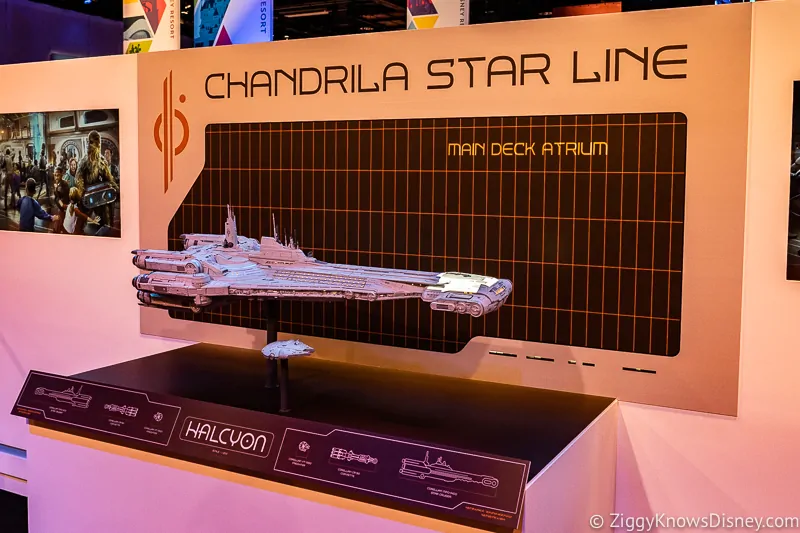 So the million-dollar question (no pun intended) is: How much does it cost to stay at the Star Wars: Galactic Starcruiser Hotel? One thing is for sure, it is not cheap.
We all knew that the Star Wars: Galactic Starcruiser hotel was going to be expensive, and now we know just how much it costs. In fact, the Star Wars Hotel is easily the most expensive hotel on Walt Disney World property.
A 2-night, 2-day stay on the Star Wars: Galactic Starcruiser starts at $4,809 for a 2-guest standard room. A 4-guest cabin starts at $5,999, and the prices keep going up from there.
Those prices are for Late August-September, the slow season at Walt Disney World. The prices increase from there depending on what time of year you are going, how many people, and what cabin type you choose.
We wrote a whole post on this so check out our Guide to Star Wars: Galactic Starcruiser Prices & Room Types for more detailed info.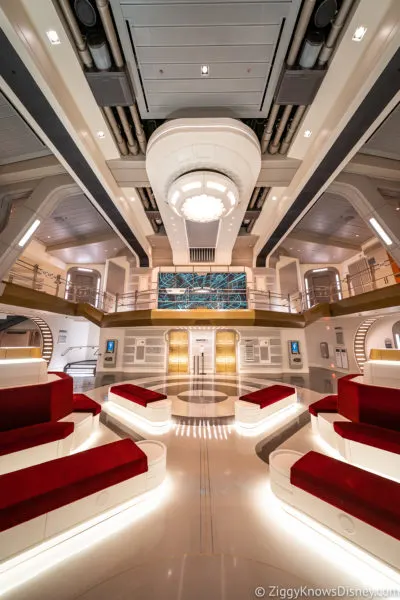 Pricing is calculated per person, person night. The more people you have in your room, the less expensive it is per person, but the total price for the room increases.
2 guests starts at $1,209 per guest, per night
3 guests is $889 per guest, per night
4 guests is $749 per guest, per night
Prices are also based on the dates chosen and the type of room. That starting price at just under $5,000 per room is for a "Standard Cabin" during the value season. If you go during the holiday season, or another busier time of the year, you are going to spend significantly more than that. The same if you upgrade to a nicer room.
These final prices are very close to the previously rumored numbers before it opened of a 2-night stay in the Star Wars Hotel costing between $1,400 and $3,000 per person for 2 nights, with a price of $7,200 for a cabin with a family of 5.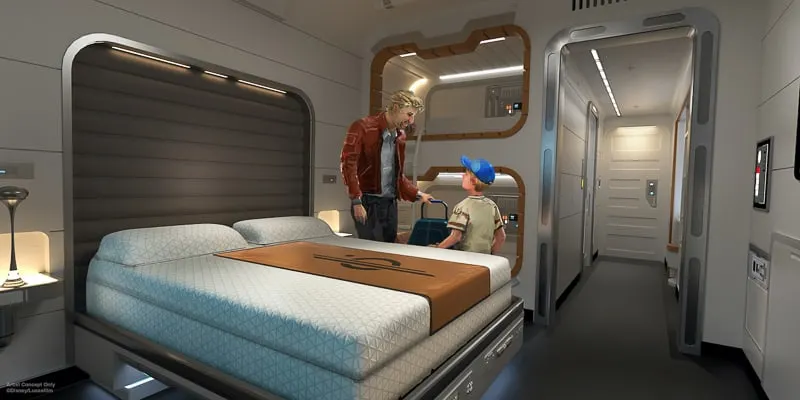 Many Disney World Deluxe Hotels already cost upwards of $600 a night. I mean it costs $219 for a 20-minute experience in Savi's Workshop to build a lightsaber, what did you think it would cost for 2 nights aboard a Star Wars Starcruiser?
Again, these prices are for a 2-Day, 2-Night stay package. There are no 1-night stays available, and guests all board and depart together, just like on a cruise.
You can't think of at Stay on the Holcyon the same way you think of staying in a traditional Disney World hotel. Think of it like the Disney Cruise Line where all your food, drinks, and entertainment are included in one package. That's how the Star Wars Hotel will work too.
Due to the small size, the intimate experience, the fact that it's all-inclusive with your meals means you're going to have to spend some serious cash to stay here. It already is extremely expensive to visit Disney World, and this is one of the biggest splurges of all.
Of course, we'll keep you updated as Disney continues to update the pricing info.
Star Wars Hotel Reservations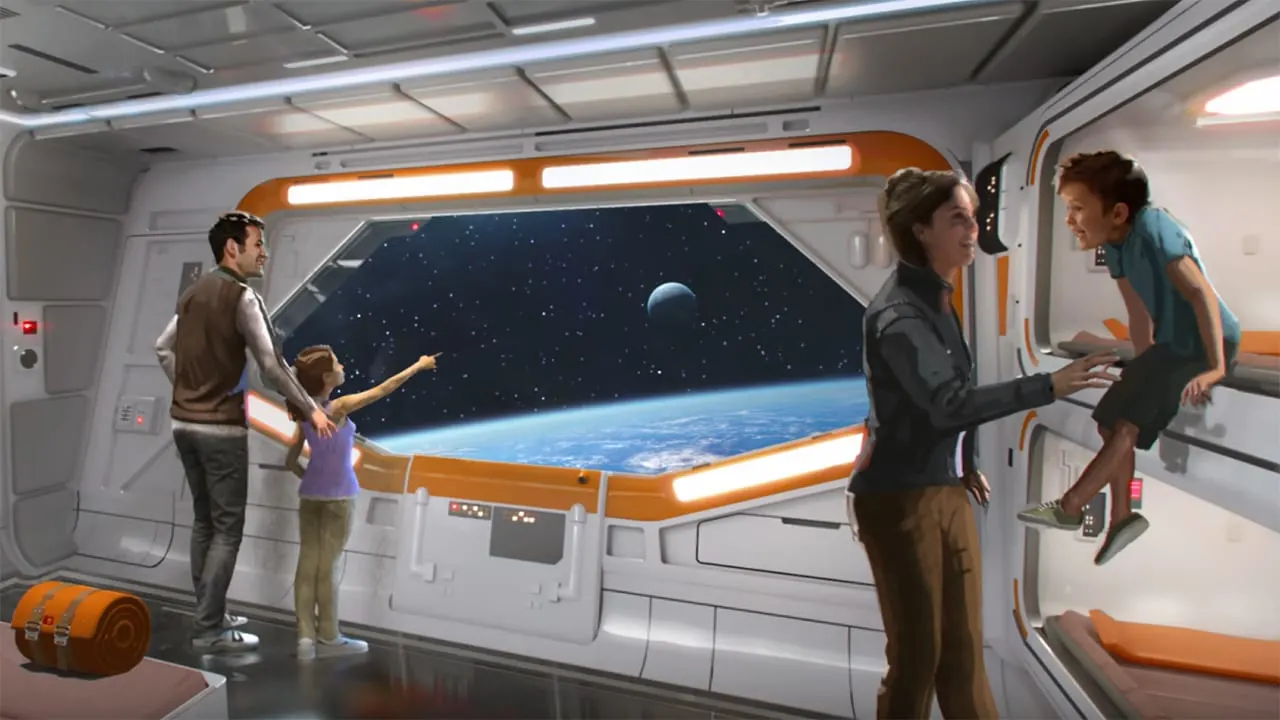 Now that you know about the cabins, you're now going to have to deal with the challenge of actually getting reservations. We cover this info in our complete guide to booking the Star Wars hotel but we have some of the basics here below.
Since the hotel only has 100 guest rooms and each stay is 2 nights long, that means there are only about 1500 rooms available per month. Even at sky-high prices, many of those rooms are booked solid for months out.
If demand stays high now after the opening and more positive reviews keep coming out, this could become the hardest resort to book at Disney World.
When Can I Make Star Wars Hotel Reservations?
The Galactic Starcruiser opened up on March 1, 2022, and reservations are available for booking right now.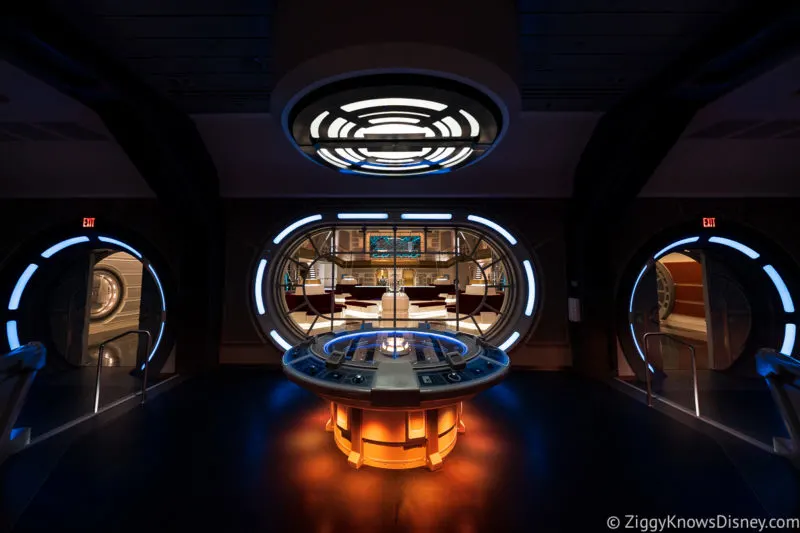 What Dates Are Available for Booking?
Normally, Walt Disney World allows hotel-only room booking 499 days out of the planned stay, which is much longer than the current window for the Star Wars Hotel.
At this time, reservations for the Star Wars: Galactic Starcruiser hotel are available through September 2023. Disney is likely waiting to see more guest reactions and demand before releasing the next set of dates and prices.
Now is a good time to go since you have plenty of time to plan your voyage. Some of the initial allure in the first few months has passed by which should make getting a room much easier.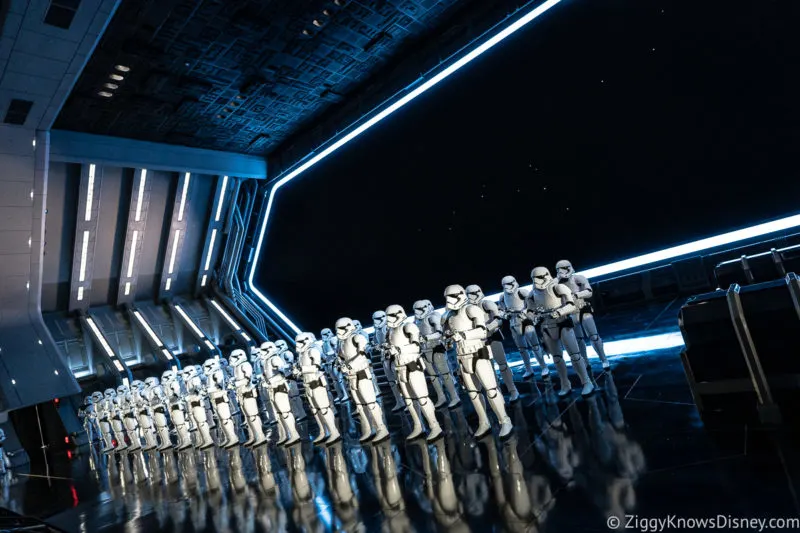 How the Process Works
Booking a room is easy. You can either make reservations directly with Disney or through an Authorized Disney Vacation Planner.
Authorized Disney Vacation Planner – This is the easiest way. Contact an authorized planner with your dates and guest info, and they will take care of all the arrangements for you.
Directly through Disney – To make your reservation, call (407) 939-1800 from 7:00 AM to 11:00 PM Eastern Time. Guests under 18 years of age must have parent or guardian permission to call.
Online reservations for the Star Wars Hotel are not available at this time.
The reason we like using an Authorized Disney Vacation Planner instead of doing it ourselves is that it makes everything way easier, and they are FREE to use.
A visit to the Galactic Starcruiser is especially in-depth to organize, so having someone on your side who knows what to expect will help tremendously. They can book your dining and whatever extra experiences you want to do.
Since they are absolutely free to use, they will end up saving you a ton of money on your trip. We recommend René at Show You the World Travel for all your trip planning needs. We use them multiple times per year and they give you the best service and savings combination out there!
Can I Stay Aboard Star Wars: Galactic Starcruiser for More or Less Than 2 Nights?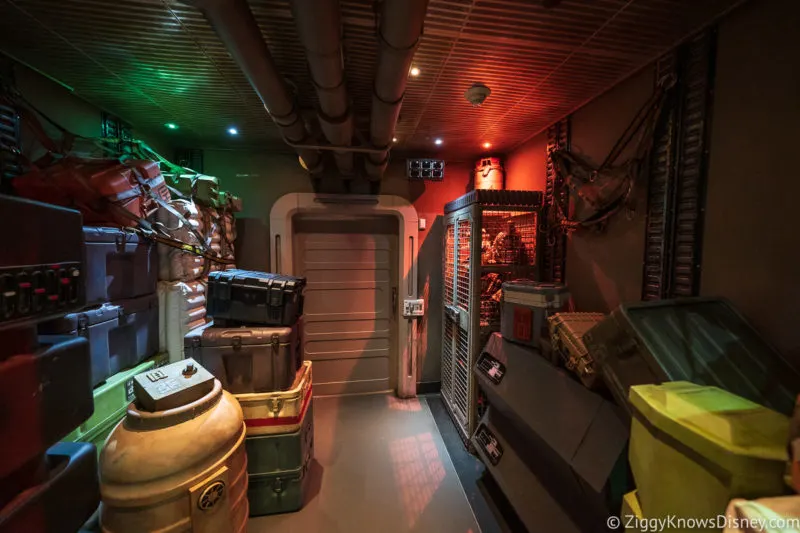 No. All Star Wars: Galactic Starcruiser voyages are limited to 2 nights and 2 days. Each booking follows a specific 2-night itinerary that is part of a specific story-driven narrative that can't be changed based on the number of days.
If you would like a longer vacation you can always book more nights at one of the other Walt Disney World Resort hotels before or after visiting the Star Wars Hotel.
Is There Travel Insurance for Star Wars: Galactic Starcruiser Vacation Packages?
Yes, Disney offers Travel Insurance for the Star Wars: Galactic Starcruiser vacation package. This can be done by purchasing the "Travel Protection Plan."
As of this writing, the Galactic Starcruiser Travel Protection Plan is $82.50 per person. That can change so to find out the exact price, as for more details when you are booking your trip.
The Travel Protection Plan covers:
Trip Cancellation/Interruption (illness, loss of job, etc)
Trip Delay
Baggage Loss
Bag Delay
Emergency Medical Protection
Emergency Evacuation
Travel Accident
Rental Car Damage
In normal circumstances, we feel travel insurance is a waste of money, but we tend to think it's a good idea here since the cost of this experience is extremely high.
Is There a Reservation Waiting List?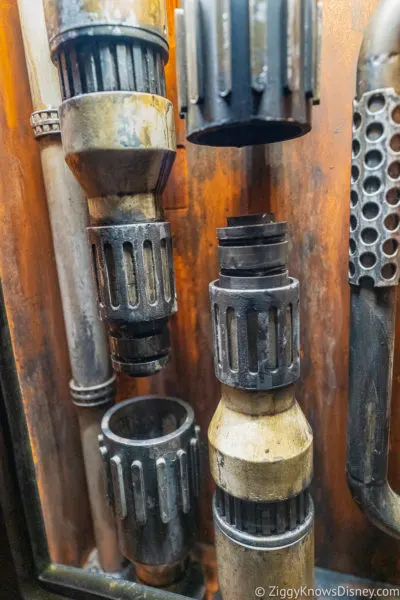 At this time, the demand for the Star Wars Hotel is not high enough for there to be a waiting list to get a reservation. This could change if it is a huge hit out of the gates.
Either way, we still recommend going at a time of year when crowds are relatively low. Check out our Disney World Crowd Tracker to help figure out the least crowded times.
You can also go to the official starwarsgalacticstarcruiser.com website for more updates.
Does Disney Require the Vaccine for Guests?
At this time, Disney does not require guests to show proof of a COVID-19 vaccination to stay at the Star Wars: Galactic Starcruiser Hotel, nor does it require them for any of its resort hotel properties.
Many were thinking it could be possible here since a vaccine has been mandatory on the Disney Cruise Line at times. Even though the Star Wars Hotel is much like a cruise experience in a closed space, it does not require one.
With the progress we are making on the current world health situation, we don't think a mandatory vaccine will ever be required.
It's Not a Standard Hotel (Role-Playing)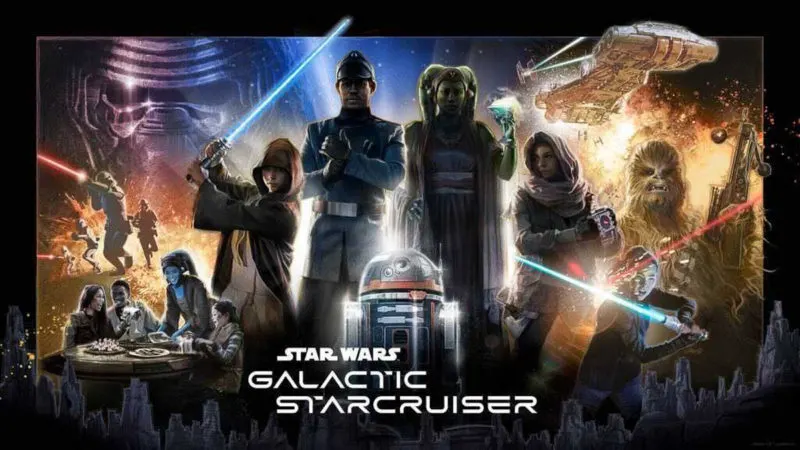 While the visuals are amazing, what really separates the Galactic Starcruiser from other themed resorts that Disney has built in the past is the role-playing element that is built in.
In fact, Disney executives and Imagineers have all insisted from the beginning that even though guests sleep there, the Galactic Starcruiser is not a hotel, but an immersive experience. Now that we've been on board ourselves, we completely agree with that assessment.
Walt Disney Imagineer Scott Trowbridge, who was the lead on the Galaxy's Edge project said: "It's easy for me to say it's not a hotel, but it takes a little bit more conversation to describe really what it is and what our guests are going to be able to experience."
"We're developing a thing that hasn't been done before, at least not at this kind of scale and not this kind of level," adds Trowbridge.
It's a cruise-style outing that is part live-action roleplay, part video game, part immersive theater, and part luxury service experience.
The Story Onboard Connects to Galaxy's Edge
Even if you've visited Galaxy's Edge before, your stay on the Galactic Starcruiser will change the way you view it as the onboard story connects directly to the land.
For example, guests get a better understanding of the backstory of the coaxium heist that the Millennium Falcon: Smugglers Run attraction is based on.
You also will learn more about the evacuation of the Resistance base where Star Wars: Rise of the Resistance takes place.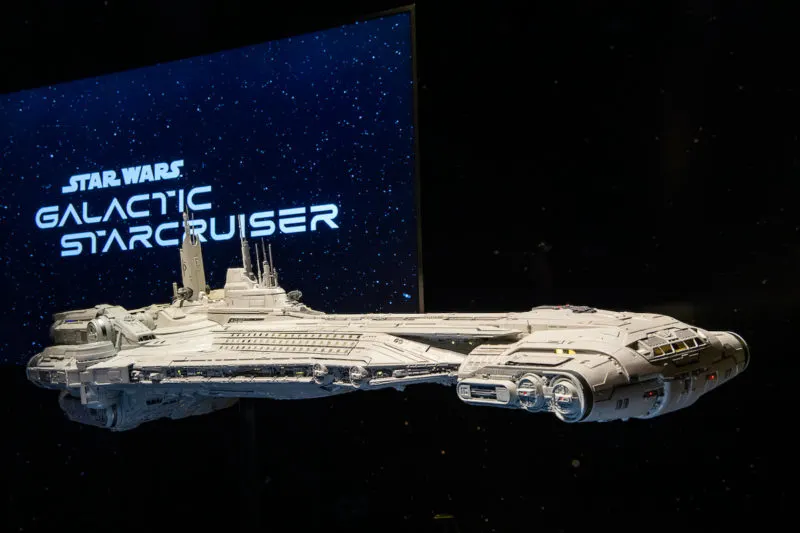 Help the Resistance or the First Order
Throughout the voyage, guests receive invitations to play along in the stories of the Resistance, the Force, the underworld, the First Order, and even the locals. Based on the decisions you make you can choose whether to play on the side of "good or evil" or somewhere in-between.
This is an epic Star Wars story with major events and lives at stake, so choose which side you want to be on. You can even switch sides at any point in the story to change things up.
Of course, you are not obligated to take part in the role-playing aspect of the experience if you don't want to, but it's there for whoever wants to get involved, and to whatever degree you want.
The Choices You Make Affect the Outcome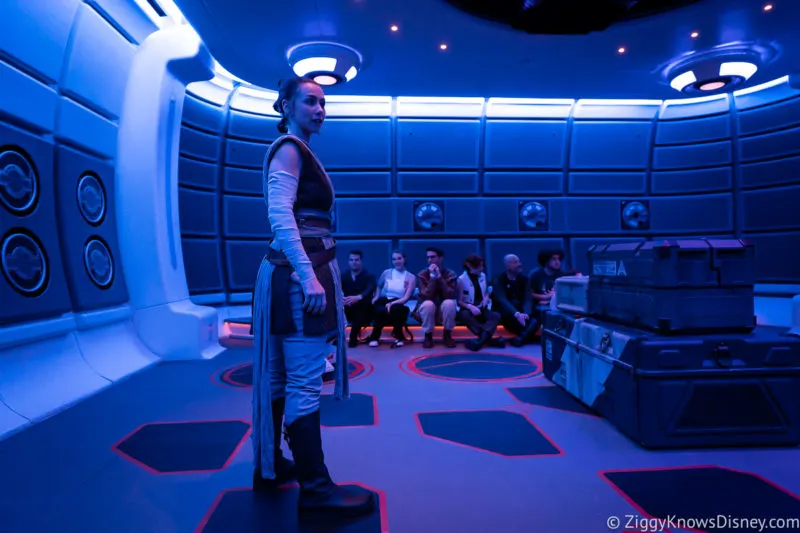 The cool thing is that even with as many as 500 guests involved in the story at one time, the choices that each guest makes will have an effect on the overall outcome of many areas in the story for everyone.
If you help the Resistance, that will affect you and someone else's story. If you sell out Chewbacca, that also has consequences. The way it's designed, no one person will see everything that happens on the ship at any given time.
We experienced completely different things than other guests during our voyage and they told us stories about things that were happening behind the scenes that we had no idea about. Disney Imagineers confirmed this is the case for everyone who visits.
Layout & Walkthrough of Star Wars: Galactic Starcruiser Hotel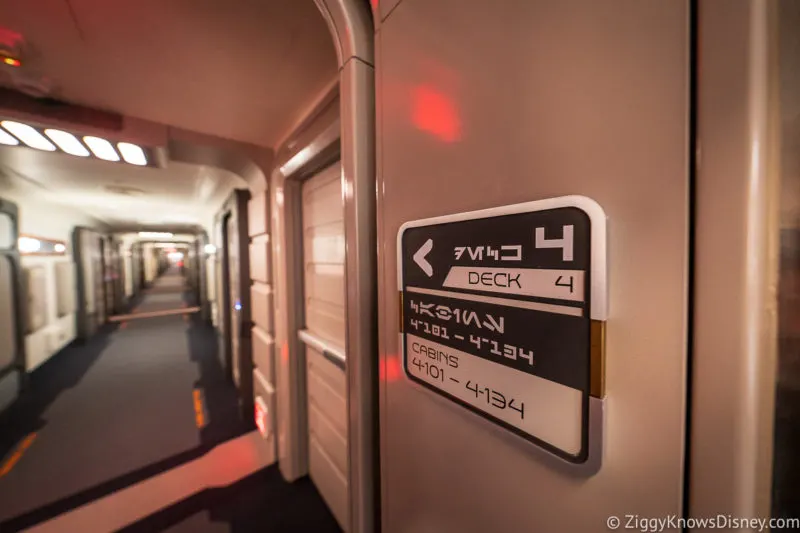 What exactly is it like on Disney World's Star Wars: Galactic Starcruiser Hotel? Thankfully, we now have experienced it for ourselves and are happy to give you a complete walkthrough of the whole starcruiser.
For the months leading up to the opening, we had a chance to look at the Star Wars Hotel blueprint plans thanks to Californiacoasterkings.com, which showed the layout and amazing details about what the guest experience would be like, including the interior of the hotel.
These plans were pretty accurate to our onboard experience, almost down the inch.
We're going to go level-by-level through the hotel during our voyage, but first, we'll go over the overall layout of Disney's Star Wars Hotel.
Here are the blueprints and plans for the overall project:

Notice the layout of the building with the driveway and drop-off point on the right and the main section of the hotel being the square part in the center, with the long brown part indicating the guest cabins. These plans also show some backstage areas at the top.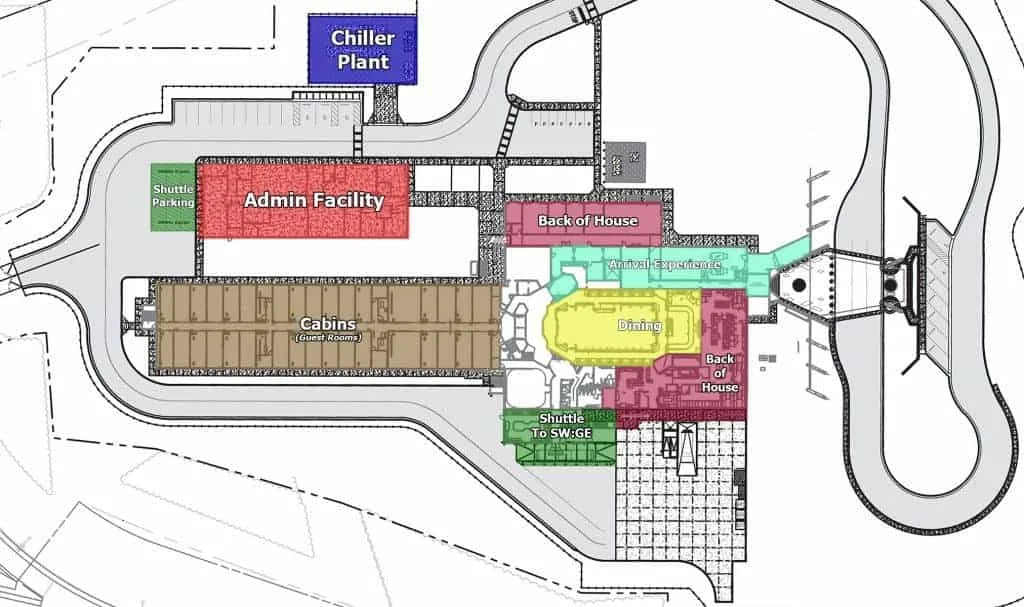 This is the ground floor and it corresponds to Deck 4 on the official Galactic Starcruiser map.
Now let's go floor by floor on the inside of Disney's Star Wars Hotel starting on Deck 4 (Level 1):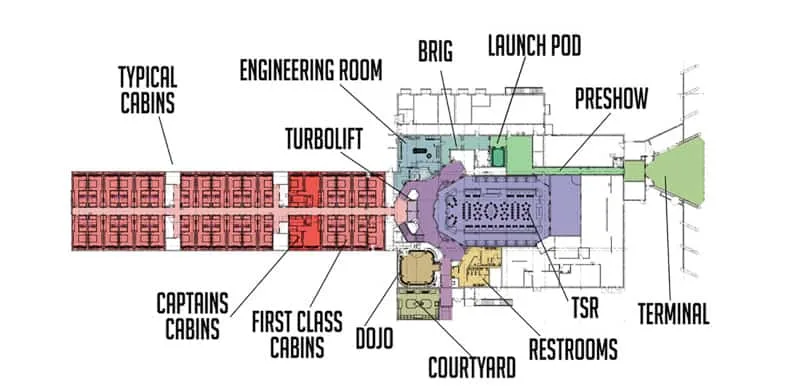 On the right in the green is the terminal, the entrance to the hotel. Here guests drop off their bags and head into the pre-show area and eventually to the launch pod which will blast them up to the main deck of the Galactic Starcruiser.
The Brig, Engineering Room, Lightsaber Training Pod, (Climate Simulator (courtyard), restrooms, and the table service restaurant all make up the main area of Deck 4, with guest cabins to the left in 3 room class types: Standard Cabins, Galaxy Class Suites, and Grand Cabin Suites.
When guests arrive however onboard the Galactic Starcruiser after going up in the launch pod, they will arrive directly on Deck 6, which is the Main Lobby/Atrium: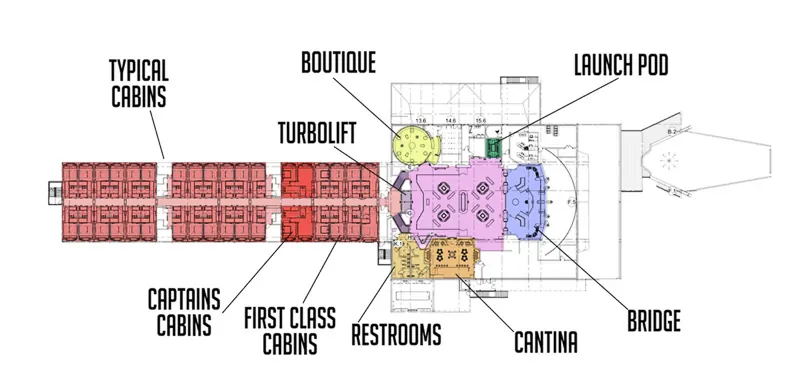 On the second floor of the Galactic Starcruiser, the Atrium area is in the center, followed by a boutique, restrooms, cantina, and the bridge. More guest cabins of all three class types are located down the hall.
All three floors of the Star Wars Hotel connect by elevator (turbolift), a totally separate one than which you use to enter the hotel.
Lastly, we have the 3rd-floor plans (Deck 7):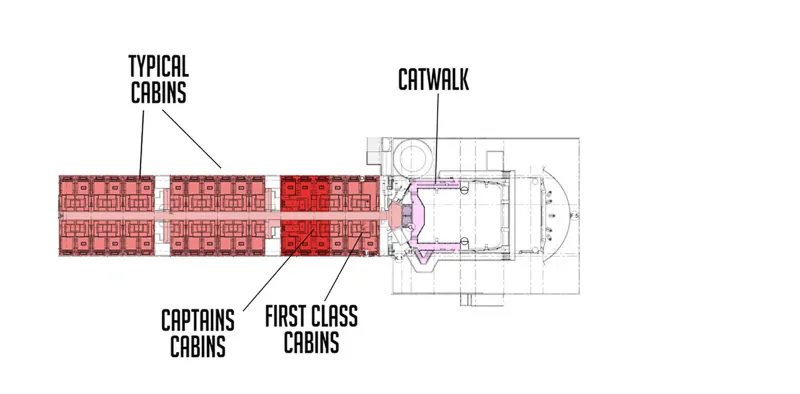 Here are mostly cabins, with a catwalk area looking down over the lobby in the center.
Now that we have an overview of the blueprints for the Star Wars Hotel, let's look at each section in more detail when we experienced it on opening day!
Star Wars Hotel Arrival Experience
First, we're going to look at the arrival portion of the Star Wars Hotel experience.
Of course, the premise of the Star Wars Hotel is that you are boarding a starship in outer space where you will stay, so your journey starts at the Galactic Starcruiser Terminal spaceport in Orlando, Florida where you will then embark on a shuttle which will take you up to the Starcruiser resort.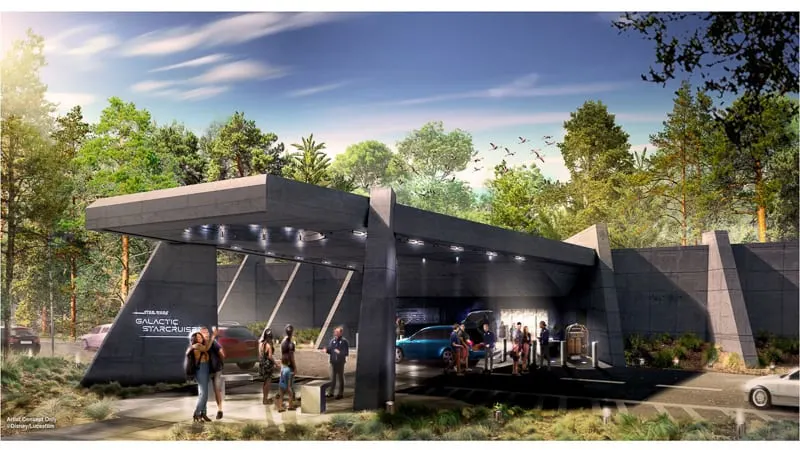 There is limited parking for guests at the Star Wars Hotel, and it has a very small parking lot. Guests will leave their vehicles if they have one, otherwise, Disney will have other transportation arrangements for guests arriving in Orlando from the airport or other locations on Walt Disney World Property.
How to Get to Star Wars Galactic Starcruiser Terminal?
By Car – If you are arriving by car, the address to the Star Wars: Galactic Starcruiser is:
Star Wars: Galactic Starcruiser Terminal
201 South Studio Drive
Bay Lake, Florida 32830
From a Disney World Resort Hotel – If you are staying at a Walt Disney World Resort hotel before or after your visit to the Galactic Starcruiser, transportation to or from your Disney resort hotel is included.
There was also a bus operating from Disney Springs to the Galactic Starcruiser Resort, but that has now been discontinued.
Parking
Valet parking is included with your Star Wars: Galactic Starcruiser package and guest do not have to pay the extra Disney World parking fees. Disney Cast Members will valet park your car and take your luggage from the entrance up to your cabin.
Arriving
If traveling by car, signs for the Galactic Starcruiser are easily marked and seen from the highway.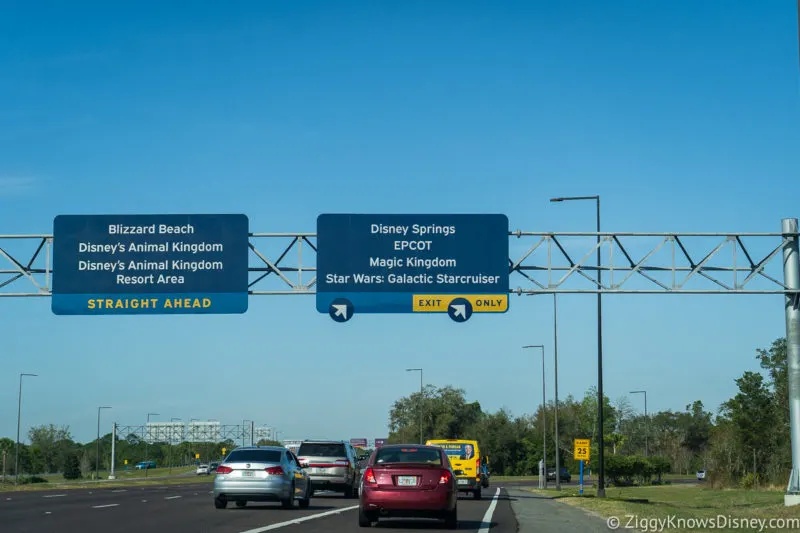 When you pull into the driveway, you are likely to find a long line of cars waiting to get into the parking lot. This could take a few minutes as they have to get cleared at the security booth before entering.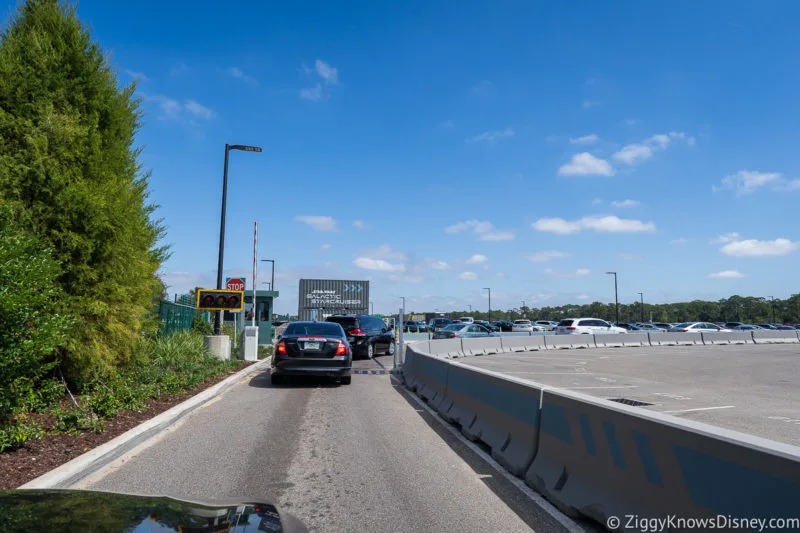 In a minute you will see the large stone Star Wars: Galactic Starcruiser sign.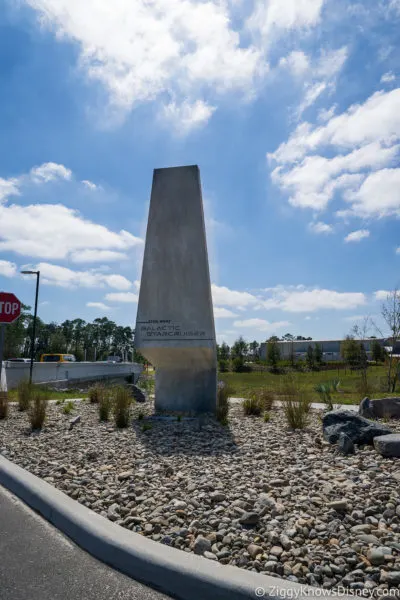 When guests pull up, they will be seeing the outside of a spaceport. Here is what that Galactic Starcruiser Terminal looks like: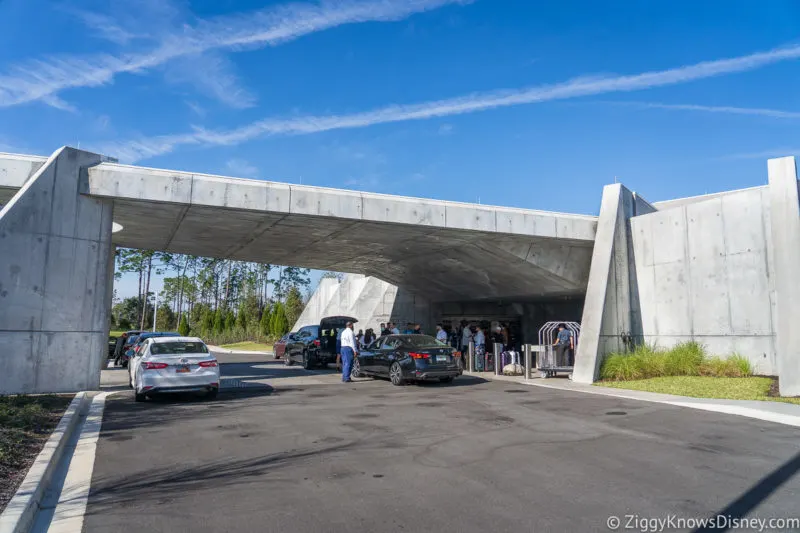 One of the first things some people said was that the trees were supposed to block your view of the actual building as to not ruin the atmosphere. After all, you are supposed to be at a spaceport. This is an important part of the storytelling as it kind of ruins the experience by seeing the hotel ahead of time.
It's kind of impossible to completely block the building seeing as the entrance is behind the building, but we feel they could do a better job covering the side. At least when you get to the carport you can't see past the facade.
If you look at the concept art, the carport and entrance to the terminal look a lot different. The final version is much plainer and without some of the cool details in the original design that made it look like a futuristic bunker.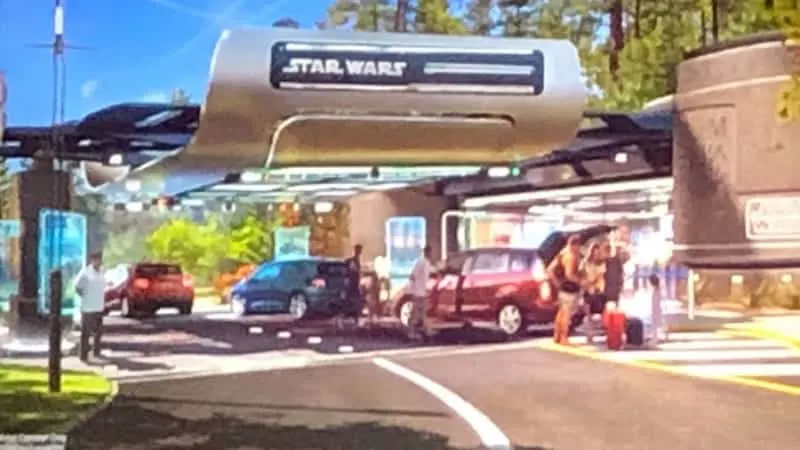 The hotel is behind the doors where you enter, and all guests can see from this part is the spaceport entrance and that's it!
Now here is what that same entrance looked like when it was under construction. Notice the road leading up to the drop-off point where guests enter: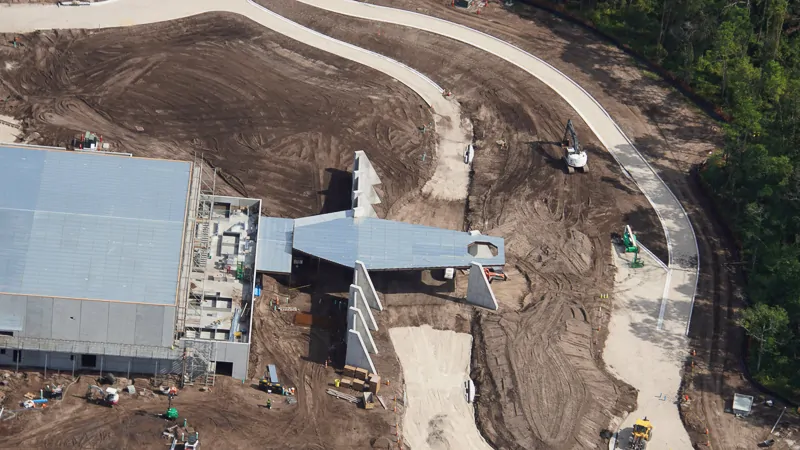 What Time Can I Show Up for Check-In?
Guests should arrive at the Star Wars: Galactic Starcruiser Terminal between 1:00 pm and 4:00 pm. Disney is pretty strict with the time and only allows boarding between those hours.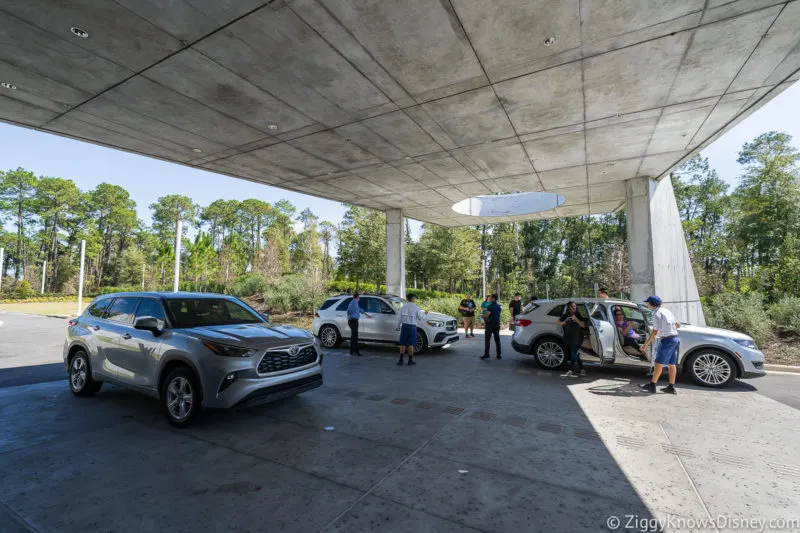 Disney is really emphasizing the "cruise-like" experience and all guests come aboard and exit at the same time, just like a cruise.
What If I Show Up Early or Late?
Guests who show up before 1:00 pm will be sent to Disney Spring where they can enjoy shopping or dining while they wait for their embarkation time.
Make sure you show up before 4:00 pm as guests arriving later than 4:00 pm will not be allowed to board the starcruiser.
The Check-In Process
It's also here at the Galactic Starcruiser Terminal where you will check-in for your stay at the Star Wars: Galactic Starcruiser Hotel.
At this point, everyone must arrive or get dropped off in cars. The Disney buses that were bringing guests from Disney Springs have been discontinued.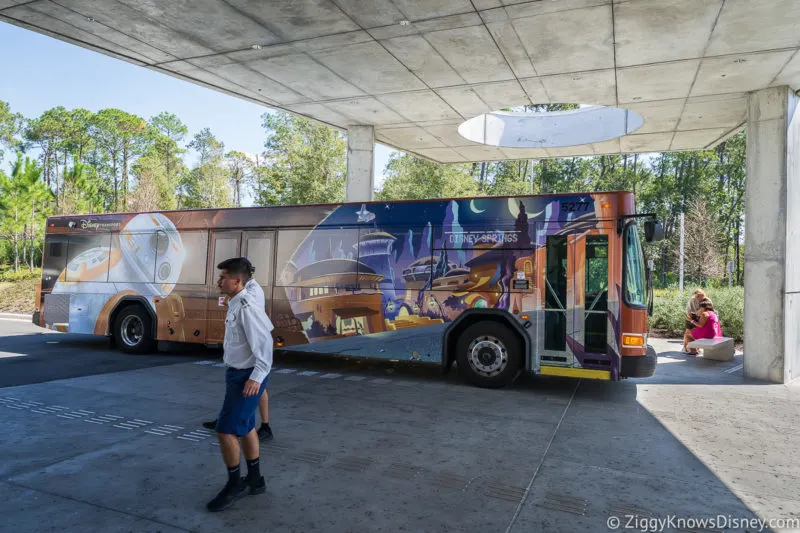 Once you get out of the car, the first thing you notice is the big Star Wars: Galactic Starcruiser sign on the left side of the entrance.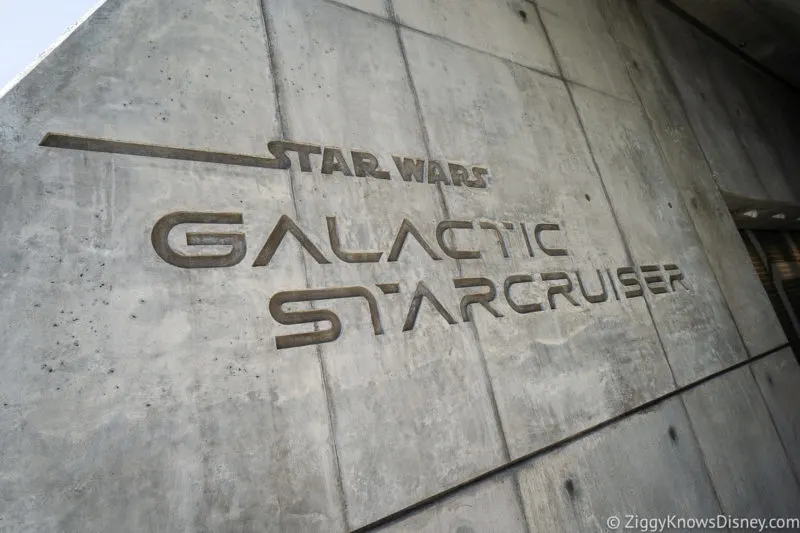 There are crew members waiting for you right when you get out of your vehicle and we found them to be extremely helpful. All guests are given special Galactic Starcruiser MagicBands for the voyage which you will use as you normally would at any Disney World Resort hotel. No other MagicBands are needed.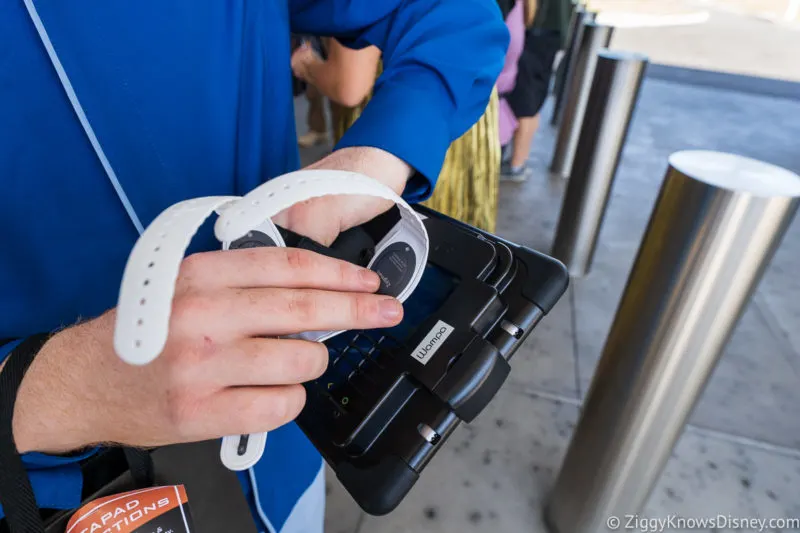 We're actually surprised they aren't using the new MagicBand+ which has more interactive features to it, but maybe that will change in the future.
The crew member will scan your MagicBand to make sure you have charging privileges and that it works with your cabin door.
They will also take your bags from you immediately and send them up to your room. This was super fast and ours arrived before we did, even though it was less than 20 minutes from the time we handed them over.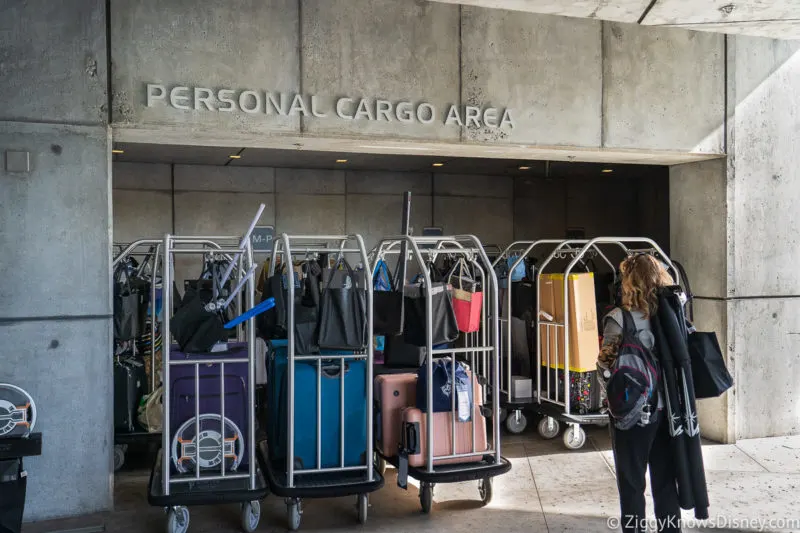 Take some time to look at the other guests, many of whom will be decked out in full Star Wars cosplay!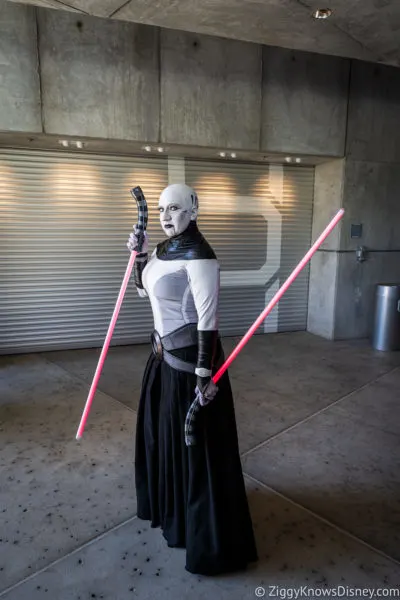 We're dressed pretty boringly in comparison but we are ready to go!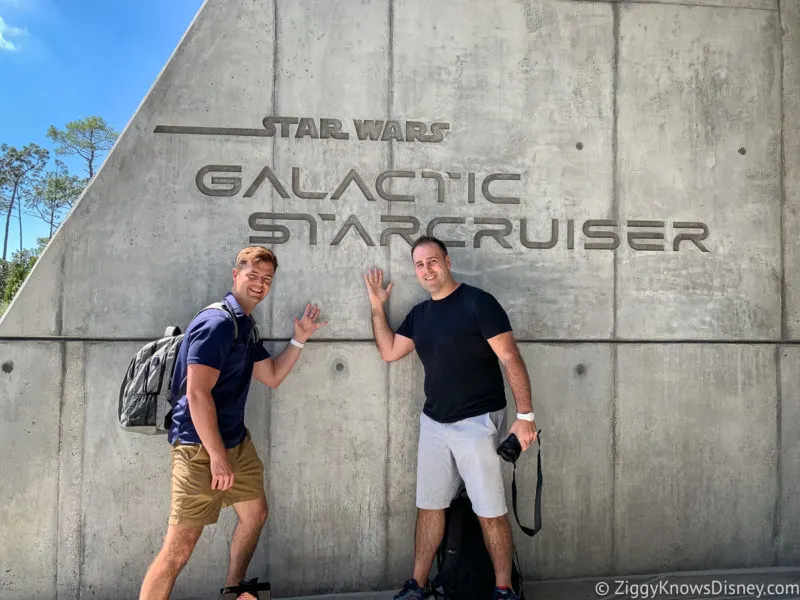 WARNING: The next few sections are filled with spoilers. We take you on a complete walkthrough of the Galactic Starcruiser, showing all the activities and shows. If you don't want to be spoiled, then skip down toward the end of the article.
Entering the Terminal
Now, what is the first thing you have to do when entering a spaceport before your flight? Go through the security of course!
Even if you are on time right at 1:00 pm, there is sure to be a long line to get in.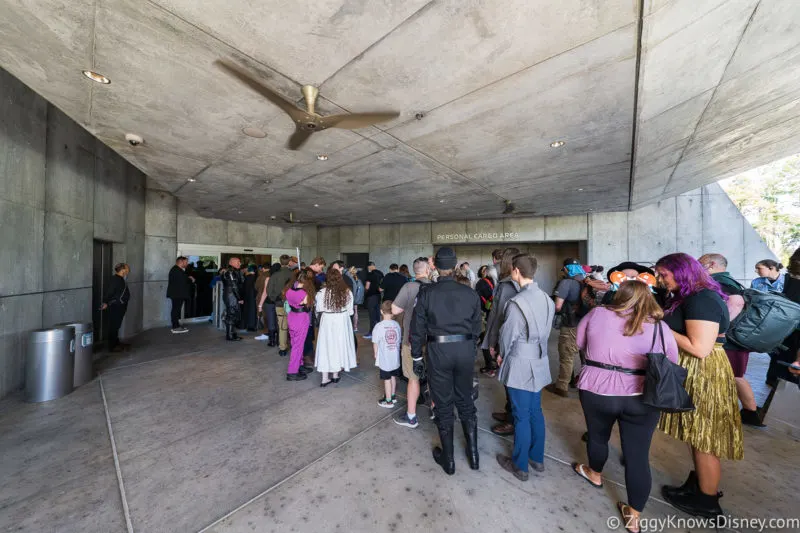 Since we were on the very first voyage, the line was a little chaotic at first, but Disney got it together and they actually did a pretty good job keeping the line organized.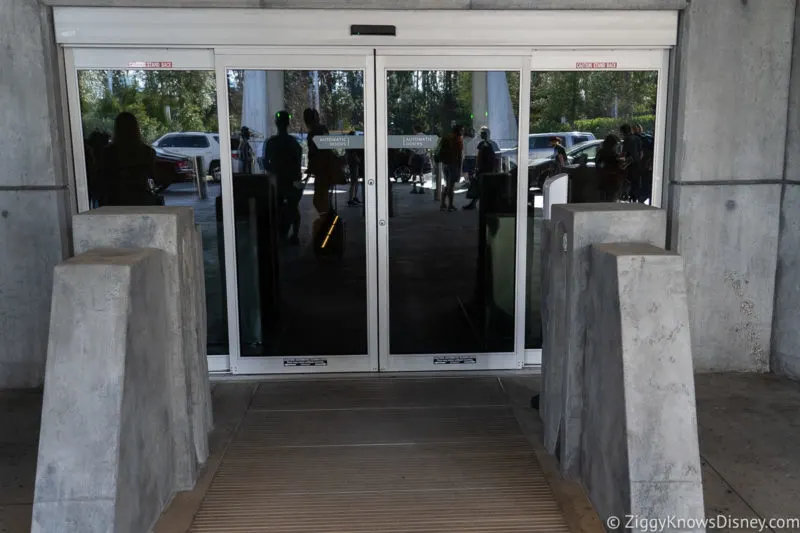 Once you make it up to the doors, the first step is to scan your MagicBand and fingerprint on the tap point at the entrance to the building.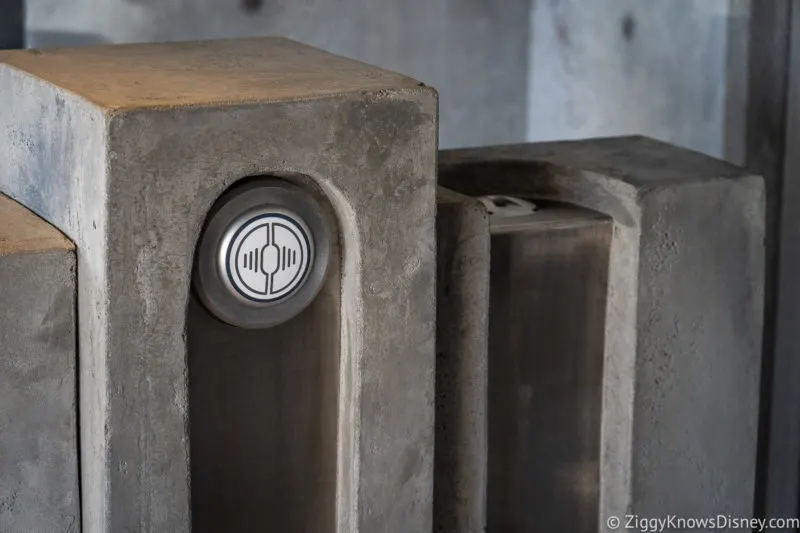 This worked flawlessly, and it was just like entering one of the Disney World theme parks.
On the other side of the door, there is a basic security check. Here any bags will pass through the X-Ray machines, while you go through metal detectors. Why is this necessary you might ask?
Well, once in the Star Wars Hotel, your trip to Galaxy's Edge needs to be seamless without breaking the atmosphere and going through security in the park. That means it has to be taken care of ahead of time, and once you do, you're set.
Once you make it through security, you will see a long, narrow hallway leading you to the "pre-show" area. It's really narrow actually, and it might make you claustrophobic for a second.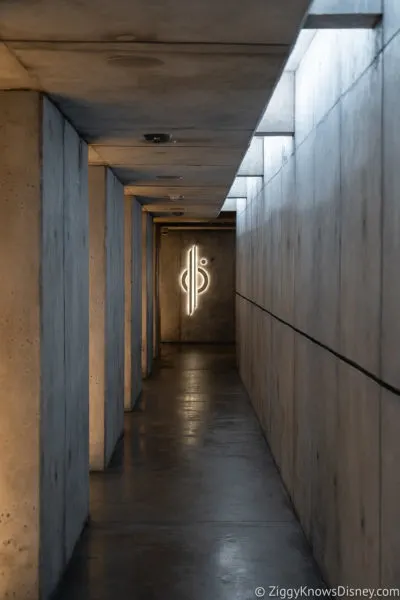 At the end of the hallway, we find the official Halcyon ship logo. You will find that throughout the starcruiser, even on some of the merchandise available for purchase.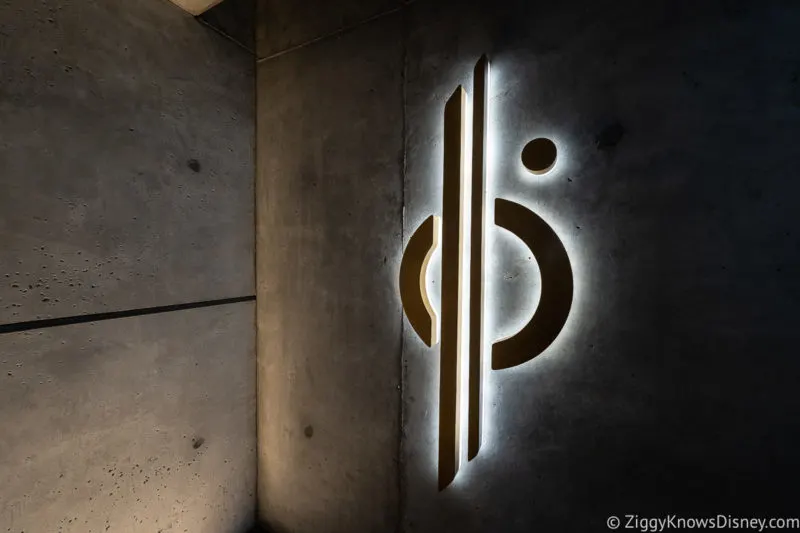 Once you turn the corner, the experience begins. You find yourself in a square concrete room with not much else but a TV on the far wall. Where are we right now, in a bunker?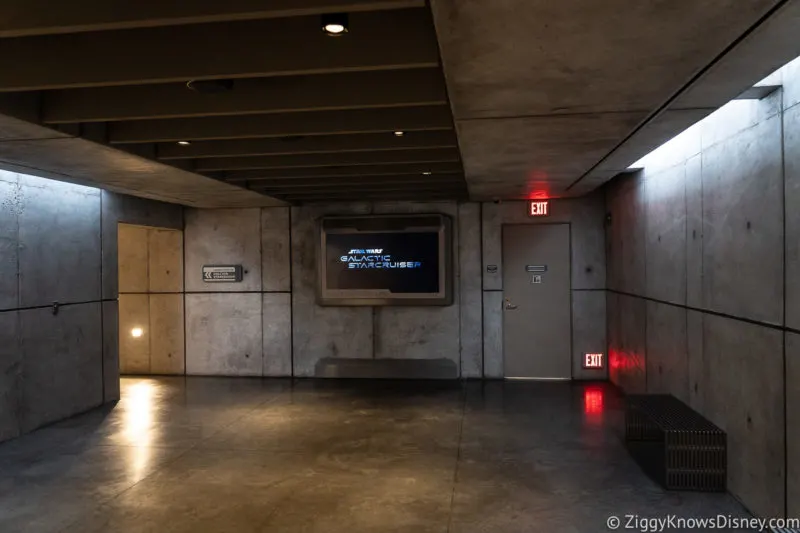 Once about 15-20 guests make it through security to the end of the hall, the pre-show starts. The video is about 2 minutes long and it explains the mission you are about to embark on.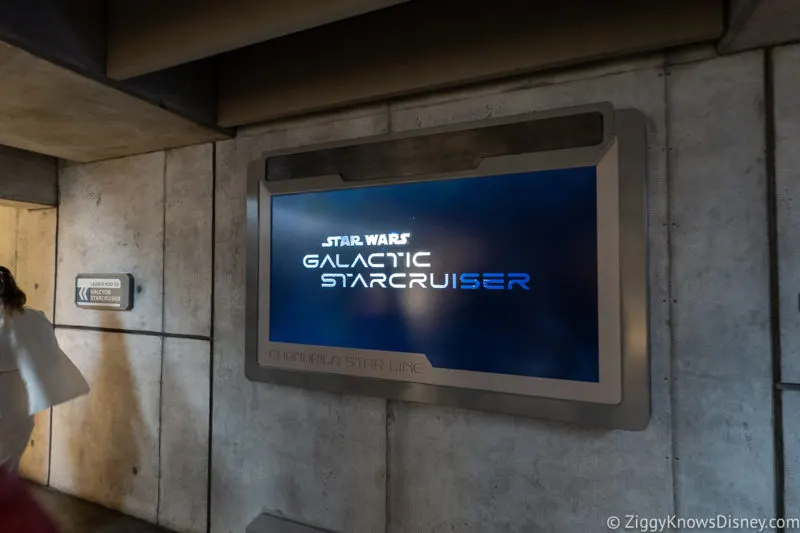 Once the video is finished, it's time to go up to the Halcyon!
Guests are loaded into the "launch pod" where they are blasted up into space and to their future home on the starship.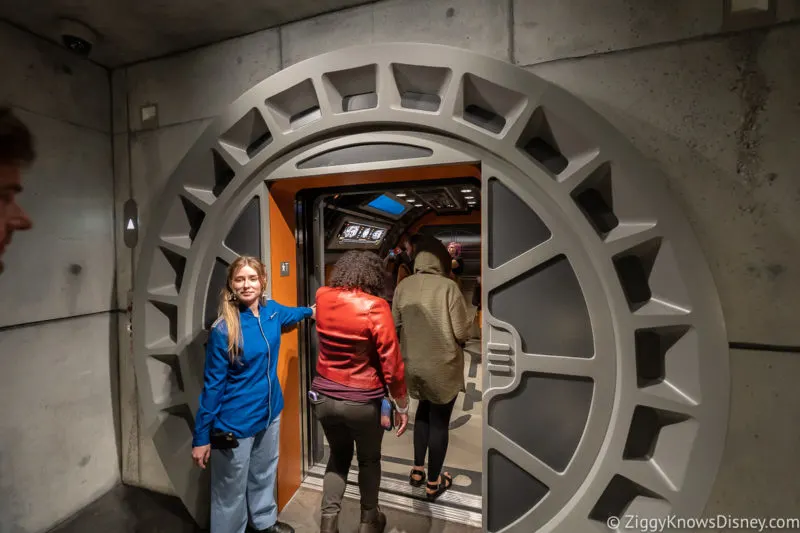 Disney uses a sophisticated elevator system, like a launch pod of sorts, which simulates space travel and makes you feel like you are really flying in a shuttle up into space aboard the ship.
You only go up one actual level in the building with the launch pod, but it will seem like you traveled thousands of miles into space. It's a very similar simulation to the elevator in the Space 220 restaurant in EPCOT.
Here's what the inside of the launch pod you'll take up to the second floor looks like: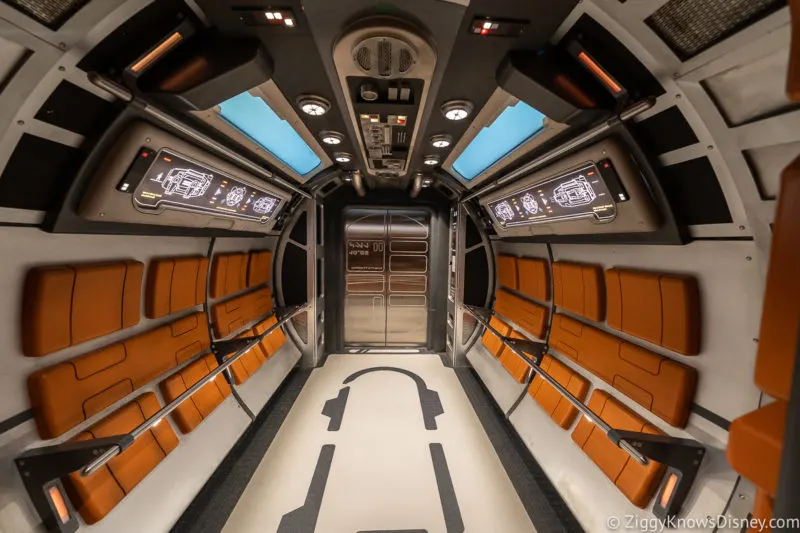 Here is a comparison to the previous concept art: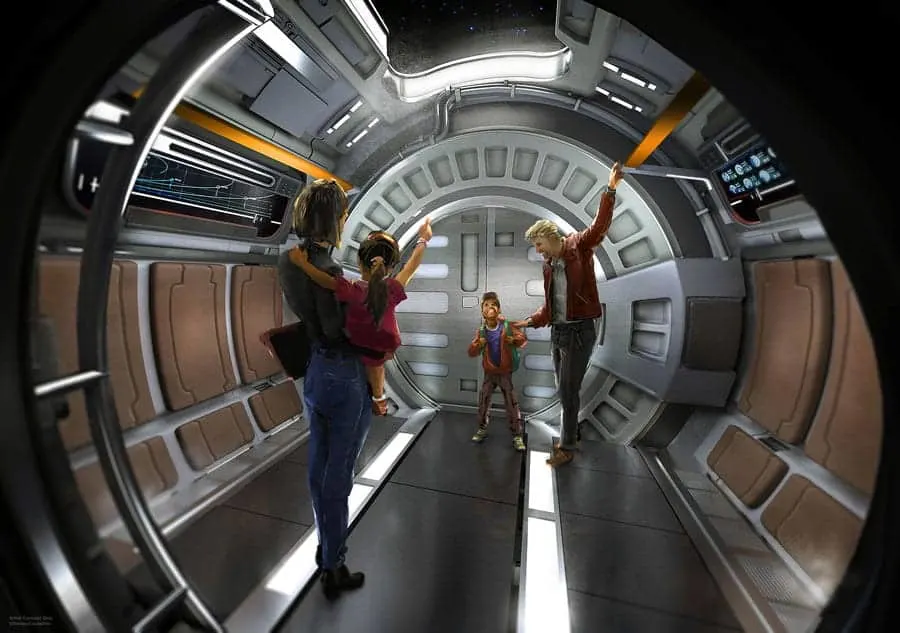 It was pretty close to the concept art, but unfortunately, it was missing the space window on the top of the pod, like the one we saw in the video Disney released a while back showing this sequence arriving on the spaceship:
Instead of the big window in the center of the ceiling, there are 2 long and thin windows above on either side of the elevator that you can look out of. Honestly, it was still cool, but there wasn't that much to see, not nearly as impressive as the space elevator at Space 220.
Main Deck on the Star Wars: Galactic Starcruiser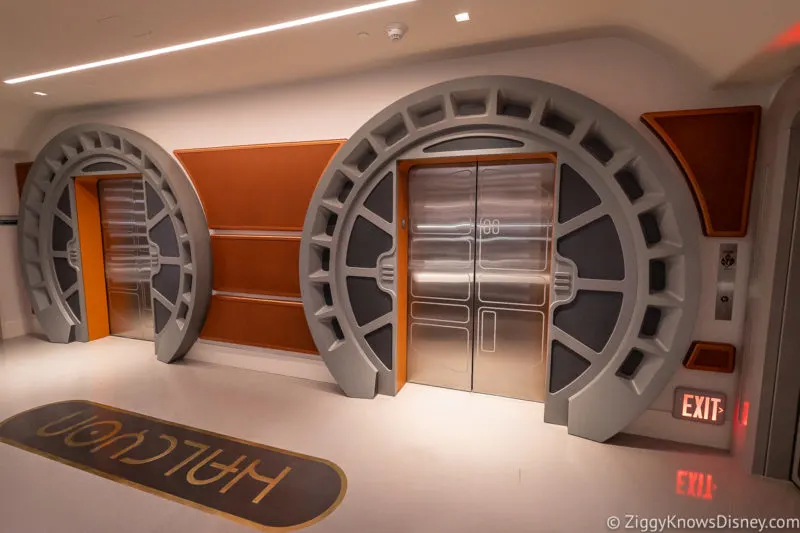 When we stepped out of the elevator, however, our mouths hit the floor. This is the elaborate Main Deck or Atrium, where you will start your galactic vacation experience.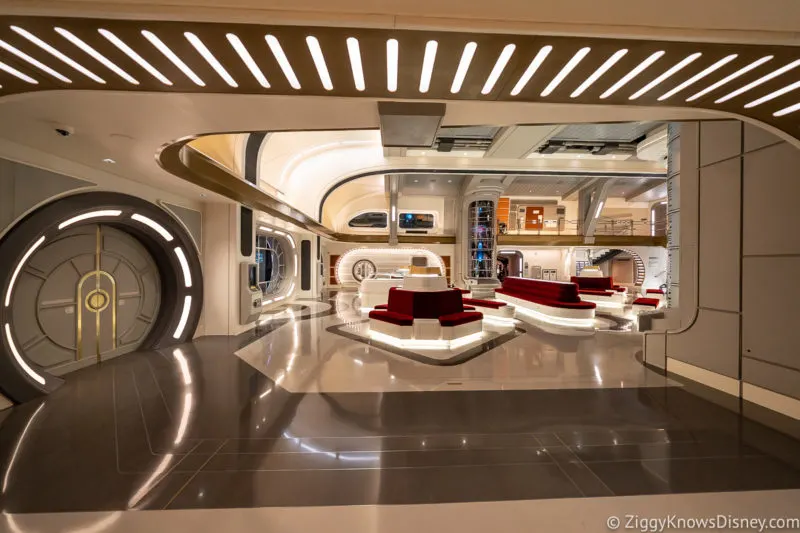 Stepping out into the atrium is one of the coolest moments you will have during your voyage as it really hits you that you are now on board a ship in the Star Wars universe. This is classic Disney Imagineering at its finest and something quite special.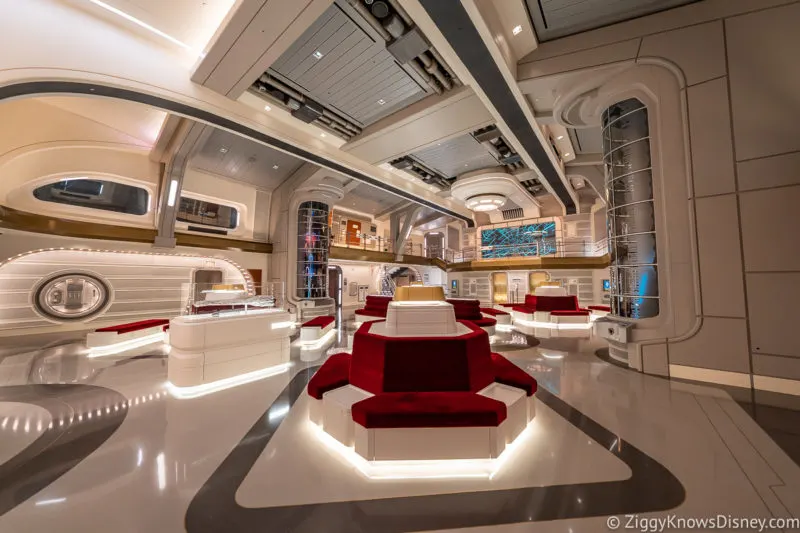 Most of the main events central to the story on the Galactic Starcruiser happen here and it is where you will be spending a good majority of the next 2 days.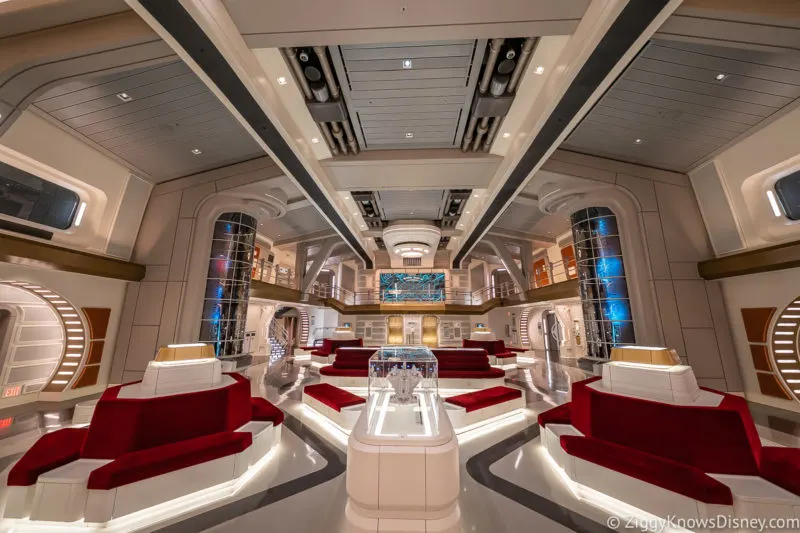 The design of the atrium held true and is almost identical to the concept art Disney originally released.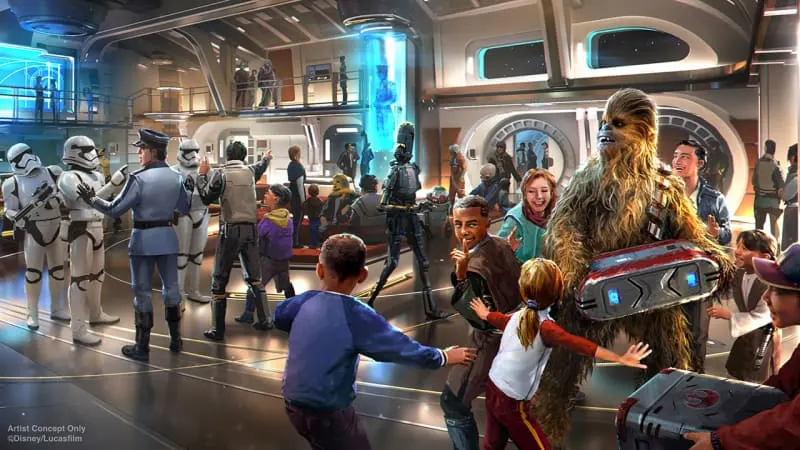 The space is very open and is very bright, with lots of gold accents. It gives off a vibe that you are really on a high-class luxury starcruiser somewhere in the Star Wars universe.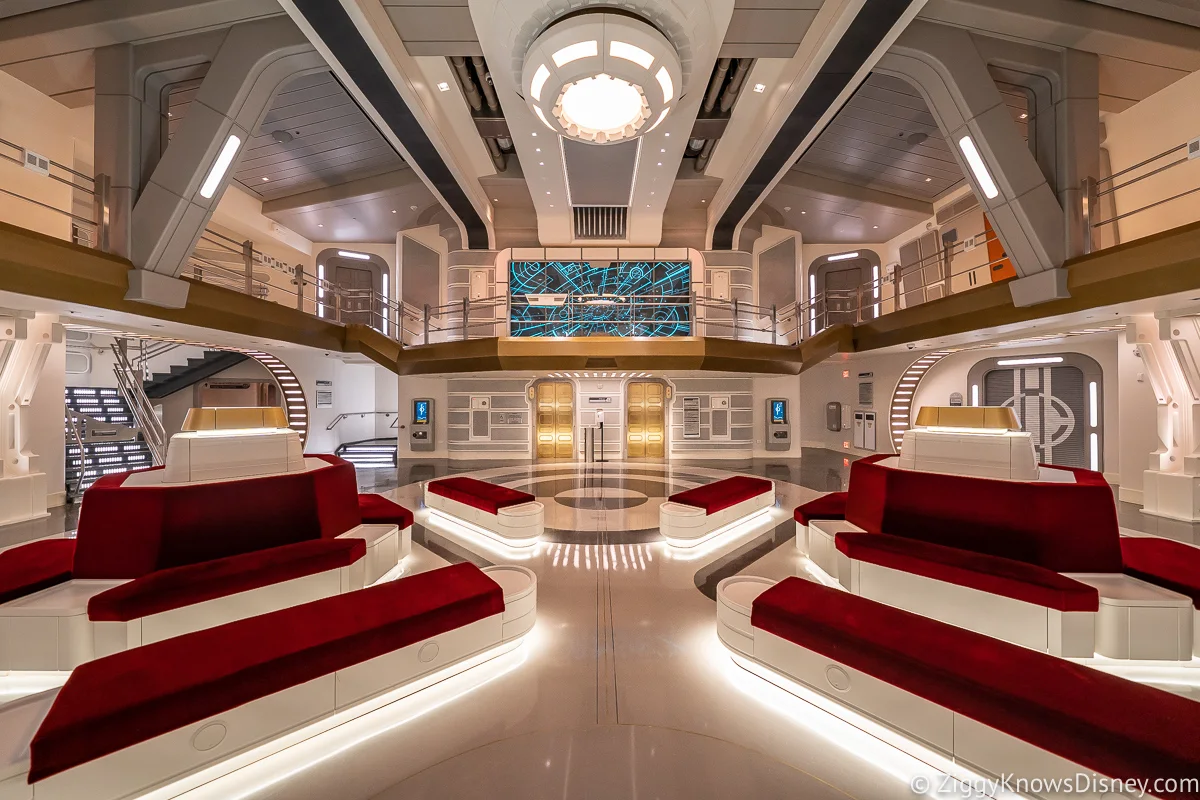 You can tell it was created with social interactions in mind. There are couches and benches scattered throughout the atrium, and the layout also allows guests to mingle easily from one side of the room to the other. It promotes guests to interact with each other a lot (we was evident on our cruise), and also with the characters who spend a whole lot of time in the atrium too.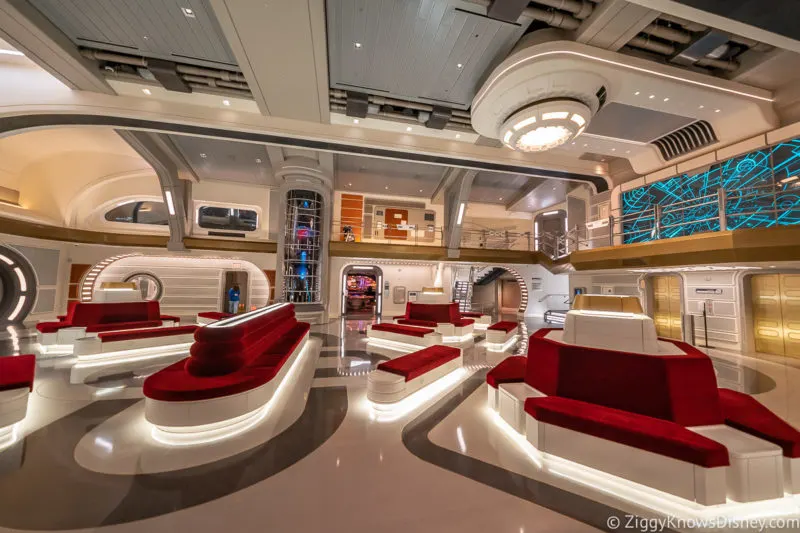 On more than one occasion, stormtroopers came through looking for Resistance spies, and Chewbacca was mingling with the guests, hiding from stormtroopers, and even paraded away at one point in their custody.
Droids and alien species freely roam about the ship interacting with guests too.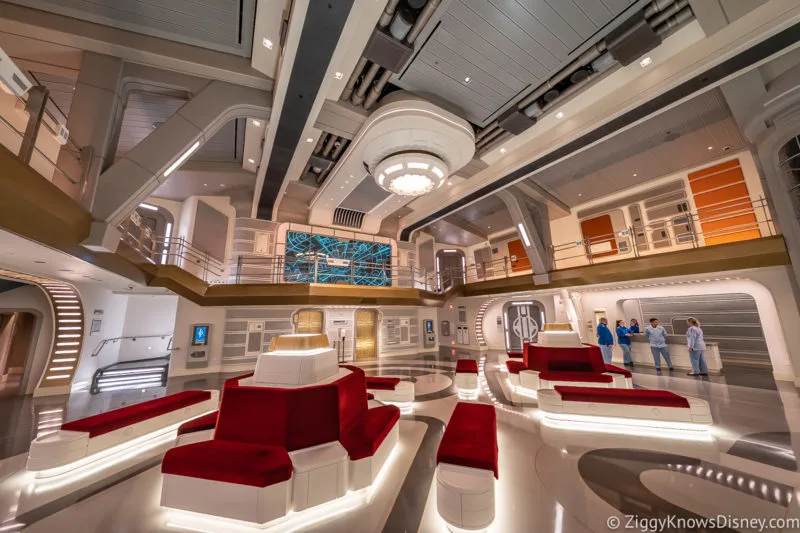 Many of the main storytelling elements are located here in the Atrium. The Bridge is on one end, where you will learn to navigate and defend the Halcyon. The merchandise shop "The Chandrila Collection" is here if you want to bring home a memory from your trip, and the Sublight Lounge is found right off to the side where you can get a drink at any point.
Here is a blueprint of the Atrium: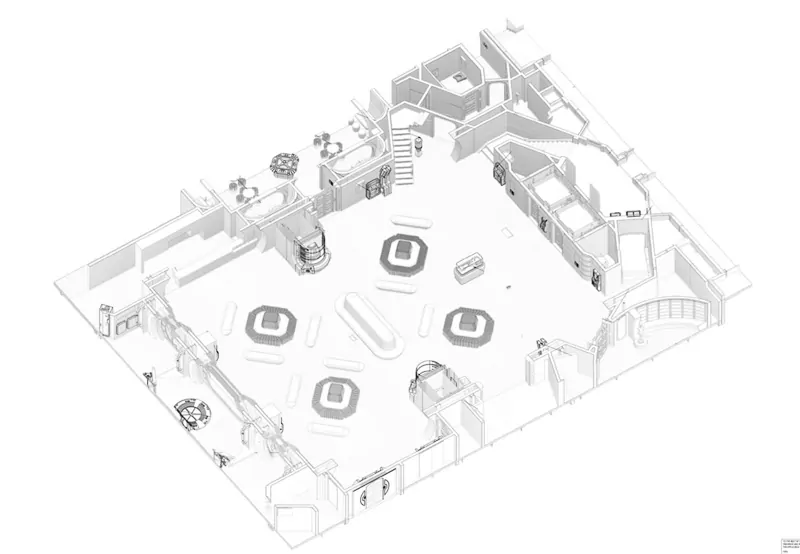 We were completely mesmerized at all the attention to detail that went into designing this area, and this was only a preview of things to come.
Here is a closer look at the couches: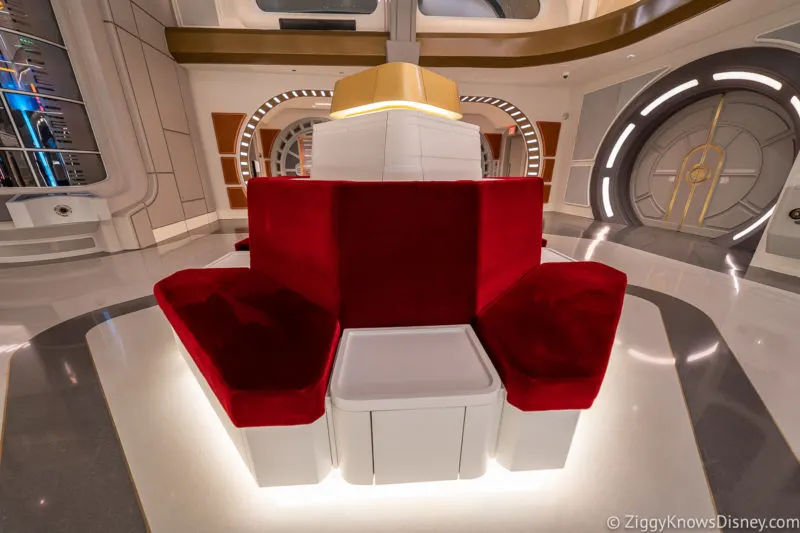 We found them to be elegant, yet functional. They had a velvet feel to them and were pretty comfortable.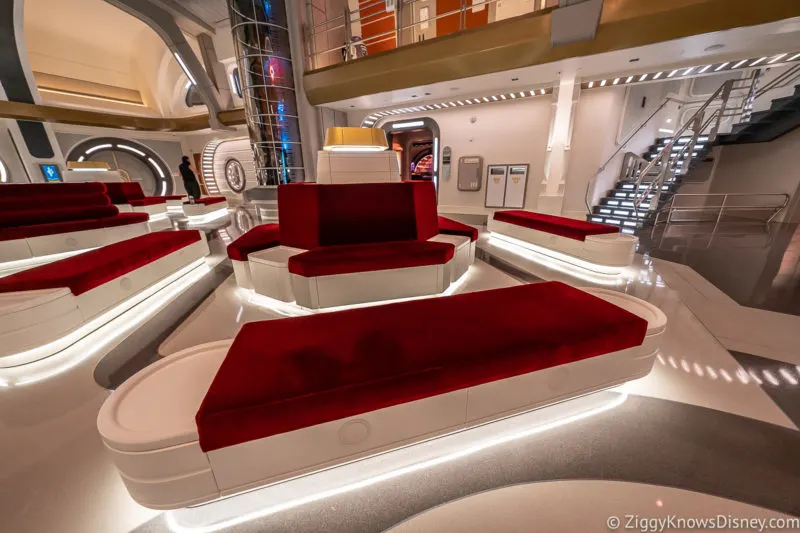 Honestly, we often liked to grab a seat here and watch all the characters interact with the guests, it was an attraction all on its own.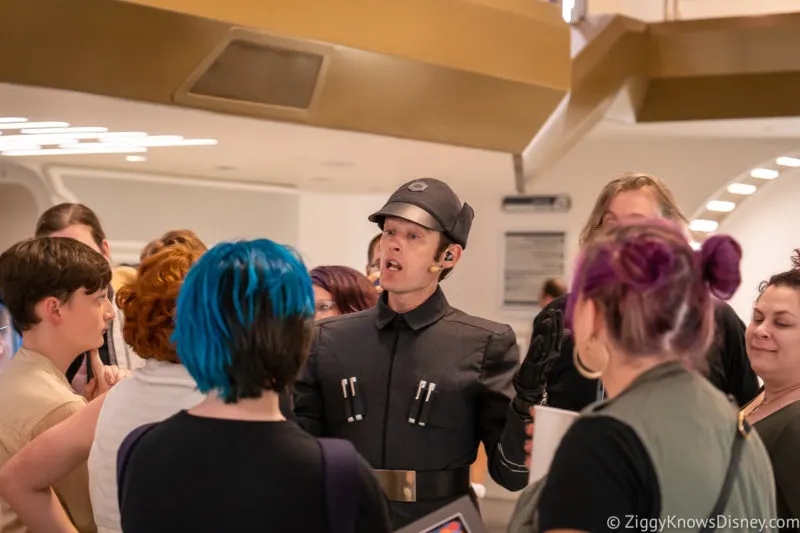 You have to remember that the Galactic Starcruiser is like a big Star Wars play in space that you take part in. Besides conversations with the characters, a huge aspect of the voyage are the many show scenes that take place in the Atrium.
Much of the action takes place up on the 2nd level of the Atrium behind the railing.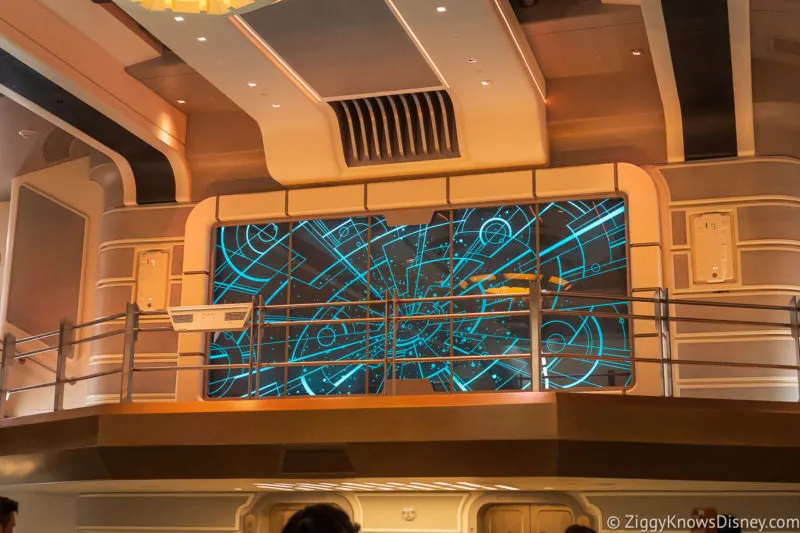 The catwalk extends around each side of the room.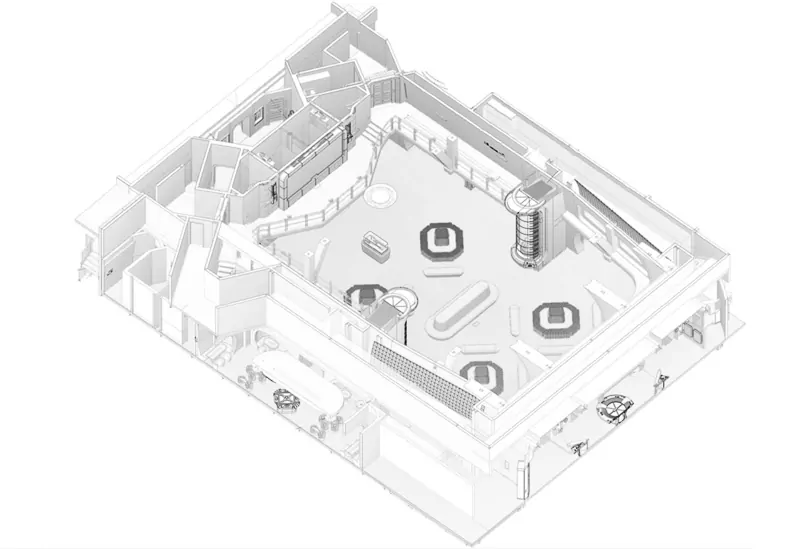 Characters give speeches from here, announce important events, and there is even a dramatic lightsaber battle that takes place here during an attack on the ship. These are perhaps the biggest highlights of the whole trip and are very entertaining to watch.
During the battle, some of the room's elements are interactive including this fixture that falls from the ceiling: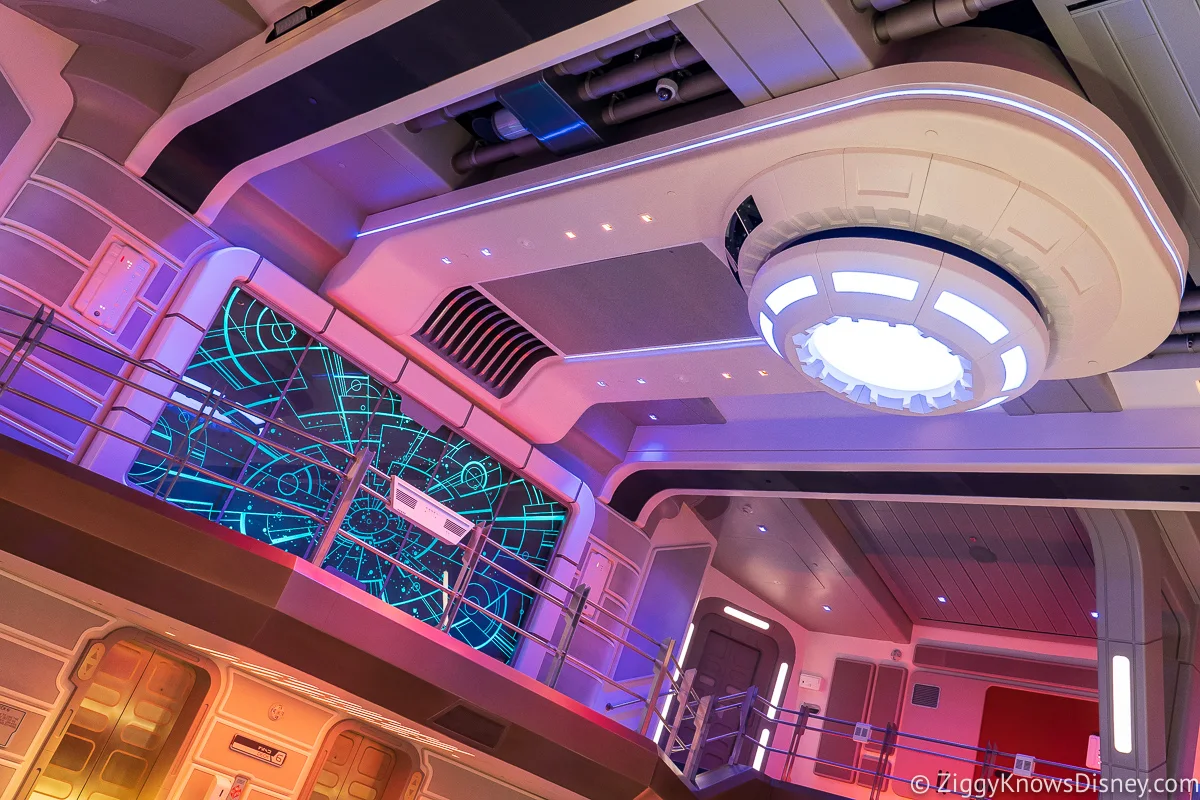 Unfortunately, guests can't go upstairs onto the upper level of the Atrium, trust us, we tried.
Other interesting fixtures are located throughout the lobby, like the hologram tanks on either side. These are used to communicate with Star Wars characters who will be giving you missions and announcements.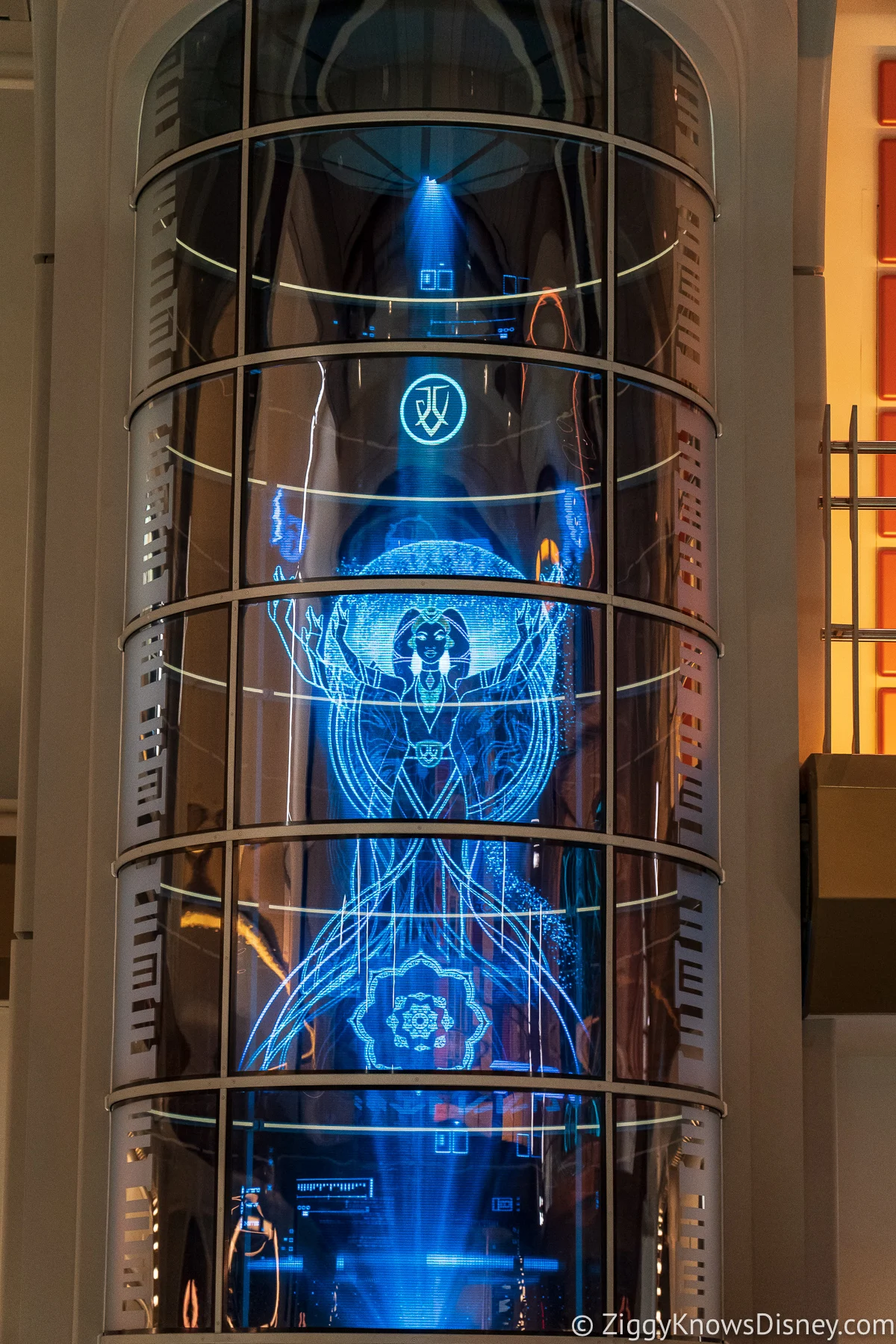 This whole time there are giant windows in the back of the Main Deck looking out into the vast expanse of space, letting you know you're a long way off from your departure!
In fact, there aren't any windows with a view out into the real world from the Star Wars Hotel, but only electronic ones, which again adds to the realism Imagineers were going for in giving you the appearance of being in space.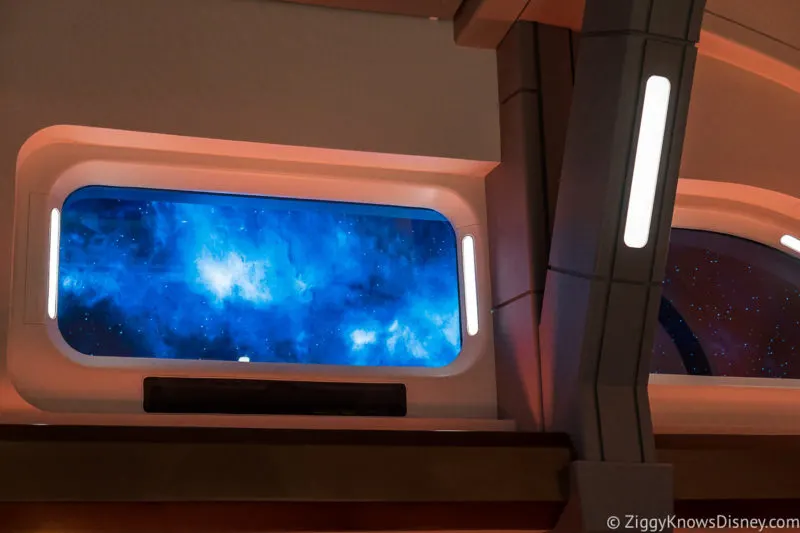 The details here are great too. Sometimes planets or starships will be going by. When the ship goes into Hyperdrive, you can see the effect in these windows. And you can even watch the fireworks show from here at the end of the voyage.
In the back of the Atrium, there is a conveniently located water fountain where you can get a drink at any time during your stay.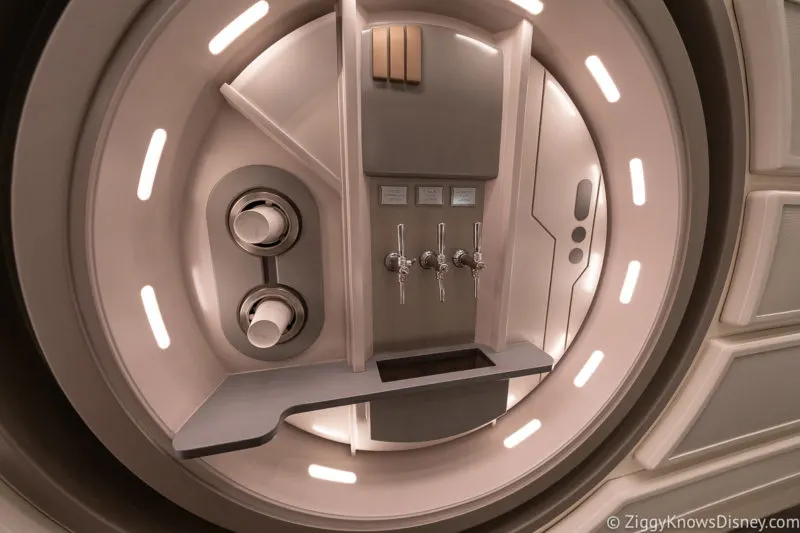 Water choices are Chilled Sparkling, Chilled Flat, or Ambient Flat. Each guest cabin has a large glass water bottle that you can bring here to fill up and bring back to the room which was convenient.
One of the coolest relics you will find on the Halcyon is the Hyperspace Compass.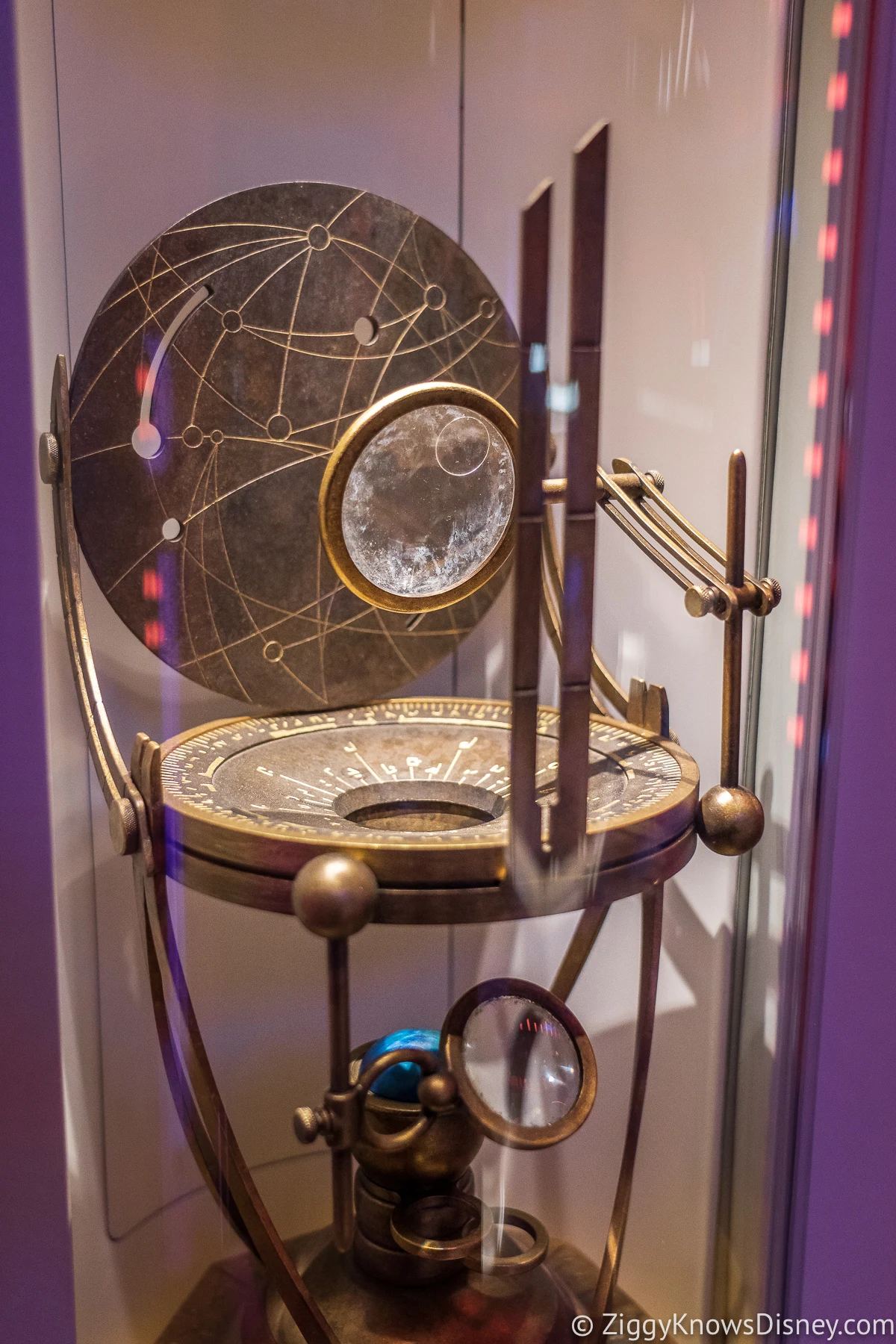 This legacy instrument is how pilots originally navigated the starcruiser through hyperspace and it honors the instrument's original owner, Chandrila Star Line founder Shug Drabor. It was the additions like this we really loved.
Another way to get a better idea of the Halcyon's legacy is to check out the full model of the ship in the glass case in the back.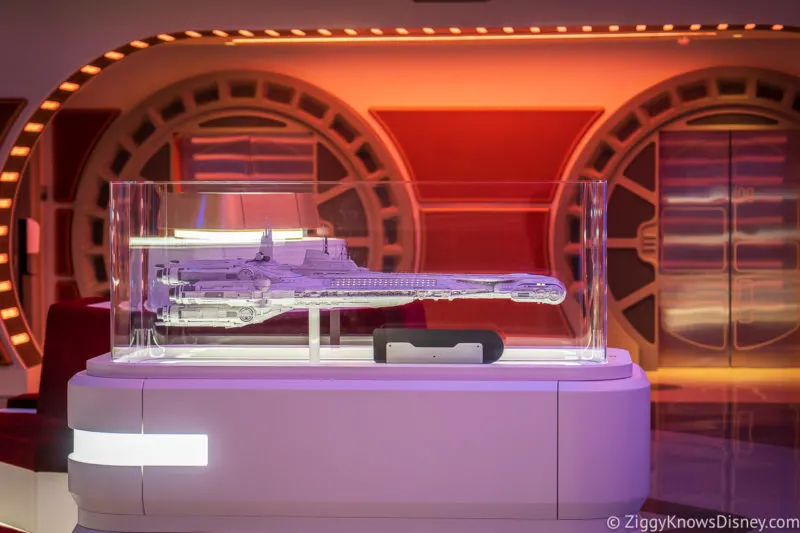 As you can see from the model, there are many more levels to the ship, even though only 3 of them are available to guests.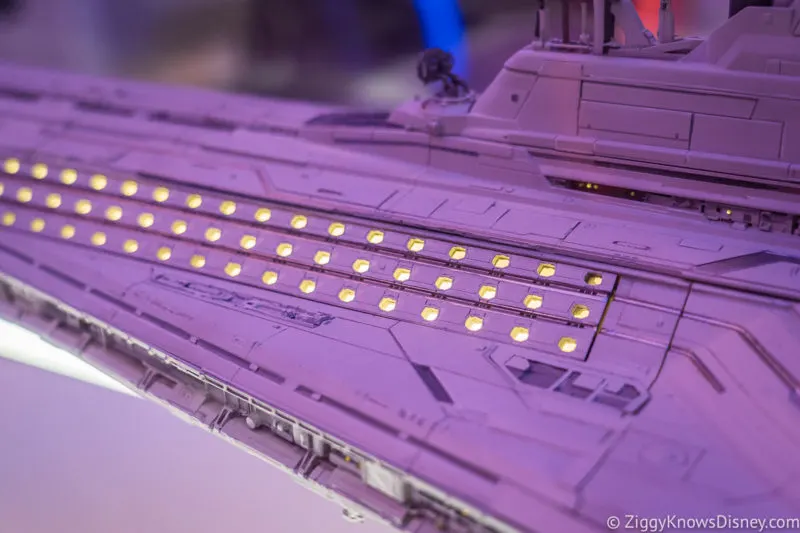 Right behind the ship's model is The Bridge: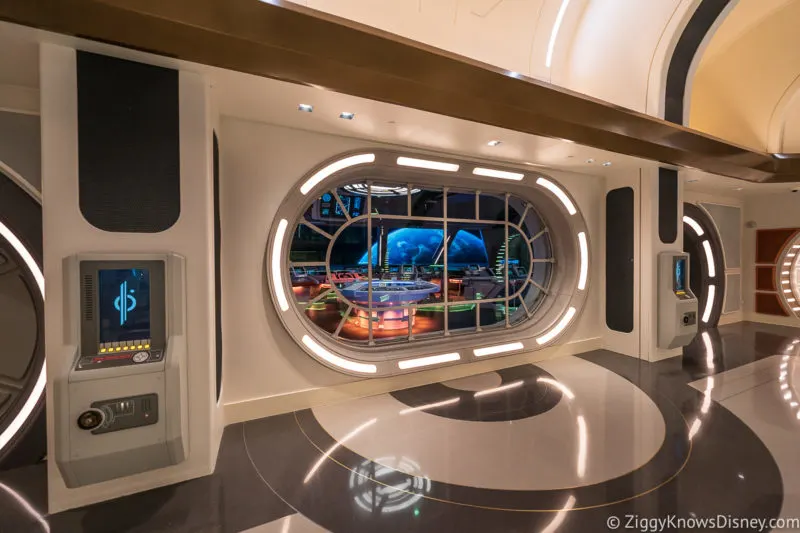 I admit, we criticized this space before we actually visited, but once we step foot inside, we were completely blown away.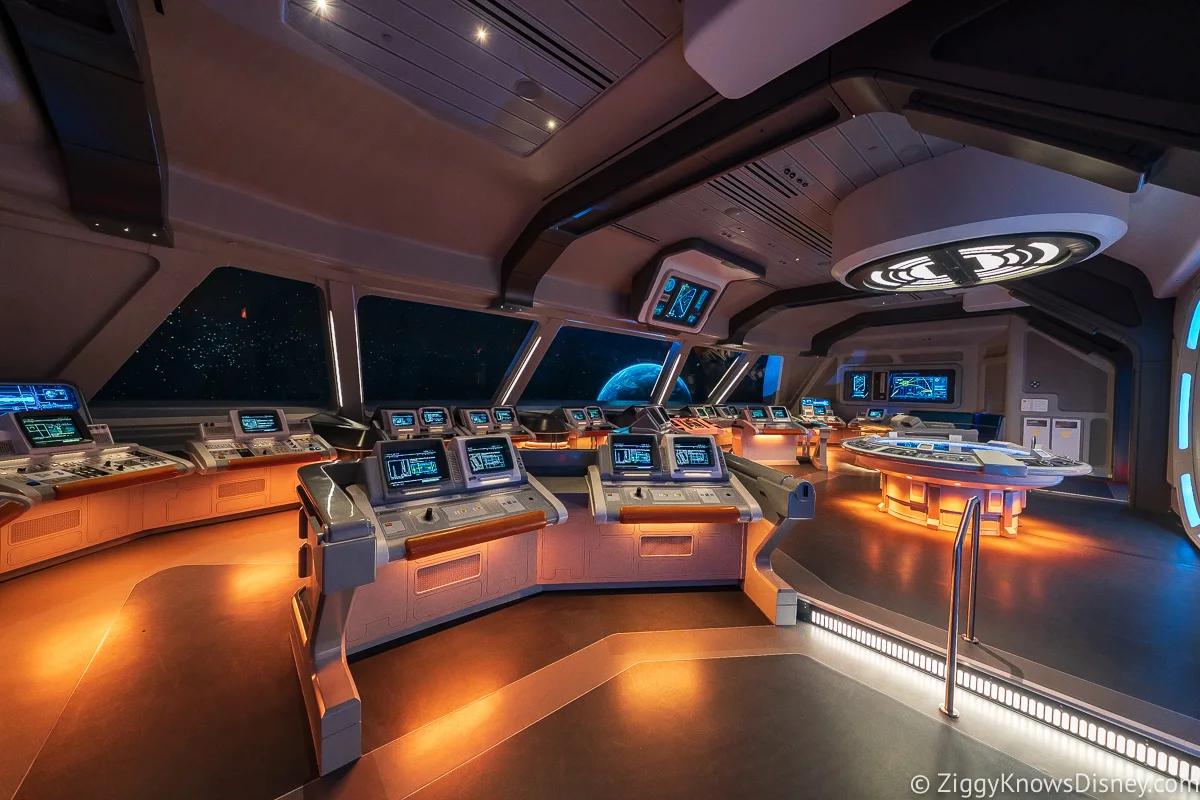 We'll spend more time in here later, for now, let's go visit other levels of the Starcruiser. As we mentioned, there are 3 levels onboard that guests can visit, and to do that you either need to use the stairs or the elevators located at the other end of the Atrium.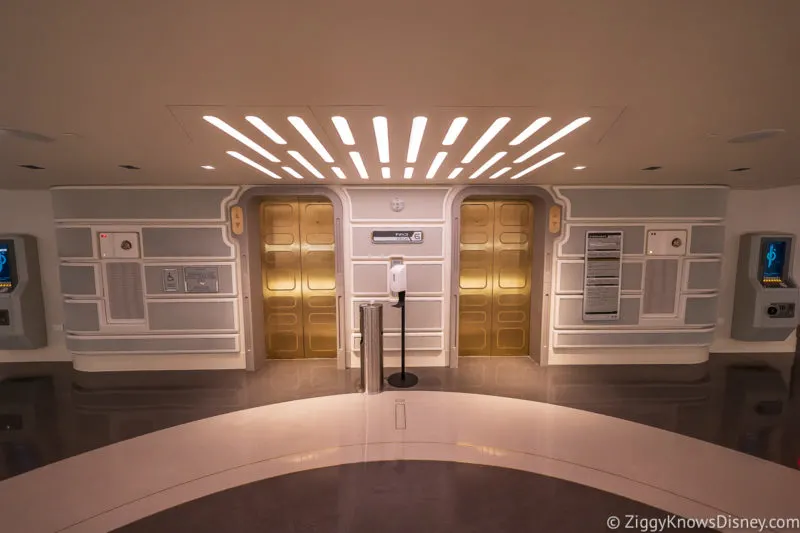 The elevators, like the rest of the Starcruiser, so far were pretty impressive.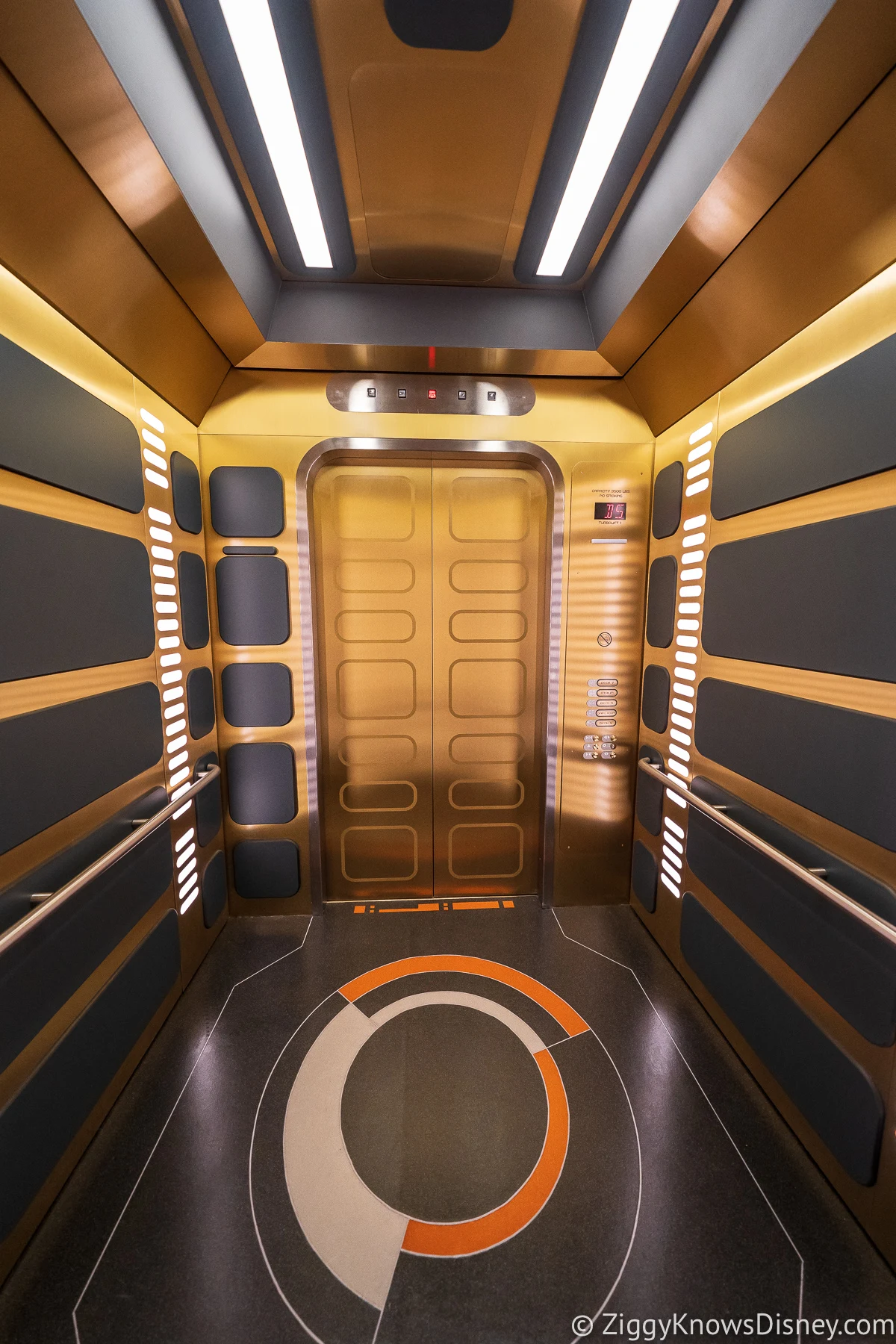 We liked the overall look of them, lots of gold accents everywhere. Plus they were fast, and very rarely full of guests. That's one thing we noticed throughout the trip, guest mobility was very easy. The layout of the hotel was very good and you could get anywhere you needed to go in a minute or less in most cases.
Rooms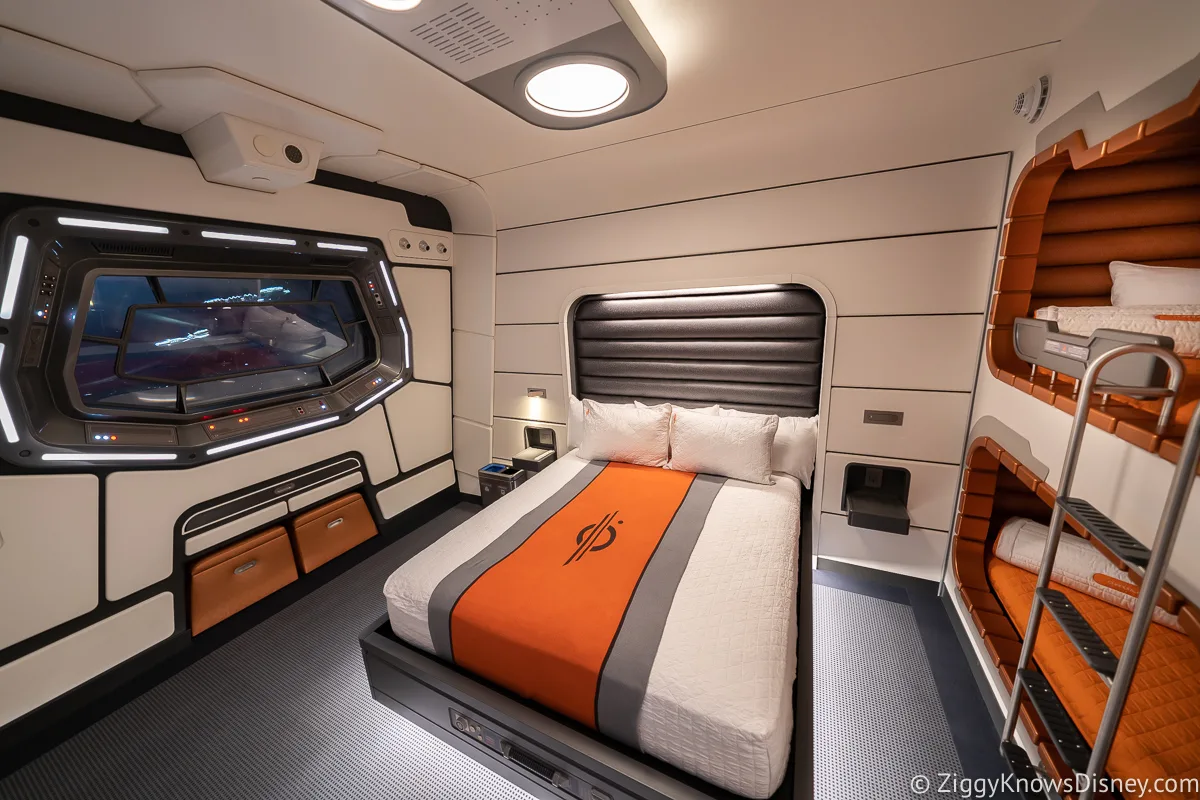 While the idea is to be out experiencing your story in the Star Wars universe, since you'll be sleeping here, the guest rooms are still a big part of the experience.
To get to the guest cabins, head down one of the hallways on Decks, 4, 5, or 7.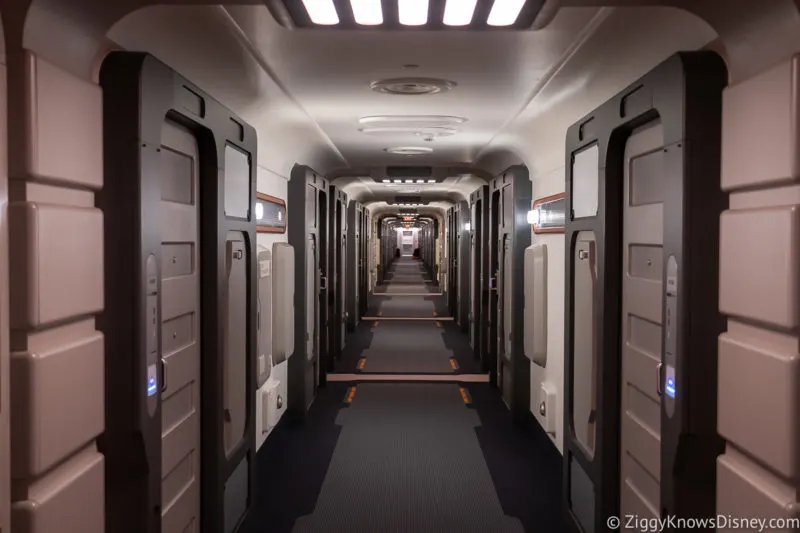 The hallways resemble what you might find on a cruise ship. Each one has 32-34 guest rooms.
Outside the door to the guest cabins, you will find the room number and a keypad to scan your MagicBand.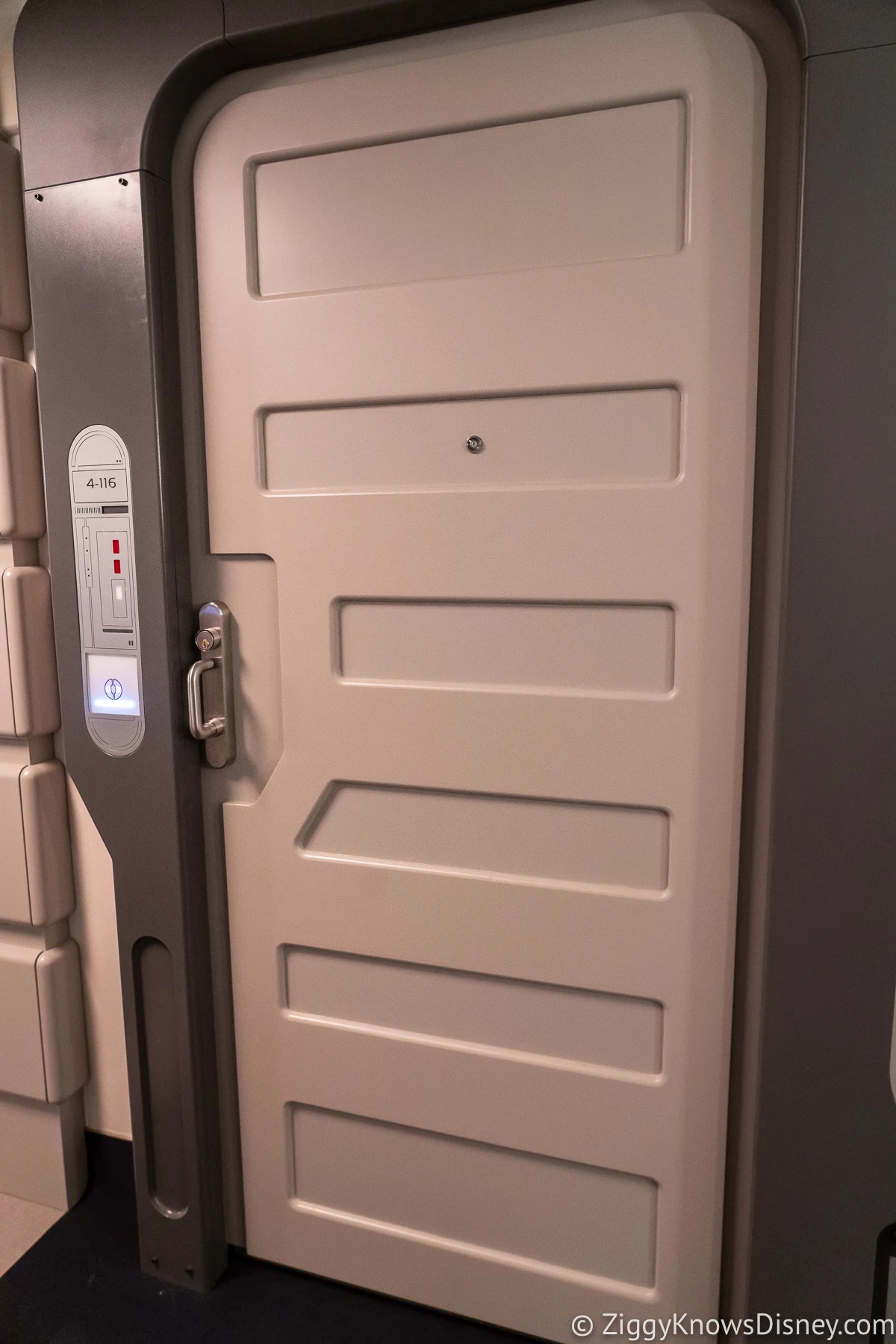 The doors themselves are much heavier than traditional doors and slide open instead of pulling or pushing open.
When you walk in, each cabin has a small entrance hallway with a closet, a mirror, and a bathroom, again, cruise ship-style. The bedroom is straight ahead.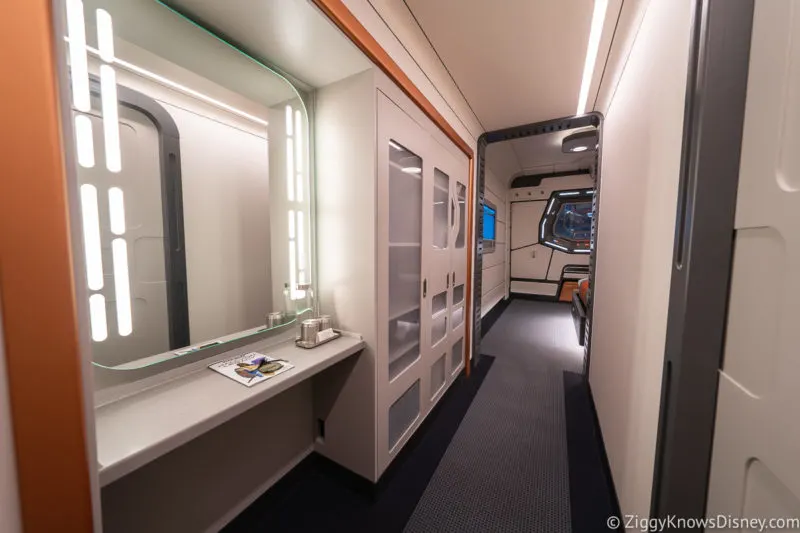 While Disney promotes the fact you are staying on a "luxury starcruiser," the guest cabins are more like what you experience on a cruise ship than a standard hotel room. The space is smaller and more compact like a cruise ship which goes along with the whole experience.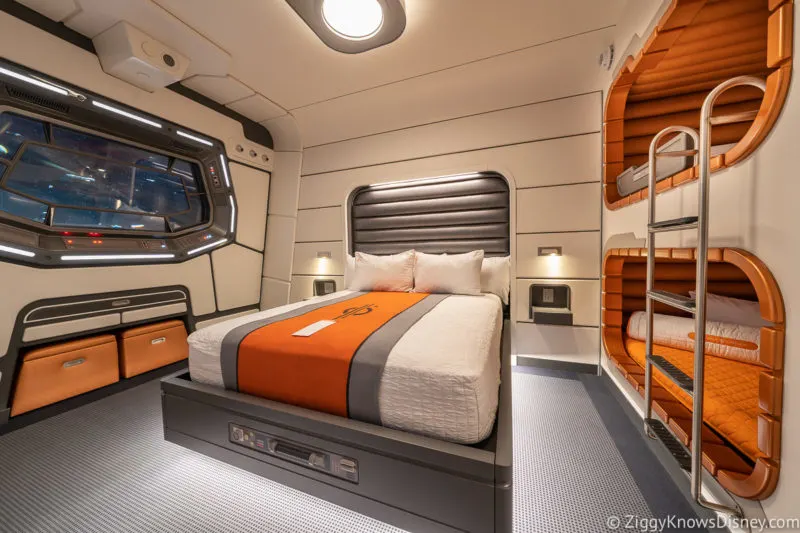 There are three types of rooms available to stay in, a "Standard Cabin", the larger "Galaxy Class Suite", and the biggest of them all, the "Grand Captain's Suite" cabin. We stayed in the Standard Cabin.
The typical guest cabins sleep 4 or 5 guests and have a big bed and two bunks for the kids, and the largest suite can hold as many as 8 guests.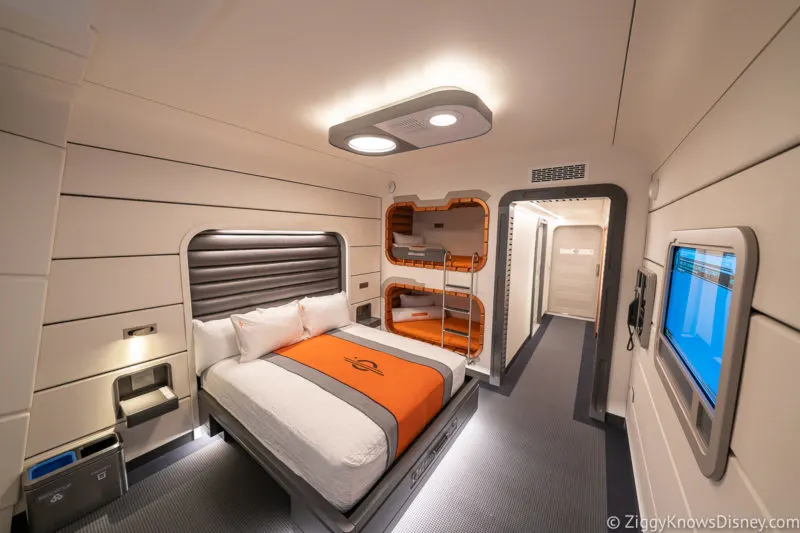 I know a lot of people have been complaining about the size of the guest rooms online, but honestly, it's really not that bad. A standard cabin is approximately 180-200 sq ft, making them the smallest rooms of any Walt Disney World Resort, but when you are actually inside one, it doesn't feel nearly as cramped as you would think.
Yes, the rooms are smaller than what you would find at all other Disney World Resort hotels, but it's more than enough for your stay. During our stay, we were only 2 people and we never felt too crowded or claustrophobic. This may be different for 4 people though.
Keep in mind, the idea at the Galactic Starcruiser is to be out doing missions, not spending relaxing time in your room. So as a place to change our clothes and sleep, it is perfectly fine.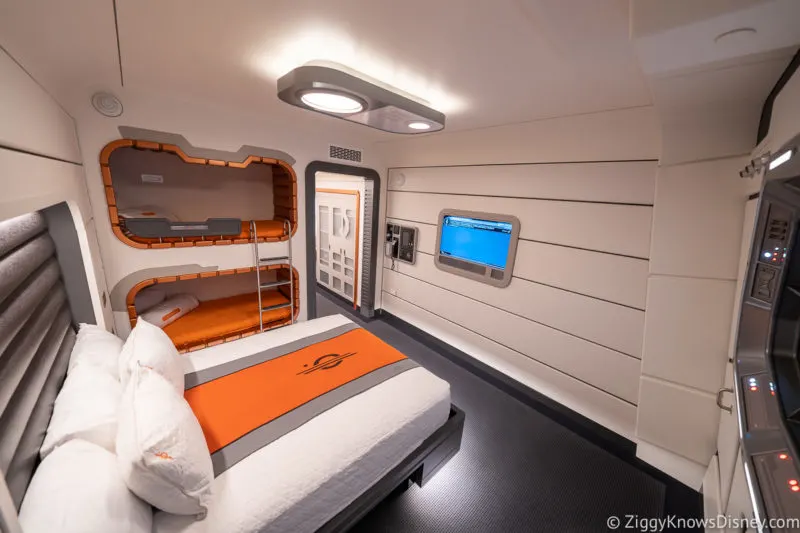 The rooms are very clean and have a distinct "space-feel" to them with white walls, and light panels and buttons everywhere you'd expect to see on a starcruiser. Again, we really liked the look and feel of the rooms and were pleasantly surprised at how well they came out.
Notice the queen-sized bed and the two "space bunk bed pods" on the wall: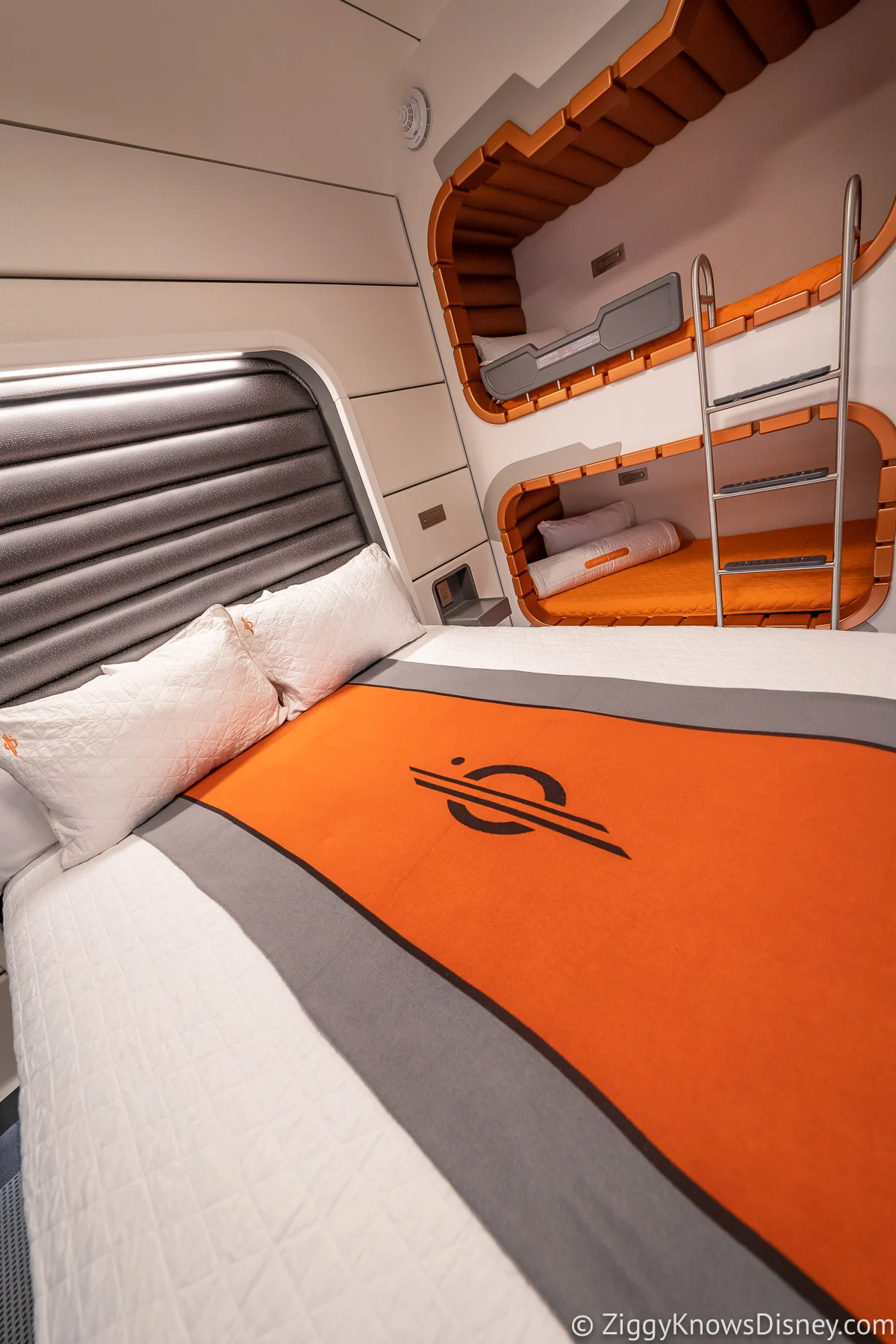 How Big are the Beds?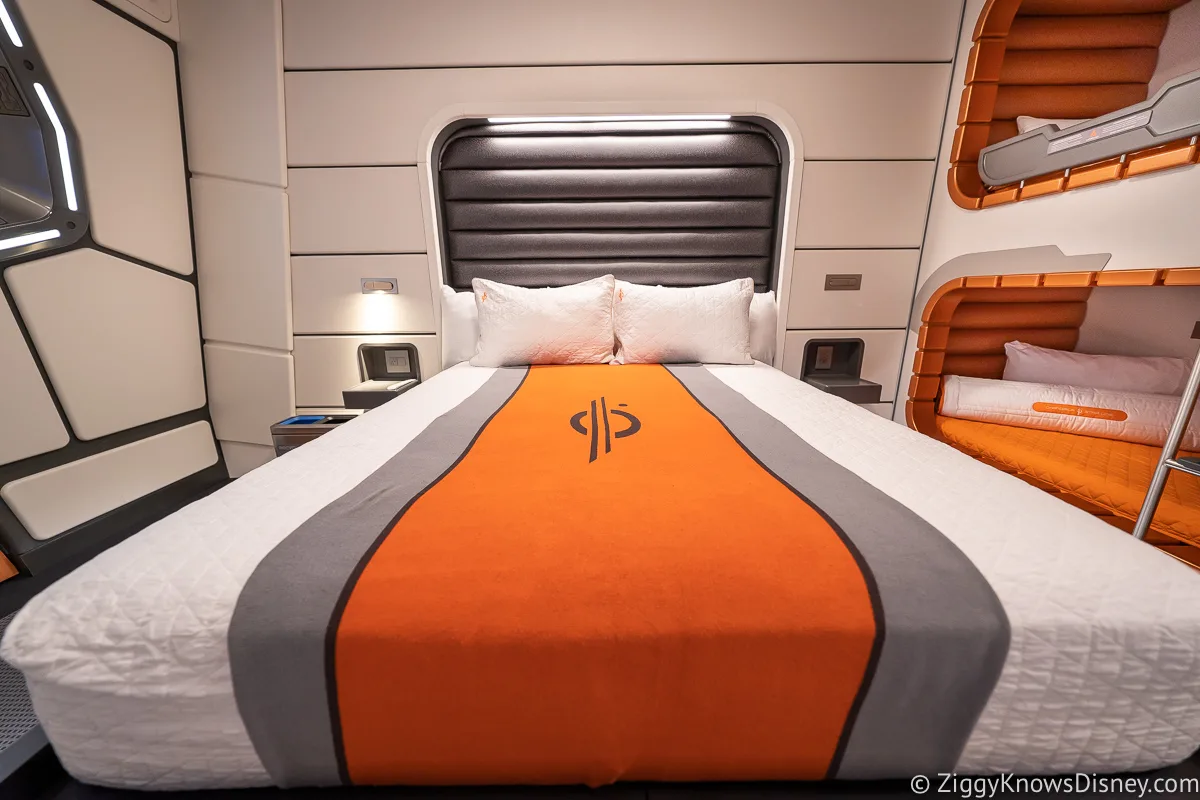 While the beds here are not huge by any means, they are bigger than they look. There are different types of beds depending on the cabin type. These include standard "queen-sized" beds, pull-down adult beds, and sleeping pod bunk beds.
We thought the bed was really comfortable (for the little time we actually spent sleeping during our voyage). There are no king-sized mattresses onboard, the queen-sized one will have to do.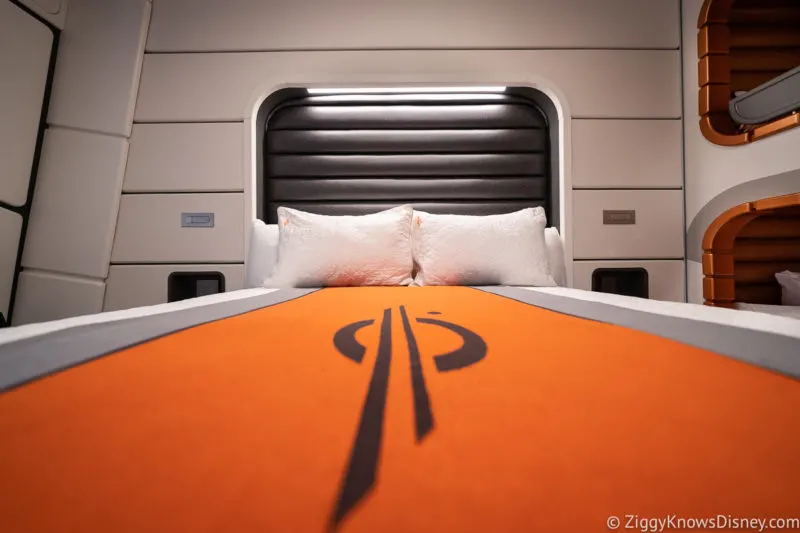 It doesn't look like a lot of covers, but it kept me warm surprisingly. There is that Halcyon logo again on the bed.
Here's a side shot of the details on the bed. Those panels are another added detail, though the buttons are not functional.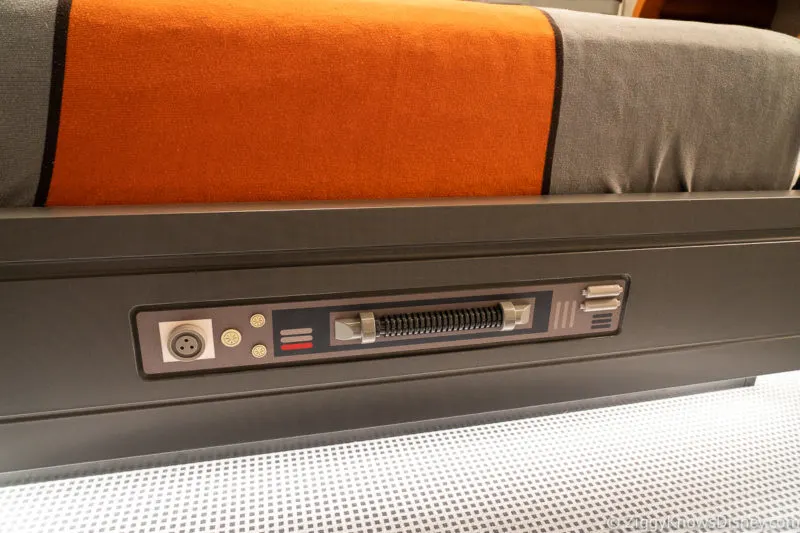 It comes with plenty of pillows to go around, no need to ask for extras.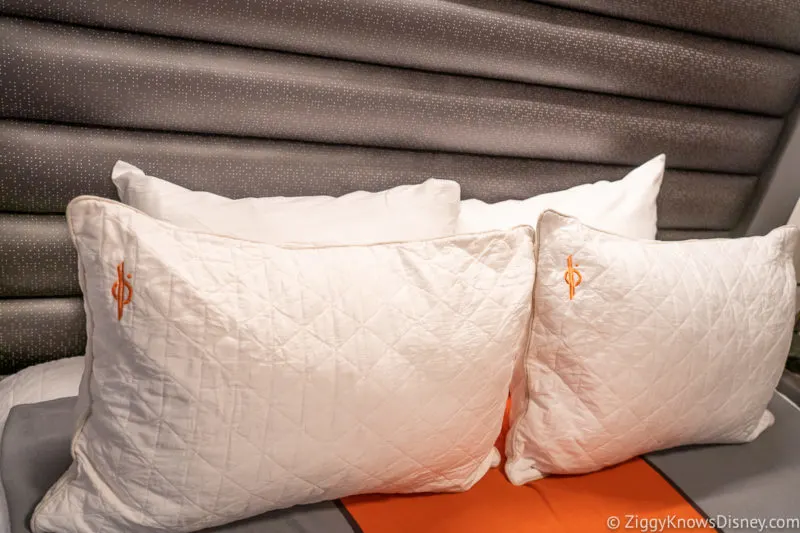 The bunk beds look really small in photos, but they are actually pretty big and can sleep a 6-foot tall adult pretty comfortably, even on the top bunk.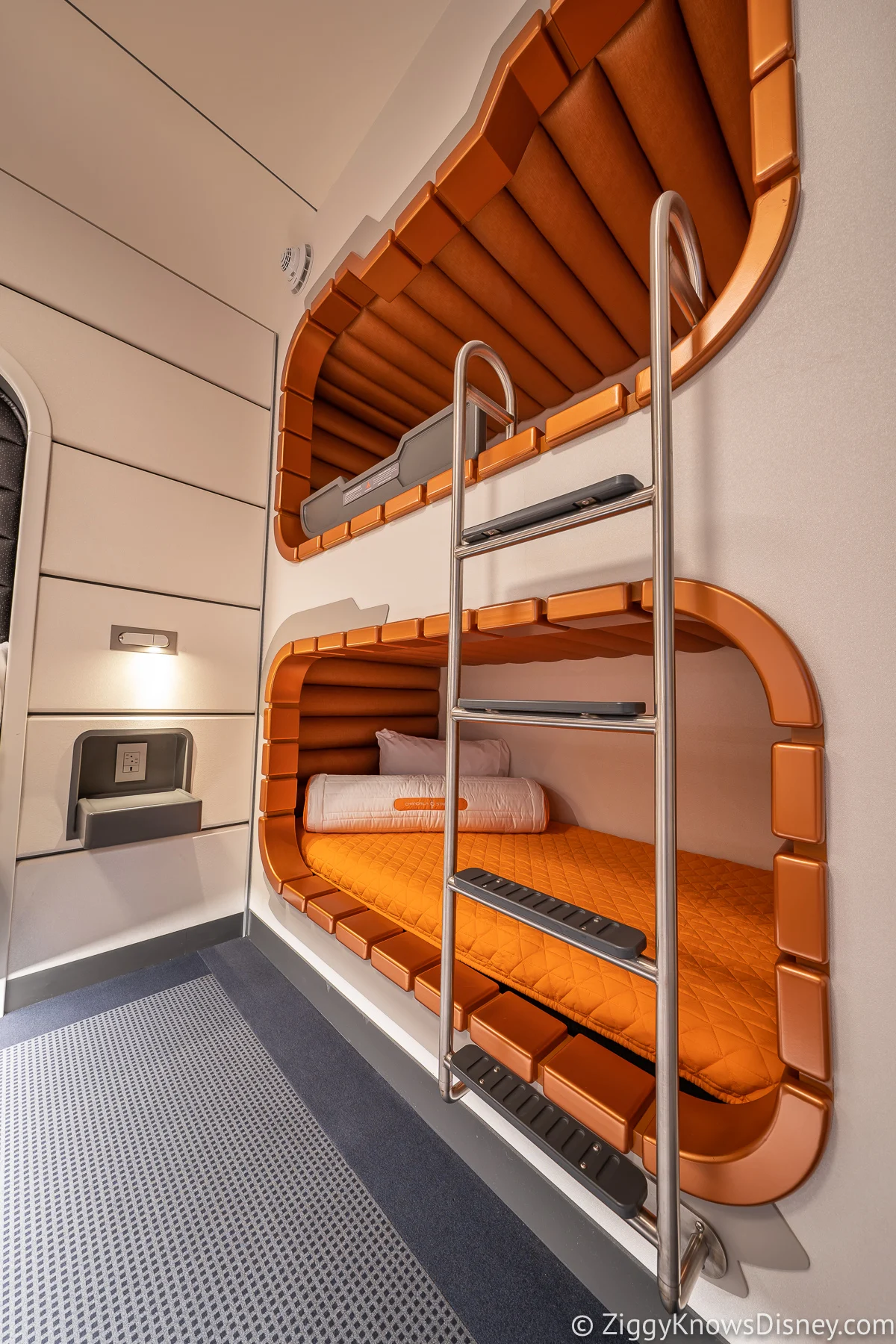 Honestly, even as adults we thought the Star Wars bunk beds were pretty sweet, and we can imagine how much kids just love them.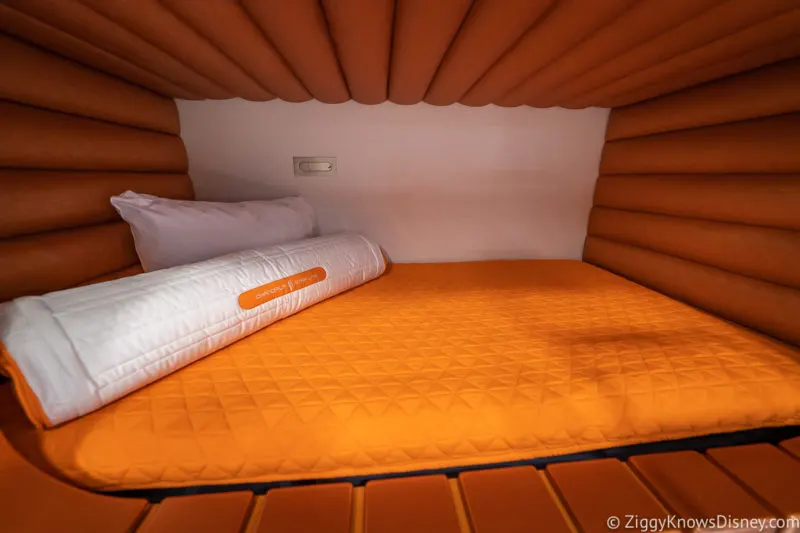 Here is a view of the room from the bunk beds: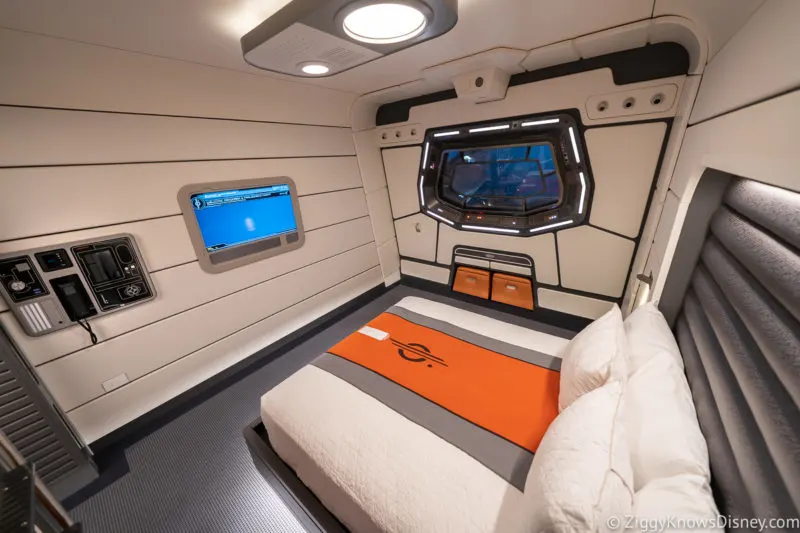 Space Windows
The space windows which are throughout the ship are also in each guest cabin and provide incredible views. In fact, there is a whole world of activity happening right outside.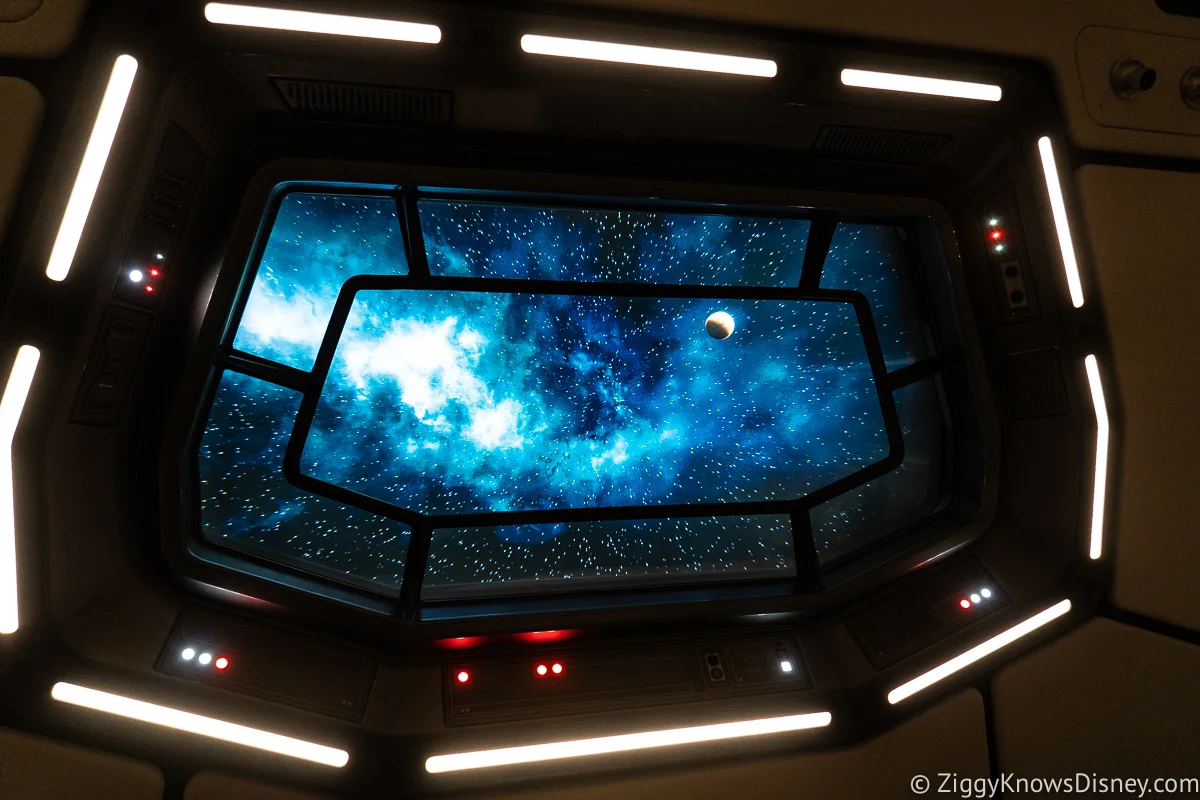 These are by far the most impressive aspect of the cabins and you can see and Imagineers have built a galaxy you can observe such as a passing spaceship or even a planet. They are even more impressive when you turn off the regular lights in the room and you can see the view without the annoying reflection.
Can I Turn Off the Space Windows?
Don't worry, the space windows won't keep you up at night and prevent you from sleeping. Guests can push a button which brings down the blinds and blocks the view during sleeping hours, giving you total darkness.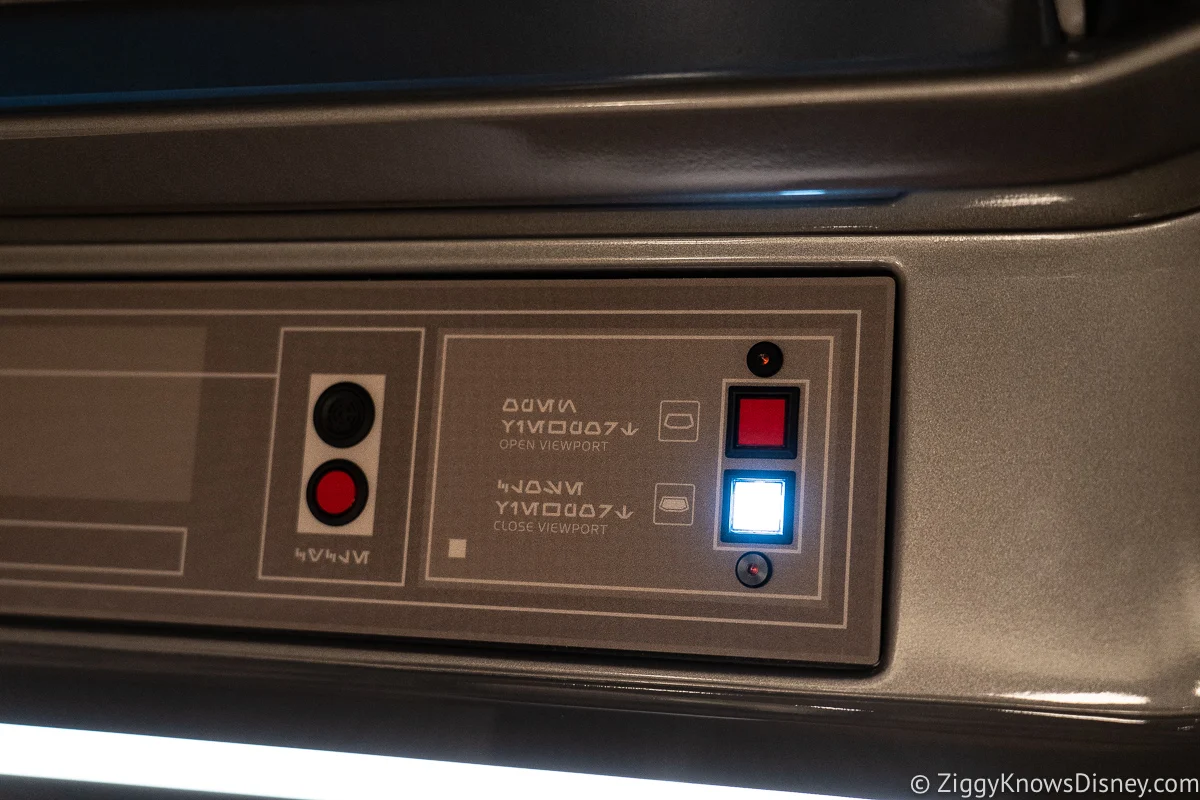 Leaving the window open will cause too much light for most people, but it is a pretty cool feeling to sleep among the stars.
Bathroom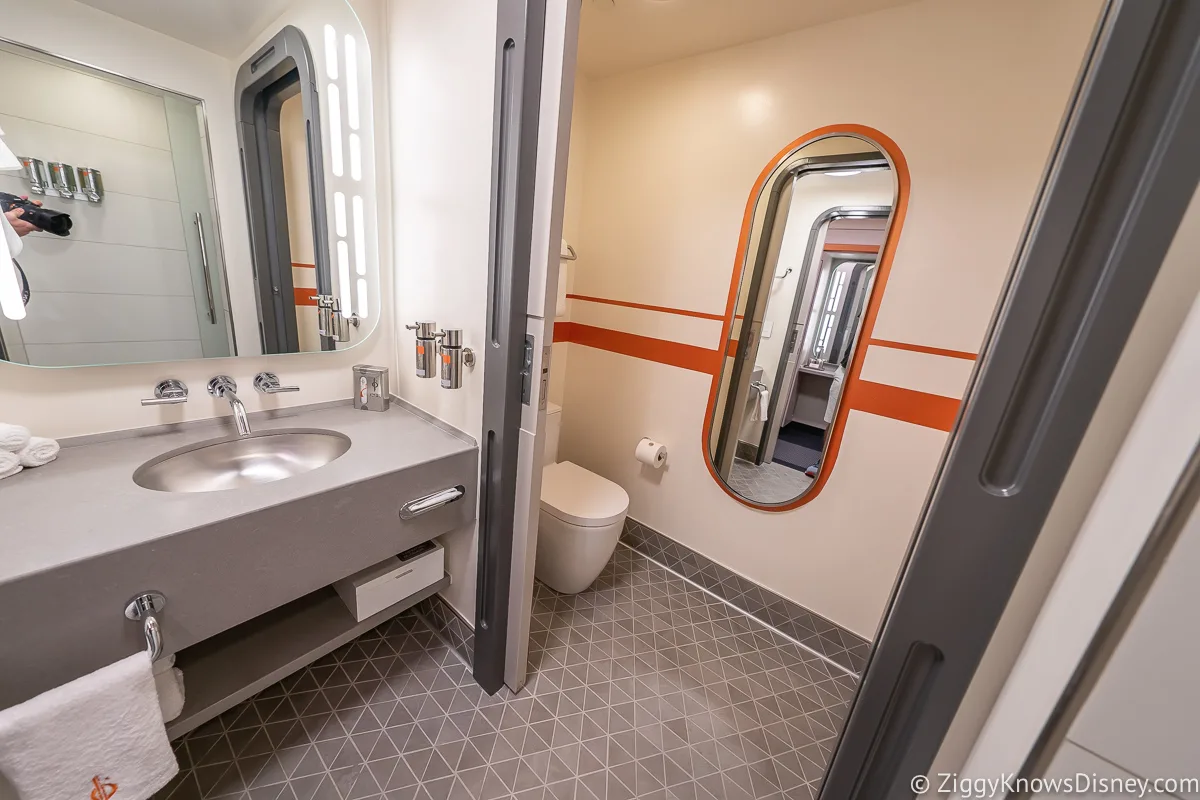 Let's not forget one of the most important parts of the cabin, the bathroom.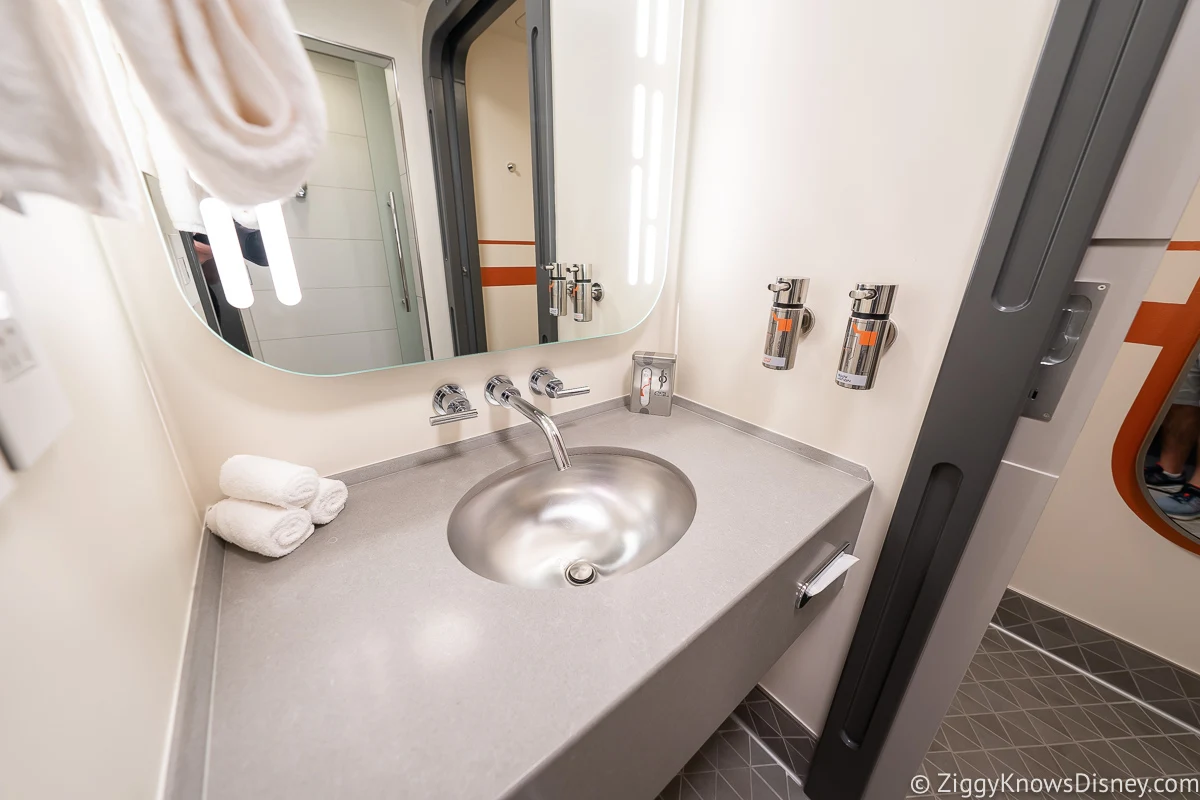 These are very simple and sleek like the rest of the cabin. They are compared to cruise ship bathrooms, but we found them to be much bigger, and the same size as a Moderate Resort.
We loved the shower. It was really big and spacious and had a nice glass sliding door.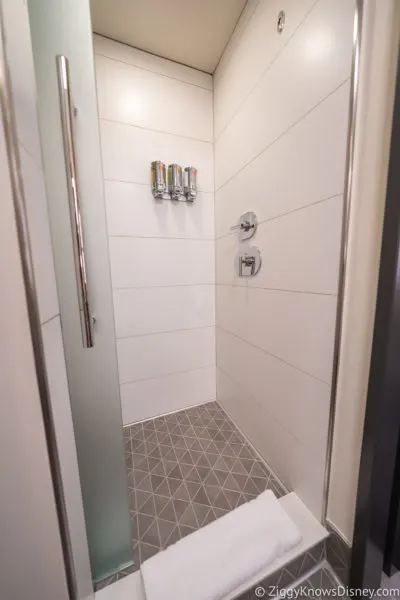 Other Details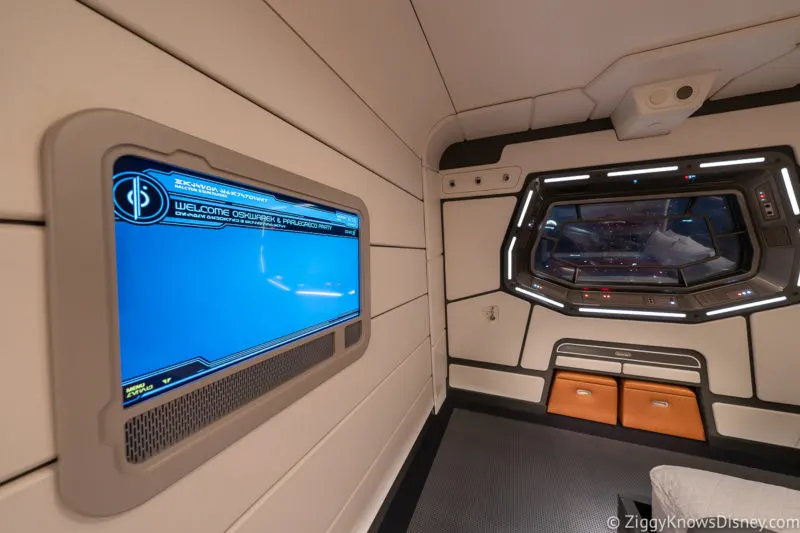 There is a widescreen TV on the wall, but who has time for that? Although, you can watch some of your favorite Star Wars shows like The Mandalorian if you can't sleep.
Another important feature is the telephone/intercom on the wall.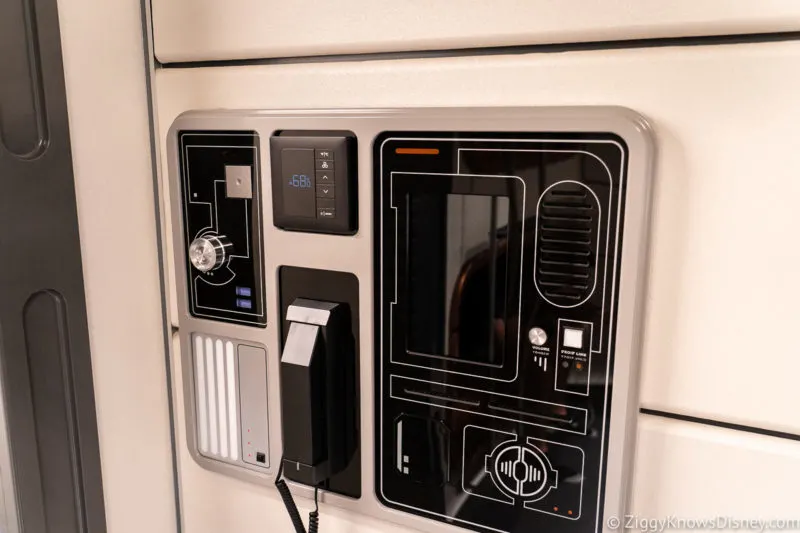 Instead of just being a regular phone, you get messages relating to missions and the overall events happening on the starcruiser. Video communications are handled by D3-O9 who asks as the host of your voyage. Communicating with a droid was pretty smooth, and there is even a scary event that happens later on, so check your messages.
The only negative we can see so far is that the standard rooms aren't connecting, in order to accommodate bigger parties. If you really want to be together you will need to book one of the Grand Captain's Suites.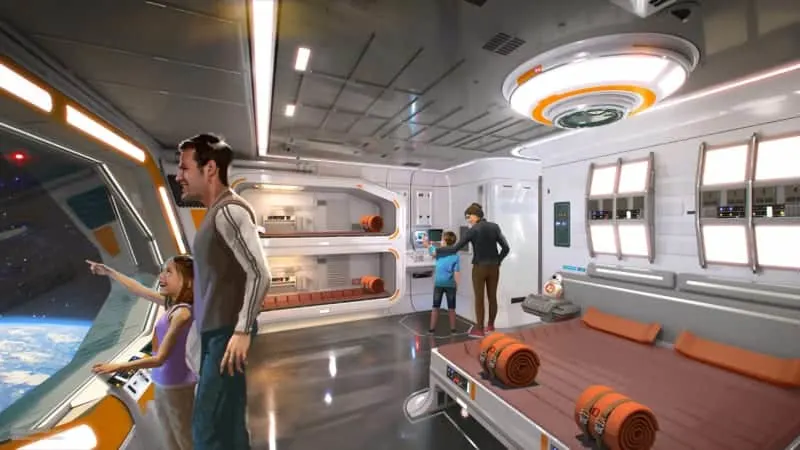 Is there a Coffee Pot in the Room?
No there is not. While there is no coffee pot in the rooms, you can get coffee each morning at the Crown of Corellia Dining Room or in the Sublight Lounge. There is a mini-fridge though if you want to keep something cool.
If you want to see even more details in the guest cabins, read our Full Tour of the Star Wars: Galactic Starcruiser Rooms.
The rooms got a solid review from us and are definitely a highlight. But what else can you do in the Star Wars Hotel?
Itinerary
What exactly are you going to be doing for 2 days and 2 nights on the Galactic Starcruiser? Here is an example of the full itinerary: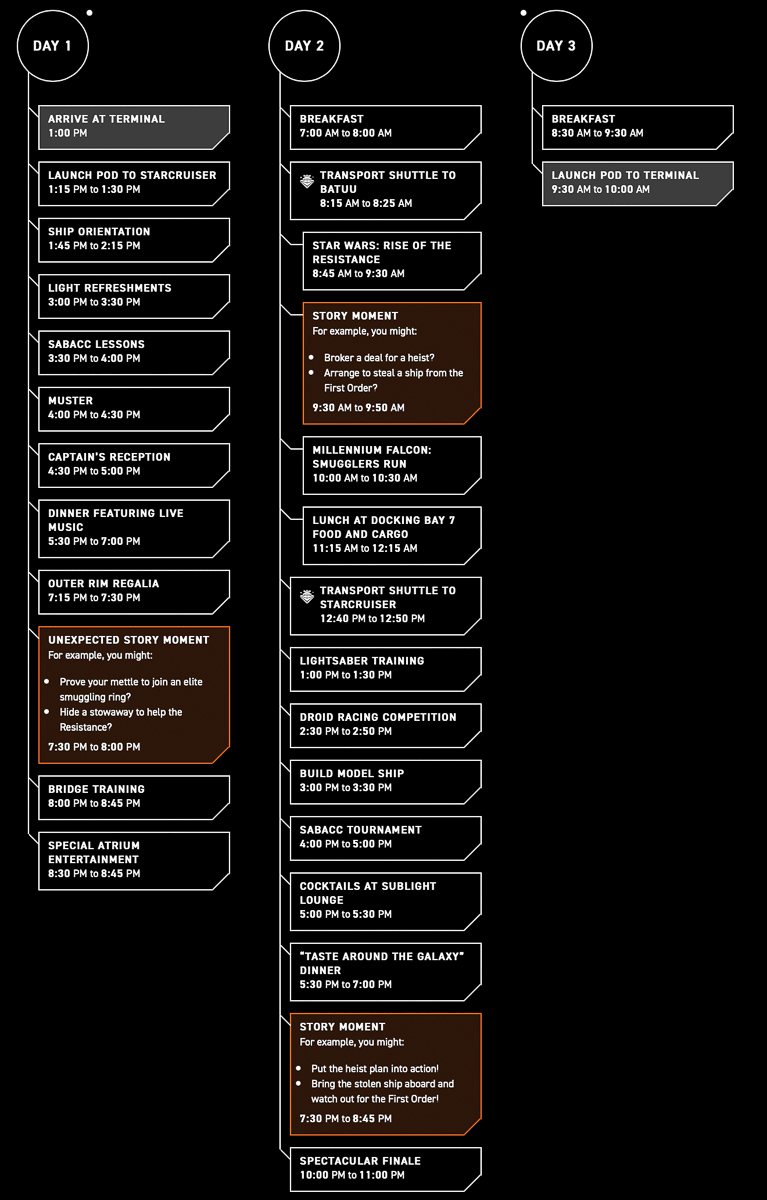 Day 1
1:00 pm – 4:00 pm: Lunch Buffet
1:30 pm – 9:30 pm: Sabacc Lessons
1:30 pm – 3:30 pm: Exploring the Starcruiser
2:00 pm – 3:45 pm: Datapad Orientation
3:00 pm – 3:30 pm: Galactic Social
3:00 pm – 3:30 pm: Ship Muster
3:30 pm – 4:00 pm: Captain's Reception
4:45 pm – 5:15 pm: Bridge Ops Training
6:00 pm – 6:30 pm: Lightsaber Training Pod
6:30 pm – 7:00 pm: Sabacc Lessons
7:00 pm – 7:30 pm: Outer Rim Regalia
7:30 pm – 7:45 pm: Ryloth Dance Lessons
8:00 pm – 8:30 pm: Sector Set
8:00 pm – 9:30 pm: Dinner Service 1 – An Evening with Gaya
9:45 pm – 10:00 pm: CSL Entertainment
Day 2
7:00 am – 10:00 am: Grab-and-Go Breakfast
7:00 am – 10:00 am: Breakfast Buffet
8:15 am – 8:40 pm: Batuu Transport
11:00 am – 4:00 pm: Lunch Buffet
11:00 am – 12:00 pm: Galactic Trivia
12:30 pm – 1:00 pm: Cantina Chronicles
12:45 pm – 1:00 pm: Droid Racing Tournament Sign Up
1:00 pm – 1:30 pm: Droid Racing Tournament
1:00 pm – 1:30 pm: Model Ship Building
2:15 pm – 2:30 pm: Sabacc Tournament Sign Up
2:30 pm – 3:30 pm: Sabacc Tournament
2:45 pm – 3:00 pm: Loth-Cat Crew: Porg Detection Drill
3:30 pm – 4:00 pm: Know Your Co-Pilot
4:15 pm – 4:30 pm: Know Your Co-Pilot Winners Announcement
8:00 pm – 9:30 pm: Dinner Service 2 – Taste Around the Galaxy
9:30 pm – 9:45 pm: A Halcyon Starcruiser Celebration
10:00 pm – 11:00 pm: Sweets & Treats
Day 3
6:00 am – 9:45 am: Disembarkation
7:00 am – 10:00 am: Grab-and-go Breakfast
7:00 am – 10:00 am: Breakfast Buffet
For the most part, guests have total freedom and can choose to participate or not in these activities or not. The only event that is mandatory is the "Ship Muster" on the first day where important instructions are given that are essential to the voyage.
Keep in mind that guest itineraries vary greatly from group to group and even individual people within your group. You will mostly have the same schedule as the people in your cabin, but depending on your choices later on, you could have different times for some experiences.
You can also freely roam the hotel, even do it all night long if you want, though there won't be much to see as most areas outside the Atrium are closed.
On most activities, you must stick to the scheduled times and can't go longer. Even if you like the lightsaber training, you can't stay longer because it is scheduled so all guests can experience everything.
Arrival Bag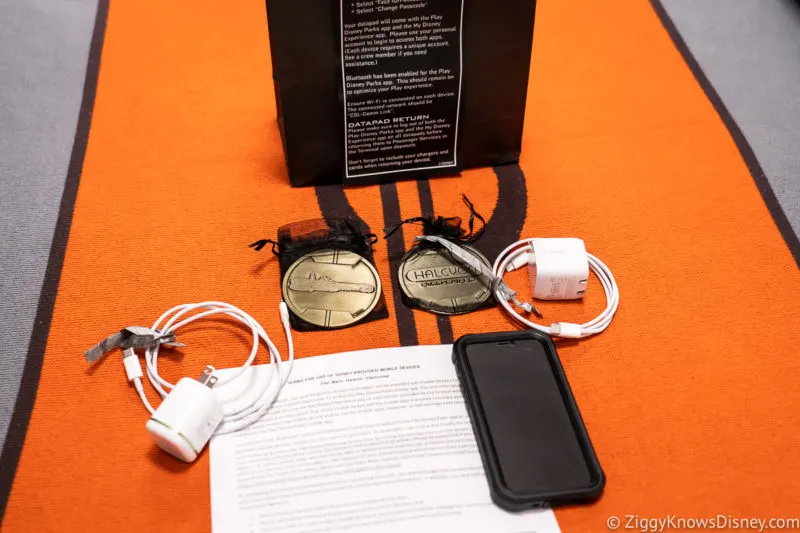 Upon arrival to the Galactic Starcruiser, each group is given a welcome bag with a Star Wars Datapad (iPhones) and charging cables. These phones have been wiped and only have the Play Disney Parks app on them.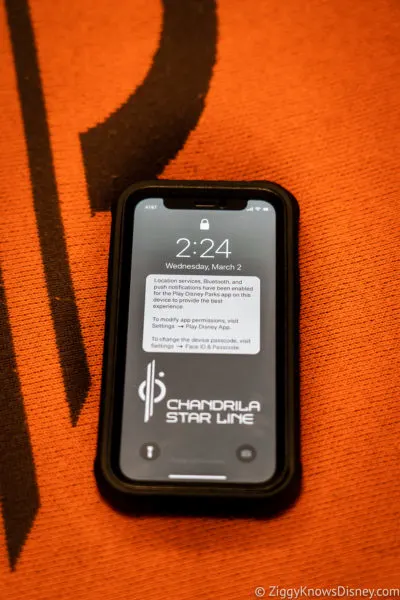 Use the My Disney Experience App and Datapad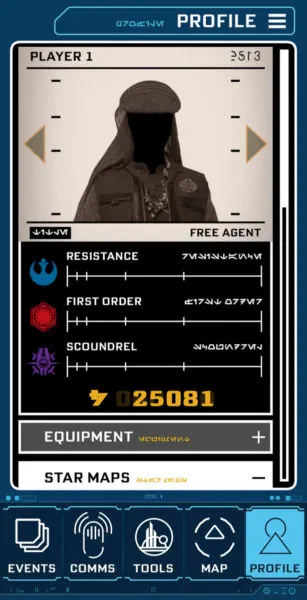 The Star Wars: Datapad is an important part of navigating your way through the experience and you will use it throughout your adventure.
In order to access your itinerary and fully experience everything the Galactic Starcruiser has to offer, you need to use the My Disney Experience app and the Play Disney Parks app on the Star Wars Datapad mobile device.
My Disney Experience is used to:
Link your Star Wars: Galactic Starcruiser reservation to your Disney account. (This may have been done for you when you made your reservation.)
Use Online Check-In service to expedite boarding at the Star Wars: Galactic Starcruiser Terminal.
View your reservation and any additional plans at the Walt Disney World Resort if your visit will extend beyond your Star Wars: Galactic Starcruiser experience.
Order food and beverages while on your planet excursion to Star Wars: Galaxy's Edge.
Play Disney Parks app is used to:
Access your Galactic Starcruiser itinerary throughout your voyage.
View details of all the experiences and activities.
View communications from the crew and characters including personalized missions and secret adventures.
View the map of the Galactic Starcruiser.
Interact with elements of the hotel (translate, hack, scan, etc).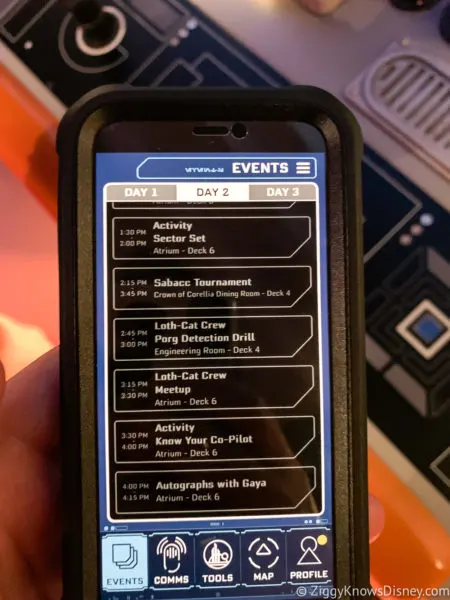 TIP: Disney recommends only using this official Star Wars Datapad to check your itinerary and missions as using the Play Disney Parks app on your own personal device can cause glitches in the app. Things will go much more smoothly if you don't use your own personal mobile device on interactive elements of the voyage and to complete missions.
Missions
One of the best parts about the Galactic Starcruiser are the interactive missions you can take part in. This is what brings the level of immersion to another level as your choices affect the story you see on the Halcyon.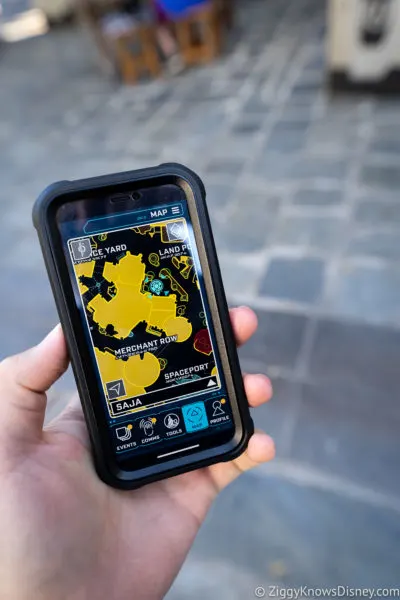 Remember the fabled reputation system that Disney promises for Galaxy's Edge but that never was integrated into the land? That was put in play on the Galactic Starcruiser and it is what controls the interactions you have onboard.
Throughout your stay, you will receive messages from characters on the starcruiser about things going on. How you respond to those messages will determine if you are for the Resistance, the First Order, or somewhere in between. These messages are found in the "Comms" section of your Datapad.
When you board the ship, Lenka Mok will give you your first opportunity to declare your allegiance. You can choose to answer from the following responses:
I admire the goals of freedom and hope of the old Rebel Alliance
I appreciate the structure and order of the Galactic Empire
I don't take sides. My allegiance can be swayed…for a price.
I practice patience in such matters. The Force guides me.
I'm not sure yet…
Depending on which answer you choose, it will set in motion communications from other characters who will then try to contact you to complete missions for them. As your journey continues, you can choose to complete those missions or refuse. Your future interactions with other characters are determined by what you choose to do.
Important: Make sure to keep checking the "Events" tab in your Datapad for new events on your itinerary as they will be added from time to time when you complete missions.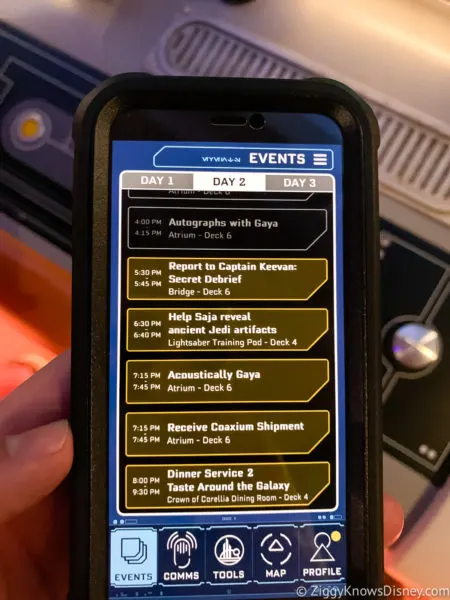 One of the ways you get assigned missions is through the many data terminals located on the Galactic Starcruiser. These terminals help you access different areas of the ship, some of which need to be unlocked first by completing missions.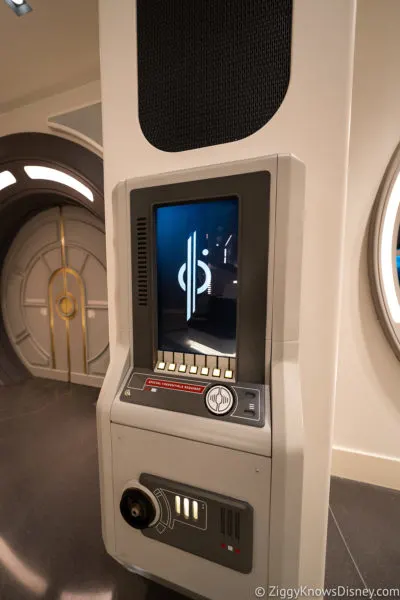 To access the terminals, scan your MagicBand on the front.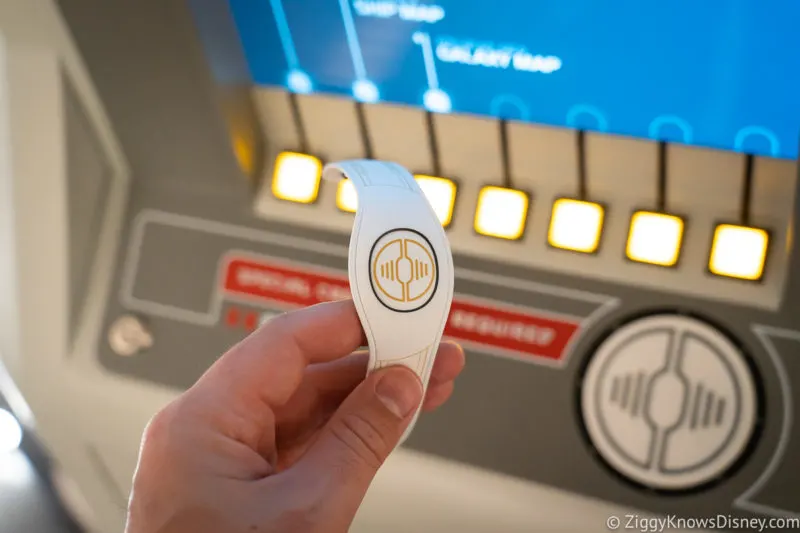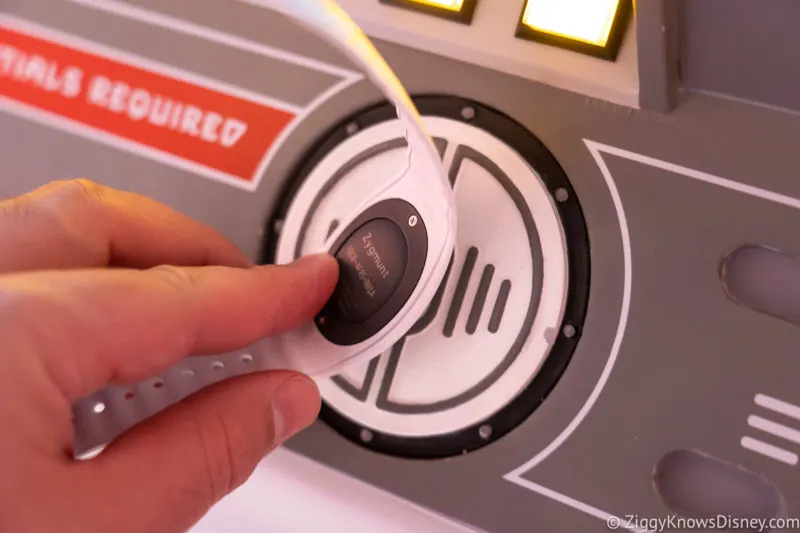 The terminal is connected to your name and reservation, so once you are inside you can communicate with characters who will add missions to your itinerary.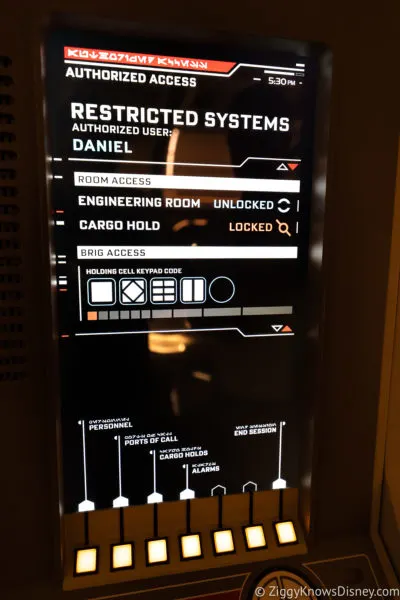 Some of the missions involve hacking systems with the datapad, receiving a stolen coaxium shipment, or smuggling parts for the starcruiser onto the ship. The missions take place both on the starcruiser and down on Batuu in Galaxy's Edge. Sometimes you need to solve puzzles with the datapad to find hidden information once you arrive at your destination.
Again, all of the missions vary from guest to guest, and what you end up doing throughout your stay will be vastly different from the other guests, even if you both show loyalty to the same group.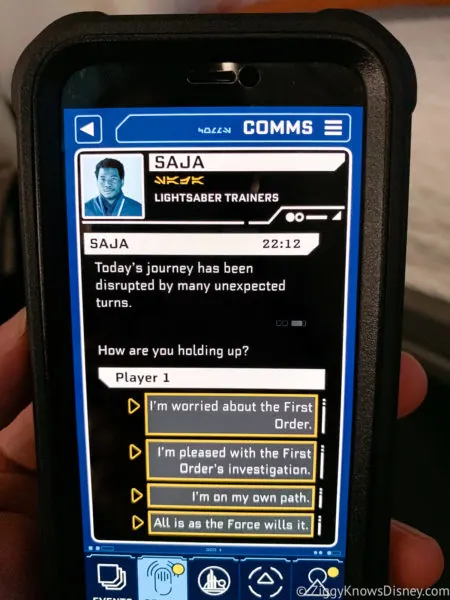 Later on, there will be secret meetings either with the First Order or the Resistance depending on who you showed loyalty to throughout your stay. Again, these vary and you may be invited to certain Resistance meetings, but not others depending on your reputation.
The whole system is pretty fun, and it definitely keeps you busy. There definitely isn't a shortage of missions to complete. If you want to be fully immersed and do all the missions, it will fill up the majority of your time.
Entertainment & Experiences on the Galactic Starcruiser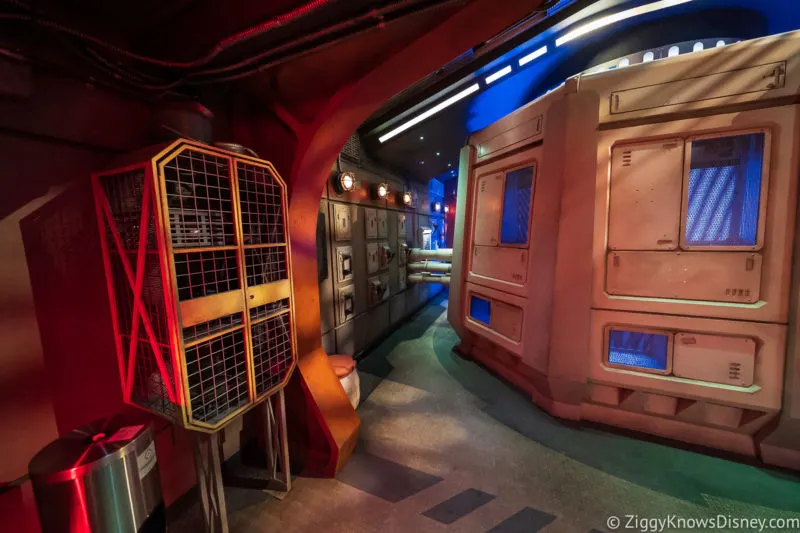 Besides missions, there is plenty of entertainment and experiences on the Star Wars: Galactic Starcruiser hotel. Now that we've been on board, we can share with you an overview including the names and general ideas behind all of the interactive activities available.
There are some other rooms off the main lobby and down on the bottom floor where guests can engage in interactive experiences. All the areas on the map where it's marked: "Engineering Room," "Cargo Hold", "Lightsaber Training Pod," and "Bridge," are all part of the entertainment and have heavy storytelling elements.
Most of these activities have scheduled times and you can choose to participate or not. Some of them are automatically scheduled for your group, whereas others you can show up and participate once onboard the starcruiser.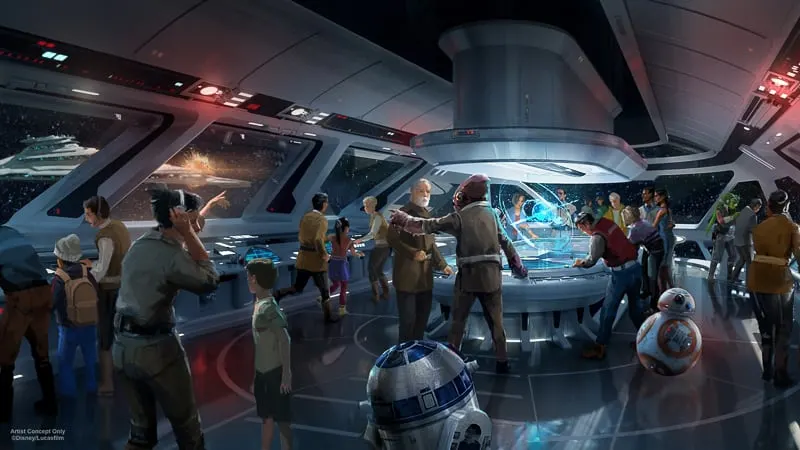 Here is a list of the most popular activities on the Galactic Starcruiser:
Lightsaber Training
Bridge Ops Training
Engineer Room
Courtyard
Sabacc Lessons & Tournament
Droid Racing Competition
Captain's Reception
CSL Starshow at Bespin
A Halcyon Celebration "Spectacular Finale"
Read our Guide to Activities & Events on the Star Wars: Galactic Starcruiser Hotel for more detailed info on everything there is to do.
Lightsaber Training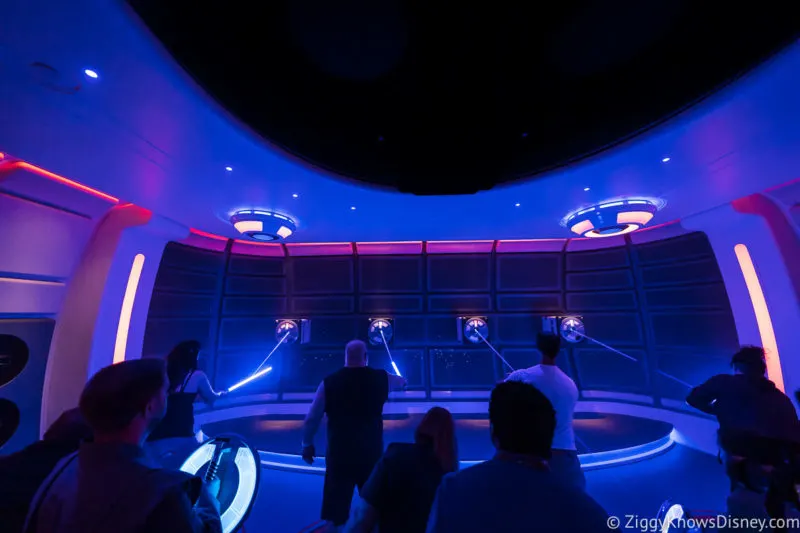 This is the Dojo where young or old can put their lightsaber skills to the test as they go up against a training remote just like Luke Skywalker did in "A New Hope."
Guests learn the basic movements behind this ancient Jedi weapon facing-off with a dynamic training remote. There are 4 training stations in the room and special effects built into the walls that enhance the experience.
Guests interact with the training remote using one of the training lightsabers, learning to anticipate and block blasts. There is also a shield that guests behind the front row can use to hit blasts the lightsaber misses.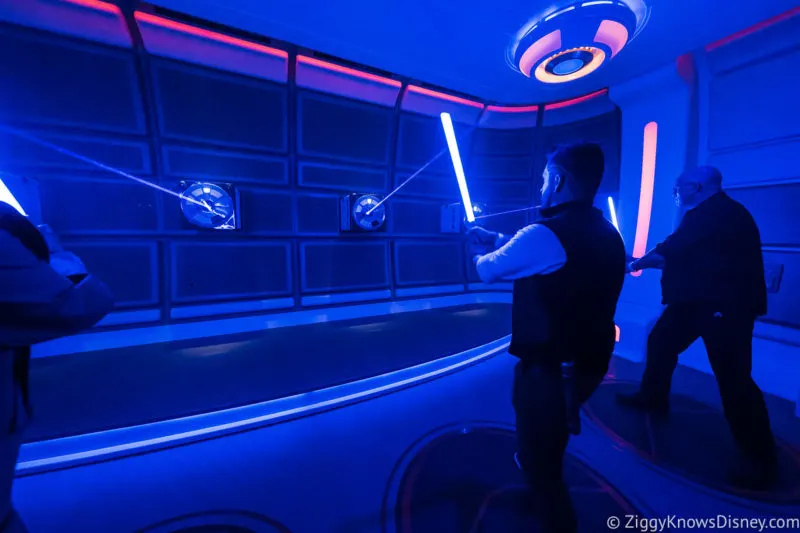 We weren't that excited about it before our trip. To be honest, it looked a little cheesy. After doing it though we have to admit it was a lot cooler than we thought. Our lightsaber trainer was really into it which brought the whole thing to life.
It would have been awesome if guests could bring their custom lightsabers from Savi's Workshop or the Legacy Lightsabers from Dok Ondar's and use them in the lightsaber training, but it's not possible.
It also would have been cool if there was some kind of point system so that you could compete for a high score against the other padawans. These are something I think they could improve on in the future.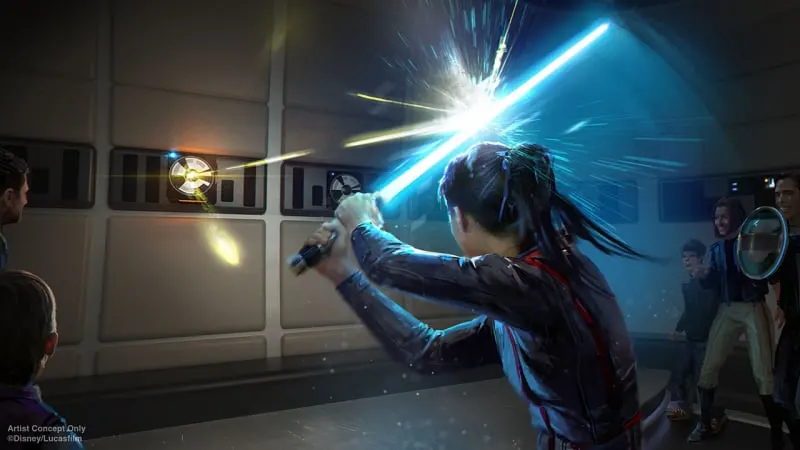 Here is a video of the Lightsaber Training in action before the opening:
Read more about the Galactic Starcruiser Lightsaber Experience here.
Bridge Ops Training/Attack Sequence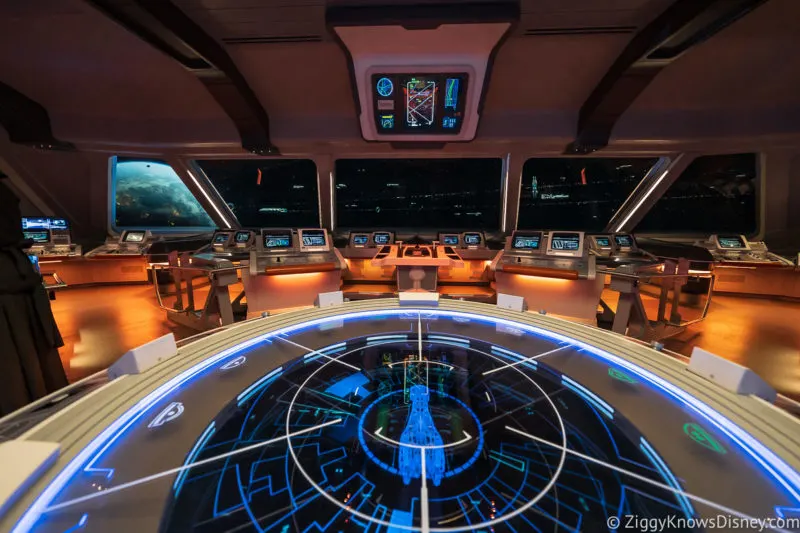 This is another experience we were originally looking forward to on the Halcyon, but one that got dragged through the mud a bit before the starcruiser actually opened. Like Lightsaber Training, in the end, it turned out better than what we feared.
You are brought to the bridge and trained on how to use the controls, navigate the ship, pick up cargo, and defend it against incoming threats.
Each training session can hold about 30-40 guests and requires learning all the buttons on the various control stations. This is another place where you will look out of the giant space windows, just like commanders do in the films. These are the most impressive windows at the resort, and because of their sheer size, they make for some exciting sequences.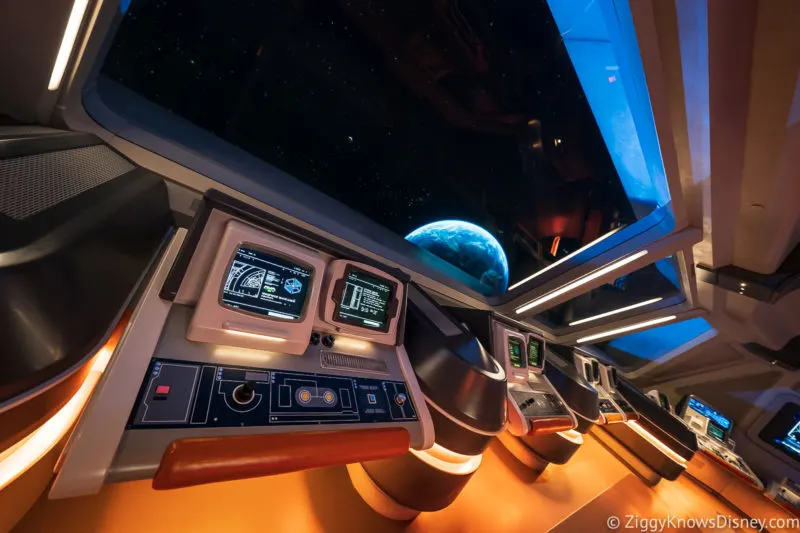 The training exercises you receive in the beginning will come in handy later on in the story as the Galactic Starcruiser comes under attack during the adventure and your ability to fend off the attack will be crucial.
Engineering Room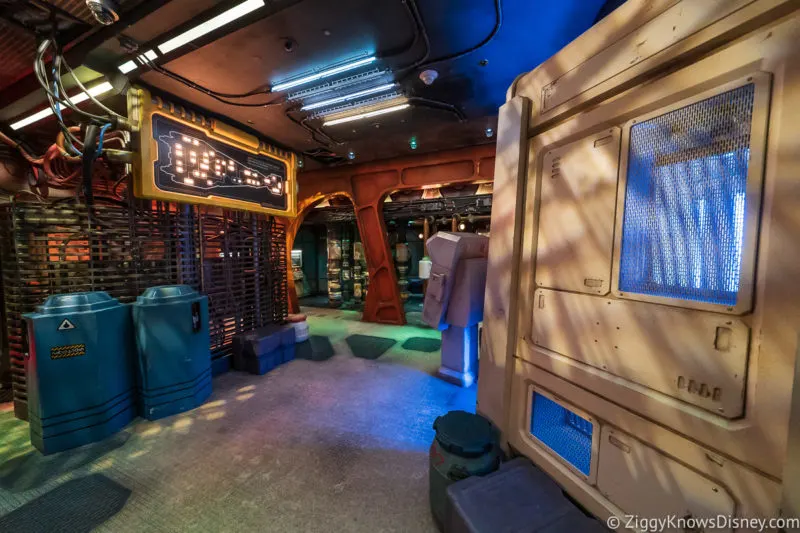 This is one of the restricted areas of the Halcyon, with secret spaces hidden deep in the mechanics of the ship. After completing a few missions you'll get access to this room which is full of levers to pull and puzzles to solve.
You might even find a secret meeting or two while you are there.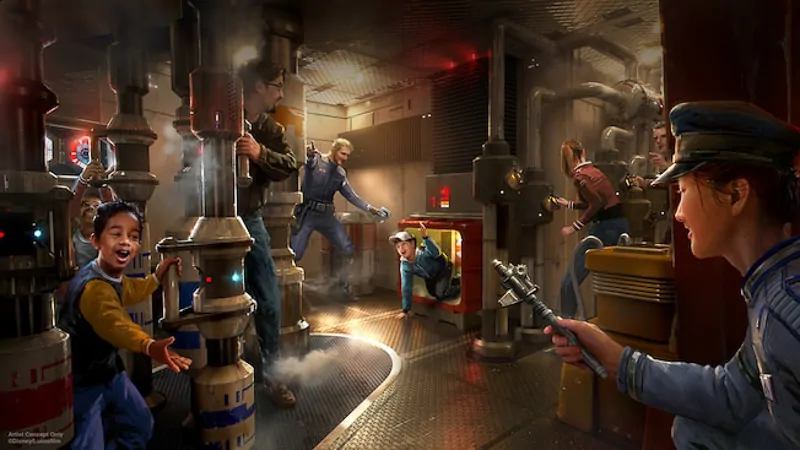 Brig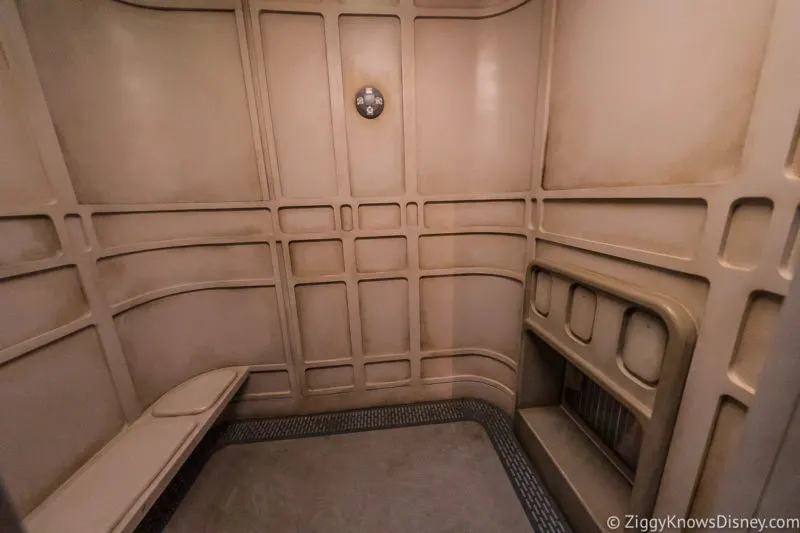 This is equivalent to a jail cell on the Halcyon. You could be involved in a mission to help someone stow away here, or you might need to help someone break out during the story.
Courtyard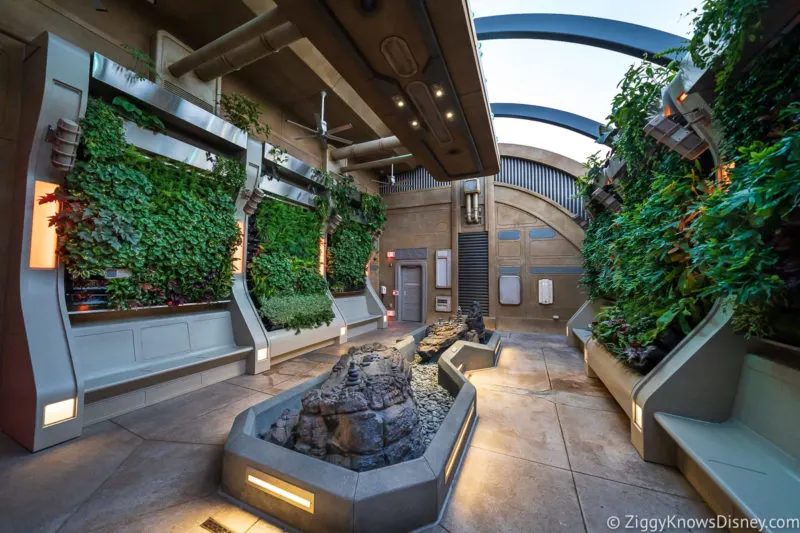 The climate simulator is a courtyard area off the main deck that simulates what the weather is like down on Batuu and allows guests to get fresh air if needed. It's also a waiting area before getting on the transport to Galaxy's Edge.
There is a feature that allows guests to use their force powers, pushing and levitating rocks and other objects. Disney has been working on this technology for a while now, and while we thought using the force might be implemented in Galaxy's Edge, you can now put it to use in the Star Wars Hotel instead.
Sabacc Lessons & Tournament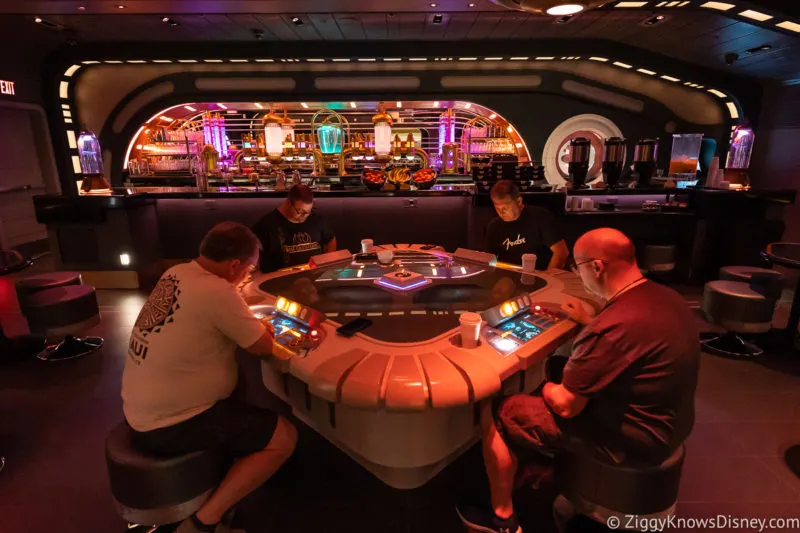 Sabacc is the most popular game in the galaxy and you can even get lessons in the cantina. Learn how to play Coruscant Shift, the featured version on the Halcyon starcruiser, or Bounter Hunter, a fun matching game for kids.
Once you understand how to play you can enter the Sabacc tournament against fellow passengers.
We spent a lot of time here playing and watching others play. It was pretty easy to pick up and very addicting once you get the hang of it.
Droid Racing Tournament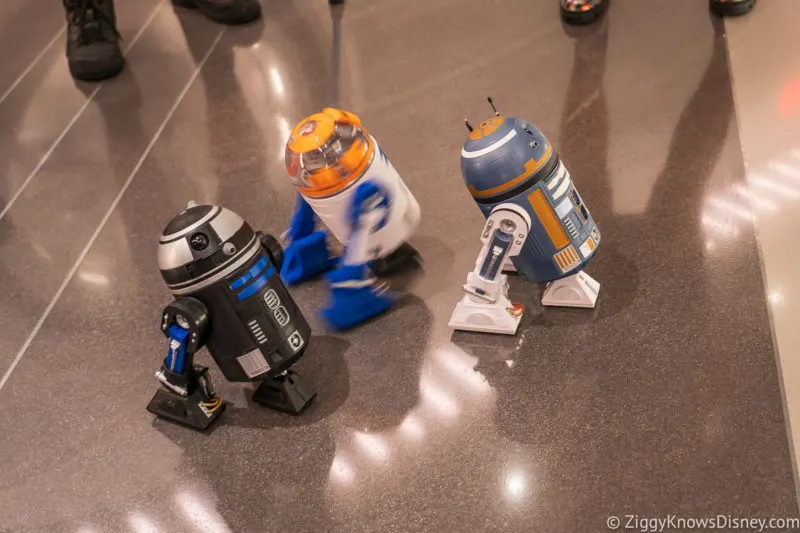 Race BB or R2 droid units against your fellow passengers and navigate them through the Atrium obstacle course. You can even bring your own droids from the Droid Depot if you want to participate. This is fun for kids, but not something we spent much time doing.
Shows/Fireworks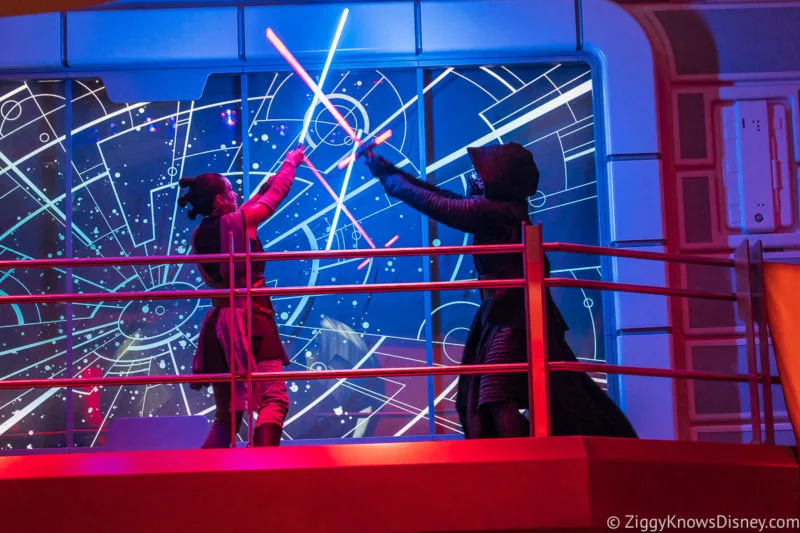 It wouldn't be Disney without shows, especially a fireworks show, and there are plenty of them to take in on the Galactic Starcruiser.
Throughout the voyage, guests are gathered to the Atrium to witness scenes from the overarching story of the Halcyon. At a certain point, the First Order takes command of the ship, then, later on, the Resistance takes it back.
Gaya and her musicians even perform a concert there which was really fun and engaging. All of these "shows" are done beautifully, just as you would expect from any Disney show in the theme parks.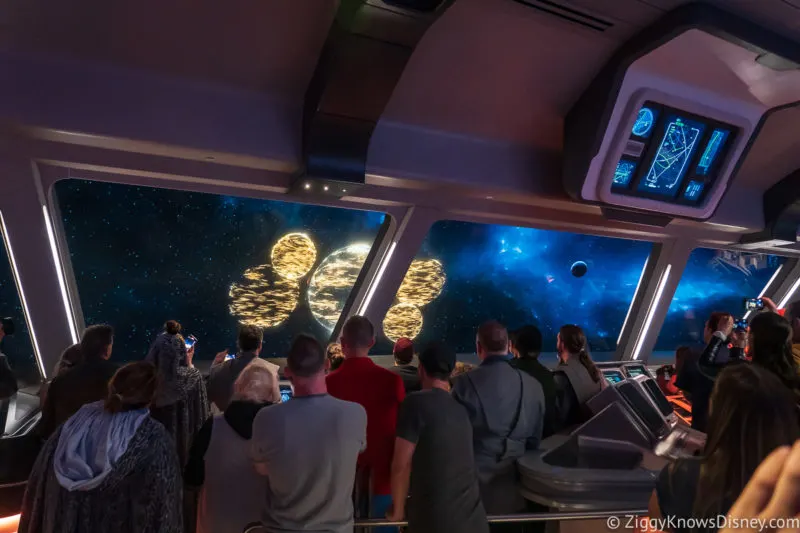 On the last night, guests gather in the atrium to enjoy the "A Halcyon Starcruiser Celebration" which is a stage show and amazing fireworks show combined and featuring a special music soundtrack.
Kylo Ren and Rey duke it out in a classic Star Wars lightsaber battle for control of the ship and then after fireworks explode outside the ship, visible from all of the space windows. Everything was very realistic and we couldn't be more thrilled with how it came out.
What Characters are on the Star Wars: Galactic Starcruiser?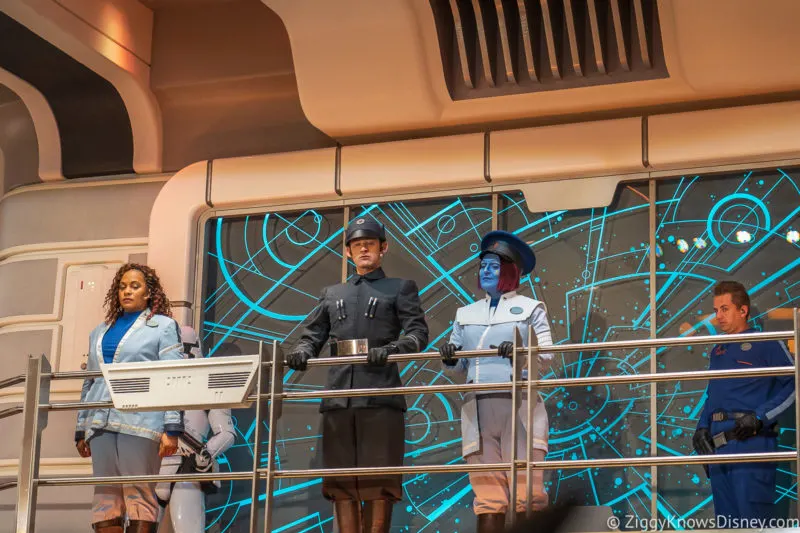 Here is a list of all the characters that are featured in the Star Wars Hotel:
Chewbacca
Kylo Ren
Rey
Captain Riyola Keevan
Sammie the Mechanic
First Order Lt. Harman Croy
Cruise Director Lenka Mok
Gaya
Entertainers
Stormtroopers
Droids (SK-62O and D3-O9)
Resistance Spies
The First Order characters play a prominent role in the adventure, with Kylo Ren leading the way.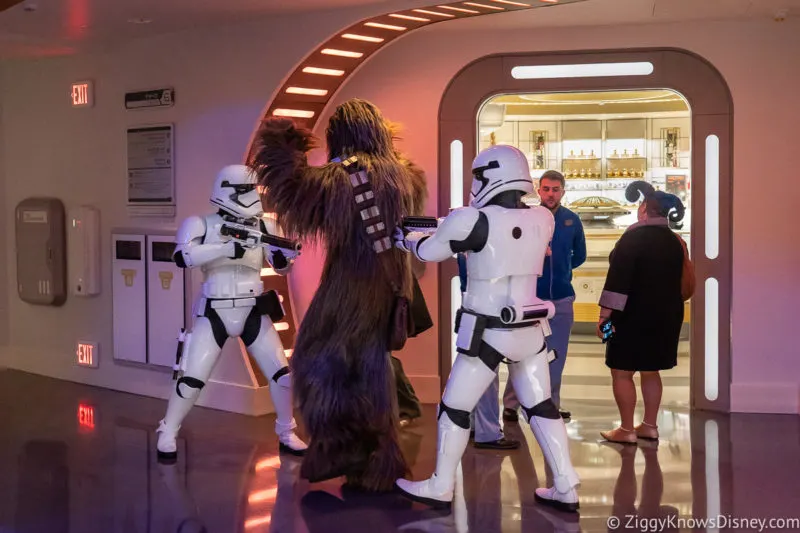 There are also some resistance members onboard including Rey and Chewbacca. This makes sense since all these characters are featured in Galaxy's Edge, so they can be worked into the story here too.
While you will find some familiar faces from the Star Wars universe on board, the Galactic Starcruiser is more concentrated on new characters who are introduced for the first time. Some of them you will find out are working for the Resistance undercover.
The captain is an interesting character who I would describe as "strong and charismatic," though not human. The ship's mechanic Sammie will make an appearance, and he's really hard not to like. In the Crown of Corellia Dining Room, there is a Twi'lek entertainer, plus we are pleased there are other aliens throughout the ship.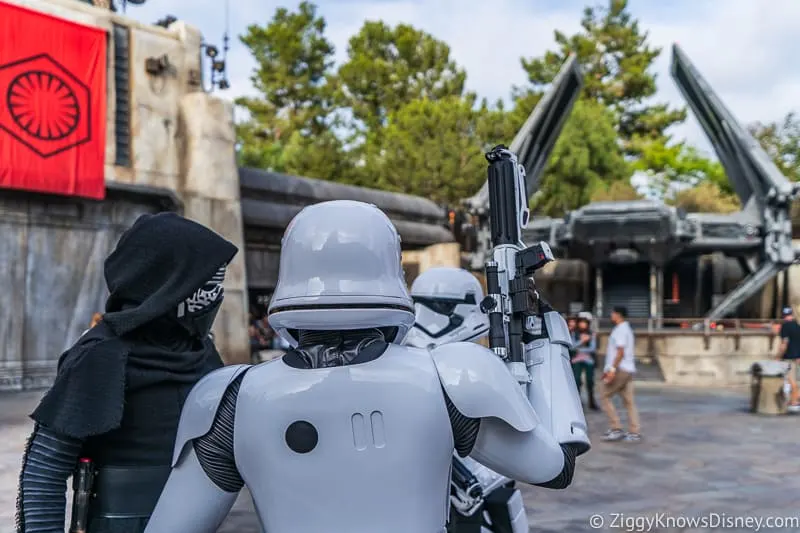 As far as old-school Star Wars characters, don't expect any (outside of Chewie). In all its recent Star Wars additions to the parks, Disney has been concentrating more on the new generation of characters that are in the newer trilogy.
That means you can forget any appearances from Darth Vader, Luke Skywalker, Obi-Wan Kenobi, or Darth Maul.
We loved the way guests can interact with all these characters and some may even ask for help to complete secret missions. Be careful, however, as others may not have your best interests at heart.
Here is an overview of some of the new characters:
Captain Riyola Keevan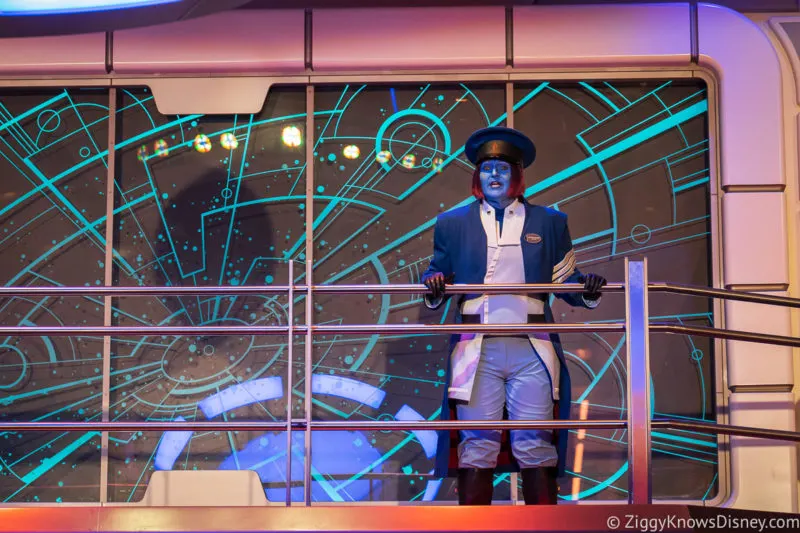 Captain Keevan leads the voyage aboard the Halcyon starcruiser and is the number one in command. She is charismatic, respected, and trustworthy, as well as a strong and decisive leader. She knows how to handle a problem when under pressure and has lots of experience with other voyages.
If you are looking for her she will likely be on the bridge where you will want to follow her instructions as she will teach you how to navigate the ship and keep it safe from attacks.
Cruise Director Lenka Mok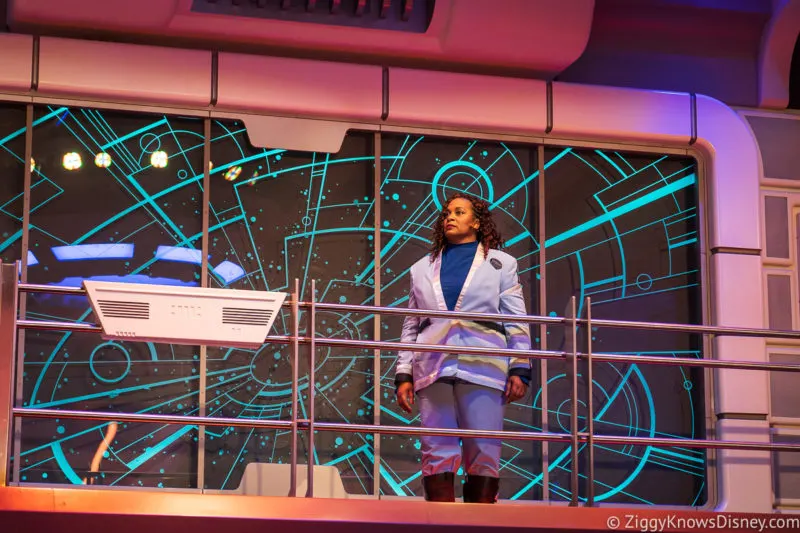 Lenka Mok is the crew member you want to go to with questions about anything on the Halcyon ship. Mok is in charge of the onboard entertainment and activities. You will definitely want to meet her as she is optimistic, joyful, and always willing to help.
SK-62O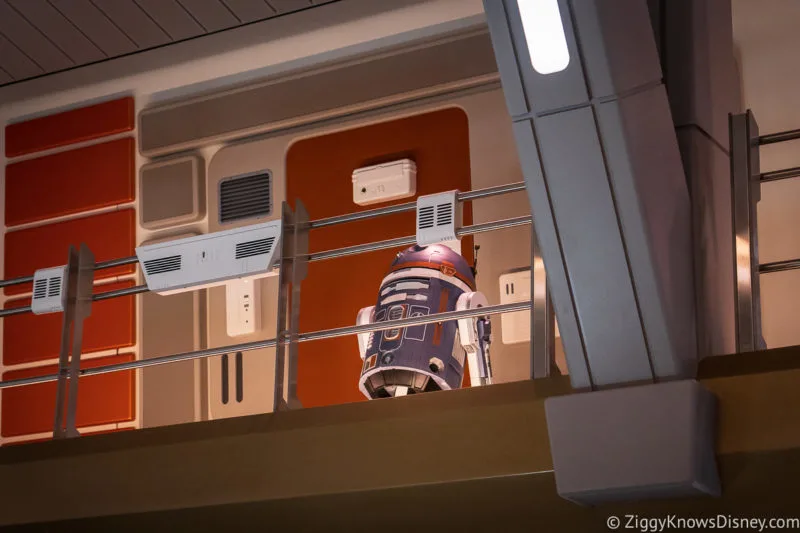 SK-62O is an astromech droid and Cruise Director Mok's assistant. He helps make sure everything is running smoothly and on time. He is extremely devoted to Mok and Captain Keevan and is always watching over the ship. He has many hidden talents to discover, loves to have fun with guests, and is there when something goes wrong.
D3-O9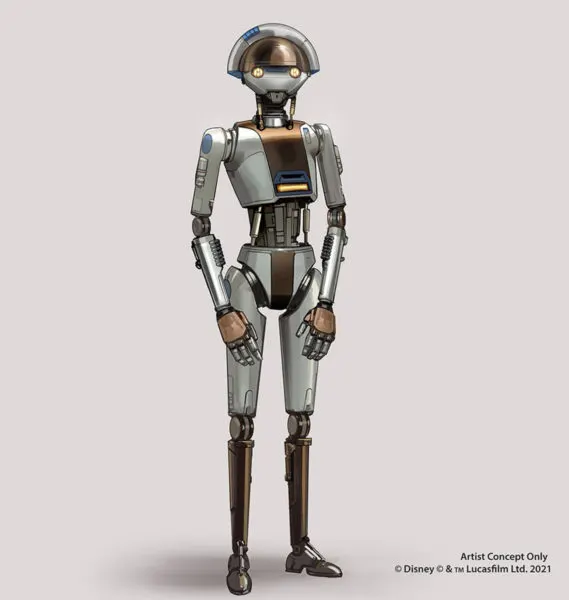 D3-O9 is another droid you may see appear on viewscreens onboard the Halcyon starcruiser, and it doesn't appear she will appear in-person on the ship. Built centuries ago by Chandrila Star Line's founder, D3 has seen the ship's history, and the entire galaxy, evolve.
Her primary responsibility is running ship logistics, so she certainly knows everyone and everything happening on board during a voyage. She is also knowledgeable, friendly, and loves talking with guests and sharing her opinion.
Sammie the Mechanic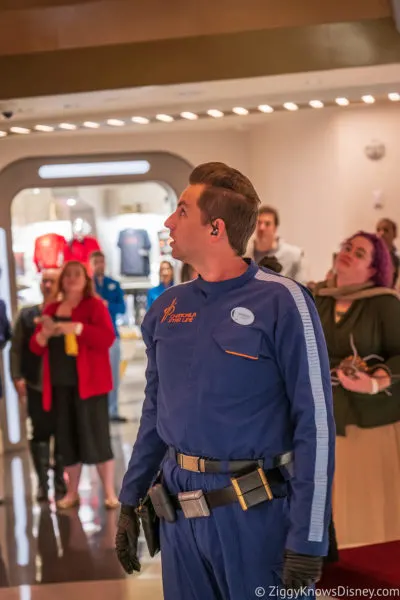 Sammie is both proficient as the ship's new mechanic and also enthusiastic and good-natured. This makes him easy to like by both the crew and guests onboard. He's clearly eager to prove himself on such a well-appointed vessel, and his tasks always seem to get done.
Lt. Harman Croy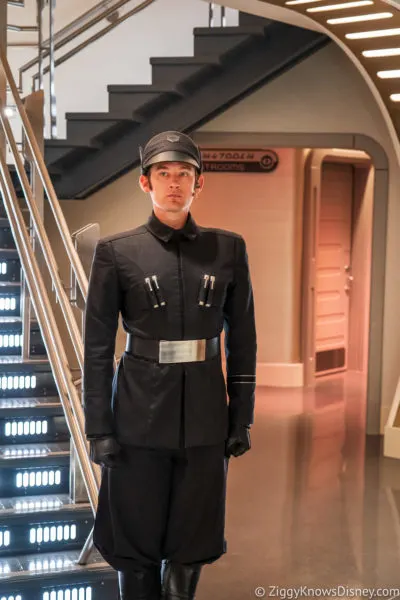 For the most part, everything is calm on board the ship, but there is a battle raging in the galaxy between the First Order and the Resistance and you will be put in the middle. That's where Lt. Harman Croy comes into play.
He is on special assignment to root out and expose any Resistance fighters who are rumored to be aboard the ship. Will you help him? Will you support the Resistance? Will you just sit back and see how the whole thing plays out? The choice is yours.
Gaya
This is the performer who sings during dinner in the Crown of Corellia Dining Room on Night 1 of your stay. She's a galactic superstar and her music can even be currently heard in Oga's Cantina in Galaxy's Edge.
She's not exactly what you think, however, and she plays an integral part in the story onboard the halcyon.
Of course, her character came into the spotlight with her singing in the famous Galactic Starcruiser promotional video. The video was criticized harshly online and shortly thereafter was removed. Hopefully, her in-person performance is met with a warmer welcome.
Can I Take Photos with the Characters?
Yes, guests staying on the Star Wars: Galactic Starcruiser can take photos with any of the characters, and get autographs too. There is no restriction on how close you can get to them and they walk right in the middle of the passengers and mingle with them.
Interactive Holograms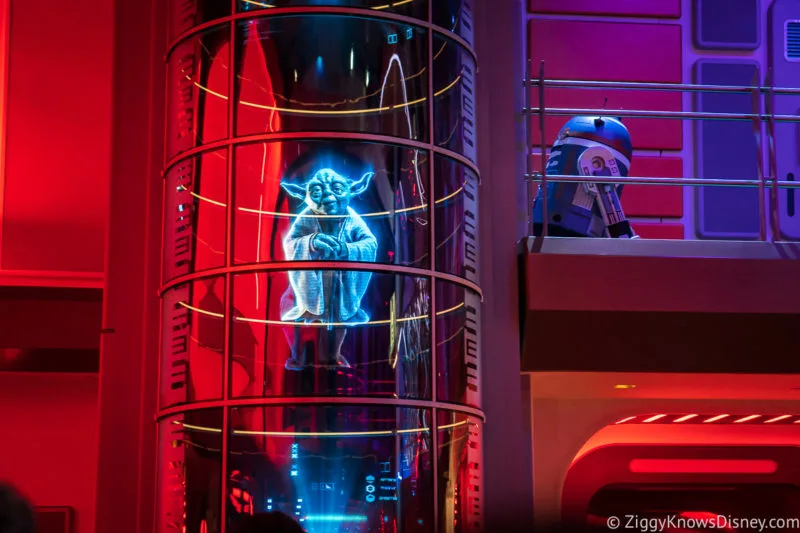 If you've ever seen a Star Wars film before, then you know characters in hologram form appear often in order to relay important information between each other. Well according to the U.S. Patents office, Disney has filed for a patent called "Floating Image Display System."
This technology if implemented would allow guests to interact with hologram characters from Star Wars during their journey. In fact, looking back up at the concept art for the main lobby, you can see guests talking to what appears to be a hologram figure.
If they were able to pull this technology off, just think of the possibilities of where they could use this technology, not only for the Star Wars franchise but throughout the parks. (Hello Avengers Campus for example.)
Star Wars Hotel Dining & Restaurants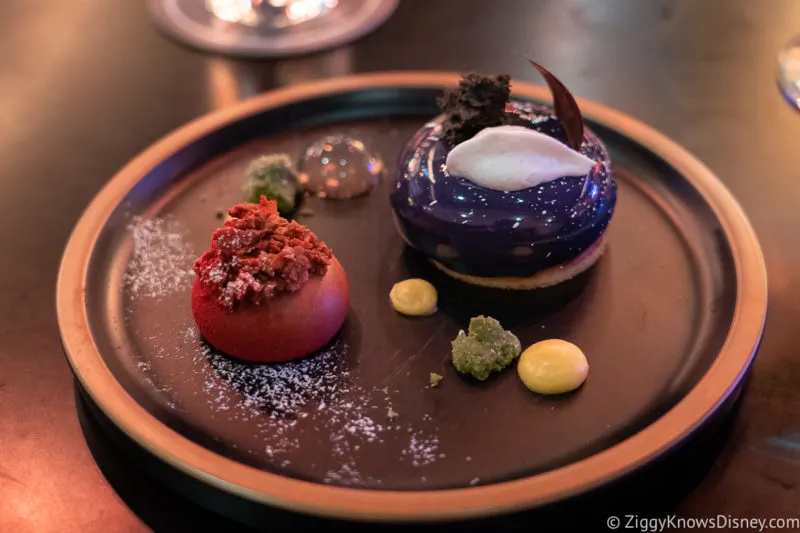 Dining is always a big part of any trip to Disney World, and it will be no different on the Halcyon. There are 2 restaurants/dining locations onboard the Star Wars: Galactic Starcruiser: a Table Service Restaurant and a Cantina.
Disney has worked hard at creating foods that "truly feel like they're from a different galaxy." Some of these items are inspired by individual Star Wars planets like Mustafar. The chefs have created menus that really showcase "the Star Wars storytelling."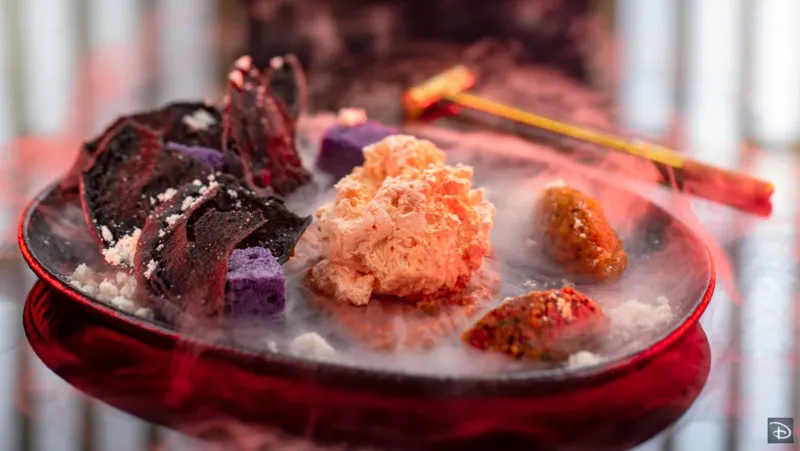 Disney said, "We're taking really delicious things and presenting them in unexpected ways" that are "of and kind of inspired by Star Wars storytelling DNA."
The food and drinks you will try on the Galactic Starcruiser focus on high-end cuisine and are definitely different than anything you will find in Walt Disney World. They are like higher-end versions of the food you find at Docking Bay 7.
While the dishes do have unique Star Wars names, they also have Earth-friendly names next to them to help you know what you are eating.
How it Works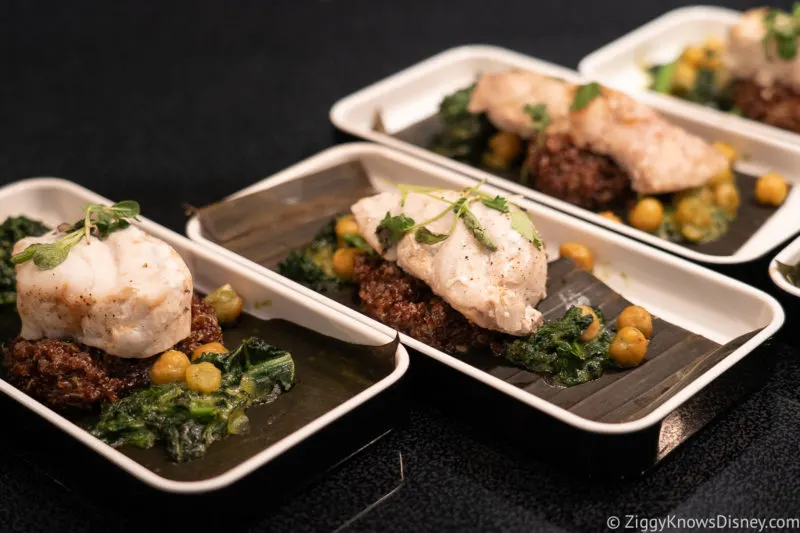 Just like with cruises, meals are included in the price of the stay on the Galactic Starcruiser, so you don't need to worry about paying extra. There are 2 breakfasts, 2 lunches, and 2 dinners during your stay.
Alcohol is not included and is an extra cost, and there are additional dining experiences that are extra.
There is live entertainment such as a musical show performed by aliens during dinner on the first night.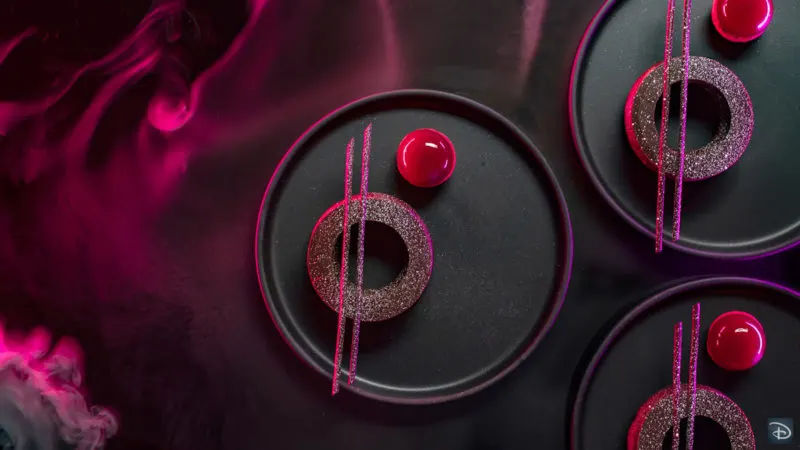 Crown of Corellia Dining Room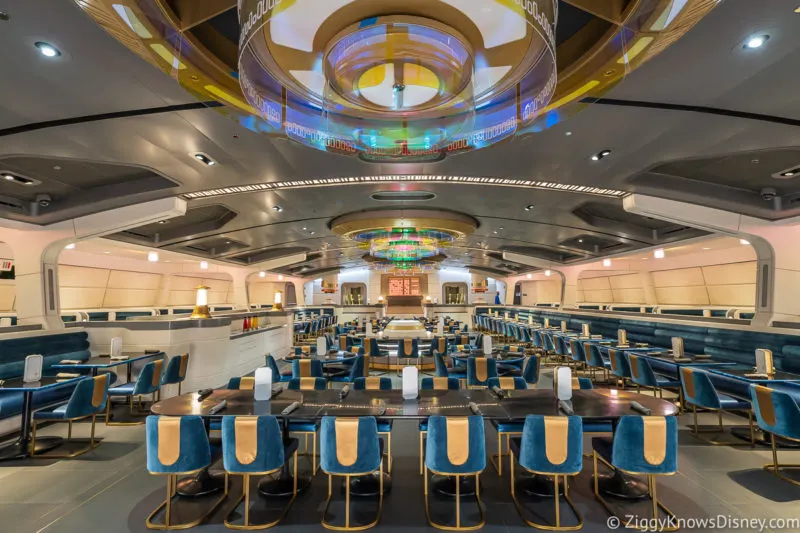 In any case, the Crown of Corellia Dining Room restaurant in the Star Wars Hotel is a large open space with booths and tables all around the perimeter, with a dinner show and live entertainment included with your meal. This is a fantastic location, and with a small crowd, they can really create a more intimate feel.
The table service restaurant is similar to the one that was originally planned for Galaxy's Edge but then later was cut due to budget concerns. It's unlikely that Galaxy's Edge will be getting that second restaurant anytime soon.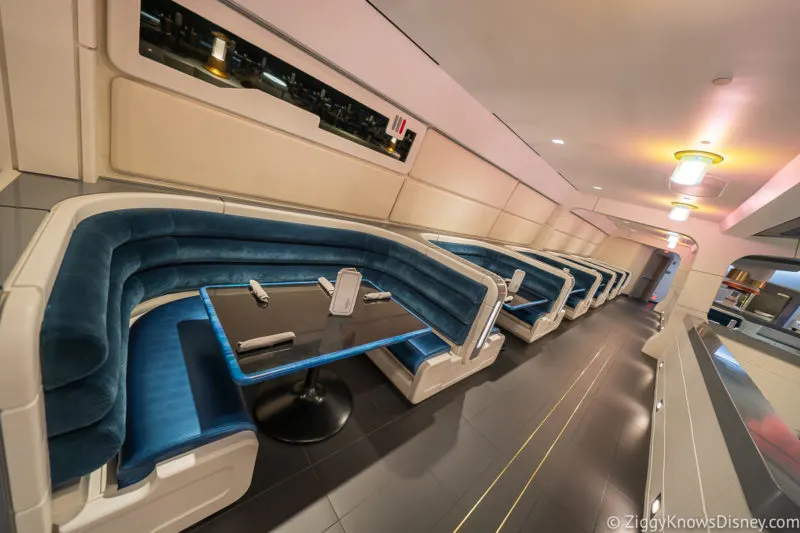 The restaurant gets its name from Corellia, the planet where the Halcyon ship was built, and also the Millennium Falcon. This dining location serves breakfast and lunch, then transforms into a more elegant and formal restaurant for dinner.
The decor is very posh and elegant with Canto Bight aesthetics. You will notice the blue velvety chairs, the extravagant chandeliers, and many more formal theming elements.
In typical Star Wars fashion, there are all sorts of out-of-this-world food being served at this restaurant, and it is served family-style.
How Do Reservations Work?
Similar to a Disney Cruise, there are two seatings for dinner, an early one and a late one, with half the guests going in each turn. This allows for an even more intimate setting.
Guests can request which seating they prefer when making reservations. Seating preference is not guaranteed, however, and you may not end up with the time you wanted.
Breakfast
Both breakfasts take place on the Galactic Starcruiser in the glamorous Crown of Corellia Dining Room. Breakfast is served in the morning on day 2, and on day 3, right before departure.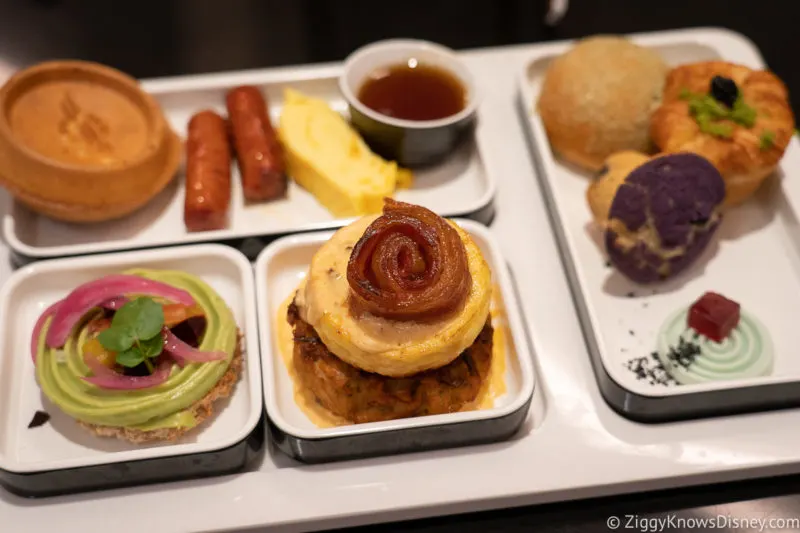 You can choose between a quick grab-and-go breakfast or a full breakfast buffet. Guests have 1 hour to eat breakfast.
Breakfast includes hot and cold small plates and a variety of beverages including juices, fresh-brewed coffee, and Bubo Wamba Family Farms blue milk.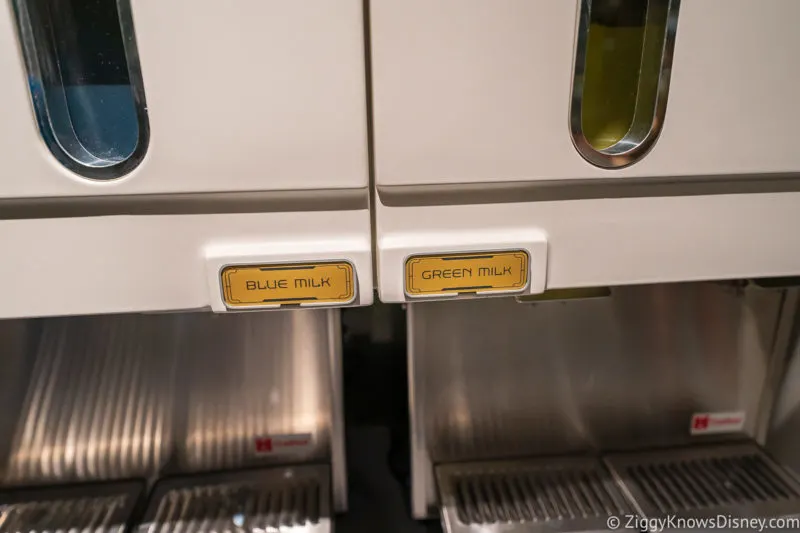 Lunch
There are 2 lunches during your stay, and guests can choose from a buffet and quick service. On Day 1 there is a lunch buffet served in the Crown of Corellia Dining Room and is open to all guests.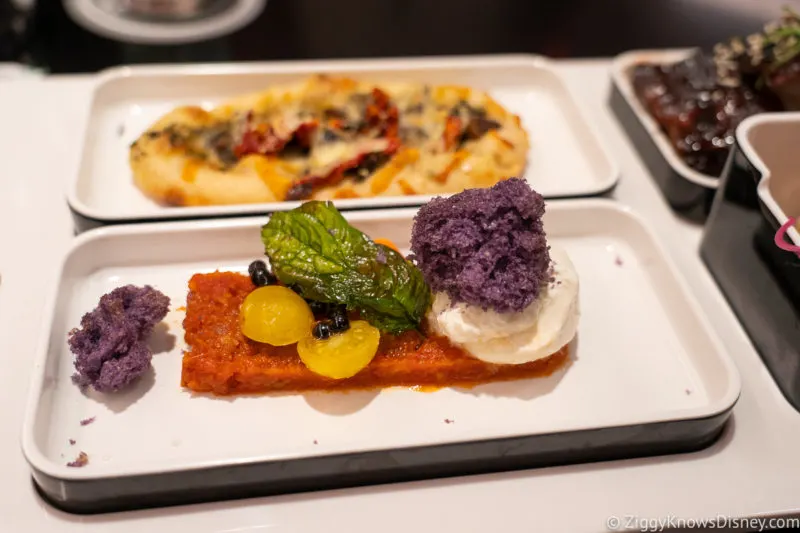 The lunch buffet onboard the starcruiser serves each dish as a small individual plate, ensuring a perfect presentation. Some of the options include:
Tart Ceviche with corn nuts, carrot pieces cut into spheres, and calamari.
Bubble Waffle Grilled Cheese with tomato soup.
Miso Salmon with crunchy seaweed crust and bonito flakes.
Pâte à Choux filled with a curried chicken.
Romanesco Broccoli and Olives.
Ube Focaccia with blue bantha milk butter.
Hoth Frost with spun sugar "ice" and lemon foam
On Day 2, you can choose between a lunch buffet on the starcruiser or at a quick service restaurant in Hollywood Studios. You receive a credit for the quick service meal that can be redeemed in any restaurant in the park.
If you are going to use your credit in the park, try eating at Docking Bay 7: Food and Cargo during your trip to Star Wars: Galaxy's Edge. Guests have one hour to eat and enjoy the unique theming of the restaurant. You can choose to do this before or after riding both Rise of the Resistance and Millennium Falcon: Smugglers Run.
One entree and side, plus beverages are included in the price. You will use your Star Wars: Galactic Starcruiser databand (MagicBand) to redeem your meal as you do if you were using the Disney Dining Plan.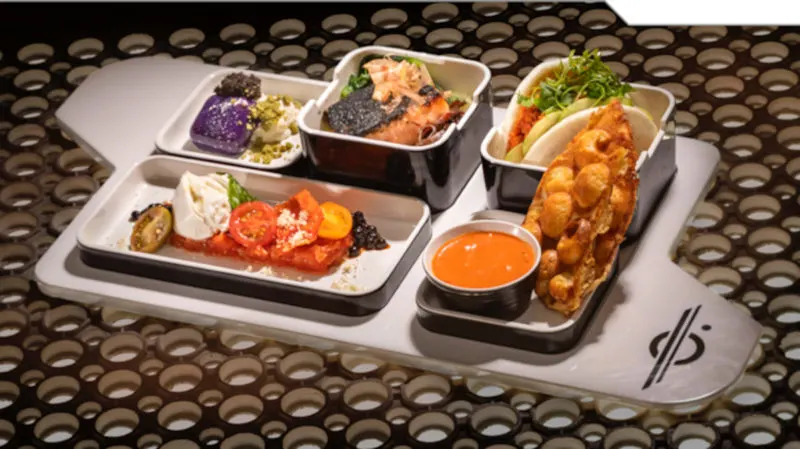 However, of these two options, we recommend eating onboard the Starcruiser instead of in Galaxy's Edge. Do your missions and come back to the ship since you can eat at Docking Bay 7 on any trip to Hollywood Studios.
Dinner
Dinner onboard the Galactic Starcruiser is definitely one of the highlights of the entire Star Wars hotel experience. In the evening, the Crown of Corellia Dining Room transforms into a table service supper club with live entertainment.
Guests will enjoy music, entertainment, and socialize with other passengers and crew.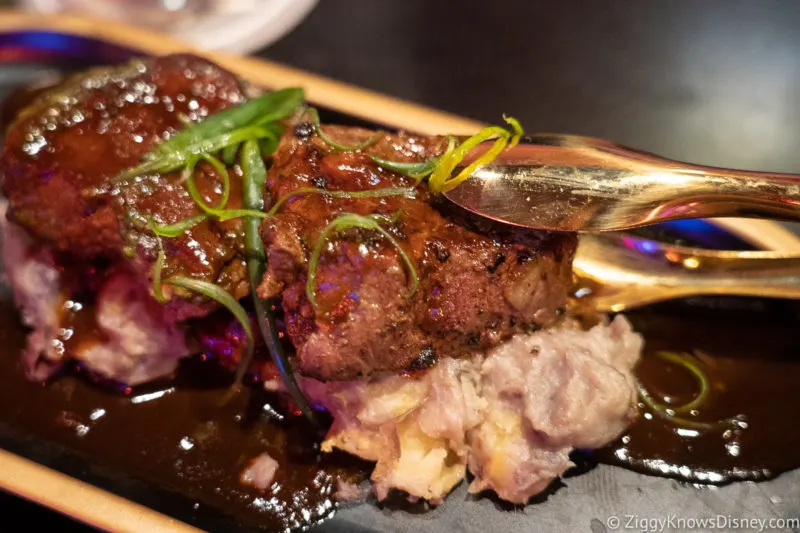 On the first evening, guests are entertained by a Twi'lek named Gaya, a galactic musical entertainer. She's described as a "galactic superstar who can captivate an entire room with the crook of one jewel-encrusted purple Twi'lek finger."
Again, we like Gaya a lot more than we originally thought we would. She had a great voice, was full of energy, and at one point had the whole place up on their feet dancing. Definitely a rockin' atmosphere!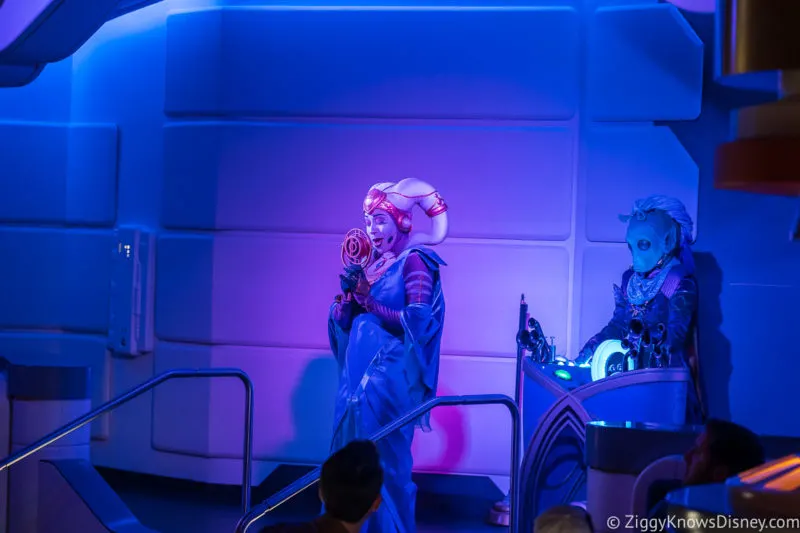 On the second evening "The Taste Around the Galaxy" showcases courses inspired by the geography and environments of iconic destination planets throughout the galaxy. Each course is served with a brief presentation of the name, planet, inspiration, and ingredients.
The meal includes appetizers, and a variety of entrées, as well as a specialty plated dessert.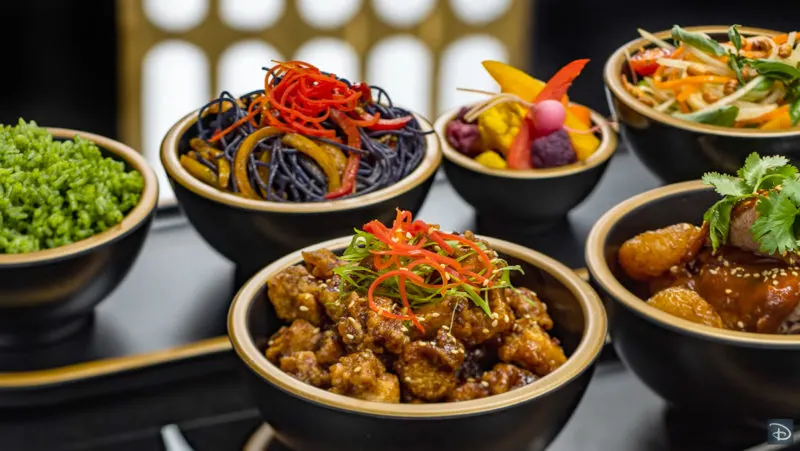 Some of the dishes for dinner include:
Mustafarian Bread Service
Iced Felucian Shrimp Cocktail
Braised Bantha Beef Short Rib
Seared Kashyyyk Whitefish
Each item on the menu is inspired by one of the Star Wars planets, giving each one a unique feel. Remember those Blue Shrimp from the promo videos? They were incredible!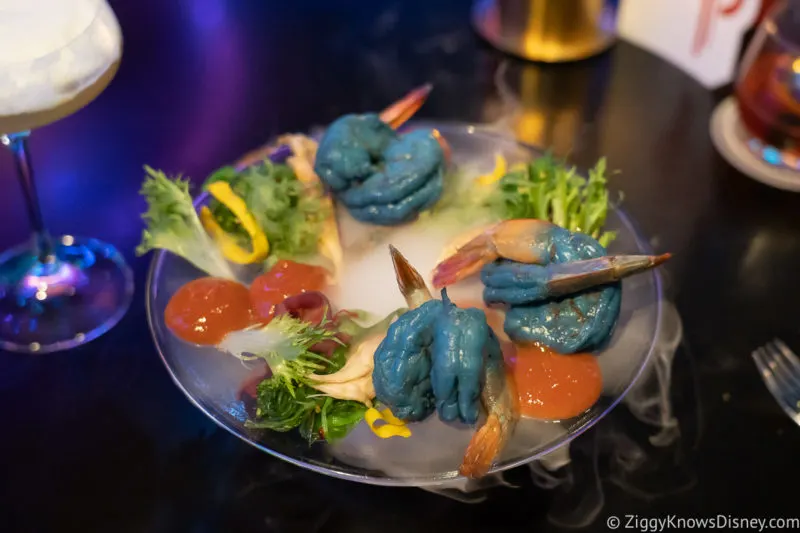 Dessert was also incredible and made from chocolate, Jogan fruit, and a Terateak fruit jelly.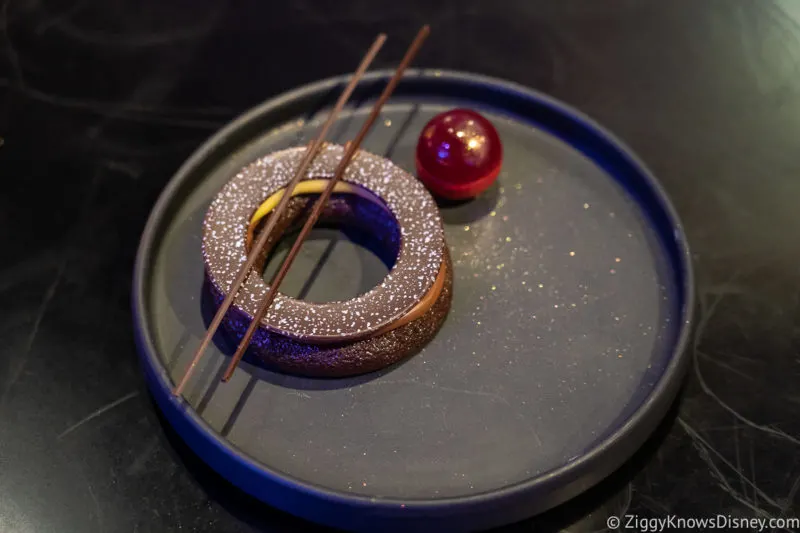 One of the Dishes Comes Alive
Yes, you read that right. According to Disney, one of the fish dishes appears to come alive on your plate. The way this is achieved is with steam and a bonito flake (a fish delicacy Chef John Prieto encountered in a five-star restaurant in San Francisco).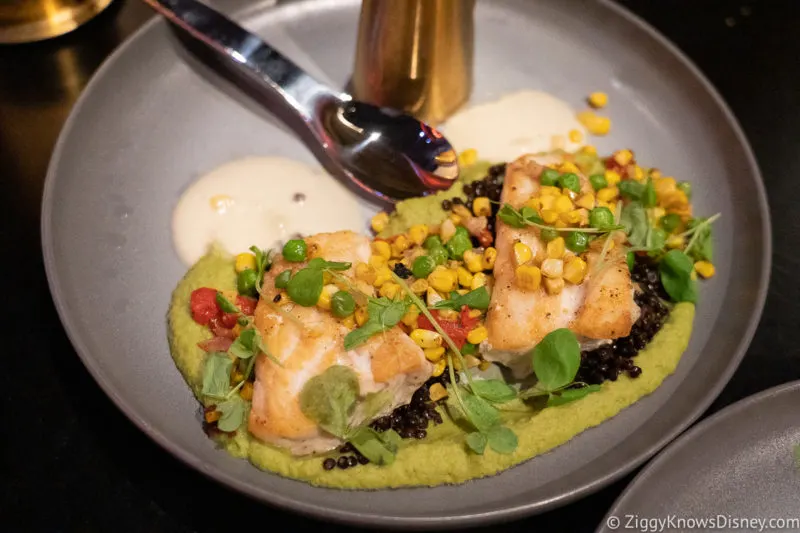 When we actually experienced it for ourselves, however, we didn't see anything move and all the fish dishes seemed pretty normal to us. Yummy, but normal.
Captain's Table
There is also an upgraded dinner at the Captain's Table which comes at an additional cost of $30 per guest (this increases to $50 in 2023). Think of this as a Chef's Table dining experience you find in other Disney restaurants.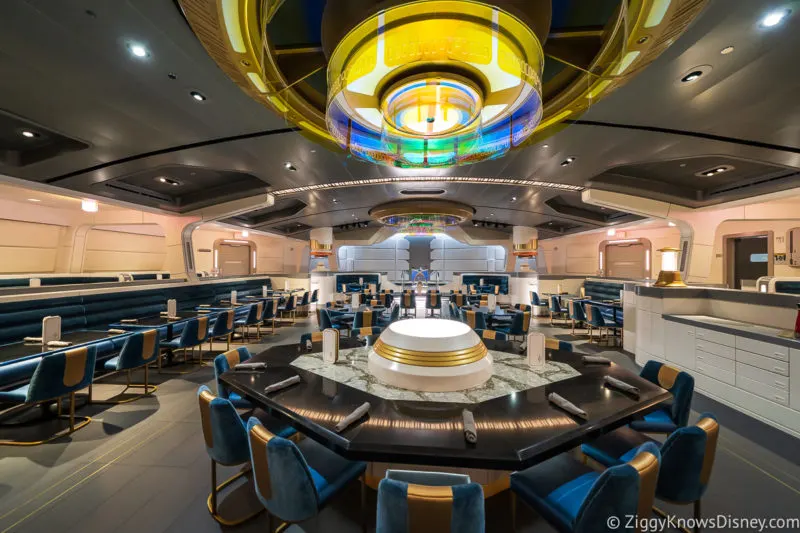 Guests sit at the captain's table in a prime location in the center of the Crown of Corellia Dining Room and are served extra courses that you don't get with the regular dining experience.
To book the Captain's Table experience you need to call one of the Galactic Starcruiser specialists before your voyage.

Will I Be Seated with Other Parties During Meals?
In general, you should expect to be seated with other guests not in your party while dining at the Crown of Corellia Dining Room. This depends on how busy the Galactic Starcruiser is and how crowded your particular timeslot for dinner is, but it is likely to happen.
During our experience, the early seating seems to be the more crowded one, so there is a higher chance of sitting with other guests.
If you are eating at the Captain's Table experience you will definitely be seated with other guests.
Allergies
Obviously, not everyone is an adventurous eater, and some guests have allergies and dietary restrictions. Substitutions are available for finicky eaters for just about everything including vegetarian chicken fingers, grilled cheese bubble waffles, and more.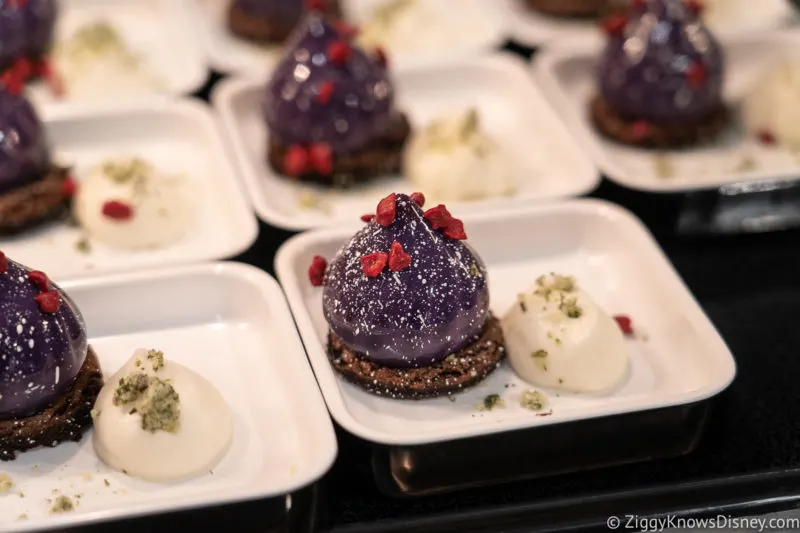 Any guests with dietary needs or allergy-friendly requests need to visit the Crown of Corellia Dining Room between 1:00 pm and 4:00 pm on the day of arrival for a consultation with the staff.
During the consultation, the guest will meet with a chef and crew member of the restaurant where they will go over all the foods that will be served with each meal. These crew members are trained specifically in handling allergy-related or dietary needs so you can rest easy.
There are plenty of plant-based items already on the menu for guests not eating meat, eggs, dairy, or honey.
Guests who are on a medically restricted diet, or would like pureed meals, kosher meals, or halal meals, need to contact the crew between 7-14 days prior to arrival. You can make your request at this email address: Special.Diets@DisneyWorld.com
Sublight Lounge (Cantina)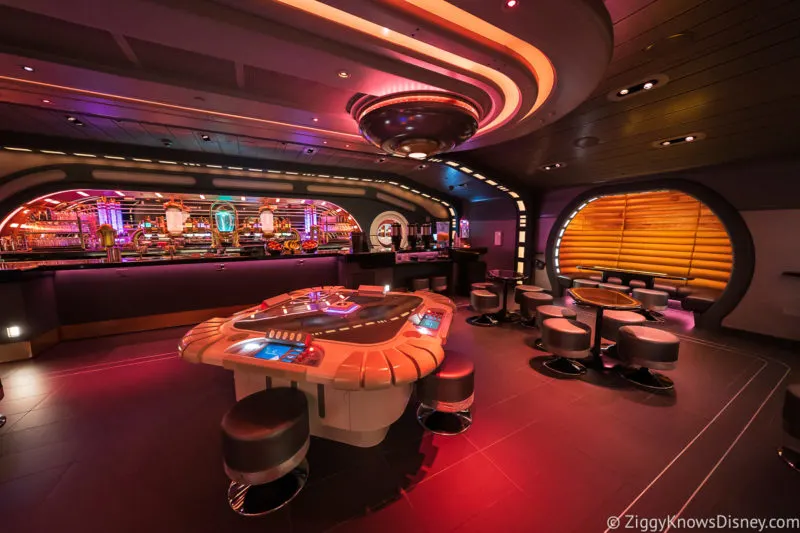 We absolutely LOVE Oga's Cantina in Galaxy's Edge, and the Star Wars Hotel cantina comes really close to the heights of that experience! Think of the Sublight Lounge as the upscale lounge on the starship where guests can have a drink, and some interesting snacks too.
Drinks include the Hoth Icebreaker, the Fiery Mustafarian, and the Muja Twist. Pretty much all the drinks we tried were amazing and you can't go wrong with any of them.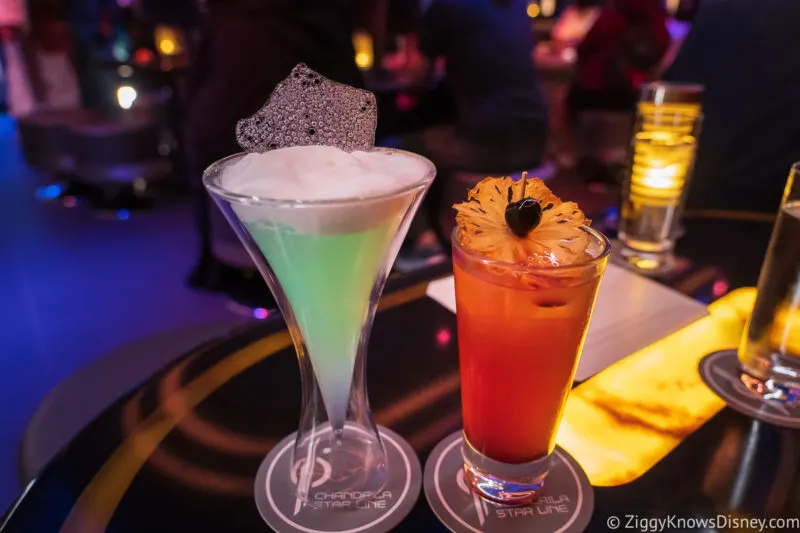 Non-alcoholic drinks range in price from $7-$8 each, and alcoholic drinks cost between $15-$23 each. Beers are $13.50, and wines cost from $11-$30.
The most intriguing part about the Galactic Starcruiser cantina so far is the live Sabacc game that guests can play. Any time the lounge is open, feel free to sit down and play a game. Take some time to learn it and then challenge other passengers.
For more details including the menu, prices, and a full review, read our full guide to the Sublight Lounge.
Secret Missions & Excursion to Galaxy's Edge
One thing to keep in mind is that while you're staying at the Star Wars Hotel, you won't be going to any of the regular Disney World parks. Your time is going to be concentrated on board the Galactic Starcruiser, and being totally immersed in the experience you are a part of.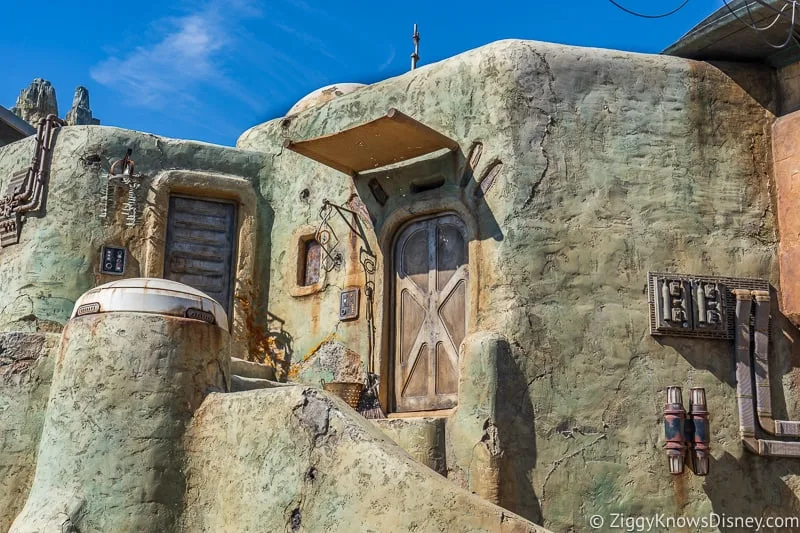 That said, guests make one excursion down to Batuu on Galaxy's Edge for secret missions that everyone will get to partake in. Disney calls these "Story Moments." Examples of these include: "Broker a deal for a heist" and "Arrange to steal a ship from the First Order" and they last roughly 20 minutes.
This is great to see because Galaxy's Edge was built with this purpose specifically in mind. In fact, just walking around the streets of Galaxy's Edge, you may have noticed a bunch of doors and crates that apparently do not have a purpose. Or so it appears to be…
Transportation to and from Galaxy's Edge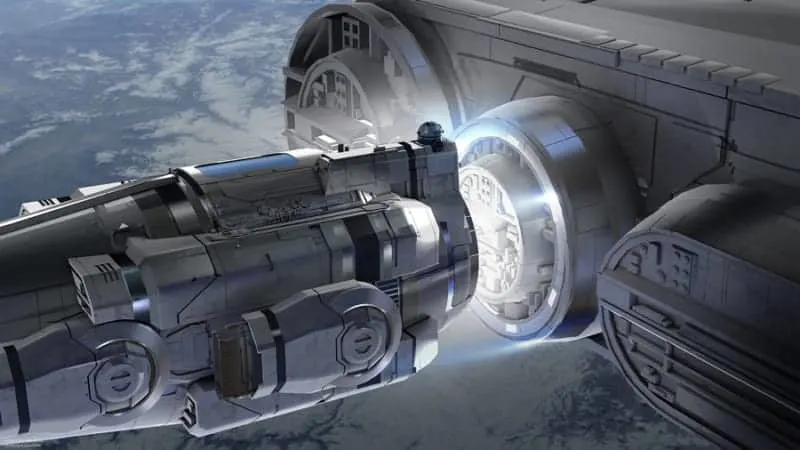 First thing, let's take a look at how guests go back and forth from the Star Wars: Galactic Starcruiser over to Galaxy's Edge. Disney has said it would "have seamless transportation" to Galaxy's Edge which means your transportation will be themed and you won't recognize what vehicle you are in.
Guests board a transport sent by Black Spire Outpost to bring them from the Galactic Starcruiser to Galaxy's Edge, and then back.
Here we can see the entrance to the Transport Area: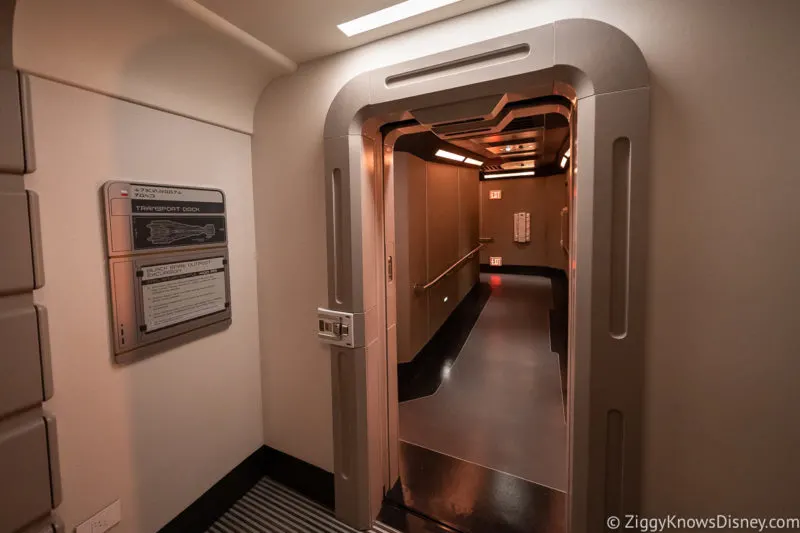 This is where guests board their transport units from the Halycon starcruiser which takes them to Galaxy's Edge. This area is marked: "Transport Dock" and it's all the way to the southwest part of the hotel.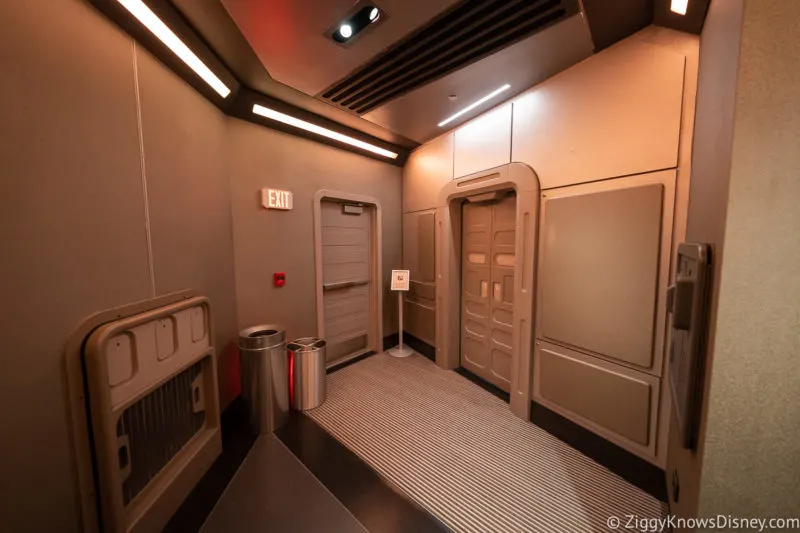 Now before you get too excited, there is no monorail or any other high-tech transportation, but it is actually a delivery truck that has been masked as a space shuttle and heavily themed to the Star Wars universe. I kid you not, you are essentially in a box truck.
This news came under scrutiny when fans found out they were essentially being sent in a box truck, but after riding in it, we have to admit it's pretty well done and seamless as they claimed.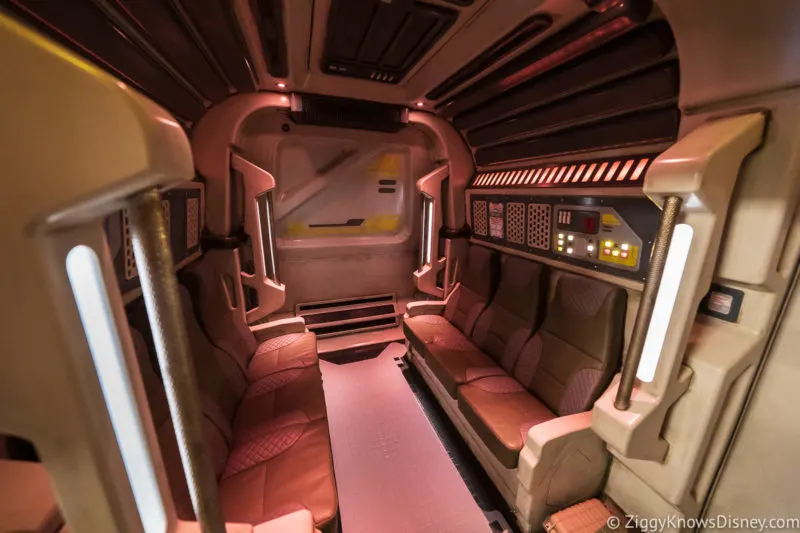 In order to keep guests immersed in the story, the trucks are disguised as a more space-style transport. While I was hoping for a more futuristic transportation method to Galaxy's Edge, guests will get there by this supped-up truck system instead.
It would have been nice to include some more interactivity and hi-tech on the transport, like space windows on the side of the walls so you could have a view while driving and help hide the fact you are in a truck.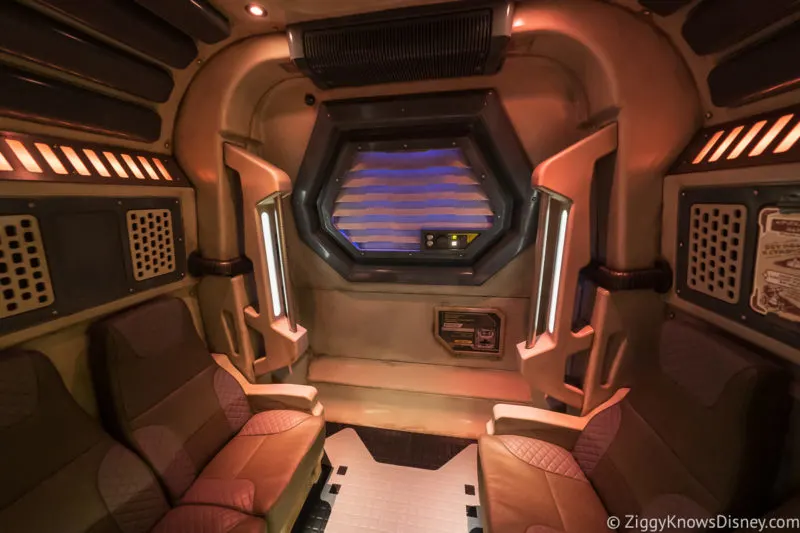 I was a bit skeptical they would be able to pull it off and fool guests into thinking anything but the fact that they are in a truck. Overall, however, we think they did an excellent job given the budget.
I thought some kind of covered, futuristic tunnel would have been a cooler idea, but we'll have to settle for this, and it gets the job done.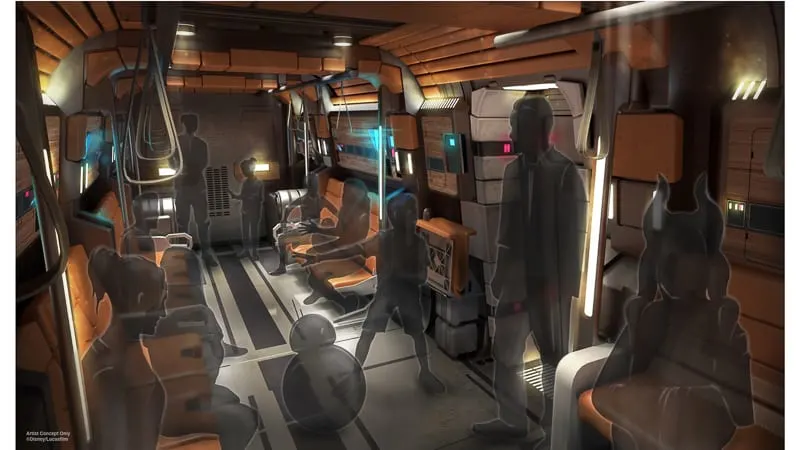 Once the transport gets moving, there is a bridge to pass through first, over the canal, through the Hollywood Studios parking lot, and into a back entrance of Galaxy's Edge.
You'll even see a reference to our old friend DJ-R3X who is at Oga's Cantina.
Where are Guests Dropped Off in Galaxy's Edge?
The guest transport from the Star Wars Hotel brings you through a back entrance of Star Wars: Galaxy's Edge on the far side of the land, past Millennium Falcon: Smugglers Run.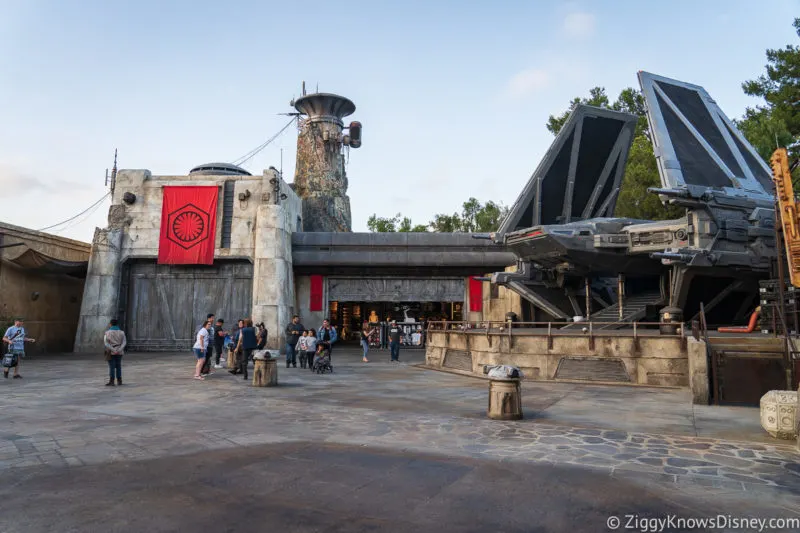 In the above photo, guests come through the big metal doors on the left of the photo down in the area where Kylo's TIE Echelon ship is located.
Of course, Disney has made the area back there seamless and you never see any of the backstage areas. When you arrive, just exit the transport and follow the long hallway into Batuu.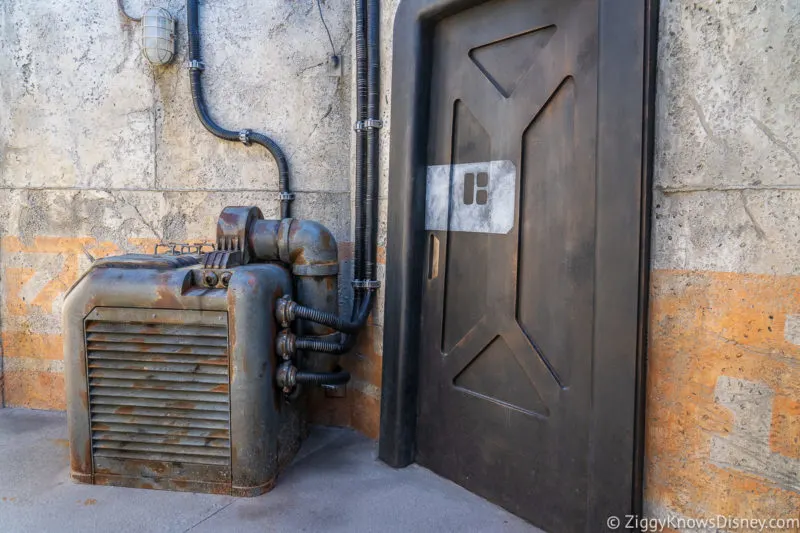 Scavenger Hunts
Disney has created unique interactive elements only for Star Wars Hotel guests to partake in. That means you'll be mingling in with the regular guests, but partaking in secret missions with your group that have a scavenger hunt-like feel to them.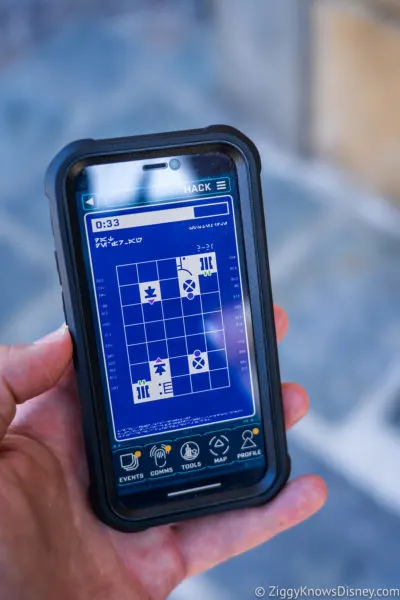 Your experience changes in Galaxy's Edge depending on the role you choose on the Galactic Starcruiser. For example, "You might be investigating that deal [the smuggling] on behalf of the First Order or you might be the person delivering the coordinates to Hondo to know where to go to get the coaxium."
All the small details of the land will have much more meaning during the experience and there are connections between the shop owners in the marketplace and characters on the Halcyon. "We're able to show people things about Batuu they wouldn't see as a day guest."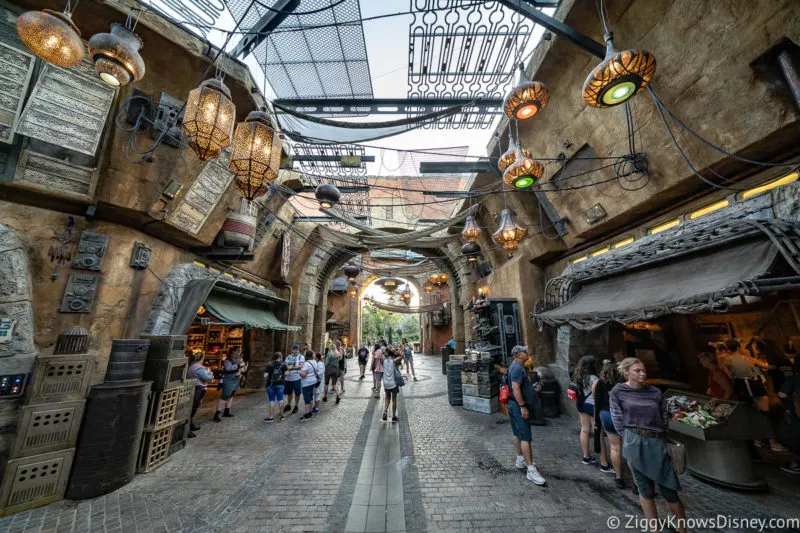 Both Galactic Starcruiser and Star Wars: Galaxy's Edge were in development at the same time, and the two experiences were designed to overlap.
These local shopkeepers will as you to help them, and you have to choose if you work for the light side or dark side. All Galactic Starcruiser guests are given a special pin that identifies them as being from the Halcyon. We found that the cast members in Galaxy's Edge all treated us differently and were very engaging with us with them on.
Some of the missions we completed had us scanning some crates for stolen ship parts that needed transport back to the halcyon.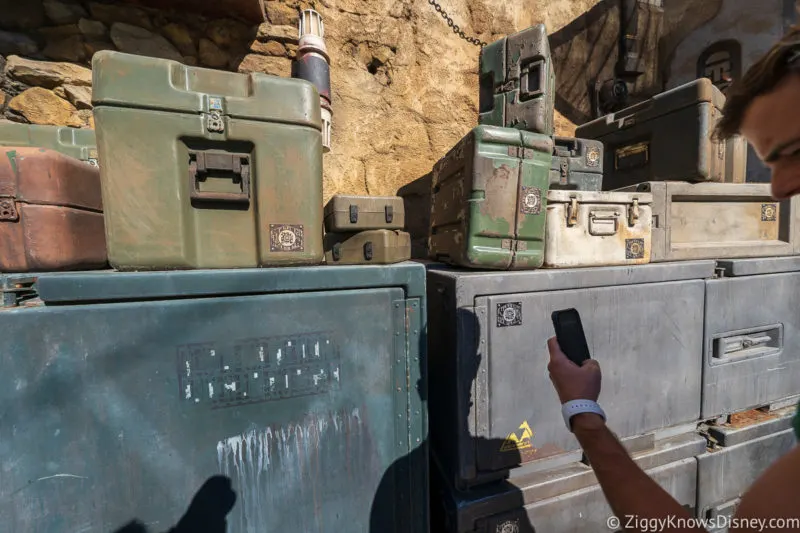 We also met with a guy working at Oga's Cantina who gave us info on finding secret plans we needed to bring back.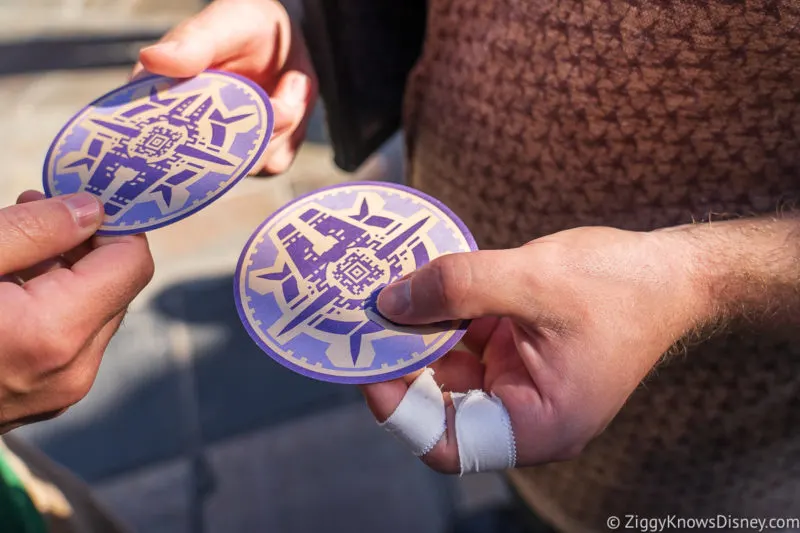 Guests can choose how much they want to be involved in the story. If you just want to be a tourist and explore Galaxy's Edge on your own, you are free to do so. You can work together with a group or go off on your own to complete the missions, it's up to you.
Riding the Attractions
All guests will have a chance to ride both Galaxy's Edge attractions (Rise of the Resistance and Millennium Falcon: Smugglers Run) during their visit without having to wait in line and using the Genie Plus service. At least you don't have to wait in line and can get on with the story.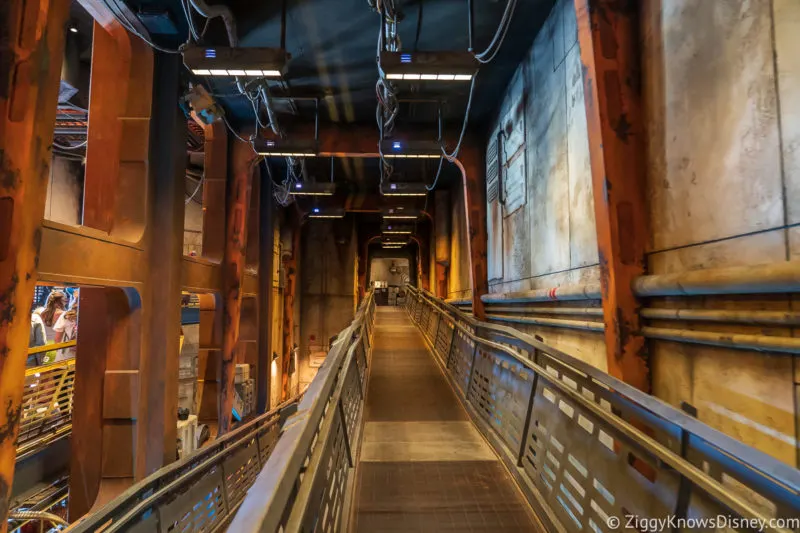 Not only will guests ride the attractions, but they will learn more of the back story behind the rides. For example, on Smugglers Run you will learn who is buying the coaxium you steal on that ride, and it becomes an important part of the larger plot of the overall story on the Halcyon.
Do I Need to Purchase a Park Ticket to Enter Star Wars: Galaxy's Edge During My Excursion?
No. Separate park admission is not required to visit Hollywood Studios during your stay onboard the Galactic Starcruiser. Theme park admission is included.
If you want to visit one of the other theme parks or return to Hollywood Studios before or after your voyage on the starcruiser, in that case, you will need theme park admission for those extra days you want to visit.
Do I Need to Make a Park Reservation to Visit Disney's Hollywood Studios During My Star Wars: Galactic Starcruiser Voyage?
Guests do not need to make a Park Pass Reservation on the day of their planet excursion to Galaxy's Edge on Batuu. It's already taken care of as part of your starcruiser package.
If you are visiting any of the theme parks before or after the starcruiser, you will need to book park pass reservations for those days.
During The Planet Excursion to Galaxy's Edge, Can I Visit Other Areas of Disney's Hollywood Studios?
Yes, you can. Guests are not forced to stay in Galaxy's Edge on the planet excursion and are free to visit other areas of Disney's Hollywood Studios.
That said, we highly recommend staying in Galaxy's Edge and fully exploring everything it has to offer in connection with your Galactic Starcruiser experience. The things you do there will impact your story when you return to the starcruiser so take advantage of this opportunity.
Costume & Dress-Up Guidelines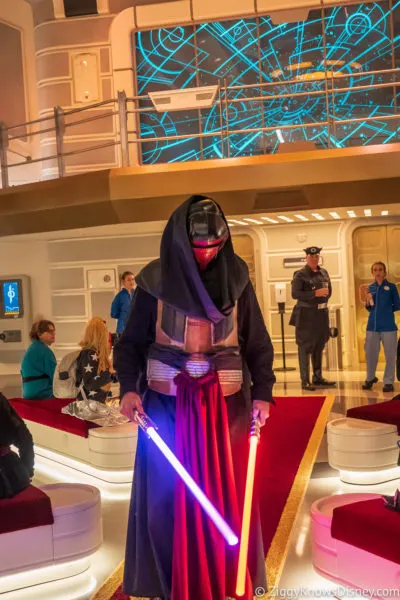 Since you are in the middle of a Star Wars adventure and surrounded by characters from that universe, naturally, many guests want to be fully immersed in the story, including their dress and clothes. But just like going to the theme parks, you need to know the rules.
Can I Dress Up in Costume During My Star Wars: Galactic Starcruiser Voyage?
Guests onboard the Galactic Starcruiser can absolutely dress up in appropriately-themed costumes as part of the experience if they wish to participate. In fact, guests are encouraged to wear their best-themed and most creative outfits to add to the fun of the voyage.
This is a Star Wars cosplayer's dream come true! Even if you don't have any Star Wars-themed costumes, there are some unique ones for sale in the boutique onboard only available to starcruiser guests.
Dressing in costume is not required and you can still wear normal clothes if you prefer. If you choose to wear a themed outfit, Disney asks to use good judgment and there are still specific requirements that change depending on if you are onboard the Galactic Starcruiser or in Disney's Hollywood Studios.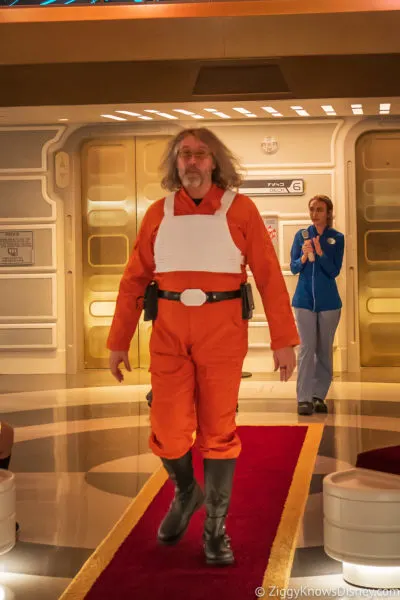 Let's take a look at the differences:
Aboard the Galactic Starcruiser
Costumes that may distract from the experience of other Guests are not permitted.
All Guests may dress as their favorite character, but they may not pose for pictures or sign autographs for other Guests.
Costumes must be family-friendly and may not be obstructive, offensive, objectionable, or violent.
Costumes may not contain any props or accessories that resemble or could easily be mistaken for an actual weapon.
Costumes may not contain sharp objects, pointed objects, or materials that may accidentally strike another Guest.
Layered costumes or costume props that surround the entire body are strongly discouraged and may be subject to additional security screening.
Acceptable accessories include transparent wings, plastic lightsabers, toy swords, and tutus. Costume headwear may be worn as long as it does not cover the face.
Guests ages 13 and under may wear some costume masks; masks may not cover the entire face and must provide unobstructed peripheral vision at all times with openings that allow the eyes to be fully seen.
Costume masks of any kind may not be worn by Guests ages 14 and older.
In Disney's Hollywood Studios
When visiting Hollywood Studios, all guests must comply with the theme park attire policy which includes:
Costumes, like full-length robes, may not reach or drag on the ground.
Capes may be worn if the length does not go below the waist.
Change Your Appearance Mid-Trip
If you start out in one costume, that doesn't mean you have to stay that way for the entire trip. You can start as a stormtrooper if you like and then switch to a Jedi later during the voyage to mix things up.
Merchandise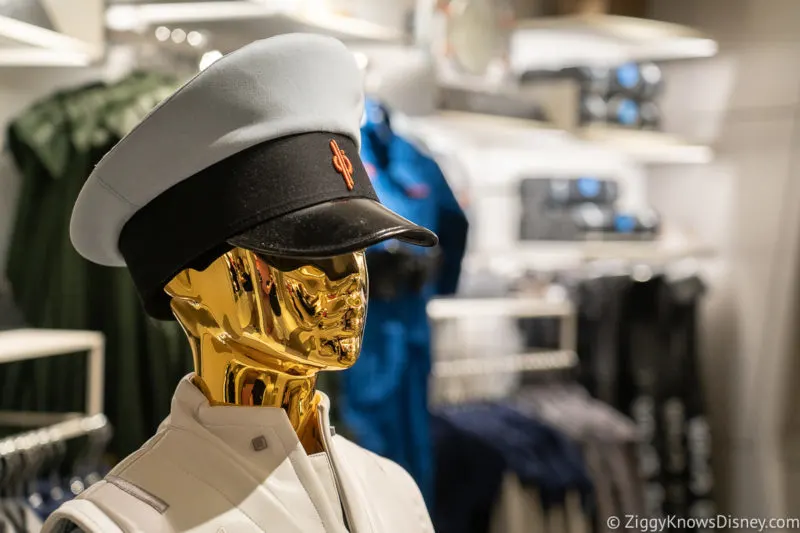 In classic Disney fashion, there is definitely a gift shop onboard the Galactic Starcruiser with limited merchandise available only to guests. "The Chandrila Collection" is the boutique on the ship where you can find outfits, formal wear, jewelry, pins, home goods, and more.
Nothing here has the "Star Wars" name and it is all in theme to the universe you are in.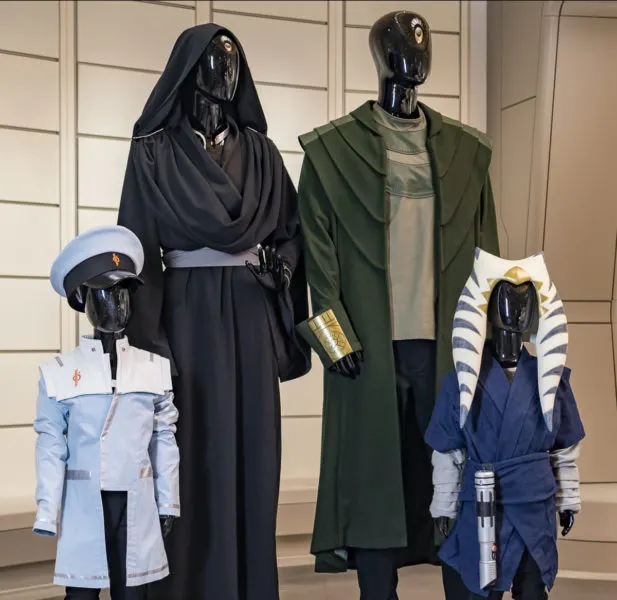 Find Your Perfect Star Wars Outfit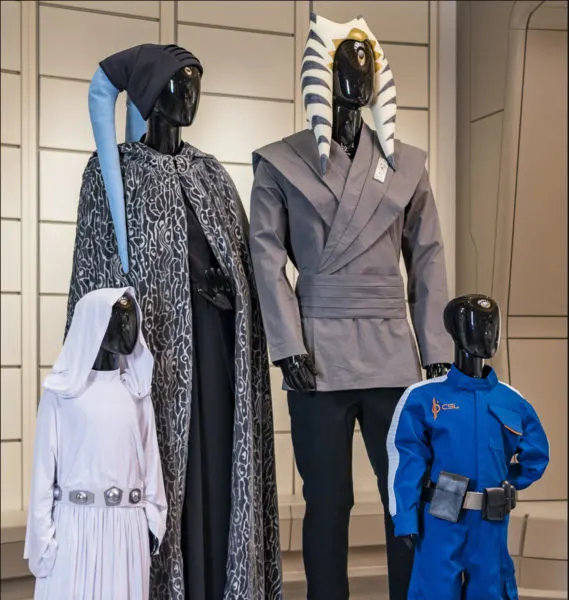 The Chandrila Collection features a variety of outfits that let you dress up as little or as much as you want. You can buy a simple headpiece, or get completely decked out in cosplay. Many of the pieces can be augmented with professional makeup artists.
The merchandising team here wants guests to be able to decide who to be and let each one come up with their own unique backstory to live out.
Some outfits include a children's-sized captain's uniform, blue mechanic's coveralls, jackets, shirts, and a lightsaber training staff tunic. There is more formal attire available as well like a sleek wrap dress and a crisp gray tunic. They even have Twi'lek headtails and a Togruta's montrails made famous by Ahsoka Tano.
The Halcyon Ship's Logo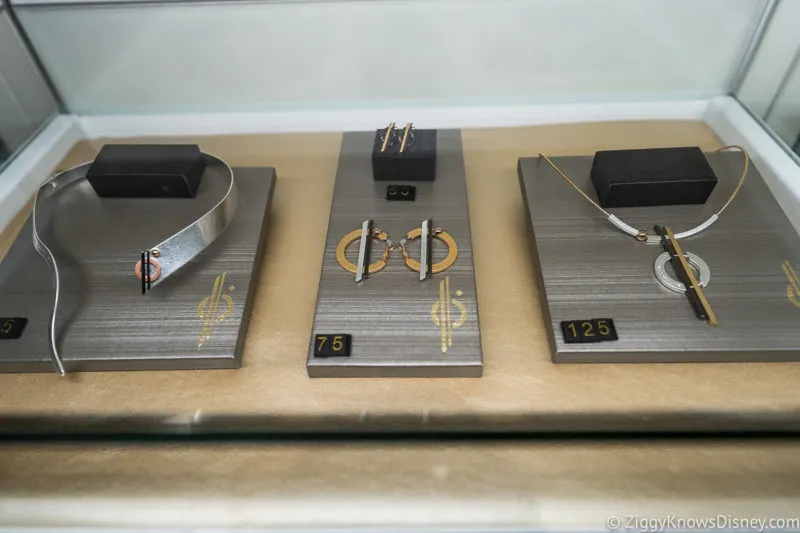 Just like on a cruise ship, there is an exclusive line of jewelry for the Galactic Starcruiser with the Halcyon logo woven into the design. Jewelry items include bracelets, necklaces, and earrings and you won't find them anywhere else.
Other Merch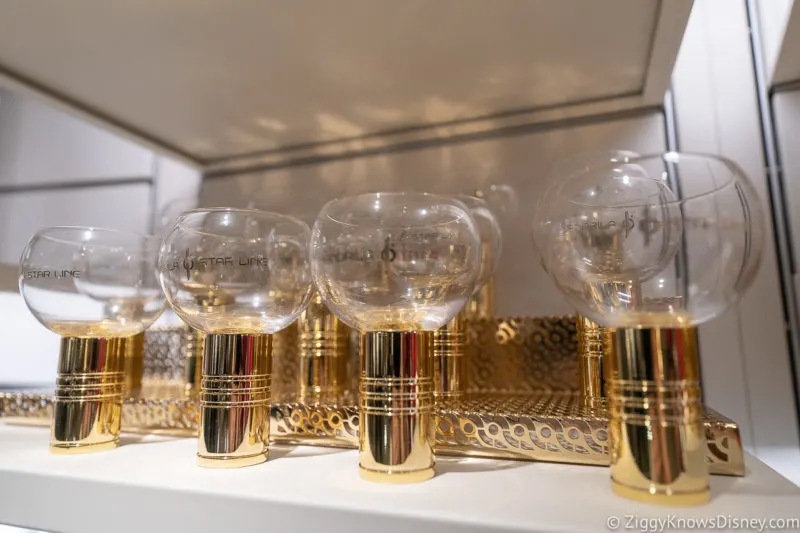 If you aren't looking for something to wear, the collection also has a variety of unique home goods to bring back with you. These include ornaments, coasters, wine glasses, lightsabers, and a model of the Halcyon ship.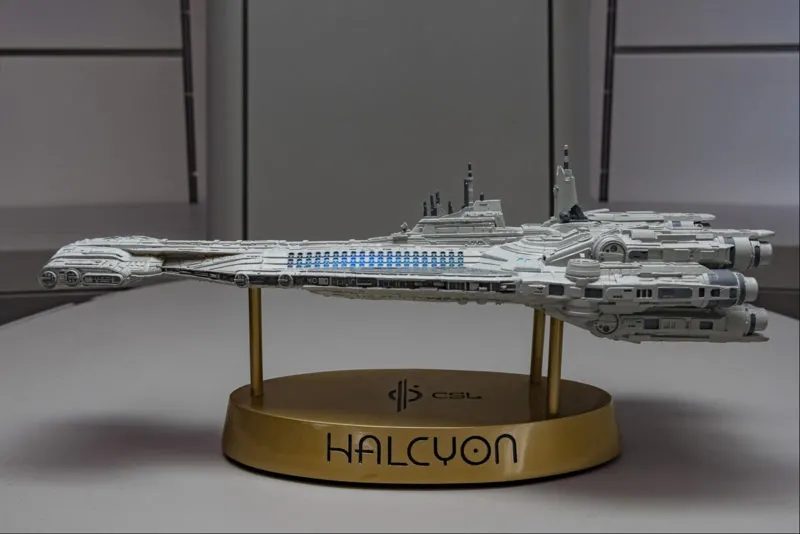 Most of the merchandise has subtle details of the theming from the ship and are nice reminders of your voyage.
One of our favorite items is the specialty Halcyon Lightsaber which is only available on the Starcruiser.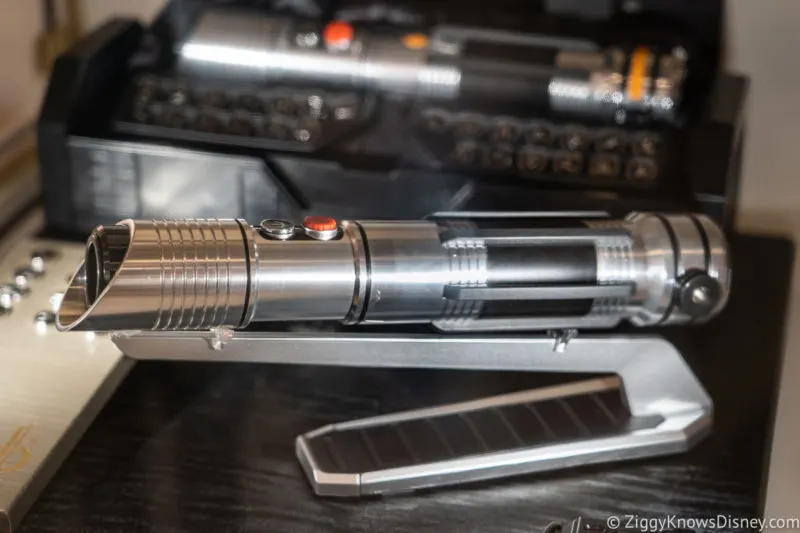 You'll find a special droid limited to the ship also.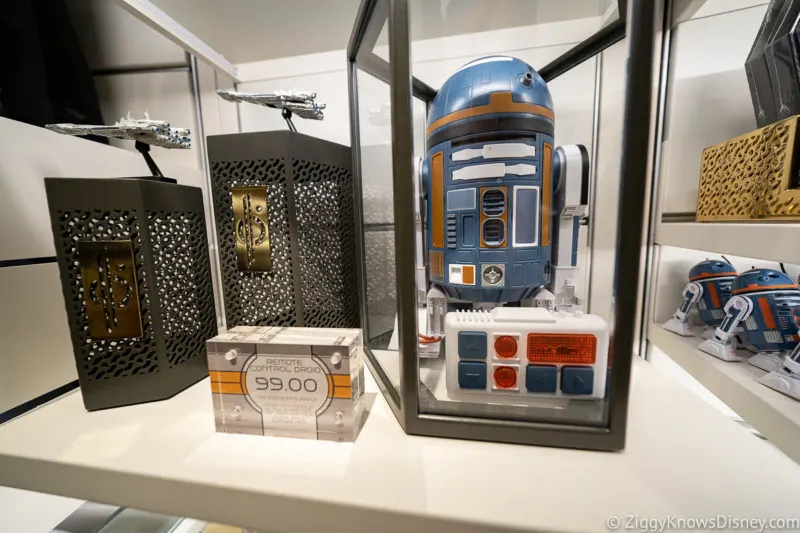 Review & Thoughts
Now that we've experienced the Star Wars: Galactic Starcruiser, we feel confident in bringing you our honest review and overall thoughts about the entire adventure, and it is an adventure.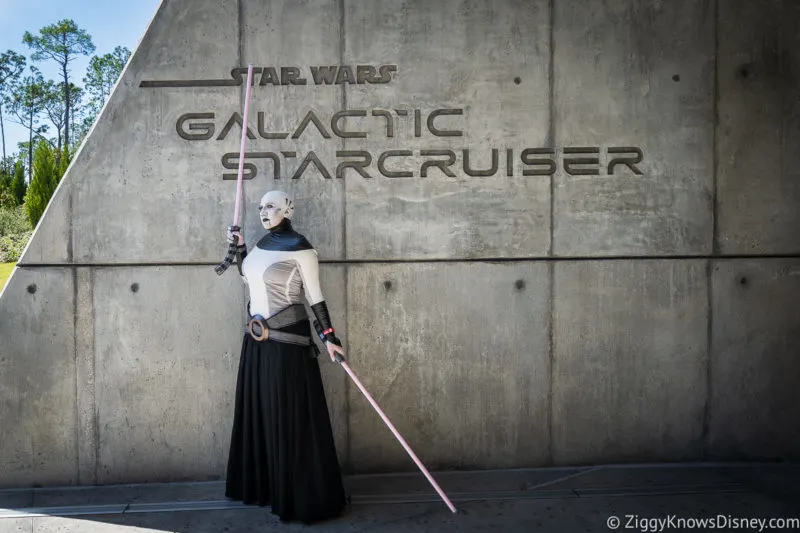 Our first thought is that this really is like nothing we've ever experienced before and something you really won't find anywhere else in the world. We're not saying that just to hype it up, it's really true and it exceeded our every expectation going into it.
Now that's not to say it's without flaws, but the positives definitely overwhelmed the negatives in our view. Here is what we liked and disliked about the Star Wars Hotel…
What We Loved about the Galactic Starcruiser
Storytelling & Details
From Day 1, Disney promises total immersion into the story of the Galactic Starcruiser, and man did they deliver big-time. The entire 42 hours of the voyage were full of missions and various storytelling events that suck you completely in.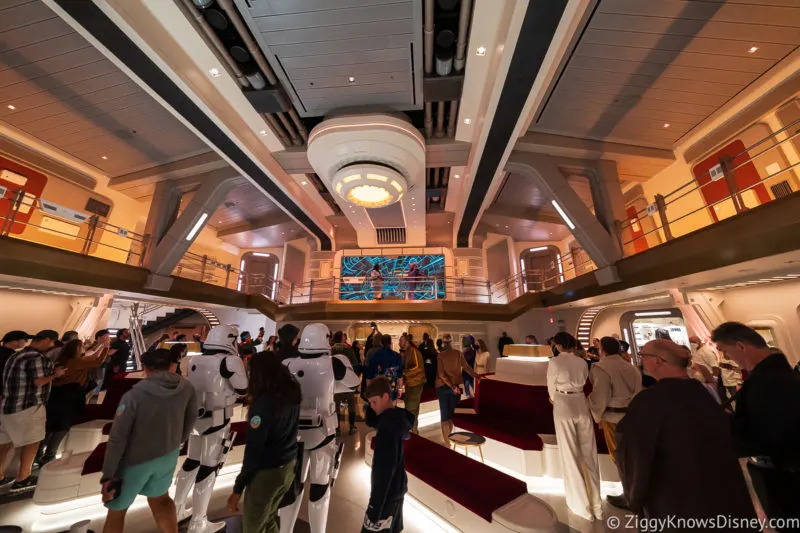 Some of these are smaller missions you can complete on your own or with a group, but all of them have a role in deciding your journey while onboard and what story you are going to play part in. Everything builds up slowly throughout the voyage until reaching the grand finale, which you had a hand in creating.
Even your trip to Batuu is different when you are on the Starcruiser and things we have seen or done a thousand times on visits to Galaxy's Edge in the past, suddenly have a much bigger meaning and payoff.
One of these moments is on Smugglers Run when you steal the coaxium. Instead of just doing it for Hondo, you find out it is really needed on the Starcruiser as part of an overall bigger plot point.
Credit goes to the entertainers and writers who worked on the story. They did an incredible job.
Another huge part of the storytelling is the music. We have to say that Galaxy's Edge has its ups and downs music-wise, but Disney nailed it on the Starcruiser. From the moment you step onboard the music grips you, and there are plenty of moments that play some of your favorite Star Wars songs, making you feel like you are in your own Star Wars movie.
Cast & Characters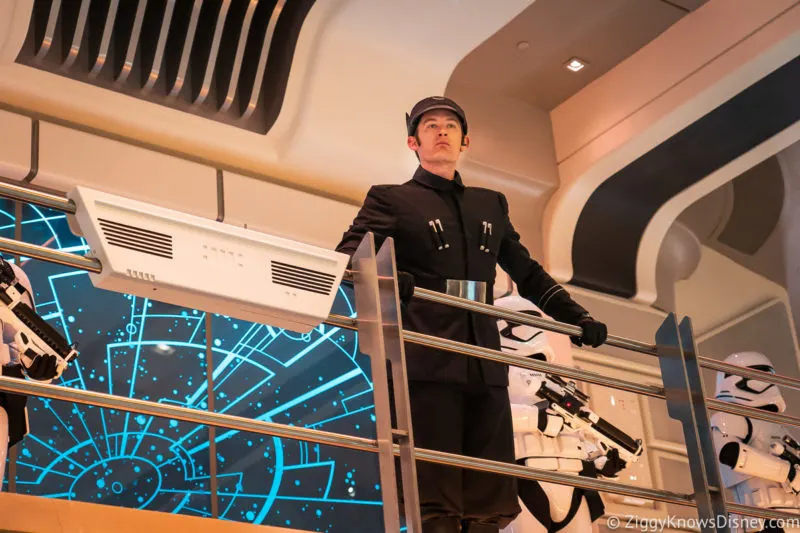 Everything on the Galactic Starcruiser wouldn't be possible without the amazing cast of crew members and actors.
We always say one of the biggest reasons we keep coming back to Walt Disney World is for the cast members, but the ones on the Starcruiser take the "Disney experience" to the next level. You know how you feel when one of the cast members does something extra to make your stay truly magical? Literally, every cast member we had contact with was like that here.
It seemed like the crew went out of their way at all times to make sure we were having an extra special time. For example, after a call to the desk to ask if they had any contact lens solution, a cast member offered to go out to the nearest store and buy some for us, and this was after 12:00 midnight.
The actors playing the characters in the story were on another level. They were funny, gripping, and interacted so well with guests onboard that you would have thought they had been doing this for 10 years even though it was the very first voyage.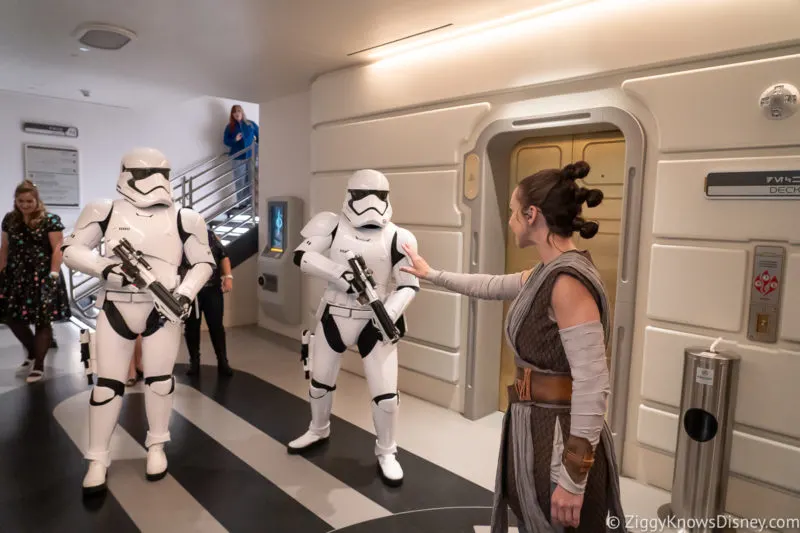 All the characters had a backstory that they could thoroughly explain to you while telling you dozens of little-known Star Wars facts along the way. The way they spontaneously interacted with guests was incredible to watch, and many times we just sat back in awe listening to some of the conversations.
Whatever scene you were in, they would sell it in such a way that really made you feel part of the story and that there were real consequences for what was happening at that moment.
Yes, the building is cool and the missions and experiences are interesting, but they would be nothing without this incredible cast of people working tirelessly to make it possible.
The Rooms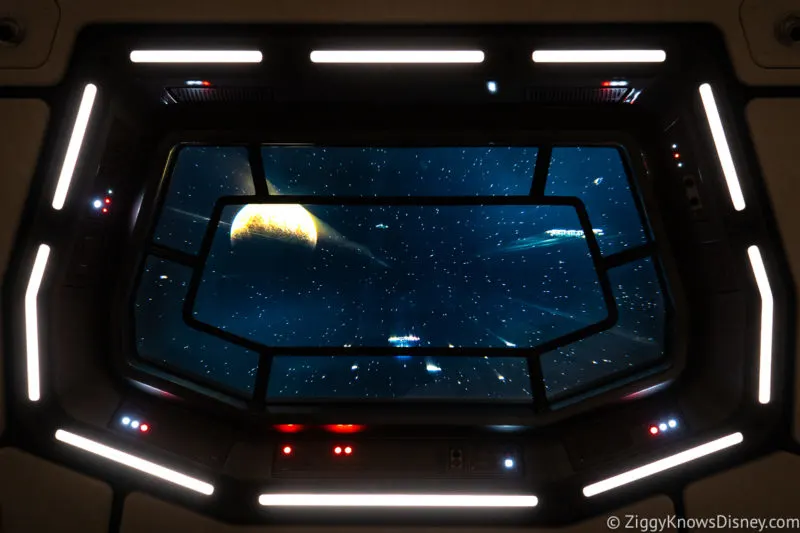 This might be an unpopular opinion with some, but we really enjoyed the rooms. Yes, they are smaller than all other Walt Disney World Resort hotels, but that didn't matter to us. They felt much bigger than the actual size and we never had a problem with not having enough floor space.
We also thought they were really charming and authentically Star Wars with all the extra details. While the space windows do have their issues with glare, we found them very intriguing and would watch them for 5 minutes at a time and just stare at the passing planets and ships.
The extra level of detail really showed here. For example, when guests on the bridge would put the Halcyon into hyperspace, all the windows in the hotel simultaneously showed the jump to lightspeed, including in the rooms.
Technology & Organization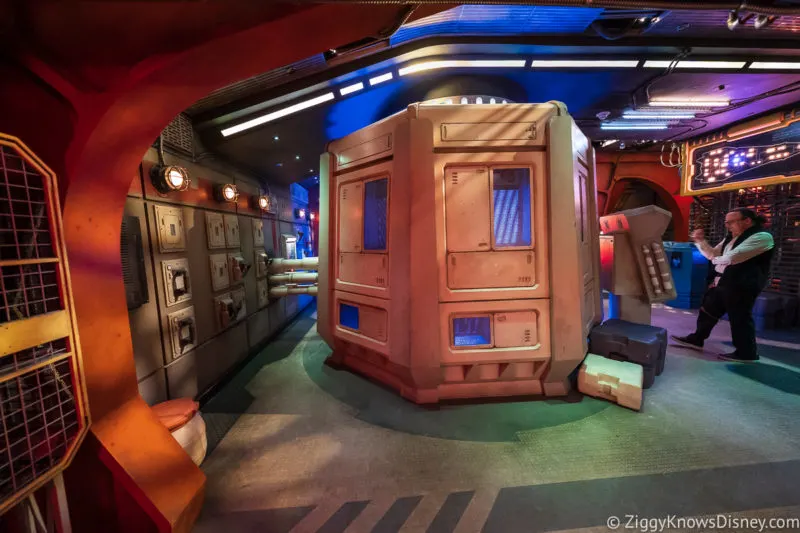 Almost the whole time we were on board, I kept wondering how in the world Disney pulled this off from a technological perspective. I mean we are talking about the same company that can't give guests a consistent wi-fi signal in the parks and can't make an app that doesn't crash when you are trying to make a dining reservation right?
With so much of the experience relying on technology, I was fully expecting the Datapad to crash halfway through the voyage, or mess up our itinerary. Something, anything. Instead, it was the smoothest experience from the technology end I have ever had with Disney.
It was amazing to see how even with so many different activities, missions, and experiences guests could be a part of, Disney was able to organize everything so seamlessly. There were never long waits to do the lightsaber training, the bridge training, or even get a drink in the lounge.
I was expecting complete chaos, but all the logistical movements and timing during the adventure were organized perfectly. All this while weaving in some pretty complex story elements that went without a hiccup, right from Day 1 mind you. Bravo Disney!
Show Scenes & Entertainment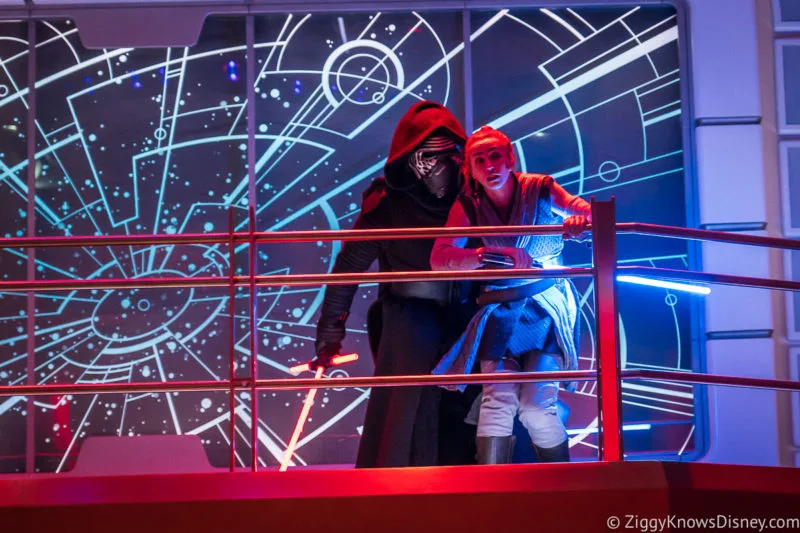 When we come to Walt Disney World, we expect A+ entertainment, and the Galactic Starcruiser has that in spades. Some of them are scheduled, many more are spontaneous, and all of them are glorious and exactly what we were expecting.
Much of the credit again goes to the fantastic cast of characters and their ability to draw you into the show and make you believe what is happening is real. It was like witnessing a hybrid Star Wars stage production and being tossed right into the middle of it.
Our favorite of the show scenes had to be the final lightsaber battle between Kylo Ren and Rey. There was so much going on there (clashing lightsabers, force pulls, and chokeholds) that it had us completely mesmerized. To top it off, the crowd gasped and cheered for joy at almost every turn. And this was just one of the many times this happened.
We also loved the dinner show on the first night of the cruise. We didn't think we would like Gaya and thought the performance would be cheesy ahead of time, but the entire room was having a blast and everyone was into it. Again, well done!
The Food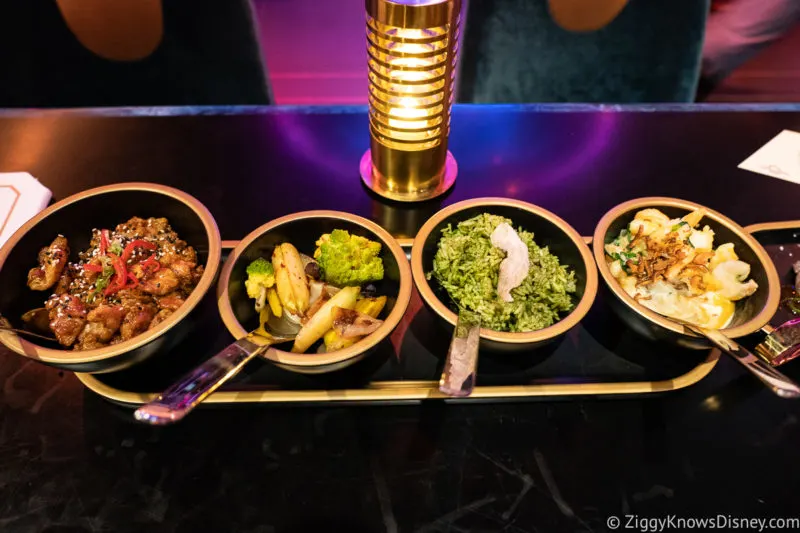 The food is usually close to the top of the list in almost every Disney experience, so it's strange to see it feel like sort of an afterthought on the Galactic Starcruiser.
We thought a good majority of the dishes we tried were really good. We liked that Breakfast and Lunch are both served buffet-style and you can eat as much as you want. Even though the portions are smaller and more focused on presentation, it helped us feel like we were getting our money's worth.
Even at dinner, you can eat as much as you want even though it's a much more elaborate affair and with more complex dishes. If you want seconds of anything, just ask.
The food wasn't the best we've ever had in Disney World, but many of the items were quite tasty and I applaud the chefs for their creativity. There are also a vast number of plant-based choices which is helpful for many diets.
We absolutely loved the drinks, and though they weren't included, they were top-notch and rival just about any bar at Disney World.
What We Didn't Like
The Arrival
Though it's not a huge deal, the arrival is weak and doesn't set the stage for the incredible journey that is to come. Disney is supposed to be a company that prides itself on creating realistic fantasy worlds and not breaking that story once in them, but this was just plain bad.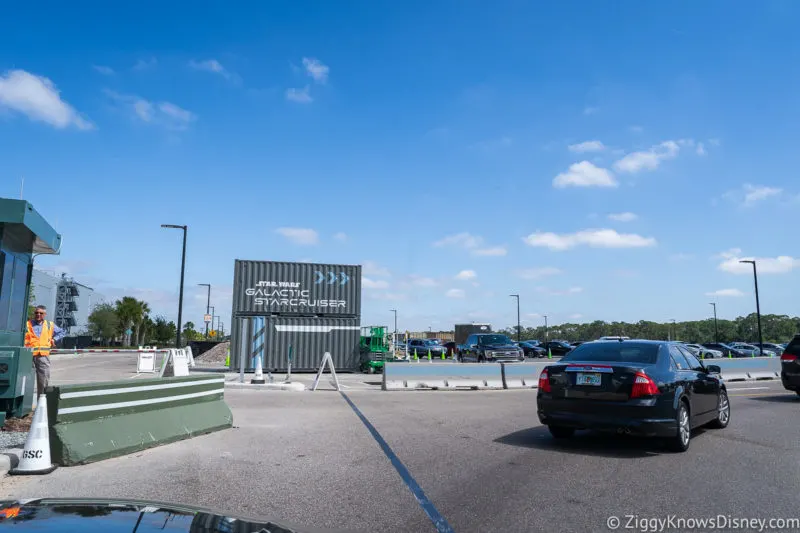 When you pull onto the road behind the Galactic Starcruiser, the backside of the Galactic Starcruiser building is completely visible, as well as Galaxy's Edge. No attempt is made whatsoever to hide any of it.
It's supposed to be a space terminal and that's it. Build a berm around the building or at least put up some trees that in a few years will hide the actual hotel. Do something.
It's a Paywall for Galaxy's Edge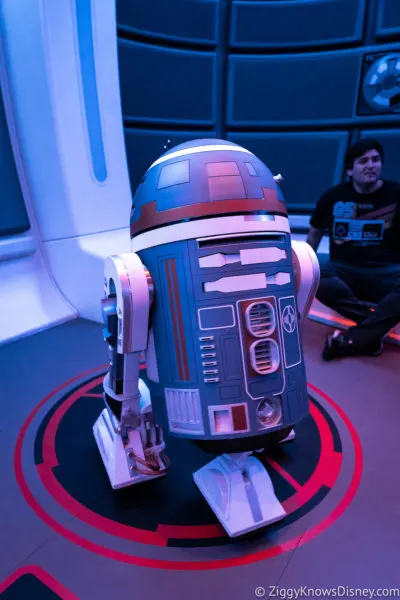 While we are thrilled beyond belief with some of the incredible features of the Starcruiser like the free-roaming droids, the reputation system, a dinner show, and Star Wars aliens walking around the ship, this was all stuff that was supposed to come to Galaxy's Edge back in 2019.
All of this was promised and then later shelved due to budget cuts and saved for the Star Wars Hotel instead. We are happy that these dreams from some talented Disney Imagineers finally made it out to the public, but more Disney guests should be able to enjoy them than only a handful of people with enough money to stay on the Starcruiser.
The Budget Cuts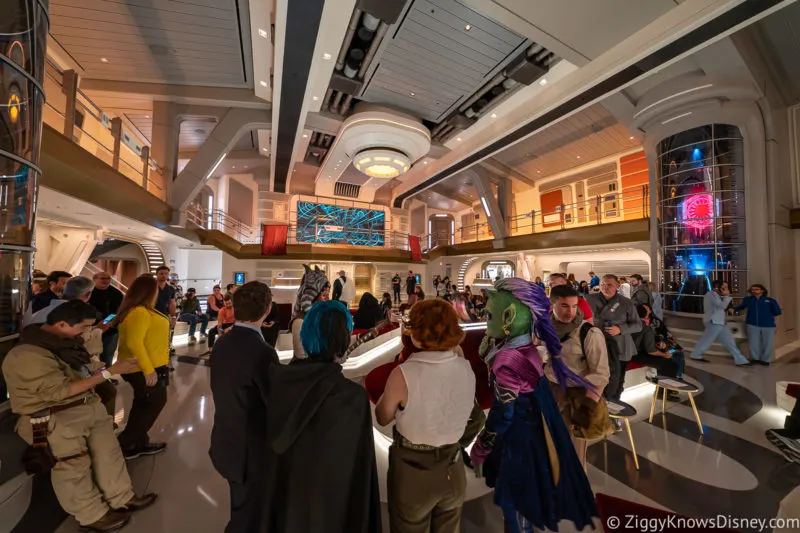 Even though we just mentioned a bunch of amazing things that we did get to see on board, there were even more that unfortunately were cut due to budget restraints.
One of these things is the overall size and grandeur of the hotel being reduced. If you look at some of the original concept art of the Starcruiser, the atrium was much larger with a higher ceiling and more windows into space.
We also found the Sublight Lounge to be quite small, as well as the hallways and stairwells which felt pretty narrow at times. With a bigger budget, they could have opened things up more and made them feel more luxurious.
Another area we enjoyed but could have been better was the transport vehicle. It's not so much for the final product, but again what we saw in the concept art. The original plan was to have windows into space so passengers could look out during the ride. Also, a physical droid was supposed to pilot the transport which would have been way cooler than just listening to a voice.
Some of the Activities Need Improvement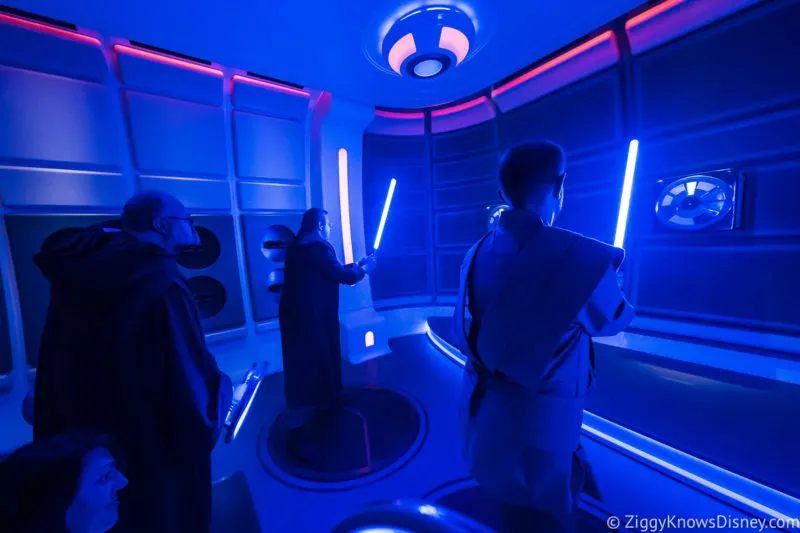 We liked the Lightsaber Training, especially the story part of it and the emotion that the actors portray in their roles. The actual exercise of blocking the laser blasts could use some work. The idea behind it is really cool and we enjoyed some of the effects, but it was a little too easy and could use some faster blasts for more of a challenge.
Disney probably did it this way to make it work for guests of all ages, but we were hoping for a little more. At least if they had a points system built into it with a reward going to the highest guest, that would make it way cooler.
It's Tiring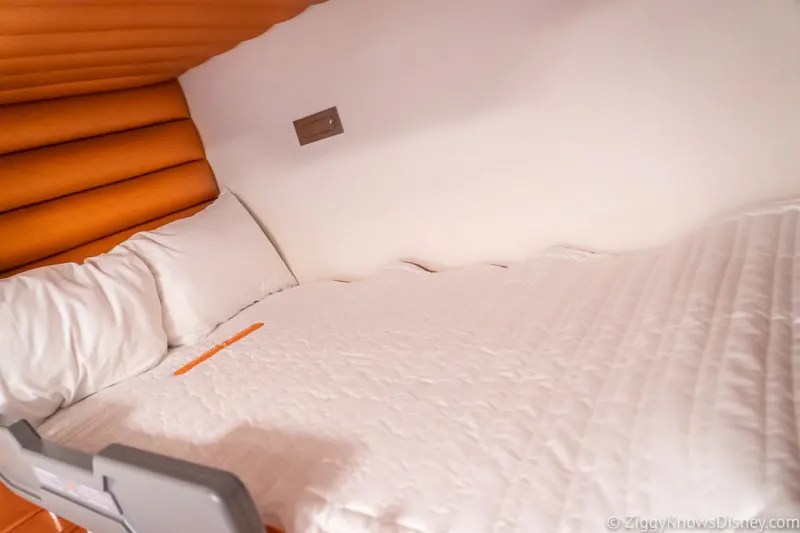 Overall we loved the Galactic Starcruiser, but there is no doubt that we were completely wiped out the minute we stepped off the ship. Of the 42 hours spent on the Starcruiser, I spent a total of 11 hours in bed, and that was literally the only time we had to rest. The entire time we spent running around from location to location trying to complete our missions or explore the ship.
Obviously, Disney has their calculations and they figured out 2 days is going to give them the best return, but we feel that a 3-night stay would have been much better from a pacing standpoint and may have allowed for a few hours to just catch your breath.
It's Expensive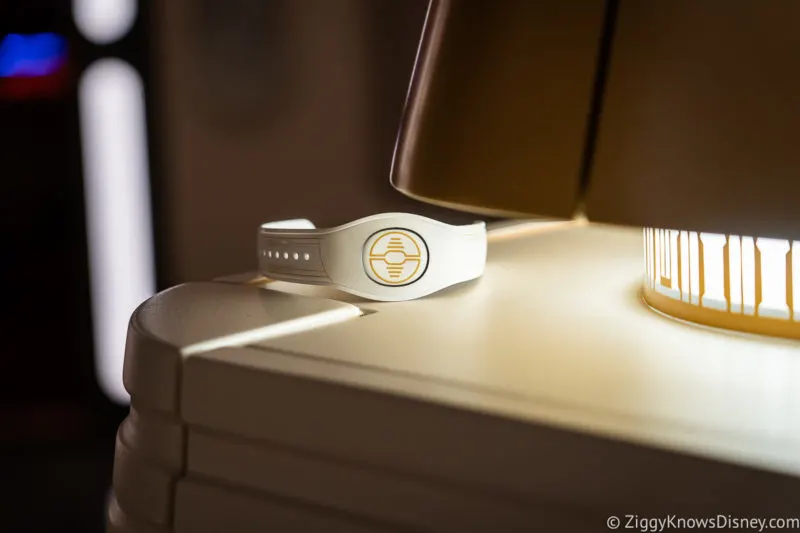 I left this one until the end because it's a negative in everyone's book. While there is no doubting the quality of the product you get while on the Galactic Starcruiser, the bottom line is it's extremely expensive.
So much so that the majority of middle-class families will never be able to afford it, which really makes us sad. We absolutely love Star Wars, but there are thousands of fans that are way more die-hard than us and it would be an absolute dream come true to visit here.
Ultimately, to deliver on an experience of this magnitude would be impossible if it was cheaper and allowed for more guests to visit during each voyage. They wouldn't be able to replicate the quality of the product and the intimate atmosphere it provides. Because of that, it, unfortunately, remains elusive for the majority of fans.
Conclusion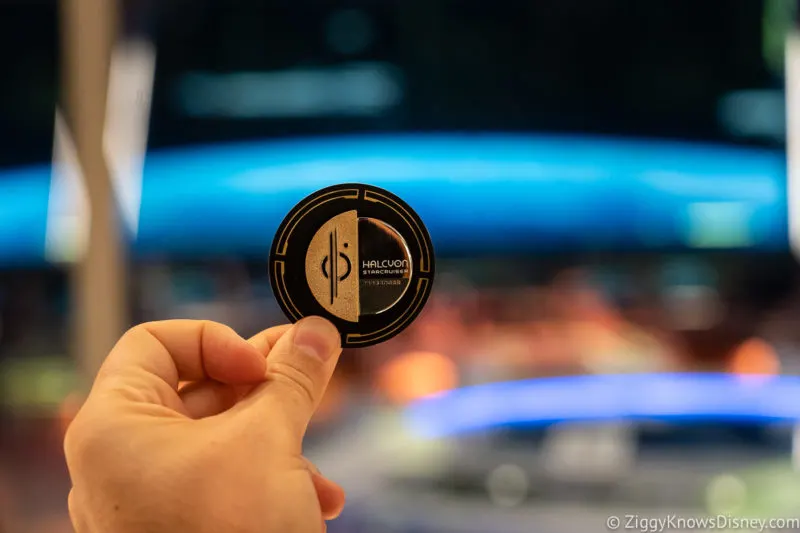 If you've somehow managed to read through this entire article up to this point, then there isn't much more I can tell you to express how much we loved our voyage on the Star Wars: Galactic Starcruiser.
This is hands-down the best themed entertainment experience we've ever had inside or outside of a theme park. Really, it's that good.
Disney Imagineers swung for the fences on this one and they hit it clear out of the part. Despite making something so bold and with tremendous risks taken, they still were able to pull this off. Not even a global health crisis or budget constraints were able to ruin it.
The Star Wars: Galactic Starcruiser is easily one of the best things the company has done in at least 3 decades and it feels like for once Disney Imagineers were given enough leeway to bring one of their biggest dreams to life.
Now that's not to say it's perfect, it's not. They are just too minor to outweigh the greatness that has been created here. This is an achievement in themed entertainment that is not likely to be matched for quite some time.
Is the Galactic Starcruiser Worth the High Cost?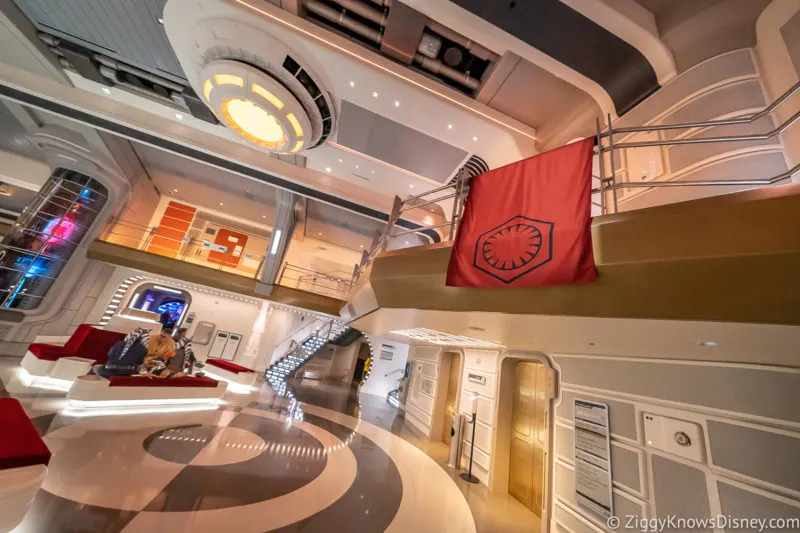 Is it worth the outrageous cost? That depends on many factors but be advised, it's not for everyone.
Real Star Wars fans first of all are the ones that are really going to appreciate all the intricate details that have been woven into the fabric of this journey. If you aren't a big fan, you might not want to pay the lofty price tag that comes with it.
Also, if you aren't willing to put yourself out there and really engage in the storytelling aspect of the experience, we recommend you stay at home, or use your money on another nice vacation more suited to your style.
We break this down more in-depth in our article "Is the Star Wars: Galactic Starcruiser Worth the High Cost?".
But for those who are willing to participate, those who appreciate great entertainment, and are looking for the most immersive themed experience possible, you will fall in love with it. The Galactic Starcruiser met all of our expectations going in and then surpassed them many times over. It has completely changed the themed entertainment business forever.
Guest Disability Services and Accessibility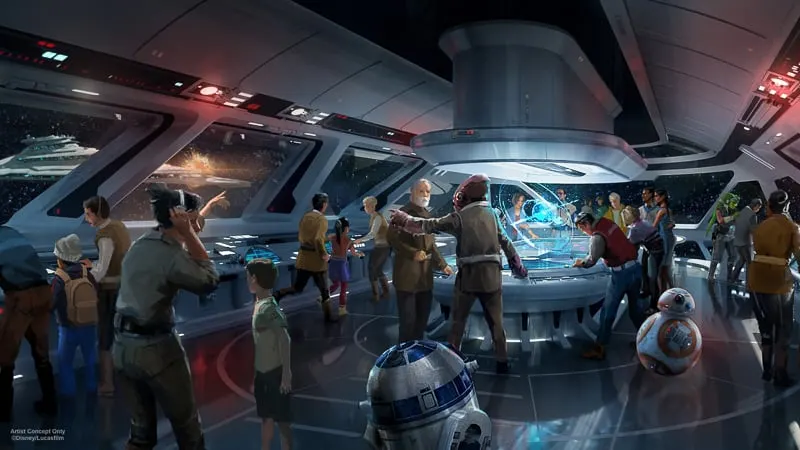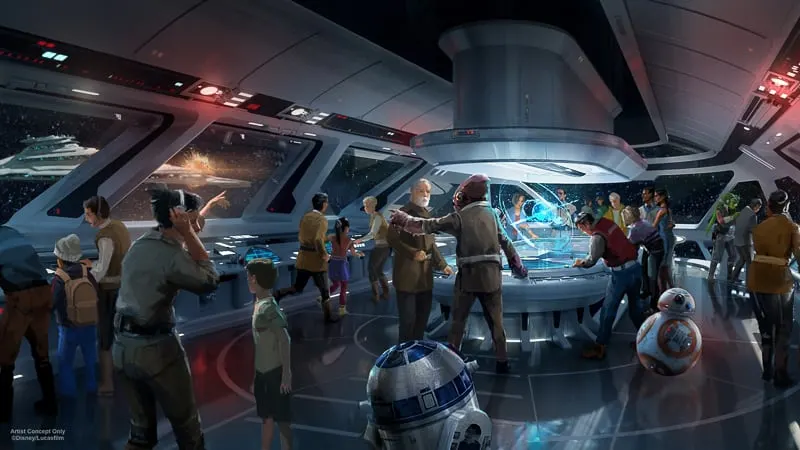 Available Services and Accessibility Options for Guests with Disabilities
As in the Disney theme parks, there are a number of accessibility options available for guests in the Star Wars Hotel including wheelchair-accessible bathrooms.
Always check the Guest Disabilities page on the Disney World website if you don't find the answers to the questions you are looking for here, and for the latest updates.
Can a Guest Traveling in a Wheelchair or Scooter Experience Everything on the Star Wars: Galactic Starcruiser?
Yes. Guests can remain in a wheelchair or on a scooter for the entire Star Wars: Galactic Starcruiser voyage and still get to experience everything onboard.
Where Can I Park My ECV or Scooter During My Star Wars: Galactic Starcruiser Voyage?
ECVs and scooters cannot be stored in guest cabins or in the hallways. There are designated parking locations on each deck of the starcruiser.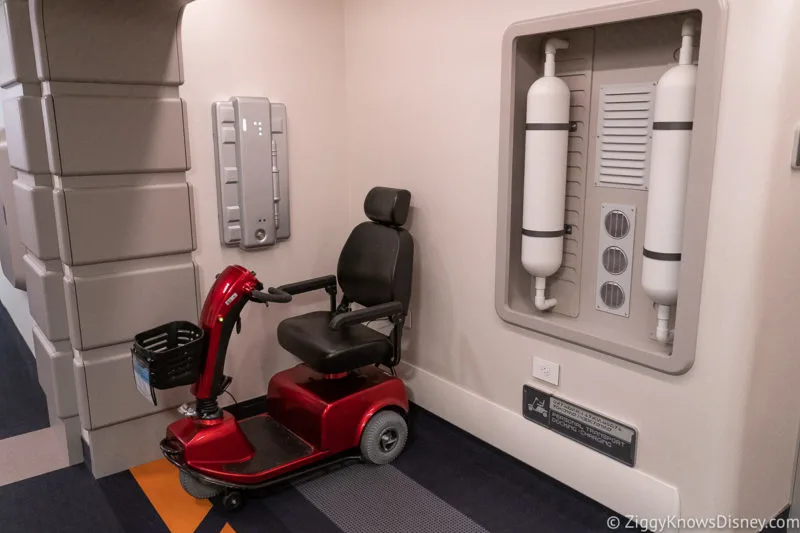 How to Request an American Sign Language Interpreter for Experiences on the Star Wars: Galactic Starcruiser?
American Sign Language interpreters are available with a minimum of 14 days' notice. You can request more information about it when you book your Galactic Starcruiser voyage.
Are Animals Permitted on Star Wars: Galactic Starcruiser?
Yes, but only service animals are permitted on the Star Wars: Galactic Starcruiser. Guests cannot bring an animal onboard only for emotional support, comfort, or as a companion, they must be an actual service animal.
Can I Rent Specialized Medical Equipment like a Bed Lift, Oxygen, or Shower Bench for My Star Wars: Galactic Starcruiser Voyage?
Select medical equipment is available for rent during your Star Wars: Galactic Starcruiser voyage, but you will need to request more information on what specific equipment is available when you make reservations for your trip.
Map
To help get familiar with the layout of the Star Wars: Galactic Starcruiser, let's take a look at the map floor by floor.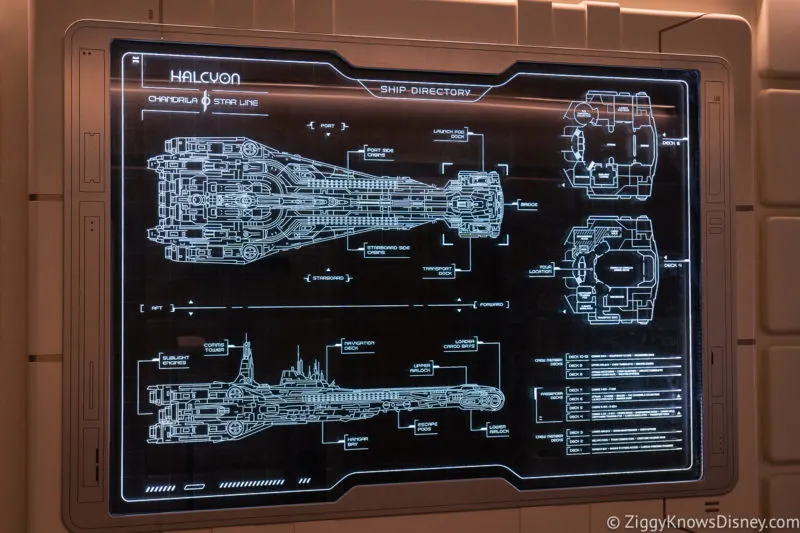 Just like on a cruise ship, each level of the ship is called a deck. There are 4 decks on the Halcyon starcruiser, decks 4, 5, 6, and 7. There are more in the story of the ship but they were not actually built.
Here is a look at Deck 4: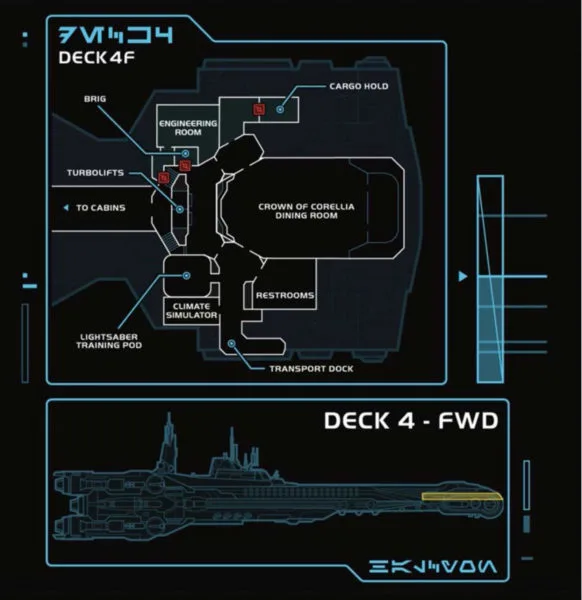 This is where the Crown of Corellia Dining Room, Engineering Room, Cargo Hold, Lightsaber Training Pod, Climate Simulator, and Transportation Dock are located. It is also the real ground floor of the building and where you enter before going up in the launch pod.
To the left and down the hallway are the first level of cabins: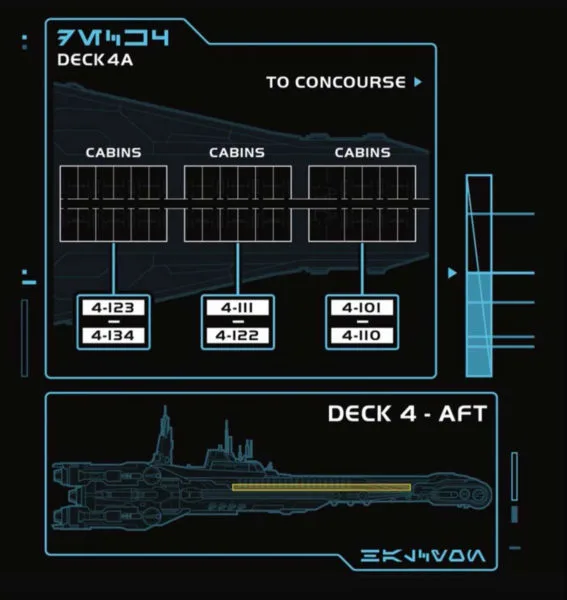 On Deck 5 there are more cabins: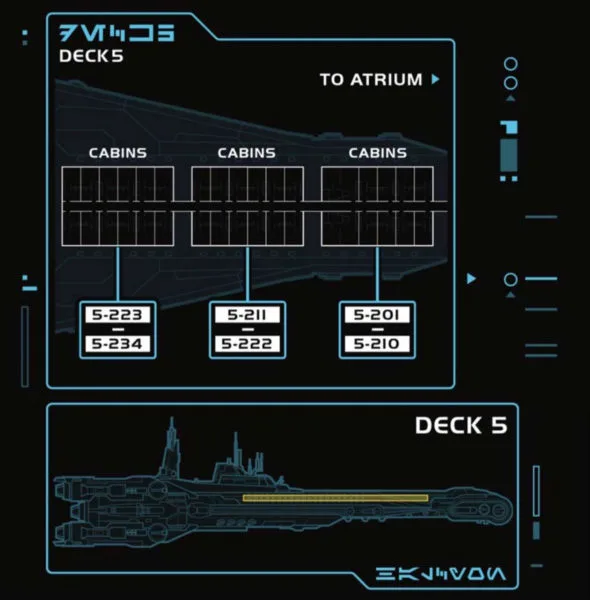 Next, we have Deck 6: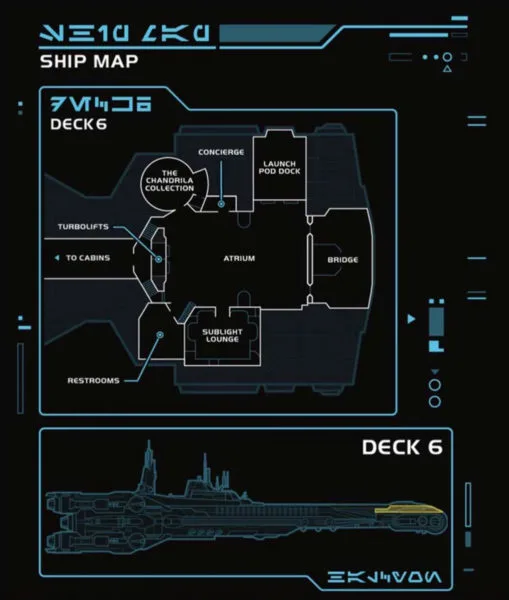 This is where the Atrium is located, The Chandrila Collection, the Bridge, Sublight Lounge, and the Launch Pod Dock.
Lastly, on Deck 7 are the last group of cabins.