By now you've seen all the construction going on in Epcot and heard about the many closures in Future World. One of those closures was the Character Spot which now has a new home. In this post we're going to look at the new character spot, talk about the best times to visit and also speculate about how long it might stay around.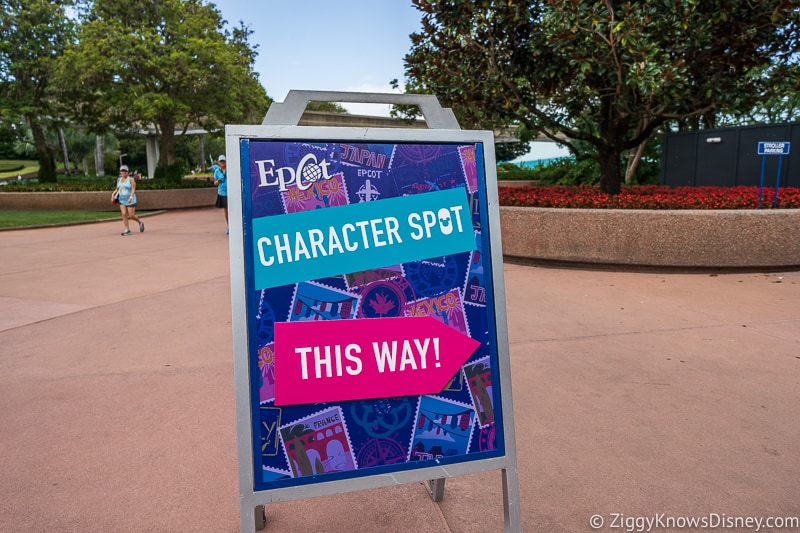 The front half of Epcot is barely recognizable right now as Starbucks, Club Cool, Innoventions, and the Character Spot all closed in September to as part of the huge Epcot transformation project that's underway. While we don't know where Starbucks is going yet and if Club Cool might return, thankfully the character spot which housed Mickey, Minnie and Goofy is still around, just in this new location.
Just to be clear, this is a temporary home for this character meet and greet and all the characters housed here will eventually move on to other locations, but we'll get into that, as well as when this temporary character spot might close later.
UPDATE 12/27/19: Disney has announced that the Character Spot here is closing on January 5, 2020. The various characters will be moving to different locations, except Baymax and Sadness who are being eliminated from Epcot.
Location
This new character meet and greet might be hard to find, after all it is tucked away in a small corner of Future World, and besides the stand-up sign posted outside, it's not really advertised or noticeable, even on the Epcot Map.
To get there, turn right at the big construction wall in the middle of Future World where the Fountain of the Nations is being demolished and turn right towards The Land pavilion. Once you pass through the tunnel you'll notice a blue and pink sign outside pointing the way into the character spot.
This place is no frills as you can see and if the sign wasn't out, you would definitely just walk straight past without thinking anything about it. It's even worse at night when there is practically zero lighting or indication that a character greet even exists here.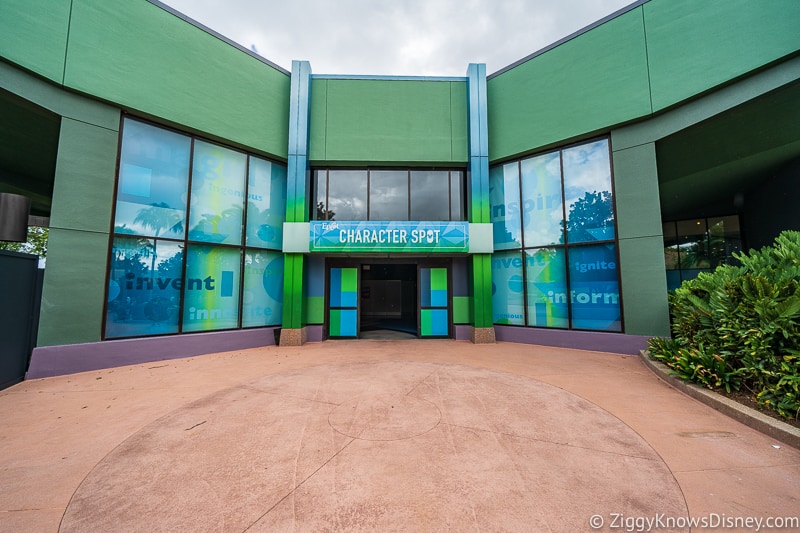 Let's step inside and see what it's like: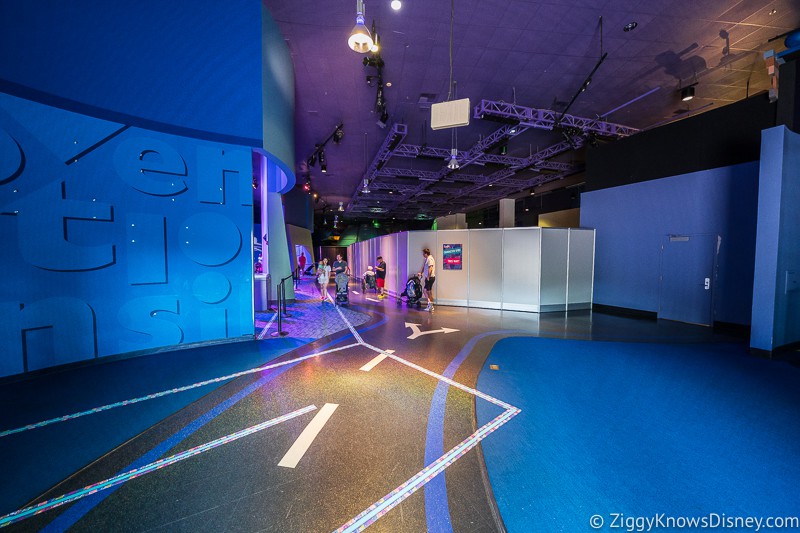 This is part of the old Innoventions complex and as you can see part of the building has been closed off. The character spot here is located straight ahead and on the left where the queue starts to form.
The first time we went it was about 2 pm in the afternoon and a pretty sizable queue was already there, despite the hard to find location.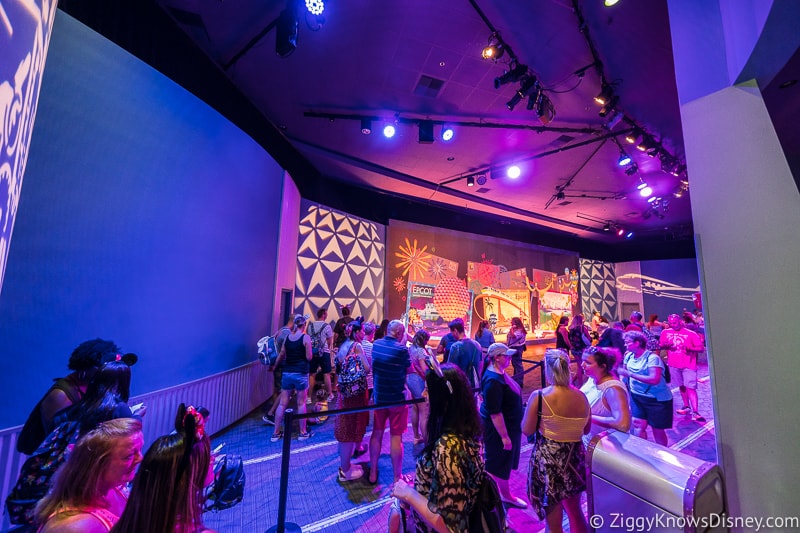 It turned out though that the line moved pretty fast and we only waited about 15 minutes, which for the middle of the day in Epcot isn't that bad.
A look around the space shows how big it is. Can you believe that at one time Innoventions was a thriving part of the park? It's sad to see things went the way they did, and now the space is getting one last use before closing for good.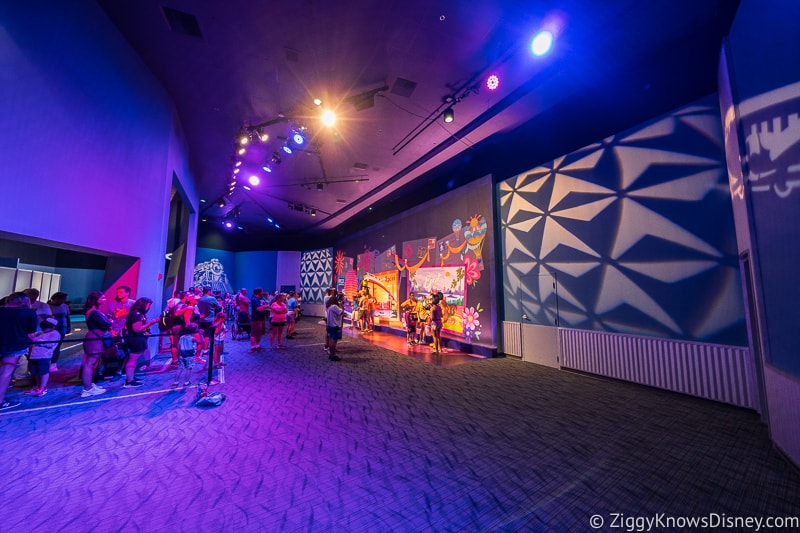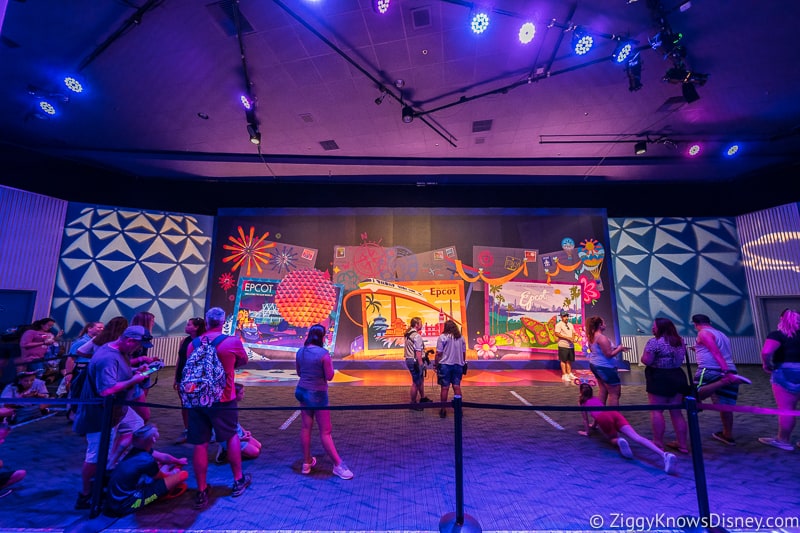 Characters
If you are interested in seeing characters while visiting Epcot, this is the number 1 spot hands down. Here you'll find Mickey Mouse, Minnie Mouse and Goofy all together, all sharing similar but different backdrops.
It's pretty convenient I must say to be able to knock-out 3 big-time characters all waiting in the same queue, so once it's your turn you can meet and take pictures with all three. Not bad!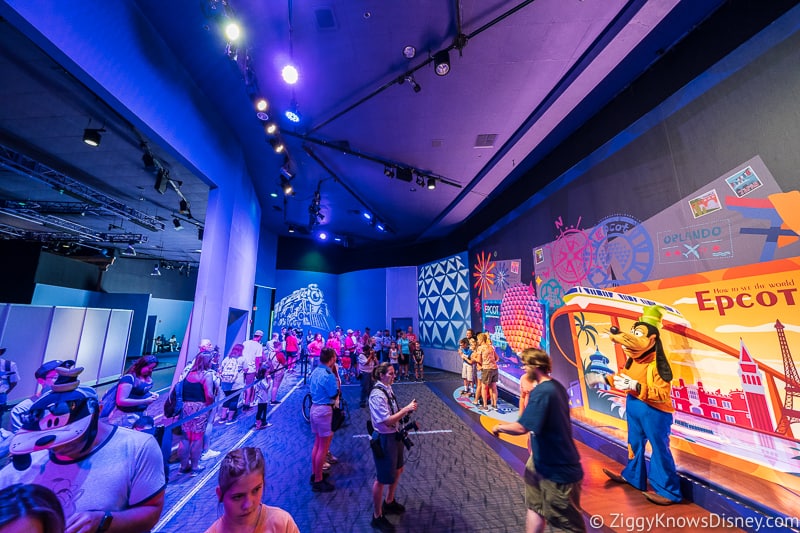 Besides these Big 3 characters, on the other side in the same building there are also character meet and greets for Baymax from Big Hero 6 and Joy and Sadness from Inside Out. Those locations have not changed at this time and they are still in the same place.
If the character meets are a priority for you while visiting then this is certainly a place you're going to want to spend some time in.
Now, we have to say that even though this whole setup is temporary, we really love the way it's set up and the backdrop that's been installed for the characters: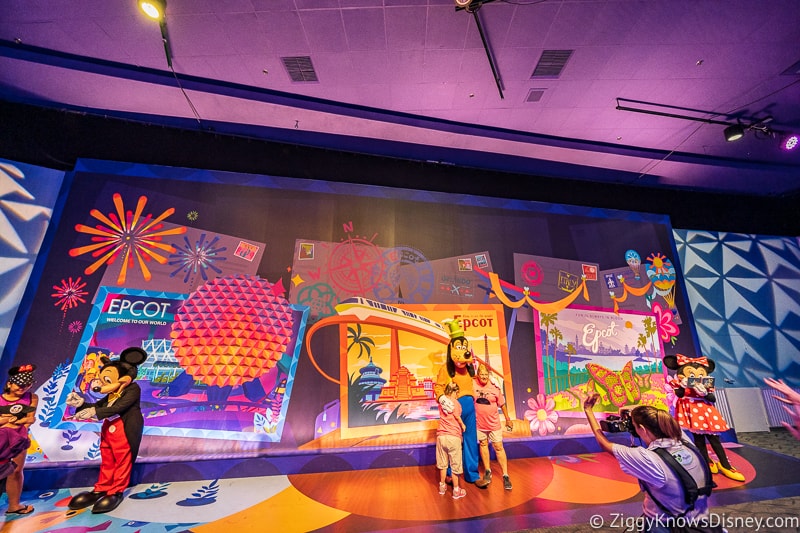 Each one is slightly different, yet follows the same art and design as the others. They all feature different locations in Epcot on the backdrop, but each with a slightly different feel and design.
It's setup with all three characters in a row, so you just go from one to the next very easily without getting back in line. You might have to wait a minute for the family in front of you to finish up, but the whole process moves very quickly.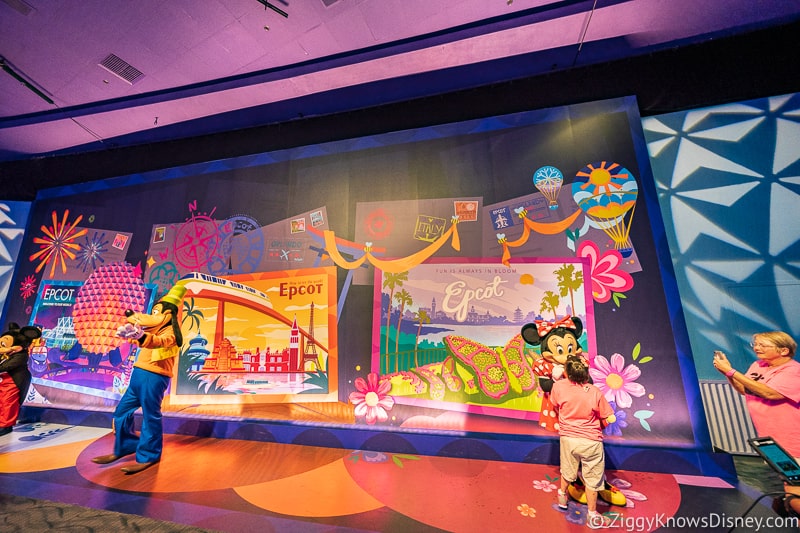 Mickey Mouse – Mickey is the first character you meet at the character spot, and he is waiting to greet us with open arms. This is a classic-looking Mickey Mouse and he has his standard red pants with a long tux jacket on.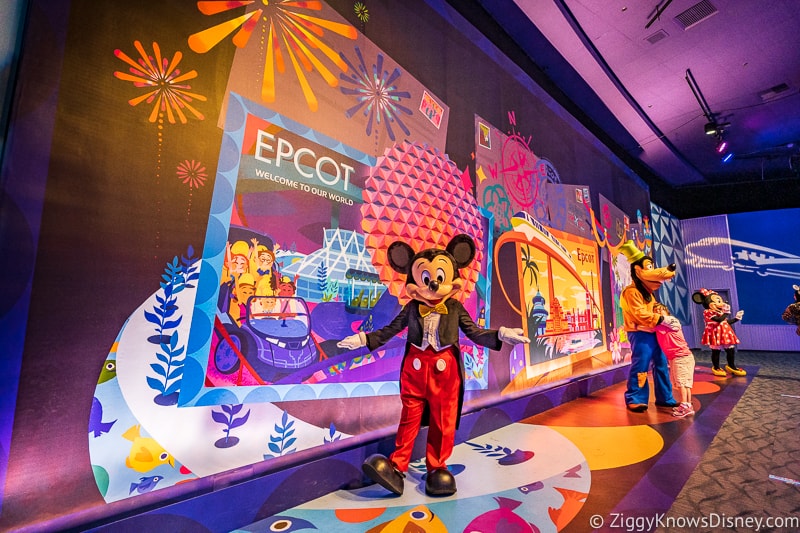 Goofy – Goofy is also in his normal attire and is his usual, crazy self. We probably got the best photos of Goofy as he was doing all sorts of weird and funny poses for us! Hilarious as usual!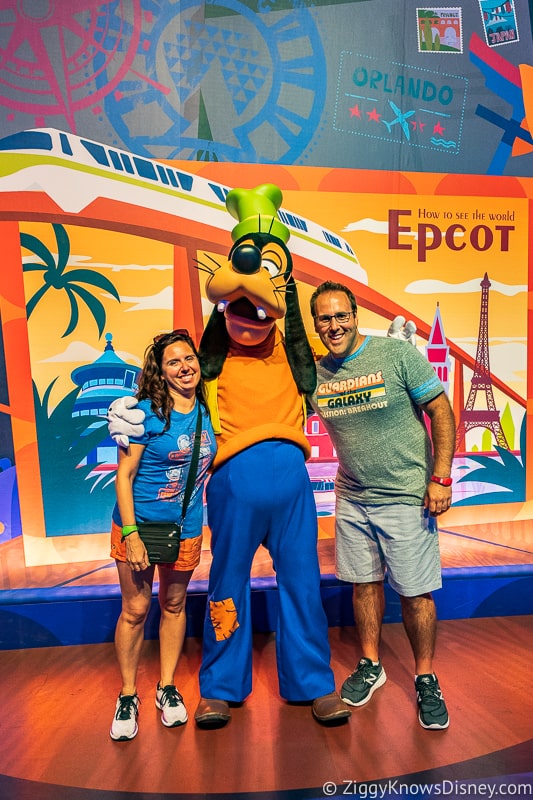 Minnie Mouse – Last up is Minnie. She is in her regular red and white polka dot dress with a gorgeous image of flowers, trees and water behind her.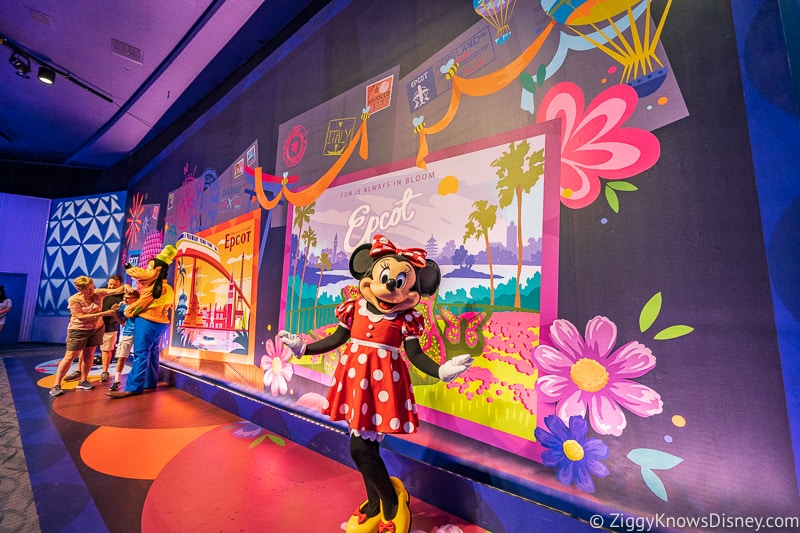 You never know what is going to happen when you're in line to meet characters, and we were lucky enough to witness a proposal and engagement right in front of us while waiting for Mickey.
It was a very touching scene as all who were in queue watched and cheered the newly engaged couple. It was also cool to see that Mickey and Minnie took some awesome engagement photos together with the couple to celebrate their priceless moment.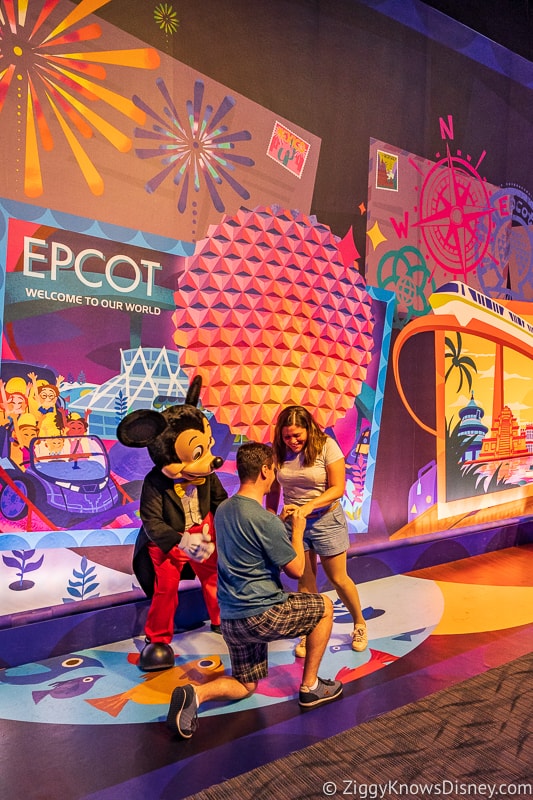 Tips for Visiting this Character Spot
This character spot isn't super complicated, but we've included a few tips to help you during your visit anyway.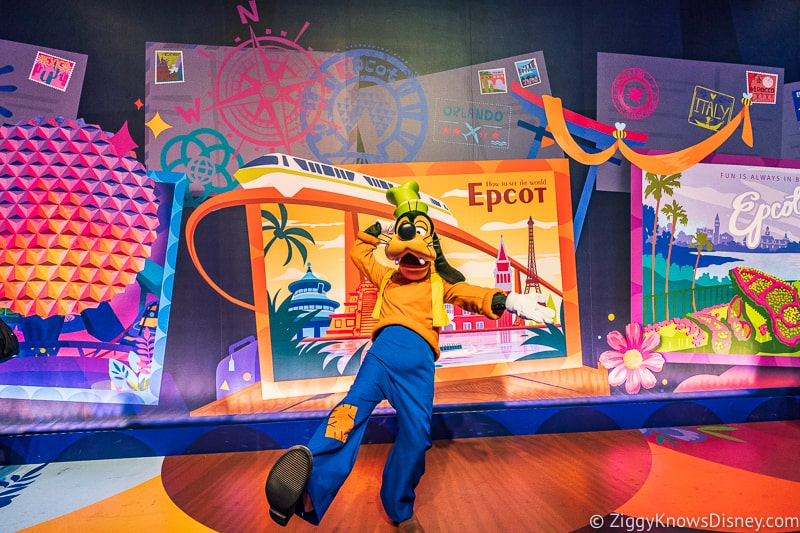 Though the first time we went was at 2 pm, there still wasn't a big crowd. In fact every time we've stopped by or checked the wait time, it's never been more than 30 minutes. That's pretty reasonable considering this spot houses Mickey Minnie and Goofy, 3 of Disney's most popular characters.
That said if you want to completely avoid the crowds, it's best to go either right at park opening (9 am) or in the last hour of park operations (between 8 pm and 9 pm).
If you go at opening it's great because most of the first guests in Epcot will head straight for Test Track, Frozen or Soarin'. Instead if you go to the character spot, you'll get in with less than 5 minutes of wait time, and be able to get pictures of the entire back drop without other people in it.
Park closing is also a great time to go because the crowds definitely shift towards World Showcase, especially this time of year for Food and Wine. Instead of waiting for a spot to watch the fireworks, you can come here to meet the characters, and then walk over to the Imagination pavilion and watch the fireworks from there.
When is it Closing?
So as we mentioned, this character spot is only temporary and isn't sticking around for good. This whole building is going to be demolished soon and the land it currently sits on will be home to the new Moana Journey of Water attraction that was announced at the D23 Expo in August.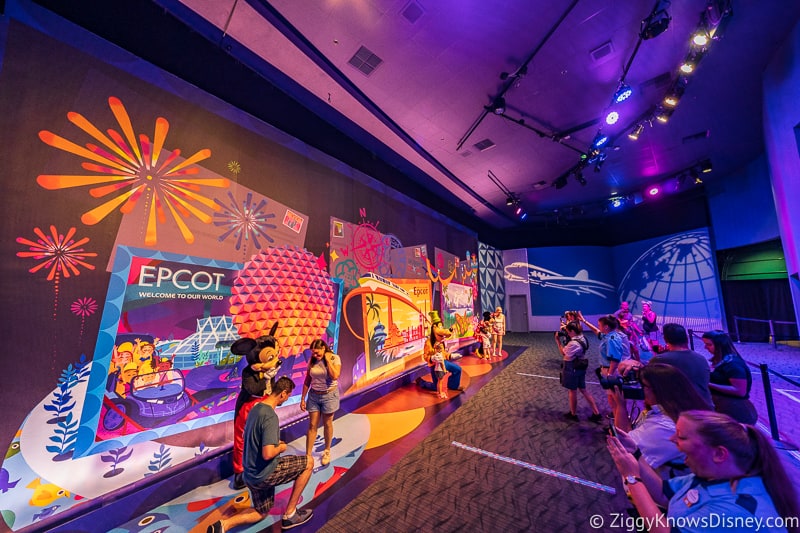 At this time however, Disney hasn't said just exactly when the character spot is closing. I don't have any insider information about it, but my guess is that it will be sometime in early 2020 in order to start building the Journey of Water.
Just because the Character Spot is going away though doesn't mean that you won't be able to find these characters anymore in Epcot. Here is the list of where you will be able to find these characters:
Mickey Mouse – Imagination! pavilion.
Goofy – Unknown Location
Minnie Mouse – World Showcase Gazebo
Daisy Duck – American Adventure
Joy – Returning but Unknown Location
Sadness – Doesn't look like she'll return
Baymax – Unknown if returning
Out of the 7 characters, Mickey, Minnie, Goofy, Daisy and Joy are all confirmed to be staying at some location in Epcot. Mickey is going into to find a new home in the Imagination pavilion and Goofy might as well, but it's not confirmed at this time.
Minnie and Daisy are moving over to World Showcase and Joy doesn't yet have a home, but she is staying around. At the moment it doesn't look like Sadness is coming back, which we find weird if Joy is staying, and Baymax isn't confirmed yet either.
We know the new Mickey location is opening in "early 2020, so we expect this current character spot to stay in its current location until just before that, sometime in early 2020, but we'll keep you informed when we get something official.
In the meantime there are plenty of other changes coming to Epcot as part of its huge transformation. Just look at the list of new projects underway:
That's a lot of new things coming to Epcot in the next 3-4 years, so you're going to have to have some patience in the meantime because things are going to be really hectic with all the construction.
We are pretty optimistic though for how Epcot will look when everything is said and done. It's finally getting the attention it's needed for years and the concept art is impressive. We're going to wait to hold judgment until everything is open though and see how seamless this new transition is.
Stay here at Ziggy Knows Disney for the latest on the Character Spot and all the new Epcot projects!
Need help planning your Disney Vacation? Contact René from Show You the World Travel for all your trip planning needs. All of the agents there are certified Disney Travel Agents and are super helpful with all your planning needs. I highly recommend them and the best part about it is they are FREE to use!
Your Thoughts:
I want to know what you think about the new character spot location in Epcot…
Do you like it?
What other characters would you like to see in Epcot?
Let us know in the comments section below!
If you enjoyed this article, as always I appreciate it if you'd share it with others via social media. I work hard at making this website into a useful resource for you and your family to plan your visit to the Disney Parks and I hope it can help you! Thanks 🙂