Hurricane Nicole is heading toward Walt Disney World, and if you have a vacation planned for the next few days, you are probably wondering what to do and how your vacation will be affected by this event.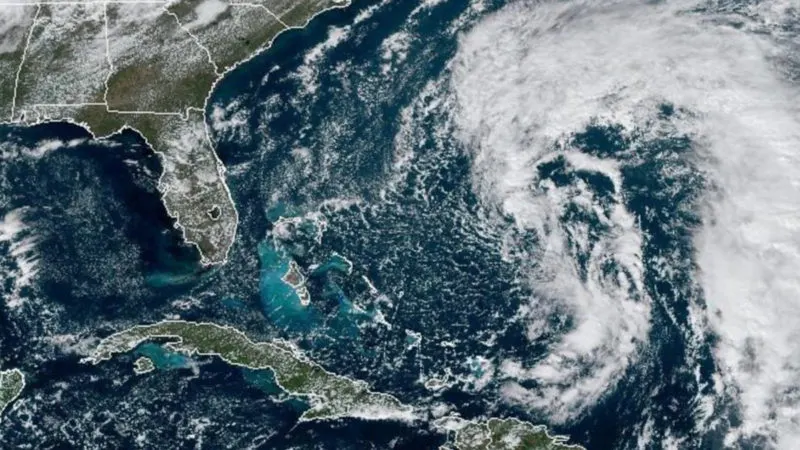 In this post, we are going to share the latest updates regarding Hurricane Nicole and Walt Disney World. We'll tell you what is still running at Disney World up to this point, and even if any of the 4 theme parks have closed.
(Updated 11/9/22 at 6:44 pm EDT) – Walt Disney World has just announced it is closing the theme parks today due to Hurricane Nicole as they are waiting for it to hit on Thursday, November 10, 2022. A Tropical Storm Warning has been issued for the Walt Disney World area and Florida Governor Ron DeSantis even declared a state of emergency in anticipation of Nicole.
Keep reading below for the full story…
Nicole should become a hurricane in the next couple of hours which could mean even greater steps are necessary.
We'll also show you how Disney works together with the local authorities to make sure that all of its guests and Cast Members are safe and well cared for. If you are looking for the latest info on getting a refund for your vacation and Disney's hurricane policy, we'll explain it all here.
Basically, we have everything there is to know about this storm and if it is going to hit Disney World.
MCO Orlando airport has suspended passenger flights after 4:00 pm on Wednesday, November 9, until circumstances allow for operations to resume.
The National Hurricane Center has given its latest update on Hurricane Ian which is now intensifying and is expected to hit Florida as a hurricane.
No new Walt Disney World Park Pass Reservations are available for booking on Thursday, November 10, and Friday, November 11, 2022.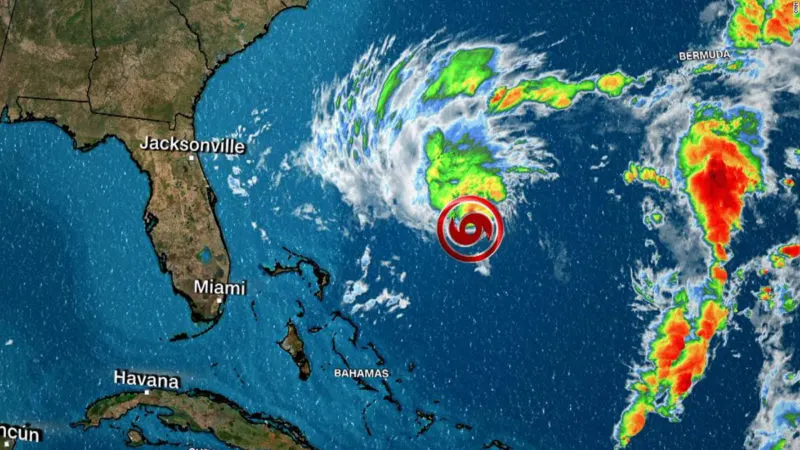 For a couple of days, we were writing updates for Storm Nicole in our main Hurricanes at Disney World guide, but since there are multiple updates daily, we thought it was a better idea to create a new post with information directly about this storm.
If you are looking for more general info on how often hurricanes occur at Disney World, how Disney prepares for them, and what to do if you are there when it happens, make sure to read that article.
With Hurricane Ian having hit Walt Disney World just over one month ago, we know that guests are getting tired of this same story, and if you are going or are stuck there, we know it can be a scary time. November is a very uncommon time for major storms to hit Florida, and we are just as shocked as you that this is even an issue right now.
That said, even if you are in Disney World during the storm, it can actually be pretty fun as Disney keeps you super-occupied with games and other activities if for some reason you can't go outside or the parks close.
Here are a couple of articles if you want to know anything about our past hurricane experiences at WDW:
There are going to be a ton of updates in the next couple of days, so scroll down for the latest updates and keep checking back for more!
Is Walt Disney World Closing?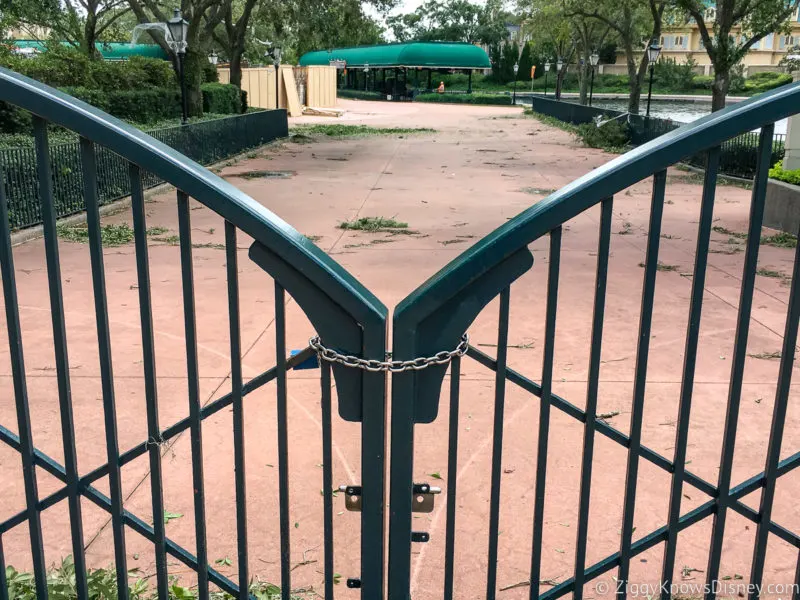 Yes, it is. All 4 Walt Disney World theme parks are closing early today (Magic Kingdom, EPCOT, Hollywood Studios, or Animal Kingdom), in preparation for Tropical Storm Nicole.
Starting today November 9, 2022, at 5:00 pm, Disney has announced a phased closure in which the parks will remain closed through tomorrow morning, November 10, 2022.
The Water Parks are another story and Disney had already announced that Typhoon Lagoon is closing temporarily. We also may see some of the Disney World resorts or restaurants close in the coming days.
Disney even released an official statement about the closures: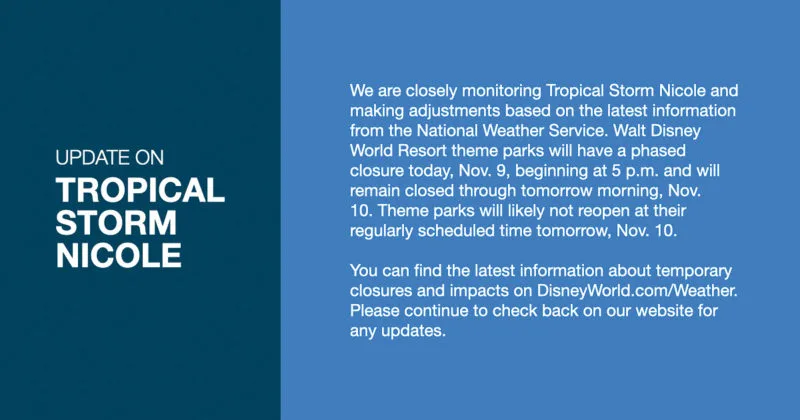 Current Walt Disney World Closures
Let's look at the status of some of the various locations and experiences around Disney World and see which ones are closing or staying open. Here is an updated list of everything closed at Walt Disney World due to Tropical Storm Nicole:
Theme Parks & Water Parks
Theme Parks
At this time, all 4 theme parks are closing starting at 5:00 pm on November 9, 2022, through tomorrow morning, November 10, 2022.
Magic Kingdom – Closing Nov 9, at 7:00 pm
EPCOT – Closing Nov 9, at 7:00 pm
Hollywood Studios – Closing Nov 9, at 6:00 pm
Animal Kingdom – Closing Nov 9, at 5:00 pm
It's likely the parks will not reopen at their regularly scheduled time tomorrow morning but it's possible they will be open later in the day. All fireworks shows on November 9 have been canceled.
Disney Springs
Disney Springs will close early Wednesday, Nov 9, at 7:00 pm with the last dining reservations at 6:30 pm. It will remain closed through Thursday morning, Nov 10.
Airports
Orlando International Airport – Passenger flights are suspended starting after 4:00 pm on Wednesday, November 9, 2022.
Sanford Airport – The airport has not yet released a statement regarding Tropical Storm Nicole.
Disney World Resort Hotels
The following Disney World Resort hotels have been announced as closing due to future Hurricane Nicole.
Disney's Fort Wilderness Resort & Campground – Guests staying here must depart by 3:00 pm on November 9.
Treehouse Villas at Disney's Saratoga Springs Resort & Spa – Guests staying here must depart by 3:00 pm on November 9.
Star Wars: Galactic Starcruiser Hotel – The voyage scheduled for tomorrow, November 10 has been canceled. Disney is contacting guests with reservations to reschedule them.
Character breakfasts have been canceled for tomorrow morning, November 10.
Transportation
Attractions
All Attractions – When the parks reopen, these will also remain open. It is possible that some outdoor rides like Test Track could remain closed when the weather is at its worst.
Restaurants
Hoop Dee Doo Musical Revue – All performances at the Hoop Dee Doo Musical Revue have been canceled for Wednesday, November 9.
Extra Experiences
Mickey's Very Merry Christmas Party – This hard-ticket event is sold out and is still scheduled at normal. If it is canceled re-schedule dates are possible.
Winter Summerland Miniature Golf and Fantasia Gardens Miniature Golf – Closed temporarily on Thursday, November 10, 2022.
If You Have Special Experience Reservations
Disney is waiving cancellation fees for the experiences at Walt Disney World that require reservations and usually incur a penalty if canceled at the last minute. This includes waiving cancellation fees at locations such as Savi's Workshop, Bibbidi Bobbidi Boutique, and more.
It's possible we could see an announcement today with more info on closures and cancelations, so stay tuned.
Latest Tropical Storm Nicole Updates
(Update 11/9/22) – Florida is still just recovering from the devastating Hurricane Ian that hit the state hard at the end of September, and already residents and travelers have to start preparing for another storm tonight and tomorrow, Tropical Storm Nicole.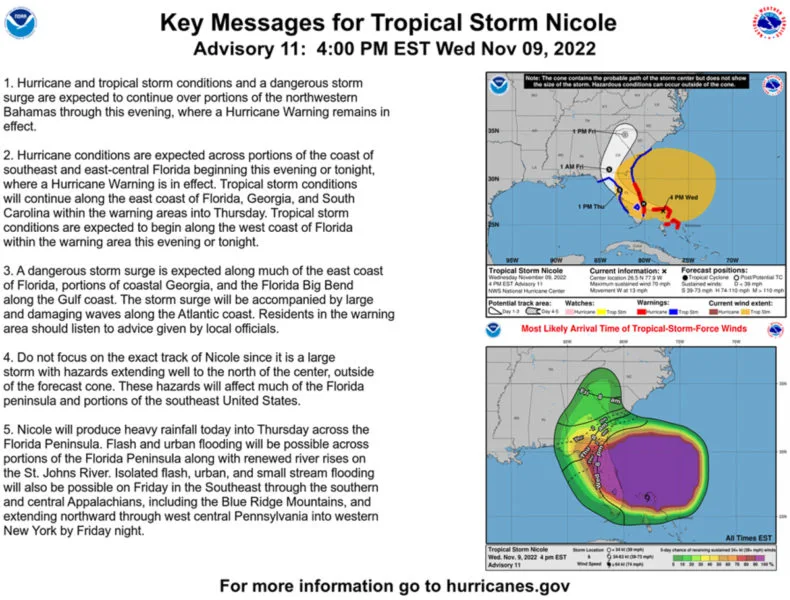 In fact, Tropical Storm Nicole has just been upgraded to Hurricane Nicole in the last few hours as it hits the Bahamas and moves closer to the Florida coast.
State officials are warning that Hurricane/Tropical Storm Nicole is forecast to be a large storm and have widespread impacts on the state with potential flooding, tropical-storm-force winds, and heavy rainfall along much of Florida's east coast and the southeast United States.
Hurricane conditions are expected across portions of the southeast and east-central coast of Florida and Florida Governor Ron DeSantis even declared a state of emergency in anticipation of Nicole.
Nicole's exact path is still too hard to predict at the moment, but it's currently moving through the Bahamas and will hit the east Coast of Florida on Thursday.
A Hurricane Watch is already in effect for the northwestern Bahamas, and a hurricane watch was issued for the east coast on Monday. Additional watches could be coming in the next couple of hours in Florida.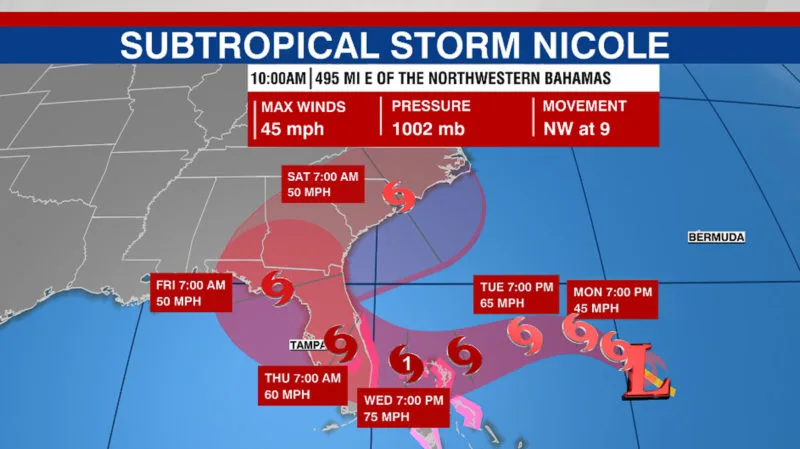 Even though Nicole isn't likely to be a Category 4 or 5 storm, it's a very wide storm which means it is going to produce heavy rainfall across the entire state over the next few days. That means lots of flooding, even in urban areas.
Obviously, if you have a trip to Walt Disney World upcoming in the next few days, you will want to keep a close eye on this situation and see how the storm develops. At this point, it doesn't look like it will be as strong as Hurricane Ian, but it still will cause a lot of damage.
We didn't anticipate Walt Dinsey World closing down like it did in September, but it did. The Walt Disney World parks officially closed early on Wednesday evening, November 9, 2022. We do expect the heavy rainfall to continue during the next week, so you will need to prepare for that during your trip and bring some extra dry clothes and shoes.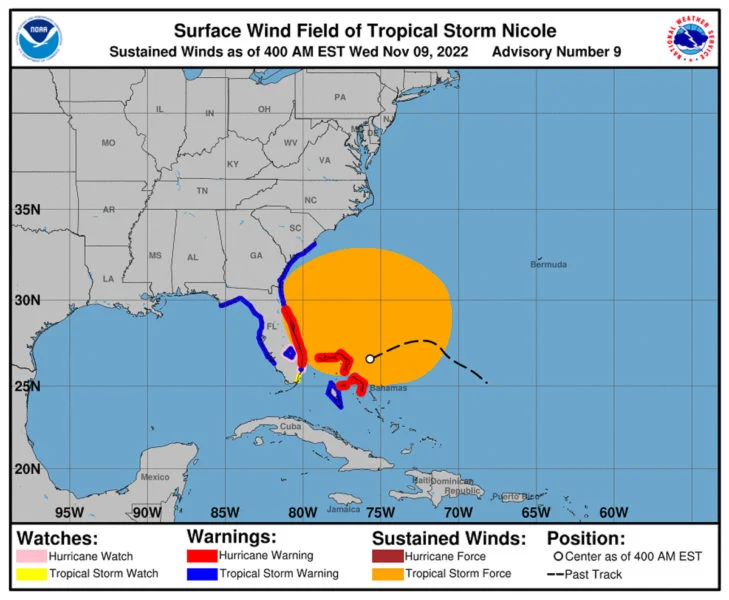 As we get more info on Tropical Storm/Hurricane Nicole we will update this post on the impact it may have on the theme parks and your vacation so stay tuned.
If you want to see what happened during the last storm and how it affected Walt Disney World, read the article in this link: Hurricane Ian at Walt Disney World.
In this post, we wanted to keep it about hurricanes at Disney World in general, how Disney prepares for them, what to expect if you are there during one, and the rest of the hurricane outlook for the 2022 season.
You can also check the National Hurricane Center for the latest updates on any tropical storms or hurricanes that form in the Atlantic or Caribbean over the next few weeks and months.
No New Park Pass Reservations
Walt Disney World has not made any official comments at this time but they have suspended new Park Pass Reservations from being made on Thursday, November 10, and Friday, November 11, 2022. This applies to all guest categories including Annual Passholders, Resort Guests, and Regular Ticket Holders.
Orlando International Airport Operational Updates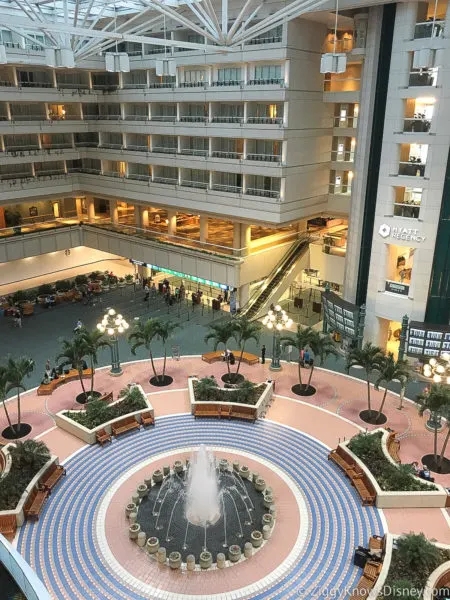 The Orlando International Airport has announced that it will suspend passenger flights after 4:00 pm on Wednesday, November 9, 2022. No announcement has been made for Commercial flights at this time.
MCO's official Twitter account states:
"Operational Update – Tropical Storm Nicole Together with our partners, a decision has been made to cease commercial operations at 4:00 pm on Wednesday, November 9th, until circumstances permit operations resume.
We will continue to monitor Tropical Storm Nicole to determine the potential impact at MCO. We ask you to please continue to work with your airline directly in regard to your specific flight. Thank you."
Latest National Weather Service Update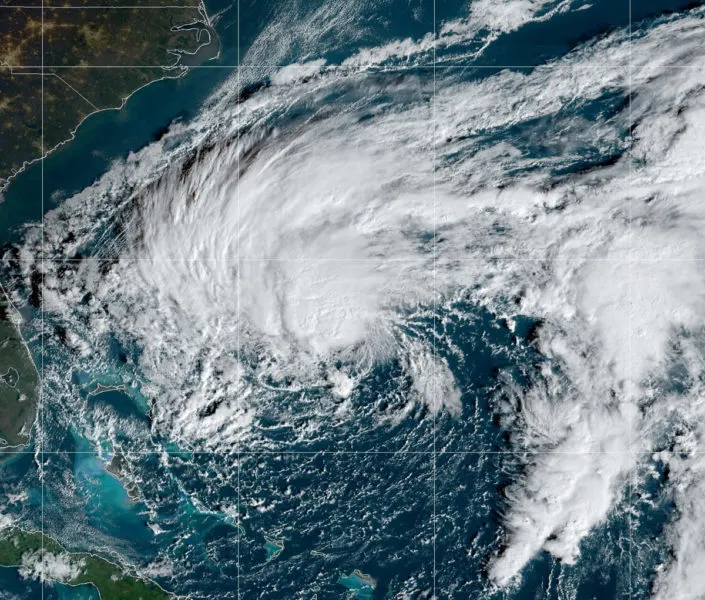 As of 5:37 am EST on Wednesday, November 9, 2022, here is the latest National Weather Service update for the Orlando area:
…TROPICAL STORM WARNING REMAINS IN EFFECT…
WIND – LATEST LOCAL FORECAST: Equivalent Strong Tropical Storm force wind – Peak Wind Forecast: 45-55 mph with gusts to 75 mph – Window for Tropical Storm force winds: until Thursday afternoon
THREAT TO LIFE AND PROPERTY THAT INCLUDES TYPICAL FORECAST UNCERTAINTY IN TRACK, SIZE AND INTENSITY: Potential for wind 58 to 73 mph – The wind threat has remained nearly steady from the previous assessment. – PLAN: Plan for dangerous wind of equivalent strong tropical storm force. – PREPARE: Last minute efforts to protect life and property should now be complete. The area remains subject to significant wind damage. – ACT: Now is the time to shelter from dangerous wind.
POTENTIAL IMPACTS: Unfolding – Potential impacts from the main wind event are unfolding.
FLOODING RAIN – LATEST LOCAL FORECAST: Flood Watch is in effect – Peak Rainfall Amounts: Additional 2-4 inches, with locally higher amounts
THREAT TO LIFE AND PROPERTY THAT INCLUDES TYPICAL FORECAST UNCERTAINTY IN TRACK, SIZE AND INTENSITY: Potential for moderate flooding rain – The flooding rain threat has remained nearly steady from the previous assessment.
PLAN: Emergency plans should include the potential for moderate flooding from heavy rain. Evacuations and rescues are possible.
PREPARE: Consider protective actions if you are in an area vulnerable to flooding.
ACT: Heed any flood watches and warnings. Failure to take action may result in serious injury or loss of life.
POTENTIAL IMPACTS: Significant – Moderate rainfall flooding may prompt several evacuations and rescues. – Rivers and tributaries may quickly become swollen with swifter currents and overspill their banks in a few places, especially in usually vulnerable spots. Small streams, creeks, canals, and ditches overflow. – Flood waters can enter some structures or weaken foundations. Several places may experience expanded areas of rapid inundation at underpasses, low-lying spots, and poor drainage areas. Some streets and parking lots take on moving water as storm drains and retention ponds overflow. Driving conditions become hazardous. Some road and bridge closures.
TORNADO – LATEST LOCAL FORECAST: – Situation is somewhat favorable for tornadoes
THREAT TO LIFE AND PROPERTY THAT INCLUDES TYPICAL FORECAST UNCERTAINTY IN TRACK, SIZE AND INTENSITY: Potential for a few tornadoes – The tornado threat has remained nearly steady from the previous assessment. – PLAN: Emergency plans should continue to include possible tornadoes. – PREPARE: Stay within your shelter keeping informed of the latest tornado situation. – ACT: Move quickly to the safest place within your shelter if a tornado warning is issued.
POTENTIAL IMPACTS: Limited – The occurrence of isolated tornadoes can hinder the execution of emergency plans during tropical events. – A few places may experience tornado damage, along with power and communications disruptions. – Locations could realize roofs peeled off buildings, chimneys toppled, mobile homes pushed off foundations or overturned, large tree tops and branches snapped off, shallow-rooted trees knocked over, moving vehicles blown off roads, and small boats pulled from moorings.
Disney World Ticket Cancellation Policy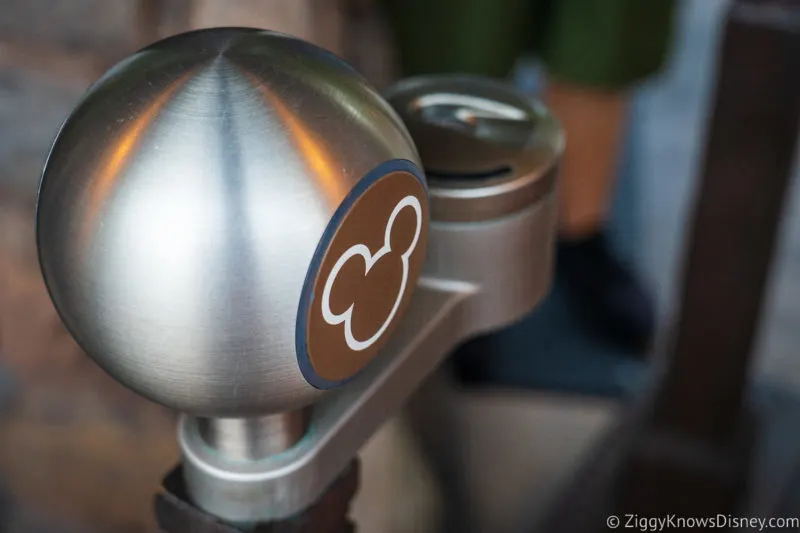 Usually, Disney doesn't offer much leeway when it comes to canceling your Disney World theme park tickets or getting a refund for them. However, when Disney World enters into its Hurricane Policy as it did for Hurricane Ian in September, all that changes and it becomes much easier for guests to get their money back.
Usually, what happens is the normal Disney ticket expiration window is automatically extended for one year from the current date. That means guests can use them on any dates from now until then without having to worry about them expiring.
This applies to any partially-used multi-day theme park tickets, and normally, multi-day tickets are only valid for a few extra days extra, so this is a big change from the norm, yet standard when a hurricane comes to Orlando.
Of course, this all depends on Disney World going into its Hurricane Protocol, which at this time it has not done for Tropical Storm Nicole.
However, with the Orlando International Airport officially closing, there may be some leeway regarding ticket extensions so we suggest calling Disney Guest Relations a (407) 939-5277 to see what they can do for you in that case.
Can I Get a Refund for My Vacation?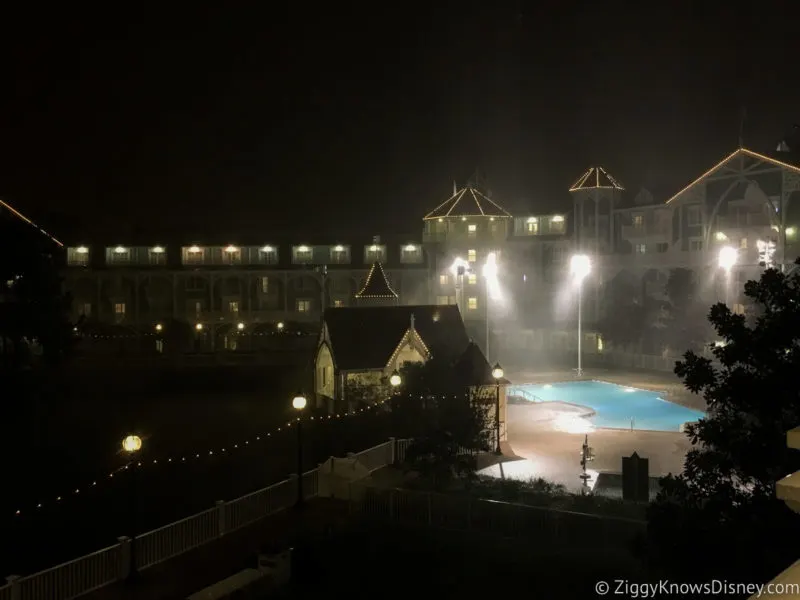 If you are debating whether or not to cancel your trip to Walt Disney World because of Tropical Storm Nicole, you are probably wondering what is Disney's Hurricane Cancellation Policy. Can you get a refund for your trip if you don't go?
Right now Disney has not yet started waiving the change or cancellation fees for guests as it has not yet activated the Official Hurricane Policy.
At this time we can't say for certain if they will activate this policy, the next few hours will be crucial in deciding if the storm is strong enough to warrant doing so and what restrictions will be in place.
In the event that Disney does activate its Hurricane Policy, here is what to expect…
Disney's Official Hurricane Policy on its website reads:
"If a hurricane warning is issued by the National Hurricane Center for the Orlando area—or for your place of residence—within 7 days of your scheduled arrival date, you may call in advance to reschedule or cancel your Walt Disney Travel Company Disney Resort Hotel Package and most room-only reservations (booked directly with Disney) without any cancellation or change fees imposed by Disney."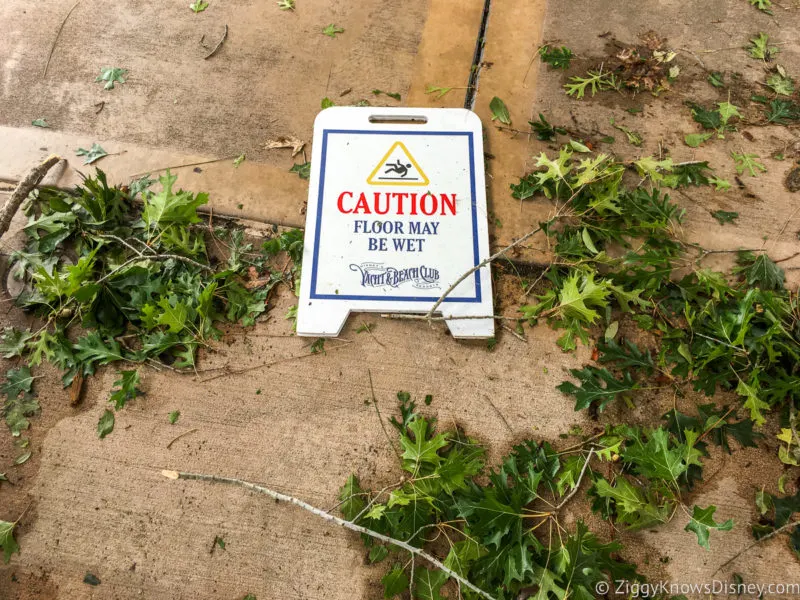 Basically, if the National Hurricane Center issues a warning either for the Orlando area or where you are traveling from, Walt Disney World allows you to get a refund on any vacation package booked through Disney. This includes hotel rooms, theme park tickets, dining reservations, and some special events and experiences you have booked.
Since Hurricane Ian will have a major impact on Walt Disney World, it's good to know that if you decide to cancel your vacation you have the option. We've experienced this first-hand and can say that Disney is very good at working with guests to either reschedule or get a refund.
How to Cancel or Change Your Disney World Vacation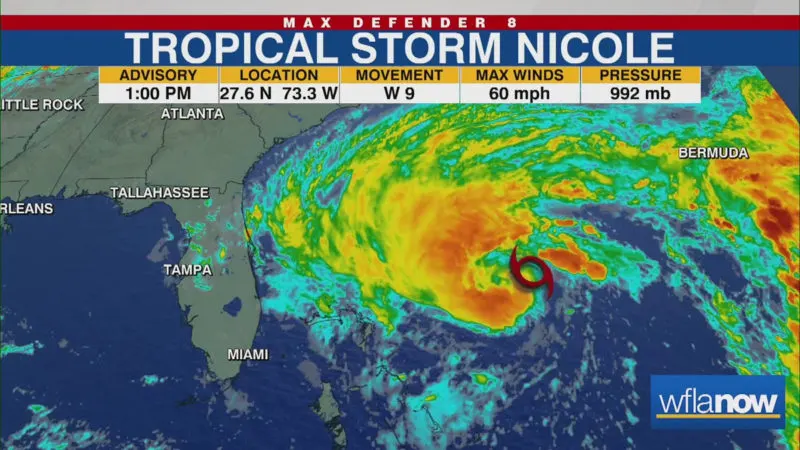 If you have decided to change or cancel your Walt Disney World vacation plans due to Tropical Storm Nicole, you can call Disney at (407) 939-7675. They will answer any questions you have and help you go through the entire process.
The only thing is that there will be thousands of other guests with the same idea as you at the moment, so just be patient with the cast members as they are doing their very best to help make you happy.
What about Plane Tickets or Car Rentals?
Since Disney no longer books airfare for its guests as part of the vacation packages, you are responsible for any fees occurred by the airline company.
If you booked your plane tickets, car rental, etc through a third-party vendor, you'll have to contact them separately to find out what their cancellation policy is for tropical storms and hurricanes.
I Didn't Book through Disney. What Now?
You'll have to contact your travel agent or third-party vendors that you booked your Disney World vacation through and see what solutions they can give you. That's one reason we recommend booking directly with Disney or a Disney-authorized travel agent.
If I Reschedule for another Date, Can I Get the Same Package and Hotel?
The Cast Members at Disney will do their best to rebook your next trip at the same resort hotel and with the same offer as you had in your previously booked vacation, but nothing is guaranteed. It's possible that the exact dates, hotel, or package may not be available, so you may have to change things a bit.
Also, keep in mind that depending on the dates you choose to go and where you choose to stay, you are responsible for the difference in price. That means your new trip may end up costing more or less money than the prior trip and you need to pay it.
That wraps up our article about Tropical Storm Nicole and Walt Disney World. I hope we gave you some good tips to keep in mind that help you make a good decision about whether or not to go to Disney World this week and how best to handle the situation.
If you are taking a trip to Disney World during hurricane season, you should definitely consider the risks, and you might want to choose another time of the year. Here is our ranking of the best months to go to Disney World.
Your Thoughts
I want to know what you think about the potential Hurricane Nicole at Walt Disney World…
Are you going to Disney World still or did you rebook your trip?
Have you ever been to Walt Disney World during a hurricane before?
Let us know in the comments section below!
If you enjoyed this article, as always I appreciate it if you'd share it with others via social media. I work hard at making this website into a useful resource for you and your family to plan your visit to the Disney Parks and I hope it can help you! Thanks 🙂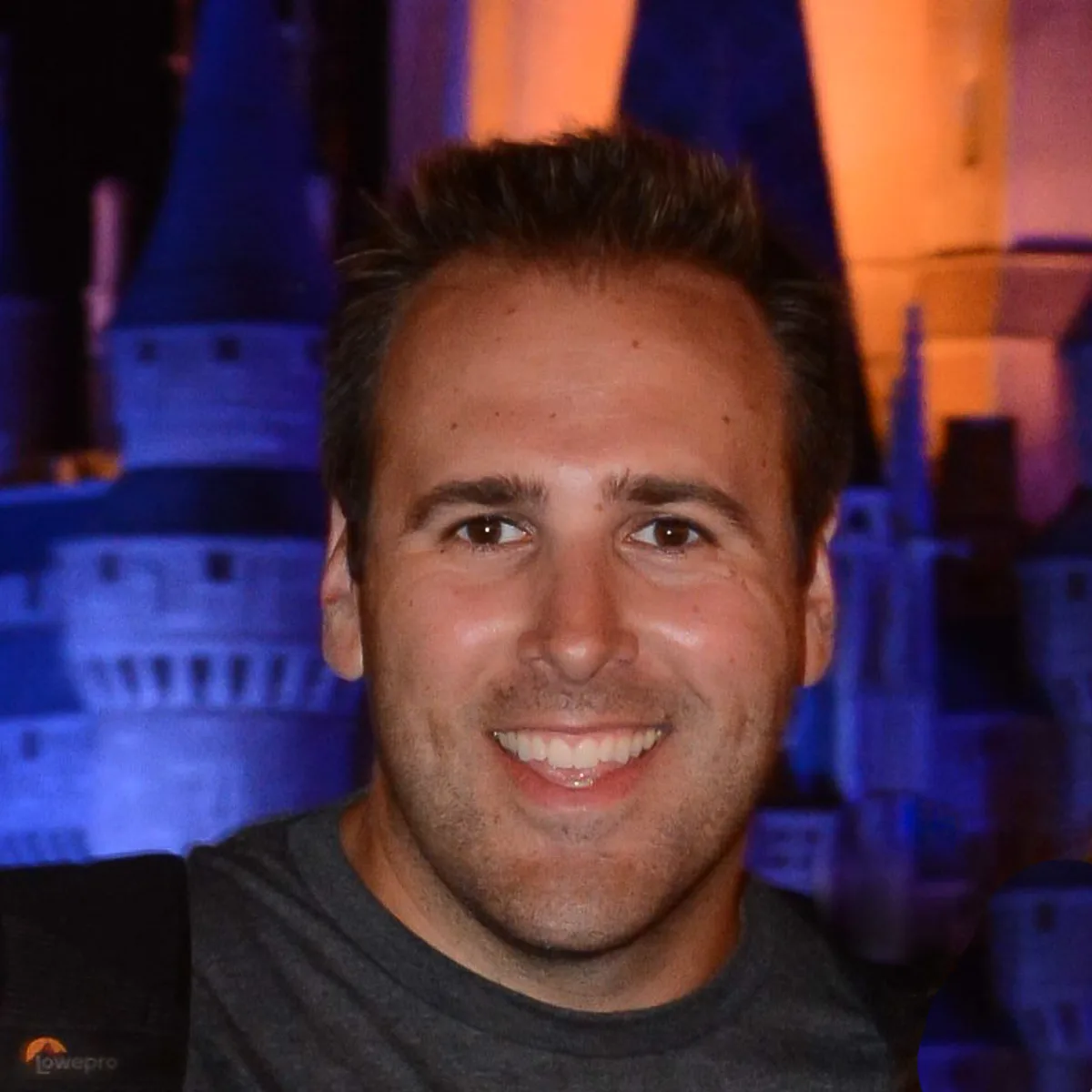 My name is Ziggy and I love Disney, everything Disney! I grew up on Disney and it has and continues to be a huge part of my life. I started young when my parents took me to Disney World when I was 18 months old. Little did they know that would be the first of an uncountable number of trips we would take. I have so many amazing memories going to Disney with my family and friends and it has been interwoven into my DNA.