There is nothing worse than spending months planning your perfect trip to Walt Disney World, only to have to then cancel because of an unforeseen event or emergency. In that case, are Disney World tickets refundable or do you lose all your money?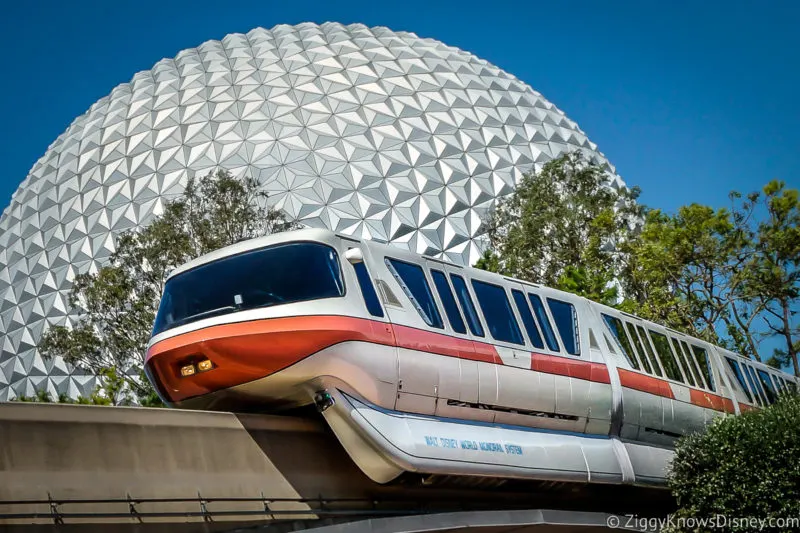 In this post, we are going to explain Disney's ticket cancellation policy, how it works, and if you can get a refund. We'll also cover if Disney World tickets are transferable to another person and if you can change the dates on the tickets.
Most people have a ton of questions about cancellations, and Disney doesn't make it easy to understand. That's why we've included our most popular FAQs about ticket refunds and we cover everything you might be wondering.
The simple answer is no, Disney World theme park tickets are NOT refundable, and you can't get your money back if you don't go. However, there are some exceptions to this rule and we are going to show you what to do if you need to ask for a refund or cancel your trip to Walt Disney World.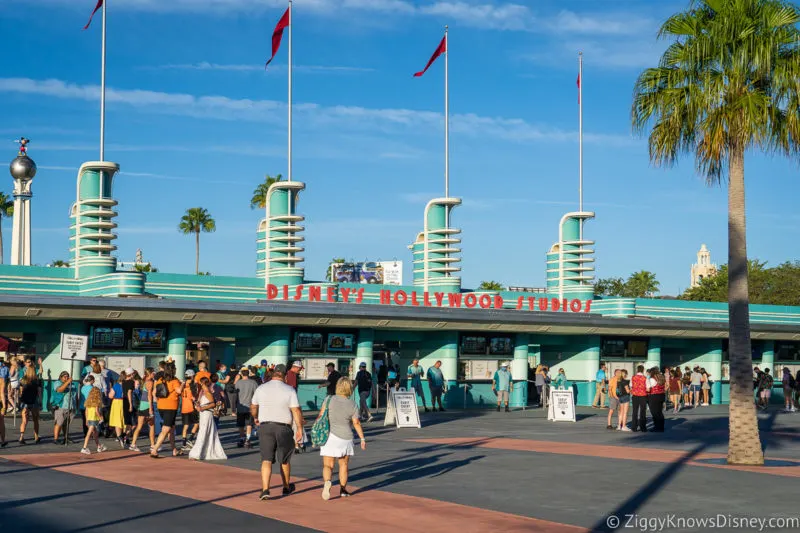 Think of this as your Disney World Ticket Refunds 101 class. And if you have another question we haven't covered here, let us know in the comments section and we'll try to add the answer to the article!
If you haven't already, we also recommend reading some of our other Disney World ticket guides which are very helpful in understanding the various ticket types and everything involved when you buy them.
Before we start, don't forget to sign up for our FREE Weekly E-Mail Newsletter. There we bring you the latest info on how to get cheap Disney World tickets as well as a ton of other Disney vacation planning tips. You can sign up here: Join our E-Mail Newsletter!
Are Disney World Tickets Refundable?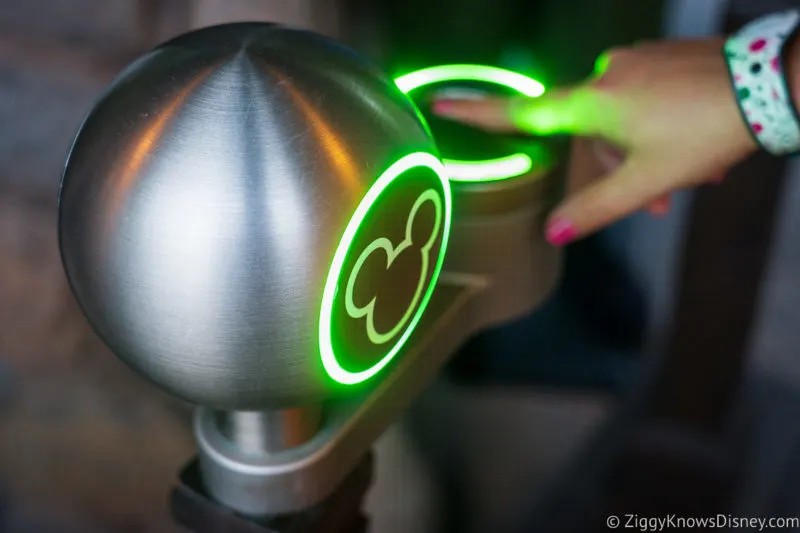 Generally speaking, theme park tickets and packages at Walt Disney World are nonrefundable and if you cancel them you will not get your money back. It does not matter what type of ticket you purchase or what add-ons you have.
This is stated clearly on the Disney World website where it says:
"Tickets and packages at Walt Disney World Resorts are non-transferable and non-refundable. You cannot cancel or get a refund for a ticket or package, but in some cases, you can use unexpired theme park tickets for a future vacation."
But are there any exceptions? What if in the case of an emergency?
Despite what it says, there are some situations where you can get a refund for Disney World tickets, though some of them are not always a sure thing. We will talk about several different scenarios later on in this article.
Are Disney World Tickets Transferable?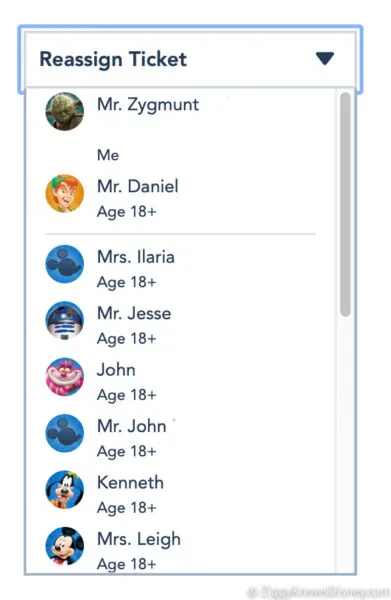 According to Disney's official site, tickets are generally non-transferable. While that's true most of the time, there is a little more leeway when it comes to being transferable. How so?
On Disney's FAQ, they state this:
"Once a person uses a Disney Theme Park Ticket, all subsequent admissions are specific to that person and cannot be transferred to anyone else. If you have not yet used a ticket, you may transfer it to another person. You may also buy a new theme park ticket online or at the theme park Main Entrance."
So, in short, if you've used your ticket ANY of the days, you absolutely can NOT transfer it to someone else.
However, if the ticket is completely unused, you may transfer it to another person in most cases. This is not advertised anywhere and Disney won't volunteer this info, but most of the time they will let you transfer your tickets if they are unused.
Changing the Dates on Disney World Park Tickets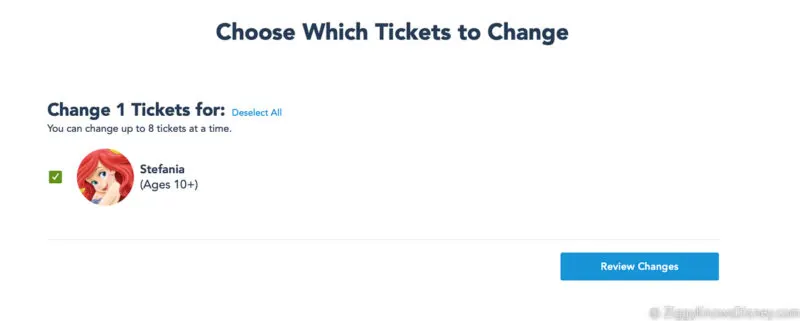 If something happens and you cannot go to Disney World on the dates you originally planned, you are allowed to change the dates on your park tickets without losing any money.
Changing the dates on Disney World Park Tickets is an incredibly smart thing to do if you're NOT going to use the tickets on the dates you initially chose and doing it this way allows for two main things:
First, you will never have to worry about your tickets expiring. Rather than wondering if your tickets are still valid, by continuing to push them back, you know for certain they are!
Secondly, changing the dates allows you to keep your tickets on your My Disney Experience app, making it much easier to alter or modify your tickets down the road.
So why would you have to change the dates anyway? With Disney using a date-based ticketing system, Disney tickets must be used within the time frame selected or they will expire. You must choose the arrival date upon purchase and which day you will begin using your tickets.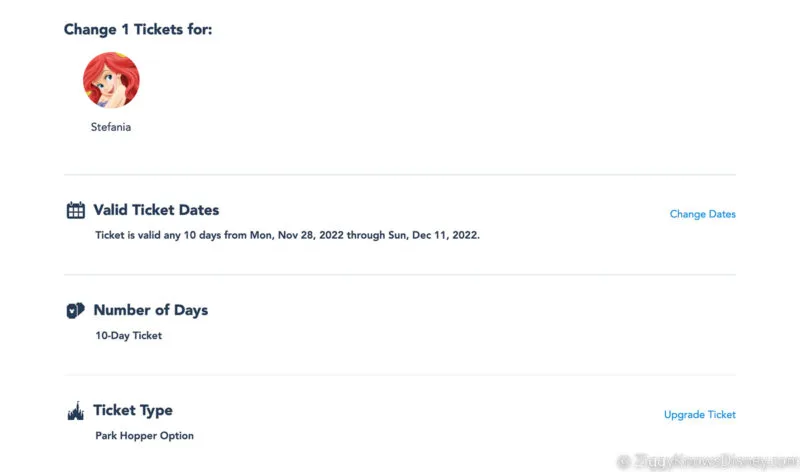 For example, a 1-day Disney World ticket immediately expires after the date you assign you will be using it. A multi-day ticket expires typically a few days after you've chosen. For example, a 10-day ticket would expire 14 days after the chosen arrival date.
You can see how this can make things a little bit challenging if there is a change to your plans. Maybe a family emergency or something happens that forces you to adjust your trip. By simply going online or on the My Disney Experience app, you can adjust your dates very easily.
To change your ticket dates:
Log in to your My Disney Experience account
Click on 'My Tickets' and choose the 'Change Ticket' option.
Follow the steps on the screen and choose your preferred dates.
Once you change your dates to the new dates (if you have them), you are all set.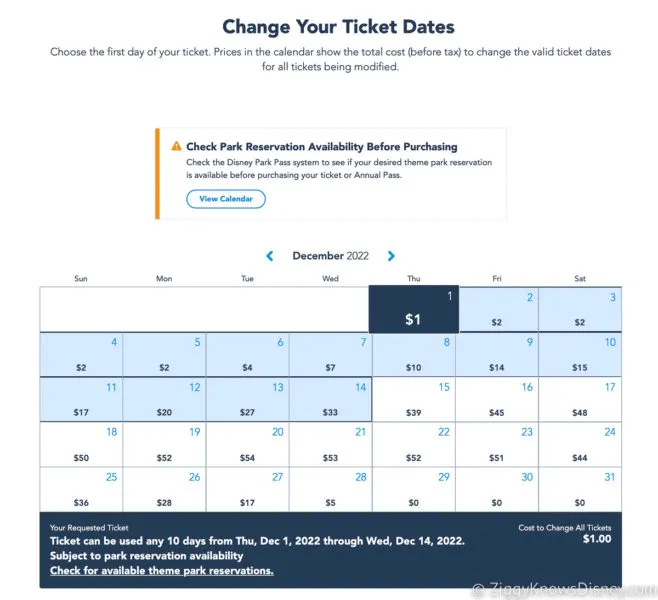 If there's a difference in the price for the new dates (which sometimes happens since park tickets are date-based), you simply will have to pay the price difference.
The only problem is if you don't know the dates you will be visiting again. In this case, the smartest thing to do is to push back your selected start date to the furthest possible time. This makes it easier to make sure your tickets are still valid.
Right now, for example, Disney World park tickets are available through 2023 so if you had a ticket that was expiring tomorrow, you could technically push back the date all the way to December 31, 2023, with no problem.
And then once you figure out your finalized dates, you can simply change the tickets again and adjust your selected start date.
Can I Just Keep Pushing the Dates Back Forever?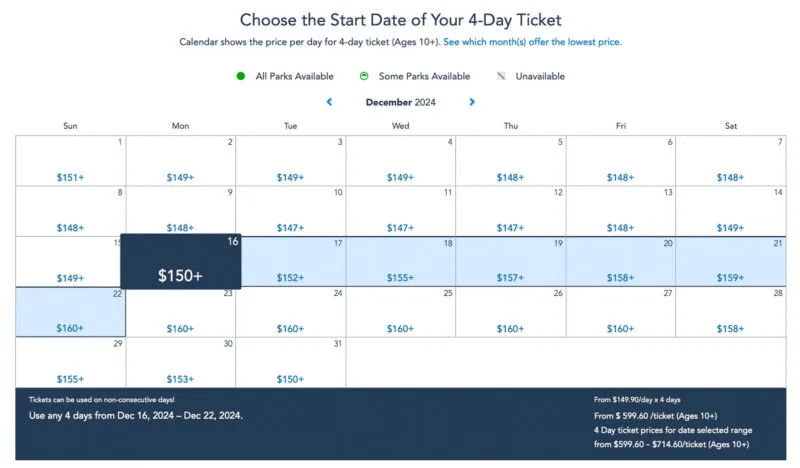 At this point in time, you can keep pushing back the start dates of your park tickets an unlimited number of times until you end up using them. We recently confirmed this with Disney and they told us that as long as the tickets are unused and if you pay the difference in price, you can keep doing it over and over again.
This is of course subject to change and Disney could always stop this in the future. However, in all our years of buying tickets, we've seen that Disney is typically very good when it comes to completely unused tickets.
And even if you can't continue to push back your tickets in the future, as long as they remain unused you'll be able to apply the price of your tickets to the purchase of new tickets. You'll just have to pay the difference.
Exceptions to the Non-Refundable Ticket Rule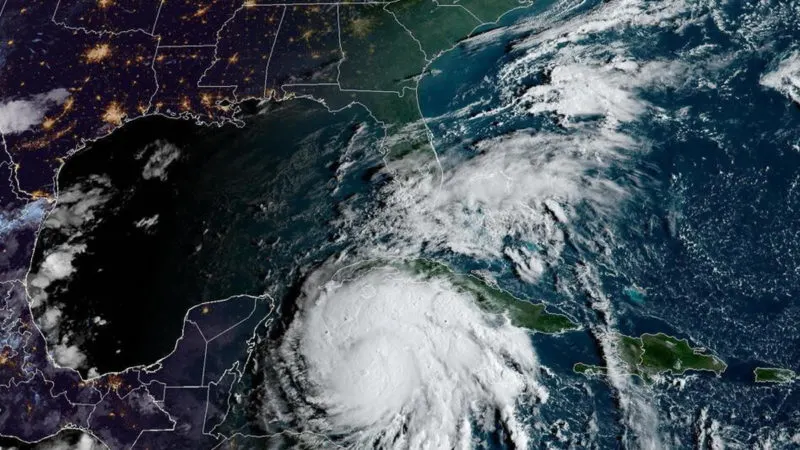 As we said earlier, in most instances, there are little to no exceptions to the nonrefundable ticket rule, and you will not be able to get your money back if you cancel your ticket order.
However, there are some situations where this is sometimes overlooked and on special occasions, Disney will give you a refund. The one main exception to the rule is when it comes to Disney's Hurricane Policy.
Disney's Hurricane Policy
The one official exception to Disney World's ticket refund policy is if there is a Hurricane at Walt Disney World, near Disney World, or if there is one near your home which impedes you from traveling to Orlando.
If like me, your family's trip has been affected by a hurricane, Disney has a separate refund policy for this.
Here's what Disney's official Hurricane policy states:
"If a hurricane warning is issued by the National Hurricane Center for the Orlando area—or for your place of residence—within 7 days of your scheduled arrival date, you may call in advance to reschedule or cancel your Walt Disney Travel Company Disney Resort Hotel Package and most room-only reservations (booked directly with Disney) without any cancellation or change fees imposed by Disney."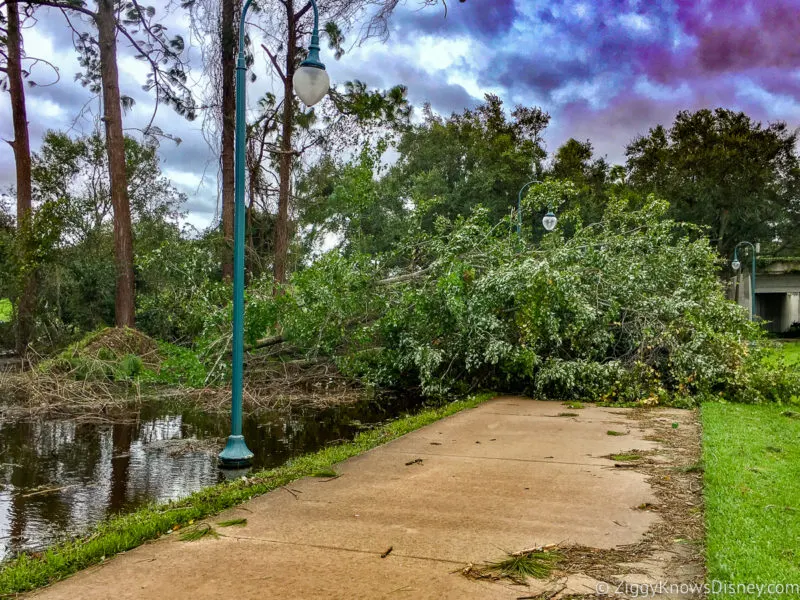 This rule allows you to reschedule your visit or cancel your tickets or vacation package without any change or cancellation fees. However, remember, this rule only applies to theme park tickets and packages that are booked directly through Disney.
If you've used 3rd party companies, such as car rentals, airlines, insurance, or outside hotels, you are at the mercy of the refund policy of those companies. You will have to contact those companies directly to see if you can get your money back.
Read our article on Hurricanes and Storms at Disney World for a more complete look at what it's like when a hurricane hits Disney World.
Stories of People Getting Refunds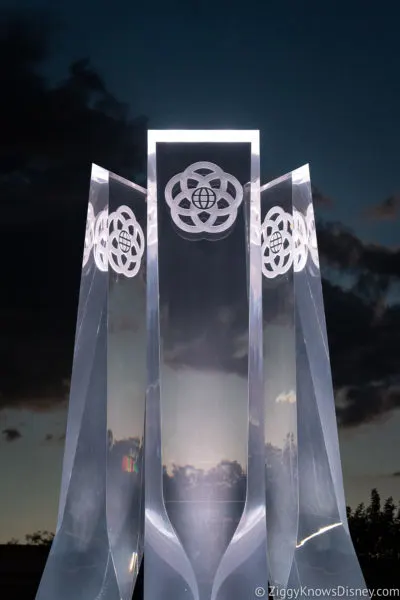 Disney has always been known for their exceptional and top-notch customer service and they have repeatedly gone out of their way to adjust for people that have incredibly difficult situations. However, nowhere do they state on their official policies that they will refund or waive fees for unavoidable scenarios but it's certainly worth a phone call.
From our experience and from stories from other Disney World guests, this isn't always true and at times they will bend the refund rule a bit.
Whether it's family emergencies, tragedies, illness, and many more circumstances, many people have reported that Disney Cast Members will work with these people to make the cancellation process as seamless as possible. And in many instances, this might mean waiving fees or allowing you to use your tickets at a later date, even if partially used.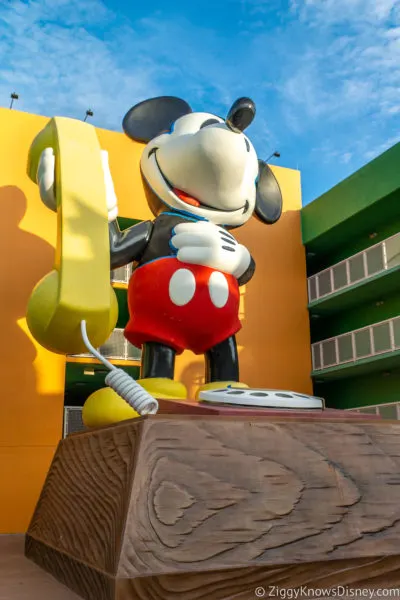 The takeaway is this: talk to a cast member and tell them the entire story. Make sure to be extremely polite and kind, not pushy or demanding.
If you don't like the vibe you are getting from a particular cast member, hang up and try calling back and getting one that is more understanding of your individual situation.
If any company can create a little bit of magic for your family, it's Disney. While there are no guarantees that any requests will be granted, it's very likely they will try to work with you and do something nice for your family, given the unfortunate circumstances.
Ready to Start Planning Your Disney Vacation?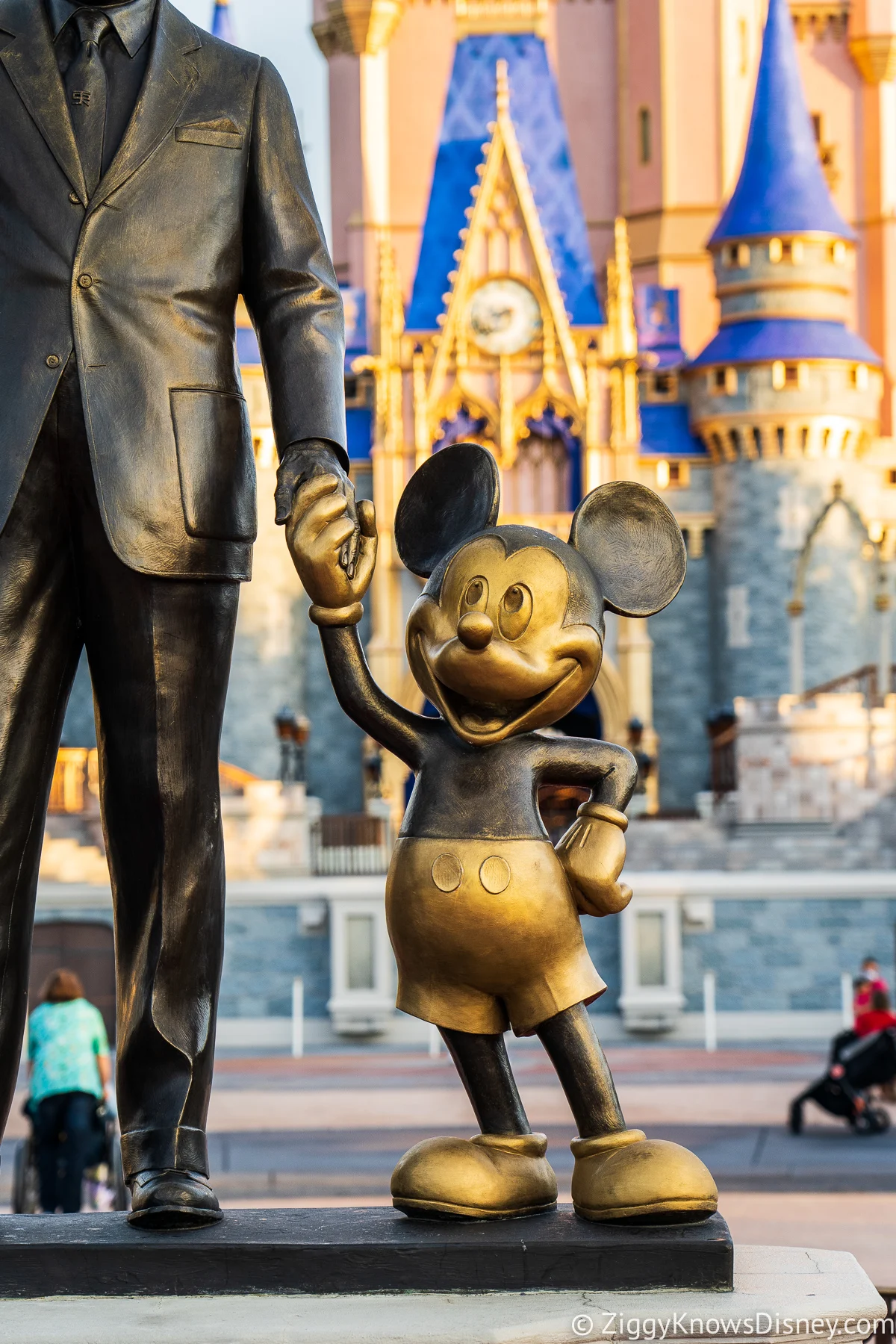 Disney Ticket Refund FAQs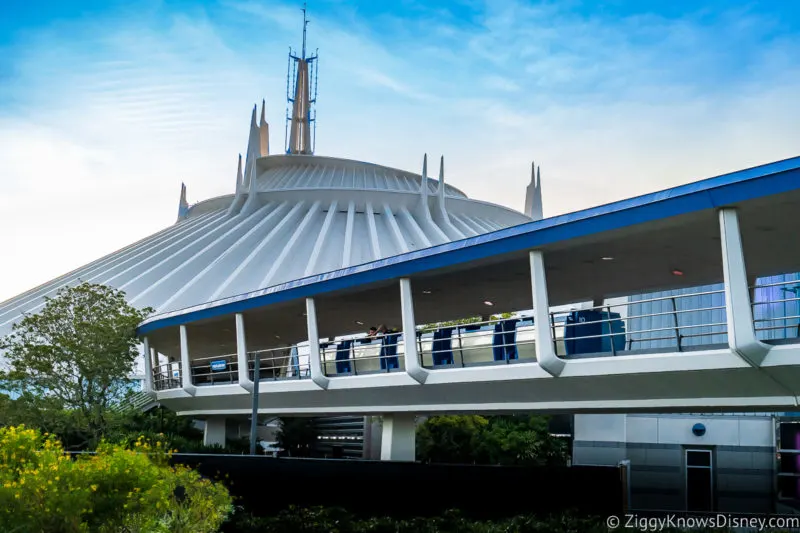 Here are our replies to some of the most common Disney ticket refund questions:
Can You Get a Ticket Refund if You Leave Your Vacation Early?
No, you can't. All tickets that are partially used cannot be refunded. So whether you've used 1 day, 2 days, or 8 days, if you have to leave early, your tickets will not be refundable.
Can You Get a Refund if You Arrive Late?
Whether you leave early or arrive late, Disney will not refund your ticket if you have used even only one or two days of your tickets. You will still be required to pay for the full ticket and you will not get your money back.
What About If I Cancel My Trip for Bad Weather?
Sorry, a thunderstorm near your house will not be enough to get you a refund. Unless the bad weather leads to a Hurricane Warning (for either your residence or the Orlando area), Disney will not offer any kind of other exceptions when it comes to weather.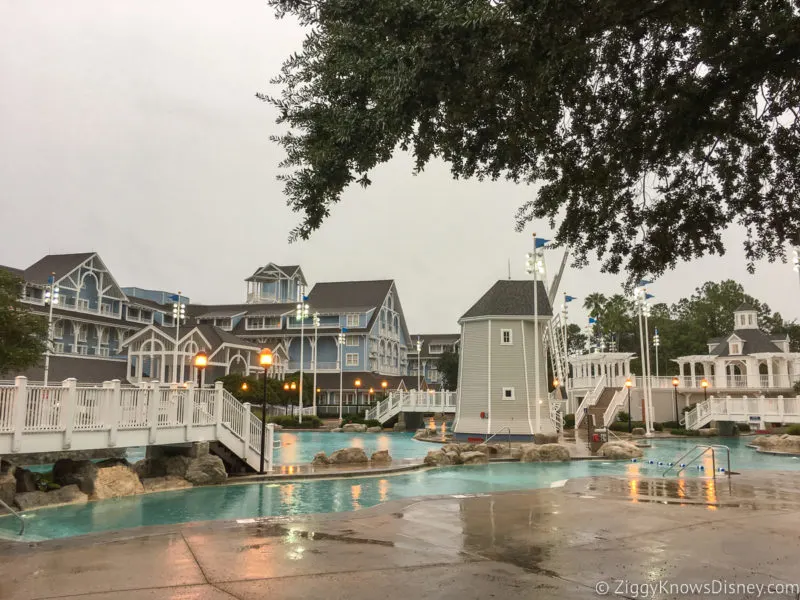 What About If I Cancel My Trip for COVID or Health Issues?
Although Disney would obviously prefer you not visit the parks if you have COVID or other kinds of contagious viruses, they, unfortunately, will not offer you any kind of refund if you cannot visit due to COVID or other kinds of health issues.
In the past, they had a much more lenient policy if you came down with COVID and it was really easy to get a full refund. That has changed and they are back to the normal more strict policy now.
How to Ask for Disney Ticket Refunds on the Phone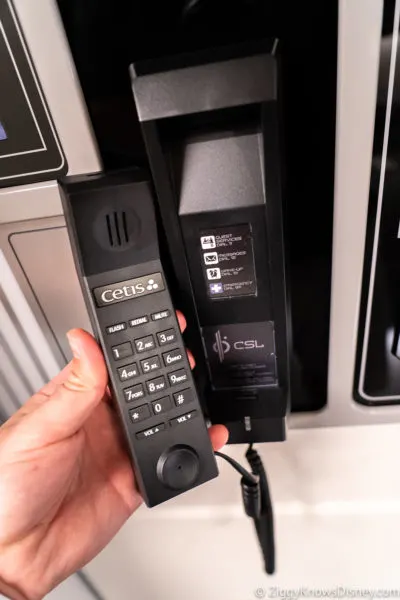 Asking for ticket refunds is not an exact science, and since they clearly state on their official ticket policy that tickets are nonrefundable, the chances of a phone call working for you are slim.
However, as we mentioned earlier, it is worth a shot if you have a real emergency and you have the time to set aside to potentially sit on hold for a while.
Here is how you should do it when you call to increase your odds of success when asking for a refund:
Gather all relevant information about the tickets. Get confirmation numbers, scheduled dates you were planning on using them initially, etc.
Contact the Disney Ticketing phone number at 407-934-7639. Call at an off-time to limit the amount of waiting you need to do
Give them all the reasons why you cannot use the tickets you purchased. Give them explicit details. BE POLITE! You can always catch more bees with honey
If you are not connecting or getting anywhere with the cast member, thank them and call back again later. Be patient. If you let them know that you are willing to take a credit or a gift card, it could increase your odds of receiving a refund, even if it isn't in the form of money.
This is not a foolproof way of getting a refund, but even if you get a partial refund, it is totally worth it!
What About Unused Disney World Tickets?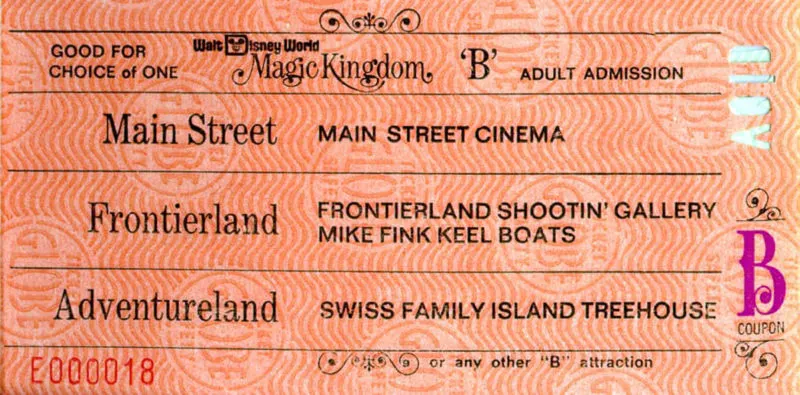 Thankfully, it's much easier to get a refund if you have not yet used your Disney World tickets.
If you have a completely unused ticket (not even 1 day used), then you can apply the amount you paid for that ticket for the purchase of a new ticket at the current price. The price of the new ticket needs to be equal to or more than what you spent on the original ticket.
So if you spent $300 on your original ticket, your new ticket needs to be at least $300. If the cost of the new ticket is $400, you'll have to pay the $100 difference.
No-Expiration Tickets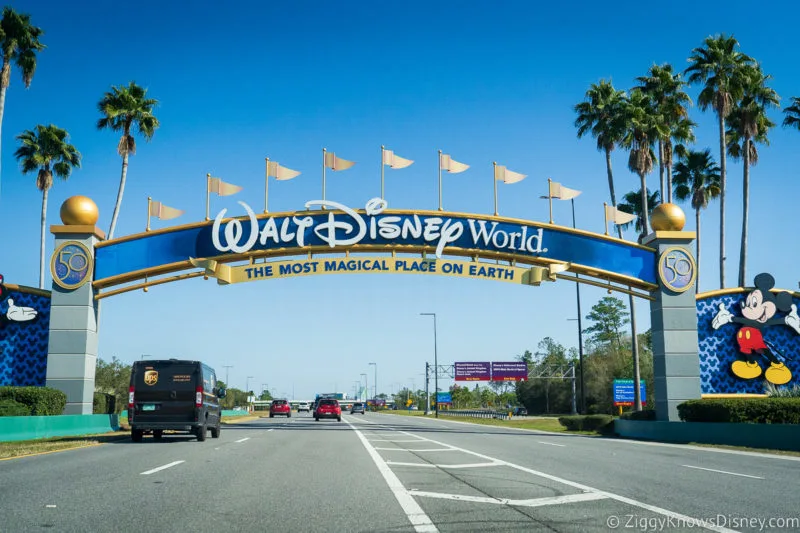 While Disney used to sell no-expiration tickets, they are no longer for sale. As of 2004, Disney did away exclusively with No-Expiration tickets.
However, tickets purchased between 2004 and 2014 did have expiration dates, they allowed guests an option to pay an additional fee to add a no-expiration clause to their tickets.
If you have no-expiration tickets from before 2004, you can still use them whenever you want, assuming that there are still days remaining unused! Also if you purchased the additional add-on for tickets purchased between 2004 and 2014 for 'No-Expiration' you can also still use them.
Cheapest Discount Disney World Tickets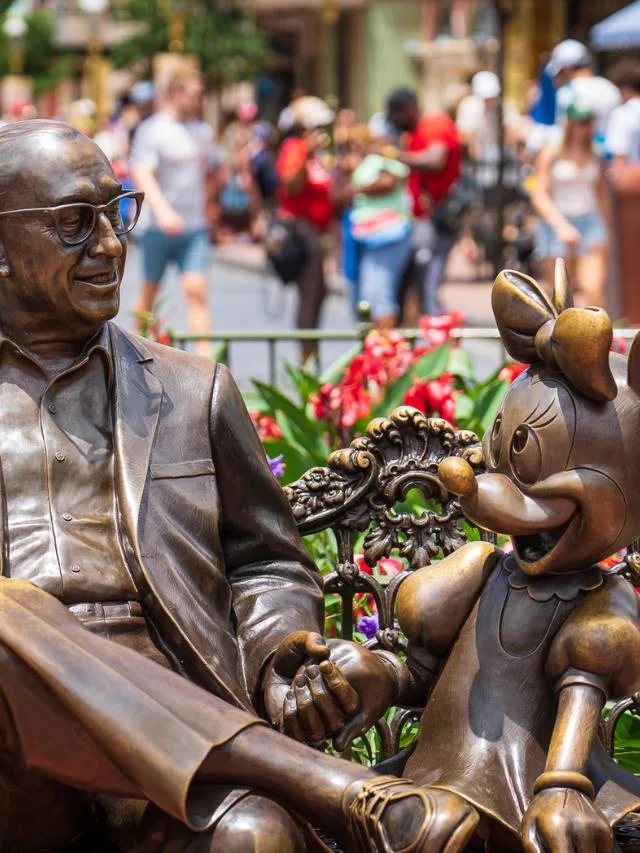 If you are looking to save money on Disney World theme park tickets, our personal recommendation is Orlando Vacation. They almost always have the best prices on multi-day tickets and can save you $20-$60 per ticket over buying direct from Disney.
What Can I Do with Expired Disney World Tickets?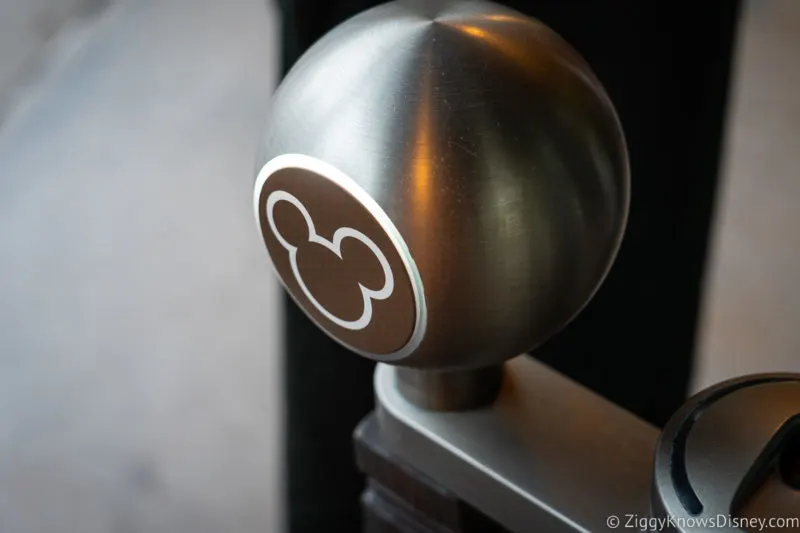 What you can do with expired Disney World tickets largely depends largely if they are used or unused.
Used/Partially Used Tickets – If they are present-issued tickets (bought in the last few years) and they are partially used, then they are completely expired and no longer available to use.
Unused Tickets – If they remain completely unused, Disney will typically allow you to pay the price difference between what you initially paid for your tickets and what the new price of these tickets is.
The only exception is if they are No-Expiration tickets. In this instance, you can continue to use these tickets until every park admission day is used.
The best thing to do is to know when your Disney tickets expire so you don't run into this problem in the first place. Read our Guide to Disney World Ticket Expiration Dates for more detailed info.
Disney Vacation Package Refund Policy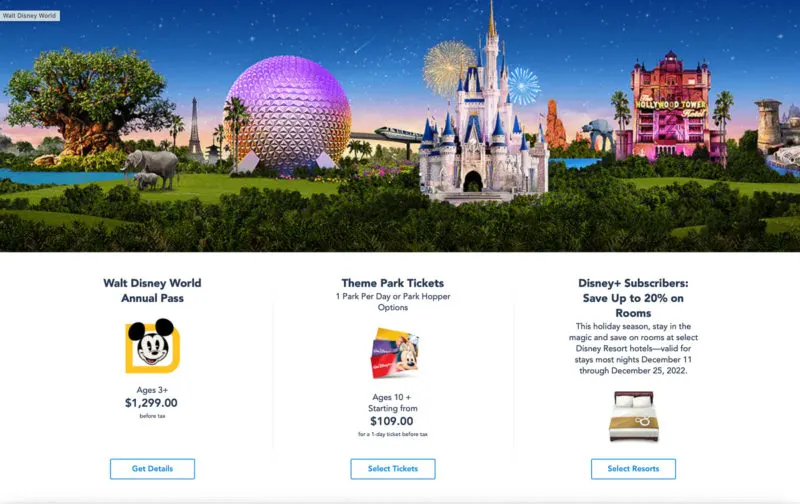 While Disney's park ticket policy is very strict when it comes to giving refunds, they are a little more forgiving when it comes to vacation packages booked through Disney.
If you booked a Disney World Vacation Package, how much money you lose will be dependent on how close to the trip you have to cancel.
Here is what the Official Disney Cancellation Policy for 2024 states:
For cancellations made 30 days or more before guest arrival, amounts paid, minus cancellation fees assessed by third-party hotels or other suppliers, non-refundable runDisney race registrations, non-refundable travel protection plan costs, and other amounts owed, will be refunded.
For cancellations made 2 days to 29 days prior to guest arrival, amounts paid, minus a cancellation fee of $200.00 per package and minus any cancellation fees assessed by third-party hotels or other suppliers, non-refundable runDisney race registrations, non-refundable travel protection plan costs, and other amounts owed, will be refunded.
For cancellations made 1 day or less prior to guest arrival or for no-shows, the full price of the package is non-refundable.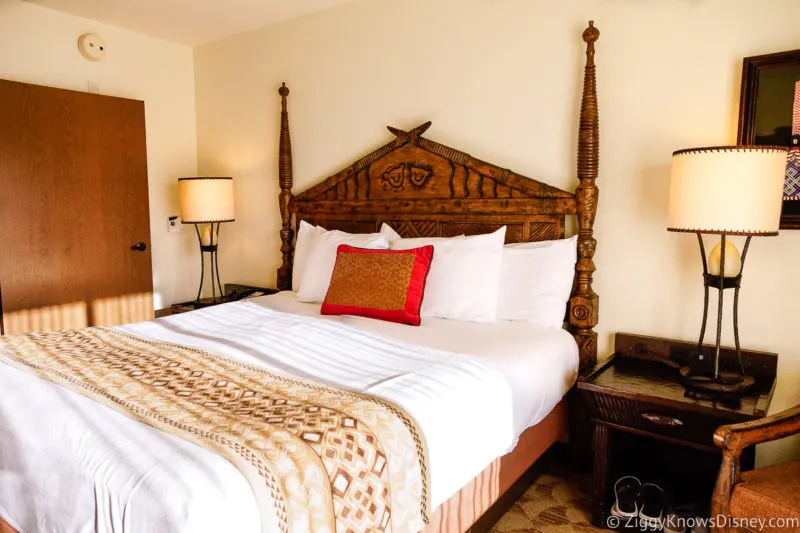 They also state:
No refunds are given for the cancellation of any personalized products or experiences.
No refunds will be made for early departure from the hotel and for unused or partially used admission tickets, options, or features, including meals.
Any refunds allowed by Disney in its sole discretion after arrival must be requested in writing within 90 days after departure and may be assessed a $25 processing fee.
Disney reserves the right to make refunds in accordance with the method that payment was received. All appropriate refunds will be made through the guest's travel agent if payment was made by the travel agent. Disney is not responsible for the receipt of refunded monies by guests from their travel agents.
Also, many Disney visitors coming to the parks book Disney Vacation Packages through 3rd party companies that allow them to completely book their resort and park tickets. These packages can sometimes include additional perks, such as airfare.
If you booked your vacation package through a third party, you will have to consult with them for their cancellation policy and to see if they are willing to give you a refund.
How to Cancel Your Stay at Disney World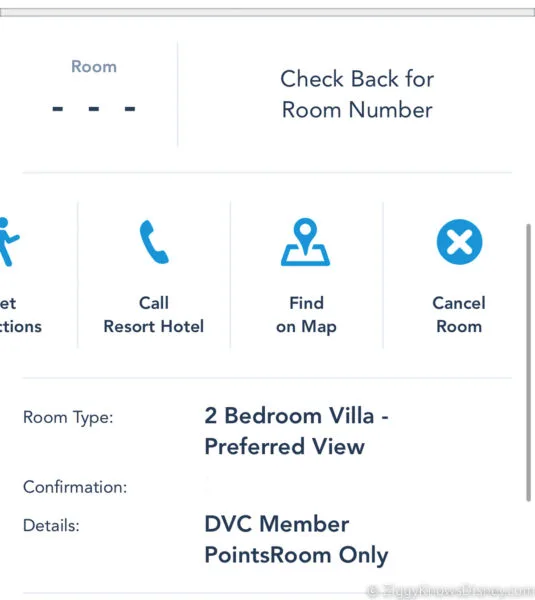 The easiest way to do so, if available, is through the My Disney Experience app or the Walt Disney World website. Simply go to the "Reservation" area of the site and see if there is a cancellation button next to your reservation.
If that option is not available, you will have to call 407-934-7639 and speak directly to a cast member. The fees and amount you'll be refunded will be squarely based on how far in advance you call and cancel your trip.
Do I Have to Cancel Theme Park Reservations?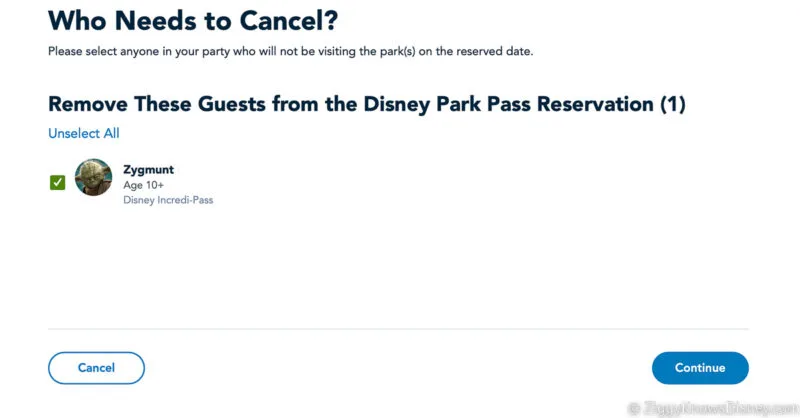 If you change your ticket start date or you end up canceling your vacation, are you required to cancel your Park Pass Reservations as well?
Technically, you don't need to cancel park pass reservations, but you should cancel them. If you hold onto reservations that you know you won't end up using, this prohibits other guests from being able to visit the parks on that date.
It will also allow you to rebook your park reservations for a future date, rather than having them lose validity if they go unused after the date of the park reservations.
To do this is simple, just go to 'My Plans' on the My Disney Experience app or website and click 'Cancel Reservation for each day that you have a park reservation.
Thankfully, after January 9, 2024, Disney World is no longer requiring park reservations for most ticket types, so this section isn't of interest to most guests.
Ways to Get Your Money Back on Disney Tickets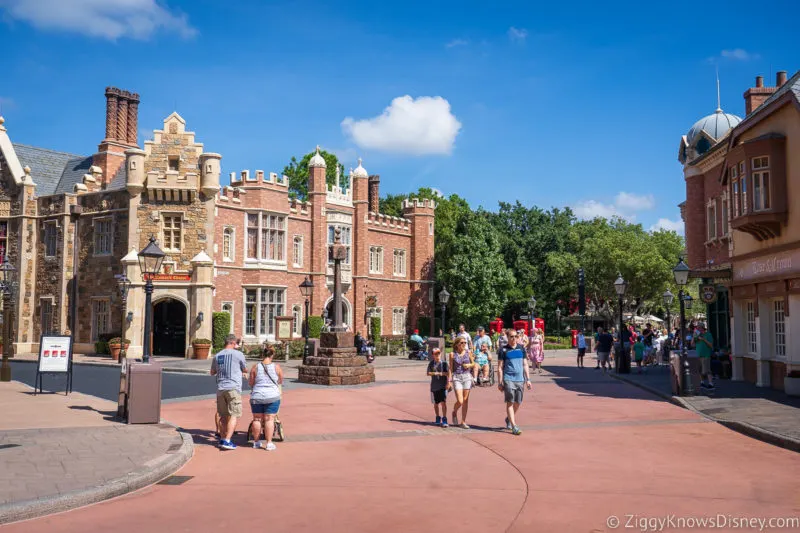 Even though it's very difficult to get your money back if you buy your tickets directly from Disney, it's much easier if you use a Disney-authorized ticket reseller as they have much more flexible refund policies.
One of the nice things about purchasing tickets through a Disney-authorized ticket seller, such as Undercover Tourist, is that they offer ticket refunds! They offer a 365-Day Return Policy for Disney World Theme Park Tickets.
In the case of Undercover Tourist, they simply charge a 5% fee that will cover the delivery, handling, and processing fees but the other 95% of the order will be refunded. The only caveats are that:
They must have been purchased in the last 365 days
They cannot be expired tickets or tickets not currently sold
They must not have gone past the selected start date
They cannot have been activated by entering the parks
They cannot have been modified by Disney Guest Services or through My Disney Experience
Undercover Tourist is the only company that I believe offers full refunds on tickets. Not only is booking through them cheaper in almost every instance, but the ability to get 95% refunds on your tickets in the case of an emergency is also another high incentive to use them!
It's Best to Use an Authorized Disney Travel Agent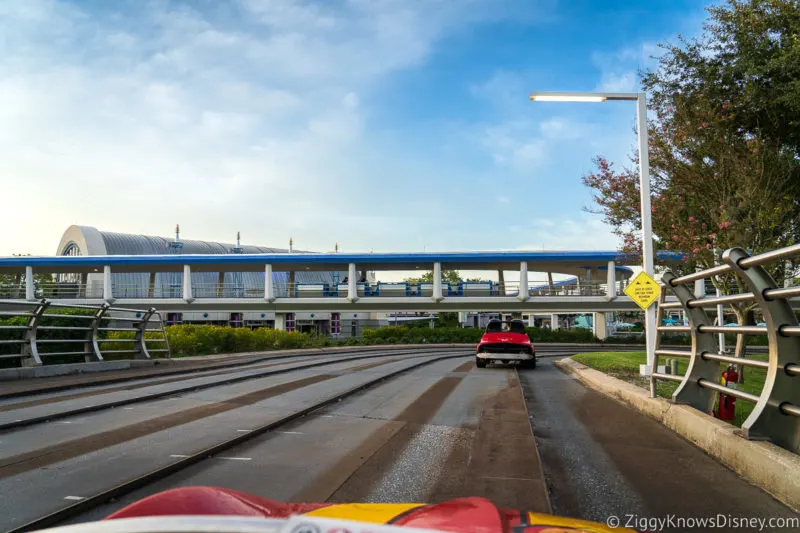 If this information is overwhelming and the idea of memorizing all of this is just too much for you, the absolute best way to make sure you do everything right is by using an Authorized Disney Travel Agent. Trust me, they will limit the amount of stress you have for your Disney Vacation, which after all, should be stress-free!
A good travel agent will make sure your tickets don't expire and they will keep abreast of all the latest ticketing information to make sure that you maximize every one of your dollars for your Disney trip.
Here at Ziggy Knows Disney we highly recommend Rene Cittadino and her team at Show You the World Travel. We personally use them for our trips and they have bailed us out numerous times when we need to change our plans. Plus they are 100% FREE to use, so there is absolutely no downside!
Rather than having to worry about 'when' your tickets are going to expire by rebooking them and changing your dates, let them worry about it!
Also, if you need to change or adjust your trip, you can just reach out to your travel agent and inform them. Then they will do the hard work of canceling and adjusting your trip while making sure you lose the least amount of money.
You can Request a Free Quote Here.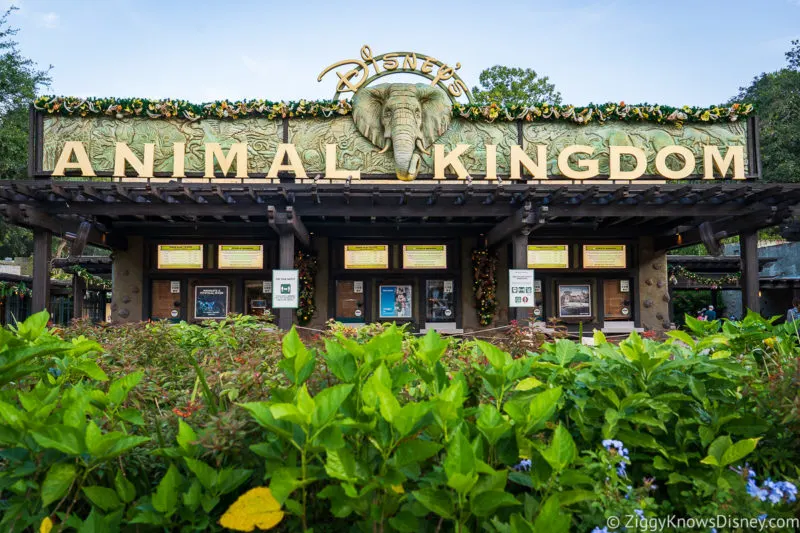 That wraps up our article on Disney World ticket refunds. Hopefully, you now know what to do in the case you need to postpone your trip or cancel it altogether if your plans change.
Here are a few of our most popular articles about Disney World tickets in case you have more questions:
If you are thinking about going to Walt Disney World in the coming future, here are some other popular articles where you will find all the info and tips you need to plan your trip.
Your Thoughts
I want to know what you think about Disney ticket refunds…
Have you ever got a refund for your Disney World tickets?
Was it hard to do?
Let us know in the comments section below!
If you enjoyed this article, as always I appreciate it if you'd share it with others via social media. I work hard at making this website into a useful resource for you and your family to plan your visit to the Disney Parks and I hope it can help you! Thanks 🙂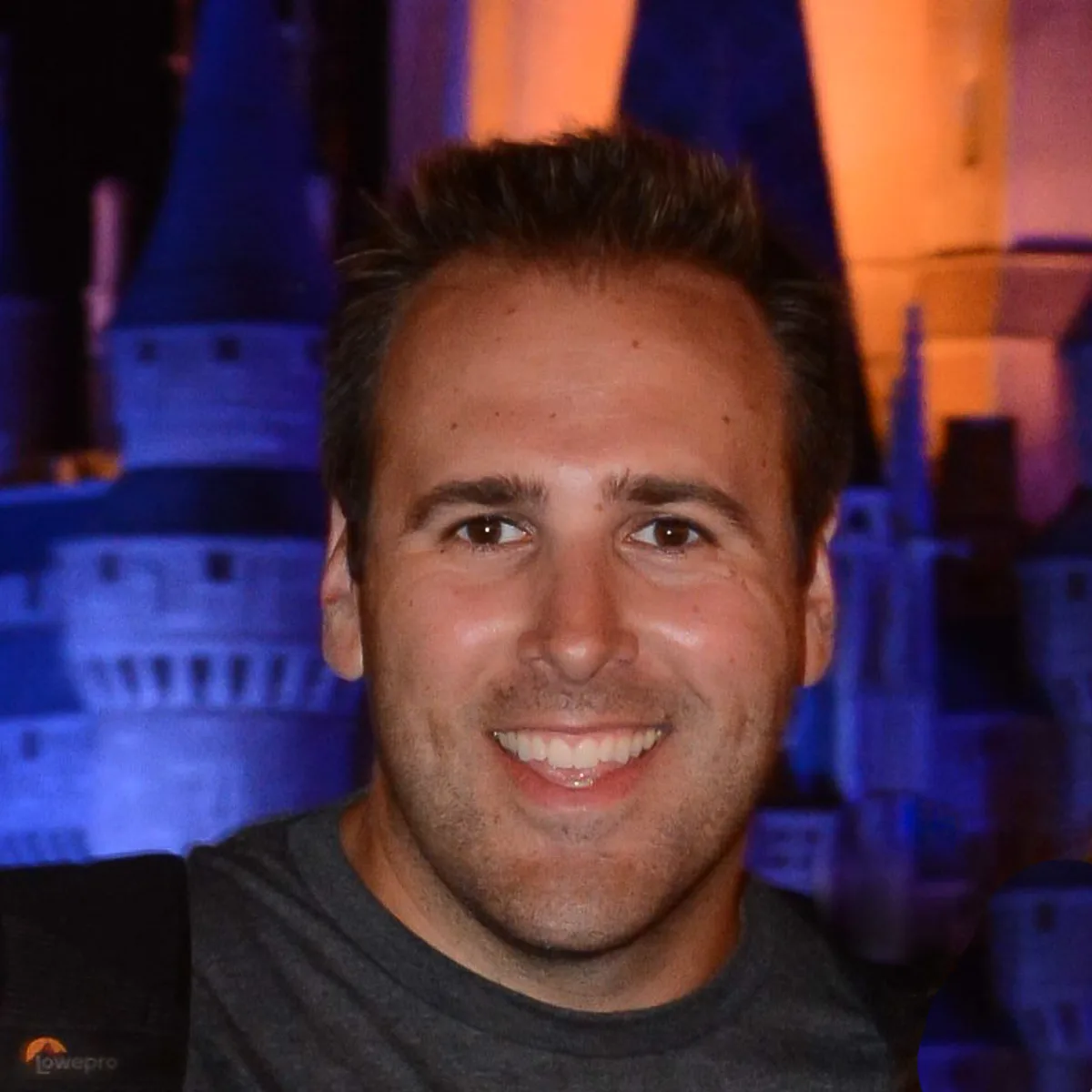 My name is Ziggy and I love Disney, everything Disney! I grew up on Disney and it has and continues to be a huge part of my life. I started young when my parents took me to Disney World when I was 18 months old. Little did they know that would be the first of an uncountable number of trips we would take. I have so many amazing memories going to Disney with my family and friends and it has been interwoven into my DNA.