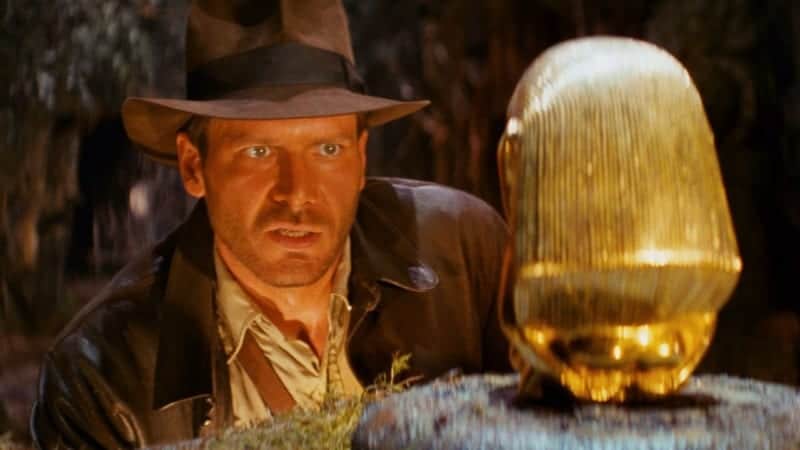 There are always rumors about new lands coming to the Disney parks, but one we've been hearing the most over the last couple years is an Indiana Jones-themed land making its way to one of the Walt Disney World theme parks. According to the Orlando Weekly, proposals for an Indiana Jones land have been made to the Disney brass for 3 out of the 4 Walt Disney World parks, with the exception being Disney's Magic Kingdom. But even though Disney's Animal Kingdom has been heavily favored in the past, it now seems like Disney's Hollywood Studios is now the favorite to actually get an Indiana Jones land. We'll go through the proposals for all three parks and discuss what seems most feasible…
Indiana Jones Land – Epcot:
This is the least likely of the 3 destinations. We know that at some point in the future we will be getting a new pavilion in World Showcase, and some of the more popular choices are Brazil, India and Spain. Realistically Indiana Jones could fit into India or Brazil no problem due to the exotic locations of both countries and the desire to build an E-ticket attraction with whatever new pavilion comes to Epcot.
I know Disney wants IP in every new attraction it builds, but honestly Indiana Jones in Epcot feels too forced and I don't see it being a good fit there. Plus it looks like if India comes to Epcot, they already have the idea for a Jungle Book attraction based on the Pirates of the Caribbean ride system in Shanghai Disneyland. Respected poster on the WDWMagic.com forums marni1971 though has said Indy isn't coming to Epcot, so at this point consider it a distant 3rd place.
Indiana Jones Land – Animal Kingdom:
This one has a chance, and up till now had been the favorite to land our favorite whip-carrying adventurer. Some of the rumored plans that have been proposed are to tear out Dinoland USA, and totally replace it with an Indiana Jones land or integrate Indy into Dinoland somehow with the archeologist aspect and Dinosaurs.
It is a strange coincidence that Dinosaur and the Indiana Jones Adventure in Disneyland both have the same ride system and would be easy to reimagine to Indy fighting Dinos or something similar. But even though it's a super popular ride, that ride-system is over 20 years old and it would be super lazy to just make-over Dinosaur to Indiana Jones imo.
Some of the proposals for Indiana Jones in the Animal Kingdom include the Boneyard Fossil Fun Site in Dinoland being transformed into an archaeological dig site, leaving the area occupied by the TriceraTop Spin, Primeval Whirl and the Midway Games removed for a new E-Ticket attraction. If Indiana Jones comes to the Animal Kingdom, plans are for it to include an outdoor roller coaster, which immediately makes you think of the Indiana Jones et le Temple du Peril in Disneyland Paris. Again though, the ride system on that is already 25 years old, super painful and it again would be really lazy for imagineers to just bring that into the Animal Kingdom and call it a day. Maybe instead it could be some form of the previously planned Excavator roller coaster instead with an Indiana Jones spin to it.
This whole idea though of Indy and Dinosaurs hasn't been received all that well with many inside Disney having doubts if it would work. That's why the next option at this time seems the best fit…
Indiana Jones Land – Hollywood Studios:
Let's just state the obvious. Disney's Hollywood Studios has been in rough shape for some time now. Times have changed since Hollywood Studios opened up when it was in fact a Studio, and was focused on giving people a behind-the-scenes look at how movies are made. Well people have changed since 1989, and Disney has removed almost every trace of that from the park and are focused now on putting people IN the movies and letting them be totally immersed in those environments. What that means is Disney is in desperate need of attractions to do that and draw people into the park.
Hollywood Studios just saw Toy Story Land open up this past Summer to mostly positive reviews, but not a lot being pushed on the attendance meter because of it. That's mostly because people are now waiting to come to Walt Disney World until Star Wars Galaxy's Edge opens late next year (most likely in December). Once Galaxy's Edge is open you'll have 2 more E-Ticket attractions there, plus Slinky Dog Dash and Mickey and Minnie's Runaway Railway too.
Disney knows though that more is needed. The next phase of the Hollywood Studios transformation will include a heavy influence from Pixar. We already know that in 2019 Lightning McQueen's Racing Academy is coming, and for years a Monsters Inc. roller coaster has been rumored to be coming to the Studios too. You could see that taking over for the Rock 'n' Roller Coaster at some point in the future.
If Indiana Jones comes to Hollywood Studios, the plans include taking down the theater for the Indiana Jones Epic Stunt Spectacular (which is essentially the last remaining piece of the old Hollywood Studios when it opened) and building an 8-acre land there instead. Yes this space has been used a lot for other events, but Disney has already made changes and has other space available to put them in.
This Indiana Jones land would have multiple attractions including a "signature E-Ticket attraction" which would rival the Millennium Falcon and Battle Escape attractions in Galaxy's Edge for title of best attraction in the park. It's not yet known what type of ride system this attraction would use, but it would be indoor and family-friendly, so no inversions most likely.
The proposal would also include an outdoor roller coaster like in the Animal Kingdom plans, and most likely whatever type of coaster they are designing could work in either park. Besides attractions the Indiana Jones land would have multiple dining locations and of course retail experiences too.
One of the most interesting parts of the proposal includes an Indiana Jones themed hotel, in the same vein as the Star Wars Hotel. Disney is betting big on heavily-themed hotels with unique and immersive experiences in them on being the future and if you've ever wanted to live a day in the life on Indy, this would be your chance. With the new parking lot in Hollywood Studios taking up a lot of space, I'm not sure how they would connect the hotel with the Indiana Jones land though.
Of course this means the Indiana Jones Stunt Show goes away, but again it's super dated and focuses more on the educational aspect that Disney is eliminating from the parks. Though it's not yet clear what else would get taken away, the plans to seem to indicate that it would also mean the removal of Star Tours. I wouldn't be too upset about that honestly because while it's an amazing attraction from a historical standpoint, it's also 30 years old and there isn't any need for it with Galaxy's Edge. And while Disney has yet to say the long term future for Star Tours, that space can be used for something else with a different IP like this imo.
Here is an estimate of the area that this Indiana Jones themed land could occupy: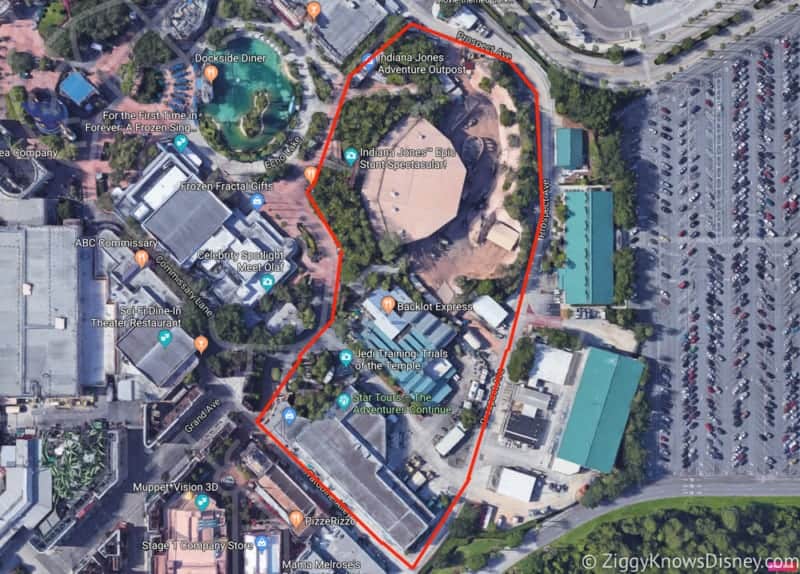 Right now Disney is already booked solid with Galaxy's Edge, Ratatouille, the Guardians of the Galaxy and Tron roller coasters, plus other major improvements to Epcot. So if an Indiana Jones land does indeed come to Hollywood Studios, it won't be until after the 50th anniversary of Walt Disney World, which means something like 2023 at the earliest.
This is of course a rumor at this point, but often where there is smoke there is fire, and the fact that Disney has made proposals for 3 theme parks shows that it's serious about bringing Indiana Jones to the parks in a big way. Right now Indy 5 is on hold, but being such a huge franchise to the company, Disney will certainly want to get it out to the people in the future.
Your Thoughts:
I want to know what you think about an Indiana Jones themed land coming to Disney's Hollywood Studios…
Is that the best location for it?
What attractions/experiences do you want to see included?
Let us know in the comments section below!
If you enjoyed this article, as always I appreciate it if you'd share it with others via social media. I work hard at making this website into a useful resource for you and your family to plan your visit to the Disney Parks and I hope it can help you! Thanks 🙂
Need Help Planning Your Disney Vacation? Show You the World Travel is Here to Help!
Just click here and one of our trusted travel agents will contact you for all your Disney Vacation Planning Needs….
[rainmaker_form id="19792″]