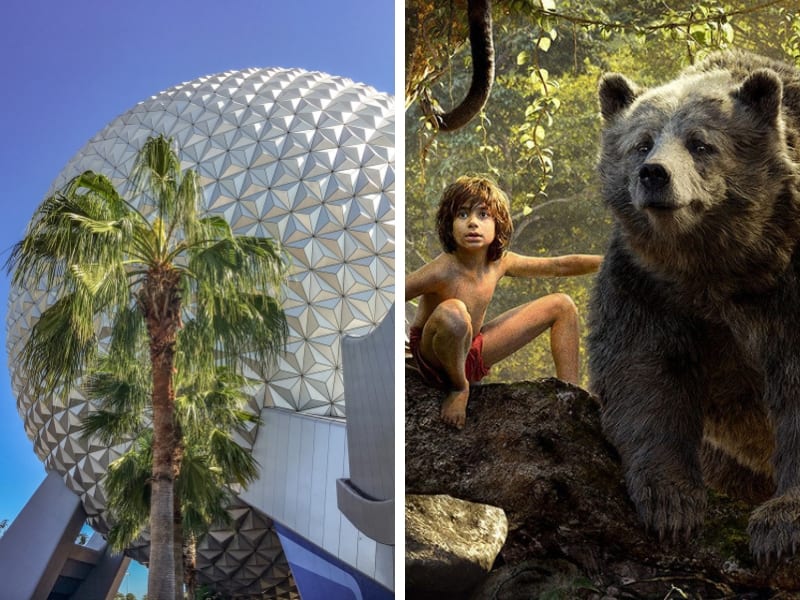 It's hard to keep up with all the rumors around Epcot recently, it's obvious they have a lot of things in motion as part of the big overhaul coming to that park. The latest rumor which we thought was super interesting is an India Pavilion with a Jungle Book attraction coming to Epcot's World Showcase.
Epcot has considered many different countries for pavilions throughout the years, and even held meetings with Indian officials way back in 1986 about this very thing. Now according to rumors, this is back on the table and being discussed in the inner offices of Disney and Epcot would be getting an India pavilion, plus an E-Ticket attraction based on the new Jungle Book franchise that John Favreau directed, not the original animated Jungle Book film.
Oh but it gets better, the attraction which is being called a boat ride, is not just any attraction, but it's would to be based the Pirates of the Caribbean attraction in Shanghai Disneyland, you know, the mind-glowingly awesome attraction that's the envy of just about everyone in the theme park industry.
Rumors come around like this often, but this one makes some sense if you think about it.
First, we know Disney is going in a new direction in all of its parks around the world, and that's to include an IP they own in just about every new attraction. Like it or hate it, that's Bob Iger's M.O. The Jungle Book franchise fits the bill in that the 2016 version of the film grossed $1 Billion, which means you know it's getting a sequel. That means having a brand new shiny attraction to go along with the Jungle Book 2, would be a perfect combo and great publicity for both entities.
Other pavilions like Brazil and Spain recently have been talked about by Disney, with a Spain pavilion being all ready to go with an attraction and restaurant. Disney officials were not going to sign off on Spain until they knew Gigantic was going to be a hit, and since that's been cancelled, so was the Spain pavilion. An India pavilion on the other hand is perfect because the Jungle Book franchise is already a guaranteed money maker and Disney would have no problems giving it the ok.
Second, Epcot needs more attractions. Not only is Epcot lacking attractions, but we know Disney wants to make more attractions that appeal to kids too. A major E-Ticket attraction based on the Jungle Book and with that ride system would bring people of all ages to that end of the park. No location for the India pavilion was given, but it will for sure be located on the far end of World Showcase Lagoon past China and before Germany, perfect for getting guests out to that end of the park. Plus considering the attraction would be in an absolutely huge show building, that's the only area of the park it would make sense to put it.
This is my guess of where India would fit best into World Showcase: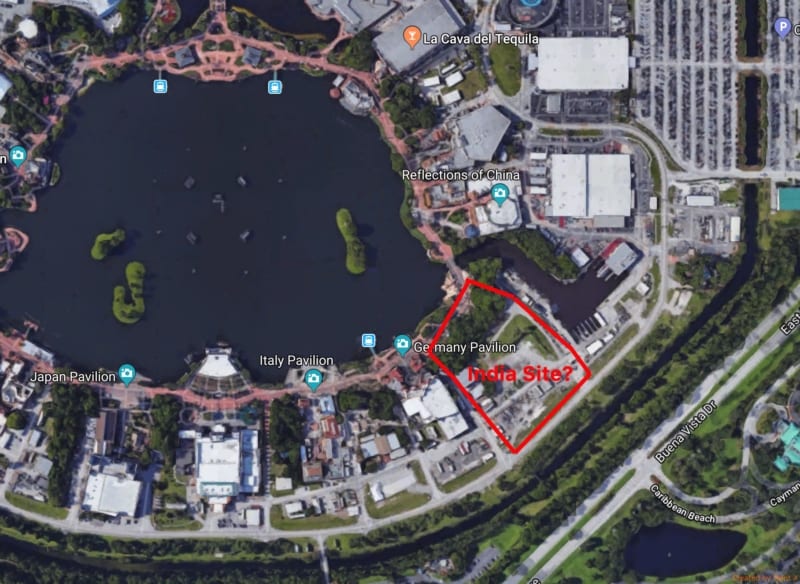 Third, people in Walt Disney World love to eat, and an India pavilion would again be an amazing fit based on the nation's famous cuisine. If you can get a restaurant on the same level as Sanaa in World Showcase, I have a feeling it would jump to the top of the most popular restaurants in Epcot.
Everything about this sounds amazing, and I'm all about having a ride based on that ride-system in Walt Disney World. The only question I have is the fit of an India pavilion and Jungle Book ride in Epcot, and not Disney's Animal Kingdom instead.
Animal Kingdom is a tailor made location for an India pavilion considering they have a heavily themed Asia section of the park. A Jungle Cruise attraction could easily be dropped in there perfectly. If you put India in Epcot, that would eat the space for a Spain or Brazil pavilion there, and they can't easily be fit other places in Walt Disney World, certainly not Animal Kingdom. That way you get the best of both worlds.
@Marni1976 on the wdwmagic boards has confirmed that an India pavilion with a Jungle Book attraction is being talked about at Disney right now, but it's still really far off, so it's not something that's far enough along to be here for the 50th anniversary of Walt Disney World in 2021, but would come as a future expansion later.
This India Pavilion and Jungle Book attraction are just two in a long line of rumors for the Big Epcot Expansion. Supposedly there's a Mary Poppins Spinner Ride in the works for the UK pavilion and a Spaceship Earth Re-do on top of the Guardians of the Galaxy Coaster and Ratatouille Ride already being built.
These are rumors however until Disney announces them so let's take it as usual with a grain of salt, even though these sources are pretty reliable ones. That said it's nice to know Disney is thinking of bringing an India pavilion and more exciting for me, a Jungle Book attraction based on the Shanghai Pirates to the states and I'm excited to hear what you think too!
Your Thoughts:
I want to know what you think about an India pavilion and a Jungle Book attraction coming to Epcot or Animal Kingdom…
Where do you think it's a better fit?
What would you like to see in an India pavilion?
Let us know in the comments section below!
If you enjoyed this article, as always I appreciate it if you'd share it with others via social media. I work hard at making this website into a useful resource for you and your family to plan your visit to the Disney Parks and I hope it can help you! Thanks 🙂
News Source: wdwnt.com
Need Help Planning Your Disney Vacation? Show You the World Travel is Here to Help!
Just fill out the form below and one of our trusted travel agents will contact you for all your Disney Vacation Planning Needs….
[rainmaker_form id="19792″]