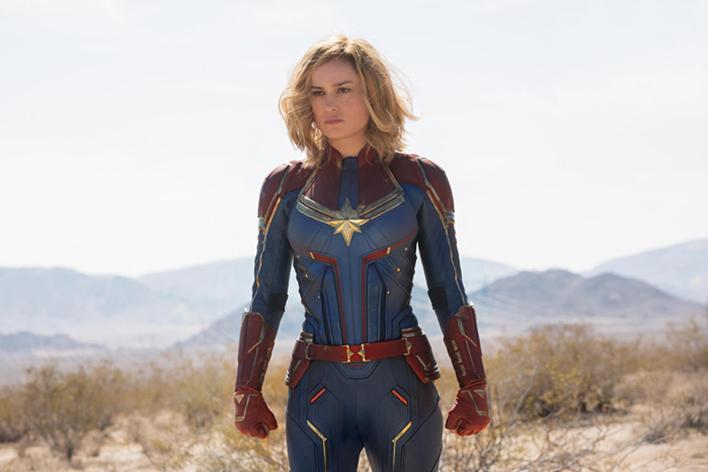 The internet was abuzz this morning as Marvel Studios dropped the first Captain Marvel trailer, and it was mind-glowingly good!! We got our first look at Carol Danvers (Brie Lawson) and how she turns into one of the most powerful super heroes in the Marvel Universe!
Let's breakdown what we saw…
So it was plainly obvious from the opening shot that we are back in the 1990's, when Blockbuster was alive and well. Danvers ends up falling from space through the roof and we get a cool shot of her in front of the Action sign, indicating a shoutout to the great action films of the 90's.
We see Captain Marvel in 3 different timelines throughout the trailer. One is her backstory of how she became Captain Marvel. Marvel said that this wouldn't be a traditional origin film, and this one is a bit different. She gets flashes throughout the trailer of her as a child and the accident she had becoming the super hero she is now.
The Second timeline is her time working with Starforce. Here we see Danvers in the green Captain Marvel uniform working together with Jude Law's character, the original Captain Mar-vel. We also get shots of the Kree home planet which we haven't seen before, and the biggest part was that Ronin is back, and probably slightly less crazy in this film. We know he was all worked up about the Skrulls (more on that in a second) in Guardians of the Galaxy, but I have a feeling we'll see a tamer version of him and probably find out what happened to him to make him that way. He's looking at Earth in the trailer and it'll be interesting seeing what his intentions are. We get a cool shot of Captain Marvel with the mohawk and the rest of Starforce, which was an awesome look!
Lastly we see Danvers in the present day, with her traditional red and blue Captain Marvel suit. Most likely she found out about the Skull invasion on Earth and is now here to stop them. Seems like she spends most of her time chasing them down during the "present day." She meets up with Nicky Fury (Samuel L. Jackson), and we get to see how their relationship started, and how it's continued up to the real present day at the end of Infinity War. I'm also super hyped to see Agent Coulson back in the MCU and we get to see him as a bright-eyed new recruit to Shield.
In Captain Marvel we're going to get to see the Skrulls in a twist on the "Secret Invasion" storyline from the comics, which will ultimately play out in Avengers 4. I think someone from the Avengers is really a Skrull and has been secretly infiltrated in the group for some time now. My guess is on Hawkeye, but hey what do I know?
Overall I love the Captain Marvel trailer and I'm really angry we have to wait more than 5 months still for this!!
Here's the Captain Marvel Trailer:
Captain Marvel flies into theaters March 8, 2019.
Check our complete list of Every Disney Movie coming in 2019 to see what else is must-see this year.
Your Thoughts:
I want to know what you think about the first Captain Marvel trailer…
What did you think of the trailer?
What was your favorite part?
Let us know in the comments section below!
If you enjoyed this article, as always I appreciate it if you'd share it with others via social media. I work hard at making this website into a useful resource for you and your family to plan your visit to the Disney Parks and I hope it can help you! Thanks 🙂
Need Help Planning Your Disney Vacation? Show You the World Travel is Here to Help!
Just fill out the form below and one of our trusted travel agents will contact you for all your Disney Vacation Planning Needs….
[rainmaker_form id="19792″]