This week Disney threw a huge media event, giving them a sneak peak of the most anticipated theme park land in history: Star Wars Galaxy's Edge. Part of that included a detailed look into the Galaxy's Edge attractions: Millennium Falcon: Smuggler's Run and Star Wars: Rise of the Resistance, and general new details about the land itself.
As you know Star Wars Land is coming to both Disneyland and Walt Disney World later this year and Disney also shared a sneak peak at the food coming to Galaxy's Edge including the menus, and also the merchandise you can buy like Droids and Lightsabers! Really cools stuff. And Cast Members were also excited to learn what kind of costumes they'd be wearing once Galaxy's Edge opens later this year.
We going to share with you some new details regarding the Star Wars: Rise of the Resistance attraction and Millennium Falcon: Smuggler's Run. Just as a warning, the below description is quite detailed so if you don't want to know anything and would rather be surprised when visiting Galaxy's Edge yourself, now is the time to back out.
Ok, everyone ready? Let's look at some cool new information about both Star Wars Galaxy's Edge attractions!
Star Wars: Rise of the Resistance:
Lots of new info was revealed about the Star Wars: Rise of the Resistance attraction, but one surprise was that it won't be 28 minutes long as previously expected. Disney imagineers didn't say just how long it would be, but it's still going to be epic!
According to Nerdlist.com The backstory for Galaxy's Edge is that the Resistance heave built a new base on the remote planet of Batuu by carving out a cavern which is thousands of years old with lasers, to form their new base. It's located just on the outskirts of Black Spire Outpost giving it natural camouflage so as not to be discovered easily by First Order Troops.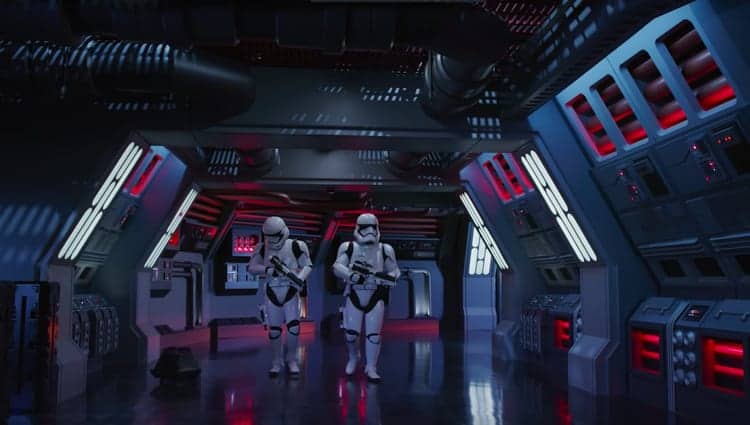 This is where your journey begins as the attraction queue winds in and out of the cavern, taking you deeper and deeper inside. There you find weapons rooms, and other connections back to Black Spire Outpost. In fact all of Galaxy's Edge will be riddled with secrets and Easter eggs to explore, many of which could bring you on other missions throughout the land.
One thing that's really cool is how the new Play Disney Parks app is going to interact with Star Wars Galaxy's Edge and both of the attraction queues. By playing you'll learn more about each attraction and be able to put that knowledge to use on the rides, all the while winning credits you can then spend later in Galaxy's Edge.
So far Disney has confirmed there will be FastPass+ and Standby riders for Rise of the Resistance, still no word on whether or not Single Rider will be an option. In my opinion it would greatly help as most people aren't going to be able to score a FastPass+ for either attraction, so single rider might help whoever doesn't want to wait 6+ hours in line!
There is also the rumor that Disney is going to be SELLING FastPass+ reservations for the Galaxy's Edge attractions, so we'll have to see how that develops as nothing is confirmed yet.
The queue continues as the FastPass+ and Standby riders merge together into groups of 45-55 people. Guests are then greeted by a BB-8-looking animatronic droid who briefs you and brings you to the next room where a hologram of Rey appears.
One thing we've had confirmed is that Rey, Finn, Poe and others from the new series are going to be playing a big part in this attraction, but throughout Star Wars Galaxy's Edge. And once you leave the briefing room in Rise of the Resistance you board a shuttle where Poe Dameron then escorts you on your mission in his X-Wing.
As you enter the shuttle you see the animatronic figure Nien Nunb inside the shuttle, probably at the wheel driving you to your mission. The shuttle gets intercepted by two Star Destroyers and in classic Star Wars style, you get sucked in on a tractor beam.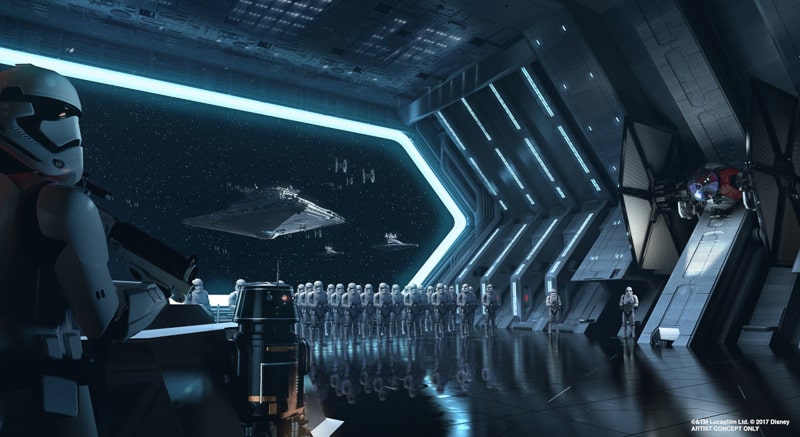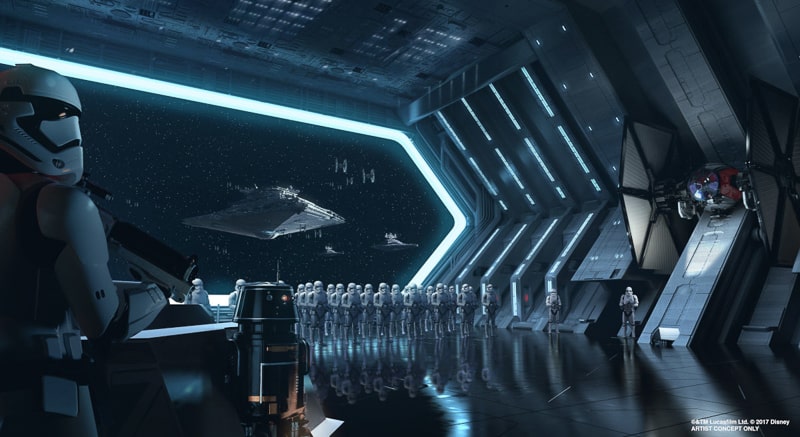 That's when you arrive right in the middle of a massive Star Destroyer hanger. The scale of everything is HUGE and the room is filled with 50 stormtroopers, and even a TIE Fighter. Stormtroopers then take you and the other passengers and place you in detention cells, ala A New Hope. The only difference instead of Darth Vader doing the interrogating, it's Kylo Ren!
I don't know about you but this sounds unbelievably amazing!
EW.com gave even more info with their exclusive interview:
On the Rise of the Resistance ride, you'll be joined by Daisy Ridley, John Boyega, Oscar Isaac and Adam Driver, who have created footage to give Rey, Finn, Poe Dameron, and Kylo Ren a presence in the attraction.

The wait line begins beneath a mobile cannon turret, which forms an archway to a path leading to ancient alien ruins carved into the rocky cliffs of the planet Batuu.

Inside the Pueblo-like carved living spaces of the ancient Batuuans, the line of would-be Resistance volunteers passes an animated Gonk droid, which is basically a walking battery, powering the lights and communications gear.

A little further along, the line weaves through an ancient worship site, although the little alcoves in the wall, lined with mineral-weeping stones, are missing the sacred objects they once held.

Nearby is another mysterious room, with numerous archways in the stone sealed shut with smaller, smooth rocks.

The good guys aren't very careful with ancient archeology sites. They've used laser torches to carve open the ruins to create wider space for their blaster arsenal and flight equipment.

As you enter the heart of Resistance command, a familiar droid appears: BB-8. He comes bearing a hologram of Ridley as Rey, telling visitors they have to board a transport soon for a mission led by Poe Dameron.

From there, a bay door opens and guests are hustled out past Dameron's signature black X-wing and into the cargo bay of a transport flown by another well-known Star Wars figure — Nien Nunb, the Sullustan alien co-pilot who helped Lando Calrissian blow up the second Death Star.

An animatronic version of the character barks at his passengers from the front, his jowls flapping like a stack of pancakes. For the voice, Imagineers hired Kenyan actor Kipsang Rotich, who spoke the dialogue for the character in his native Kalenjin and Kikuyu languages in both Return of the Jedi and The Force Awakens.

Once the transport doors close, visitors watch on monitors as they are cleared for take-off. Before the ship rises, Isaac emerges from the control center and climbs into his X-wing, continuing to communicate with Nunb and your ship as you all lift off into space.

Before long, the convoy is intercepted by a First Order Star Destroyer. Poe can't fight it off on his own, so he has to retreat, promising to bring back help.

A tractor beam pulls the transport into the Destroyer, and when the doors open guests are standing in a giant auditorium-sized First Order hangar, filled with scores of Stormtroopers, and hung with TIE Fighters along the walls.

The stormtroopers will be animatronic, with slight movement suggesting they are alive, but they'll also be slightly smaller than visitors realize to create the illusion that the hangar — which is truly massive — is even bigger.

From there, the visitors are hustled into a room similar to the one where Kylo Ren once tortured Poe Dameron. You don't stay here long. Soon, you learn something valuable that the Resistance will need to fight the First Order, and once you get broken out of this cell the real ride continues.

Disney Parks officials won't say exactly how long Rise of the Resistance lasts, but they say it's not the 28 mins that has been rumored online.

Once you flee the interrogation room, you board a trackless cart that will guide you through the rest of the ride, gliding through one hangar that contains two towering AT-ATs, and eventually bringing you face-to-mask with Kylo Ren.

Exactly how he and Finn appear in the ride is still under wraps, but Imagineers confirm that both Driver and Boyega are involved in bringing the characters to life.
Here are some of the new concept art for Rise of the Resistance: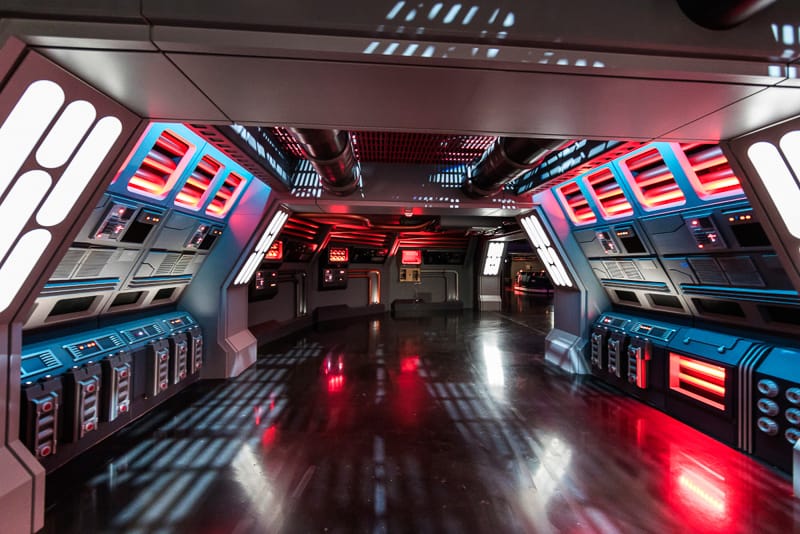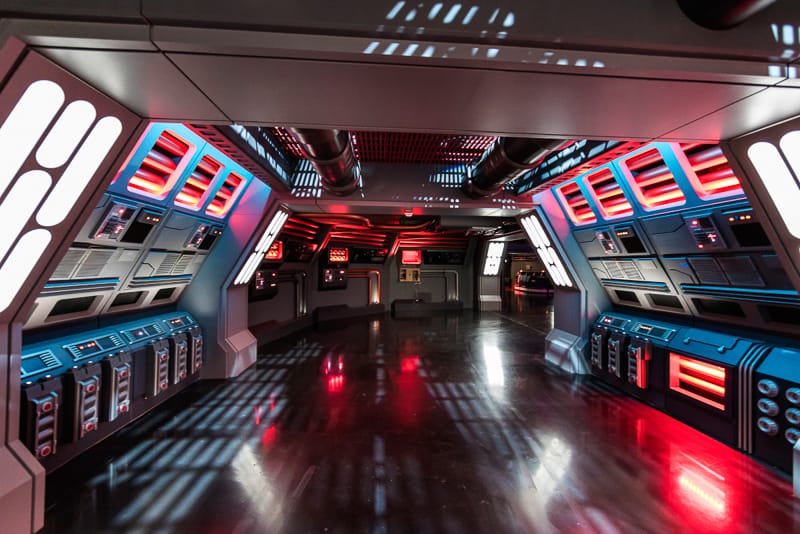 Notice the shiny, trackless floor that your ride vehicle will go on. That means all sorts of twists and turns and surprises in direction are possible without being constricted to traditional ride tracks.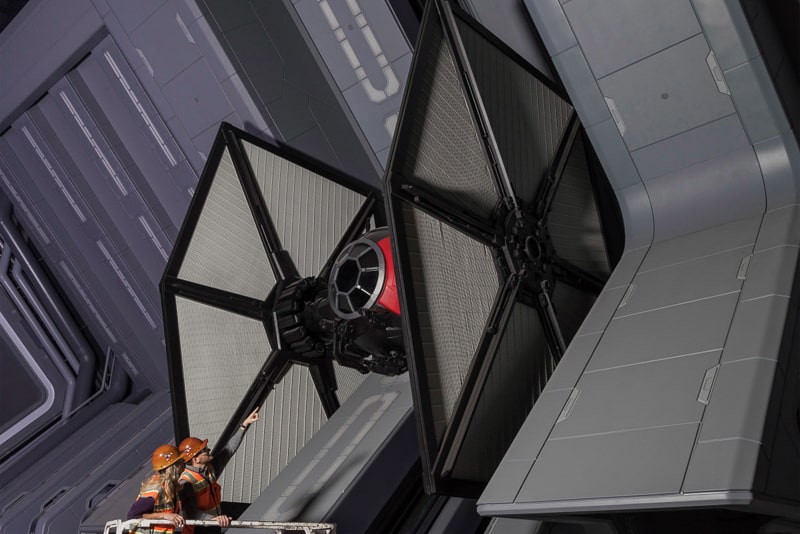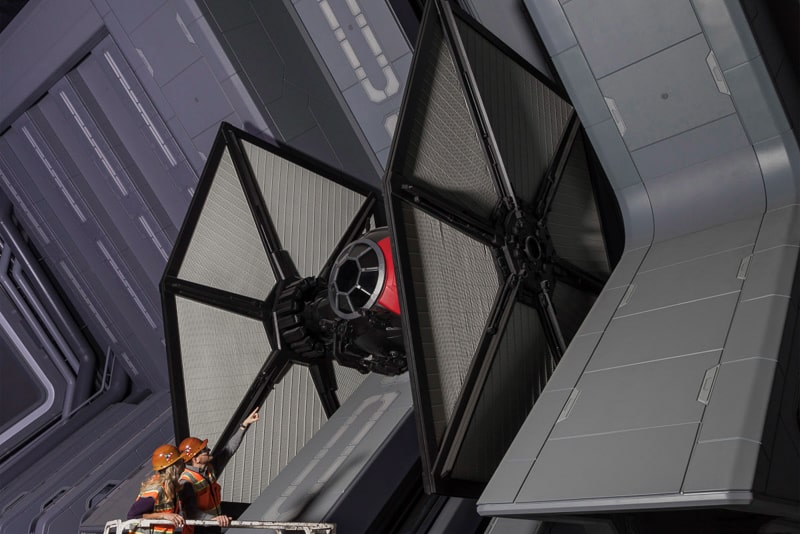 The size and scope of the Star Wars: Rise of the Resistance attraction is really mind-blowing and there are going to be some effects in there that Disney Imagineers say are going to blow us away.
Millennium Falcon: Smuggler's Run
Not to be out done by Rise of the Resistance, Millennium Falcon: Smugger's Run is also shaping up to be an amazing attraction. Some awesome new info was given about it, plus more looks on the inside of the iconic spaceship.
The OC Register gave a detailed look at how a guest will start their journey on Smuggler's Run all the way to entering the Millennium Falcon during a behind-the-scenes look at the attraction. Again if you don't want spoilers, now is the time to leave.
We found out that the giant life-like Millennium Falcon parked outside the attraction is 110 feet long! Not only that but it will "will spool up its engines and vent thrust gases while docked at a spaceship maintenance bay."
Once you walk past the Falcon, you enter the attraction queue which brings you to Ohnaka Transport Solutions where you will find all sorts of Star Wars easter eggs and props like ship equipment and storm trooper armor used for smuggling. You then move up to the second floor and see "An animated blaster-riddled starship engine suspended from the ceiling glows a pulsating red."
If you haven't seen the amazing Hondo Ohnaka audio-animatronic then you need to check him out, but he will be the one then briefing you one your mission. He's not alone as his droid R5P8 who fixes equipment in the Command Center is there with him. And guess who will be outside by the Falcon working on it…that's right Chewbacca himself! Keep an eye out for him and the members of Hondo's crew as they look for parts to get it up and flying again!
It's here where the crew prepares the Millennium Falcon for its mission, and guests will be able to view the ship from multiple angles in the queue. Behind you the Millennium Falcon will hover in view by way of a video screen before landing in the hangar bay. It will be really interesting to see how Disney pulls off making you feel like you are entering the REAL Millennium Falcon, the one outside, but there will be some kind of optical illusion making you think you are getting on board that one.
I can't even imagine how awesome it will be to walk up that ramp and into the hold of the Millennium Falcon. While you are waiting in the main hold, you can play a game of "hologram chess" just like in A New Hope. Hondo will then reappear on a monitor explaining your pre-flight specifics.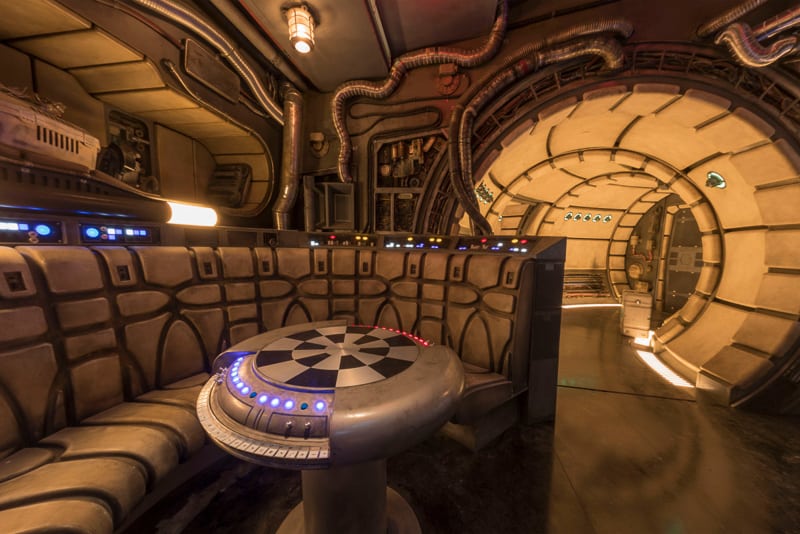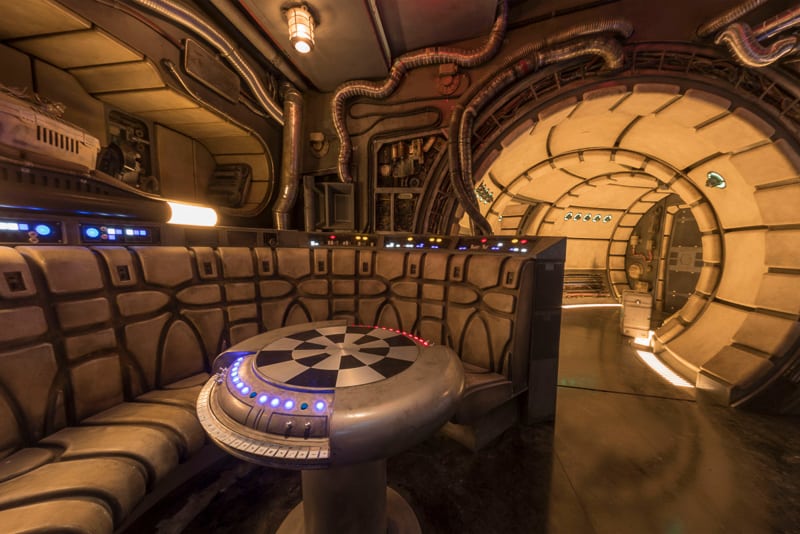 Just imagine walking around the halls in the Millennium Falcon. Hopefully there are a bunch of secret rooms and compartments to explore!
After that you will get right into the cockpit of the Millennium Falcon! Each cockpit holds 6 riders, and each guest will have a critical role to play in the success or failure of each mission. It will be setup in 3 rows: pilots in the front, gunners in the middle, and flight engineers in the last row.
The roles for the crew members are as following:
Pilots: Making the jump to hyperspace
Gunners: Shooting down the incoming TIE Fighters
Engineers: Repairing any damage taken by TIE Fighters
There are going to be dozens of cockpit buttons, switches and levers, each making sounds and having flashing lights, etc. Magic happens next as you see the Ohnaka Transport Solutions hangar bay where you just were projected onto a domed screen outside the cockpit windows.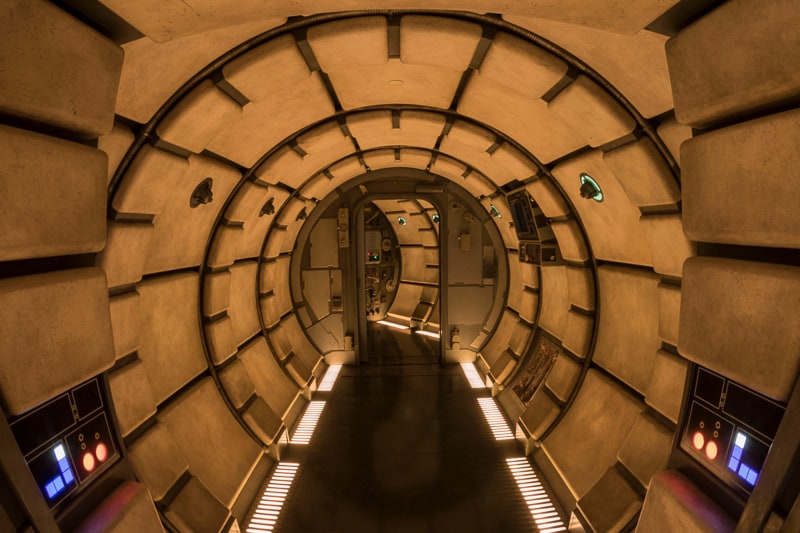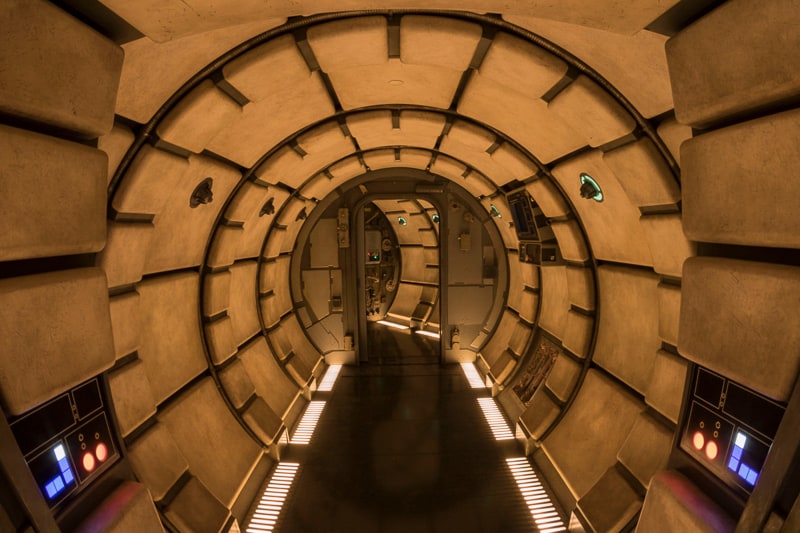 Not much was said about the mission itself, only that you'd be taking on First Order TIE Fighters during it. Having multiple roles and variable missions is going to make Millennium Falcon a unique experience each time you ride it.
Here is a sneak peak of what it will be like inside the cockpit!
After completing your mission, Hondo will reward you and the other cabin crew according to how well you did on the mission, and give you your cut of the earnings. How you'll be able to spend those earnings are still unknown, but it'd be cool if you could use them towards FastPasses or something similar!
After hearing more about Rise of the Resistance and Smuggler's Run, no wonder Disney might be considering a paid FastPass system in Galaxy's Edge to allow guests to skip the lines for these two attractions, but nothing is sure yet.
We also learned about all the food coming to Galaxy's Edge today, and the awesome merchandise like droids and customizable lightsabers!
Not to mention the Hondo audio-animatronic figure coming to the Millennium Falcon: Smuggler's Run attraction. It has to be the smoothest, most realistic audio-animatronic figure yet and will be so cool to interact with!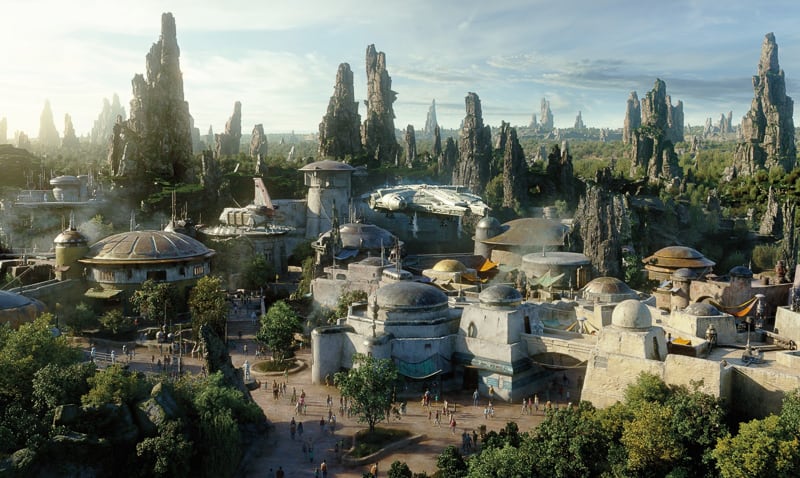 Many have been wondering the When is Galaxy's Edge Opening? We know it's going to be Disneyland on May 31, 2019 and in Hollywood Studios on August 29, 2019, and that post tells you exactly. how to get reservations and get in.
Before you go, read our Complete Guide to Star Wars: Galaxy's Edge for a detailed look at the attractions, dining, planning and touring strategies.
Make sure to stay tuned here at Ziggy Knows Disney throughout the day as we have more Star Wars Galaxy's Edge news coming, and more throughout the next weeks too!
Your Thoughts:
I want to know what you think about the new information on the Star Wars Galaxy's Edge attractions
Which part was the coolest?
Which attraction are you looking forward to the most?
Let us know in the comments section below!
If you enjoyed this article, as always I appreciate it if you'd share it with others via social media. I work hard at making this website into a useful resource for you and your family to plan your visit to the Disney Parks and I hope it can help you! Thanks 🙂