While some of the attractions are fun, the real reason you come to Epcot is to eat! But with so many options it can be tough to know what to get, that's why we've decided to make our list of the Best Snacks at Epcot!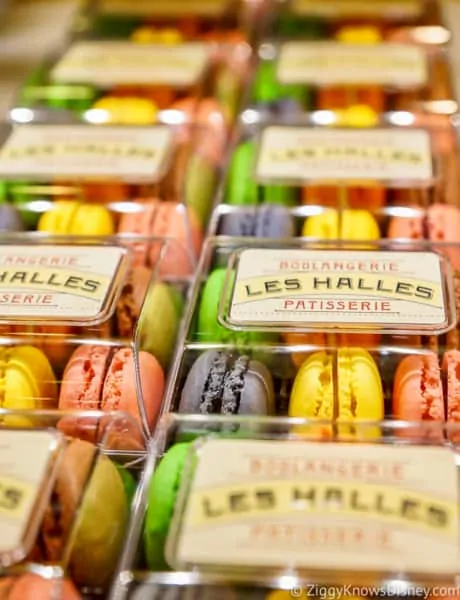 Of all the awesome places in Disney World to eat, this park is at the top of the list! And let's face it, Snacking Around the World in Epcot is perhaps our favorite Disney World pastime. We'd put it right up there with Drinking Around the World Showcase, and if done right, the two activities can be done together!
While you can wander through World Showcase without a plan, to really find the best snacks in Epcot you need to know where you're going, to make the most of your time and money.
First, to get started, you'll notice something strange about our list of the best Epcot snacks. Just about all of them mentioned in this post are located in World Showcase. We've left out Future World almost completely from the discussion, besides a very small Future World snacking mention at the end.
The reason is simple: World Showcase dominates food in Epcot. Nearly every must-have snack in the park is located on the far side of the lagoon, and once you start to get hungry you should immediately start heading in that direction.
Now to make things simple, we've grouped our list by country, with all the best snacks from that place there. Most of the countries in World Showcase have multiple must-have treats, but we've tried to limit our list to just the best of the best (except in France, because there are just so many we couldn't skip).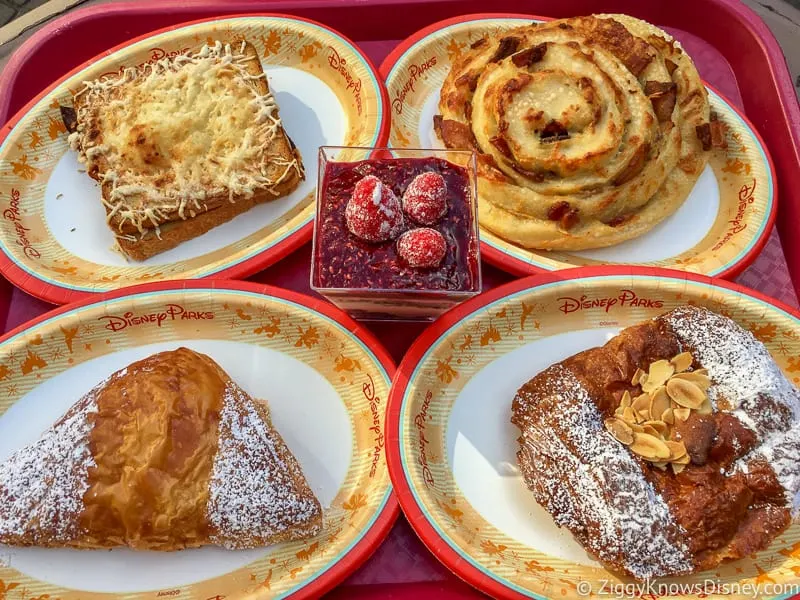 We also are not going to include snacks that you can find at the various Epcot festivals throughout the year like Food and Wine or Flower and Garden. Those festivals are full of limited-time food that you won't be able to get in other periods. We wanted to make a list of snacks that are always available in Epcot no matter when you visit.
Our challenge to you when snacking around the world is to try to get at least one item in each of the 11 countries in Epcot. This is just like our drinking around the world challenge, but can be done a lot more safely, and will cost you a lot less money.
To successfully complete the challenge though, you do need to eat a snack from every country in World Showcase all in the same day, which believe me won't be easy!
Even though we don't usually recommend sharing our food in Disney, going with a group of friends while snacking in Epcot isn't a bad idea in our opinion. There are so many yummy things to try, it will be really hard to do it all alone. If you have some friends with you, you can each get a few things and share.
Your second trip around the world will be even better, knowing what to get!
Which Direction Should I Start?
I'm assuming you're entering Epcot from the front of the park, though the International Gateway is getting more and more crowded since the opening of the Disney Skyliner. Again, if you aren't in Epcot for the rides, skip through the giant construction zone that is Future World, and head straight towards World Showcase Lagoon.
Once you get there you are going to have two options:
1. Go right towards Canada
2. left towards Mexico.
Honestly, you can't go wrong with either choice, and I think it depends on what kind of mood you are in when you visit and if you are looking for more savory snacks or sweet treats.
Starting in Mexico is better for eating savory items while going to the Canada side will get you to France quicker, and home of the best bakery in Walt Disney World.
For our list of the best Epcot snacks we are going to start in Canada, but feel free to go whichever direction you want.
Ok, let the snacking begin!!
Best Snacks in Epcot
Canada
Canada doesn't offer many snacking possibilities, and won't be a long stop on your trip around the world. They don't even have a real quick service restaurant (what's up with that??), just the table service restaurant Le Cellier.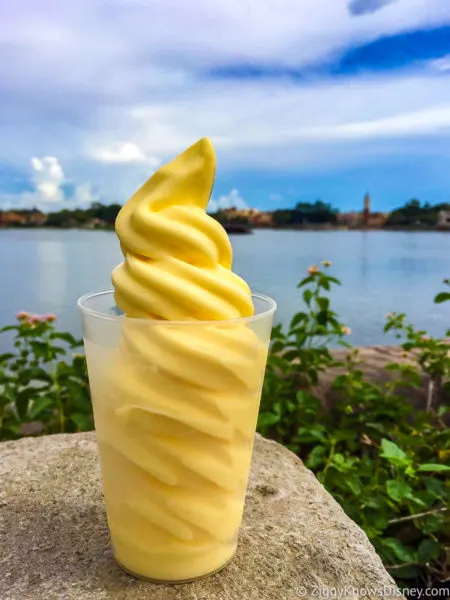 However, for our challenge, we're going to include the Refreshment port as being in Canada and here you'll find one of our favorite Disney snacks…the Dole Whip.
It needs no introduction as it's perhaps the most popular snack in Disney World, and if you really can't wait to get back to Adventureland in Magic Kingdom, you can grab a dole whip here too. At times it will be located at the Refreshment Outpost on the other side of World Showcase, so check there too.
The Refreshment Port also has traditional poutine, which is basically French fries smothered in gravy and cheese curds. Always a good option.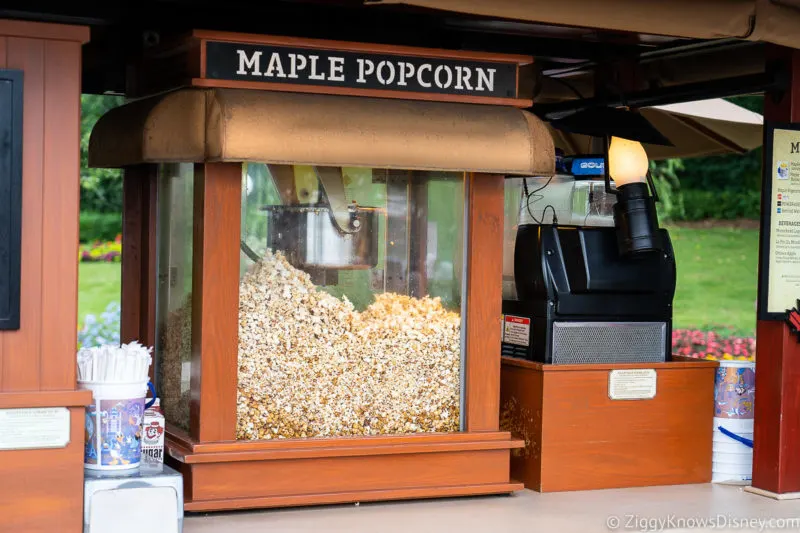 Maple Popcorn (Snack Cart) – Perhaps the ultimate snack for munching in EPCOT is popcorn, and in Canada, you'll find a sweet twist to this classic snack with maple popcorn. If you are a fan of maple syrup and popcorn then you will absolutely love the combination. In fact, it's very similar to another one of our favorites that we'll get to later on when we arrive in Germany.
It has the perfect balance of crunchy and salty and it's great for sharing with friends. If you are looking for something quick and easy to bring around World Showcase with you then this is a solid option.
U.K.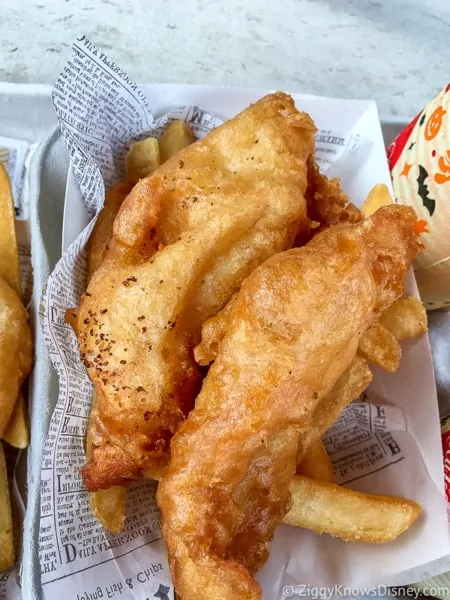 Don't get caught up wandering around the U.K. pavilion if you are looking for snacks. While it's a great place for drinking around the world, not so much when it comes to eating on the go.
Fish and Chips (Yorkshire County Fish Shop) – Fortunately, however, they do have one of our favorite items in Epcot, fish, and chips! This is my favorite fish and chips in Walt Disney World, and as close to the real thing as you will get this side of the Atlantic!
That juicy and succulent fish is coated in a crunchy beer batter and fried to perfection. Fish is good for you right??
France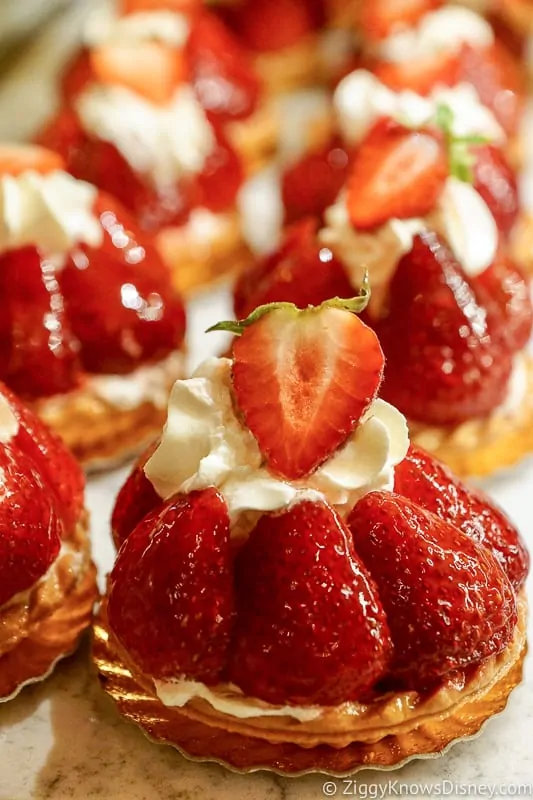 Now we've hit the motherload of Epcot snacking, the France pavilion. If you like food, whether savory or sweet, there is an almost infinite amount of things that will keep you occupied for hours. You can't go wrong with almost anything you get at either Les Halles Boulangerie Patisserie or L'Artisan des Glaces.
TIP: Make sure not to stay in France too long if you want to complete the challenge as you can get full here very easily.
The smell of freshly baked bread and sugar as you walk in Les Halles Boulangerie Patisserie is enough to spike your glucose levels to the moon.
Here you will find savory items like sandwiches, quiches, and breads: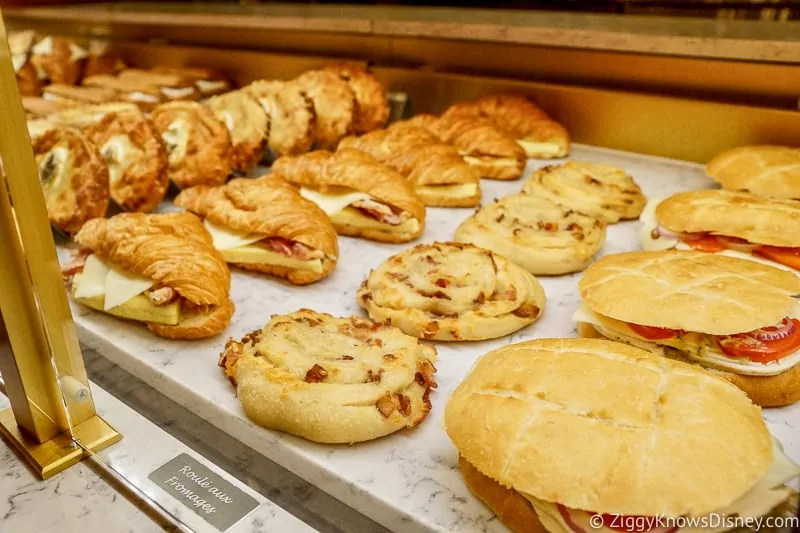 And twice as many desserts: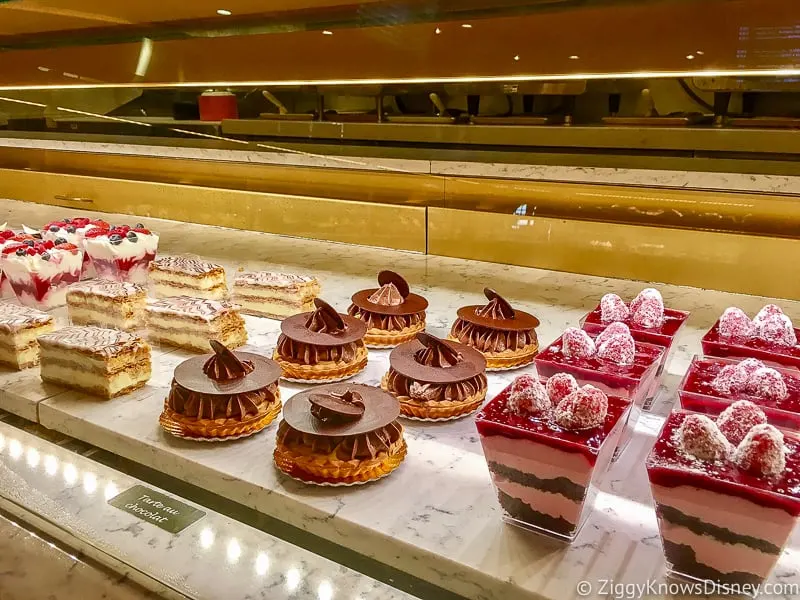 It was very hard to narrow the list down, but here are a few of our favorites you have to get at least once:
Roulé Lard and Fromage (Bacon and Cheese Roll) – This is a giant, chewy bread that has been rolled up into a wheel and stuffed with bacon and cheese throughout! They don't skimp here either. Make sure to ask for it heated up which puts it over the top!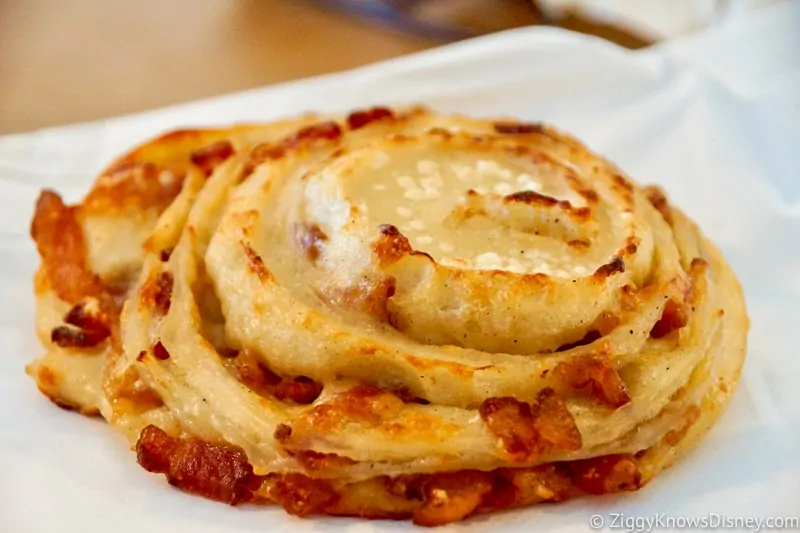 Croque Monsieur – Think of this as the best ham and cheese sandwich you've ever had. Outside is a toasted bread with cheese melted all over the top of it, and inside ham and creamy bechamel sauce.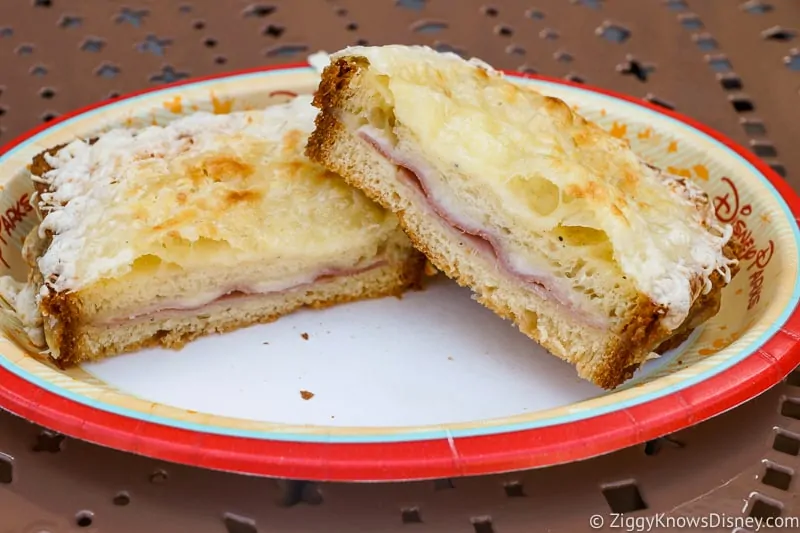 Flan e Cerises (Cherry and Flan Tart) – There are too many awesome pastries in Les Halles, yet I hardly ever see anyone name the Flan e Cerises as one of the best. You'd be mistaken to not try it as it has a perfect thin pastry shell and a sweet custardy cream. Great if you are a cherry fan!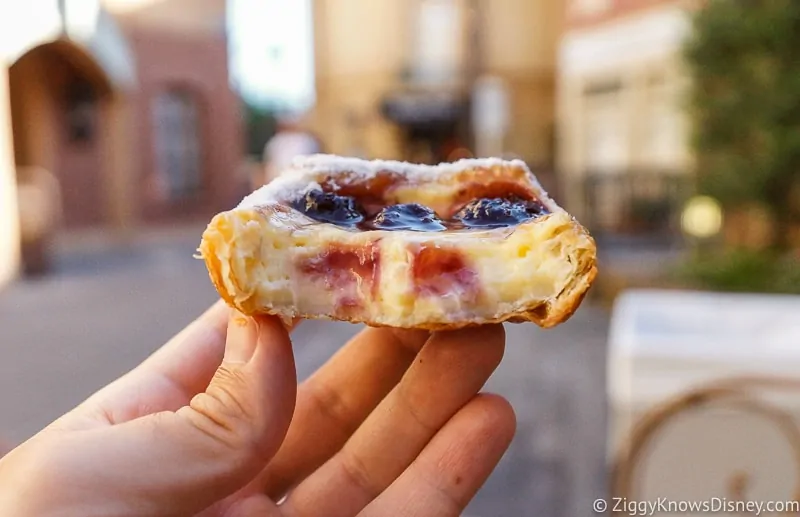 Citron (Lemon Meringue Tart) – My grandmother used to make the best lemon pies in the world and that's what this treat reminds me of. The perfect combo between tart and sweet, with a spongey meringue topping, makes this a must-get Epcot snack!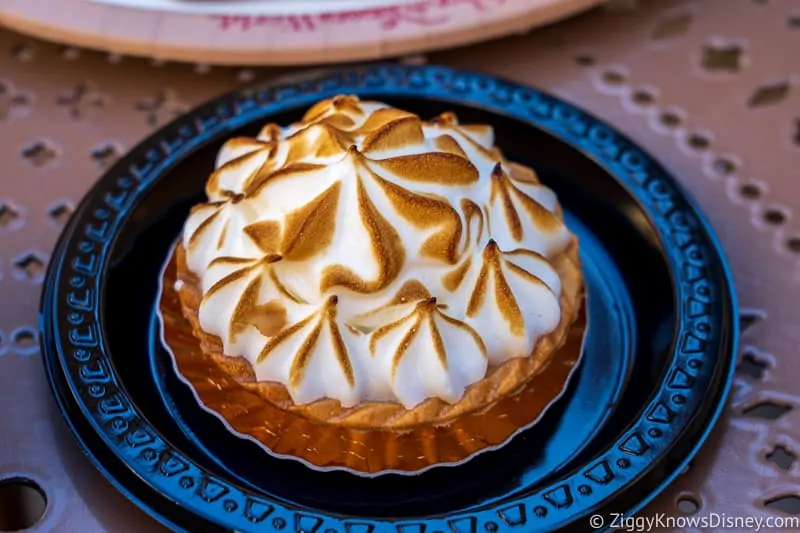 Macarons – If you are looking for a snack that you don't necessarily need to eat right at that moment, the macarons in France are the perfect on-the-go snack. They come in a variety pack with flavors like: lemon, pistachio, orange, raspberry, blueberry, and black courant. If you haven't tried macarons before, this is a good time to do so!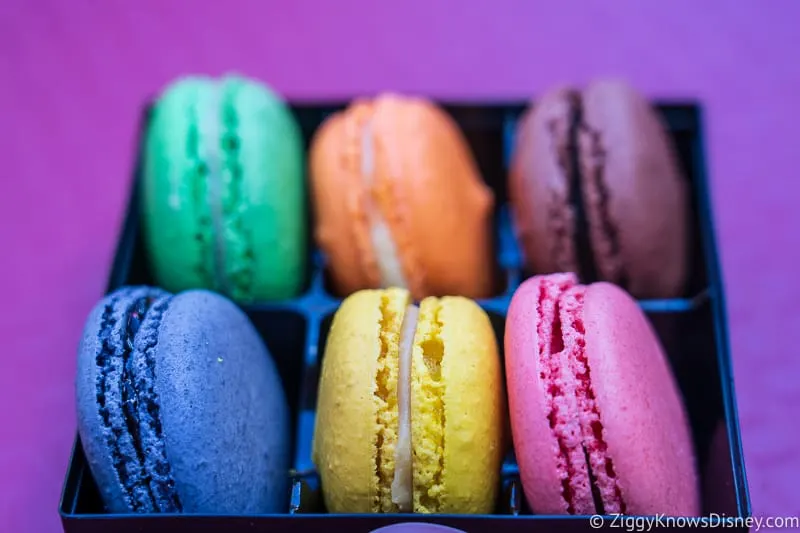 Moving away from the Boulangerie Patisserie, L'Artisan des Glaces is smaller, but also has some snacks that you can't miss while visiting Epcot.
Brioche Ice Cream Sandwich – You've heard of a brioche bun before right? Maybe you have tried one of these soft and buttery rolls already on a sandwich. Well, here you can build your own brioche ice cream sandwich.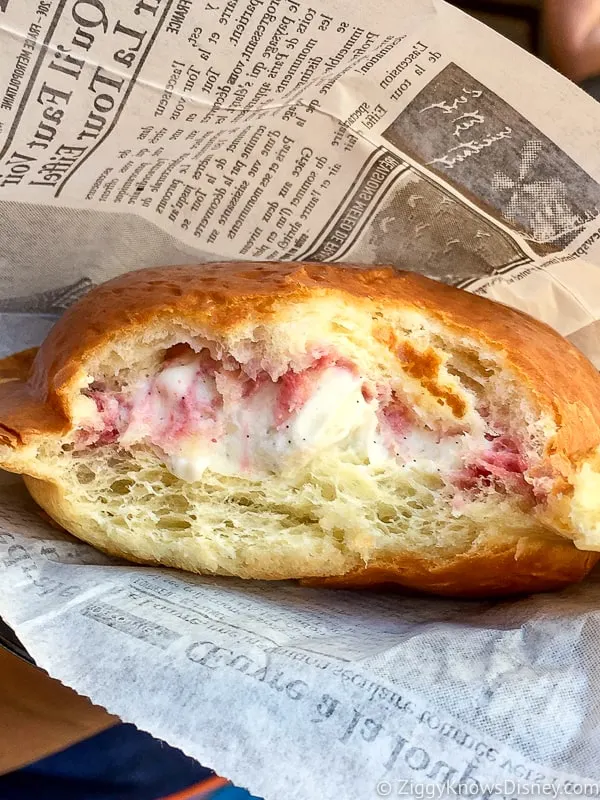 It's two halves of a brioche bun, opened up with your choice of ice cream in the center. Then you get to cover it with your choice of sauce and watch as the whole thing is sealed shut by a warm press. I don't have to tell you what happens next…
Macaron Ice Cream Sandwich – Also available at L'Artisan des Glaces are the macaron ice cream sandwiches. That's right, take a giant version of those cookies from next door and scoop ice cream in the middle and you immediately get one of the best ice cream snacks in Epcot for sure!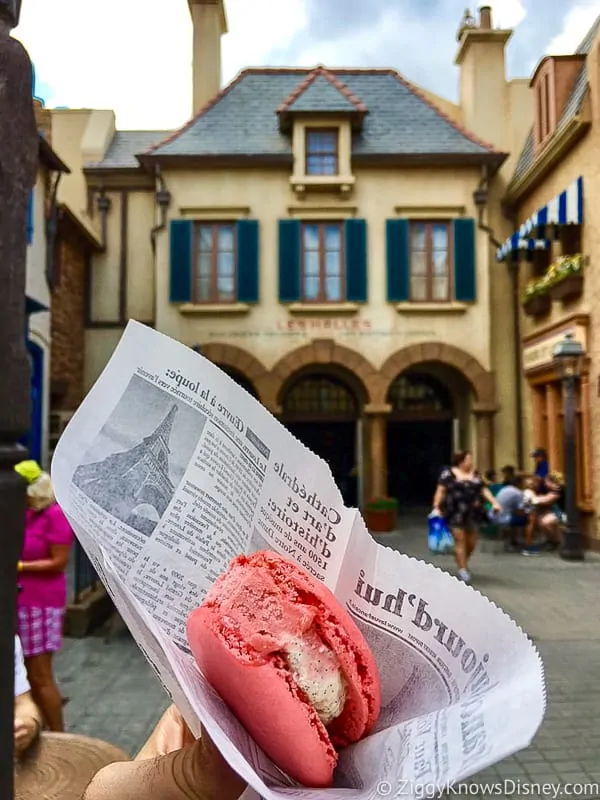 Ice Cream Martini – This is an "adults-only" type of snack, and it's one of our all-time favorites. Choose two scoops of ice cream that are then put into a martini glass and topped with a shot of Grand Marnier, Whipped Cream Vodka, or Rum.
Not only is it delicious, but it's also dangerous. After a while when the ice cream starts melting into everything, it's hard to taste the alcohol, but trust me, it packs a punch.
Seriously, how many amazing things does L'Artisan des Glaces have??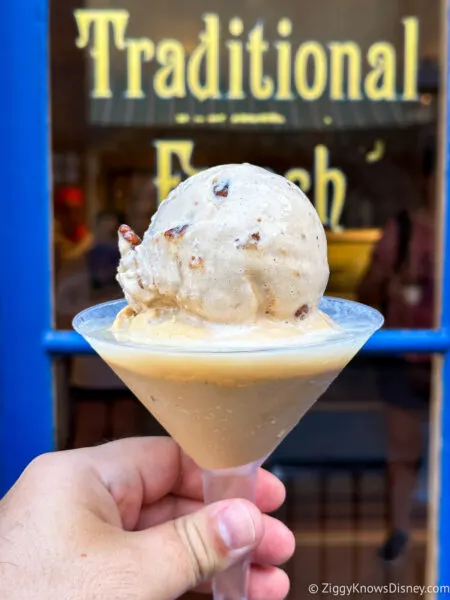 Crêpes (Crêpes À Emporter by La Crêperie de Paris) – There have always been crepes in EPCOT, now Disney has taken things to the next level when they opened two locations in the newly expanded France pavilion.
We prefer the quick service location outside and here you can find both sweet and savory crepes (galettes). They are all great but our favorites are the Bechamel, Cheese & Ham Galette, Housemade Hazelnut & Chocolate Spread Crêpe (Nutella), and the Red Berries Crêpe which you can't get inside and our go-to.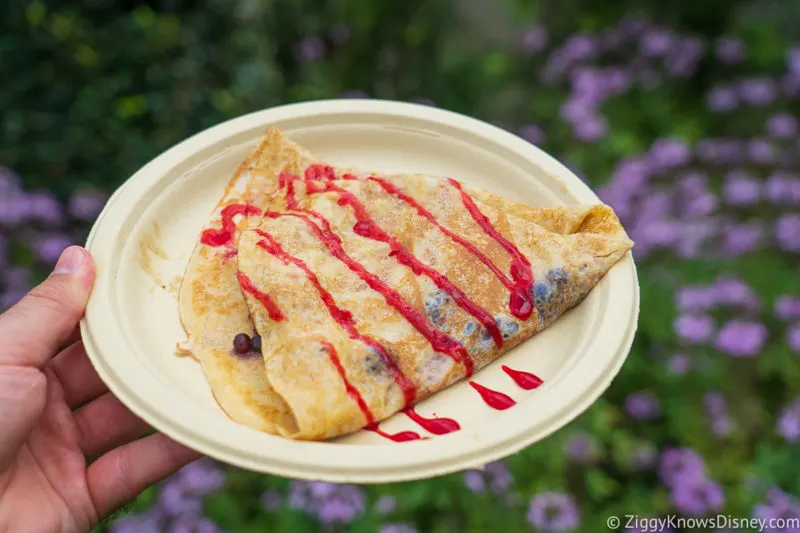 Yeah, we spent some extra time in the France pavilion during our tour of the best snacks in Epcot, but it's because there are just too many to ignore. We literally could have named off another 10 things you have to try there if we had more room, but we don't want France to steal all the thunder.
And just think, the France pavilion is going to have even more must-try snacks once the new expansion is finished…
Morocco
Morocco is one of those countries that a lot of people just brush right through, without stopping to smell and taste all the yummy treats that surround them. These used to be found at the Tangierine Cafe, but now they are mostly located at the Oasis Sweets & Sips right along the promenade. This is an underrated location with some of the best snacks in EPCOT.
Almond Pastry (Oasis Sips & Sweets) – We love this one because it's different from some of the more extravagant sweets over in the France pavilion. It wins our affection because of its simple, yet pronounced flavors. The pastry dough is very light and flaky and the almond paste inside is just enough to meet expectations.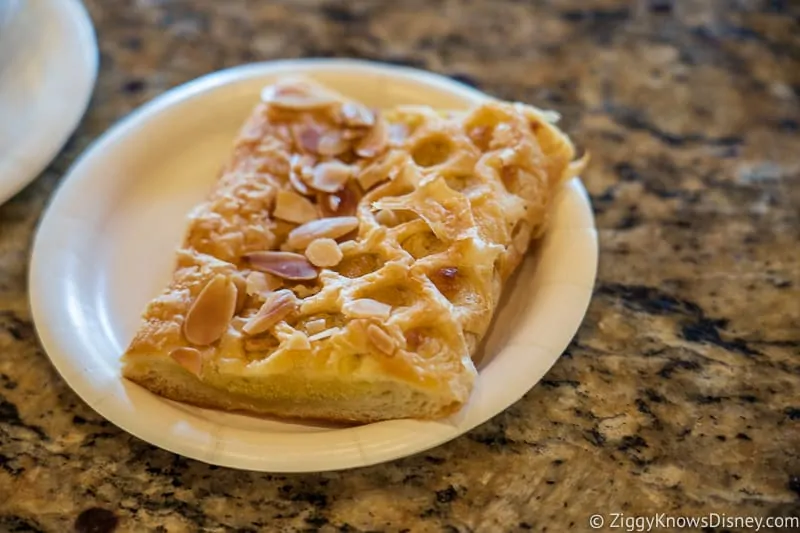 Baklava (Oasis Sweets & Sips) – Of course when you think of snacks in the Morocco pavilion, your mind jumps to baklava, and there are lots of flavors there to choose from. Cashew and walnut are options, but our favorite is the Pistachio Baklava.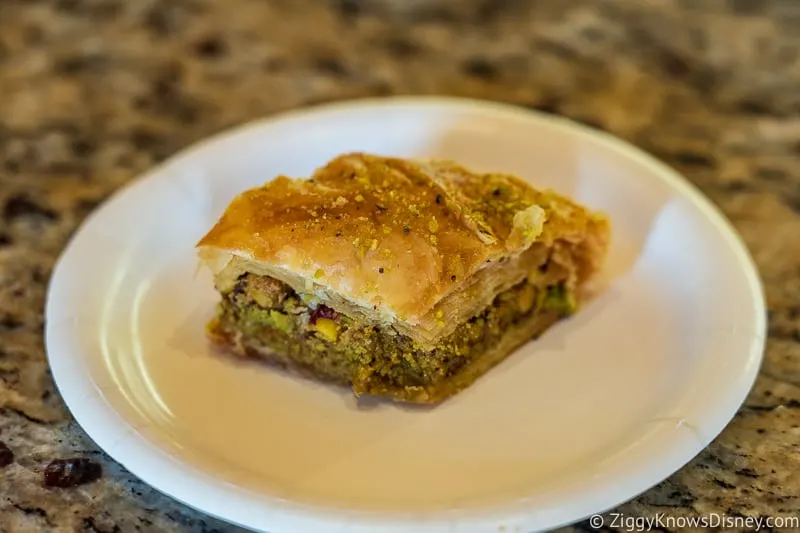 Again, it may not look like much, but if you want that pure pistachio taste, this is the best place in Epcot to get it.
Japan
Japan has some of the absolute best table service dining in Epcot, but it also has some tricks up its sleeve in the snack game too, so don't overlook it!
Kaki Gori (Kabuki Cafe) – If you haven't had shave ice before, then you're in for a real treat when walking by Kabuki Cafe in the Japan pavilion. Here is where you get monster cups of shaved ice flavored with strawberry, rainbow, blue raspberry, melon, cherry, or tangerine, and even covered in a sweet and creamy milk on top.
Super refreshing and a great pick for a hot day in Epcot.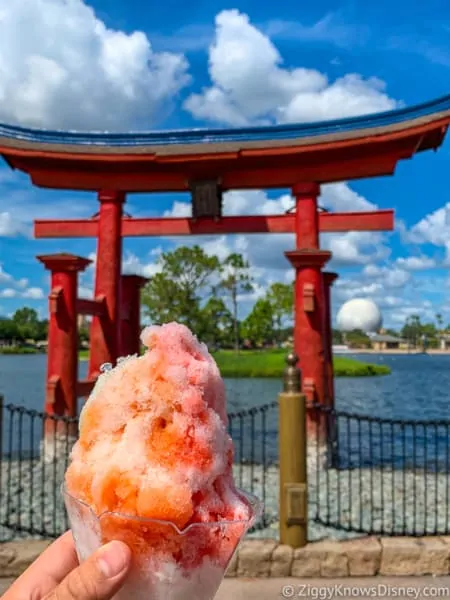 American Adventure
Congratulations! By now you've snacked your way halfway around World Showcase. But the fun is just beginning and we have plenty more treats both savory and sweet to feast on.
Funnel Cakes (Funnel Cake) – Funnel cakes are an American tradition, and the little stand here does them pretty well. There are a ton of varieties to choose from including: chocolate sauce, vanilla ice cream, cookies, and cream, or just plain with powdered sugar.
Also during festival time, you can always find a special funnel cake with totally different flavors than what's usually there. Like the maple bacon one from Food and Wine!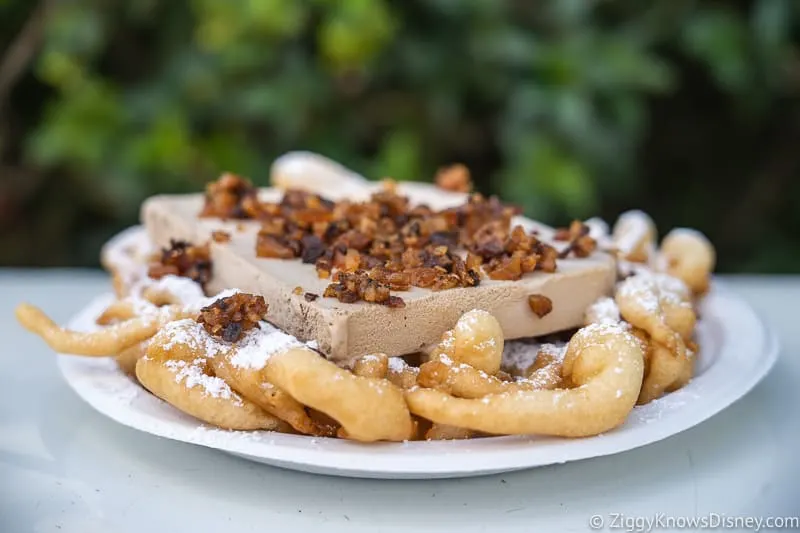 While not quite as good as in Disneyland, Epcot's version of a funnel cake stands up there as a must-try snack!
American Dream (Fife and Drum) – So as you know Epcot can be a real inferno if you go from April to October, and we're always looking for something cool and refreshing to chill out with. Enter the American Dream…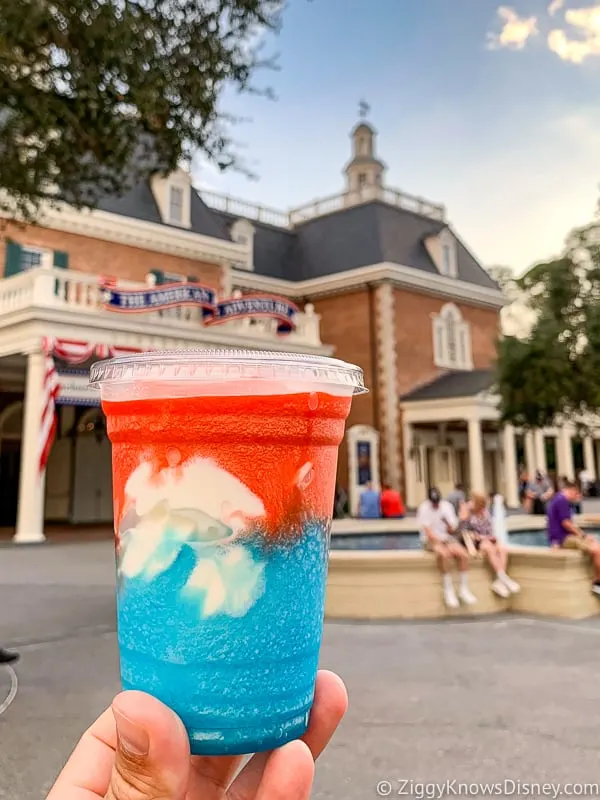 This is a slushy/soft serve ice cream combo with frozen Fanta strawberry and blue raspberry, layered with vanilla soft serve in between. We love this and it's probably our favorite frosty snack in Epcot!
Loaded Burnt End Fries (Regal Eagle Smokehouse) – This massive platter of seasoned fries comes topped with macaroni & cheese, beer-battered onion rings and those tender burnt end pieces. Who are we kidding, these are more like a full meal rather than a snack, but that's fine with us!
This is a must get if you are a bbq fan, but often they are not available and it's hard to predict. Talking with the cast members at Regal Eagle, they don't even have a schedule for them. Every once and a while the chef says: "ok, we have enough burnt ends to make fries today."
And they last until they are gone. So just keep going and check whenever you are in EPCOT and maybe you will get lucky.
S'mores Brownie (Regal Eagle Smokehouse) – Lastly, we have a newer entry from the Regal Eagle Smokehouse, the S'mores brownie. What can be more American than S'mores? Thankfully, they do it right here.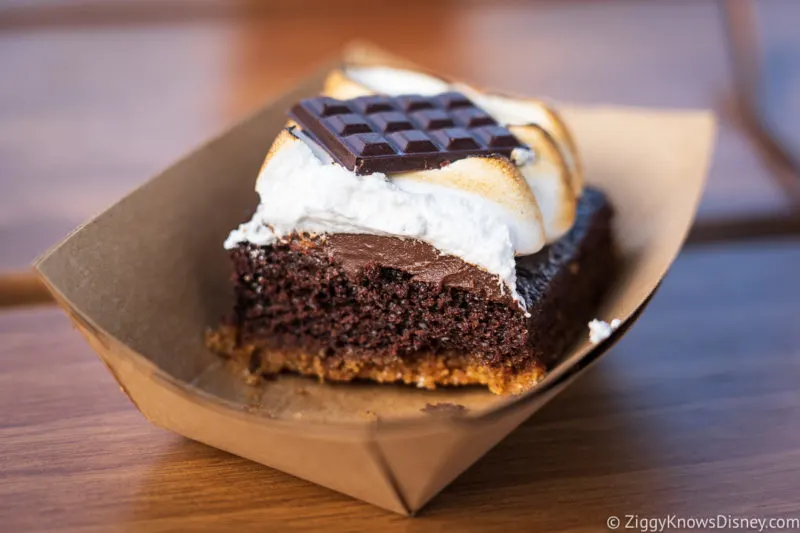 This thing has a crumbly graham cracker crust for a base, then topped with a rich dark chocolate brownie on that. Moving up there is a decadent and creamy chocolate ganache layer, and on top of that, a thick and fluffy marshmallow cream which is slightly toasted. Oh yeah, don't forget the chocolate candy square on top!
We think this is the perfect combo of graham cracker, chocolate, and marshmallow, without one of them overpowering the other. It also means you need to save room after the BBQ for dessert or stop by just for this!
Italy
Italy is another pavilion in Epcot which is probably more well known for its table service restaurants rather than snacks. That doesn't mean there isn't anything good to try, however. Right alongside the Epcot promenade in fact you'll find some of the best sweet treats in the park!
Cannoli (Gelati) – Who doesn't love cannoli? This Italian dessert is especially close to my heart and something I love to eat, especially when I'm actually in Italia. While I can't say they are exactly the same as the real thing, they are pretty close!
A hard, crunchy shell stuffed with a sweet ricotta filling, makes this a perfect snack to finish the night off with after a huge meal at Via Napoli!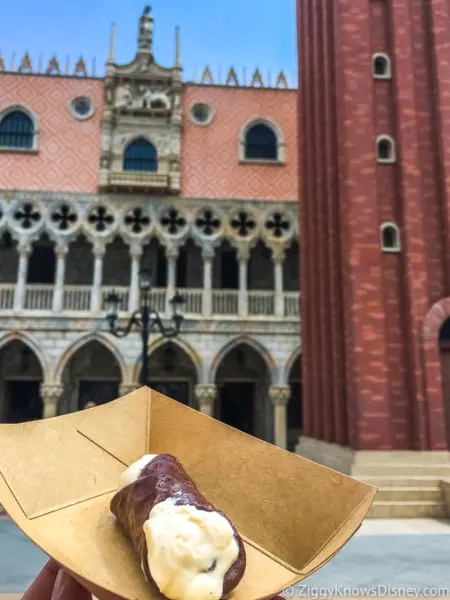 Gelato Sandwich (Gelati) – Epcot may just have the best ice cream sandwiches in all Walt Disney World, and another to make the list is the gelato sandwich in Italy. Choose any flavor gelato you want and cram it between two chewy chocolate chip cookies. You can't say no to that!
Germany
We've made it all the way to Germany, and while you might think of beer at first here, there are some really good snacks you can have along with your refreshing bier!
Jumbo Pretzels (Snack Cart) – The giant pretzels in Germany seem to move around a bit, but they can either be found at the snack cart along the World Showcase promenade or in Sommerfest.
Wherever they are though, you need to try one. This is a perfect snack to share with your friends in EPCOT because it's HUGE. I mean it's probably bigger than your head, it's that big. We love the super chewiness to it and makes a perfect companion to a cold beer!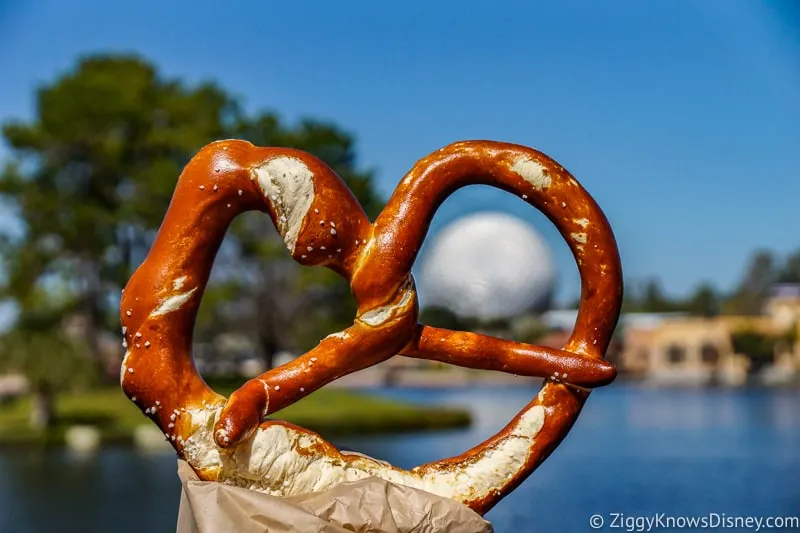 Caramel Smore's (Karamell-Küche) – If you have a sweet tooth and you're visiting Epcot, Karamell-Küche should be your first stop. They have everything in there flavored to caramel, including our personal favorite, the caramel s'mores!
A twist on the traditional s'mores, this one has two chocolate-covered graham crackers with a marshmallow center, but then they add a caramel core and drizzle it all over the top, making this one of the sweetest treats in Epcot, and an absolute favorite!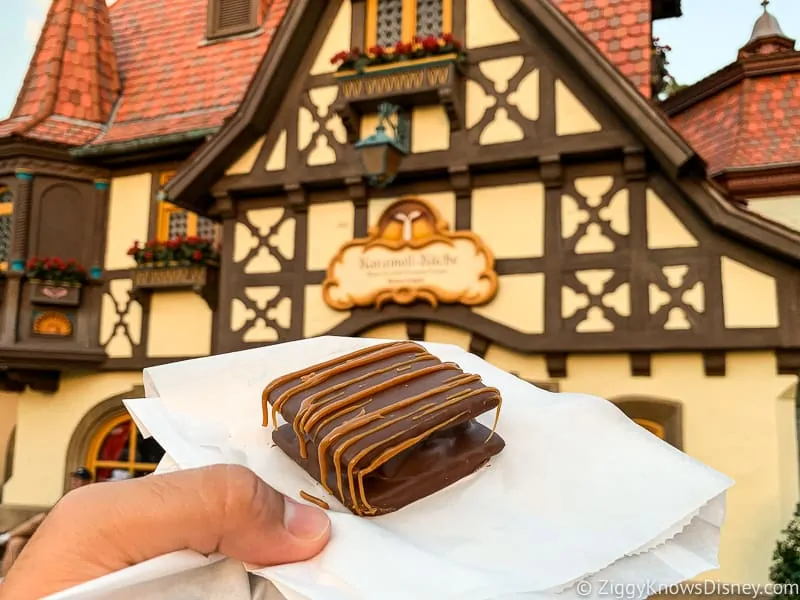 Werther's Caramel Popcorn (Karamell-Küche) – Don't be fooled into thinking this is your average caramel popcorn you can find in other places around Walt Disney World. No the caramel popcorn here is kicked up a notch as it's warm and made fresh.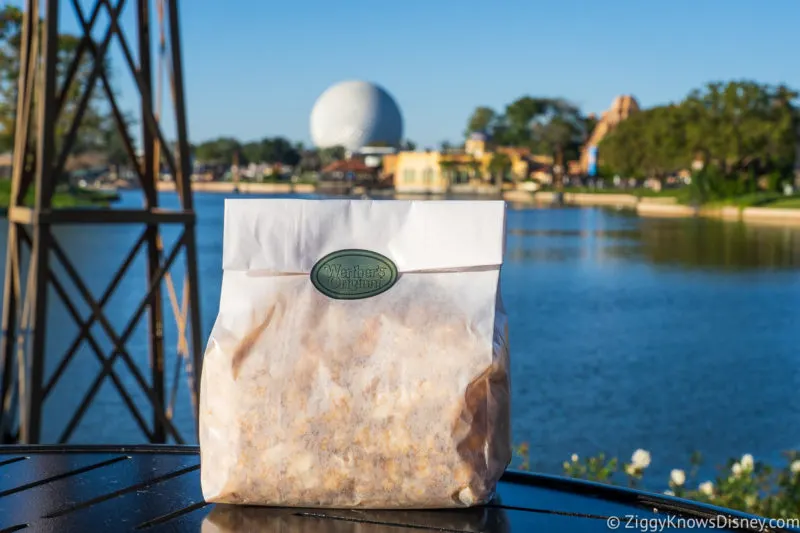 It is covered in extra-chewy caramel. Just take one whiff of it when you walk in the door and try to say no!
Werther's Chocolate Square with Sea Salt (Karamell-Küche) – What's better than a tall block of rich gooey caramel covered in a dark chocolate or milk chocolate square? Not much. Top it off with a sprinkle of sea salt and it only takes one bite to get you hooked!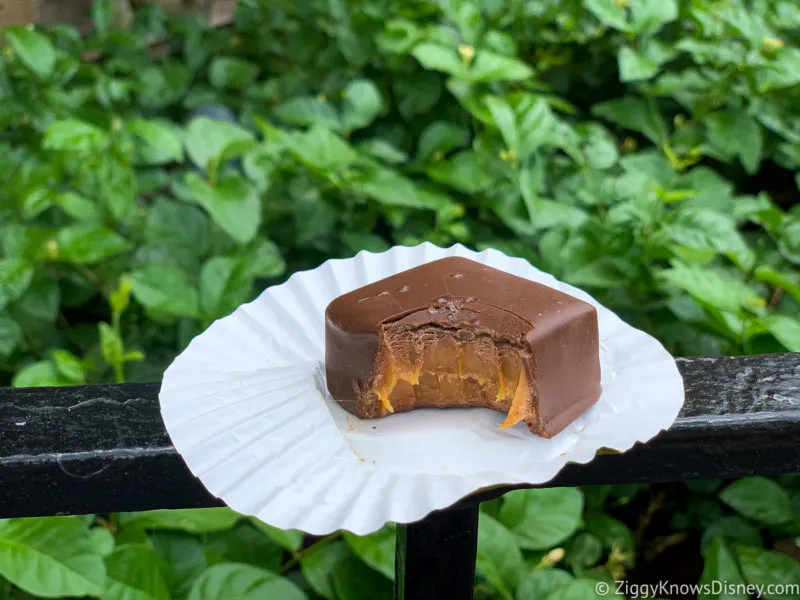 Werther's Original Caramel Butter Bar (Karamell-Küche) – This can now be found in a few locations in Disney World, but it doesn't taste quite as good as it does in EPCOT's Germany. This may be the richest and most buttery snack at Karamell-Küche as it's made from sweet caramel layered into a buttery shortbread.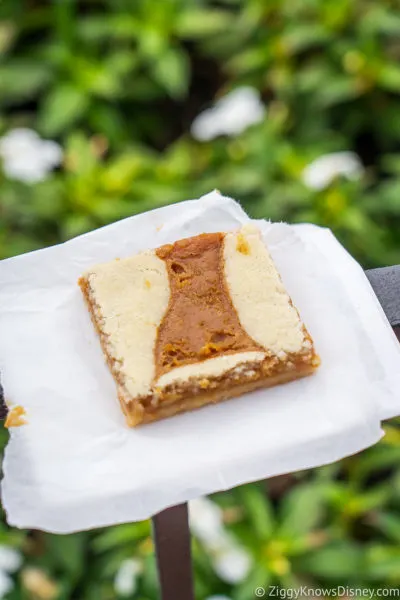 This snack is really, really buttery which is then balanced but the sugary, bready goodness of the shortbread. You can't go wrong with this simple yet addicting snack.
Werther's Original Caramel Pecan Cluster (Karamell-Kuche) – By now you are getting the point that there is a lot to try at Karamell-Küche, but one of the most iconic snacks here is the caramel pecan cluster. It has rich caramel layered over roasted salted pecans and topped with milk chocolate confectioners coating.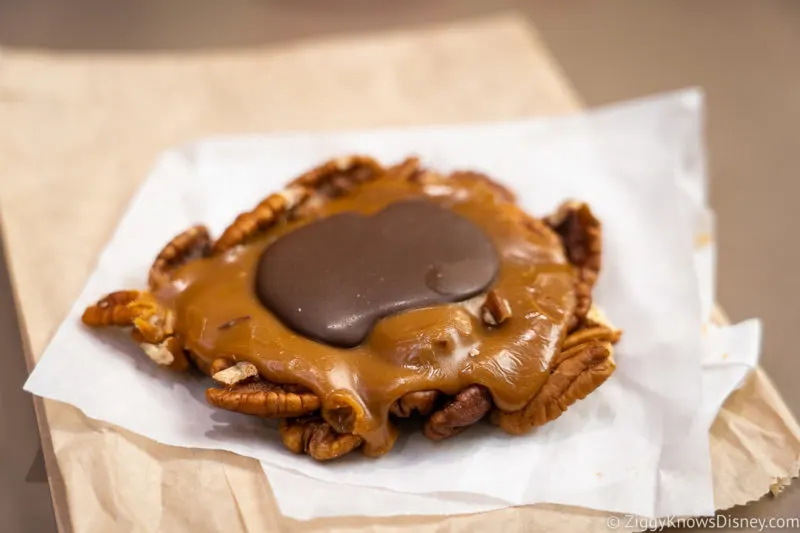 I may be wrong here but you can pretty much cover anything in a big glob of caramel and I'll be happy, but you'll especially like it if you are a pecan fan. Again, the combo of sweet and saltiness plus the added flavor of chocolate make this one a winner!
Who are we kidding, you could spend all day in Karamell-Küche trying all the amazing snacks and we could put just about all of them on this list. Just look at that window: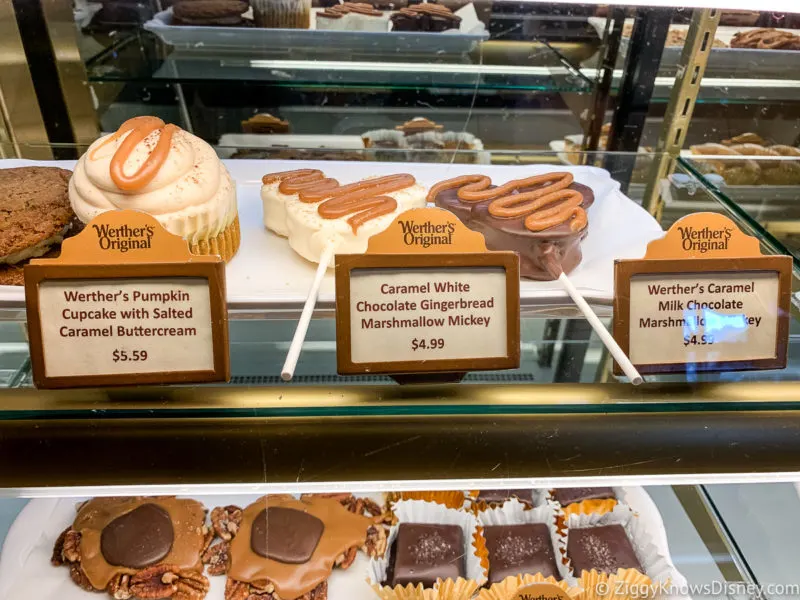 China
China has one of the weaker snack varieties in World Showcase, but there is still a couple worthy of your hard-earned money.
Pork and Vegetable Egg Rolls (Joy of Tea) – We are always up for some egg rolls and the vegetable and pork ones at Joy of Tea are worth our snack credits. They are super flavorful and have a great fried shell to them, not too heavy but done just right.
Different from the egg rolls in Adventureland, but just as good.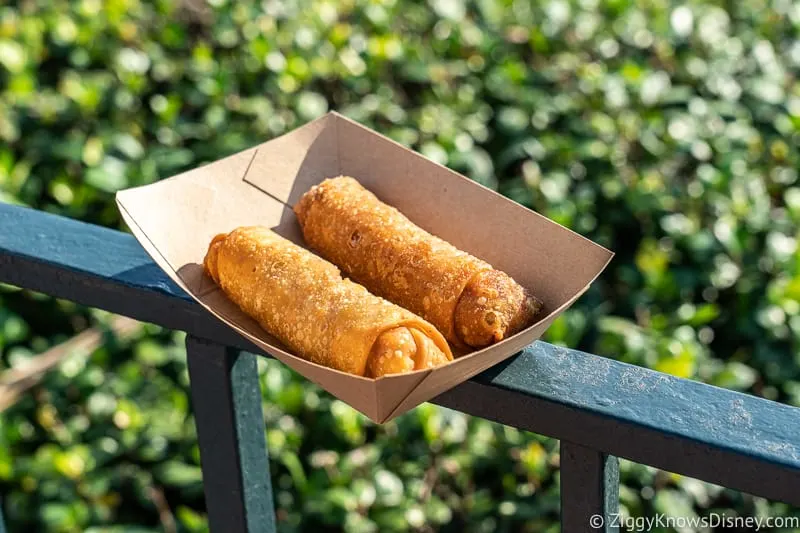 Curry Chicken Pocket (Joy of Tea) – Another outstanding snack from Joy of Tea, the curry chicken pockets are slightly spicy and surprisingly filling for their size. You can get both of these snacks in a combo meal with a beverage which might save you a little money.
I know a lot of people go for the bubble milk tea here too, but I'm not a fan of the tapioca pearls and refuse to try it again. If you like that kind of thing though go for it.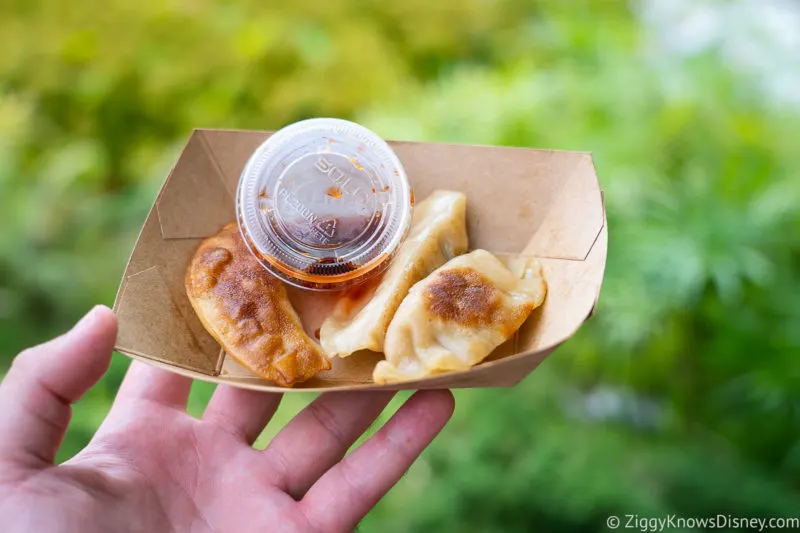 Chicken Pot Stickers (Lotus Blossom Cafe) – While the China pavilion doesn't have the best quick service food in EPCOT, we do enjoy the chicken pot stickers. We are huge pot sticker fans and order them at just about every Chinese restaurant. They are slightly crispy on the outside and served with a sweet and sour sauce.
While not the best pot stickers we've ever tried, they are easy to eat and good in a pinch.
Norway
We're coming down to the home stretch of our snacking around the world challenge and by this time you will no doubt be extremely full and extremely tired. If you need a break, you can always jump in line for Frozen Ever After, which should kill a good hour plus of time, giving you a chance to digest.
Once you're ready to eat again, Kringla Bakeri Og Cafe is the place to go: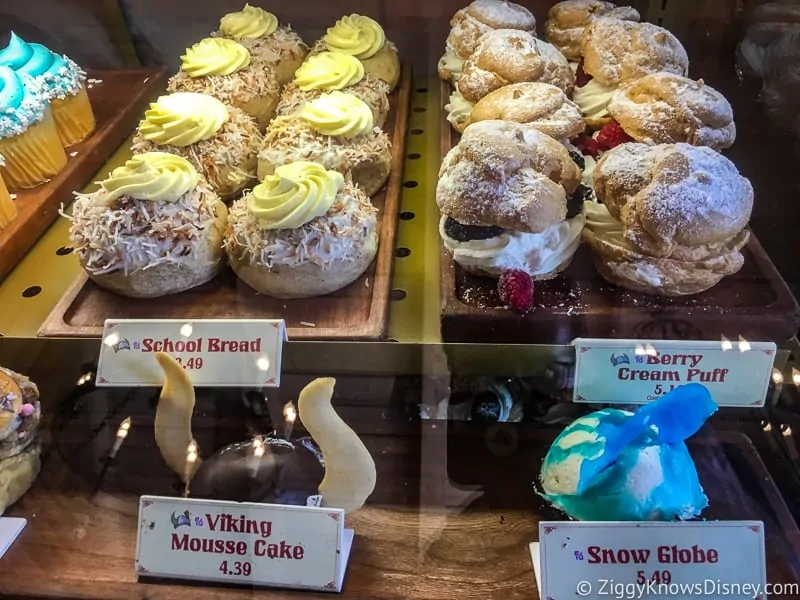 School Bread (Kringla Bakeri Og Cafe) – You really can't go wrong at Kringla, and there are always new snacks they are introducing all the time so stay sharp. However, by far the most popular snack in Norway is school bread.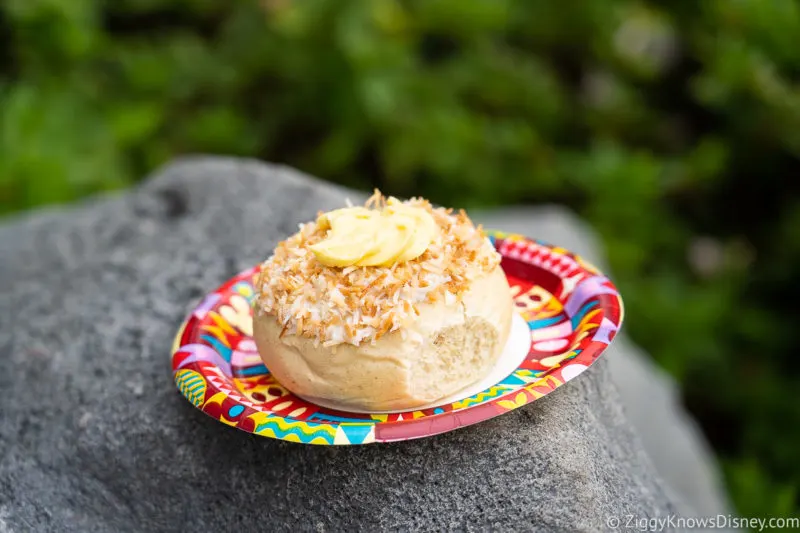 To me, it was an acquired taste, and I wasn't crazy about it at first, but over time it grew on me. Modeled after a traditional Norwegian snack, the school bread here is a sweet bread that is then injected with vanilla custard and topped off with shaved coconut and sweet icing. One of the most famous Epcot snacks and one you can't go home without trying.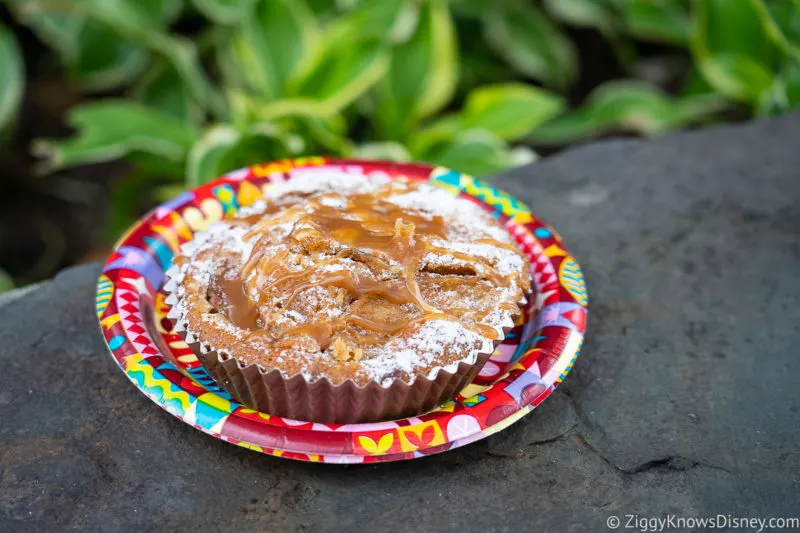 Eplekake (Kringla Bakeri Og Cafe) – This is one of the newest offerings at Kringla, and it may be our favorite yet. It's a round apple cake with powdered sugar and caramel drizzle poured on top. We aren't usually cake fans in general, but this one was dense yet very moist on the inside making it easy to eat.
Some describe it as an apple pie, and while it's not exactly the same thing, it does have some nice chunks of apple mixed in, plus the expected flavors of cinnamon and spices. And despite the caramel on top, it's not overly sweet which made it easy for us to devour the entire thing!
Mexico
You've made it all the way to Mexico (or are just starting out here), either way, you deserve a high-five, and this is where you come for the best savory snacks in Epcot. Both La Cantina de San Angel and Choza de Margarita have some amazing options, too many to list so here is just a sampling.
Nachos (La Cantina de San Angel) – Definitely one of the biggest snacks in Epcot, and the average person might make this a whole meal. We're pushing through though as we down these crisp tortilla chips covered in seasoned ground beef, tomatoes jalapeños, and fresh queso. A must-get!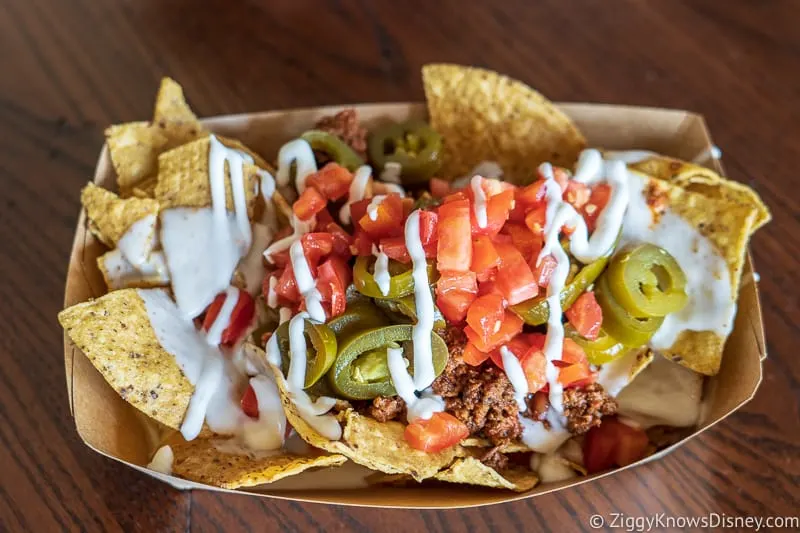 Empanadas con Queso (La Cantina de San Angel) – Holy cow are these empanadas good. You get three small and crispy empanadas with your order, which are covered and stuffed with a rich queso. If this doesn't hit your craving for Mexican, I don't know what will.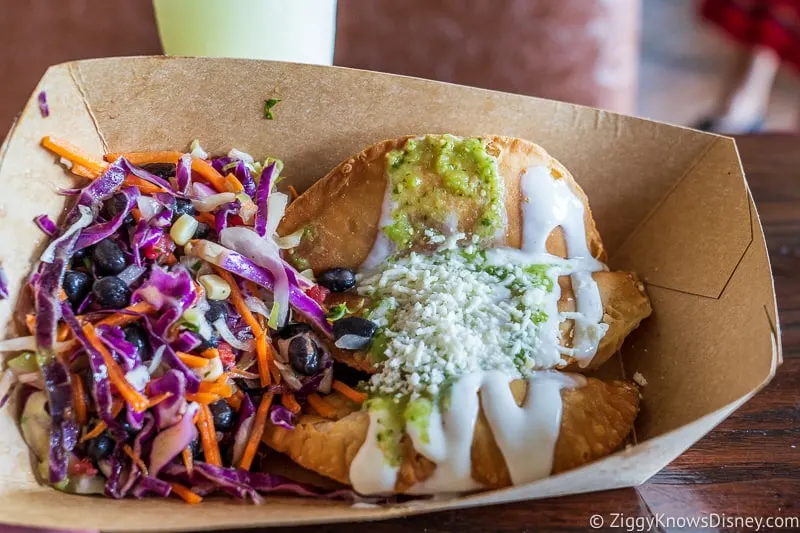 Empanada de Barbacoa (Choza de Margarita) – Another empanada? Yes, we don't even care since this one might be even better than the first. What sets this one apart is the shredded beef inside with the queso, making it an absolutely irresistible snack.
Tacos Al Pastor (Choza de Margarita) – Last on our list of the best Epcot snacks are these tacos from Choza de Margarita. The marinated and grilled port was done perfectly and you can really taste the freshness in the ingredients. Plus don't get us started on that corn esquites that come on the side!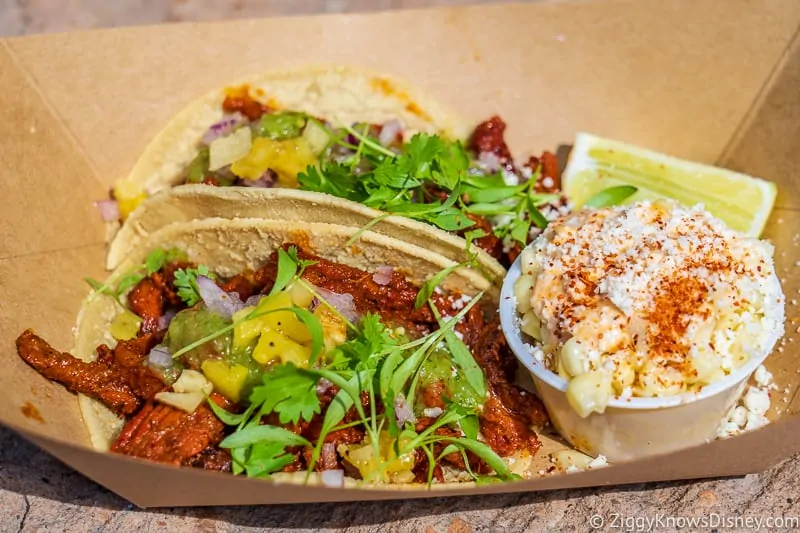 World Showcase Plaza
Mickey-Shaped Liquid Nitro Cake (Swirled Showcase) – Before we leave World Showcase, we have one more snack to share with you. Recently, a new snack location was built here for the various festivals called Swirled Showcase, which specializes in soft serve ice cream.
However, my favorite snack here is the Mickey-shaped liquid nitro cake. It's a thick cake pop which has more of a brownie consistency. Thick and chewy. The coolest part though is when they dip it in chocolate and then freeze it with liquid nitrogen!
Plus when you add those crunchy toppings, that gives us a sure winner on our hands.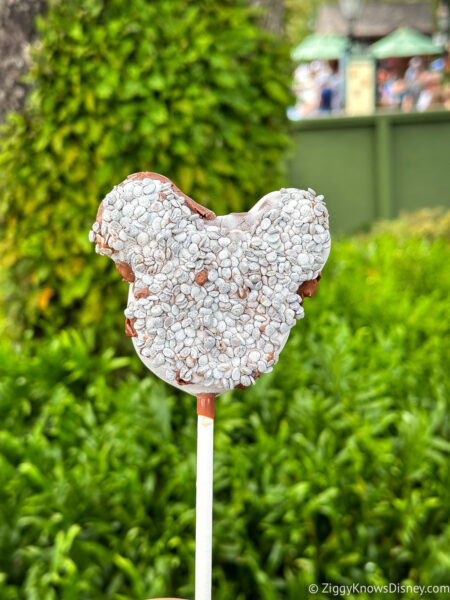 World Celebration/World Nature/World Discovery
The front area of EPCOT doesn't get any snack love, but it's hard to do when most of the area is a construction zone at the moment. The one place that does still have some good snacks here is The Land pavilion at Sunshine Seasons. There are a variety of sweets, including the best cupcakes in Epcot.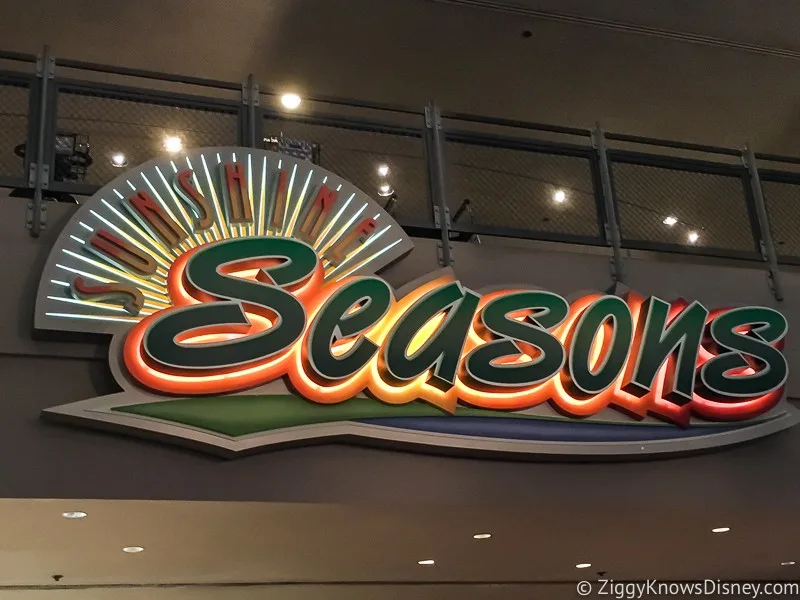 It's also a great quick service location with lots of dishes, so if you are going to be in that area for Soarin' and Living with the Land, you might as well stop by and see what they have.
Turtle Brownie (Sunshine Seasons) – One of our favorite snacks at Sunshine Seasons is this chocolatey turtle brownie. This is one of the best-kept secrets in EPCOT. It has all sorts of chocolate action going on with a dense brownie layer bottom and a rich dark chocolate frosting on top.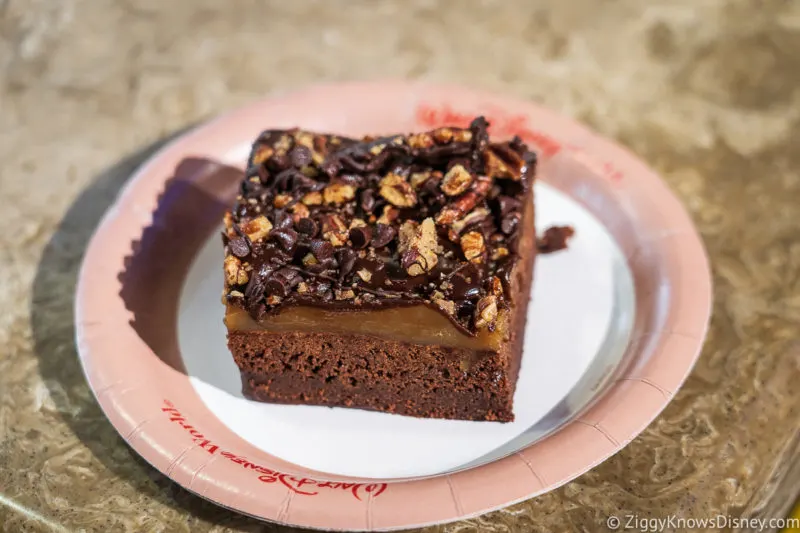 Right in the middle of the chocolate is a thick layer of gooey caramel! Top it off with crushed pecans and you get perhaps the best brownie in Disney World. Forget Soarin', it's worth the trip over to The Land just for this!
Oswald Triple Chocolate Cake (Sunshine Seasons) – Disney has rolled out some brand new snacks for the company's 100th Anniversary, and one of our favorites in EPCOT is this cake. Honestly, we are not usually even big chocolate fans, but we can't get enough of it.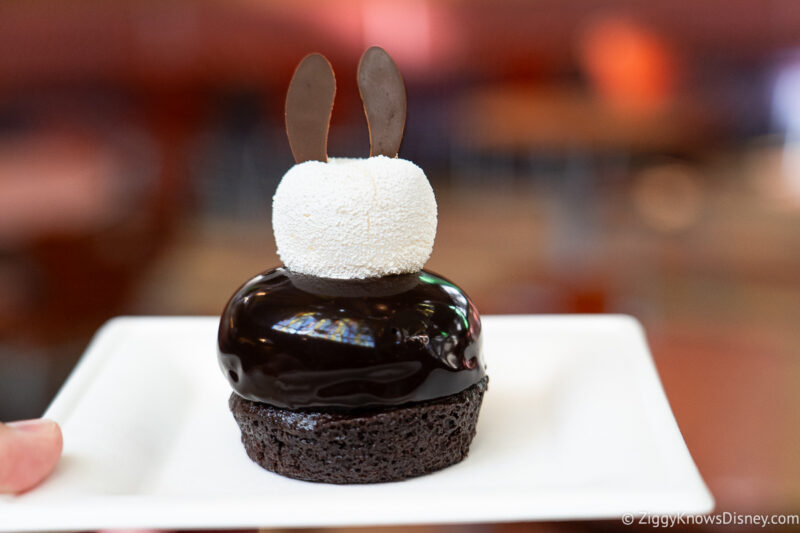 Take chocolate cake, chocolate ganache, chocolate mousse and top it with a white cookie dome, and you have one seriously rich and decadent dessert. All the layers are different and have different textures, and the crispy pearls in the mousse are fantastic.
Not to mention, this thing is adorable with Oswald's ears sticking out of the top of it. Disney owes a lot to Oswald, because if he hadn't got stolen, who knows if Walt Disney would have ever been inspired to invent Mickey Mouse.
Liege Waffle (Connections Eatery) – There is no doubt that the Connections Café and Eatery is one of the best quick service restaurants in EPCOT, and while they have a multitude of great burgers and pizza to choose from, our favorite item on the menu may be this sweet waffle.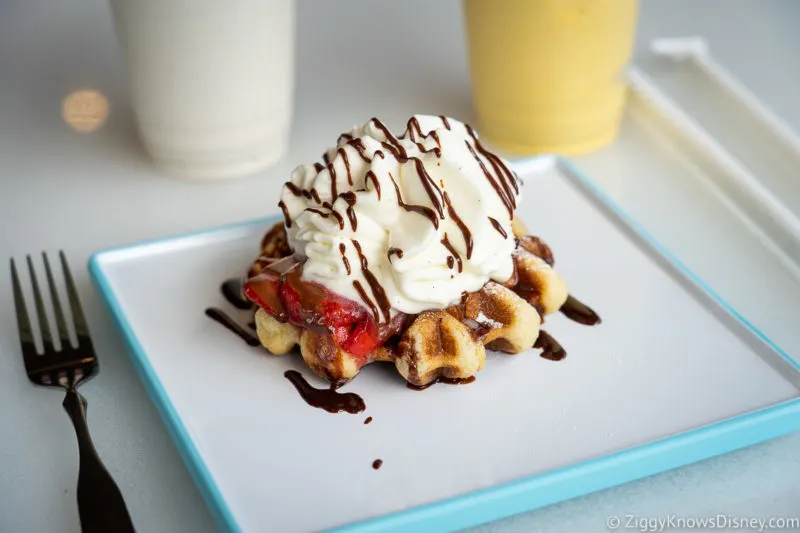 The unique brioche dough is pressed in pearl sugar and baked in cast iron which gives it a crunchy and flakey texture. The pearl sugar coating means that it's sweeter than a normal waffle, which is fine for us. You can get them plain or covered in strawberries, chocolate sauce, and homemade whipped cream. Need I say more?
Black Forest Baumkuchen (Connections Eatery) – As if we didn't have enough good snacks to try at the Connections Eatery, Disney went ahead and added this amazing and unique twist on a Black Forest cake.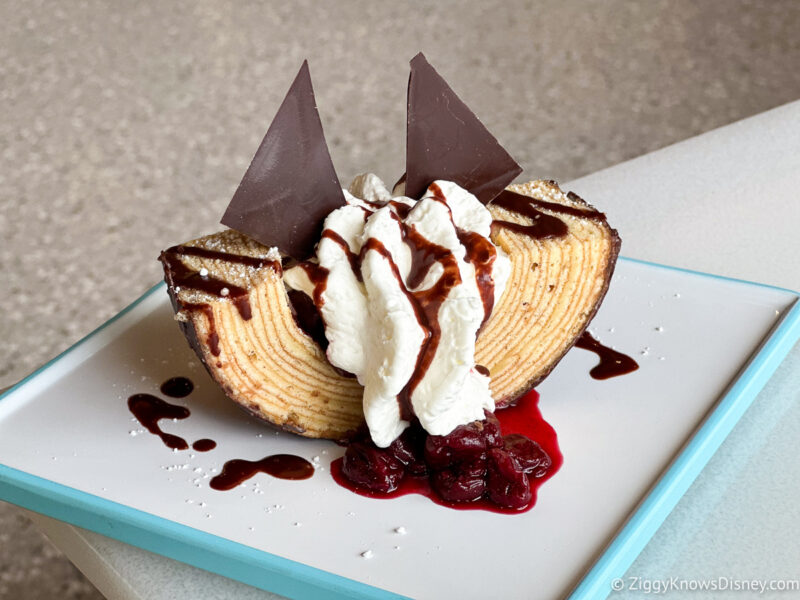 The cake has a half-ring shape and has many thin layers on the inside. It reminds me of when you cut open a tree, although way tastier. In fact, the name Baumkuchen translates to "tree cake" or "log cake" in German.
The cake it most and delicious, not to mention it's covered in whipped cream, chocolate sauce, cherry compote, and two chocolate pieces. It's also pretty big so easily shareable (if you are so inclined).
The Cronut (Connections Cafe) – The what?? Yes, the Cronut. It's a combination Croissant and Doughnut, and let me tell you, it's marvelous!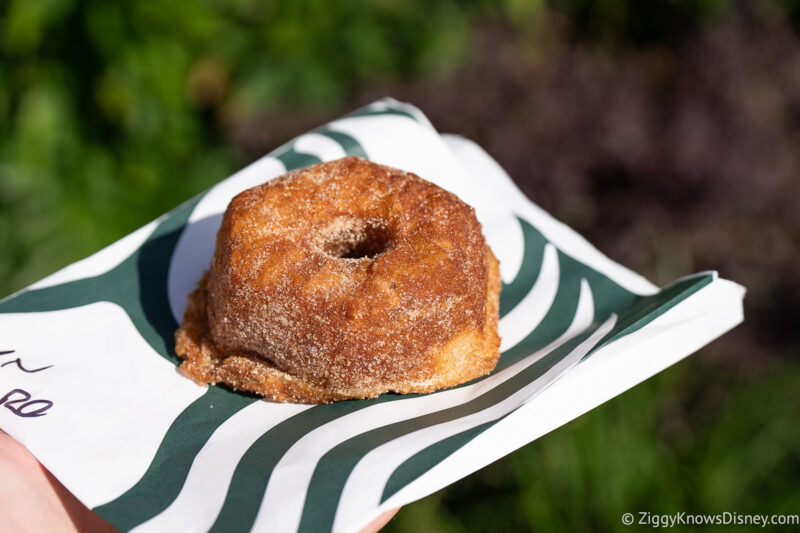 We were upset because for some years it seemed like they had discontinued the cronut in EPCOT, but we are happy to say it's back at the Connections Cafe (Starbucks).
The dough is fried and in the same shape as a doughnut, but it's made of individual layers of pastry that flakes apart beautifully, just like a good croissant. The outside is coated in cinnamon sugar, and while not quite as crispy as it used to be, it still has a nice crunch.
The only thing we wish they'd bring back is the ice cream on top. It used to be offered in its old location at the Refreshment Port, taking this amazing treat to a whole other level!!
Last but not least, if you are a soda fan, make sure to head over to the newly redesigned Club Cool. Here you can taste various flavors of soda from all around the world, and do it for free! In fact, it's one of our favorite free things to do in Disney World.
Choose from 8 exotic flavors such as Viva Raspberry, Royal Wattamelon, Bon Bon Anglais, and the controversial Smart Sour Plum from China. And don't forget that Beverly is back too! The best part is you can drink until your heart's content so come when you are thirsty!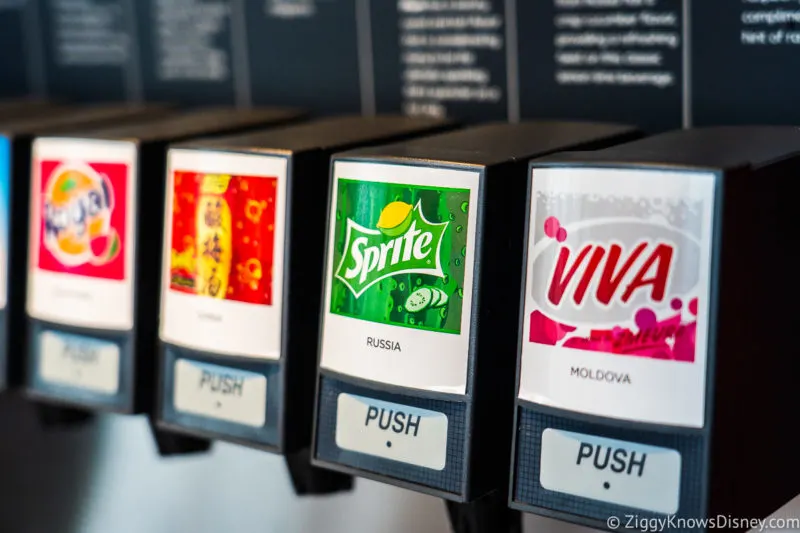 So you've finished our snacking around the World Showcase challenge and you now know all the best snacks to try in Epcot. You won't be able to get to all of them on one trip around, which means you'll get to come back time and time again and try the ones you missed the first time.
There are always new snacks in Epcot to try, so make sure to keep checking back as we add the new ones to our list for you!
We also want to hear from you, so when you do the challenge we want you to leave us a comment below telling us your favorite snacks in Epcot, and if you were able to make it all the way around World Showcase in one day! Also, let us know if we left something off the list that deserves to be there!
For more great Disney food be sure to check out our other snack posts like:
Your Thoughts:
I want to know what you think about my list of the Best Snacks at Epcot…
Which snack is your favorite?
Which ones don't you like?
Let us know in the comments section below!
If you enjoyed this article, as always I appreciate it if you'd share it with others via social media. I work hard at making this website into a useful resource for you and your family to plan your visit to the Disney Parks and I hope it can help you! Thanks 🙂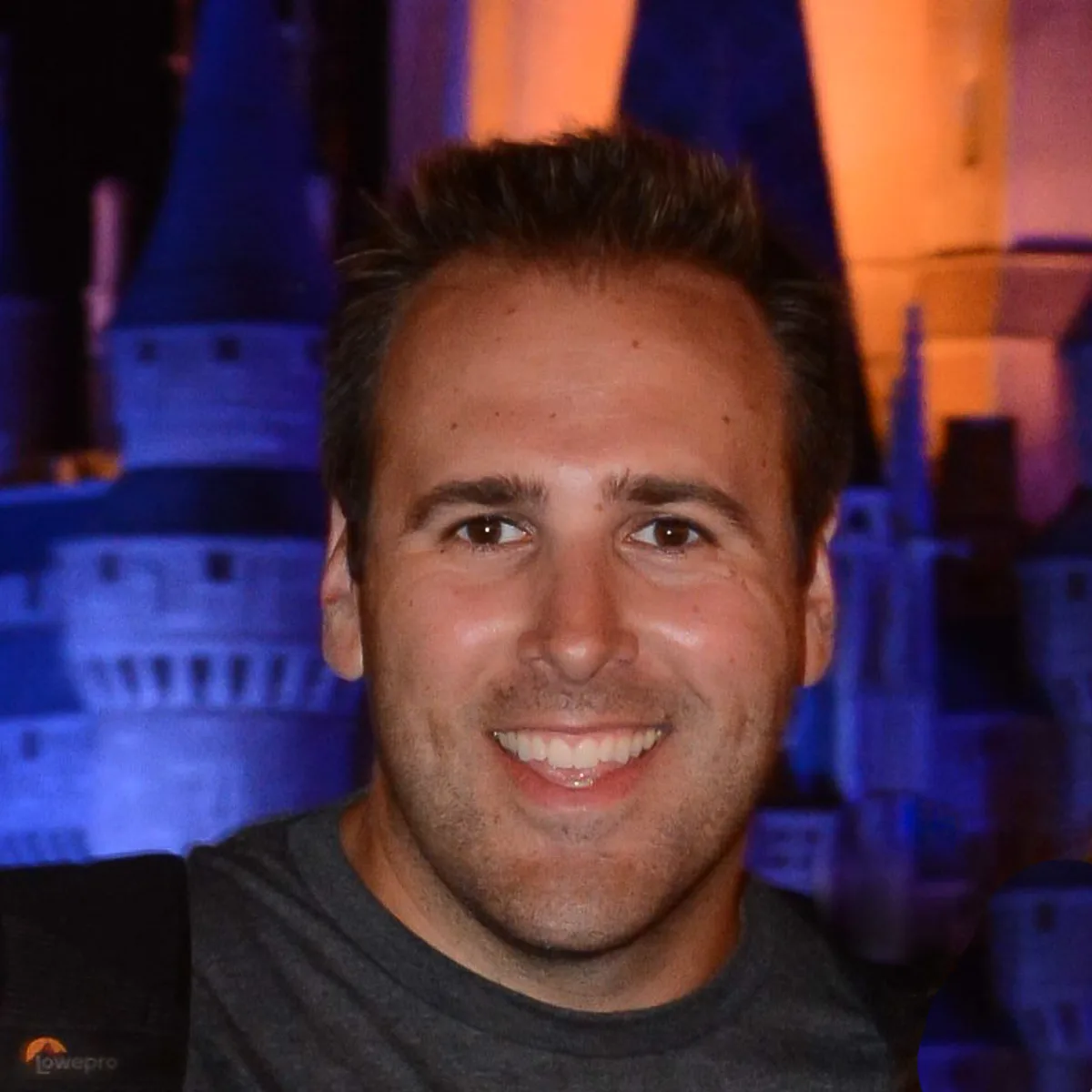 My name is Ziggy and I love Disney, everything Disney! I grew up on Disney and it has and continues to be a huge part of my life. I started young when my parents took me to Disney World when I was 18 months old. Little did they know that would be the first of an uncountable number of trips we would take. I have so many amazing memories going to Disney with my family and friends and it has been interwoven into my DNA.