The Epcot Food and Wine Festival is one of my absolute favorite times of year and I love checking out all the different marketplaces and the yummy snacks they have to offer. One thing that gets overlooked sometimes though are the limited-time snacks that come to some of the other food kiosks around Epcot too just for the festival. And one of the most unique is the Maple Bacon Funnel Cake at the American Adventure.
Say what now??? That's right! We knew right when we heard about it that we'd have to do a review of the Maple Bacon Funnel Cake as it sounds absolutely delicious! Let's check it out…
So to get the Maple Bacon Funnel Cake you need to head over to the American Adventure in Epcot's World Showcase and the Funnel Cakes food kiosk is located right along the walkway across from the America Gardens Theater where they do all those great Eat to the Beat concerts…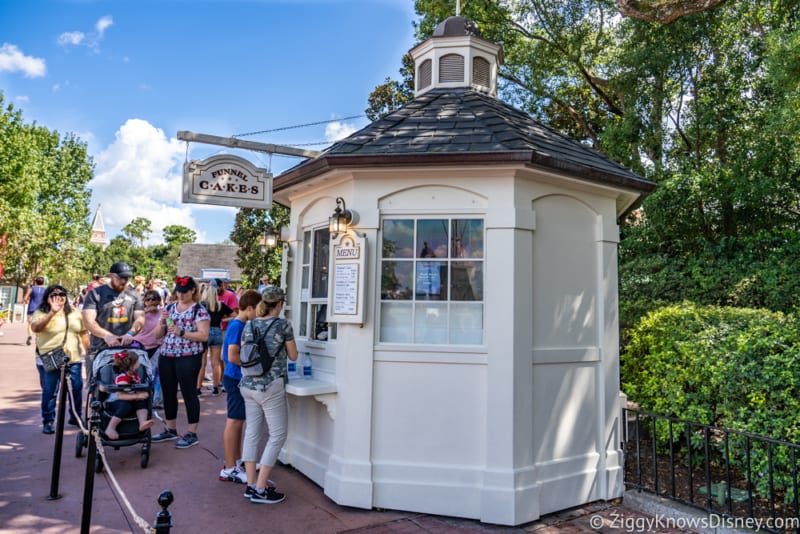 We're just here to eat though right now! 😉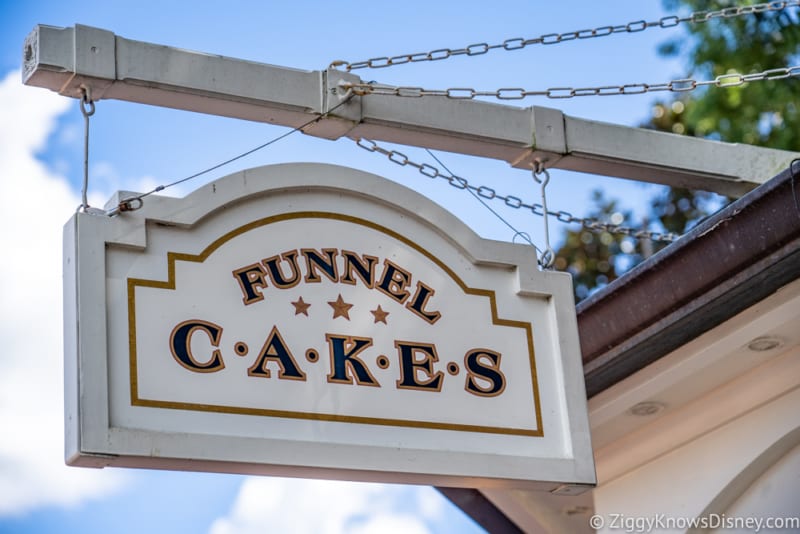 You'll see the normal menu for their Funnel Cakes which is like a Walt Disney World right of passage. Give me that Cookies and Cream one all day long!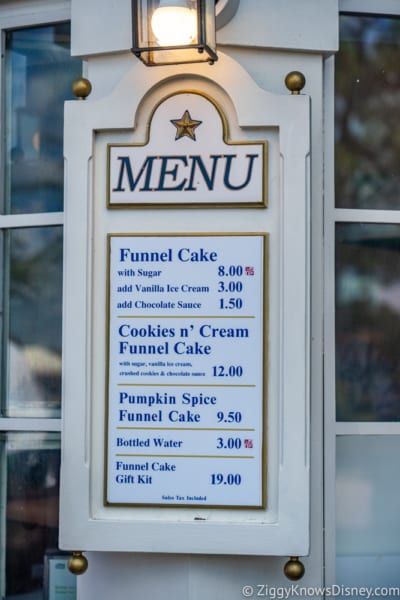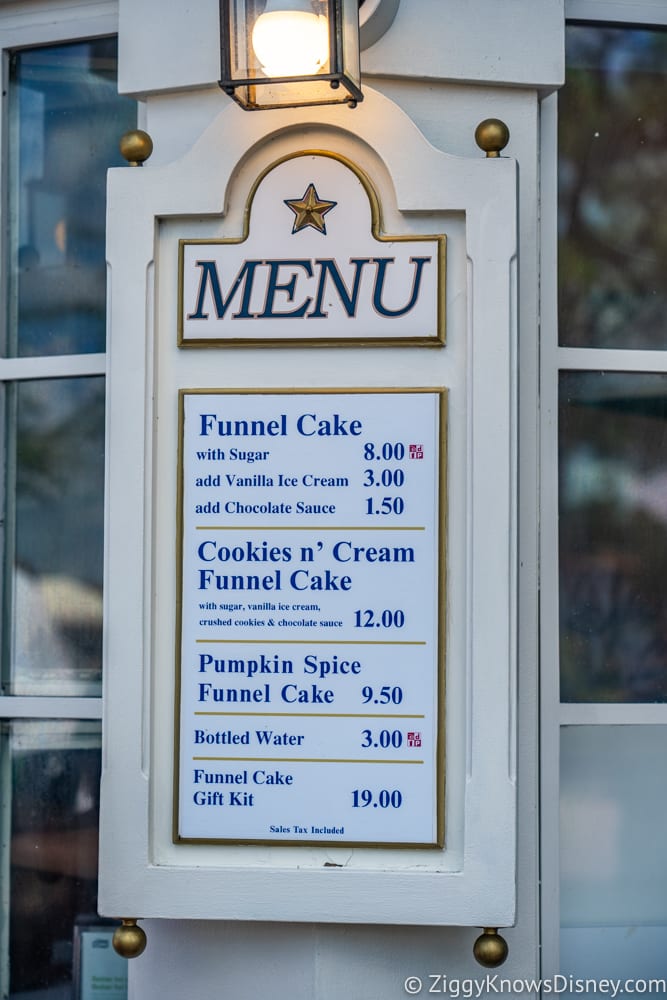 But in the window you can also see the Maple Bacon Funnel Cake too!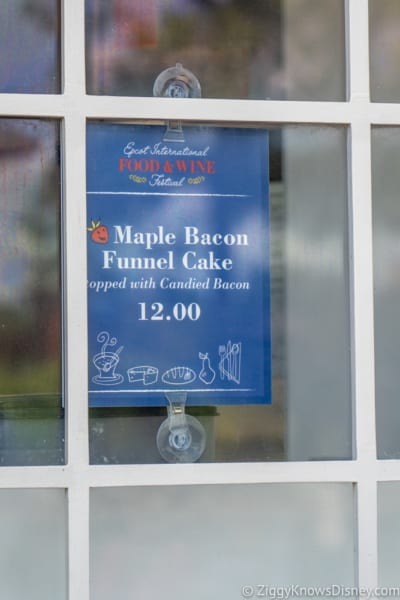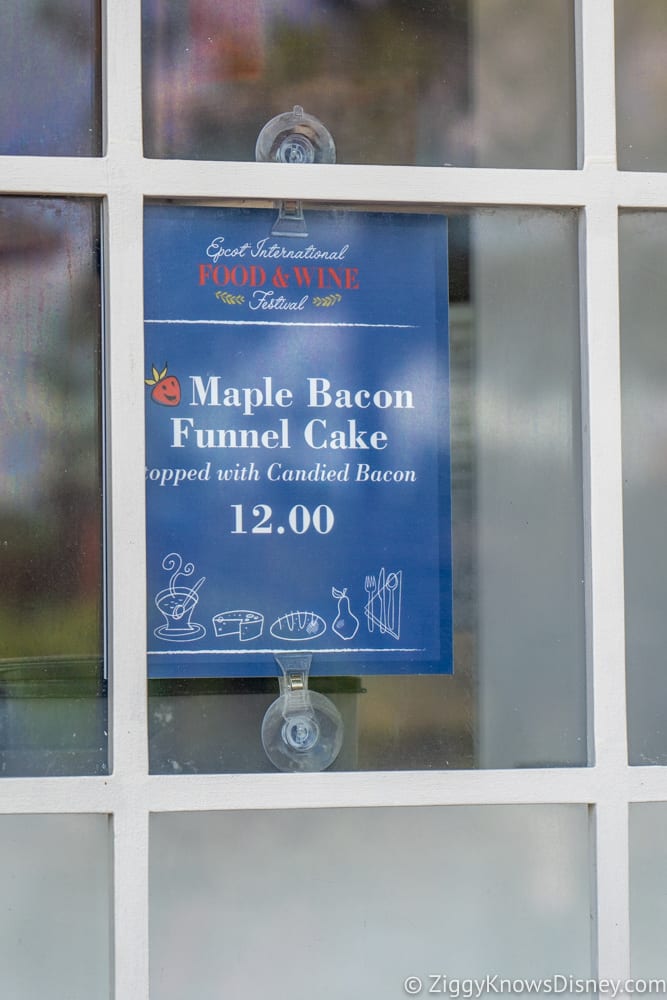 So right away we noticed the size of the thing which was right on par with the other funnel cakes as being huge! It's covered in powered sugar and then topped with a giant slice of maple ice cream and a heaping spoonful of bacon bits! It's like a bizarro version of a pancake breakfast with a side of bacon, just swapped out for a funnel cake instead.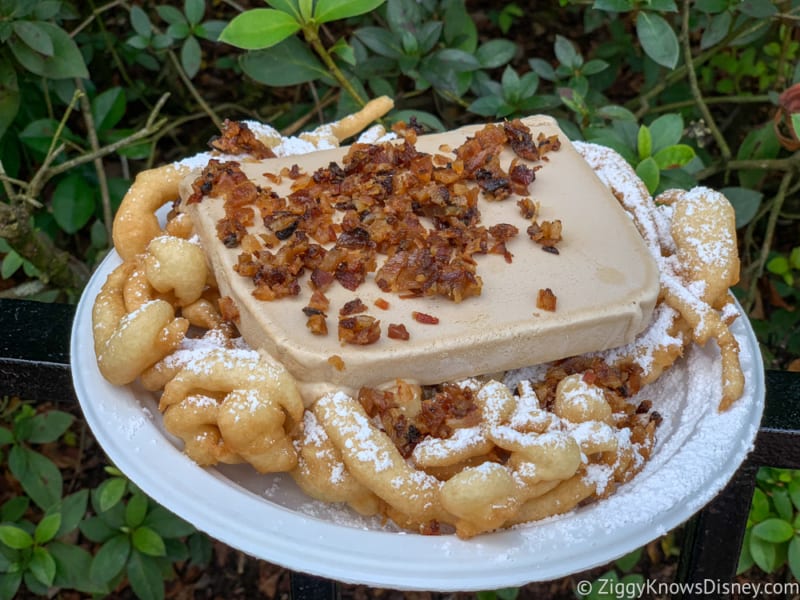 The taste was right on. I thought the sweetness of the maple ice cream worked well with the bacon, which was more than abundant. It was a great mix of sweet and savory that just went really well together.
The funnel cake was good as usual, hot and fresh, and provided a nice base to take away from the very rich flavors going on on the top. We especially liked the candies bacon which provides even more sweetness to the dish.
I know I'd be getting some cross-eyed looks from my friends in Italy if they even saw me attempting to eat something so monstrous! ??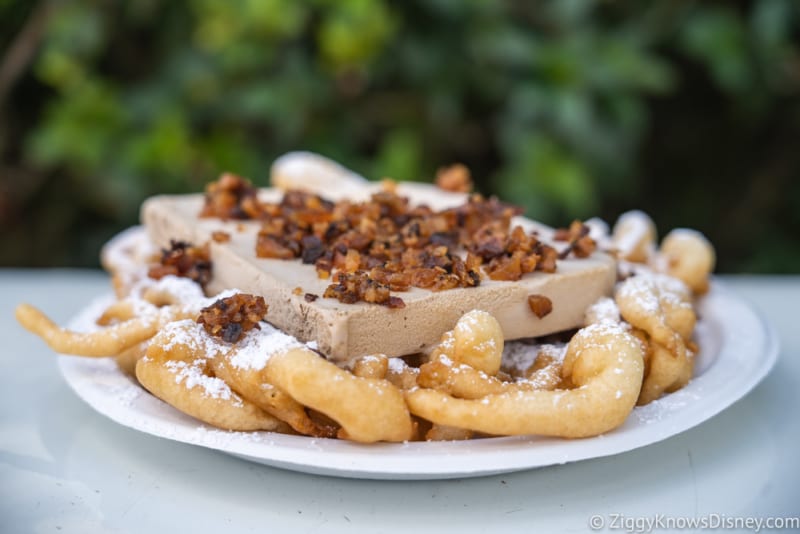 I'm gonna warn you though, don't attempt to eat this alone, it's a lot of food and since you're dealing with such rich flavors like maple and bacon, only the most seasoned Disney eaters could polish this off without help.
The ice cream was really hard though and we had to wait a while to dig in because it was hard to cut at first. Naturally the Florida sun helped us out quite a bit there, but bring napkins cause it gets pretty messy!
I just wish they used a higher-quality ice cream though as this one just felt very industrial and we waited a long time to be able to eat it.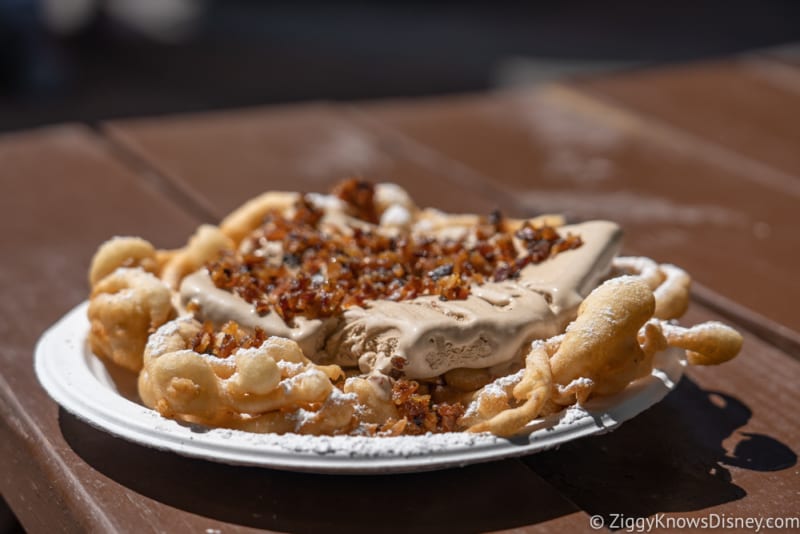 Overall we really liked the Maple Bacon Funnel Cake and think its definitely worth giving a shot and one of the most unique items at Food and Wine.
Now bring some over from L'Artisan des Glaces and this shoots up to the very best snacks in Disney World…
For more info on the Food and Wine Festival check out:
MUST-TRY NEW Items at 2020 Food and Wine Festival (Coming Soon)
Top Food and Wine Booths (Coming Soon)
Your Thoughts:
I want to know what you think about the Maple Bacon Funnel Cake…
Did you like it?
Which is your favorite funnel cake in Epcot?
Let us know in the comments section below!
If you enjoyed this article, as always I appreciate it if you'd share it with others via social media. I work hard at making this website into a useful resource for you and your family to plan your visit to the Disney Parks and I hope it can help you! Thanks 🙂