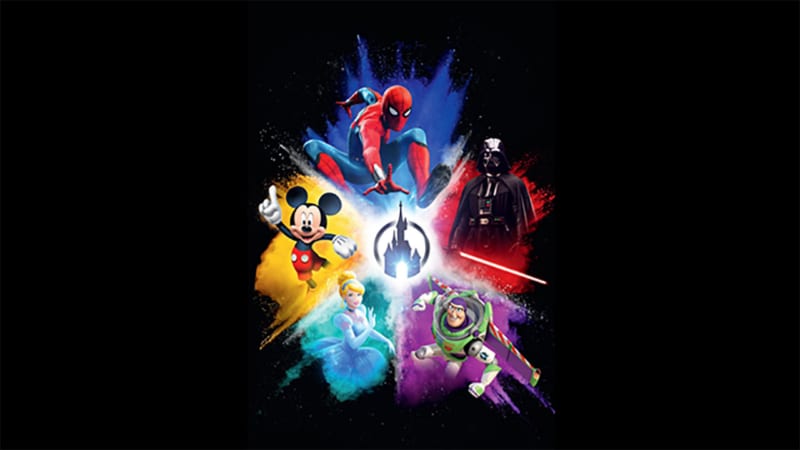 Even though the really big expansion is coming to Disneyland Paris over the next few years, today Disney has just announced a series of new and returning experiences coming to Disneyland Paris in 2019 including Marvel Super Heroes, Festival of the Lion King and Mickey Mouse's 90th!
Mickey Mouse's 90th Anniversary – there are going to be a whole series of experiences and entertainment to help Mickey celebrate his 90 years including Mickey and his PhilharMagique Orchestra in the Discoveryland Theatre, as well as a whole new interactive show entitled: "A Surprise For Mickey!"
Pirates and Princesses Festival – If you're going to a Disney park you have to expect to see both pirates and princesses and from January 19th through March 17, 2019 this popular event is back and full of swashbuckling fun!
Legends of the Force: A Celebration of Star Wars – This is taking place January 12th through March 17th and brings classic Star Wars attractions and characters to life in a way you haven't seen before. This year you will even choose which side you want to follow, The Light Side or The Dark Side! A must for any Star Wars fans visiting Disneyland Paris.
The Marvel Super Heroes – Spider-Man, Iron Man, Captain America, Thor and all your favorite Avengers are back in Disneyland Paris once again in 2019 and this time Groot is coming too! Disney hasn't said what kind of experiences and shows are coming yet, but if it's anything like 2018 it will be a blast.
On our trip to Disneyland Paris this year we were there for the Marvel Summer of Super Heroes where we saw the new stage show Super Heroes United, and the Stark Expo both in Walt Disney Studios Park. Check out our Review of Super Heroes United and how Disney transformed the square into a Marvel park with 3 giant statues of Hulk, Iron Man and Black Panther.
Festival of the Lion King and Jungle – Lastly this new show running from July through September 2019 is a different take on the Animal Kingdom version and involves the characters from Lion King and Jungle Book including Simba, Timon, Pumbaa and Baloo.
Of course in the long run the Disneyland Paris Resort is getting a $2.5 Billion expansion in Walt Disney Studios Park which is adding a Star Wars, Frozen and Marvel Land, each with new attractions. That isn't expected to be finished though until 2023 so these other experiences will have to tide us over till then.
2019 is going to be a packed year at the Disneyland Paris Resort full of exciting new experiences and entertainment options and something you don't want to miss!
Your Thoughts:
I want to know what you think about the New Experiences Coming to Disneyland Paris in 2019…
Which one sounds coolest to you?
Have you experienced any of these before in Disneyland Paris?
Let us know in the comments section below!
If you enjoyed this article, as always I appreciate it if you'd share it with others via social media. I work hard at making this website into a useful resource for you and your family to plan your visit to the Disney Parks and I hope it can help you! Thanks 🙂
Source: Disney
Need Help Planning Your Disney Vacation? Show You the World Travel is Here to Help!
Just fill out the form below and someone will contact you for all your Disney Vacation Planning Needs….