This is a Disney Springs Construction Update for October 2018. Even though the total renovation and re-imagineering of Disney Springs has been going on for 3+ years now, there is still more to come. There have been a bunch of changes since our last Disney Springs construction update so we figured this was a good time to fill you in on what's coming.
If you're a foodie you're in luck because there are 3 or 4 new restaurants still coming to Disney Springs (more on the number later), as well as a whole new Cirque du Soleil show based on Disney animation in development. Then you can always count on new stores opening up, including the renovation of The World of Disney Store.
Let's take a look around and see what's new:
Pedestrian Bridge from new Parking Structure:
You may have heard Disney is building a 3rd parking garage to handle all the guests coming to Disney Springs, plus future considerations. This garage though is on the opposite side of the main road and because of that a new pedestrian bridge is being built to carry them safely across: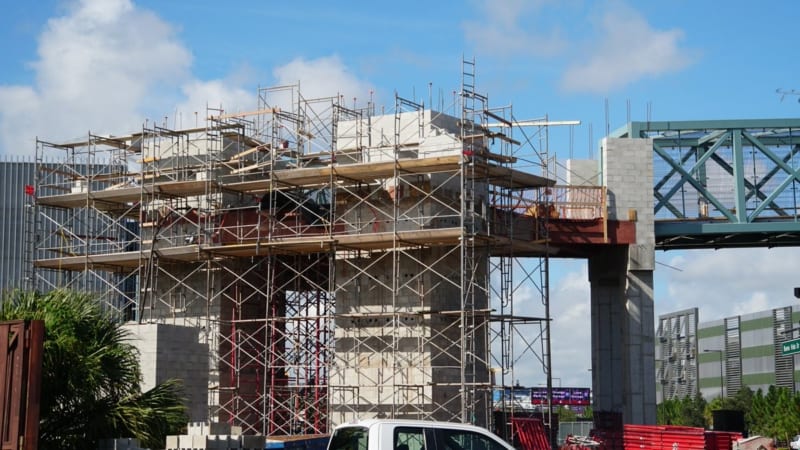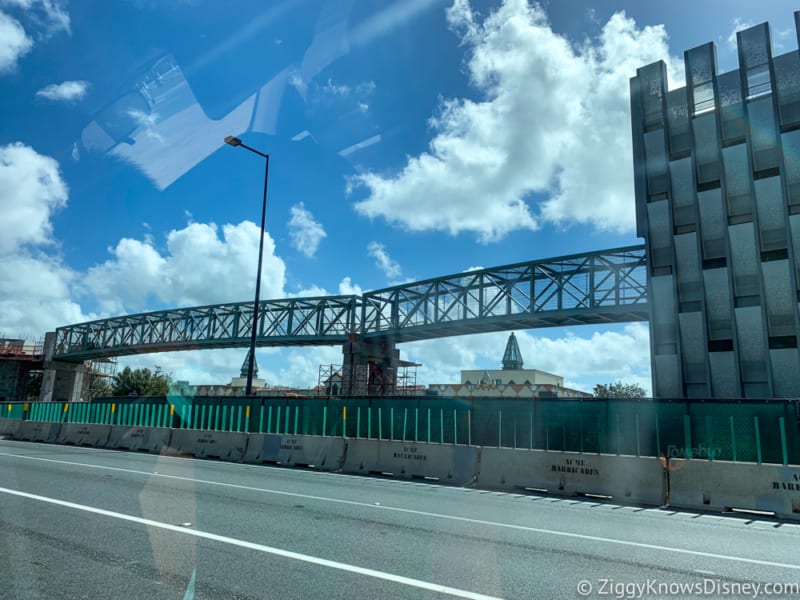 This is then where they land on the Disney Springs side of the road:
Wolfgang Puck Bar and Grill:
Wolfgang Puck closed their previous location in Disney Springs and is now opening a new one right across from Chicken Guy called: Wolfgang Puck Bar and Grill. Here is the external of the building: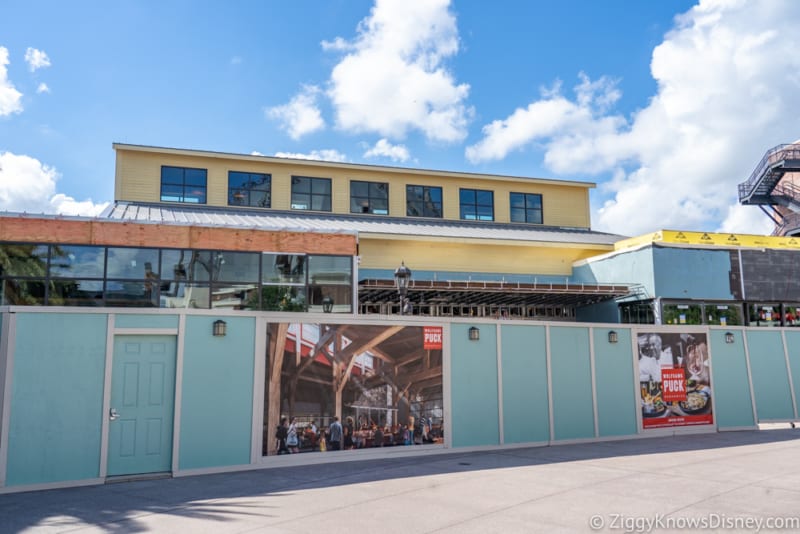 You can see what it will look like finished from the concept art hanging on the wall outside: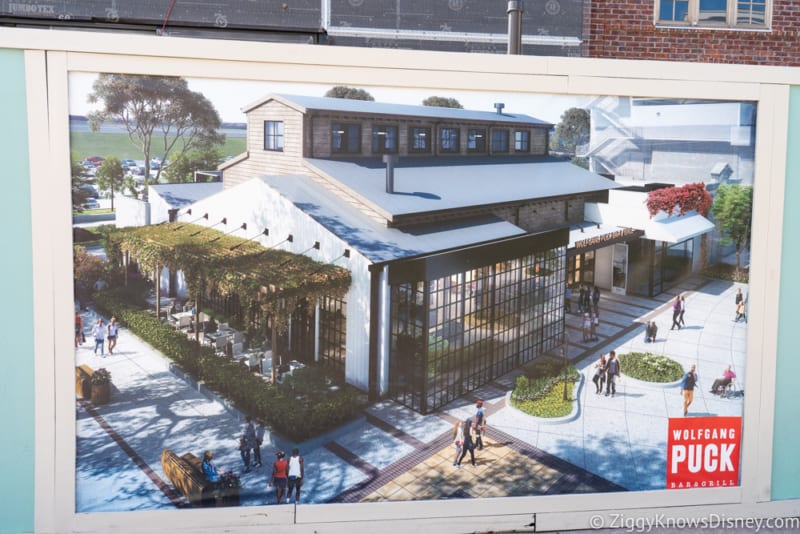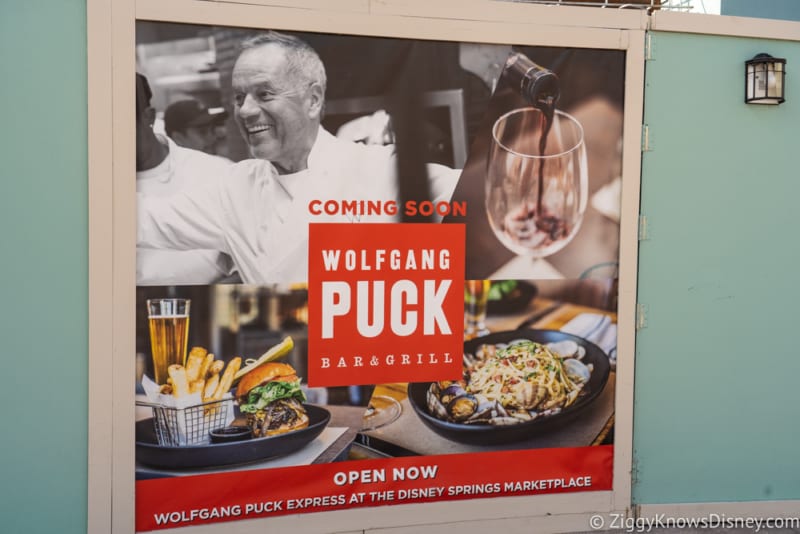 It's going to be open and spacious on the inside with big wood beams across the ceiling: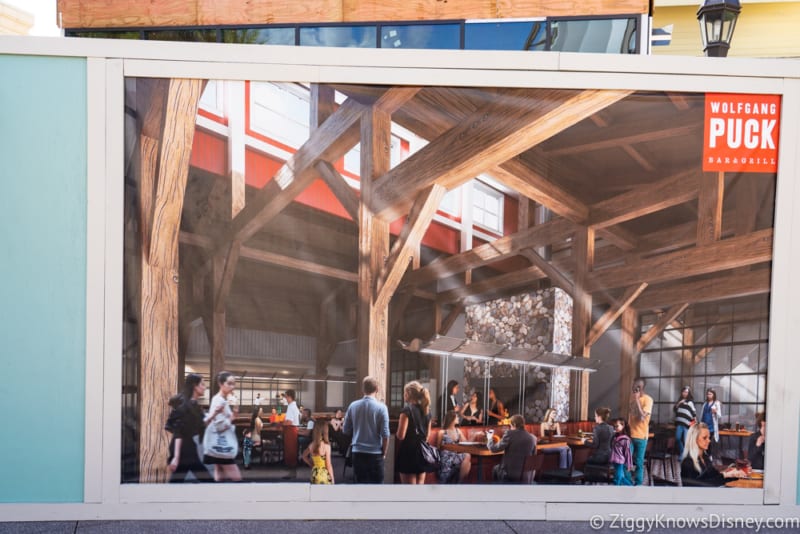 Detail work where the metal finish will go above the windows: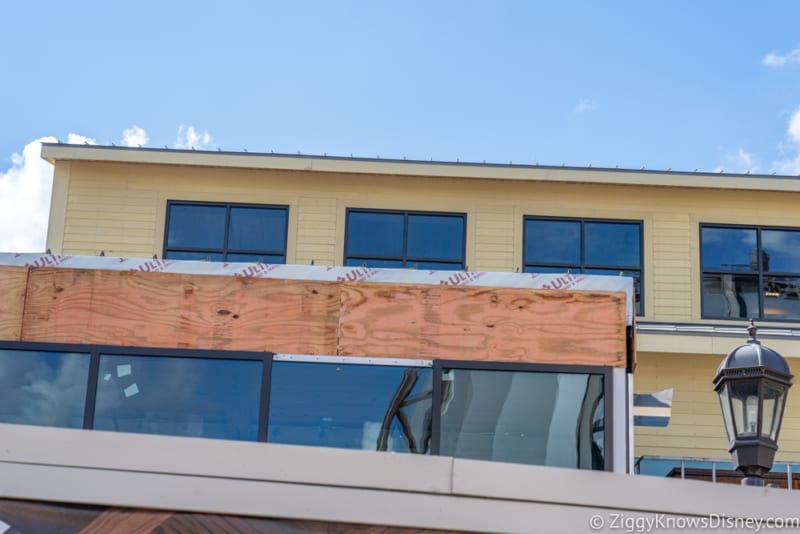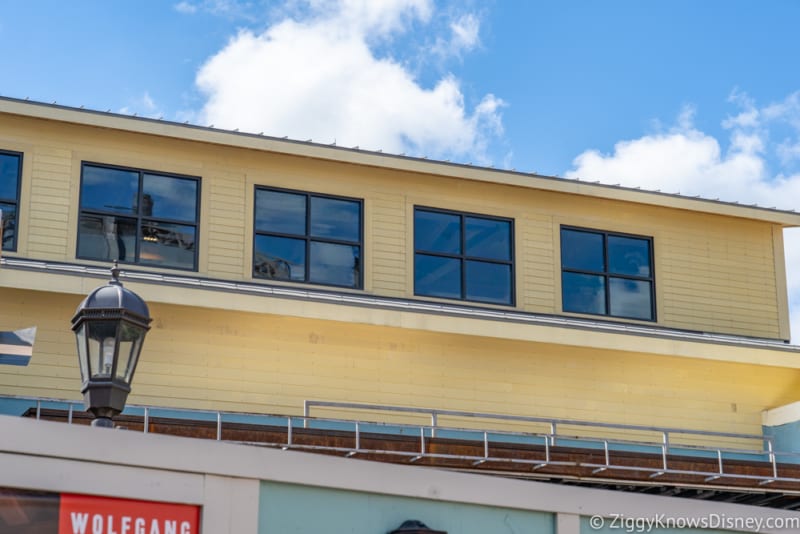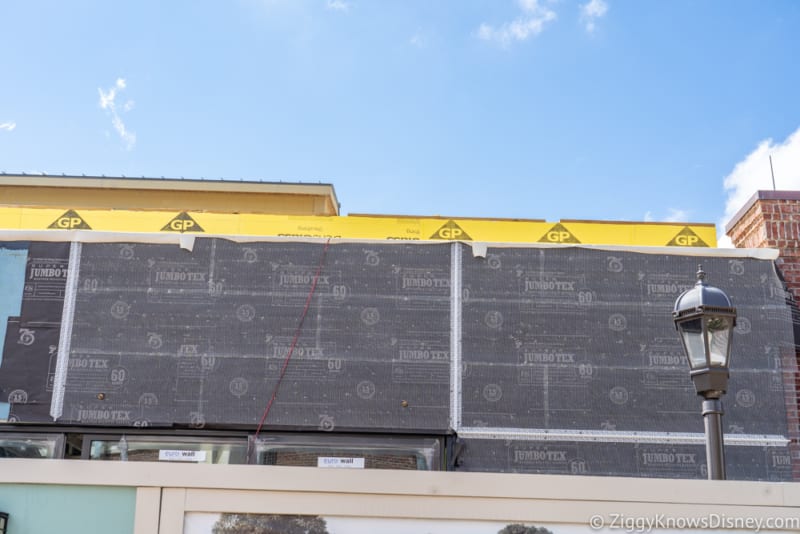 Disney hasn't yet announced an opening date for Wolfgang Puck Bar & Grill but it looks like we're almost there and could be seeing a late 2018 opening. Stay tuned for more
Jaleo:
Jaleo is the restaurant I've most been looking forward to, I love me a big bowl of Paella. Unfortunately this was already supposed to be open by now with Disney having given a Summer 2018 opening date originally. Good news is that it does seem to be moving along nicely now and we're probably a couple months out still.
Here you can see the outside: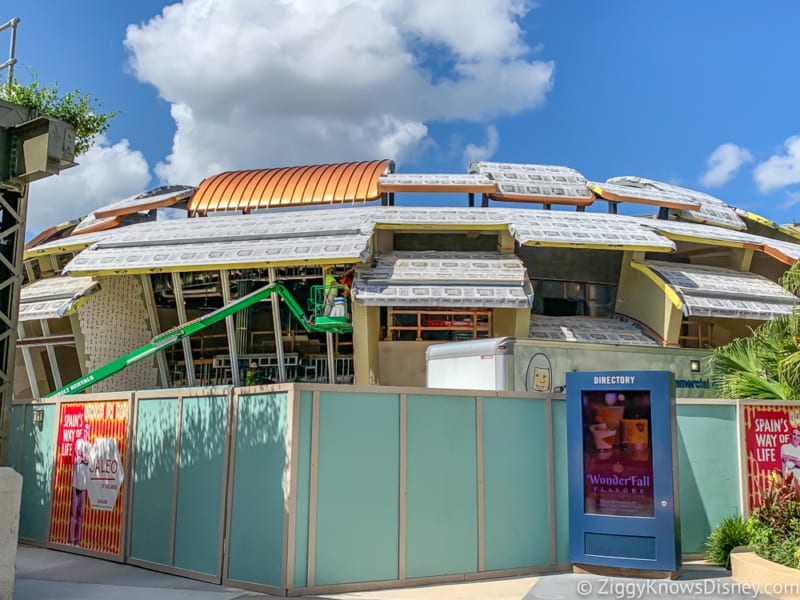 Concept art for that Paella I was talking about! 🙂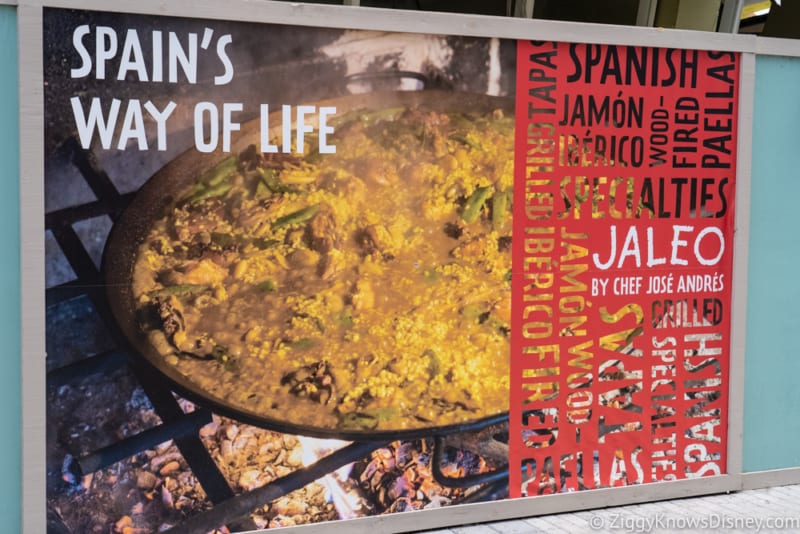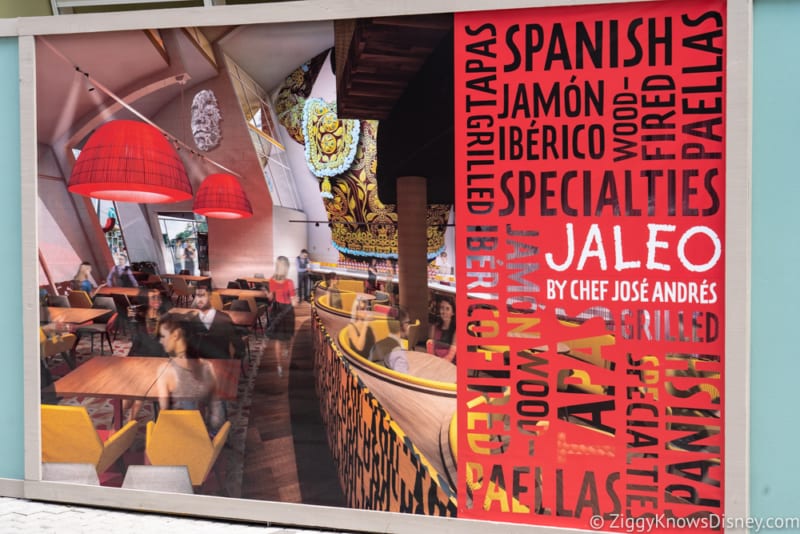 Jaleo is going to have a mix of colored tiles on the wall with the red ones outside: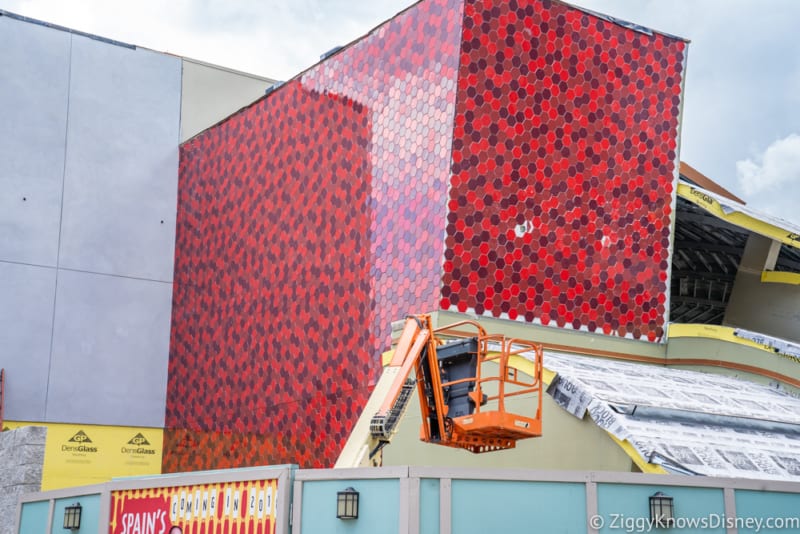 and white ones being installed on the walls inside:
I think Jaleo has a really unique look to it, especially the roof which has these funky curved panels that go around the circular shape of the building: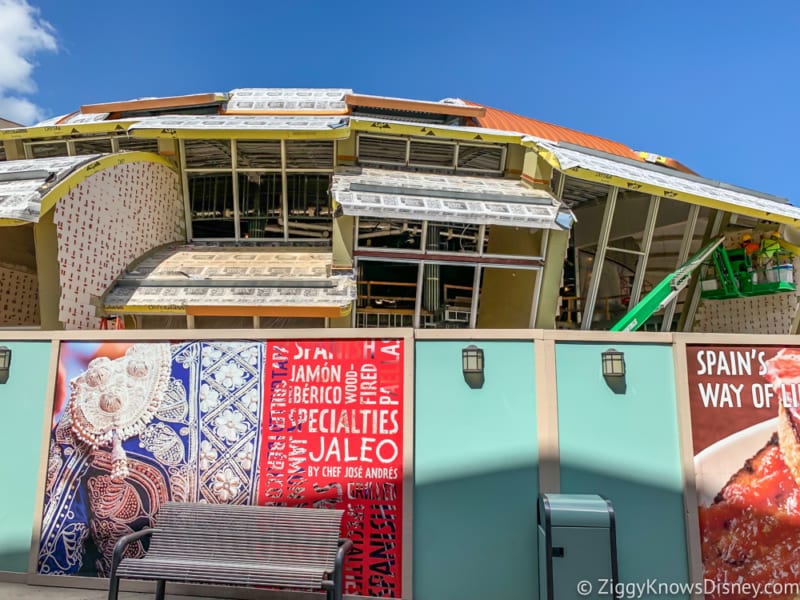 Here's an aerial view where you can get a better look:
A close-up shows the bronze-colored metal panels: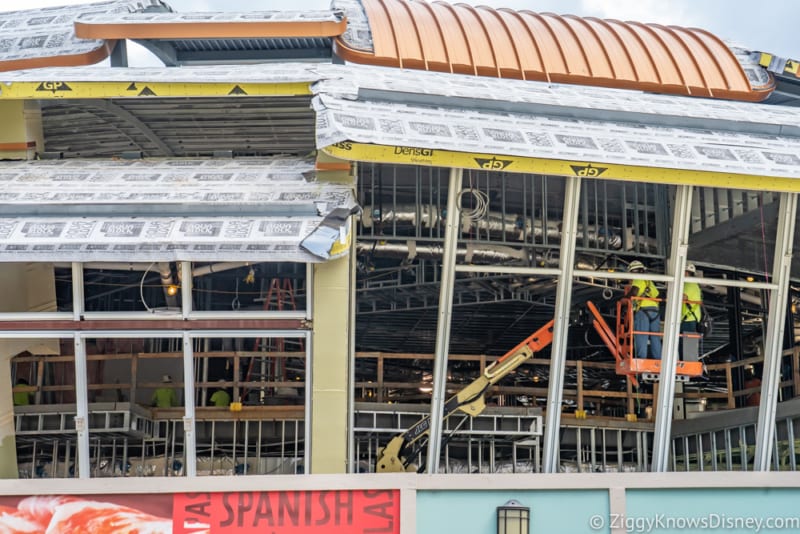 This photo was taken a few days after the others and you can see the progress made to the outside walls and the metal trim:
Work isn't only being done outside, construction workers on the inside are getting the framing and insulation up for the walls on these lifts: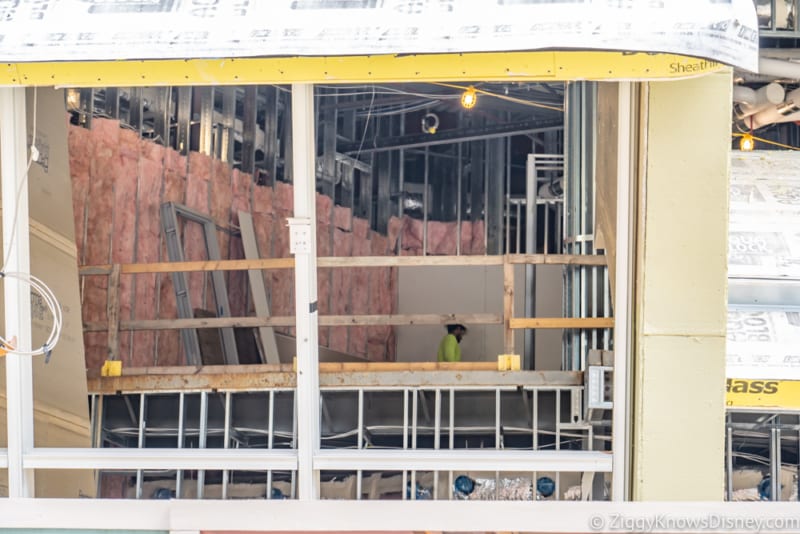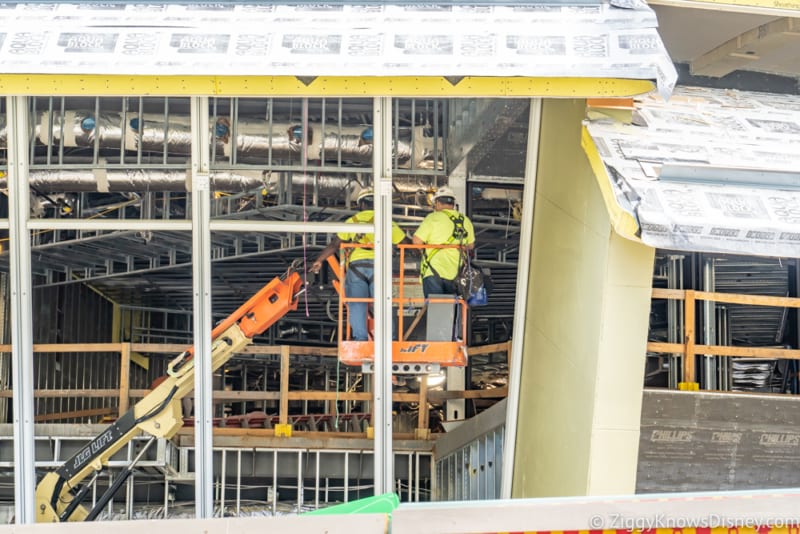 Again Disney hasn't announced the Jaleo opening date yet but I'd say we're close to Wolfgang Puck, maybe with a late 2018 opening but more like early 2019 imo.
NBA Experience / City Works Eatery & Pour House:
We put these two together because it seems after Disney's announcement this week of the City Works Eatery & Pour House, these two places will be sharing the same building.
This concept art shows the outside of the NBA Experience building: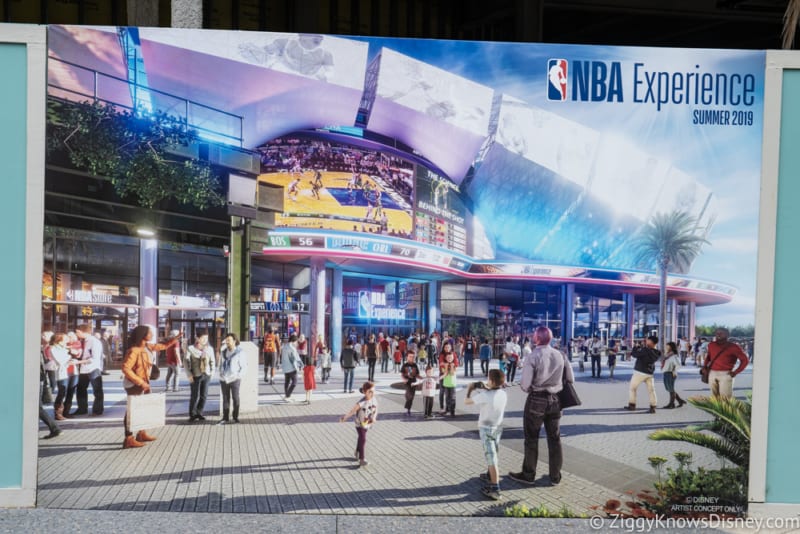 This gets back to our number question at the beginning. When DisneyQuest was knocked down and the NBA Experience announced, we were told a restaurant was coming there. You can imagine a sports bar type atmosphere where people can come and watch the game. That's what makes Disney's announcement the other day about the City Works Eatery & Pour House so interesting. It looks like from their concept art the restaurant is going in the spot on the right of the NBA Experience concept art: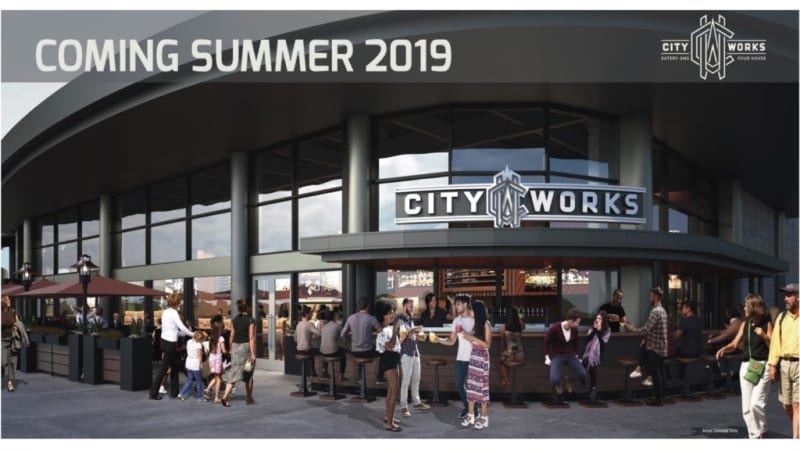 Disney has said this will not replace the NBA restaurant, but we're doubtful that they would put two very similar restaurants literally under the same roof.
Let's get to the actual construction progress: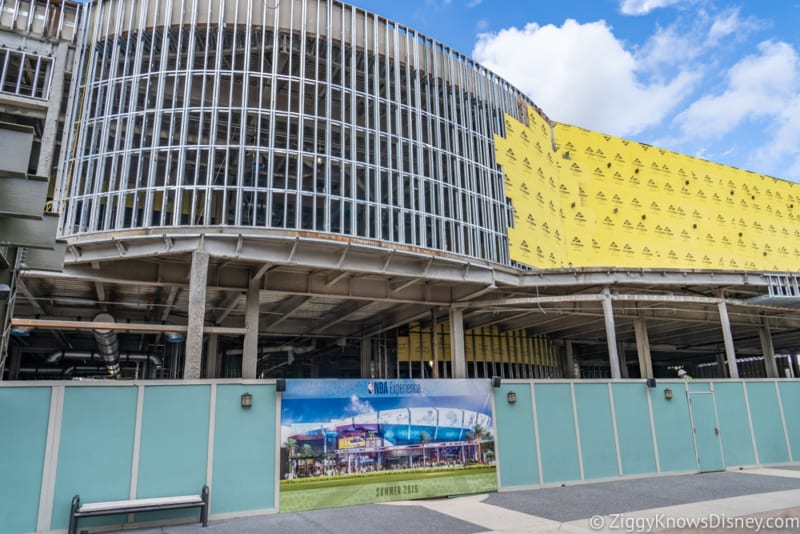 Workers hard at work high above on these lifts. Looks and sounds like they are putting the finishing touches on the framing: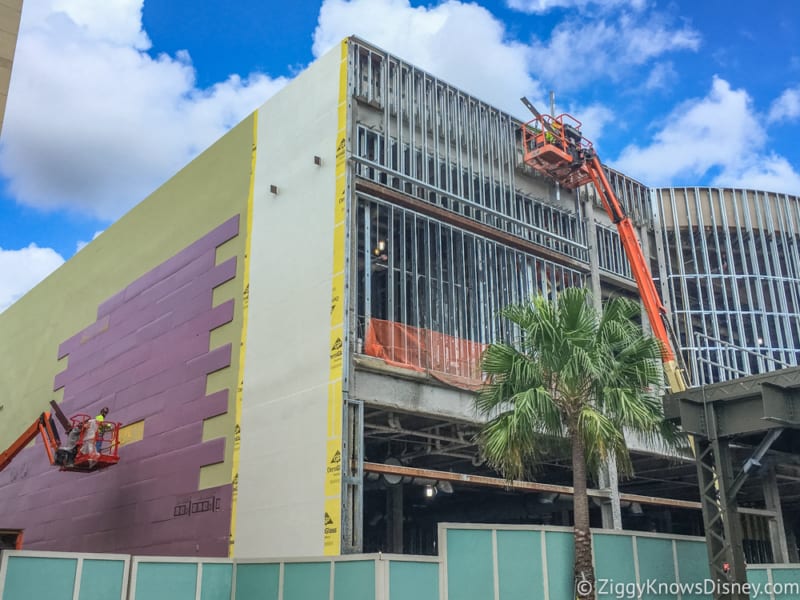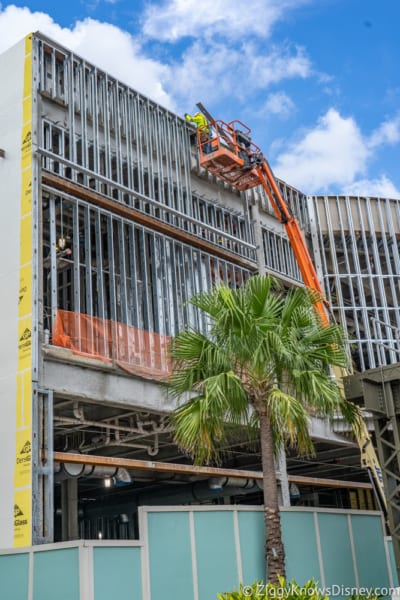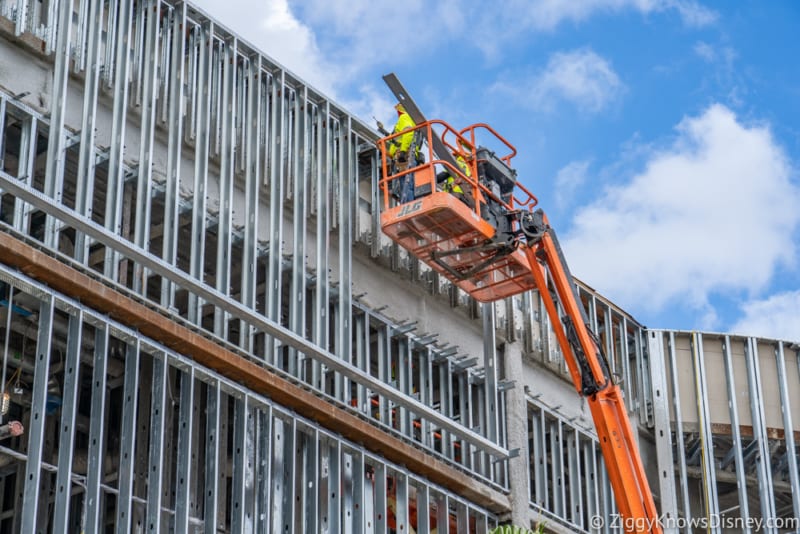 That green overhang is one of the coolest looking parts of the final building plans imo: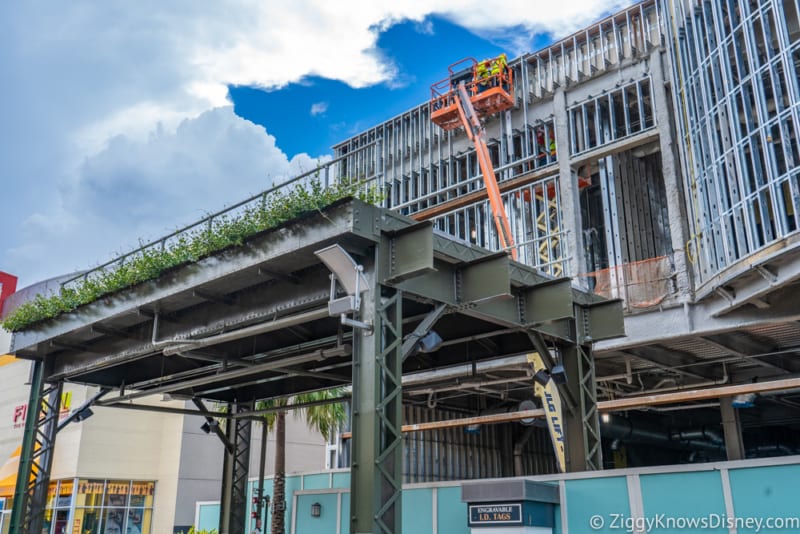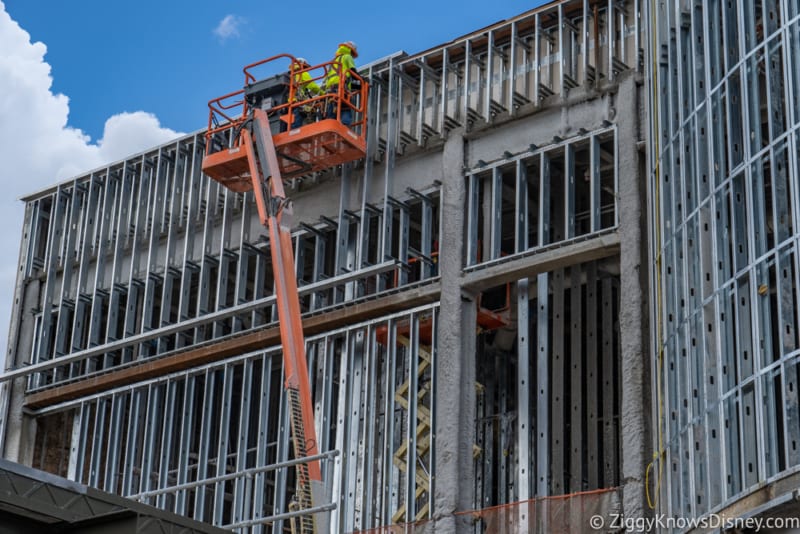 Along the side of the building it's already getting buttoned up: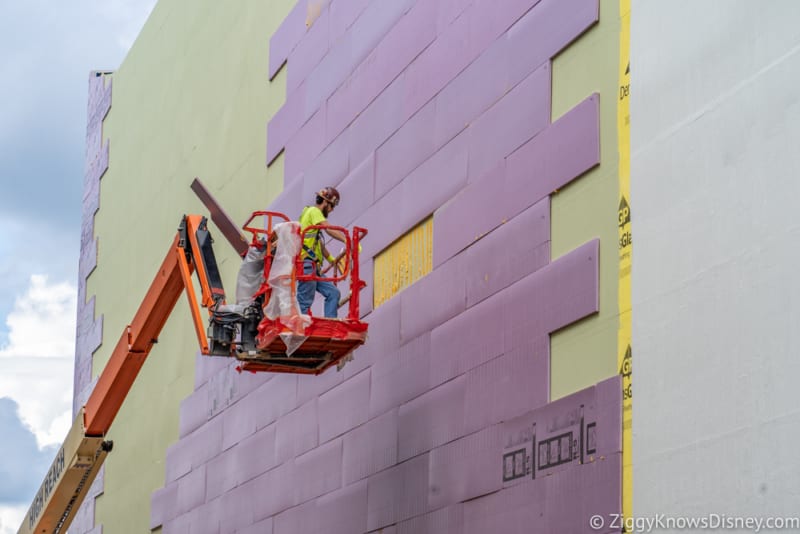 The size and scope of the NBA Experience building is really impressive when you are there in front of it. Tell me that right side doesn't look like the spot for City Works Eatery & Pour House…curved roofline is identical…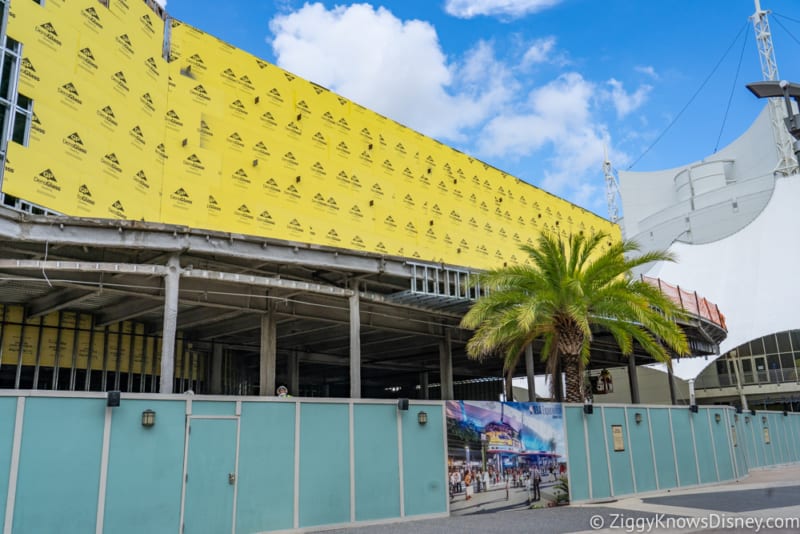 Framing being attached to the beams on the outside bottom: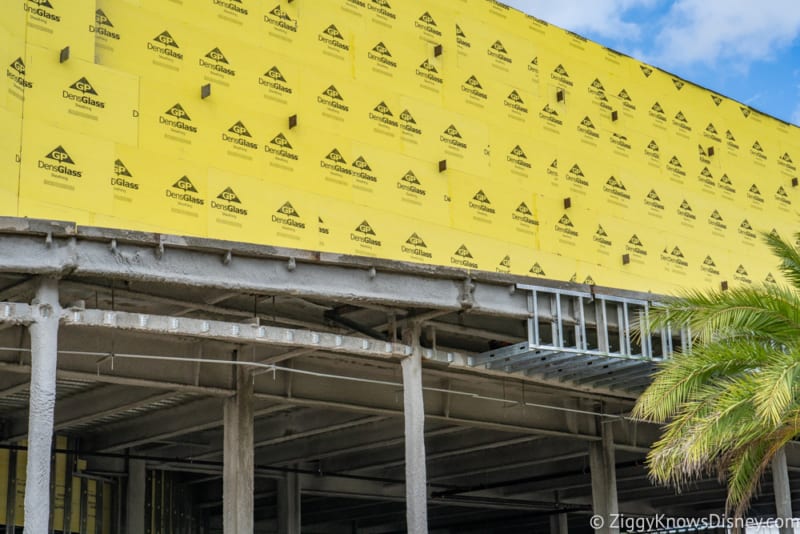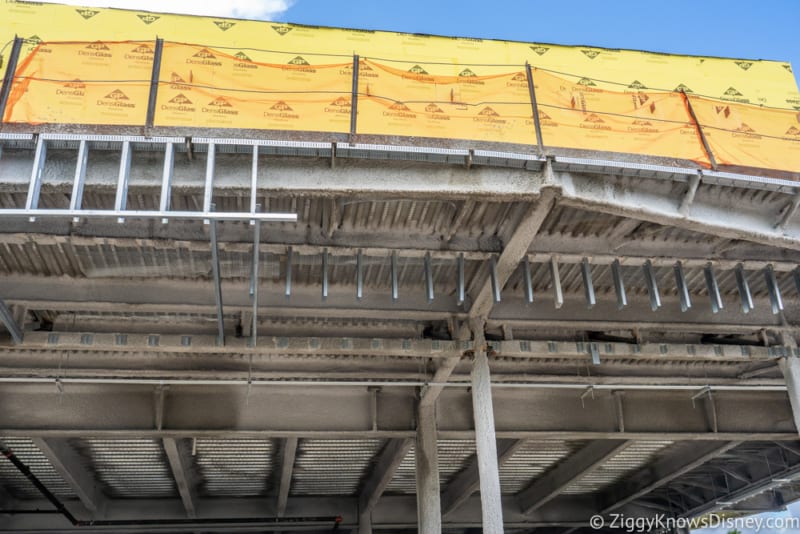 also underneath the overhang: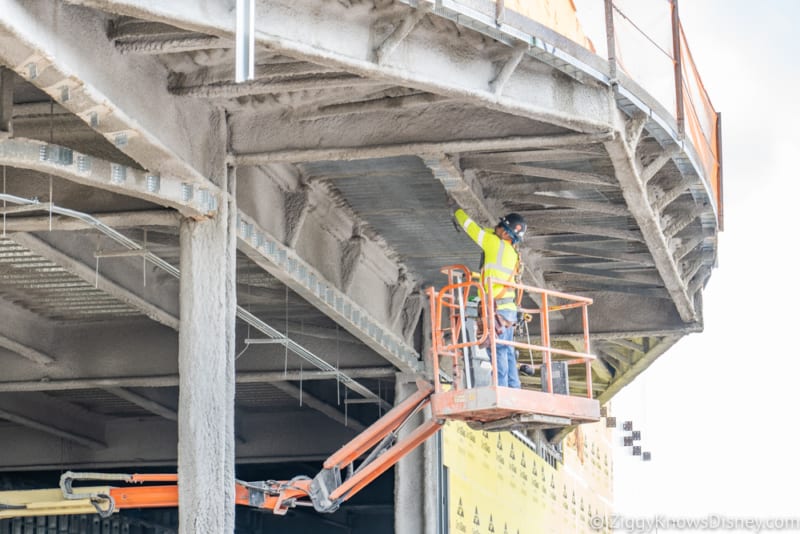 A look around back:
You can see the metal panels being installed on the walls as they are further along in the back of the building:
These pegs will hold the futuristic panels on the walls:
NBA Experience and City Works Eatery & Pour House are set to open in Summer 2019.
That wraps up my Disney Springs construction update for October 2018. There are still so many new things coming to Disney Springs, there's even a new Cirque du Soleil show being developed which should be done by the end of 2019 too. Stay tuned for more updates…
In the meantime don't forget about some of the other construction projects going on around Walt Disney World including the Guardians of the Galaxy Roller Coaster and the Ratatouille attraction being built in Epcot.
Don't forget to check out my latest Disney World Construction Updates including:
Your Thoughts:
I want to know what you think about this Disney Springs Construction Update for October 2018…
What are you most excited for that's coming to Disney Springs?
Is it a good idea to put the NBA Experience and City Works Eatery & Pour House under the same roof?
Let us know in the comments section below!
If you enjoyed this article, as always I appreciate it if you'd share it with others via social media. I work hard at making this website into a useful resource for you and your family to plan your visit to the Disney Parks and I hope it can help you! Thanks 🙂
Photo Credit: @Bioreconstruct
Need Help Planning Your Disney Vacation? Show You the World Travel is Here to Help!
Just fill out the form below and someone will contact you for all your Disney Vacation Planning Needs….