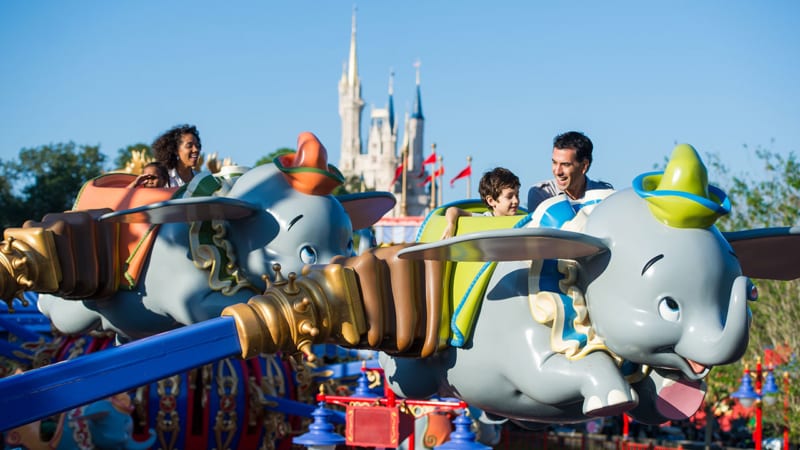 A few weeks ago we found out about Disney launching their New Date-Based Ticket Pricing for Walt Disney World, and that change goes into effect today October 16th.
Now your ticket price will change based on when your first day is, meaning certain days and times of the year will be cheaper or more expensive than others. This ticket change also means all the parks have the same priced tickets.
By doing some looking at the new date-based ticket pricing, we can see already some tickets have gone up in price since the change while others have gone down a bit, within $4-5 or so with the longer stay tickets of 6 days being a bit more and the 3-Day Tickets a couple dollars less. The 1-Day Ticket has gone up though with the lowest price available is $109 (used to be $102). I was surprised though to see the price on a 10-day standard ticket starts at only $440 (depending on season) which is much lower than before.
The current calendar shows prices through December 31, 2019.
Here are some examples of the difference in price from the old system to the new one: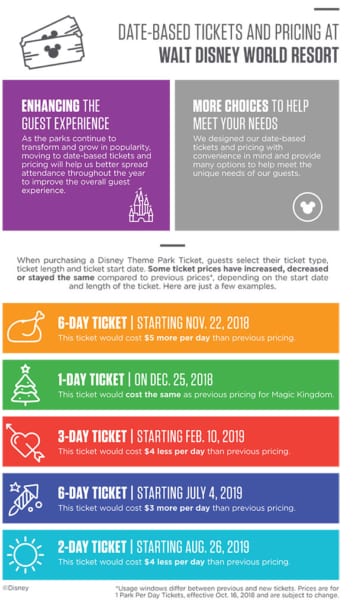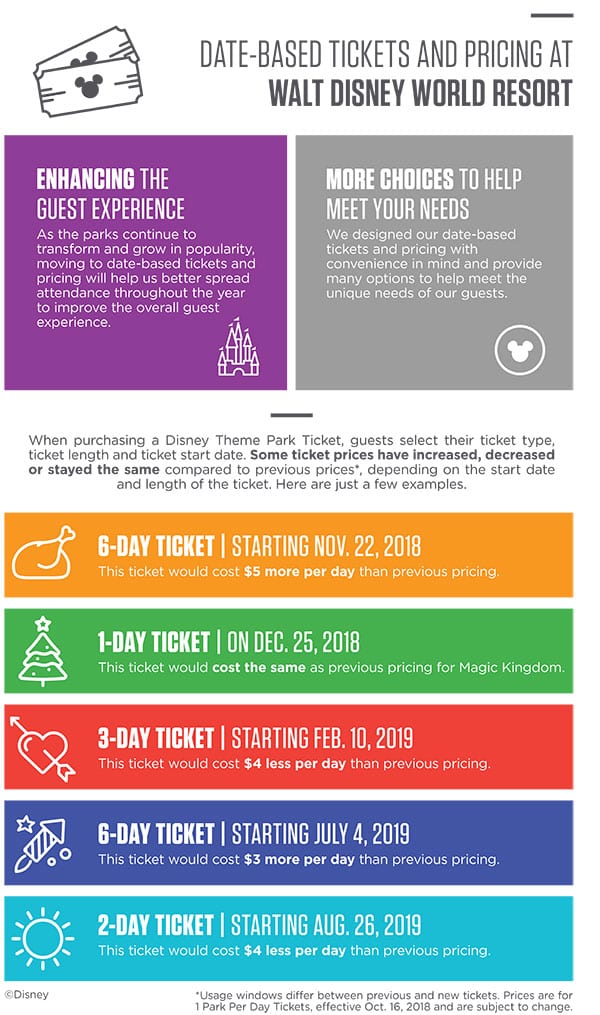 Tickets can be purchased on www.DisneyWorld.com or through the My Disney Experience app as before, and as well through Disney-authorized Travel Professionals and Resellers. Disney also made a new Vacation Planning Website which will help guests booking their Walt Disney World vacation and make things easier for them.
Here is a video Disney released explaining how the new ticket system will work:
Some thoughts and things I've notice about the new date-based pricing system:
The whole system is quite easy to use, first choose your dates: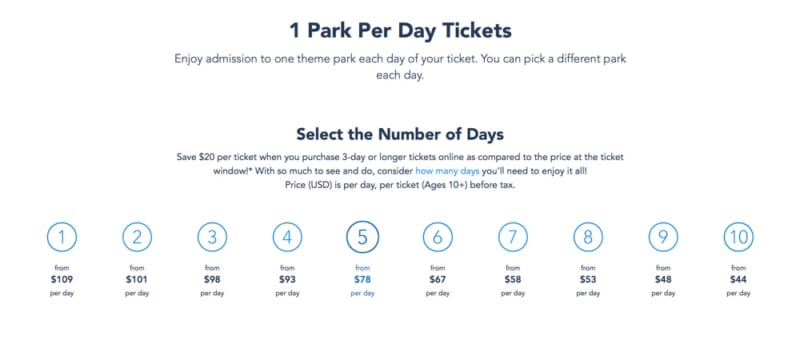 When browsing the calendar each day has a specific ticket price level that you can easily see. That price is based one a few factors including the crowd levels. This got me wondering if Disney will change the ticket prices throughout the year with this new system. It wouldn't surprise me if you see ticket prices continue to go up if certain days get more filled. Also it shows up on the main ticket page where the prices start at, but not the upper range of them. I'm told they won't change, but we'll keep an eye on it anyways.
Of course this system does offer some benefits to the guests. Knowing how many people are coming to the parks also gives Disney a good idea about how they need to be staffed, and helps this to be accomplished many weeks in advance usually. Disney is also trying to entice guests to come during the slower periods of the year which they say will balance out the crowds. I'm not sure it's going to take guests away from the busy times of the year (those people are usually there at that time cause they have no choice because of holidays, etc.) but it might get people to come in the slow parts of the year which Disney is trying to fill up. Isn't that why we have seemingly a new festival in Epcot every month though? 😉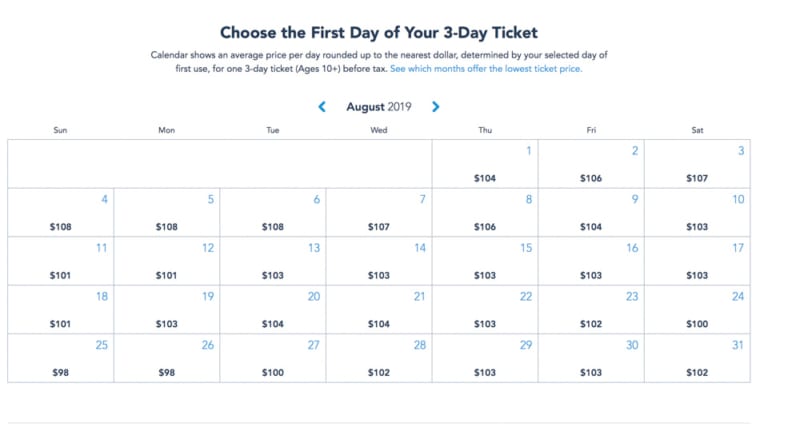 I really like the feature that guests can see the highest and lowest ticket prices for any given month. That makes it easy to see if you do have flexible dates to come to the Walt Disney World Resort and you can base it around which days are cheaper: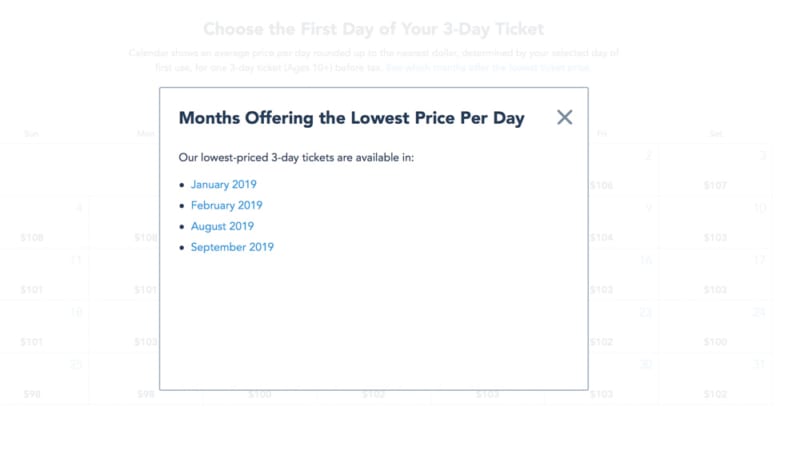 The Flexible-Ticket option which you can buy and is good for any day of the year is an additional $15 – $55 per ticket. Unless you are really unsure of your dates or fear you might have to end up changing them down the road, try to avoid this at all costs as it will end up costing you more in the long-run.
Park Hopper is still an option with the date-based system. Prices are $55 for 1-day tickets, $65.00 for 2 and 3-day tickets, and $75.00 for 4+ day tickets. Park Hopper Plus is $80 for 1-day tickets, $90 for 2-3 day tickets and $100 for 4+ day.
You can also make a change to the date of your tickets online, however if the price has changed since you booked them, you will have to pay the difference. If you change them and go from a more expensive ticket to a lesser one, no refunds will be given, so at all costs try to stick to whatever date you choose.
Don't worry if you've already bought any tickets before October 16th, those are still valid and will not be affected by the change.
Disney today also announced a Price Increase for Walt Disney World Annual Passes, and well as an increase for Parking Fees at the Walt Disney World Theme Parks.
Hopefully Disney has made it easier for guests to understand and order tickets. We'll continue to update you on the pricing changes and what this new Date-Based Ticket Pricing means for you…
Need Help?
Ziggy Knows Disney is proudly partnered with
Show You the World Travel
who will be happy to help you find the right package for you. Rene Cittadino and her team of Disney travel experts will take care of all your Walt Disney World travel needs. You can
click the link here
to find out more information and get a free quote on your Walt Disney World vacation!
Your Thoughts:
I want to know what you think about Disney's New Date-Based Ticket System…
Do you like the change?
Does this affect your way of getting tickets?
Let us know in the comments section below!
If you enjoyed this article, as always I appreciate it if you'd share it with others via social media. I work hard at making this website into a useful resource for you and your family to plan your visit to the Disney Parks and I hope it can help you! Thanks 🙂
Source: Disney