This is the latest Star Wars Galaxy's Edge Construction Update for April 2019. Lots of cool stuff has happened since last month's update and there is really some incredible theming being down to Galaxy's Edge right now. Between the walls, rockwork, and the streets getting paved, it's starting to look like a real city!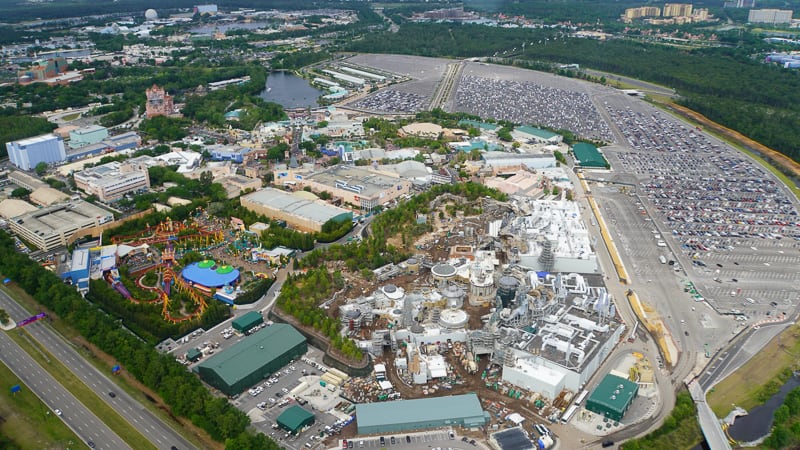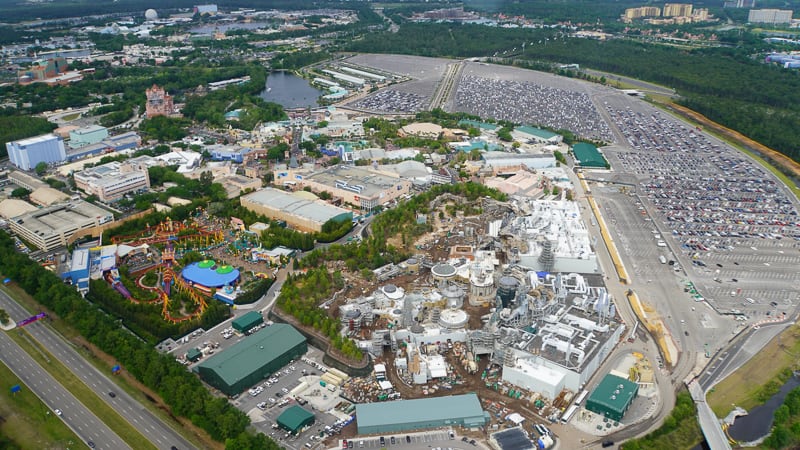 We won't get into all the details in this post, but if somehow you haven't heard of Star Wars Galaxy's Edge or don't know exactly what it is, prepare to be blown away! It's a brand new, fully immersive land based on the Star Wars franchise which transports guests to the far off planet of Batuu.
Disney is saying it's the most ambitious theme park addition in history!
There are going to be two attractions: one sitting you pilot the iconic Millennium Falcon (Millennium Falcon: Smuggler's Run) and the other puts you right in the middle of a battle between the First Order and the Resistance (Star Wars: Rise of the Resistance).
Besides the rides there will be 2 restaurants, numerous and uniquely styled shops, and tons of hidden areas to explore that Disney promises us it will feel like really going to another galaxy.
Before we get to the latest construction updates we want to thank @bioreconstruct for the great job he does with all the aerial photos high above Walt Disney World. They really help us see a lot of the hidden details and everything going on!
I'm constantly updating this post so you can scroll down for the latest pictures:

Ok, let's dive in and see what's going on in our Star Wars Galaxy's Edge construction update for April 2019:
High above Galaxy's Edge you can see Black Spire Outpost and the land's two attractions: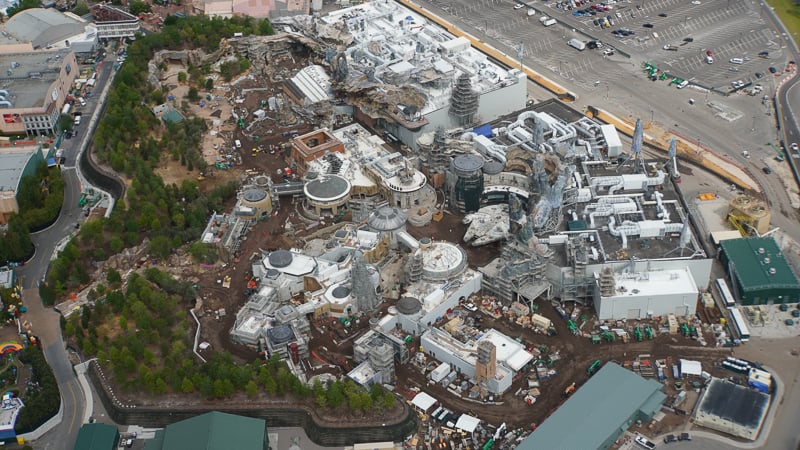 It's hard to tell just from a photo this high above the land, but Galaxy's Edge is HUGE. Those buildings you are looking at are bigger than almost any previous attraction show buildings: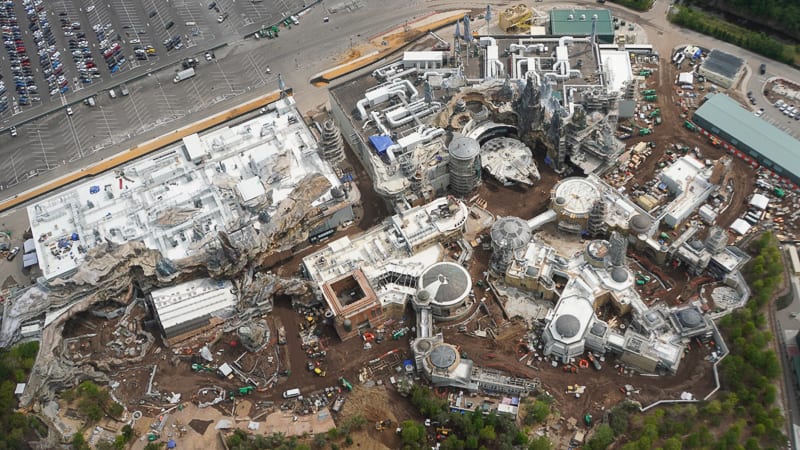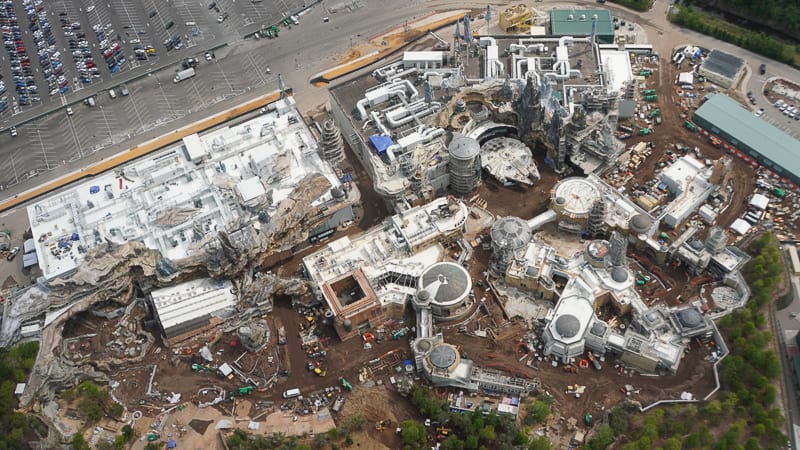 Let's head on over to the Black Spire Outpost side of the land and look at where the biggest concentration of shops and dining are going to be: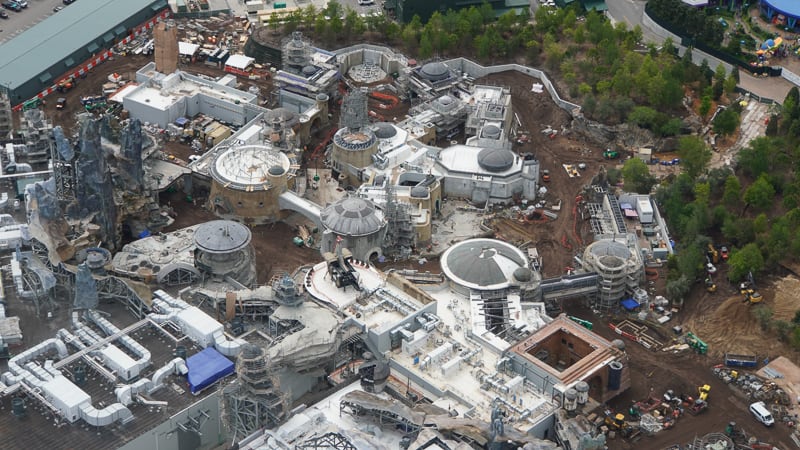 Remember when the first spaceship landed in Galaxy's Edge? It's sitting on top of this building which is where the fast casual dining restaurant "Docking Bay 7" is going to be: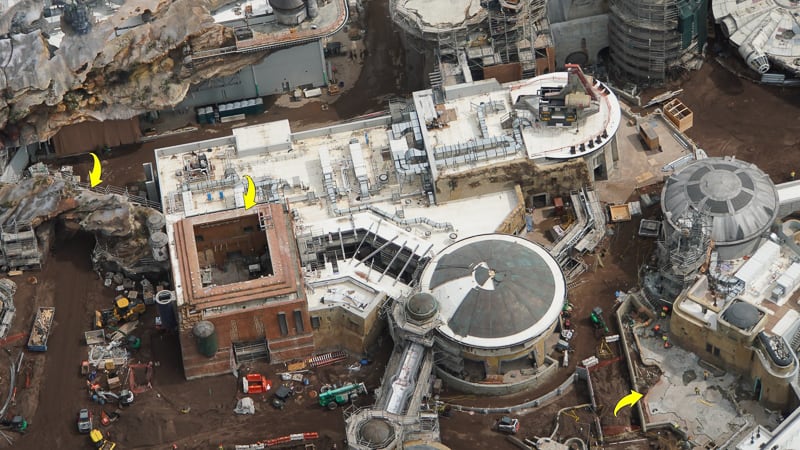 Lots of progress has been made to this building and all the buildings in Black Spire Outpost in the last weeks including a stone gate, atrium walls, and current progress of a courtyard pavement right here.
Look at that beautiful red/orange color on the atrium and entrance into the restaurant: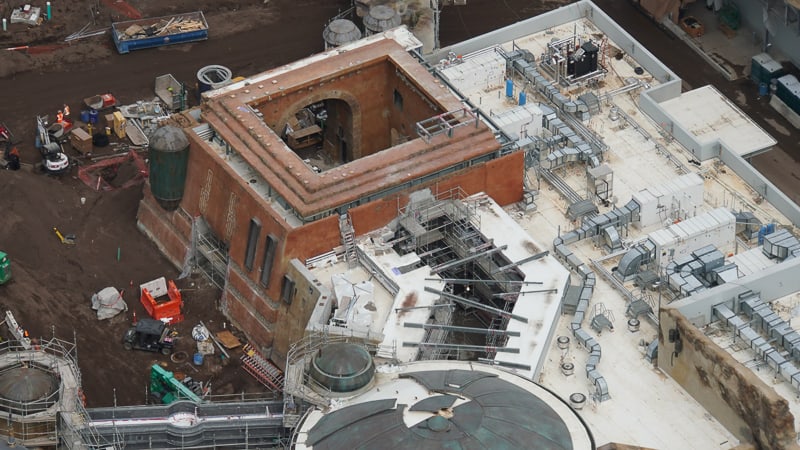 Most of the scaffolding is down around the building which gives us a much better look at it than last month. The entrance here is going to be really impressive when done, one of the best looking buildings in Galaxy's Edge imo.
It will look something like this when done: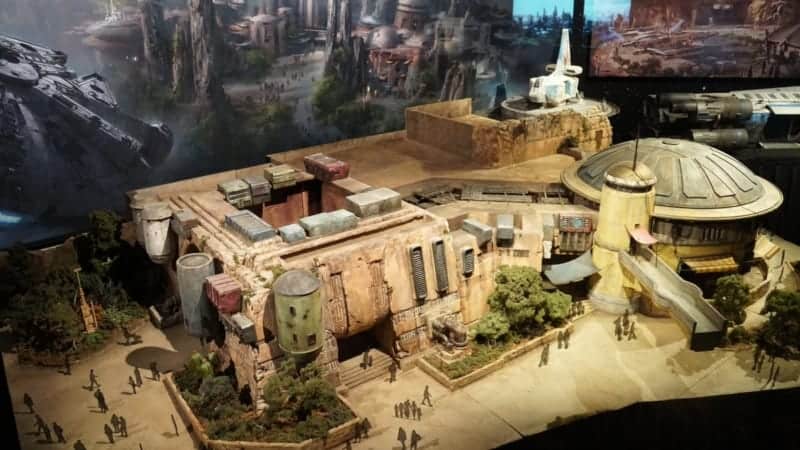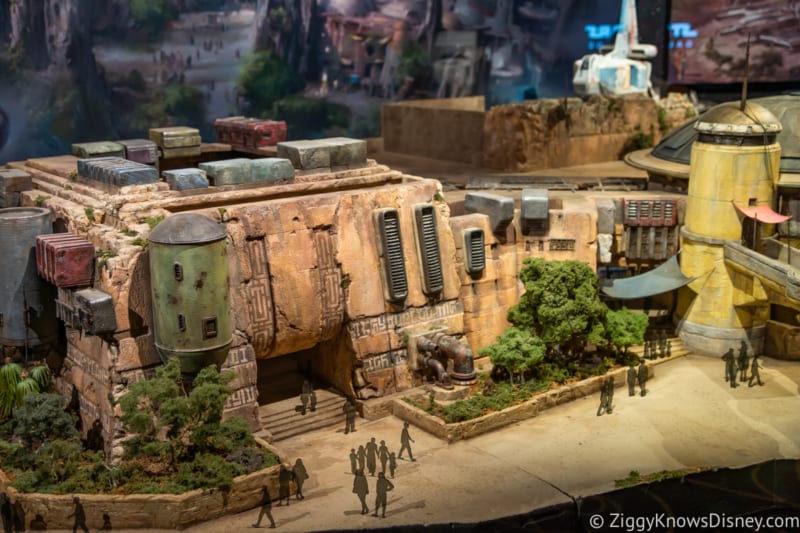 I think I'm actually looking forward to Docking Bay 7, MORE than Oga's Cantina, which won't really have any food.
Looks like some new concrete forms are being installed: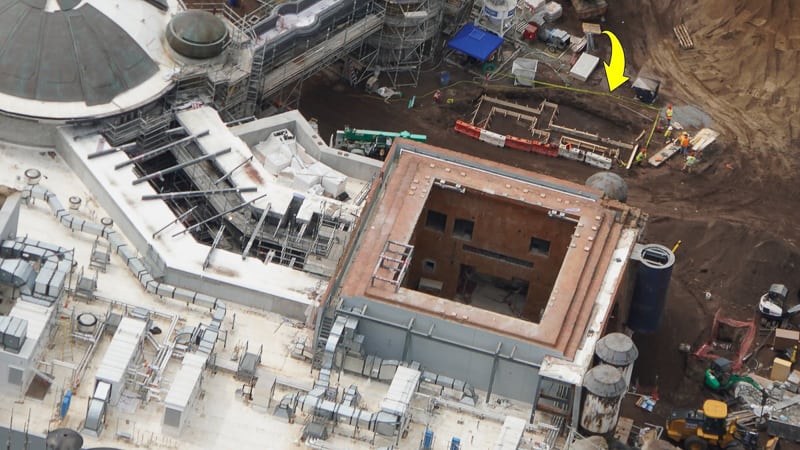 It's one of the buildings that's furthest along in its construction as you can see the surrounding buildings still have a lot of scaffolding up: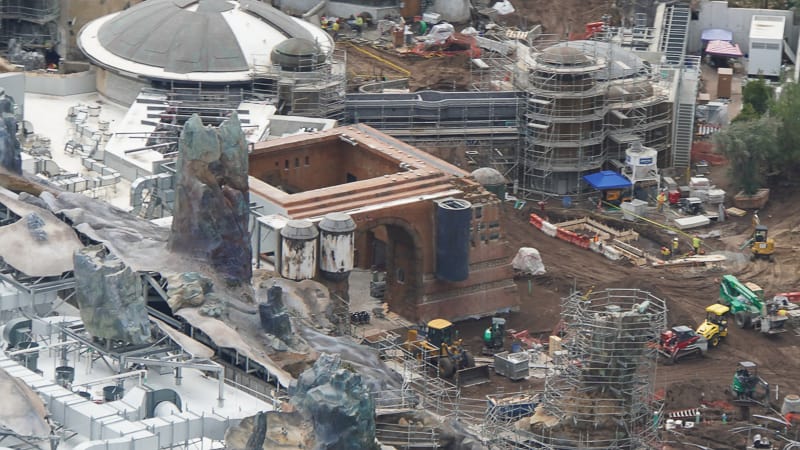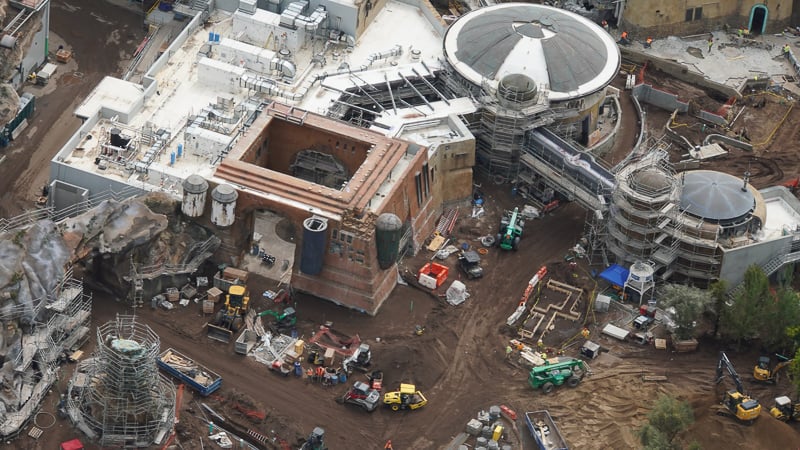 From this angle you can see straight down into the atrium where guests will enter:
Let's check out some of the other buildings in Black Spire Outpost. Notice the detailed theming going onto the wall of this building: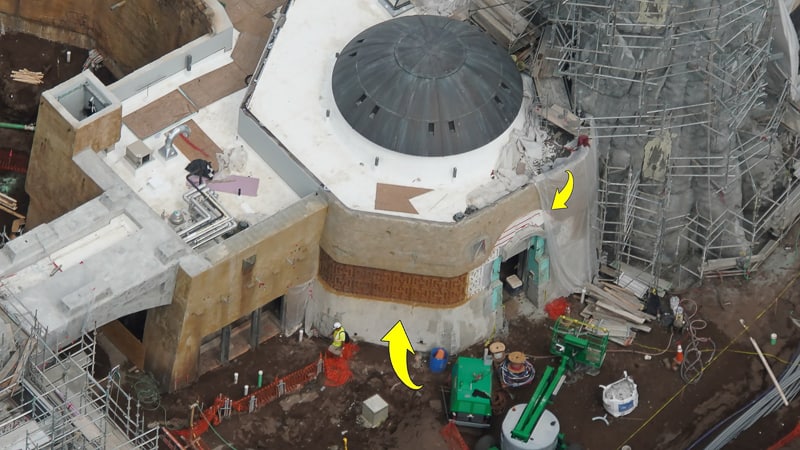 These buildings are going to need some heavy-duty power and electric conduit is currently being run under the ground nearby:
This is one of the coolest new things this month, a courtyard outside is being installed: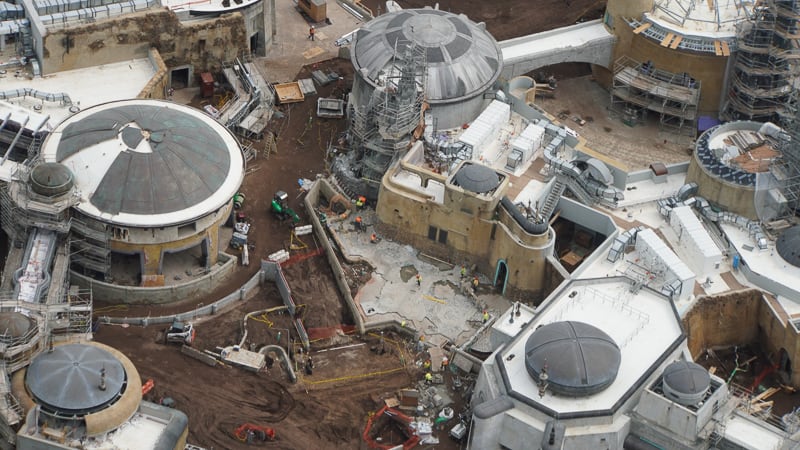 Gotta get all those details right and it looks like a really cool design is being put in!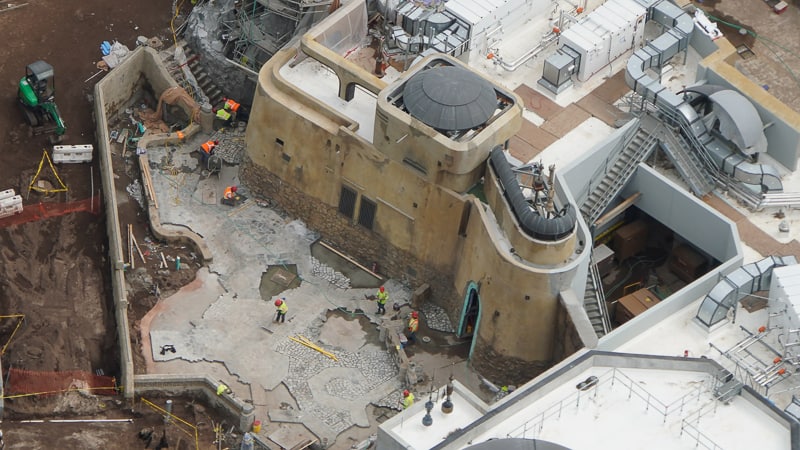 And courtyards are not the only things going in, here we can see workers in the middle of the street paving it: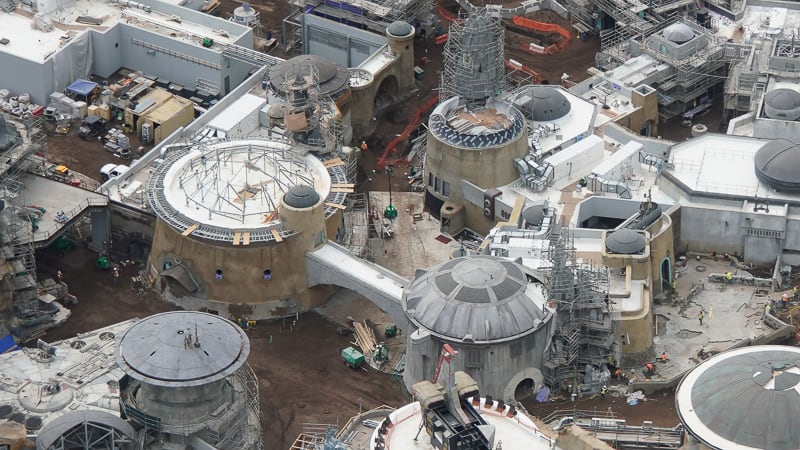 It's gonna take a while to go between all those buildings and make it look old, but it looks like it will be pretty spectacular when done!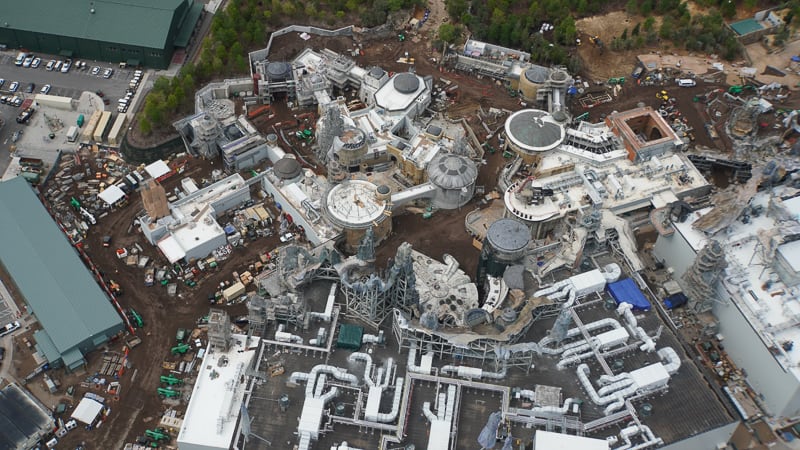 Let's head over to the other side of Black Spire Outpost where a landing area for a new First Order TIE Fighter is being installed: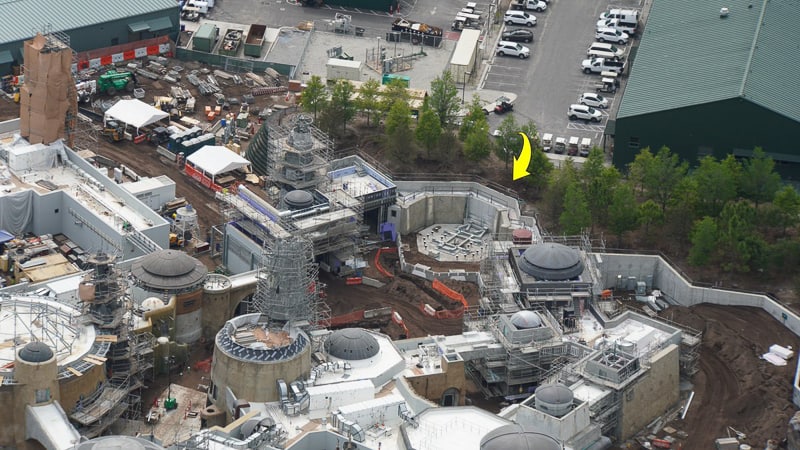 The ship is called the TIE Echelon and will stay here to keep the citizens of Black Spire Outpost under control.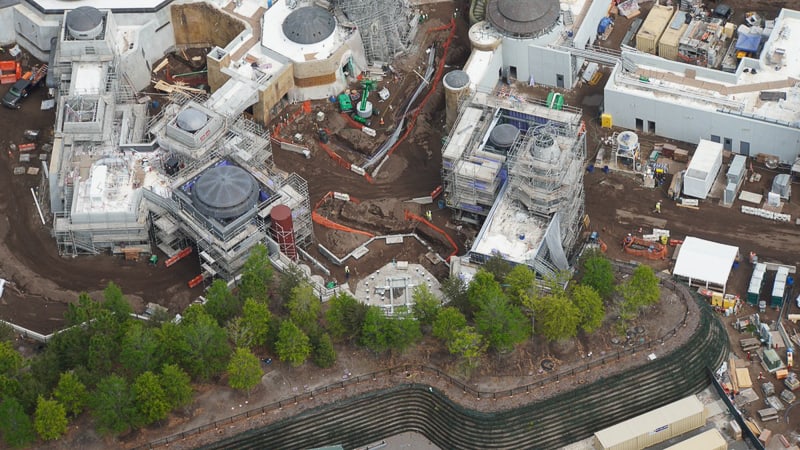 Star Wars Galaxy's Edge is being built both in Disney's Hollywood Studios, but it's opening first in Disneyland. The two lands are pretty close to identical, except that there are only 2 entrances in Hollywood Studios instead of the three you find in Disneyland.
These arrow show where the two entrances on this side are going in Disneyland, but as you can see the Hollywood Studios version doesn't have the one on the far left where the yellow arrow is: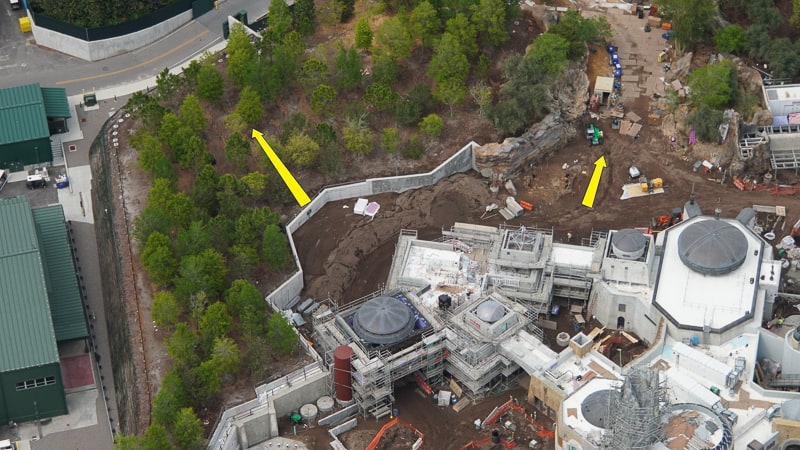 Instead the berm is being built up here and is closed off: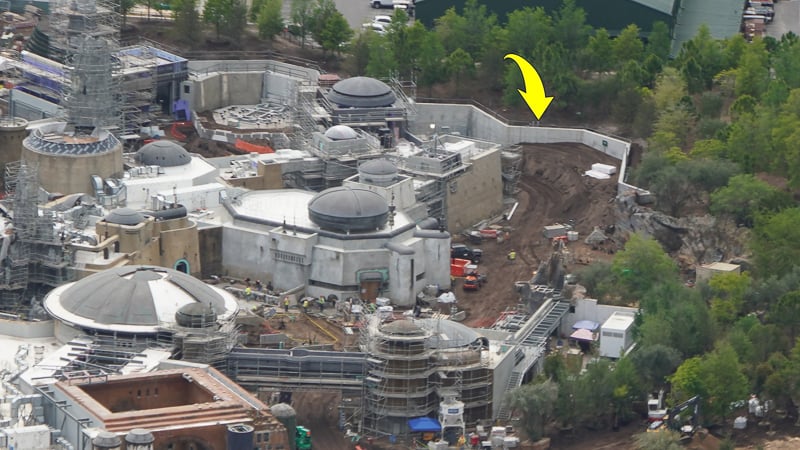 Here's a view from the backside: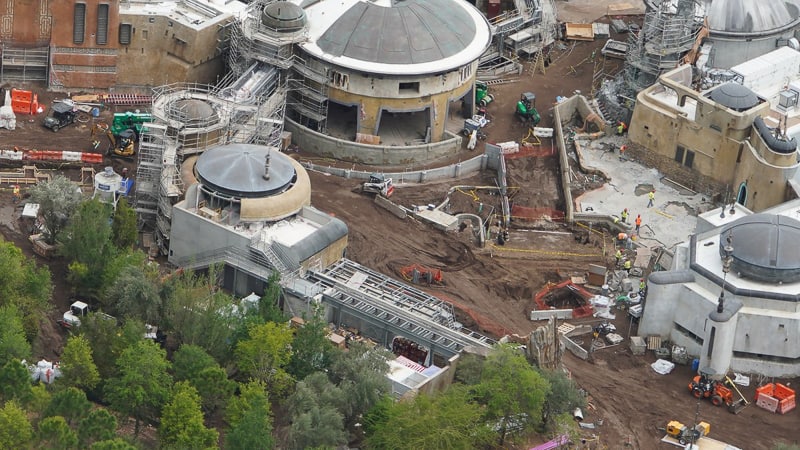 One of the two entrances that the two Galaxy's Edges have in common is this one, where in Hollywood Studios it leads into Toy Story Land: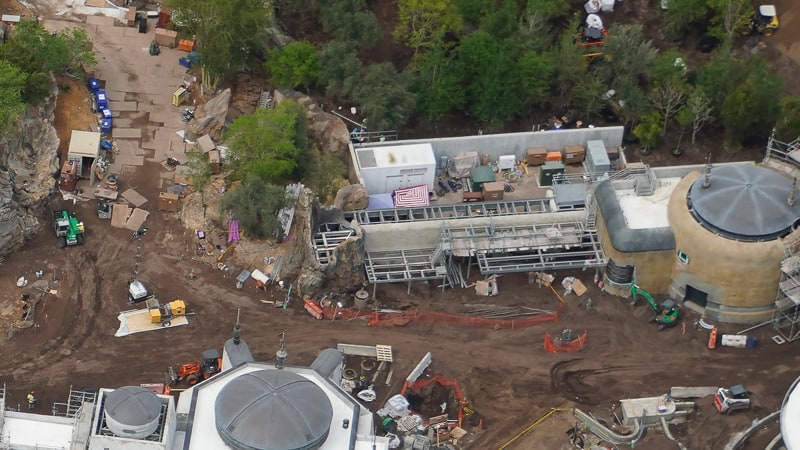 Most likely Disney will have traffic going only one way into Galaxy's Edge and the flow out of the land will be this one and put you into Toy Story Land: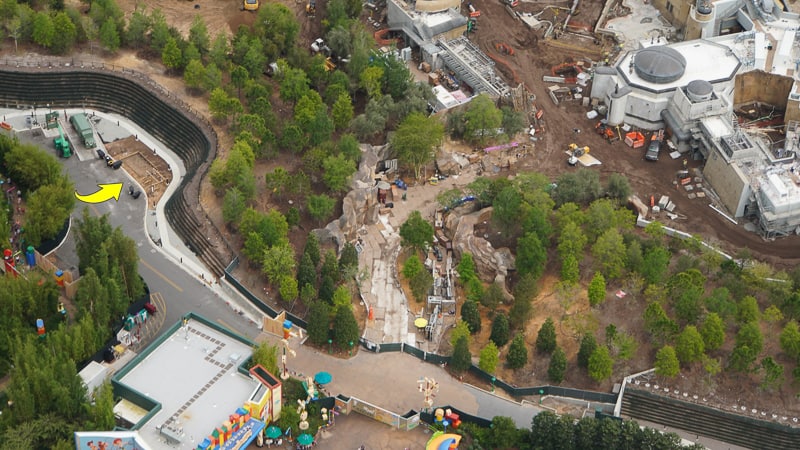 Let's head over to the Millennium Falcon next!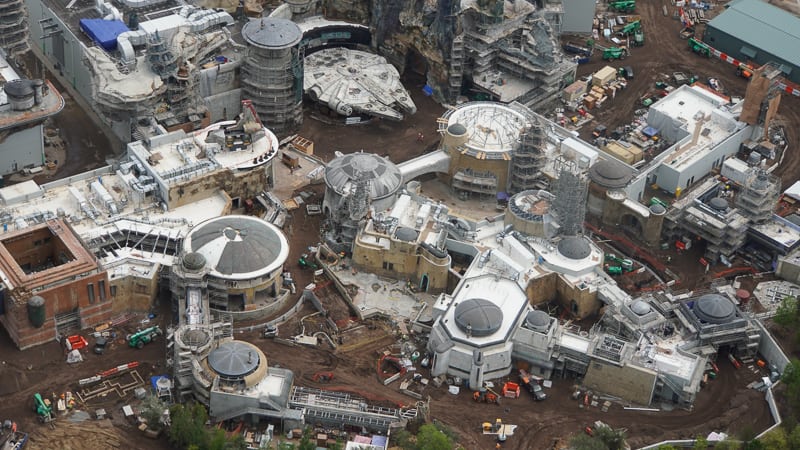 Every day I look at the outside of the Millennium Falcon: Smuggler's Run attraction it looks more and more real: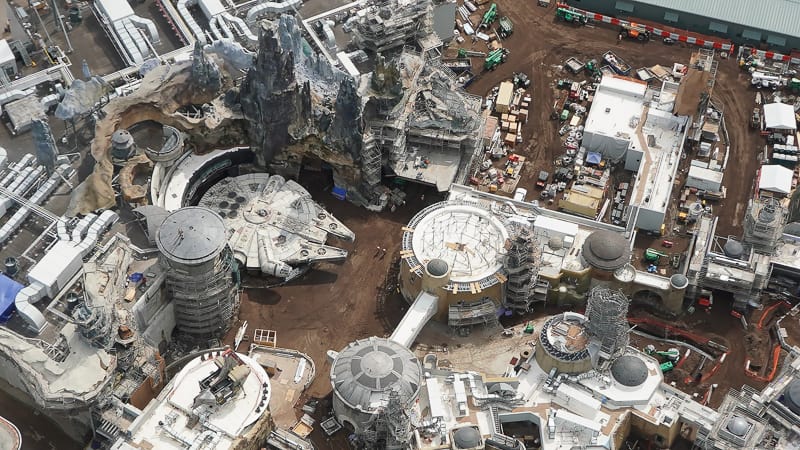 More paving is going on in the streets around the Millennium Falcon and you can see where it's been paved by the yellow arrow. Also on the top middle it looks like a paved area inside a courtyard is underway too: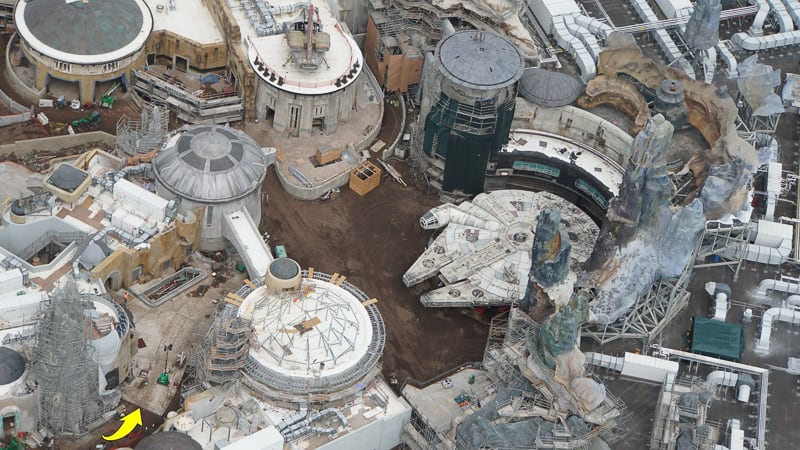 I absolutely LOVE this next feature, a big blast door next to the Falcon which leading deep into the mountain. My guess though is that it won't be the entrance to the attraction, that will be on the left side somewhere: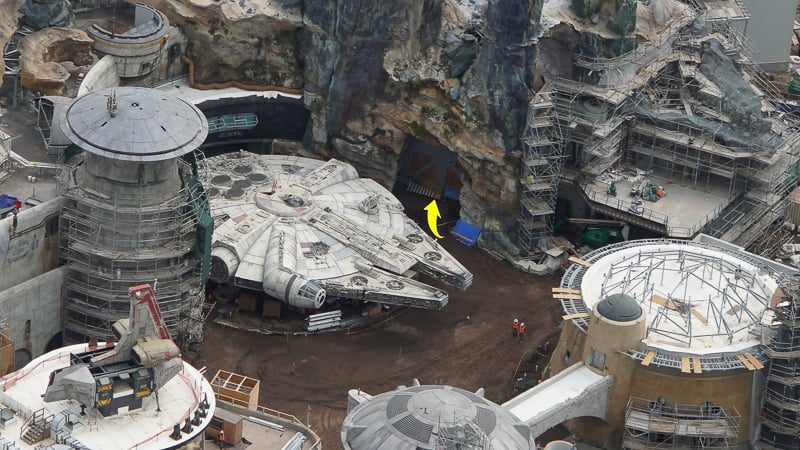 Looks like some theming work under the Millennium Falcon is going on: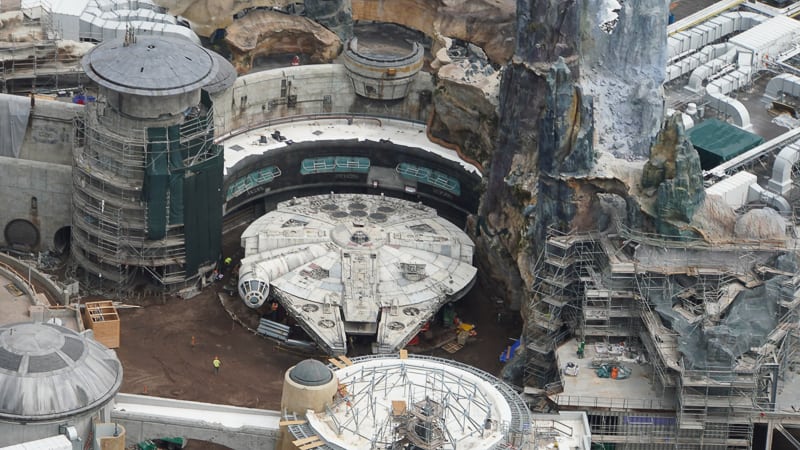 Lastly we're going to go over to my favorite part of Galaxy's Edge and that is where Star Wars: Rise of the Resistance is located: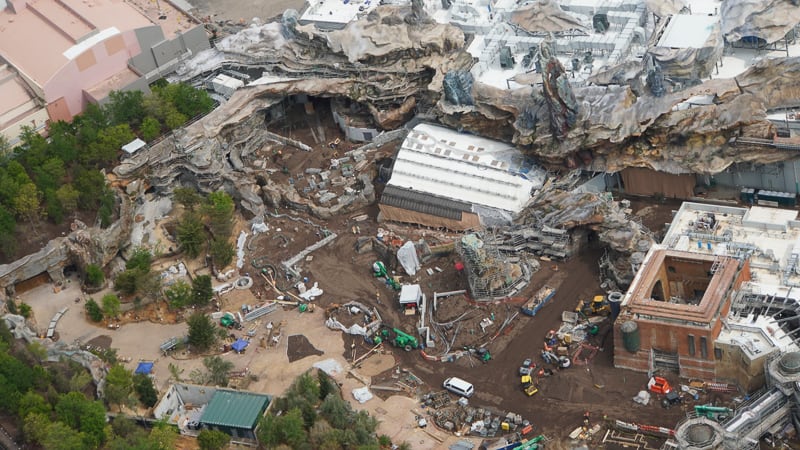 Disney is using some heavy forced perspective here with the rock work on the tops of the buildings, and the detail in them is really incredible: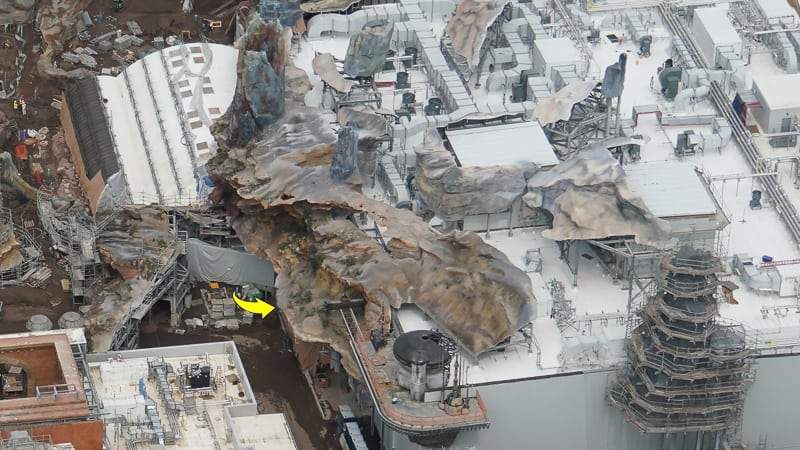 In the upper photo you can see where the rock ledge is over the building, then below you can see those same rocks but from outside Galaxy's Edge on the ground: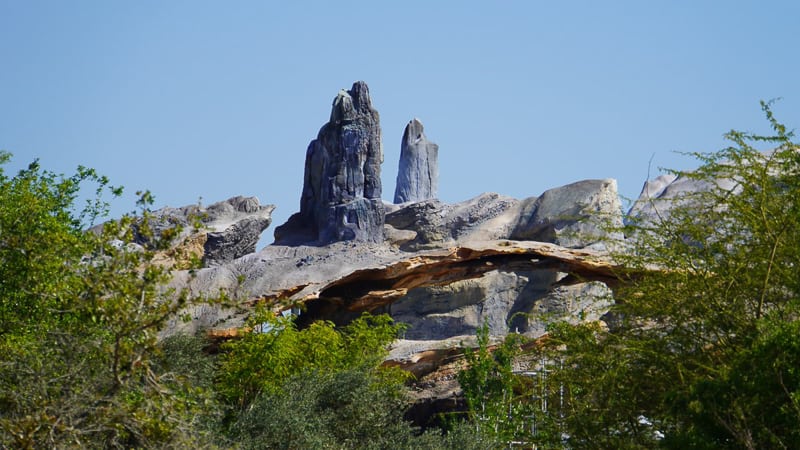 I've heard the queue for Rise of the Resistance is really going to be mind-blowing and crazy elaborate: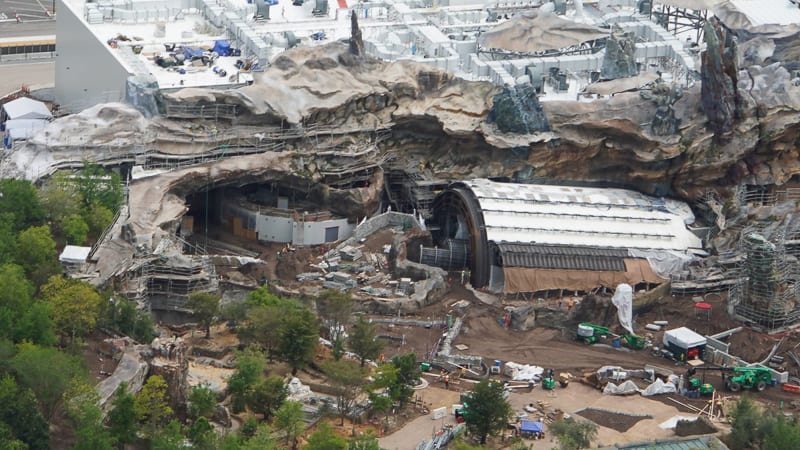 It's going to be inside that cave carved out of the mountain: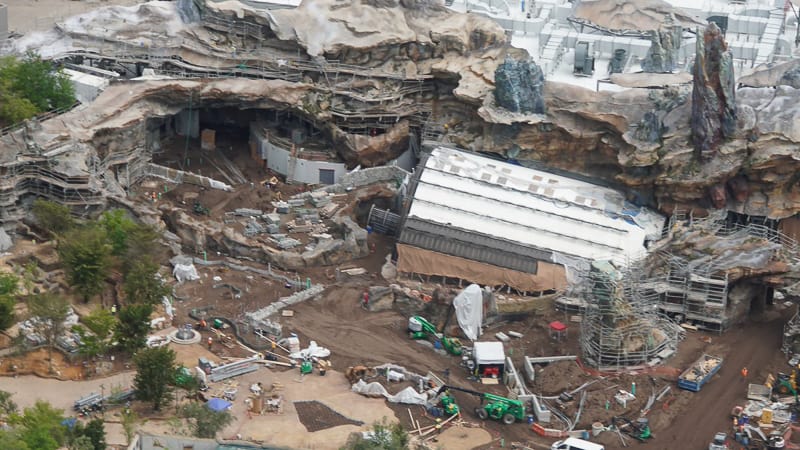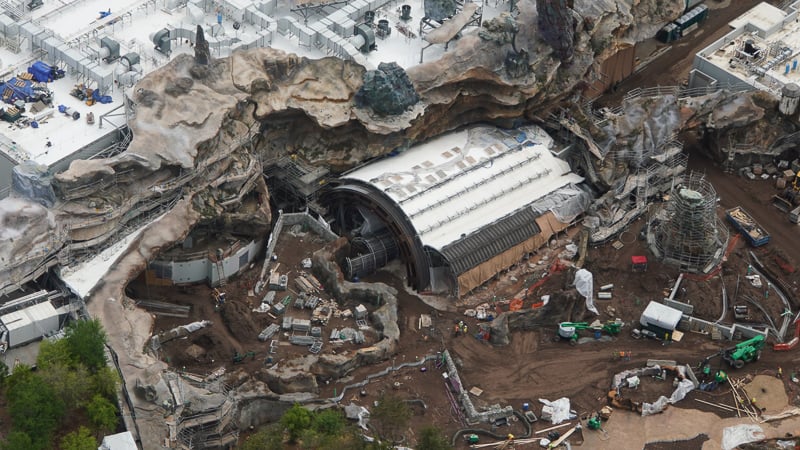 This whole area will be the first thing you see of Galaxy's Edge when it opens as the entrance to the land is located on the right side here: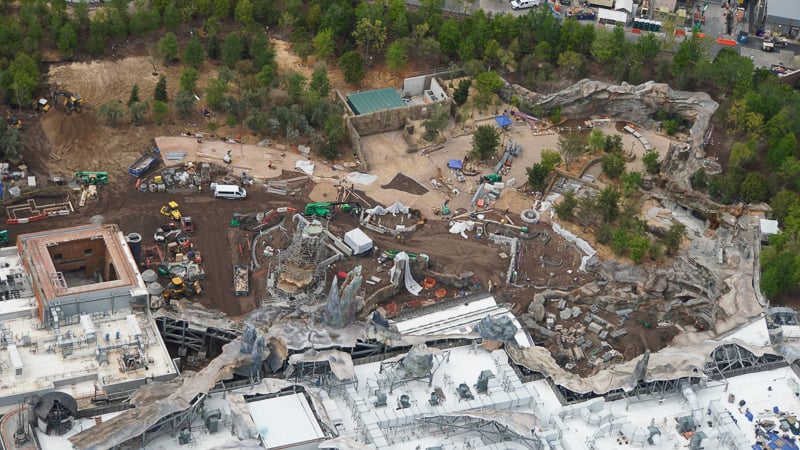 An area is also being prepped here for a Resistance spaceship to come and land!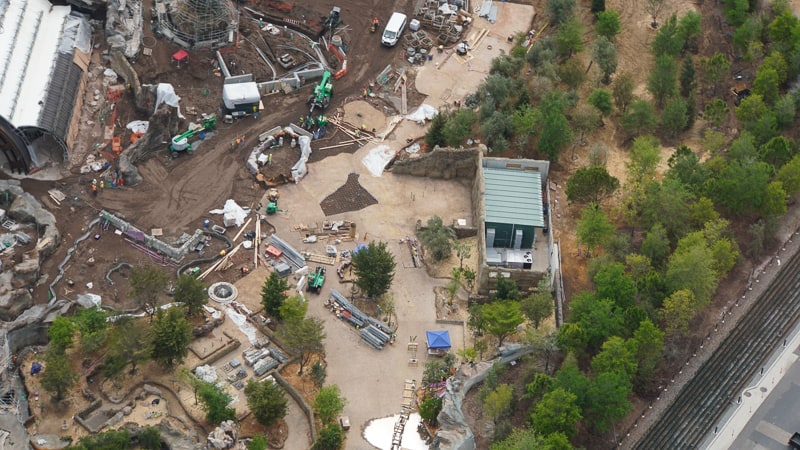 That's all for now but keep checking back for more updates on Star Wars Galaxy's Edge as I'm going to continue to update this post with more updates throughout the month!
Star Wars: Galaxy's Edge opens May 31, 2019 in Disneyland and August 29, 2019 in Disney's Hollywood Studios.
Be sure to read our Complete Guide to Star Wars: Galaxy's Edge so you know all the best planning tips and strategies before going!
Be sure to read our post explains about all the Disney World Construction projects currently going on around property!
Other Disney World Construction Updates:
Your Thoughts:
I want to know what you think about the Star Wars Galaxy's Edge Construction Update for April 2019…
When are you going to Galaxy's Edge?
What are you looking forward to most?
Let us know in the comments section below!
If you enjoyed this article, as always I appreciate it if you'd share it with others via social media. I work hard at making this website into a useful resource for you and your family to plan your visit to the Disney Parks and I hope it can help you! Thanks 🙂
Photo Credit: @Bioreconstruct