The highlight of any trip to Disney's Magic Kingdom is finishing the night watching the fireworks show in front of Cinderella Castle. Thankfully, to the delight of millions of fans, Disney brought back the popular Happily Ever After fireworks show to Disney's Magic Kingdom!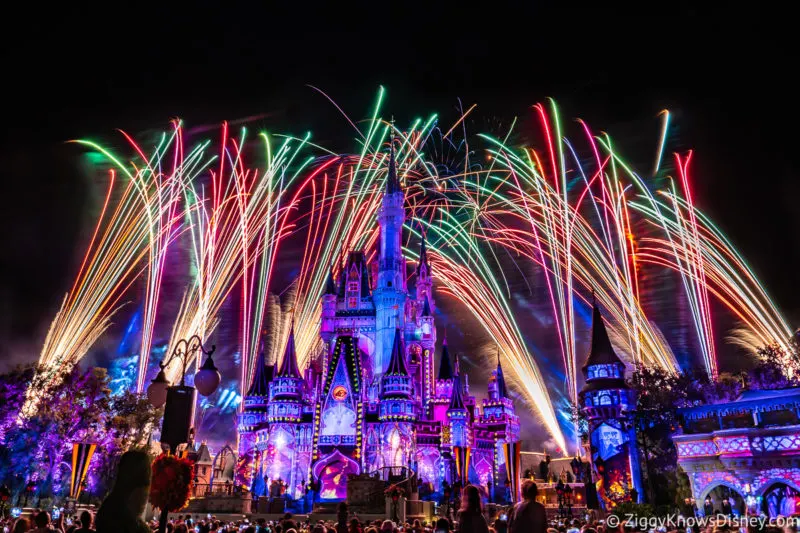 In fact, fireworks are one of the things that makes a trip to the Walt Disney World parks so special, and it's a rite of passage to gather in front of Cinderella Castle with your friends and family at the end of a long day of riding attractions and touring the park.
In this post, we are going to explain to you everything about Happily Ever After and its return to Walt Disney World.
We're going to explain the fireworks times, the music from the show, the original song 'Happily Ever After', all the Disney characters and films represented, and the technology behind the show.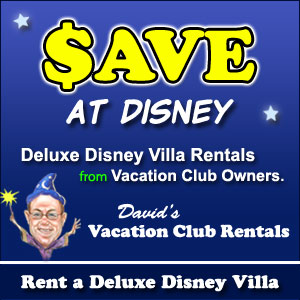 There are also some minor changes to Happily Ever After in this latest version of the show and we'll explain to you the differences between this one and the original, and what improvements to expect. In my opinion, it's even better this time around!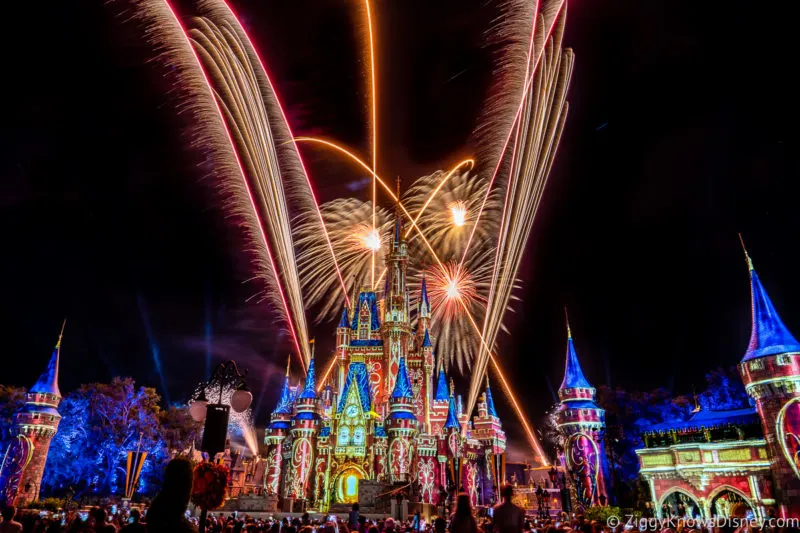 We'll also share the best places to watch Happily Ever After, photos from the show, explain how the dessert parties work, if it's worth it to stay for this new show, and answer any other FAQs you might have.
I think the vast majority of fans were thrilled to see the Happily Ever After return to the Magic Kingdom in early 2023, and we'll talk about how it compares to Disney Enchantment and also its beloved predecessor "Wishes" in our full review.
If you are instead heading over to the other parks, you may want to check out the current show EPCOT Forever, which is just a temporary show until the newest EPCOT show Luminous: The Symphony of US which will debut on December 5th, 2023.
Before we get started, don't forget to sign up for our FREE Weekly E-Mail Newsletter. We will update you with any changes to the nighttime spectaculars at Disney World, and share the latest vacation planning tips. You can sign up here: Join our E-Mail Newsletter!
Happily Ever After Returns to Magic Kingdom Replacing Disney Enchantment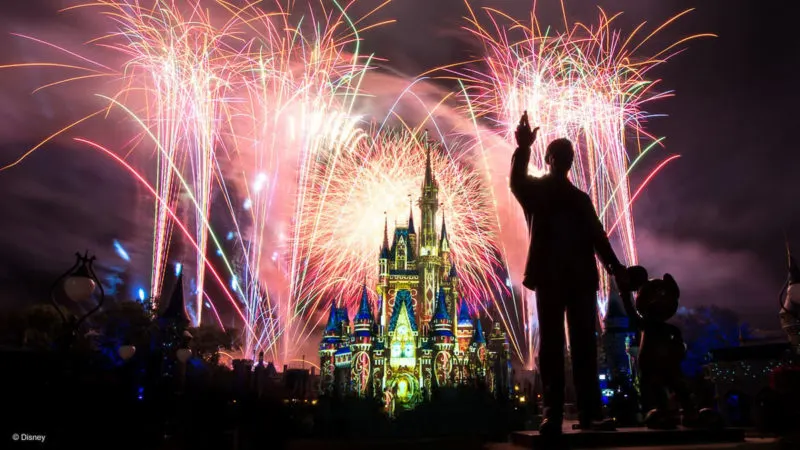 After months of waiting, Happily Ever After made its anticipated return to Disney's Magic Kingdom on April 3, 2023, as the feature nighttime spectacular.
Who says that Disney doesn't listen to its fans? Ever since Disney Enchantment debuted for Disney World's 50th Anniversary celebration and replaced Happily Ever After, fans of the prior show have been very vocal about their displeasure with Enchantment and the desire to see Happily Ever After return.
Us and mostly everyone else was thrilled to see Happily Ever After come back to Disney's Magic Kingdom, after all, is a small victory for Disney fans and proof that every once and a while their voice is heard.
The decision to get rid of Disney Enchantment and bring back Happily Ever was announced at the D23 Expo, and originally, it was a surprise as Disney Enchantment was thought to be the long-term show for the coming years.
Instead, there were so many fans that thought Disney Enchantment was a disappointment (they were right), and after making enough noise, Disney acknowledged that it was in everyone's interests to bring back the beloved Happily Ever After.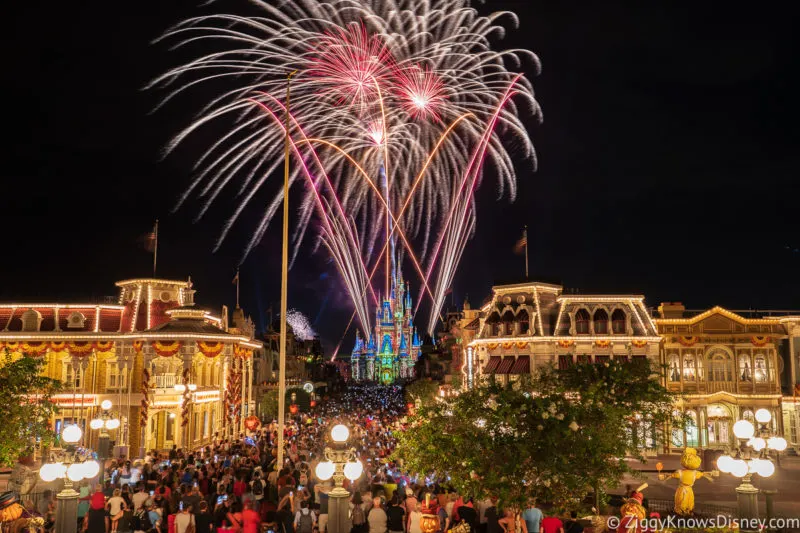 The triumphant return of Happily Ever After took place on April 3, 2023. The final show for Disney Enchantment was on April 2, 2023.
This confirms what we thought when Disney first told us the fan-favorite show was coming back and that it would return shortly after the 50th Anniversary ended on March 31, 2023. Our best guess was that Happily Ever After would return to the Magic Kingdom as soon as April 1, 2023, and we were only 3 days off on our estimation.
Honestly, after everything fans of the Disney parks have put up with over since the closing of the parks in 2020, it's just great to have Happily Ever After back and it's not until something is taken from you that you really appreciate it.
But we can't lie, we are thrilled to have Happily Ever After back. After seeing it since multiple times again, we certainly are not complaining as Happily Ever After is the far superior show.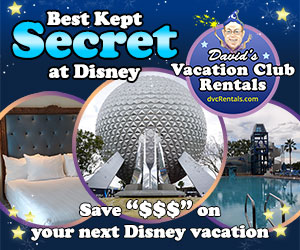 Happily Ever After Overview
Location: Magic Kingdom Park
Opening Date: Reopened as of April 3, 2023
Original Opening Date: May 12, 2017
First Closing Date: September 29, 2021 (it has since reopened)
Attraction Type: Nighttime Spectacular with Fireworks & Projections
Show Duration: 18 minutes 21 seconds
Replaced: Wishes (the first time), Disney Enchantment (the second time)
Designer: Walt Disney Creative Entertainment
What is Happily Ever After?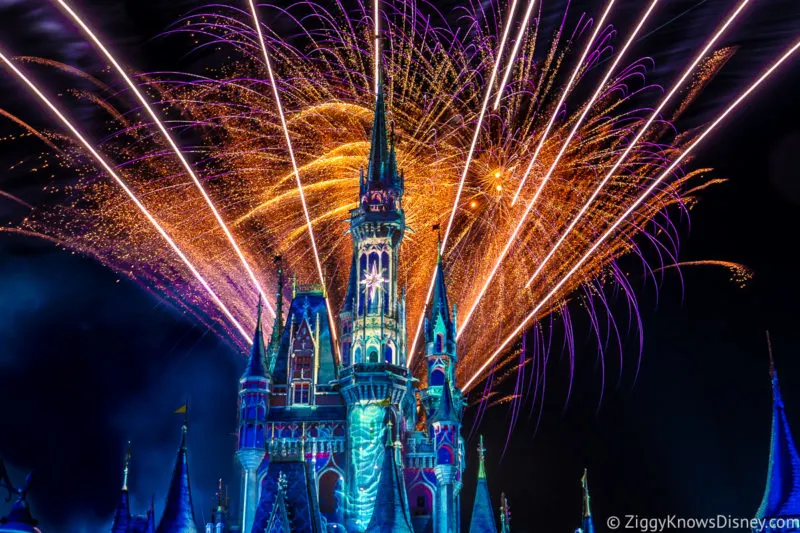 Happily Ever After is a fireworks and projection mapping show which originally debuted at Disney's Magic Kingdom on May 12, 2017. The show uses music and characters from a wide variety of Disney and Pixar films to tell its story along with fireworks, pyrotechnics, lasers, and projection mapping.
When it first debuted, it was the successor to the popular nighttime show "Wishes," and added even more projection effects across Cinderella Castle. It closed on September 29, 2021, to make way for Disney World's 50th Anniversary show "Disney Enchantment," but then reopened again on April 3, 2023, and it remains the current fireworks show at the Magic Kingdom.
The timing of this show coming back is key because it welcomes guests for the Disney 100 Years of Wonder celebration and beyond.
The current version has also added projections down Main Street U.S.A. similar to what you can see in the Disneyland Forever show or Disney Enchantment.
Besides Disney classics, the music also includes an original song from Adam Watts, Melissa Peirce, and Andrew Dodd entitled: "Happily Ever After."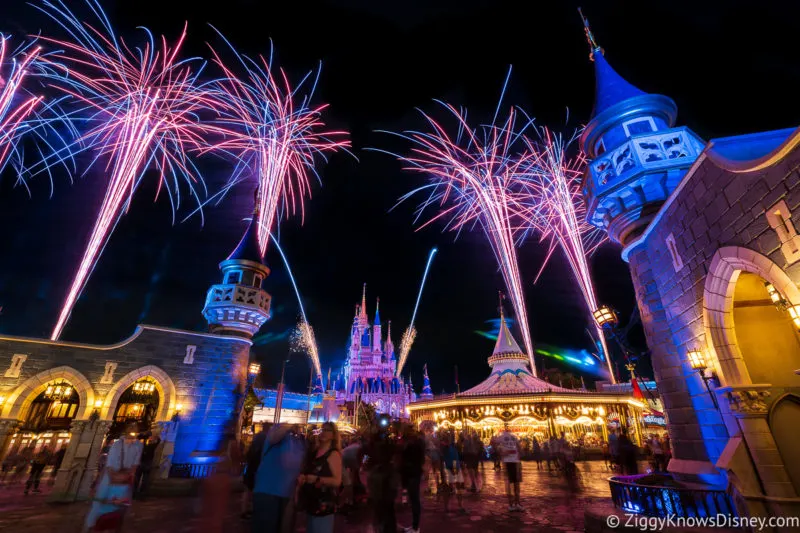 The opening of the show reads:
"…And they all lived happily ever after.
Each of us has a dream, a heart's desire. It calls to us. And when we're brave enough to listen, and bold enough to pursue, that dream will lead us on a journey to discover who we're meant to be.
All we have to do is look inside our hearts and unlock the magic within…"
The story is broken up into 9 parts and brings viewers on a journey filled with adventure, dreams, love, adversity, and triumph. As with any good fireworks show, it uses the music, characters, and a little bit of Disney magic to give you the confidence that everyone can find their own "happily ever after."
How Long is the Show?
From start to finish, the Happily Ever After nighttime spectacular has a show length of 18 minutes and 21 seconds. That is approximately 2 minutes longer than its temporary predecessor Disney Enchantment.
Is Happily Ever After Back at Magic Kingdom?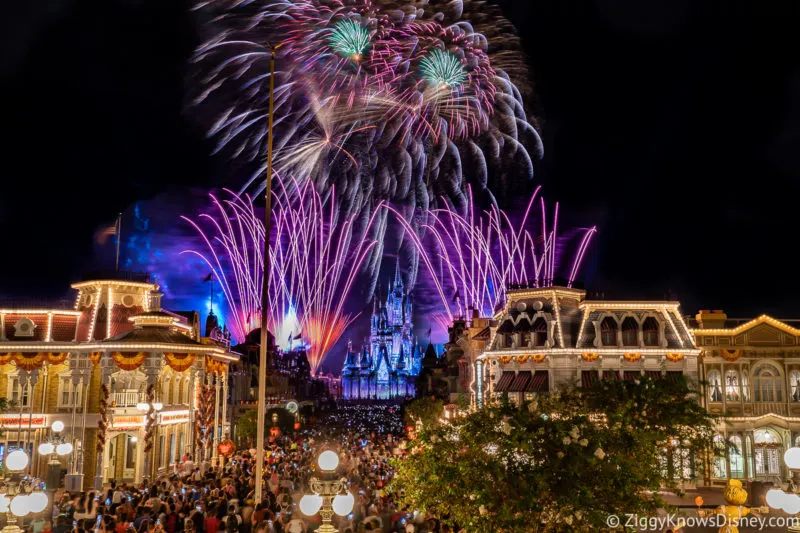 Happily Ever After returned on April 4, 2023, and is running at Disney's Magic Kingdom nightly.
The show made its original debut on May 12, 2017, and it was the successor to the popular nighttime spectacular "Wishes."
After a short run of just over 4 years, "Happily Ever After" closed on September 29, 2021, to make way for Disney World's 50th Anniversary show "Disney Enchantment." However, this was a move hated by most fans and Disney got the message and decided to bring Happily Ever After back to the Magic Kingdom!
Happily Ever After Hours
Fireworks shows at Disney's Magic Kingdom run nightly but the times can vary based on the park's operating hours or special events happening on a given day.
Here are the current hours for Happily Ever After:
Under normal circumstances, Happily Ever After runs at 8:00 pm nightly
*Keep in mind that from August to December on nights when Mickey's Not-So-Scary Halloween Party and Mickey's Very Merry Christmas Party are running, Happily Ever After will not be performed. Instead there is a separate nighttime fireworks show on those nights which is performed at a different time than when Happily Ever After usually runs.
Check the My Disney Experience app or the Walt Disney World website for the most updated times during your vacation.
What Has Changed?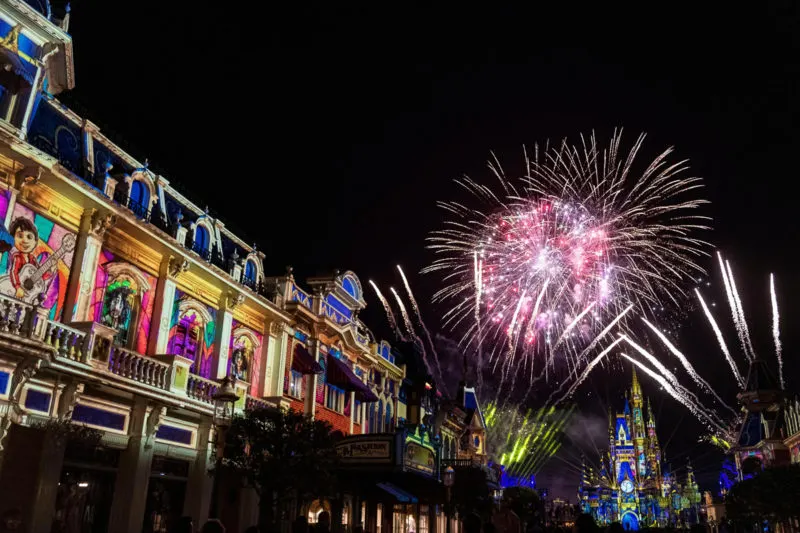 Even though Happily Ever After has now returned, there are a few changes that have been made to the current version compared to the original. Thankfully, all the things we loved about the original are still here and the changes are all enhancements that make this version even better!
Projections – The projection mapping on Cinderella Castle was one of the features we loved most about the original show, and that is still in place. The current version of Happily Ever After includes all-new projections down Main Street U.S.A. using the projection mapping system that was installed for Disney Enchantment.
These projections are synced with what is being done on the castle at that moment and keep to the same theme of whatever Disney IP is being featured. It is an upgrade and adds an additional level of fun to an already awesome show.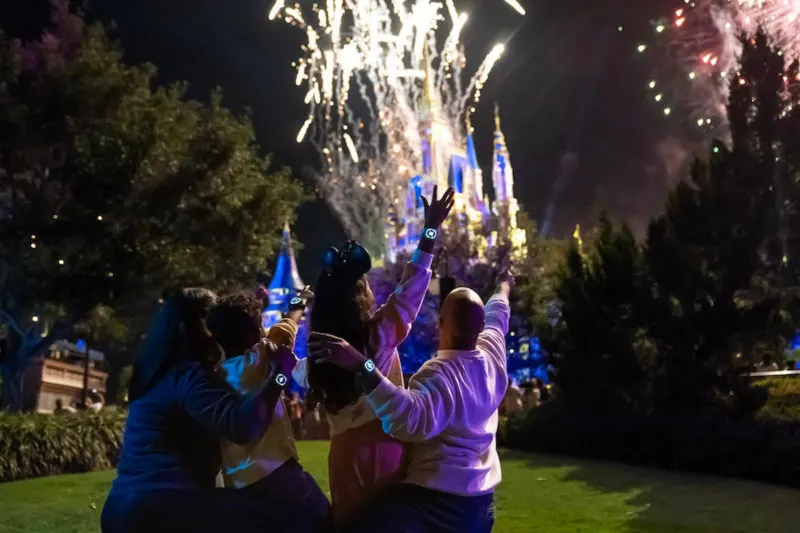 MagicBand+ – Disney's newest version of MagicBands now interact with Happily Ever After, just like they did for Disney Enchantment. Look for your band to light up and vibrate along with the fireworks and music during the show.
Full Pyro Load – During its first run, Disney cut back on the amount of fireworks and pyrotechnics used in Happily Ever After compared to when it debuted in 2017. Thankfully, it is back to normal again and the 2023 version is using the full fireworks load instead of the reduced version.
Music – Don't worry, this hasn't changed one bit and it's still the same score with all your favorite songs from the original version of the show.
Ready to Start Planning Your Disney Vacation?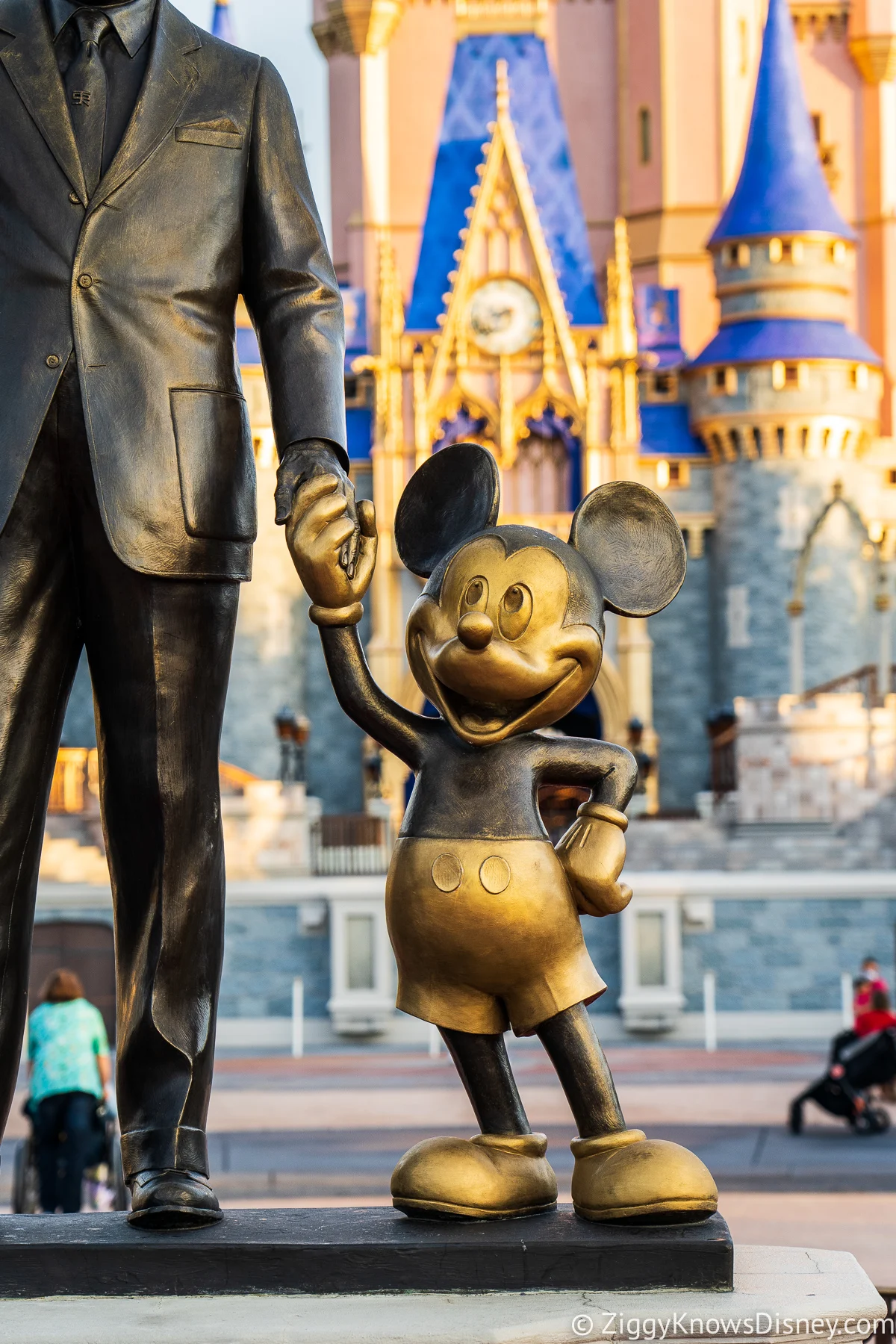 Show Scenes & Music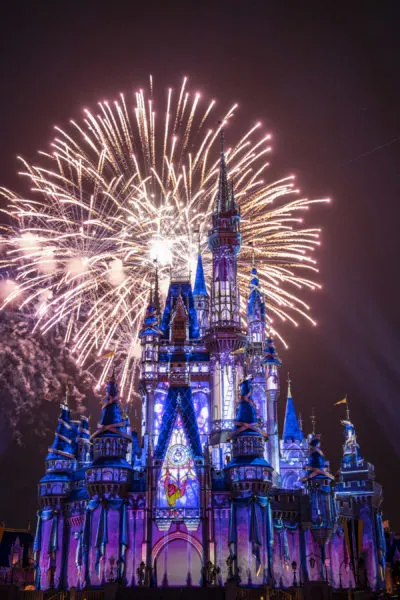 There are a total of 25 of your favorite Disney songs in Happily Ever After, including the original song "Happily Ever After," which is performed by Jordan Fisher and Angie Keilhauer. The music is the highlight of the show and a reason why it's right up there among the best Disney nighttime shows of all time.
Here is the list in order of all the scenes and music in the show:
Intro

"Happily Ever After" (Show Theme)

Wish

"Down in New Orleans" (Prologue) (The Princess and the Frog)
"When You Wish Upon a Star" (Pinocchio)
"Part of Your World" (The Little Mermaid)
"Out There" (The Hunchback of Notre Dame)

Adventure

"Touch the Sky" (Brave)
"How Far I'll Go (Moana)

Friendship

"Friend Like Me" (Aladdin)
"Trashin' the Camp" (Tarzan)
"Hakuna Matata" (The Lion King)
"You've Got a Friend in Me" (Toy Story)
"The Bare Necessities" (The Jungle Book)
"That's What Friends are For" (The Jungle Book)

Love

"Love is an Open Door" (Frozen)
"Can You Feel the Love Tonight" (The Lion King)
"You'll Be in My Heart" (Tarzan)
"I See the Light" (Tangled) / "A Whole New World" (Aladdin)

Adversity

"Mulan" (Mulan)
"Wolves" (Frozen)
"Stampede" (The Lion King)

Heroes Fight Back

"He's a Pirate" (Pirates of the Caribbean)

Peace Restored

"Go the Distance" (Hercules)

Finale

"Reprise of Happily Ever After"

"You Can Fly" (Peter Pan)
Films Represented in the Show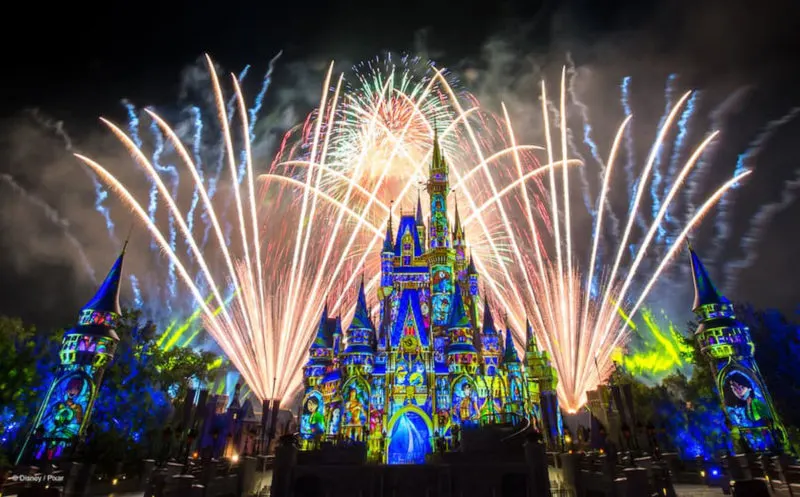 Even though they couldn't fit songs from every film into Happily Ever After, there are a total of 39 films represented by the character projections or music during the show.
Here is a list of all the films that have representation during Happily Ever After:
A Bug's Life
Aladdin
Alice and Wonderland
Beauty and the Beast
Big Hero 6
Brave
Cars 3
Cinderella
Coco
Dumbo
Encanto
Finding Dory
Finding Nemo
Frozen
Hercules
Inside Out
Moana
Monsters Inc.
Mulan
Peter Pan
Pinocchio
Pirates of the Caribbean
Ratatouille
Sleeping Beauty
Snow White and the Seven Dwarfs
Tangled
Tarzan
The Hunchback of Notre Dame
The Incredibles
The Jungle Book
The Lion King
The Little Mermaid
The Princess and the Frog
Toy Story
Turning Red
Up
WALL-E
Wreck-It Ralph
Zootopia
Review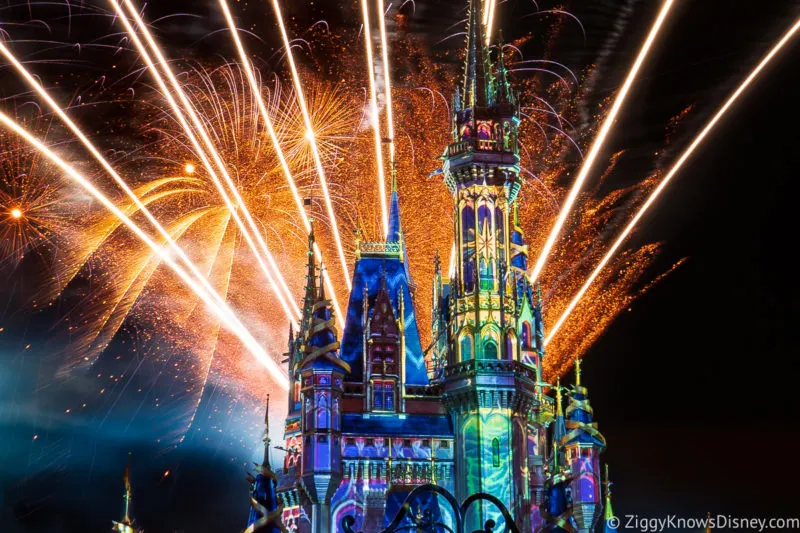 So far we've built up a ton of hype around Happily Ever After, so how is the actual show?
Having seen the original show a million times, we had big expectations and were hoping that it would be at least as good as the original. As we wrote in our original Happily Ever After review, it was the best fireworks show Disney has ever created, but we were wondering if it was all just nostalgia and being overhyped in our minds.
After about 1 minute into the show, any worries we had were gone and we realized it was even better than we remembered.
To make sure we aren't being prisoners of the moment, we waited for a couple of weeks after we saw the updated Happily Ever After before writing our full review. We've now seen it dozens more times in person or online, however, nothing has changed for us.
We loved Happily Ever After right from Day 1, and even after all these years, its message and delivery are just as strong as when it first debuted, and it's a far superior show to Disney Enchantment.
Let's look at the various aspects of the show…
Special Effects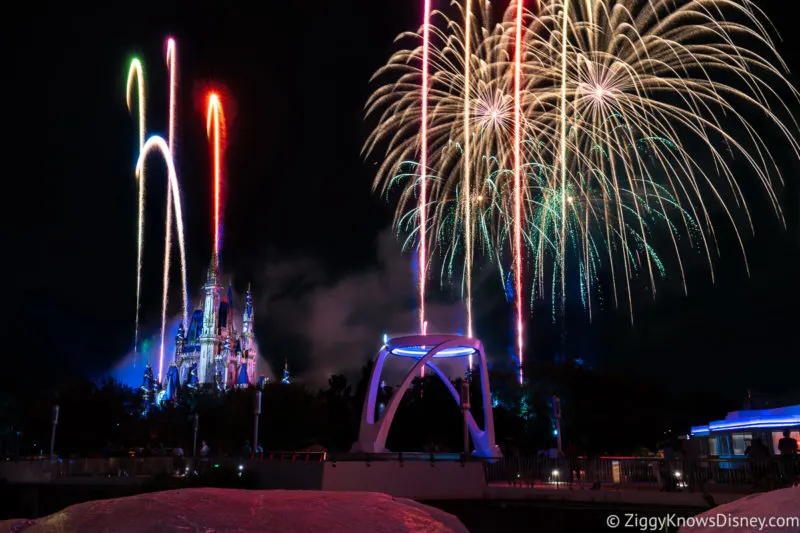 As you would come to expect, the special effects in Happily Ever After are incredible! This is nothing new as all Disney shows feature the latest and greatest pyrotechnic technology, but this show takes it to another level.
First of all, this show has everything. Fireworks, lasers, projections, spotlights, explosions. You name it, it's here.
In fact, for the previous show, Disney upgraded the projection technology and fireworks infrastructure, and Happily Ever After takes advantage of all of it, even improving on some aspects.
The most obvious update is the projections on Main Street U.S.A. This was originally copied from the Disneyland shows and it really adds to the entertainment value if you are watching from there. I wouldn't go onto Main Street on purpose over watching it from The Hub, but if you end up missing out on a spot up close, it's nice to have something else to look at.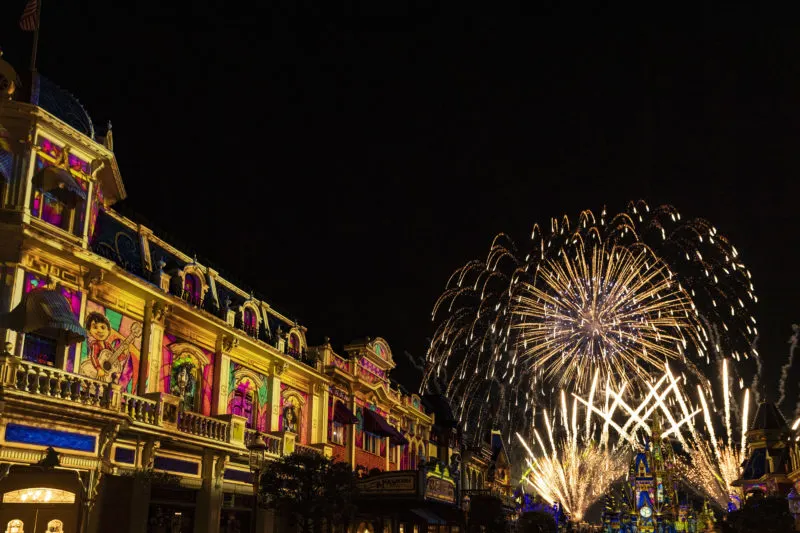 The castle projections are stupendous, and while they are not 100% necessary to enjoy the show, they also give big value. Some of our favorite effects are the spaceship taking off from the castle spire, the big mouth in the middle singing, the Tangled lanterns taking off to the sky, and of course when the castle actually blows up and then is rebuilt.
Every time we watch Happily Ever After, we always notice some different animation on the castle that we had never noticed before, adding to the show's great rewatch value.
In total, there are 17 high-powered projectors used, with a total power of 50,000 lumens!
The fireworks are equally as impressive, much more so now that they have finally brought back the full load for each show. For a while, Disney had reduced the number of fireworks Happily Ever After used sometime after its original debut in 2017. However, now it's back to using a full fireworks load, and you can see the difference.
As an example, in the finale, there are more than 700 pyrotechnic effects launched from 21 different Magic Kingdom locations, creating an explosive ending to the show. To tell you how complicated it is to run everything, Happily Ever After requires more than 100 technicians to operate the show!
Music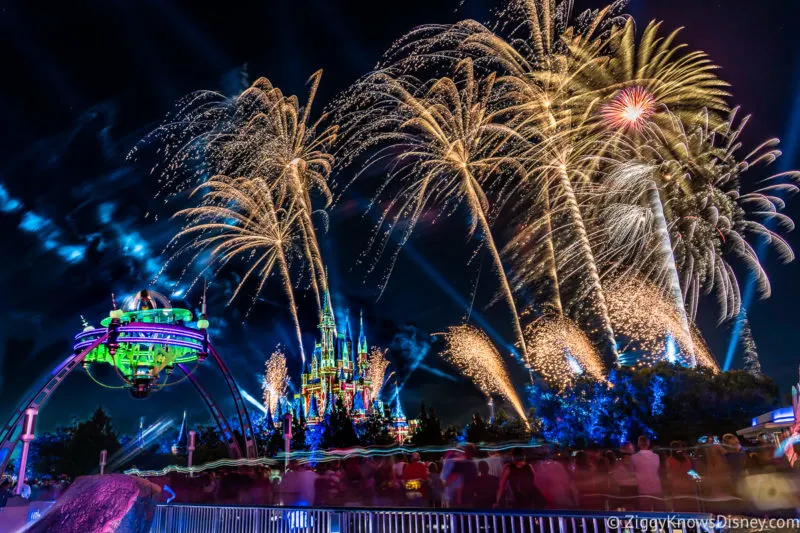 As much as the fireworks, pyrotechnics, projections, and other special effects are vital to Happily Ever After's success, the biggest reason that this show stands above the rest (in particular its short-lived more recent predecessor), is the incredible music that was chosen for it.
The original song "Happily Ever After" is one of the best songs Disney has ever created for any show and it's what makes it truly special. That 75-piece orchestra and 90-voice choir really make it shine. It's uplifting and its message resonates with just about everyone. It's also easy to remember and extremely singable.
In fact, I was already singing it after the first time I ever heard it and it's almost impossible to not walk out of the park with it still stuck in your head.
The songs that are worked into the show from the Disney films are just as well-chosen and they all flow seamlessly from one to the other. We love the arrangements for all of them, the music is beautiful and moving.
The whole show is one hit to the next with highlights such as: "Out There", "You've Got a Friend in Me", "I See the Light", and "He's a Pirate", all leading up to the finale of "Go the Distance" into the "Reprise of Happily Ever After."
The whole selection of music is quite perfect if you ask me, and you will be hard-pressed to leave without a tear or two in your eyes.
Flow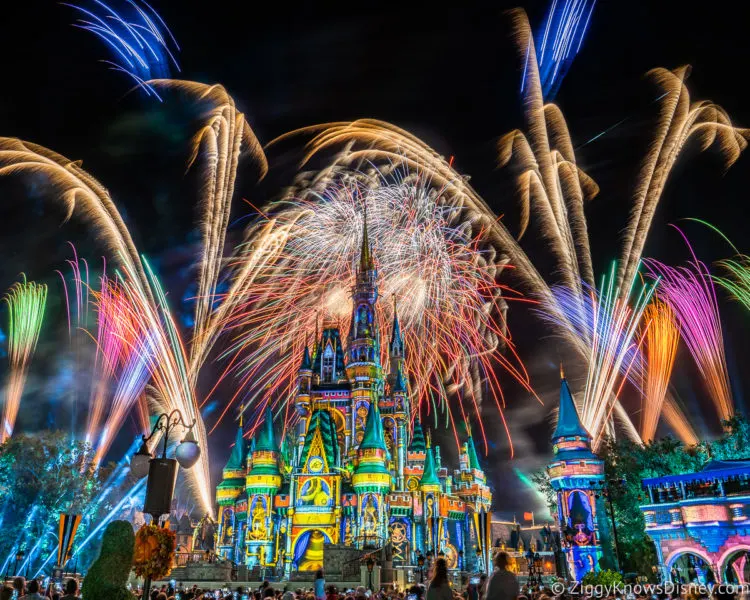 It's so hard to tell a cohesive story in a nighttime spectacular while trying to fit in almost 40 different Disney IPs and doing it all in less than 20 minutes. In most cases, it is a recipe for disaster. However, not with Happily Ever After.
Somehow Disney is able to tell a story full of all the different emotions one might feel along the way. Love, joy, tragedy, despair, fear, and ultimately triumph over the negative emotions to rise up and win.
Disney handles this flawlessly. Each scene feels like it has a purpose and it fits right into that segment of the show. Never once do any of the scenes feel out of place or that they were just stuffed in there to promote a certain brand or character.
Again, the music has a big part in making this happen, and everything just flows together perfectly, and at the end of the day, everyone watching the show knows exactly the message that was trying to be delivered in each and every moment of the show.
Just the Right Amount of IP
We know Disney is going to work in their many characters and IP into the Magic Kingdom fireworks show, but the way it's done in Happily Ever After just feels right. It doesn't feel forced, and it's full of IP from every era of Disney's catalog, including classics and not only films from the last decade.
It feels completely natural here and the opposite of both Disney Harmonious and Disney Enchantment.
We know Disney has to sell those Disney+ subscriptions and all, so when they are able to promote their content, yet do it in a way that's tasteful and isn't shoved down our throats, we appreciate that.
The only complaint, and it's a very small one, is that there is no Mickey Mouse in the show. It would have been nice to have Disney's most iconic represented at least a little in the beginning or end to put the cherry on top.
Conclusion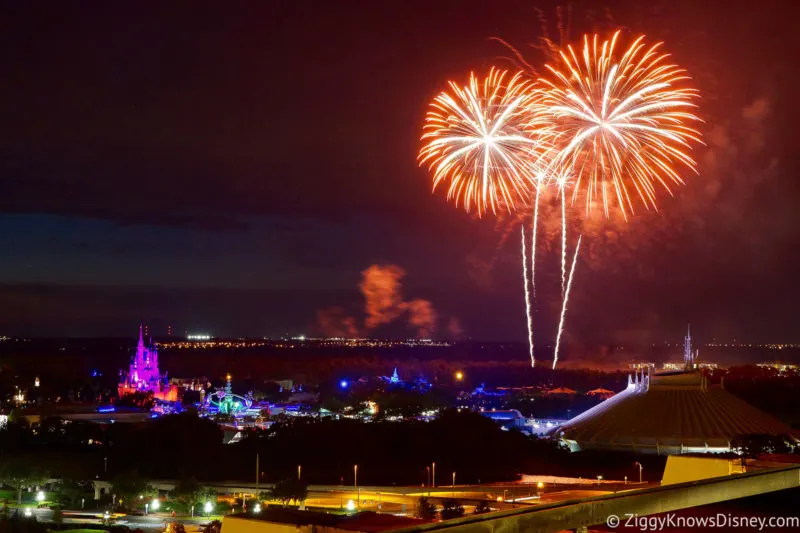 In the end, there isn't much left to say except we love this show and consider it an all-time great, maybe the best of all time!
There is something about Happily Ever After that grabs me every time I watch it and it leaves me breathless.
Happily Ever After is exactly what you have come to expect from Magic Kingdom nighttime spectaculars, and it certainly has that "It" factor that makes it unforgettable. It gets our emotions stirred up and plays on every heartstring, which is what gives it soul and keeps us coming back even when we've seen it 100 times.
What we are most excited about is that Disney finally listened to its fans and gave them what they really want to see, instead of holding onto subpar shows that were unpopular and disappointing.
I look forward to many more years of Happily Ever After on my future visits to Disney's Magic Kingdom, and there is absolutely nothing I would change about the show. It's perfect!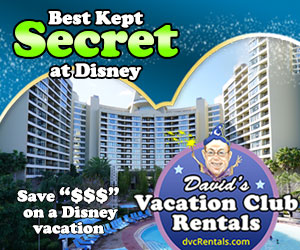 Happily Ever After vs. Disney Enchantment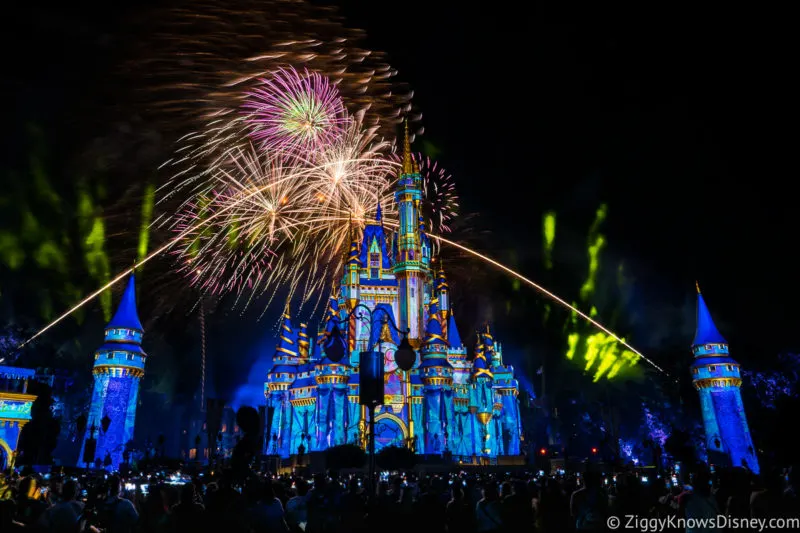 Naturally, this is going to be the #1 comparison since they are the 2 most recent nighttime spectaculars at Disney's Magic Kingdom. Happily Ever After is the better show. It's a no-brainer for us and frankly, it's not even close.
First of all, Happily Ever After is a longer show and lasts roughly 18 minutes and 20 seconds. That's almost 3 minutes longer than its recent predecessor Disney Enchantment. That's not the end-all-be-all by any means, but that extra time gives the creators a chance to develop the flow better, and it lets guests get caught up in it more.
The music is infinitely better in Happily Ever After, and that's not even debatable. The original song "Happily Ever After" is miles ahead of "You Are the Magic" in every way possible. It's more emotional, and memorable, and the ending is much more powerful.
On the other hand, even after seeing Disney Enchantment dozens of times, I can't remember either the music or lyrics to "You Are the Magic." It's just plain forgettable.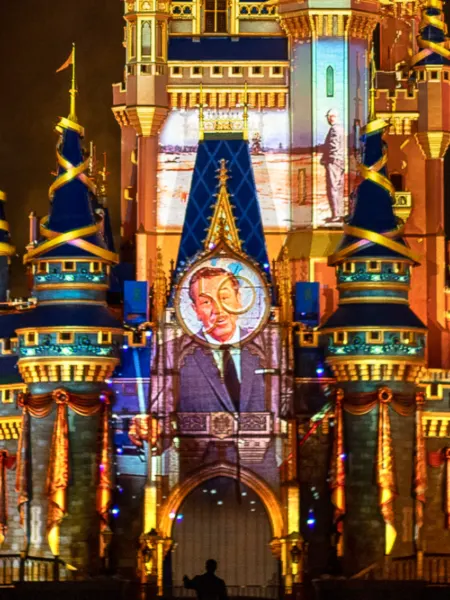 The rest of the soundtrack from HEA is also superior in every way. It uses only the best songs from each of the films it features, with the most incredibly perfect arrangements for each one. Each song was seemingly meant for that part of the show, and they all flowed seamlessly from one to the other.
On the other hand, Enchantment was a complete mess. It felt like Disney used fake versions of copyrighted music that they couldn't get the rights for. They were almost all terrible song choices and bad renditions of those songs.
None of the scenes flow together and there are multiple times when the show feels interrupted by awkward pauses.
Perhaps most important is the emotion behind Happily Ever After. We literally sing to each song at the top of our lungs while watching it, and we always have huge smiles on our faces. Its sheer emotion is incredible and you truly feel like you can conquer the world once it's over.
Happily Ever After vs. Wishes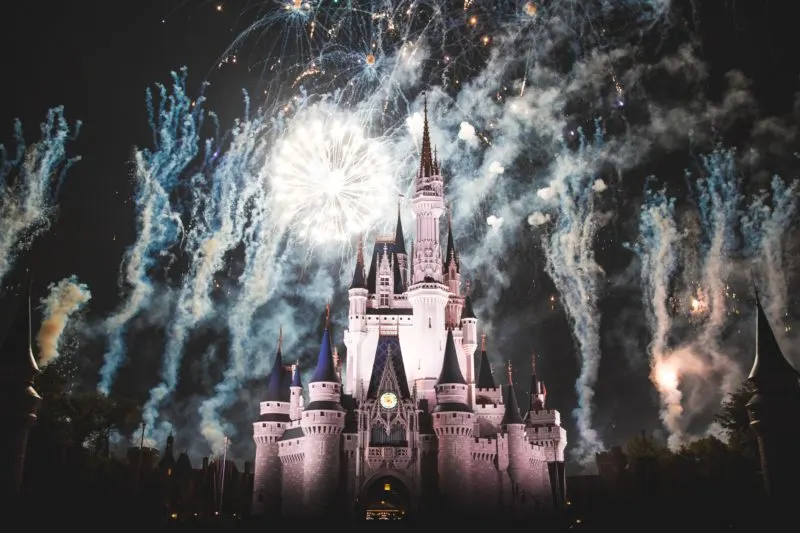 This was almost a taboo comparison when Happily Ever After first debuted because it was replacing Wishes which was extremely beloved by Disney fans over its 14-year run. In fact, most people were really upset when Happily Ever After took over and were afraid it would not live up to Wishes' high standards.
While I absolutely love Wishes, I have to say that Happily Ever After is vastly superior in every way, and frankly, it's not even close imo.
Just go back and watch Wishes on YouTube and then watch Happily Ever After right after and tell me there isn't a huge difference in the quality of the show. Yes, Wishes has nostalgia, incredible music, and the loveable Jiminy Cricket. "When You Wish Upon a Star" is an all-time classic for sure.
However, Happily Ever After is much better in every way. The music is better, the pyrotechnics are bigger, and it's just more entertaining and more fun to watch. Wishes doesn't even have any projections.
If you took a bunch of people off the street who have never seen either show and put them in front of the castle to watch both of them back-to-back, I have a hard time believing very many would choose Wishes.
It's still great, but it's dated, and it's not up to par with what Disney can do at this time in history. We love it and will always have fond memories of Wishes, but it was time for Walt Disney World to move on, and they made an incredible choice doing so with Happily Ever After.
How Long Will Happily Ever After Stay?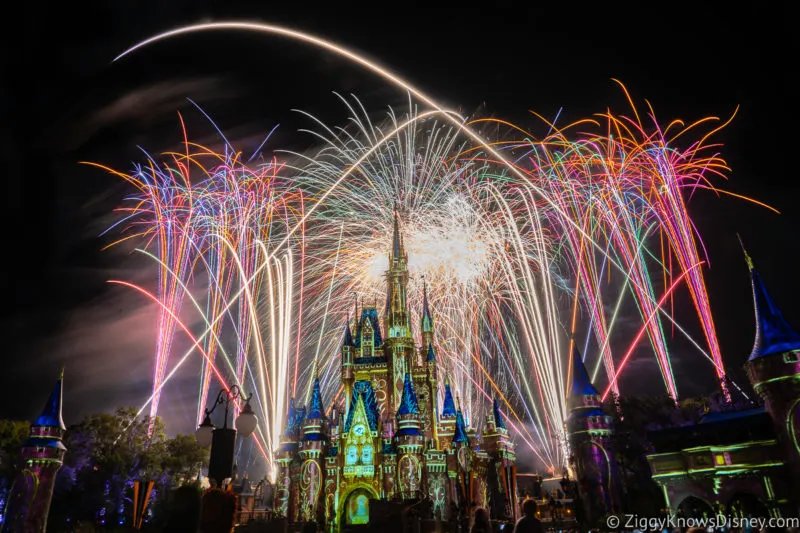 In 2021 and 2022 we were wondering if Happily Ever After would ever come back. Lo and behold, here we are, and the Magic Kingdom's best nighttime show is here to stay. But for how long?
Originally, this is not what was supposed to happen.
Before "The World's Most Magical Celebration" started in 2021, Disney made it known that Happily Ever After was being permanently replaced by Disney Enchantment and it wouldn't be coming back after September 29, 2021.
Since Disney Enchantment debuted with the 50th celebration, it made sense that Disney would at least leave it in place through the entire celebration, but most fans (like us) were hoping that it would just be a special limited-time show that would last throughout the entire 50th Anniversary, and then things would go back to normal after that.
In fact, about a year after its debut, things changed, and Happily Ever After fans rejoiced when Disney announced that 'Disney Enchantment' was now only going to be a temporary replacement and 'Happily Ever After' was indeed returning once the 50th Anniversary ended in 2023.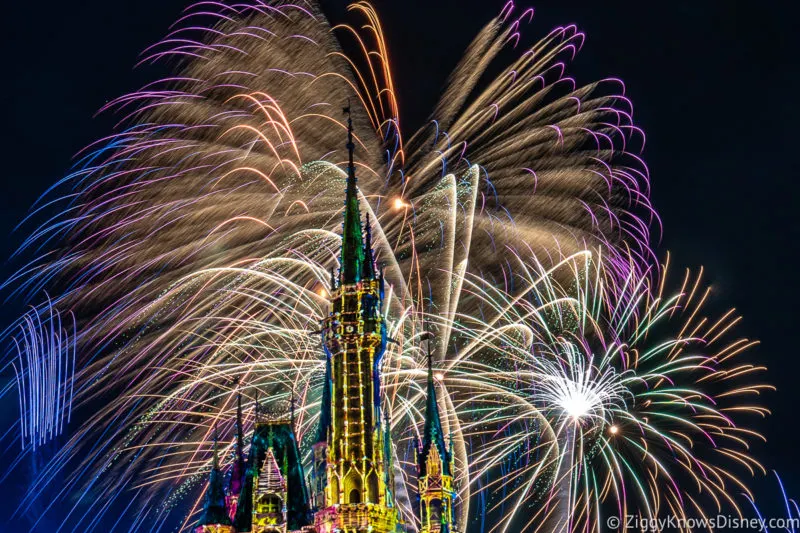 Now that it's back, we anticipate Happily Ever After remaining as the Magic Kingdom's feature fireworks show for the foreseeable future. It will stick around for at least a few more years.
When Happily Ever After made its original debut in 2017, it was only around for about 4 years until Disney decided to replace it, so it never even got the standard 10 years or so Disney often aims for when creating a new nighttime show.
With its tremendous popularity and the fact that Disney listened to the fans to bring it back, it should call the Magic Kingdom home for at least the next 5-10 years. Honestly, there is nothing on the horizon that would merit creating a new show until 2031 when the Magic Kingdom celebrates its 60th anniversary.
I would say we are probably safe until around that time as it doesn't really make sense to change it before that. Disney is always full of surprises, so you never know 100% what they will do, but right now there is no need to hurry, it will be around for a long time.
Happily Ever After vs. EPCOT Fireworks Shows
Right now, this is not really a fair comparison, since Luminous: The Symphony of Us hasn't officially started yet, and there is only a temporary show holding its place.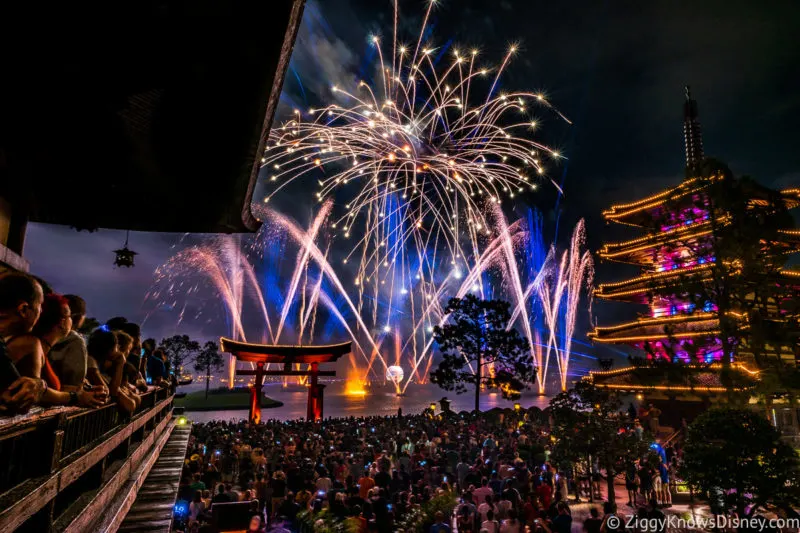 Right now the current fireworks show is EPCOT Forever, which is actually in its 3rd run as the park's nighttime spectacular. It uses fireworks, lasers, lights, and more special effects to bring guests on a trip down memory lane with a collection of songs celebrating the park's rich history.
We like EPCOT Forever, don't get me wrong. But it doesn't come close to Happily Ever After. It was never created to be the long-term show, so it never got the budget or attention that some of the other shows have gotten over the years.
Happily Ever After also blows away the previous show Disney Harmonious. We liked Harmonious better than Enchantment, even if they were very similar. Compared to HEA though, Harmonious feels very disjointed and doesn't have the same flow or emotion.

Thank goodness, the next EPCOT show, "Luminous – The Symphony of US" is not going to have those hideous barges out in the middle of World Showcase Lagoon
The only close comparison in EPCOT with Happily Ever After is Illuminations: Reflections of Earth, which is almost a 100% tie in our book. Both have incredible soundtracks, huge hearts and are at the top of the best shows of all time, even though HEA has the technological advantage since it debuted more than 15 years later.
Ultimately, this will be a fairer comparison when the new show debuts later in 2023, so we'll update this section when that happens.
Best Places to Watch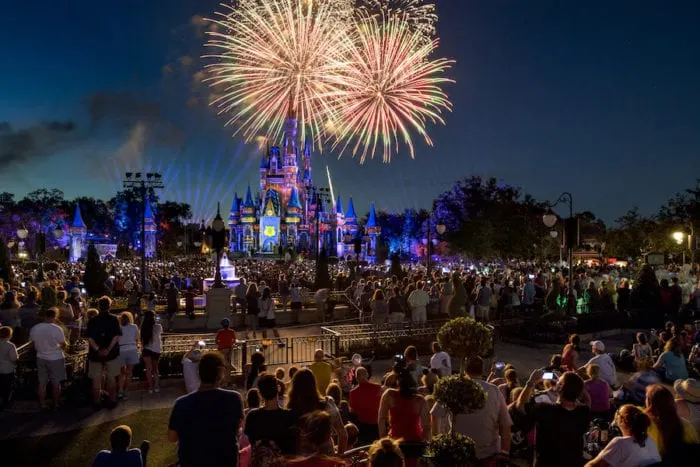 Where you stand when watching the Magic Kingdom fireworks can make or break the experience, especially since Happily Ever After incorporates a ton of projection mapping effects you are going to want to see.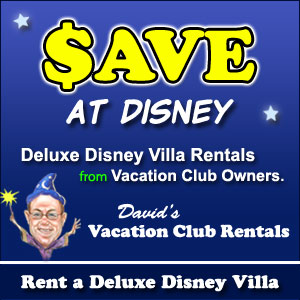 Over the years, we've watched the fireworks at the Magic Kingdom hundreds of times and we've watched them from almost every possible angle and viewpoint. It's clear that there is definitely a difference where you stand and you are going to want a good spot for the show.
Thankfully there are a bunch of them both inside the Magic Kingdom and outside, you just need to know where to look…
Here are the best places to watch Happily Ever After Enchantment:
Center of The Hub – This is the best place to watch the show by far. Being in the center of The Hub in the area around the Partners Statue is going to offer you the best view of the show. It's great for seeing both the fireworks and the projections on the castle. Plus if you can score a railing you won't have people standing in front of you.
The Plaza Gardens – There are two grass areas in between Main Street and The Hub that offer great views of the show. The only problem is they are not always available to the public and are often reserved for Dessert parties. That might make it enticing and worth the extra money to you, plus you won't be as crowded.
The Hub – This is the spot between Main Street U.S.A. and The Hub in the middle of the street that is slightly elevated above The Hub. If you can't get up front, this offers a nice straight-on view and is better for shorter guests.
In Front of the Castle – One would think being up front and center to Cinderella Castle would be the best seat in the house. It's not. It's the best place to see all the projections on the castle, but the angle blocks most of the fireworks in the back.
On Main Street – This area just got a whole lot more interesting since Happily Ever After added projection mappings to the buildings on Main Street. It's not as good as seeing the ones on the castle, but it makes you feel much more part of the show than you did before.
Tomorrowland Terrace Dessert Party – Even though this is the view you get from the most expensive dessert party at the Magic Kingdom, we aren't big fans. It's nice because you can see most of the fireworks and you can get a spot along the rails without people in front of you. However, the whole bottom half of the castle is blocked by the trees which means you miss most of the projections.
California Grill – This is our favorite place outside the Magic Kingdom. It's already one of our favorite restaurants at Disney World, and the fact that it has a private fireworks viewing terrace with the music from the show piped in makes it an even cooler experience.
On the Train Station Platform – This is a unique view all the way down at the end of Main Street. When it's open, you can go up on the train station platform along the railing which gives you an elevated view and no one in front of you. The negative is the flag pole is usually up so kind of annoying, and you can't see the projections very well.
On a Ride – This is a really fun and unique way to see the Magic Kingdom fireworks. The Tomorrowland Transit Authority PeopleMover and Big Thunder Mountain are our favorites. Just before the fireworks start, jump on, watch the sky light up, and experience them like you never have before.
Polynesian Village Resort Beach – If you are looking for a free place to watch, away from the crowds, head over to the Polynesian Resort and grab a spot down on the beach. If you watch from Trader Sam's you get the music piped in and a good view from the terrace.
BONUS: Behind the Castle in Fantasyland – It's always better to watch the fireworks from the front side of the castle since that's where the projections are focused. However, if you don't have time to get a spot in front of the castle, this is a good alternative. You can show up 5 minutes before the show and still get a spot. It's still fun and a nice alternative instead of getting swallowed up in The Hub or on Main Street.
Fireworks Viewing Parties
The best spot to watch the Magic Kingdom fireworks is in The Hub, right in the center of the action. However, sometimes you don't want to wait around, camping out for hours just to get a spot to watch the fireworks.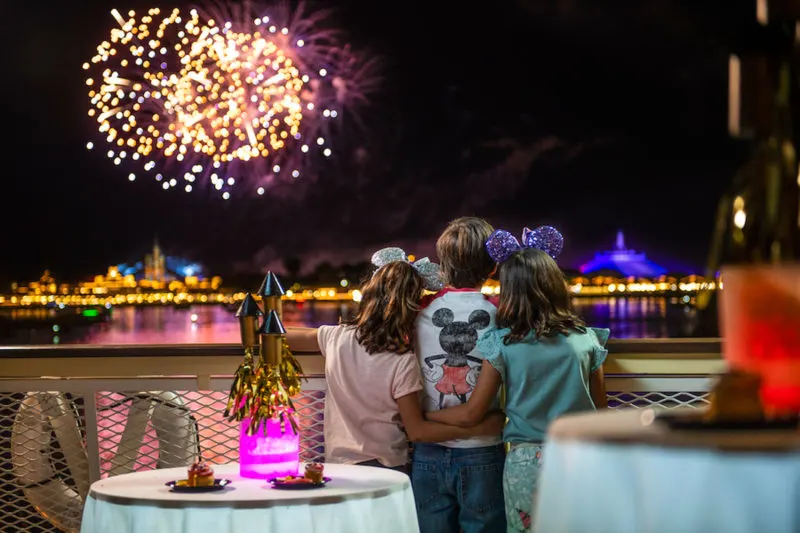 As an alternative, Disney offers various fireworks viewing parties where you can watch the newest show, Happily Ever After, as well as enjoy some great food or snacks at the same time.
These events are an extra cost but offer a mostly hassle-free option for guests looking for a special experience.
Dessert Parties Inside the Magic Kingdom
In the Magic Kingdom Park, there are 3 dessert parties for Happily Ever After that were created for the show's return.
Each one offers themed treats throughout the evening at Tomorrowland Terrace Restaurant including chocolate-dipped strawberries and butterscotch pudding, plus a variety of cheeses. Drinks are also available, including an assortment of beer and wine for guests ages 21 and over.
Happily Ever After Pre-Party – Reserved standing viewing location in one of the Plaza Gardens. This party is held before the fireworks where you can enjoy a selection of desserts, cheeses, and beverages. $99 to $109 per adult (ages 10 and up); $59 per child (ages 3 to 9).
Seats & Sweets – Reserved seating at the Tomorrowland Terrace Restaurant. Enjoy a selection of desserts, cheeses, and beverages. $119 to $129 per adult (ages 10 and up); $75 per child (ages 3 to 9)
Happily Ever After After Party – Reserved standing viewing location in one of the Plaza Gardens. This party takes place after the fireworks show and offers the same desserts, cheeses, and beverages. $99 to $109 per adult (ages 10 and up); $59 per child (ages 3 to 9)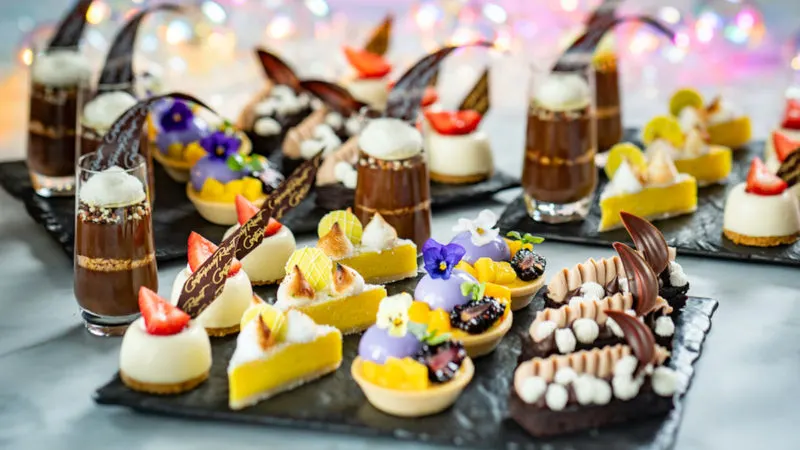 Dessert & Viewing Parties Outside the Magic Kingdom
Ferrytale Fireworks: A Sparkling Dessert Cruise – Watch the Magic Kingdom fireworks from a ferry boat in the middle of the Seven Seas Lagoon. Includes bite-size signature sweets including build-your-own mousse, key lime tarts, cupcakes, and specialty beverages with and without alcohol. $130 for adults and $80 for children ages 3 to 9
Celebration at the Top: Sip, Savor, Sparkle at Disney's Contemporary Resort – This is a more high-end party and it's located in the private Sonoma and Napa Rooms at California Grill. Guests will sample a selection of specialty drinks, sushi, and small plates. Fireworks viewing is on the observation deck on the 15th floor for a unique viewpoint, complete with synchronized music. The event continues back inside after the show with petit-fours, cordials, and coffee. $129 per person, plus tax and gratuity
Private Fireworks Cruise – Charter a private 25-foot long boat and set sail for the waters of the Seven Seas Lagoon and Bay Lake to watch the Magic Kingdom fireworks with perfectly synchronized onboard audio. Includes assorted snacks and soft drinks. The boat seats up to 10 guests and costs $449 plus tax.
While all of these parties are nice, they all have different advantages and negative points about them. Keep in mind they all cost extra money and they are not for everyone, especially if you aren't a big fan of dessert. You will have to evaluate whether it's worth it to go to one of the viewing parties or if it's better to get a free spot to watch the fireworks.
Visit the Walt Disney World Website to book any of these experiences.
Best Way to Save Big $$$ on Disney Resorts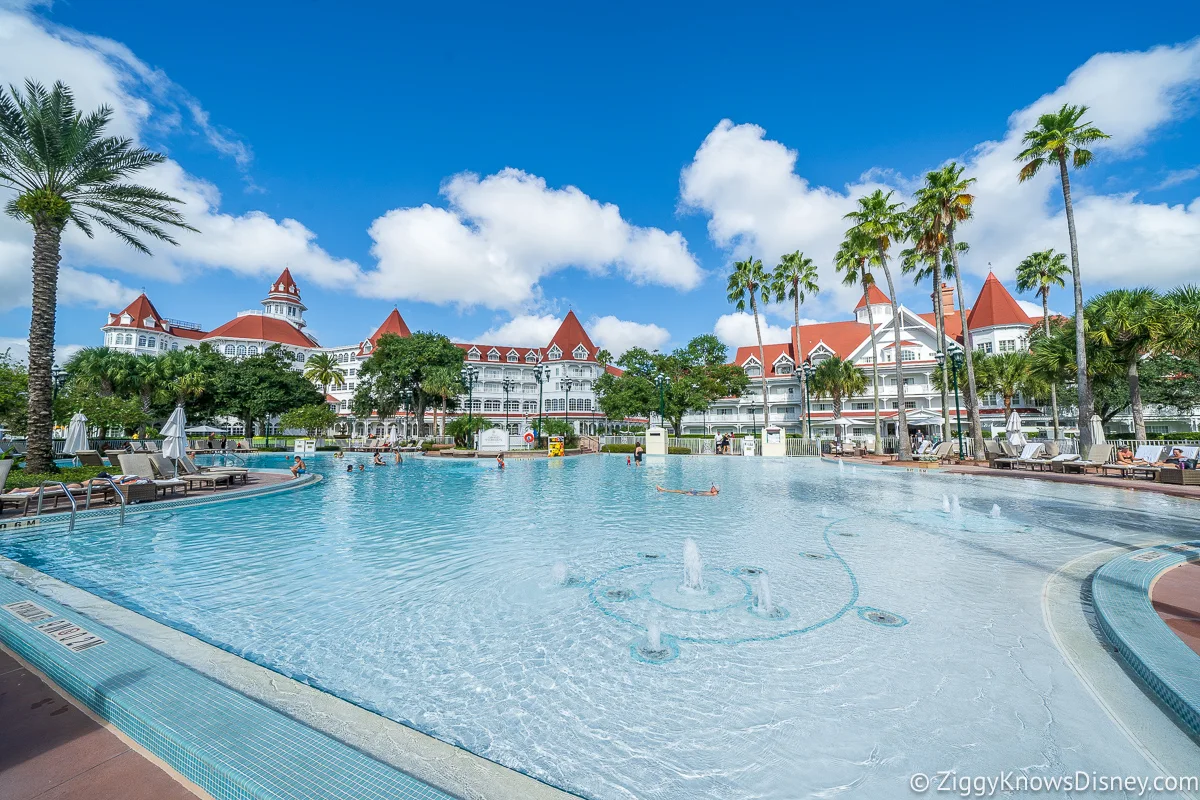 If you want to potentially save thousands of dollars on your next trip to Disney World, I personally recommend David's DVC Rentals. They consistently have the best prices and biggest selection of Disney Villas that will make you ask yourself: "How do they do it?"
FAQs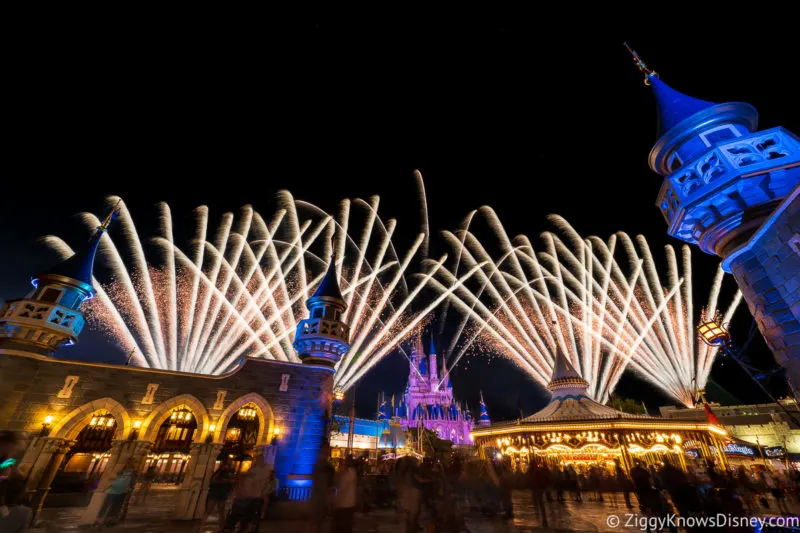 Here are the answers to some of your most common questions about the Magic Kingdom fireworks and Happily Ever After in particular:
Does the Magic Kingdom Have Fireworks Every Night?
Yes, Disney's Magic Kingdom has a fireworks show on the schedule every night. Under normal circumstances, that show is Happily Ever After and it is open to the general public.
However, sometimes the park runs special events with exclusive fireworks shows to those events. When the Magic Kingdom has a Halloween or Christmas party going on, the fireworks are a modified version of what you see on a regular day.
Does Magic Kingdom Do Fireworks in the Rain?
All Disney attractions including fireworks continue running in all weather types including rain and shine. We've watched the fireworks at the Magic Kingdom multiple times in the rain and the show goes on as normal.
The only time Disney cancels the fireworks is when there is lightning or high winds. Those weather conditions are too dangerous and in that case, they will not do the show.
If you don't want to watch Happily Ever After in the rain, we suggest you watch the weather forecast ahead of time to get an idea if it's going to rain or not. If you are going to be at the Magic Kingdom multiple days, try to schedule fireworks watching on the best day weather-wise.
Does Tinker Bell Still Fly?
Yes, Tinker Bell still flies in the Happily Ever After fireworks show as she has for almost the last 40+ years. Just like during the original Happily Ever After she appears on the top of Cinderella Castle, spreads her wings, and flies down the zipline and over the audience.
We're extremely happy that she is still in the show, to us it feels more dramatic than during Disney Enchantment as the build-up is much stronger and more emotional.
What Time Should I Pick a Spot?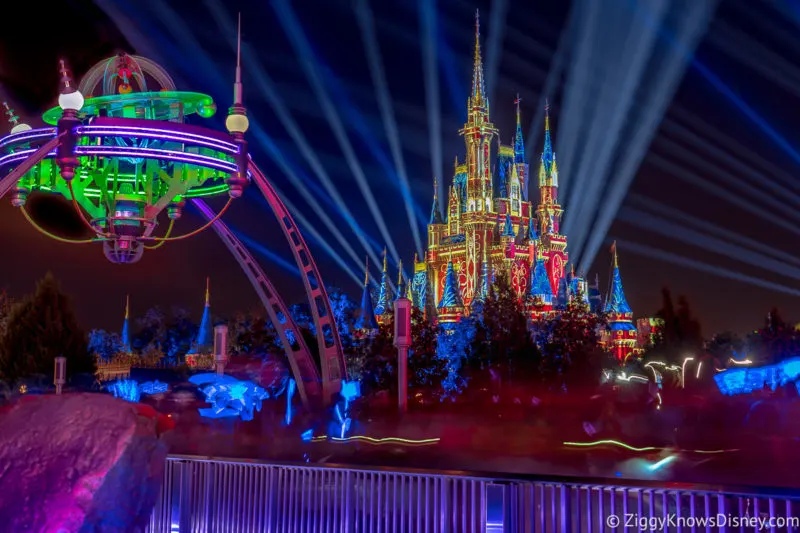 What time you need to get a spot for the fireworks at the Magic Kingdom depends on what season it is, how busy the parks are when you visit, and where you would like to stand.
If you are visiting during a slower time of the year and the crowds aren't too bad, you can usually get a decent place to stand up to 60 minutes before the start of the fireworks.
If you are going during a holiday or another really busy time of the year, you should start looking for a place to watch the show as many as 2 hours before it starts, or more.
The hardest place to get a spot to watch the fireworks is in The Hub around the gardens near the Partners Statue. If you want to stand here and have a view of the castle with no one in front of you, get there between 3-4 hours ahead of time.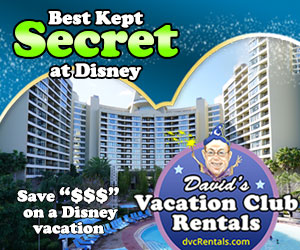 Is it Worth it to Stay for the Fireworks at Magic Kingdom?
This depends on how much energy you have and how much you like fireworks shows. In general, the fireworks are one of the most popular attractions at any Disney park, and a must-do for most guests.
This is even more true now that Happily Ever After is back! We understand not wanting to stay when Disney Enchantment was running as it wasn't our favorite and seeing it once was probably enough. With Happily Ever After it's a totally different story. EVERY time we are in the Magic Kingdom we find ourselves staying for the show because it's that good!
If you are worried about being too tired to stay for the fireworks, you have a couple of options. You could skip rope drop in the morning and get a later start at the Magic Kingdom around lunchtime or after. That way you won't be too tired out by the time the fireworks start.
If you wanted to go for rope drop since that's the best way to do as many rides as possible, you can still go early as normal, but then take a break in the afternoon and go back to your hotel for a nap or some relaxing. Then come back to the Magic Kingdom before the fireworks start in the evening.
Full Video
I didn't want to post this until the end in case you haven't seen the show and don't want it ruined by spoilers. Here is the new updated version of Happily Ever After:
If you want to see how it compares to the original version, you can watch that one here:
For more information on planning your vacation to Walt Disney World here are some of our most useful posts:
Your Thoughts
I want to know what you think about the new Happily Ever After fireworks show at the Magic Kingdom…
Do you like the show?
How do you rate Happily Ever After?
Let us know in the comments section below!
If you enjoyed this article, as always I appreciate it if you'd share it with others via social media. I work hard at making this website into a useful resource for you and your family to plan your visit to the Disney Parks and I hope it can help you! Thanks 🙂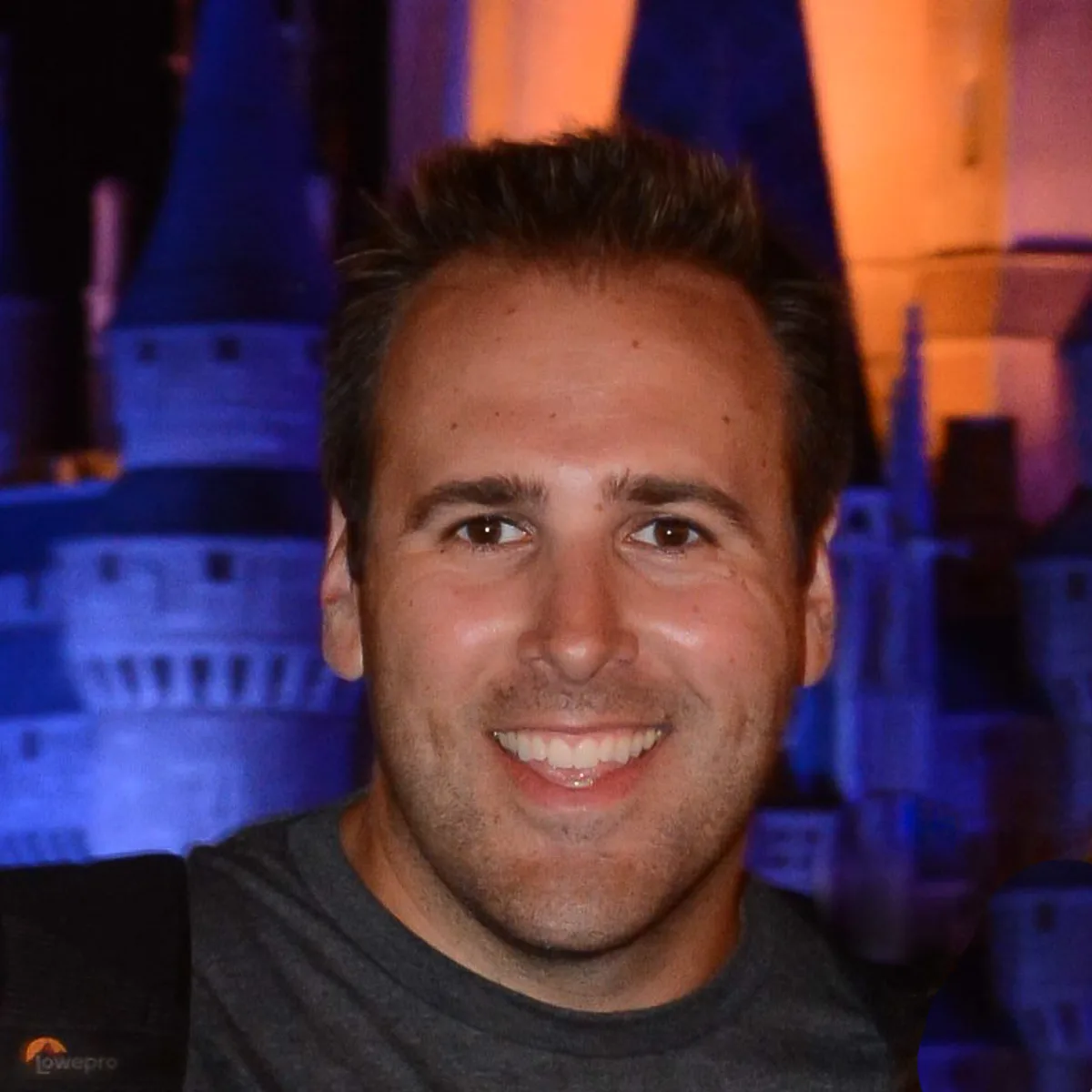 My name is Ziggy and I love Disney, everything Disney! I grew up on Disney and it has and continues to be a huge part of my life. I started young when my parents took me to Disney World when I was 18 months old. Little did they know that would be the first of an uncountable number of trips we would take. I have so many amazing memories going to Disney with my family and friends and it has been interwoven into my DNA.